Simple, l'espace de type studio détaché petit. Entrée privée. Parking sur place. lit gigogne permanent pleine grandeur - orthopédique. Coin cuisine simple, douche et salle de bains. Divertissement minutes. Parfait pour le pays-end. Connexions simples. LA TÉLÉ.
Totalement privé. Petit mais précieux. Toutes les nécessités à proximité.
cheval Ranchettes calme, rural. (Pas de chevaux ici.)
I had a really great time at Regina and Benny's little cottage on their property. It's located in one of the most gorgeous areas of Santa Ynez Valley and is dead center between Solvang, Santa Ynez, and Los Olivos. It's only a 2-3 mile drive to any of the towns. The cottage is small (more like a studio but still separated living eating areas), but it is perfect for 1 or 2 people. Everything you need to be comfortable. It is set fairly far from the main house so you feel very private, plus their plot of land is quite large. I would highly recommend staying here and I can't wait till I can come back again.
Ben
2016-01-19T00:00:00Z
What a cute, romantic place! And so clean too. Regina and Benny were so accommodating and thoughtful. We arrived to freshly ground organic coffee, orange juice, and biscotti. The location is on a beautiful, peaceful property with great views. The little cottage is perfect for one or two people (definitely a couple!) The shower is full size with good water pressure, the kitchen has a table, sink, mini-fridge, toaster oven, and tea kettle. The pullout bed is comfortable enough. I would love to stay again in the future.
Kristin
2016-11-08T00:00:00Z
So cozy and secluded! It was really a beautiful stay.
Natalie
2017-01-16T00:00:00Z
Staying with Regina and Benny is like staying with your favorite aunt :) Their place is magical - cozy, everything you need is there for a sound sleep and good rest. You are minutes away from everything Santa Ynez and Solvang have to offer and yet you are getting the real experience of being in the country - no traffic of Solvang, it is so quiet, the air is fresh and crisp and nature is abundant. If you are looking for a posh, manicured impersonal place - look elsewhere. If you are looking for a cozy, simple, romantic home away from home - you are lucky to find Regina and Benny then. We loved it and we are definitely coming back.
Irina Satyavati
2016-09-06T00:00:00Z
Regina and Benny were exactly what you hope to find in the Santa Ynez valley - kind, welcoming, of the earth and so friendly. Regina greeted us upon our arrival and brought over milk, orange juice and delicious biscotti. She was a great host and made us feel welcome. The place was super, and we felt right at home.
Gwen
2016-07-30T00:00:00Z
My husband and I had the best experience with Regina and Benny. Regina greeted us first and was very welcoming and even gave us some delicious freshly squeezed orange juice. The last resort was perfect for us. It was clean, cozy and in the perfect location for the perfect weekend getaway for my husband and I. When we get another kid free weekend we will definitely coming back.
Monica
2016-10-23T00:00:00Z
Our stay at Regina's and Benny's was amazing! The cabin had everything we needed and more. There were so many personal touches that made the cabin feel extra special. Regina and Benny were so welcoming and nice! There was fresh orange juice, coffee, creamer, and biscotti waiting for us when we arrived. The location is also excellent. We were in the heart of wine country and were close to several amazing vineyards. We visited three of them and a brewery while we were these for the weekend. The property the cabin is located on is very beautiful. There are nice views of the surrounding hills and properties from the driveway. I would absolutely recommend staying here and I want to come back some day. Thank you Regina and Benny!
Emma
2016-10-16T00:00:00Z
Regina and Benny were super nice. They made sure to stay in touch and provided some great fresh bread. The place was very private and was excellently situated for exploring the area.
Zeke
2015-11-25T00:00:00Z
Tipo di stanza
Intera casa/apt
---
Tipo di sistemazione
Chalet
---
Può ospitare
2
---
Camere da letto
Santa Ynez, California, Stati Uniti
Einzigartige rustikale ein Schlafzimmer und Bad im Gästehaus auf 20 acre Oliven Ranch in der schönen Landschaft des Santa Ynez Valley arbeiten. Eigener Eingang, Kingsize-Bett, eigenem Bad. Gemütliche holzgerahmtes Hütte. Nichtraucher. In der Nähe von Los Olivos, Kellereien und Weinbergen. Kingsize-Bett in Anspruch nimmt großen Teil aus Schlafzimmer, aber das Bett ist sehr, sehr komfortabel. Viele Pelz Hunde und Katzen zu halten Sie Unternehmen. Ruhig und entspannend, aber in der Nähe der Stadt. Schöne Aussicht auf Olivenhain.
Dieses gemütliche Ein-Zimmer Abschnitt des Gästehauses verfügt über einen eigenen privaten Eingang und Bad, mit einem schönen Blick auf den Olivenhain. Dies ist das einzige Zimmer im Gästehaus - ganz für sich allein! Das Bad ist ein Vollbad mit einer großen Wanne und verfügt über eine eigene Warmwasserheizung. Das Gästehaus ist gut beschattet, da beide eine vordere und hintere Terrasse. Vermietung umfasst im Zimmer Kaffee-Service und Frühstück Snacks. BTW, lüften wir unsere Bettwäsche, wann immer möglich zu trocknen. Sie sind willkommen, ein kostenloses Olivenölprobe während der normalen Geschäftszeiten. Der Raum hat jetzt eine Mini-Kühlschrank. Es gibt * keine Küche, Kochgelegenheit oder eine Mahlzeit prep Bereich *. Free Wi-Fi ist verfügbar. Es gibt keine Kabel-TV, aber wir bieten einen HD-Flachbildschirm mit einer ausgezeichneten Auswahl an Filmen. BEGINN 1. Dezember 2014, benötigen wir ein $ 7 Grafschaft Bettensteuer pro Abend zu sammeln. (Ohne die Reinigung), die bei der Ankunft fällig. (Wir zahlen die anderen $ 7) Leider kein Platz gibt es diese Seite auf dem airbnb zu setzen. Es gibt ein Büro neben dem Schlafzimmer, die gelegentlich während des Tages verwendet wird, und manchmal für Harfe Praxis am Abend. Es ist * Keine TV * oder * Klimaanlage *. Wir bemühen uns, eine (sehr) bequemes Bett und einen Ort zu schaffen, die Städte und die umliegenden Weingüter und Landschaften zu erkunden - es ist gut für Weinproben, Radfahren oder die kleinen Städte im Tal zu erkunden. Wenn Sie in den Raum zu hängen wollen und Fernsehen und Klimaanlage haben, ist dies für Sie nicht die Miete. Dieser Raum eignet sich am besten an einen einzelnen Erwachsenen oder ein Paar; gibt es Raum nicht mehr als das, auch für Kinder und Haustiere. Das Eigentum ist ein 20-Morgen-Ranch. Bitte beachten Sie, wir haben 4 Hunde und 2 Katzen (plus Hühner und Pferde). Die Tiere sind nicht im Zimmer erlaubt. Wegen all unsere Haustiere, aber wir akzeptieren keine andere Haustiere, wie wir keine Tier Pannen haben wollen. Das Haus ist gut ausgestattet mit großen Eichen beschattet. Sie haben eine eigene Terrasse auf der Vorderseite des Hauses, und Zugang zu gemeinsam genutzten Raum. Hunde und Katzen tun, um die Freiräume und Liebe Besuchern teilen. Damen, darauf hingewiesen, dass hohe Absätze sind * nicht * um die Ranch zu empfehlen. Nichts ist gepflastert, so ein paar bequeme Schuhe, die Ihre Erfahrung viel angenehmer machen. Die Tage können warm sein, aber die Nächte sind in der Regel kühl, in der 40 bis 50-Grad-Bereich Winter und 50 Grad-Bereich im Sommer. Unser Platz ist in der Regel ruhig mit wenig Verkehr oder anderen Lärm. Der Blick auf den Olivenhain vor dem Gasthaus ist sehr entspannend. Hunde verhalte manchmal als pelzigen Führer, wenn Sie die Eigenschaft erforschen. Unser Eigentum ist über die Straße von einem Weingut und in unmittelbarer Nähe zu den Städten Los Olivos und Santa Ynez.
Wir sind in der schönen Landschaft in der Nähe von Los Olivos entfernt. Wir sind relativ nah an der Stadt, aber nicht in der Stadt. Es ist ein Weinberg und Weinkeller über die Straße. Sie brauchen ein Auto, um die Städte in unserem Tal zu gelangen - es sei denn, Sie Ihr Fahrrad wie ein gutes Stück zu fahren. Die Nachbarschaft ist meist Ranches und Weinbergen auf großen Parzellen, mit uns die meisten (Olive) Bäume mit.
Cute little place to stay. Great location to bike/walk to various wineries in the area. We had a great time.
Hayley
2017-02-26T00:00:00Z
Quaint and cosy in a beautiful setting. A very relaxing place to stay. Shannon provides wine glasses, a corkscrew, good coffee, a coffee maker, coffee mugs, and real half and half in the room. The property is fun to walk around, and the patio area charming.
Laurel
2017-04-06T00:00:00Z
This place is all rustic charm, just as our host Shannon described it and just what we were looking for. A comfy king bed and a spacious, spotlessly clean bathroom provided all we needed for our weekend visit to the Santa Ynez Valley. Very private, on a 20 acre olive ranch, it is walking distance to both Roblar and Brander wineries and a 10 minute drive to downtown Los Olivos. Two beautiful and friendly Corgies and a big orange tabby greeted us when we arrived and were often outside our door as we came and went. There are horses on the property and in the morning we woke to mourning doves and the (distant) call of roosters. Being used to city noise, slept very soundly! If you are looking for elegance and a four star treatment, this is not the place. But if you want a real escape and enjoy quiet, country charm in the perfect location, you have found it!
Carolynn
2017-03-26T00:00:00Z
Great place, quite and peaceful.
Tom
2017-03-31T00:00:00Z
This quiet relaxing spot nestled in an olive grove is just what the doctor ordered. A small wood cabin room with a big bed, tv/vcr, one chair, and a great heater. The bathroom was clean and big enough. The bread and olive oil Shannon left for us in the morning was delicious. And the animals were delightful. FYI there is no kitchen, but there is a mini fridge and coffee maker. The location is silent at night, yet a quick drive to everything you want to see in this area. I had a great meditation with Jackers the cat by my side in the olive grove. Highly recommend for a quiet getaway. Thanks Shannon!
Elizabeth
2017-03-28T00:00:00Z
Our time on the Olive Ranch was wonderful. A peaceful environment, quiet setting, and very comfortable accommodations. Everyone we met out there from the owners to their animal tribe... were all very nice. Very close to Solvang, Los Olivos and many beautiful photo opportunities. We would definitely come back, oh and PS.... make sure you check out their olive oil tasting..... a delicious addition to your stay
Robin
2014-03-31T00:00:00Z
The room was small but comfortable, and while we never encountered Shannon (only because of our wacky travel schedule), she made sure we were settled & covered, and followed up once we'd left to confirm that all was well. Her animals are awesome!
Adam
2015-02-08T00:00:00Z
Great cozy place. I had a quick overnight stay that checked all the boxes. Thanks for being a great host.
Ryan
2017-03-11T00:00:00Z
Tipo di stanza
Intera casa/apt
---
Tipo di sistemazione
Chalet
---
Può ospitare
2
---
Camere da letto
Santa Ynez, California, Stati Uniti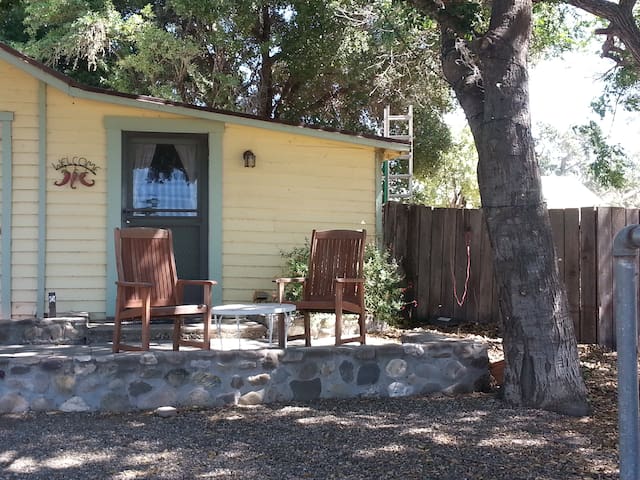 A private paradise in a cabin by a pond in the heart of Santa Ynez Valley wine country on a lovely farm with horses, chickens and 3 little goats (not close to the cabin!). A wonderfully convenient location just minutes from the finest restaurants, wineries and gourmet markets, yet set in a romantic and tranquil haven. A cozy bedroom and sitting area, a rustic fully equipped kitchen and bathroom with a unique rock shower. A porch overlooks the pond, with a BBQ, and an expansive lawn for picnicking and relaxing under a variety of mature trees, a home to residential ducks and migrating birds and local wildlife. The owners live on the property, but this is not a bed and breakfast. The cabin is separate and private with convenient parking.
The most important thing for our guests to know is that our neighbors follow "country road rules" - meaning driving under 10 mph down the road to our home...and they are rigid about it! Fortunately, it's a very short road ;-))
We had a great stay at the farm. Karen was a great host, and was always available and prompt at responding to any questions we had! The cottage is secluded and peaceful, but also a very close drive to Solvang. It was perfect. We loved it! The thing that surprised us was that the cottage stayed very warm at night, even though it was cold outside. I highly recommend staying here for a relaxing weekend getaway!
shirin
2016-12-04T00:00:00Z
This is a wonderful, peaceful, comfortable, private retreat. We stayed here for our anniversary and the host gave us great recommendations for places to eat, drink and shop. The location is perfect, near everything you could hope to do. This sweet cottage on the pond surpassed our very high expectations and we recommend it completely.
Corey
2016-09-06T00:00:00Z
Karen's place is BEAUTIFUL! We had an amazing time exploring the wine country and relaxing by the pond with the ducks. Karen is a gracious host and makes every effort to make your stay as memorable and perfect as possible. The cottage is beautifully furnished and is very comfortable. Highly recommended!
Roobina
2015-11-24T00:00:00Z
What I wanna say is that we had a horrible time so that we can keep this piece of heaven a secret. The truth is we couldn't have found a more amazing getaway hosted by nicer couple of folks! This gorgeous cabin is a work of art stocked with everything you could want. Such care and hard work has been put into making this space a perfect home away from home. Stay Away! Just kidding, enjoy this gem...and the Rancho market right around the corner! Bring bikes, bike path right near home takes you right into town in minutes!!
Martin
2015-08-31T00:00:00Z
This was the most amazing little place. I took my mom on a little getaway. It was just what we needed. We spent time just being lazy. It was perfect. We were greeted by Karen who is just the best. She told us all of the best places to eat and visit. She is fantastic!
Michele
2014-11-25T00:00:00Z
Karen was a wonderful, warm & loving host who made sure we were well taken care of. I loved her smile greeting us and showing us around. The cottage was so beautiful and peaceful. We loved seeing & hearing the beautiful birds around the pond and loved the ducks. If you are looking for a peaceful retreat, this is the place! Perfect! we cannot wait to come back. :)
Lauretta
2015-04-11T00:00:00Z
Karen was a fantastic host and the cabin was incredible! It's also located very close to many wineries and Solvany. We would definitely come back!
Tony
2012-05-29T00:00:00Z
This cabin on a pond is the perfect spot for a getaway! Fall asleep to the hooting of owls and wake up to ducks. Easy access to wineries and mouthwatering restaurants. Ask Karen for recommendations! She will not steer you wrong. All in all, a far more pleasant and unique experience than any hotel. We'll be back...again and again.
William
2017-01-29T00:00:00Z
Tipo di stanza
Stanza privata
---
Tipo di sistemazione
Chalet
---
Può ospitare
2
---
Camere da letto
Solvang, California, Stati Uniti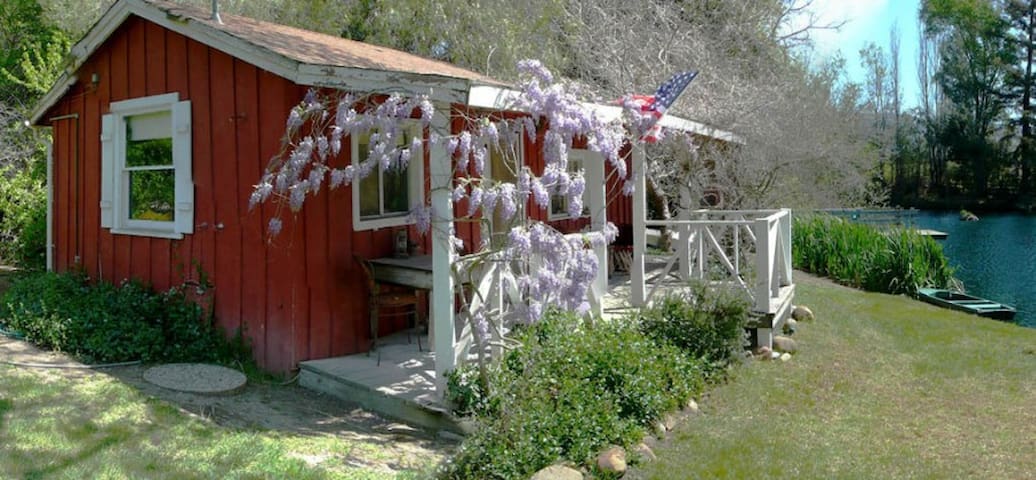 Chateau Relaxeau is a great little hide-a-way in the heart of the quaint town of Los Olivos. The name is an homage to its location next to The Bubble Shack which is the only sparkling wine tasting room in town. Chateau Relaxeau features a king sized bed with custom linens, a bathroom with a tiled walk in shower (remodeled in 2015) and a comfortable sitting area with a large screen T.V..
We were provided detailed arrival information prior to our stay. The check-in and check out process were very smooth and simple and the space was clean, tidy, and comfortable. We'll definitely stay here again when we're back in Los Olivos!
Foujan
2016-08-28T00:00:00Z
Tipo di stanza
Intera casa/apt
---
Tipo di sistemazione
Chalet
---
Può ospitare
2
---
Camere da letto
Los Olivos, California, Stati Uniti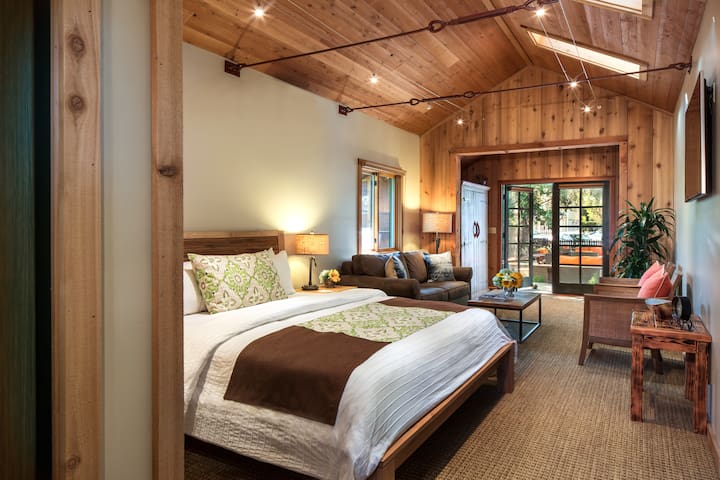 Melden Sie sich zu Hause Gäste-Kabine auf einem 40 Morgen ruhig, arbeitet Ranch im Santa Ynez Valley Weinland. Die Kabine sitzt getrennt von Haupthaus über der Garage, w / private Terrasse und gute Parkmöglichkeiten. *** Der Preis beinhaltet 10% Santa Barbara County Kurtaxe.
Neu mit viel Liebe zum Detail gebaut, verfügt über die Gästekabine zwei Doppelbetten, zwei separate Sitzecken und eine kleine Küchenzeile. Die Küche ist mit Kaffeemaschine, Gourmet-Kaffee, Mikrowelle, Mini-Kühlschrank und einem Toaster ausgestattet. Es ist nicht zum vollen Herd haben, aber Sie haben Zugang zu einem Außengrill. Die Kabine hat auch Wi-Fi, Kabel-TV und einen Schrank für hängende Kleidung. Anspruchsvolle Handwerkskunst in der Kabine macht es zu einem sehr einladenden, komfortablen Umgebung. Eine private Terrasse bietet Ihnen Blick auf die Hügel und ist ein idealer Ort für den Morgenkaffee oder Wein am Abend. Wie man auf dem Deck und nehmen in der Umgebung sitzen werden Sie nicht ein anderes Haus, Autobahn oder eine Person zu sehen. Nur Sie und Ihre Begleiter. Und vielleicht ein Ausreißer Ziegen oder Hühnern. Es passiert. Es ist eine Ranch, nachdem alle. Aber das ist, warum ich es liebe. Ich glaube, Sie werden auch!
Im Herzen der Ranch Land, aber zugleich im Herzen von Santa Ynez Valley Weinland. Hidden Canyon Ranch, um wahr zu seinem Namen. Versteckt in den sanften Hügeln des Santa Rita Appellation, hat die Ranch so berühmten Nachbarn wie Melville & Babcock Vineyards / Weinkellereien in den Westen und Foley Vineyard / Wineryto Osten. Auch nur 10 kurze Meilen der Nähe des Lompoc Wine Ghetto. Und 13 Meilen zu den Probierstuben von Solvang. Ganz zu schweigen von all den anderen Weingüter auf dem Weg dorthin! Die Gegend ist auch für seine Weltklasse-Radsport mit dem jährlichen Solvang Century Bike Ride sowie zahlreiche andere Radsport-Events bekannt. Die Ranch liegt direkt an der Autobahn 246, eine der vielen Radwege in der Umgebung. Es gibt auch zahlreiche Ställe in der Umgebung, die Sie auf unglaublich, landschaftlich Ausritten zugeschnitten auf Ihr Niveau und Erfahrung zu nehmen. Fragen Sie uns nach Empfehlungen zu unseren Favoriten.
I want to move here! This place is absolutely stunning! The cabin was larger than I expected, and every amenity we could need was thoughtfully placed right where it should be. Wow!
Stephanie
2015-01-13T00:00:00Z
James and I had a great time at Erin's ranch! The property was beautiful and waking up to the birds was refreshing.
lindsay
2015-07-08T00:00:00Z
We had such a great time at this little cabin. Everything was true to how it is shown on the site. This was my first AirBnB experience and this was a pleasure. Thanks Erin for a wonderful place.
Jena
2014-09-21T00:00:00Z
Erin has set the place beautifully for us, it was a pleasure staying at the cabin, the view was gorgeous and stay was cozy and relaxing.
Ziv
2014-09-26T00:00:00Z
The cabin was rustic, clean and inviting! Love the views over the valley and the ranch was just the perfect spot to get away from it all.
Jennifer
2015-07-05T00:00:00Z
Erin was a fantastic host, I can't imagine anyone could be more accommodating. She arranged for a picnic table to be available for when our grandkids came over for lunch and a cookout. The Ranch is as described, the kids really liked the, bunnies, chickens, sheep, and other animals. It was a great experience.
Paul
2014-10-16T00:00:00Z
This place is a gem. The vibe of the Cabin is perfect, the amenities are spot-on, it's cozy and comfy and feels very safe. And it sits on an amazing piece of land. Erin was a wonderful host.
Jesse
2015-01-03T00:00:00Z
Erin's log cabin guest house is an absolutely charming property in a wonderful, natural, private setting. The cabin is well- and thoughtfully-appointed. It is exceptionally clean and well-ordered. Despite being only minutes by car from Solvang, Buellton, and Lompoc, the ranch setting provides a comforting sense of isolation--especially when on a weekend getaway from the mad rush of Los Angeles. We will certainly book with Erin again on our next trip up the coast!
Frank
2015-08-02T00:00:00Z
Tipo di stanza
Intera casa/apt
---
Tipo di sistemazione
Chalet
---
Può ospitare
4
---
Camere da letto
Lompoc, California, Stati Uniti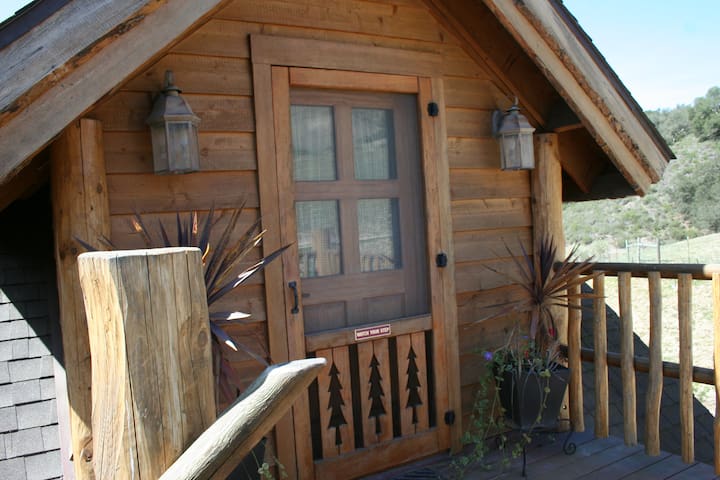 圣巴巴拉县(营惠蒂尔)的美国男孩女孩俱乐部提供了6个质朴的192平方英尺的"荒野小屋"的租金。这间小屋提供1个双人床,和一张双层床,淋浴,厨房,卫生间,微波炉,咖啡机,迷你冰箱,电视/ DVD播放机和床垫。保留可能无法进行超过30天OUT。
Perfect for a quiet, no frills, place near hiking, exploring Santa Barbara county and Santa Barbara
Barbara
2017-04-09T00:00:00Z
Such a clean, cute & cozy little cabin! Much bigger on the inside than you would expect from the outside.
Heather
2016-11-27T00:00:00Z
Todd was prompt with the responses and accommodating to let us check in at 11pm since we were flying in late at LAX. The cabin was clean and cozy and everything you'd expect a summer camp to be for boys and girls. Shower has great water pressure and it's perfectly located for people making q road trip to Big Sur. The cabin is also 15 mins from Solvang for great pit stop for breakfast and a quick stroll in a Danish Town in the middle of California.
Alex
2016-12-31T00:00:00Z
The cabin was very cozy and the campgrounds had all the amenities we could possibly need. Awesome hiking and close parking. We would visit again
Teresa
2016-12-27T00:00:00Z
Great cabin in the mountains.
Richard
2017-01-06T00:00:00Z
This is a wonderful place. It was better than I expected. The heater worked very well so don't worry about the weather. There is a hike trail near the cabin, you can see the lake within 10 mins hiking.
Mengya
2016-12-25T00:00:00Z
Todd was awesome! Everything was awesome. The cabin was a great little place to stay. Our family enjoyed staying here and would stay here again in the future.
Jon
2016-12-29T00:00:00Z
This is a quaint cabin in a quiet area near Lake Cachuma, not far from Solvang and Santa Barbara. It was a quick night's stay. We arrived at night and the drive in was a little edgy but once we got to our cabin, we were able to indulge in the peace and quiet of the starry night in our cozy cabin. It was equipped with a bunk bed, a full bed, a bathroom and a sink with a microwave and a mini fridge. The TV did not have cable but there was a DVD player and an HDMI connection. The only thing that was a bit eerie was the other inhabitants, the area was also a home to a christian camp; we passed along a very full worshiping hall on our way into our cabin. The kids did not bother us, however, and were not loud at night so they mostly went unnoticed. Cookie, the person on site, was helpful and guided us to our cabin and gave us information on local things to do. Overall, it was a relaxing visit.
Jasmin
2016-11-20T00:00:00Z
Tipo di stanza
Intera casa/apt
---
Tipo di sistemazione
Chalet
---
Può ospitare
4
---
Camere da letto
Santa Barbara, California, Stati Uniti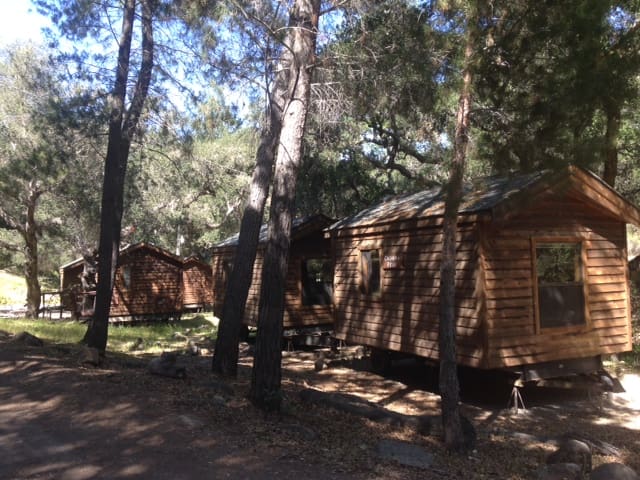 Tipo di stanza
Intera casa/apt
---
Tipo di sistemazione
Chalet
---
Può ospitare
9
---
Camere da letto
Arroyo Granda, California, Stati Uniti
Good experience living in the woods.
Noor
2016-08-26T00:00:00Z
It was a very nice stay - just as described and as in pictures. We checked in later in the evening and they left instructions for us and everything. A great cabin experience. As stated - bring your own sheets, blankets, toiletries.
Zoe
2017-01-21T00:00:00Z
Great place in the woods with amenities. Todd even helped us carry bags in the dark.
Jake
2016-03-25T00:00:00Z
Loved the place, didn't realize it was at an actual summer camp during the off-season. I was one of only a few on the property, which led to a very surreal and fun hike around the property taking photos. Very relaxing, would stay again.
Josh
2017-04-08T00:00:00Z
This was such an amazing escape into nature! Cookie was kind and welcoming and even shared a few favorite restaurants close by. The cabin wss perfect. I slept so sweet! Todd allowed me to change my reservation without any problem. Loved it. I imagined going back with friends and family! Thank you for letting us stay in the cabin!
Jane
2016-04-09T00:00:00Z
We had a great time staying in the cabin at Camp Whittier. They were modern and comfortable but still let you feel you're camping out in the woods. Todd was a great host and we would definitely stay here again.
Nathan
2015-10-18T00:00:00Z
Very helpful staff! The cabin was just like we pictured. Clean and equipped with the essentials that we needed . Not far off the main road and a reasonable price. Would defiantly stay again.
Lisa
2016-06-13T00:00:00Z
The listing was just as described
Charley
2016-05-23T00:00:00Z
Tipo di stanza
Intera casa/apt
---
Tipo di sistemazione
Chalet
---
Può ospitare
4
---
Camere da letto
Santa Barbara, California, Stati Uniti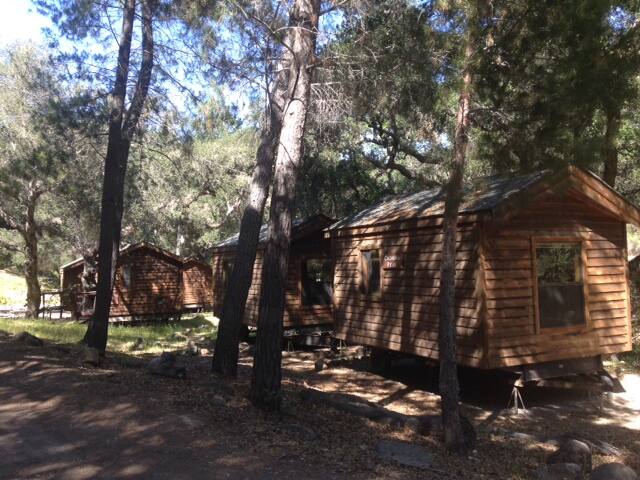 Unis Clubs Garçons et Filles de Santa Barbara County (Camp Whittier) offre 6 192 pieds carrés rustique "Wilderness Cabins" à louer. Cette cabine offre 2 lits superposés, douche, lavabo, toilette, micro-ondes, une cafetière, d'un mini-réfrigérateur, TV / lecteur DVD et matelas. RESERVATIONS PEUVENT NE PAS APPORTER PLUS DE 30 JOURS OUT.
Todd was a great host, and the place was beautiful. Lots of things to do around the city would recommend to stay here.
JOSEPH
2016-11-13T00:00:00Z
Todd was very friendly and responded to questions very quickly. The cabin was nice and clean, heater included; I would definitely stay here and and would recommend others to do as well
Benjamin
2016-02-29T00:00:00Z
We had a great time in one of the cabins! The camp manager was very nice to us and was of great advice.
Hannah
2015-11-28T00:00:00Z
This place was rad! Exactly how it was described, if anything even better! Hot water, heat, and clean coffee maker, fridge, and microwave. Some nice trails to wander around on, and the neighbors were all very nice. Seems super family friendly (it was just me and my husband but there were a bunch of families) I think next time we might bring a group and rent more than one cabin :)
emily
2016-02-07T00:00:00Z
The cabins were exactly as described. They were very clean and perfect for what we needed. The site was easy to find with Waze. Todd answered any questions I had and was attentive to my family's needs. The grounds themselves were clean and had plenty of room for my kids to run around and observe wildlife. We were visiting Solvang the weekend we were here and these cabins were a short drive away. I would definitely stay here again.
George
2016-09-19T00:00:00Z
Even in rainy November (lol 2 days of rain in the year and exact when we arrived in order to hike) we've spend fantastic time in the Wilderness Cabin. Cozy and warm haven in heart of nature - it was so nice to feel pure forest around! Location is awesome - lake (to hike or rent a boat) not so far and a Solvang is very close. Also the area is very clean and full of fun activities - there is a pool, field for soccer, and a small climbing park. Many thanks to Todd - it was a pleasure to get him to know, his advises for dinning was very valuable. Cool experience and a perfect alternative to RV or tent camping. We will definitely come back.
Olga
2016-11-27T00:00:00Z
We had a great stay. Cookie was nice and informative. Plus, was in a great location. The only issue we had was finding the location the address that is given when putting into (SENSITIVE CONTENTS HIDDEN) maps takes you somewhere else. Instead, of typing the address actually type the camps name (SENSITIVE CONTENTS HIDDEN) will take you straight there. We would come back again.
Selena
2016-12-18T00:00:00Z
We just stayed the night, but it was perfect for us and exactly as advertised. If you're looking for luxurious camping, then this is it. Electricity, bathroom with shower, beds, complete shelter with windows, fridge, microwave and TV for movies are all luxuries in the woods. If you're looking for a lower cost hotel option, you'll be disappointed. We enjoyed the milky way with some shooting stars at night, and a turkey walking by in the morning by the picnic table. Thanks for sharing your kids camp with the public while the kids are away.
Gary
2015-09-22T00:00:00Z
Tipo di stanza
Intera casa/apt
---
Tipo di sistemazione
Chalet
---
Può ospitare
4
---
Camere da letto
Santa Barbara, California, Stati Uniti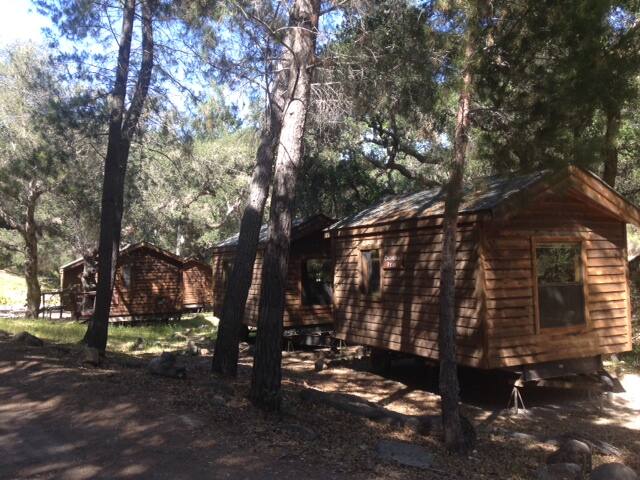 圣巴巴拉县(营惠蒂尔)的美国男孩女孩俱乐部提供了6个质朴的192平方英尺的"荒野小屋"的租金。这间小屋提供2张双层床,淋浴,厨房,卫生间,微波炉,咖啡机,迷你冰箱,电视/ DVD播放机和床垫。保留可能无法进行超过30天OUT。
We felt very welcomed. We would love to stay here again. It was nice to see the stars at night. The cabin was clean and we didn't have any problems.
Nikki
2016-02-14T00:00:00Z
If you are willing to spend sometime out of the city, it is a huge and awesome camp area for a good price. the house was very sweet. :) try to use apple maps, cause (SENSITIVE CONTENTS HIDDEN) maps gave us incorrect directions.
Esther
2016-11-24T00:00:00Z
The Camp ist about 20 miles away from Santa Barbara, located in the forest. We didn't have much time to look around but the area seems beautiful. There's basicly no equipment in the cabin so you need to bring your camping equipment with you. So everyone traveling with a sleeping bag and stuff will have a great time staying here.
Jaron
2016-08-24T00:00:00Z
One of the best places I've ever been! Todd is really nice person and everything was perfect. If you have low budget and you want to stay in nice place this one is just made for you!
Norbert
2016-08-27T00:00:00Z
It was a great spot to enjoy some comforts of home while still getting the camping vibe. Easy to access and exactly what we were expecting.
Claire
2016-09-30T00:00:00Z
Had a wonderful time at this secluded log cabin. Quiet, clean and Todd was very helpful.
Matthew
2016-06-04T00:00:00Z
we felt like we we were in the amazing race. we arrived late in the afternoon and found the check in instructions on a note outside the office door. pretty cool
Randy
2016-06-12T00:00:00Z
Cute cabins - great location near SB! Exactly as described!
Olivia
2016-09-12T00:00:00Z
Tipo di stanza
Intera casa/apt
---
Tipo di sistemazione
Chalet
---
Può ospitare
4
---
Camere da letto
Santa Barbara, California, Stati Uniti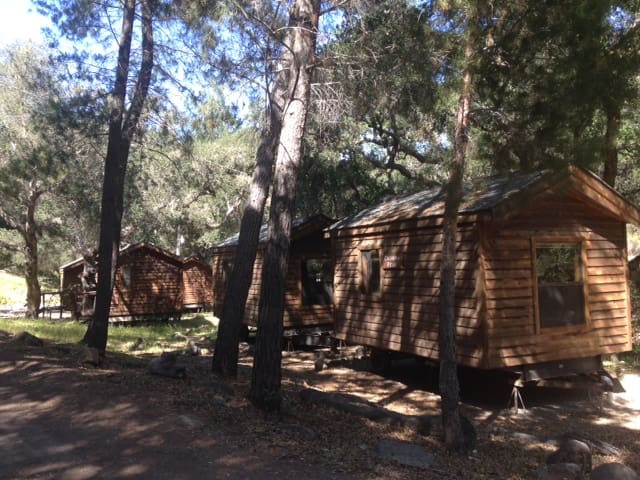 Vereinigte Boys & Girls Club von Santa Barbara County (Camp Whittier) bietet 5 rustikale 192 square foot "Wilderness Cabins" zu vermieten. Jede Kabine verfügt über 2 Etagenbetten, Dusche, Waschbecken, WC, Mikrowelle, Kaffeemaschine, Mini-Kühlschrank, TV / DVD-Player und Matratzenauflagen. Sie müssen Ihren eigenen Schlafsack oder LINENS HOLEN. Kein Geschirr oder Besteck zur Verfügung. Leider sind keine Haustiere erlaubt. Die Kabine ist Nichtraucher. Reservierungen können nur innerhalb von 30 Tagen ihres Aufenthalts gemacht werden.
Directions given by Todd were pretty accurate and helped us find the cabin. We parked at the office first, which has contact numbers of Todd and Cookie listed. I would recommend calling them before you reach the cabin since you might have issues with network coverage. Its a short ride from the office to the cabins. Place is quiet, we saw some turkeys around. Cabin was as described, this one has a comfy full bed with an actual mattress. The cabin has a small space heater which wasn't very effective, we were really cold in the morning. I liked the place and sort of camping experience closer to nature.
Swapnil
2016-02-16T00:00:00Z
EXCELLENT, clean quiet and friendly!
Steve
2016-10-04T00:00:00Z
Just as described. Very cute. We just needed it to crash for the night after spending the day in Solvang. I would definitely stay here again.
Adrian
2017-01-03T00:00:00Z
Todd was super friendly and accommodating throughout the whole process. The cabins are a nice size and very clean. The surrounding area is beautiful, and it's a short drive from the campsite to Solvang and Los Olivos. Plenty to do around here, from hiking to wine tasting.
Sam
2015-09-07T00:00:00Z
This was our 2nd trip to the cabins and we love staying here! Cabins are clean and comfortable with all the necessities and a safe area. 20 mins from Santa Barbara and walking distance to Cachuma Lake.
JANET
2016-07-12T00:00:00Z
Nice relaxing area near a beautiful lake. Very quiet and peaceful.
Allan
2017-03-19T00:00:00Z
The Cabin was very cool. Me and my 3 friends felt like Kids again and would recommend the place to everyone how is up for some adventures feeling and likes the wildness with basic supplies.
Christopher
2016-09-10T00:00:00Z
This was my family's second stay to the cabin. Convenient access to Santa Barbara and great hospitality from Todd and Cookie.
Manasi
2016-06-13T00:00:00Z
Tipo di stanza
Intera casa/apt
---
Tipo di sistemazione
Chalet
---
Può ospitare
4
---
Camere da letto
Santa Barbara, California, Stati Uniti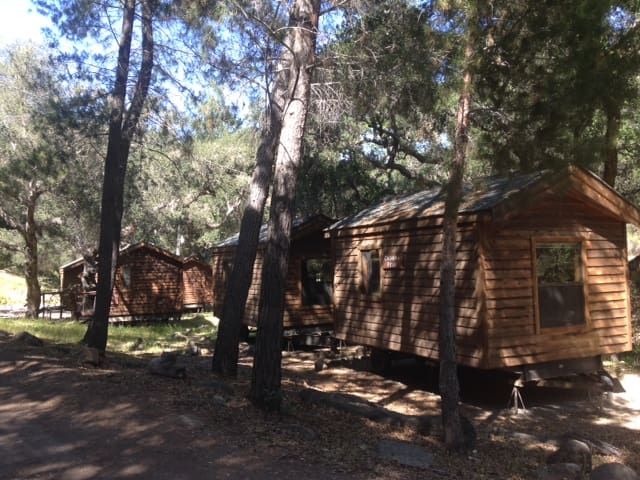 Overall the experience was great!
Nirav
2015-09-06T00:00:00Z
What a lovely cabin! Very clean and cozy. The staff were very welcoming and accommodating.
Jackie
2015-12-14T00:00:00Z
The cabin is amazing. Deep into the woods but convenient spot to Santa Barbara or Solvang. Everything is good except no hot water. But it's still so fun to live there. Tod is very helpful and left us useful notes to check in since we arrive late at night. We would love to visit again!
Xia
2016-05-16T00:00:00Z
This was my family's second stay at the Wilderness Cabins - we enjoyed the easy access to Santa Barbara and the hospitality from both Todd and Cookie.
Manasi
2016-06-13T00:00:00Z
I came with a group that stayed in 2 of the Wilderness Cabins. They were wonderful! The campsite is quiet and secluded, which is nice for groups going on a trip together. Todd was very helpful and extremely responsive in getting us all the information we needed. The cabins were nice, well furnished, and comfortable. I would absolutely come back to Camp Whittier.
Joe
2016-08-27T00:00:00Z
Great place to be with family and friends. Description is excellent. Blanca
Blanca
2016-11-27T00:00:00Z
Cookie made us feel welcome the minute we got there. We were quickly in to our cabin and hiking around the property. The cabin was clean and comfy.
Andrea
2016-02-08T00:00:00Z
My husband and I stayed here the night before embarking on a camping trip out at the Channel Islands. It was perfectly located close to Solvang (a great fun town for dinner), wineries, and only an hour drive to Oxnard to catch our boat. The cabin and camp were beautiful, secluded, and cozy. We loved our stay and will be back.
Kelsey
2016-10-01T00:00:00Z
Tipo di stanza
Intera casa/apt
---
Tipo di sistemazione
Chalet
---
Può ospitare
4
---
Camere da letto
Santa Barbara, California, Stati Uniti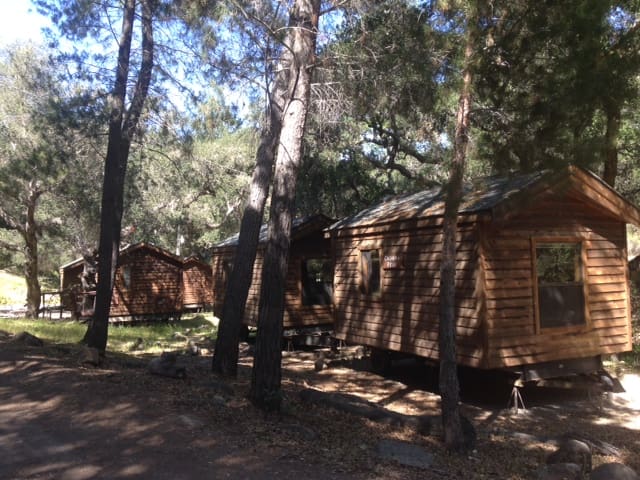 This cabin was perfect for our group! We had a group of 16 high school students plus adult chaperones and it worked out great. It's 30 minutes from UCSB. The common room is very large and we appreciated the pool table, refrigerator, and all of the tables and chairs for meals and hang out time. We brought games and movies, and would recommend that others do too because it is such a nice area to hang out in. The rooms were nice and clean as well, no complaints from anyone. We used the bonfire once to make s'mores and it was perfect (really close and easily accessible)! Todd was so helpful with directions and really flexible with check in and check out so there was absolutely no stress during our stay. There is heating in the common room only, but if all the bedroom doors are left open, the entire cabin gets pretty warm at night. The bathrooms were nice and clean as well. The surrounding area is quite nice- there was not much else going on. The closest market I found was about 15 minutes north on the 154 (not too bad) and it had everything we needed. Truly no complaints- this place was perfect for us! I would definitely recommend anyone to stay here with their big group- the price is right and it had everything we expected.
Claudia
2016-02-14T00:00:00Z
Great place for large groups; provides a safe and cozy camping-style stay!
USC
2016-11-06T00:00:00Z
The communication was great and found it just fine. Got all checked in and settled without a problem. We were a group of 8 women and had a wonderful time. Couldn't have had a better place. Location was convenient for everything we did.
Toni
2016-08-21T00:00:00Z
I came with a group that stayed one night in Canyon Lodge. It was so much fun!!! The campsite is quiet and secluded, which is nice for groups going on a trip together. Todd was very helpful and extremely responsive in getting us all the information we needed. The lodge was extremely spacious, cozy, and comfortable. Lots of bed for our group, couches in the common room for hanging out, a ping pong table, tv, and fire pit for fun. We had a fantastic time!
Joe
2016-08-28T00:00:00Z
Todd was great. We really like this place, and may return again.
Devin
2016-09-09T00:00:00Z
My family and me had such a great time. The big common room was perfect, the grill worked great, the bonfire pit was awesome. It was a great introduction to the outdoors. We are definitely coming back.
Ana Carmina
2016-01-02T00:00:00Z
The retreat center is huge and nicely kept. There were 13 people in my group and it accommodated us more than enough with 5 rooms (each with 2 bunk beds) plus two bathrooms. We had a great time and we will definitely come back.
Sherwin
2016-09-18T00:00:00Z
from check-in to check out, everything went smoothy and without a problem. not only was the camp easy to find, but everything about the site felt just like an ol' sleep away camp!
donna
2016-02-20T00:00:00Z
Tipo di stanza
Intera casa/apt
---
Tipo di sistemazione
Chalet
---
Può ospitare
16
---
Camere da letto
Santa Barbara, California, Stati Uniti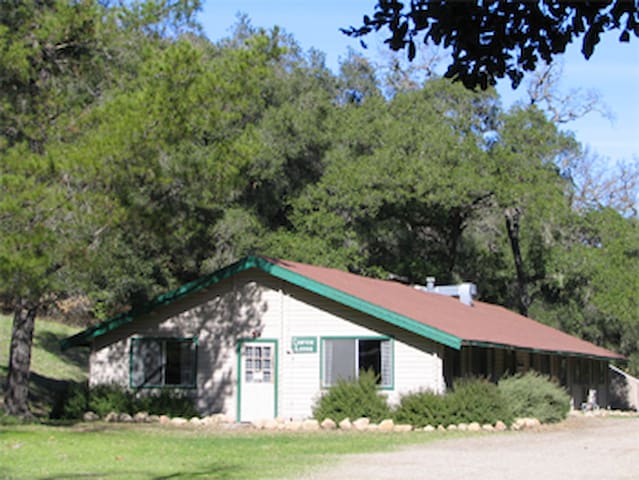 1

–

13

di

13 Chalet in Affitto
Inserisci le date per visualizzare il prezzo totale. Ci sono dei costi aggiuntivi e potrebbero venire applicate alcune tasse.