My place is situated in a stunning unique little town called Blaenau Ffestiniog right in the heart of beautiful Snowdonia in North Wales. Blaenau Ffestiniog is nestled in a horseshoe of mountains overlooking the beautiful vales of Ffestiniog and Maentwrog. You'll love my place because of my hospitality, cleanliness and the STUNNING mountain surroundings. My place is relaxed and always warm as toast thanks to the underfloor heating on both floors. It is a great base for visiting Snowdonia.
Our Guesthouse is named Pisgah after Capel Pisgah (or Pisgah Chapel in English) which was built here in 1899 as a place of religious worship for the slate miners and their families. It was bought and sympathetically converted by ourselves to provide pleasant, spacious, light and airy accommodation for those wishing to come and explore our town and the wonders of Snowdonia. Being geographically located in the heart of the Snowdonia National Park, Pisgah Guesthouse makes an ideal base from which to explore the whole of Snowdonia........
Pisgah Guesthouse is situated on a very quiet street in the heart of an unique and quaint town nestled against a horseshoe of mountains in the heart of Snowdonia. The town grew up around the slate industry and slate dominate parts of the landscape. Welsh slate products are still in great demand today but the local economy has diversified somewhat with major new leisure attractions such as Zip World, Bounce Below and Antur Stiniog here in abundance. The place is now a haven for Adrenalin Junkies and Hill Walkers alike and of course, the beauty of Snowdonia is all around us.
A home from home in the heart of historic Blaenau Ffestiniog with a warm welcome and excellent breakfast. Honest to goodness place to stay. My only quibble is a personal one - I would have liked darker curtains!
John
2017-03-31T00:00:00Z
Glenys was very friendly & helpful. A very easy going relaxed place to stay. Big yummy breaky included in the morning. Will be coming back in July :)
Robin
2017-03-04T00:00:00Z
A very nice visit to explore the wonderful walks and locations of the Welsh landscapes, hope to be back for another excursion soon.
Andy
2017-02-18T00:00:00Z
The host canceled this reservation 7 days before arrival. This is an automated posting.
Judith
2017-03-10T00:00:00Z
I enjoyed staying at Glenys's place, and was happy she was able to accommodate my stay at short notice! The location is great, in the centre of town a short walk from the train station, the room was warm and comfortable, and everything went smoothly!
gareth
2017-03-20T00:00:00Z
Tipo di stanza
Stanza privata
---
Tipo di sistemazione
Bed & Breakfast
---
Può ospitare
1
---
Camere da letto
Blaenau Ffestiniog, Galles, Regno Unito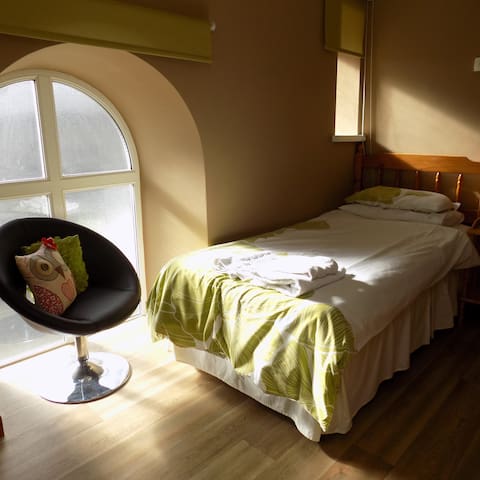 This is a very pretty cottage in a beautiful area. Experience the tranquility. Enjoy the south facing covered veranda and the comfortable sitting room with log burner, television and wifi. You have the whole upper floor to yourselves, three bedrooms and a shower room. I can advise on local walks and attractions or activities to suit all ages. We are a mile and a half from the village of Llanffestiniog which has a community pub which serves good food. Six miles away is the famous village of Porthmeirion. There are some wonderful beaches within half an hour's drive. There are trains to Blaenau Ffestiniog (3 miles away) or Penrhyndeudraeth (5 miles). Buses to Llanffestiniog - pick up can be arranged. Or perhaps come by train and bike. There is room to park one car, two at a pinch. Bicycles can be locked in the garage. Guests can bring one well behaved pet, but please be aware that dogs must be kept on a lead as this is sheep country.
We had an amazing time at Jennifer's. Our stay was way beyond our expectations and would highly recommend it. The cottage was stunning and the location was perfect for getting away from it all. The photos do not do it justice, surrounded by stunning views and hills. Jennifer's hospitality was 5 star. Although we were very late arriving she still had tea and cakes ready and an excellent breakfast each morning. You would not get it as good as this in some fancy hotels. The area had a lot to offer for the out doorsy people with lots adventurous things to do.
Brian & Hannah
2015-09-28T00:00:00Z
A cottage worthy of a place in an artists sketchbook. Warm, charming, and plenty of character. Jenny couldn't have done more. She baked vegan cakes for us to have on arrival, and provided a bottomless teapot for the duration. Made us a beautiful meal on our first evening, kept the fire alive all night, and informed us with things to do in the area. Not to mention a send off breakfast with home made jams! Penwythnos hyfryd!
Rhys
2017-04-02T00:00:00Z
Jennifer made us feel most welcome with drinks, chocolate brownie and a roaring fire in a comfortable sitting room. The 'away from it all' cottage was beautifully restored, warm and comfortable with lovely rural mountain views. Great for a walking holiday. Lovely breakfast and good company with our host. A pity we could only stay one night.
roger
2016-09-19T00:00:00Z
Amazing stay with Jennifer. She made us feel so welcome in her beautiful cosy cottage. Really good local knowledge. A true Airbnb experience. We will recommend anyone to stay here and hope to come back.
Maiken
2016-10-23T00:00:00Z
Jennifer was the perfect host. Her breakfasts were amazing - cooked breakfast on first morning and pancakes (with the jam she made herself and was absolutely delicious) on the second. Me and my boyfriend had the best two nights sleep in her lovely cottage. It was just what we needed. The view from her house (and from our bedroom) was absolutely amazing and we got to experience the real Snowdonia countryside. I absolutely loved the rural and quiet location that let us unwind from our busy lives back at home. Jennifer was also very helpful advising us about local activities and places to eat. This stay was just absolutely amazing and no words can describe the nature and countryside views we experienced. We would definitely go back to Snowdonia and definitely would choose her to host us the next time. Thank you Jennifer for hosting us and being a part of our great memories of Snowdonia.
Johanna
2016-10-02T00:00:00Z
Jennifer is a fantastic host. She is always ready to offer tea and her help. She also helped to set up the fire place to keep us warm. She is friendly and easy to talk to. Her breakfast is absolutely tasty with variety to choose from! Jennifer's place is as shown in the description and photos. The place is great where you can really get away from people and get close to the real countryside!
Jason
2016-11-14T00:00:00Z
Great warm welcome from Jennifer with tea and home made brownies. The cottage is lovely and cozy, we had a log burner and enjoyed the cozy living room. Jennifer made breakfast for us both days, including home made jams and marmalades. She's lovely company. The cottage is overlooking a valley with fantastic views out of the bedroom windows. If you're looking for a retreat, - gettaway and somewhere close to great walks, then this place is great for you.
Sarah
2016-10-16T00:00:00Z
Jennifer is very welcoming, above and beyond, we were greeted with birthday cake and tea. We had the lovely fire warmed living room to ourselves in the evening and the night was so quiet. The next day she wrote us some walking directions and cooked us a delicious and filling breakfast. The local area is beautiful and was enhanced by the rest of the cake which Jennifer insisted we take. When can we go back?
Richard
2015-10-26T00:00:00Z
Tipo di stanza
Stanza privata
---
Tipo di sistemazione
Bed & Breakfast
---
Può ospitare
4
---
Camere da letto
Blaenau Ffestiniog, Gwynedd, Regno Unito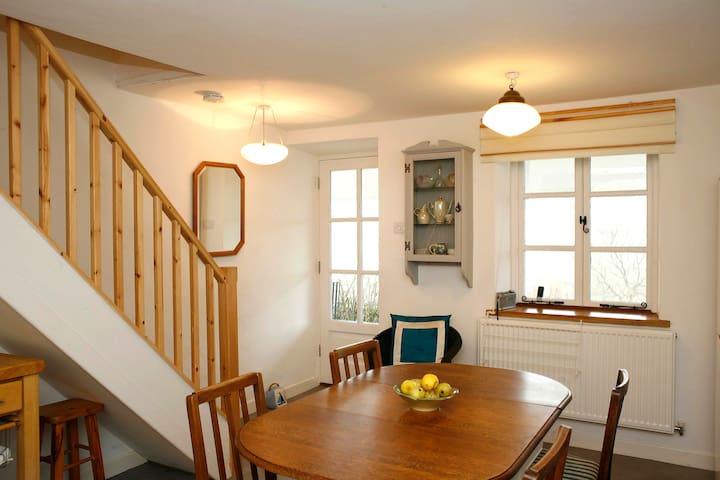 ALL energy from Renewables. Stunning rural location. Ffestiniog steam trains 200m. 3k to Blaenau Ffestiniog with huge adventure hub, Zip lines above and underground /Bounce Below / Zip world caverns / Llechwedd quarry / Go - below / Antur Stiniog bike trails. 6 ensuite bedrooms. 13 capacity Breakfast included. Not self catering . Graded, checked B & B.... Sauna...3 Electric Vehicle chargers incl Tesla. Awards.... Trip advisor Cert of Excellence. 2011 -12-13-14-15
Converted 1883 slate managers house with an acre of mountainside oozing character. Homely. 6 Double ensuite guest rooms available, 2 of which are 'garden rooms'. ECO credentials include, Trip advisor eco GREEN LEADER at top Platinium level, multiple Trip advisor Certs of excellence Won Considerate hotelier award 2014. Savoy hotel won award in 2013.... Solar powered hot water and photovoltaic cells for electricity, green pellet burner and log burners for heating and hot water. Cosy sheep's wool insulated walls, sedum covered roof insulation and recycled water system. Guardian newspaper quote" one of the greenest bolt holes in Europe."
Located at the foot of the Moelwyn mountains there are miles of walks immediately from the front door ranging from high level mountain walks to relatively flat walks taking in lakes, forests, waterfalls, slate heritage and Ffestiniog steam trains. The 1880's Ffestiniog steam railway runs at the back of the property and is easily accessible from Tanygrisiau station 200m away. Locally climbing routes from the door and mine exploration opportunities for the experienced. There are two hydro electric power schemes within 200m of house, one moving a lake 1.5 miles away, UP the mountain. Zip World Titan and Zip below,, huge zip lines..Bounce Below ( underground surreal trampoline / snakes and ladders), Go Below mines exploration, and Antur Stiniog Bike trail Centre and Llechwedd Slate caverns all 4mins away.
John and Celia were amazing hosts, going above and beyond my expectations. They had such a vast knowledge of the local area, a beautiful property in stunning location (easily accessible by foot, bus, or train as long as one doesn't have massive amounts of luggage), great food (especially the bread), and most importantly were good and kind company. They were incredibly flexible and helped me out of more than one sticky situation, for which I am eternally thankful. If I can wrangle it, I will definitely be returning.
Elizabeth
2015-06-27T00:00:00Z
What amazing surroundings and a great welcome with a fresh pot of coffee and homemade cake. It was just me and my 12yr old son, away for some bonding time and we couldn't have picked a better location. Our room was comfy and it was nice to have a decent cooked brekkie in the morning to set us off for the day. Would definately stay there again. Thanks John
Esther
2015-04-07T00:00:00Z
We stayed two nights in this B&B. The breakfast was fab, and they were welcoming on arrival. The accommodation was basic and tired, but that is probably reflected in the very low price. Our only issue is that it states dog friendly, but this is actually quite restricted. The dog cannot go in the house and you have to stay in an outside room. Whilst any rules or restrictions are perfectly within a host's rights to set out, it should state this before booking and not become apparent only on arrival. Recommended as good basic accommodation in a lovely part of the world.
Emma
2015-04-18T00:00:00Z
Me and my family (8 of us) had a wonderful time at Johns Eco Guest house. All the rooms were spacious with great views and felt very homely. We were greeted with tea, coffee and homemade buns, and shown onto the hill beside the house to watch the steam train go past! A lovely start! John and his wife Cielia were very welcoming, and were flexible with our breakfast requirements and happy to tell us all about the surrounding areas and activities, and recommended good places to eat. Their knowledge of the area was fantastic, and made our trips out each day something special. Great cosy rooms, all with an en suit! I wish we could have stayed longer as there was so much to see and do in the surrounding area, lovely walks starting from the back door! Hopefully we will come again soon, THANK YOU!
Rachel
2015-08-17T00:00:00Z
Had a pleasant experience at the ECO guesthouse. The location is quiet and immerse in nature as expected. John and his wife are very welcoming and helpful, they gave me lots of tips about on how to explore the beautiful surroundings. On top of that, the house is in itself an extraordinary piece of work to study cause it's 100% carbon neutral!
Mikele
2014-06-23T00:00:00Z
fantastic four days spent in North wales and staying at this bnb. It's a wonderful location to explore snowdonia. id day its off the tourist towns of snowdonia, which we liked, but still close to so much to do. The bnb is surrounded by breathtaking landscape of mountains, a reservoir and is a stones throw away from the tracks for the blennau to Porthmadog steam trains. my daughter loved roaming about in their garden, meeting their cats and ducks and watching the trains go by. breakfast. ..well what can I say, you certainly won't go hungry. fresh bread, cereals, yogurts, local jams then a fry up! John and celia are lovely hosts very welcoming and was interesting talking to them especially to do with how their guest house is zero carbon. We stayed in the outside 'hobbit' room which was clean and comfirtable, good King size bed and fitted travel cot easily. Will definately return.
Clare
2014-07-22T00:00:00Z
We had such a warm welcome from John and Celia. Their eco lodge is absolutely gorgeous and waking up to that view every morning was bliss. The breakfasts were wonderful. Their local knowledge is second to none and all their suggestions were brilliant. The lodge is situated in easy reach of loads of activities and fun things to do. We wish we could have stayed longer. I would highly recommend a stay here.
Jo
2017-01-01T00:00:00Z
Beautiful setting, very warm and comfortable rooms and living space and really friendly hosts. There's an amazing variety of things to see (mountains, valleys, lakes, waterfalls) right on your front doorstep. Tasty breakfasts too!
David
2015-07-13T00:00:00Z
Tipo di stanza
Stanza privata
---
Tipo di sistemazione
Bed & Breakfast
---
Può ospitare
13
---
Camere da letto
Blaenau Ffestiniog, Gwynedd, Regno Unito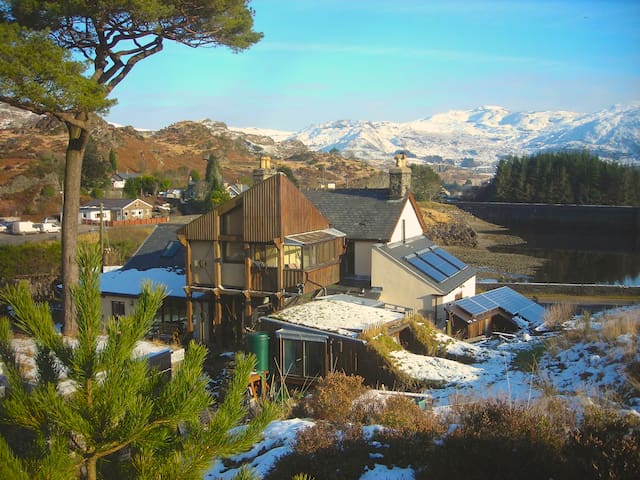 Blaenau Ffestiniog - Airbnb
:
Media di

4.79

stelle su

5

da

124

recensioni degli ospiti
1

–

3

di

3 bed & breakfast
Inserisci le date per visualizzare il prezzo totale. Ci sono dei costi aggiuntivi e potrebbero venire applicate alcune tasse.