Inserisci la data del check-in nel seguente formato dd-mm-aaaa
Inserisci la data del check-out nel seguente formato dd-mm-aaaa
Annunci che puoi prenotare senza aspettare l'approvazione dell'host.
Inserisci le date per visualizzare il prezzo totale. Ci sono dei costi aggiuntivi e potrebbero venire applicate alcune tasse.
Nei mesi di luglio e agosto puoi provare uno di questi 100 alloggi ad alto rendimento, per ogni fascia di prezzo, e vivere una visione locale di Sonoma. Prova il check-in continuato, la Prenotazione Immediata e vino e spuntini locali per rilassarti e godere al massimo del tuo viaggio.
We hebben een heerlijk verblijf gehad bij Anneleen & Sjoerd-Pieter, waarbij we een kijkje in hun leven mochten nemen! Eén nachtje was veel te kort, dus we komen snel nog een keer wat langer. Een warm welkom met koffie en wat lekkers waardoor we ons direct thuis voelde. De kamer is prachtig, alles is helemaal tot in de puntjes af en super mooi ingericht. Echt een luxe hotel gevoel. Een aanrader als je naar Leeuwarden gaat!
Marijntje
December 2015
We hebben heerlijk gelogeerd in het huis van Anneleen. De locatie is goed centraal en de kamer is prachtig. Anneleen en haar man zijn gastvrij en gezellig. Perfecte kamer voor een weekendje Leeuwarden.
Niels
December 2015
Anneleen und Pieter sind ein sehr, sehr nettes und aufgeschlossenes Paar, das uns sehr herzlich willkommen geheißen hat, so dass wir uns gleich wohl fühlten. Das Zimmer ist genauso wie auf den Bildern zu sehen; sehr gemütlich, hell, luftig und sauber. Im Bett kann man super schlafen (ich habe etwas Probleme mit dem Rücken). Die Location ist sehr zentral gelegen, so dass man von dort aus mühelos zu Fuß verschiedene Restaurants und Kneipen erreichen kann. Wie in der Beschreibung erwähnt, werden verschiedene Räumlichkeiten noch restauriert, was uns aber überhaupt nicht gestört hat (wir haben keinen Lärm mitbekommen). Diese Unterkunft ist sehr zu empfehlen! Alles Liebe und Gute für Anneleen, Pieter und Ephraim!
Antje
July 2016
Anneleen and Pieter are a young, welcoming couple. The room is as homely as the pictures present. We had a great stay and would definitely recommend Anneleen and Pieter as hosts!
Marian
August 2016
Leeuwarden is a good place to stay if you want to explore the North of the Netherlands. The loft in the centre of the city is very spacious and modernly furnished. The room is light-flooded. We appreciated having our own toilet. We were very well received by Anneleen and Sjoerd Pieter. They are both very friendly and open minded and easy to get along with. Our stay was very positive.
Annette
July 2016
Heerlijk verblijf in lichte en zeer ruime kamer,met fantastisch groot en lekker bed. Behulpzame en vriendelijke verhuurders. Goed ontbijt gekregen met warm gebakken brood.
Danny
December 2015
Bij aankomst stond er iets te drinken klaar. Het is een prachtig historisch pand in het centrum. Erg leuk en makkelijk om de stad in te gaan. 's Ochtends vroeg wel wat overlast van het uitgaansleven. Bij Sjoerd en Anneleen is het erg gezellig.
Noud
July 2016
We hebben een fantastisch weekend gehad in Leeuwarden. Anneleen en Sjoerd Pieter hadden alles erg goed verzorgd, lekker ontbijtje en een fijne kamer! Leuke, gezellige mensen en een lief zoontje :) Zeker een aanrader om te verblijven!
Marlou
December 2015
Tipo di stanza
Stanza privata
---
Tipo di alloggio
---
Può ospitare
2
---
Camere da letto
1
Leeuwarden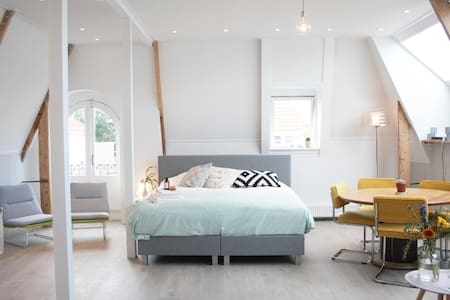 Het is een fantastisch huis in een prachtig natuurgebied. Een genot om tijdens de ondergaande zon naar de ooievaar te kijken die een nest heeft achter in de tuin. Het huis is van alle gemakken en luxe voorzien en enorm sfeervol! Een absolute aanrader!
natascha
June 2016
WAUW!! That was our first impression when we walked into the house. It is such an amazing place. We really like the style of the house. There is plenty of room for groups. We came with 5 couples for a long weekend and we have enjoyed it so much. The kitchen in amazing to cook in and also perfectly workable for a bigger group. The fire place makes it really cozy in the evenings. The beds were so nice to sleep in. Ingrid and her husband were really nice and have arranged everything into the details. Everything you need for a nice weekend is there and available. Thinking about towels, fuel wood, candles, table games. We would love to come back again soon when the weather is better so we can also enjoy the nice terras and swimming pool. We Loved It!
Chayen
April 2016
Ein ganz besonderer und zauberhafter Ort. Ein wunderschönes und liebevoll eingerichtetes Haus mit allem, was man für ein unvergessliches Wochenende braucht. Vielen Dank!
Greta
May 2016
Ingrid is a great host, very helpful in providing useful information to make the most of the stay. Absolutely recommended, the location is amazing.
Ulf
August 2016
Het huis van Ingrid en Ruud is heel fijn. Het huis is ontzettend groot en modern ingericht. Het huis wordt lekker verwarmd door de kachel en als die 's avonds aanstaat is het, ondanks de grote ruimte, hartstikke knus en gezellig. De omgeving is prachtig, wandelen en fietsen moet je hier eigenlijk wel gedaan hebben. Al met al hebben wij genoten!
Danielle
December 2016
What a fantastic, tastefully decorated and beautifully renovated farmhouse! We were there for the weekend, extended family of 11 people; there is plenty of space, with choices between great sleeping spaces in the wallside (old fashioned 'bedstee') or bedrooms. A modern spacious kitchen with everything you need and with great views of the fields around. In rural Friesland, near the Weerriben. Ingrid was very friendly, flexible and helpful, eager to learn how she can still improve on the experience. A great place for family reunions, a weekend out with friends, or even business retreats. Sorry if this sounds like a commercial, but it is a hidden pearl in Friesland!
harman
March 2016
Wir hatten einen traumhaften Aufenthalt in Nijelinde. Das Haus hat eine wunderschöne Lage mitten in der Natur. Hier kann man sich so richtig entspannen. Ingrid und Ruud sind sehr nette Gastgeber und haben uns herzlich willkommen geheißen. Es hätte nichts besser sein können :)
Kerstin
May 2016
Highly recommended and an absolutely stylish, clean, cozy and amazing place to stay with a lot of people (in our example bachelorette party). The loft was exactly as described on the pictures. Ingrid and her husband were incredible hosts and let us feel very welcome at her beautiful place - many thanks for that again. communication was perfect and the loft is equipped with everything you need. We would definitely love to book this place again. In spring or summer it must be amazing with the pool and the wonderful nature around. we had a fantastic weekend.
Judith
February 2016
Tipo di stanza
Intera casa/apt
---
Tipo di alloggio
---
Può ospitare
12
---
Camere da letto
4
Nijetrijne