50 m2 room flat with separate bedroom, bathroom and terrace. Studio Kitchen in the living room. The apartment is 2nd floor. In my garage. Very good views, large windows - bright and cheerful home. From the dining table you look out on the treetops! 4km from Biri center.
Mid inland - between Hamar, Gjøvik and Lillehammer.
Wir hatten eine wunderschöne Zeit in Guros Garasjen! Die Wohnung war genau wie beschrieben: sehr gemütlich, ruhig gelegen und ein traumhafter Ausblick auf den See. Guro war eine freundliche und vor allem hilfsbereite Gastgeberin. Wir haben uns sehr wohl gefühlt und würden jeder Zeit wieder kommen! Danke Guro!
Birte
2016-01-03T00:00:00Z
Guro responderede straks på alle henvendelser og alt var som beskrevet. Beliggenheden er vidunderlig, ligesom stilheden. Lejligheden indbyder til at nyde og hygge. Kan varmt anbefales og vi kommer gerne igen.
anni
2016-07-26T00:00:00Z
The host was friendly and very welcoming. The house was one of the loveliest we had seen in Norway. Off the beaten track, it has a great view and a modern style.
Oleg
2016-06-16T00:00:00Z
Un magnifique emplacement, une très jolie décoration, un grand confort, un calme absolu.... Nous avons passé un très bon moment (bien que trop court !) dans le joli petit chalet de Guro. Une voiture est absolument indispensable et il faut prévoir de faire des courses avant d'arriver sur place où il n'y a rien. Très peu de contacts avec notre hôte qui habite dans une maison à côté, mais qui était là pour nous accueillir. Un très bel endroit à recommander absolument pour les amoureux de nature.
Christine
2017-02-19T00:00:00Z
The view from the house is amazing! You only see trees, the lake and cities far away. The house is located on a hill, far away from the street, so it's also very quite there. The house itself is beautiful and was clean. We had a great time.
Linda
2016-07-25T00:00:00Z
The place is neat and so near to the nature. We spent some times to find it due to the foggy weather. It is a great place to spend a lot night over there.
Connie
2016-05-24T00:00:00Z
Wat een geweldige locatie!!! Heerlijk rustige omgeving terwijl winkels binnen 10 min. met de auto te bereiken zijn. Comunnicatie was ook perfect zeker gezien onze flexibele aankomst tijd. Geld meer dan waard zeker een aanrader voor iedereen die van rust houd en een top uitzicht!
Wilco
2016-08-19T00:00:00Z
Cute apartment located on a hill/mountain ca 30min south of Lillehammer. Marvellous view from the house and the terrace on all sides!
Jorryt
2016-09-19T00:00:00Z
Tipo di stanza
Intera casa/apt
---
Tipo di sistemazione
Casa
---
Può ospitare
2
---
Camere da letto
Biri, Oppland, Norvegia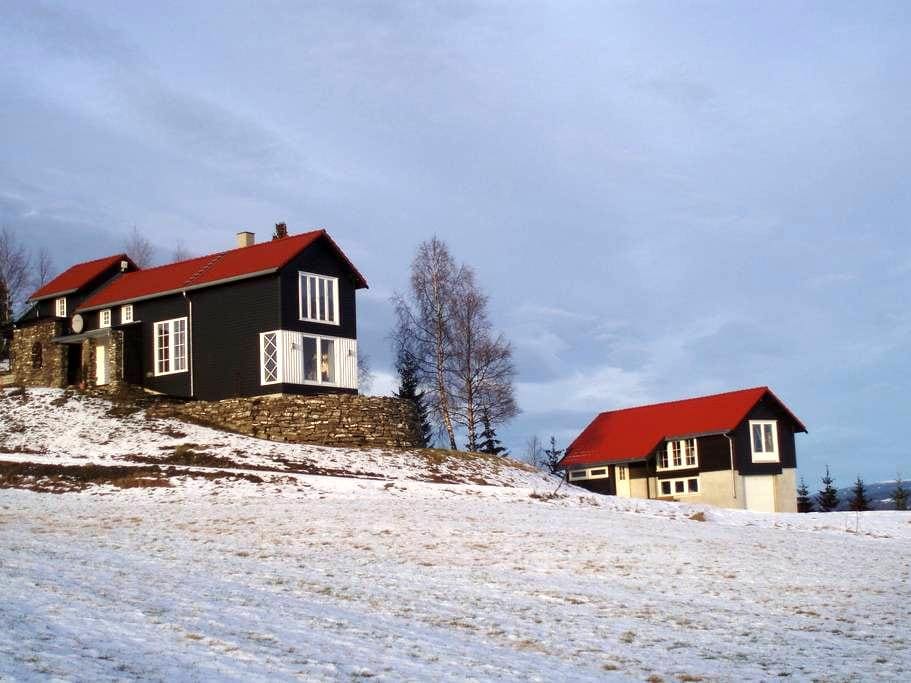 Rooms with bath on the second floor in private house. Accessible by train, combined with buses, eventuent car. Accessible parking.
Great place with very kind hosts. Recommended!
Henrik
2016-12-14T00:00:00Z
Kjempehyggelig familie. Rommet sto til forventningene.
Per
2016-06-03T00:00:00Z
Ingrid lives in a wonderful house in hunndalen/gjovik. I have chosen this place for relaxing and hiking. I felt welcome from the very first moment. Ingrid and her whole family are very easy going, very helpful and it is very easy to live with them. You got your own room, that was big enough for my belongings. It was no problem, that i could do my laundry. Ingrid also showed me places around gjovik and her nice placed Cabin in the woods. From gjovik you can also go easily to lillehammer and hamar by bus (every hour). It is also nice, to take a trip with the skibladner on the mijosa. Once again i had a perfect stay. Thank you Ingrid!!!
Martin
2015-08-01T00:00:00Z
Veldig hyggelig vert som gjorde oppholdet veldig lettvindt. Hjemmekoselig sted i rolig nabolag. Passet ypperlig for meg som overnattingssted før avleggelse av eksamen ved Høgskolen i Gjøvik.
Øyvind
2015-08-13T00:00:00Z
A very good house and very nice, warm-hearted family, also there are two lovely and beautiful cats. I will definitely recommend. Thank you Ingrid :)
congcong
2016-04-24T00:00:00Z
Veldig hjemmekoselig opplegg og svært fleksibel vertinne, følte mig velkommen fra første stund og sov i en behagelig seng. Fikk til og med strøm til min elbil! Kan anbefales.
Anders
2016-09-12T00:00:00Z
Jeg hadde en koselig og uproblematisk oppholdt hos Ingrid og familien. Rent og fint, tilgang til nett, tillit til meg som kunde og overnattingsgjest, ingen problemer med parkeringsplass, stille og rolig strøk.
Jack
2014-12-17T00:00:00Z
Jeg ble tatt veldig godt i mot av Ingrid, som forøvrig er meget hyggelig. Rommet svarte til forventningene og sengen var behagelig å sove i. Alt var i skjønneste orden. Kan anbefales.
Christine
2016-02-15T00:00:00Z
Tipo di stanza
Stanza privata
---
Tipo di sistemazione
Casa
---
Può ospitare
1
---
Camere da letto
Gjovik, Oppland, Norvegia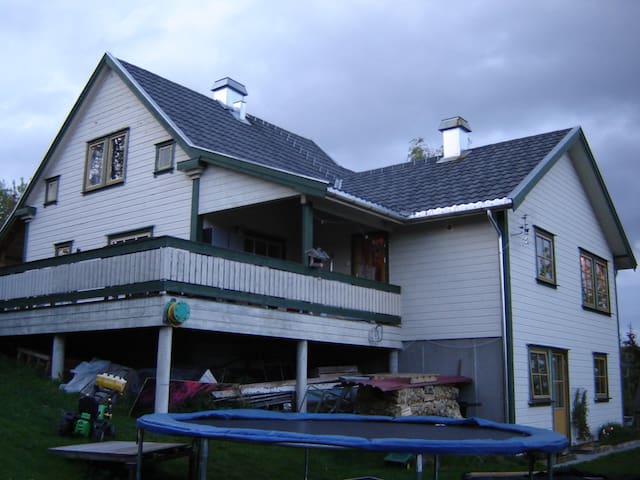 Koselig rekkehus fra 1940 til leie som enkeltrom og dobbeltrom i Gjøvik. Ren og delikat. Korte avstander til all transport og nærhet til naturen-og idrettsanlegg vinteren. Du kan ikke være allergisk mot katter.
The host canceled this reservation 29 days before arrival. This is an automated posting.
Huaxiao
2015-11-19T00:00:00Z
Tipo di stanza
Intera casa/apt
---
Tipo di sistemazione
Casa
---
Può ospitare
4
---
Camere da letto
Gjøvik, Oppland, Norvegia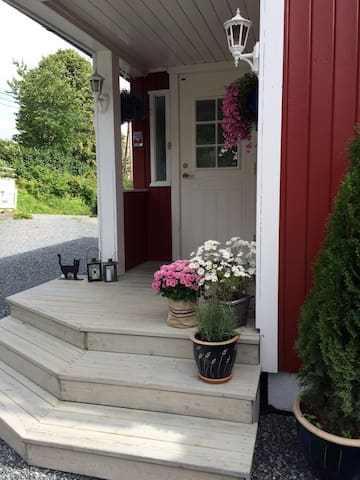 Unique group of houses on the beautiful hills overlooking the Randsfjorden lake. Peaceful resort surrounded by forest and wildlife 5 minutes from local center by car. Modern facilities w 2 baths , modern kitchen, high speed internet etc.
We had a great family time. The house is very beautiful, we immediately felt at home. Jon was perfect. He welcomed us very warmly. Showed us and explained everything about the house. He had filled the fridge. :) The house has an incredible view. We highly recommend this place. Without hesitation we will be back in the summer. Thanks again for everything Jon.
Christelle
2017-01-02T00:00:00Z
We were delighted with the friendliness of Jon. He was very welcoming, he met us in the village and took us to the house. The house was as described, very warm, welcoming and had wonderful views over the valley and lake. It even has a piano! There are many walks in the area and cross country ski tracks behind the house and nearby. Jon has some skis available at the house or bring your own, because there is no ski hire in the area.
Uschi
2016-02-20T00:00:00Z
Tipo di stanza
Intera casa/apt
---
Tipo di sistemazione
Casa
---
Può ospitare
6
---
Camere da letto
Søndre Land, Oppland, Norvegia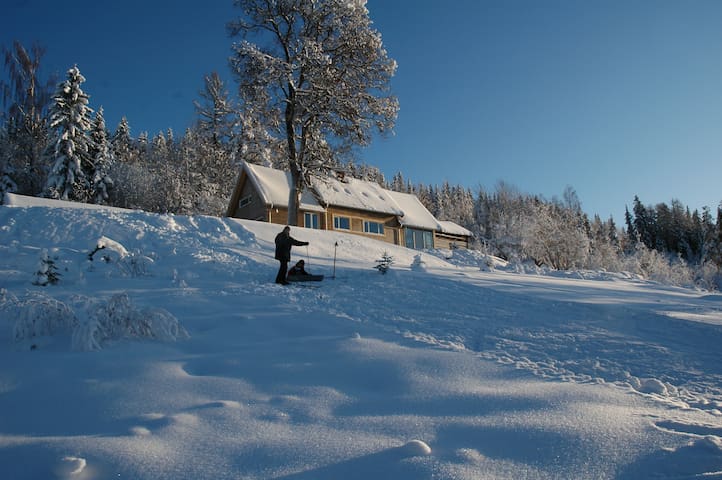 Landlig og bynær beligghet, har god utsikt, god bussforbindelse. Ny leilighet, godt utrustet med kjøkkenkrok og soverom, det er eget bad med vaskemaskin. Vi har ikke leid ut til AIRbnb i vinter, nå åpner igjen nå for ny utleieperiode, velkommen nye gjester.
Good location and separate entrance, homely atmosphere.
Proximity to many turmulighetet
We spent only one night in this lovely, very clean apartment, but we will remember it, because the hosts were charming and the experience was very nice for our first night in Norway. Thank you very much!
Emmanuel
2016-08-21T00:00:00Z
Jeg ble tatt godt imot av verten og leiligheten levde opp til forventingene.
Hans Christian
2016-11-03T00:00:00Z
May Helen, was a great host. The place was in perfect order, just as one could expect. Great value for the price. Definitely reccomended!
Nathaniel
2016-07-30T00:00:00Z
Our stay at May Helens place was simply the best AirBnb experience we've had so far. Her homemade marmelade, warm welcome, willingness to help and the apartment itself are hard to beat.
Remko
2016-07-24T00:00:00Z
Svært hyggelig vertskap. Nyoppusset og praktisk bolig, som ligger fint til med nærhet til både by og natur. Leiligheten har alt av nødvendig utstyr, TV-kanaler og wi-fi. Jeg kommer gjerne tilbake!
Sjur
2015-12-20T00:00:00Z
Jeg har bodd i huset mange ganger tidligere. Vertskapet var som vanlig utrolig hyggelige, og inviterte bl.a. til kaffe på kvelden. Denne gangen passet det dessverre ikke fra min side. Stedet er rolig, men allikevel kort vei til Gjøvik sentrum.
Sjur
2016-10-15T00:00:00Z
Stille og rolig nabolag i naturskjønt område. Utleiestedet ligger utenfor sentrum, men med gode bussforbindelser og holdeplass rett utenfor døra så er ikke beliggenheten noe problem. Dessuten var verten veldig imøtekommende og tilbød skyss til/ fra tog stasjonen og til matbutikk hvis jeg hadde behov for det. Anneksleiligheten er lys, trivelig og praktisk. Lett å finne seg til rette både i sofakroken og ved spiseplassen som hadde fin utsikt mot vakker natur. Stort, romslig og delikat bad og et fantastisk soverom! Beste seng, ever! Følte meg velkommen og ivaretatt og kommer veldig gjerne tilbake hit neste gang jeg trenger overnatting på Gjøvik.
Anne-Cathrine
2016-01-15T00:00:00Z
May Helen har en ypperlig leilighet som kan brukes på både korte og lengre opphold på Gjøvik. Alt er på plass og iorden, ved ankomst hadde hun ordnet med det nødvendigste av mat for frokost dagen etter, kjempebra da butikkene allerede var stengt. Fikk også låne garasjeplass til bilen for å slippe is/snø på denne da det var kaldt under leieperioden. Familien var veldig hyggelig og opptatt av at oppholdet på Gjøvik skulle bli så bra som mulig.
Pål
2016-01-29T00:00:00Z
Tipo di stanza
Intera casa/apt
---
Tipo di sistemazione
Casa
---
Può ospitare
2
---
Camere da letto
Gjøvik, Oppland, Norvegia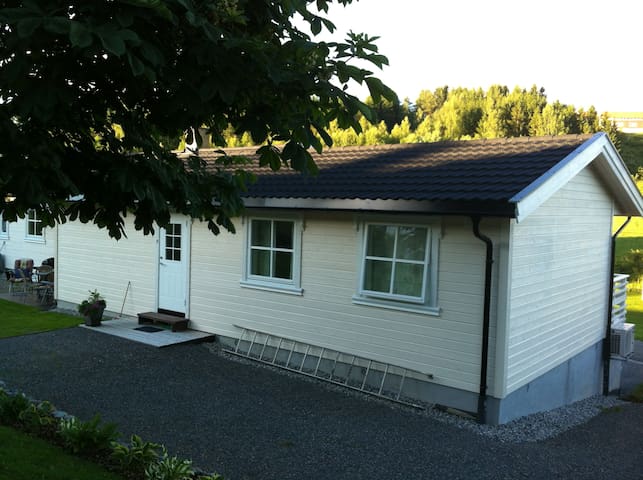 Beautiful townhouse from 1930 for rent as single room, double rooms or the whole house in Gjøvik. Clean, spacious and delicate. Short distances to all transport and close to nature-and sports facilities summer and winter. Short distance to Høyskolen i Gjøvik.
Hyggelig på telefon, rent og fint.
Bodil
2016-09-05T00:00:00Z
An-Magritt's house is amazingly cozy and comfortable. The guest room doesn't have a direct entrance, but can be accessed through the bathroom or the adjacent bedroom. Don't let it deter you from staying here, sounds weird but it works. The kitchen is clean, An Magritt makes a very strong cup of coffee that'll get your day going in the right direction, and the town of Gjøvik is a quaint little place that deserves to be explored on foot. Don't miss the chocolate factory, and the mountain hall is pretty awesome as well. An-Magritt and her family are gracious hosts, and I would recommend staying here if you are able.
Lana
2014-08-14T00:00:00Z
An-Magritt has a very nice house situated just a short walk from the city centre and from HiG(Gjøvik College). The house atmosphere is very cozy and calm and allows you some good quality sleep. An-Magritt and her family are the best hosts ever, making you feel very welcome; highly recommended!
Trond
2014-12-18T00:00:00Z
An-Magritt and her son are very very lovely hosts. If we needed something they always had an open ear for us. The house and the room are very sober and beautiful. I would always come back. We felt very comfortable! Thanks, it was a plessure to meet the hosts.
Claudia
2015-06-25T00:00:00Z
I had a very pleasant stay at An-Magritt's house in Gjøvik. The atmosphere is very relaxed and friendly. An-Magritt is very friendly and was a great host. I was arriving fairly late in the evening, but someone was up waiting for me to let me in. The house is within walking distance of the town centre and the train station.
Douglas
2014-09-11T00:00:00Z
Veldig fin beliggenhet mellom kollektivtransport (tog/bus) og NTNU.
Marinka
2017-01-20T00:00:00Z
Rent og fint sted nært sentrum. Hyggelig vert.
sindre
2017-03-07T00:00:00Z
Det var veldig koselig å bo hos An-Magritt.Hun la alt tilrette for et bra opphold. Rommet er stort og romslig. Veldig rent og ryddig overalt med en avslappet tilværelse. Sentral beliggenhet. Kort vei til skole og sentrum. Kommer gjerne tilbake.
Kristian
2017-03-17T00:00:00Z
Tipo di stanza
Stanza privata
---
Tipo di sistemazione
Casa
---
Può ospitare
2
---
Camere da letto
Gjovik, Oppland, Norvegia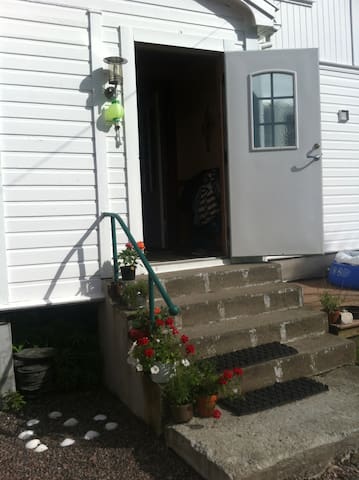 Qui si può soggiornare comodamente nei pressi della University College di Gurgaon (Capodanno parte della NTNU), centro di Gurgaon, l'arena olimpica Fjellhallen e Mjøsa con Skibladner. Normalmente hanno una camera di ricambio con una veranda privata e l'accesso alla sala TV poco. Può periodicamente affittare due camere (4 posti letto).
La sua posizione in una zona tranquilla ma molto centrale zona residenziale. A soli 5 -10 minuti a piedi dal centro e kollektivtermimal. A pochi minuti alla fermata dell'autobus per l'aeroporto e autobus urbani e 5-10 minuti nella seconda direzione è Gjøvik college e zona olimpica Fjellhallen.
Tranquilla zona residenziale nel centro della città e facilmente raggiungibile Gjøvik (HIG), Fjellhallen (Hockey Arena), Gjovik Gard (tormentoni) e Skibladner molo.
The host canceled this reservation 2 days before arrival. This is an automated posting.
Daniel
2016-09-27T00:00:00Z
Det var 3.gang jeg bodde hos Marit. Alltid hyggelig! Takker for meg
Nadia
2015-12-11T00:00:00Z
Vous trouverez chez Marit un très bon accueil , un logement confortable et proche des commerces et des transport en commun. Vivement conseillé !
Catherine
2017-03-04T00:00:00Z
Supert å bo hos Marit. Mitt andre opphold her. Perfekt beliggenhet til NTNU og sentrum.
Malin
2017-04-06T00:00:00Z
Stemmer godt overens med annonsen. Fint og rolig område med sentral beliggenhet.
Camilla
2016-05-21T00:00:00Z
Det et koselig rom, og hyggelige folk, kommer til å booke igjen!
Nadia
2015-10-22T00:00:00Z
Virkelig dejligt værelse med egen balkong, helt top! Marit er veldig gjestfri og inkluderende, følte meg velkommen her og kan varmt anbefale hendes tilbud. Obs: veldig sentral beliggenhet! :-)
Anders
2016-07-05T00:00:00Z
Hyggelig mottakelse, kom sent og gikk rett i seng, sov som en stein!
Nina
2016-09-01T00:00:00Z
Tipo di stanza
Stanza privata
---
Tipo di sistemazione
Casa
---
Può ospitare
2
---
Camere da letto
Gjøvik, Oppland, Norvegia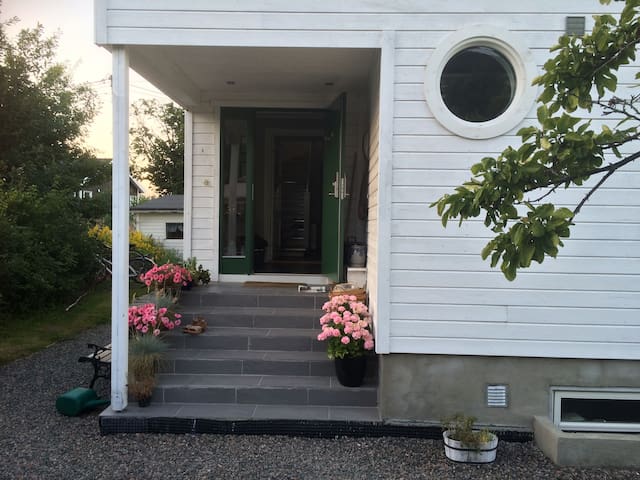 appartamento seminterrato con ingresso indipendente, soggiorno e bagno. Una piccola cucina con lavello, forno a microonde e frigorifero è inoltre disponibile. Il soggiorno ha una grande finestra con una splendida vista su Mjøsa.
Lo spazio è un appartamento seminterrato appena ristrutturato con splendida vista su Gjøvik e Mjøsa (Norvegia lago più grande). Essa ha un proprio ingresso e contiene un soggiorno con colori chiari e accoglienti con un divano letto. Il soggiorno ha anche una grande finestra che si affaccia Mjøsa. Il bagno è semplice ed elegante con piastrelle bianche e nere. L'intero appartamento è riscaldato piastrelle del pavimento.
La casa si trova in un bel quartiere con lo più ville. E 'calmo e tranquillo, con poco traffico. La casa si trova a 15 minuti a piedi dai boschi. C'è possibile effettuare escursioni, bicicletta o andare a sciare in inverno. In estate v'è un bagno all'aperto a 20 minuti a piedi dalla casa. Si tratta di 15 minuti a piedi a fare la spesa.
Lett å få kontakt med vert før og underveis. Rask, vennlig og imøtekommende for mine behov og forespørsler. La til rette for min ankomst og tidspunkt. Lyst og trivelig sted. Rent, ryddig og pent. Stille og rolig i huset, og i nabolaget. Storslått utsikt med soloppgang rett inn i stuen. Hadde et flott opphold her.
Finn Martin
2016-08-29T00:00:00Z
Beautiful view, very clean and spacious. An excellent host!
Alex
2016-08-08T00:00:00Z
Friendly, good service, very nice place, wonderful view, practical, great coffee!
Erich Must
2016-09-17T00:00:00Z
Koselig sted og koselig vertskap! Anbefales!
Randi Anne
2016-11-05T00:00:00Z
Ble godt tatt i mot og vist rundt i leiligheten av verten som var meget hyggelig. Leiligheten er nylig pusset opp med god standard. Flott utsikt med beliggenhet i et rolig området en liten gåtur utenfor Gjøvik sentrum.
Andreas
2016-08-25T00:00:00Z
Jeg leide hybel til en arbeider på ett prosjekt i Gjøvik. Tilbakemeldingen fra håndverkeren har vært strålende. Vi kommer nok til å leie her igjen ved nye prosjekter.
Geir
2016-12-16T00:00:00Z
Trivelig og omgjengelig . Raskt, enkel og uten problemer med å leie hos Yngve. Rent , nytt og helt riktig : great view.
Erik
2016-08-08T00:00:00Z
The apartment was simple but well-equipped and very clean. The host was very helpful and responded timely to my request. The place is located on a hill so you get a great view from the window. Good value for the price. I had a nice stay and would recommend this place.
Carol
2016-08-18T00:00:00Z
Tipo di stanza
Stanza privata
---
Tipo di sistemazione
Casa
---
Può ospitare
3
---
Camere da letto
Gjøvik, Oppland, Norvegia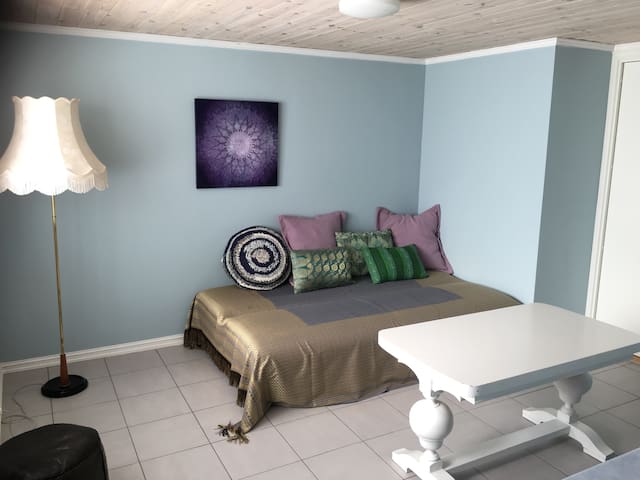 The property is located at Gjøvik city center. The villa is modern and well sheltered with a very nice landscaped grounds with breathtaking views of Norway's largest lake (Mjøsa). There is huge space in the living room / kitchen - an open floor plan.
Gjovik is called "the white city by Mjøsa" with ca. 30,000 citizens. The city invites to many activities such as swimming (in Mjøsa or at Fastland), tennis, squasj, cross country skiing, downhill skiing, golf, running og biking in the forest og by the see ... It is walking distance to town and Eastern Norway's largest shopping center :-)
Tipo di stanza
Intera casa/apt
---
Tipo di sistemazione
Casa
---
Può ospitare
6
---
Camere da letto
Gjøvik, Oppland, Norvegia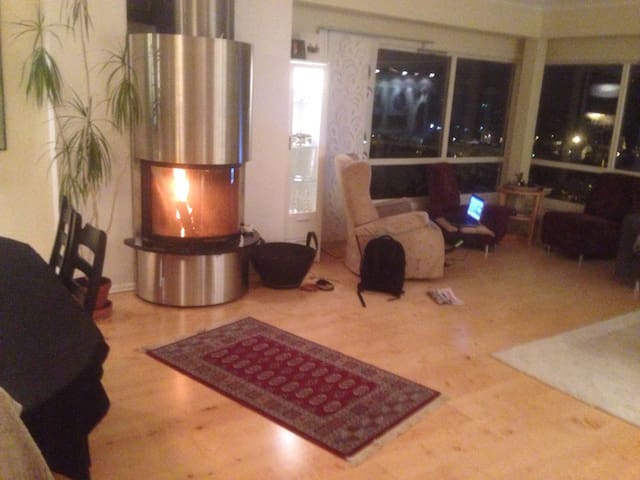 Sigstad Gård leier ut historiske dobbeltrom med selvhusholdning i en privat del av hovedbygningen. Egen inngang, 1 bad med dusj og boblebadekar og 1 utstyrt kjøkken med kokkemuligheter. Rolige omgivelser på gård. Fine turmuligheter.
Tipo di stanza
Stanza privata
---
Tipo di sistemazione
Casa
---
Può ospitare
6
---
Camere da letto
Biri, Oppland, Norvegia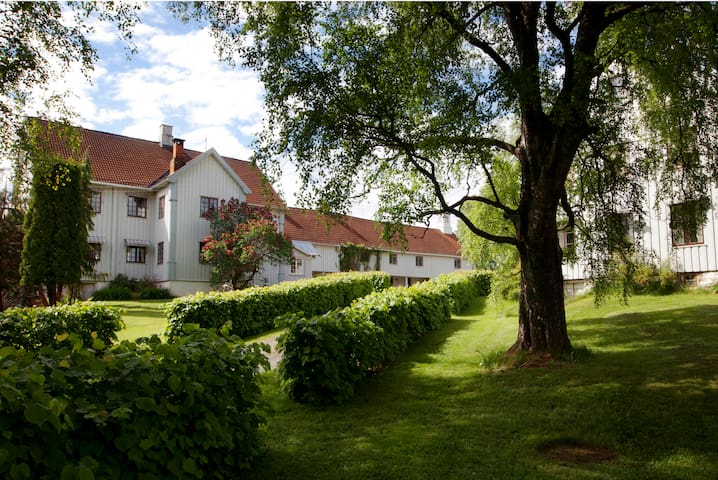 Enebolig i stille og rolig boligfelt.
Kjøpesenter 1 km Buss 1 km Tog 1 km Raufoss Badeland 2 km
Tipo di stanza
Intera casa/apt
---
Tipo di sistemazione
Casa
---
Può ospitare
8
---
Camere da letto
Vestre Toten, Oppland, Norvegia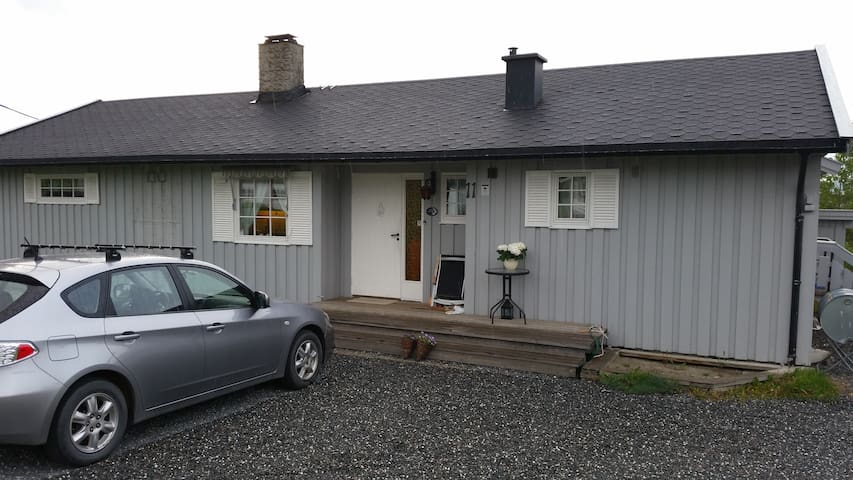 Ligger nær hovedveien (E6) mellom Trondheim-Oslo, og kun 25 min kjøring til Lillehammer, Hamar og Gjøvik. Dette gjør det til et perfekt utgangspunkt for YOG. Velkommen til å bo på mitt hjem :)
The host canceled this reservation 25 days before arrival. This is an automated posting.
Morten Kanstrup
2016-07-17T00:00:00Z
Tipo di stanza
Stanza privata
---
Tipo di sistemazione
Casa
---
Può ospitare
2
---
Camere da letto
Gjøvik, Oppland, Norvegia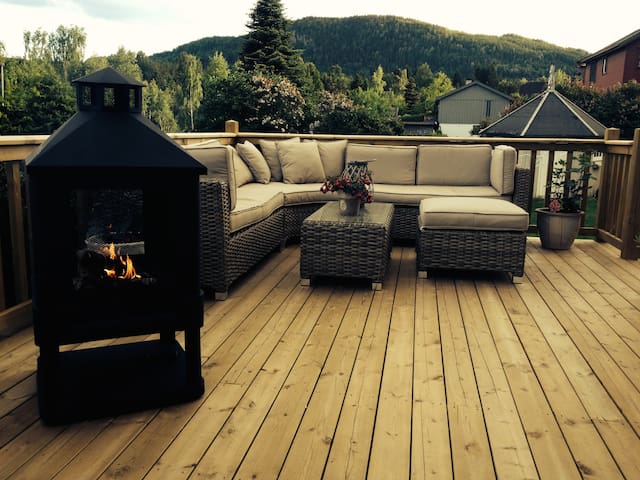 4 bedrooms, 1 with 2 seperate beds. All brigth and nice with windows. Shared large and modern kitchen. Private beach, boathouse (with boats) , mountain with trail. Beutiful surroundings. Great fishing! You are welcome!
Private beach and boathouse. Trails for hiking. Boat rental beutiful surroundings. Farm products sold on farm. Hunting and fishing rights with great trout fishing. House is modern and kitchen has most accessories and can be used at any time. Grill for bbq is placed outside and can allso be used.
Beutiful nature! Lots of wildlife!
We had a comfortable and pleasant stay. Hosts are very kind, hospitable and put effort in making us feel like being home.
Remco
2016-04-16T00:00:00Z
It was an amazing experience. The bedroom is very cozy, and the house is placed in a beautiful enviroment. The hosts were very friendly with us, giving us tips about the country and surroundings :)
Pedro J.
2016-08-26T00:00:00Z
Magnus was the perfect host. He was very friendly and helpful. His dog Brutus is lovely as well. The house is laying calm and beautiful in the mountains and the room is very cozy. This place provided us with everything we needed and we had a wonderful stay. I would totally recommend this place.
Olav
2016-08-10T00:00:00Z
We had a wonderful stay at Magnus's place! The house is gorgeous and the property is also very beautiful. We wish we could've stayed longer! Magnus is a lovely host with such a great energy. The furry occupants were also such a joy to meet. Would definitely recommend/stay again.
Martha
2016-05-28T00:00:00Z
Fabulous house with great views. Luxury in the woods. we felt very welcomed and comfortable. we stopped here on our way to Oslo from Andalsnes. Airport is just an hour and a half from his house. Host ha s dogs, but they were restricted to their room and were extremely well behaved. we loved our stay in this gorgeous house. definitely recommend. Must stay.
Smriti
2016-05-23T00:00:00Z
It was a very nice experience for our family to stay in this house. It is a comfortable, clean, stylish, cozy and very well equipped house with an amazing view. Our host made us feel at home from the very beginning which is a nice thing to do when you are traveling with two toddlers. He was helpful, attending and discreet. We were invited to have coffee and cake with him and his family and we had a lovely time. The house is situated in a wonderful spot overlooking a lake and just at the edge of a forest. As it was snowing during our stay, we got to play outside with our children with a luge provided by the host. But most of all our children loved spending time with the two friendly dogs of the house. A very nice experience indeed!
Georgios
2016-03-06T00:00:00Z
We spend two night at the farm and we enjoyed it very very much!! The hospitality was great. Excellent rooms and facilities wich we could use whenever we liked. The are also very freindly and good tempared. They only want to be cuddled!
Annelies
2016-04-26T00:00:00Z
Tipo di stanza
Stanza privata
---
Tipo di sistemazione
Casa
---
Può ospitare
2
---
Camere da letto
Hov, Oppland, Norvegia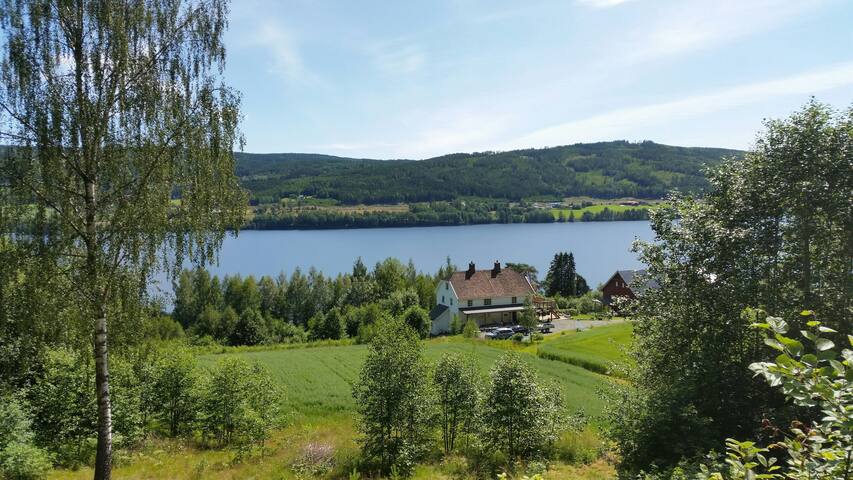 My location is close to the bus hold space and shop. Vingrom is absolutely beautiful area. lovely and brighter house, downtown, parks, great views, art and culture. I think you love the nice house, because the view is fantastic, the location, the atmosphere and the outdoors.
The place is accessible fresh air, nice people I have a large garden and guests have the opportunity to sleep in a tent, if they want to, instead of sleeping in the house in the summer. Not only that, guests can grill too. On the back side of my house is small river and could hear water sound and hot sun. Have the opportunity hunting fish too. I have great space to park 7 cars. Sola waiting all day and all night around the house. I have two porch. *** KR 300, - NOK per person for the guest 250 kr enough.
Lillehammer is a koselog small town that has a lot of tour options. Both skiing in winter and cycling in the summer. There is a short distance to the dogs falls and gudbrandsdalen with much skiing opportunities.
Marta was very sweet and welcoming, beautiful location.
Jesse
2017-02-20T00:00:00Z
Marta var en kjempefin vert og det var en glede å være på besøk hos henne et par netter
Axel
2017-03-08T00:00:00Z
Hyggelig og serviceinnstilt vertskap. Rent og pent i huset.
Håvard
2017-03-12T00:00:00Z
Very hospitable people and a beautiful, cozy home. Breathtaking surroundings.
Pieter-Jan
2017-03-26T00:00:00Z
We (a family of 5) had a very nice stay in Habtam's home on our way to Kvitfjell. The house was clean, the beds were made and we could use the kitchen facilities. Habtam kept a very nice balance between welcoming us in her home offering us authentic Ethiopian Coffe and bread and giving us space to be on our own. We can only give our warmest recommendation to staying a with Habtam :-)
Julie
2017-02-12T00:00:00Z
Thanks Marta :)
Jesse
2017-02-24T00:00:00Z
Tipo di stanza
Stanza privata
---
Tipo di sistemazione
Casa
---
Può ospitare
6
---
Camere da letto
Lillehammer, Oppland, Norvegia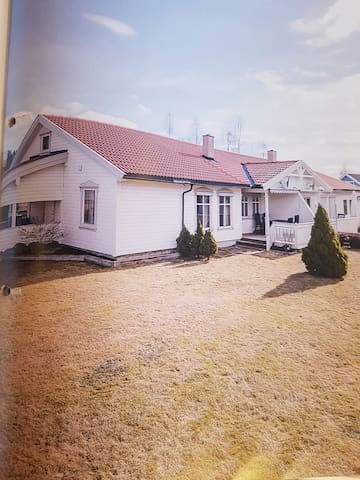 Kabel TV. Arbeidsbord med stol. Ikke eget bad.
Koselig rom. Sentralt
Rolig
Hyggelig og vennlig vertinne med stor sans for interiør og innredning. Rommet var alright og jeg kan anbefale andre dette stedet.
Per Einar
2016-11-25T00:00:00Z
Tipo di stanza
Stanza privata
---
Tipo di sistemazione
Casa
---
Può ospitare
1
---
Camere da letto
Reinsvoll, Oppland, Norvegia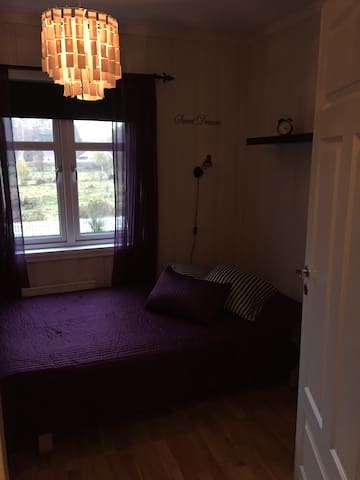 Denne sjarmerende lille huset har en fantastisk utsikt, rolige omgivelser, og bare en kort kjøretur (7 minutter) til byen. Huset ble pusset opp i 2009 og har alle nye VVS og elektrisitet. Elektriske apparater er alle nye.
A beautiful, isolated setting. We brought our two dogs and they had a blast running through the surrounding woods in the snow. Less than 20 minute drive to central Lillehammer. About 45 minutes to sjusøen skisenter. The house has a slightly odd lay-out. Bedroom is some short, steep stairs, through the bathroom. It works fine for couples, but would not be good for young kids or having a few guests for a visit. Owner was very communicative and "check-in" was a breeze. House was toasty warm and well-lit when we arrived after dark. The location was ideal for a weekend away to ski and let the dogs run wild.
Ellen
2017-02-07T00:00:00Z
The place is beautiful, very close to Lillehammer (around 6km) but very quite and in the middle of nowhere. We had our dog with us and it was perfect for him as well. He could be unleashed all the time and what is really great is that there is a hundehage just around 100m from the cottage where we could play. Also, there is no traffic up to the cottage so it is very very safe. Sige prepared everything for us and we felt very comfortable.
Pavel
2016-11-08T00:00:00Z
Veldig koselig hytte! Anbefales for et rolig avbrekk.
Thore
2016-10-05T00:00:00Z
Sige was a fantastic host, gave us great help and guidance both before and after booking. Her cabin is so lovely and comfortable. It is very clean and so warm. All the facilities are top notch, I can't wait to come back!!
Susan
2016-02-22T00:00:00Z
Sige is a great host, very flexible and available! The house is lovely and cozy and the location is just perfect - only 10-minute drive from Lillehammer. I definitely recommend it !
Laure
2016-03-16T00:00:00Z
Really calm, private and cozy house in the woods. You should get up in the morning with sounds of birds and wind. High recommended for anybody tired in the city life.
Warren
2016-10-09T00:00:00Z
A place with personality. It feels very remote and quiet, even though Lillehammer is close by. I spent a long weekend here with two friends, and it was a good location for us going on day trips to Nordseter, Sjusjøen and Hafjell. Sige was very swift in responding and forthcoming to any questions.
Tim
2016-09-11T00:00:00Z
The location of the cabin was perfect for us. Total privacy, you could hear nothing but birds and the wind and just a 10 minute drive to Lillehammer. The cabin itself has everything you need and is very comfortable. We felt very much at home. The area is good for outdoor activities. We did some great hike and bike rides. Communication with Sige was easy from the start and we can recommend this cabin to anyone who likes the outdoors and values some privacy.
Dagmar
2016-08-18T00:00:00Z
Tipo di stanza
Intera casa/apt
---
Tipo di sistemazione
Casa
---
Può ospitare
3
---
Camere da letto
Ringsaker, Hedmark, Norvegia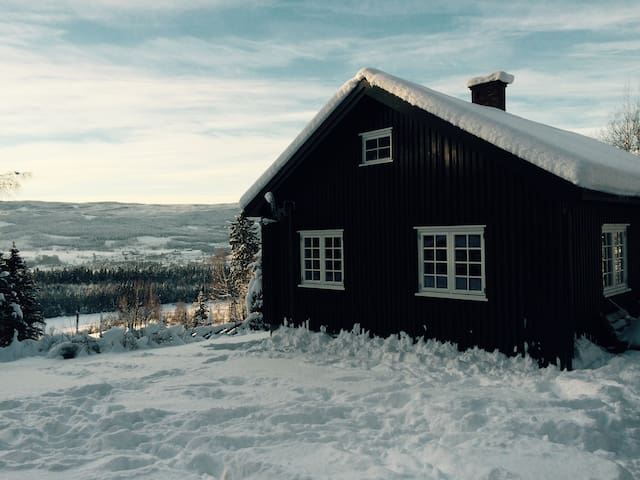 Flott enebolig i sentrum av Vingrom, 1 mil sør for Lillehammer. 10 min. med bil, går buss ca. en gang i timen. Koselig og trygt område med skiløype og isbane i nærheten. Stort hus, og god plass til flere biler på gårdsplassen.
Flott og hjemmekoselig enebolig i sentrum av Vingrom, 1 mil fra Lillehammer. Koselig og trygt område med skiløype rett ved. God standard på huset.
Vingrom er en liten og trivelig bygd med flotte forhold for ski og uteaktiviteter. Egen isbane i gåavstand fra huset. Rema 1000 og Joker er også en liten gårtur unna.
Tipo di stanza
Intera casa/apt
---
Tipo di sistemazione
Casa
---
Può ospitare
5
---
Camere da letto
Lillehammer, Oppland, Norvegia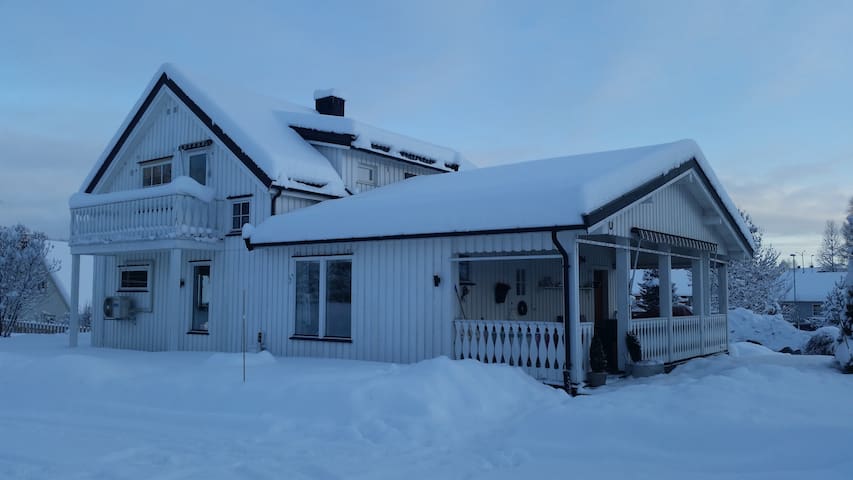 We are a couple with a big cosy house in the heart of Norway, and we would like to share it with you. Those who want to enjoy untouched beauty of nature, hike, visit a former olympic town of Lillehammer and spend some time in peace are welcome:)
There are many possbilities of fishing, hiking, skiing with great screnary. Synnfjellet is close by, you also have Lillehammer, Dokka and Gjøvik as the closest cities. There are a lot of different routes you can hike on, with cosy small lakes, which have the best brown trout in the country.. world! If you like nature, you will love this place.
Belle maison chaude et calme sur les hauteurs, avec vue magnifique sur les collines environnantes. Aase et Romar sont un couple attachant ayant un grand sens de l'accueil et toujours prêts à ce que le séjour de leurs hôtes se passe au mieux. Nous gardons un excellent souvenir de notre passage dans leur chaleureuse maison où nous avons particulièrement affectionné nos bavardages du soir :) La Norvège : températures froides, maison et coeurs chauds. Merci Aase et Romar !
Christine
2016-02-21T00:00:00Z
Aase and her husband were amazing hosts. She made us a very nice breakfast and twice we had a great homemade dinner! Moreover, they provided us with some tips to visit during the rest of our trip. Aase and her husband were lovely people, and I would definitely recommend a stay in the cosy house! Our best airbnb-experience!
Daphne
2016-08-14T00:00:00Z
Aase's location cannot be any better. Located so close to nature, it can be very relaxing to be in a warm cozy cabin. It was also peaceful and I felt so calm. She made an effort to Ensure we were comfortable and also prepared the best dinner and breakfast anyone could ask for. I will definitely be back in future. Loved the place so much.
Darren
2016-07-25T00:00:00Z
Aase og hendes mand er meget flinke . Vi følt os meget velkom hos dem. Fik lækkert mad og rigtig god service . Det kan godt Anbefal 100 % Stedet er meget cozy og dejligt sted at bo Vil sikkert kom og bo hos dem igen hvis vi skal på ferie i Norge
Winnie
2016-03-25T00:00:00Z
We had at wonderful time at Aase's place. Although we arrived late we were welcomed very warmly and had a great, long breakfast the next morning that was the best experience in Norway we had. Wonderful people.
Reinier
2016-08-28T00:00:00Z
Tipo di stanza
Stanza privata
---
Tipo di sistemazione
Casa
---
Può ospitare
3
---
Camere da letto
Nordre Land, Oppland, Norvegia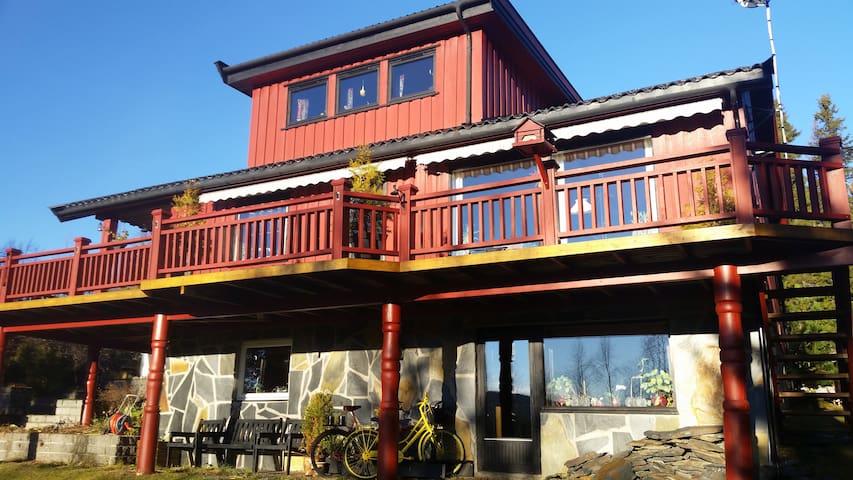 Landåsbygda - Airbnb
:
Media di

4.68

stelle su

5

da

231

recensioni degli ospiti
1

–

18

di

75 Case in Affitto
Inserisci le date per visualizzare il prezzo totale. Ci sono dei costi aggiuntivi e potrebbero venire applicate alcune tasse.