Quiet, Private, Serene Cabin that reflects country living. 15 Minutes away from the world famous Kiawah Island beach, fishing and golf course. 20 minutes away from downtown historic Charleston. Private tours of the low country are available. Pets are welcome,: $25 daily total pets. Maximum fee $50. (2) pets only!!
Close to the beach, fishing, shrimping and a golf course. Steps away from water inland. Enjoy the comforts and privacy of the entire house. Pets are welcome, additional daily pet fee of $25.00 per per. Limited to 2 pets only.
Quiet, private, reflects country living! The cabin sits on family owned property. The neighbors are all family!!!!!!
Carol and her family were great hosts! The home was clean, in an absolutely beautiful location, and stocked with water bottles for us. Even more than that though, they were extremely responsive, friendly, and helpful. When my husband and I got our car stuck in marsh mud, Carol's mom called in the troops of her family to help push us out! Soon enough we were unstuck and making fast-friends. We're grateful to Carol and her family for a wonderful weekend--my husband, brother-in-law, and two dogs couldn't have asked for a better trip!
Alexis
2015-09-14T00:00:00Z
We had a fantastic stay at Carol's country cabin! So quiet and relaxing and still within reach of beautiful Charleston. Thank you Carol and Gloria!
Mason
2016-04-26T00:00:00Z
This place is a treasure! You will be in wonderful hands if you choose to stay here. I would love to stay here again!!
Michelle
2017-03-17T00:00:00Z
Carol and her mother Gloria were SO welcoming! Gloria met us at the cabin and ensured we had everything we needed for our stay. The cabin was clean and ready for us upon our arrival. Carol contacted us throughout our stay to make sure we were getting along well. Overall, it was such a nice weekend with great hosts.
carly
2016-04-17T00:00:00Z
Gloria was very welcoming & made sure I was familiar with the cottage. She lives on the property & was very easy to get in touch with. The house was very clean. Lighting throughout was quite dim, the shower water pressure was pretty low, but hot. The bed was comfortable. Full size stove & fridge, with everything you need in kitchen & bathroom. No wifi, but strong signal on phone.
Mary Jo (MJ)
2016-01-01T00:00:00Z
The house was nice and quiet. A bit of land at the end of the road. It was perfect for the two of us and our dog. She loved playing outside in the field. The family was VERY nice and hospitable and offered their services at the blink of an eye. Great for a small family or group of friends who want a quiet weekend.
Heath
2015-05-25T00:00:00Z
Fantastic hosts! Cute little cottage! It was very clean, exactly as described, and a perfect HQ for exploring the Charleston area. We will definitely be staying next time we're in the low country!
Scott
2016-02-29T00:00:00Z
Our host was out of town during our visit, but a family member greeted us who was exceedingly friendly and helpful. The listing was clean and pretty close to what was expected.
Anastasia
2016-03-13T00:00:00Z
Tipo di stanza
Intera casa/apt
---
Tipo di sistemazione
Chalet
---
Può ospitare
3
---
Camere da letto
Isola Wadmalaw, South Carolina, Stati Uniti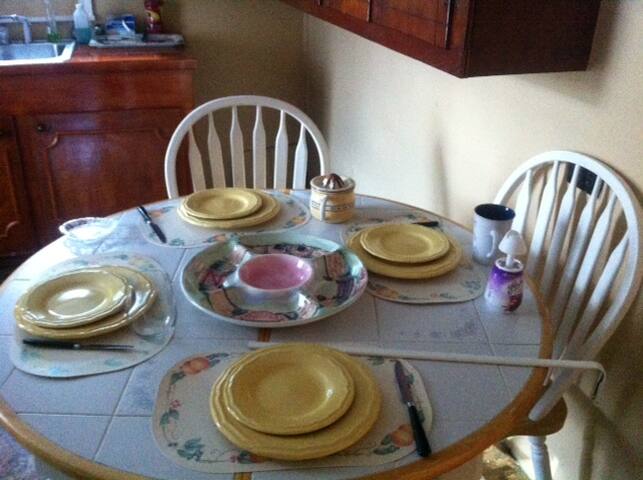 Gorgeous equestrian property on Johns Island. Spend your Charleston stay in a quiet, beautiful setting amongst ancient oak trees and star-filled skies. 20 minutes to Charleston, Kiawah, and Seabrook. Comfortably accommodates 2 adults.
Historic cottage on equestrian property
A true Southern stay. Enjoy oak tree canopies along Johns Island roads. Relax in the hammock between the majestic oak trees on this 13 acre active horse property.
We were greeted by Colleen who was extremely nice and friendly. The cottage was clean, comfortable, and had a very homey feel. The land was beautiful and surrounding area are beautiful. Couldn't have had a better stay.
Jon
2016-04-05T00:00:00Z
We very much enjoyed our stay in the quiet setting. The open spaces was a welcome contrast from the narrow streets of historic Charleston. The cottage had all we could need -- including dependable internet service, which was a must for working on the road. The bed was comfortable -- we slept great! And the owner's horses walked down the pasture to say hi each evening. We would not hesitate to stay again.
Judy
2016-03-26T00:00:00Z
The cottage was cozy and inviting. The perfect place to spend a weekend relaxing. We can't wait to return!
Bonnie
2015-10-26T00:00:00Z
The stay was wonderful. We were looking for a quiet, relaxing place to stay in Charleston and we certainly found one. The host made the check-in and check-out process very easy. We even got to meet the horses! We hope to stay there again.
Thomas
2016-10-22T00:00:00Z
The cleanliness and quaint cottage was perfect. Would stay there again!
Kristen
2016-11-16T00:00:00Z
This was an outstanding stay at a fantastic cottage! John was a great host, and we appreciated his prompt communication with us before and during our stay. The Three Oaks are beautiful, and the location is just right if you're looking to get away! It is a perfect retreat after a busy day in Charleston!
Tyson
2016-02-22T00:00:00Z
John responded to all of our questions quickly, and the cottage was the perfect spot for our dog to be able to be off his leash in the fenced yard. Despite the flossing all around Charleston due to the King Tide, we were fine at the cottage.
Patti
2015-10-29T00:00:00Z
A quick 30 minutes from downtown Charleston, this cottage is the perfect hideout.
Nikki
2017-02-12T00:00:00Z
Tipo di stanza
Intera casa/apt
---
Tipo di sistemazione
Chalet
---
Può ospitare
2
---
Camere da letto
Johns Island, South Carolina, Stati Uniti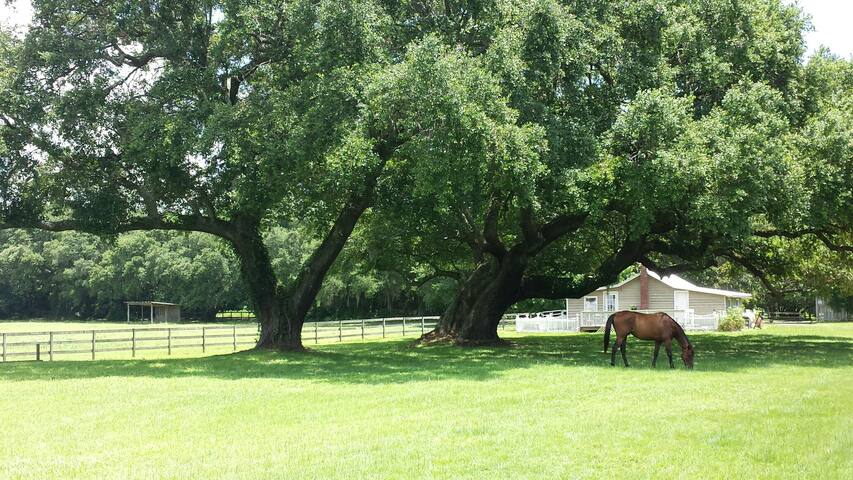 Avoir une chambre pour vous tout seul, où vous pouvez vous en sortir, mais pas si loin que vous ne disposez pas de toutes les commodités que vous méritez. Cet endroit est idéal pour les couples et les personnes qui veulent visiter Charleston et être en mesure de se cacher aussi bien.
Le Petit Chalet est un 250sq Ft. autoportante bâtiment dans l'arrière-cour de la grande maison. Il est une maison d'hôtes bien logés avec un lit queen, kitchenette entièrement équipée et salle de bain complète avec accès à la salle de lavage grande maison et une cuisine complète. La taille lit queen comforable peut accueillir deux adultes. Il y a coin où le téléviseur est situé pour manger et en utilisant comme un espace de travail confortable. À l'autre extrémité de l'espace est une kitchenette équipée complète avec évier, micro-ondes, d'un réfrigérateur, de l'argenterie et de la vaisselle. Le joyau de la couronne de la petite cabine est la salle de bain complète. Une salle de bain très spacieuse avec une grande douche debout et une grande tête de douche. Et rappelez-vous, vous serez donné une clé et aurez accès à la grande maison si vous voulez utiliser le four ou faire la lessive. La porte dérobée à la grande maison vous amène dans la salle de lavage et la cuisine et se sentir libre d'utiliser s'il vous plaît, si vous vous sentez comme si la cuisson! Rappelez-vous, la petite cabine est à seulement 15 minutes à pied de tout ce qui est grand à Charleston. Nous sommes situés dans le centre-ville canonburough. S'il vous plaît prendre le temps de lire les règles de la maison entiers et la description avant de demander une réservation.
Les voisins les plus proches de la cabine, ils sont de mes amis proches et sont tous les vétérinaires militaires et extrêmement sympathique. Ils ne vont pas vous déranger un peu. De l'autre côté de la propriété, bloqué par la grande maison, il y a un morceau de propriété appartenant à l'État qui a été temporairement réutilisé comme une église de fortune qui a aidé les sans-abri. Il faut noter qu'en raison de cette aide, de temps à autre, il y a des gens sans abri dans le domaine de l'autre côté de la rue. Je peux vous assurer que ces gens sont parfaitement sûrs et non dangereux du tout. Je l'ai personnellement rencontré et les a aidés au cours des vacances. Ils sont simplement aidés par l'église temporairement.
Enjoyed our stay here, location was within walking distance to where we wanted to be. The little cabin was exactly what we needed it to be.
Calvin
2016-07-12T00:00:00Z
Everything is as advertised -- it's a small studio-type apartment in a freestanding building. Quite comfortable, clean, and well outfitted. Justin was very communicative via messaging, and me and my dog had no problems at all. Would certainly stay again.
Kevin
2017-01-29T00:00:00Z
This is a nice little cabin in a very convenient location in Charleston. The host was very accommodating.
Charlie
2017-03-26T00:00:00Z
Pretty great place. Justin is quick to respond even when I asked a weird question lol. It's homey and is close to everything.
LaShonda
2017-03-04T00:00:00Z
Solid stay on the whole. The little cabin has everything you need - very creative use of space! For those who like to walk, everything you'd want to see in Charleston is walkable. For those who like to be right on top of the action, the cabin is prob just a bit too far north. Justin is super responsive and on top of his Air BnB game.
Kyle
2016-07-24T00:00:00Z
We really enjoyed Justin's cabin. It was a clean "tiny house" for sure. Towels are provided, but be sure to bring along your toiletries. Checking in and out was easy-peasy, and we had minimal contact with the host. Though the cabin is right behind the main house, you do feel very secluded. The neighborhood seems to be "up and coming", which for us was not a big deal as we are very used to living in those types of places, but might be alarming for other folks to see boarded up homes nearby. That said, there were two coffee shops in walking distance that we enjoyed for breakfast - The Daily and The Mercantile, and I'm willing to be the whole place is going to look very different in 10 years if it's anything based on the hipster vibe and expensive coffees at those places ;) Getting to the busier parts of the city is literally just 1-2 miles away (though be aware that parking downtown gets very tricky and/or expensive). There is a huge field in front of the house for ample dog running, as well as green space right at the cabin to let the dog out (but the yard is not fenced in). We would definitely stay here again in the future!
Katie
2016-11-22T00:00:00Z
The Little Cabin was perfect for our 3 piece band that simply needed a place to crash on the night of a show. We spent probably a total of only 6 hours in it, but it was nicely tucked away & comfortable! Great sized bathroom considering the size of the cabin, too.
Allie
2016-08-01T00:00:00Z
Justins place was great. Its perfect if you just need somewhere to sleep while in town. Very clean and exactly as advertised. Justin was a great host, very friendly and available if we needed him. would stay here again if we come back to Charleston.
Leah
2016-08-12T00:00:00Z
Tipo di stanza
Stanza privata
---
Tipo di sistemazione
Chalet
---
Può ospitare
3
---
Camere da letto
Charleston, South Carolina, Stati Uniti
Unique, Tiny House tucked away in a private corner of Eden Wind Farm. You can fish, paddle board, canoe, hike trails, have horse adventure, bird watch, or just have a quiet rest in our cozy cabin with a full kitchen and double bed. Pets welcome!
Enjoy picking your own fresh food from the farm....eggs, lettuce, tomatoes, peppers and okra are just some of the seasonal things we grow. You can even fish for your dinner in our 5 acre private lake if you wish. Enjoy herbs in your own window box garden. If you have pets then you can bring them. You can also sign up for Riding lessons, Horsemanship class and Trail Riding once you arrive. There is no charge for the self propelled water activity or fishing. Fishing gear is on site.
Get back to nature and recharge with the country quiet of our farm located on the second largest island on the East coast, beautiful Johns Island. We own 44 acres with hundreds of acres of adjoining land to explore on horseback or by foot. The cabin is small and rustic but your outdoors seem to come in with a large deck and screened in porch, and Corn Hole equipped fenced yard. The bathroom has an industrial style shower, treated wood floor, sink and boat type toilet. A/C equipped in both rooms, fully equipped kitchen, TV, stereo and extensive movie collection.
Our stay at Denise and Tanyas place was amazing. They were around and helpful but also gave us our space. We had so much fun walking trails, fishing, swimming and just relaxing at the cabin. We can not wait to go back to paradise.
Destyn
2015-08-09T00:00:00Z
What a little gem!! The cabin is tiny, but very cozy and comfortable. And the view of the pastures is breath taking beautiful! We got in pretty late, but the cabin was lit up and very welcoming after a long road trip. We brought our dog, which is a big mastiff, and she loved it. She even got a little surprise treat package that was on the bed. Tanya was very friendly and gave us a tour of the farm, and introduced us to all the horses, which came right up to us for their carrot snacks. After that we enjoyed the farm with all of trails, my girl also enjoyed the lake, and jumped in there a few times. This is definitely one place that we would like to return one day.
Irene
2015-09-07T00:00:00Z
My wife and I stayed for a 3 day weekend for our anniversary. We wanted something close to the beach that accepted dogs. We couldn't have found a better place to stay! The cabin is described as "rustic", which it is, but it also has everything you'd need and then some. We'd like to come again in the Fall to better enjoy the outdoor area - beautiful lights, outdoor speaker for the stereo, corn hole, chairs and an umbrella, grill! There was a bit of a heatwave while we were there and it was just too hot... but perfect for the beach! Tanya gave us a tour of the property on the golf cart and we stopped to feed carrots to the horses. If you're into horses, this is definitely the place to stay! Something that made our stay unique was that just before we arrived, a nest full of wrens hatched from the nest on the screen porch. We got to see the mom feed them and see them learn to fly. Every time we stepped onto the porch it was aflutter with chirping, fuzzy, awkward, cuteness. Can't wait to stay again!
Shawn
2015-06-22T00:00:00Z
Really enjoyed our rustic stay on Johns Island. They cabin was just what we needed to get away from all (well, most) technology and distraction. It was just a short ride into Charleston and we were able to explore a lot of what the city and surrounding areas had to offer. The home is what I would call a 'tiny home' with fun cabin-esque decor. The yard is fabulous and was perfect for our two pups. The screened in porch was the perfect spot to grab a cup of joe and our cat spent the entire trip out there basking in the sun. Denise met us on our first full day there and gave us a tour of the property. They have beautiful horses, chickens and a lake full of fish! Highly suggest checking out Wild Olive while you are in the area - literally the best Italian I think I have ever had!
Alison
2016-04-25T00:00:00Z
Perfection. My husband and I chose the Rustic Cabin for a long weekend in Charleston and we couldn't be happier with the experience. The cabin was T(PHONE NUMBER HIDDEN) cute, from the quaint lights that adorn the small yard area to all the decor. And even though we didn't bring our dogs this place is super dog friendly, they even had water and food bowls waiting, just in case. This cabin is perfect if you're looking for a quiet relaxing get-a-way that will allow you quick and easy access to all the low country has to offer! We look forward to coming back and staying here again soon!
Tanya
2015-07-05T00:00:00Z
Denise and Tanya were great hosts! The cabin was clean, cozy, and perfect for having our two dogs with us. The farm was fun to roam around, and we were encouraged to pick veggies from their garden and grab eggs from the chicken coops. Definitely recommend this location if you're looking for time to slow down when you aren't out and about in Charleston or any other nearby cities!
Rikki
2016-05-23T00:00:00Z
An excellent location, rural and quiet yet only 20-25 mins from downtown Charleston. An ideal place to both bring your dog and see the sights.
Phillip
2016-11-13T00:00:00Z
We had a great time. The cabin was adorable and very tidy. We appreciated the pet friendliness as well. The fenced in yard was perfect for our small dog.
Lindsay
2015-08-14T00:00:00Z
Tipo di stanza
Intera casa/apt
---
Tipo di sistemazione
Chalet
---
Può ospitare
2
---
Camere da letto
Johns Island, South Carolina, Stati Uniti
Newly constructed cottage near Edisto River & Givhans Ferry Park. Just off the beaten path to Summerville, South Carolina. We are close enough to shops, dining & cultural events, but far enough to forget the hustle & bustle of city life!
Located near the longest black river in North America with opportunities to fish, kayak, inner tube, relax and listen to the birds and crickets chirp! Just 15 miles outside Summerville, South Carolina and 35 miles outside Charleston. Very close drive to the new Volvo plant being constructed.
Near 3 boat landings that access the Edisto River and 1/2 mile from the Givhans Ferry State Park.
This place was amazing! I arrived late in the evening and the host had provided a frozen pizza, welcoming lights, and the most adorable cabin I've seen in years. From that moment on, my weekend at this private, immaculate, cozy, comfortable, and modern escape was just magical. Honestly, if you're in the area and need a place stay...bag the hotel and come relax here! Thank you Shelly! We loved your cabin and would be honored to stay in this warm and inviting home again! Sincerely, Michael
Michael
2015-04-19T00:00:00Z
Our stay at Shelly's cottage was absolutely amazing! Relaxing, comfortable, and such great personal touches throughout. I will be recommending her property to my parents who visit the area often. Can't wait to stay again!
Sarah
2015-04-17T00:00:00Z
I had a wonderful experience at Shelly's cottage. Every aspect of the cabin and location matched the description. It truly is a 'cozy' place and with all of the amenities, it felt like 'home.' Whenever I had a question, Shelly was understanding and quick to help.
Lakeshia
2015-11-15T00:00:00Z
The cottage itself was beautiful, well-equipped, and clean, and all the thoughtful details and amenities made it feel perfectly cozy for our weekend trip. Shelly was a great host and easy to get in touch with. Highly recommended!
Kari
2016-05-02T00:00:00Z
This was by far one of the best Airbnb experiences that we had. There is so much thought put into the design and the layout of the cabin, as well as into the details. Shelly, you are so talented! Every need is foreseen by the owners (including makeup removing wipes!). And the kitchen left me speechless... and I loved cooking in it! Thank you for allowing us to stay at this wonderful piece of heaven.
Albina
2015-08-30T00:00:00Z
Shelly and her husband made our stay beyond what we expected. She worked with our little hickups in our plans and made sure we had everything needed to have a fabulous stay in this adorable, well decorated, and well-equipt cottage.
Michelle
2016-05-14T00:00:00Z
I feel so lucky to have found this place. An absolutely charming house on gorgeous property. Every room is decorated in a chic way that at once makes you feel at home; its clean, and has all the amenities you need to live normal life in your home away from home. I sincerely hope I get a chance to return to this cozy cottage.
Michelle
2016-02-02T00:00:00Z
Shelly and her husband Nels made sure we felt at home at their cute cottage right from the beginning! The communication in advance was excellent and flexible arriving time was no problem (which we appreciated a lot). You can tell that they put a lot of time and effort into the cottage and paid attention to every detail. We had a great time and would love to come back one day!
Barbara
2015-07-01T00:00:00Z
Tipo di stanza
Intera casa/apt
---
Tipo di sistemazione
Chalet
---
Può ospitare
4
---
Camere da letto
Ridgeville, South Carolina, Stati Uniti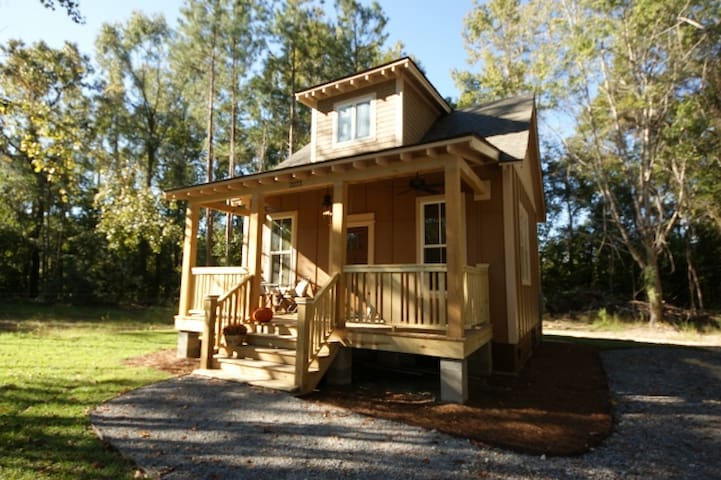 New cozy wood cabin tastefully decorated, situated among the live oak trees on the Stono River (ICW). Cabin is convenient to downtown Charleston, the white sand beaches of Kiawah Island and Folly Beach. Enjoy nearby sights and fabulous local food. End your day relaxing on the screened porch and deck overlooking the serene Stono River.
Beds include one Queen bed and bunk beds. DirecTv and dvd player are available. There is a loft.
Charleston. Located 15 minutes from downtown Charleston on John's island.
Tipo di stanza
Intera casa/apt
---
Tipo di sistemazione
Chalet
---
Può ospitare
4
---
Camere da letto
Johns Island, South Carolina, Stati Uniti
1

–

6

di

6 Chalet in Affitto
Inserisci le date per visualizzare il prezzo totale. Ci sono dei costi aggiuntivi e potrebbero venire applicate alcune tasse.