Ampio loft in una volta di foresta circondata da alberi Ohia e la fauna selvatica e con vista sull'oceano. Vicino alle spiagge, boschi e sentieri, il loft è ideale per famiglie o gruppi che amano la natura o che vogliono un divertimento o una vacanza riposante.
Il nostro appartamento spazioso loft offre ampio spazio per una famiglia o un gruppo di fino a quattro, con un enorme open space soggiorno e terrazza, due camere, due bagni e spazio di archiviazione abbondante. Nel cuore di una foresta e circondato solo da alberi e la natura, l'appartamento è molto tranquillo e silenzioso. Con ampie finestre in tutto l'appartamento, gli ospiti possono godere di una vista mozzafiato sulla foresta e l'oceano ed essere vicino alla natura in ogni momento. Il luminoso e arioso soggiorno e zona pranzo offre un grande spazio per socializzare, giocare o rilassarsi, con un tavolo da pranzo e sedie per un massimo di quattro e zona salotto con comodo divano e sedie antiche. Le grandi porte scorrevoli in vetro portare ad una grande terrazza dove gli ospiti possono rilassarsi sulla mobili da esterno e ascoltare i suoni della natura e ammirare le viste sull'oceano. La cucina completamente attrezzata offre tutto il necessario per cucinare e mangiare, con un forno a microonde, piano cottura, frullatore e tutte le posate e utensili da cucina. Le due camere sono accoglienti e confortevoli, con mobili in legno e letti matrimoniali. Siamo felici per gli ospiti di portare animali domestici. Climatisation solo in una camera, quella con il letto pieno. Il futon sul Lanai può essere utilizzato per i visitatori aggiuntivi. Mahalo
Vicino a riserve naturali, spiagge, boschi e sentieri, il nostro appartamento loft è ideale per gli amanti della natura o appassionati del all'aperto !. Con molte attività divertenti e interessanti e le attrazioni nelle vicinanze, di tutte le età sono certi di essere intrattenuti. Si può guidare facilmente per vedere un vulcano attivo, visitare una piantagione di caffè e conoscere la storia della produzione del caffè della zona, o fare snorkeling nelle acque cristalline di Kealakekua Bay e vedere i delfini, tartarughe e pesci tropicali
This location is beautiful if you are looking to stay out of the city, only 40 mins to central Kona. The hosts were super nice and welcoming, they even left some beautiful flowers for us for our arrival. We loved our stay and are looking forward to returning next year! Mahalo!
teresa
2016-10-17T00:00:00Z
very nice and beautiful house,very clean .and have a great view. if i have more vacation i will stay ....
Hanxuan
2015-10-03T00:00:00Z
If you want to stay quietly, it is not bad. Maybe when you check in, The cute cat very greet to you. Sometimes come inside and eating too, When you are sleeping. But she? He? Is really friendly. Absolutely when you check out, The cat (host) checking you again. I hope the house is repaired by professional men. Not enough just cleaning anymore. Hope will be better ... for next guest.
David
2016-12-22T00:00:00Z
Nicholas was a great host, very responsive. It's convenient location with a car. Close to Captain Cook. The place needs a little improvement and drinking water was not the most convenient. Overall experience was decent.
Cynthia Xin
2017-01-24T00:00:00Z
按房屋地址导航有点偏差,如果从Kona方向去,导航会把你带过头约100多米,请注意提前查看你右手的邮箱上的门牌号(两个在一起的邮箱,其中那个黄绿色的)。我们在这儿住了一周,房间非常宽敞、舒适,环境很好,尤其是客厅外面的大阳台,正对海景,可以看到非常美丽的海上落日。地点也方便,附近就有一些很漂亮的海滩和适合浮潜的位置。楼下住的一对小夫妻人很好,每天给我们送饮用水。 It's comfortable and we enjoyed the place and the amazing view. Mahalo, Nicholas !
Yefei
2017-02-17T00:00:00Z
Nicholas was a very nice and kind host. His place is spacious and in a pretty location. So much charm.
Jakub
2015-11-09T00:00:00Z
The description matches the reality.
Melissa
2016-01-17T00:00:00Z
While Nicholas was not there onsite, he was very responsive via text and phone. The area is as described ... quiet, private, ocean views, and fruit trees on the property. The place is spacious and worked well for our family of five. Having onsite laundry, two bathrooms, and internet access made the stay easy. This is a great launching off point for accessing the southwest, south, and southeast sides of the island. Easy drive to Ho'Okena Beach, Pu'uhonua o Honaunau State Park, and snorkeling at Two Step. The large, covered deck is nice for eating outside and watching the sunset.
Camie
2016-03-24T00:00:00Z
Tipo di stanza
Intera casa/apt
---
Tipo di sistemazione
Loft
---
Può ospitare
6
---
Camere da letto
Captain Cook, Hawaii, Stati Uniti
Spacious redwood & cedar studio loft conveniently located in Hawi Town with private entrance, private outdoor patio & private hot tub spa, surrounded by organic bamboos, palm and fruit trees.
This exquisite cedar and redwood loft has a large sliding window facing south and is surrounded by organic bamboos, palm trees and fruit trees. Separate from the main house with its own private entrance, private outdoor patio dining area and private hot tub spa. It features a very spacious 600 s.f. solid oak hardwood floor with high ceiling and a loft sleeping area, and it can accommodate up to 4 people ( Perfect for two adults and two children or three adults). A perfect location only 1/2 mile from the Coffee Mill, Sweet Potato Kitchen, Bamboo and Sushi Rock restaurants and just a short drive to most beautiful white beaches Hapuna Beach and gorgeous Kauna'oa Beach. The Loft is completely insulated with double walls and double pane storm windows for noise suppression and temperature control. Eight high ceiling surrounding windows and large dual fans are designed to provide natural air conditioning. The bed downstairs has a queen size Posturepedic mattress. The loft upstairs also has a queen size bed. There is a low carbon foot print kitchen with granite counter and energy saving appliances. The kitchen features an encased refrigerator for optimum quietness, an energy efficient radiant cooktop, a convection toaster oven and a microwave. A Weber BBQ is located outside in the patio for your convenience. The towels and linen are first rate 100% cotton; the washer and dryer are modern, high-end and efficient; the dishes, flatware, kitchen utensils, cookware, and appliances are complete, making meal preparation easy; a blow dryer, beach gear, iron/ironing board and more are provided! The Cedar House Loft is extra clean and furnished with an antique armoire, a couch, comfortable beds and a breakfast bar. The layout is well designed to provide maximum light, ventilation, storage, openness and privacy. Free WiFi, A smart SONY TV with Pandora music, Free Netflix and Amazon Prime time movies are provided.
Hawi Town is located on the north shore of the Big Island of Hawaii between heaven and earth. This is the most historical place in Hawaii facing the island of Maui with moderate weather and soothing trade winds. Hawi Town has great restaurants and boutique shops which showcase local artists creations. Scenic sites close by include famous Pololu valley with spectacular views of the Big Island's north coast and black sands beach, with great hiking trails.. King Kamehameha the Great's birth place and the Mo'okini Heiau oldest Hawaiian temple along the coastline with gorgeous hikes and views of Maui Haleakala volcano. Go for an amazing snorkel at Mahukona and explore the coral reef 10 minutes away, snorkel or scuba dive with turtles in Puako , swim with wild spinner dolphins in Ho'okena, watch the whales crossing the Maui channel just a few miles away (between December and April), go for the boogie boarding of a life time at Hawaii's most beautiful Hapuna Beach nearby or leisure on the beach like a Rockefeller for free at the most magnificent 5 stars Mauna Kea beach hotel 20 minutes away. And if this not enough, hike to the magnificent 1600 feet high Hi'ilawe falls in Waipio valley of the kings. Aloha Nui.
Wonderful cabin with very clean bathroom and well equipped kitchen! The hot tube is in top condition and we enjoyed it every evening after a long day out door activities! The hosts are very welcoming and very helpful in giving tips and suggestion! It was a bit windy and rainy but within very short driving distance, you can always reach great sunny beaches, hikes and restaurants! Highly recommended!
Katrina
2016-12-27T00:00:00Z
The loft has everything you need for a comfy stay, neat tidy and spacious. We definitely reccomend staying here and in this part of the island. Havi is beautiful and close to walks and cafes. Hosts are friendly and helpful with local recommendations and are very easy to contact. Thanks for having us!
Hester
2015-10-07T00:00:00Z
The location has a convenient access to Kohala coast while still retaining the rustic feel of a small Hawaiian town! Amazing and cozy loft with great set of accessories for cooking and relaxing. Loved the blender after the long hike. The air circulation within the cottage and the environs was great despite hot weather outside which made it easy to relax. The host had great suggestions on the places to visit :D
Aakanksha
2015-07-31T00:00:00Z
The host made us feel welcome and gave us great snorkeling tips and an overview yet was respectful of our privacy. The location is good--one can walk to the local Hawi town and it is under 30 minutes to outstanding beaches (Mauna Kea!) and even less time to pop in the water for a snorkel or look to Maui view for a sunset. Also Hawi is at around 500 feet elevation which makes for cooler evenings--less humidity--which is great for sleeping. The loft area bed is best for kids (one of our teens liked his 'man cave') but both of our tall teens would not have fit so well--there is a sofa bed in addition to the queen bed. All beds are in the same room as the loft/kitchen you see in the picture so no separate bedroom. Nice extras such as beach towels, chairs, umbrella and boogie board! Loved the fruit basket and blender! There is a fenced-in garden patio with table and chairs (but no view) and given it was rainy in the evening plus mosquitos we ended up never sitting outside. As a bonus for relaxed evenings with teenagers--wi-fi and several movies to choose from on netflix and a pizza place not too far away--in fact lots of local, casual, great food places--try Minnie's and CSC in the next town.
Maureen
2015-06-25T00:00:00Z
This is a hidden gem in the beautiful village of Hawi. We loved every minute of our trip to Hawi. The apartment was such an amazing space to come home to and the facilities just great. Jon is a really nice guy and was so helpful and friendly, we found his recommendations to be perfect. Kaapa Beach has to be some of the best snorkelling we have done in Hawaii and so close. Loved the Bamboo restaurant a taste of real Hawaii. Loved being away from it all. I would highly recommend you stay here when visiting this part of the Island we loved it.
Heidi
2016-09-14T00:00:00Z
Thank you Jan and Jon for a great stay. We loved the comfy bed and pillows...great sleeps ensued. The suite is quiet, clean, tidy and well appointed with everything necessary for a relaxing stay.
Gillian
2015-11-21T00:00:00Z
This is the perfect place to stay in Hawi. Private, clean, with every amenity we would need, very central location, quiet. We didnt even have to research the best things to see or hike. Jon and Jan have already done that for us and explored all the surroundings. Their knowledge of the area is very descriptive. We really enjoyed the waterfall. Thank you.
Liliana
2015-03-30T00:00:00Z
Mahalo to Jan and Jon for a wonderful stay. It was a pleasant surprise to have found some fruit and veggies for us upon our arrival. The accommodations were clean and new. Loved that there is a washer/dryer, large refrigerator, blender, coffee maker, TV (although we didn't turn it on since we were busy). I slept on top of the stairway in a Japanese style mattress and my friend slept in the bed below and it gave us somewhat privacy. The location is close to town and loved all the tips they gave us regarding places to visit. If you want to visit Polulu Valley, then stay here. It's a great place to stay and they also have a larger building with a few rooms if you need more room. Their hospitality is impeccable and would love to visit again sometime. Mahalo and a HUGE aloha blessings.
Tina
2015-04-24T00:00:00Z
Tipo di stanza
Intera casa/apt
---
Tipo di sistemazione
Loft
---
Può ospitare
4
---
Camere da letto
Hawi, Hawaii, Stati Uniti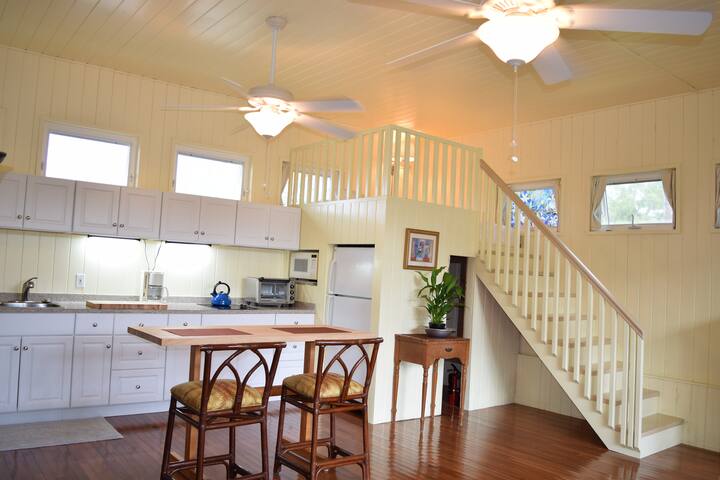 We had a lovely 3-night stay at Monique's loft. It was quite comfortable, and it was nice to be able to cook while on vacation. We especially enjoyed the mandarin and lemon trees, and made delicious lemonade from the drops (and we happy to have a compost bin to put the rinds in). It was so peaceful to be able to wake up each morning and watch the sun rise from the lanai. Great location to access Green Sands, Black Sands, South Point, Volcanoes NP, and Punalu'u Bake Shop. Our only "fault" with the house was that Monique encouraged 4WD, but didn't make mention that the house was within a neighborhood of rutted dirt roads with no street signs. Had our GPS died or had we arrived at night, we would've been in trouble! As long as you know you need a car with good clearance, GPS, and to arrive the first time during the day, you will love your stay, too.
Jennifer
2016-02-10T00:00:00Z
This is truly a spectacular place. If you are looking for a true getaway this is your spot. I feel that South Point is such a beautiful part of the island. The proximity to the Green Sand Beach is great as well as a well known black sand beach. You are not too far from Volcano National Park either. There is a wonderful farm up the street called Paradise Meadows that is a must visit. Best, best local coffee, mac nuts and honey on the entire island chain. The views from Monique's place are fantastic and you have everything you need in this adorable little home. I felt very comfortable. I will warn that you should have an all wheel drive vehicle. It can a little tricky to find if you come in at night time, but once you get there you will have it down. Monique was constantly in contact to make sure I was comfortable and found the house at night. She is a great communicator and I was so busy that I didn't respond to her as much as I would have liked, but despite my silence at times she made sure everything was takeN care of. It is so peaceful at the house. The sounds at night, incredible sunrise and quiet/secluded settings will make you feel at peace. I highly recommend this place if you are going to stay or visit in the Southern parts of the island which are real gems.
Jason
2016-11-10T00:00:00Z
We were blown away by this place! So wonderful! The home came equipped with everything we needed and though we were content, I knew that Monique was available if anything else came up. Sunrises and starry skies await you in this adorable, quant home! We left feeling a longing for not only the island, but that peaceful place. Thank you for opening your home! It was just the perfect medicine to help us rejuvenate from our crazy lives! Jessica
Jessica
2016-03-03T00:00:00Z
The host canceled this reservation 18 days before arrival. This is an automated posting.
wong
2016-12-12T00:00:00Z
Had a fantastic relaxing stay in monique's cottage. Monique was very easy to get a hold of and was very pleasant to work with. If your looking for off the beaten path, total relaxation, and to get away from the day to day routine this is the place. You get welcomed with the true aloha spirit from the neighbors and from the people working in the town. Beautiful ocean view and sunrises to singing birds in the evening this is the place to relax. Doug & Cathy
Cathleen
2015-12-08T00:00:00Z
Although Monique was not there in person to receive us due to travelling herself, she gave us all the information per phone, text message and AirBnB-mail, and left us the details of her house manager for if we would ever need anything. We felt very welcome and the house is absolutely fabulous ! As we there for a longer period for work in the region, we needed a house in which we could both live and work and Monique's house provided both for us splendidly. The lemon trees in the garden, providing fresh lemons and the view on the Pacific Ocean from the lanai/balcony are just the perfect cherry on an otherwise already fabulous cake !
Francesc
2016-03-24T00:00:00Z
This place was perfect! Monique went out of her way to provide clear directions from Kona, and even left a few eggs and some coffee for my first morning there. The house is clean, spacious, and flooded with light. Water pressure is great, and the kitchen is really user-friendly. The setting and view are stellar, and I will definitely try to rent this house again if I'm lucky enough to return to Hawaii. Perfect for a romantic getaway, or people who just want some peace and quiet. 4-wheel-drive is strongly recommended.
David
2016-07-19T00:00:00Z
Cozy yet spacious, in a green setting. The place feels very private. Super easy checkin & out process. Definitely a great spot if you are going to head to the green sand beach.
Leonora
2016-12-16T00:00:00Z
Tipo di stanza
Intera casa/apt
---
Tipo di sistemazione
Loft
---
Può ospitare
4
---
Camere da letto
Naalehu, Hawaii, Stati Uniti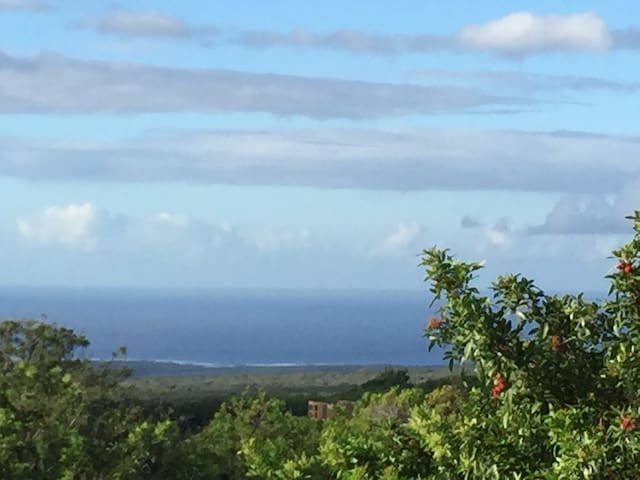 Kailua-Kona - Airbnb
:
Media di

4.81

stelle su

5

da

150

recensioni degli ospiti
Inserisci le date per visualizzare il prezzo totale. Ci sono dei costi aggiuntivi e potrebbero venire applicate alcune tasse.