Cozy country cottage for 2. Private, simple, quiet...natural. The property is located beneath a Scenic Point and offers smoking views of the west side coastline. Equipped with basic necessities, cable TV and WIFI and Queen sized bed. Spacious lanai!
**IMPORTANT UPDATE 1-2 night stays are welcome if booked 30 days before date and if available. MAUI - if you are going to Maui please see our ad. Cottage MAXIMUM capacity is 2 persons (a child at any age is a person). DESCRIPTION Located in the ultimate country setting, this comfortably rustic OCEAN VIEW cottage is situated on a private gated property with breathtaking VIEWS of ranch land and a 60 mile unobstructed VIEW of coastline. The cottage is located above the main house ( see photos)!!!Tranquil and quiet, only those that appreciate magnificent sweeping VIEWS, wide open spaces and starry nights need inquire. Weather allowing. The cottage is ideally set between Hawi and Kamuela (Waimea) on the drier part of beautifully scenic Kohala Mountain Road (hwy 250). Return to the comfort and coziness of the cottage after a day of exploration. The cool elevation is refreshing and the expansive OCEAN VIEWS are unforgettable. A great place to reflect over the days journeys; plan tomorrows adventures or simply write, paint, meditate, yoga or indulge in a great book. Perfect for low-impact, less is more type of traveler. COTTAGE SIZE AND CAPACITY - Clean, cozy and prepped for simplicity, efficiency and comfort. Cottage MAXIMUM capacity: 2 persons (a child at any age is a person) Cottage size: 236 sq feet under roof PLUS 345 sq foot lanai. Built on a slope and the large lanai (deck) is 20 feet high off the ground. Makes for amazing VIEWS- but not suitable for guests with height issues or problems climbing up and down stairs. See photos. AMENITIES - Assorted toiletries - Beach and bath towels - Electric studio fridge - Propane stove/oven - Rice cooker - Coffee maker/coffee grinder - Blender - Microwave - Toaster - Utensils, cups, plates, etc. - Hair dryer - Portable electric heater - BBQ ( at hosts home) - Wireless broadband internet(slow, but works) - Satellite TV *home phone not available *Sink located on large lanai *Shower only PRIVACY. We are the only ones here. FUN TOYS: Beach equipment (beach chairs, boogie boards, umbrella, cooler, 2 man Kayak, NO snorkel gear) available for use. LOCATION: easy access to world class beaches, hiking, restaurants, golf, spa and anywhere else you would love to discover! Vehicle required to explore the Island. DRIVING DISTANCES: 1 hour North from Kona airport, 1.5 hours from Hilo airport. -15 minutes to thriving Waimea town for shopping, restaurants, hospital, banking - 25 minutes to world class beaches, golf, spa and resorts - 30 minutes to local country towns of Hawi and Kapaa - 3 hours from Volcano - Hiking, both near and far - Need a car. 4 WHEEL drive not necessary IMPORTANT NOTES: - Cottage MAXIMUM capacity is 2 persons (a child at any age is a person). - Located at 3500 ft elevation, temperature ranges around 55 degrees during winter months to mid 80's most of year. It can be cool and like most of the Island, the tradewinds can be stiff. Although we are on the drier part of the Island, it does rain from time to time. Very refreshing, cozy and beautiful! - Cottage is on water catchment and DELICIOUS for drinking right out of the tap. It is triple filtered, recently tested and exceeds the county standards. - Smoking is allowed outside -- not in cottage. Located in drier environment, must be fire conscious and water conservative (but comfortable!) Welcome to the Big Island - you will love exploring here! Incredible Ocean Views in a private neighborhood, quiet setting. Peace, Quiet, Privacy and Tranquility. Interaction with Guests Sometimes we meet guests, sometimes we don't due to conflicting work and your vacation schedule. The cottage is all yours so settle in and make it home. There are many guide books for you to use. Other Things to Note: Animals on property.
Located above the main house ( see photos) is our cottage. We are the only ones on property. The nearest neighbor is a half mile away. DO NOT book with us if you want to stay in a place without neighbors. Again, our home is beneath the cottage. See photos!!! Cottage is located above our home. It is private and separate from main home.
Adorable cottage nestled into the side of the mountain. The lanai was a beautiful place to reconnect with my family. It was unreal
Martha
2017-01-15T00:00:00Z
Awesome place, neat view from upcountry waimea. Probably the best view from a shower I've ever had, and clean/cozy 1bdr well-furnished with basic kitchen and household items. Really great!!
spencer
2016-06-27T00:00:00Z
This cabin is adorable! Loved the location and views. The outdoor shower was great and was welcoming after a long day of hiking...then the night time set in. Totally not Maile's fault, but the winds were absolutely unbearable the night we were there (late October). It was SO loud and the windows and doors were rattling all night which made it much worse. We barely slept a wink and were in a horrible mood in the morning so decided to skip the second night. Also, even though it's pretty secluded, I can't sleep at night if I don't feel secure, and the sliding door doesn't lock and someone could easily get in through the bathroom if they wanted to. And using the toilet at night is kind of creepy since it's basically outside. I really really wanted to like this place and would probably give it another shot (provided locks were fixed) it was just a really really rough night. Maile did say the winds were unusually high when we were there so maybe it's fine the rest of the year. Everything else was perfect.
Brina
2016-11-01T00:00:00Z
Maile was away in Oahu on business, so we didn't get to meet her, but had quick and easy communication with her by text. Her husband Jason was very pleasant and helpful. The cabin is unbelievable! You have at least a 40 mile view of the Hawaiian coast. You have to try the outside shower with the door open; what a sensuous experience. The cabin has a full kitchen, very comfortable bed, windows everywhere, satellite TV, and is as private as can be. We hope we can always stay here when we visit Hawaii.
Stephen
2014-10-12T00:00:00Z
We stayed in two places in Hawai'i and two in Oahu this was by far our favorite place. The view is outstanding, the bed was super comfortable, the kitchen and bathroom was stocked and the property just magical. Maile and her family felt like family. We traded foods, had amazing conversations and got great tips about things to do. Maile was super accessible via text for any questions we had. Her family embodies compassion and generosity. All around wonderful vibe on their property. The home itself is a small older cottage up a mini hill from the hosts home. The cottage is rustic and cozy with an amazing lania that overlooks the coast and is perfect for star gazing. The outdoor shower is on the older side, there are some bugs and cobwebs but that's normal for an older cottage. The kitchen is small but the gas stove/oven is great to cook on. The sink is outdoors so washing dishes is beautiful, the refrigerator is in the partial outdoor bathroom and though at first odd, totally works out. As it is a cottage there are ants and little critters if you keep food out, so just be thoughtful about putting things away. Overall, its like going to a cottage in the mountains, which we loved! Location is great. It's about 20 minutes to Waimea and 30-45 minutes to coast. The drive up the hill/mountain is spectacular and there are plenty of places to adventure close by. We'd totally recommend Maile's place. All around one of our favorite places we've stayed on airbnb. Two tips: 1) Check the weather or ask Maile how it is. It gets a little cold at night so if you want to be outside, we'd recommend some long pants and sweatshirt. 2) One of the warmer eves the mosquitos got into the cabin. There is bug repellant but if you don't want to go to sleep with repellant we'd recommend one of the small clip ons/stands to have next to the bed.
Marisa&Pabitra
2016-07-08T00:00:00Z
Believe the reviews, it's absolutely gorgeous. I wish I could post pictures but that wouldn't do it justice. So serene and fairly accessible to the Kohala Coast. Far away enough in the mountains that you really get the country side of it. Beautiful horses on the property and we even had cows grazing nearby almost every afternoon! My boyfriend and I hope to return when he gets a break from the military! By far our favorite part of the Big Island.
Jackie
2014-09-03T00:00:00Z
We had a lovely and peaceful stay at Maile's cottage. Her directions to the cottage were very clear, and from the cottage we could easily get to other places in Kohala and Waimea. The kitchen space is smartly equipped, though the kitchen sink is outside on the balcony. The bed is comfortable, and plenty of linens and towels were provided. The cottage had beach supplies, but plenty of books, magazines, and even a TV with satellite if you are inclined to stay in. We wanted a vacation disconnected from our cell phones and devices, and Maile's friendly family helped by offering some good advice about the best malasada on the island (Tex Drive In), and green sand beach. Thank you for hosting us, we had a great time!
Sharon
2016-05-22T00:00:00Z
We had a wonderful stay at Maile's cottage. It was a nice quiet place to spend our last 3 nights on the island. The views and sunsets from the lanai are fabulous!! Cottage is very well equipped with everything you need to cook your own meals if you like. The outdoor shower is a real treat too! We also appreciated being able to use beach gear - towels, boogie boards, chairs, cooler were all really nice to have. The location is very convenient to restaurants and grocery stores in Waimea and also very easy to get to Kohala beaches. Overall we would return here again. Thanks Maile for a great stay!
Ainsley
2014-12-30T00:00:00Z
Tipo di stanza
Intera casa/apt
---
Tipo di sistemazione
Chalet
---
Può ospitare
2
---
Camere da letto
Waimea, Hawaii, Stati Uniti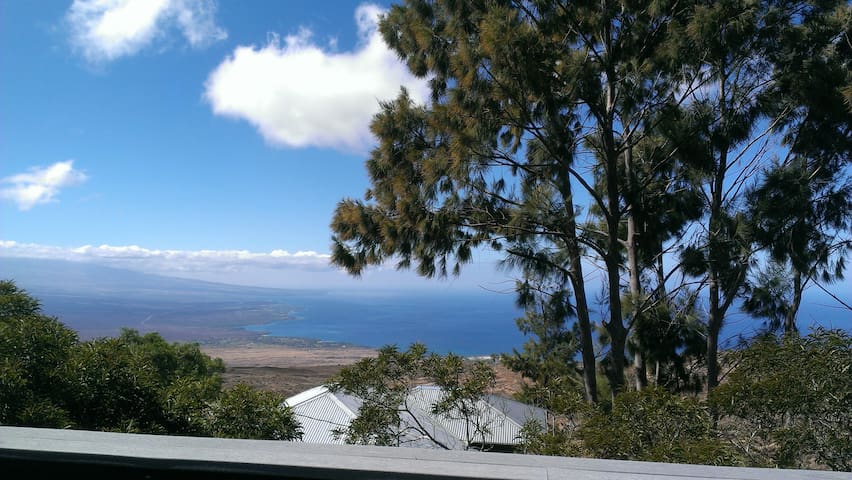 1

–

1

di

1 Chalet in Affitto
Inserisci le date per visualizzare il prezzo totale. Ci sono dei costi aggiuntivi e potrebbero venire applicate alcune tasse.