Our little log cabin is back in action! We are back in the main house after living in the cabin for a year: a fun adventure! About the cabin, it's mostly heated by the wood fireplace. Kitchenette has microwave, 1 burner, mini-fridge, dishes etc. upstairs is full-sized bed
Sweet restored stockade style log cabin right on Haller Lake. You would never know you were within the Seattle city limits! Haller Lake is a quiet, natural spring fed 15 acre lake surrounded by private homes. Custom woodwork inside with artful touches. Sleeps 2 upstairs in full sized bed. Main floor has comfy sofa, kitchenette with microwave, single induction burner cooktop, coffee maker, toaster and small refrigerator, teapot, dishes and glasses; 3/4 bath with new stone tile shower. This cabin is heated mainly with the wood fireplace. The photos show the old wood stove. You can now watch the flames and there is a fan to spread the heat around a little better. There is also a deLonghi oil heater to add a little more heat when needed. There is no TV but there is WiFi. Bring slippers, the stone floor gets chilly. Fish from the dock or take a ride in the paddleboat. We just got a canoe! (The boats are out of the water in the winter). No pets please! We are now living in the main house. We have an Australian Shepherd and a flock of chickens and ducks (the dog and chickens do not come into the cabin, just in case you were wondering) Parking is shared with the main house. It's close to Northgate Shopping Mall with shops, restaurants and Thornton Place Cinema. A few blocks to Northwest Hospital and the new proton center (look up ProCure Center) The lake is about 20-35 minutes from downtown Seattle via I-5 or highway 99 (can be a bit more in heavy traffic). Bus route #346 has a stop at the end of the driveway. If you are interested in having a party or many friends over, please clear it with us before making your reservation. We have limited parking and there is no parking down our communal access road. Check out by noon, Check in no earlier than 2pm, sometimes later if I can't get the cabin ready because of work. To be agreed upon according to schedule. If you want an early morning check-in, please book the night before.
Roberta & Dan were very helpful and welcoming. A short jaunt from their off street parking to their little rustic cabin by the lake was a trip to the country without leaving the city. It was peaceful, serene, forested park atmosphere on a sweet small lake. Thank you Gerd
Gerd
2015-09-04T00:00:00Z
Very relaxed and friendly. A residential neighborhood with lots of animals especially ducks. We felt very much at home.
Hans
2014-09-21T00:00:00Z
The cabin was fantastic. So quaint with the wood burning fireplace and the beautiful view. Roberta and Dan were very accommodating. Would love to stay here again :)
Jenn
2013-12-19T00:00:00Z
Upon arrival, Roberta and Dan we're welcoming and kind; they had started a fire in the fireplace to warm the space and provided us with a tour. We were extremely cozy and comfortable for the couple days that we stayed at their cabin and felt right at home. I highly recommend anyone to stay at this place during their time in the Seattle area. Moreover, I recommend that people take a day to relax and enjoy the cabin and lake; it's well worth it!
Joey
2015-03-07T00:00:00Z
Absolutely stunning and serene little cabin! Great hosts with kind hearts, literally 9 minutes to the Union and 5th Ave parkade in downtown Seattle (smack in the middle of shopping and restaurants). The lake is gorgeous and for the most part mirror calm first thing in the morning! Honestly could not be better, won't stay anywhere else in the Seattle area anymore (unless all of you read this and keep the place booked).
Ben
2014-04-29T00:00:00Z
Roberta and Dan couldn't have been better hosts! They were very hospitable and accommodating, making sure we had everything we needed. Their cabin was exactly what we were looking for during our stay in Seattle. I would highly recommend choosing the log cabin for your stay.
Tyler
2015-10-12T00:00:00Z
My wife Geri and I loved this little cabin. Roberta was friendly and helpful, and once into the cabin we had full privacy for our stay. It's a great little "cabin in the woods" yet only about 20 minutes from downtown. There was lots of room to park with no extra charge, a small fridge and a burner in case you want to cook. We highly recommend this to others!
Trey
2015-10-28T00:00:00Z
The reservation was canceled 64 days before arrival. This is an automated posting.
Shaina
2014-01-25T00:00:00Z
Tipo di stanza
Intera casa/apt
---
Tipo di sistemazione
Chalet
---
Può ospitare
2
---
Camere da letto
Seattle, Washington, Stati Uniti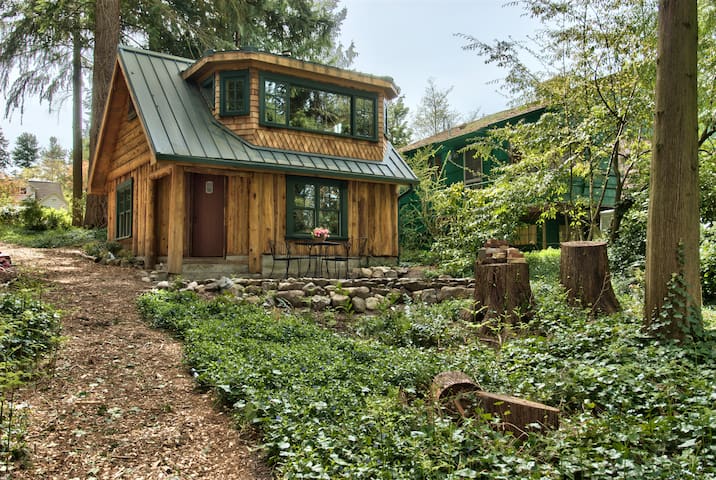 This apartment has lots of natural light and a private, full bathroom. It is in the lower level of our house. It is well insulated to stay cool in the summer, warm in the winter. The space has all the conveniences of a hotel room. You have a private entrance, driveway that's yours to park in, fiber optic high speed wifi, microwave, toaster, electric kettle and a small frig. along with an assortment of tea, organic coffee, dishes, silverware etc. for you to use. There is a wall mounted HD T.V. with DVR and Century Link Prism (two hundred plus channels including HBO and on demand shows) . There is a queen bed and a new couch that converts to a full sized bed. The house has a huge yard and deck you are welcome to enjoy. There are two friendly cats but they stay upstairs. We live two blocks from Delancy's, a pizza spot that has been nationally recognized, Honore, a great bakery whose crossiants were voted the best in Seattle region and the Fat Hen, a French bistro. All three have glowing reviews and are fabulous. The Ballard neighborhood has an incredible amount of restaurants and small, independent shops and Downtown Seattle is 5 miles away and a quick, easy bus ride. We live less than a mile from Greenlake and there are great neighborhoods to explore on all sides. There is plenty of free street parking in our neighborhood and a driveway that's yours to park your car in.
very nice and comfortable,will recommend to family and friendsm
Ellen
2010-10-28T00:00:00Z
What a nice surprise this gem was. Amanda and Luisa have clearly thought through every aspect of providing a refuge for travelers. Clean to a fault, my usual slovenliness stood out in sharp contrast to the meticulousness of the accommodations. I'll not indulge in the effusiveness of my full gratitude lest I make this place never available again. Nevertheless, highest recommendations.
Phoebe & Ivar
2011-12-07T00:00:00Z
Cozy, charming, welcoming...wonderful! Great house, great neighborhood. Amanda is very sweet! And the heated bathroom floors were incredible too.
leah
2012-06-12T00:00:00Z
Easy stay, nice quiet neighborhood but very close to Ballard restaurant area which we loved! We parked right in the driveway which was appreciated. Easy to communicate with host, great stay!
Lindsay
2014-09-15T00:00:00Z
Amanda's listing is comfortable, clean, and cute! It looks exactly like how it does in the photos, and it's a good idea if you're staying in Seattle, especially if you have a car. I didn't bring one but Uber is still really convenient and everything major is only 10-15 minutes away. The listing is located in the Ballard neighborhood of Seattle and there's a lot of good restaurants and bars around. What made the stay even better was Amanda herself. She was kind, understanding, and very helpful to me and my two friends. I really appreciated what she did for us! Think about staying here if you spend your vacation in the city.
Pamela
2016-01-02T00:00:00Z
It was a really nice place with convenient transportation. Made me feel like home!
Anna On Lui
2015-01-06T00:00:00Z
This is my 2nd time staying at Amanda's. Here Bnb is quiet, clean and comfy (especially the bed). I would definitely stay here when I'm in Seattle again.
Ron
2017-02-03T00:00:00Z
An A+ all around. Highly recommended.
john
2016-08-24T00:00:00Z
Tipo di stanza
Intera casa/apt
---
Tipo di sistemazione
Casa
---
Può ospitare
4
---
Camere da letto
Seattle, Washington, Stati Uniti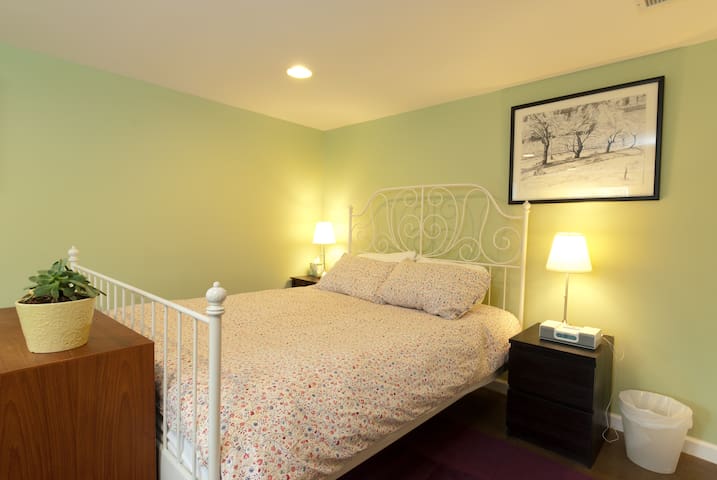 For travelers who are passing through town short-term and like a rustic cabin vibe in a great city location. Features: Futon pull out double bed, twin single loft bed, toliet & kitchette, but note: No bathing facilities available on site. Welcome!
This space has a lot of funky charm and is in a great part of the city. The room is cozy and a bit quirky with a rustic/self built vibe as we inherited the space (for example, the walls are simple paneling) but if you like its charm like we do, you will always have clean sheets, fresh duvets and coffee. You can have your coffee on the roof to see the tips of the skyscrapers while listening to the collection of birds that seem to like our yard! We hope you will love this place so please do not book just because it "will do for the price." Not everyone likes ladders, futons, old wood wall paneling or lack of a shower, but some people love cozy and fun and will truly resonate with our offering as they travel like we do! We love people to be happy and feel safe. There is a toliet is in the room with a curtain and half wall dividing it from the rest of the space, but no solid door. There is a single foam bed in the loft for those that are comfortable on a loft ladder. The futon in the main space is a pull out that could fit two people and is comfy. I set it up with clean sheets and bedding always. It will take up most of the room, so if you are staying more then a night, you may want to push it back to have a sitting space as there is a small table and two seats for eating space and a kitchenette, but no drawers for clothes..though we have lots of hooks and a shelf- if you have large wheel suitcases it will be possibly too tight...I offer all this to be upfront so you will enjoy your stay if you select the Zen Loft :) The wifi password for the zen loft is hulahoop :)
Ravenna is a wonderful neighborhood with an extemely good walking score. You are only a few blocks from so much! Less than 10 minutes walk and you are walking around Greenlake, or at Ravenna Alehouse, Zeeks Pizza, Ravenna Park, Third Place books, you name it! There is so much in our area to enjoy! For drivers, you are just 10 blocks from 1-5 and 5 minutes drive to the University District and 10 minutes to areas like Phinney, Fremont and the Woodland Park Zoo. In the city, but without the traffic, noise or high rises.
Great stay, Lara is a very accommodating host and great with communication. Would recommend to anyone
Taryn
2016-08-14T00:00:00Z
I arrived late night (delayed flight) and everything was ready for good sleep. The place is clean nice and special. Free parking just near.
Lena and Slava
2016-09-18T00:00:00Z
I was very welcomed. The description was accurate and the neighborhood was very nice, safe.
michele
2015-11-08T00:00:00Z
The Zen Loft was so cozy and fun to stay in! Lara was great and made sure we were comfortable. We had a great time!
Elizabeth
2015-05-30T00:00:00Z
What a wonderful treat! Lara and family were very accommodating and friendly. I love the fact that my money for a place to stay didn't go towards some billionaire kid's college fund but to a delightful middle-class family's son (who has inherited the family's gift for guest treatment).
Gus
2016-04-08T00:00:00Z
Although we didn't get to meet Lara, she was very welcoming and easy to contact before our stay. We weren't in Seattle for very long, but the Zen loft was a great place to rest. It was raining during the night, which made it even cosier. It was a very unique place to stay, which is one of the best things about using air bnb. We got the experience of staying in a 'tiny home' without the full time commitment. It was just a short drive to a lot of things we wanted to do, like go to the Green Lake area and Fremont/Ballard.
Elizabeth
2015-09-02T00:00:00Z
The tiny little loft was good for a pitstop. It was cool to climb the roof and see the beautiful sunset. Pretty good location felt very safe. Could be dusted a bit more but worked for us since it was a pitstop (no shower)
Lauren
2015-07-26T00:00:00Z
This is a great place to stay if you are looking for something a little more unique. At first I was concerned how far out of from downtown this place was, but learned that I could drive down the road to the UW Link Light Rail Station and take that closer into the city to prevent dealing with parking. Only drawback I had while staying was that the WiFi was a bit finicky and kept cutting out, but only need to refresh the page and it was fine. So if having a steady internet connection is important to you then maybe check with the host to see if it is acting up.
Dillon
2016-07-17T00:00:00Z
Tipo di stanza
Intera casa/apt
---
Tipo di sistemazione
Altro
---
Può ospitare
3
---
Camere da letto
Seattle, Washington, Stati Uniti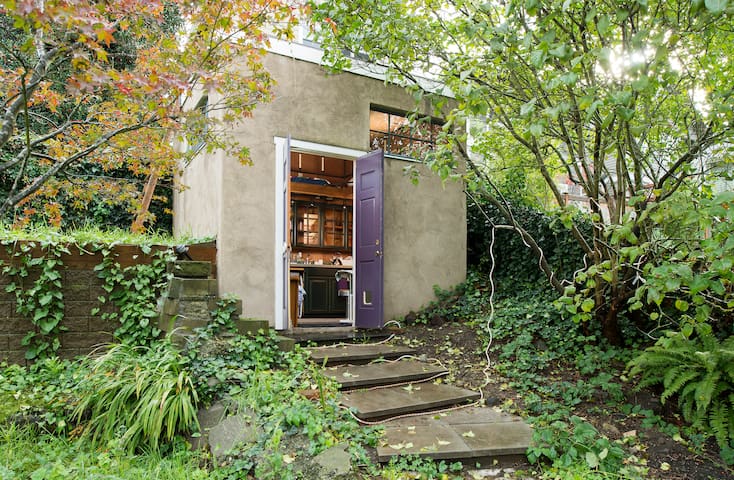 This lovely, modern room and ensuite bath is detached from the main house, so you can enjoy privacy and quiet. We are a 5 min drive from Ballard and a 15 min drive from downtown. Welcome to our quiet, safe neighborhood!
For those who would like more privacy than that offered by a room in someone's home, this detached bedroom is a perfect choice! The bedroom has a queen bed with a memory foam topper. Power strips on both sides of the bed allow for cell phone charging. Wireless internet and cable tv are provided. There is a small, walk-in closet so that you can unpack and feel at home. The full bath has shampoo, conditioner, and liquid soap, as well as plush towels. The windows bring in plenty of light and fresh air in the summer and there is also an air conditioner, and the floors have radiant-floor heating for the winter months. I have created a small area to enjoy hot beverages and quick meals. There is a mini-fridge, a hot water kettle, and a French press for your convenience. I provide orange juice, a variety of teas, freshly ground coffee, hot chocolate, instant oat packets, granola bars and fruit. I'll also bake scones or muffins on one morning of your stay. With dishes and two chairs, you'll be able to have a quick breakfast before you head out for the day. There is a hair dryer and umbrella to use as well as beach towels. If you need or forgot something, let me know, and I'll do my best to accomodate you. The guest suite is attached to our garage. The garage will not be in use between the hours of 9pm and 9am. However, during the day, family members will occasionally open the garage door, which can be heard from the guest room. Please note that there is not a full kitchen or laundry facilities in your guest suite. Our guest suite is not kid-friendly. Babies and young children are not a good fit for this listing. Ages 12 and older are welcome, as long as your child is part of the 2 person max. Thanks!
Ballard is known as one of the hippest neighborhoods in Seattle. Come to Ballard for amazing restaurants, micro-breweries, and coffee shops; come to shop at the boutiques on Ballard Ave; come to check out the salmon run and the boats coming and going at the Locks; come for the year-round Sunday Farmers' Market; come for the Golden Gardens beach with views of the Olympics; or come just to walk one of the most walkable neighborhoods in Seattle. Let me proudly advertise an area just two blocks away from our home. Seattle Met named it "one of the city's best food micro-hoods." You won't have to go far to enjoy these amazing restaurants: Honore Bakery, with French macarons that rival those in Paris; the Fat Hen, a light and cheery cafe that serves great breakfasts and coffee; Delancey's, where locals line up for amazing wood-fire pizza; Essex, serving mixed drinks and bar food especially for foodies; and Brunswick & Hunt, providing farm-to-table fare. I have a notebook full of suggestions of where to eat as well as where to play while you are here. If you'd like, I can email you my info so you can plan ahead.
Debbie went above and beyond to make our stay comfortable. The room was exceptionally clean, and had more than enough amenities to sustain ourselves through the week. Debbie was easy to communicate with and even provided resources to the best places in Seattle. Plus, she's an exceptional baker! We wish we could have extended our stay. The love and care Debbie puts in makes this place feel like home.
Dana
2016-04-01T00:00:00Z
Debbie was amazing! Her guest room was the perfect space, we honestly didn't want to leave. Debbie's attention to detail is honestly unmatched in our experience. She gave us great recommendations on where to eat and hang out. We hope we get the chance to go to Seattle again, and if we do we'll try our hardest to stay with her. She even had some baked goods for us in the morning! Do yourself a favor and stay here, it might be your best airbnb experience, it was ours.
Eric
2014-11-14T00:00:00Z
The room was exactly as it appeared in Airbnb. What a gem of a place in a nice neighborhood in North Ballard. Less than 5 minutes to the D bus stop that would get you to downtown Ballard or downtown Seattle. A great place from which to explore. And Debbie was a great host. She was very welcoming, and she even made scones for me for breakfast! All in all, it was exactly as I hoped and a great trip to Seattle.
Kit
2015-06-26T00:00:00Z
The BNB was wonderful! In such a great location and the book of stuff was very helpful! We really enjoyed our experience and our time in Seattle! The hostess was great and very welcoming! We felt very safe and at home! Thanks!!
Traci
2016-03-18T00:00:00Z
Debbie is a great host, she bakes delicious muffins. The room is in a quiet neighborhood and is well maintained. Overall a very pleasurable first night in Seattle.
Tiemo
2015-11-16T00:00:00Z
Can this be our home away from home? Our flight later than expected, and Debbie was very flexible for us to arrive when we were ready. The private entrance was convenient and didn't make us feel like we were intruding. Debbie also sent us a well rounded instructions list, so there wasn't any guess work getting situated. The place is awesome, its a small converted room, but the bed was awesomely comfortable. There's a TV, plenty of lighting, fantastically smelling amenities in the bathroom, and a mini-fridge with snacks, and coffee. Seriously? This is the best of a BnB and a hotel room, she even has that little luggage holder in there. In the morning, she greeted me and gave me a good tip on where to go on a morning run in the neighborhood, and she had handmade scones for us in the morning. No joke, these are better than I get in more breakfast joints. She was also very nice and we got a chat for a moment on our way out in the early afternoon. Our only issue? We didn't stay longer with her! If all our experiences were like staying with Debbie, I would be okay with never staying in a hotel for the rest of my life.
Jacen
2015-05-10T00:00:00Z
Our stay at Debbie's private detached room was great! From the beginning of booking, Debbie was prompt in her replies and sent great detailed information about everything we could expect which only complimented the already detailed listing she has for her AirBnB. The neighborhood is quiet, but only a short walk to a charming street filled with great bars and restaurants. Downtown Ballard is a short drive or bus ride away. The room was very charming, clean and contained everything we needed for our mini-staycation. Debbie even left blueberry scones outside the door for us in the morning. I highly recommend her private room and Debbie, herself, as a great host.
Amber
2015-10-10T00:00:00Z
Everything was as described. I asked for an earlier check-in and Debbie was very accommodating! We were only there for 1 night but it met all our needs. Met her briefly as I was rushing off to a wedding and she was pleasant + I'd say all our communication was clear via messaging on the website. Sidenote: I recommend eating at Morsel if you like delicious biscuits. It's nearby.
Pauline
2016-05-24T00:00:00Z
Tipo di stanza
Intera casa/apt
---
Tipo di sistemazione
Casa
---
Può ospitare
2
---
Camere da letto
Seattle, Washington, Stati Uniti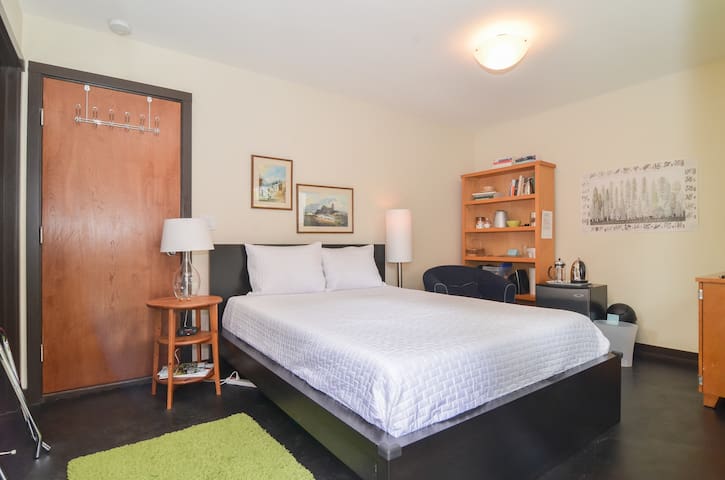 Relax in our minimalist-inspired lower-level bedroom with spa-like private bathroom. Located in the sleepy neighborhood of Crown Hill, you will be in prime distance to Golden Gardens, Carkeek Park, Greenwood and Ballard neighborhoods.
Your mini-suite includes a private bathroom with jet-tub, heated towel rack and heated floor. The bedroom includes a sleep number bed, small sitting area, a large Smart flat-screen TV complete with access to local channels and Netflix (you're welcome to sign-on to your own Amazon prime account if you want to order movies), a selection of tea, Stumptown coffee, filtered water, microwave, small fridge/freezer, an air filter (has been used as a fan and white-noise machine), and a diffuser with complimentary essential oils to make your stay exceptional!
We live in the neighborhood of Crown Hill which is about 1 mile from the hub of Greenwood, 3 miles from the hub of Ballard and 3 miles from Greenlake. Carkeek Park and Golden Gardens are both popular beach destinations that are less than a couple miles from our home. We are about 6 miles from Seattle Center.
Wonderful place and so close to everything. We enjoyed our stay and will be back.
gloria
2016-10-11T00:00:00Z
Anastasia was helpful and flexible. The room was as expected. Clean, comfortable, and convenient.
Mark
2016-03-09T00:00:00Z
This is Alice writing, Patrick's girlfriend. When I arrived at Anastasia's place, I immediately texted Patrick: it's better than a hotel! Everything is brand new. And when I say everything, means everything and more! Coffee, tea, microwave, fridge, filtered water, tableware, big tv, wifi, Netflix, aromatherapy, warm towels, closet... The bed is so comfy and it made me spend more time there than I planned! I want the same bed in my house! The room has a sofa and a table where you can have a snack watching TV. Everything absolutely clean and organized. Anastasia is the perfect host, and her family is very nice too. If you have a car, it's easy to park and near enough the touristic places. Try to catch the sunset at Golden Gardens beach - less than 10 min driving. We truly recommend Anastasia, the experience was amazing (better than we expected) and now her place is our first option in Seattle!
Patrick
2015-08-24T00:00:00Z
Anastasia's place was super clean, convenient, and quiet. Definitely a great place to stay when you want to hide out and get some good sleep after a day of exploring the city.
Chase
2016-12-04T00:00:00Z
Anastasia was the perfect hostess for my last minute stay. A wonderful spa-like getaway with plenty of warmth and charm. A great location with a nice parking option right in front. Totally recommend!
Pete
2016-11-30T00:00:00Z
The Burrow is absolutely a Seattle treasure. I came to town for a week, and used to Burrow as a base camp while I visited friends & prepped for a camping trip. Cozy & just the right size for me. Would work well for two guests as well. I forgot shampoo & conditioner and discovered that there were excellent choices for guests in the shower. Anastasia is prompt to respond to any texts/questions you may have, and is the sweetest host. There's also a wealth of info available in a basket on their dresser, full of maps, menus, guidebooks, etc. I will DEFINITELY be booking with them again. Highly recommended.
Bronwynn
2016-06-25T00:00:00Z
Anastasia was a great host! We've done more than a dozen AirBnB stays and never had anyone better. This was also the most nicely appointed place. All the fine touches. Many of the amenities you'd find at a five-star hotel.
Troy & Carla
2015-09-26T00:00:00Z
Anastasia is very friendly and has a beautiful room available which will felt like home from the minute we walked inside. There is very careful attention to detail with the fragrances of the oils as well as the soaps, ensuring a comfortable and relaxing experience. The heated floor on the bathroom was phenomenal and I miss it every day. Overall, Anastasia's home is a wonderful place to stay while visiting Seattle.
Sergio
2016-04-13T00:00:00Z
Tipo di stanza
Stanza privata
---
Tipo di sistemazione
Casa
---
Può ospitare
2
---
Camere da letto
Seattle, Washington, Stati Uniti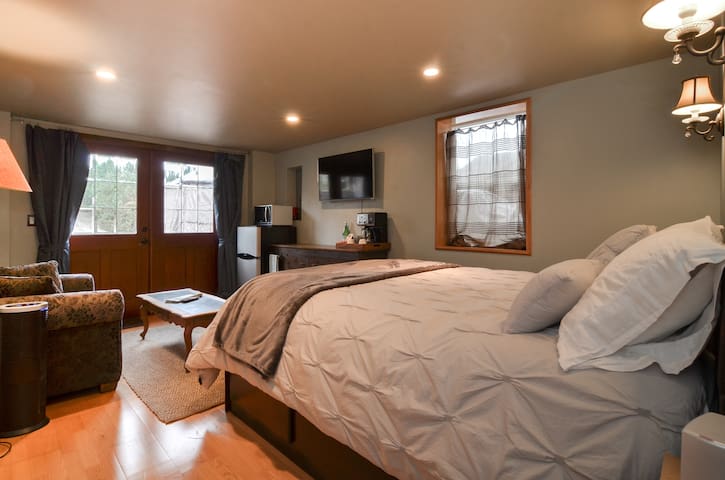 This cozy little bungalow was fully updated in the Summer of 2016. It is a block and a half from beautiful Green Lake, and walking distance to many great local restaurants, bars, shops, and outdoor activities, as well as a short drive (or long walk) to the University of Washington and Woodland Park Zoo. Parking is easy to find and the neighborhood is quiet and safe.
This detached bungalow is in the backyard gardens of the owners' restored craftsman home. It is perfect for 2 people that want a residential retreat in a vital Seattle neighborhood with the option to prepare all your meals in-house. Amenities include Wifi, TV, Netflix streaming, heating, air conditioning, linens, stove, microwave, refrigerator, coffee maker, coffee and tea. Other Things to Note This bright, charming tiny bungalow is entirely yours, with a landscaped backyard that is shared with the owners. Enjoy the comfy queen-sized bed, sectional couch, TV (with local channels and Netflix), tiny kitchen, and a small bathroom with a shower. Heating and air conditioning are controlled entirely by you. If the weather allows, relax outdoors around the firepit or the covered pergola seating area, surrounded by lilac trees, flowers and plants.
Seattle is among the most active cities in the U.S. and Green Lake is Seattle's hub for recreation. Circling the lake is a 2.8 mile walking/running/wheels trail. The park offers tennis and basketball courts, baseball and soccer fields, 9-iron golf course, public swimming pool and beaches, boat/kayak/paddle board rentals, and a theatre. The trail is also a great place for people watching and the best way to access many restaurants and shops lining the lake.
This was a fantastic place to stay during our trip to Seattle! We really enjoyed how cozy the bungalow was, yet it all everything we needed. You can really see the care Rob and his family put into making this such a unique and comfortable place to stay. Close to the bus stop too - an added bonus!
Jayme
2017-01-21T00:00:00Z
Rob's bungalow was cozy and clean. It was a very nice stay!
Emily
2016-09-23T00:00:00Z
The greatest neighborhood and cutest house ever! And nice, respectful hosts. This place is the epitome of Airbnb awesomeness.
Margaret
2016-10-11T00:00:00Z
Great host, had no trouble finding the tiny house and everything was clean and organized.
Mark
2016-09-16T00:00:00Z
Perfect place to stay in Green Lake! Very cozy, private, and comfortable. Highly recommend.
Sara
2017-03-10T00:00:00Z
The tiny house was so cute, cozy and just enough room for two people! The neighborhood is really nice and about 30 mins away from the airport. I went during the winter, Rob had the house prepared and warm for us when we arrived. I highly recommend staying here!
Morgan
2017-01-09T00:00:00Z
Rob's place was in excellent condition and had just enough room for 2 guests. He was a great and friendly host and their dog, Django, was a great addition!
Brenae
2017-03-23T00:00:00Z
Rob's tiny house was so totally adorable!!!! My husband and I came to Seattle for a little get-away and this place was so ideal for us. It was adorable, quite, and in a beautiful area!! Can't wait to go back!!
Leah
2017-03-15T00:00:00Z
Tipo di stanza
Intera casa/apt
---
Tipo di sistemazione
Bungalow
---
Può ospitare
2
---
Camere da letto
Seattle, Washington, Stati Uniti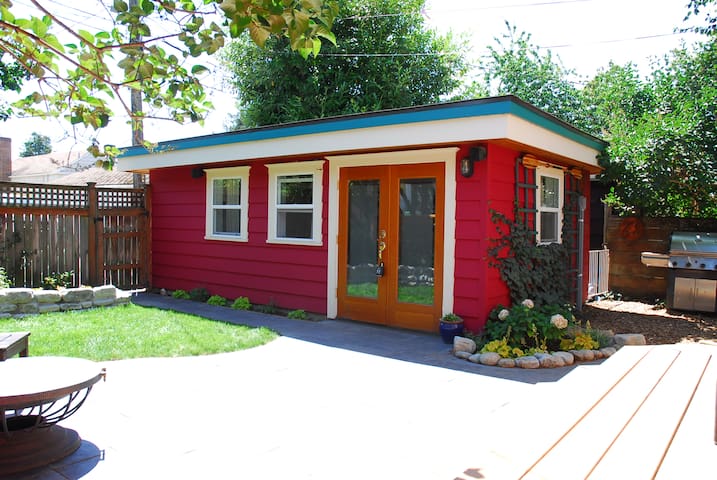 This warm and cozy bedroom is the smaller of our two available spaces. Enjoy the comfortable double bed, the evening sun, and the option to share our kitchen and living areas - less than 30 minutes from downtown Seattle!
Live family-style with shared bath, gourmet kitchen and living areas, and breakfast provided every day! Off-street parking is available. The bedroom faces west, holds a double bed, and is light and sunny. The bathroom is still waiting for its remodel - but is fully functional and clean, if not gorgeous. It has a full-sized tub with a luxurious massaging shower.
We live in a suburban neighborhood that is close to everything. Restaurants and shopping are all walkable, but Seattle is only a short drive. For recreation, we're close to Lake Washington and the Burke-Gilman walking & bicycle trail.
Mary and Ken are awesome! They are warm and gracious hosts. The room was private and quiet. We felt very comfortable and welcome during our stay.
YUNQIAN
2014-05-01T00:00:00Z
Mary was a lovely host - she was there whenever we needed her but also left us alone with the freedom to use her lovely house. The neighbourhood was very pleasant - a bit of a walk uphill from the bus stop but it wasn't a problem. The breakfast provided was a real bonus. All in all, a lovely home, great host and excellent price. I'd definitely recommend staying at Mary's place!
Rebecca
2016-07-06T00:00:00Z
Ms. Mary, Thanks so much for hosting us. We do have had a good time in your lovely house! Mary 太太的房间特别整洁,对于我们的照顾可谓无微不至,同时她又留出了尽可能的私人空间给我们。我们的体验是完美的!谢谢
Jack
2016-08-25T00:00:00Z
very nice room, very nice experience, very easy! staying up here for work, and this is a very hassle free place to stay, perfect for everything that I needed. Ken and Mary were great!! would recommend this for anyone needing a place to stay.
Robb
2014-11-01T00:00:00Z
Great host. Very friendly. Treats you with respect and very comfortable to be around with!
Steven
2016-07-11T00:00:00Z
Had a very nice stay and Ken & Mary's. The room was perfect, kitchen and bathroom were perfect, "continental" breakfast and coffee every morning, every bit as clean, comfy, and quiet as any hotel I've ever been in (and a darn site more so than several!) Also, enjoyed the company, there was no pressure to hang out and chat, but when we did cross paths had quite enjoyable conversations. Altogether, 10 out of 10 I'd stay here again!
linnea
2014-12-22T00:00:00Z
My husband and I needed a place to stay where we could crash for the night and leave early without any hassles. Our host Ken was very welcoming and left us to ourselves after letting us in. There was a binder of info left in the room which was really helpful to acquaint us to the area. This was our first air BnB stay and it was very pleasant.
Maggie
2014-07-12T00:00:00Z
This is our second time visiting and Mary is super nice and awesome as usual. The bed is super comfy and we were able to have a good nights sleep. They've made some noticeable improvements since the last time we came including a shower head with a hose, a towel rack in the room, as well as a binder full of clear instructions and tips. We really appreciate the care they put in increase their guests comfort. Highly recommend! =)
Angelo
2015-04-27T00:00:00Z
Tipo di stanza
Stanza privata
---
Tipo di sistemazione
Casa
---
Può ospitare
2
---
Camere da letto
Kenmore, Washington, Stati Uniti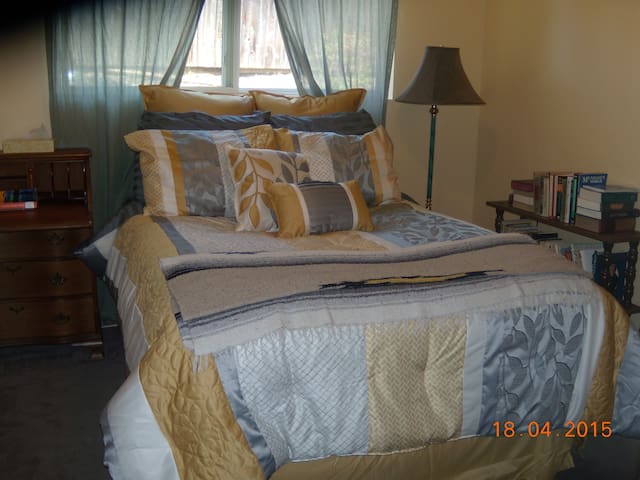 Located minutes from Woodinville Wine Country, and walking distance to Lake Washington and downtown Kenmore. You will find Casa Dore, a friendly and uncomplicated Bed and Breakfast. We are just 13 miles north of downtown Seattle, close to a transit hub and a few blocks away from Kenmore Air.
Our house is a one of a kind lodge style home with a rich history and a great story! Our friends describe our home as warm and inviting, perfect for entertaining and events and that is what we do! Casa Dore has been home to many an overnight guest, showers, weddings, dinners and more! Casa Dore has 3 bedrooms located on the second floor and each room sleeps a minimum of 2. There are 2 bathrooms not in-suite. Two large bedrooms have 42" flatscreen TV's, walk-in closets, a seating area and large dressers. The third bedroom has a double bed, dresser and end tables with a smaller TV. The larger rooms can sleep up to 4 people each as they include a queen-size sleeper sofa. Breakfast is usually a fresh baked pastry along with an egg casserole or frittata. Typically we serve cinnamon rolls, monkey bread or fluffy biscuits. We use organic local ingredients and. we cater to dietary needs and requests! We take pride in ensuring our guests get an excellent night's rest so our beds are very comfortable, the bedding luxurious and the rooms spotless.
We are a block away from a golf course, across the street from a beautiful park and 2 blocks away from a trail system that feeds into regional trails for walking, biking and skating. Up the hill is Basytr University, an accredited, globally respected institution of natural health arts and sciences. They are located in a beautiful park on Lake Washington that includes trails for both hikers and mountain bikers. Our neighborhood is a wonderful place to be!
Beautiful house. Friendly owners. Comfortable rooms with everything we needed and more. The breakfast was very much appreciated. Thank you Irma for letting us stay in your home!
andrea
2016-03-22T00:00:00Z
Irma and her family were fantastic! We had such a lovely time at their house. They were extremely hospitable and generous with their home, belongings, and time. We felt totally comfortable - what a great experience and fantastic place for a large group! Breakfast was delicious as well, and she was very accommodating with our dietary needs. I would definitely stay here again!
Hanne
2015-06-01T00:00:00Z
I can't say enough nice things about our experience at Casa Dore! When we arrived there was a welcome message at the door and Irma greeted us. She was warm, cheerful and welcoming. The house is absolutely gorgeous and very well decorated! It is as beautiful the pictures, if not more. It was freezing cold outside, but the house was warm and comfortable. We were a party of 9, having a college reunion. Irma gave us a tour of the house, the rooms, the bar, the kitchen, the play room et all. She also asked us to help ourselves to their wine and beer collection. Irma and her husband are resident hosts, but we had complete privacy as they live in a different part of the house. All of us sat around the fireplace all night. The best part was Irma and her husband asked us not to worry about being loud. We talked and played games all through the night, without any worries. It was the most wonderful trip! Sadly, we had to leave before breakfast. But, I have a feeling we will be back at Casa Dore for our next reunion!
Afreen
2015-11-30T00:00:00Z
We had such an amazing stay at Casa Dore! We have never encountered such helpful, fun and accommodating hosts! Communication was great and they went out of their way to make our trip with our family so convenient and memorable. The house was as described and more. Breakfast was wonderful and even the air beds for extra guest were comfortable. All 11 of us had a great time!
Sandra
2014-06-24T00:00:00Z
What an amazing experience! Irma and Greg were the best hosts ever! Our group stayed at Casa Dore for 5 nights. We were under a lot of stress because we were working a convention, and they were incredible in helping us get settled and attending to our needs. They are also very cool to hang with, and we appreciated our limited time with them during the evenings, enjoying wine next to their fire pit and connecting over their delicious breakfasts. The property is a gem, tucked away from the surrounding neighborhood amongst tall trees. It was the perfect place to retire at night, cook our dinners, and even have a large dinner gathering. Irma was quick to accommodate a dinner of ours with seating for up to 20 in their large dining room. Their house has everything you'd want for an extended get-away... secluded living room with state of the art entertainment system... a full basketball court... a bar area... dual refrigerators... a hot tub... bikes and kayaks... very nicely appointed rooms with ultra-comfortable beds... AND a man-cave type pool room decked out with hockey memorabilia! You really get a rustic secluded feel, but with all the modern amenities. I would highly recommend Casa Dore for individuals and families for any length of time. We'll be back for sure... especially to revisit the awesome wine country, which is just minutes away. Thank you, Irma and Greg!
K
2015-06-30T00:00:00Z
It was the first time for us to use Airbnb, so we had some worries because we were bringing our 5 students to a two week camp held by The Northwest School (High School). However, Irma and Greg (her husband)'s warm welcome dispelled all our concerns. We are from Japan and were a total of 7 people, including my wife, Sheila, who is originally from Seattle. While suffering from jet lag and travel fatigue, our students had to go to school every morning. Irma and Greg kindly prepared wonderful and delicious breakfasts that provided us with fresh energy. They were so nice to us and our students, some of whom couldn't speak English so well. They always smiled to our students and talked to them cheerfully every time they met each other in the house. Besides breakfast, they also prepared juice and snacks for our students, as well as delicious coffee for us. The salmon dinner that they prepared on the last day before we checked out was superb. Irma also invited her partents over that evening, creating a family atmosophere, which left our students with an indelible memory. When we returned to Japan, every one of our students said that spending time with Irma and Greg was the most impressive thing they had experienced in Seattle. This also encouraged our students to learn English so that they can express their happiness and appreciation directly to Irma and Greg. Once again, thank you so much for having us. You are wonderful people.
Shinichi
2015-08-15T00:00:00Z
From the minute my friends and I walked in the front door to the day we had to leave we were treated as if we were long lost friends. The host made us feel so comfortable that it felt like we were in our own home. From helping us book wine tasting and dinner reservations to delicious breakfasts, there was nothing we were in want of. The beds were comfortable and the living areas were large and inviting. I would not only recommend this home, but am planning on returning to Casa Dore' !!! Thanks for all of your hospitality, Karen
Karen
2016-04-05T00:00:00Z
Irma is a super nice person, very helpful and a wonderful host. House is very big, spacious rooms, comfy beds and very clean. Breakfast and monkey bread were delicious. Hope to stay here in the future to discover more adventures in Washington.
kw
2014-08-06T00:00:00Z
Tipo di stanza
Intera casa/apt
---
Tipo di sistemazione
Casa
---
Può ospitare
10
---
Camere da letto
Kenmore, Washington, Stati Uniti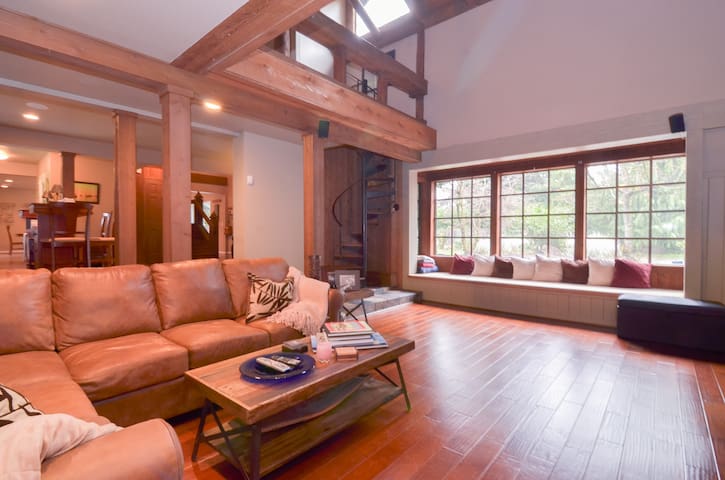 This 1926 farmhouse has been restored to include all modern-day conveniences while maintaining its original charm. Thoughtfully designed for entertaining, it has all the amenities a family would need.
This 1926 farmhouse has been restored to include all modern-day conveniences while maintaining its original charm. Thoughtfully designed for entertaining, the home features 4 bedrooms (sleeps at least 7), a wrap-around porch, an entertainment-sized kitchen, a farmhouse style dining room table that seats up to 12 guests, a living room with flatscreen tv and additional media room with surround sound and a playroom with air hockey and ping pong.
This home is just 2 miles from the beloved McMenamin's Anderson School which houses 3 restaurants and bars, a swimming pool and a movie theatre. We are also 4 miles away from St. Edwards Park. St. Ed's is known for its hiking trails that lead down to the water, and a whimsical castle-themed playground.
Eva and Rik's house is absolutely gorgeous! It is quite modern but with a ton of old charm. It rained while we were there so we weren't able to enjoy the backyard but having a glass of wine on the front porch was amazing. They left us detailed information about the house, appliances, electronic devices, neighbourhood, restaurants and so on. The dinner table was tastefully set and ready to go. We found the area to be very quiet and private which is what we wanted to relax, and convenient with stores a few minutes away. The house was bright and very clean. If you travel with kids, it's perfect! A gate was set at the top of the stairs and there was no sharp edges anywhere. We were grateful for the high chair, children's "china and flatware" and the toys (though someone fancied the fly swatter the most). I would highly recommend renting this house. We also were lucky to meet Eva briefly after she allowed us a late checkout (amazing race avoided!) and she was super friendly.
Berangere
2016-01-24T00:00:00Z
Tipo di stanza
Intera casa/apt
---
Tipo di sistemazione
Casa
---
Può ospitare
7
---
Camere da letto
Kenmore, Washington, Stati Uniti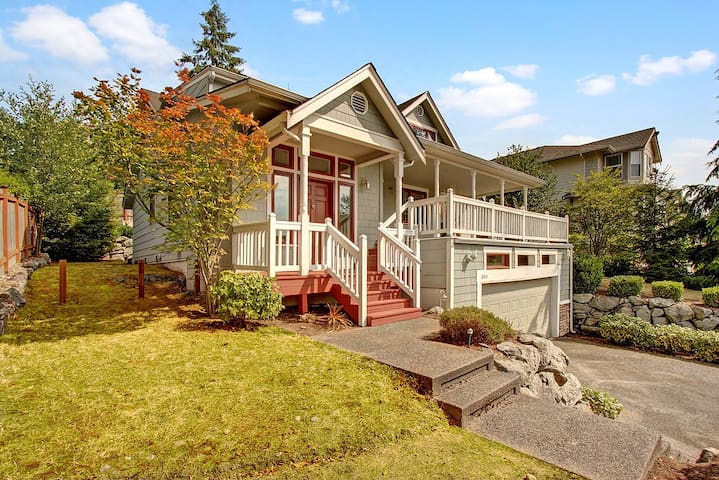 My place is good for couples, solo adventurers, business travelers, and families (with kids).
Malisa' studio was just as described. It is a cozy space with everything you might need. I can tell she has put care and detail into the space. Her communication was very responsive and made for an easy stay. Thanks Malisa!
Jake
2016-10-03T00:00:00Z
Host- Malisa was very friendly and on the day that we arrived, she was very adamant to make sure whether or not we had all the essentials. She was readily available for any of our questions and replies back promptly. She was easygoing that she made checking-in and checking-out a super easy process. Studio- the place itself was cute and cozy. The pictures didn't fully represent the actual place but Malisa did inform us beforehand that they were under renovations so the pictures wouldn't be updated. The only minor drawback was that there were a lot of critters. But it was expected because the area was surrounded by a lot of forestry and close to water. Neighborhood- the area was peaceful and quiet. The road leading up to the studio was a bit curvy and steep and not a lot of well-lit areas during nighttime so getting there, for us, was a little troublesome. However the studio was close to a grocery store, a park, and a multitude of restaurants. We would recommend this place!
Steffi
2016-09-06T00:00:00Z
Very neat place to stay. Quiet and isolated. The place has cable and internet which allows you to relax and watch. Malisa was very nice for giving us condiments and was always in contact when needed.
David
2016-09-21T00:00:00Z
Simple, quiet, peaceful, private place that is close to Bastyr.
Katrina
2017-03-05T00:00:00Z
Had a great stay at Malisa's! Quiet and cozy, great value.
Kevin
2017-03-25T00:00:00Z
Lovely studio that was pristinely clean and offered comfort and privacy. The bed and pillows were amazingly comfortable as well.
Lisa
2017-03-15T00:00:00Z
Very nice place, nicely decorated and clean. Had a very pleasant and comfortable stay. I would stay here again with no hesitation. It is somewhat out of the way (but still solidly in the upper-middle class burbs) so don't expect to walk to any destination such as shopping or dining. Such things are a short car ride away (McMenamin's brewpub/restaturant!). On the other hand that means a quiet, wooded ambiance. One minor detraction: no table for dining or laptop. There is a kitchen counter but no stools.
Kevin
2016-11-08T00:00:00Z
We had a great time at Malisa's place! We felt secluded which was exactly what we were looking for. Everything was stocked with plenty of amenities. Having cable was nice and the bed was so comfortable. Malisa is very accommodating and clear about how to get to her place and what to expect.
Bianca
2016-11-04T00:00:00Z
Tipo di stanza
Intera casa/apt
---
Tipo di sistemazione
Appartamento
---
Può ospitare
2
---
Camere da letto
Kenmore, Washington, Stati Uniti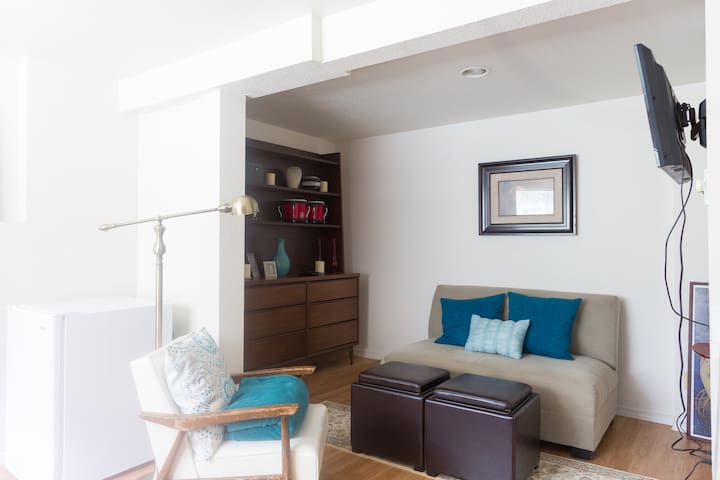 This gorgeous 1-story home (1680SquareFeet with 3 bed, 2 bath) & beautiful kitchen with marble counter top,stainless steel appliances,gas cooktop and soapstone sink Relax in your large master suite with french doors that lead to patio and with master bathroom that features stylish travertine tile. 2nd bathroom is large with jetJacuzzi. Light fills this open concept home. Enjoy the large grass yard with tranquil water pond as feature and two pleasant shed. Indoor Gas & Outdoor Stove fireplaces
Perfect for families or friend heading out on vacation together Or for couples looked to expore Washington state and its wonderful nature
This house in Kenmore is across the street from the north tip of Lake Washington. Log Boom Park is located by the lake and is always a pleasant walk on the dock looking onto This home is in the quiet, safe and cozy neighbourhood Kenmore, well located as you can easily access many nice spots close by. St Edward's Park also has amazing hikes very characteristic of the Pacific North West, and is a 5 minute drive from the house. The home is a 15 minute drive from the popular Greenlake-Ravenna neighborhood in city, and a 25 minute drive from the heart of downtown Seattle. It is also 15 minutes drive from Kirkland, and 25 minute drive from popular Bellevue with Seattle's own Microsoft offices and attractions.
Sevag is an attentive land lord. He pays attention and delivers personal requests. For example, I intended to have a cozy fire out of doors and requested a few pieces of firewood. Yes, a pretty unique request, but, Sevag gathered up an arm load of firewood for us. :) His guidelines for our stay were clear and his equipment and clean up tools were easily found, which assisted in clean up prior to our departure. We would definitely consider a stay with Sevag in the future.
Karolynn
2016-12-29T00:00:00Z
Tipo di stanza
Intera casa/apt
---
Tipo di sistemazione
Casa
---
Può ospitare
5
---
Camere da letto
Kenmore, Washington, Stati Uniti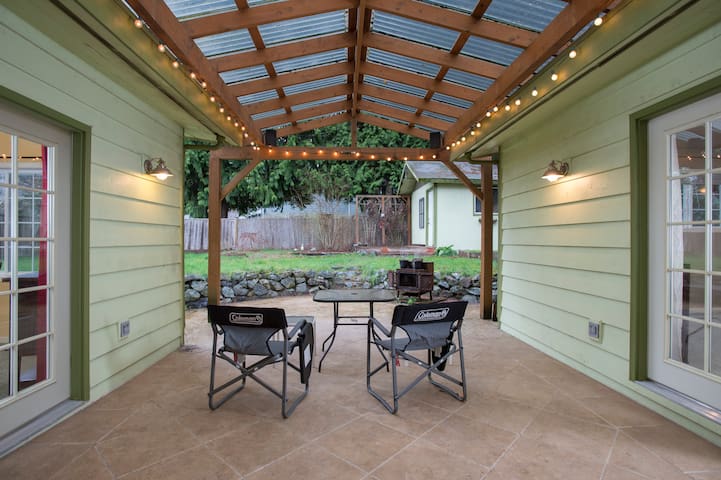 2 Bedroom apartment RIGHT ON Lake Washington. Walk out directly onto the dock or into the water and watch the Kenmore Float Planes land at Kenmore Air Marina. 1/2 mile to the Kenmore boat launch for kayaking & jet skiing. Outdoor hottub as well!
The lower level apartment is spacious, 1800 sq ft. It is attached to the main house and is completely separated. My wife and I live on the upper floor.
Quiet neighborhood - please be respectful of neighbors.
Kyle was extremely responsive and very helpful. The apt is spacious and has a beautiful setting on the lake. The amenities were great and overall nicer than expected. We had a problem with the wifi working but it sounds like something that doesn't usually happen - Kyle was away but did what he could to resolve.
Meg
2016-10-12T00:00:00Z
Beautiful lake views here and a wonderful location. Very quiet. Kyle was responsive and helpful when we needed anything. We loved the 2 bathrooms so we each had our own space. The kitchen was stocked with the basics for meal preparation. Nice quiet area but close to a grocery and close to the bike trails for us. We brought our kayaks and could go right off the little beach. Nice dock and deck for enjoying the view. Hated to leave this fantastic place!
Jill
2016-08-26T00:00:00Z
This place is amazing!!! The view was fantastic, the beds were really nice, they had everything ready and waiting for us and Kyle and Mychelle were very responsive to all my questions. My family and I could not believe how lucky we were to find this place! I will definitely try to plan my next visit around availability of this beautiful lakeside apartment!
Katherine
2016-08-15T00:00:00Z
Kyle was a kind and wonderful host, and I very much enjoyed staying at his apartment! He always responded promptly to any questions that I had, and his communication with me was pleasant and professional. The apartment is beautiful -- it's very clean, has great amenities, and has very nice bedrooms and bathrooms. The living area is spacious, filled with lots of sunlight, and has an amazing view of the lake! This place was perfect for my stay in Seattle, and I would definitely recommend it! :)
Kelly
2016-07-02T00:00:00Z
Kyle, was a very gracious, and accommodating host. The property was gorgeous, and very modern. Kyle made sure there were plenty of activities on the property. We spoke to him a hand full of times, and each time he always asked how things were? Also if we we needed anything just to ask. I would definitely stay here again we are back in the area. Just so happens my Fiance grew up around that same neighborhood and we felt right at home.
Camille
2016-08-01T00:00:00Z
Kyle's place on the water was spacious, quiet and restful. He was a gracious and responsive host. Added bonus: The Butcher Shop Cafe at the top of the hill has the best BBQ that we've ever had!
Anne
2016-08-20T00:00:00Z
I had an incredible stay. Beautiful view being right on the lake. Hosts were incredible and had the place clean when we got there for a very welcoming experiences. There is honestly nothing bad to say about this place. Everything was great.
Jared
2016-06-16T00:00:00Z
The View is out of this world! The place is very spacious. Kyle was very responsive, very accommodating and very nice. We had a very pleasant stay and a wonderful experience overall. We would stay there again for sure :-). The few things to note: - One bedroom is smaller than the other (but quite roomy) - There are no drapes in the living area, so you get to enjoy the view constantly, but it also means you have no privacy in the living area; anyone on the deck, in the yard or on the lake can see right through into the living area. This was not too much of an issue, but it is something to keep in mind. - There are no cable channels, only air broadcast channels (the lineup is limited and the reception is not fantastic on all channels) but there is Netflix and Amazon Prime. Again, just something to keep in mind (and I think Kyle mentions that in the listing too). We binged on Youtube & Netfilx :-).
Tamer
2016-09-17T00:00:00Z
Tipo di stanza
Intera casa/apt
---
Tipo di sistemazione
Appartamento
---
Può ospitare
4
---
Camere da letto
Kenmore, Washington, Stati Uniti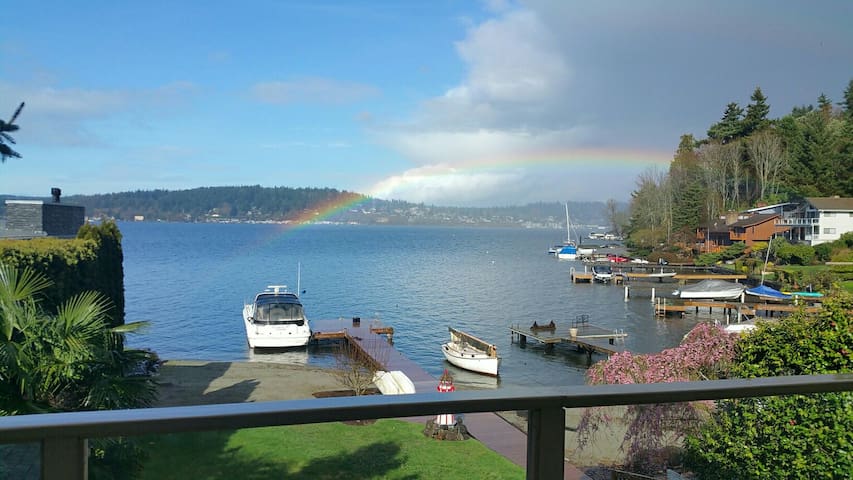 My place is good for couples, solo adventurers, and business travelers.
Tipo di stanza
Stanza privata
---
Tipo di sistemazione
Casa
---
Può ospitare
2
---
Camere da letto
Seattle, Washington, Stati Uniti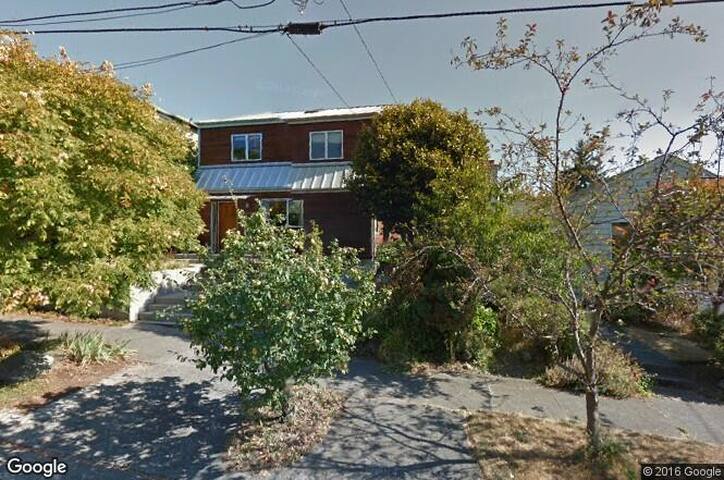 1000sf apt. in Wooded on ALL sides lot. Off road parking next to the building. Fully furnished in Rich Earth Tones. Tapestry carpets & original artwork. Treehouse FEEL. Meditation Station is set up w Massage Table, which can be closed up and Sofa BED opened for additional guests. Large L shaped corduroy and leather sofa in main rm Not for sleeping on...Unless you have a thick sleeping bag.
This is my Very Quiet Sanctuary. A SHARED space with my Airbnb guests. FULLY Furnished. I am Available for Reiki Sessions during your visit by appointment. I am gone most of the time after 11 am and arrive home usually late in the evening. But, my schedule is erratic so I come and go often. I have 2 kitties that mostly live outside.
The parking is off the road on a flat gravel space next to the building. I can give suggestions of FUN activities in the local area and I also have a space in SEATTLE at Eastlake Union if you want to be a tourist and stay in town. Private Tranquility at East Lake Union https://www.airbnb.com/rooms/1305353?preview
Tipo di stanza
Stanza privata
---
Tipo di sistemazione
Appartamento
---
Può ospitare
1
---
Camere da letto
Kenmore, Washington, Stati Uniti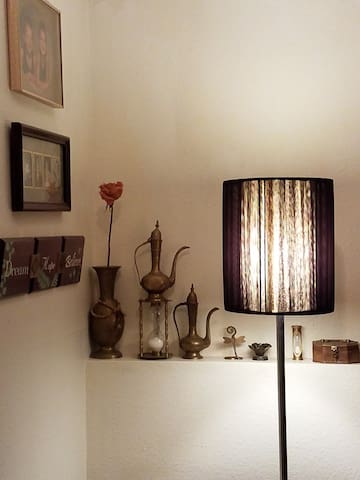 Beautiful and clean room in very nice house, hardwood floor, granite kitchen, 5 minutes to Alderwood mall and Edmonds Community college, Lynnwood library and recreation center, and 10 minutes to Muketil Boeing ,close to shopping and bus lines.The room is big size ,if you travel with family,we can add another bed and can accomdate up to 4 people.
This is big room with private bathroom,you can full access to kitchen ,living room
We had a great time at judy's place.
Praneeth
2016-09-06T00:00:00Z
I had a very nice time in Judy's place. The house is very well located, next to supermarket, restaurants and bus stops that you can take buses to almost everywhere in Seattle region. The house is new and awesome, very clean and all rooms are great! Judy is a very sweet host, she used to take some goodies frequently and made everything she could to make me feel comfortable. I would definitely recommend Judy's place!
Pedro H.
2016-08-13T00:00:00Z
Judy was an amazing host, she dropped of food goodies every other day (bagels, muffins, fruit, etc). The place is super clean and basically brand new looking, also it is close to get to all major highways/freeways(I-5, 99). I would definitely stay here again :)
Sunil
2016-07-15T00:00:00Z
Tipo di stanza
Stanza privata
---
Tipo di sistemazione
Casa
---
Può ospitare
4
---
Camere da letto
Lynnwood, Washington, Stati Uniti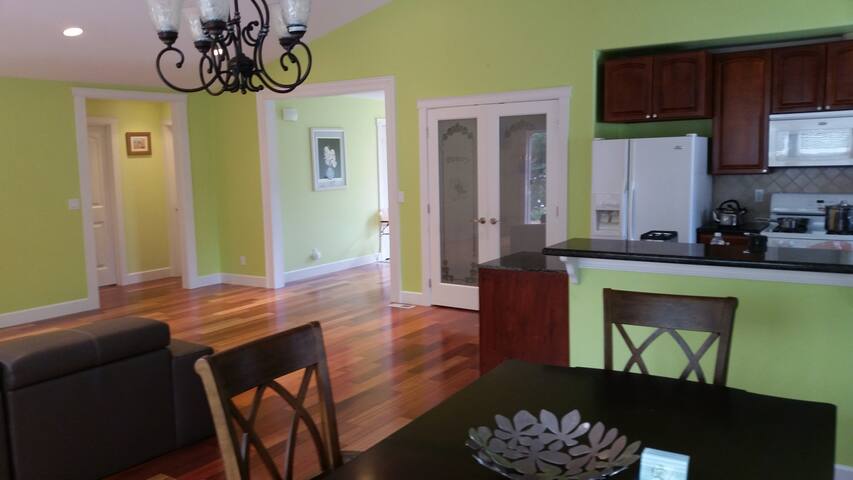 Incredible Lake Washington views! Private suite nestled in a large Rhododendron garden with private walking trails - right outside your door. Quick, easy access to Seattle or Bellevue via 5 minute walk to bus line. Ten minute walk to Log Boom Park and the famous Burke Gilman biking trail. Woodinville wine country and craft breweries - just minutes away. 13 miles from Seattle. Perfect retreat for work or play.
Four room suite nestled in a mature rhododendron garden with trails and panoramic views of Lake Washington. Suite is 1100 square feet. It is attached to the main house but is completely separate and private. Gated driveway entry with secure, private parking. The space consists of a bedroom sitting/ room with a Queen size memory foam/gel mattress, full size gym, gourmet kitchen, 37" flat screen TV, bathroom with heated floors and towel warmer, and huge view office/library with wifi, heated floors, second wall mounted TV, granite desktops, comfy work chairs.
Eightpaws is located in Kenmore on the north shore of Lake Washington. We are on a bluff at the end of a cul-de-sac in a quiet neighbourhood. Note: Our location provides easy access to Seattle, Bellevue, Kenmore Air Harbor, Bastyr College, University of Washington, and St. Michelle winery. We are one half mile from Lake Washington's Log Boom Park where you can fish from a dock, swim, picnic, rent kayaks and paddle boards. The 50 mile long Burke Gilman biking path is only minutes from Eightpaws.
Our stay at"eightpaws" was absolutely wonderful and is less than a 15 minute drive to Woodinville Wine Country where we spent 2 days tasting some of Washington's superb wines. "Eightpaws" is a beautiful setting at the north end of Lake Washington. Spectacular views, pristine backyard gardens and fully equipped with spacious living space including full kitchen, workout room and office. We utilized it all! The bed was super comfortable and the heated towel bar was a nice treat. Their restaurant suggestions offered a wide selection. Can't wait to visit again. Maybe next time take in a UW sports event. After we left we hit the Edmonds/Kingston ferry which is only a 15 minute drive. Bil and Susan were gracious hosts and we so enjoyed "Shadow" and "Rosie". We look forward to returning soon to "Eightpaws". Thanks again to Bil & Susan.
Jill
2016-10-29T00:00:00Z
Tipo di stanza
Intera casa/apt
---
Tipo di sistemazione
Appartamento
---
Può ospitare
2
---
Camere da letto
Kenmore, Washington, Stati Uniti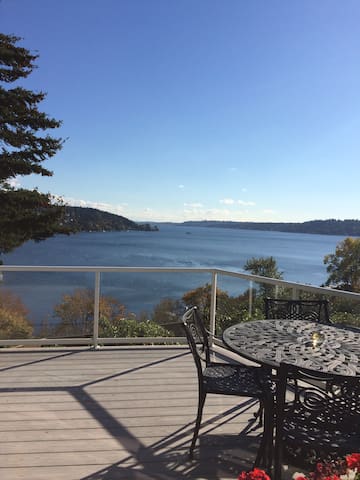 This lovely garden flat is in a quiet neighborhood, near St. Edwards State Park and Bastyr U. With its own entrance, idyllic setting, and amazing mattresses, this getaway will rejuvenate and restore. This welcoming & modern MIL is close to everything; shops and restaurants within a mile. Minutes to Lake Washington beaches and all water activities; easy drive to Seattle, Redmond, or the Woodinville wineries. An hour from skiing and the San Juan Islands. Great for couples, individuals & families.
Our welcoming and modern MIL apartment (the entire lower level of our house) is in a great neighborhood close to everything. Two bedrooms offer luxury bedding, quality mattresses with plenty of pillows and duvets, and windows with views out to the garden. Major bus lines are two blocks away, and there are parks, shops, and restaurants within a mile. Lake Washington is just a stone's throw away.
Nearby Attractions: Winery Tours Sea Plane Tours Seattle Tourist Activities Ferries to San Juan Islands, Canada, Puget Sound Restaurants Lake/Marina Activities State Parks and Playgrounds Burke Gillman Trail for Cycling & Running Casinos
Beautiful space located really close to the local University!
Sierra
2017-03-18T00:00:00Z
the apartment is very lovely and clean. Our host is also very nice. she even provided some bread and soda when we arrived. everything I thought I would need is provided there(bath towel, shampoo, soap, cookware, spice, coffee maker, extra sheet .. ect ) I really enjoyed staying there for my vacation.
Hank
2016-09-05T00:00:00Z
Heidi asked us what we needed to care for our 3 year old grand-daughter. She helpfully provided a child's mattress and bedding, as well as toys. She stocked the refrigerator with milk and food to get us through the first morning. She and her husband helped to carry our luggage down the stairs to the apartment when we arrived at night. Heidi responded quickly to our few questions. The apartment is on the lower level of her home, overlooks a wooded hillside and feels private and tranquil. The well - decorated two bedrooms, living area and bath are charming and spacious. We loved the location, near Lake Washington and hiking trails and beaches, but close to Seattle. Heidi provided lots of information about activities in the Seattle area. We would definitely stay here again.
Lee
2016-08-15T00:00:00Z
Heidi's MIL is a wonderful place to stay on the north shore of Lake Washington. She met us for check in, offered to help carry bags, and gave us a tour of the apartment. It looks just like the photos, and is very clean. The South facing entrance gets lot's of natural light, and is quite private looking out towards trees. Plenty of cookware, and a great bathroom as well. Would definitely recommend!
Brendan
2016-08-01T00:00:00Z
Absolute delight. Great place with friendly hosts. The accommodations were tastefully decorated and the kitchen was very well equipped. We'd recommend this place to anyone who needs quick access to Redmond, Bellevue and neighboring areas
Sriraj
2017-01-29T00:00:00Z
Heidi's place is amazing. The beds are so comfortable. Her decorating is excellent. I felt very at home the entire time...lots of privacy and a great location!
emily
2017-01-22T00:00:00Z
Very sweet and comfortable house! Heidi and her husband are very kindness and helpful! I really love the house! I hope to be back soon!
julie
2016-09-21T00:00:00Z
Heidi was a gracious host. Snacks were at the ready when my family arrived from a long day on the road. A kind and courteous attention to their needs, set Heidi apart. Stay here. You will be comfortable and well rested.
Matt
2016-09-24T00:00:00Z
Tipo di stanza
Intera casa/apt
---
Tipo di sistemazione
Casa
---
Può ospitare
4
---
Camere da letto
Kenmore, Washington, Stati Uniti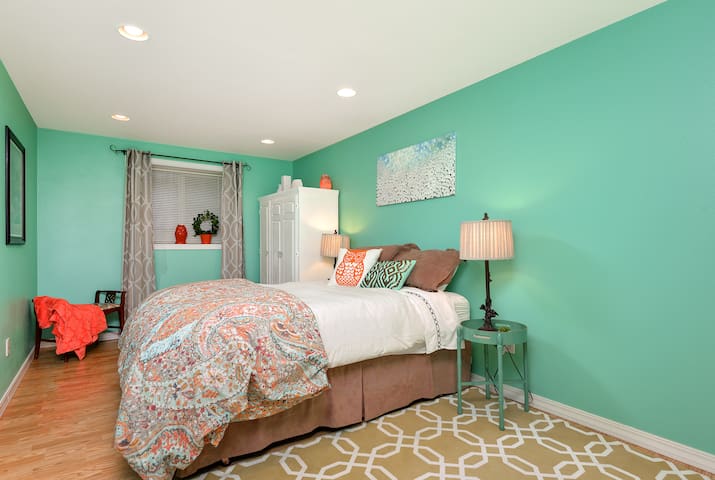 Situated on the shores of Lake Washington, our lakeside cottage cannot be replicated. The breathtaking view and secluded atmosphere are enhanced by bold sunsets, myriad wildlife, and serenity that envelops one's senses. Enjoy these delights while lounging on the wrap-around porch or sittin' on the dock of the bay.
My friend and I loved The Shanty! A tiny, cozy space that was beautifully done. Getting down to the water is a workout, but the view at the bottom makes it worth it. Peaceful, with lovely views of seaplanes coming and going. Highly recommend it for a solitary getaway or a sweet couple's weekend.
Jaime
2016-05-09T00:00:00Z
Such a beautiful, peaceful location! Ken was very helpful even though we never met in person. My only suggestion is to pack light! there are a lot of stairs to navigate.
Tina
2016-09-18T00:00:00Z
I stayed here for six nights and had an amazing time. The Shanty itself is a very small, quite and just as described. I had everything I needed. Ken and his family are awesome and very friendly. Due to the secluded location you definitely should have a car to explore the area. Perfect place for having good rest!
Vitali
2016-06-26T00:00:00Z
This is a cozy space right on the North edge of lake Washington. It is a perfect spot for one or two people to enjoy the sunset on the lake while watching sea planes come and go. Then get up and enjoy your coffee in the lovely Adirondacks on the deck the next morning. Accommodations are clean and attractive.
Janice
2016-08-20T00:00:00Z
We loved the shanty. it has sweeping lake views. It is beautifully appointed and our hosts had tea and coffee makings for us. Everything is so pretty and the bed linen gorgeous. Love the botanical prints. We met our hosts on arrival and talked of life in the PNW. The steepness of the steps to the shanty means only fit folk should consider this.
anna
2016-03-06T00:00:00Z
The Shanty was as charming as expected. Perfectly located at the waters edge for a breathtaking view of Lake Washington. Every morning waking to the sounds of the water greeting the dock outside and the picturesque sunsets in the evening made for a value added weekend! The room had everything we needed to enjoy our stay. We will book again. The hike to and from the car for day trips was part of the charm and added to the experience for us. Highly recommend a stay at the Shanty!
Lillie
2016-07-25T00:00:00Z
This cottage on the lake is well-constructed and beautiful, as pictured. To give potential guests an accurate understanding of what is required to reach the cottage from the parking space, I strongly feel a picture showing the stairs should be included. I believe most individuals or couples staying here would not be discouraged by the 100+ steps down to the waters edge/cottage, but others with mobility concerns, or someone carrying heavy luggage, may feel it is too difficult. I would question the access in wet weather. The cottage is small but well organized. I loved the comfy-ness of the bed but would prefer not to have to climb over my partner to get in or out. The shower is perfect! Ken and his family welcomed us on arrival and quickly answered our questions. The lake side and surrounding neighborhood is quiet, picturesque, and felt extremely safe to us. I would stay here again, and recommend to others, only if I felt the many stairs would not pose a problem.
Terri
2016-05-04T00:00:00Z
Upon arrival, the hosting family was very welcoming and informative. The shanty is unique, small and secluded. Be forewarned, from the street parking you must carefully walk down 127 stair steps to get to the shanty. Going back up 127 stair steps is a cardio workout. Lots of luggage and/or heavy luggage is highly discouraged. The sunsets over Lake Washington were great. The bed was very comfortable.
Gregory
2016-07-14T00:00:00Z
Tipo di stanza
Intera casa/apt
---
Tipo di sistemazione
Appartamento
---
Può ospitare
2
---
Camere da letto
Kenmore, Washington, Stati Uniti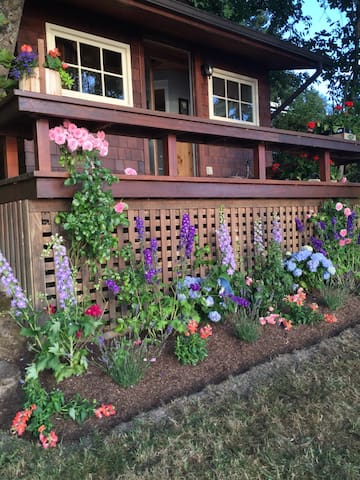 Kenmore - Airbnb
:
Media di

4.99

stelle su

5

da

1968

recensioni degli ospiti
Inserisci le date per visualizzare il prezzo totale. Ci sono dei costi aggiuntivi e potrebbero venire applicate alcune tasse.