Our apartments are located close to Cesky Krumlov. With us you will love it because we love our guests and we try to show them. Our accommodation is perfect for families (with children), and couples, but will not be disappointed solo travelers, people on business trips and large groups. Pets (animals) are allowed free after the announcement.
Dies ist eine sehr gemütliche und liebevoll gestaltete Wohnung. Die Abstimmungen mit Jana wären schnell und unkompliziert. Wir kommen gerne wieder.
Sandy
2017-04-09T00:00:00Z
Very good! Nice and Friendly ~
Debby
2017-02-25T00:00:00Z
Jana is a great host. The appartment looks new! It is really nice and comfortable. It's quite far by foot to český Krumlov but of course easier to reach by car. The house feels like the country side. It has ducks an chickens. I can really recommend the apartment.
Ilya
2016-10-12T00:00:00Z
Very nice appartment 5km away from the beautiful town of Krumlov. And very nice and welcoming host as well! :)
Steven
2016-11-30T00:00:00Z
Jana is a very nice host who is very easy to contact with. Her apartment is cozy,lovely and very clean. You can take a bus or train from the apartment to town central. it is convenient and not far away.
Fiona
2017-01-12T00:00:00Z
Jana is a wonderful guest and she is enthusiastic and helpful. And her apartment is cozy, comfortable and neatly maintained.
Sarath
2017-03-19T00:00:00Z
Moc hezky styl apartmanu
Radek
2017-03-21T00:00:00Z
Jana is a wonderful host and she really cares about what do we need. Our family highly recommend her to all of you!
Yuan
2016-12-02T00:00:00Z
Tipo di stanza
Intera casa/apt
---
Tipo di sistemazione
Casa
---
Può ospitare
4
---
Camere da letto
Kájov, South Bohemian Region, Repubblica Ceca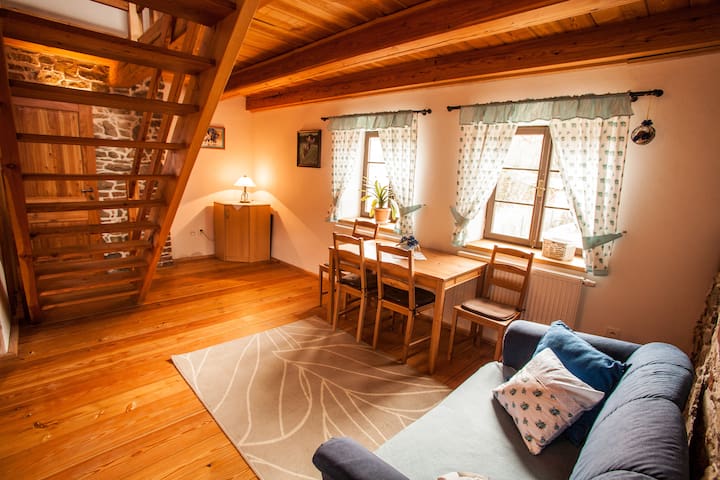 Appartamento di recente ricostruito MiJa si trova nella parte inferiore della casa, con ingresso vlatním e copre una superficie di circa 100 m2 in Kladno vicino a Cesky Krumlov. MiJa si trova in un appartamento classico con tutti i comfort per il vostro soggiorno confortevole e piacevole.
Benvenuti a casa MiJa ..... Appartamento di recente ricostruito MiJa si trova nella parte inferiore della casa, con ingresso vlatním e copre una superficie di circa 100 m2. MiJa si trova in un appartamento classico con tutti i comfort per il vostro soggiorno confortevole e piacevole. Siediti qui 6 posti letto, letto supplementare per 2 persone in più Un totale di 6 persone + 2 extra Se amate la natura, una città turistica popolare, amano sprecare tempo vicino all'acqua, e come gli oggetti in acqua, poi basta alloggio Aparmani MiJa è la scelta giusta. - Città storica di ceco Krumlov 6 km - Natura vicino Sumava con un sacco di piste ciclabili - Lipno serbatoio d'acqua, adatto per tutto il giorno permanenza in acqua, o di altre attività, a circa 15 km - Fiume Český Krumlov Moldava scorre, che è popolare per "barcaioli". Possibilità di noleggio gommoni e rimozione direttamente dall'appartamento. Dopo l'accordo è possibile prenotare trattamenti di bellezza e corsi nel laboratorio di ceramica, direttamente presso il sito e solo poche decine di metri da Aparmani MiJa. Se vi piace il quartiere e luoghi l'appartamento? Così diamo un'occhiata dentro ......
centro storico di ceco Krumlov fiume Moldava girevole auditorium in ceco Krumlov LipnoDamLake acqua Sumava della natura
We had wonderful time with Lanka, she is an awesome host. The apartment is very big, surrounded by lush green fields and forest. The hosts are very approachable, the kitchen is fully equipped. We felt very comfortable and were away from the Tourity Rush and buzz of Chesky Krumlove. Fully recommended host.
Amir
2016-06-07T00:00:00Z
Clean, comfortable, spacious apartment in a village in the countryside. Was pleasantly surprised to find more than the usual supply of food stocks. Reasonably priced.
DeAnn
2016-09-25T00:00:00Z
Very nice, clean and new Appartement with all amenities you need.By car just a 5 minute drive to Krumau.Highly recommandable!
Iris
2016-10-31T00:00:00Z
Lenka and her husband are very kind and friendly people. They both welcomed us at our arrival. The "Apartman MiJa" was completely corresponding to the description: - completly new - big (very comfortable for 4 people) and with the full equipment needed - The location is very interesting if you want to visit South Bohemia by car - the house is in a very small village, there is not traffic noise, it is very quiet - Lenka even gave a small present for our daughter, the fridge was full (cheese, eggs, etc. ), bread and fruits were offered, beds and bathroom were prepared with fresh towels. - Lenka organized a high chair for our daughter I really recommend to have a stay in Lenka's "Apartman MiJa". Everything was positive!
Ludovic
2016-05-19T00:00:00Z
Our thanks to Lenka for fantastic stay! Her apartment is even nicer than the pictures show, spotlessly clean, and in a great, quiet location just outside of Český Krumlov. Lenka took the time to make sure our arrival process was a smooth one. She anticipated every need we might have (to include providing a tub for our baby). Bar none, she was the most considerate host we've had the pleasure of dealing with on Airbnb. We would gladly stay here again and wholeheartedly recommend this location should you plan on staying in the area.
Robert
2016-08-10T00:00:00Z
Lenka's place is lovely. it's quite big,very clean, nice and cosy. it's a very short drive to krumlov Lenka is a great host, and a very kind person. She cares a lot about her guests and goes out of her way to make her guests welcome. she accepted the booking request on very short notice and was able to check in in few hours.
Mahmoud
2016-12-31T00:00:00Z
Beautiful place, very good for families. Extremely clean and nice.
Raniero
2017-01-29T00:00:00Z
The host is great, she took care that we had everything that we needed. The place is very big, quiet, clean and better looking than in the photos. It's 5-6 min away with the car from the city center. I really recommend the place. Next time I will visit the city I will definetly ping the host to see if the place is available.
Alin Gabriel
2016-10-02T00:00:00Z
Tipo di stanza
Intera casa/apt
---
Tipo di sistemazione
Casa
---
Può ospitare
6
---
Camere da letto
Kájov, South Bohemian Region, Repubblica Ceca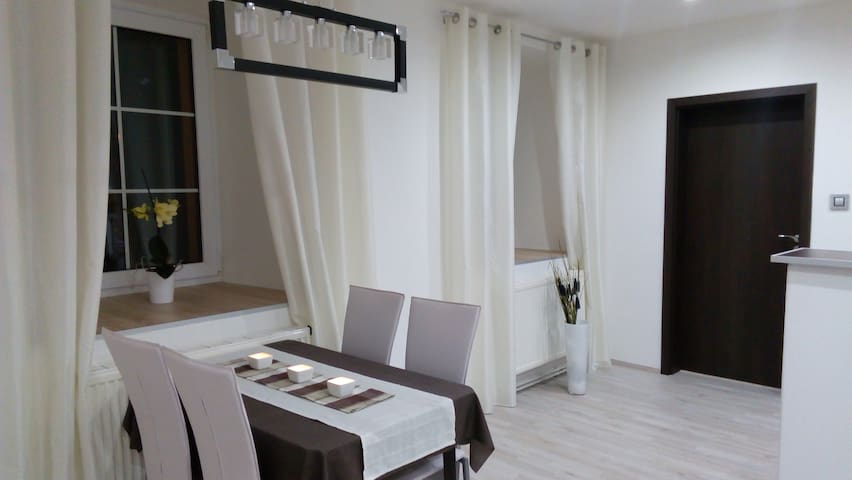 House with three bedrooms (6-3-2os.). Two bedrooms patře.Vybavená kitchen, bathroom on the ground floor. House on a small village near Cesky Krumlov.
Suitable for families with children (playground, toys, trampoline, pool-see photo) barbecue, fireplace ... large garden.
Quiet location in the foothills. The proximity Red Cross, Lake ...
Ubytování bylo naprosto tak jak jsme si ho přestavovali. Všechno bylo uklizené, čisté a celá chata je moc příjemné místo na strávení krátké, ale i delší dovolené. Se vším jsme byli naprosto spokojeni.
Lukáš
2016-01-02T00:00:00Z
Nous avons passé un super séjour, l'hôte nous avais préparé un petit apéritif pour nous accueillir. La maison est très bien situé proche de Krumlov, ambiance calme et chaleureuse. Recommande ++
Kevin
2015-12-29T00:00:00Z
we had a great time at orange house (literally everything is orange there, from towels to candles and curtains ;) ). the whole house was really clean, and we had a warm welcome by our host with cake & a bottle of wine. best thing was definitely the big garden with its fireplace for barbecue and that the house is equipped with everything you could possibly need in your holiday - even a slackline! we've spent a weekend here, definitely coming back some day to this nice place :)
max
2016-05-23T00:00:00Z
The house is very cozy and clean. The garden facilities kept our five year old very happy and busy. The hosts made us feel at home by welcoming us with a very delicious home-made cake and a bottle of vine. Great location, very close to Cesky krumlov, and not far away from the Lipno lake. It was perfect for our family of 5 (although might be a little too small for large groups of people). The house is fully equipped with all you need (really anything you can think of) for a comfortable stay. Definitely a recommended place to stay! Thank you Jana & Alex.
Maria
2015-09-26T00:00:00Z
The house is perfect. The host is very nice! She pick up us and give us delicious cake and wine! This is the first time I live in Airbnb. Wonderful experience!
恒承
2016-12-10T00:00:00Z
Tipo di stanza
Intera casa/apt
---
Tipo di sistemazione
Casa
---
Può ospitare
11
---
Camere da letto
Kájov, Jihočeský kraj, Repubblica Ceca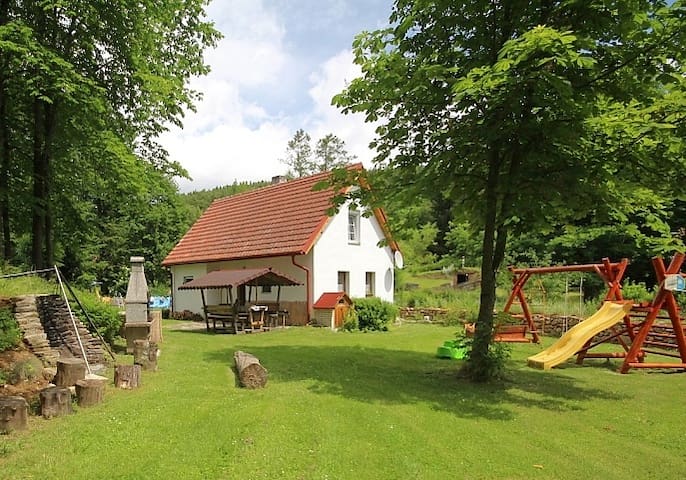 Apartmán pro 4-5 osob s výhledem na zámek. Uzavřené parkování přímo u domu. Do centra se dostanete pěšky cca za 10 min. Klidné místo. Posezení na terase s krásným výhledem na město.
Navštivte Český Krumlov město Unesco.
Tipo di stanza
Stanza privata
---
Tipo di sistemazione
Casa
---
Può ospitare
4
---
Camere da letto
Český Krumlov, Repubblica Ceca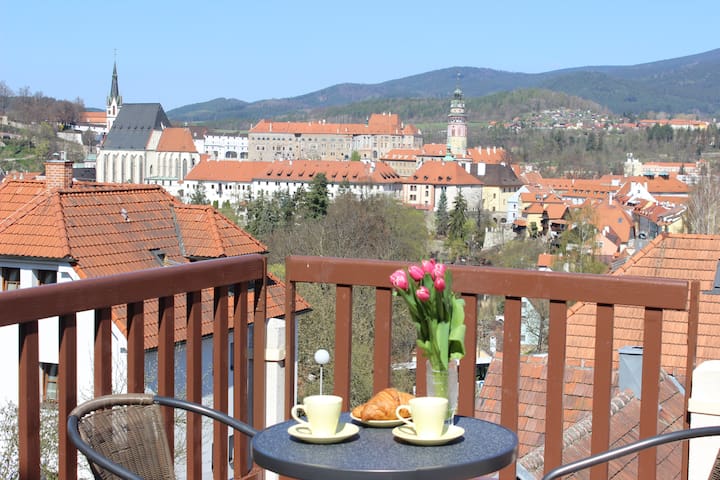 Triple D: deliciously decadent debauchery. Boudoir is a spacy burlesque themed bedroom with a sitting area. Parking is in front of the house. Windows look out at the wild garden. The smallest bathroom of the world is located under the stairs and has a toilet and a sitting tub for showering. Bonus for romantics: 4 poster bed, feather boas and all things straight out of cabaret. 10 minutes from the town square, 1 minute from the nearest cafe and shops.
Fire, passion, love. Welcome to the Cabaret Red Room at Decadent. Four poster bed, thick rugs, chocolate brown sofas for the lazy evenings. Windows are overlooking the wild garden and you even get a peek at the river. Bathroom is the only draw back, it is extremely small. Red Room is located in the oldest part of the house, which used to be an old forge, so fire and passion are certainly inbedded in the walls and the essence of our home. Bedroom has everything, that any discerning traveller might need. Comfort is a given. Sink in the sofa and read something enlightening. Write a love letter on our vintage typewriter or in case, that I am at home, do stop for a glass of wine at my atelier for a chat about the meaning of life. Whatever makes your heart beat. Stone walled patio is a treasure as is the wild grandmother's garden with apples, cherries, pears and a plethora or plants and flowers. Our private bar/cafe/art club/gallery is open daily and you can use it as a sitting room for table games. We live upstairs, so at any time of the day or night, there is always someone available to answer your questions or just to chat. This is the last house in the historic zone. That means, that it is not located on the town square, nor next to the castle. ;) But - you will gracefully avoid the crowds and enjoy the genuine village feel of this part of the town. No stress, no rush. This is an ideal hideaway retreat. 10 minutes of snail crawl from the city centre. 10 minutes from the bus station, 2 minutes from the nearest food store, 2 minutes from the nearest cafe and restaurant. As we are located next to the main road.
This is the last house in the historic zone. That means, that it is not located on the town square, nor under the castle. ;) But - you will gracefully avoid the crowds and enjoy the genuine village feel of this part of the town. No stress, no rush. This is an ideal hideaway retreat. And don't forget - the private bar is just down the hallway. ;)
He is a wonderful host. He gave me information of the town, so I made the most of my time in the town.
Kaoru
2016-05-24T00:00:00Z
Hello Maty, it was a short staying but we enjoyed the atmosphere there and your recommend places and hand drawing map was great!
Soyeon
2016-05-01T00:00:00Z
Maty is very helpful. The room is very nice. We love the place very much.
Jacqueline
2016-05-19T00:00:00Z
We stayed in the red room. It was a great experience, we loved the ambience and even considered decorating our room in a similar fashion. Definitely a fun and sexy place unlike other airbnb's. The bathroom is tiny yes but we both still managed to bathe and we aren't short! Maty and his son were very accomdating and kind and gave us suggestions for our time in Krumlov.
Adrea
2017-04-03T00:00:00Z
Maty was a really nice host. He showed us some good places to visit and enjoy local food. The room was clean and well decorated. Plus, Krumlov is a nice place to visit. I will definitely recommend Maty's room for future guests.
Cuc
2016-12-28T00:00:00Z
The room is big and really nice. I haven't met Maty but his nice daughter welcome me. !!!!! Only pb is the bathroom which is very very very small! I mean the roof is super low you can't go in, only a kid or a dog can... !!!!!!!! I didn't like Maty dare to suggest his guest to use this bathroom, I've never seen that before. So I text him and ask if I could use another bathroom and he immediately said yes. So at the end everything was ok.
Ludovic
2016-11-05T00:00:00Z
This is a really nice experience. It's a small town. Everywhere is walkable distance. Maty is very nice and helpful, recommended some really nice restaurant which are more likely to be his own preference. The room has a style! Love it! Really enjoyed the time:)
HANGYU
2016-05-08T00:00:00Z
Speaking of best-decorated apartment, Maty would definitely win hands down. His house is so pretty! As a host, he is also very helpful and will recommend many places for you to visit, and the good eats nearby. His facilities are amazing, the only catch is the small bathroom, but it wasn't an issue at all!
Xinyi
2016-11-13T00:00:00Z
Tipo di stanza
Stanza privata
---
Tipo di sistemazione
Casa
---
Può ospitare
2
---
Camere da letto
Český Krumlov, South Bohemian Region, Repubblica Ceca
Mé ubytování je skvělé pro páry, sóloví cestovatelé, rodiny (s dětmi) a velké skupiny. K dispozici zahrada s pískovištěm i prostorná garáž pro pohodlné uzamčení kol i lyží.
Krásné klidné prostředí kombinované s rychlou dostupností sjezdovek a cyklotras
The host canceled this reservation 65 days before arrival. This is an automated posting.
Lucie
2016-10-26T00:00:00Z
Přijeli jsme na chalupu v zimě v osmi lidech - dvě rodiny, dvě malé a dvě velké děti. Místo je to opravdu krásné, klidné, slunečné, pocit soukromí je velice příjemný. Pěšky se dá tak za dvacet minut dojít lesem k přehradě do místa, které je víceméně opuštěné. Kolem domu je jen pár chalup a lesy. Chalupa je dobře vybavená i ke stálému bydlení, je tam ve sklepě kotel na dřevo a po celé chalupě rozvedené teplo radiátory. Kotel funguje dobře, ale je třeba se s ním naučit pracovat, než jsme to zvládli, měli jsme v chalupě trochu zakouřeno... K rychlému zatopení jsou v hlavní světnici ještě krbová kamna. Teplá voda je ohřívána v bojleru, stačila nám, ale v osmi lidech je nutno s ní šetřit. V patře je prostorná ložnice, kde se vyspí 4-5 osob, v přízemí je pak ložnice s manželskou postelí a spoustou úložných prostorů a v hlavní místnosti rozkládací gauč, na kterém se pohodlně vyspí jedna osoba, méně již pohodlně ještě druhá. Venkovní posezení bude jistě v létě skvělé. Kuchyň má sporák, s troubou, myčku, mikrovlnku, varnou konvici - vše, co potřebujete, kromě dostatku nádobí, ale to jistě majitel ještě doplní. Předání klíčů i komunikace byla příjemná a bez problémů. mohu vřele doporučit především romantikům a lidem, kteří touží po klidu a přírodě.
Vladislava
2017-01-01T00:00:00Z
The host asked me before if I have any questions. We didn't find the place at first time, but eventually we found. It was all snow so every thing was full of snow and we couldn't see the beutiful garden, but the environment was quite nice. It is a nice place.
Anat
2017-01-08T00:00:00Z
Hezka chalupa s krasnym dvorkem a okolim. Moc doporucujeme, uzili jsme si to. Jan byl ochotny se vsim poradit a pomoct.
Stepan
2017-04-09T00:00:00Z
Maison très belle et cosy. Le propriétaire est accueillant et serviable. Très bon séjour.
kenzo
2016-12-11T00:00:00Z
Skvělé místo, krásné okolí a chalupa vybavená vším, co vás napadne. Komunikace s Janem výborná bez jakýchkoliv problémů.
Tomáš
2017-01-22T00:00:00Z
It was a really nice place to stay - we spent there a week and liked the location in the near of Frymburk. The house is very warm and cosy.
Antje
2017-02-19T00:00:00Z
Na chalupu nás přijelo 7 a s ubytováním jsme byli spokojeni. Velmi jsme ocenili klidné prostředí a soukromí. V domě je díky topení a krbovým kamnům příjemně teplo. Vybavení odpovídá popisu. Komunikace s Janem byla výborná! Rádi přijedeme i v budoucnu.
Lenka
2017-01-29T00:00:00Z
Tipo di stanza
Intera casa/apt
---
Tipo di sistemazione
Casa
---
Può ospitare
8
---
Camere da letto
Černá v Pošumaví, Repubblica Ceca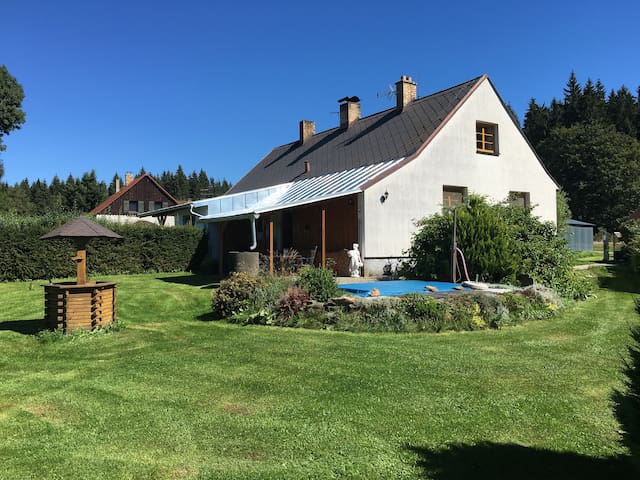 I like to welcome you and accommodate you in a beautifull sunny room with a unique view of Czech Krumlov, you'll love at first sight. The house is set within the rock, which is granted even in the interior. It has an old soul with a modern twist. You're in for 5 minutes. After the agreement you can make breakfast, or you can use the kitchen. I am open to all people, whatever their origin, and I look forward to meeting human kind.
The charm of the old building with a modern twist, with stunning views, soothing view of the river, conveniently close to the city.
Tipo di stanza
Stanza privata
---
Tipo di sistemazione
Casa
---
Può ospitare
2
---
Camere da letto
Český Krumlov, Repubblica Ceca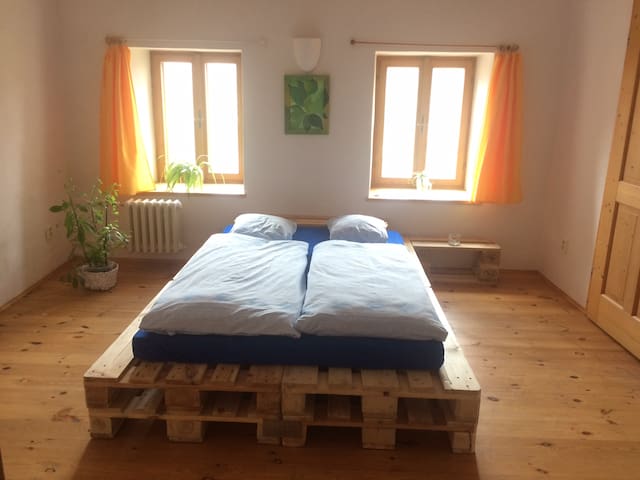 I nostri appartamenti sono situati nel villaggio di Kladne che è la scelta migliore per chi cerca la pace della campagna appena ad essere vicino a Cesky Krumlov o Lipno. Camere spaziose e ampio giardino sono l'ideale non solo per le famiglie con bambini.
Highly recommended! Beautiful old house renovated with good taste and style.
KINGA
2016-09-10T00:00:00Z
Very nice host! Super quiet and relaxed with lots of nature. Exactly what we were looking for! Everything was as expected.
Jamie
2017-01-15T00:00:00Z
This is a super good choice if you gonna drive to Krumlov! A natural backyard with a two-storey houses looks like a beautiful pastoral painting. The furnitures are all made of wood which makes you close to nature. As to Jana, she is so nice and thoughtful, thank you so much for hosting us!
Mengru
2016-08-13T00:00:00Z
The house in Kajov is 7 km from Ceski Krumlov Castle. A car is necessary, although there is a bus station within 10 minutes walk. Jana is a very friendly host. She is very responsive in communication and eager to offer advice. The house is newly renovated in an old establishment. It is authentically furnished and it offers sufficient amenities. It consists of two levels: the living room, kitchen and bathroom downstairs and 2 bedrooms in the attic. I strongly recommend Jana's place.
Carmen
2016-08-31T00:00:00Z
El departamento de Jana es tal cual las fotos, a pesar de estar en una zona campestre, está muy bien calefaccionado, muy limpio y cómodo para 5 personas, lo encontramos muy fácil a pesar de no tener comunicación telefónica, muy cerca de la ruta y de Cesky Krumlov, quizás le falta algunos elementos básicos de cocina como papel, sal pero lo demás todo muy bien.
Roberto Mauro
2017-01-27T00:00:00Z
很舒服的住宿環境.房東很熱情和善!
振榮
2016-10-04T00:00:00Z
Our family with little children were looking to stay in a countryside area near Cesky Krumlov. Beautiful, clean and tidy appartment. A lot of palce outside for children playing. And extremely warm hospitality of Jana only helped to enjoy our vacation. Highly recommended.
Nick
2016-08-27T00:00:00Z
Tipo di stanza
Intera casa/apt
---
Tipo di sistemazione
Casa
---
Può ospitare
5
---
Camere da letto
Kájov, South Bohemian Region, Repubblica Ceca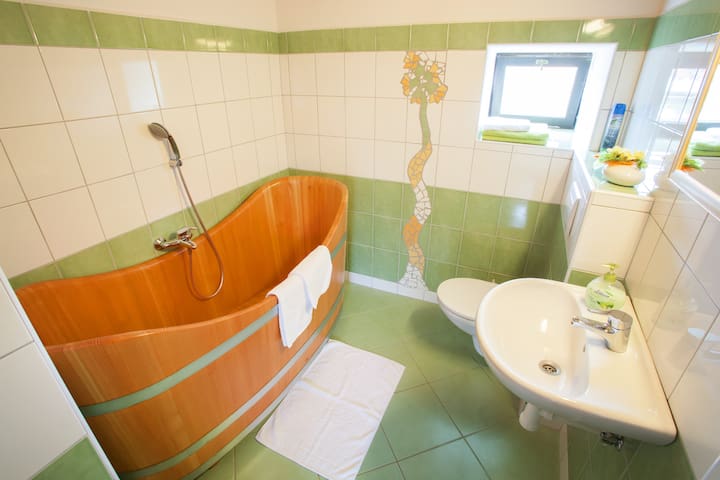 My house is near Cesky Krumlov (15 km) a historic town, which was included on the list of UNESCO World Heritage since 1992nd The house with a beautiful view of Lipno Lake (70m from the beach) and the environment, make your holiday unforgettable. You'll love the house because of the bright, spacious and modern premises (270m2). Relax and enjoy the magnificent views of the lake. The house is good for couples and families (with children).
Tipo di stanza
Intera casa/apt
---
Tipo di sistemazione
Casa
---
Può ospitare
9
---
Camere da letto
Horní Planá, Repubblica Ceca
Nabízíme ubytování v domě z 16.století. Standardně vybavené pokoje jsou velmi prostorné, nekuřácké s vlastním sociálním zařízením a WiFi. na náměstí 50m na hrad a zámek 500m na autobusové nádraží 600m půjčovna lodí a raftů přes ulici
Jsme opravdu v samotném historickém centru města, jen 50 metrů od hlavního náměstí. Auto si nechte na veřejném parkovišti P3 ( 450m od nás) Všechny památky a aktivity máte na dosah ( blíž už to nejde).
Splendida posizione anche se non facilissimo trovare la stanza perché l'indirizzo non è specifico. Proprietari sorridenti e camere spaziose e pulite!
Beatrice
2014-08-08T00:00:00Z
This place was perfect - excellent location, the room very clean and had everything you need. Highly recommend and would go back anytime! Plus the hosts were fabulous!
Katie
2016-12-30T00:00:00Z
Very kind and warm hospitality! Great location and big room with candy and cookies :)
Eunbin
2017-01-06T00:00:00Z
Great place to stay. Good location and very friendly hosts. Would stay again.
Jenny
2017-01-04T00:00:00Z
Nice place in the centre of the town.
Cristian
2017-04-09T00:00:00Z
If you want to be closer to the center, you will have to be hosted by the Mayor of the Cesky Krumlov! :) Excellent location. Jiří & Jana did everything to make our stay safe and cozy. Lots of help with the parking, with car city center permit and everything. Large and cozy appartment. Really made us feel like HOME. Restaurants and bars one feet away. Fairytale city. For sure we will come back.
Andrei
2016-01-07T00:00:00Z
Clean and comfortable. Great location. Smooth check-in. Thanks Jana!
John
2015-07-24T00:00:00Z
We very much enjoyed our stay! Our room was very spacious and clean, and we were comfortable! Breakfast that jiri provided was a treat! Jana and jiri are very kind people, we definitely recommend staying at their guesthouse!
Lisa
2015-06-19T00:00:00Z
Tipo di stanza
Stanza privata
---
Tipo di sistemazione
Casa
---
Può ospitare
2
---
Camere da letto
Český Krumlov, South Bohemian Region, Repubblica Ceca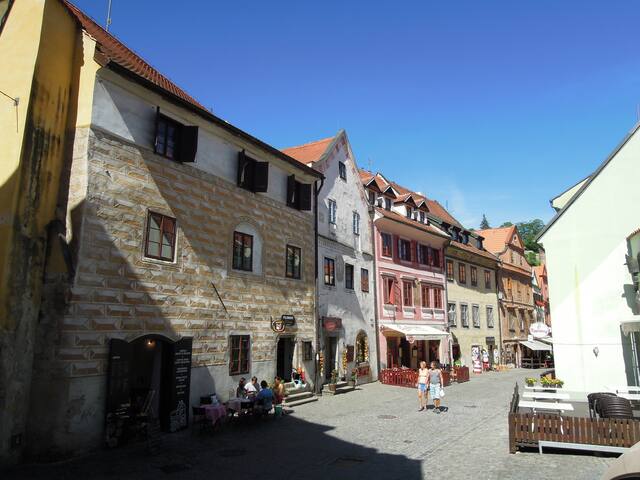 Tvrz ze 14. století. Velmi prostorný a pohodlný apartmán. Zhruba 80 m². Zařízeno starožitným nábytkem. Soukromá toaleta a koupelna. Malinká kuchyňka. Naši hosté často mimo jiné oceňují tiché a klidné prostřední našeho ubytování. V období komunismu byla tvrz zcela zničena. Nyní jí navracíme původní důstojnost. Včelaření . Chov ovcí. Tiché a klidné místo.
Budovy tvrze jsou mimořádně hodnotnou ukázkou renesanční architektury ze 16. a 17. století. Objekt tvrze se skládá z obytné budovy gotického původu, která je směrem k bráně prolomena třemi okny a vyzdobena slunečními hodinami. V zadní části stavení jsou nízko položené dvě střílny. Místnost v přízemí byla klenutá. V patře byl instalován bohatě profilovaný strop s letopočtem 1608. Obytnou část doplňovalo stavení špýcharu, upraveného v renesančním slohu, bývalá kovárna a další hospodářské budovy. Celý komplex je uzavřen ohradní zdí.
Skvělé ubytování v krásné lokalitě. Majitelé jsou báječní lidé, velmi milí, ochotní a vstřícní.
Ondřej
2016-06-20T00:00:00Z
Very nice accommodation with amazing hosts. The place was very stylish and peaceful. We really appreciated the Jirka's friendly and welcoming - it was much better than we can expect. We all can recommend this place.
Lukas
2016-08-08T00:00:00Z
The place is absolutely amazing. Beautiful and magical with interesting history. The rooms are exactly like in the picuture or even better. Very comfortable. The location is fantastic, very near to Cesky Krumlov. Jirka was a gracious and kind host and made us feel very welcome. He makes a good fresh breakfast with very tasty coffee :) We had a great time there and Can't wait to come back.
Dominika
2016-09-05T00:00:00Z
Jirka did much more than necessary to make our stay at his amazing house as pleasant as could be. A very spacious and comfortable apartment with medieval period features and antique furniture, we were right at home from the moment we arrived. The village itself (in Štěkřě and not Dolní Třebonín) is very charming and has two pubs in summer! Jirka provided superb breakfasts, including omelette using eggs from the hens on the farm and the best ořechové šátečky I have tasted. He was more than generous with food, tea and coffee, including provision for a vegan! Bathroom and kitchen are basic and set to be changed sometime, but Jirka showed us around the additional apartments in the farmhouse also yet to be finished. This has probably been one of the best Airbnb stays I have yet to encounter, and Jirka one of the kindest and most friendly hosts encountered. I heartily recommend him and his beautiful medieval farmhouse.
Richard
2016-07-29T00:00:00Z
This is definitely a place we will remember even in 20 years. We felt like staying in medieval castle ;). Jirka and his family were really nice and caring and we completely enjoyed the stay :).
Peter
2016-08-31T00:00:00Z
Skvělé místo, stylové dobové ubytání, velmi laskaví hostitelé. Vřele doporučuji! Určitě přijedeme zase!:-)
Adela
2016-08-22T00:00:00Z
We felt welcome from the beginning, although we arrived late and in the dark. The ambiance of this old mansion is superb. Dating back from the middle-ages, partly destroyed in socialist times and being restored with little means by Jirka and his family. A lifetime project with already impressive progress. It felt like sleeping in a castle. A real kitchen is missing but Jirka does his utterbest to compensate this by supplying lovely meals. There is enough space for a group of 4 persons. Jirka gives suggestions of what to do or how to do something. A helpfull person. A pity we could only stay for two nights.
Richard
2016-08-04T00:00:00Z
Jirka's airbnb is excellent. Same as deacribed. 14th century stone house, we love it very much. His whole family are very nice and friendly. We did not expected such a warm welcome from them. Breakfast and dinner are well prepared. Let us taste a local Czech food. We love the alcohol honey tea. All ingredients are homemade, which are so tasteful. The place is quiet and clean.
HW
2016-09-11T00:00:00Z
Tipo di stanza
Intera casa/apt
---
Tipo di sistemazione
Casa
---
Può ospitare
6
---
Camere da letto
Štěkře, South Bohemian Region, Repubblica Ceca
Private and cozy apartment with WC/shower, and small kitchen in an old house with all mod cons and river/garden access. Our Canadian/American family (husband, wife, 2 sons and dog) live upstairs and are at your beck and call to help make your stay more memorable. Our parking space is directly in front of our house. Parking is included, but you need to let us know before you arrive.
This house was first mentioned in the town records in 1469, and since then it's undergone a number of massive changes. You can read about its reconstruction process by searching the following: New York Times + Great Homes and Destinations + In the Czech Republic, a River House. Cal, the owner, is a jack-of-all-trades & woodworker, so you'll probably notice all the fine details and the steady development of his craft.
This peaceful riverside neighbourhood is directly across from the Town Park. We are an easy ten-minute walk from Nam. Svornosti (town centre).
Carolyn is a helpful, kind and gracious host and a riverside resort is a treasure of a find! She greeted us upon our arrival with great tips and a very warm welcome. We loved the cute kitchen and the big bed. The river access and proximity to old town makes this a true gem.
Lauren
2015-06-08T00:00:00Z
We spent two lovely days at carolyn's place in cesky krumlov. The rooms were nice and the house was romantically located beside the river. On our next visit, we would definitely stay there again.
Yannick
2015-07-30T00:00:00Z
Carolyn was very welcoming and had great communication. Unfortunately I had to cancel my stay at the last moment, but she was very understanding. I will definitely check her place out next time I'm in the area!
Rí
2016-10-11T00:00:00Z
We would most definitely recommended you stay here. It's a lovely spot, right by the river, with great views, and super close to the centre of the medivel town. Carolyn's was super helpful and gave us a great handmade map with lots of recommendations. The town is just perfect, but avoid high season, lots of tourists. The little cottage is super cute, rustic, not at all portentous and comfortable. The bed is good, it's huge, the shower hot and there's a little kitchen to make morning coffee. Take a book, relax and sit by the river.
Melissa
2017-03-30T00:00:00Z
I had a pleasant stay at Carolyn's place. Her home is clean and spacious, with a little kitchen and private bathroom. I especially like the hand-drawn map and her recommendations of traditional Czech food are wonderful!! Carolyn is very kind and informative, she helps me a lot in exploring the town. Highly recommend to all travelers.
Jill
2016-10-15T00:00:00Z
We had a great stay here in Carolyn house in Cesky Krumlov, i must say this is the best AirB&B that i ever experienced before. The unit located at the great location, just a few minutes of walk to the bus station and to the town. We like the room a lot, it's spacious, special (to us) and it's just right next to the river, and the best things is, we have our own private kitchen, bathroom, and a huge garden backyard, it was so relaxing and peaceful. The host - Carolyn was gracious, she shared a lot of tips to us and with her list we found the little treasure in town and this make us an unforgettable experience in Cesky Krumlov. We met her husband (forgot the name) as well and both of them are nice and welcoming. Thanks again for hosting us, we highly recommend this place and definitely will come back here again.
Edison
2016-05-12T00:00:00Z
Cateryn is a great host, capable of helping you for any necessity, she suggested us a lot of places to visit and to eat in, great check-in and check-out experience. The house is furnished with everything you need and is clean, very romantic and located in a great place on the river. Definitely a first choice flat, very suggested.
Matteo
2017-03-05T00:00:00Z
This is a very well located appartement with a great host.
Gerhard
2015-05-25T00:00:00Z
Tipo di stanza
Stanza privata
---
Tipo di sistemazione
Casa
---
Può ospitare
2
---
Camere da letto
Český Krumlov, South Bohemian Region, Repubblica Ceca
Jedná se o nový, samostatný, plně vybavený dům 90 m2, s kuchyní koupelnou, obývacím pokojem, ložnicí a vlastní terasou. Dům se nachází v malebné vesničce Holubov, pod vrcholem hory Kleť. Je zde příjemné prostředí vhodné jak pro rodiny s dětmi (uzavřená zahrada), tak i pro partu přátel. Vyžití i zábavu si zde najde opravdu každý. Strategické místo na výlety a návštěvy památek. 100 metrů od domu je koupaliště a obchod. Restaurace je od domu 50 metrů, druhá restaurace 100 metrů.
Dům se nachází v malebné vesničce Holubov, pod vrcholem hory Kleť. Je zde příjemné prostředí vhodné jak pro rodiny s dětmi (uzavřená zahrada), tak i pro partu přátel. Vyžití i zábavu si zde najde opravdu každý. Strategické místo na výlety a návštěvy památek. Okolí je vhodné pro cyklistiku, pěší turistiku a houbaření. Také je možné sjet úsek řeky Vltavy s nádhernými meandry. 100 metrů od domu je koupaliště i obchod. Restaurace je od domu 50 metrů, druhá restaurace 100 metrů.
Zámek Český Krumlov 13 km., centrum České Budějovice 17 km., zřícenina Dívčí Kámen 5 km., vrchol hory Kleť 6 km., klášter Zlatá Koruna 9 km., vesnice Holašovice UNESCO 10 km., zámek Kratochvíle 23 km., zámek a ZOO Hluboká nad Vltavou 28 km., zámek Rožmberk nad Vltavou 35 km., klášter Vyšší Brod 41 km., vodní nádrž Lipno 45 km., Národní park Šumava 46 km. Nové Údolí (konečná stanice vlaku), které se nalézá v Národním Parku Šumava. Odtud je cca 4 km k místu zvaném Rosenauerova nádrž, kde začíná Swarzenberský plavební kanál. Podél toku Schwarzenberského kanálu vede rovinatá cyklistická stezka, vedoucí krásnou přírodou.
I spent four nights in Holubov (29 Dec 2016 - 02 Jan 2017 with my husband and children, aged 7 and 9. Everything was above expectations, from the fully equipped brand new modern house to the warm welcome and costant support of Marie and Lubos. The house is very nicely furnished and spotlessly clean. The spaces are simply perfect for a family of 4, offering all the comforts of a modern home, including radiant-floor heating, a beautiful front porch, a smart TV and a web radio! We travelled by car which we could park just in front of the house under a canopy inside the wide, fenced orchard. Holubov is just 10 minutes drive from Cesky Krumlov and less than 30 minutes drive from Cesky Budejovice, so we found it was the perfect location to explore the surrounding area. The hilly countryside is spotted with pine tree woods and centuries-old trees which covered in winter frost offered a landscape of enchanted beauty. Marie and Lubos took us on a morning walk through the forest nearby, allowing us to admire the beauty of a natural reserve with an old castle and celtic ruins that we would have never discovered without their help. Marie and Lubos live in the adjacent house. They are a really lovely couple, always helpful and very kind and friendly. In them we found much more than simple hosts ... We really enjoyed our stay and their good company and we hope we can go back and see them again in the near future. And of course, we highly recommend the experience to anybody! :)
Francesca
2017-01-02T00:00:00Z
We had a great time.
yee heum
2017-02-20T00:00:00Z
Tipo di stanza
Intera casa/apt
---
Tipo di sistemazione
Casa
---
Può ospitare
4
---
Camere da letto
Holubov, South Bohemian Region, Repubblica Ceca
Godere di pace e tranquillità a due passi da beautyful Krumlov medievale (5 min). parte indipendente della grande casa di campagna con giardino beautyfull è il luogo ideale per una vacanza in famiglia o un gruppo di amici.
Ampio due piani appartamento composto da cucina bella con zona pranzo al piano terra, bagno e camera da letto con 3 letti matrimoniali al 1 ° piano e soppalco. Patio giardino con barbecue è avalable per gli ospiti.
Spolí è tranquillo villaggio inbetween boschi e prati, ideale per rilassarsi dopo Krumlov - la città delle fiabe
ospitalità perfetta. casa corrispondente alla descrizione e alle foto. molto accogliente, arredata con mobili in stile e estremamente pulita. Ideale per chi ama i posti autentici, calmi e immersi nella natura.
Camilla
2015-08-16T00:00:00Z
A very well maintained and picturesque countryside apartment only five minutes drive from Cesky Krumlov. Zuzana was very helpful and provided very good communication prior to our arrival. The breakfast provisions were excellent and provided everything you could want for a relaxing breakfast before heading into town. Great for those who want to see the sights of Cesky Krumlov but want a nice peaceful location to return to at the end of the day. Also great for families, we took our infant son but would especially good for those with older children.
Patrick
2016-07-07T00:00:00Z
非常热情的主人,准备了很多好吃的饮料和食物,还有泰式方便面!房间很干净,一尘不染,住的很舒服!院子里还有四条很可爱的狗狗,很喜欢zuzana 和她的家人!
Qiaoli
2016-05-12T00:00:00Z
Was very nice shine and it was a lovely home and it was in a rural district in the coming years will I live and I would recommend the housing.
Hamad
2016-08-20T00:00:00Z
If paradise exists, then it must be Zuzana's house near Cesky Krumlov. We were welcomed by her mother, with a big smile and lots of food :-) This is an ideal house to gain some rest: next to a magnificent garden nature calls for walking. The decoration of the house is very charming and proofs good taste. The kitchen is well equiped. Communication with Zuzana was perfect. We would like to come back and stay longer since we liked it here so very much.
Els
2016-08-23T00:00:00Z
THE MOST HOMELIKE PLACE. Zuzana was very friendly and nice to all of my family- the house is very cozy and has moods. Zuzana explained much about the area and we were able to tour the town very easily. Her mom greeted us very kindly too. Also Zuzana offered so much food that we felt like home- literally. Thank you so much for hosting us :)
Hyun Sun
2016-04-22T00:00:00Z
Très bonne expérience pour des personnes qui veulent se resourcer dans une belle et grande maison confortable avec un grand jardin. Le terme de rural est inapproprié. Nous nous attendions à habiter dans une sorte de chalet ou de ferme alors que c'est une vraie demeure juste un peu isolée et quand même loin du village de Pridoli (plus de 2 km) et de la ville de Cesky Krumlov à plus de 6 km . Un moyen de transport est indispensable.
Laurence
2016-09-19T00:00:00Z
Zuzana's place is very big and the surroundings wonderful
Leo
2015-10-02T00:00:00Z
Tipo di stanza
Intera casa/apt
---
Tipo di sistemazione
Casa
---
Può ospitare
6
---
Camere da letto
Přídolí, South Bohemian Region, Repubblica Ceca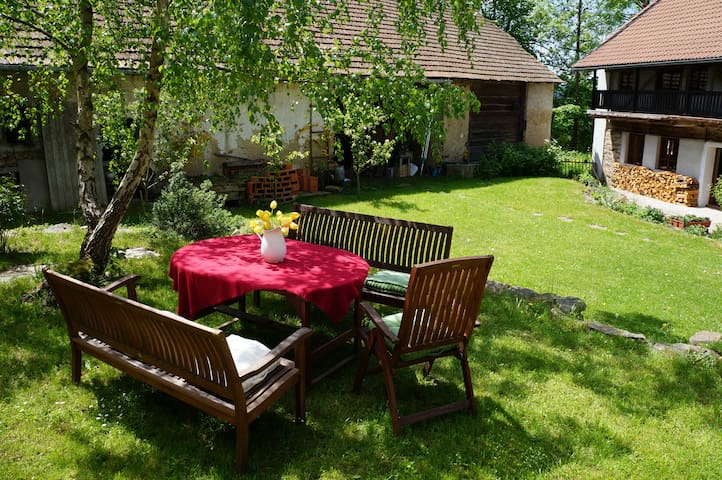 Rodinná rekreační chalupa nacházející se 10 km od Českého Krumlova. Chalupa je vhodná pro sportovce - cyklistika, turistika, vodáctví, pro rodiny s dětmi, i pro ty, kteří hledají klidnou dovolenou v jižních Čechách. V roce 2015 proběhla kompletní rekonstrukce, dům je plně vybaven zcela novým nábytkem. Pohodlně ubytuje 10 dospělých osob, v případě malých dětí je možné kapacitu i navýšit. Po dohodě je možná komentovaná prohlídka obory, která se nachází v těsné blízkosti chalupy.
Obec Zátoň má velmi strategickou polohu pro aktivní rodinnou dovolenou v každém ročním období. - Ať už chcete vyrážet na cyklistické výlety přímo od chalupy. - Pokořit některé jezy řeky Vltavy. - Lyžovat v nejvybavenějším jihočeském středisku na Lipně. - Navštívit turistické kulturní centrum jižních Čech město Český Krumlov. - A nebo si odpočinout od městského života a vyrazit do lesa na houby. je pro Vás naše chalupa ideální volbou.
Nejbližší restaurace je Sporthotel Zátoň (400 metrů). Občerstvení je možné ve vodáckém minikempu (150 metrů). Prodejna potravin se nachází v obci Větřní (7,5 km). Nemocnice a občanská vybavenost Český Krumlov (10km)
Skvělé ubytování. Čisté, útulné, s dostatkem soukromí i velmi příjemným společným prostorem. Krásné okolí vhodné pro výlety. Komunikace byla rychlá, spolehlivá a bez problémů. Hostitelé byli vstřícní a ochotní. Doporučuji!
Marie
2016-11-20T00:00:00Z
Perfect, the hotel was comfortable. The surroundings were beautiful, the hosts are friendly. Each had what we needed, whereas a microwave bit lacking. I recommend to everyone. Thank You!
Péter
2016-11-05T00:00:00Z
Chalupa je umístěna na kraji lesa, v tichém krásném prostředí. Je plně vybavená a velmi čistá. Má vše, co potřebujete. Cítili jsme se tam příjemně. V okolí nejsou žádné potraviny ale v blízkosti je výborná restaurace. Doporučuji pro každého, kdo si chce odpočinout od velkoměsta.
Martina
2016-09-25T00:00:00Z
Výborné místo, chalupa po rekonstrukci, která zanechala krásnou atmosféru starší chalupy. Hostitel velice příjemný. Určitě doporučuji.
Petr
2016-10-30T00:00:00Z
Great place for family or group of friends - house has been finished to a high standard, amenities all good! The property is actually in Zaton - just up from Rafty Marine (who rent boats on the river and run a snack bar- should you wish to do some boating, just wander down around 10 AM). Last but not least - Ondrey and Adela made us feel very welcome, communication was responsive and pleasant. Location - good for all the local sights, assuming of course you have a car.
Hans
2016-08-11T00:00:00Z
Beautiful house and nice host. Huge garden is very impressive. We had a very wonderful time here.
巧
2016-08-26T00:00:00Z
Overall is perfect, but sometimes the Water heaters was hot working. The host very friendly and kind highly recommend:)
Esther
2017-02-03T00:00:00Z
Pěkné ubytování v příjemné, nově rekonstruované chalupě. Skvělé výchozí místo pro poznáváni okolí! Určitě bych doporučila! :-)
Lenka
2016-07-31T00:00:00Z
Tipo di stanza
Intera casa/apt
---
Tipo di sistemazione
Casa
---
Può ospitare
10
---
Camere da letto
Větřní, South Bohemian Region, Repubblica Ceca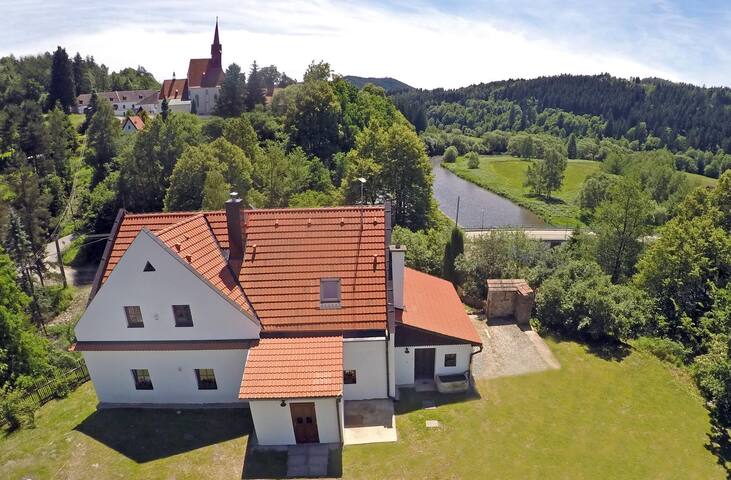 Living + kitchenette + single bed (28m2), bedroom (9 m2) with double bed (160 cm), bathroom with shower, sink, toilet and washing-machine. Many basics present. Terrace-garden. 5 min. walk from the historical centre and 5 min. walk to nature. Checking in preferably before 5 PM; between 5 and 10 PM Kc 500 extra.
The house was built in 1605, probably by an investor who had bought a parcel, built the house and sold it to the first owner. The original house existed of a wooden living space, a spacy hall, a so-called black kitchen and a stable. The next owner, a macon, enlarged the house to the right with a small living space and a black kitchen. Around 1800 the house was enlarged to the right again with a small room. During the interbellum a painter (Josef Krenauer) and his wife lived in the first house and an elderly woman in the second one. She probably sold tabacco through the utmost right window. After WW2 no modernisations were made in the house. The only infrastructure existed of a stove, an oven, some electricity and a dry toilet outside. Water was obtained at a street-pump. After 2000 all modern infrastructure was installed and renovations were carried out with respect to the history of the house. It is a listed monument.
An enormous amount of information about Ceský Krumlov and surroundings can be found on the town-website.
Wir haben uns in diesem wunderschönen Haus sehr wohl gefühlt. Die Lage ist äußerst romantisch und ruhig zugleich, trotzdem unweit des Zentrums. Das Haus hat Charakter und wird sehr gefühlvoll saniert, historische Befundfenster sind einbezogen und bereichern das Wohnerlebnis zugleich. Ein Abend im Wohnraum unter der historischen Balkendecke ist unvergesslich.
Boris
2015-08-21T00:00:00Z
Wir wurden herzlichst willkommen und Hubert nahm sich viel Zeit um uns das Haus und die nähere Umgebung zu erklären. Fairytale ist hier (URL HIDDEN) ist zauberhaft von innen und außen! Eine ganz besondere Unterkunft zum wohlfühlen. Die Lage ist auch optimal, mitten im Zentrum und doch ganz ruhig...man kann am Abend herrlich auf den Stufen vorm Eingang sitzen und das Treiben der Stadt beobachten. Sehr zu empfehlen!!!
Maria
2016-05-09T00:00:00Z
Host was there when we arrived and explained everything needed to make our stay enjoyable. It was a neat experience staying in a 400 year old home where much of the original can still be seen. The main rooms have been updated, but the ambiance of an old home is still there.
(EMAIL HIDDEN)
2016-08-05T00:00:00Z
Wir hatten einen wunderbaren Aufenthalt im Fairytale Haus. Hubert hat uns herzlich willkommen geheißen und uns alle nötigen Informationen über das Haus und die Umgebung gegeben. Das Haus selbst ist genau wie beschrieben und mit allem nötigen ausgestattet. Ein Katzensprung vom Zentrum entfernt, mit einem netten Cafe, einer Bäckerei und einem Supermarkt ums Eck. Wir werden sicher wieder kommen, da es auch in der Umgebung noch viel zu entdecken gibt!
Christine
2016-01-06T00:00:00Z
This is a very unique house with a lot of history. It is comfortable but not fancy. It had everything I needed and it was in a great location. Hubert was very nice to me and my dogs. I would definitely recommend this cottage.
Anne
2016-10-11T00:00:00Z
Hubert truly is a gem! Although he spoke limited English we had plenty of pantomime that made all of us laugh so hard! We know he really cares and he really is a special person. HOUSE: The house is really old. There is still remaining a black kitchen where they would light huge fires in the medieval ages and cook using the fire. AWESOME! We felt like we received a medieval experience but with many upgrades to make it more modern! Everything was clean and neat and orderly and we appreciated the time there. The historical significance of the house is significant. ALSO, The location is perfect. Just about 200 yards to a set of steps that leads directly over a bridge into the heart of old town. It's just a five minute walk and the whole town is just so picturesque and beautiful. Thank you so much Hubert for your consideration and allowing us to stay in your home. We will remember it forever. Love, David, Ginger and Ava Thompson Naples Florida USA
Ginger
2016-06-20T00:00:00Z
Přijetí ve Fairy-tale house v Krumlově bylo vřelé, bylo nám vysvětleno používání domácnosti a celkově bylo jednání majitelů velmi milé. Domek je pohodlně zařízen (s prostornou sprchou a WC), nechybí fén, nádobí, cukr apod. Zároveň si interiér zachovává původní rysy. V horku je v domku příjemně. Cesta do centra trvá cca. 5 minut. Na pobyt v domku máme hezké vzpomínky.
Markéta
2015-08-23T00:00:00Z
We enjoyed our stay at this place very much. The house is very conveniently located and has a lot of character. Hubert was incredibly patient and tending to all our needs with a smile on his face. A big Thank You from Slovakia!
Z
2016-07-31T00:00:00Z
Tipo di stanza
Intera casa/apt
---
Tipo di sistemazione
Casa
---
Può ospitare
3
---
Camere da letto
Český Krumlov, Zuid-Bohemen, Repubblica Ceca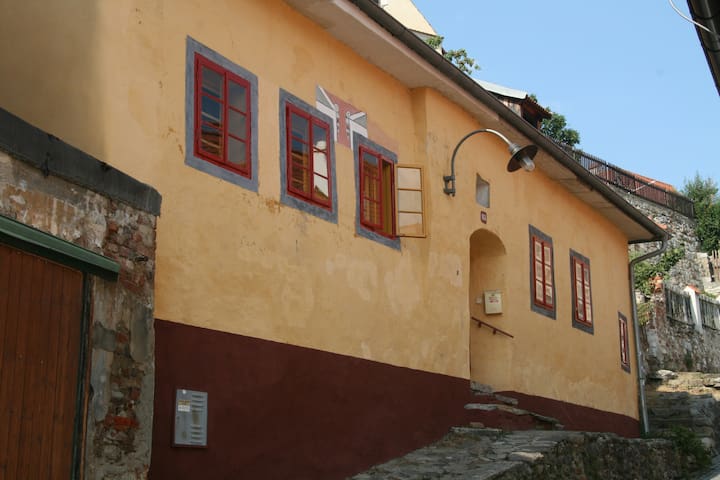 Soukromá chata na Lipně, ideální pro rodiny s dětmi. Venkovní prostory nabízejí grilování a pergolu. Bezbarierový přístup ve spodním patře. Hotel a obchod v okolí.
The host canceled this reservation 175 days before arrival. This is an automated posting.
Saskia
2017-02-10T00:00:00Z
Dobrý den Ivano, ještě jednou děkuji za pobyt na Lipnu. S přítelem a 16 měsíční dcerkou jsme si to užili. Chata je čistá, moderně a nově vybavená, komfortní. Přesně tak, jak je to na fotkách v Airbnb! Během našeho pobytu nastal menší problém, který hostitelka obratem vyřešila k naší spokojenosti. :-) Toto bydlení a lokalitu mohu 100% doporučit, především pro rodinu s dětmi. Pokud bychom v budoucnu znovu navštívili Lipno, tak se určitě opět obrátíme na Vás. Hana a Martin
hana
2016-07-10T00:00:00Z
Huisje was boven verwachting. Alles was netjes, locatie was perfect met klein zandstrandje op loopafstand. Ontbrekende spullen werden direct geregeld. Gedurende ons verblijf zijn ze altijd bereikbaar gebleven voor eventuele vragen of ongemakken. Bedden waren heel goed en comfortabel. Auto was veilig te parkeren op eigen terrein met sluitbare poort. Fantastische vakantie gehad. House was above our expectations. All was neat and clean, the location was perfect with a little sand beach at walking distance. Missing stuff was quickly arranged. During our stay, they were easily contactable for questions and discomforts. The beds were comfortable. For the car there was a parking spot on the property with a closable fence. We have had a great vacation.
Chris
2016-08-14T00:00:00Z
Tipo di stanza
Intera casa/apt
---
Tipo di sistemazione
Casa
---
Può ospitare
6
---
Camere da letto
Černá v Pošumaví, South Bohemian Region, Repubblica Ceca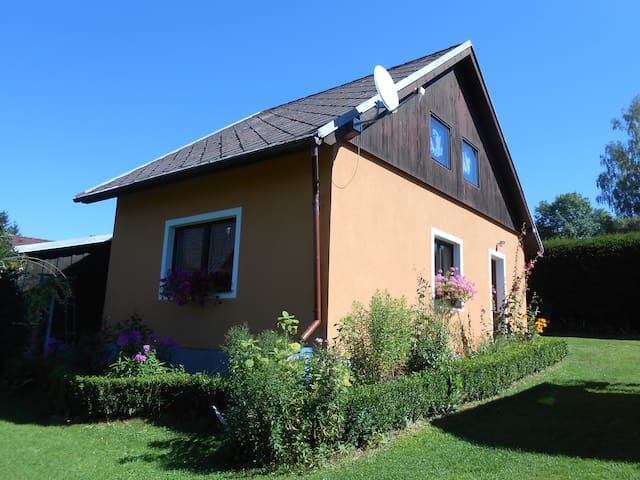 Newly reconstructed original Schwarzenberg gamekeeper's beautiful natural surroundings. Tiled stove berths, a sauna, a spacious courtyard, pond, summer kitchen with barbecue, sitting in the cellar with a wine shop, a playground and a game park with deer. Twenty minutes drive from Cesky Krumlov, Czech Budejovice and Hluboka.
Beautiful old estate, lovely renovated and with a great view. Much nicer than showed on the pictures. Very warm welcome by the host´s parents. Very clean and spacious. Enough room for a group of people yet very cosy. Close to Krumlov and Budejovice. Good starting point for excursions. We´ve had a great time in Jaronin. Thanks for having us.
Stefan
2016-10-03T00:00:00Z
The house is a rustical magical kingdom to rent for a week or only a weekend for a large group of friends or family. It´s a finely designed and renewed hunters residence built in 1911. The view and the neighbourhood is impeccable. We had a beautiful Christmas time at this place with our family!
Laura
2016-12-26T00:00:00Z
Es war Perfekt. Wir waren 4 Familien mit Kindern und haben den Kurzurlaub bei der Klara genossen. Die Mutter von der Klara hat uns alles erklärt und war sehr Hilfsbereit, genauso wie der Vater. Der Hof ist abgeschlossen und man hat die Kinder Problemlos alleine spielen lassen. Der in einem Raum untergebrachte Grill kann bei jedem Wetter benutzt werden. Die umliegenden Wälder bitten eine super Möglichkeit zum Wandern und zu Hüttenbau aus Ästen (für die Kinder). Die Unterkunft ist renoviert, super eingerichtet (Mischung aus der Moderne und des altmodischen) und bittet alles was man braucht. Es ist sehr empfehlenswert für alle die ruhe brauchen oder einfach den Großstadtdschungel entfliehen wollen. Zum feiern eignet es sich aber auch.
Vedran
2017-03-19T00:00:00Z
The host canceled this reservation 49 days before arrival. This is an automated posting.
Renaud
2017-03-31T00:00:00Z
A very nice place and spacious one to party. The place was secluded and it was little difficult to drive there at night because of heavy fog and highly reduced visibility. So it is required to drive carefully at night to reach there. We were 15 guys and we thoroughly enjoyed the stay, we cooked ourself. The beds were clean and cozy ! best for groups to party ... we would love to stay here again in summer..
Annamalai
2016-11-27T00:00:00Z
Tipo di stanza
Intera casa/apt
---
Tipo di sistemazione
Casa
---
Può ospitare
16
---
Camere da letto
Brloh, South Bohemian Region, Repubblica Ceca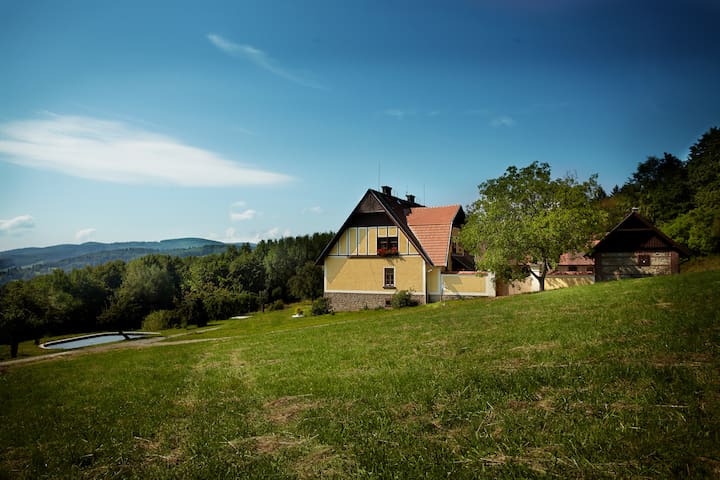 1

–

18

di

114 Case in Affitto
Inserisci le date per visualizzare il prezzo totale. Ci sono dei costi aggiuntivi e potrebbero venire applicate alcune tasse.