Inserisci la data del check-in nel seguente formato dd-mm-aaaa
Inserisci la data del check-out nel seguente formato dd-mm-aaaa
Annunci che puoi prenotare senza aspettare l'approvazione dell'host.
14 Chalet in Affitto
· Jaco Beach
14 Chalet in Affitto
· Jaco Beach
Inserisci le date per visualizzare il prezzo totale. Ci sono dei costi aggiuntivi e potrebbero venire applicate alcune tasse.
Nei mesi di luglio e agosto puoi provare uno di questi 100 alloggi ad alto rendimento, per ogni fascia di prezzo, e vivere una visione locale di Sonoma. Prova il check-in continuato, la Prenotazione Immediata e vino e spuntini locali per rilassarti e godere al massimo del tuo viaggio.
Our Paradise Condo is One of Jaco Beach's Most affordable and Fashionable two-bedroom Condos that can accommodate up to five guests. it is one of the best situated two bedroom residences within the Condominio Paradiso Community.
This is one of the best-situated two-bedroom residences within the Condominio Paradiso community, as it is adjacent to a lovely garden and close to the two pools and whirlpool. Despite the proximity to the pools and whirlpool, the condo is quiet and relaxing. The condo is equipped with A/C, two flat screen TVs, Internet, full kitchen, and lovely furnishings. The Condominio Paradiso community is in a tremendous location, just one block to the beach and a few steps from fantastic restaurants and shops. It is a gated community that has 24/7 guard service. Located on the main road in Jacó, Calle Pas Diaz, but set back behind the front gate, Paradiso is a safe, secure, lovely, and very well-maintained community. The condo is equipped with A/C, two flat screen TVs, Internet, full kitchen with stainless steel appliances, and lovely furnishings throughout. The association has a very strict policy about renter bringing home gusts. you need to communicate with me in advance so i can help you no food or drinks at the pool . no glass at the pool can also arrange to pick you up from and return you to the airport, and inform you about day trips and fun things to do in the area — so you can focus on relaxing and enjoying your vacation in paradise!
taxi is very cheep in Jaco normal few dollars . but no need you can walk every where in Jaco
La atención excelente y la casa totalmente equipada, limpia, ordenada, excelente ubicación, buena seguridad, totalmente recomendada
Daniel
December 2014
The condo was super nice, AC cold, we found everything super clean. The location is perfect, it's in the middle of downtown Jacó, the beach is across the street. Amnon was nothing but helpful, he answered all my questions super quick and he let us check out late which was great!!
Dani
April 2016
Great experience with Amnon. The place was exactly as described, cold AC and convenient location at the front of the condo complex. The place is very secure with gate security 24/7. Good condo for singles or small families. Across the street from the beach and in the middle of downtown with quick access to most things a tourist would need or want. May want to bring your own beach towels though. Cable tv works great too. Amnon was very communicative and picked me up from the airport on time and walked me into the condo, top rate service.
Junior
April 2016
Amnon was very welcoming!!! He got us from San Jose and everything went smoothly. He even stop to take pictures of the crocodile! His place was beautiful and easy access to everything in Jaco. We walked around and had a great time! The pool in the condo was the perfect way to end the night! Amnon was such a great host. He answered all my questions at all time and made sure we were comfortable! Thank you !!!!
Michael
August 2015
Great Place - never met the host. Keys were in lockbox and we were checked in by security guard. Check in was 3 PM, check out was noon. Place as described.
Nicholas
October 2016
The house and whole complex was perfect for our family of 5. It was very clean and tidy. All amenities are near by. The pool area is great. The access to wifi was a great feature as it allowed us to communicate to Ami when needed. I wod definitely visit Jaco and stay here again.
Dorothy
January 2015
Very nice condo and condo community. We really enjoyed the location of the condo, only a few minute walk to the beach! Our host was quick to respond to any questions that we had and was helpful in booking our transportation home to the airport. We found the information package sent to us before we arrived very helpful, great restaurant recommendations!
Christine
April 2016
This is a super cool place right in the middle of everything. If you rent a car you can park it here and it will be safe. You can literally walk to anything you might want to do in town. The condo itself is clean, comfortable, and pretty much what you would expect from looking at the pictures. If you're going to be in Jaco for a few days this is the place I would recommend.
Drake
October 2016
Tipo di stanza
Intera casa/apt
---
Tipo di alloggio
---
Può ospitare
5
---
Camere da letto
2
Jaco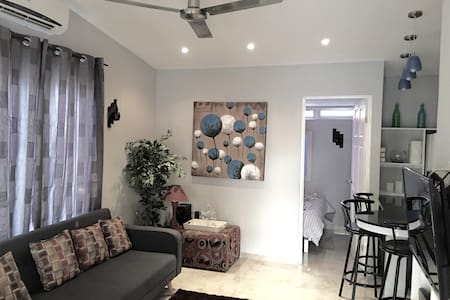 Quiet and relaxing getaway on the south side of Jaco, Beachfront. Great waves, quiet and relaxing location, easy (15 - 20 min or $4 taxi ) walk to downtown Jaco. Rooms are clean, simple, quiet, private patios and with kitchenettes. Family friendly.
You are Beachfront, all rooms have very basic kitchenettes, the rooms are airy and comfortable with ceiling fans (no A/C - we do offer A/C options though at a different rate) your own private patio, many guests say they feel home away from home while staying here. Simple & basic where you can get away from it all. Pool, Tropical Gardens, Parking some, almost always on the premises. Check in: 2pm Check out: 12noon
Right on the beach on the quiet southern end of Jaco. About a 15 to 20 minute walk into downtown Jaco, or a $4 taxi fare. There are public buses and taxis. If you come with a car we do have parking available.
A very pretty, peaceful, safe and comfortable beachside location to stay at in Jaco. Also a good location that's very close in proximity to great restaurants and shops. Naomi is also very friendly and welcoming! Loved my stay!
Phuong
December 2016
L'hôtel est parfaitement place au bord de la plage avec une petite piscine idéal pour se rafraîchir. C'est super d'aller sur la plage juste en poussant la porte le matin. Un peu excentre de l'agitation de Jaco et en même temps a 10-15min à pied. Le lieu est idéal pour une petite coupure au bord de mer. Noémie est très sympa et disponible
Ju
February 2015
Nice Place very close to the beach. The room was clean and very spacious. Naomi was always around and helped us whenever we had any questions. We can definitely recommend staying there..:-)
Miriam
March 2015
If I were to compare the amenities in this hotel to other hotels in the USA where I have stayed, it would not make the top 10. However, if I factor in the personalized service we received, the location right on the beach and the price we paid, it would be in the top 3. This turned out to be one of the best vacations we've had. Naomi went out of her way to resolve the few issues we had and made us feel at home. We walked to downtown Jaco every day (it's a little more than a mile away) and hiked into the nearby mountains. The sunsets over the ocean were beautiful. We found the people of Costa Rica to be very friendly. The courteous, personal service from Naomi and her mother are what make this hotel successful. We would definitely stay here again.
Dave
January 2015
Naomi was a very nice and welcoming host. The location was absolutely perfect. Closer to the beach than I could have ever expected.
Alex
December 2015
This is a great place!! We feel lucky to be staying right on the beach for a reasonable price. Naomi is a wonderful host and has been helpful with all our questions. We can walk to several restaurants and town is a 5 minute drive away. We are staying for several weeks because of the location and our happiness with this hotel. Very simple , very clean, has everything we need. I would recommend this hotel to my family and friends and to other air BnB members. We feel very lucky and blessed that we were able to find such a perfect spot for our holiday here in beautiful Costa Rica. Signed, Alison and Donn
Alison
December 2014
such a nice place to stay, it was just perfect! Naomi and her mother were so polite and friendly, always wanted everything perfect for us and our stay. Again, thanks so much for everything!! :) Definitely will come back!
Lisa
December 2013
Naomi was a great host - she set us up a water taxi to Montezuma and told us where to get vegetarian breakfast in Jacó. Her place is beautiful and right on the beach - you can hear the waves rolling onto the beach all night. It's additionally very accessible to the central Jacó. I think it's about a 15-20 minute walk from Jacó to Hotel Catalina (and I walk slowly, especially in tropical heat). There's also a nice little pool out front to swim in, if the ocean is too choppy.
Will
May 2015
Tipo di stanza
Stanza privata
---
Tipo di alloggio
---
Può ospitare
3
---
Camere da letto
1
Jaco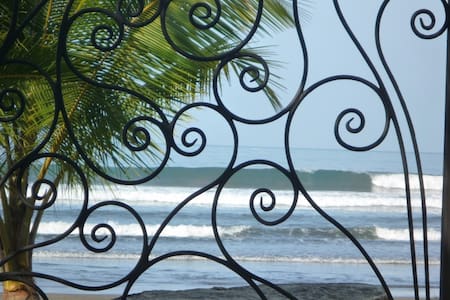 The Rancho is located at the edge of the famous Carara National Park overlooking the lush forests that Costa Rica has to offer and the blue waters of the Pacific Ocean. We are located approximately one hour from the Juan Santamaria International Airport in San Jose and 30 minutes from Jaco Beach. The accommodations offer the perfect combination of secluded natural beauty and contemporary domestic comforts. There is comfortable lodging for up to 4 people offering breathtaking views as you enjoy your breakfast on the patio or take a dip in the private pool. Get close to nature with the many adventures Costa Rica has to offer. Glide over the canopy of the rainforest on your zip-line tour, golf, horseback riding, ATV tours or play in the water as you kayak, snorkel or experience the excellent surfing and beautiful waterfalls. You name it; it's here for your taking. The Rancho This comfortable casita is called Rancho because of its typical Costa Rican style of construction. The Rancho is nestled at the edge of the forest. The swimming pool is at your doorstep set in a spacious patio and is surrounded by lush, tropical gardens. It offers two queen-size beds and a private bathroom. Continental breakfast is included with your stay. There is a fridge and a cooking plate to prepare snacks or meals. A ''pulperia'' (small supermarket) is within walking distance. You can also enjoy meals all day in the restaurants close to the village of Tarcoles just a short drive away from Capulin. Carara National Park marks the transition between the Amazonian and Mesoamerican ecosystems (dry and wet climate zones). One of Costa Rica's most popular national parks, the reserve includes primary and secondary rainforests, a lagoon and marshlands. It is home to more than 400 birds species and a breeding site for at least 40 pairs of Scarlet Macaws.
This was a wonderful place to stay. The bungalow has a great design, with large windows and screens as well as screen doors. There is a nice outdoor area as part of the bungalow, and it is right next to the pool. Claudine was very nice and gave us a lot of great advice, which we really appreciated. As other reviews mention, she makes a great breakfast and we really enjoyed it while taking in the great view of the rio Tarcoles and ocean.
Chris
February 2016
We only stayed here for one night before flying out of San Jose. It's a perfect distance from town if you want to enjoy some final ocean and mountain views before leaving, it take about an hour to drive there from the airport. Claudine was a lovely and welcoming host and her crepes are to die for! So delicious I was sad we didn't stay another night just for the breakfast. The room was stayed in was spacious and comfortable, and very pretty, and the pool is very refreshing on hot afternoons. After 'roughing' it for a week in the Osa, it was lovely to have wifi and hot water again! All in all we very much enjoyed our stay and highly recommend it!
Daniel
February 2016
Super accueil de Claudine qui nous a fait profiter de sa connaissance de la region. Très beau site et logement agréable avec un concert de grenouille le premier soir.
Christine
May 2015
Amazing place to stay!!! Highly recommend this Castia !!! Private pool right outside of your room!! Location is remote yet close to Jaco and Manuel Antiono ... Claudia is a gracious host!!! Beautiful grounds!! You can not go wrong!!!!
Susan
November 2015
Jean Luc et moi avons été ravis de notre court séjour juste avant de repartir pour la France. L'accueil de Claudine et de son époux a été vraiment charmant. Notre cocon était juste parfait, très joli. Nous avons pu vraiment profiter de la piscine et observer de très près des iguanes pour la première fois ! Merci du partage de votre expérience au Costa Rica ! Priscilla et Jean Luc
Jean-Luc
March 2016
Claudine ist eine wunderbare Gastgeberin mit einem ausgesucht guten Geschmack und dieses Bed and breakfast können wir nur wärmstens empfehlen. Wir waren bestens betreut und fühlten uns wie im Paradies. Dieses kleine Ferienhaus mit seiner Aussenküche und dem tollen Pool hat uns auf ganzer Linie überzeugt - die Lage so nahe an San Jose und Alajuela ist perfekt.
manuela
February 2015
Pasamos unos días encantadores en el Rancho el Capulín con Caludine. Es un lugar muy agradable, limpio y lleno de paz. Tal como se ve en las fotos. El desayuno es rico y con vista al río Tárcoles, al puente de los cocodrilos y el mar. Caludine y su esposo son muy amables y nos ayudaron a llamar a los tours. La temperatura excelente y nadar una delicia. se necesita coche o es posible llamar taxis. Pasan las guacamayas, te visitan dos sapos silenciosos que te observan si nadas en la noche. Las luciérnagas parpadean cuando se mete el sol y salamandras nos visitaron en la noche. Me encantó ter minar el viaje aquí y relajarme de todos los tours que hicimos en la semana. si fuimos en temporada baja. no me puedo imaginar lo que ha de ser en temporada alta. yo recomiendo los meses de bajo turismo. Gracias Claudine.
Aura
November 2015
Claudine and her family have effectively carved out their own slice of paradise, and luckily for us, we got to experience it for two nights. The accommodations are ideal: clean, quiet, secluded, and beautifully designed and constructed. The pool provided perfect refreshment after the drive from San Jose (not too much more than one hour). Claudine is an exceptional hostess. Having breakfast on the balcony overlooking the valley below, Rio Tarcoles, and Pacific Ocean, while exotic birds sing and flew overhead was unforgettable. We drove down to Manuel Antonio during our only full day staying at the Rancho, which was an easy 1.5 hour drive. If too prefer to stay closer in, there are plenty of hiking and bird watching opportunities nearby, or you can explore the beaches of Jaco, and the smaller communities along the coast. Visit playa Hermosa (about 30mins south), to surf or watch surfers getting stoked. We only stayed a short time, but could easily have stayed longer. We hope to come back again.
Jon
March 2015
Tipo di stanza
Intera casa/apt
---
Tipo di alloggio
---
Può ospitare
4
---
Camere da letto
1
Tarcoles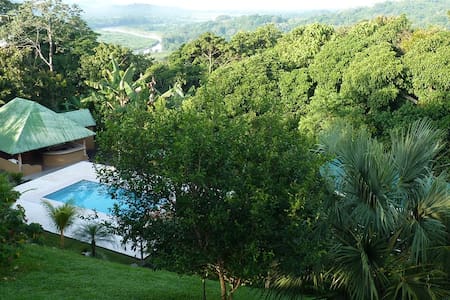 Even though the price of this place is on the low end, we considered it pricey compared to the quality of the cabin: the place is falling to pieces. For 10 or 15 dollars more you can get a place SO much better. We stayed at cabina "Paz" and the electric wiring is in terrible condition, there are exposed wires and there isn't enough power to feed what you plug in. For example, if you have the following fridge + microwave + 2 fans + 2 lights: fans would lower speed and lights would flicker when using the microwave. Also, the roof is falling down and there are leaks. Wifi never worked. Regarding the listing, the description should be updated to reflect there are multiple cabins with different capacities available. Last observation is that the large Weimaraner dog in the property is locked for really long periods of time in a wooden box, I did notice they take him out at times but the small space in which he is confined for most part of the day, especially when it is hot, should be considered animal cruelty.
Ursula
September 2016
Everything was great! Andre and his wife, Mercedes are wonderful hosts and the time spent went way too quickly! They were very accommodating and responded quickly to our needs. The pool was awesome for the kids, and the bbq worked great with my roasted pork! The beach is literally outside the front door, which is very nice. I am definitely coming back the next time I come to Jaco... hopefully for more than just one night!
Robert
September 2016
Andre was great. Gave me plenty of information, helped me rent a car at a good price close-by. His place is right on the beach !! All good !
Pierre
December 2016
Great days!
Jason
August 2016
Fick svar direkt, trots storskillnad. Beskrivning stämde mycket bra och vi bättre service går inte och få. Boendet var mycket rent, och poolen jätte fräsch. Hög standard på alla hushålls apparater, vi gjorde smoothies och grillade mycket. Ett jätte skönt ställe i centrum av Jaco, nära till supermarket, uteliv och beach.
Patrick
August 2016
The host canceled this reservation 40 days before arrival. This is an automated posting.
Lorelaine
Andrés and his wife Mercedes welcomed us with a warm smile and made us feel at home since the start. They were attentive to out needs and accessible at all times. We are very thankful for all the recommendations given by them and the hours they spent with us exploring Jaco and their surroundings. Having Andres and Mercedes staying with us at the tours made us feel very safe and protected, they both are very easy going people. Posting is exactly as advertised (even better). Andres can arrange you tours and transportation for a very good price. It was 7 of us and we enjoyed every second of our stay. Beach front and pool access is one of the highlights of this perfect stay. We would stay at Jaco Pacific with Andres and Mercedes again with no dought.
Frank
May 2016
Tipo di stanza
Intera casa/apt
---
Tipo di alloggio
---
Può ospitare
4
---
Camere da letto
2
Jacó
My place is close to the beach, restaurants and dining, family-friendly activities, and public transport. You'll love my place because of the location, the people, the ambiance, the outdoors space, and the neighborhood. My place is good for couples and solo adventurers.
Our cabinas offers a cozy alternative to higher priced units at our beach. We have wifi in every unit, along with a compact stove and small fridge, not to mention coffee maker, blender and all the utensils you will need for your stay with us. These are private rooms with a shared deck (recycled plastic) behind our recycled shipping container building.
Tipo di stanza
Stanza privata
---
Tipo di alloggio
---
Può ospitare
2
---
Camere da letto
1
Bejuco
Playa Esterillos Este, between Jaco and Quepos 30 feet walk from room door to beach with tropical gardens, pool, wonderfull sunsets,surf, very quiet, part of Flor de Esterillos resort. Restaurants nearby. Equipped with fridge and kitchenette.
Spacious typical bungalow with two large rooms, high ceiling. One room has two double beds with a bathroom and the second room has one double bed, kitchenette and a second bathroom. Both rooms has their own exit door to the gardens. One fridge, small 4 burners gas stove...Fans on ceiling. Pool, Rancho, beach, bricket BBQ Yes there is always someone on the site to answer your questions or forfilled your needs...
Quiet, tropical, Private beachfront, 14 km of beach, nice neighbourhood, restaurants at walking distance, 1 hour and a half drive from San Jose airport, tours available, 40 minutes drive to ManuelAntonio, 20 minutes drive to Jaco. Pool, bricket BBQ available...WiFI is accessible under a big Rancho used as a common area. there is parking available on site, the bus is 1km walk distance from the site. Taxis are available... Always be cautious with the ocean...
We absolutely loved the 4 days we spent at Esterillos Este! The space was everything we wanted and more. The beach is amazing, the sand is soft and the waves are large. Perfect for bogey boarding and riding the waves. You can take a swim in the pool and watch the bats and colorful parrots fly overhead. We loved watching the local wildlife and even some chickens, cats, and dogs. Coconuts are available everywhere. The kitchen provided everything in terms of cooking utensils, pots and pans. While there is no AC the fans and ocean breeze were fine. Marcelle was around every day and always asked if she could do anything. If you bring a car there is parking space and the gate is closed at night and there is someone patrolling during the night. The WiFi is spotty and we were only able to get one or two devices before it stopped. There is a market down the street if you need anything. The room was a little more rustic than expected but we liked it better for that. There is plenty of hot water too in the showers that each room have. Defintely less of a tourist resort and more of a local getaway.
Brett
July 2016
Flor de Esterillos is a well taken care of secluded paradise. Our bungalow was steps from the pool and the beach. The beach was amazing! Just down the beach are a few restaurants and bars that are also amazing. I highly recommend this place for someone looking to get off the beaten path but still be close to adventures if you want them.
Arlene
June 2016
Perfect place. Nice beach. Good swimming pool
Paul
August 2016
Large and beautiful property. Very quiet and peaceful, feels like your own little piece of CR. Cottage was great, really appreciated the shady areas around the pool to lounge at when it got hot at the beach. Marcelle was waiting for us upon arrival. She is very friendly and welcoming. Wifi strength varies but was reliable near the main house. We had a wonderful, relaxing stay and would definitely return.
Daniel
May 2016
Excelente lugar, muy buena atención. Con ganas de volver
Marco
May 2016
The place was beautiful, most important very peaceful and quiet!!! The bungalows are rustic but very cozy. I went with my family included my 2 nephews and the place was really comfortable for them too. Marcelle is always there if you need her and is very welcoming. If you really want to have a very restful time at the beach surrounded by nature and good people, please don't hesitate in ask in book this place
Kary
March 2016
Esterillos Este is a lovely beach that we've visited several times. The outdoor facilities at Flor de Esterillos are very comfortable and perfect for relaxing. Marcelle was quite accommodating. The rooms are simple and outdated, but they have what you need. We were disappointed that the bedding on all three beds smelt strongly of mildew as if they had been sitting in a humid room, untouched for at least a month. That made it difficult to sleep. Also, I wished there was a light blanket on the bed in addition to the very light sheet. The kitchen is stocked with some flatware, plates, pots and pans. A lot of Airbnbs have the cooking staples like oil, salt and sugar, but these rooms did not. The nearest corner store is in another town 15 minutes away (there's one in Esterillos Oeste and another in Bejuco). Additionally, the other guests at Flor de Esterillos were rude and made it uncomfortable to use the pool at the same time.
Jyl
July 2016
A most beautiful setting; very tidy and right by the ocean. The pool is great, the place is safe and quiet, you can hear the waves all night and Marcel was a welcoming hostess.
Maya
July 2016
Tipo di stanza
Intera casa/apt
---
Tipo di alloggio
---
Può ospitare
6
---
Camere da letto
2
Esterillos Este
Small studio located in Tropical condominium, steps away from groceries, beach, bars, tours, etc. the house kitchen, living room, tv, wifi, cable tv, washer and drier, etc. 2 b / 2 b It has parking space, swimming pool and 24 hours security.
It is good for one couple or a couple with 2 kids. Also, it is good for just one person who wants to stay alone in a secure complex with 24 hours security. There is a small living room and kitchen with basics. The studio has AC, hot water and WIFI. "Monthly rentals have to pay electricity at the end." Swimming pool, meeting area, parking spot, garbage removal. Maid service is provided for $30. Also, there is a public park right next the complex. Guests can easily walk to the town, beach and other places. I am closely located. I can assist clients at any time
Jaco beach is the best option to stay close to the capital. Also, it has many types of restaurants, super markets, shops, banks, etc. Costa Rica people are very friendly many speak english Taxis are close by, buses, etc. Electric is charged at the end for monthy rentals.
My two friends and I spent two months in Jaco, Costa Rica and had an incredible experience. Part of what made our trip so wonderful was that the condo we rented from Cristian was exactly what we expected based on his description on Airbnb and his attentiveness to our questions and concerns was above and beyond. Cristian set up shuttles for us from/to the airport, he replied to our messages quickly, and would always address our concerns within a day or two. Cristian is very welcoming and approachable and treated us with respect and understanding. He provided a new key for us when we lost ours, always checked in to make sure we were enjoying our stay, and let me get mail sent to his office for me to pick up after I had to order a new credit card. When we had friends come to visit, he provided an extra mattress for them to sleep on and set up their shuttles to the airport. Even when he had to spend time in the hospital due to surgery, Cristian still made sure he was addressing our needs and his assistant, Karen, helped us out a lot. With regards to the actual condo, everything looked just like the pictures posted on Airbnb. We were actually pleasantly surprised to find two bathrooms upon arrival rather than just one. The pool within the condominium was great too. The condo was pretty basic, nothing luxurious, but it was what we expected and it was a good price for our budget. As three young women traveling in a foreign country, we LOVED the 24-hour gate guards and the quiet, peaceful neighborhood. Safety was a big factor for us and this listing allowed us to fully enjoy our trip. The location was great because the beach, convenience stores, grocery stores, restaurants, and nightlife were all within walking distance. Overall, some of the best customer service I have received and I would definitely recommend spending some time in Jaco!
Janey
August 2016
Muy bien
Jon
August 2016
Tipo di stanza
Intera casa/apt
---
Tipo di alloggio
---
Può ospitare
4
---
Camere da letto
2
Jaco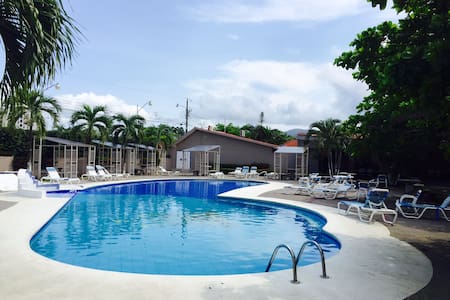 - Casa Tipo cabaña de madera. Capacidad 3 personas (2 extras) - 1 Dormitorio, 1 cama doble, 1 cama simple, 2 abanicos de techo, A/C. - 1 Baño. - Sala con sofá cama ( 2 pax extras), abanico de techo. - Cocina dos quemadores, refrigerador, olla arrocera, utensilios para cocinar. - Balcón, mesa de comedor, vista al jardín y la piscina. - Wi Fi. -Sendero a la piscina. - Zona de parqueo
Está ubicada en la parte más alta de la propiedad con mucha brisa, rodeada de frondosos árboles, sus techos muy altos con abanicos de techo en todas las áreas, es una casa fresca, con balcón hacia los jardines y la piscina, un lugar para estar en contacto con la naturaleza y cerca de todo lo que la vida moderna ofrece. La cocina equipada con todo lo necesario para cocinar en ella, amplio baño, abanicos de techo en todas las áreas de la casa,A/C en el cuarto, Wi Fi, estacionamiento, casa ideal para observar la vida silvestre de la zona. Gran jardín tropical con piscina. Productos naturales: Aceite de Coco virgen, aceite humectante y nutritivo, repelente de insectos. bloqueador solar, propoleo, miel cruda. Atendidos por la dueña. Carolina
Es un barrio lleno de naturaleza, a solo 1.3 kilómetros de Playa Hermosa donde encuentras muchos lugares frente al mar donde cenar. La playa se caracteriza por ser la playa mas constante en olas para el deporte del surf. La zona es segura y muy tranquila. La mejor opción es un auto. Si no tienes un auto puedes tomar un taxi es fácil y barato. Si deseas caminar a Playa Hermosa, Ecovital Costa Rica se encuentra a 20 minutos de la playa. (1km 300 mt) O puedo llevarle en mi auto a la playa y luego busca un taxi para regresar! Para ir a Jaco lo mas fácil es un Taxi y también hay movilización colectiva en algunos horarios. Es una zona tropical por lo que es necesario el uso de repelente anti mosquitos y bloqueador solar por los fuertes rayos UV, ambos productos son naturales y orgánicos, los pueden conseguir en la recepción de Ecovital.
Carolina was very kind and flexible to make this work for us last minute. We only spent one night, but really enjoyed it. The pool and surrounding garden is beautiful. 3 minute drive to the beach and a few restaurants. Thanks, Carolina.
Andrew
October 2016
Carolina was the best host anyone could ask for. She went above and beyond, and even drove us to get dinner when there was a thunderstorm and we couldn't get a ride into town. The location is amazing - a bit of a walk from the surf spots, maybe a 20-25 minute walk at a normal pace, but people were usually happy to give us a ride. The house and the area are absolutely beautiful - if you want rugged, gorgeous nature as the backdrop to your trip, this is the place to go. It was amazing having our little cabin in the jungle. One thing to be aware of is that WiFi in Costa Rica is very intermittent. I work remotely and found it difficult to get consistent internet access. However, this has nothing to do with Ecovital/Carolina, it's just the way things are in Costa Rica. Overall, 5 star experience. Couldn't ask for anything better. We'll be back.
Tim
August 2016
I booked this place after lots of careful planning and research, having narrowed down the options to a handful of places that matched what we wanted for a romantic Valentine's day. Unfortunately, after driving all the way there, ready to relax after a long difficult few weeks, we were greeted with the wonderful news that Ecovital had actually double-booked our room. Yes, apparently that is something that can happen at this place. So here we are, valentine's day evening, with our dinner reservations waiting, and we are told they had to "go the extra mile" for us...by finding us another hotel we could stay in, because everything else in the area was fully booked. How nice of them. Would have been nice of them to 1-not double book our room, and 2- let us know ahead of time that this was a poblem so I could have booked one of the other places I hd carefully vetted. Instead, despite the fact that it took them 24 hours to confirm availability and I received a text message and two emails confirming the booking, and even one saying "looking forward to seeing you", they claimed they simply had no way of getting in touch with me to let me know. So at this point we have no other option, and we agree to be taken to this other hotel, which they proceed to tell us is "more expensive than your original booking, so we really went the extra mile for you". Turns out it is your average, run of the mill hotel room. NOTHING like what we had so carefully picked out. Not only that, but it is UNDER CONSTRUCTION. So the appliances were bot plugged in. There were no sheets on any of the beds, no towels in the room, and only one of the AC units was actually working. The "reception" consisted of on of the hotel bedrooms, where often the only interaction was an awkward exchange with a pair of young kids who I had to ask for towels. They had no clue what was going on. There was no hot water. The stove did not work. The pipes had likely never been run, therefore soot and rust would spurt out sporadically upon opening the faucets. The toilets made ridiculous loud sounds (i took video). Upon seeing my immediate reaction of disgust at the place we had been taken to, the Ecovital staff promptly offered us a coconut oil bath to compensate for the inconvenience. But the only times they had available were the following day after we were already scheduled to be heading back. But the made sure to tell me repeatedly how much they were "going out of their way" to offer these great things to me--putting all the blame on Airbnb for the overbooking issue. After that we never saw or heard from them again. We were someone else's problem. Overall a pretty terrible experience.
Christian
February 2015
it was a great place. between Jaco and Playa Hermosa, its best to explore the beaches. the host is incredibly helpful and super nice.
Witny
March 2015
Tipo di stanza
Intera casa/apt
---
Tipo di alloggio
---
Può ospitare
5
---
Camere da letto
1
Playa Hermosa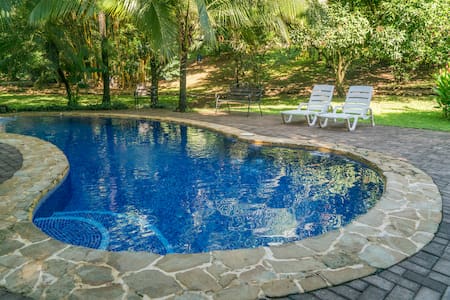 Bright and airy room with basic kitchenette, private bathroom and outdoor balcony on 2nd floor. Simple, clean and comfortable. Perfect spot on the beach! Wi-fi access areas near pool. Breakfast not included.
Check in: 2pm Check out:12 noon
His was THEE best view of Jaco. The location is Devine. Super close to the beach & far enough away from main strip of Jaco. Nice & quiet. Our hosts was the best. Super considerate & always giving. We enjoyed our 3 nights there.
Patrick
February 2016
Son Habitaciones frente al mar que podrían tener microondas ya que la cocina dura mucho, ademas un televisor no quedaría mal.
Paulo
July 2016
Very good place to stay ! Naomi is a great person ! The place is clean and beautyfull !
Bogossian
January 2015
I would definitely recommend staying here! The beach is literally outside the front gate... With surf board rentals/lessons (as well as umbrella and beach recliners rentals) available right on the beach, making everything very easy and convenient. The beach was great... Very mellow. The property is great as well... Quiet and serene. Naomi went over and beyond in every respect. She was a great hostess!
jason
January 2016
Naomi is a wonderful host! She is always friendly and accommodating. I had a thoroughly enjoyable stay in this beachfront paradise and recommend to anyone who wants to be on the beach yet a little away from the crowds. My room was very comfortable and had everything I needed for a pleasant stay. It was immaculately clean, comfortable bed, and had everything for the kitchen to prepare simple meals. I had a view of the beach, ocean, and sunset, and I enjoyed the short walk to Central Jaco. I would definitely stay here and again!
Judy
February 2016
Naomi was perfect host. Great spot near Tortuga surf camp. Clean, easy check-in, very flexible and good communication.
John
March 2016
Tipo di stanza
Stanza privata
---
Tipo di alloggio
---
Può ospitare
2
---
Camere da letto
1
Jacó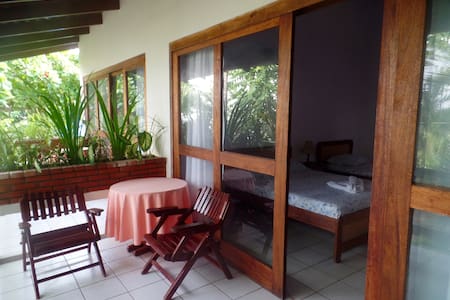 Lugares de interés: parques. Te va a encantar mi lugar debido a el ambiente. Mi alojamiento es bueno para parejas, aventureros, familias (con hijos), grupos grandes, y mascotas.
Cabaña rustica con rio. Todos los accesos. Disponible 24/7/365
La casita del rio se encuentra en la montaña a solo 20 minutos de Jaco, Garabito. Bus, taxi o rent a car. Muy seguro y natural.
Tipo di stanza
Intera casa/apt
---
Tipo di alloggio
---
Può ospitare
6
---
Camere da letto
2
Jaco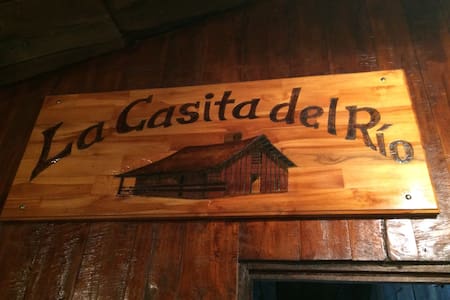 Quiet and relaxing getaway on the south side of Jaco, Beachfront. Great waves, quiet and relaxing location, easy (20 min or $4 taxi ) walk to downtown Jaco. Rooms are clean, simple, quiet, private patios and with basic kitchenettes. Family friendly.
We had a great stay at Naomi's. The property is right on the water and you can see beautiful sunsets. Naomi was extremely kind to us and helped us arrange transportation to and from the airport. She was always available to help us with any question we might have. The room was simple and very clean. We even had a little patio that faced the garden. We could see the ocean from there through the beautiful gate. It was nice to be close to Jaco but away from the bustle of the town.
Megan
January 2016
Tipo di stanza
Stanza privata
---
Tipo di alloggio
---
Può ospitare
2
---
Camere da letto
1
Jacó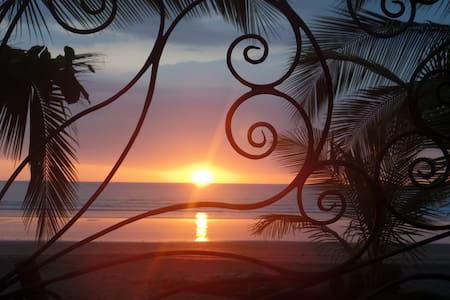 We offer full contact with sea and nature, extreme sports, surf, SUP, hiking, we are located beach front and 800m from all restaurants, banks, shops, bars in downtown. We have two private cabins, one for 4-5 persons, the other one to 5-6 persons.
The house is beach front, it's near to downtown, 2 cabins, orthopedic beds, for surfers, clean place, nice people... La casa está ubicada en el sur de Jacó la zona más tranquila, disponemos de 2 cabinas semi equipadas, con colchones ortopédicos especiales para surfeadores, es un lugar limpio y rodeado de buenas personas... Very often
They are quite, not to many and a really good people around. We have a a surf school, right on the beach, check out our (SENSITIVE CONTENTS HIDDEN) page: Kaludus surf School. We offer surf lesson, SUP lessons, boards rentals, tours and a beach club. Special prices for guests. Tenemos nuestra propia escuela de surf justo en la playa, visite nuestra página en (SENSITIVE CONTENTS HIDDEN) Kaludus surf school. Ofrecemos lecciones de surf y SUP, renta de tablas, tours y nuestro club de playa, todo en el mismo lugar.
I only had the chance to speak with Moma threw Airbnb, but she was really helpful and kind. My friends who staid in the apartment enjoyed it and the city.
Joan
January 2016
Tipo di stanza
Stanza privata
---
Tipo di alloggio
---
Può ospitare
5
---
Camere da letto
1
Jacó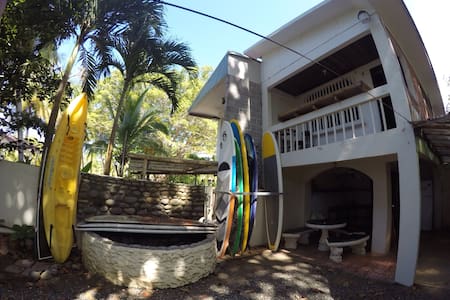 Backdoor cabin is located in Casa de Playa has 4 single beds, private bathroom.
The overall experience was fine. The shower was slightly weak but the location was great... Straight on the beach. There was some miscommunication but this maybe due to being a new host on Airbnb. However moma did everything to make sure the situation was handled fairly!
Trina
January 2016
Tipo di stanza
Stanza privata
---
Tipo di alloggio
---
Può ospitare
2
---
Camere da letto
1
Jacó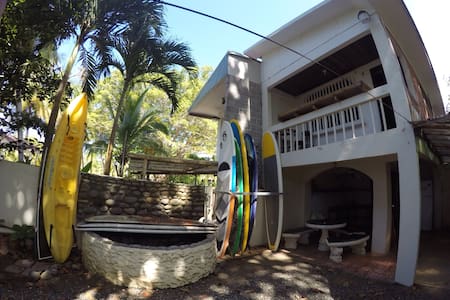 1

–

14

di

14 Chalet in Affitto