Inserisci la data del check-in nel seguente formato dd-mm-aaaa
Inserisci la data del check-out nel seguente formato dd-mm-aaaa
Annunci che puoi prenotare senza aspettare l'approvazione dell'host.
Inserisci le date per visualizzare il prezzo totale. Ci sono dei costi aggiuntivi e potrebbero venire applicate alcune tasse.
Nei mesi di luglio e agosto puoi provare uno di questi 100 alloggi ad alto rendimento, per ogni fascia di prezzo, e vivere una visione locale di Sonoma. Prova il check-in continuato, la Prenotazione Immediata e vino e spuntini locali per rilassarti e godere al massimo del tuo viaggio.
Completely renovated space with beautiful hilltop view of Bethlehem and beyond. Convenient to historic downtown Bethlehem with lots of restaurants and shopping, Sands Casino, Lehigh and DeSales University, Moravian College, Black River Vineyard, Promenade Shops. Plenty of private, well-lit and secure off street parking. With over 1,400 sq ft of space this residence is perfect for a single person, a couple, or can easily accommodate 6+ people. Feel free to stay 1 night, a week or even a month!
Please note that there are stairs from the parking lot leading up to the loft, and the loft itself has 2 floors so there are stairs inside as well. The 1st floor provides the main living area, along with a full service kitchen, dining area, washer & dryer, half bath, the master bedroom, and a full bathroom. There are 3 bedrooms on the 2nd floor along with a full bathroom. The kitchen is equipped with a Keurig coffee maker (coffee and tea K-cups provided), gas stove, dishwasher, toaster, plates, glasses, utensils and pots and pans so you can feel free to cook any of your meals, or visit one of the many restaurants in and around downtown Bethlehem. Upon check-in you'll find some of our fresh eggs in the fridge from our free range chickens. And for those over the age of 21, you are welcome to request a complimentary bottle of hand crafted wine from our high quality and locally grown grapes. Pets are welcome with approval from the owner and an extra fee. Satellite TV is available in 3 rooms. 100% accessibility of the loft. This is not a shared space. We live nearby which makes us easily accessible with any additional requests. Just give me a call! The day of check in I will provide you with the access code to the loft.
The loft is located on the top of a hill, thus no easy access for walking. South Mountain Park is located within a 1/2 mile drive. There are also plenty of places to walk in and around downtown Bethlehem, including Sand Island. Personal vehicle, Uber, Lyft, Taxi. Current Rates: $160/night for use of 1 bedroom, 2 people. If more than 1 bedroom (2 people) is used, there is an additional $20/night/bedroom.
The BRF loft was absolutely awesome! Beautiful home and a very nice location. We were visiting with some friends and loved how close to Allentown we were!! Communication was a breeze and I would definitely recommend staying here!
Kacie
December 2016
Tipo di stanza
Intera casa/apt
---
Tipo di alloggio
---
Può ospitare
6
---
Camere da letto
4
Bethlehem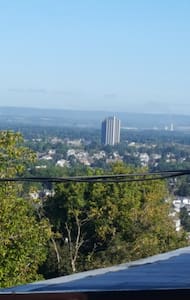 A free stand alone lofted building 24x26 with 20' ceiling. Private entrance, private parking 100% newly furnished and fully equipped. Cable, Wifi, hot water and electric. Meticulously clean and comfortable. Garage space is available ask me
The Space was originally constructed by a professional artist, who specialized in large murals, which explains the 24' ceiling. This is a very unique and private space Always make use of the private entry. I work from home, so I am present most of the time. For the most part the interaction with guests is limited to the initial walk thru.
We are very close to New Hope. The roads here are hilly, twisty and scenic. Cyclists enjoy these roads immensely. Please drive the speed limit, you'll thank me. There are 3 top notch taverns with a few miles. For the most part, it is a rural setting, with views of trees and nature. There is no public transportation here, however there are always cabs and Uber. We can't allow pets. As we have a 72LB (small) mastiff and a miniture poodle. They are fenced off from the rental property. They have not interfaced with any of our guests.
Mark was extremely welcoming. The loft was cozy, quiet and clean. We really enjoyed our stay. It was definitely a great place to get away from the city. We wish we could've stayed longer! We will definitely come back.
Cathy
November 2015
Mark was great, very gracious host. We really appreciated his flexibility in working with our unusual schedule. The home was immaculate and as nice as the photos would indicate. Mark made sure we had everything we needed. I would definitely book this location in the future and would highly recommend it to others.
Ray
June 2016
The host canceled this reservation 9 days before arrival. This is an automated posting.
Kathleen
We came into the area by motorcycle. It is absolutely lovely, fields and beautiful older homes & farms. Mark came out from his house to greet us as soon as we pulled in. He made us feel comfortable and at home in the space we were to stay in. And what a space! A separate, secluded building that had been an artist's studio...super-high ceilings, loft bedroom, open-plan living & dining, with every detail thought of! We were blown away by the sleek but warm décor and the many thoughtful inclusions. If you want to visit the New Hope PA/Lambertville NJ area, you will love this place. It also comes with an in-the-know host who can help you make the most of your stay!
Susan
October 2015
Mark was a great host. He was great with us in communications. Our ETA had changed several times and he was very flexible and easy-going. When we arrived he showed us around the beautiful apartment. The apartment was beautiful meticulously cared for and beautifully designed. I found it to be even more beautiful in the photo show on Airbnb!
Jilsarah
May 2016
Host was very gracious, very organized and very accomodating. Listing was accurate and neighborhood was rural and bucolic as expected.
Ana
December 2015
Great stay. Absolutely everything available with high quality facilities. All conveniences close by. Hosts Mark and Jo are fabulous. Best Air BnB rental I have ever experienced and plan on coming back very often.
Terry
July 2016
Mark's place is so modern yet cosy. We really like the industrial design, and the house is well stocked with towels, extra beddings, good coffee and tea. My daughter really liked the bedroom upstairs. Mark is a nice host. Would love to stay here again the next time we are in the area
Lilian
August 2016
Tipo di stanza
Intera casa/apt
---
Tipo di alloggio
---
Può ospitare
2
---
Camere da letto
1
Newtown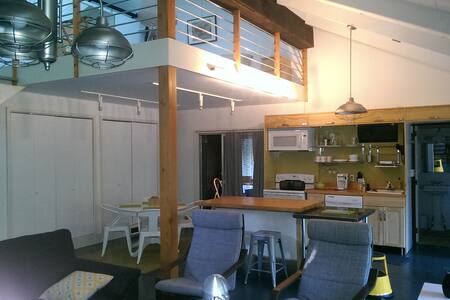 New listing Special Price Negotiable! Completely private super sized 2 bedroom duplex loft in a unique converted historic building. Every room is filled with an abundance of natural sunlight, and very cozy. It's also located in a great location for traveling anywhere you want to go! Now with curtains!;) *For $59/NIGHT 2nd bedroom can be locked to create a 1BR. Both bedrooms are $79. For a limited time only! *CLEANING FEE CAN BE DRASTICALLY REDUCED IF YOU WANT TO HELP CLEAN. JUST ASK HOW
14 feet ceilings flooded with natural sunlight make this a great place for inspiration, and comfort. Up to 3 private parking spaces, and everything provided in the unit. I'm available 24/7, but you probably won't see me unless you need to.
Everything you would ever need, or want to do is right outside the door. Located 1 minute from Ben Franklin Highway aka route 422. Travel anywhere easy! This is a great little town to check out! Take a walk down Main St. to check out the stores, and cross the river to an enormous Antique shop. Or check out a local band at Tom's bar that you can still smoke in. How about a short drive through rolling farm land to Valley Forge National Park for a summer jog, or in the winter the best sledding ever? Or Shopping at the King of Prussia mall which is the United States 2nd largest mall. Whatever you like to do it's possible here and only 40 minutes to Philadelphia.
Andrew's place in Royersford was super cute. Had to find a place to stay for a family Christmas get together and his place was perfect. The swinging couch and board games brought back childhood memories. Only thing I say it needs is curtains in thevery bedrooms. I'm just a light sleeper and once the sun came up I couldn't stay a sleep.
Patricia
December 2016
Tipo di stanza
Intera casa/apt
---
Tipo di alloggio
---
Può ospitare
4
---
Camere da letto
2
Royersford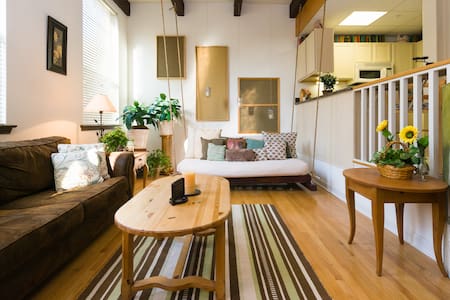 Bucks County Country Oasis-Lakeside Barn and Nature Preserve. Come lose yourself in the majestic scenes and sounds of this lush Bucks Country destination. Watch the blue herons, hike and fish the lake and streams, 60 acres. Rental Contract
Stay in an enchanting barn dating back to the 1800's and just redone as a guest house and sanctuary. Experience all the luxury of a modern oasis with professional kitchen, new bathroom, wifi and AC. Access to Nockamixon Lake and park including hiking trails, boat rentals and picnic areas. Included in the property rental is the private guest house, onsite free parking, pool access and a private pond with canoe. I myself or a representative will be at the property to welcome you and answer any questions you may have during your stay.
Wow! This was the perfect weekend getaway from the city. Yaffa's home was just as described. It is truly a unique space and you can tell a lot of love went into creating it. It is also conveniently located to fun relaxing activities. We went to great park with hiking, kayaking etc as well as a vineyard and farm with pick your own fruits/veggies..I would absolutely return.
athena
September 2016
Yafa and Barry and the puppies and the wild turkeys and the great blue herons and the stocked fridge and the bonfire and the everything was just amazing all over
Jason
September 2016
Two friends and I stayed overnight at Yafa's to relax over 4th of July weekend. The property was beautiful, the barn was as pictured, and the view of the lake was stunning - but unfortunately, it did fall short of what we had expected. What we were most excited about was the pool - it's been a humid summer so far, and the chance to swim was, for us, the deciding factor between Yafa's and another Airbnb rental. But when we got there, we discovered that the pool had been drained the day before. This was obviously a major bummer, especially since there'd been no warning or notice beforehand, even though I had written Yafa the morning of our stay. Our second backup would have been exploring the nearby trails or watching movies inside the cabin - but there was next to no WiFi signal (I had a poor connection & my friends couldn't even pick up a WiFi network), which meant we couldn't access Netflix as we had planned. We also had no idea where the trails where, and couldn't look up where to go. :( Not a big deal - we could have easily asked Yafa. I ended up asking her about the WiFi connection, around 9pm (mobile data was totally unreliable), and she did answer around 11:30pm - she said she didn't know why the WiFi wasn't working, and suggested hanging out on her front stoop to get a stronger signal (which, to me, makes saying that there is WiFi connection a little deceptive). Why didn't we ask her in person? When we arrive and drove up to Yafa's house (the main building), she called down from the second floor that she was napping and to just go ahead and drive down to the barn - despite the fact that I communicated multiple times about our arrival time. After that, we just didn't feel comfortable knocking, and since she never came around to say hello, we never got the chance to speak or ask questions. We still had a great time, but all in all we were all a little disappointed and actually ended up leaving a little early the next day. So should you stay, definitely reach out ahead of time, and be explicit with any questions or concerns you might have. Some other notes: some shampoo/body wash is provided, but a very small amount, so bring your own. The double bed fit 2 people just fine, and the couch was spacious enough for a third, but no additional blankets or pillows were provided, so bring those too. Parking was easy, some food and a bottle of Prosecco was thoughtfully provided, and yes, there are herons in the lake!
Melissa
July 2016
Yafa's farm is a dream. It's far more beautiful than the pictures. The house is lovely and looks out onto the pond. We spent a long time canoeing in the pond, enjoying the sun and watching the heron and beaver who live there. We also loved walking around the woods that surrounded the pond. Yafa was an amazing host, exceptionally warm, nice and inviting. We can't wait to stay there again.
Victor
October 2015
We had a wonderful time at Yafa's guest house & her property was fantastic! She was so sweet and hospitable & made us feel extremely welcomed. Like many of the reviews before us she left us several food items in the refrigerator and a beautiful plate of freshly picked tomatoes & peppers. The guest house was lovely & positioned right next to the small pond on the property. We saw several animals including deer, blue heron, and a small beaver swimming around, it was such a beautiful escape from NYC. We would definitely go back and Yafa made the experience just that much better! Btw she also gave us some of her home made tahini treats…yummy!
david
September 2015
The place was more beautiful than portrayed in the pictures. It's very scenic and unique which is why I chose this location. Yafa was very accommodating and attentive to anything I needed.
Samuel
September 2015
Very welcoming and beautiful property. If you are looking to escape, this is a great location. There is no television and very limited internet access, but a very serene setting.
Michael
July 2016
Yafa's guest house is BEAUTIFUL. The property is gorgeous, the house well-appointed, pool spectacular. Yafa was a very generous host as well, having left the juiciest tomatoes, peaches, prosecco and other foods for us when we arrived. There were some issues with the plumbing, but Yafa was quick to respond and take care of the problem. Would recommend for a group of 2-3 people.
Alexandra
August 2015
Tipo di stanza
Intera casa/apt
---
Tipo di alloggio
---
Può ospitare
3
---
Camere da letto
0
Perkasie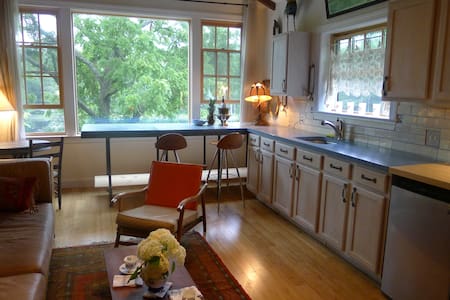 Our loft apartment is located in downtown Princeton on a quiet street a 5 min walk from the main campus gates. It is a 15 min walk from the train station, with easy access to NYC and Philadelphia. The loft is bright and spacious and includes a large private bathroom, a queen-sized bed, two closets, two desks, a printer, and a mini-fridge with access to a kitchen, living room, laundry and parking. Renting for the whole period from December 19-January 31 is available at a discounted price.
The host canceled this reservation 15 days before arrival. This is an automated posting.
Sankara
Tipo di stanza
Stanza privata
---
Tipo di alloggio
---
Può ospitare
2
---
Camere da letto
1
Princeton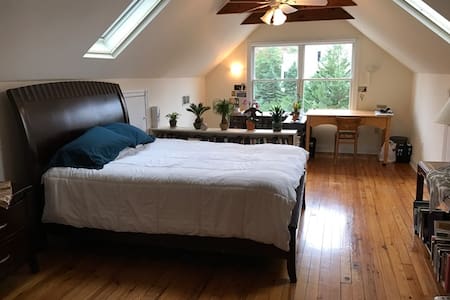 Historic building in heart of Phoenixville near cafés and restaurants. It has a courtyard with pond / opens to park. The 1st floor has small lounge area with couch & bathroom. A spiral staircase takes you to the large creative studio space with paintings and a mosaic mural. The bed is a futon with an extra memory foam mattress to make it comfortable. (note bathroom is downstairs). There is a kitchenette off the studio. Great location with bike trails starting directly across the street.
The futon has a memory foam mattress on top of futon mattress for extra comfort. There are paintings, mosaics and stained glass making this a unique space. Private door from the courtyard enters to the downstairs sitting area. There is a spiral staircase that goes up to the sleeping area, kitchenette and studio space. From the courtyard there is also a gate that opens to a park. I am available by text if you need anything. I have a sheet with restaurants and things to do, all in walking distance.
Lots to do in Phoenixville. Near Valley Forge National park. 2 rivers run through Phoenixville. There is 1 parking space available. There is a bus stop nearby which goes to King of Prussia. In the heart of Phoenixville on a cobblestone alley wih many restaurants, shopping and walking trails nearby.
Beautiful and unique artist studio in a great location within walking distance to many restaurants and bars and the path along the canal/river. Lynn gave us lots of great tips for restaurants and hiking in Phoenixville.
Hope
January 2016
Wonderful life-nook filled with whimsical bliss. Enough visual eye candy to even fill the heart of a 7 year old. The studio decor was harmonious and energetically balanced; palettes of sinuous blues usurping the canvasses overhead. Definitely an inspirational getaway for a writer, singer, dancer, artist, musician or energetically connected spirit. Quaint secluded location right off Phoenixville's main strip; options of eateries, wine & brewery tastings abound. Parking was perfect. Safety: great (even for kids) The instant-hot-water option was a great bonus for morning tea/coffee (yes.. Organic fair trade!). Need to recharge, feel safe and welcomed, stay here.
Sabrina
November 2016
Adorbs place, great location, kind, attentive, and thoughtful hosts. Place had all the basics you take for granted at home. Bonus: You can access a Pokegym right in the room. A solid "A".
Janine
July 2016
Wonderful! Wonderful! Such a unique spot. Beautiful. The natural light and the high ceilings made you feel like you were sleeping in a tree house. A lot larger than it looks. Great area for artists! Exceeded my expectations!
Jamie
November 2016
The studio was beautiful -- the most unique Airbnb I've ever stayed in. The location was unbeatable. Don't hesitate!
Isabel
November 2016
Lynn was super helpful and nice, and made sure I had all the information I needed to check-in. The place is super cute, and my wife and I loved it. We had never been to Phoenixville, and we were very impressed. We will definitely return to Phoenixville, and will stay here again, if the room is available.
freeman
August 2016
Unique and lovely studio in excellent location in Phoenixville. Lynn could not have been more gracious or welcoming. Highly recommended.
John
July 2016
Phoenixville is a gem of a town, and Lynn's studio is right in the heart of it. Charming and eclectic, the studio will appeal to funky free spirits. The loft has lots of space, and it was nice to have a fridge, sink and microwave. Lynne's description and list of amenities is detailed and accurate, and she provided clear directions and a phone number for any questions or issues. If you go to Phoenixville, don't miss Your Mom's for breakfast, the Fitzwater for canoing or kayaking, the Colonial for movies, The Barrel for live music and The Brown Cow for ice cream.
Susan
May 2016
Tipo di stanza
Intera casa/apt
---
Tipo di alloggio
---
Può ospitare
2
---
Camere da letto
1
Phoenixville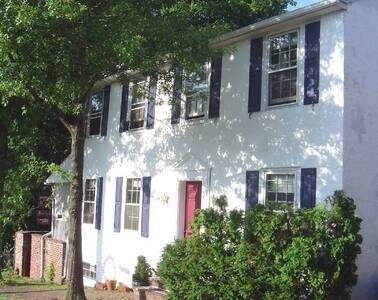 Converted Church steps away from the night life in Philly's Manayunk Section. Open concept with high ceilings and original stained glass windows. The organ stage is a beautiful living room, bedroom on second floor. Beautiful walking/biking trails are nearby! Public transit just steps away, UBER and LYFT always nearby!
Parking included for one vehicle in parking garage. One queen bed in upstairs bedroom with walk in closet. Sofa pulls out to double bed in living room. Full dinning area and updated kitchen. Washer and dryer included! The building is a Church that was converted into condo units. Unit is perfect for hosting dinner parties and small events. Our unit contains the original organ stage and maintains some of the old church architecture and charm! You could put on your own concert on your very own stage! Lock box with key code access. We will provide access instructions 24-48 hours before your arrival. Unit is fully furnished but unoccupied by us on dates of stay, so interaction is minimal and will usually be by phone unless there is an emergency.
Minutes from everything in a cool and upbeat environment! Trains and buses provide easy access and are literally just steps away. Coming from the airport?? Take the SEPTA airport train to 30th street station and switch to the Norristown line, get off at Wissahickon station and the property is 4 blocks away. SEPTA bus stop route 27 is literally one block from the front door and route 65 is 2 blocks. UBER and LYFT frequent the area and usually give under a 10 minute eta! This building was originally a Church that was converted into condo units. We even have some of the original wooden organ pipes along the wall in the living room (which is the original organ stage) and stained glass windows! Also there is free garage parking (for one car) in the building on the lower level! Unit is cleaned before every stay. Note: I own a relatively hypoallergenic Devon Rex cat. The cat will NOT be present during your stay so you have nothing to worry about from my little feline friend.
The space was beautiful and everything ran smoothly. Lorraine was an exceptional host.
Sarah
September 2016
This was one of my favorite Air Bnb stays - a beautiful space in an old church. Loraine was a perfect host - her condo is full of charm and character, and was extremely clean as well. I told her I felt as though I stayed at my best friend's place. It's cozy, comfortable and gorgeous. She provided clear and simple instructions as to how to enter and how to use the coffeemaker. She was immediately responsive to my texts and if I'm ever in Philly again, I can only hope to stay at this wonderful spot.
Kayla
October 2016
great unique place!
brendan
December 2016
Loraine was awesome! A couple days before we arrived, she texted me with video-tutorials for various things about the place, which was super helpful; as well as recommendations for the area, which we definitely took her up on. And, she was communicative and quickly-responsive throughout our stay if we had a question. It goes without saying that her condo is RIDICULOUSLY COOL. What a treat to stay in a place like that.
Alexis
September 2016
Our experience in Philadelphia was quite memorable - a good part because of Lorraine's RAD pad, and her genuine hospitality. The condo is walking distance from a regional rail line, and down the street from the manayunk shopping district - it reminded me of Berkeley. We did a bit of walking, and traveling on the rail line, but staying at Lorraine's place made it worth it. We felt like locals, and Lorraine made staying at her place easy and fun! There were chocolates, and bottles of water upon our arrival, she provided clear ans confortable instructions - Thank you Lorraine!
Adrian
June 2016
She was a fantastic host and this was a great location. Incredibly unique and fun space with so tons of room. Very clean. My favorite air bnb experience yet.
Mike
October 2016
Its a wonderful and unique place. Truly feel like home.
Nanlan
November 2016
We LOVED Loraine's place! Such a beautiful apartment with lots of interesting art and a very warm, comfortable vibe. The architectural details, from the original church, are fantastic. We had plenty of room for the 3 of us (couple plus 20-year-old daughter). Communication was great, access was easy, nice walk to restaurants etc on Main St. This type of place is one of the reasons we use Airbnb - a really unique place to stay. Thanks, Loraine!
Domi
November 2016
Tipo di stanza
Intera casa/apt
---
Tipo di alloggio
---
Può ospitare
4
---
Camere da letto
1
Manayunk, Philadelphia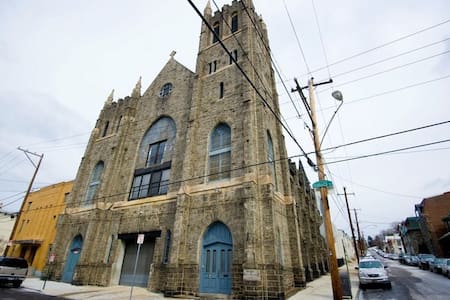 This is a 2 story loft space in a converted dairy barn which is also our home. The loft has a separate entrance into the barn. It's my favorite room in the building with wonderful light and views into the former hay loft and surrounding property. Those who may have allergies - there is a small dogs who lives on property, but is never in the loft space. We are located near Wayne, Villanova, Haverford and of course Bryn Mawr, PA.
Photos of the space were taken to include as much information about the space as possible. Because of the type of lens that was used on the camera, the space may look bigger than it is in person. We cannot accommodate pets. We do have a dog, but he is in our home part of the barn, never in the loft area.
The loft is on the second floor of the barn, easily accessed be a wide set of stairs.
Diana and Tom were quite hospitable, and lovely to meet. They accommodated our very late night arrival, and set us up with a little something for breakfast from a number of choices they had presented to us before our stay. The loft is a very cozy, cleverly designed space within a big barn that also includes the main house and a large work space. It was private, with it's own entrance and security. We had no trouble finding it using (SENSITIVE CONTENTS HIDDEN) maps, even late at night, as all the roads in the area are well marked. We do visit this area occasionally, and we would definitely stay here again.
Michele
May 2016
Tom and Diana are two of the nicest people on the planet and went way above and beyond to ensure I felt welcomed (EMAIL HIDDEN)munication prior to arrival was top-notch, and the room itself was not only unique, but super clean and inviting. I would definitely recommend this spot for anyone looking to travel or vacation in the area
Neil
September 2016
Diana's and Tom's place is great! I arrived early and asked if I could come by to drop off my things and they were very accomodating. The place is a space within a huge Red Barn. It is obvious they put a lot of attention into the design and details of the space, it did not go unnoticed or unappreciated. I enjoyed my stay and I look forward to staying there again the next time I come to the area.
Sheryl
November 2016
Great hosts great place Shower perfect Beds were comfy They even provided breakfast Loft was perfectly decorated
Barbara
June 2016
My daughter and I had an absolutely lovely stay with Diana and Tom. The loft itself is comfortable and cozy and the setting cannot be beat! Location was convenient to colleges, shopping and food, but just far enough from the fray to be peaceful. I'll be back!
Maggie
August 2016
Great experience in this place.
鸿儒
November 2016
Diana and Tom were wonderful. They met us at the door and showed us around. The loft reminded me of a tiny house - perfect condition, clean, and exactly as pictured. Bed was extremely comfortable with nice cotton sheets and there was water and coffee on hand. Location was about 2.5 miles from Villanova where I was visiting my daughters - extremely convenient location. It did not bother me at all but there is some highway noise so if you are a light sleeper it could be bothersome. I loved it there and hope to stay again.
susan
April 2016
Unique spot, great hosts!
Naomi
November 2016
Tipo di stanza
Stanza privata
---
Tipo di alloggio
---
Può ospitare
3
---
Camere da letto
1
Bryn Mawr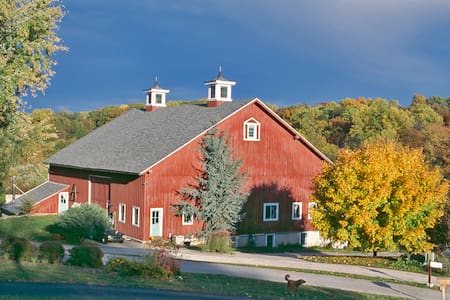 The unique thing about our place is the quiet, peaceful, country setting so close to so much. 3+acres on quiet rural road. Take a morning walk/jog. Sit by our koi pond or under a pine tree. Enjoy grilling in the backyard. Many wholesome activities just 5-30 min. away. Hike, bike, ski, snowboard, zip line, horses, great restaurants. etc,etc.
Very large, 2nd floor, loft with 2 brand new, queen sized, luxury pillow top beds, private entrance and bathroom. Table and chairs. Microwave, coffee maker, mini fridge and toaster. Gas grill on patio. 5 minutes to restaurants and golf, 10 minutes to Kalahari indoor/outdoor waterpark (open year round), 6 minutes to horseback riding, 3 minutes to Mount Airy Casino, 15 minutes to Camelback Ski Area, indoor waterparks, ziplining, state parks [great for hiking and biking]. 4 minutes to gas and convenience store. 10 minutes to Walmart and Shoprite, 10 minutes to The Crossings Premium Outlets. 3+ acres of woods and grass, patio and gas grill, koi pond garden area, nature trail, volleyball net/ badminton court, throw a ball or frisbee area, walk or run our quiet country road. Aimee and I are very good at providing our guests with peace and quiet and privacy. If however, you invite us to sit and talk for a while we would welcome the opportunity to get to know each other, share our knowledge of the Poconos or just swap stories of past travel adventures etc. One of us should be in the main part of the house 95% of the time in case you need anything .
There is pocono cab service but we recommend your own car.
What a beautiful spot to stay. The area is wooded, at least by our standards (Holland), and very peacefull and quiet. We were welcomed by Ed and he led us to the loft above the house. The loft is very spatious, has a double queens and AC. The loft is a bit darkish, there are several windows that are all a bit small. TV with cable/satellite and good wifi. We just spend one night but I'm sure the area is wordt spending more time and this would be a great place to be. The morning of our leave Aimee brought us freshly baked blueberry cupcakes, really nice!! Thanks for those Aimee! The loft has a separate entrance. The loft and the washroom were clean. If I were to spend a holiday in the Poconos I would definitely considering staying here.
Ruud
July 2016
Very cozy, spacious and clean place, ideal for a family of four. The room has it's own fridge and microwave. Aimee was a very welcoming host, making us muffins for breakfast. Special thanks for securing the stairs for our small baby. The place seems ideal for summer with its small pond, backyard with grill and domestic animals that our children adored :-)
David
November 2015
Aimee was a wonderful host! She met us Thanksgiving evening and showed us the place, then brought us freshly baked muffins the next morning! Aimee even called the day before to confirm the reservation and offer recommendations of things to do. We had a wonderful stay!
Nora
November 2016
Perfect skiing conditions and a great stay at 'our' loft with our great hosts. Almost too good to be true. Hard to believe he have spent last six weekends here. This place definitely fells like home and we cannot wait to come back next weekend.
Ivana
January 2016
Nice place! Great location!
erica
October 2015
Hard to believe that the winter is coming to its end. We had yet another great ski weekend at 'our' awesome loft. Everything was perfect (as usual) and Aimee even made us some yummy muffins. Highly recommended year around.
Ivana
March 2016
I was in the area for work and the property was close to work, clean, comfortable and Ed and Aimee made me feel welcome right away. They have a beautiful home with an amazing yard. The room was exactly as described and just what I needed. It is in a quiet neighborhood, but close to lots of restaurants and attractions. I was only sorry I couldn't stay longer and would definitely stay with them again.
Susan
June 2016
We just loved our stay with Ed and Aimee. They made us feel welcome and their home was so lovely. Above the Gardens was the most serene atmosphere and if you love lush green spacious country you will appreciate their home as we did. They are a beautiful family and Aimee had a knack at making her space homey. She left us fresh cut flowers from their garden many little pluses you don't find elsewhere. I will stay there again when I visit the Poconos.
Diana
July 2016
Tipo di stanza
Stanza privata
---
Tipo di alloggio
---
Può ospitare
3
---
Camere da letto
1
Mount Pocono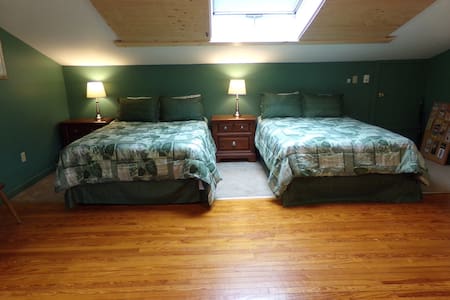 Come stay at the "Foundry" with full stadium seating with a 115' projector television full wifi and kitchen use. Elkins park most interesting place to visit while getting the Philadelphia exp. Interesting trades and stories are highly encouraged.
We recently upgraded our living room to accommodate more travelers, nomads, and epic adventures. Bathroom, Kitchen, Living room There are two full time health professional students who will be in and out during your stay.
The SEPTA and UBER is super helpful and a very short distance.
Tipo di stanza
Stanza condivisa
---
Tipo di alloggio
---
Può ospitare
3
---
Camere da letto
1
Cheltenham Township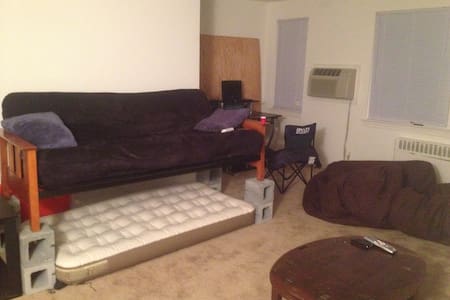 Charming 3-story farmhouse in the City with private patio/garden. Three bedrooms on 3rd floor available to rent for family/friends up to 5. Walking distance to FernRock Public Transit for 15 minute commute into Center City Philadelphia. Breakfast
Tipo di stanza
Stanza privata
---
Tipo di alloggio
---
Può ospitare
5
---
Camere da letto
1
Olney, Philadelphia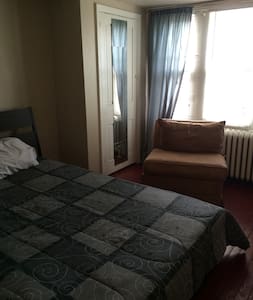 Classic New England syle backyard in-law suite. Blocks from downtown Manayunk and the Wissahickon Septa Station. Two stories with a well equipped kitchen, sleeping loft with double bed, full bath, living area, cable tv and wifi.
This is a private, dedicated in-law suite, not a primary residence. Perfect for longer-term guests, as well as overnight and weekend guests. The space has a full kitchen with a sink, a full-sized refrigerator, dishwasher and a Keurig coffee maker to make your days and evenings relaxing. The kitchen comes equipped with a full set of pots and pans, plates, and necessary eating and cooking utensils. There is a full bathroom with a stall shower. The upstairs loft is relaxing, open with abundant natural light. A double bed, flat screen TV, Comcast cable, and wifi access. There are 2 stories in the loft: - 1st floor: dining area, bathroom, full kitchen - 2nd floor: double bed, TV, desk Guests have full access to the loft with a private entrance. They also have shared access to the garden. If we are home, we enjoy interacting with guests and sharing tips on local restaurants, parks and other hot spots. On nice days, our family, including the dog, is outside a lot and we'd love to socialize with guests, if desired.
• Easy access to I-76 / Schuykill Expressway • 0.4 mile from the Wissahickon SEPTA station [part of SEPTA's Manayunk/Norristown Line] • 8 miles from Center City (downtown) by car / 10-15 minutes by SEPTA train • 0.8 mile from Main Street, Manayunk w/ lots of shopping, dining and entertainment • Easy access to Wissahickon Park and recreation trails • 15 miles from King of Prussia Mall • Target and local grocery store within 1 mile of the property
The space was very clean (a big thing for me), comfortable and well appointed. Heather was readily available for questions and provided a great recommendation for dinner. Union Taco was fab!
Margaret
September 2016
Heather was great, the space is quiet and private, nice comfortable space.
David
March 2016
Heather was a great host! She and her family were friendly but not at all intrusive. The studio was clean and comfortable, and had all of the amenities needed to make the stay comfortable and enjoyable. Would definitely book again!
Kerri
April 2016
Heather was a great host. We really liked the apartment. It was very cute and cozy. Perfect for two people. Heather was easy to get hold of and very prompt in her response. The neighborhood was pretty safe and quiet. It was easy to get to the train station. We definitely enjoyed our visit and would surely recommend renting this unit. Street parking was easier to find if you got in early evening. The spots do get filled up quickly. It was a great experience overall.
Lakshmi
October 2015
This quite, quaint and convenient bnb was a home away from home for one month. My fiancé and I enjoyed our time on this property. The living space was great for the two of us. The place offers the necessary cookware that we were able to utilize daily for cooking and meal preps. Manayunk was probably our most favorite spot in Philadelphia. Lastly, I must say that Heather, her family and Thor (the biggest teddy bear for a dog I've ever seen) were absolutely amazing during our stay. I recommend this bnb 100%!
Chase
November 2016
We came in late summer to attend a meeting. The weather was very warm, but Heather had installed a window air conditioner that made the Carriage House very comfortable. We loved the place; the bed was great, the shower was great, and it was great to have a full kitchen. Did I say GREAT. The only issue was finding parking, but even though we got in at 1-2am each night, I could always drop my wife off and find parking. Of course, during the day, there was always lots of parking.
ROBERT
August 2016
Heather is such a wonderful host. She was very nice and because it was my 1st time booking from Airbnb, she made me very comfortable with the whole ordeal. She even sent additional pictures of parts of the farmhouse i wanted to see. She has quick response time and very polite. On the day of arrival, she and her beautiful family came out to welcome us. The farmhouse is so perfect and looks just like the pictures posted!!!! It was my 1st time in Philadelphia as well so I asked about places to eat and she gave her suggestions. Overall we enjoyed our stay and I highly recommend her location if you are looking in the Philadelphia area.
Jessica
September 2015
Heather was great. Lovely quiet stay close to public transport. All descriptions accurate and excellent communication. Completely copacetic. Would stay again if in area.
Jonathan
September 2015
Tipo di stanza
Intera casa/apt
---
Tipo di alloggio
---
Può ospitare
2
---
Camere da letto
1
Manayunk, Philadelphia
This light filled suite is located in the Heart of Princeton. 3 minute walk to Princeton University, Palmer Square shops and restaurants and 15 minute walk to Princeton NJ transit station. The ground floor has a small living dining area and a full bath. The second floor sleeping loft is accessed via a spiral stair. Parking for one car is also available.
Marina and her husband were very friendly and helpful. The place was spacious and clean. It had everything we needed. The kids had swimming sessions everyday so it was very nice to have a washer and dryer in the basement. Location was superb. Walking distance to Palmer Square and Princeton University. Would definitely want to stay here again. Thank you, Marina!
Huiwen
September 2016
We couldn't have found a more perfect place in Princeton--in a light-drenched, spacious apartment (with black-out shades), wifi, air conditioning, a small kitchen and laundry. The location one block from Witherspoon and two more blocks to Nassau St. and the Princeton campus was ideal. We could walk to the bakery, coffee shops and restaurants-- everything in close proximity--and yet Quarry St is very quiet. Marina couldn't be a more gracious host. We hope to return!
Karen
August 2014
This apartment was perfect for our week in Princeton, and would be our first choice in the future. It was BETTER than the description. Private, quiet, clean, roomy, modern; easy walk to Princeton campus and many restaurants. Pleasant surprise was having our own laundry room. Can't imagine a better place for a student to live. This is not a hotel, so bring bath soap, all toiletries, wash cloths if needed. Marina was perfect - available if we had questions, left us to do our own thing otherwise. This was our first airbnb type of experience and could hardly have been a better start!
Travis
June 2014
We rented Marina's apartment for over five weeks this summer. Marina is a great host--she was available when needed and answered any questions that we had promptly. As mentioned by other guests, the apartment is BETTER than the description. It is CLEAN, QUIET, PRIVATE, and in a safe neighborhood. We had the entire three-story loft apartment to ourselves-- full kitchen and bathroom on the main floor, a spacious bedroom with a study desk and a large closet upstairs, and a laundry room in the basement. The apartment is filled with light during the day, and the blackout shades are brilliant for a good night's sleep. We also had our own private backyard with a bbq grill, which we didn't take advantage of as we were only a short stroll to many restaurants and bakeries. Thank you for a great stay, Marina! We hope to stay with you again in the future!
Yen
August 2015
This is the second time I've stayed at Marina's loft apartment. It would be difficult to find a better location that is close to the university. The apartment is clean, private, quiet, and in a safe neighborhood. Marina is a wonderful hostess and is available to answer questions and help if needed. We had a parking spot at her house which is a huge benefit. Thank you for another wonderful stay, Marina!
Yen
August 2016
Marina is amazing! I stayed there for a week and Marina made me feel very welcome and was always there if I needed anything. The apartment certainly had enough space for one person and was clean with all the amenities described in the listing. It is a short walk from there to the shops and to the university. I will definitely consider coming back if I am in Princeton!
Alison
August 2015
Tipo di stanza
Intera casa/apt
---
Tipo di alloggio
---
Può ospitare
2
---
Camere da letto
1
Princeton