Designer Loft near Schloss Schönbrunn
Tipo di stanza
Intera casa/apt
---
Tipo di sistemazione
Loft
---
Può ospitare
4
---
Camere da letto
Vienna, Wien, Austria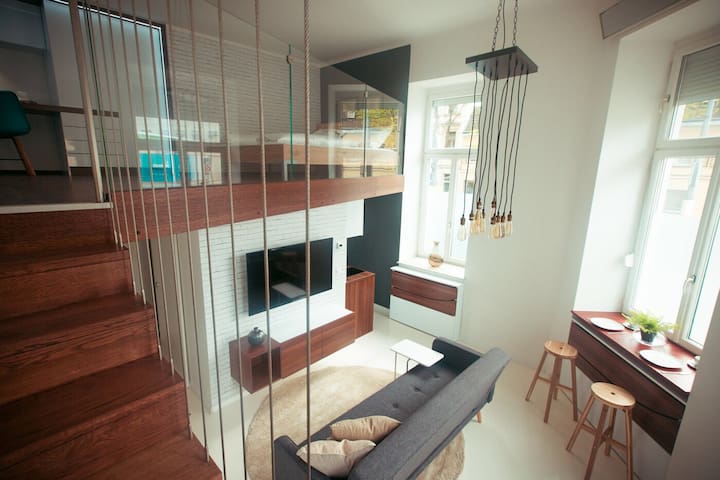 A renovated air conditioned stylish loft apartment made in industrial style located in the old town of Bratislava. Overlooking the courtyard with a lovely roof view on the town and Bratislava Castle in background. Just 10 minutes walking distance from Central Bus station. A few minutes walking distance from the most important sightseeing in the heart of the old town. Shopping mall EUROVEA and a Danube river promenade. Paid parking place available in front of the House; comfortable for 4 persons.
This place is amazing, full renovated 120 y. old house, in middle of the town with very silent location, restaurants, shops, bars, monuments, just minutes of walk. Bus station is just behind the corner. Apartment is brand new, finished in august 2016. We have bought it from old painter who use it as atelier because of good light conditions and the location overlooking the courtyard, and renovated it carrefully as we would live here... :O) ...Great position, full eqiuped, with lift, big enough for 4 people, very stylish, very good sleep :O), washing machine with iron, aircondition, great roof view, 25 mbit internet and tv with 80 channels and Btth audio included, full equipped kitchen with Krups coffe maker - capsules included...
Great position, full eqiupped, big enough for 4 people, very stylish, very good sleep :O), washing machine with an iron, air-conditioned, great roof view, 25 mbit internet and cable tv with 100 channels and Btth audio included, full equipped kitchen with Krups coffe maker - free coffe and capuchino capsules included...
Boris was very pleasant upon our arrival and was there to meet us to make the handover smooth.
allan
2016-10-11T00:00:00Z
thank you!)) and Boris Michaela is very beautiful, well thought-out to the smallest detail Apartment with good location .we were the first guests and everything was totally new, the owners are very friendly and willing to help at any time and for any questions!)) great style and modern subdued trend is highly recommended, we received the pleasure of a stay in this apartment !! very convenient location from the bus station, allows you to travel freely in different directions:! in Prague and Vienna are very convenient and comfortable Bratislava city is not too big and interesting!
Толян
2016-08-22T00:00:00Z
Schönes Zimmer, für alt und jung. Liegt ziemlich super zentral! Netter Gastgeber!
Philipp
2017-04-02T00:00:00Z
I feel like home. The apartment is like in the photos, there is everything you need, from the window you see the castle of bratislava. The neighborhood is quiet, there are good restaurants and supermarkets close to the house. You can reach city center in ten minutes. Boris and Michaela are very kind. They gave me all the information to visit the city and for the apartment, they were always available. I definitely recommend it!
FRANCESCA
2016-09-27T00:00:00Z
Excellent host, very flexible with check in and tips on where to go. Good central location and a lovely cosy home.
Aseel
2017-03-05T00:00:00Z
Boris' apartment is so much nicer than the photos let on - it's is well located and is a cosy, comfortable and well-designed space that makes for a great place to spend time when not exploring the city. Boris is a wonderful host whose attention to detail, knowledge of the city, and customer service is second to none. I would fully recommend this to anyone looking to visit Bratislava.
Peter
2016-12-03T00:00:00Z
Boris es el anfitrión perfecto. Es puntual, muy amable y dedicado. Su casa es un exacto reflejo suyo. Los elementos de su casa son de muchisima calidad, algo inusual, desde los colchones a los cubos de basura electicos, pasndo por la critaleria, las satenes, el menaje en general. El orden perfecto que hace que todo este en el sitio logico te hace muy facel vivir en su apartamento. El cafe, los tés y el vino con el que te obsequia son exquisitos. La cama comodisima y la ubicacion en su preciosa ciudad , perfecta. Me gustaria que Boris tuviera casa en todos los sitios a los que viajp
Inma
2017-03-10T00:00:00Z
Boris & Michaela greeted us at the entrance, made us feel welcome & showed us where everything was. The property itself was as advertised, very clean & tidy, & well decorated as well. Would definitely recommend.
Robert
2016-09-07T00:00:00Z
Tipo di stanza
Intera casa/apt
---
Tipo di sistemazione
Loft
---
Può ospitare
4
---
Camere da letto
Bratislava, Slovacchia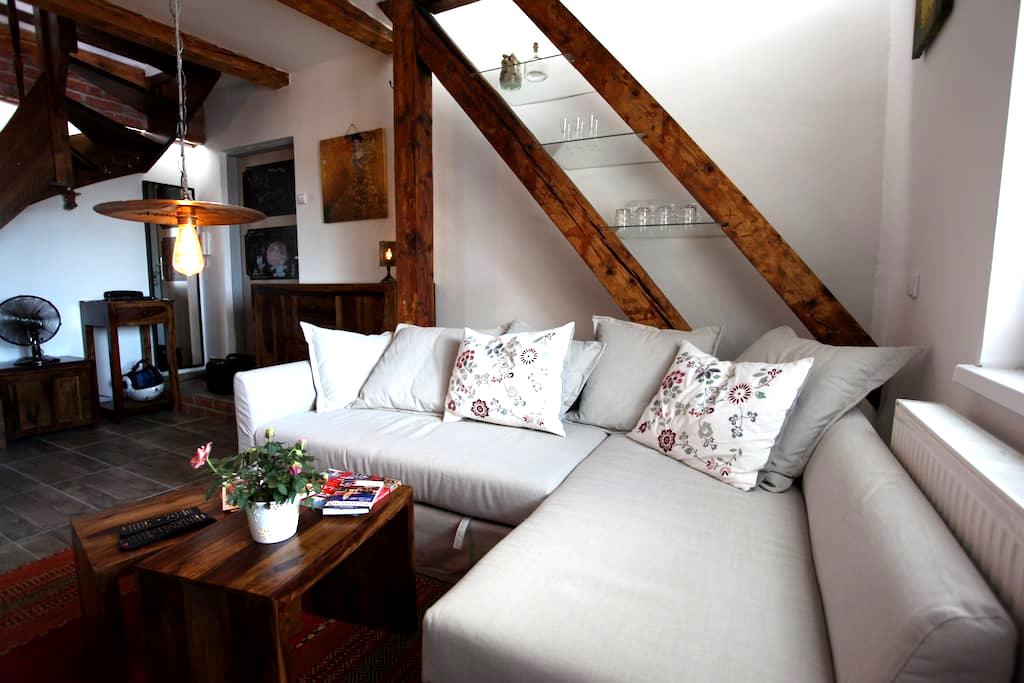 Welcome to our apartment located in hearth of Bratislava, walking distance to the historical city center and all interesting happening in town. Apartment / mezonet ideal for 2 people or couple, whith possibility for 1 more person sleepower on sofa. There is a king size bed in the upstairs badroom. Downstairs: bathroom whith bath / shower, separat toailet, walking robe, dinnig table. Open kitchen and living room where is fold-out sofa. Extra: digital airkondition, free wifi, washmashine, Cable TV
We had a great weekend at Lucias place. Everything was like described in the advertisement. The appartment is very comfortable, you got everything you need and the position is very good to explore Bratislava. Lucia is friendly, in time, uncomplicated, helpfull and also speaks german very well. So it's a clear advice for a nice trip.
Jannik
2017-03-26T00:00:00Z
Апартаменты находятся в центре города, напротив торгового центра Eurovea. Место - лучше не придумаешь, все в пешей доступности, и старый город в том числе, такси не пользовался. Хозяйка очень приветливая и добродушная. В апартаменте все было чисто, уютно, спокойно. Хозяйка очень приветливая и заботливая, все предварительные договоренности были выполнены с ее стороны. Очень рекомендую для проживания данные апартаменты и в следующий приезд обязательно там остановлюсь!!!
Ievgenii
2017-03-21T00:00:00Z
Our stay at Lucia's place has been awesome. We received a booklet with the most useful info, and everything was ready and clean for our arrival. The city centre is close by, and there's a shopping mall right across the street. If I ever visit Bratislava again, I'll definitely stay here again.
Alexandra
2017-04-03T00:00:00Z
Tipo di stanza
Intera casa/apt
---
Tipo di sistemazione
Loft
---
Può ospitare
3
---
Camere da letto
Bratislava, Slovacchia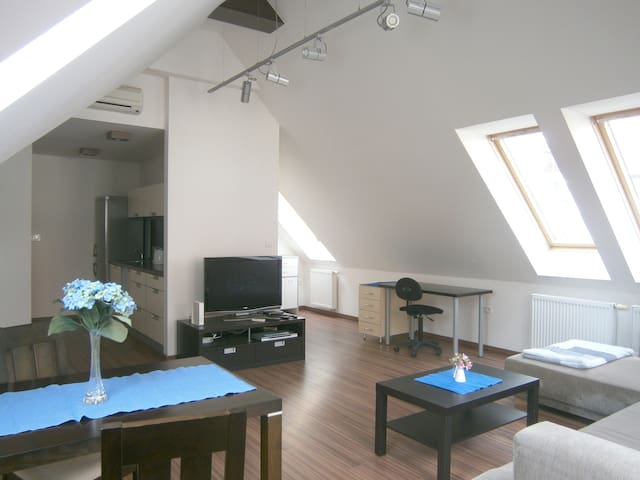 If you want to have the most of your stay in Bratislava u are at the right place :) I want to make sure you will enjoy your stay and your arrival to my place will be easy for you. You will love this Studio; the bed upstairs and the cozy atmosphere. Renovated; Entrance from the garden; Very good accessibility to the city center. Free parking in the garage. Take the chance to spend the best moments in Bratislava and book my place now! Looking forward to your visit :)
Your new place will be a Studio on the ground floor (what i love about it- basically no neighbors). You will enter your new home through the little garden :) Now I will take you inside of this cozy Studio to give you the idea of its unique style- There are stairs just near the entrance door which will lead you upstairs to the open space "balcony" where your bed is located. (double bed -for two:) There is also little night table and JBL speakers for you to use if you like to listen to the music or connect your computer to watch a movie with the best sound:)... I love Asian decoration, so I collected some statues and covers on my trip around Asia and placed it in this Studio. You can feel relaxed and peaceful. Lets come downstairs- There is bathroom with the toilet, shower, sink and washing machine. Fully equipped kitchen, table and Wardrobe. Help yourself and use the tea and coffee you find in the kitchen cabinet.
There are many shopping opportunities around your new home. Grocery stores- 5 min walking and shopping mall- 10 min (with the swimming pool, fitness center and everything what you can find in a big shopping mall) There are different coffee houses, bars and restaurants in this neighborhood. There is a Slovak ice-hockey stadium, National tennis center, nice lake with a running track if you enjoy running or bird watching, and typical marketplace ( I use to buy there fresh vegetables and fruits from the farmers). This is very popular area for living in the city of Bratislava.
Хорошее недорогое жилье недалеко от центра Братиславы. Удобная парковка, тихое место, отдельный вход с небольшим садом.
Андрей
2016-11-27T00:00:00Z
We loved this little cute place...very conveniently located, we found it very comfortable to walk to the city centre. There is everything in the flat what you need, the interier is very nice and cozy. It was very helpful that we could park our car close to the apartment. Lucia was very hepful and responded to our queires prior the arrival promptly...
Michaela/Marco
2016-09-07T00:00:00Z
Had a great time staying here. We didn't meet Lucia, but she gave us really detailed information on getting to the studio. Very easy to get public transport to the centre from right outside the studio. Would definitely recommend.
Helen
2016-10-28T00:00:00Z
The apartment was really clean and comfortable. Lucia meet us at the airport and drive directly to the apartment. She was really friendly and we can recommend her and her apartment.
Richard
2016-10-06T00:00:00Z
We had a great stay at Lucias studio. It was very cosy and she prepared very much information for us.
Bengt
2016-08-05T00:00:00Z
Es war sehr schön bei Lucia das Studio war super gepflegt und hübsch. Lucia war eine super Gastgeberin, sie hat uns vom Flughafen abgeholt. Dazu hatte sie Zettel geschrieben auf denen stand wo man was findet und wie man wo hinkommt und was man gesehen haben sollte. Außerdem hatte sie einen Stadtplan vorbereitet auf dem Wege und Stationen der Busse standen so das man sich immer zu recht gefunden hat. Alles im allem was es ein schöner Aufenthalt.
Benito
2016-07-30T00:00:00Z
Lucia's studio is great, big and cozy. Although it is not in the city center, you have literally in the door buses to city center, train station or airport (less than 15 min) The best of all is Lucia, a super nice host that provided you with lots of information about her studio, city and trasport. She has helped us in what we have needed. Thanks for host us :)
Natalia
2016-09-25T00:00:00Z
Všetko sľúbené bolo dodržané, komunikácia milá, ústretová, všetky požiadavky okamžite vyriešené, milý osobný prístup. V prípade potreby by som pobyt určite zopakoval
Daniel
2017-02-05T00:00:00Z
Tipo di stanza
Intera casa/apt
---
Tipo di sistemazione
Loft
---
Può ospitare
2
---
Camere da letto
Bratislava, Slovacchia
A nice cosy safe apartment in the center of the capital of the Slovak Republic - Bratislava. Situated in a diplomatic area, 10 minutes walk to the city centre, or to the Bratislava castle, or to the Presidential palace. A bus / trolleybus stop just next to the building. Tesco supermarket just 5 minutes walk, a few pubs around. Even it is situated in the center of the city, it is very quiet. Very well equipped - optical internet connection and even whirlpool :-) Car parking possibilities around!
Alloggio eccellente. Martin e´ stata una persona professionale e tempestiva nella comunicazione, e flessibile nel venire incontro alle nostre esigenze, in aggiunta al suo staff sempre presente e disponibile. L´appartamento e´ al centro di Bratislava e permette tutti i comfort per essere indipendenti, oltre ad acqua, caffe´ ed altri piccoli aiuti offerti a titolo gratuito. Altamente raccomandato. Excellent solution. Martin has demonstrated to be a very professional person, reliable on communication and flexible in meeting halfway to our needs, as well as his staff always available. The apartment is in the downtown of Bratislava and includes all comforts to be independent, plus water, coffe and other little stuff given for free. Totally recommended.
Rocco
2016-11-02T00:00:00Z
Grazioso appartamento, spazioso e confortevole. Buona posizione, a pochi minuti dal centro storico. Accoglienza perfetta da parte dell'Host. Assolutamente consigliato.
Giorgia
2016-09-15T00:00:00Z
The apartment was fantastic. Very clean, cozy and modern. We were received by a very friendly hostess who showed us around and got us orientated with the city. We definitely recommend this place to anyone else planning to stay in Bratislava. Thank you for a wonderful stay.
James
2016-12-02T00:00:00Z
Martin hat uns sofort nach der Buchung eine perfekte Begrüßungsmail geschickt, in der alle Infomationen enthalten waren. Er war auch zum vereinbarten Zeitpinkt vor Ort und hat uns sehr freundlich begrüßt. Das Appartment und die gesamte Wohnsituation sind sehr schön, modern und sauber. Man ist in der Nähe der Altstadt und doch ruhig. Dank an Martin für diesen schönen Aufenthalt.
Christoph
2016-10-10T00:00:00Z
Martin is very courteous and helpful person, the apartment is located in an elegant building close to the center with 24 hour doorman. The apartment is really nice, really nice and comfortable place for, stay reccomending i
Lombardi
2016-08-23T00:00:00Z
I didn't meet Martin personally but his assistant Bibiana. She was very nice and helpful and I had a very good arrival. The apartment was exactly how described, very clean and with very good comfort. I had a very good time there and in Bratislava too. Thank you so much for everything. Next time I will book this apartment again.
Heiko
2016-10-02T00:00:00Z
Martin and his assistant Bibiana were incredibly helpful, meeting me when I arrived and keeping in contact to ensure all was well. The apartment is very quiet but only 10 minutes from the castle and old town. It is modern and comfortable, and has the best whirlpool bath!
Kimberley
2016-10-16T00:00:00Z
Martin was a great host. He did everything to allow us enjoy the city during our trip. His appartment is very well located, calm and lovely. I recommand anyone to choose this one :)
harold
2016-08-29T00:00:00Z
Tipo di stanza
Intera casa/apt
---
Tipo di sistemazione
Loft
---
Può ospitare
2
---
Camere da letto
Bratislava, Slovakia, Slovacchia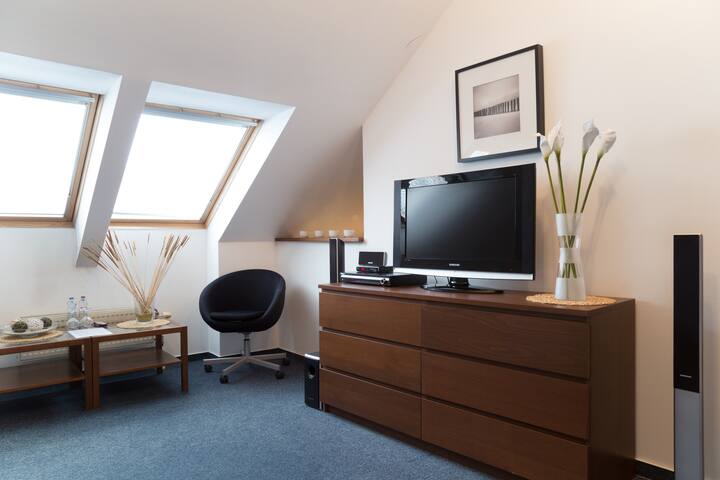 This newly furnished apartment is located directly at the pedestrian zone of the Historical Old Town, which is full of restaurants&bars and within walking distance to all main sightseeings in Bratislava. The building itself is known as Keglevich palace and it was built in 17th century. Even Ludwig Van Beethoven had concerts here and fell in love with Barbara Keglevich, who he composed several sonatas for! What would you say to being a part of such history during your stay in Bratislava?:)
Tipo di stanza
Intera casa/apt
---
Tipo di sistemazione
Loft
---
Può ospitare
4
---
Camere da letto
Bratislava, Slovacchia
Loft con 115m² und 30m² Terrasse vicino a dei più grandi centri-aree di Vienna, il Mariahhilfer Strasse, 2 min. dalla stazione della metropolitana di U3 e vicino alla stazione ferroviaria Westbahnhof. Amerai il Penthouse a causa della bella vista sui tetti di Vienna e la spaziosa furnituire piatta e lusso. Questo loft è buono per gruppi e famiglie (con bambini), ma anche le coppie. Diamo il benvenuto a tutti, dai ervery, essere solo bello e non troppo rumoroso.
Ascensore, terrazza, attico: soleggiato e con una bella vista. Posizione centrale, ma in una tranquilla strada laterale. Supermercato e un parcheggio pubblico in casa.
In una strada laterale, molto vicino a una strada ricca di negozi, eppure è l'appartamento molto silenzioso. Un supermercato si trova al piano terra della nostra casa. Parcheggio pubblico nel Palazzo, troppo. Con la metropolitana vicina si può raggiungere molto rapidamente sia ai musei e punti turistici, ottimi ristoranti e ai centri commerciali.
Absolutely perfect! Highly recommend! If you are visiting Vienna, this is the place!
Willy
2017-04-02T00:00:00Z
The host canceled this reservation 30 days before arrival. This is an automated posting.
Yunxuan
2017-03-09T00:00:00Z
Tipo di stanza
Intera casa/apt
---
Tipo di sistemazione
Loft
---
Può ospitare
6
---
Camere da letto
Vienna, Vienna, Austria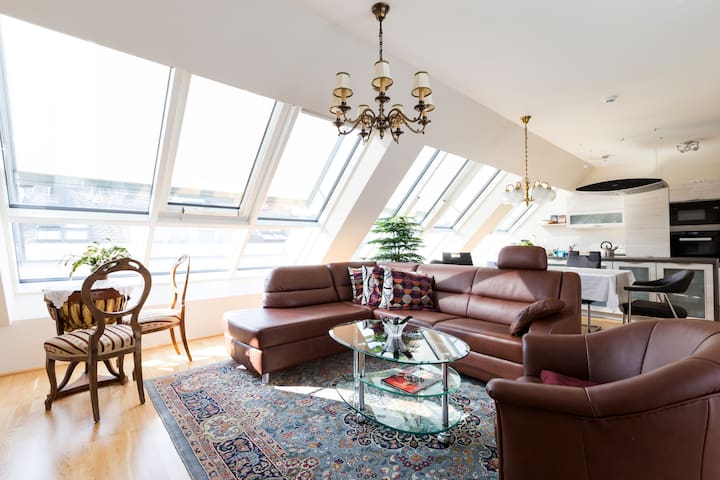 very quiet (no car noise), cosy & spacious 70sqm loft in 19th century apartment house on 3rd floor. 6 big windows -one a french balcony- illuminate the loft. high ceilings, antique parquet, shower & toilet. central heating & a fully equipped kitchen.
if you like "off the beaten path-" experiences, you surely find all of those, while staying here: the loft is located in vienna´s most vibrant and trendy neighbourhood called the "brunnen-viertel" ("well-quarter") in the 16th district. there is a daily "organic" farmers-street-market, several supermarkets, pharmacies, drugstores and plenty of art-shops "just outside the door" waiting for you to discover. you can enjoy small music-, theatre- and art-exhibitions or the multicultural flair of the streets nearby all year round. and the loft is equipped with the most important implicitness you need to just stay "at home" and relax. so, every comfort you can think of, is near at hand, as well as public transport connecting you to all other major and minor attractions of vienna.
just around the corner of the famous daily-street market called "brunnenmarkt", where fresh and colorful delights for breakfast, dinner or for a gift are plentiful and at viennas best prices. don't worry if your on a tight budget! there are dozens of supermarkets around - even exotic ones (turkish, thai & african). walking distance to the famous 7th district (hipster art, fashion and nightlife center). and last but not least - you are in the stunning "grundsteingasse" - THE trendy street with a vibrant craftsmanship, arts galleries and club life, just outside your door! but as the apartment is "hidden" in an inner courtyard there is absolutely NO noise what so ever!
nice welcome. fast communication. really nice guy. The place is great. Location with the market nearby is nice as well. We had a great stay. nice couch.
Wietze
2015-08-27T00:00:00Z
I stayed here for 8 nights with my partner and overall we had a good experience staying at the apartment. Sergius was a helpful host and the apartment was light and spacious as described and in a convenient location at a nearby tram stop. However, the apartment is clearly a smoking apartment and the strong smell of tobacco as non-smokers was quite overwhelming and impossible to get rid of. Also the bed was not very comfortable and the bedding was rather shabby. There were also some noisy neighbours who on one night played loud music to past midnight (on a weeknight). Something to be aware of especially if staying in warmer months and keeping windows open. I think we could have overlooked these smaller issues considering the reasonable price of the apartment if it weren't for the tobacco smell which for us meant that we would not choose to stay here again.
Caroline
2016-07-20T00:00:00Z
Hôte parfait, aux petits soins. S'est montré très disponible et efficace pour régler de petits désagrément de voisinage. Recommande pour un séjour à Vienne.
Philippe
2015-08-10T00:00:00Z
Large cozy place to live in and the place is close to metro station Sergius is very nice to bring us from the station, he is very helpful that provide the printing service for us
Chit Ching
2015-08-22T00:00:00Z
Sergius apartment is spacious and with great light. He was very easy to connect with and reachable all the time. In the other hand it's a pity that you can smell this is a smoking apartment, and also the pillows of the bed are not the best for our taste.
Javier
2015-10-13T00:00:00Z
War alles klasse.
knete
2016-08-19T00:00:00Z
Sergius is like the perfect host that you can imagine. He welcomed us very friendly and told us insider tips for vienna and had always a answers to our questions and was very courteous. So far one of the best hosts we had in our airbnb history. The flat was very clean, stylish and quiet, but still central and near to the train-station. Thank you for the great time :D
esra
2015-11-23T00:00:00Z
Sergius was very welcoming and responsive to our questions/request for help. He provided us with very accurate routes to the underground which was only a 10 minute walk from the flat.. very convenient! The neighbourhood was convenient (only 20 minute subway ride to the city centre).
Michelle
2016-09-29T00:00:00Z
Tipo di stanza
Intera casa/apt
---
Tipo di sistemazione
Loft
---
Può ospitare
3
---
Camere da letto
Vienna, Wien, Austria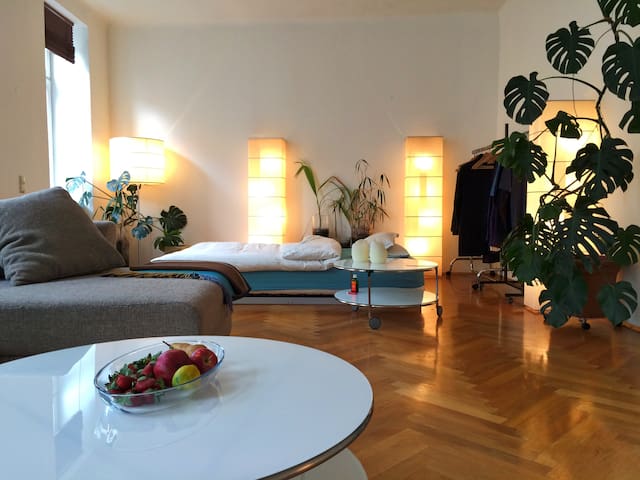 daylightstudio luminoso, 80m2. Posizione tranquilla al piano terra con uno sguardo sulla strada, la privacy assicurata. Il barocco parco 'Augarten' e il 'Donaukanal' sono di classe per fascino viennese, situato a poca distanza a piedi. Sei nel centro città in 10 min.
La caratteristica unica di questa proprietà è l'atmosfera loft dello studio. A causa del grande spazio aperto un alloggio fino a dieci persone è possibile, se portano i loro sacchi a pelo e materassini campeggio proprio.
Uno speciale, parte cosmopolita di Vienna offre sia attività ricreative, programma culturale, così come lo spazio per rilassarsi.
Questa è stata la mia prima esperienza con Airbnb e purtroppo è stata molto negativa. Ho prenotato questo appartamento per 3 notti per Capodanno insieme a mia madre. Dalle foto e dalla descrizione sembrava molto carino ed in una buona posizione. Purtroppo però le foto ingannano. Appena arrivati ci siamo resi conto che non era un "appartamento" ma più un vecchio magazzino con pavimenti macchiati, un bagno minuscolo, nessun armadio ma solo 3 stampelle dove poter mettere le nostre cose ed una connessione wi-fi praticamente inesistente. La parte peggiore però era il fatto che l'appartamento dava direttamente sulla strada e per poter avere un po di privacy bisogna tirare giù delle vere e proprie serrande così da rimanere "murati vivi" senza luce naturale o un pò d'aria fresca. E attenzione, se andate a vedere ora la descrizione è stata cambiata perchè quest'ultima parte (ovvero del fatto che affaccia sulla strada senza avere privacy) prima non c'era ma è stata aggiunta solo pochi giorni fa dopo la mia segnalazione. Comunque, dopo aver trascorso neanche un'ora là dentro abbiamo deciso di andare in un altro hotel visto la situazione. L'unica nota positiva è stata l'amica di Aslan che ci ha accompagnato all'appartamento ed è stata veramente molto carina e disponibile. Ho anche chiesto se era possibile avere un piccolo rimborso visto che non abbiamo soggiornato, ma anche se Aslan è stata anche lei gentile e disponibile, a questa domanda non mi ha mai risposto ed ha sempre evitato il discorso. In definitiva il "nostro soggiorno" se così possiamo chiamarlo è stato nettamente negativo!
Flavia
2016-01-03T00:00:00Z
Lovely host, great apartment and location
Vanessa
2016-11-25T00:00:00Z
Nice location in the city centre. Aslan is very friendly and helpful host who went out of her way to make our stay as comfortable as possible. STUDIO is a lovely place with great atmosphere and we had a wonderful time in there. Thank you Aslan!
Jan
2014-07-12T00:00:00Z
Aslan's mom Andrea met us right on time. She was very hospitable and showed everything around. The studio is lovely. We definitely enjoyed our stay.
Alyona
2016-10-09T00:00:00Z
Aslan was welcoming and lovely, she was kind enough to let us check out late. Great location, close to subway, tram and train station! Also there is supermarket and bakery near by. Quiet neighbourhood and being close to river was lovely, easy to go for a nice stroll. While we were in Vienna it was about 30 degree for about 3days and inside Aslan's studio was always cool and pleasant. Oh and the sound system is pretty amazing ;) Only downfall was lack of interent, we didn't have internet during our 4days of stay.
Amber
2016-05-31T00:00:00Z
One of the coolest and most individual settings I've ever seen. Incredible for photos! The only thing missing is a microwave but the oven and hob are great! The only problems are the shower door doesn't close fully and its strange not having a sink in the bathroom.
Cian
2016-10-31T00:00:00Z
Very interesting place to stay, spacious, good sound system and a cracking coffee machine. Close to the U-bahn stop too so you can be in the old town in 20 minutes.
Stewart
2016-08-09T00:00:00Z
We adored the loft of aslan, it is very big and very bright, the quiet district and near the center. We were very well welcomed by Aslan who waited us late first evening. In brief, an accommodation(housing) to be recommended!
Florence
2016-04-22T00:00:00Z
Tipo di stanza
Intera casa/apt
---
Tipo di sistemazione
Loft
---
Può ospitare
2
---
Camere da letto
Vienna, Vienna, Austria
Dieses stilvoll und luxuriös eingerichtete Loft-Apartment liegt nur 100m entfernt vom Westbahnhof und von der Mariahilfer Straße. Bis zu 6 Personen können beherbergt werden. 4m Raumhöhe und exklusive Ausstattung machen das Loft zu einem Erlebnis.
Dieses neu renovierte 65qm Luxus-Loft (über 4m Raumhöhe) lässt keine Wünsche offen für einen gelungenen Aufenthalt in Wien. Stilvoll und modern eingerichtet bietet es Platz für bis zu 6 Personen: Es gibt zwei große Doppelbetten (1,80m x 2m), davon eins auf einer Galerie, außerdem eine gemütliche Schlafcouch (1,60m x 2m). Das Daunen-Bettzeug ist Allergiker-freundlich. Die gehobene Ausstattung umfasst eine voll ausgestattete Küche mit Nespresso-Maschine (Kapseln vorhanden), Toaster und Spülmaschine. Es gibt außerdem eine Waschmaschine, ein Bügeleisen und -brett. Im Badezimmer befinden sich eine Wanne und eine Walk-In Rainshower Dusche. Handtücher und ein Föhn sind ebenfalls vorhanden. Die Toilette ist separat. An dem großen Esstisch können bis zu 8 Personen Platz nehmen. Der Essbereich wird ergänzt durch eine gemütliche Couch-Ecke mit einem 48'' Philips Smart-TV. Das intelligente Lichtkonzept in der Wohnung sorgt für entspannte Stunden nach einem anstrengenden Sightseeing-Tag. WLAN ist im Preis inkludiert. In der ganzen Wohnung gibt es Fußbodenheizung. Es gibt viele Stauflächen, in denen Koffer, Kleidung etc. untergebracht werden können.
Die Wohnung ist nur 100m vom Westbahnhof mit zahlreichen Einkaufsmöglichkeiten (Supermarkt, Bäckereien, Trafik, Drogeriemärkte, Modegeschäfte, Restaurants) entfernt. Ebenso befindet sich die Mariahilfer Straße, die umsatzstärkste Einkaufsstraße Österreichs, nur einen Steinwurf entfernt.
Ana-Maria was a superb host! Meeting us right in front the building(we got a little lost). I was very amazed at the apartment, it truly is what you see on the images. It was very impressive and I wish I could have stayed longer. Ana-Maria also gave us maps, and information about Vienna to make our stay as smooth as possible.
Pierre
2015-11-15T00:00:00Z
不错的房子,与想象中很像。房东也很好,很负责任。维也纳很愉快的一夜
Zijie
2016-05-11T00:00:00Z
The modern apartment is perfectly located just around the corner from Westbahnhof and within walking distance of numerous shops and restaurants. The flat itself offers everything needed for a stay in Vienna, no matter if you're travelling on your own or as a group of 6. After staying there for two days over the weekend I absolutely recommend renting this apartment for your stay in Austria's capital. The check-in went smoothly as well.
Stefan
2015-11-22T00:00:00Z
Very clean and new apartment. The interior decoration was very pretty and modern. It was 3mins walk to the subway station and 15mins subway to city centre. The landlord was friendly and helpful. The outer of the building and corridor were old but interior of the apartment was really unexpected great!
Loktai
2015-12-24T00:00:00Z
Accueil chaleureux à notre arrivée.
Valentine
2016-02-07T00:00:00Z
Ana-Maria was a great host, and we loved our time at her place. The outside of the building may scare off some, but once you step inside the apartment, its wonderful! A few blocks away are some good restaurants and bars (and even a couple of sketchy bars next door), and the trains station is a 3 minute walk. Apartment slept 5 comfortably, and had all the refinements you could want (even some bandaids!)
mike
2015-09-26T00:00:00Z
Sehr liebevoll eingerichtete neue Wohnung in Top Lage, direkt neben dem Westbahnhof und der Mariahilfer Straße. Der Ablauf mit der sehr netten Gastgeberin verlief perfekt und reibungslos. Ich kann die Wohnung nur weiterempfehlen.
Vanessa
2015-10-31T00:00:00Z
We are extremely lucky to have stay in Ana- Maria and her boyfriend's apartment. The place is soo nice and everything is perfect. They also provide us all the information that we need and also took us on a tour around city for us to look at some apartment that we request! We are truly happy and enjoy our stay in Vienna and will definitely come again. Thank you again for everything!
Beny
2015-10-08T00:00:00Z
Tipo di stanza
Intera casa/apt
---
Tipo di sistemazione
Loft
---
Può ospitare
6
---
Camere da letto
Vienna, Wien, Austria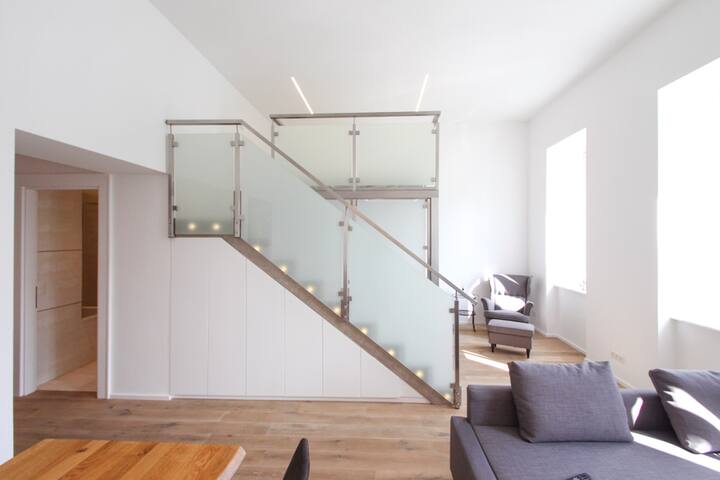 This appartment is perfect for creative travellers. We are in the hipster district and have a lot of artsy stuff at home. If you don't care ultra much about luxury and more about authentic, traditional viennese flair + 7 min city access by bus(17min by foot), then this is perfect fit for you. 내 방 친구와 나는 한국인을 사랑한다. 너 너무 대단해!
La casa è comoda per chi vuole esplorare la città, ha uno stile molto particolare! Pirmin è stato molto preciso con le indicazioni e ci ha dato buoni consigli per alcuni posti da visitare!
Giulia
2016-11-18T00:00:00Z
He is so cool! :)
Thiago
2016-07-31T00:00:00Z
Wir hatten einen wunderbaren Aufenthalt in Wien, vielen Dank! Pirmin hat uns nett empfangen und dass obwohl wir leider später kamen als zuerst angesagt. Er gab uns gute Insider Tipps mit denen sich zwei Tage zur Genüge füllen ließen. Die Zimmer sind sauber und ordentlich Und abends finden sich immer ein paar Mitbewohner zum Reden oder Musik hören :) Sehr weiter zu empfehlen!
Helena
2016-09-28T00:00:00Z
We have spent 2 nice nights at Pirmin's. The loft is as described in the presentation.
Claire
2016-09-15T00:00:00Z
Pirmin was a very kind and nice host. The listing was in a good location with access to public transportation. I would say the price-quality is very good, I would recommend this listing!
Javier
2016-06-19T00:00:00Z
Me and my boyfriend had a very nice stay and we got to meet some other travellers in this cool apartment. Thank you for everything Pirmin!
Catherine
2016-10-27T00:00:00Z
Ich bin sehr zufrieden mit meinem Unterkunft. Pirmin ist sehr gastfreundlich und die Wohnung ist ganau so wie in der Beschreibung vorgestellt. Ich werde bestimmt in der Zukunft mal ein Zimmer wieder buchen!
Natalia
2016-10-20T00:00:00Z
This hidden backyard-flat with its many unusual rooms is interesting, cheap and charming and there's always someone around - either the host itself, other airbnb-guests or Gustav the cat. So it's a communicative place with an odd and arty flair - while at the same time it's not really a hotspot for privacy.
Fiene
2016-10-06T00:00:00Z
Tipo di stanza
Stanza privata
---
Tipo di sistemazione
Loft
---
Può ospitare
3
---
Camere da letto
Vienna, Wien, Austria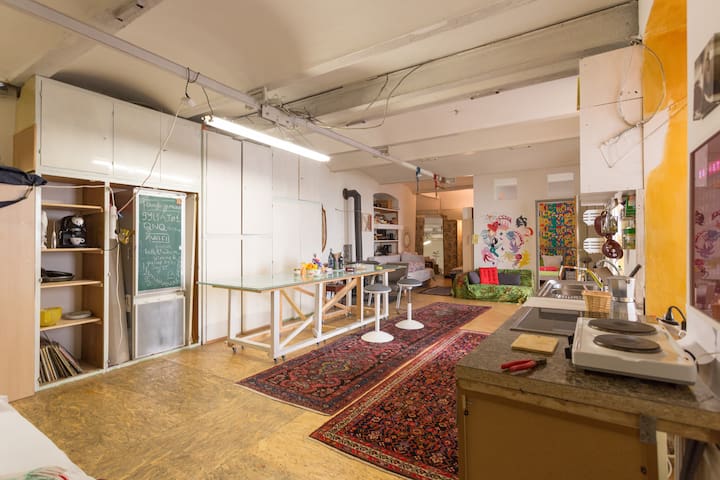 86m² Luxus Loft mit Garten und Pool Benutzung in Podersdorf, fünf Gehminuten vom Neuseidler See entfernt.
Wir hatten ein wunderschönes Wochenende an dem einfach alles gestimmt hat ! Anja ist eine zuvorkommende Gastgeberin die keine Wünsche offen lässt. Das Loft ist großzügig , die Betten bequem und die Küche bestens ausgestattet . Der Garten inkl. Swimmingpool einfach großartig. Wir kommen bestimmt wieder!!!
Veronika
2016-10-16T00:00:00Z
Anna was a truly wonderful host - she prepared everything for me and was ready to help or provide me with anything I need during all my stay. Except of that - the place is really amazing! I couldn't imagine being closer to Neusiedler See and having such a high standard of living! The loft is beautiful and fully equipped, the wi-fi connection is really good. The loft is located in a separate building so you can feel the privacy. I totally recommend it!
Mała
2016-03-31T00:00:00Z
Anna und ihr Mann haben uns sehr herzlich empfangen und die ganze Woche mit Tipps versorgt. Sogar den Kräutergarten und die Feigenbäume durften wir plündern ;-) Das Loft und insgesamt das ganze Grundstück sind toll designed, sehr stylisch und mega-durchdacht. Der Pool ist super. Das Grundstück liegt nur 5 Minuten fußläufig vom See entfernt. Alles tipptopp. Klare Empfehlung.
Verena
2016-09-19T00:00:00Z
Ania und Roman sind die besten Gastgeber die es gibt! Wir hatten ein ganz tolles Wochenende voller Überraschungen :) und auch das Loft, der Pool und der Garten lassen keine Wünsche übrig. Ich freue mich wenn wir euch wiedersehen! Danke nochmal für alles!
Linda
2016-05-02T00:00:00Z
Anna was a great host, she and her family we very welcoming. We stayed at the loft for 5 days and had a really great time. The garden and the pool are perfect for relaxing after a day of surfing at the lake. I can highly recommend staying with Anna!
Christoph
2016-08-05T00:00:00Z
Tipo di stanza
Intera casa/apt
---
Tipo di sistemazione
Loft
---
Può ospitare
4
---
Camere da letto
Podersdorf am See, Burgenland, Austria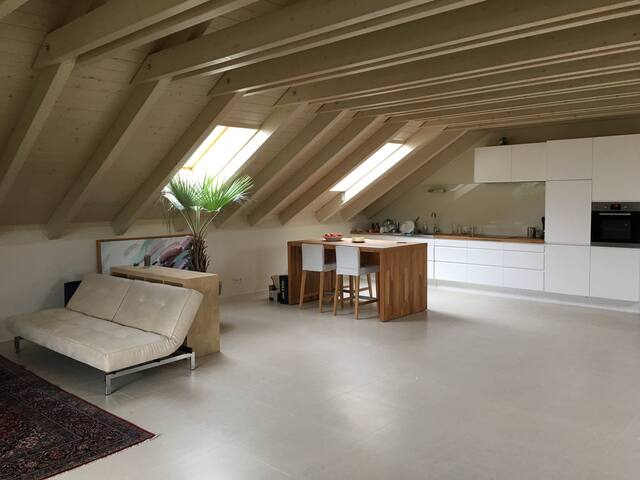 he loft is in the 5th floor with 2 terrace. it´s located between 2nd and 20th district. infront the building there is a supermarket and a tramway station which directs you to one of the main train- and subway station: praterstern (subways u1, u2, schnellbahn to the airport and different trams and busses) or friendensbrücke (subway u4 and trams). 10 min with the public transport to vienna exhibition hall; university of economy; taborstrasse subway u2 and schwedenplatz, Donaukanal.
the loft has a good energy flow. it´s very sunny, bright, quiet, airy and provides panoramic view as you can see on the pics. more than 50% of the front are glasses and glazed door, nevertheless it´s not that hot in summer. (airconditions are also at hand). - the loft is well appointed which you can use every equippment. - the loft is featured simple, nice and green. here live different kinds of plants. - in summer you can lying outside on the terrace and enjoying the stars.
the tram station is infront of the house. -from praterstern trainstation only 3 stops with the tram. - from u4 friedensbrücke 4 stops with the tram. - from u2 taborstraße 2 stops with the tram - 10 min walk to u6 dresdnerstrasse - 3 stopps till subway u2 taborstrasse - 10 min tramway till franz-josef-bahnhof. - 10 min with tram nr. 2 you will reach schwedenplatz, where you can start a walk in the 1st district. (stephan´s cathedral; heldenplatz...) augarten park, vienna exhibition hall; university of economy; schwedenplatz, Donaukanal, danube city are close.
Everything was perfect!! Yilin was very friendly and helpful. I am very glad to have met you!!
stamatina
2017-03-02T00:00:00Z
Very nice and cosy place! Yilin was very helpful and accomodating and easy to bedste around during our stay.
Søren
2017-03-30T00:00:00Z
Tipo di stanza
Stanza privata
---
Tipo di sistemazione
Loft
---
Può ospitare
2
---
Camere da letto
Vienna, Wien, Austria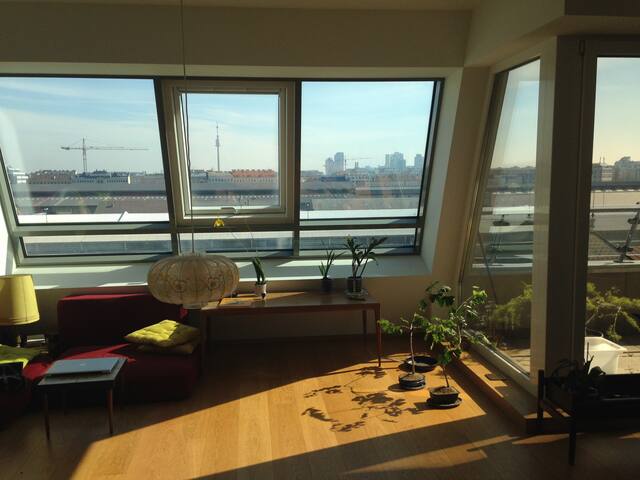 Hallo! :) Ich vermiete mein wunderschönes, sonnendurchflutetes und absolut ruhiges DG-Loft mit eigener Terrasse, Garage und Klimaanlage. Die Lage ist fantastisch! Meine Wohnung ist 2 Minuten von der UBahn Pilgramgasse entfernt. Mariahilferstrasse, Nachschmarkt und Karlsplatz sind quasi um die Ecke. Apollo Kino, Haus des Meeres, Spar, Billa, Trafik, McFit & Cafés findet ihr im Umkreis von ein paar Metern. Meine Unterkunft ist perfekt für Paare, Alleinreisende & Geschäftsleute.
Die Nachbarschaft war toll! Alles war zu Fuß zu erreichen und die Ubahn Station war auch in nur wenigen Gehminuten zu erreichen. Das Loft war klasse und hat sogar eine Klimaanlage, was bei der Hitze, die wir an ein paar Tagen hatten, super war. Das Loft ist perfekt für zwei, ist bestens ausgestattet. Die Schlüsselübergabe hat super geklappt. Bei Autos ab einer Höhe von 1,45 wird es eng!! Leider hat unser VW Touran nicht in die Garage gepasst, was sehr schade war. Wir konnten dann auf dem Parkplatz des Nachbarn stehen, was aber nicht abgesprochen war, weil wir ihn nicht erreicht haben. Letztendlich hat sich keiner beschwert, aber wir hätten ein besseres Gefühl gehabt, wenn alles besprochen worden wäre. Es war sehr sauber, bis auf die Waschbecken, was schade war. Ansonsten würden wir immer wieder bei Claudia übernachten.
Lisa
2016-07-06T00:00:00Z
merci beaucoup a Claudia pour sa gentillesse,disponibilité avant,pendant le séjour,une arrivée tardive ne nous a pas permit de trop discuté,elle nous a tout de même attendu avec sourire et sympathie.L'appartement est très agréable à vivre,on s'y sent chez soi :-) ...moderne,joli,propre et bien (URL HIDDEN) terrasse nous a permit de petit déjeuner et diner tranquillement et agréablement au soleil.L'emplacement est parfait,Spar et autres magasins à 2 minutes à pieds...le centre à 2 ou 3 stations de métro..;ou 20 mn à pieds...ce que nous avons préferé .Tout est accessible comme on le souhaite...à recommander vivement pour des séjours en (URL HIDDEN) se retrouver dans un petit cocon.merci beaucoup Claudia et au plaisir d'1 autre visite :-)*
laureline
2016-08-18T00:00:00Z
Claudia is such a wonderful host. Her place is so perfectly located in the city, spacious, well equiped, modern and tastefully decorated. We will come back
Amel
2016-10-04T00:00:00Z
Great design and great location!
Michael
2016-12-08T00:00:00Z
Eine wunderschöne Wohnung mit einer super Lage. Man braucht nur 2 Minuten zur U-Bahn, Supermarkt, etc. Claudia antwortet super schnell. Es war alles sehr professionell und hat super geklappt. Ich hatte einen unvergesslichen Aufenthalt.
Andreas
2016-07-23T00:00:00Z
Tipo di stanza
Intera casa/apt
---
Tipo di sistemazione
Loft
---
Può ospitare
2
---
Camere da letto
Vienna, Wien, Austria
TOP LAGE +++ZENTRUM +++ 3 ZIMMER +++ HAUPTBAHNHOF BELVEDERE +++ HIGH SPEED INTERNET +++ XXL TV 300 SENDER BABYBETT GRATIS +++ BOXSPRINGBETT +++ SATIN BETTWÄSCHE Das Apartment bietet bis zu 7 Personen Platz und hebt sich durch die perfekte Lage & die außergewöhnliche Raumgestaltung ab. Starte deinen Aufenthalt in mitten vieler spannender Lokalitäten, toller Restaurants und das natürlich in Bestlage mit direkter Verbindung zu allen wichtigen Attraktionen die diese schöne Stadt zu bieten hat.
Das top neu sanierte Belvedere Loft Anthem besticht durch seine großzügige Aufteilung mit sehr hohen Räumen und einer sehr komfortablen Einrichtung. Bis zu 7 Personen plus einem Baby können in zwei großen Schlafzimmern sowie einem Wohnzimmer mit ausziehbarer Couch hier mühelos übernachte. Die Betten sowie die Couch bestechen durch ihre hohe Qualität. Im Wohnzimmer wartet neben der Wohlfühl Couch zudem ein XXL LED TV aus dem Hause Samsung auf Sie, mit zusätzlichem Blu Ray Player. Abgerundet wird das ganze durch eine ferngesteuerte LED Lichtkugel. So macht Wohnen Spaß. Die kleine aber moderne Küche ist vollausgestattet und verfügt über alle notwendigen Geräte. Das schicke Badezimmer verfügt über eine Dusche mit sehr gutem Wasserdruck.
Das Apartment liegt in einer sehr noblen Gegend zwischen dem Karlsplatz, dem Belvedere sowie dem wichtigsten Bahnhof Wiens - dem Hauptbahnhof HBF. Es gibt hier sehr tradionsreiche Lokale. Gefrühstückt, geplaudert und Zeitung gelesen wird natürlich im Cafe Goldegg direkt gegenüber. Den leckersten "Coffee to go" gibt es dann bei "15 süße Minuten" oben an der Ecke. Mittags oder Abends haben Sie dann die Qual der Wahl: Entweder heimische Kost im Restaurant Sperl oder exotisch im Lima56 bzw. in der Pizzeria Venezia. Die Gegend ist zudem sehr kinderfreundlich, es gibt zahlreiche Parks wie den Schweizergarten, den Anton Benya Park oder aber auch das Belvedere selbst.
A házigazda már előzetesen is segítőkész volt. A lakás a vártnak megfelelően kellemes, tágas, tiszta volt. A belvárosban, nem messze a pályaudvartól található.
Tünde
2016-11-06T00:00:00Z
The apartment was lovely and clean, close to the train station and a short walk to the main attractions of Vienna. The apartment was fitted with everything we needed for our visit.
Sian
2016-08-06T00:00:00Z
This is a really nice, spacious, modern apartment with a great location; close to the train station, Belvedere Castle, and the tram which runs frequently and takes you into the city center in a few minutes. Highly recommended!!
Peggi
2016-08-28T00:00:00Z
El barrio es muy tranquilo y la descripción de la vivienda es correcta, a excepción de la cocina que está muy mal equipada. No tiene cacerolas, platos hondos ni una fuente donde hacer una ensalada. Lo peor de todo es que le pedí a Harry una olla y me dijo que al día siguiente me la traería, eso jamás sucedió. Pasamos cuatro días completos sin poder tomar un café con leche caliente ni calentar nada de líquido porque tampoco hay microondas(URL HIDDEN)La TV no está sintonizada y da error al intentar hacerlo. Otra cosa que no nos gustó es que al llegar teníamos en nuestro dormitorio el lavado de sábanas y toallas del anterior huésped secándose y allí permaneció durante toda la estancia junto a unas toallas que no les dió tiempo a lavar(URL HIDDEN)Nos recibió la madre de Harry, una señora muy agradable que se prestó a resolver nuestras dudas sobre localización de medios de transporte, restaurantes donde comer ..(URL HIDDEN)El apartamento es cómodo y está bien situado pero la atención que nos prestó el propietario fue nula.
Elena
2016-07-14T00:00:00Z
Great flat, lots of room and space! Would recommend for a family arriving to Vienna via train.
Alex
2016-08-16T00:00:00Z
Wir waren sehr begeistert von der Unterkunft, der Lage und auch der Kommunikation mit dem Vermieter! Jederzeit gerne wieder!
ASQS
2016-12-17T00:00:00Z
Apartment is great and close to amenities! Harry's instructions could really improve. He was not helpful with directions and did not give us travel instructions. Polite guy but he could really improve his communication skills.
Ayesha
2016-08-31T00:00:00Z
The house is brand new and the communication was great, I enjoy the apartment, there's a spar nearby, it was quite convenient except it would close on Sunday, everything's good and the location is good too.
Tianru
2016-09-19T00:00:00Z
Tipo di stanza
Intera casa/apt
---
Tipo di sistemazione
Loft
---
Può ospitare
7
---
Camere da letto
Vienna, Wien, Austria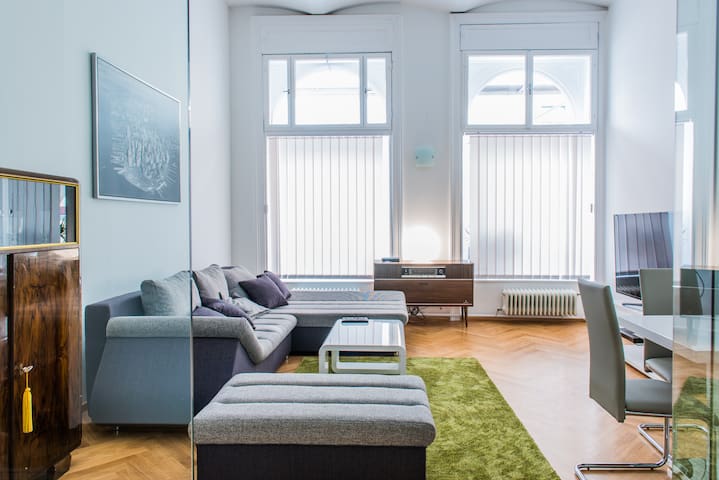 This newly furnished apartment is located directly at the pedestrian zone of the Historical Old Town, which is full of restaurants&bars and within walking distance to all main sightseeings in Bratislava. The building itself is known as Keglevich palace and it was built in 17th century. Even Ludwig Van Beethoven had concerts here and fell in love with Barbara Keglevich, who he composed several sonatas for! What would you say to being a part of such history during your stay in Bratislava?:)
Tipo di stanza
Intera casa/apt
---
Tipo di sistemazione
Loft
---
Può ospitare
4
---
Camere da letto
Bratislava, Slovacchia
This well-located apartment is just 5 minutes' walk from Kettenbrückengasse (U4) and Neubaugasse (U3) Underground Stations, the Naschmarkt and Mariahilfertraße. The private bedroom can accomodate up to 3 guests and faces the quiet inner courtyard.
Being a typical old Viennese building (Altbau), the apartment's high ceilings offer lots of natural light to enter the living area. The space is furnished with pieces from our family's travels around the world. The bedroom to which guests have access to faces the inner courtyard and is on the opposite side of the living area; it is therefore very quiet.
Welcome to Vienna's 6th district, a space close to the city centre and full of chic coffee houses, art galleries and creative spaces. You can enjoy a huge variety of interesting sights, and of course the legendary Saturday Flea Market is right on your doorstep. If you would like, we could recommend you some places to visit. Check our video in my YouTube channel "Teo Barnert" to see more about this beautiful city ("Discover Vienna" is the video's name).
Alles wunderbar; sind sehr nette freundliche und hilfsbereite Leute; die Lage und die Nachbarschaft sind 1A, besser geht's nicht. Das Zimmer ist ausgesprochen ruhig gelegen. Nicht groß, aber für den Preis super-angemessen.
Armin
2016-07-11T00:00:00Z
地理位置非常好!对面有很多亚超以及中餐馆,旁边就是地铁站.交通非常方便!房东人很好,房间也很可爱。总体感觉不错! Der Ort von diesem Haus ist sehr gut! Nebene Straße gibt es viele chinesische Laden und Restaurant . Das Haus ist Nähe zu U-Bahn . Die Vermieter sind sehr nett.
Xuehan
2015-10-27T00:00:00Z
Teo and Otto were very helpfull and very nice and freindly to us.Their home is nice and clean and half of the time they were not there and we had all the space for our own.
dalit
2016-06-11T00:00:00Z
Otto und Teo sind klasse. Sie sind wunderbar unkomplizierte Gastgeber, aufmerksam und freundlich. Ich fühlte mich sofort willkommen und zu Hause. Ihre Wohnung ist wunderschön und praktisch eingerichtet, die Lage am Naschmarkt direkt an der U-Bahn genial. Als spanische Österreicher oder österreichische Spanier verbinden sie auf sympathische Weise das Beste beider Kulturen. Ich komme gerne wieder!
Robert
2016-05-09T00:00:00Z
Teo and Otto were very nice hosts. The room was as described, and the flat really is next to Naschmarkt (and subway station), which is a big plus. It was a perfect stay for me.
Patrik
2015-10-24T00:00:00Z
The flat is super beautiful and in very good condition. It's within walking distance to the U4 station. There are many good restaurants and a big market nearby. I didn't get chance to meet Otto in person. But Teo is very friendly and told me how to get to the flat in advance. It's a pleasant stay and hope to see you guys again!
爽
2016-09-04T00:00:00Z
Location, Location, Location! Restaurants, cafe's, bakery's, and bars all within a block! A block down there is also a street market with all sorts of great food. The old city square is just a short 10 minute walk. Very nice hosts - they even let me check in early as I had an early arrival flight.
Jacob
2016-10-01T00:00:00Z
The place looked exactly like on the pictures. The beds, which are really high under the ceiling, but not too high that you hit your head, are really cozy. The hosts were super nice, they invited us to have drinks and food with them at night and we laughed and had fun. They gave us useful advice for the city and the trips we were planning. Overall, it was a really good experience staying with them.
Rena
2016-03-08T00:00:00Z
Tipo di stanza
Stanza privata
---
Tipo di sistemazione
Loft
---
Può ospitare
3
---
Camere da letto
Vienna, Wien, Austria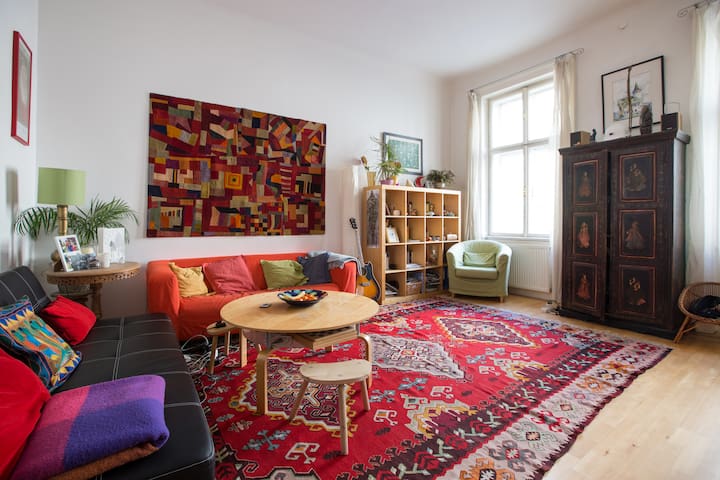 Meine Unterkunft ist in der Nähe von Schloss Schönbrunn. Meine Unterkunft ist gut für paare, alleinreisende abenteurer, geschäftsreisende und familien (mit kindern).
Tipo di stanza
Intera casa/apt
---
Tipo di sistemazione
Loft
---
Può ospitare
4
---
Camere da letto
Vienna, Wien, Austria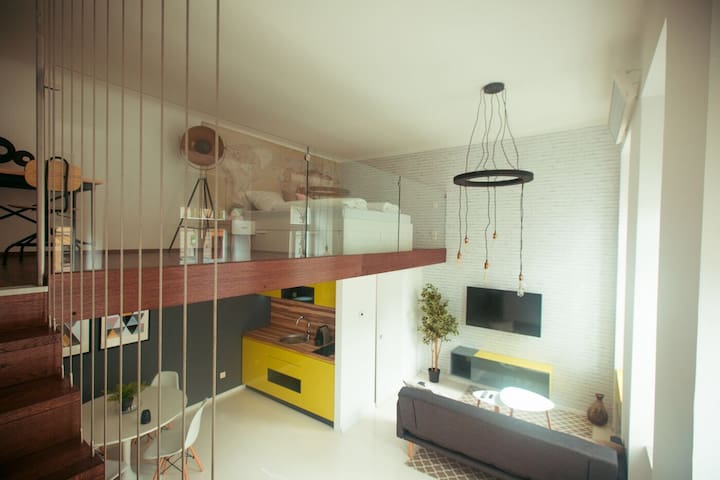 Inserisci le date per visualizzare il prezzo totale. Ci sono dei costi aggiuntivi e potrebbero venire applicate alcune tasse.