A Big Cozy Room for up to 4 people We have a seperate apartment in our house with two bedrooms that we are renting out to our guest. RENTING THE BIGGER ROOM INCLUDES: - King Size Bed - Sofabed - TV and DVD player + Our Collection of DVD's - Books in English - Kitchen with Microwave and Refrigerator and appliances - Bathroom with Shower and Washer/Dryer - Private entrance - Free parking - Free internet (50 mb/ Wireless) - Free TV (With Over 60 Channels)
IN THE NEIGHBORHOOD you will find a mini mall called Austurver (100 m) open from 8 – 20 every day, with a pharmacy, bakery and a convenience store. If you are looking to shop a lot you should instead head for Kringlan which is only 350 meters away where you will find all the brands you are looking for and a huge Icelandic supermarket called Hagkaup. 1.500 metres away is the public bath Laugardalur with Reykjavik´s greatest swimming pool and spa. the Botanical Gardens which is a family park and zoo with most Icelandic animals both wild and domesticated. If you head further 2.300 metres down south you will find yourself in downtown Reykjavik on the street Laugarvegur which is a shopping street with all the bars, clubs, restaurants and the harbor nearby.
Stanza accogliente, comoda e confortevole.
Robin
2017-03-01T00:00:00Z
Gunner is the Man! Very personable, funny and made me feel right at home. Thank you for everything.
Chris
2017-03-20T00:00:00Z
Nice big room, great bed, and good heating!
Rob
2016-11-22T00:00:00Z
We felt very welcome at Gunnar's. The communication was excellent and check in was super easy and convenient since Gunnar left us a key in the lock box. The neighborhood was safe and quiet and we slept great. We only wished we could have spent more time in Iceland. Hopefully there will be a next time. Can only recommend this apartment.
susanne
2014-08-04T00:00:00Z
Gunnar's place is what is listed. It was nice he had a washer/dryer but it was kind of hard to use.
Adrian
2016-12-07T00:00:00Z
The apartment is located in a quite neighborhood outside Reykjavik. It was a very close drive to everything we wanted to see while there. We met Gunnar on our second night there when he came to check to see everything was going well and if we needed any suggestions. He was very responsive, friendly and willing to help. I would recommend staying here!
Krista
2016-11-27T00:00:00Z
The room was nice, clean and very big for the price. It was very convenient to have a kitchen. Gunnar was very welcoming and nice.
Joël
2013-10-09T00:00:00Z
Sehr schöner und ruhiger Raum. Sehr späte Ankunft war kein Problem - rundum super und Gunnar ist auch sehr nett. Prima!
Thomas
2014-08-02T00:00:00Z
Tipo di stanza
Stanza privata
---
Tipo di sistemazione
Casa
---
Può ospitare
4
---
Camere da letto
Reykjavik, Islanda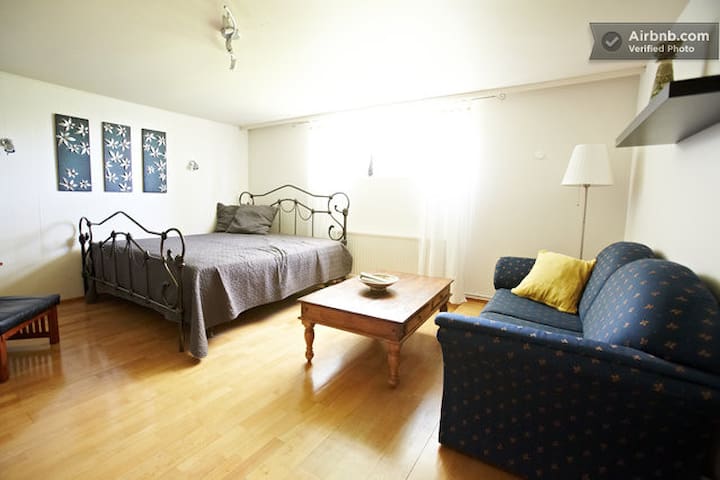 I´m NOT in the City Center. I have 2 rooms on first floor with double beds, one bathroom for both bedrooms, with shower and hair dryer. Refrigerator and microwave is downstairs. Kitchen is up stairs where people can have breakfast in the morning. Very easy is to take the local buses downtown Just 50 to 300 hundred meters to the buses in all direction. 7 min walk to take the Fly bus to Airport from my house. Free parking is in front of my house.
The rooms are not very big but clean and good beds who share 1 bathroom together, and the space are quiet, if you smoke you can smoke out in the platform not in the house.
The neighbourhood is very quiet, very short walk to a beautiful view and bus stops.
bellissima casa. al piano terra 2 stanze con giardinetto(wifi e adciugamani in dotazione) e un bagno. tutto pulitissimo. presente anche bollitore, microonde e frigo. hugrun davvero gentile!5 stelle
luca
2016-08-19T00:00:00Z
We spent 2 nights in Hugrun's house. She was a very nice host and she showed our bedroom and the house. Her place and bedroom is very cosy, clean and quiet. The room that we had is exactly as it looks in the picture. The house is close to the main highway in Reykjavik, which is good to reach the airport, but you need a car or public transport to reach the main city centre. We definitely recommend this place whilst in Iceland.
Paola
2016-02-27T00:00:00Z
It's a wonderful house and I like it very much. Mrs Hugrun and her families are really warm and friendly, everything is clean and nice. Highly recommend!
泽瑾
2016-01-05T00:00:00Z
Chambre très confortable, au rez de chaussée donnant sur un petit jardin avec terrasse. Propre et bien entretenue. Lit très confortable. On s'y sent bien. Je recommande chaudement
Hristina
2016-07-12T00:00:00Z
Hugrun was a gracious host and contacted me prior to arrival with instructions on how to find her place. This would be my first Airbnb experience and it was a pleasant one. We checked in at 2am in the morning and had no issues getting into the property. Would definitely stay here again.
Jenny
2016-09-10T00:00:00Z
Good value for the money. While Hugruns room is situated outside central Reykjavik, you can reach it after a short 10-15 min drive. It's also just 35 minutes to Keflavik airport from the apartment. We stayed just for a short night and were overall satisfied. The guests stay at the basement while Hugrun lives on the first floor; we didn't have much interaction with here but overall she seemed very friendly. I would recommend this room if you are in transit for one night. The bathroom could need some maintenance though.
Andreas
2016-08-23T00:00:00Z
Hugrun is an amazing host - we had an opportunity to meet her later in the evening after our arrival. She was really sweet and gave us many recommendations for Reykjavik - Ostabudin is an amazing food recommendation I think it was one of the best places we ate at during our stay there. I had a car so the drive to main city Reykjavik was almost 5 or 10 mins. The place is also amazing in a residential area :)
Rubab
2016-03-05T00:00:00Z
Hugrún was a wonderful host. Easy access to highway from her home. Though we only stayed for one night, she made us very comfortable in her home! Would recommend to anyone!
Maggie
2016-03-15T00:00:00Z
Tipo di stanza
Stanza privata
---
Tipo di sistemazione
Casa
---
Può ospitare
2
---
Camere da letto
Reykjavik, Reykjavik, Islanda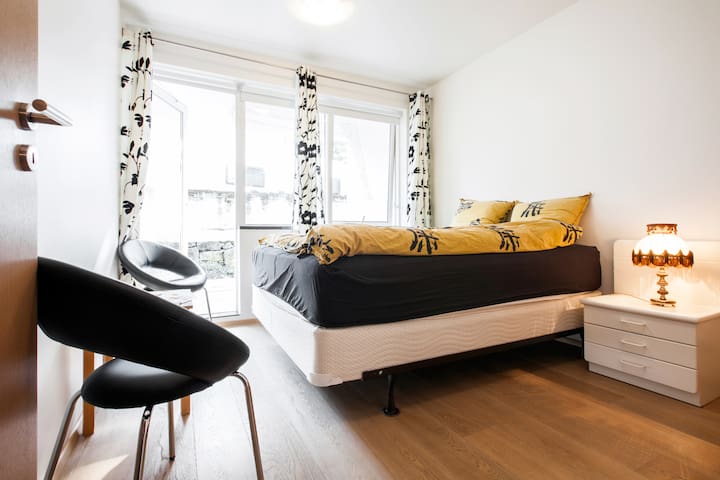 Very cozy private room with shared bathroom in a centrally located house. My place is good for couples, solo adventurers, and business travelers.
Our journey was very nice at Eyrún's home. If you need a confortable bed and a good shower after a hiking day please book here :) Eyrún, You are very helpful and nice person. You smile a lot and you have given us good advises for our trip. Thanks to you for the tomato idea at Fridheimar !! Thanks to you again and say hello to your kids and your doggy ! Ps: we hope the chocolates were good ;)
LISE
2016-12-03T00:00:00Z
Eyrún was an exceptional host. Here place is exactly as she described it. She made my friend & I feel at home. We felt we were part of her family. Very accommodating, very nice, really good communication (replies fast to emails). I would definitely stay/recommend this place if you're looking for a spot near downtown Reykjavik.
Joseph
2016-10-28T00:00:00Z
Host answered quickly to any requests. She was super helpful with places to go nearby and assisted us with any questions we had. Last minute changes to check in were promptly accepted. Room was clean, cozy, and the wifi was great. Would stay here again if we ever come back to Iceland!
Rachel
2016-10-30T00:00:00Z
Small, cozy, comfortable beds in the heart of the city, walkable distance to food and short drive into town. Our host was very accommodating, even though we were a bit late from our initial arrival time, they answered all of our questions and got us situated quickly. The space is a bit tight and the bathroom is very small, but works great for a good nights rest and shower.
Zhibo
2017-01-28T00:00:00Z
Good cosy/clean place to stay if all you need is a bed, internet and a hot shower. Personal access makes it easy to come and go as you please and there's easy parking if you hire a car like we did (which we definitely recommend for Iceland!). Eyrún is a great host :)
Jake
2016-11-26T00:00:00Z
the transportation in Iceland is not convenient, this apartment is near to the pick up point of the city tours.
Wong
2016-11-21T00:00:00Z
Eyrun是一个很亲切热情的房主,房间干净舒适,床睡着很舒服。社区式住宅体验,离城区很近。Eyrun人很nice,会提供旅行建议,也开车载我去一日游pickup的点。小狗很亲人,每次回家都会热情招呼。住在Eyrun家就跟在自己家一样舒服自在。 It's a so comfortable experience in Eyrun's house. If I return Iceland, I will choose Eyrun's house again.
JunHan
2017-02-21T00:00:00Z
Very friendly, helpful host! Accommodations were as described. Perfectly comfortable, great for two or three guests, with a semi-private side entrance and convenient parking.
Jeremy
2016-11-18T00:00:00Z
Tipo di stanza
Stanza privata
---
Tipo di sistemazione
Casa
---
Può ospitare
2
---
Camere da letto
Reykjavik, Islanda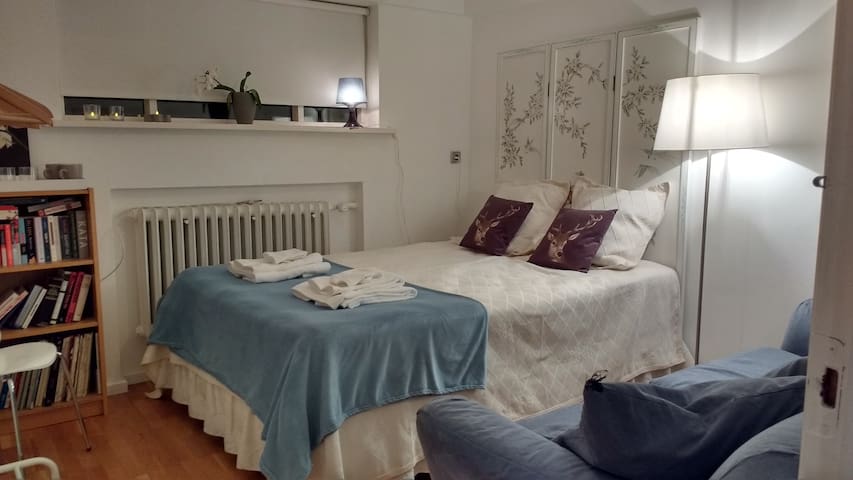 Our house is is located in a quiet neighborhood of Reykjavik. A bus ride down town takes 11 minutes plus a 3 minute walk to the bus stop. We have a cat named Tása, she is old and friendly.
Heba and her husband are helpful beyond expectations and I can recommend staying at their house 100%. The house is very nice, clean in a calm road, there is parking around and I enjoyed walking to town:)
Dajana
2017-03-04T00:00:00Z
Heba´s place is within walking distance of downtown Reykjavik, there is also a 24-hr supermarket about 5 mins. walk away, great if you get in late! The house is lovely - a real homey feel. Heba and her husband were communicative, fun and easy to get on with - ideal airbnb hosts. They have a key safe system so you can get in anytime! Their sort of place is what makes airbnb so great.
Colin
2017-01-20T00:00:00Z
Heba and Tomas made me feel right at home, they are are extremely welcoming and generous! I have nothing but good things to say about my stay, it was one of the best experiences I have had through airbnb! The bedroom was very comfortable, the shower was great, and everything was very clean. I found the location convenient as there is a hotel a short 15 minute walk away where tour companies and airport shuttle services pick up and drop off. I highly recommend staying here, especially to solo travellers as Heba and Tomas are great company!
Michael
2017-01-25T00:00:00Z
A had a wonderful experience. Also, Heba and Thomas helped me with everything I needed.
Jakub
2017-01-14T00:00:00Z
The host canceled this reservation 26 days before arrival. This is an automated posting.
Srikanth
2017-01-22T00:00:00Z
There are not enough superlatives to describe the hosts or the accommodations. The rooms are small (i.e, European) but well equipped and comfortable. The shower is perfect with everything one needs. Even their cat is a joy. I did not plan to stay in Iceland but changed my mind and extended a stop over. I had only brought power adapters for the UK. Heba and Tomas supplied me with chargers to insure my phone and gear could be recharged. I felt like I was staying at the home of old friends. This is the type of place that makes AirBNB a great service. Takk Fyrir to Heba and Tomas. This place is the very best.
Kirk
2017-02-11T00:00:00Z
Heba's place is absolutely wonderful. She and her husband are genuine, caring and welcoming people. She made me feel so comfortable and her home is so pleasant!
Hannah
2017-03-19T00:00:00Z
Fantastic place with wonderful hosts, very helpful with any directions or suggestions you need. The location was great, easy to get a bus into downtown but also easy with having a hire car to park and exit the city. Highly recommended.
Ellis
2017-02-23T00:00:00Z
Tipo di stanza
Stanza privata
---
Tipo di sistemazione
Casa
---
Può ospitare
1
---
Camere da letto
Reykjavik, Islanda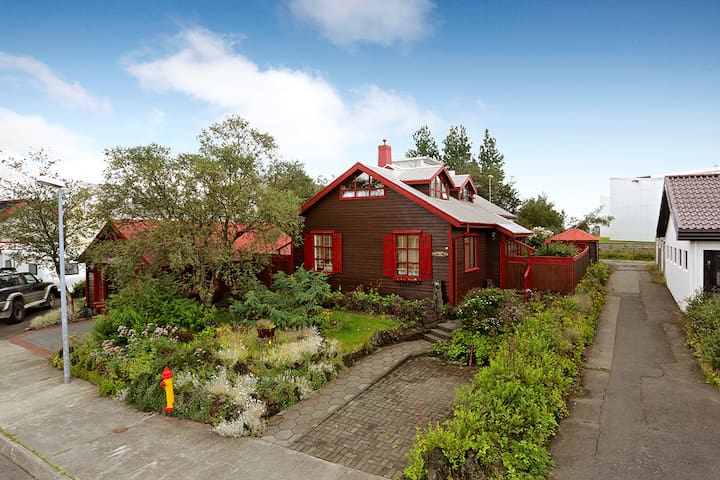 Our cool and comfortable room is ready for one person it's in a big and Cosy house
It's easy access to the most important places to visit and shopping , it's in a so silent house and bus station is near the house and very nice area for walking near the small river it's just 2 minute by walk
Tina's room was the best value accommodation I had while travelling in Iceland. The room is prettier than it looks in the photos, is very clean and quiet, and the bed was comfortable. Tina was very helpful in explaining getting there (easy- lots of buses stop nearby, two minute walk from bus stop). Tina is a perfect host!
Annie
2016-10-30T00:00:00Z
Tina and her husband Kami are really friendly and welcoming people! They always made sure everything was fine and I could ask them everything when I needed help or information about the city. The room was exactly like on the picture, small, cute and with such a comfortable bed! The place is like 10 min with the bus away from downtown, but there is also a large shopping area next to the place (5-10 min by walking). It was great that I could prepare some instant food in their kitchen cause food in Restaurants is quite expensive in Iceland. The area around the house is really quiet, there's also a nice river with a little waterfall in walking distance. I would highly recommand this place and I hope I'll be able to come back anytime.
Vanessa
2017-03-19T00:00:00Z
Very nice room~ I love it.
琉鑫
2016-11-23T00:00:00Z
This was a fantastic Airbnb at a great price. It was one of the best airbnb's I had in Iceland. Coming into Tina's beautiful smelly and clean home was a welcome refuge the road. Both Tina and Kami were lovely hosts- very kind in helping me navigate the bus system and accommodating me. While the place is a little out of the core downtown, you can easily access the area by catching one of the buses that comes nearby. Kami also provides rides if you stay out late after the bus stops running (for a fee) which is much less expensive than taking a cab. The bed was comfortable and having my own armoire and desk in the room was a great addition to the space. Highly recommend this spot for any travelers!!
Leah
2016-10-09T00:00:00Z
This place was a great way to experience Iceland. Tina and her husband are friendly and discreet, and incredibly helpful. The room and the rest of their gorgeous house was spotless.
Jean-François
2016-06-11T00:00:00Z
Tina and Kami were wonderful hosts. Very open and generous, and wonderful communicators. Their house was lovely and quite close to the bus stop. I'm glad that I got to stay there for a portion of my Iceland trip.
Kim
2017-02-20T00:00:00Z
I didn't have such great experience with airbnb host before! Tina and her husband are super nice people. They always have smiling faces and want to help . The room was super cozy and made me feel like my little home in Iceland. It is definitely worthy staying!! Super great!
wenqian
2016-10-23T00:00:00Z
Tina was great. Had a last minute booking and she was able to accomodate. Room was clean and nice.
Daniel
2016-06-23T00:00:00Z
Tipo di stanza
Stanza privata
---
Tipo di sistemazione
Casa
---
Può ospitare
1
---
Camere da letto
Reykjavik, Regione della Capitale, Islanda
This bedroom is on the 2nd floor of the house (residential and safe neighborhood). Usually a kid bedroom with shared bathroom on same floor, it has a closet for your belongings and a desk for your laptop. Good 90*200cm matresses. Garden view.
Shared bathroom with shower on same floor, and extra WC on first floor.
The neighborhood is in a green, family-friendly area close to the Reykjavik Zoological garden. There is a shopping area (Skeifan) nearby.
Everything was fine but just one problem: it seemed the dog had some problem with us.
Kekko
2016-08-13T00:00:00Z
Magali nous a contactés avant notre arrivée pour nous donner les conseils pratiques à notre arrivée à l'aéroport et est venue nous accueillir à la descente du bus. Accueil très chaleureux. Magali était toujours prête à répondre à toutes nos questions. Logement très agréable et calme.
Agnes
2016-08-15T00:00:00Z
Magali is a great host and an extremely kind and interesting person! Our arrival was delayed because of bad weather and she was very caring in making sure we were safe. Although we stayed only 1 night we had some very pleasant chats! The house is clean and pretty, very Icelandic style =) and it is just a few minutes drive from the centre. I would definitely recommend it and would come again!
Valentina
2017-02-25T00:00:00Z
Magali was the best host ever! Her house was beautiful, and the room exceeded our expectations. Even on the busiest days, she always asked about our day via text and kept us updated on her schedule. She was more than a host - she was a friend to us. Her hospitality and generosity were definitely key to making our trip to Iceland very memorable, and we hope to be able to see her again the next time we visit. :)
Elaina
2016-04-01T00:00:00Z
Magali was a lovely host. She was VERY accommodating during my stay and made sure my arrival and departure worked out. She has a beautiful home that's very close to a bus stop, but I found walking to the city center wasn't too bad either. Would definitely stay with her again!
Emma
2016-08-10T00:00:00Z
A nice quiet place, positives all around. The only issue we had was with the dog who didn't seem to like us too much if the owners weren't around. If you're not comfortable with dogs, I wouldn't recommend this place because while a cute pup, she can be pretty intimidating if you're there alone. Magali was great though - thorough, kind and on-the-ball.
Meg
2017-02-27T00:00:00Z
Magali is exceptionally kind and was a real delight and help for us during our stay in Reykjavick. I highly recommend her. The house is perfect and is situated at a stones throw from from a bus stop which takes you 10 minutes to downtown Reyjavick.
Charlie
2016-07-17T00:00:00Z
Magali was the best host possible. She was friendly, very very helpful, and made us feel at home. Recommended to backpackers that are fine with staying a bit outside the center.
Kalle
2016-04-05T00:00:00Z
Tipo di stanza
Stanza privata
---
Tipo di sistemazione
Casa
---
Può ospitare
2
---
Camere da letto
Reykjavik, Regione della Capitale, Islanda
Un accogliente sala privata con un letto queen size Abbiamo un appartamento separato nella nostra casa con due camere da letto che stiamo affittando ai nostri ospiti. Affittare la stanza famiglia comprende: - Letto matrimoniale - TV - Cucina con microonde e frigorifero ed elettrodomestici - Bagno con doccia e lavatrice / asciugatrice - Ingresso indipendente - Parcheggio gratuito - Internet gratuito (50 MB / Wireless) - Free TV (con oltre 60 canali)
Nelle vicinanze si trova un mini centro commerciale chiamato Austurver (100 m) aperto 8-20 tutti i giorni, con una farmacia, un panificio e un negozio. Se stai cercando di acquistare un sacco si dovrebbe invece dirigersi verso Kringlan, che si trova a soli 350 metri di distanza, dove si trovano tutti i marchi che si sta cercando e un enorme supermercato islandese chiamato Hagkaup. 1.500 metri di distanza si trova la Laugardalur bagno pubblico con più di Reykjavik piscina e spa. l'Orto Botanico che è un parco famiglia e zoo con maggior parte degli animali islandesi sia selvatici e domestici. Se hai la testa di ulteriori 2.300 metri a sud vi troverete nel centro di Reykjavik sulla via Laugarvegur che è una strada commerciale con tutti i bar, club, ristoranti e il porto nelle vicinanze.
Bella casa, pulita e calda. Parcheggio davanti. Arrivati alle 14.30 non era ancora pronta, Gunnar era in ferie, mala gentilissima suocera è comparsa alle 15.30 scusandosi perché aveva finito di lavorare alle 15 e ha sistemato tutto. Ci sono due bagni: uno doccia e lavatrice, l'altro water e lavandino (senza finestra). Avevamo degli inquilini un po' rumorosi. La stanza è a 40 minuti a piedi dal centro città, consigliamo gli autobus. La cucina era dotata di tutto.
Francesco
2016-09-08T00:00:00Z
Il Sig. Gunnar è molto simpatico e gentile. La stanza nella quale abbiam dormito è molto piccola (come del resto specificato nell'annuncio) e il letto comodissimo, sembrava di stare in un nido. Cucina a ns disposizione ben fornita e servizi igienici puliti. Prima esperienza con airbnb molto positiva.
Silvia
2014-07-14T00:00:00Z
Even better that the first time! Great locaton, well connected, free wifi, cosy big room and bed, very comfortable and clean! There is also a full equipped kitched...what else? :)
Irene
2013-09-17T00:00:00Z
Gunnar was helpful and kind and respectful (and his son really cute!). Everything was clean and ready for us. The bikes were out of commission, which was a bummer, but it's winter so probably a little silly we wanted to ride them anyway! The kitchen was well-equipped and even had things we were allowed to use, like salt and pepper. The water tasted a bit like sulfur, but we boiled it in the how water heater and it tasted great! Parking was out front; house was easy to find. Gunnar was also responsive via text and that's always very helpful. Thanks for everything!
Amy & Lukas
2013-10-06T00:00:00Z
Great location and friendly hosts. Excellent facilities and of course, a comfy bed. Thank you.
Caz n Sam
2015-06-14T00:00:00Z
Gunnar made us feel confortable as soon as we got there. The room was very nice and cozy, which was perfect after nights of camping in the cold. He told us how to get to the centre and other insteresting stuff about Iceland. Would definetely recommend this place :)
Alicia
2016-10-02T00:00:00Z
Thank you very much for warm welcoming. My father had an enjoyable stay, communication went very well.
Inessa
2016-10-22T00:00:00Z
Nice and pretty much comfortable room. Easy to find even if using public transport. Clean bathroom, large kitchen and also quiet place which was important for me. Recommend it to those who plan to visit Reykjavik for a couple of days.
Inna
2014-08-25T00:00:00Z
Tipo di stanza
Stanza privata
---
Tipo di sistemazione
Casa
---
Può ospitare
2
---
Camere da letto
Reykjavik, Regione della Capitale, Islanda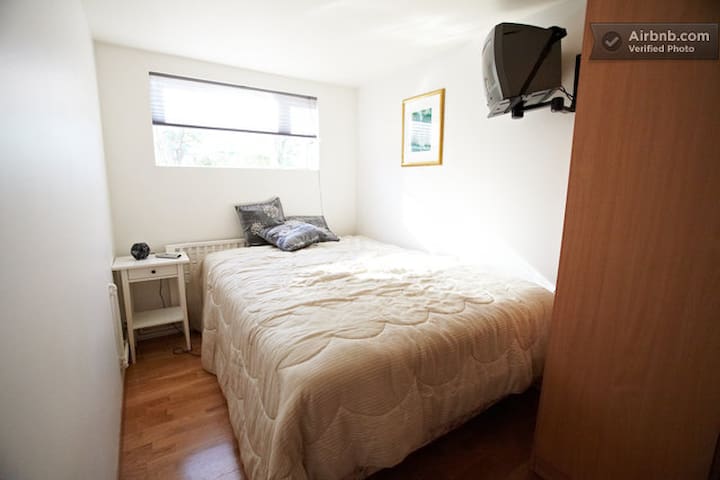 My place is close to Borgarspítalinn, Kringlan, Skeifan, Bústaðakirkja. My place is good for couples and solo adventurers.
The room is upstairs in my house. The address is Langagerdi 18, 108 Reykjavík.
Cozy little room. The host was gracious to accept our delayed baggage delivered by the airport before time of our check in. Location is perfect for Reykjavik. Note for a tall person like myself, the bathroom is very small. I had to sit in the bath tub to take a shower as opposed to standing up. Kitchen was shared with another room mate next door. All in all comfortable place in a great location
Karthik
2017-01-30T00:00:00Z
Nice little room with little kitchen and little bathroom. You see everything is little but still lovely. Very friendly people. A calm place to be.
Thomas
2017-03-21T00:00:00Z
Very cute flat, we lived with two other persons. There is a little kitchen with a microwave, but you can't cook something. Nice stay, thank you for everything, you have been very friendly :)
lisa
2017-04-03T00:00:00Z
This cozy room is just what we needed to come back and crash in at night. The room is small but sufficient. There is a microwave and fridge available for your own food, and the hosts are very friendly and willing to help. Be warned the the bathroom is small and there is no standing shower which may pose and issue for tall people. Nevertheless, we throughly enjoyed our stay and would recommend again if you're okay with walking into the city.
Rachel
2017-01-06T00:00:00Z
The place was as described, close to Reykjavik, about a 8-9 min drive, and the hosts were very nice! They even let us use their washing machine for our clothes. The only downfall was that the hosts forgot to give us a key and when we went out for dinner they weren't home when we got back. Luckily another Airbnb couple came home shortly after us and they had a key to get back inside. Be advised that the bathroom is very small and you will have to take a bath or a sit down shower. Overall a great place to stay!
Kristen
2017-02-11T00:00:00Z
The hosts were very nice, and they let me play the piano :)
Simon
2017-03-09T00:00:00Z
房东爷爷人非常好,在得知我们找不到地方的时候主动来接我们,临走的时候还送我们去了bsi巴士站,不足的是房间地理位置比较偏,第一次来比较难找,整体来说很好。
潇
2016-12-31T00:00:00Z
There is an old couple staying in this house, they are friendly and nice. We couldn't find the house on the first night and uncle came out to find us. Though it is a bit away from centre so you will need to take bus. It's still worthy to stay in their place. One thing to remind is the bathroom is a bit small. Be prepared if you are giant.
Cheryl
2017-02-07T00:00:00Z
Tipo di stanza
Stanza privata
---
Tipo di sistemazione
Casa
---
Può ospitare
2
---
Camere da letto
Reykjavik, Islanda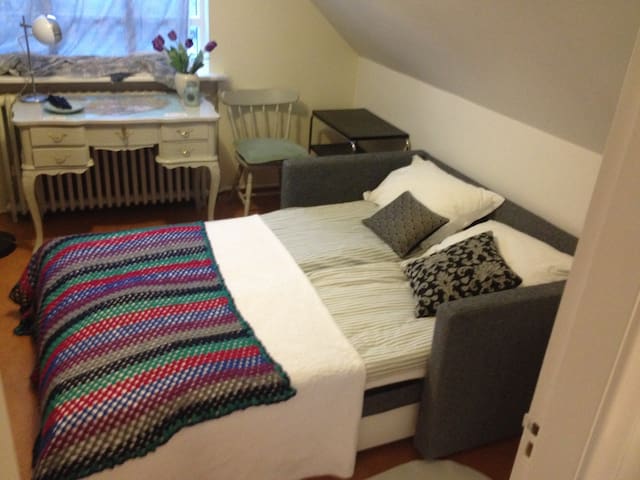 The house is located fairly central in a quiet street but near a main road where buses going downtown and to the airport in Keflavík stop close by. It takes about 10 minutes to drive to the center of Reykjavik. There are some very nice areas close by, ten minutes walk to The Botanical Garden, the swimming pool in Laugardalur and Reykjavík Zoo. . Shopping is close and convenient.
Fantastic trip in Iceland and very enjoyable at the house, everything is perfect! 5 stars house in the Iceland.
Liu
2016-12-26T00:00:00Z
The best option if you are visiting Reykjavik. The house is very nice and the location is perfect.
Gerardo
2016-06-24T00:00:00Z
Séjour très agréable avec des hôtes de qualité dans une maison de qualité. Jacuzzi très agréable. Petit déjeuné offert et délicieux
Véronique
2017-02-11T00:00:00Z
Hemos tenido una estancia perfecta! Son encantadores y nos han dado todas las facilidades posibles. Te tratan como uno más de la familia, te ayudan en todo lo que pueden y hacen la convivencia perfecta! No dudaremos en volver!!! Muchas gracias por todo!!!!
Berta
2017-03-22T00:00:00Z
Rannveig is an amazing host and her place is stunning. It's is an absolutely adorable house that is imbeccably clean and really well decorated. The room is in the upstairs portion of the house and is perfectly adequate for two travelers. During our trip, Rannveig was traveling herself and not able to greet us, but it didn't impact us at all. She was still incredibly responsive, ensured we had everything we needed, and had a family member stay at the house. Sigúr was just as helpful as Rannveig and made the trip perfect. Finally, the nice touch of providing breakfast for us was the icing on the cake. We will definitely be staying here again when we are back in Iceland.
Andrew W
2016-12-29T00:00:00Z
Wonderful hosts in a great house. Rannveig was very accommodating she even let us check in very early due to our early arrival. She bakes great muffins and croissants for breakfast and has good coffee and yogurt. She had great tips for us as well. The hot tub should not be missed either! The cats are good hosts as well. The location is great as it is near the main roads to get in and out of Reykjavik. We would love to stay there again!
Nathan
2017-03-04T00:00:00Z
Rannveig is a wonderful host and we had a brilliant time staying here! The room is actually roomier than the picture suggests and was definitely big enough for 2 comfortably. Also the house is super close to the gray line bus terminal which is fantastic - only 5 minutes away. Plus the breakfasts were very yummy. But above all Rannveig and Sig are lovely people and hosts and made us feel truly welcome in their home! Wouldn't hesitate to recommend to anyone!
Beckie
2017-02-02T00:00:00Z
Rannveig was the most delightful host--so nurturing and helpful. My favorite so far in all my Air BnB experiences! She is the first host I've stayed with to actually provide breakfast, and it was delicious!! She gave us tons of help in planning where to go during our short stay in her beautiful country and was wonderful to talk with in general. Her home is so beautiful--warm, squeaky clean, artful, quiet, just lovely. The bedding was delicious and cozy. Thank you Rannveig for taking such great care of us at the end of a long journey!!!
Emily
2016-09-04T00:00:00Z
Tipo di stanza
Stanza privata
---
Tipo di sistemazione
Casa
---
Può ospitare
2
---
Camere da letto
Reykjavik, Regione della Capitale, Islanda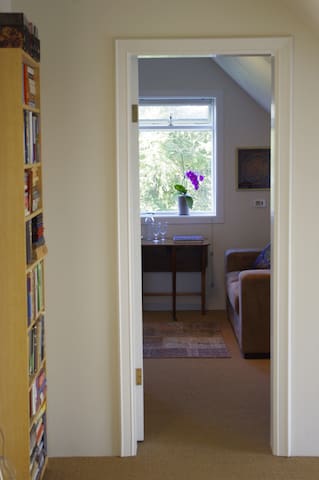 50 m2 Cottage in the backyard, newly renovated in a quite neighbourhood with free parking, only 5 min drive from city center, 5 min walk to a bus station and 10 min walk to the Mall Kringlan. Where you can get a free shuttle downtown. place to stay.
The whole cottage in the backyard is for guests, free parking.
Its very quiet, central, easy access, free parking, near to Kringlan Mall, short distance to grocery stores and fast food, and many more good things.
The cottage was in a perfect part of Reyjkavik--not too far from downtown, handy to the grocery store. Very quiet, warm and cozy. We had everything we needed and Hannes was very available if we had any questions, while at the same time, giving us our privacy. We felt very welcome and would definitely book with Hannes and his family again.
Lynda
2016-08-02T00:00:00Z
Petite maison super agréable située seulement à 5 minutes du centre de Reykyavik. Rien de tel pour débuter son séjour dans les environs. Merci pour tout Hannes !
Christelle
2016-07-19T00:00:00Z
Great communication. Place is small but very comfortable :)
Laura
2016-04-13T00:00:00Z
Wonderful experience. Great communication with Hannes. He welcomed my son and went beyond expectations to make everything work out and be comfortable for him. Thank you so much Hannes!
Rick
2016-06-23T00:00:00Z
Great place, perfect for families to use as a Base for exploring Reykjavik. It's close to the city centre, but maybe just out of walking distance ( I would think maybe 50 minutes walking). But if you have a car it's only 10 minutes and the city is really easy to drive around. Would recommend and use again, great value for money compared to other accommodation we stayed at, and has a well serviced kitchen and even a washing machine.
Sarah
2017-01-05T00:00:00Z
Hannes' place was spacious but cozy and included all amenities we needed for our stay. Hannes was quick to respond to messages and very nice to work with. We would stay here again.
Amy
2016-10-06T00:00:00Z
The apartment was very clean and essential. Good location. Easy to find and close to the city center. Contact with Hannes was very easy and fast.
Sara
2016-04-12T00:00:00Z
The neighborhood was very quite, there's space for parkingin front of the house, the host is very warm and the cottage offers privacy to the guests.
Alina
2016-07-18T00:00:00Z
Tipo di stanza
Intera casa/apt
---
Tipo di sistemazione
Casa
---
Può ospitare
5
---
Camere da letto
Reykjavik, Reykjavík, Islanda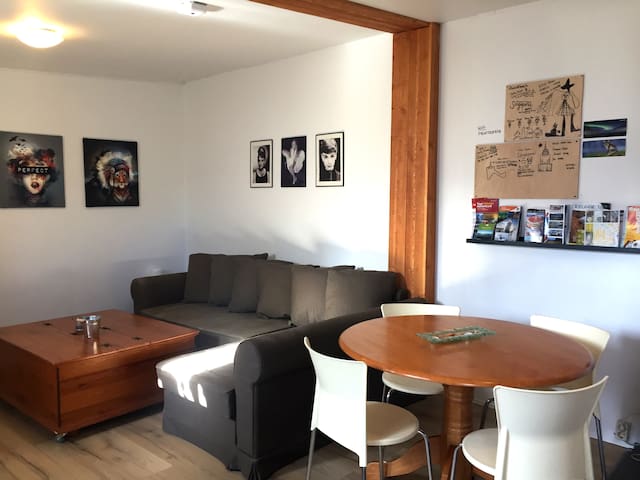 House on three floors. Kitchen and living room on the main floor, two bedroom and bathroom on the top floor and one bedroom and bathroom in the basement. In the basement there are two fishtanks with an air pump. The sound from it might disturb someone.
Tipo di stanza
Intera casa/apt
---
Tipo di sistemazione
Casa
---
Può ospitare
6
---
Camere da letto
Reykjavik, Islanda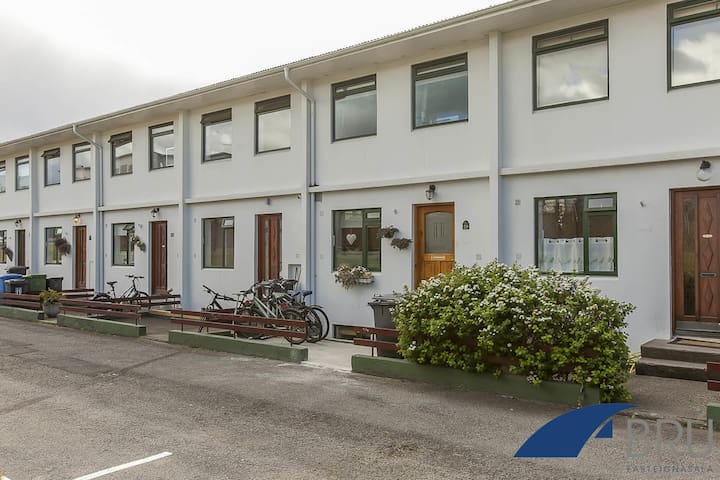 -Bedroom with a double bed (140cm). -Bathroom. -Private entrance. -10-15 min drive to down town Reykjavík. -Buses number: 11, 18, 14, 13. -Family neighborhood in Fossvogsdalur valley, close to nature and walking pathways all around.
I highly recommend this private room. It was extremely spacious and comfortable, it even has it's own little living room, bathroom and private entrance. It has a great location, only a few minutes away from downtown Reykjavik by car. Host were very kind and helpful. Would stay again.
Gabriela
2016-06-14T00:00:00Z
The room was in a quiet and quaint neighbourhood just a couple of bus stops from the centre. It was clean, simple and cozy. The host was very informative, helpful and approachable. I would recommend this to everyone that is ok with being a little outside the centre for some very good hospitality.
Matko
2016-08-16T00:00:00Z
The room was just perfect! Its exactly how shown on the photo, very cozy... and gudrun and her family are really, really nice. They even took their time and showed us their favourite places in iceland on our map!! I would really reccomend the room for everyone who want to stay very close to reykjaviks center (10 minutes by bus). And where they live its really nice as well. We enjoyed our first little walk in iceland there...
Esther
2016-07-04T00:00:00Z
Nice place, easy and flexible host, all perfect
Tobias
2016-07-15T00:00:00Z
Gastgeber ist sehr offen und hilfsbereit. Seine Tipps haben uns beim Erkunden von Reykjavik sehr geholfen.
Adriana
2016-08-04T00:00:00Z
Very friendly host, the room was very comfortable and stylish, very spacious. Gudrun and her mother were so helpful and gave us tips for interesting local activities and they were very kind to us. The neighborhood was safe, quiet and it's a short walk from an amazing pizza place (really recommend it, pizza is yummy there), a 24/7 mini market, and bus stops. The room was very bright so for people staying during the summer when the sun doesn't set, I suggest bringing a sleeping mask if you are sensitive to light. Room also had a private entrance and bathroom which was really nice. There are no directly available kitchen amenities, it didn't bother us too much because we are pretty lazy and had pizza breakfasts haha, but it might be worth mentioning for people who like to cook their own breakfast. On the whole, it was an amazing stay. P.S. Bjork studied at the local school there, we think that is pretty awesome.
Viky
2016-06-21T00:00:00Z
Guðrún wasn't there, but we were welcomed by her father, who took good care of us and gave us a good understanding of Iceland politics
Igor
2016-07-29T00:00:00Z
Nice quiet neighbourhood and a private entrance. Extremely comfy double sized bed. A value for money deal.
Justas
2016-08-12T00:00:00Z
Tipo di stanza
Stanza privata
---
Tipo di sistemazione
Casa
---
Può ospitare
2
---
Camere da letto
Reykjavik, Regione della Capitale, Islanda
The place A spacious room with a private entrance in a quite neighbourhood but not so far from the city center (about 4.7 km). Double bed, wardrobe and a small kitchen corner with a refrigerator, toaster and hot water boiler. Private bathroom with a shower. The neighbourhood and getting around A short walk to a bus stop going all directions. 10 minute walk to a car rental and supermarkets. 15 minute walk to the beautiful park Elliðarárdalur.
This is a quite family neighbourhood with easy access to buses going all directions. Laugardalur is close by, where you can find a swimmingpool, a botanical garden and outdoor area with walking paths. There is also a beautiful park close by called Elliðarárdalur.
I had such a great time in Iceland. Elma's place was exactly as described. Clean, private (own entrance, bathroom, fridge), and in a quiet neighborhood. This was my first airbnb experience, and it was a very pleasant one! Would definitely recommend!
Tomas
2016-09-03T00:00:00Z
My stay at Elma's was a very good one. The little apartment was just right, nicely laid out and furnished, very clean and quiet. Private entrance worked out well too. While visiting Iceland the weather was pretty bad so was particularly nice to have a cozy place to hang out in. The city center was only 10 minutes away but one should have a car. Also, there was a great public swimming center not far which even on a cold and rainy day was such a pleasure to visit - hot tubs, indoor and outdoor swimming pools, far-out steam room and the best water slide! Elma and her husband Albert both very sweet and hospitable. So glad I stayed with them in a place for a short while I was glad to call home.
tom
2016-10-03T00:00:00Z
Comfortable, cozy, clean, and easily accessible by bus. Taxi service also excellent. Quiet neighborhood, quite a ways from downtown so not for party-seekers -- I am not, so this was perfect for me! Elma and her family were flexible, accommodating, and helpful.
Kristin
2017-01-07T00:00:00Z
We enjoyed our stay very much. Elma is very friendly and she prepared information abou the neighborhood and Reykjavik. The room is very comfortable and the neighborhood quiet.
Romina
2016-07-07T00:00:00Z
Had a wonderful stay at Elma's. She was very welcoming, great location very close to public transportation. Would stay again.
Desiree
2016-08-02T00:00:00Z
Elma was very kind. Even we came very late in the evening, she prepared an extra bed for our daughter and let us cook a quick soup in her kitchen. The room and bathroom were clean and everything was fine. It was quite and nice place.
Loredana
2016-07-18T00:00:00Z
Elma's place was convenient and private. She is well prepared with information for staying there. After checking us in she left us to our own devices, but told us how to get in touch if we needed anything. It's a great place to stay if you want privacy in a quiet neighborhood just a few minutes drive from downtown.
James
2016-07-29T00:00:00Z
Elma and her husband were the kindest hosts and had comprehension for my situation (I booked the dates wrong and came a day earlier than originally announced). We found another accomodation successfully and Elma came to pick up our lugage to make up for our own mistake. That was much more than we expected and we really felt welcomed and spent two unforgettable days in Reykjavik thanks to her. It was horible wheather outside and her appartment was the cosiest we had during our stay in Iceland. Lucky those that get to be hosted by Elma and we wish her all the best in the future.
Simonida
2016-07-16T00:00:00Z
Tipo di stanza
Stanza privata
---
Tipo di sistemazione
Casa
---
Può ospitare
2
---
Camere da letto
Reykjavik, Islanda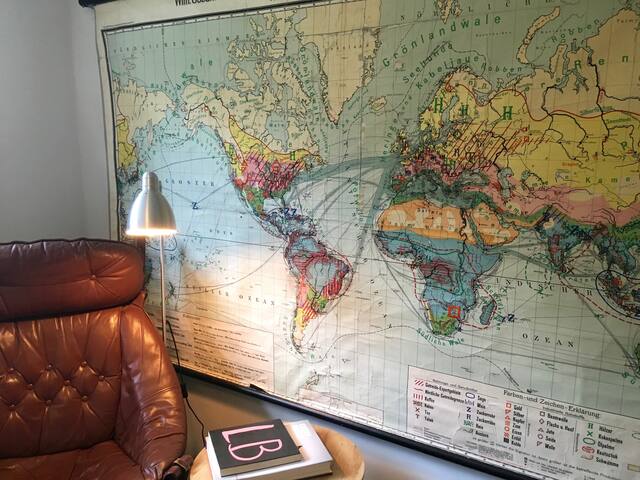 On the ground floor there is one bedroom with double bed (200x160), bathroom, kitchen and living room. On the first floor, there are bedrooms, with one bed (200x90), one bed (200x80) and one sofa-bed (200x140), and a toilet. Garden and open air hot tub.
The house is on two floor with a nice garden and an open air hot tub. On the ground floor there are kitchen, dining room, living room bathroom and a bedroom. On the first floor there is a toilet and 3 bedrooms.
There are some shops (24/7, restaurants, ice cream :) ) around the house in few minute walking distance. The mall KRINGLAN is only 10 minutes away.
Casa ottima situata appena fuori dal centro di Reykjavik. Dispone di tutti i confort. Proprietario molto disponibile e cortese.
Matteo
2016-09-01T00:00:00Z
Johann was a great host and accommodated our unsociable arrival and departure hours. The house is conveniently located less than a 10 minute drive from the restaurants and bars of Reykjavik city centre and provided welcome shelter when the Icelandic weather got too harsh to walk around outside. There was plenty of space for 4 of us and the house has all amenities required, the hot tub was a great added extra too!
Alexander
2016-11-14T00:00:00Z
Jonathan
2017-04-02T00:00:00Z
The place was really good. Very warm, very clean, and really cozy. I would definitely stay in Jóhann's place again.
Marco
2017-03-13T00:00:00Z
très bonne communication
JEAN
2016-08-18T00:00:00Z
We absolutely loved staying at Jóhann's place! His house was warm and inviting, with two wonderfully affectionate cats and a nicely appointed, cosy lounge to relax in. The hot tub was perfect. We were so comfortable and charmed by the place we were very sad to leave. It felt like a real home away from home for us. When we come back to Reykjavik we will definitely return to this lovely house. Thank you again!!
Belle
2016-07-04T00:00:00Z
Beautiful family home. The kittys were an added bonus and were very sweet and cuddly. Excellent hot tub filled by geothermal water. They accommodated us on very short notice and we were thankful.
Trinka
2016-09-27T00:00:00Z
Jóhann was an amazing host, very helpful and easily contacted. He left us a handy guide of the area and how to get settled in, setting up the hot tub etc. His place is lovely, very homely and has the most adorable cat ever! Although it was only myself and my girlfriend, it would be great place for a family trip. I would highly recommend and hopefully I will be back again for a stay over the summer.
Jimmy
2016-12-11T00:00:00Z
Tipo di stanza
Intera casa/apt
---
Tipo di sistemazione
Casa
---
Può ospitare
6
---
Camere da letto
Reykjavik, Regione della Capitale, Islanda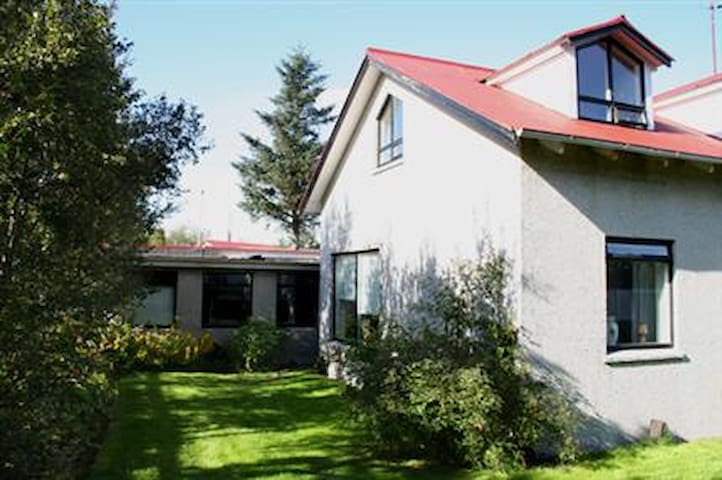 I´m NOT in the City Center. I have 2 rooms on first floor with double beds, one bathroom for both bedrooms, with shower and hair dryer. Refrigerator and microwave is in the hallway. Kitchen is on second floor where people can have breakfast in the morning. Very easy is to take the local buses downtown Just 50 to 300 hundred meters to the buses in all directions. 7 min walk to take the Fly bus to the Airport. Free Parking is front of my house.
There are refrigerator and microwawe downstairs which my guests can use and the kitchen is upstairs to have breakfast in the morning. My door is on the ground floor. Just 50 to 300 hundred meters to the buses in all direction.
Very short is to walk to a lovely places for example Elliðarárdalur og Fossvogsdalur
Très jolie maison un peu a l'extérieur du centre de Reykjavík. Chambre petite mais propre et confortable. Notre hôte nous a permis d'utiliser sa cuisine pour déjeuner. Ce fut très apprécié.
Camille
2016-07-13T00:00:00Z
Hugrun's place was awesome and our stay in her home was wonderful! The bedroom and bathroom was very clean and the bed was super comfortable to sleep in (wish we could take the bed with us home). Her home was located in a very convenient spot, 5-10 mins drive to downtown reykjavik, right beside the highway to get to south and north Iceland. Hugrun was very nice and welcoming! I definitely recommend staying at Hugruns place! Thanks Hugrun!
Frances
2016-05-08T00:00:00Z
Hugrun was a very friendly host, thank you so much for having us stay in your warm cozy home. The place was everything we needed and still very central to Reykjavik. All the best!
Daniella
2016-05-31T00:00:00Z
Great stay!
Milton
2016-05-25T00:00:00Z
Hugrun was very welcoming and helpful. She left a key in the lock box so we could get inside while she was at work which was nice. She let us use her kitchen and gave us nice directions to find the northern lights.
Victoria
2016-03-04T00:00:00Z
Our stay at Hugrún's house was lovely. We had everything we needed and the place was very clean. Hugrún was very welcoming and easy to communicate with.
Elvire
2016-08-01T00:00:00Z
Hugrùn est une hôte très sympathique, accessible, serviable et soucieuse du bien être de ses visiteurs. Le logement est agréable, avec tout le nécessaire et permet d'accéder facilement en bus au centre-ville de Reykjavik.
Sandrine
2015-09-22T00:00:00Z
Schone slaapkamer en badkamer. Communicatie ging goed. Het is gemakkelijk om met de bus in het centrum te komen. Zeker een aanrader! Bedankt Hugrún!
Tanja
2017-02-15T00:00:00Z
Tipo di stanza
Stanza privata
---
Tipo di sistemazione
Casa
---
Può ospitare
2
---
Camere da letto
Reykjavik, Regione della Capitale, Islanda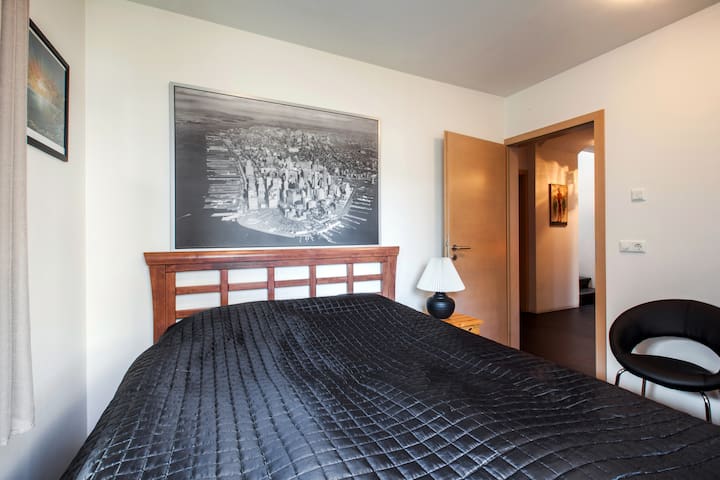 You will stay at cozy room for 2, with spacious bathroom in a sweet family house with the garden. "Grayline" terminal to KEF airport is in 15-20 mins walk from us. This is a new listing, please check our more than 100 reviews in my profile. We try to make our guests feel like home. Location: The house is standing in the 2nd line from the street "Langholtsvegur", so when you arrive - find house nr.152 and 158, and drive/walk in-between and our house is to the right, white one with red roof.
It´s a private family house with big garden, 50 min walk from downtown (5-7 minutes drive) and 20 min walk to the swimming pool Laugar and Laugar-spa with sauna, and 10-15 min walk from the Botanical garden with a Zoo. Several bus stations nearby, and 15-20 min walk from Bus terminal "Grayline" departing to the international KEF airport and Blue Lagoon and providing other interesting day trips.
10 min. to Botanical garden 15-20 min. walk from "Grayline" bus terminal /to KEF airport/. They also offer interesting day trips around Iceland. 10 mins to "Gló" vegan/ecological restaurant/store 5 min to Bonus supermarket 15 min walk to Hagkaup (24/7 ) supermarket Neighborhood is family friendly, some playground nearby and Zoo is in walking distance, also a swimming pool in 25 min walk/5 min drive.
Natalia was very responsive to all of my questions and concerns prior to our arrival. When we arrived, she gave us the warmest welcome and was really attentive to all of our needs. Her home is beautiful and cozy. Natalia also gave me a lot of useful recommendations. She was super mindful and considerate towards us. I'd come back to her place again if I have the chance in the future!
Chloe
2016-12-13T00:00:00Z
Es war toll bei Natalia. Das Zimmer war groß genug für zwei Leute mit viel Reisegepäck. Das Bad ist groß und alles war sauber. Die Haus ist gut gelegen und ein guter Ausgangspunkt für einen Tagesausflug nach Reykjavik oder zum Golden Circle. Natalia war immer gut zu erreichen und auch der Check-in hat super geklappt, obwohl sie nicht da war. Ihre beiden Kinder sind unfassbar niedlich und gut erzogen. Wir würden wieder bei ihr übernachten.
Indra
2016-12-30T00:00:00Z
Natalia and her family were GREAT hosts. Her two boys are cute as can be and the dog is adorable! If you're looking for a good value and a pleasant stay, this is a great place to be. The room is exactly as pictured! Bed is extremely comfortable, and the room is just the right size. Shower and bedroom were very clean when we arrived. Kitchen is open and you're free to cook, you even get your own shelf in the family fridge! Nespresso machine with pods was a definite plus and managed to save us some money too. Natalia was very friendly and very welcoming, always eager to point you in the right direction for the best things to see, places to go, and food to eat. We loved chatting with her and getting to know her and her family each night we stayed with them. If you're looking to stay in the Reykjavik area, this is definitely the place to be!
Brandon
2017-01-22T00:00:00Z
Natalia était très gentille et bienveillante envers nous. Elle est très accessible et pleine de bons conseils pour le séjour en islande. On compte revenir chez elle pour terminer notre road trip islandais.
Vincent
2017-02-15T00:00:00Z
Natalia was a great host! Her kids were adorable and we met Chi Chi, her dog as well. Chi Chi was really friendly. The stay was great and the house was really wonderful!
Pua
2017-01-26T00:00:00Z
Natalia is the sweetest! She was very hospitable, and we felt at home. The house is not too far from the downtown area and close to the Grey Bus Line. We were able to walk to a grocery store to make meals instead of eating out every time, and Natalia even labeled her kitchen! They have an adorable pooch named Chi-Chi. Thank you, Natalia!
Zoë
2017-03-16T00:00:00Z
Easy access from towntown by bus The place just as described and Natalia is a great and helpful host!
Marina
2017-03-21T00:00:00Z
It was a very nice stay. Natalia was really nice, told us good things and were very friendly. The house was clean and we directly felt comfortable. Nothing bad to say. Her boyfriend was also very friendly and her dog chichi a cute lady. The bathroom was a bummer. We took a bath in the big tub because we couldn't make it to the blue lagoon. Definitely a good stay. Thank you!
Nikolas
2017-02-13T00:00:00Z
Tipo di stanza
Stanza privata
---
Tipo di sistemazione
Casa
---
Può ospitare
2
---
Camere da letto
Reykjavik, -, Islanda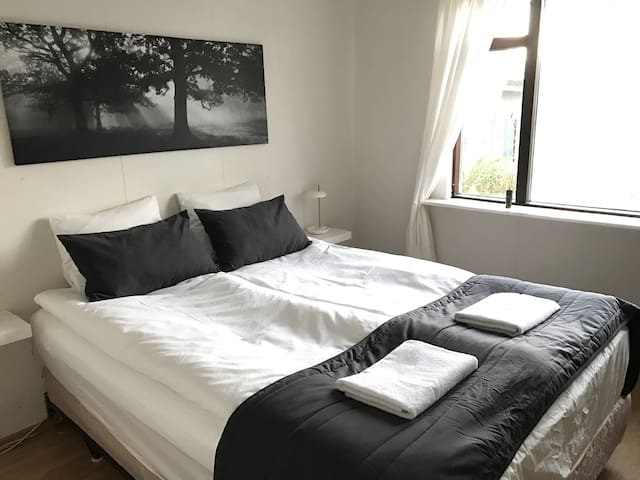 We call it a Mini Hostel we offer 6 private bedrooms with shared access to kitchen, 2 bathrooms & lounge. You will have a chance to meet other travellers from all over, and share your experience of Iceland. All the rooms have normal beds, clean linen and towels.
This room is 7,8 square meters, small but cosy and has the bed size 180x 200 cm, so it's suitable for 1-2 persons. The room is provided with clean linen and towels. Langholtsvegur is near central Reykjavik, we call it a Mini Hostel we offer, 6 private bedrooms with shared access to kitchen, 2 bathrooms, lounge & laundry. All the rooms are provided with clean linen and towels. You will have a chance to meet other travellers from all over at Langholtsvegur, and share your experience of Iceland. If you prefer want to be by yourself, that's not a problem, because all the rooms are private. From Langholtsvegur it takes about 8 - 10 minutes to get out of the city, pending on the traffic. In walking distance: Swimming pool, public park, sports area and restaurants. We like to recommend Saffran & Eldsmiðjan. All the parking is FREE in front of the house & out on the street. Bus number 14 is the number of the public transportation that will take you downtown the bus stop Sunnutorg is almost in front of the house (100 meters away) It takes approximately 45 minutes to drive from the airport to Reykjavík.
Short distances, whether you're going swimming shopping downtown or just take a walk in the park we called Laugardalur All the parking is FREE In front of the house and out on the street in front.
La casa è davvero molto bella e confortevole, ben gestita ed ordinata, fornita di tutto. Tutto è gestito in modo perfetto , davvero un' organizzazione magnifica e una bellissima esperienza!
Alex
2017-03-27T00:00:00Z
We were very pleased with the place. The room was not very big but perfect for the price. The facilities were good, we had access to everything and everything was very clean. It is not in the center, however it is very easy to access. Even the kitchen was very clean, make it pleasant to cook and stay around the house as well. Higly reccommended
Bruna
2016-04-01T00:00:00Z
We stayed for a week long stop over on the way to England. We are so lucky to find this house on Air BNB. Svana & Asi were excellent hosts. The house is equipped with a full kitchen, which we used everyday and saved a ton of $$$. Our room was extremely clean and perfect size for the two of us. Plenty of storage for our things and a comfortable bed. The house is a couple of miles from the city center but there is a bus stop 300 feet from the front door, just hop on the #14 bus and you'll be there in 10 minutes. This was a great place to stay!
Colin
2015-08-18T00:00:00Z
The room that Svana & Asi arranged for us was fabulous. Located in a private home, consist of 5 other bedrooms which is shared among other tenants. Bathrooms arr shared and there's 2 of them, do note one of them do not have a stand up shower but as mention there's 2. Access to washer and dryer is very kind of them. Kitchen is fully equipped and a simple meal could be easily prepared. We had a small trouble upon arrival as the keys are lock in a safe, since we are first time here in Iceland, even we had the password for the safe we took sometime to open the door! Rooms are not as big but designed very cleverly! Recommended for all except those who are lazy to walk the stair to the room.
Tijendran
2015-11-17T00:00:00Z
Svana & Asi's place is very cozy and comfortable, we really enyojed our stay here, their instructions are very accurate and everything is exactly as they mentioned, I will definetly come back again!
Valeria
2016-03-20T00:00:00Z
I loved staying here. It was so cozy and clean. It was also wonderful to have a full working kitchen. The house is a ten minute bus ride from the city center, and about a twenty to thirty minute walk. I would definitely recommend this place to anyone who wants a quiet place to recharge.
Bridgette
2015-04-07T00:00:00Z
Thanks for your help and all the priceless directions that you gave to us Svana. We had a great time in your amazing and beautiful country. Thanks again,
Sadiye
2015-06-15T00:00:00Z
Lovely house to stay and met some other travellers to chat to which is a bonus when travelling on your own.
Juliette
2016-09-24T00:00:00Z
Tipo di stanza
Stanza privata
---
Tipo di sistemazione
Casa
---
Può ospitare
2
---
Camere da letto
Reykjavik, Regione della Capitale, Islanda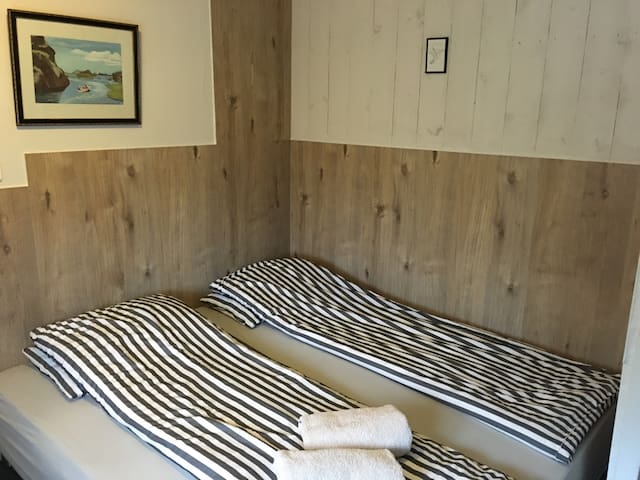 Very beautiful and spacious upper floor in central Reykjavik. The apartment is with 3 bedrooms, 1 baths, kitchen and a living room. The apartment is equipped with all comforts. Good transports, only 1 minutes walk to the bus station.
This is an apartment with 3 bedrooms, 1 baths, kitchen and big living room. Total size is 140 square meters. In the bathroom is both washing machine and dryer. Two balconies, one from 1 bedrooms and the other from the living room facing south with grill on. Our guests have also access to the backyard and privat parking.
Our home is located in central Reykjavik and is supported in all directions. Its a quiet neighbourhood a walking distance to big swimming pool (Laugardalslaug), gym, restaurants and shops.
The owner is very friendly and helpful! The house is clean and has all the things that we need for our stay (Cooking, Washing etc.) The house is very spacious too. The place is close to supermarkets and some of them is 24hours (Hagkaup) which is very convenient for us. Parking is available too.
Ye Yong
2016-08-07T00:00:00Z
The host canceled this reservation 9 days before arrival. This is an automated posting.
Jorge
2016-03-17T00:00:00Z
Amazing place great location and very responsive host. I will rebook this place in a heartbeat if I am ever visiting Iceland.
SANJAY
2016-08-05T00:00:00Z
Tipo di stanza
Intera casa/apt
---
Tipo di sistemazione
Casa
---
Può ospitare
6
---
Camere da letto
Reykjavik, Regione della Capitale, Islanda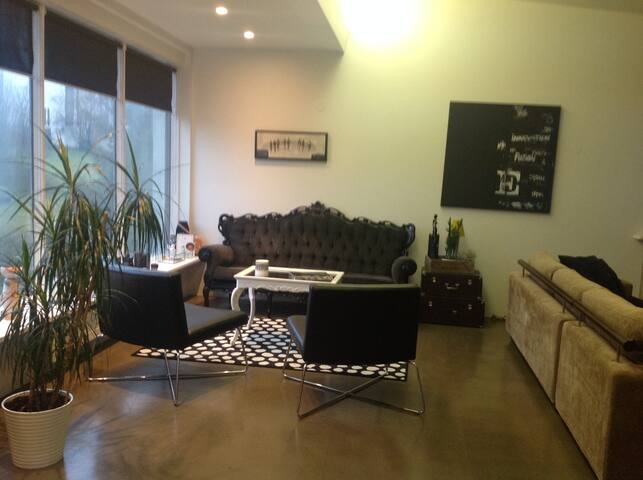 Háaleiti - Airbnb
:
Media di

4.57

stelle su

5

da

1208

recensioni degli ospiti
1

–

18

di

87 Case in Affitto
Inserisci le date per visualizzare il prezzo totale. Ci sono dei costi aggiuntivi e potrebbero venire applicate alcune tasse.