Your own little piece of Bali. Surrounded by the colours of tropical trees, flowers and sea. This place has already inspired quite a few artists to make amazing drawings and paintings. Feel the vibe!
For rent in Candidasa; Buana Poleng (=world in balance); seaview, beachside studio in the heart of the village, close to restaurants and shops; on a peaceful and quiet compound; 15 meters from the beach. One (bed)room cottage, kitchenette, fan, hot water shower, porch with table and sunbed. NEW: Queen size bed. Perfectly suitable for solo travellers & more than comfortable for two guests. Included: Cleaning service every other day, and Daily blessings with offerings by Komang. Bottled water. Tea, coffee. Other facilities (paid): Breakfast (35.000 Rp): fruit or fruit juice, and choice of pancake, toast with eggs, nasi goreng, or Komang's specialty: potato omelet. Laundry service, Massage, Boat rental, Motor bike rental, Car rental, Guided tours. Your neighbours are from all over the world, including BALI! For bookings for 3 weeks or more: FREE AIRPORT PICK-UP. Possibility to rent extra room @ neighbouring house; Buana Bali: https://www.airbnb.com/rooms/794782
Candidasa is in the east of Bali, which is a perfect starting point for tours all over Bali. Wayan can take you on these tours. He can also pick you up from the airport or your previous accommodation - at a reasonable price. Just let us know when and where.
Ciao! Siamo stati qui solamente una notte quindi non possiamo valutare bene la posizione ma sicuramente è vicino al mare e a diversi negozi e ristoranti. Sicuramente l'appartamento avrebbe bisogno di una rinnovata e una bella pulizia, soprattutto per quanto riguarda il bagno che era messo piuttosto male... Struttura a parte i proprietari sono molto gentili e disponibili! Davvero delle persone deliziose!
Niccolo
2014-08-14T00:00:00Z
Staying at Bu Ana Bali Sea Side Studio in Candidasa has been a wonderful 12 days! Anna was a most gracious and generous host who is deeply knowledgeable about Balinese culture and tradition and in particular the "old Bali" village of Tenganan. The location is the perfect balance between privacy and community, with all the conveniences of the village surrounds including great beachfront restaurants. Highly recommended for those who would like an insight into the Balinese rhythm of daily life. Terama kasi Bu Anna!
Angela
2014-12-10T00:00:00Z
Wunderschöne Unterkunft inmitten von Candidasa, liebevoll betreut von Annerie und Komang. Ich habe mich sofort zuhause gefühlt. Ein fantastischer Ort, um neue Kraft zu tanken, zu relaxen und das ursprüngliche Bali kennenzulernen. Vielen Dank und bis zum Wiedersehen, alles Gute!
Susanne
2015-01-03T00:00:00Z
Petit logement agréable et propre niché dans un quartier de Candidasa à quelques mètres de la mère. Komang et son mari, les voisins, sont très sympathiques et serviables. N'hésitez pas à leur demander conseil. Komang vous fera un petit déjeuner simple mais bon, que vous pourrez déguster devant la mère.
Axelle
2014-12-13T00:00:00Z
Thank you for making our holiday so special and unique. Bu Ana is such lovely person. We had the best time of our holiday in Candidasa. Everyone was so friendly and helpful. We will definitely come back. Thx for everything.
Christian
2015-06-15T00:00:00Z
I had a wonderful time in Candidasa. I stayed 12 days and everything was fine. Bu Ana is a fantastic host and the neighbour cared for the house very well. It was very clean. You can see the sea from the terrace and listen to the waves. The front porch is perfect to sit and read, or in my case, make drawings. At two occasions Ana took a trip with me to a village and some palaces around and she really knows the area and the people. She did a lot of arrangements for me as well. The dive studio (Bambu) next door is very good too, ask for Gerard, the dive instructor. All in all: I can really recommend this place.
Reinhard Kleist
2014-10-20T00:00:00Z
Small but perfectly formed, Buana Alit is the perfect little coastal retreat. A stone's throw from the sea, there are plenty of restaurants to choose from serving freshly caught fish. You're quite close to other villas and locals so be prepared to be woken early but that's just how it is in Bali. Komang was very helpful, welcoming and is always about should you need anything (breakfast and motorbikes included). The only minor issues would be having no toilet door and the bed is a bit smaller than your average double.
Mark
2015-08-08T00:00:00Z
Highly recommended! Really nice and clean accomodation (so much space for 1 person). Breakfast was also delicious.
Philipp
2016-05-03T00:00:00Z
Tipo di stanza
Intera casa/apt
---
Tipo di sistemazione
Casa
---
Può ospitare
2
---
Camere da letto
Manggis, Bali, Indonesia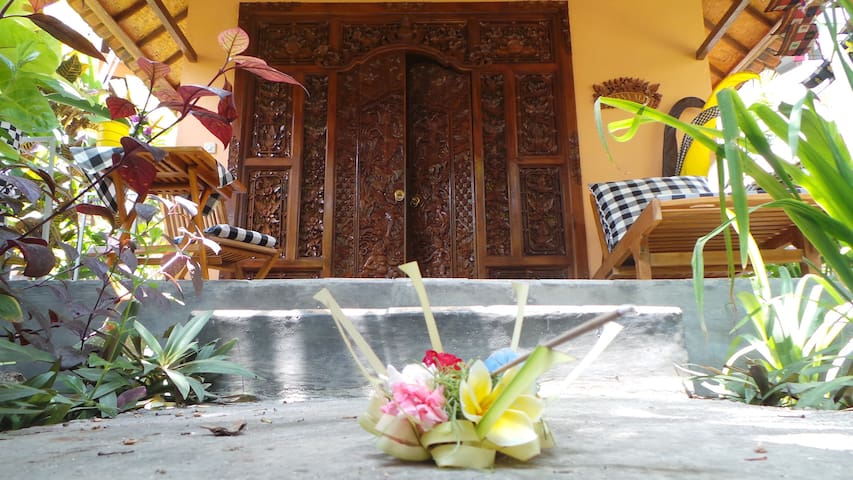 Our house in the quiet, one-street beach resort Candi Dasa has three separate bedrooms, with ocean views and water facilities. Swimming and snorkeling are about ten steps down on your private beach stairway. Many restaurants are in walking distance.
It is now illegal to build within twenty-five meters of the beach in Bali, but this house has been renovated (legally... we have been assured) using the older, original building permit issued before the new law took effect. You will find very few places in Bali built on the water; if they are, then they must have been built years ago. The house itself is a concrete building and is built between the main road and the sea where the road passes closest to the ocean. All three rooms are large, especially the downstairs room. The two rooms facing the sea are just what the pictures show: nice views with the sound of the waves and fresh sea-salt air. However, the one upstairs room which faces the main road is not very quiet. Cars are not too bad, but some scooters or motorbikes can be annoying. If you are a large group, earplugs might be a good idea for this room until we get the doors and windows soundproofed. Also, when a large group stays, be careful with the hot water. There is only one hot water tank so a group of six cannot all take long hot showers at the same time. In the main listing picture, you can see a long man-made rock embankment extending out from directly in front of the house and separating the sea from the higher sandy area. From the left side of our house you can step directly onto this embankment, but from the right side you can walk down our private stairway to the beach which is twenty to thirty meters wide only when the tide is out. When the tide is in however, there is no beach: the water comes right up to the house retaining wall, covers the lower stairway, and you might even get a little spray if you are sitting on the terrace on a breezy day. At moments like that, our location is hard to beat. The beach is black, gray sand, not white. In one picture you can see a long jetty extending away from the retaining wall. This creates a safe swimming area between the jetty and the embankment; but unfortunately, it also helps the beach collect whatever driftwood, plastic, fishing net, or bottle that floats in with the tide.
We can step onto the beach and walk left to the Lotus Sea View restaurant in less than a minute, or walk right to a hotel bar and pool in two or three minutes, provided the tide is low. Snorkeling is right in front. If you go out the door to the street, you can also walk to dozens of nice restaurants. We always have plans to hire a boat for a snorkeling trip or rent a car for some touring; but when we get to our house, we end up parked on the patio or the sofa gazing at the waves for our entire vacation.
As the listing emphasizes, you'll have a hard time finding such wonderful private accommodation so close to the water in or near Candi Dasa. Communication from the hosts was excellent, and the local staff were friendly and helpful. The house is large enough and laid out such that our group was able to separate and enjoy privacy during downtime without sacrificing anyone's enjoyment of the home's highlights—the sun and the seafront. An impressive value for the money.
Jason
2017-01-05T00:00:00Z
Thank you! Our stay was lovely! Stuff was helpful and amicable! The house is well maintained and spacious. The only thing was a critical for me - the noisy road. I was able to hear every vehicle from the road. Wifi barely was working. Mostly it was off. Sadly the beach area front of the house was awful with all the garbage trapped in there due to the wavebreakers. But nevermind. I've heard it's going to be a new sand beach in Candidada within a 12 month.
Olga
2017-03-12T00:00:00Z
I had a wonderful stay with John and Masako!!! Villa was great and clean and had a very beautiful view))) The stuff on this villa was very helpful and we've got everything what we would asked for. All of us enjoy staying at this place!!!
Darya
2015-07-06T00:00:00Z
Good stay, very nice and helpful housekeepers. There are money changer, massage service and food just across the road.
Hudson
2016-10-17T00:00:00Z
We had a nice stay in John and Masako's house. Everything was as described, very clean, awesome view and sunsets from the balcony. The staff was really friendly and helpful. Thumps up!
Elif
2017-01-03T00:00:00Z
John, Masako and their staff were truly amazing! Their home is so beautiful and spacious with fantastic views. They helped us from the moment we landed in Bali and were even able to help us get passage to the other homes we stayed in across the island.
Kateri
2017-02-13T00:00:00Z
Lovely house at the beach, very friendly and helpful housekeepers. We loved the upstairs room with seaview and outdoor shower. Only drawback was the noise from the street in one of the rooms. Wifi connection could be improved ;-)
Lara
2017-02-24T00:00:00Z
Everything was perfect. From the villa - what a stunning view! - to the kindness of the staff, we really enjoyed our stay. Everything went fine from the moment we arrive until the day we leave. Communication with John and Masako, but also with the manager of the villa, was also really good. We would like to thanks John and Masako for letting us rent their villa, and also the manager and the staff.
Alban
2015-08-25T00:00:00Z
Tipo di stanza
Intera casa/apt
---
Tipo di sistemazione
Casa
---
Può ospitare
6
---
Camere da letto
Karangasem, Bali, Indonesia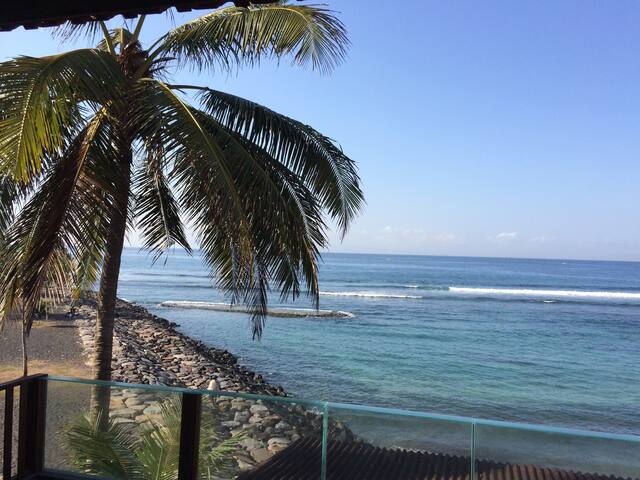 Our fully self contained beach pad is the perfect getaway for those who want a home away from home. Set in a compound, it is a safe and friendly environment. Only steps away to a white sandy beach with restaurants and shops on your doorstep
We're sitting here, talking to our friend who we actually met in Candidasa and she summed things up perfectly, "Candidasa is just MAGIC!" until you come here you can't understand. It's just a great place to be and you feel so at home". It is a really clean, well maintained village with wide tree lined streets and everything that you could want. Our place has a really friendly community feel and is nestled back in among other little homes, coconut palm trees, roosters and chickens and local Balinese families. It is very safe and child friendly. Candidasa is not a very big place, but has a main road running through the middle of town full on either side with many restaurants, lots of live music and many shops. Asri Shop, the main convenience store stocks everything: clothing, import swimwear, wooden carvings, food, drinks, toiletries, shoes, incense, sun block, EVERYTHING! The water out the front of our place is clear and great for snorkeling. Not a huge beach but it is private and we think very beautiful. The tide varies depending on the moon cycle from very high when it comes up to the top of the big sea wall or very low when you walk out so far. Padang Bai, is 15 minutes away where you can snorkel at Blue Lagoon and also where you catch a fast boat to the Gilli Islands which are a must see. Also in the other direction, about 15 minutes is Virgin Beach (another white sand beach) which is also a must visit. There are many warungs so you can eat and drink and the restaurants provide day beds that you can lounge on.There are many scuba dive shops in Candidasa to take your pick from. We even have a pizza delivery service!! We have a fantastic driver and tour guide that can meet all your transport needs. If you want to do some sight seeing, go for day tours, climb Mt Agung, hire a car or motorbike, we can help you with all that. We always recommend that you use our drivers to bring you to our place as they know exactly where it is and can introduce you to Komang who will look after you during your stay. We can organise that for you when you book and help you in any way we can. Downstairs is kitchen, living and bathroom with hot water in both kitchen and bathroom. Kitchen is well stocked and a great space to create in. Komang can help you with booking a massage, information about the area and any other help you may need. She just lives around the corner so is very handy to find when you need her. To clarify, there is only one queen bed upstairs, with a super comfortable, high quality mattress. The other 1 or 2 beds are created by converting the modular lounges.The downstairs lounge converts into either 2 single beds or 1 King size. We don't have air con, but we do have overhead and pedestal fans both up and downstairs. It is a very well ventilated home and we find it most comfortable as there is usually a lovely sea breeze to cool things down. Also we do not have WIFI. If you need internet there are many places to go to access. Or if you would like, Komang can help you to get for your phone. Very cheap and easy to do and it is what we always use. Then you can use when ever you want during your stay in Bali. There is one bathroom downstairs with combined shower, basin and toilet. For an afternoon of Europe style fun go to Potato Head in Semiyak. Also good is Ku De Ta, Merah Putih, Biku (great café that does High Tea). Oh so many places and so little time!!!! I could write for days! So, most importantly, if you chose to visit with us, enjoy your stay and have the most wonderful holiday experience ever in your Bali home away from home.
If you like yoga then the Gedong Gandhi Ashram is just down the road and has daily outdoor classes in a bale right by the ocean. you just pay a 50,000Rp donation. Such a beautiful place. They also have really great acupuncturists available in their clinic. White Sand Beach at Jasri is also a must see and only 15 minutes away. Surfers can head to Jasri and also Candidasa Main beach. Our favourite place to eat in Candidasa is called Warung De Lima, which is opposite the Palms right at the beginning of Candidasa. It is super great. The food is always fresh and FANTASTIC! Tip, always ask for no MSG when ordering food. The Balinese love to put it in their food and as we know it is not good for you! Vincents is a beautiful restaurant. Perfect place to go for a special night out plus they have live Jazz. Just check out dates. The Loaf is the best place to get a GREAT coffee and really yummy food. Highly recommend.
The beach house is a small but cute bamboo beach shack very close to the water. While you can swim there it was less a swimming beach and more a great spot for safe snorkelling. The house itself was fun but with no aircon and little glass it was very exposed to the elements. We were very tired and not really in the mood for adventures when we arrived so it all felt a little bit like hard work. It would've a great place for a young couple who were keen snorkellers and wanted to do things Bali style.
Jonathan
2016-01-31T00:00:00Z
Our erxperience with the Bali Bamboo House was very poor. We could not recommend staying there. We (a couple with two kids) booked the Bali Bamboo Beach House für four days. We could only arrive one day late, because our son got ill, this is why we could not could after arrival. We did not stay, and we prefered not staying and not getting money back, to staying. In Detail: Communication was very poor. We wrote three times that we do need the specific adress, did not get an answer. Finally they told us, they want to send the adress three days in advance, which they not did. We asked again one day bevore arrival, than, finally we got the adress. Back home we wrote, that we did not like the house and asked to answer. We did not get an answer in one week. In our opinion the house is not, as described. In fact, there are not 3 beds - in fact it is only one. Asked, where we could put our kids (2,5 and 6yrs), the personal at the house suggested to let them sleep on the balcony! (in the first floor,there´s hardly more space than the bed itself; when you convert the sitting room couch to a bed, theres no more space to sit. It is not a beach house. There is no (white sandy) beach. On Picture Nr. 6 of the ad, they are pointing out "sunset from our beach" - though in front of the house is only a concret wall to the sea, there is no beach. Too small, no beach, we did not stay. We already wrote this points to Kam and Harper, no reply.
Philipp
2015-06-15T00:00:00Z
Kam's beach house was spectacular. The view was amazing, the staff maintained the cleanliness of the house. It's made of bamboo and air flows efficiently, no ac was needed.. The upstairs balcony was my favorite part of the house, at night you can hear the waves crashing and it was a nice touch. It truly is a beach house. The location was perfect, we walked everywhere. All you need was within walking distance, grocery shop, souvenir shop and clothing store. Definitely would stay again
Angie
2016-09-12T00:00:00Z
What a wonderful time we spent at the bamboo house by the sea at Candi Dasa: great location nearby the beach and many shops& restaurants, we had a very warm welcome by Kal & Harper, clearly explaining all the possibilities for things to do nearby. They arranged massages, a driver to show us around the region and arranged a snorkelling trip to the blue lagoon nearby candi dasa. The house itself is very nice with 2 levels, the bottom level is the kitchen, bathroom and seating area which was conveted to a double bed for our friend. The upstairs level,has 2 balconies, one with a very nice view of the ocean and a very comfortable kingsize bed. There is no airco but this was not a problem as the seabreeze and the fans provide enough freshness
Nona
2016-02-21T00:00:00Z
Kam's house is candidasa was absolutely amazing! 2 levels with a great little kitchen. Very comfortable. Kam made us feel right at home and showed us around the town- pointing out places to eat and helping organise travel arrangements. Couldn't recommend his house more!
Hayley
2015-12-03T00:00:00Z
Kam & Harper were very communicative. They came to meet me on arrival but we weren't around, but gave me a call to make sure everything was good. The room is great with a beach feel you don't get much places else. Good food, shopping, convenience stores, laundry all near by. The cleaning service was great, and we were able to go visit around with ease. Obviously if you book this place you understand there's no wifi, however we ate at the temple cafe nearby (3 min walk on main road) and they had good internet (and yummy food)
Barry
2015-01-01T00:00:00Z
I was one of the first to book a reservation at the Bamboo House in Candi Dasa from Kam and Harper. They were so awesome - very communicative with me in advance of the reservation, to make sure I would get there alright and if I needed anything in the refrigerator to make my stay more comfortable. I ended working with their driver, Made, who was so nice and really took care of me during my stay. Komang is the house manager/keeper and was there for my arrival. She was extremely helpful and helped get some of my laundry done while I was there (very affordable). The house was great - just what I wanted for 3 days to disconnect. It is right in this area with other bungalow rentals and steps to the ocean and steps to cafes, shops, etc. The house is very comfortable but note - there is no WiFi (though you can walk to any of the cafes or restaurants 5 mins away to get your email fix) and no A/C (they have fans and windows to keep the breeze going). Made was a great tour guide of the area, taking me to Tenganan village, the water palaces and the chocolate factory. He also arranged for my hike of Mount Agung which you have to do when you're in East Bali - incredibly rigorous but so worth it! I just had one bit of feedback to the owners - that Komang could keep the house a bit cleaner for guests. It wasn't not clean, but old soap bars in the bathroom could be removed for new guests, that sort of thing. Also, it is a bamboo house, so no real barrier to ants so you'll see those little buggers around. But they typically stay where the food is. All in all - if you're in Candi Dasa, you should book this place!
Allison
2014-02-14T00:00:00Z
We had a lovely stay at Kam's place in Candidasa. It was very conveniently located in the middle of Candidasa so we could walk to restaurants. The beach in front of the house was really nice for swimming and collecting treasures that had washed up on the shore. The house itself was charming both in its design and its incorporation of shells and wood from the beach. There were 4 of us staying here which proved to be a bit tricky. The upstairs is lovely but sleeping downstairs was difficult in that you could hear so much sound when people walked across the floor and its not really an ideal sleeping place as there is no privacy from the kitchen. The toilet was also very open and meant that no one could go upstairs or downstairs when someone was in the toilet as there was no ceiling of door on the toilet. Ultimately I think the house is most suitable for a couple and we would definitely go back with just the two of us again. There were some construction works going on at the side of the house which we were only told about when we arrived at the location. It would have been me to have known about it before as the work strted quite early in the morning at 7.30am and meant that sleeping in was a bit difficult. Overall though it was a lovely neighbourhood and we really appreciated being able to bring our dog along so she could enjoy the holiday too.
Sinéad
2016-04-01T00:00:00Z
Tipo di stanza
Intera casa/apt
---
Tipo di sistemazione
Casa
---
Può ospitare
4
---
Camere da letto
Manggis, Bali, Indonesia
Wonderful villa located few miles away from Candidasa town. Nearby area features a wide selection of restaurants as well as secluded beaches and tourist attractions (White Sand Beach, Tirta Gangga, Ujung Water Palace etc). Tranquil sunset spot and private beach only few minutes away. Beautiful garden, big pool and sea view as a bonus. Villa features fiber-optic internet, 50 inch flat screen satelite TV and BBQ, as well as daily cleaning service & security.
We love our house and try to make it better every time we come ourselves. It is very spacey, features huge kitchen and plenty of areas to rest outside including a garden house. The house itself is built in a unique style that blends modern architecture with traditional Bali techniques. People around the place are very genuine Balinese, welcoming and charming. Have a good time!
The area is quiet and peaceful, with a number of sacred temples around and a private beach down the road. There are plenty of grocery stores, small restaurants and other essentials nearby. Enjoy!
The property was easy to find. We were met by 2 very nice and obliging staff. This one bedroom villa was large with lush manicured gardens and a beautiful swimming pool. The lounge and bedroom was big with nice high ceilings, both having air conditioning. The big balcony on the upper floor had sofas and caught the breeze which was nice. The villa is quite private although is slightly over-looked by a new 2 story villa being built next door. Barking stray dogs along the gang at night is a bit of an annoyance.
Mike & Peter
2016-07-30T00:00:00Z
This is an amazing property located very close to the beach, the place was very clean and the housekeeper went above and beyond to make sure everything u needed was done.
Aaron
2016-09-13T00:00:00Z
The host canceled this reservation 33 days before arrival. This is an automated posting.
Rudolf
The villa is really beautiful and looks like the picture. Me and my girlfriend are stayed in the villa. It was very big. The staff was really friendly and good. It was a perfect villa!!
Marcel
2016-07-12T00:00:00Z
Tipo di stanza
Intera casa/apt
---
Tipo di sistemazione
Casa
---
Può ospitare
3
---
Camere da letto
Manggis, Bali, Indonesia
Villa Rama , A beautiful 3 bedrooms (sleeps 6), air conditioned oceanside villa with private pool with access to the sea via steps. For the same price as a hotel room rejuvinate yourself relaxing in the sun listening to the waves roll in.
Villa Rama is nestled in tropical gardens with sun lounges and a bal'e for an afternoon siesta next to the fully tiled swimming pool. The villa has 6 person dining table, lounge and outdoor setting. WI-FI , Satellite TV are supplied. The kitchen has a large fridge, microwave and cook top.
Candidasa is filled with bars and restaurants and many shops just a short walk from Villa Rama. White Sand beach is just 15 minutes away and Jasri surf beach 20. Diving , Trekking, surfing is popular along with meditation, yoga and relaxation.
The host canceled this reservation 11 days before arrival. This is an automated posting.
Dmitry
The host canceled this reservation 101 days before arrival. This is an automated posting.
Torgeir
Nous avons plusieurs jours bien sympathiques dans la villa Rama. Candidasa est une ville qui permet de visiter facilement l'est de Bali. Taman qui nous a accueilli a été disponible tout au long de notre séjour. La villa est superbe. Le petit déjeuner devant la piscine avec vue sur la mer est juste parfait!! Vous êtes proches de la rue principale où manger facilement. La ville est plutôt calme par rapport à d'autres villes de Bali. Nous recommandons vraiment cet endroit.
aude
2016-08-07T00:00:00Z
A fantastic location right on the water! There is a great restaurant/hotel right next door that will happily deliver food to you, and boat captains usually can be found just outside to take you on a trip. The place itself is just as stunning as the photos, a true classic Bali style. The caretaker there can help you with anything you may need. The snorkeling just outside was great. Really the best villa in the area!
A
2016-02-21T00:00:00Z
The location of the villa was amazing and we enjoyed our stay here. Its far from the tourist area, tucked away in the small village of Candidasa. The caretaker Taman was quite helpful. The white beach and snorkeling lagoon were just a boat ride away. The kids loved the pool and we saw some of the best sunsets during our stay here. Good restaurants nearby (Vincent's and Shangrila) ensured we had our choice of local cuisine. A peaceful and enjoyable stay..
Vasanth
2016-01-11T00:00:00Z
Awesome location right on the beach! The pool is very big, 2 meter deep. the water is over 30 degrees in the pool, so if you want to cool down, just go for a swim in the ocean instead. There is a hotel just a few meters from the villa that serves breakfast, lunch and dinner. The straff was really helpful. The villa was a bit worned out and 50% of the lamps and electricity didnt work. The wifi was not that good and did lose connection pretty often. all and all a nice place for relaxation and snorkeling.
Jimmy
2017-03-01T00:00:00Z
A very nice villa, wonderful location, quiet and within 5 mins walking distance to many restaurants (> 8) & convenient stores. Place is clean and aircon is cold enough for us. Candidasa (where a lot of dive shops are located) is less than half an hour away by car. Do note that although the villas are in a big private compound, each individual villa does not have private fencing so the pool area is open, which is fine by us. There is a small gate to next door's hotel so breakfast is just steps away. The main/biggest bedroom comes with its own bathroom whereas the other 2 smaller bedrooms shared a single bathroom (also accessible from the living room). Only the main bedroom comes with a small security safe. Agung was very responsive before & during our stay, and almost always replied right away to all our queries. The caretaker Taman came by daily to check on us, and did some cleaning ups. Highly recommended.
Jeremy
2016-10-03T00:00:00Z
The host canceled this reservation 135 days before arrival. This is an automated posting.
Cyril
Tipo di stanza
Intera casa/apt
---
Tipo di sistemazione
Casa
---
Può ospitare
6
---
Camere da letto
Manggis, Bali 80851, Indonesia
Design moderne pour cette villa de 600m² face à sa piscine de 18m et à l'océan. La villa Blanca est située à Candi Dasa sur la côte sud à l'est de l'île de Bali. Luxe, relaxation et excellent service qualifient cette demeure d'exception. on you tube (URL HIDDEN)
La villa Blanca est située à Candi Dasa sur la côte sud à l'est de l'île de Bali. Cette villa de 600 m² au design moderne est située directement sur l'océan et une des plus belles baies du pays. Un immense salon salle à manger, cinq chambres dont quatre avec salle de bains attenantes et grands dressings, une piscine et un jacuzzi appellent à la détente. Un personnel de six personnes s'occupe des hôtes et répond à leurs moindres désirs. Ici, le tourisme est en plein essor. En effet, la tranquillité de l'endroit contraste avec la zone touristique de Kuta et ses désagréments. Cette villa sera le point de départ de nombreuses excursions sur le pourtour de l'île ou vers la zone volcanique et Ubud.Un guide et chauffeur peuvent être mis à (URL HIDDEN) ne faut bien sûr pas oublier la baignade quotidienne sur le massif corallien situé juste devant la villa. En conclusion cette villa unique, moderne au grand confort saura séduire les personnes à la recherche d un endroit pour se ressourcer et partager 'le temps de vivre' avec des amis, dans une ambiance moderne et confortable.
The reservation was canceled 54 days before arrival. This is an automated posting.
claire
Magnificent pool seaview and very gracious villa crews
Hani
2017-03-01T00:00:00Z
Awsome place, with awsome view, with very nice, friendly service staff! The best thing, is they only charge you for the material and cook for you for free. We even cooked by ourselves as part of the fun. The drink and wine also very reasonable price. Recommend!!!
子雁
2015-03-01T00:00:00Z
The villa and staff were AMAZING – everything we had hoped for and more! The villa is beautiful inside and out, it was a perfect family holiday. The staff were very helpful and nothing was ever too much trouble. We will be returning to Villa Blanca.
James
2016-04-04T00:00:00Z
This was absolutely one of the best holiday experiences my family and I have had. I can't say enough about how welcoming Philippe's staff was for us during our stay, ensuring that every detail was covered. The house was very well equipped from with food / drink, as well as reliable internet (important as I often work on holidays). The location in East Bali was perfect as it was on the end of a few high end villas, with a reef to snorkel on in the mornings during low tide (which we did every morning). Everything about the pictures is even more beautiful in person, with a perfect infinity pool, as well as seating for dining and relaxing that takes full advantage of the sea and views. I would highly recommend this location to anyone.
Bill
2015-02-24T00:00:00Z
Listing is very accurate even the real property is much better than the photos. Awesome view and location. Great facilities. Helpful and nice staffs. Worth every penny. And of course, friendly host. Everyone in my families enjoy the vacation on this private villa.
Ruby
2016-09-14T00:00:00Z
Our holiday in Villa Blanca was excellent. All worked very well and the very nice house together with the friendly and efficient staff made our stay unforgettable. I very much recommend Villa Blanca Candidasa. Thank you very much Philippe!
César
2015-07-29T00:00:00Z
My family and I enjoyed the great view at the villa. The rooms are dining area are spacious. Highly recommend for anyone who is looking for a peaceful retreat.
Xule
2016-08-17T00:00:00Z
Tipo di stanza
Intera casa/apt
---
Tipo di sistemazione
Casa
---
Può ospitare
10
---
Camere da letto
Manggis, 80871, Indonesia
Villa Cocoa Maya is available as a 3 or 4 bedroom villa on the Candidasa seafront, set just 20 metres back from one of the town's very few stretches of sand beach. The villa is fully staffed, including a cook, and is situated in a beautiful large garden.
Villa Cocoa Maya is set just 20 metres back from one of the town's very few stretches of sand beach. It has magnificent, sweeping ocean views across the ocean and there are a number of internationally celebrated dive sites in the area. It is just a few minutes' walk to the centre of Candidasa where there are plenty of restaurants and shops. The villa's four large bedroom suites each have their own bathroom and large lounge areas, all with ocean views. Three of the suites also have a balcony. The suites are fitted with king-size beds, air conditioning, flat-screen TVs, and DVD players. Two extra mattresses are available for a maximum of ten guests to enjoy the villa. There is an open-plan inside living/dining area, as well as a large outdoor covered lounge set back from the sea, and a dining terrace situated closer to the ocean. The large, flat garden is complemented by the massive 18m long infinity swimming pool. It's all about relaxing! We love to spend as many of our holidays at Cocoa Maya as possible but, when we're not there, we love to rent it out. You can expect a very relaxed beach holiday at Cocoa Maya. We have staff who will look after you, from housekeeping to cooking (we include breakfast in your rate), and there are lots of areas where you can just relax - the pool, the garden, the outside lounge, the Balinese bale - take your pick! Villa Cocoa Maya does not offer self-catering, although the staff are more than happy to show you how they prepare the traditional Balinese dishes that we offer. The ocean is warm and calm and has superb snorkeling literally right in front of the villa! The villa is at the end of a quiet lane right on the beach. It is an easy five-minute walk to the main town of Candidasa where there are excellent restaurants and shopping. Many regular visitors to Bali comment that Candidasa is like southern Bali was forty years. It is a quiet fishing village but has more than enough in the town, and close by, to keep you entertained. Location, location, location! Our villa is quite unique in the area. We are located on a large double stand which is unheard of for villas in Candidasa, we have a white sand beach directly on our doorstep (most villas only have ocean access from a pier and do not have a beach), and we are a five minute walk from central Candidasa. A lot of villas in the area either have a beach, or are within walking distance of Candidasa, but we are unique in having both!
Candidasa is a small fishing village in east Bali. It is often described as still being like the Bali of 40 years ago. While it is quiet, there are excellent restaurants in the area, fantastic water sports and sightseeing, and some shopping. Because of Candidasa's excellent position as the gateway to east Bali, there are many fascinating areas to visit if you've had enough of lounging on the beach! Listed are a few of the sights surrounding Candidasa that are worth a visit: Besakih Temple – Bali's Hindu Mother Temple Besakih Temple is about an hour's drive from the villa, through beautiful scenery. Besakih is the holiest and most important sacred site in Bali. The complex consists of 23 temples located one thousand metres up the slopes of the volcano Mount Agung, the tallest mountain in Bali. Ceremonies at Besakih, of which there are many, are a particularly spectacular sight. Goa Lawah – The Bat Temple Less than a 10-minute drive from Villa Cocoa Maya lies the small but important temple of Goa Lawah. The temple is built just in front of a cave opening in the coastal cliffs and is home to thousands of fruit bats. Legend has it that it is also home to a giant dragon-like snake called Basuki. TirtaGangga Water Palace (Waters of the Ganges) TirtaGangga is an easy 30-minute drive from Villa Cocoa Maya through beautiful rice paddies, with excellent views of Bali's biggest volcano, Mount Agung. A real feel of old Bali still exists in this region and it is worth taking a trip back to the villa via the beauty of the Sideman region, famous for its handloom weaving. Tenganan Village The isolated Bali Aga people, who are the original Balinese, date back thousands of years. Surprisingly, their bloodline and culture has stayed largely intact over that time and is quite distinct from the rest of the Balinese, with the Bali Aga still speaking a dialect that is entirely their own. Because of their unique beliefs and practices they are of interest to tourists, anthropologists and historians. Tenganan is considered to be an excellent example of a Bali Aga village in Bali. Just a few kilometres away from Villa Cocoa Maya, it is possible here to see examples of the famous double and single ikat weaving; temples; the communal kitchen for preparing ceremonial feasts and the village meeting place. Ubud Approximately an hour's drive from Candidasa lies the small inland town of Ubud, beautifully situated among picturesque rice paddies. Despite the increasing numbers of tourists, Ubud, known as the cultural heart of Bali, still retains its charm. It is well known for its good shopping, excellent restaurants, fantastic spas, and many spiritual practices and varied courses. Diving The area around Nusa Penida (approximately 30 minutes by boat from the villa) – together with Komodo and Raj Empat – is considered by many to provide the most exciting, and diverse, diving anywhere in the world, with a diversity of fish rarely seen elsewhere. Combined with amazing shipwrecks and coral reefs up and down the eastern Bali coast, Villa Cocoa Maya provides irresistible diving opportunities. Snorkelling If you prefer your marine exploration to be a bit more relaxed, and closer to the top of the ocean, look no further than snorkelling right off the beach at Villa Cocoa Maya! The coral reefs directly in front of the villa allow for the presence of beautiful and diverse fish in warm swimming water. If you prefer, the local fishermen can take you snorkelling further afield at the little islands just off our coastline, or at Blue Lagoon at Padang Bai, or further east at White Sand Beach. There is limited snorkelling gear at the villa which you are welcome to use during your stay. It is also possible to hire equipment in town. The staff will happily assist you with rates and arrangements for the fishing boats, or you can chat to the fishermen on the beach yourself. Nearby beaches While you have a beach right outside the villa you might feel like a change once in a while. The two best beaches in the area to visit, which make for a really nice day out, are Blue Lagoon near Padang Bai or White Sand Beach. Both are great swimming beaches, are about a 20-minute car trip or boat ride away, have snorkelling, excellent warungs(traditional restaurants) where you can eat grilled fish or seafood, and inexpensive sun beds to hire for the day. If you prefer, you can combine snorkelling off the boat with a lazy day at the beach. Trekking There is beautiful rice field, hill and mountain trekking available around Tirta Gangga. It is also possible to trek up Mount Agung. The walk up the volcano of Mount Agung leaves in the early hours of the morning and takes about 4-5 hours to ascend and the same time to descend. White Water Rafting Various operators offer rafting on the Telagawaja River at Karangasem. The rafting portion of the river is about 12km long, takes two hours and has Grade 3 rapids. Cycling Cycling is a beautiful way to see the Balinese landscape and there are tour operators who offer cycling for different expertise and fitness levels, and also tours that include children.
The reservation was canceled 7 days before arrival. This is an automated posting.
Bart
Simply an amazing experience. A truly beautiful home with one of the only villas with direct beach access. Can't imagine anything better on Candidasa! Mailie was incredible to work with from start to finish. She responded to each of my inquiries within minutes and went out of her way to make sure we had everything we needed. The staff at the villa was a delight - efficient, fun-loving and responsible - and they took care of our every need while also appreciating our privacy. It really is a stunning villa! We marveled at the furniture and decorating throughout and each immediately selected a room that fit our style. We were traveling with 6 adults so I loved that the rooms were separated enough that we all felt we had a great deal of privacy when we wanted it. I almost forgot to mention the fantastic food! And, the sweet staff took the extra effort to make us a local treat after noticing us admiring it. After staying in Seminyak on our last trip, we chose Candidasa because it provided the Bali experience without all of the people and traffic. We're so glad we made that decision. There's a lot to offer in this area. We were able to snorkel right from the villa and the staff coordinated a boat for us to snorkel a bit further out, which was fantastic. Very close to the monkey temple and a trip to the water palace is a must! Can't say enough about our time at this wonderful paradise. We just regretted not being able to stay longer.
Trina
2016-02-26T00:00:00Z
Transportation provided by the villa is overpriced. So is some food. Other than that - best villa in Candidasa...
Anna
2017-01-15T00:00:00Z
The house of Mailie is very beautiful with a great and amazing location on the beach. The pool in the garden overlooking the sea is beautiful. The rooms are very nice and spacious, each with a bathroom. We went to the beach front of the house but also to white sandy beach is a beautiful beach 15 minutes by motorbikes. We had a very good stay, I recommend the house. However, what is a shame is that we had no access to the kitchen and home services such as laundry service are paid. However, the house is fantastic.
Charlotte
2013-11-11T00:00:00Z
My family and I had the most wonderful vacation at Villa Coco Maya. It is not a traditional airbnb since it is full-service, but it was great for a large group because we could just order food/drinks/transportation/boats/laundry/parties in minutes and with no hassle. Komang and her staff are wonderful and made us feel at home. 1. The house is beautifully furnished and has everything you could want. Grounds and pool are impeccable. 2. Services at the villa are reasonably priced and high quality. Water/tea/coffee/breakfast are included. Dining out on the patio is amazing. 3. There is some of the best 'barrier reef'-type snorkeling I have ever seen around right outside the villa. You can hire a boat to take you to Blue Lagoon, too. 4. Town is close-by and quite cute.
Kristina and Doug
2015-09-05T00:00:00Z
My friends and I spent an amazing stay in the Villa Cocoa Maya. The house is wonderful, as on pictures. There are very large spaces, bedrooms are so spacious and beds very confortable. The garden is quite big, just in front of the beach with an amazing swimming pool where you can stay all day long! And there is a small beach in front of the house where you can rent a typical boat to go to fish or dive. The area is quiet to spend amazing vacation. But you can also find some good restaurants, bars and beaches around the villa. The staff in the villa was absolutely perfect. Smiling, available, they took care of our every need while also appreciating our privacy. Mailie was absolutely perfect with us and very flexible. We definitely recommend this stunning villa!
Laure
2016-08-27T00:00:00Z
The host canceled this reservation 67 days before arrival. This is an automated posting.
Evgeniy
Tipo di stanza
Intera casa/apt
---
Tipo di sistemazione
Casa
---
Può ospitare
10
---
Camere da letto
Candidasa, Bali, Indonesia
Our Lodge offers a comfy & cosy getaway in the beautiful village of Candidasa just a 2 minute walk from the beach! We offer 4 accommodation options which could fit your needs whether you are on a family, friends or romantic trip. The price includes 2 pax and 2 breakfast/ The extra bed is 150 000rps with breakfast included.
Very nice place to stay. Friendly and helpfull staff. Makes you feel like home there. If you're looking for a nice, ppleasant and relaxing stay, go there.
Steffen
2017-02-06T00:00:00Z
Great experience at Ganesh Lodge! Place is really cute, cosy & quiet; and staff is welcoming & helpful. We highly recommend it!
Agns
2016-09-04T00:00:00Z
Tipo di stanza
Intera casa/apt
---
Tipo di sistemazione
Casa
---
Può ospitare
2
---
Camere da letto
Manggis, Bali, Indonesia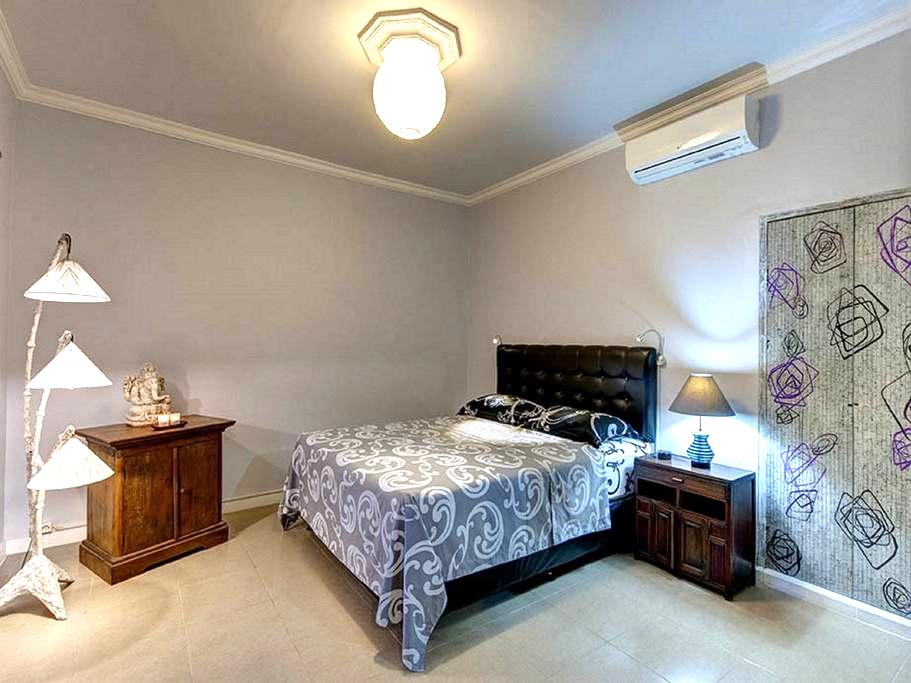 You'll LOVE this laid-back luxury villa on absolute beachfront! A big, beautiful home - perfect for family, friends or romantic privacy. Fantastic snorkelling, safe sea swimming plus an infinity pool overlooking the sea. Slip into the tub-for-two in the open-air bathroom! Fully-staffed, including 2 chefs & 2 masseuses. Enjoy authentic, delicious organic cuisine from our extensive menu or self cater. Price includes breakfast, afternoon tea and all the services of a private villa in paradise!
Laid-back luxury on absolute beachfront, a unique beach house with magnificent views, fully staffed with 2 chefs, masseuses and perfect swimming and snorkelling just meters from your bedroom - our location is fabulous! Villa Nilaya Bali Beach offers spacious luxury living with style on a secluded beachfront perfect for family fun or romantic privacy. Under a soaring thatched roof, our hideaway is situated on absolute beachfront with fantastic snorkeling at the bottom of the garden. It's only five steps to the private beach. Safe sea-swimming and beach-combing on this marine reserve makes it perfect for children too (baby-siting is available on request). Guests rave about our cuisine, and with the services of 2 chefs are included in the price, plus 2 trained masseuses and pool, garden and 24/7 security, you are pampered from the moment we pick you up at the airport! With plenty of living space and 3 beautiful garden areas, we've held anniversary parties for 60 and candle-lit dinners for two. Fireworks, private cultural performances, superb East Balinese banquets - nothing is too much trouble for us to arrange to make your holiday perfect. Villa Nilaya Bali Beach's seclusion offers honeymooners a very private playground ...don't miss the wonderful antique Indian swinging brass bed on the terrace or the built-for-two bathtub in the garden bathroom! With 3 spacious bedroom suites, each with sea views and its own beautiful indoor/outdoor bathroom, daybeds with panoramic views across the Lombok Straits, sun lounges by the large infinity pool looking across to the Islands of Nusa Penida and Lembongan, and a grass-thatched gazebo on the seadeck cantilevered over the shorleline to catch the sunset over Padang Bai, there are so many lovely places to relax. Fully-staffed to cater to all your needs and wishes, with 24-hour security, you will be superbly looked after by 4 English-speaking staff, including 2 professionally-trained chefs and masseuses to pamper you with a range of beautiful spa therapies including Organic Coffee scrubs, Warm-Stone massages and our divine 4-hands Signature Massage. Guests rave about our superb cuisine. We specialise in East Balinese fusion cuisine, and many of our guests say that it is "the best food they have eaten in Bali"! There are also excellent restaurants just a few minutes' walk from the villa. If you're intrigued by the flavours, why not meet our executive chef for a private cooking class? You'll return home with recipes that you can recreate and a rich understanding of the culture of East Bali. You cannot hear any traffic at Villa Nilaya. Surrounded by ponds, fountains and lush tropical gardens full of birdlife and butterflies, this is a most beautiful place to shut the world out and restore yourself with the healing presence of Nature. We offer you a magnificent wooden deck cantilevered over the shoreline with a Balinese thatched gazebo and daybeds to stretch out, have a massage, enjoy a drink and let the sound of the sea soothe your mind and restore your body. Upstairs, amidst the coconut fronds, with sweeping views from Sunrise over Lombok to magical sunsets over Padang Bai, our wooden terrace offers you space to dance, play, and practice yoga. With space for up to 18, it is perfect for yoga retreats, and all the yoga equipment is freely available. A private yoga lesson is our pleasure to arrange for you, as are a range of really unique adventures which will take you into the heart of Bali - whether your interest is trekking, cycling, climbing, rafting, quad -biking or elephant riding ! We can arrange all of this for you. Everyone who has stayed just loves our staff! You'll enjoy a range of complimentary breakfasts and in the afternoon, you'll be served Balinese sweets for tea. For dinner you might choose to stay in and relax whilst a divinely decadent Balinese feast, or 'megibung banquet', is brought to you by candlelight ...and our menu of Balinese and Western dishes has enough to please all tastes, with fresh seafood, pork spareribs and delicious vegetarian food our specialty. Our staff can prepare all of your meals, or you may prefer to self-cater, but don't forget to enjoy the local hospitality of sea-side restaurants in our village of Mendira - just a leisurely ten minute stroll along a quiet village road amidst palm tree forests. Need a little night life ? The largest nearby town of Candi Dasa is only 3 km away, and many restaurants will send a car to collect you - so transport is never a problem. We can arrange a driver for you to discover beautiful East Bali, and each room carries a full description of local sights and trips, so you can plan your next day from bed! Come and relax, and then relax some more, at Villa Nilaya Bali Beach. Contact the owner directly through airbnb or our website.
Mendira Village is just 5 km west of Candi Dasa, where you'll find some great restaurants with international cuisine, and some will send a car to collect you - just ask our staff to call the restaurant for you. Mendira Village has several excellent seaside 'warungs', or local restaurants with delicious food from $4 a dish. The villa features an extensive menu with authentic Balinese flavours, and the chefs are included in the villa price, so you only pay for the meals you order. You can, of course, self-cater if you prefer. Our village is quiet and conservative but welcoming and friendly...a lovely combination. East Bali is so close to the cultural heart of Bali, great snorkelling, and magnificent scenery and boating ... it's definitely worth considering if you are tired of the tourist traps and crowds of Kuta.
Anna has been very helpful and responsive to make our stay in Bali and at the venue great. She is a great host. The 4 staff members are helpful and friendly. The property itself is amazing. The pictures simply cannot do justice to the beauty of the villa! For example, just by looking at the pictures, one can't feel the refreshing sea breeze going through the carefully designed dining room and can't hear the relaxing sound of the waves echoing from the ocean front sundeck. The villa may not be located at the busiest part of the island but there are small shops at walkable distance nearby. It is perfect for travellers looking for relaxing secluded moments at their trip.
Jannie
2016-11-21T00:00:00Z
The host canceled this reservation 16 days before arrival. This is an automated posting.
Jenna
The ocean view is great and amazing. The food and service is wonderful. We all like it and will come back next year with our family. It is is the best experience in Bali
明珠
2015-07-18T00:00:00Z
Lovely lovely stay! The staff was pleasant, great massage and food, wonderful accommodations and views. The owner, Anna, was very clear beforehand about what is available and that you can self-cook too. I highly recommend this place.
Josie
2015-09-16T00:00:00Z
The host canceled this reservation 327 days before arrival. This is an automated posting.
Sunčica
This is a great location if your are looking for a hide away honeymoon but not with kids or if you're looking for mixed activities. We had serious problems with the internet (very unstable) and the airco unit in the master bedroom kept us awake for hours almost every night. It was beeping regularly and after switching it off desperately, it continued to beep. Very uncomfortable and spoiled our stay for a couple of days. Staf was unable to solve these serious complaints. The bathroom, shower and toilet were not very clean, witch was a pity. Be careful in the bathroom and shower, it gets extremely slippery after a shower. Really dangerous when you don't pay attention and in particular for kids. The staf is friendly and willing to serve, but they missed the Balinese spark, compare to the people we met before on other villa's on the island. Food is average and the restaurant around the corner serves better food and a better price.
Jeannette
2017-02-28T00:00:00Z
Help! Our flights were cancelled and we are stranded on this tropical island, in a stunning beach front palatial villa with a private infinity pool, two chefs and a couple of masseuses. From the moment we arrived life has felt like a Duran Duran video. And yesterday Tarzan randomly swung by, climbed a 12 storey palm tree with a machete and handed over a green coconut. Yes this actually happened. Swinging between pangs of guilt for this decadence that has been unexpectedly bestowed upon us and our appreciation for Anna's amazing taste in art and Rumi poetry, this review is cut short as we are summoned for yet another Michelin star worthy meal. Seriously. Katut has captured the hearts of these two Melbourne foodies - her cooking is unbelievable. Actually, we feel grateful to all the staff at Villa Nilaya for taking such good care of us. We could not have wished for a better experience. Gorgeous people. Everything Anna says in her description of the property and the people who look after it is accurate, only the pictures don't do this amazing space justice. But maybe that is a good thing. Let the space wow you as it did us when you walk in. Thank you Anna for allowing us this lavish experience and for inviting us to stay on when our flights were cancelled. Hope to come back soon! Kind regards Kara and Zohar.
Kara
2015-11-10T00:00:00Z
Wow! An absolutely stunning location and beautifully designed and decorated villa. This was our first visit to Bali and we chose to stay in three different locations on the island using Airbnb accommodation. Villa Nilaya was our last location for 4 nights at the end of our holiday and it suited us perfectly. A wonderful location to be able to relax and enjoy. We were extremely well looked after by all 4 of the staff. Thank you very much for what seemed a real treat of having the opportunity to stay in your villa Anna.
Caroline
2016-04-17T00:00:00Z
Tipo di stanza
Intera casa/apt
---
Tipo di sistemazione
Casa
---
Può ospitare
6
---
Camere da letto
Manggis, Bali 80871, Indonesia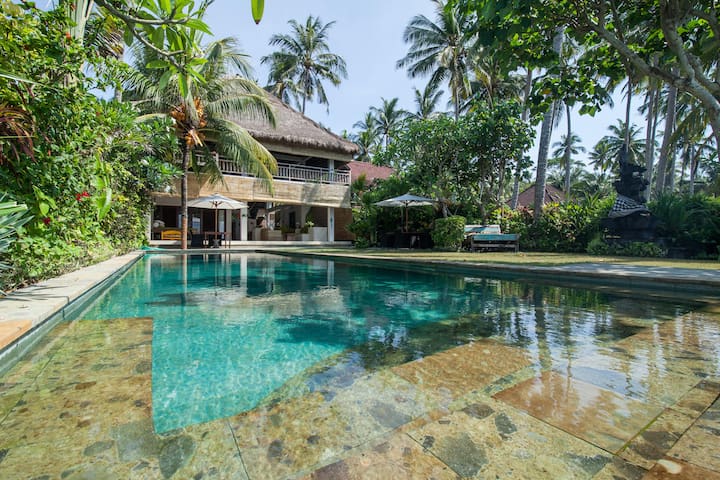 Dear traveler, we offer you Balinese style and cozy new small house with FREE BREAKFAST. Ocean with a white sand beach is just 100 meters away! Bathroom is new with a toilet and shower. There is a queen size bed with new mattress and pull-out couch for another 2 persons. Tropical garden with a seating and tee-pee will be all yours as well as fully equipped kitchen. You can enjoy free breakfast in a nearby restaurant (omelette, fruits, pancakes or home-made bread with a jam with coffee or tea).
We offer a "home away from home". Fully equipped little house in the center of a beautiful city Candidasa. House is about 45 sqm. big, one big room with a separate toilet and shower. You can use a big garden outside (private and properly closed) with a seating for 6 people. We can also offer a full board meal service delivered to your room.
Tipo di stanza
Intera casa/apt
---
Tipo di sistemazione
Casa
---
Può ospitare
4
---
Camere da letto
Manggis, Bali, Indonesia
Resort Facilities : Beach, Boating, Child Care, Jacuzzi
Tipo di stanza
Stanza condivisa
---
Tipo di sistemazione
Casa
---
Può ospitare
4
---
Camere da letto
Manggis, Bali, Indonesia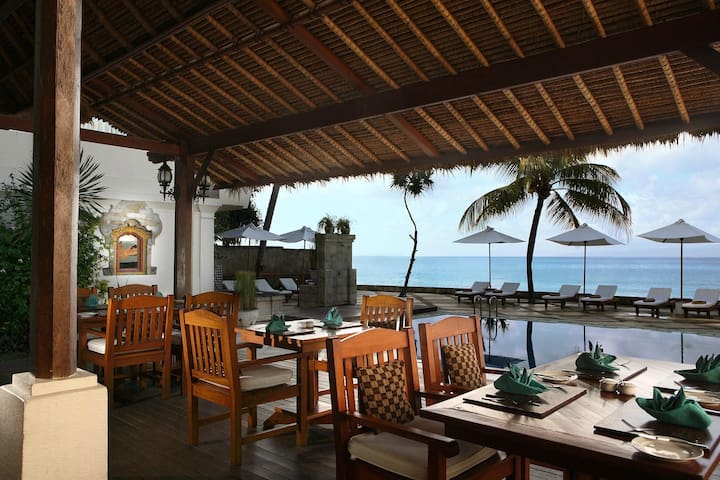 1

–

11

di

11 Case in Affitto
Inserisci le date per visualizzare il prezzo totale. Ci sono dei costi aggiuntivi e potrebbero venire applicate alcune tasse.