My place is very close to the center (around 10 minutes by feet), public transport (bus stop 3 minutes away), parks and nightlife (city center has everything you need!). It's a quiet and super cozy location, with a lovely garden very convenient in warm days. You can expect a fully equipped kitchen, washing machine, awesome coffee machine, TV and even a vintage videogame for the ones who enjoy it :) There are three supermarkets within walking distance (5-7 min by feet)!
Its a small but very cozy place (30-35 m²).
Its a quiet neighborhood, although very close to the city center (in Groningen everything is nearby, which makes it special and easy to move around). Its next to a canal and you can find many more within walking distance, as well as parks, shops, pubs, restaurants.. I'm in love by the town and can give many tips :)
Great apartment has everything it needs to make you feel at home. Monique did her best to provide all needed information upfront everything went well even with the arrangement of key pick up via her friend Will . excellent location to enjoy the city and surroundings (attended Assen Moto GP - 20min drive from apt) thanks for everything Monique
Andrei
2016-06-27T00:00:00Z
Monique's place is amazing! I almost did not want to leave :) It is cosy, light, not even so small: there is everything you may need (even a nice small garden!). Monique was very welcoming and she made sure we were perfectly ok. Super recommended!
Antonella
2016-09-02T00:00:00Z
Monique's house is great! It is cozy, bigger that I actually expected. There simply was everything I may ever needed (even a cute small garden!). Monique was nice and she made sure everything was ok with the apartment. Absolutely recommended!!
Antonella
2016-08-26T00:00:00Z
Great house, lovely locality and an awesome host. Monique was quick communicator and was around to welcome me in. She helped me out with things to do in town.
Rohit
2016-07-11T00:00:00Z
Great place, close to the centre and very very very cozy. I barely left the apartment.
Diego
2016-07-08T00:00:00Z
Tipo di stanza
Intera casa/apt
---
Tipo di sistemazione
Loft
---
Può ospitare
2
---
Camere da letto
Groninga, Groninga, Paesi Bassi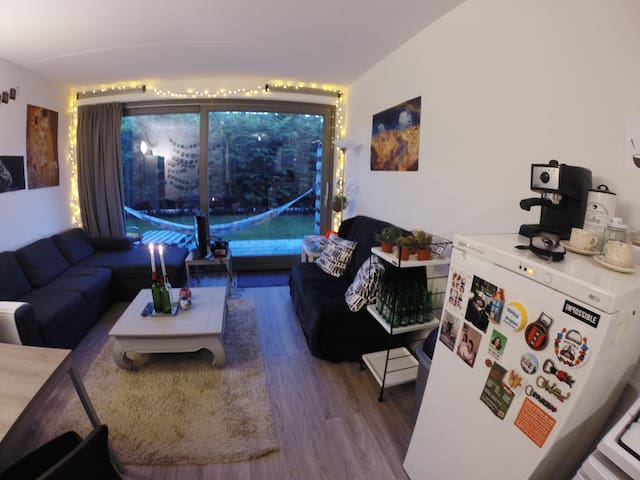 The stylish living room of Nije Linde (12m high, 160 m2, interior design) with fireplace, voids, four bedsteads, 4 bedrooms and 4 bathrooms and kitchen is for rent for families, friends, teams incl. B & B rooms and balcony rooms. Large garden & terrace
The farmhouse Nije Linde was rebuilt in 2015 and has two bed and breakfast rooms on the ground floor, a cottage and a balcony room with mezzanine. The large, stylish outhouse has the look of a loft and is perfect for inspiring meetings, creative workshops or cozy family gatherings. The section has four bedsteads and can be rented together with the 4 bedrooms (maximum 12 people). Nije Linde is quietly nestled in the nature reserve 'Rottige Meente' of Forestry. Across the Linde is the National Park Weerribben-Wieden. With us you can enjoy a special environment with lots of birds. In the morning you may be awakened by the sound of clattering storks. In the evening you will be surprised by the beautiful colors of the sunset.
Our big Stolp farm Nije Linde is located on the meandering river Linde, on the border between Overijssel and Friesland. The garden is enclosed by the nature of the 'Rottige Meente. This nature is, as a result of peat extraction in the past, a mosaic of water and land, peat and reed, flowering meadows and bog holes. The water mills have been placed in the landscape by cane growers to combat acidification. This unique natural area with rare animal and plant species (such as otters, butterflies and fire crab razor) is a paradise for bird watchers and an inspirational environment for artists and photographers. For cyclists and walkers is the age-old 'Footpath' highly recommended along the river Scheene. The National Park Weerribben-Wieden is also the area of the Fire Lake are nearby and invite to beautiful walks, cycling or canoeing. Nearby are nice towns like Blokzijl, Vollenhove Giethoorn and worth a visit.
What a beautiful place!! We were a group of 10 girls and we were really impressed. The house is really like on the pictures and Ingrid is so polite, nice and helpful. We stayed only one night but want to come back. The surrounding is quite and nice. We made a kayak trip only 5 min. away from the house. You could stay at the house with a big group or with your family - you have enough space - in- and outside. I hope we will come back in summer to use the pool as well. The house has everything you need: cozy spaces, big kitchen full-equipped, 4 or 5 bathrooms, cozy beds, garden and pool. What else do you need ;)
Olga
2016-04-11T00:00:00Z
Afgelopen weekend (8-10 juli 2016) hebben wij in de prachtige loft van Ingrid mogen verblijven met 11 personen. De loft ziet er precies uit zoals op de foto's en Ingrid heeft ons heel goed ontvangen. We hebben allemaal heerlijk geslapen en de badkamers zijn ook allemaal voorzien van handdoeken, shampoo, cremespoeling en fohn. De locatie waar de loft is, is ook prachtig. Wij hebben het terrein niet verlaten, maar ook niet nodig als je met een groep bent om bij te kletsen en te genieten van de zon! Wil je hierheen, heerlijk huis! Zeker een aanrader.
Stefanie
2016-07-11T00:00:00Z
Wir hatten einen traumhaften Aufenthalt in Nijelinde. Das Haus hat eine wunderschöne Lage mitten in der Natur. Hier kann man sich so richtig entspannen. Ingrid und Ruud sind sehr nette Gastgeber und haben uns herzlich willkommen geheißen. Es hätte nichts besser sein können :)
Kerstin
2016-05-30T00:00:00Z
Ein ganz besonderer und zauberhafter Ort. Ein wunderschönes und liebevoll eingerichtetes Haus mit allem, was man für ein unvergessliches Wochenende braucht. Vielen Dank!
Greta
2016-05-09T00:00:00Z
We had an awesome stay at Ingrid's place. All was as described: huge house, huge kitchen, many bathrooms, the nice fireplace... The surrounding is really calm and beautiful. Ingrid was also really helpful about how all the things you need to know to have a pleasant stay. We highly recommend this place !
Romain
2017-01-01T00:00:00Z
Highly recommended and an absolutely stylish, clean, cozy and amazing place to stay with a lot of people (in our example bachelorette party). The loft was exactly as described on the pictures. Ingrid and her husband were incredible hosts and let us feel very welcome at her beautiful place - many thanks for that again. communication was perfect and the loft is equipped with everything you need. We would definitely love to book this place again. In spring or summer it must be amazing with the pool and the wonderful nature around. we had a fantastic weekend.
Judith
2016-02-22T00:00:00Z
Het huis van Ingrid en Ruud is heel fijn. Het huis is ontzettend groot en modern ingericht. Het huis wordt lekker verwarmd door de kachel en als die 's avonds aanstaat is het, ondanks de grote ruimte, hartstikke knus en gezellig. De omgeving is prachtig, wandelen en fietsen moet je hier eigenlijk wel gedaan hebben. Al met al hebben wij genoten!
Danielle
2016-12-06T00:00:00Z
WAUW!! That was our first impression when we walked into the house. It is such an amazing place. We really like the style of the house. There is plenty of room for groups. We came with 5 couples for a long weekend and we have enjoyed it so much. The kitchen in amazing to cook in and also perfectly workable for a bigger group. The fire place makes it really cozy in the evenings. The beds were so nice to sleep in. Ingrid and her husband were really nice and have arranged everything into the details. Everything you need for a nice weekend is there and available. Thinking about towels, fuel wood, candles, table games. We would love to come back again soon when the weather is better so we can also enjoy the nice terras and swimming pool. We Loved It!
Chayen
2016-03-29T00:00:00Z
Tipo di stanza
Intera casa/apt
---
Tipo di sistemazione
Loft
---
Può ospitare
12
---
Camere da letto
Nijetrijne, Frisia, Paesi Bassi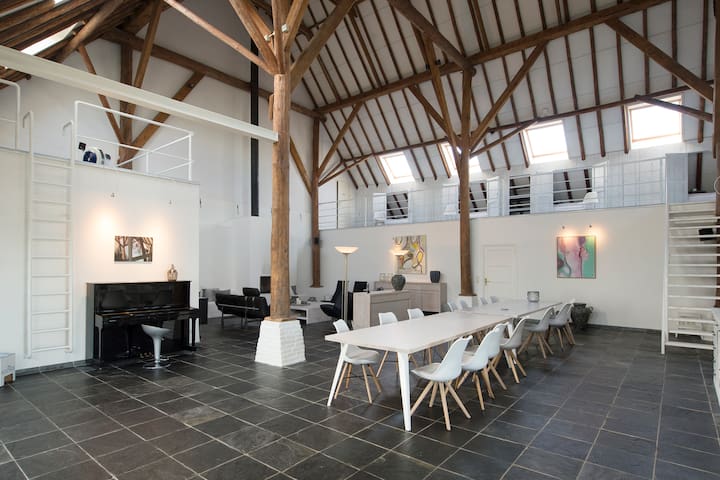 5 classrooms, 5 apartments for 5 families! Each uniquely decorated, with private living room and bathroom, large combined kitchen and dining area to meet other guests. Hot Tub & Sauna, large garden. Nearby Wadden Sea, family friendly and farm animals
Have your holidays in an old school: Lots of space in the former classrooms. Bianca and Edword are (interior) designers and they converted the building into an Inn for guests: 5 large apartements, each for a family (4 to 6), each different and unique style with attention to detail: we love of crazy things, upcycling, humor in the interior, but especially in hospitality and you will feel at home. Fully designed for families with children: cycling on the playground, farm animals to cuddle and perhaps ride (including Shetland)
When we moved here 14 years ago we fell in love with the Wadden Sea World Heritage The Wad provides incredible opportunities: Mudflats, Island Hopping (Ameland and Schiermonnikoog are to be visited from BinnenInn), seal watching ... But the Wadden Sea is wonderful to spend time: the darkest area of theNetherlands, drive around in a tuktuk and do a trip to one of the Frisian Lakes: Lauwersmeer ... (National Park) Dokkum is an old historic Harbour and water village to be visited or just to shop in the small cute arts and craft shops and more We know the best addresses and tips and like to tell you about!
Leute, macht Urlaub in Metslawier! Das BinnenInn ist in Wirklichkeit noch schöner als auf den Fotos: Die Appartments sind geschmackvoll und sehr gemütlich eingerichtet, die Gastgeber Bianca und Edward herzlich und hilfsbereit und die am Hof lebenden Tiere etwas verrückt und liebenswert (Ziege Dolores geht mit Vorliebe auf Hühnerjagd). Hier stimmt einfach alles - ein guter Ort um zu entspannen und die Seele baumeln zu lassen. Gut geeignet um mit Freunden und einer Großfamilie gemeinsam (kurz) Urlaub zu machen (Gemeinschaftsküche und Esszimmer plus schöne Feuerstelle draußen). @Bianca und Edward: Danke für Eure Gastfreundschaft, wir kommen sehr gern wieder!
Heidi
2015-04-10T00:00:00Z
Bianca and her husband are so kind and lovely persons. We were so impressed about their helful, friendly way to be our hosts. Their appartments are little paradises!!! Every day we find another detail, furniture decorationidea that surprises us!! Es war sooo... (URL HIDDEN) of the best places we have ever been!!! Thank you Dankeschön & dank je wel!!!
Susi
2014-08-15T00:00:00Z
Bianca und Edword sind tolle Gastgeber mit einem fabelhaften Geschmack. Sie haben in Metslawier einen einzigartigen Ort geschaffen, der uns und unsere 3 Töchter begeistert hat. Metslawier ist ein toller Ausgangspunkt, um die Umgebung zu erkunden. Dokkum, die Aufzuchtstation für Seehunde und Groningen sind mit dem Auto schnell zu erreichen und schöne Ausflugsziele.
Christian
2016-03-13T00:00:00Z
wir (2 Erwachsene, 2 Kinder) hatten uns für die Niederlande als Urlaubsziel entschieden, da unsere Kinder gerne wieder ans Meer wollten. Die Ankunft an der Küste war für die zwei Kids leider erstmal ernüchternd - es war gerade Ebbe (Mama, wo ist denn das Meer hin?). Dafür war die Ankunft bei Bianca und Eduword eine echte Überraschung. Wir durften unseren Urlaub im Haupthaus verbringen und mussten uns erstmal an das enorme Platzangebot gewöhnen. Es handelt sich bei dem Gebäude um eine ehemalige Haus- und Landwirtschaftsschule die von den beiden Gastgebern in vielen Stunden und (offensichtlich) viel Herzblut umgebaut, genauer gesagt in ein echtes Schmuckstück verwandelt wurde. Alle Räume sind wunderbar eingerichtet. Alles passt zusammen. Bei der Gestaltung wurden vorhandene Elemente erhalten (zum Beispiel die wunderschönen Fliesen im Flur und in der Toilette) und mit neuen, z.t. modernen Elementen kombiniert. Ein echter Hingucker war das Bad. Ein sehr großer Raum der durch ein Holzpodest eine zweite Ebene erhielt. Integriert wurde hier die Badewanne. Die Wandgestaltung zeigt Figuren was an ein römisches oder griechisches Bad erinnert. Durch diverse Accessoires wirkt der Raum trotz seiner Größe gemütlich. Da momentan der Wohnung eine eigene Küche fehlt (diese wird wohl in der nächsten Zeit folgen), wurde uns die Wohnküche der Gastgeber zur Verfügung gestellt. Wenn wie nicht gerade schliefen oder unterwegs waren hielten wir uns in diesem riesigen und trotzdem wunderbar gemütlich gestalteten Raum auf. Zu den Gastgebern. Bianca und Eduword sind sehr sympathische Gastgeber denen das Wohl ihrer Gäste sehr am Herzen liegt. Sie hatten immer ein offenes Ohr für unsere Wünsche und Fragen (und unsere Kinder hatten davon sehr viele, besonders in Bezug auf die Ponys). Zum "Rest". Auf dem Gelände gibt es neben den erwähnten Ponys, Ziegen, Hühner, Katzen und einen Hund. Den heißen Whirlpool haben wir nicht ausprobiert, dieser sieht aber durchaus vielversprechend aus, wenn man das mag. Für die Kids gibt es auch einen Pool und einen riesigen Sandkasten (sieht nach einer ehemaligen Voltigierkoppel aus). Kurz vor unserer Abreise könnten wir noch einen Blick in eine der anderen Wohnungen werfen. Diese sind ebenfalls stimmig und sehr schön eingerichtet. Die Fotos präsentieren definitiv das, was man vorfindet. Fazit: wir hatten sehr entspannte zwei Wochen in beeindruckenden Räumen. Alles war sauber und wirkte weder steril noch kitschig. Vielen Dank an Bianca und Eduword für die schöne Zeit.
Peter
2016-08-28T00:00:00Z
Wir haben mit unseren beiden "Pubertieren" vier wundervolle Tage an diesem wundervollen Ort verbracht und waren total begeistert. Die Einrichtung der Appartments ist bis ins kleinste Detail zauberhaft, die Küche perfekt ausgestattet und ebenfalls superschön gestaltet. Bianca ist die hilfsbereiteste und sympathischste Gastgeberin die man sich vorstellen kann. Alle Daumen hoch also von uns - PERFEKT;-)
Rc
2016-05-30T00:00:00Z
Ganz tolle Unterkunft,wir haben uns wie in einem Luxushotel gefühlt! Man hat ganz viel Raum für sich, die Zimmer sind sehr stillvoll eingerichtet! Sehr empfehlenswert!!!! Die Gastgeber sind sehr-sehr freundlich und tun alles dafür,dass man sich wohl fühlt!!! Einfach alles top!!!!
Csilla
2014-04-19T00:00:00Z
Dit was een super B&B, erg mooi en netjes! En heerlijk om je eigen appartement te hebben in een B&B. Goede uitleg en verder niet teveel poespas, gewoon lekker genieten!
suzanne
2014-06-14T00:00:00Z
Heel gemoedelijke en gezellige ontvangst, fijn aanbod voor de kinderen om de pony te mogen verzorgen. De omgeving is heel mooi, wij hebben toffe fietstochtjes in de buurt gemaakt. Wel opletten: de overzet naar de Waddeneilanden mét fiets is heel duur!
marleen
2016-08-07T00:00:00Z
Tipo di stanza
Intera casa/apt
---
Tipo di sistemazione
Loft
---
Può ospitare
6
---
Camere da letto
Metslawier, Frisia, Paesi Bassi
四人
Tipo di stanza
Stanza condivisa
---
Tipo di sistemazione
Loft
---
Può ospitare
2
---
Camere da letto
格罗宁根, 格罗宁根省, Paesi Bassi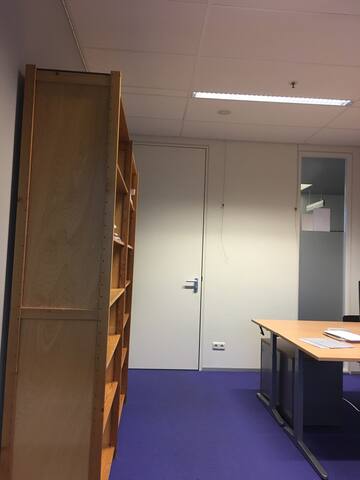 Inserisci le date per visualizzare il prezzo totale. Ci sono dei costi aggiuntivi e potrebbero venire applicate alcune tasse.