The Space Cosy roof-terrace studio located on a quiet street 2 minutes from the main shops, restaurants and markets. Beach is just 15/20 minutes walking. This is a lovely place to spend your summer or winter holidays. Note: We have two lovely dogs, Roxy and Maya. They are extremely friendly, easy to fall in love with. If required the interaction with the animals can be kept to a minimum.
Great little studio apartment with beautiful terrace. Daniel was in London at the time but his mother, who lives closeby, provided us with keys and was very friendly and accommodating. She also runs a great cafe only one min away. Daniel was always available to communicate via messenger and was very helpful when we had questions. I would highly recommend this spot to anyone looking to visit Comporta.
john
2017-03-08T00:00:00Z
Tipo di stanza
Intera casa/apt
---
Tipo di sistemazione
Loft
---
Può ospitare
4
---
Camere da letto
Comporta - Alcácer do Sal, Setúbal, Portogallo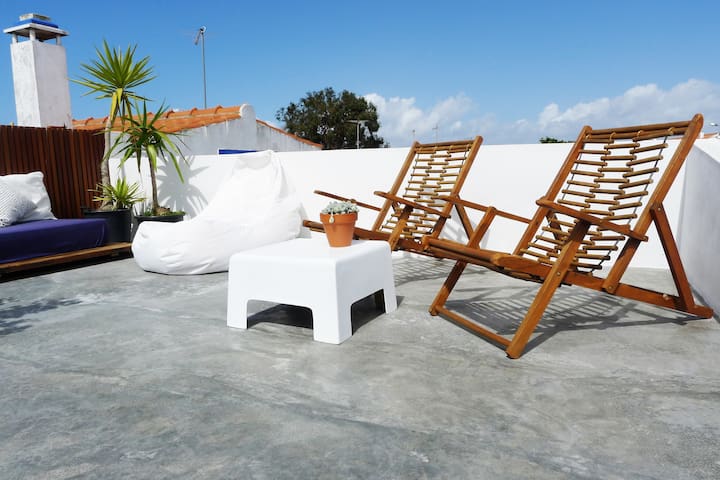 Loft com localização central. Ideal para 2 adultos e duas crianças com idade superior a 4 anos. Praia a 3 minutos a pé. Próximo de restaurantes, comércio e belas paisagens. Bom para férias.
Confortável, com excelente localização. Cozinha totalmente equipada.
Porto Covo é uma bonita vila do litoral alentejano, rodeada de belas praias e paisagens. Encanta quem procura bons restaurantes, tranquilidade e natureza. Nas proximidades: => a conhecida Praia de São Torpes onde poderá encontrar escolas de Surf . Esta praia usufrui de uma excelente temperatura da água. => Badoca Park - Parque florestal com grande diversidade de animais => Ilha do Pessegueiro. No Verão existe um barco que faz a ligação à ilha , sendo possível realizar visitas guiadas ao legado arqueológico.
Tipo di stanza
Intera casa/apt
---
Tipo di sistemazione
Loft
---
Può ospitare
4
---
Camere da letto
Porto Covo, Portogallo
Nur 1 Std. von Lissabon liegt Immobilien Rogéus mit 2 Wohnungen neben dem Stall und in der Nähe des Swimming-Teich. Ein einzigartiges Ziel für ein intensives Naturerlebnis. Die Umgebung ist hervorragend zum Wandern und Vögel beobachten.
"De Hop" (Wiedehopf) ist ein Loft Dachgeschoss (im ersten Stock) für maximal 4 Personen mit einer speziellen Dekoration. Es ist ein Raum von etwa 60 Quadratmetern mit einem slooping Dach. Im oberen Teil ist die Küche, Wohnbereich, Dusche und WC; im unteren das Bad und Betten Teil. Es gibt zwei Doppelbetten und eine Möglichkeit für ein zusätzliches Klapp bed.The Dach ist gut isoliert gegen die Hitze und die Wohnung wird im Winter durch beheizte Fenster erwärmt. Außerhalb der Gäste haben eine eigene Terrasse und viel Platz um. Das Naturbad ist innerhalb von 70 Meter von der Wohnung entfernt und ist von Wiese mit Olivenbäumen umgeben ist, die alten in einigen Fällen Hunderte von Jahren sind. Diese Wohnung ist fantastisch für Leute, die lieben und genießen Sie eine natürliche Umgebung und die Anwesenheit von Tieren. Rund um das Haus gibt es Pferde, Kühe, Hühner, Hunde und Katzen. Wir versuchen, alles so natürlich wie möglich zu halten. Im natürlichen Pool verwenden wir keine Chemikalien. Das Wasser läuft von einer Seite zur anderen und dann dient es als Wasser für das Vieh trinken. Fast das ganze Jahr ist das Wasser im Pool sehr hell ist. Nur an Tagen mit extremer Hitze, ist das Wasser manchmal ein wenig trübe, die in einem natürlichen Pool ist normal und bedeutet nicht, Es ist schmutzig.
Rogéus befindet sich 7 km von Montemor-o-Novo, einem Burgstadt mit 11000 Einwohnern, Supermärkte und eine Busstation. Evora ist 20 km und der UNESCO-Welterbestätte entfernt. Mit seiner schönen Stadtmitte, Stadtmauern, alte Universität, römische Kathedrale, Kirchen und Stadtplatz, auf jeden Fall einen Besuch wert. Der Alentejo ist eine Provinz mit einer sehr reichen Kultur. Eine Provinz mit viel Platz und schöne kleine Städte und Dörfer mit einer alten Geschichte, die Megalith-Ära stammt. Lissabon ist 120 km entfernt. Sie können die Überlandbusse in Montemor nehmen oder selbst fahren. Lissabon ist Fado, ist beeindruckend, ist Kultur ... Nizza Gassen, alte Straßenbahnen durch die alten Nachbarschaften, Märkten, Geschäften und einem prächtigen Schloss von wo aus man über die Stadt blicken. Terrassen gefüllt mit Menschen, viel Verkehr; ein starker Kontrast zu der Ruhe des Rogéus, though.
Beautiful place ! Lovely hosts and completely unique vibe. Love it
Matt
2016-09-13T00:00:00Z
Over deze plek valt een film te maken. Midden in het schilderachtige landschap van Alentejo, een oord van rust, waar natuur en mens één maken. Henk en Ann hebben ervoor gezorgd dat we zalig hebben kunnen genieten van dit prachtige domein. Twee mensen met hun hart op de juiste plaats! Een grote aanrader voor wie van de ongerepte natuur houdt.
Laetitia
2016-08-05T00:00:00Z
We stayed four nights on Henks beautiful farm, it was perfect. The place is really amazing: you are sourrounded by nature, the only things you hear are the animals living on the farm (there are dogs, cats, horses, cows and bees). Henk and Anna gave us a very warm welcome and we felt instantly at home. The apartment was furnished by Anna with a very tasteful hand and has some really nice design details, it is equipped with everything you need. The farm is located outside the villages so having a car is definitely recommended, it doesn't have a classic address but Henk provides you with very helpful directions. We spent our days on the farm or visited cities, vineyards and the archeological sites around so we didn't try one of the restaurants Henk recommend, but he is very helpful if you need any tips. Thank you so much for this great stay, we would love to come back someday.
Daniel
2016-10-06T00:00:00Z
Apesar do anfitrião não estar presente as pessoas que contactaram connosco foram sempre muito simpáticas e atenciosas. O local é muito calmo e tranquilo, sendo a convivência com os animais uma experiência diferente para quem está habituado à cidade (com tudo o que isso trás, incluindo alguns insectos e aranhas). Foi, no geral, uma boa experiência (:
Ana Catarina
2016-08-29T00:00:00Z
Adorei a semana, descansei como há muito não acontecia. Fiquei com muita vontade de voltar, recomendo!!! Para quem gostar mais do lado rural e menos do lado "turismo"...
Sonia
2016-08-23T00:00:00Z
We were totally amazed by this lovely rural retreat. We decided to go off the beaten track and explore Portugal instead of wondering around another capital city. This retreat was well worth the diversion and the animals were wonderful to see. Henk was a lovely man who made us feel welcome, so did the three dogs, many cats and peacock. The natural pool is amazing and worth a swim at anytime during the day.
Anant
2016-06-17T00:00:00Z
We really enjoyed staying here, was a taste of farm life! Hosts were really lovely and accommodating. Thanks!
Nicole
2016-06-01T00:00:00Z
Henk and Anna were nice and their place is fantastic. I recommend!
Marta
2016-09-05T00:00:00Z
Tipo di stanza
Intera casa/apt
---
Tipo di sistemazione
Loft
---
Può ospitare
4
---
Camere da letto
Montemor-o-Novo, Évora, Portogallo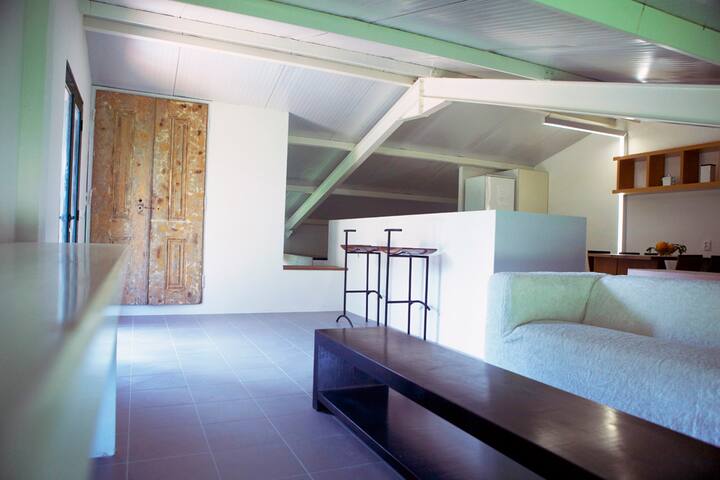 Il mio spazio è situato vicino al centro città, uno splendido scenario, e ristoranti e pasti. Amerete il mio spazio a causa della posizione. Il mio spazio è un bene per i singoli coppie e avventure. Lungo le spiagge. Ideale per chi fa della Rota Vicentina
Tipo di stanza
Intera casa/apt
---
Tipo di sistemazione
Loft
---
Può ospitare
2
---
Camere da letto
Vila Nova de Milfontes, Beja, Portogallo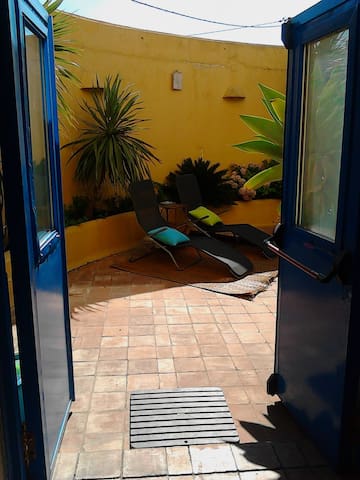 soppalco confortevole in Alcacer do Sal, una piccola città nella provincia rurale di Alentejo. gastronomia regionale è squisito e ben servita nei ristoranti locali. L'Oceano Atlantico (e le sue infinite spiagge) è solo un minuto di distanza in auto-30. quartiere molto tranquillo, a basso traffico.
Loft cheio de luz, limpo, com tudo o que necessitamos para uns dias de sossego e relax.
Joana
2017-04-09T00:00:00Z
Apartamento limpo, amabilidade e diligência do anfitrião. Amplo, boa luminosidade, detalhes de arquitectura interessantes.
Joao
2016-05-30T00:00:00Z
El piso es algo caluroso y escaso de comodidades.
David Alejandro
2016-08-01T00:00:00Z
La nostra estada a l'Alentejo ha estat magnífica, hem gaudit dels seus paisatges i la seva gastronomia. En Nuno ha estat amable i correcte, però hem trobat que al loft hi falten serveis i la neteja podia millorar.
Àlvar
2016-08-14T00:00:00Z
A nossa experiência com o anfitrião foi boa. O Nuno foi sempre prestável em responder a qualquer questão que lhe fosse colocada. O apartamento é muito central. Para quem tem carro as praias estão a 20 minutos.
Ana
2014-06-12T00:00:00Z
Fantástica experiência a recordar Alcácer do Sal onde já não ia há cerca de 10 anos. Apartamento moderno, com o essencial para dias de férias. Simpatia e prontidão do anfitrião. A voltar numa próxima oportunidade!
Luis
2016-07-07T00:00:00Z
Nuno's loft is great for a quiet stay in a place close enough to Lisboa, to Comporta's beach and good enough in itself. Alcaçer do Sal is a cool town to spend a few days in a very relaxed way. Loft is clean, neat and convenient. Nuno provided us with an inflatable matress that was great for our daughters. Kitchen is fully equipped and bathroom is spacious and clean. If you carry your bikes with you, there's plenty of space to leave them in the building's lobby. Last, Nuno was right at the appointment with us when we arrived. Only one little regret: tall people like me (1,92 m) would like a longer bed (actually it is 1,90 m long).
jose angel
2014-04-22T00:00:00Z
Tipo di stanza
Intera casa/apt
---
Tipo di sistemazione
Loft
---
Può ospitare
4
---
Camere da letto
Alcácer do Sal, Setubal, Portogallo
Situado en el centro histórico de Mértola en un edificio del siglo XIX restaurada, esta casa de gestión familiar ofrece habitaciones decoradas de forma individual. Hotdog un patio interior y un balcón con vistas al río Guadiana y al castillo.
Tipo di stanza
Stanza privata
---
Tipo di sistemazione
Loft
---
Può ospitare
5
---
Camere da letto
Mértola, Beja, Portogallo
Ferreira do Alentejo - Airbnb
:
Media di

4.42

stelle su

5

da

24

recensioni degli ospiti
Inserisci le date per visualizzare il prezzo totale. Ci sono dei costi aggiuntivi e potrebbero venire applicate alcune tasse.