Unser Hof-Loft, zwischen Apeldoorn und Deventer. Mit Küche, wo können Sie Ihr Frühstück und / oder Mahlzeiten zubereiten. Frühstück können wir für Sie arrangieren, wenn Sie möchten. Das Loft ist ein ehemaliger Heuboden. Sie haben einen eigenen Eingang, eigenem Garten und Terrasse, und Sie sind der einzige Gast.
Das Gästehaus des Bauernhofs befindet sich im Dachgeschoss des Bauernhofs, die Heu einmal gespeichert wurde. Das Dachgeschoss wurde im Jahr 2012 in Wohn Studio umgewandelt. Während der Wiederaufbau viel von der ursprünglichen Bauernhaus Elemente links ausgesetzt: Sie bleiben rechts unter den Sparren! Wir leben inmitten einer Wiese, schön und ruhig.
Wir leben in einer sehr kleinen ländlichen Dorf in der Landschaft in der Nähe von Deventer und Apeldoorn. Ein idealer Ausgangspunkt, wenn Sie Abfragen der Loo Palace oder dem Nationalpark De Hoge Veluwe zu machen. Wir sind direkt zwischen zwei großen Saunen: Spa Bussloo und die Veluwe Quelle. Wo in unmittelbarer Nähe zu essen, können Sie hier im Dorf, in einem lokalen Pub, waren sie ausgezeichnete Mahlzeiten servieren.
Ons verblijf in de B&B was heerlijk! Op de grote bovenverdieping kom je volledig tot rust. De keuken is uitgebreid en van alle gemakken voorzien. Er staat een heerlijke bank met een goede televisie, waar je de hele avond kan hangen. Ook het bed is lekker en door de volledig stilte (op een wat ijverige haan na) slaap je als een blok. In de ochtend is er een lekker ontbijt met verse streekproducten. Wil je even tot rust komen, weg uit de stad: dan is dit zeker een aanrader!
Ayolt
2016-08-01T00:00:00Z
je voelt je er echt meteen (URL HIDDEN) voelt je er als in een droom...alles is precies goed.
monique
2017-02-10T00:00:00Z
Wat een heerlijk huis in een heerlijke omgeving met alle comforts van thuis en méér! Uitzicht, warmte, rust, een heerlijk bad, ontbijt en oprecht warm ontvangst van Wilma. Een aanrader voor vakantie in eigen land! We gaan zeker terug!
Rkia
2016-04-28T00:00:00Z
Voor de tweede keer verbleven op deze mooie plek! Wederom genoten. Nu niet 1, maar 2 nachten gebleven, dus eindelijk tijd voor het klompenpad. Wil je rust en ruimte, dan is dit echt een aanrader! Hartelijk ontvangt, heerlijk ontbijt, sfeervolle ruimte en een prachtige omgeving!
Heidie
2016-12-04T00:00:00Z
Tijdens dit heerlijke pinksterweekend hebben wij de rust van het pittoreske Terwolde opgezocht. Bij aankomst op vrijdagavond stond het (biologisch verantwoorde) ontbijt voor ons klaar en liet Wilma ons de ruimte zien. Een geweldig ruim opgezette, en zeer mooie, loft van boerderij waar de foto's aan ten onder doen. De volgende middag hebben wij geluncht in het naastgelegen dorpje Twello en bij terugkomst stond er weer een nieuwe voorraad ontbijt voor ons klaar en hebben wij in de avond uitgebreid gekookt met de uitstekende keuken faciliteiten die dit adres te bieden heeft. Al met al zijn we heerlijk tot rust gekomen en willen we Wilma bedanken voor dit heerlijke weekendje.
Michael
2016-05-16T00:00:00Z
Prachtige loft, wij voelde er ons meteen thuis. Heerlijk wat een rust maar ook een fijn ingericht appartement met alles erop en eraan. Het bad is een must do! Evenals het leuke klompenpad. Wij komen hier zeker nog een keer terug.
Janneke
2016-09-24T00:00:00Z
Dit is een hele ruime loft op een idlyllische locatie tussen de velden, enkel moet je het gekraai van de haan erbij nemen (best oordopjes voorzien).
Elke
2016-07-08T00:00:00Z
Zo'n fijne ruimte in een prachtige omgeving. Helemaal tot rust gekomen. Hadden graag nog n nachtje gebleven:)
Wilma
2016-12-18T00:00:00Z
Tipo di stanza
Intera casa/apt
---
Tipo di sistemazione
Loft
---
Può ospitare
2
---
Camere da letto
Terwolde, Gelderland, Paesi Bassi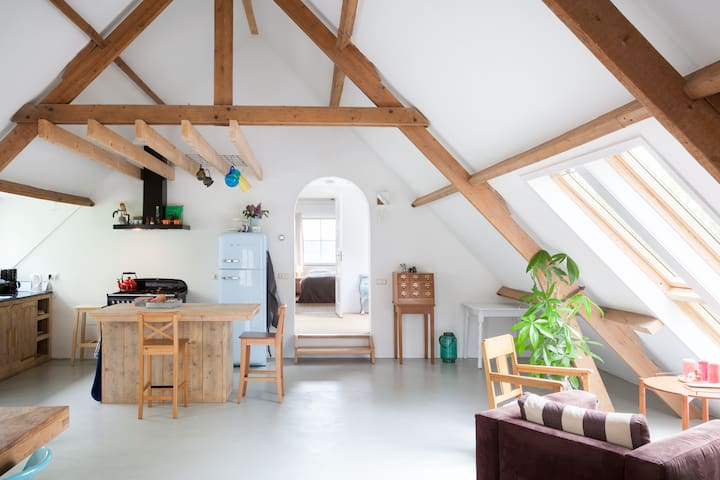 The stylish living room of Nije Linde (12m high, 160 m2, interior design) with fireplace, voids, four bedsteads, 4 bedrooms and 4 bathrooms and kitchen is for rent for families, friends, teams incl. B & B rooms and balcony rooms. Large garden & terrace
The farmhouse Nije Linde was rebuilt in 2015 and has two bed and breakfast rooms on the ground floor, a cottage and a balcony room with mezzanine. The large, stylish outhouse has the look of a loft and is perfect for inspiring meetings, creative workshops or cozy family gatherings. The section has four bedsteads and can be rented together with the 4 bedrooms (maximum 12 people). Nije Linde is quietly nestled in the nature reserve 'Rottige Meente' of Forestry. Across the Linde is the National Park Weerribben-Wieden. With us you can enjoy a special environment with lots of birds. In the morning you may be awakened by the sound of clattering storks. In the evening you will be surprised by the beautiful colors of the sunset.
Our big Stolp farm Nije Linde is located on the meandering river Linde, on the border between Overijssel and Friesland. The garden is enclosed by the nature of the 'Rottige Meente. This nature is, as a result of peat extraction in the past, a mosaic of water and land, peat and reed, flowering meadows and bog holes. The water mills have been placed in the landscape by cane growers to combat acidification. This unique natural area with rare animal and plant species (such as otters, butterflies and fire crab razor) is a paradise for bird watchers and an inspirational environment for artists and photographers. For cyclists and walkers is the age-old 'Footpath' highly recommended along the river Scheene. The National Park Weerribben-Wieden is also the area of the Fire Lake are nearby and invite to beautiful walks, cycling or canoeing. Nearby are nice towns like Blokzijl, Vollenhove Giethoorn and worth a visit.
Ein ganz besonderer und zauberhafter Ort. Ein wunderschönes und liebevoll eingerichtetes Haus mit allem, was man für ein unvergessliches Wochenende braucht. Vielen Dank!
Greta
2016-05-09T00:00:00Z
Wir hatten einen traumhaften Aufenthalt in Nijelinde. Das Haus hat eine wunderschöne Lage mitten in der Natur. Hier kann man sich so richtig entspannen. Ingrid und Ruud sind sehr nette Gastgeber und haben uns herzlich willkommen geheißen. Es hätte nichts besser sein können :)
Kerstin
2016-05-30T00:00:00Z
Ingrid is a great host, very helpful in providing useful information to make the most of the stay. Absolutely recommended, the location is amazing.
Ulf
2016-08-01T00:00:00Z
What a beautiful place!! We were a group of 10 girls and we were really impressed. The house is really like on the pictures and Ingrid is so polite, nice and helpful. We stayed only one night but want to come back. The surrounding is quite and nice. We made a kayak trip only 5 min. away from the house. You could stay at the house with a big group or with your family - you have enough space - in- and outside. I hope we will come back in summer to use the pool as well. The house has everything you need: cozy spaces, big kitchen full-equipped, 4 or 5 bathrooms, cozy beds, garden and pool. What else do you need ;)
Olga
2016-04-11T00:00:00Z
Highly recommended and an absolutely stylish, clean, cozy and amazing place to stay with a lot of people (in our example bachelorette party). The loft was exactly as described on the pictures. Ingrid and her husband were incredible hosts and let us feel very welcome at her beautiful place - many thanks for that again. communication was perfect and the loft is equipped with everything you need. We would definitely love to book this place again. In spring or summer it must be amazing with the pool and the wonderful nature around. we had a fantastic weekend.
Judith
2016-02-22T00:00:00Z
Het huis van Ingrid en Ruud is heel fijn. Het huis is ontzettend groot en modern ingericht. Het huis wordt lekker verwarmd door de kachel en als die 's avonds aanstaat is het, ondanks de grote ruimte, hartstikke knus en gezellig. De omgeving is prachtig, wandelen en fietsen moet je hier eigenlijk wel gedaan hebben. Al met al hebben wij genoten!
Danielle
2016-12-06T00:00:00Z
WAUW!! That was our first impression when we walked into the house. It is such an amazing place. We really like the style of the house. There is plenty of room for groups. We came with 5 couples for a long weekend and we have enjoyed it so much. The kitchen in amazing to cook in and also perfectly workable for a bigger group. The fire place makes it really cozy in the evenings. The beds were so nice to sleep in. Ingrid and her husband were really nice and have arranged everything into the details. Everything you need for a nice weekend is there and available. Thinking about towels, fuel wood, candles, table games. We would love to come back again soon when the weather is better so we can also enjoy the nice terras and swimming pool. We Loved It!
Chayen
2016-03-29T00:00:00Z
We had a very great stay! The loft is absolutely perfect - very clean and much space. The hosts are very friendly and communicative. We can recommend the loft!
Karolina
2017-02-12T00:00:00Z
Tipo di stanza
Intera casa/apt
---
Tipo di sistemazione
Loft
---
Può ospitare
12
---
Camere da letto
Nijetrijne, Frisia, Paesi Bassi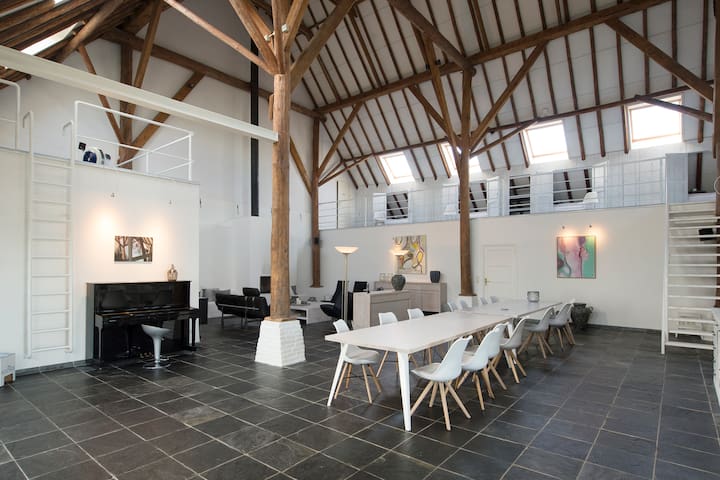 Mijn ruimte is een prachtig verbouwde woonboerderij midden in de natuur, zeer landelijk gelegen. Je vindt er volop rust, ruimte en stilte... De eerste etage staat geheel ter beschikking van de gasten. De etage heeft drie kamers met fenomenaal uitzicht en een badkamer. In de ruime woonkeuken beneden wordt het ontbijt geserveerd. De boerderij is omgeven door een prachtige tuin die geheel vrij toegankelijk is voor de gasten. In de tuin zijn verschillende idyllische zitjes om rustig te genieten...
De gehele verdieping is te huur voor 200 euro per nacht buiten het seizoen (nov.-maart) en 230 euro per nacht tijdens het hoogseizoen. Op deze etage zijn drie ruime en gezellige slaapkamers waarin zitjes en eettafels aanwezig zijn. Er bevindt zich eveneens een ruime badkamer voorzien van douche, toilet en wastafel. Het voornamelijk biologische ontbijt wordt beneden in de ruime woonkeuken geserveerd of op het zonnige ochtendterras buiten. U kan de kamers ook afzonderlijk huren. Er zijn dan geen andere gasten.
Prachtige natuur, vele wandel en fietsmogelijkheden. Twee leuke Hanzesteden op nog geen 10km afstand. Onlangs geopende Museum More in Gorssel op 6 km afstand. Een heel gezellig restaurantje midden in het bos, op nog geen 5km afstand.
The host canceled this reservation 41 days before arrival. This is an automated posting.
Judith
2016-10-22T00:00:00Z
Super vriendelijk en gastvrij ontvangst. Prachtige locatie en mooie kamers. Lekker ontbijtje en vriendelijke en gezellige verhuurster. Echt een aanrader.
WILLEM
2016-10-23T00:00:00Z
Tipo di stanza
Stanza privata
---
Tipo di sistemazione
Loft
---
Può ospitare
6
---
Camere da letto
Lochem, Gelderland, Paesi Bassi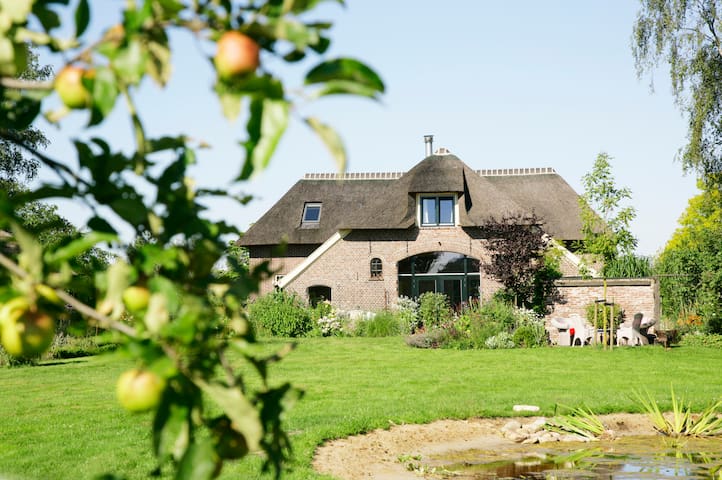 This new build 2014 loft at the city harbour Eemhaven is ideal for a luxurious weekend Slow Living, enjoying Amersfoort's 14th century cultural highlights and recent architecture as well. Typical dutch: (URL HIDDEN) or @summertime (URL HIDDEN)
Modern light spatious Loft with outside seating for a romantic stay away from the crowds with all the action you wish for just around the corner...
Living away from the crowds with all the action you wish for just around the corner... your neighbours: Zandfoort aan de Eem, our city beach, De Saffraan, one of our Michelin-star Restaurants and Cinema Pathe, ideal for spending a rainy afternoon indoors.
We hebben een heerlijk verblijf gehad in het huis van Joet! Het was gezellig ingericht en van alle gemakken voorzien (regendouche, heerlijk bed, lekkere koffie, krantje 's ochtends), perfect voor een weekendje weg. Ook de lokatie was ideaal: op loopafstand van het gezellige historische centrum van Amersfoort. Alles bij elkaar zeker een aanrader!
nadia
2016-11-20T00:00:00Z
It was a great experience, the house was neat and tidy, very trendy and very homely! The room was comfortable and clean. Overall a great experience and Joet provided coffee and snacks for our enjoyment and also was clear in what we could and could not use. Location was great as it is just a 5 minute bus ride from the central station and 15 minute walk. Plenty of shops nearby to get what you need for cooking etc. Would definitely recommend it!
Zong Xi
2016-06-08T00:00:00Z
Wat een geweldig appartement met een heerlijke boxspring. Het huis is mooi en met aandacht gestyled. Echt een aanrader
Caroline
2016-11-18T00:00:00Z
Wederom was de communicatie prima, ook wat betreft de inchecktijd. Genoten van de rust in Joets gezellige knusse en persoonlijke loft. Zeer complete keuken, strakke badkamer met fijne douche, heerlijk bed en het nostalgische plaatjes draaien vind ik helemaal fantastisch :-)....En ook nog een krantje in de morgen. Winkelcentrum echt om de hoek en je kunt zo lopend de stad in. Kom graag weer terug hoor.
Sabrina
2016-03-19T00:00:00Z
Een heerlijk weekend gehad in dit mooi gelegen huisje. Lekker dicht bij het centrum en bij een supermarkt. Kortom een goede plek om een weekendje te vertoeven!
Esther
2015-11-15T00:00:00Z
Nice and clean apartment. We would have preferred to know that there are a pet because my wife is allergic. But nice apartment.
Eddy
2017-01-01T00:00:00Z
We had a great stay and Joet was always available for any questions. The apartment is in a good location close to downtown and the train station.
Annemarie
2016-07-27T00:00:00Z
Hele centrale locatie. Prima gastvrouw. Mooi appartement.
Arjan
2016-10-13T00:00:00Z
Tipo di stanza
Intera casa/apt
---
Tipo di sistemazione
Loft
---
Può ospitare
2
---
Camere da letto
Amersfoort, Utrecht, Paesi Bassi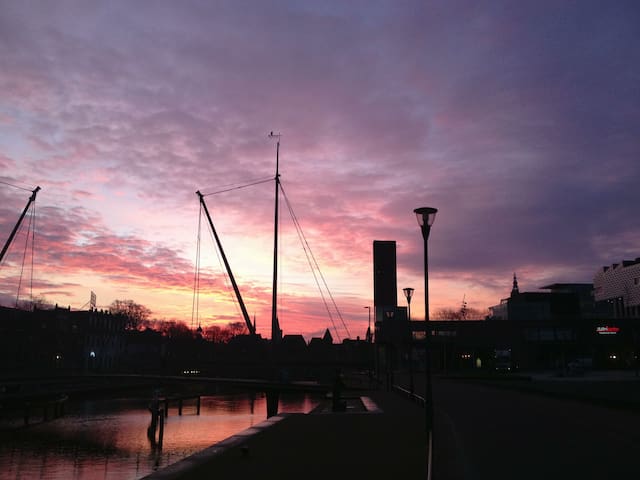 Elburg - Airbnb
:
Media di

4.84

stelle su

5

da

77

recensioni degli ospiti
Inserisci le date per visualizzare il prezzo totale. Ci sono dei costi aggiuntivi e potrebbero venire applicate alcune tasse.