Ideal rural retreat for walkers, cyclists, history and nature enthusiasts, families, dog-lovers or for a romantic getaway! This cosy wooden cabin is a simply lovely place to stop and unwind. Set in a small Sussex village with direct access onto the South Downs, Iford is on the wild fringes of historic Lewes (2 miles), vibrant Brighton (7 miles) and Newhaven ferry and beach (6 miles).
Set close to the main house but in a 3-acre plot with far-reaching views of rolling fields and Mount Caburn, the hut has its own entrance gate, private veranda, outdoor dining and fire pit seating and converted stable block with glamping style WC (no flush), cold water basin, hot shower and steaming sauna! Bike storage a plenty. Family friendly. Well-behaved dogs welcome. The vintage-style Shepherd hut feels like a step back in time, but is well equipped with mod cons for comfort: electric lighting, induction hob and mini fridge for self-catering, Wi-fi access, DAB radio all powered from our own solar panels. Fully insulated for all-season stays. Outdoor firepit/BBQ and logs provided. Sleeps one or two, plus there's a roll up futon mattress to squeeze in a third.
Iford: Semi rural, well connected, farming community. Iford itself is a small farming village nestled beneath the South Downs with fabulous country walks on its doorstep and easy access to other picturesque Sussex villages and beauty spots along the nearby River Ouse. It has an ancient Norman church, said to be mentioned in the Doomsday book. Luxury is literally around the corner in a beautifully converted barn housing the Reading Room day spa, offering a host of pampering and beauty treatments. The Iford village Hall is a popular wedding venue wjth a kids playground and Millennium sundial marking where the Greenwich meridian line runs through the village. Guests will find it an easy stagger home across our adjoining field to the hut! Lewes: We are located on the edge of Lewes, a market town steeped in history. There's much to explore here including: Lewes castle and museum, 'Anne of Cleves' tudor house, the Old Priory ruins, Southover Grange Gardens, art galleries, antique emporiums and curiosity shops - as well as a host of traditional Sussex pubs, good eateries and excellent farmers'market. (Lewes: 2 miles/ 35 minute walk) Swanborough: Fishing lake and horse riding stables are a stones throw away. Bordering Lewes Brooks, a Site of Special Scientific Interest managed to enhance the population of several bird species and fauna found in Medieval ditch systems. Rodmell is a neighbouring village, housing Virginia Wolf's 'Monk's House' open to the public during summer, as well as the 'Abergavenny Pub' and its fine food menu. (Rodmell, 1.5 mile away/5 minutes by car) Whilst the Bloomsbury Group 'Charleston' farmhouse artist rural retreat is a 20 minute drive away. Kingston Hosts 'The Jugs' traditional dog and kid-friendly pub for fabulous food and local ale. (1 mile away/20 minutes walk) Also Spring Barn Farm children's park: petting zoo, indoor slides, go-karts, maze and an adjoining farmhouse kitchen/cafe and farm shop. Brighton is a 20 minutes drive away with its bustling seaside attractions, shopping centre and vibrant theatre, music venues, comedy clubs, bars, restaurants and night life. (Brighton: 8 miles. 15 minute by train from Lewes. 3 trains per hour) Newhaven: If cycling the Avenue Verte it's a 20 minute cycle to the ferry in Newhaven. Also worth exploring Newhaven Fort and Tide Mills nature reserve, shingle beach and water sports. (Newhaven: 6 miles/10 minute by car) Glynde is a 15 min drive for Opera lovers. London is only an hour away by direct train from Lewes.
Wonderful stay in the hut in East Sussex. A lovely break from london and lots of special touches from the hosts: wood for the chiminea, home made biscuits and a great breakfast selection. Thank you
Laura
2017-04-04T00:00:00Z
This was the best find; what a unique and beautifully thought through airbnb!!! Joe is lovely and provides fantastic food (including a killer ginger cake!) to cook at your leisure. He explained everything we needed to know when we arrived and then left us to our own devices whilst always being within reach if we needed. The hut itself is super cosy and has everything you could possibly need. It really feels like you're alone in the fields with the birds and the stars. It's exactly what we were hoping for! The sauna was a real treat - it makes you really want to get one in your own house! We walked to the Abergavenny Arms (not for the disliker of mud!) and had a friendly pub dinner and also drove into Lewes and took in the sights of the castle - the hut is in a great location! I cannot speak highly enough of this booking; we have come away feeling relaxed and full of joy. Thank you, Joe!
Ceri
2017-01-15T00:00:00Z
We had a great weekend away, it is such a beautiful location and cosy place to stay. Joe and Sian were easy to communicate with before and during our stay. They were available and went out of their way to make our trip easy and comfortable and gave us plenty of tips for the area. A good breakfast was included, which was a bonus!
Georgia
2016-09-11T00:00:00Z
A perfect stay. The hut is cosy, comfortable and beautiful, kitted out with everything needed for a chilled 24 hours away. Such a bonus to have a lovely bathroom with sauna and hot shower, wifi, late check out and breakfast ingredients ready to cook up in the hut! Joe is a super friendly and thoughtful host. A great airbnb experience, which we were able to walk to from our home Brighton - would not hesitate to recommend!
Katie
2017-03-20T00:00:00Z
What a find! Our host Joe was fantastic and super flexible, he let us check in early and gave us a great tour and was there when needed but also let us have plenty of space to enjoy the hut on our own. And what a hut! The view is out to open fields, an iron age fort and with horses in the field next door. The hut itself combines rustic charm with extreme cosiness, the bed is so comfortable, plus you get a hot plate to make your own breakfast in the morning (great ingredients provided) a heater indoors and an outdoor fireplace to sit around at night and listen to the owls and watch the bats. You also have your own private bathroom and sauna (!) just next to the hut and your own entrance in and out of the garden. You can even pick herbs from the herb garden to add to your dishes. Joe gave us directions for walks to and we enjoyed the walk to Lewes along a country path that runs along the bottom of the garden. This is a fantastic value listing and will make for a very memorable stay, we can't wait to go back!
David
2016-09-21T00:00:00Z
Set in an amazing location with attentive and friendly hosts. Our stay went above and beyond our expectations with some really special touches such as basket of breakfast goodies and even a sauna! We couldn't have asked for more. You will never want to stay in a hotel again. We would recommend a pint in The Juggs followed by a board game and a glass of wine by the chiminea! Thank you again. Stef and Dean :-)
Stephanie
2017-03-26T00:00:00Z
Generally this is a lovely place to stay, although there were a couple of negative points. The cabin is very close to a very busy road, so there is a constant sound of traffic speeding by, throughout the day and night. Also, on the first night I kept being woken up by a flickering smoke alarm just above the bed and by a security light outside the cabin going on and off. Those issues aside, the cabin is very charming, friendly and attentive hosts, beautiful view, great country walks nearby, plentiful food for breakfast, and good clean facilities.
Jodie
2017-02-19T00:00:00Z
We arrived quite late but our host was there to warmly greet us & give us a comprehensive viewing of the hut and the surrounding area. The scenery is amazing & it is so quiet at night. The hut is exactly as described and is so comfortable to sleep in. The bed was heavenly and breakfast was provided each morning which you could cook yourself or have as a continental style We didn't try the sauna but the shower was really good & once you get used to the loo it's quite a novel experience! Our hosts were lovely and full of helpful information Overall it was a magical experience and I would not hesitate to return or to recommend to others
Rebecca
2016-09-14T00:00:00Z
Tipo di stanza
Intera casa/apt
---
Tipo di sistemazione
Chalet
---
Può ospitare
2
---
Camere da letto
East Sussex, Inghilterra, Regno Unito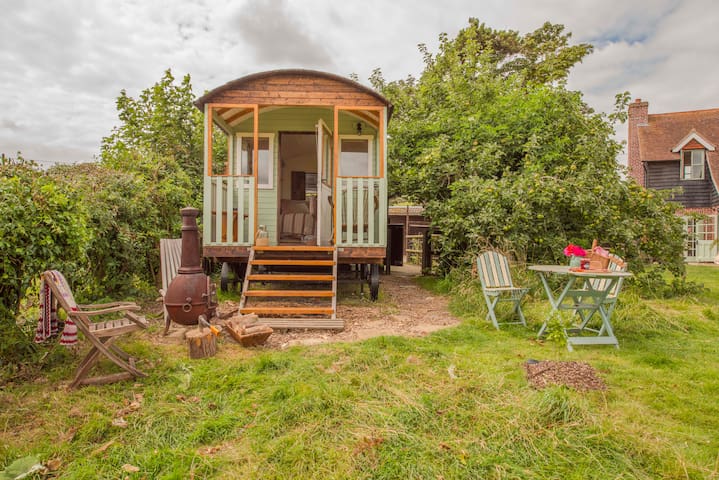 Downoak Abbey Lodge provides self-catering accommodation for two with beautiful views over fields & woods in a peaceful Area of Outstanding Natural Beauty. The 30 m2, high-ceilinged, bright, self-contained lodge comes equipped with a modern kitchen.
Downoak Abbey Lodge provides self-catering accommodation for two with beautiful views over fields & woods in a peaceful Area of Outstanding Natural Beauty. Direct access onto the 1066 Country Walk. The 30 m2, high-ceilinged, bright self-contained lodge comes equipped with a modern luxury kitchenette and a fabulous large modern shower room, with wooden floors throughout. Private deck and parking space. Downoak Abbey Lodge is ideal for couples who want a relaxing break in the countryside, and within easy reach of historical attractions. Battle, Bodiam, Rye and Hastings town centre are all in easy reach. Although the Lodge shares a courtyard with the main house, guests can expect complete privacy as the Lodge has its own entrance. There is also a deck and a private garden for guests.  What you'll find... A 160 x 200 cm European king sized bed with medium-firm mattress 4 x Anti-allergy pillows & Duvet Electric blanket 24" TV + Built-in DVD/CD player + DVDs Sky TV Free unlimited Wifi access Well equipped kitchenette Fridge / Freezer Electric Fire / Heater Microwave Electric Hob Toaster & Kettle Tassimo Coffee Machine with a free Costa Coffee per guest per day 9.5 kW Electric Shower Towels & Bed linen Private deck with two outdoor chairs & coffee table Parking area  What you won't find...  A bath Washing Machine Sadly, though we love dog we are not able to accept pets at the moment.  Smoking is not permitted.  Please do not hesitate to contact me if you require further information, to check availability, or if you would like to make a booking. I don't do "Instant Book" but I normally reply within 30 minutes or less. Please visit downoakabbey com for more photos and details.
Peaceful & quiet, yet only 7 minutes drive to the nearest big supermarket. 1 minute drive to local pub (with good food) and newsagent. 2 minutes to a well-known (and awesome) restaurant. If you fancy a long walk, 1066 route is at the doorstep.
This was a great place to stay, and a special find that ticked the boxes needed for a short stay. O was fast to reply on anything needed, and the space was designed well meeting a taste level together with a comfortable stay.
Tosh
2017-03-09T00:00:00Z
The place is beautiful and I would definitely recommend it! Very modern and well equipped cabin with an amazing garden and view to the fields. O. is extremely helpful host making sure that we find the way to the place and that we have everything we need.
Myrto
2016-06-20T00:00:00Z
Everything about our experience with O was great, The annex is beautiful, the scenery was fantastic and the atmosphere was relaxed. I would recommend this spot to anybody who needs a few days away. Everything we needed was provided for our short stay, there is loads of helpful information about Hastings and 1066 country for those who like their history. The orchard was also available for us to get our 5 a day (this was a great little bonus)
Callum
2015-09-09T00:00:00Z
We had an amazing time at the lodge. The area is lovely, with lots of nice walks. The lodge itself is very well thought out and was a great base for exploring the are. O was very helpful and always quick to respond. Would love to go back!
Georgina
2015-10-05T00:00:00Z
The Westfield cottage met and even exceeded our expectations. It's compact (30 or so square meters, I'd estimate) but intelligently, even cunningly, laid out so as to feel more spacious. Sleek is a word that comes to mind to describe it and its appurtenances. We cooked most of our dinners during our stay, and the batterie de cuisine was entirely adequate for managing that. Also, having access to the large and very attractive garden makes the size of the cottage's interior matter less. The setting couldn't be improved on, with a sweeping view across a broad green valley up to a ridge behind and below which is Hastings and the English Channel. The cottage makes an excellent base to explore this area. We drove to Rye to visit Lamb House, where Henry James lived; to Hastings for its Old Town, the setting for TV's "Foyle's War"; to the Rye Harbour Nature Reserve, where we took a long walk; to the lovely Cinque Port town of Winchelsea; to the extravagant Sissinghurst Gardens, like Lamb House a National Trust property; to Romney Marsh, where we did a walk and visited several churches, including the extraordinary Thomas a Becket church; and to Canterbury to view the cathedral. We only saw O. on our arrival but he emphasized that if we had any problems to phone. We didn't have any but had we I'm confident they would have been taken care of. We recommend this property with enthusiasm.
John
2014-06-30T00:00:00Z
The pictures and the description don't do this listing justice. The space was perfect, clean and tastefully decorated. The grounds, which you are free to roam on, are beautiful and vast. Although the neighborhood is a little out of the way, it is true English countryside and the most relaxing place to spend time. The small town is within walking distance on neat footpaths, but it would be nice to have a car to travel further. O was a great host and went above and beyond to make us comfortable.
Olivia
2016-05-09T00:00:00Z
It was a great place to stay, it had everything we were looking for - peace and quiet and lovely countryside and O. made us very welcome and at home. We so much appreciated sitting out in the garden of an evening looking out across the newly harvested fields, watching out for shooting stars and much enjoyed the invitation to pick our own apples. We hadn't realised when booking that we were on the doorstep of the 1066 Country Walk route - which O. kindly showed us ran past the bottom of the orchard - and which took us off right through the middle of a field of wheat waiting to be harvested, up and down fields stocked with sheep, across a railway track in the woods and out into a clearing stocked with blackberry bushes just ripe for the picking. Definately somewhere to which we would like to return again.
Jonnie
2015-08-14T00:00:00Z
Great place, modern elegance, cozy. Country walking from your front door. Watch the sunrise. Large collection of good movies, plenty of local info. O. was great at keeping in touch even though he couldn't be there. Stellar experience.
Karin
2015-04-14T00:00:00Z
Tipo di stanza
Intera casa/apt
---
Tipo di sistemazione
Chalet
---
Può ospitare
2
---
Camere da letto
Westfield, Inghilterra, Regno Unito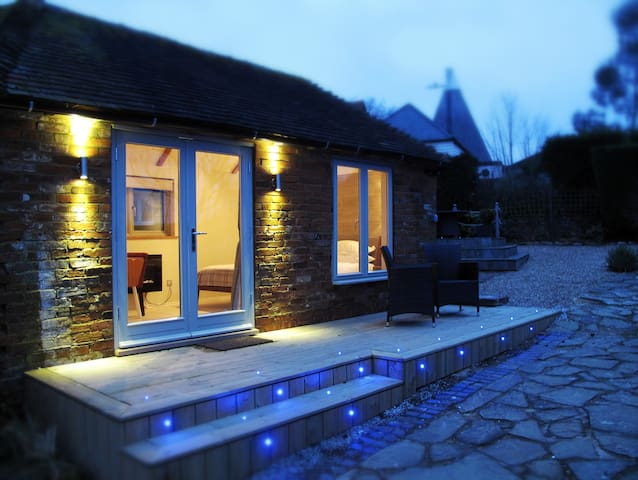 My cosy cabin sits in the grounds of a beautiful 16th century cottage, formally the village Post Office. The space is compact and well appointed, with all you would need for a comfortable stay. The location is ideal for those wishing to explore the South Downs National Park and the historical county town of Lewes. There is an excellent pub literally across the road 'The Rainbow' and the beautiful village of Barcombe with its river setting is very close. Bring your bikes and explore!
Our Cabin is furnished and fitted to a high standard, with everything you will need for a comfortable stay, including freash linen and towels. The cabin has an en suite shower room, with a large walk-in cubical. There is a small kitchenette, with cooking facilities and fridge, ideal to prepare your breakfast. There is a wall mounted tv with dvd player and the cabin warms up nicely with its own electric heaters. Please feel free to use the patio area at the front, the pool however is closed during the winter months!
The Old Post Office/Cabin is brilliantly situated for those who want a peaceful 'get away' and has the benfit of being a few steps from the 'Rainbow Pub' which offers and extensive dining menu. The couty town of Lewes is with easy reach, with its many attractions and the quaint village of Barcombe is close, with an alternative pub 'The Anchor', where you can hire rowing boats on the river. The internationally famous 'Glyndbourne' Opera House is a short drive and there is a limited train service from Cooksbridge to Brighton and Eastbourne. The location is ideal for walkers and cyclists as the South Downs are very close.
Good location in the South Downs, five minute drive to Lewes. Lovely hospitality from Nicky.
Samantha
2017-02-15T00:00:00Z
Cosy Cabin with a huge comfy bed. Milk left in the fridge and muesli provided for breakfast. It is simple but had pretty much everything we needed. At the bottom of the garden to the main house but it still felt private. On the edge of beautiful scenery and the downs. It was chilly outside but there is very good heating in the cabin so we were toasty and warm. We got the train there and the bus back, so the place is accessible by public transport.
Saskia
2016-10-25T00:00:00Z
Small but really nicely equipped cabin, and Nicky was very welcoming. Setting is lovely.
Steve
2017-02-08T00:00:00Z
Tipo di stanza
Intera casa/apt
---
Tipo di sistemazione
Chalet
---
Può ospitare
2
---
Camere da letto
Lewes, Inghilterra, Regno Unito
This 3m x 3.8m cozy log cabin with its own little patio area is situated in 10 acres situated a mile away from historic Battle in an area of outstanding natural beauty with lovely views. We have chickens, dogs and horses and often visiting deer. Well behaved dogs are most welcome.
Experience camping in a log cabin, the best way to camp! The concept is to bring all your own equipment less the tent – so you need to BRING YOUR OWN BEDDING, cooking equipment and anything else you think you might need for a camping trip. There are Z-beds available (both single and double) and we do have a double air mattress if you prefer. Best of all you will be cozy and warm with no wet tent to pack away at the end of your stay. The cabin consists of lockable double doors, carpeted flooring,an interior double plug socket and interior and exterior lighting. There is also a small shingled solar lighted patio/barbecue area for use as a seating and cooking area with a barbecue and fire pit. Please note we are a small livery yard with 5 horses so on occasions there will be riders coming up to visit their horses. Free Wifi
We are very lucky to have plenty of footpaths in the area which make excellent dog walking. Access to Battle Great Woods is via a footpath which runs down the side of the property so no road walking. You can even walk through the woods to a local pub!
A big thank you to begin with. Had an absolutely brilliant stay at Lesley's, From initial contact everything was perfect. Lesley is very helpful and organised . My accommodation is as listed. I had a much needed relaxing stay . I would highly recommend.
Steve
2016-08-02T00:00:00Z
Great stay in a lovely cabin.
Chris
2016-07-17T00:00:00Z
Lesley was a great host, very welcoming. Little Branshill is a great glamping option especially if you like animals. It is conveniently located also for everything Battle has to offer. We had a lovely stay with our dog, Eddie
Gill
2016-07-25T00:00:00Z
I'd like to credit Lesley, who was a very accommodating host. She was patient and flexible as my check in time was delayed due to the event I was attending in Battle (a short drive away and is very lovely). It was a lovely shed, with a sweet little garden area. It was a little cold in the night and I would suggest for future guests investing in better bedding as the sleeping bag provided was thin and flimsy and the pillow a little too small and uncomfortable. Also, do bring something warm to sleep in because the shed got quite cold in the night. The bathroom facilities were fine, despite having to make a middle of the night journey through a garden to access them. It was a rather novel way to spend an evening and a nice quiet spot in a very lovely part of the country.
Danny
2016-06-06T00:00:00Z
Beautiful location and lovely host! We were walking the 1066 trail so couldn't come with a lot but the owner was more than helpful. Short walk to Battle for all the ammenaties but still a beautiful rural setting. Would definitely stay again and recommend to a friend!
Jane
2016-08-28T00:00:00Z
The very good location, the host is friendly and helpful.
Francisco
2016-06-26T00:00:00Z
Fantastic stay- thanks for having us!
Lucy
2016-08-22T00:00:00Z
Lesley made us feel very much at home, the heater in the cabin and blankets were all taken care of. She stayed up for us when we arrived late and she was very helpful by borrowing us her maps of the area when we went on a tour. The area is beautiful and Battle is a sight to see!
Evelien
2016-10-18T00:00:00Z
Tipo di stanza
Stanza privata
---
Tipo di sistemazione
Chalet
---
Può ospitare
2
---
Camere da letto
Battle, Regno Unito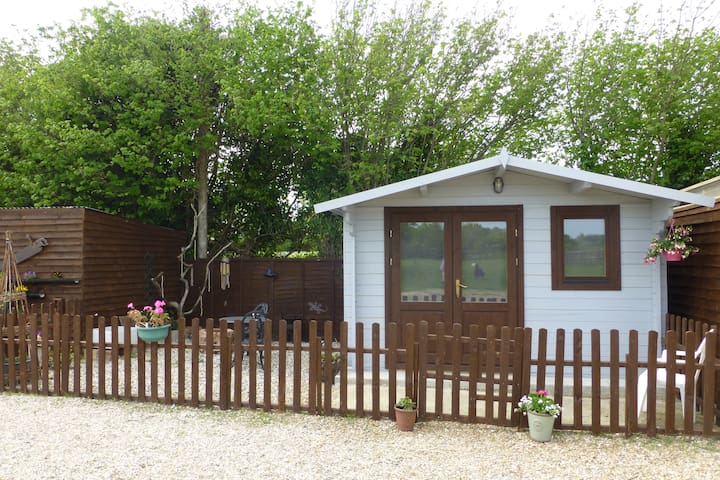 Attractive, comfortable, charming, private annexe in the garden of the owner's home, in a quiet, residential area in Benenden village. Spacious airy accommodation consists of large room with kingsize bed with luxurious cotton bedlinen, a table and chairs, kitchen trolley with fridge kettle, toaster. Breakfast consists of local artisan bread, preserves, apple juice, milk from village dairy and fresh fruit. Ensuite shower room. Bathrobes. Private courtyard garden. Smart TV Wifi
This is a beautiful area with stunning countryside and picturesque Wealden villages. There are many wonderful footpaths which can be explored from our doorstep. In springtime the lambs and bluebells are magical! One of our favourite walks is a circular walk taking in The Woodcock at Iden Green (URL HIDDEN) - Huge inglenook fireplace and pretty garden for sunny days!
The picturesque village of Benenden is a ten minute drive to Sissinghurst Castle and close to the Kent/Sussex border. Less than a minute's walk is The Bull which serves excellent food (Sunday carvery recommended) and has a wonderful inglenook fire to warm the winter days! We are happy to reserve a table for you. Five minutes walk from our award-winning village shop, cafe and post office. St. George's Church is also five minutes walk
Tipo di stanza
Intera casa/apt
---
Tipo di sistemazione
Chalet
---
Può ospitare
2
---
Camere da letto
Benenden, Inghilterra, Regno Unito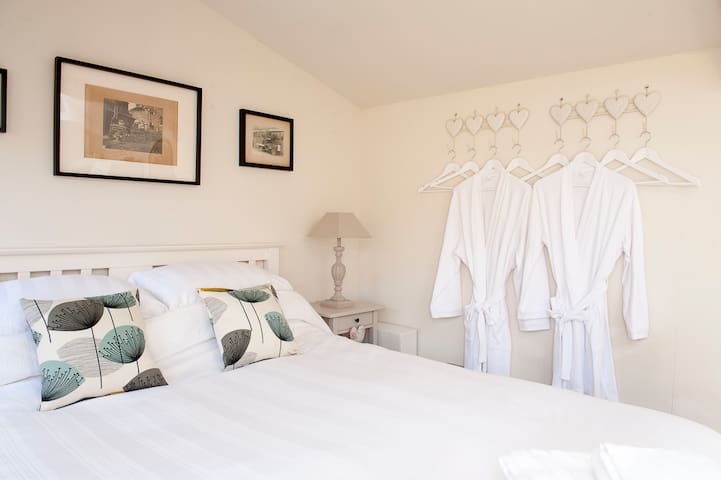 Delightful self-contained cabin in beautiful Cuckmere valley, twin or double. Private terrace facing south towards Long Man of Wilmington. Disabled access, wood stove, wet room, wifi, TV, parking. Half mile to Sussex Ox pub, 1 mile Alfriston.
Delightful self-contained cabin in beautiful Cuckmere valley, twin or double. Private terrace facing south towards Long Man of Wilmington. Disabled access, wood stove, wet room, wifi, TV, parking. Half mile to Sussex Ox pub, 1 mile Alfriston. Jackson's cabin has been a honey farm and a stable, situated in the garden of our house in Milton Street, a quiet rural location just half a mile from the A27, 2 miles from Berwick station and 4 miles from Polegate. It has its own parking space, ramped access and a private south facing terrace, part-covered with an oak and glass canopy, facing on to fields and the Long Man of Wilmington, an ancient chalk figure carved into the slope of the South Downs. There are three rooms plus a utility lobby: Kitchen/living room with wood stove plus electric heater, table and chairs, comfortable seating, freesat TV. Open plan kitchen area has electric oven and hob, fridge and is well-equipped for home cooking; Bedroom with double or twin beds (6ft 6in long), high quality cotton linen and towels provided, electric heater; Accessible wet room/WC with underfloor heating and wash basin. The cabin has been carefully converted to provide a comfortable, cosy and beautiful space. Perfectly situated for walkers, cyclists or horse riders, we are on the Weald Way and close to the South Downs Way and Vanguard Way. We have a field to accommodate your horse if you are riding. Jackson's Cabin is 8 miles (16 minutes drive) from Glyndebourne, and within half an hour of Eastbourne, Lewes and Brighton. Charleston Farmhouse and Berwick Church, adorned by Bloomsbury artists, are within a few minutes drive. The historic village of Alfriston with its post office, shops, pubs and restaurants is 1 mile away, and the excellent Sussex Ox pub with its good food and beer is 5 minutes walk along a lane where starry skies are unspoilt by street lights. Guests have their own off-road parking space 30 metres from the cabin, accessed by a path. They have sole use of the three rooms of the cabin plus its utility lobby, the covered terrace and outdoor sitting area. Most of our garden is not for guests' use, nor is the adjacent woodland where we keep bees. The cabin is detached and a few metres from the main house. Hosts and guests may see each other come and go, but the cabin's door, terrace and principal windows face south on to a field with uninterrupted views of the Downs and guests enjoy privacy. We will be on hand or available by telephone to answer questions or attend to any problems, and can provide the use of a washing machine if required. We may not always be at home during guests' stay. A combination lock entry system is in operation. We are in the middle of one of the most beautiful spots in the South-East and enjoy easy access to the Downs, the sea and many picturesque villages without using the car. We cycle to the beach at Cuckmere Haven in half an hour (or drive there in 10 minutes) and enjoy miles of quiet lanes in every direction without using the A27. As keen walkers we are privileged to live within a network of excellent footpaths and national trails. We are close to the A27 which is linked to the A23/M23 and the national motorway network. Gatwick airport is one hour away by car. If you are using public transport, we are 2 miles from Berwick station and 4 miles from Polegate. Buses serve nearby villages, weekly rather than daily. Included: Linen and towels, toilet paper and soap, logs and kindling for the wood stove. Tea, coffee, milk, muesli and snacks to get you started.
We are in the middle of one of the most beautiful spots in the South-East and enjoy easy access to the Downs, the sea and many picturesque villages without using the car. We cycle to the beach at Cuckmere Haven in half an hour (or drive there in 10 minutes) and enjoy miles of quiet lanes in every direction without using the A27. As keen walkers we are privileged to live within a network of excellent footpaths and national trails.
Alison is the perfect host. We had quite a bit of communication beforehand, because of a family bereavement and Alison was kind, efficient and speedy in her responses. Highly recommended.
Sarah
2017-01-22T00:00:00Z
Fantastic cabin in a stunning, peaceful, private location. Perfect for a couple or small family, it's extremely comfortable and well-appointed. Alison was a really welcoming host (we didn't meet Charlie). We loved the homemade Crab Apple jelly and marmalade, and appreciated all the other supplies (milk etc) Alison kindly left. The kitchen had everything we needed for cooking meals and the Sonos system was a great addition. We didn't need the fire, sadly it wasn't cold enough! The views across the field to the Long Man were incredible and we loved sitting with a cup of tea on the beautiful sunny terrace, surrounded by the birds and plants. Travelling with a slightly grizzly teething baby we really appreciated the space and privacy of the cabin; we didn't feel we were bothering anyone. Alison was also very relaxed about departure as there weren't any guests checking in right after us. We love the area and we'll definitely be back to this beautiful escape. Thanks so much Alison & Charlie.
Isabelle
2016-05-17T00:00:00Z
What a fantastic place. Perfect spot to relax and unwind. Highly recommended for people who are keen for walks as this is a great base to leave from. Alison was a great host and was very responsive. We will definitely be going back.
Charles
2016-08-01T00:00:00Z
We had an amazing time at Jackson's Cabin. Such a beautiful location and so cosy and wonderfully decorated inside. The log burner was an added bonus. Alison was really friendly and flexible throughout. Really looking forward to staying here again.
Hannah
2015-10-21T00:00:00Z
Awesome, private cottage in a quiet village, all facilities available and close to Brighton and Eastbourne
Robert
2017-03-19T00:00:00Z
Excellent and relaxing stay. Everything was perfect and it's extremely clean and quite surroundings. Perfect for the short family break. Thanks a lot.
Jinsun
2016-01-24T00:00:00Z
Lovely pad. My only real comment is Airbnb is new to me so I was surprised by their hidden charges and if your going to a b&b be prepared for no breakfast as most are all self catering. Would happily stay again.
Greg
2015-11-22T00:00:00Z
The cabin is absolutely beautiful with everything yoy could aak for and more. It has a lovely wood stove, board games, fully equipped kitchen, maps for walks and even painting equpment! The weather was a bit miserable when we we were there but even then the views were incredible. Alison was such a lovely host who is great in terms of contact and gets back to you within an hour, she provides information about good things to do and even left crumpets milk and jam for us!
Aishah
2014-11-23T00:00:00Z
Tipo di stanza
Intera casa/apt
---
Tipo di sistemazione
Chalet
---
Può ospitare
2
---
Camere da letto
Polegate, East Sussex, Regno Unito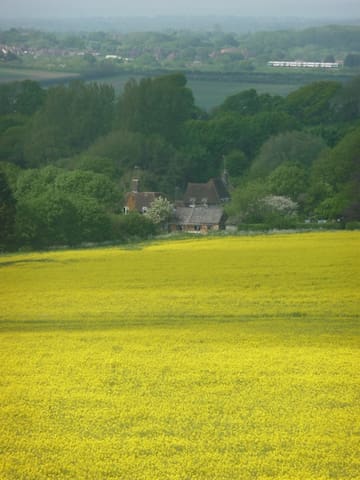 This property is self catering with breathtaking views in a rural location. A modern barn conversion, which sleeps a maximum of 4 people, it is stylishly furnished with everything you need for a relaxing break in the country. PLEASE NOTE: We politely request that only booked guests stay overnight at the Cabin (max 4 people) and any further guests leave the property by 9 pm out of respect for people in the farmhouse and neighbours. Public transport is incredibly limited.
This property is self catering with breathtaking views in a rural location. A luxury barn conversion, which is stylishly furnished, the accommodation sleeps a maximum of 4 and comprises one double bedroom with en suite bathroom with shower, wall hung basin and WC; double bed on a mezzanine level above the living area; contemporary open plan living/dining room; open plan kitchen with fridge, oven and hob; electric heaters, and a log burner fire for chilly evenings. There is small amount of logs and a fire lighter provided for the log burner, please bring more logs if you want several fires. Bed linen and towels are provided and there is private parking on site. No Smoking in the property.
Places of interest within a very short distance are Hever Castle - home of King Henry VIII; Chartwell - country home of Sir Winston Churchill; Penshurst Place - stately home, gardens & adventure playground; Groombridge Place Gardens & Enchanted Forest and Ashdown Forest - home of Winnie-the-Pooh. We are nestled right in the heart of the Eden Valley, which offers Golf Courses, Horse-Riding, Fishing, Cycling, Boating and Walking. For those who like to shop in style, Tunbridge Wells Spa Town and The Pantiles cannot be bettered and for those partial to a "flutter", Lingfield Racecourse has many events to keep you entertained.
This was a very nice place to relax. The cabin is ideal for 4 people...everything is there. The kitchen part has a microwave and oven. The setting in the countryside is almost unique. The only thing was...our dog came along and the 2 dogs of Ray were so friendly that they stayed around us almost all day and night :-)
Luc
2015-08-08T00:00:00Z
A real countryside experience! We arrived to be greeted by a menagerie of animals including, dogs, cats, horse llamas and cute ducks and ducklings on the pond! Little Pitfields was a great little barn/cabin that has recently been very nicely decorated. It has a living area, kitchen/diner with dining table and a double bedroom with a en-suite with a fab shower. We thoroughly enjoyed our stay and would not hesitate to recommend it.
Emma
2013-08-05T00:00:00Z
Ray was very helpful and laid back despite our constantly changing arrival times! The cabin itself was wonderful in every way, totally quiet and yet near to so many great places to visit. Why anyone would stay in a hotel rather than this unique cosy home from home I don't know. Hope to visit again soon, thanks Ray.
Aidan
2014-02-23T00:00:00Z
we had a brilliant stay at the Cabin, Ray was very welcoming and the setting is great. highly recommended!
Lily
2014-08-18T00:00:00Z
What a wonderful time we had at the cabin! It was clean, cosy, comfortable and charming. The perfect place to spend the weekend with friends. We were very well instructed on finding it and gaining entry and plenty of room for our two cars. There were 4 of us but it was perfectly comfortable. Bathroom is ensuite so who ever is in the bedroom might have a nighttime visitor or two! Very sweet little dogs who will come to say hello, but didnt bother us at all. We took a short drive into Tunbridge Wells on the sunday which ended the weekend perfectly. We would definitely stay again. Thanks Ray!
chloe
2015-10-04T00:00:00Z
We had one night away in the lovely cabin. Perfect place to escape London, beautiful setting. We enjoyed meeting the friendly and well behaved dogs. Highly recommend visiting for a little getaway.
Virginia
2015-10-31T00:00:00Z
Fantastic little cabin, beautifully fitted out. Really enjoyed our stay, wondering around the fields amongst the animals and catching loads of fish out the lake. We will be going back soon.
Matt
2013-09-09T00:00:00Z
Our stay was short but sweet. The setting is beautiful and The Cabin was cosy, very well equipped and felt like a real home from home. Ray was very helpful and responded promptly to my enquiries. We'd love to return and enjoy a longer stay next time.
Jeanne
2014-04-07T00:00:00Z
Tipo di stanza
Intera casa/apt
---
Tipo di sistemazione
Chalet
---
Può ospitare
4
---
Camere da letto
Blackham, Regno Unito
Treat yourself with a week's holiday in a beautiful 2 bedroom static mobile home in the heart of 100 acres of Sussex woodland near the ancient towns of Hastings, Rye and Battle. There is a platform situated directly on the lake.
Treat yourself with a week's holiday in a beautiful 2 bedroom static mobile home in the heart of the 1066 Sussex countryside near the ancient towns of Hastings, Rye and Battle. Set on 100 acres of stunning woodland, this peaceful lake side retreat is the perfect place to relax and wind down. It is fully equipped with a kitchen, bathroom, hot shower, double bedroom, two single bedroom and a double fold out beds in the living room. Located right on the lake, you can literally fish in the shade of a silver birch tree off the private veranda. If fishing is not your thing then you can relax on the deck or eat/ drink in the on site restaurant and bar in the manor house. Alternatively you could swim in the beautiful indoor pool or heat up in the sauna or chill in the jacuzzi. There is something for everyone at Coghurst Hall Holiday Park. In the evening there is children friendly games in the clubhouse too! Dogs welcome - there's a huge field two minutes away to walk them in and also the woods which is five minutes away. Bed Linen, towels provided. If you wish to use the club facilities (restaurant, pool, bar), you will need a club pass. These are available at reception in the clubhouse for £3.95 each. The staff do randomly check people for their passes so please make sure you purchase one. This is a private let. You will be given a code for the key box outside the caravan and be provided with an email informing you of everything you need to know. We love our little slice of paradise and are sure you will too! Ivyhouse Ln, Hastings, East Sussex TN35 4NP Located on the outskirts of Hastings in 1066 country, Coghurst Hall has a unique countryside setting. The Park is about 2 miles from Hastings town and seafront with its many shops, bars, seaside amusements, crazy golf, boating lake, fun fairs, the Sea Life Centre and many local attractions. One hour away on the train to Brighton. 1 1/2 hour to London. Ten minutes in a taxi to Hastings (£7). There is a television with free view and DVD player, central heating and a gas fire. We would prefer weekly bookings but contact if you wish for a shorter stay and we will do our best to accommodate you.
We love everything about the area where our cabin is situated. The peaceful 100 acres of woodland five minutes away. The ducks and herring gulls on the lake. The lily pads and blue dragonflies. The clubhouse is fun and friendly. The local area is steeped in ancient history with castles and abbeys.
We had a fabulous time. The cabin was amazing, very clean and very comfortable. Would definitely come again. Thank you so much
Sally
2015-09-07T00:00:00Z
Lovely place with scenic view. The place was very neat and clean as well. Although we didn't get the chance to meet the host in person, the communication was done effectively. Overall, we had a lovely time.
Justin
2014-07-22T00:00:00Z
The chalet was spotlessly clean and well ordered on arrival. The location instructions led us right to there. The site facilities are excellent and Hastings provides both a place to visit and a base for further excursions in this charming corner of England.
paddy
2015-08-01T00:00:00Z
Beautiful and scenic location at a holiday park, cabin was clean and welcoming. Colette was very accommodating and made sure all our needs were met. We had a lovely visit.
Kristen
2014-07-25T00:00:00Z
Thanks Colette for being a great host. Colette was very easy to communicate with and she provided and helpful accurate directions for finding the cabin. The description of the cabin is spot on. Great view over the lake, lovely decking to chill out on and a comfortable spacious lounge for when it get chilly in the evening. Kitchen was well equipped although we only used the kettle when we stayed for tea and coffee which was available. Bed was super comfy and overall the cabin was extremely well kept & clean. Would definitely stay again.
Andrew
2014-08-04T00:00:00Z
Me and my partner had a lovely weekend break. It is in a great location and perfect for fishing. Would definately recommend and will be going back again.
Niki
2015-08-17T00:00:00Z
My parents had a lovely stay and would definitely visit again. They visited the surrounding area and had some lovely days out.
Paul
2015-06-27T00:00:00Z
The lakeside location was lovely and we enjoyed fishing from the decking. Hastings is only 10 mins away and the old town is very lovely. Awful weather all week but we found lots to do with children. Neighbours very helpful and lovely and Host very accommodating. Mobile home quite dark and slightly damp (but it was a very dull, wet week) and dated, but in good decorative order. Fairly small for 6, better for 4. Dogs allowed.
Natalie & Graeme
2015-08-29T00:00:00Z
Tipo di stanza
Intera casa/apt
---
Tipo di sistemazione
Chalet
---
Può ospitare
6
---
Camere da letto
Hastings, East Sussex, Regno Unito

Wake up to the sound of nature, rustling leaves with leaping squirrels and awake to the sound of birdsong. Enjoy breakfast on the veranda while ducks swim on the pond and butterflies entertain you. The family dogs and cat share the garden too. We respectfully ask that you take care near the pond especially if travelling with children.
Nestled in an acre of mature garden and pond this wonderful location offers direct access to footpaths to Smarden village across fields or by road. Large double bedroom with King size bed with French doors onto veranda and access door through glazed corridor to sitting room. In the sitting room you can cosy up on the sofa, which also serves as an additional double bed and enjoy views of the garden through the double doors. The veranda is a great place to enjoy breakfast, lunch or an evening meal. Although we do advise a stroll to the local pub is well worth it for a meal there! There are full cooking facilities in the kitchen with a fridge and a separate laundry room in the bakehouse. The small bathroom, accessible from the living room, offers a shower cubicle, WC and basin. In the kitchen you will find tea and coffee, fresh milk and bread with home made jam. Occasionally duck eggs available! We have a travel cot, highchair and single bed available on request at time of booking.
I'm happy to show you the local footpaths, some meander through streams and into hop fields or we are a short riverside walk to Smarden village where you will find a gallery, 2 pubs, a post office, butcher and a Vintage shop. Biddenden vineyard is worthy of a visit to sample some local brews and if you like ghost stories then Pluckley should satisfy your appetite. Leeds Castle, Sissinghurst Castle or Bodiam Castle via the Tenterden steam trains are wonderful excursions. If you'd like to try a hot air ballon ride then look up Headcorn aerodrome for their special event weekends or try some wing walking or skydiving! There are plenty of antique shops to browse in Tenterden or the seaside town of Whitstable where oysters can be enjoyed 'in season'. A visit to Canterbury cathedral is about 40 minutes away and is a lovely city to shop. Or you might like to grab some bargains at the McArthurGlen outlet centre in Ashford some 8 miles away. We are a 40 minute distance to the Eurotunnel at Cheriton where you can drive on the car train and drive off in France. Or if you prefer a day trip to Paris on the Eurostar from Ashford that is even closer. You are of course more than welcome to just sit in the garden with a good book or bring an artist's easel for your own perspective on our Kentish garden.
Only a brief stay - pity, Garden Cabin is delightful. Great facilities set in a wonderful location. You will not be disappointed if you are hosted by Lynda. Thoughtful, polite, great attention to detail. All facilities & services are as described. Charming family (and pets).
David
2016-05-31T00:00:00Z
Oh gosh where do I start! We had such a wonderful stay, Lynda and Michael are such wonderful hosts - they made us feel really at home and attended to our every need. The Cabin is beautiful - the kitchen fully supplied and functioning - the beds are amazing (including the sofa bed!) and the shower is lovely and hot and powerful. The gardens that the cabin are set in are so beautiful. They are well tended by Lynda and Michael and an absolute delight to sit in. We even managed a quick game of croquet on the incredible lawn. The roaming ducks and dogs are adorable - we nearly took the dogs with us.... Thanks to Lynda and Michael for allowing us to share in your beautiful piece of the Garden of England. All in all a perfect stay! Thank
Heather
2015-06-09T00:00:00Z
Wow!!!! the place is perfect really enjoyed the stay. The property is located on a beautiful acre of natural woodlands in a secluded part of Kent. Cosy peaceful stay perfect place for quiet get away. Child friendly environment would definitely return. Lynda and her husband are great hosts the pets are lovely and the lodge is clean and tidy can't ask for anything more.
Jason
2017-03-12T00:00:00Z
Lynda's place is in an absolutely beautiful spot. We thought the cabin was lovely, though a bit cold inside, and my allergies didn't cope very well with the incense sticks in the living area. That said, Lynda and her family were lovely hosts, baking for us and leaving everything we could possibly want. A lovely place to get away!
Kathryn
2017-02-13T00:00:00Z
The Garden Cabin was lovely even better than the photos. Lynda was exceptionally hospitable, wins our 'one step beyond' award for the quality of food provisions. The cabin was clean , comfortable and cosy. Set in beautiful surrounding of Lynda's garden , felt very private and secluded from the main house.
Chris Joanne
2015-08-04T00:00:00Z
A lovely cabin in beautiful gardens. A very relaxed stay for our busy weekend. The cats and dogs are very friendly. Thankyou.
Shirley
2016-10-10T00:00:00Z
Lynda and Michael's garden cabin is just a precious little gem. After a short 2 night stay last year we had to return here to fully enjoy this peacefull place with it's peacefull animals and peacefull people. For the last 5 days of our holiday in England this was again the perfect place to relax and end our stay in a positive and joyfull mood. Our two boys loved the garden, loved to play with the dogs and kittens and felt really at home, as we did ourselfs. The cabin is perfectly equiped, located in a fantastic garden, in a beautiful part of Kent. If we visit this area again, we would definitely return, and return, and return.....
Frank
2016-08-13T00:00:00Z
This is a truly exceptional accommodation. Lynda and Mike were helpful, and very gracious hosts. (Good luck with the upcoming garden tour!) The cottage is set in a large garden adjacent but separate from the main house. Everything about the cottage is first rate! From the cottage to the nearest village, (and excellent pub), is a gentle 1 mile walk.. From this location one can easily explore the southeast and get to Gatwick in about 1.5 hrs. We hope we can come and stay longer here again some day.
Thomas
2016-06-18T00:00:00Z
Tipo di stanza
Intera casa/apt
---
Tipo di sistemazione
Chalet
---
Può ospitare
5
---
Camere da letto
Ashford, Kent, Regno Unito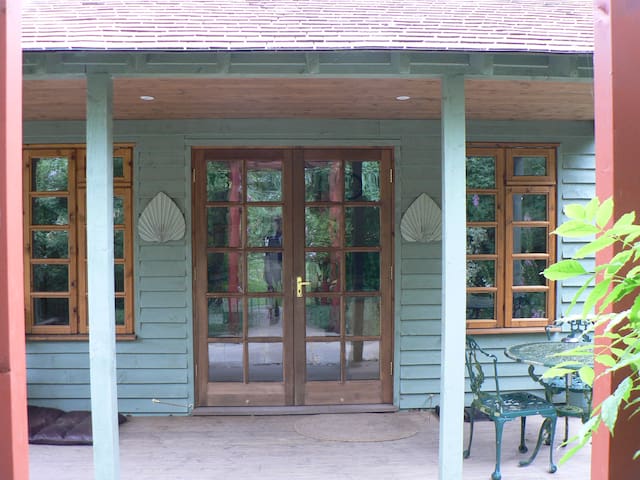 Set at the foot of the South Downs in the popular Meads village, this one bedroom holiday cottage is ideal for a couple or two friends sharing (adults only). Thoughtfully designed and presented, this cabin-style hideaway is modern and well equipped. There is a large flatscreen Smart TV in the lounge, so you can access your NetFlix account and internet services. The flexible bedroom can be set up as super kingsize or with twin beds. WiFi and parking provided. Saturday changeover.
This fabulous holiday cottage is located just off the seafront in the popular Meads area of Eastbourne. A path leading up to the South Downs is just a stone's throw away, so it is a great option for beach lovers and ramblers. Some great pubs for drinks or dining are just a few minutes walk in the heart of Meads village. Available to adults only (age 21 +), the cottage has a zip and link bed so can suit a couple as a super kingsize, or two friends with the beds as twins. The open plan living space is beautifully presented and well equipped. A large Smart TV is the focus of the living space, offering access to your NetFlix account, YouTube, BBCiPlayer and other internet-based services. There's also a Blu-ray DVD player and a selection of DVDs for you to enjoy. The kitchen boasts a combi oven/microwave, hob, fridge-freezer and a washer dryer, plus a foldaway table for dining. Outside you have a private patio to enjoy al fresco meals, and an off-road parking space immediately in front of the cottage. Wifi is provided, plus towels and linen and a few breakfast goodies to get you started. Bookings are in week long blocks, from Saturday to Saturday in peak season. Out of season and last minute, more flexible check in days may be possible. Talk to the Exclusively Eastbourne team if you've any questions that can help you reach a decision or check out our own website for more photos and alternative places to stay in the area.
The upmarket Meads area of Eastbourne is set at the foot of the South Downs, with the renowned Beachy Head cliffs an invigorating stroll away. Just opposite the main house is a small cafe which is popular with walkers setting off or returning from their adventures. Or a few minutes walk into Meads Street and you have cafes and pubs to grab a bite, plus supermarkets, hairdressers and a range of shops.
This was my second trip to Eastbourne. Enjoying the quiet, the long walks along the coast with this beautiful landscape my stay before, I definitely wanted to come back, which I did now. I took my best friend with me and we stayed at the Holywell Hideaway for 8 nights and we really loved it. We arrived a little later than we had planned, but Paul (the owner of the place) was very friendly and welcomed us saying that it didn't matter and gave us the keys. The owners live next door (it is a separate building - the main house) and are available for any questions. They also offered to show us everything, but it was all self-explanatory. Therefore, we actually only saw each on other the first and on the last day, so we really felt absolutely independent (which can, depending on the type of accommodation, sometimes be different with an Airbnb place). The place itself is a very neat and perfectly equipped little apartment with a parking spot right in front of the door. The owners have really thought of everything you may need during your stay. The sitting area is comfy and the multimedia equipment worked as it should, as well as the Wi-Fi. The internet speed was perfect too. The kitchen provides a modern oven, an induction hob and thankfully also a dishwasher :-) Cooking dishes are provided. The beds are very comfortable and not too soft (which I really appreciated because of my back problems). The apartment also offers a very neat and modern bathroom with a very nice shower (definitely enough water pressure to get you awake in the morning - we absolutely loved it). So, all in all we can only recommend the Holywell Hideaway and will be happy to come back. The only thing that caused a little confusion on my part was that the place actually belongs to a couple called Lynne and Paul (as you may have already noticed above). Carl and Sarah only seem to manage this accommodation (all the communication is done with them) as one of several places in Eastbourne, as it seemed. So we have actually never met them. Nevertheless, this is only an organizational matter and does not influence my holiday experience nor my evaluation - I still think one should know. To sum it up: Everything was very well organized, the accommodation is very clean, neat, modern, and perfectly equipped in a very nice neigborhood - absolutely recommendable!
Michael
2016-10-12T00:00:00Z
Tipo di stanza
Intera casa/apt
---
Tipo di sistemazione
Chalet
---
Può ospitare
2
---
Camere da letto
Eastbourne, Regno Unito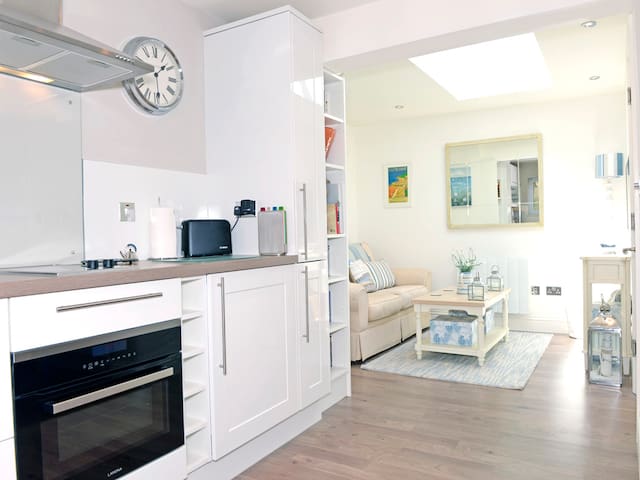 Beautifully decorated cabin in a large secret garden in the centre of Brighton, with its own private garden, wood-burner, bathroom and mini kitchen. Very quiet and serene, yet very close to the lively Laines, seafront and the universities.
This is a really stunning space at the bottom of a large garden. The super comfy kingsize bed is on a loft platform accessed via ladder stairs. The space also contains a large sofa, fully working bathroom (shower not bath), TV with Freeview, Netflix and Amazon Prime , iplayer and Wifi connected and mini kitchen containing all the basics you need for breakfast (no stovetop). The wood burning stove makes it warm and cosy in winter and your own private sun-trap garden is great for a drink in the evening. We can also organise a massage from a fully-trained local therapist who comes to the cabin. Please ask for prices and availability. Travel cot also available on request, but please note this will be set up in the main living space. We also operate a 2 night minimum stay at weekends from May-August.
We're right in the middle of the Roundhill area of Brighton, a fantastic central location. We're 5 minutes walk from the newly renovated London Road, jam packed with amazing pubs and restaurants, the fantastic open market and the ever popular Emporium Theatre and Duke of Yorks Picturehouse. The top of the Laines, filled with it's electic mix of boutiques, restuarnts & coffee houses, is a further 10 minute walk. The seafront and Peir is a twenty minute walk from the house, as are the Pavillion and Brighton Dome.
Had a lovely four days at Araminta little cabin at the end of her garden. Weather as beautify so great to be able to sit ursine in our own private garden. Comfortable bed and environment. Bit cramped if you are a 2m tall Dutchman! And also we didn't realise there were no cooking facilities although it does say that on the description. Araminta and her children were friendly and hospitable and left us pretty much to ourselves. Would definitely recommend if you want somewhere quiet within half an hour walk of the Brighton Lanes and with some space to yourself. Thanks Araminta.
Meriel
2016-07-23T00:00:00Z
A wonderful little cabin, clean, as described and very private. Thanks so much for a lovely stay, we would highly recommend and stay again.
Janos
2016-05-25T00:00:00Z
We had a fantastic stay and Araminta was a very friendly and welcoming host. Would definitely recommend!
Melissa
2016-08-07T00:00:00Z
Araminta was an amazing host - very helpful but very relaxed. The cottage is lovely and the weather was perfect. Would highly recommend!
sally
2016-05-09T00:00:00Z
We loved our stay in the cabin, comfy bed, really cosy and everything you need.
Rosie
2017-03-05T00:00:00Z
Cosy and private shed at the back of the hosts garden. Nice fire stove, comfortable sofa and good TV to chill out. Located at 15min walk of all the Brighton amenities, bars, venues, and shops. The bed is comfortable, although some agility is required to go up and down the loft. Friendly hosts, Amarinta left a nice loaf of bread, butter, jam and milk to help ourselves for breakfast. There is no street free parking, like most of Brighton. We paid about £11 for 40 hours, so it was reasonable. Great location if you want to visit Brighton and stay in a quiet place with character.
Javier
2016-12-08T00:00:00Z
Wonderful stay in this gorgeous cabin. Araminta was a great host, would highly recommend!
Lucy
2016-05-21T00:00:00Z
This little cabin is lovely, very cozy and perfect for a weekend away. You get a nice little private garden to relax in and Araminta gives you everything you need to get started. The stairs up to the bed are steep so not for those scared of heights. The property can be a little difficult for a taxi to find due to a barrier in the street, however the house is only a few steps from that. We found getting into town easy, 10 min walk in or get the train from the local station. It's a nice quiet area. Thank you for a great stay.
Lauren
2016-05-24T00:00:00Z
Tipo di stanza
Intera casa/apt
---
Tipo di sistemazione
Chalet
---
Può ospitare
2
---
Camere da letto
Brighton, Inghilterra, Regno Unito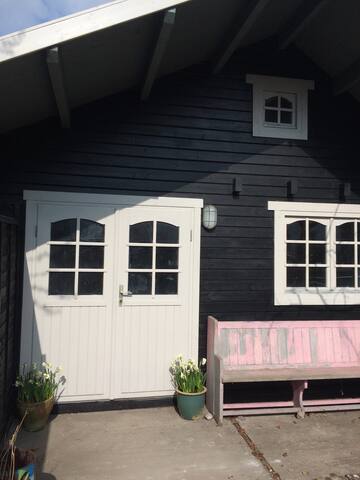 We have a comfortable, clean, one bedroom cottage at the back of our garden ready and waiting for your arrival! This cottage has it's own entrance, one bedroom with double bed, separate bathroom with shower, and living room with decent Ikea sofa bed for up to two more guests. It also has a simple kitchenette for your breakfast (juice, hot chocolate, coffee, tea, toast, cereal, croissants etc all provided). There is no hob or oven but you can heat up your croissants in a convection / microwave oven provided. Our village has it's own train station which is an easy 10 mins walk from the cottage. This train line takes you straight to London (1 hour's journey) where you can enjoy all that the big smoke has to offer. Alternatively the train can also take you in the opposite direction to Lewes (10 mins journey). This medieval town has incredible magnetism and is a must for any visitor. Plenty of shops and restaurants, a wonderful castle to see, as well as Anne of Cleves House - a parting gift from Henry VIII! Train or drive to Brighton (20 mins journey); a bustling city on the coast with plenty for the kids to see and do. And of course our own Plumpton Green, where there are some fabulous surrounding gastro pubs that are still kid friendly, great walks and plenty of cyclists. (website hidden)_East_Sussex_England.html (website hidden)
It is the quiet cottage placed in the garden. It was nice to find there some small refreshment after our arrival. It is very good starting point for the exploring of East Sussex.
Marie
2017-03-14T00:00:00Z
Very private location but handy for commuting into Brighton. Good pub and well stocked shop nearby
Ken
2017-01-13T00:00:00Z
Do not hesitate to book a stay here. 100% perfect for walkers (& those taking a break from the city hustle and bustle). Shops and pubs nearby. Cottage is nice and even in winter it's super cosy. The host Amanda is lovely and was quick at getting back to me with any queries and made my first airbnb experience a piece of cake. If you passed your driving test parking here shouldn't be an issue just don't go with a fresh paint job as it's a tight squeeze. Phone signal is always limited in the country side but if you know how to keep yourself occupied you won't even notice. The cottage is very homely and has all the basics, I would definitely stay here again :)
Q
2017-02-12T00:00:00Z
Thanks Amanda for being such a nice host. We had a great really nice weekend in Plumpton. We'll be back soon!
Ciccio
2016-12-04T00:00:00Z
Amanda greeted us with the keys and orientated us to the cottage. She made us feel very welcome! My little one had been sick in the car ride from the airport and Amanda was very kind and immediately took her clothes to wash. I found them on our doorstep the next day beautifully clean and folded. We were also delighted with the milk in the fridge and a lovely selection of breakfast goodies. A wonderful treat after being jet-lagged, cold and hungry. The cottage itself was just perfect. The little kitchenette is just what we needed to heat up snacks for our little ones and having two rooms was great because we could put the kids to bed in their own little room in the evening. The kids also enjoyed the trampoline and swings in the backyard. The cottage had a private lane and was very private. We would definitely stay again.
Melissa
2014-10-14T00:00:00Z
The cottage was great with plenty of room for a family of four (children aged 10 and 12). Amanda turned out to be a very nice lady who was very helpful in suggesting things to do in the area. Furthermore we found several pamphlets in the cottage providing inspiration. As expected from reading other guests' reviews, the cottage was clean and well maintained.
Lau
2014-07-22T00:00:00Z
A little treasure in the Sussex countryside. We used it as a base for visiting family in Brighton which was only 20-30 minutes away by car, though you could easily catch the train from the nearby station. The cottage is a comfortable and cosy cabin in the hosts' garden with more than enough space and amenities for the two of us. We were provided with supplies for breakfast - cereals, bread, croissants, preserves and so on and there is a combination microwave/grill for cooking if we had wanted to. We didn't actually get to meet the owners but they were extremely efficient in communicating by email and text. This is surely a place we will visit again and cannot recommend it highly enough
Peter
2017-03-12T00:00:00Z
Amanda's cottage was perfect for our stay in East Sussex. A really lovely cottage in a quiet area. Good wifi and very comfortable. She even left us some milk/bread/juice/cereal on arrival which was a nice touch. Would definitely stay there again
Joseph
2013-10-21T00:00:00Z
Tipo di stanza
Intera casa/apt
---
Tipo di sistemazione
Chalet
---
Può ospitare
4
---
Camere da letto
Plumpton Green, Regno Unito
We are sharing a beautiful space in a converted barn at the bottom of our garden. There's a master bedroom suite with king-sized bed, en-suite bathroom and dressing room; a separate shower room and large studio living space. We are happy to welcome one well-behaved pet. We are on the edge of the Ashdown Forest and within easy travelling distance of Tunbridge Wells, Eastbourne, Glyndebourne, Lewes, Brighton and London.
This is a wonderfully relaxing and peaceful space to stay, enjoyed by family and friends who visit. We thought it was time we shared it with others who might want to stay in this beautiful part of the country. There is a king-sized bed and sofa bed, to sleep three comfortably. The barn is accessed separately from the house so you can enjoy your own privacy.
We are situated in the hamlet of Poundgate which is just off the A26 on the outskirts of Crowborough. From the barn, it is possible to walk into the Ashdown Forest within 5-10 minutes and similarly within 5-10 minutes walk you can be on the Crowborough Golf Course. The historic county town of Lewes is 30 minutes drive, Eastbourne is 40 minutes away, Brighton is only 50 minutes away and in the opposite direction you can be in Tunbridge Wells in 20 minutes. All can be easily accessed on the 29 bus which stops at the end of the lane. We are 300m away from a delightful coaching inn 'The Crow and Gate' and 2 miles from the busy market town of Crowborough with its range of shops and eateries. High Hurstwood village is 2 miles away with its highly acclaimed gastro pub 'The Hurstwood'. For those interested in equestrian activities, High Hurstwood has stables where horse riding activities can be arranged.
We had a wonderful time at the barn. Could not reccomend it highly enough. Would love to come back.
Judith
2016-10-09T00:00:00Z
Liz is the perfect host: Kind and thoughtful - the lemon cake that has been mentioned before is gorgeous and a lovely welcome gesture as was the mini bottle of red wine and glass. Going out of her way to help - kindly driving me to Hendall Manor Barn for a wedding.
Allison
2016-09-12T00:00:00Z
Beautiful, clean, tranquil and spacious. You couldn't wish for more. Would definitely book again. Thank you Liz.
Mary Ann
2016-10-31T00:00:00Z
A comfortable place to stay with 2 excellent bathrooms. Good value for the 3 of us. Highly recommended.
Jane
2016-09-03T00:00:00Z
Liz was very accommodating given we arrived so late, and the barn was just gorgeous. Large, airy, very peaceful and really nicely furnished. She left us a lovely light breakfast which we had to rush as we got up late after a really good night's sleep. We were sad not to be returning for another night. Her husband even very kindly jump-started our car. All in all a fantastic experience.
Heather
2016-08-13T00:00:00Z
Extremely comfortable and spacious, in a lovely setting in the woods. Our every need had been catered for. Liz is a fantastic hostess.
hannah
2017-01-01T00:00:00Z
Very nice place
laura
2016-08-21T00:00:00Z
Very convenient property for The Ashdown Forest area. Enormous space for two people, very warm and comfortable. Limited cooking facility but enough to make breakfast. Will definitely use again when in the area
Michael
2016-12-27T00:00:00Z
Tipo di stanza
Intera casa/apt
---
Tipo di sistemazione
Chalet
---
Può ospitare
3
---
Camere da letto
Crowborough, Inghilterra, Regno Unito
Contemporary cabina due camere da letto in una tranquilla posizione rurale che si affaccia 12 acri di campagna Wealden e boschi con parcheggio e giardino privato. Undici miglia da Royal Tunbridge Wells, due miglia dal villaggio storico di Mayfield e sei miglia da Crowborough. Riscaldata con cucina completamente attrezzata, bagno e wifi
cabina Due camere da letto con bagno e soggiorno / cucina con vista su 12 acri di campagna, giardino esterno con barbecue a gas parcheggio privato e l'accesso alla terra circostante.
Bella campagna e posizione tranquilla con splendida vista sulla campagna. paese con valore storico di Mayfield.
The Swallows was a perfect get away place set in a beautiful rural setting. It had everything you would need for an enjoyable stay. Jo and Chris made us most welcome leaving milk, freshly laid eggs, cake and wine.
Carol
2016-12-31T00:00:00Z
The cabin is perfect for families, we stayed there with our little boy and it was warm and cosy. Excellent shower and lovely welcome basket which was a nice touch and very kind. Will stay again next time we're in town. Ps, amazing eggs, thank you!
Betty
2016-12-28T00:00:00Z
Tipo di stanza
Intera casa/apt
---
Tipo di sistemazione
Chalet
---
Può ospitare
4
---
Camere da letto
Mayfield, East Sussex, Regno Unito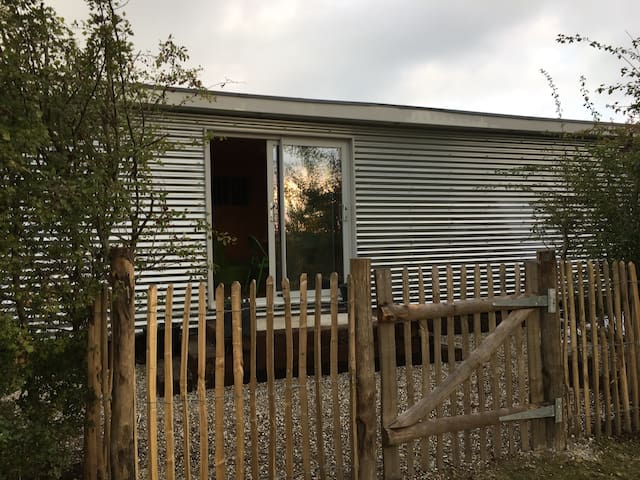 Delightful 2 Bedroom Wooden Lodge decorated in white with vaulted ceiling, original artwork and french door opening onto wrap around decking and plenty of garden furniture to catch the sun as it moves around the Lodge throughout the day.
Nimrod Lodge is a delightful rural retreat accommodating 4 people easily. Perfect for relaxing in the countryside overlooking 25 acres of fields or using it as a base for visiting local attractions including riding the train into London (just 1 hr away).
Biddenden is a lovely village - great tea room / coffee shop, pub serving real ale and with Sissinghurst Gardens just a few miles down the road it's a great location for visiting the many attractions throughout Kent.
Thank you Laura for such a beautiful place. The lodge is stunning inside, so clean, comfortable and very well equipped. It is set in a wonderful location with walks straight from the front door. We will definitely be back in the summer.
claire
2016-02-16T00:00:00Z
What a beautifull place ! A nice and romantic area in the English countryside. We felt really good in Laura's Nimrod Loadge. Everything was perfectly clean and the house is very well equiped. Thank you Laura for your kindness.
Laika
2016-08-05T00:00:00Z
Nimrod lodge was lovely, beautiful surroundings and Laura was a great host gave us our space but knew she was there if we needed her!
Joe
2016-08-29T00:00:00Z
We had a really lovely 4 days at Nimrod Lodge. Laura was very kind and welcoming. The lodge was spotless, elegantly decorated and cosy warm. It had an excellent and well equipped kitchen. It was also a very family friendly space. Our one year old was able to crawl around happily without damaging anything or getting herself hurt. If we'd been staying there without kids the lack of a real fire place might have been a shame, but as it was it was a blessing! The outside space was slightly less child friendly with a pond out front just beyond the deck. Although the weather wasn't quite good enough for this to be a problem as we were mostly indoors. Biddenden was an excellent base to explore Kent and we would certainly love to go again. Thanks very much Laura.
Sorrel
2015-10-17T00:00:00Z
A very cozy cottage in a lovely quiet location
jacquelyn
2015-11-17T00:00:00Z
Tipo di stanza
Intera casa/apt
---
Tipo di sistemazione
Chalet
---
Può ospitare
4
---
Camere da letto
Biddenden, Inghilterra, Regno Unito
A beautifully arranged cottage with the 'wow' factor!! Vaulted ceilings, bespoke staircase. One king size bed, with stunning en-suite with large walk in shower. Fully fitted kitchen with living space. Bi-fold doors on to private patio with outside eating area. Separate entrance to main house. Plenty of parking. 6 miles from Gatwick airport. Airport parking one mile away. Close to the South of England Showground.
White fluffy towels, crisp white linen, and tastefully decorated space. Useful for those pre holiday stays close to the airport or for a peaceful space to work from in between flights. Or just a weekend in West Sussex! Beautiful warms nearby.
Quiet private estate in wooded area. House set behind secure electric gates. Secure parking during your stay. Lots of local pubs and restaurants. Two within easy walking distance. The Dukes Head, Copthorne or The Curious Pig Copthorne. Close to South of England Show Ground or a 30 minute drive or 20 min train trip to Brighton
Tipo di stanza
Intera casa/apt
---
Tipo di sistemazione
Chalet
---
Può ospitare
2
---
Camere da letto
Copthorne, Regno Unito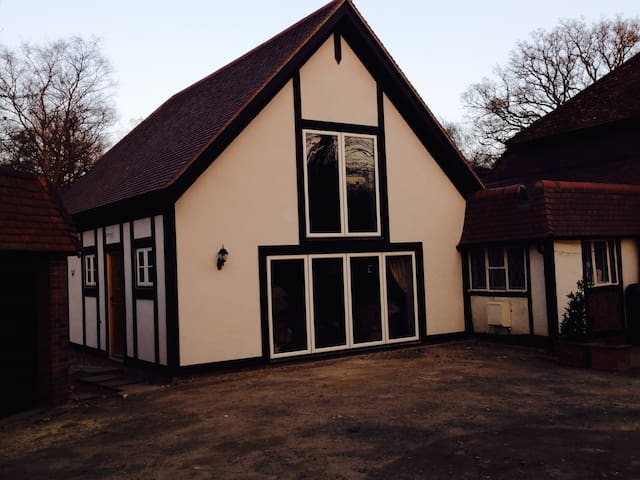 Garden Cottage is in the heart of beautiful Sussex countryside, ideal for walking and cycling. It is secluded and peaceful yet close to lots of interesting places. The cottage is perfect for couples or solo travellers, with a comfortable sofabed for a third person.
Our stay with Jackie was great. The property is really cosy, well appointed and clean. Jackie and her husband were very friendly and accommodating. We would certainly stay again
Mark
2017-03-30T00:00:00Z
What a little find this is. Perfect get away from the city and some absolutely stunning walks. Jackie is the perfect host too!
Jamie
2017-03-19T00:00:00Z
What a lovely little find in Sussex. Clean, comfortable and had all we needed for a great stay. Jackie was a great host and recommended some great local pubs and walks nearby! Would reccomend this property for sure!
Antonio
2017-04-02T00:00:00Z
Delightful 'garden house' detached from the main house. Full of thoughtful extras. No phone signal (this is part of being in the country rather than this specific airbnb). Jackie and Patrick both very friendly and welcoming and helpful. Fulfills the home away from home vibe!
Lucy
2017-03-26T00:00:00Z
The host canceled this reservation 57 days before arrival. This is an automated posting.
Samantha
2017-03-23T00:00:00Z
Nice little cottage in the countryside. Quiet location, close to many attractions
Marios
2017-02-26T00:00:00Z
Tipo di stanza
Intera casa/apt
---
Tipo di sistemazione
Chalet
---
Può ospitare
3
---
Camere da letto
Ardingly, Inghilterra, Regno Unito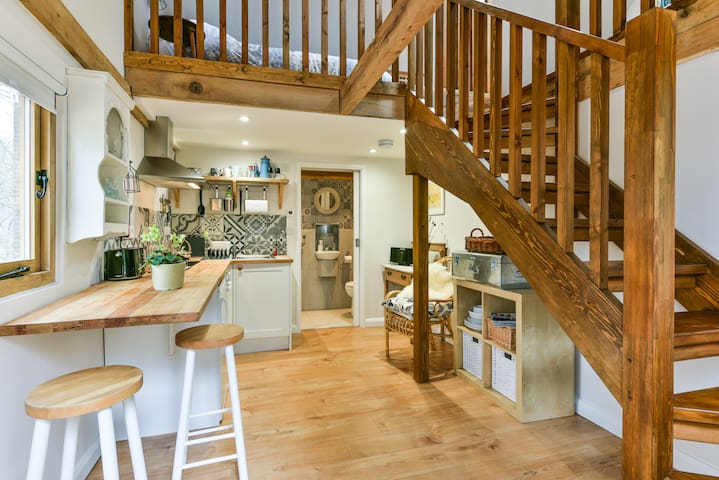 The private oak framed cabin is right by South Downs National Park, you wake to see across fields to the Downs and the Long Man of Wilmington, with walks off the end of our garden, we are on a national cycling route, within pedalling distance of two pubs, the village of Alfriston, Berwick and short drives from Charleston , Glyndebourne and Lewes. The cabin is set in a lovely two acre garden, screened from the main house by trees, in the middle of the countryside with a great deck and hot tub.
Lovely romantic oak framed cabin overlooking a great view of Sussex, and the South Downs. It is cozy, relaxing and away from it all, ideally suited for the surrounding attractions and also a quick escape to Brighton or Eastbourne.Completely unique views and not overlooked at all.
The Downs, Charleston, Lewes, Alfriston and Glyndebourne make this area very special, not to mention some great walks, lovely pubs and lots of local history.
Robin's attentiveness and eagerness to help make us comfortable was such a treat. He made our travels to and from the cabin so smooth and simple. Theres a pub in the immediate town, but the cabin's a bit of a walk from the neighboring town that has more to offer. The home itself however was wonderful as was the jacuzzi and breakfasts. I would highly recommend stopping by for a nice retreat to the English countryside.
Lauryn
2017-03-14T00:00:00Z
Host: Robin is a kind, welcoming and generous host with an interesting back story. He was keen to ensure we had the best experience and had loads of great recommendations for the local area. On arrival there was home baked peanut butter cookies left for us on the kitchen counter. The morning after, he provided the most amazing breakfast that he delivered personally to the cabin, and went to the effort to print off a map of a really great walk that we did later that day. The actual cabin: Outstanding. The photos actually don't do it justice. The inside is a warm, cosy, and vibrant space that holds the heat well even in the cold autumn air. The bed was exceptionally comfortable. The hot tub was a dreamy experience. The bathroom was very clean and Robin even provided us with robes. In the morning we were able to sit out on the deck and enjoy the stunning views over some proper coffee from a cafetiere. I feel like Robin knows his clientele well because we counted at least 4 bottle openers in the drawers.
Rebecca
2016-10-24T00:00:00Z
Our little get away was a complete success thanks to Robin and his outstanding cabbin Robin is simply a great host really friendly and not invasive The cabbin is really great and comfy and the hot tub is a blessing We hope to come back soon enough
Marie
2017-02-05T00:00:00Z
Robin is a dream Airbnb host. He has an exhaustive knowledge of Sussex and exquisite taste. He makes himself available without being obtrusive, even going so far as to offer to drive us to the pub. The room was clean, beautiful, and cosy. The hot tub was amazing. His breakfast of hot croissants, local jam, and muesli was really lovely. Cannot recommend this enough.
Ellen
2017-01-13T00:00:00Z
We had an amazing stay - wholly recommend taking a walk round the reservoir and the delicious breakfast (we ate ours outside and it was beautiful!). Robin was really helpful and reassuring in helping me organise a surprise trip for my partner. It was the perfect getaway!
Juliette
2017-03-12T00:00:00Z
Thank you so much to Robin for a beautiful stay are Berwick House. Robin was so kind and helpful in recommending local walks on the downes and even delivering a delicious breakfast in the morning. Definitely coming back in the summer. Thanks again!
Samara
2017-02-26T00:00:00Z
Very welcoming and extremely friendly. Upon arrival made you feel welcome and at home. They give you a full run down on the amenities and how everything functions. The actual facility is clean and inviting. In the morning they offer you warm croissants, yogurt, etc. Overall a very joyous stay.
charlotte
2017-01-08T00:00:00Z
Robin and Polly and great hosts. We felt at home and very comfortable in their cabin. They were great help with talking about local walks and pubs to visit and Robin even gave us a lift to one of the walks which was completely out of his way! The breakfast was a lovely touch, really enjoyed the croissant and granola. The hot tub was also great in the cool February evening. We'd definitely go back if we ever want a relaxing break in the countryside.
Duncan
2017-02-21T00:00:00Z
Tipo di stanza
Stanza privata
---
Tipo di sistemazione
Chalet
---
Può ospitare
2
---
Camere da letto
Berwick, Inghilterra, Regno Unito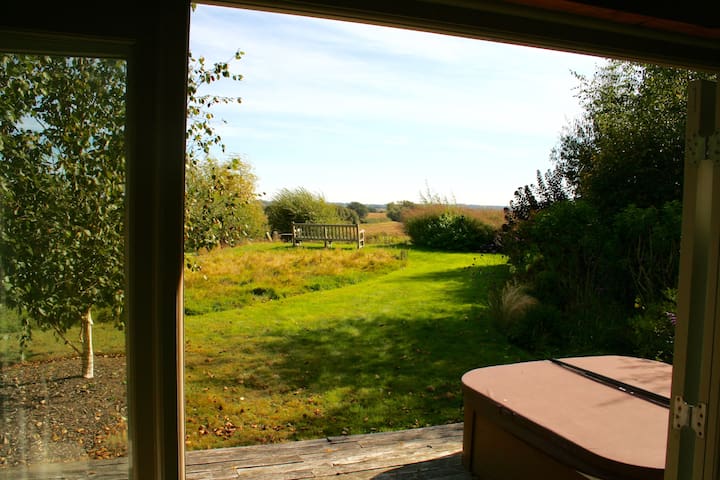 East Sussex - Airbnb
:
Media di

4.9

stelle su

5

da

848

recensioni degli ospiti
1

–

18

di

54 Chalet in Affitto
Inserisci le date per visualizzare il prezzo totale. Ci sono dei costi aggiuntivi e potrebbero venire applicate alcune tasse.