57 Appartamenti in Affitto
If you don't want to stay in cookie cutter hotel room then you will enjoy staying in our dedicated guest apartment with full kitchen, the beauty of our woods and gardens, our remarkable proximity to VT and everything the New River Valley offers. For dates after May 1 - see our other listing: THE VILLA AT YELLOW SULPHUR SPRINGS
As you drive up our gravel drive you leave the hustle of modern living behind. Your apartment is one of four located in a row cottage built in 1840. The space is spacious and simple. Hundred year old trees shade the porch, a creek provides your sound track and in 8 minutes you can be at the Virginia Tech Drill field or Lane Stadium. The interiors of the apartments were renovated about 10 years ago. They are fully furnished and equipped for your comfort.
Yellow Sulphur Springs first offered overnight accommodations in 1798. Throughout the centuries guests have enjoyed our grounds and peaceful environment. There are currently seven buildings on the property dating from the 1800's. Your home here is in a row cottage built in 1840. By staying with us you are helping to preserve the Springs for future generations.
This was a quick weekend trip for class purposes. The rental property was a quiet, peaceful place to stay. No problems finding the location, and finding the apartment on the property was relatively easy - I arrived late in the evening. Bernard was available to talk when I arrived - very much appreciated. All the necessary amenities were met. Bernard had the heat on prior to my arrival; a space heater was also available to help warm up the apartment, and did the job. I wanted a residence that was quiet and allowed for rest as well as close enough to where I needed to be during the day. This place was perfect.
Shaun & Shelly
2016-10-16T00:00:00Z
This is a very special place. The photos do not do it justice. Wake up early sit on the balcony with a coffee and wait for the deer to arrive. There is Small community here of about 10 households all of them are really interesting people. I asked Victoria to collect a hire bicycle for me and to get some groceries as I was arriving late. All perfect with a nice bottle of red wine thrown in. The cycling was interesting as it is ( as it says in the description ) uphill to the main road. BUT after a few attempts I made it all the way without stopping and I am very unfit but a car might be useful. A flat trail which goes all the way to Blacksburg is not far away and a map showing how to get to it would have been useful In the flat there was everything I needed and when I broke the oven door the caretaker-K was around to fix it before I got back the same evening. The beds were really comfy. I would live to return and hope to the next time I am visiting Virginia Tech. Bruce Thanks Victoria and Bernard
Bruce
2015-11-09T00:00:00Z
Our stay at YELLOW SULPHUR SPRINGS was delightful. We felt most at home and welcomed. Our trip to Virginia was motivated by our desire to purchase a summer escape from Florida's heat, and although we didn't find anything to purchase we could "unstress" each evening at "home". Mornings on the porch with a cup of coffee was a great way to start the days. We would certainly return to the Springs again. It is a little space of pristine comfort amidst today's bumble bee pace.
kay
2016-09-03T00:00:00Z
Awesome experience. Would definitely recommend staying here.
Brian
2016-09-29T00:00:00Z
This place was great...perfect for our visit to VA Tech. Convenient and nice. Bernard and Victoria were excellent hosts with great communication before and during our stay.
Fran
2016-09-25T00:00:00Z
The listing was exactly as described and Victoria and Bernard were very helpful and made themselves available to us during our stay.
Ronni
2016-09-19T00:00:00Z
Thanks for everything! A great retreat for a working/learning time away.
Connie
2016-03-22T00:00:00Z
This is truely a unique setting - a jewel! The apartment is located within an historic property - walking trails abound. The apartment is spacious with a well equipt kitchen. It was very cold during our visit, but the space heaters in each room kept us warm. The beds are extremely comfortable and there are plenty of extra pillows and blankets.
Elizabeth
2016-12-17T00:00:00Z
Tipo di stanza
Intera casa/apt
---
Tipo di sistemazione
Appartamento
---
Può ospitare
4
---
Camere da letto
Christiansburg, Virginia, Stati Uniti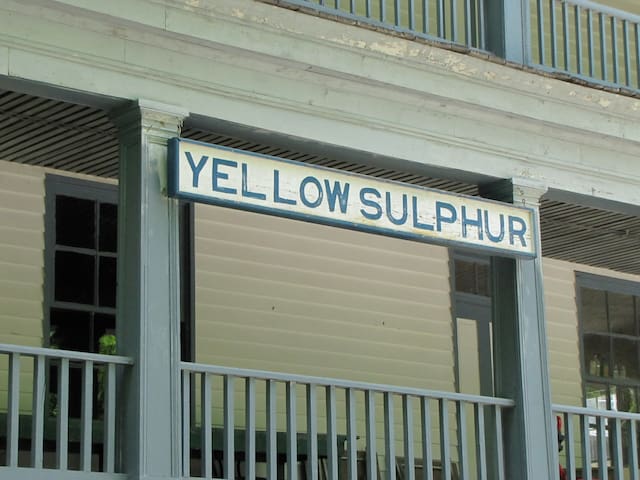 Enjoy your stay at The Main Street House. Book your 2 room apartment and prepare to create great memories. Private bath & kitchenette. Share 1st floor common areas. Perfect for couples, adventurers, and business travelers. Nearby activities include biking, hiking, zip-lining, tubing/river rafting, fine dining, arts events & more. 40 mins to international airport, 30 mins to colleges and major universities, fine dining & delightful entertainment. Inquire about discounts for long-term stays.
Private two room suite with deadbolt entry lock. Microwave kitchenette, full bathroom, one large bedroom and separate bedroom that doubles as a sitting area or office. Two large closets, full size chest of drawers and a stand-alone wardrobe for hanging clothes. High-speed internet and cable TV. Both AT&T and Verizon have strong signals. Spectrum Cable with 70+ channels. Want to cook something more substantial? You have access to a modern, fully equipped kitchen on the first floor plus a large dining room, cozy living room, outdoor patio and all-weather porch. Breakfast available on request. Off-street parking including a carport. Can accommodate additional guest (total maximum of 3 persons) for nominal additional fee.
My wife and I had exactly what we needed, clean and quiet for a nights rest. We let Steve know ahead of time that it would be after midnight before we would arrive. He said that it was no problem. When we arrived Steve was up and there to greet us. He took us on a quick tour and off to bed we went. The next morning he fixed us a great breakfast. We had a great time talking. Make sure you ask Steve about his encounter with Elvis!
Brian
2017-03-23T00:00:00Z
Steve was a wonderful host. He was friendly, accommodating and hospitable. He made breakfast for us and had essential toiletries available in case we forgot something. We would definitely stay again in the future.
L
2017-03-12T00:00:00Z
Steve was great. Very good communicator, super personable and made me feel right at home. Beautiful historic home in great little town.
Carolyn
2017-03-26T00:00:00Z
This was our first Airbnb experience and we surely hope we have such a great host and a great place to stay when we travel again. Steve pays huge attention to detail and our stay was great in every way. We highly recommend this beautiful Airbnb choice!
Robin
2017-04-01T00:00:00Z
The rooms are spacious and clean. The kitchenette is a convenience. The breakfast with homemade biscuits was delicious. We had a delightful stay.
Marsha
2017-03-18T00:00:00Z
We spontaneously decided to go to Pilot Mountain for the weekend and wanted a nice place to spend the night on a Saturday night. Steve's place jumped out at us because of the affordability and proximity to the park. We were immediately impressed by Steve because as soon as we booked, he called to confirm our reservation and ask what we wanted for breakfast on Sunday morning. The check-in process was super simple and straightforward. Steve greeted us and showed us around. We essentially had the upstairs right wing of the house to ourselves. There's a sink in the suite which was pretty convenient. Steve even put out travel size toiletries in case we forgot something. We were delighted that we had a view from Pilot Mountain from our bedroom. We also really enjoyed breakfast the next morning. Fresh coffee, a veggie scramble, fresh fruit and prosciutto. It was a fantastic stay, in a charming home and we will definitely recommend this place if you are anywhere near the Pilot Mountain area.
Ashley
2017-03-05T00:00:00Z
Tipo di stanza
Intera casa/apt
---
Tipo di sistemazione
Appartamento
---
Può ospitare
2
---
Camere da letto
Pilot Mountain, North Carolina, Stati Uniti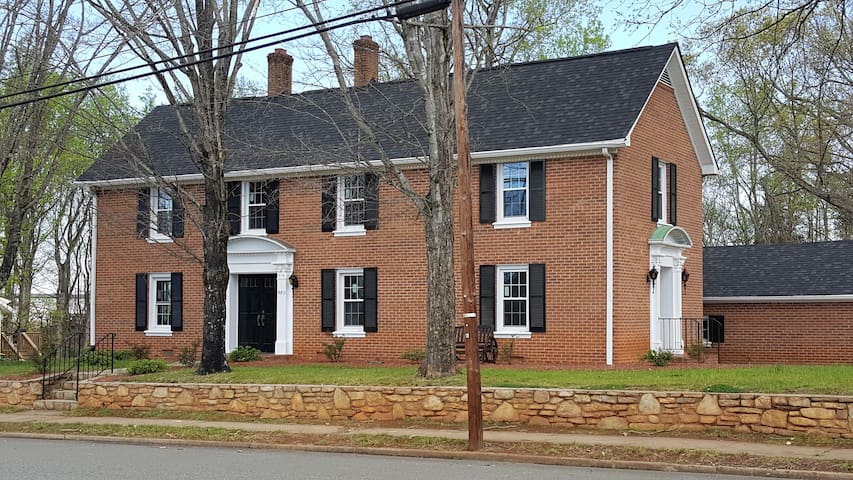 Our clean and simple private basement studio has all you need while staying in Blacksburg. Walk downtown in 1.2 miles. Kroger is just around the corner. Enjoy private entry, kitchen & living space. Comfortable for 2. Quiet, friendly neighborhood next to the municipal golf course.
Wi-fi, private entry, free street parking, microwave, toaster, mini-fridge, basic dishes, towels, sheets, basic toiletries. Hosts live upstairs--feel free to let us know what else you might need! Keys will be available on arrival. We are available by phone/text or just knock on the front door. Otherwise, enjoy a private stay!
Our neighborhood is quiet and friendly and adjacent to the municipal golf course which is a great place to walk up and watch the sunset. There are paved trails all around. It is a mile from downtown and convenient to 460, VT, VCOM, LewisGale Montgomery, and shopping and dining.
Sara welcomed us with the key and gave a quick tour of the place. The neighborhood was quiet, safe and convenient to downtown!
Danyell
2015-04-08T00:00:00Z
Was driving cross country and needed an easy last minute place to crash. Sara's place was perfect! She was very responsive and easy to work with. Close to the highway and grocery store. The apartment was spacious, private and very clean.
Angelina
2016-01-18T00:00:00Z
This was our first Airbnb experience and Sara set the bar high. She was readily available if we needed anything but we had complete privacy. The apartment was very spacious and Sara stocked the refrigerator with a few things to make it even more welcoming. We thoroughly enjoyed our stay!
Vicki
2015-10-05T00:00:00Z
Clean, spacious, and has everything you could possibly need. Sara was very quick to respond and communication was excellent. I would highly recommend her place if you are in the area.
Justin
2015-09-03T00:00:00Z
Sara was a great host, the apartment was clean, comfortable and very spacious. Sara made sure that we had everything that we needed. I would not hesitate to stay with her again.
Mike
2015-05-13T00:00:00Z
Can't say enough nice things about Sara and her place. It was the ideal AirBnB experience. This basement in-law suite was cute, clean, very spacious for two people, easy to find, and totally private. It was perfect for our one-night stop through Blacksburg, and it would have been great for a longer stay too. Check-in and check-out were totally seamless even when we arrived later at night than we'd planned. Sara was an all-around excellent host, easy to get in touch with, and so thoughtful to stock the private kitchen with snacks (and La Croix! My favorite! How did she know?!) and leave some extra toiletries in the bathroom. We would definitely stay here again!
McKinley
2016-11-11T00:00:00Z
Quiet neighborhood close to VaTech campus. Apt is clean and spacious. Bed is large, comfortable and cozy! We would stay here again. Thanks for the complimentary LaCroix sparkling water.
Ruth
2014-10-06T00:00:00Z
We had an excellent stay and it was super convenient and walkable downtown. The space is much larger than expected and has a separate entrance, with a large bed and living room with futon. There is high speed internet as well and we all slept great. Will definitely visit again!
Ben
2015-04-27T00:00:00Z
Tipo di stanza
Intera casa/apt
---
Tipo di sistemazione
Appartamento
---
Può ospitare
4
---
Camere da letto
Blacksburg, Virginia, Stati Uniti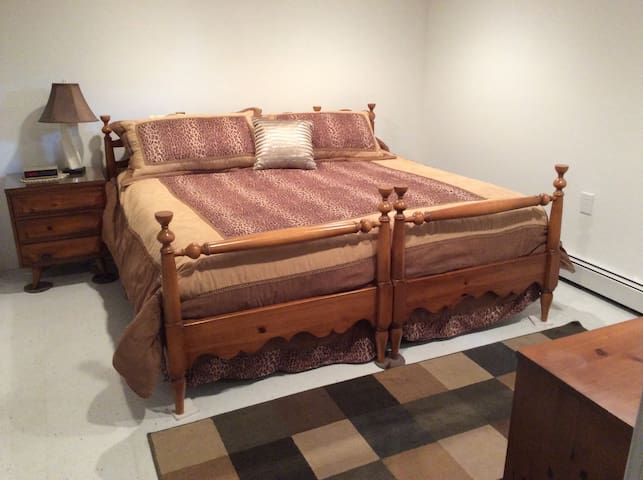 Stay at a beautiful 2 bedroom 2 bath apartment with all ammenities included. My place is a 2 mile walk to the Virginia Tech stadium, restaurants and dining, nightlife, and family-friendly activities. My place is good for couples, adventurers, intensive students, and families (with kids).
This spacious apartment offers options between a twin or two full beds and two separate full baths. The master bedroom is perfect for couples, located across from their bathroom. The twin bedroom has an adjoining full bath, perfect for travelers who enjoy relaxation and space.
The neighborhood is quiet and easy to navigate. If you are looking for a local coffee shop Mill Mountain is located less than a mile away is easy to walk/drive to. Additionally, 622 North is an eclectic Victorian era house, located next to Mill Mountain, and offers bistro fare, a wine bar, and pool tables.
Great, clean house with plenty of small amenities.
Max
2017-01-15T00:00:00Z
For our quick stay it was more than adequate: comfortable, clean, with nice personal touches. Having two full bathrooms was handy. Would definitely recommend.
Steve
2017-03-28T00:00:00Z
Very nice apartment. My parents stayed for the weekend of graduation, and Sophia made them feel very comfortable. Communication was excellent, and she satisfied all our needs.
David
2016-12-19T00:00:00Z
Sophia was the perfect hostess!! She left us handwritten notes, chocolates, breakfast, towels, shampoo...and her place was perfectly adorable! You will be very satisfied with this rental! It was perfect for our family of four! Thank you, Sophia, for a lovely stay!!
Sonya
2017-03-14T00:00:00Z
Great location and very comfortable. Quiet neighborhood, but very close to the university and restaurants. Very convenient.
Matthew
2017-04-02T00:00:00Z
The host canceled this reservation 16 days before arrival. This is an automated posting.
Valentina
2016-12-08T00:00:00Z
Very nice place! Roomy and clean. Hostess is very helpful.
Kathryn
2017-04-08T00:00:00Z
Tipo di stanza
Intera casa/apt
---
Tipo di sistemazione
Appartamento
---
Può ospitare
4
---
Camere da letto
Blacksburg, Virginia, Stati Uniti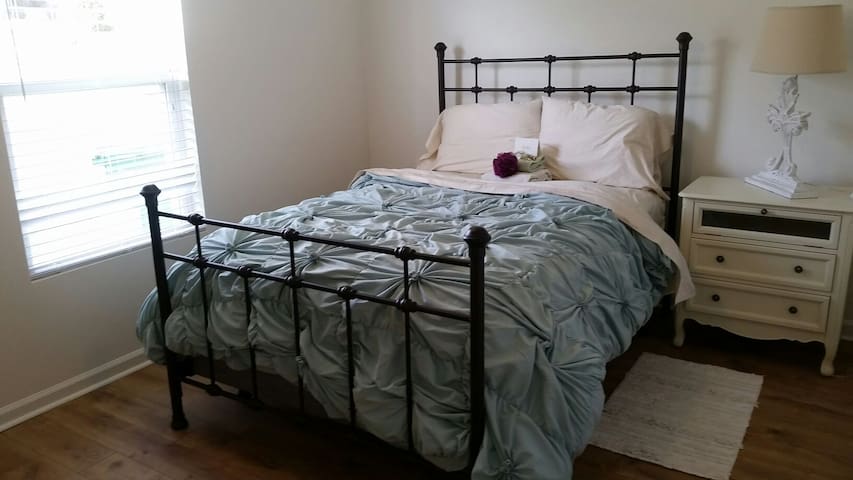 Our apartment is a full in-law suite in a quiet, single-family-home neighborhood with a private entrance on the lower-level of our home. It is an easy 15 minute drive to VT & RU on I-81. Includes full kitchen with a full-sized refrigerator/freezer, fully stocked with everything you'd need to cook meals if desired. There is a private bathroom with a shower/tub combo & bedroom with a new queen pillow-top bed. The apartment opens up to a large fenced-in backyard with gorgeous views.
The apartment is on the lower-level of a single-family home situated on a beautiful 3-acre lot with gorgeous sunsets! There is a pillow-top queen bed in the bedroom and we have a queen-sized air mattress that can be used for the 3rd/4th guests, as well as a pack-n-play for the little ones available upon request. There is room for the air mattress in the bedroom or in the adjoining living room space. Please note, we do not offer wi-fi. (As much as we would love to, satellite is the only option for our house at the moment, so instead, we use our phone hotspots for internet access.)
A private neighborhood with beautiful mountain and pasture views.
My gf and I booked way last minute, but Liz and Mike coordinated with us accommodate our needs. The place is super clean and the kitchen is fully stocked with almost everything you'd need to cook. The neighborhood is very nice, all SFH with multiple acres. Very quiet and peaceful. The bed was decently comfortable as well, which is a must for me as a light sleeper. Thanks for the easy stay and short notice accommodation.
Robert
2016-08-01T00:00:00Z
We stayed during a family weekend event in Radford, which was only about a 15 minute drive away. We found the apartment clean and welcoming, with everything we needed for a comfortable stay. This was our first Airbnb experience and we enjoyed the privacy and flexibility of having our own kitchen and living area as well as a comfy bed! The setting was ideal and peaceful in a lovely neighborhood, just a short drive from the interstate and universities. Sweet family, beautiful scenery. We would definitely stay again!
Tracy
2016-09-25T00:00:00Z
Elizabeth and Mchael were friendly and very gracious hosts! They did everything to make our stay very enjoyable; including helpful emails to orient us to the area before we arrived. We were in the area to explore some of the VA wineries and vineyards and Liz and Michael supplied us with info about specific wineries near their home which helped make our visit even more pleasant. The space was perfect, comfortable, clean and spacious and convenient to I-8, but tucked away in a very pastoral setting. Highly recommend staying here!
Marilyn
2016-08-28T00:00:00Z
Liz and Mike were fantastic. They were very hospitable and gracious despite the fact that we were visiting fans for a VA Tech football game. They had plenty of insight for restaurants, tailgating, etc. The apartment was spacious and clean. There was coffee and snacks and Liz even made us a dozen breakfast muffins. The bathroom was stocked with travel toiletries for those things we had forgotten. The apartment is at the end of a quiet lane away from busy roads and other noises. We'd stay there again in a second.
Jonathan & Cynthia
2015-09-08T00:00:00Z
This was our second time staying with Elizabeth and Michael. Great communication, super accommodating hosts. Plenty of privacy, nice quiet place to rest up and clean up after a long day of work! Would definitely stay here again!
John
2016-10-08T00:00:00Z
This lovely apartment is the perfect, peaceful getaway when in Blacksburg for a frantic weekend (football, graduation, freshman orientation). The kitchen is well appointed, the bed is ultra comfortable and the hosts were extremely thoughtful and accommodating. We would certainly stay here again.
Elizabeth
2016-05-16T00:00:00Z
We really enjoyed the stay at Liz and Mike's this last weekend. The place is in a beautiful neighborhood with convenient access to VT and downtown Christiansburg. The place was very clean and the hosts were very accommodating for anything we needed. Definitely a plus to be pet friendly with beautiful surroundings and open space to let our pup run and play!
Kevin
2016-09-19T00:00:00Z
This is the second time I have stay here. The location is nice, quit and clean. Elizabeth and Michael always leave a little extra like water, la Croix, and some home made cookies. The house is out in the county but your not far from town.
Matt
2016-06-10T00:00:00Z
Tipo di stanza
Intera casa/apt
---
Tipo di sistemazione
Appartamento
---
Può ospitare
4
---
Camere da letto
Christiansburg, Virginia, Stati Uniti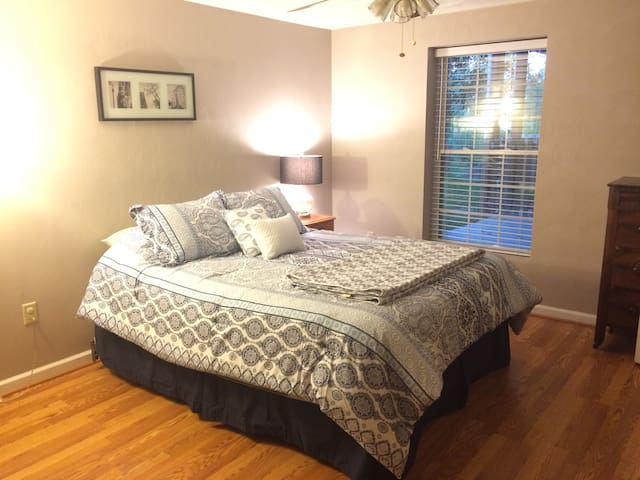 BEST OF BLACKSBURG! Our game-day ready space sleeps 6 • Luxury king and queen beds plus comfy queen pull-out sleeper in living room • 60" hd cable tv (plus dvd player) for those glorious game-days (go Hokies!) • A fully equipped chef's kitchen • NEST and LOCKSTATE technology • Washer & dryer • Walk in closets (by all means stay awhile!) • Outdoor space with bistro set (don't forget to bring the corn hole) • And complete with a custom Hokie beer pong table of course (BYOB and ping pong balls).
Hmmmmm what did we forget to tell you about.... Our modern/mid-century place is a spacious 2 level townhome with hard flooring throughout. Enjoy the bar with extra seating, coffee station, and then there's that swell little DVD player for those redbox hits from Kroger. In the master, we've created a workspace for you complete with a built-in charging station and don't forget your blackout curtains (for when you just can't do mornings). There's also an iron and ironing board in the closet and in BOTH bedrooms, there's HEPA air purifiers. Parking is always free with unlimited guest access.
Mature trees, tucked away, simply perfect for your weekend retreat or game day activities!
Tipo di stanza
Intera casa/apt
---
Tipo di sistemazione
Appartamento
---
Può ospitare
6
---
Camere da letto
Blacksburg, Virginia, Stati Uniti
Spacious loft located off 221 N, fifteen minutes from the town of Floyd, Virginia. This third floor space has a separate entrance, one flight of stairs, a private bathroom, and a well-equipped kitchenette. An open floor plan with nooks throughout, allows space for stretching, sleeping, reading, working at a desk, eating, and relaxing. Private balcony overlooks large garden, as well as the Little River. An abundance of wildlife, including a wide variety of birds, are drawn to the river.
Chrys was AMAZING!! Her loft was beautiful and was everything that we needed. Chrys was so sweet. I definitely recommend this place!
Michelle
2016-11-06T00:00:00Z
The loft was spacious, larger than the photos and very comfortable. The balcony overlooking vegetable and flower gardens with flocks of humming birds visiting every morning. In the evening the Milky way crosses over the middle sky. Chrys provided good coffee, tea, milk sugar etc. , enough kitchen for making breakfast and sandwiches. She was very friendly, has lived in the area over 30 years and can direct you to local stores and restaurants if needed. However; we spent most our time relaxing on the balcony breathing the fresh mountain air and walks around the property. Private bathroom was well supplied and conveniently in the loft apartment. On Saturday mornings you should ck out the farmers market, local growers with vegetables, breads, and crafts. A must visit is the Floyd bakery, get there early for fresh pastries and artesian breads. We will definitely be returning, and next time a longer stay. If you're not into fresh mountain air and wakening to an alarm clock of chirping birds tis is not the place for you.
John
2016-08-29T00:00:00Z
We loved our stay with Chrys and the beautiful nature surrounding her home!
Fraser
2016-09-22T00:00:00Z
We rally enjoyed our stay at Chrys's place. It is clean and very spacious. She let us used her kitchen, which is very helpful since we like to eat our food - Chinese food. The pity is that Chrys was not home. Howeve, her friend Perky did a very good job by hosting us. She is a wonderful person. She took me around the Floyd downtown, which is a lot of fun and then also gave me a ride to the FloydFest. Highly recommend this place to others. Amy Xue
Amy
2016-08-01T00:00:00Z
This Little River community is a world unto itself, friendly and remote--and just a short drive from the Blue Ridge Parkway and all the arty hustle and bustle of downtown Floyd. Chrys's River Run Loft, with its view from the hillside to the river, was roomy and airy--with all the promised amenities--cozy, comfy, inviting and, with it's own entrance, very private. We had things to do and places to go, but any other time it would have been a wonderful spot to just hunker down and read and relax and enjoy the valley's unspoiled beauty.
(Mary) Marcia
2016-10-06T00:00:00Z
Staying at the River Run Loft was a great experience for our family of 4. We enjoyed meeting and getting to know Chrys and people in the community. Chrys was very welcome. The loft was comfortable and clean. The kitchenette was stocked with coffee/tea/water/milk and Chrys greeted us with delicious scones on the counter! Our kids really enjoyed exploring the river, going on stargazing walks at night up the back hill (highly recommended!), playing with Chrys's dog, and being shown some artifacts. Our daughter also enjoyed helping dig up sweet potatoes from the garden. I recommend the River Run Loft unreservedly.
Yemi
2016-10-19T00:00:00Z
We loved our stay at the River Run Loft! Chrys is a warm and welcoming host. And the location is perfect: serene and "away from it all," yet only 10 minutes to town. The space was clean and thoughtfully outfitted; our family of four slept very comfortably. (It was unusually hot during our visit, so the AC and fan were much appreciated.) Breakfast (bagels, cream cheese, yogurt, tomatoes from Chrys' garden) was delicious; the small kitchenette seemed to anticipate our every need. A highlight, for me, was the private balcony. It was the perfect place to sit with fresh-brewed coffee in the morning, watching the sunlight fill this peaceful river valley, or to watch the spectacular light show of stars and fireflies at night. Altogether a delightful visit; we hope to return soon!
Laurie
2016-07-24T00:00:00Z
Very nice home and the hospitality was perfect!
Jenna
2016-07-23T00:00:00Z
Tipo di stanza
Stanza privata
---
Tipo di sistemazione
Appartamento
---
Può ospitare
4
---
Camere da letto
Floyd, Virginia, Stati Uniti
Loft in Ellett Valley, Blacksburg, Virginia. Kingsize bed, bath with shower, kitchennette with table and four chairs, small refrigerator, microwave, bark sink, coffee maker and toaster. Living area with sofa/twin sleper, flat screen tv, large deck overlooking Ellett Valley with table and four chairs. Non smoking. Dogs and Cats OK. Sloped ceilings. Can be rented with cottage but have separate entrances.
Jean's loft is a beautiful spot! With great views from a small porch of the vineyard, and a cozy place to sleep, we couldn't have asked for more!
Julia
2017-03-26T00:00:00Z
My stay was EXCELLENT! Such a cute (and very clean) little studio apartment above a cottage style garage. Deck overlooked a vineyard. So peaceful with the morning fog overlooking the mountains. This apartment was pet friendly which was a huge plus for me. Jean was wonderful and a great communicator. I will DEFINITELY stay here again the next time I come to visit my college aged sons.
Lisa
2016-10-16T00:00:00Z
Jean is lovely. She makes herself available, but without being intrusive. She is very hospitable. The location is very convenient, close to Blacksburg with a country feel. Her communication is great. The apartment is small and light-filled., The king bed is very comfortable. The porch deck provides extra space.
Janet
2016-07-18T00:00:00Z
Peaceful and comfortable.
Venkat
2016-08-21T00:00:00Z
This place was amazing!
Anthony
2016-08-25T00:00:00Z
Pictures do not do this place justice! The views are INCREDIBLE!! All around fantastic!
John
2015-10-10T00:00:00Z
I love staying here! They are always so welcoming!
Isabel
2015-03-20T00:00:00Z
Rodney and I had a great time! We will definitely be back!
Isabel
2014-11-07T00:00:00Z
Tipo di stanza
Stanza privata
---
Tipo di sistemazione
Appartamento
---
Può ospitare
3
---
Camere da letto
Blacksburg, Virginia, Stati Uniti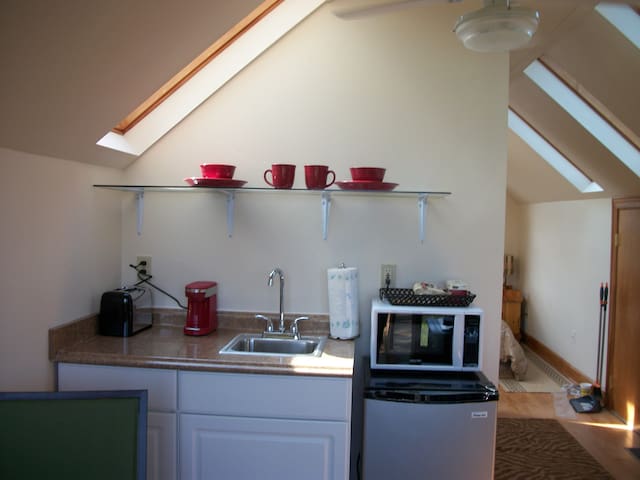 This studio apartment is attached to a country house situated on 5 acres just outside of town. It features wood floors, comfortable bedding and a large bathroom with double sinks. (The queen bed has a new mattress and the futon sleeps 2 on an 8 inch mattress - also new.) Just outside is a big wrap around porch with comfortable seating perfect for enjoying morning coffee and tea along with homemade bread. Only 10 minutes from downtown yet far away from the madding crowd!
This studio apartment is attached to a country house situated on 5 acres just 10 minutes from downtown. It features wood floors, comfortable bedding and a large bathroom with double sinks and a large shower. Just outside is a big wrap around porch with comfy chairs and open spaces to enjoy. The main house will be occupied by your host who is available to help you with directions or recommendations during your stay. We have a friendly dog and 2 cats who stay in the main house with us.
Each house in our neighborhood is situated on 5 acres, so there is a real sense of being in the woods.
Great place to stay, very clean and cozy.
Garret
2016-09-17T00:00:00Z
We loved EVERYTHING about our stay! We'd definitely consider staying again. Thank you Jane for making our stay so enjoyable;)
carolyn
2016-10-02T00:00:00Z
We had a truly wonderful stay. It is clear that Jane took great care in preparing for our arrival. The studio was clean and comfortable, and stocked with healthy treats. Most of all, we enjoyed the peace and quiet.
Cara
2016-05-02T00:00:00Z
This was a delightful stay. My daughter (12) and her friend (13) and I stayed in this comfi and welcoming home. Jane was wonderful and the girls want to return any time we visit Blacksburg. The space is as advertised with comfortable beds and a cute little table for working or breakfast. The kitchenette is perfect with everything one could need. The room feels private with it's own entrance with a private stair access to the 2nd floor. The bathroom is spacious and lovely. We can't wait to visit again. Thanks Jane!
Nina
2016-02-29T00:00:00Z
Jane was so warm and welcoming and very accommodating for our late arrival. She anticipated all of our needs and had fresh homemade cinnamon raisin bread, milk, OJ, yogurt and cereal waiting for us. The studio apartment is spacious and beautifully furnished. There's a futon/couch so up to four people can sleep there comfortably. Jane was gracious and gave us some great recommendations for local restaurants. Her dog Addy was very sweet. The area is very peaceful and quiet. Next time we are in Blacksburg we will definitely stay at Jane's.
Ben
2016-10-23T00:00:00Z
Jane was an excellent host. She had everything you could think of from homemade bread to Lindt chocolates. The apartment was roomy and immaculate. Any time we return to VT we hope to stay here!
Theresa
2016-10-22T00:00:00Z
Jane's place was excellent. It was beautifully decorated, bright, roomy, spotlessly clean, and had a nice kitchenette. There was a semi private entrance so we didn't feel were invading their space. Setup for coffee and tea and light breakfast was very nice. This location is in a beautiful semi rural area north of Blacksburg. It is an excellent base for access to the nearby hiking, kayaking, and mountain biking venues as well as Mountain Lake. We stayed only one night , but the place would have been suitable for a week + Jane was a lovely host and I highly recommend her place.
Chris
2016-07-11T00:00:00Z
Perfect Air BNB. We have used Airbnb all over the world and in the US. This was one of the best. So clean, easy and positive. I would gladly stay again. Jane was easy to communicate with and understanding abut our late arrival. She had coffee, juice and a lovely array of easy breakfast options (fruit, bread, oatmeal etc.) Thank you Jane
Jeannine
2016-09-09T00:00:00Z
Tipo di stanza
Intera casa/apt
---
Tipo di sistemazione
Appartamento
---
Può ospitare
4
---
Camere da letto
Blacksburg, Virginia, Stati Uniti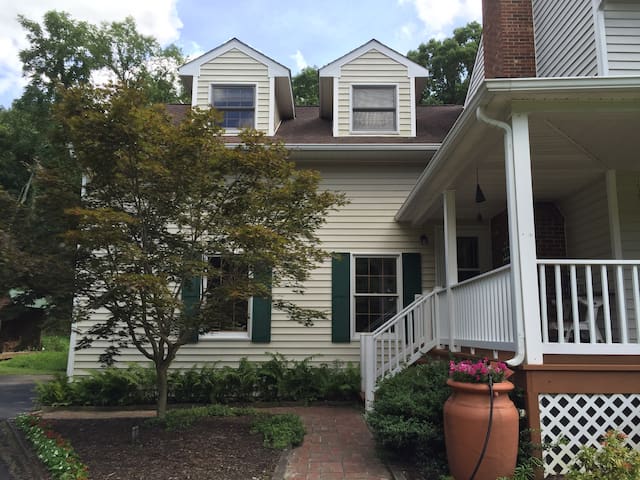 Located in the historic Miller south side neighborhood in Blacksburg, this quaint, newly renovated apartment is 1.0 mile from Lane Stadium (VT) and downtown. The living room has a pull-out sofa bed so the apartment can accommodate up to 4 people. The kitchenette has a stove, microwave, refrigerator, coffee maker, pots and pans, utensils, dinnerware and silverware, and some stocked items (coffee, sugar, some spices). We offer on-site, off street parking.
This apartment has a newly remodeled bathroom, fresh paint, all new furniture, and many new appliances (like a fridge). The apartment has character and was built in the 1950s.
This apartment is located in the historic Miller southside neighborhood. It is 0.9 miles from VT football games (and VT) and close to downtown, 1st and Main shopping, as well as Kroger (grocery store). It is a lovely, quiet neighborhood, extremely safe, and convenient.
Nice place for a weekend stay in Blacksburg. Great location and hosts promptly provided all the information we needed for our stay. Would definitely stay here again.
Matt
2017-04-09T00:00:00Z
Great, clean spot. In good location.
Ike
2017-03-05T00:00:00Z
Excellent, clean apartment. Comfortable firm bed and IKEA sleeper sofa with cozy linens. Nice, safe feeling neighborhood with easy parking right next to apartment entrance. Good full size coffee maker with filters. Cute little kitchen, dining room with table & 2 chairs, and small (but clean and very nice) bathroom that you enter from the bedroom. Tod and Elena were super communicators and very kind. This was a terrific apartment for our 1-night stay in Blacksburg.
Stephanie
2017-03-18T00:00:00Z
Tod & Elena were great hosts. Apartment was clean and efficient, exactly what we needed. Would stay again!
William
2017-01-14T00:00:00Z
It was a nice little apartment very close to Main Street and the campus. Tod and Elena were very nice. Would stay there again
tyler
2017-02-26T00:00:00Z
I spent a full week at Elena and Todd's. The apartment fantastic : comfortable, clean, well-equipped, and with a convenient location. I would definitely recommend this apartment !
Amanda
2017-02-14T00:00:00Z
This place is great! Wonderful location, clean and comfortable. Would stay there again anytime I come back to Blacksburg!
Chris
2017-03-12T00:00:00Z
Great spot for a weekend in Blacksburg! Loved our stay. Hosts were very accommodating!
Matt
2017-03-25T00:00:00Z
Tipo di stanza
Intera casa/apt
---
Tipo di sistemazione
Appartamento
---
Può ospitare
4
---
Camere da letto
Blacksburg, Virginia, Stati Uniti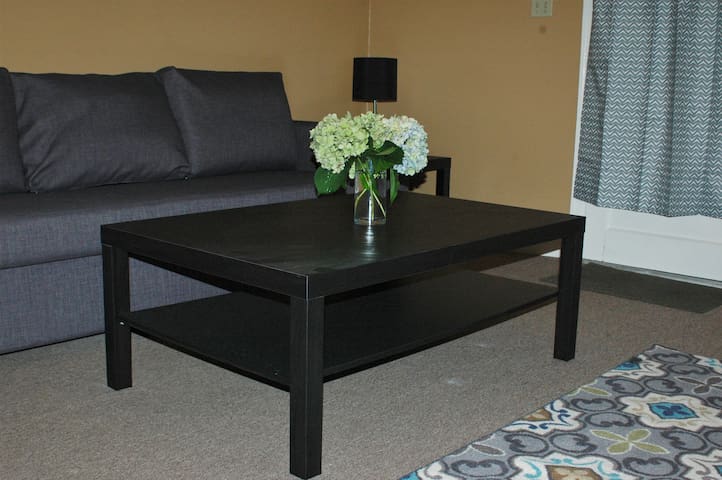 Single bedroom available just a mile away from the Virginia Tech. It is a short two to five minute walk away from five Blacksburg Transit bus stops that will take you to campus and downtown Blacksburg. Right off of the Toms Creek Exit on 460. The Space- The bedroom is a good sized bedroom equipped with a queen size bed, mini fridge, antique vanity, chester drawers, and a walk in closet. Right next to the guest room is the bathroom.
Tipo di stanza
Stanza privata
---
Tipo di sistemazione
Appartamento
---
Può ospitare
3
---
Camere da letto
Blacksburg, Virginia, Stati Uniti
Private 1 Bedroom/1Bathroom apartment within our home on Main Street in Historic Mount Airy. Full kitchen. The living room area easily accommodates two more people with a daybed and an additional single mattress which can work as a second bedroom of sorts if you would like.
This is a private apartment within our home. You have private parking and access to enjoy the front porch on Main Street Mount Airy. There is a staircase to get the private entrance.
Karen's apartment was comfortable and amenable. She was an excellent host, and she made special efforts to accommodate me and my friends. Before we even arrived, she had excellent suggestions for restaurants. As we left today, she suggested some activities, which were all spot on. Four of us were able to stay here relatively comfortably. It was a short drive to downtown, but had the weather been warmer, we would have been happy to walk. Great neighborhood. I would highly recommend this place to anyone. Karen is a wonderful host.
Joshua
2015-12-04T00:00:00Z
Karen is the best. Fresh baked goodies waiting for us. Super easy to communicate with. We have tried out both sides of her place and have booked for a third visit already! Highly recommend her.
Sarah
2016-10-17T00:00:00Z
Karen's accommodations were only our third time using Airbnb. We enjoyed our stay very much especially the beverages in the fridge and the muffins. We had to climb steps to the apartment, and she made certain that this would not be a problem for us before confirming our request. The apartment was clean, and we slept very well.
Cheryl
2016-05-11T00:00:00Z
The house was at a convenient location. Karen was flexible with the arrival time and was very welcoming.
Grace
2016-04-18T00:00:00Z
Thank you again Karen, you are a great host.  The apartment is perfect, everything we needed and more.   Very private, off street parking idea, local coffeel and all of the baked goods divine.  We will definitely be back next year.  Thanks again
Steve & Trish
2016-09-04T00:00:00Z
We had a wonderful stay in Karen's cute and charming apartments. We rented both of them and we all enjoyed comfortable beds and the baked goods were fabulous. The front porch is perfect for a cup of coffee or a glass of wine. Karen was super friendly. The street was a bit busy with traffic however you couldn't hear any noise in the apartment. Loved it!
Kathy
2015-10-02T00:00:00Z
My husband and I had a wonderful stay at Karen's apartment. She gave great directions on how to find the apartment and was very gracious in giving us recommendations for places to eat and places to hike that were nearby. When we arrived, we were delighted to find that Karen had left us baked goods which were much appreciated after a half day of hiking. The apartment was very clean and cozy. There was so much room and beat having to stay in a hotel. Great experience! Would recommend to friends and family.
Rizza
2015-11-06T00:00:00Z
This experience was a delight from the first contact with Karen. The home is picturesque, on main street, a short, beautiful walk to downtown. The apartment was very clean and well equipped. The bed is crazy comfortable with cozy, perfect linens. Great baked goods and beverages were available when we arrived. The apartment is very private and we were comfortable the entire stay. We are going to book another weekend and look forward to returning. Also the town of Mt. Airy is a delight, cute main street and really nice people.
jan
2016-05-02T00:00:00Z
Tipo di stanza
Intera casa/apt
---
Tipo di sistemazione
Appartamento
---
Può ospitare
4
---
Camere da letto
Mount Airy, North Carolina, Stati Uniti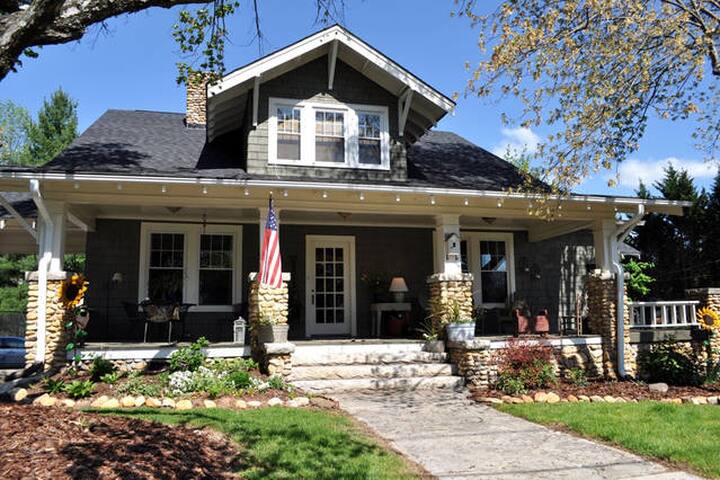 The large apartment (about 1200 sq. ft.) has 3 private entrances on the ground level, a full bath, a fully stocked mini kitchen, 4 large rooms plus 2 bedrooms and lots of huge windows throughout, and private parking. It is close to I-81 , Radford University, Virginia Tech (20min), Bisset Park on the New River, Christiansburg Aquatic Center (20 min), Claytor Lake State Park, and a hospital. A great place for couples, solo adventurers, business travelers, and families with a dog and lots of kids!
You will have your own living space on the first level of a three-level house, all of it is above ground. There are cupboards in the fully stocked mini-kitchen with plenty of dishes, glasses, and lots of silverware. The apartment has a fireplace (fire wood included), a wide screen TV with internet service, a DVD player, fast WiFi, exercise equipment, an outdoor grill, and a fire pit. The house is in a thickly wooded area which will give you the feeling of being in the country, but yet we are in the City of Radford.
The house is in a quite neighborhood of one family homes with an abundance of mature trees and rolling hills. The house is on a cul de sac with very little traffic. We are close to downtown Radford with plenty of shops and restaurants.
Everything was accurate and the host gave us our space and was extremely flexible with our arrival. The neighborhood was nice.
Rebecca
2016-09-26T00:00:00Z
From the very beginning Ken and Kay were wonderful hosts. They helped carry out luggage, showed us around the house, and made sure we had everything that we needed. The location and furnishings were beyond our expectations. We would highly recommend this to other Airbnb users and definitely strive to return in the future.
Georgia
2016-09-18T00:00:00Z
Ken was an extremely hospitable host. We arrived rather late in the day and he was there to greet us, help us with our luggage and show us around the house. The accommodations fit our needs perfectly. There is plenty of space to spread out with multiple bedrooms and living spaces. The kids loved the smart TV with YouTube and Netflix on the ready. We, the adults, loved the wood fireplace in the other living space for some peace and quiet. I would gladly stay there again.
will
2016-11-27T00:00:00Z
Kay and Ken are wonderful hosts! They provided excellent local recommendations on dining and activities and were available for any questions. Too bad we arrived too late to experience the best coffee shop in Radford but the coffee in the room was better than ours at home! Their dog Sophie is so sweet and our dog enjoyed playing with her. The space is larger than we expected but still cozy for the two of us and our pup. Our dog has been relegated to leash life now that we're back in the city. They provided a very relaxing get away from city life and was just what we needed. We didn't have to worry about a thing. We will be checking this listing in the future for a weekend away, perhaps bringing our bikes this time to take Ken on a distance ride :) Thank you for everything.
Allen
2016-08-14T00:00:00Z
Very quiet, pretty neighborhood. Ken met us outside, as we were getting there late and it was dark. He helped us carry our bags in and showed us around. Our dog was very comfortable and so were the kids. Enjoyed the breakfast that was available in the refrigerator. Very convenient to Radford University to visit with son. Ken and Kay are very nice and friendly and had a notebook set up with many menus for local restaurants and things to do in the area. My daughter loved the games that were available to play.
Tracy
2016-10-02T00:00:00Z
Ken and Kay were absolutely wonderful hosts! I stayed there with three other family members because we were attending my nephew's graduation at Radford University. The space was lovely and spacious! I would definitely stay there again and recommend it to everyone!
Natasha
2016-12-18T00:00:00Z
This is a very large space-two living areas, 2 eating tables, 3 couches, 2 bedrooms and outdoor space too! Great location to Radford campus, hiking and quiet wooded neighborhood. We were welcomed warmly, enjoyed breakfast food, good size bathroom and very clean. I would recommend to anyone, especially with pets and/or children.
Caitie
2017-03-21T00:00:00Z
Our family spent most of the time outside on the back porch. We had all of our meals out there. We loved the wooded views. Plenty of room to spread out which was nice with the kids. While there we had use of the kyaks and spent 2 full days on the River!!!
Heather
2016-09-06T00:00:00Z
Tipo di stanza
Intera casa/apt
---
Tipo di sistemazione
Appartamento
---
Può ospitare
4
---
Camere da letto
Radford, Virginia, Stati Uniti
VT/Lane Stadium 15minutes (10 miles). Radford Univ 8 minutes (5 miles). I-81 8 minutes (5 miles). Special rates for game weekends & graduation. Pricing negotiable depending on guests & nights. Private entry, clean/spacious, accessible, enjoy the Blue Ridge Mountains within minutes of campus. Picturesque sunrises & sunsets. 2 QUEEN Bedded Rooms, 3rd Room has 2 TWIN Beds, 4th Room has TWIN Bed. Living Room includes TV Roku Wii & air hockey table, 4-seat couch & space for air mattress on request
Accessible to I-81 as well as either campus - accessed completely privately from home owner on second floor. Great views so you can enjoy the Blue Ridge Mountains without leaving the comforts of urban civilization. Special rate of $1500 VT Graduation May 11-14. 3 nights up to 8 people includes cleaning and linens. $1200 RU Graduation May 4-6. 2 nights up to 8 people including cleaning and linens. Special rates for game weekends.
House located in Montgomery County on the edge of Christiansburg - minutes from Lane Stadium and the Christiansburg Mall as well as downtown Radford.
Tullio was very thoughtful and easily available by text message. The location is great, close enough to Blacksburg while getting to enjoy a view of the Blue Ridge Mountains. The space was large and very clean. They even provided toys for our young kids!
Sara
2017-01-02T00:00:00Z
Tullio was extremely kind and communicative, even offering to mail a hat left behind during our stay. His place was comfy and had all amenities, linens, etc. needed for the trip. Thanks for a great stay!
Julia
2017-01-15T00:00:00Z
Tullio and Tammy were the most gracious hosts. They provided snacks, festive napkins for St Paddy's day and a warm welcome note. Their communication was excellent. Unfortunately, because of their schedules and ours, we never got to meet face to face. I regret that.
Cally and Ken
2017-03-19T00:00:00Z
Scenic, just out side of town. Minutes away from Blacksburg and right off of 81. This was great change of pace from staying in a hotel for a football weekend.
Jeffrey
2016-11-27T00:00:00Z
We used this apartment while we were in town for business. Tullio's communication was great. The apartment itself was really neat and comfortable. It was a great place to unwind. The experience was great!
Alex
2016-11-06T00:00:00Z
Tipo di stanza
Intera casa/apt
---
Tipo di sistemazione
Appartamento
---
Può ospitare
8
---
Camere da letto
Christiansburg, Virginia, Stati Uniti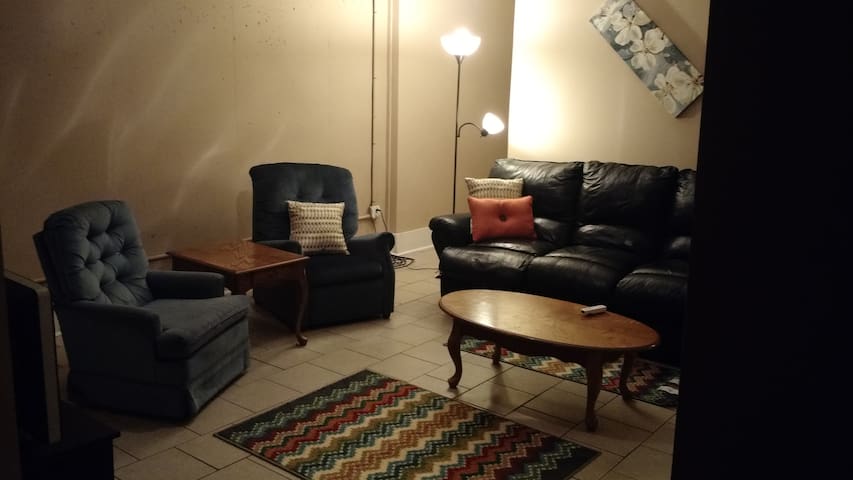 My place is close to restaurants and dining and family-friendly activities. We are located 20 minutes from Lane Stadium at Va. Tech and 17 minutes to Radford University. You'll love my place because of the views, the coziness, the comfy bed. My place is good for couples, solo adventurers, business travelers, and families (with kids). We live on a 126 acre farm with sheep, donkeys, chickens, and cattle. We welcome farm stays at our Farm.
Our Loft Apartment has 2 Bedrooms, 2 twin beds and 1 Queen, and 2 Bathrooms. The master bath has a jetted air tub and a steam shower. All hardwood floors, stainless appliances, double oven, microwave, refrigerator with ice maker, Keurig coffee maker. Laundry room with front loading washer and dryer. 36 inch tv with direct tv.
Our Loft apartment is located on our Farm surrounded by beautiful views with a serene atmosphere that assures a restful visit.
Tipo di stanza
Intera casa/apt
---
Tipo di sistemazione
Appartamento
---
Può ospitare
4
---
Camere da letto
Riner, Virginia, Stati Uniti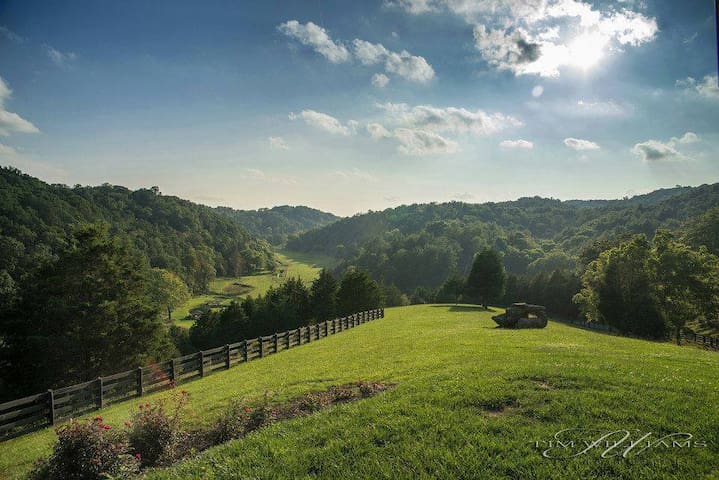 Basement apartment (owners live upstairs) situated on 23 acres in the Blue Ridge Mountains of Sparta, NC. It is an outdoor lovers paradise. Did we mention it's a Christmas tree farm? Great for families or those who simply want to get away. Sit out by the fire pit and star gaze without any light pollution. Take a pole and some tackle to the pond or river. Hang out and read under the oak tree. Mainly, relax. Several places to access the Blue Ridge Parkway within 10 minutes drive from the house.
Around 1700 sf basement apartment with 4 bedrooms and 1 bath. There is a full kitchen, cozy living room with wood stove and comfy beds. The home is only part of what makes this place special, though. There is a working Christmas Tree farm on the property. We've also been told that the property is "teeming with life." And as such you'll be greeted by the dogs (Copper and Maya), chickens, Tagg the Alpaca and if it isn't too hot out, Ellie the pig. Guests also have access (via short, moderately stressful hike) to the pond and dock as well as the Little River which bends around the backside of the property. It's great for fishing and also serves as a nice swimming hole. You'll need a valid NC fishing license for the river, but not the pond. That license can be obtained in town. Because of the constant projects and working nature of the farm, plus kids, let me quote a fellow airbnb host, "The grounds are not always "Martha Stewart"-manicured, but our commitment to you is a clean and comfortable home-away-from-home." It's noted again in the "house rules" but we want to make sure everyone knows before booking that we live upstairs along with our 1 and 4 year old boys. Previous guests have likened it to apartment living as far as overhead sound. We'll make EVERY attempt to keep our noise to a minimum.
We're on a long gravel drive off of a country road. Our only neighbors are extended family and close friends. This is an extremely safe, quiet, relaxing area.
Four adult men held our annual Veteran's Day Fly Fishing trip at Joel and Mandy's Riverhill Retreat. Riverhill is in the middle of great streams (Helton Creek, Little River, Mitchell River, Ararat River to name a few). The fully furnished, fully stocked kitchen, allowed each to have our own room, cook our own meals, and spread out in the spacious den. A beautiful view, cool barnyard animals, and easy driving to many fishing streams, makes this a "must do" destination. Thank you for allowing such a comfortable stay!
Greg
2016-11-14T00:00:00Z
This is truly a mountain top retreat. It is convenient to the historic downtown of Mount Airy, Pilot Mountain and the town of Galax. Joel was an excellent host, you even get to meet an alpaca and a friendly pig along with two dogs and some chickens that are roaming around the property. The unit was clean and large, can accommodate up to 8 people comfortably. Joel gave us great suggestions on nearby wineries and places to stop on the Beautiful Blue Ridge Parkway which is only a few miles from the property. You want to see the property in the daylight especially the first time up it is a steep mountain road, fun to drive but better in the daylight. Bring all your provisions there's no McDonald's on the corner but there's an amazing view beautiful Christmas tree farms for miles. A real relaxing retreat.
DeAnna
2016-10-30T00:00:00Z
Enjoyed our time there. It was a cozy place to ride out Hurricane Matthew and the rainy days. Enjoyed the dogs, chicken and the Alpaca in the yards. Enjoyed the quiet of the farm and surrounding valley.
Ben
2016-10-11T00:00:00Z
Joel sent out detailed info prior to our arrival which helped us find his location after dusk, on motorcycles, which helped immensely. We loved that Joel & his family were so accommodating and the space itself was so spread out. It was very cozy and welcoming and we would definitely recommend his space to travelers in the Sparta area.
Kimberly
2016-10-15T00:00:00Z
Joel and Mandy met us when we arrived and, with their dogs, chickens and other animals, gave us a very friendly welcome. The room was very spacious and easily accommodated our group of six. Joel even brought us eggs each morning from his chickens and had ingredients for s'mores for us Saturday night. Highly recommend River Hill Retreat.
Myra
2016-11-06T00:00:00Z
We went to Joel's to pick out a Christmas tree and stayed for a long weekend! The pictures and description are spot on, but they don't tell you how comfortable the furniture is or how you will really have anything you could ever need! Its the best furnished with amenities we have ever stayed in away from our own home. Joel and his family were great! They did everything to make sure we had everything we needed and were comfortable. Their kids keep noise to a minimum, which we didn't mind either way. Our daughter loved playing with their 4 year old son, Eli and they had a blast all weekend. We even got yo meet Joel's parents. Everyone was very nice and made it feel welcoming. The space is nice and cozy, yet large! The farm is beautiful with great views. We loved seeing all the stars at night and it is the first place we have ever been in the mountains that is close to a store. A food lion is only about 10 minutes away, but you would never know as the farm maintains a secluded mountain feel. We really enjoyed all the animals as well, but especially the bunnies! We will be back next year and are looking forward to it!
Sara
2016-11-20T00:00:00Z
We had a lovely stay at River Hill. The space is spacious and comfortable with everything needed for a stay. The host is friendly and accommodating. Although we were not doing much cooking, they do provide all cooking needs, spices, condiments etc. We did, however, enjoy the fresh laid eggs they supplied. We highly recommend this to anyone staying in the area.
Melba
2017-01-30T00:00:00Z
Joel's place was amazing. We had a long drive and everybody was nicely surprised with the place. Everything was clean, well maintained and there were even nice cookies greeting us
Haseen
2016-10-23T00:00:00Z
Tipo di stanza
Intera casa/apt
---
Tipo di sistemazione
Appartamento
---
Può ospitare
7
---
Camere da letto
Sparta, North Carolina, Stati Uniti
A private apartment located over the garage connected to a lovely log home, adjacent to Route 460 and the VT campus. Enjoy parking, a private entrance, cozy living room, luxurious bedroom, bathroom and kitchenette. Direct TV and wi-fi included.
The neighborhood is adjacent to Route 460 for prime access to all areas Blacksburg and the New River Valley. The Virginia Tech campus only a few miles away.
This is a comfortable home in a quiet, nice, woodsy residential area close to Virginia Tech. The large master bed was very comfortable, and they have a pull-out sofa in the living room that our teenaged son used. The kitchenette was very handy -- equipped with cute dishes, a small refrigerator, and a Keurig coffee maker. Jennifer and her family were very friendly. Coming and going was flexible and easy. This is a good value and we would certainly choose this location again.
Stephanie
2017-02-12T00:00:00Z
My husband I enjoyed our stay at Jennifer's place. It was very clean and quiet. Easy to find, close to everything and yet has a country feel. Cute kitchenette and of course enjoyed the Kona coffee she provided! Will stay again next visit to Blacksburg!
CJ
2017-03-05T00:00:00Z
Great accommodations for VT graduation weekend. My family was able to stay in the apartment comfortably while being very close to campus and everything else that Blacksburg has to offer. Kevin and Jennifer were wonderful hosts and made sure we had everything we needed during our stay. If you want a well kept, quiet place to stay in a beautiful country setting this is your place. We will put their apartment at the top of our list the next time we are back in town for a football game.
Matthew
2016-05-15T00:00:00Z
This home is a perfect distance from Virginia Tech, in quiet neighborhood, with a lot of walking trails. I found everything to be comfortable and very clean. I plan to come back the next time I come to the area.
David
2017-02-19T00:00:00Z
We had a wonderful stay at Jennifer's home. It was really conveniently located and comfortable. Would definitely stay again!
Lyndsay
2017-03-26T00:00:00Z
Beautiful setting. Large, clean and quiet! There was a little confusion with setting the thermostat but we got that figured out the second nite. The water never quite got hot in the shower! Very comfortable tho and we would stay again. Thank you!
Jolin
2016-05-09T00:00:00Z
Very clean and had all the basic needs met. Jennifer was very easy to work with and very responsive. I would recommend her place to a friend.
Sarah
2017-03-19T00:00:00Z
Easy to find in a quiet neighborhood not far from downtown. Private above garage apartment with everything you would need. Everything was comfortable and clean. Great place.
Chance
2017-04-09T00:00:00Z
Tipo di stanza
Intera casa/apt
---
Tipo di sistemazione
Appartamento
---
Può ospitare
3
---
Camere da letto
Blacksburg, Virginia, Stati Uniti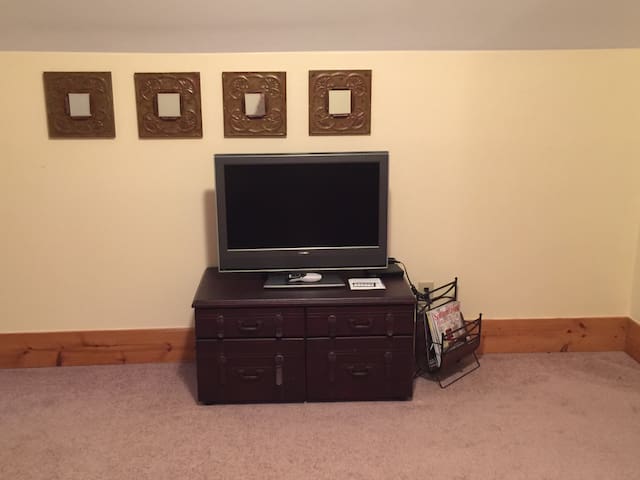 Apartment available for Virginia Tech graduation weekend. Within walking distance of campus (15 minute walk) Comfortable, clean and private 2 bedroom 1 bath apartment. Fully equipped kitchen. Ample parking. First bed is a comfy queen and the 2nd is a queen air mattress. This is home! Not a party house.
Tipo di stanza
Intera casa/apt
---
Tipo di sistemazione
Appartamento
---
Può ospitare
3
---
Camere da letto
Blacksburg, Virginia, Stati Uniti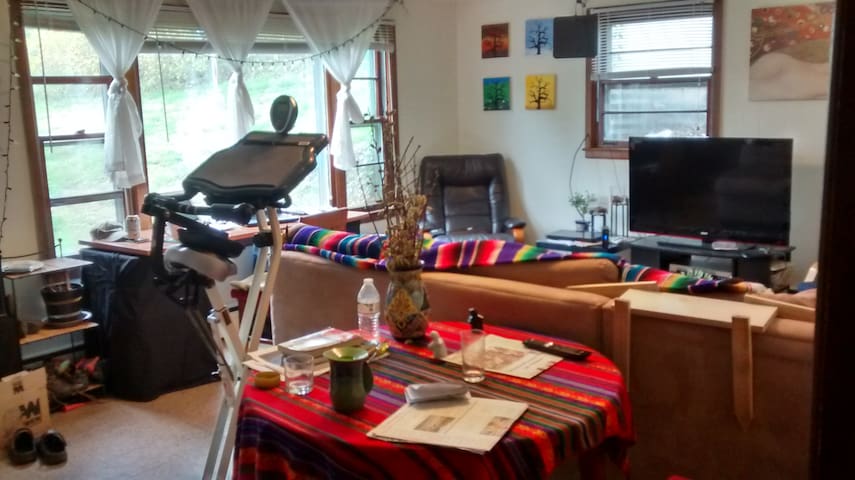 1

–

18

di

57 Appartamenti in Affitto
Inserisci le date per visualizzare il prezzo totale. Ci sono dei costi aggiuntivi e potrebbero venire applicate alcune tasse.