Inserisci la data del check-in nel seguente formato dd-mm-aaaa
Inserisci la data del check-out nel seguente formato dd-mm-aaaa
Annunci che puoi prenotare senza aspettare l'approvazione dell'host.
1 Villa in Affitto
· Downieville
1 Villa in Affitto
· Downieville
Inserisci le date per visualizzare il prezzo totale. Ci sono dei costi aggiuntivi e potrebbero venire applicate alcune tasse.
Nei mesi di luglio e agosto puoi provare uno di questi 100 alloggi ad alto rendimento, per ogni fascia di prezzo, e vivere una visione locale di Sonoma. Prova il check-in continuato, la Prenotazione Immediata e vino e spuntini locali per rilassarti e godere al massimo del tuo viaggio.
Located in the most beautiful area within the Sierra Foothills, our 35 acre property offers creekside walks, a taste of ranch life, a place to recover & relax, century old Oak trees, and is centrally located by many of Nevada County's best wineries.
Werewolf Ranch is a first year Ranch and Farm growing organic vegetables, and raising grass-fed lamb, dairy goats, laying hens, and ducks. Our primary focus is regenerating the land through sustainable agricultural practices (permaculture, if you're into that kind of thing). The guest area is a beautiful villa with a cozy queen-sized bed in each room, amazing natural lighting, breathtaking oak savannah views, with a clean and fresh feel. The third bed we offer is a top of the line queen air mattress, that may fit in either one of the bedrooms, or in the living room area. The villa has a 400 Sq. ft studio available for yoga, meditation, meetings, or small parties (equipped with yoga mats and blankets). The Villa also has it's own private deck overlooking a picturesque bucolic landscape, highly recommended for a glass of chilled white wine in the late afternoon. The quaint kitchenette has a water heater, tea & coffee, refrigerator, microwave, and toaster. Our 35 acre property lends itself to leisurely nature walks and creekside picnics. Other services offered: -Enjoy a farm breakfast- Werewolf Ranch eggs, greens, and whatever else is fresh! -Treat yourself to a massage during your stay! Jacqui is a certified massage therapist trained in Swedish and deep-tissue massage. 60 minute & 90 minute massages available. - Private yoga instruction. Jacqui has been practicing vinyasa and hatha yoga for over ten years. We have the perfect space to work on body mechanics, breath, and lengthening the spine. Yoga mats, blocks, and blankets already provided. - Farm tours available upon request. They are free if you schedule them before arrival. Please bring proper walking shoes and long pants if interested. Tours are approx. 30-45 minutes. If interested in any of these extra treats for your stay please inquire about pricing. Guests will have access to the entire two-bedroom, one bath + studio villa, and outdoor deck. They will also have access to our 35 acre property for recreation such as swimming in the creek, walking trails, birdwatching, picnicking, and checking out farm life. We are pretty busy on the Ranch, but we would love to give you a tour, cook you some breakfast, or have a glass of wine, just let us know (we don't want to infringe on your privacy)! We can recommend hiking trails, great restaurants, or wineries to visit in the area. Our house is separate from the villa, but adjacent, so you will have private access and as much privacy as you'd like.
Grass Valley is an iconic spot in the foothills of the Sierra Nevadas, Lake Tahoe. With a comfortable climate and diverse wildlife, this is an ideal setting for relaxation and recreation. This area has everything a vacation needs: great nature, excellent restaurants, friendly people, plenty of recreation (hiking, biking, inner-tubing, gold panning, birdwatching, fishing, white water rafting, skiiing, and wine tasting). In just a short drive you can find picturesque swimming holes along the Yuba, American, or Bear rivers! Additionally, there are 17 wineries in the Nevada County area offering unique varieties you won't find anywhere else. The 49 highway is a short drive away, which will take you to Grass Valley and Nevada City in 20 minutes, Auburn in 15 minutes, Sacramento in 45 minutes, Truckee in 60 minutes, and South Lake Tahoe in 2 hours. Dogs are welcome here, as long as they are well behaved. We have three of our own dogs as well as livestock, so if your pup is not good with other dogs, might kill a chicken, or chase a lamb, it might be better for them to either stay home or be on a leash for their stay. Also, a big WARNING: There is a presence of rattlesnakes and ticks on our property. We urge our guests to exercise caution and we do not take responsibility for wildlife mishaps. Also, this is a working ranch. There are inherent risks involved in walking around the property (uneven ground, spiny plants, etc.). Please take precautions by wearing proper shoes and walking mindfully.
Werewolf Ranch (love the name) is wonderful and Jacqui and Dylan are fantastic hosts. My my boyfriend, sister and I had the pleasure of staying in the villa for five days; it is spacious, light, well-equipped and we were very comfortable. It was fun to use the yoga studio. We really liked eating out on the patio. Also, we love their dogs and cat! The location is beautiful and ideal for enjoying nature and the outdoors. Exploring the ranch was fun, especially swimming in the creek, blackberry picking and going for walks. Jacqui and Dylan were very friendly, welcoming and approachable. They gave some good suggestions for local places to visit. Their Airbnb set-up is very well thought out and organised. Jacqui gave us a really interesting tour of the ranch (thank you!) and it is a great project that they are working on. We wish you guys all the best. We use Airbnb a lot and have had some great hosts, but this was our favourite ever stay.
Beth
July 2015
We enjoyed every minute of our stay at Werewolf Ranch Villa. Even in the winter the property was beautiful with the water rushing down Wolf Creek. The big empty yoga room was perfect for our workshop. The beds were super comfortable. Bringing all our food prepared and refrigerated met our needs. All our dishes were washed so cleanup for us was minimal. Jacqui and Dylan were welcoming and responded quickly to whatever we needed. I am hoping the space will be available for future workshops.
Sushila
February 2016
My stay at the Werewolf Ranch Villa was better than expected. Jacqui was out of town but Dylan was there and was extremely welcoming! The villa itself was cozy, clean, spacious, and all around amazing. Not only that but Dylan gave my girlfriend and I a tour around the farm. We got to meet chickens, goats, sheep and lots of adorable dogs! Then he made an incredible farm fresh gourmet breakfast. It was absolutely incredible.
Rachel
October 2015
Jacqui and Dylan are the best! They went well out of their way to make sure every detail of our stay was perfect and my wife and I really appreciate it. We were looking for a quiet, pretty place where we could rest and catch up on weeks of lost sleep and the ranch was definitely it. We only wish we had more time to explore the property and experience it fully. By the way, J & D are hard at work improving the grounds and creating a farm-to-table retreat. Staying with them made me feel that I'm contributing to growing a cool new business - all the more reason to come back.
renata e andrei
June 2015
Fantastic experience, our toddler twins loved the farm and the animals and hunting for acorns. Amazing hosts, adorable dogs and my wife got an all-time fantastic massage from Jacqui!
William
October 2015
Great place to stay with a family (we were 5) ! 2 separated rooms and we could live the crib for our 2 years old in between. The landscape is beautiful, there are nice animals (there will be more and more). Jacqui and Dylan were also very helpful recommending places to visit or to buy local products. It was also great to see their motivation to turn this place into a paradise ;-) We will definitely come back!
Nicolas
September 2015
Wow! I just had the best birthday gathering on the most amazing property! The Werewolf Ranch was the most perfect setting for a wild woman gathering. The grinding rocks, the creek, the pastures and the working farm were beyond my expectations for our quest for nature connection. We had plenty of room even with seven of us. Jacqui was very accommodating and even made stock for our soup from her chickens! We had everything we needed!! I will always remember this experience and can't wait to go back and visit the farm as it evolves and howl a little more!!!
tara
October 2015
We enjoyed staying @ the Warewolf Ranch Villa for our annual fall get-away. The Villa was convinient to get to and it was lovely to feel like we were far and away from things, yet only a short drive from our favorite places in Nevada City. Our host Jaqui was great - from her flexibility with our arrival time, her kind offers of leading us in a yoga session or cooking us breakfast (Next time we will take you up on both!), to the wonderful morning spent touring their property. The place was clean and the beds were very comfortable. Linens were in good shape. We also really appreciated that Jaqui let us stay for only one night as it is hard to find a place in the area with that policy. We look forward to seeing the changes that come to the land over the years and will stop back to stay or visit when we are in the area!
Raychel
October 2015
Tipo di stanza
Intera casa/apt
---
Tipo di alloggio
---
Può ospitare
7
---
Camere da letto
2
Grass Valley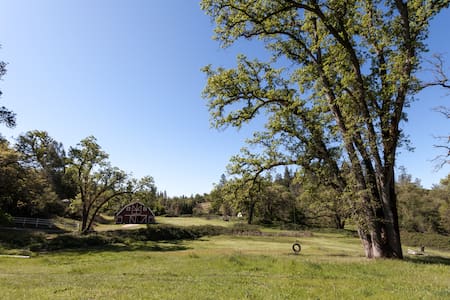 1

–

1

di

1 Villa in Affitto