Vítej u mě doma!! :) Nabízím příjemné a slunné místo pro vás a vašeho přítele. Můžete použít full house (velký obývací pokoj, plně vybavená kuchyň, koupelna, balkon). Dále se nabízí 3 kola, takže můžete Objevujte Budapešť snadno! Za 15 minut se můžete dostat ústředního! Pokud máte auto, můžete zaparkovat zdarma, stejně jako uzavřené garáže patří k bytu.
Jedná se o velmi pěkné okolí s několika parky, obchody s potravinami, pekárny, kaváren, restaurací a barů. Existují také lékárna a nemocnice jen na rohu. Dunaj banka 5min, Národní divadlo 10min se Bálna Budapešť je 15min od bytu.
I can define my experience in Budapest shortly with one sentence: "Gorgeous city, excellent host". Ida welcomed me very warmly. She found solutions to the issues I needed help from someone. She tried and really did my trip better, easier and happier. Her house has been so clean, tidy and quiet. Although its location is central, Ida offered me a bike which I can use freely but I did not prefer this time. Maybe next time :) Last but not least, her daughter Bettina has been like an assistant to her mum about hosting. I also wanna thank her very much for all of her assistance she provided me. I wish her and Ida all the best!
Hakan
2017-04-02T00:00:00Z
The room is tidy, comfortable and lovely. I did enjoy my stay here as everything else was also amazing. My trip went smooth as my accommodation was also convenient in price (so fair priced) and location (10 minutes walk to Metro , 6 minutes to 4/6 tram and 14 minutes walk to my office :) ) Thank you Ida and the family for the hospitality - I will not forget that Frappuccino that cured my hangover too :)
Misikir Bekele
2017-03-28T00:00:00Z
Tipo di stanza
Stanza privata
---
Tipo di sistemazione
Condominio
---
Può ospitare
2
---
Camere da letto
Budapest, Ungheria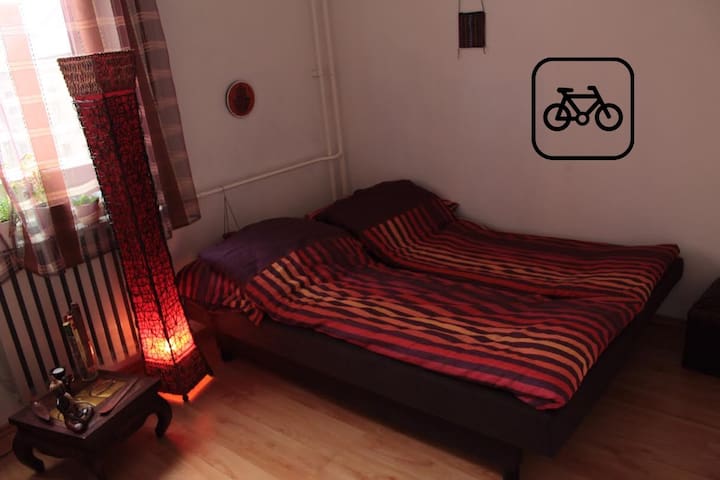 Vi siete mai chiesti che bello sarebbe per visitare Budapest ospitato da persone amiche con up-to-date conoscenza quello che sarebbe bello vedere in questa meravigliosa città? Sulla cima di che sarebbe stato bello stare in un grazioso e confortevole appartamento?
In un recente costruzione eco-casa al primo piano si trova un delizioso appartamento con i vicini bello e tranquillo. Sai cosa significa eco-casa? In questo builing tutto è eco-friendly. Troverete un ambiente adatto anti-allergene con riscaldamento geotermico e sistema di raffreddamento. Prestiamo attenzione a non contaminare la nostra natura. E 'fresco, giusto?
La posizione è perfetta - in un distretto prossimo e, a soli 10 minuti a piedi dal mercato centrale opulenta, ea cinque minuti dal fiume e molto molto utile il numero 2 del tram. Un ulteriore bonus ist il parcheggio sotterraneo gratuito.
All'arrivo siamo stati accolti per la consegna delle chiavi e ci hanno accompagnato a casa. Abbiamo soggiornato in coppia per 4 notti in questo bellissimo appartamento e lo consiglio a chiunque voglia visitare Budapest. Pulito, ordinato, confortevole, tecnologico e molto vicino alla metro che si collega con tutta la città. Budapest è bellissima.
Emanuele
2016-04-05T00:00:00Z
L'accoglienza da parte dell'host è stata accurata, attenta e puntuale. Marton utca è situata in una zona non centralissima ma ottimamente collegata sia con il tram 2 che con la linea 3 della metropolitana; in zona vi sono molti negozi per acquistare alimenti ed in particolare un market aperto h 24 che si è rivelato utilissimo!!! Lo stabile è nuovo così come l'appartamento, piccolo ma spazioso, pulitissimo, luminoso e molto silenzioso. Arredato con cura e gusto, anche sul balcone c'è un piccolo tvolino con due sedie, il letto ed il divano sono molto comodi e la cucina contiene l'indispensabile.....e anche di più!!! Molto curati i particolari, come le stoviglie dai colori intonati a quelli dell'appartamento (bianco/nero/rosso) ed un bell'assortimento di bicchieri. Adoro la vasca da bagno quindi non ho assolutamente sentito la mancanza del box doccia....una volta sparite le tracce di lavori ancora in corso, sistemati alcuni dettagli ed aggiunto magari qualche utensile per cucinare la sistemazione, già così eccellente, diventerà perfetta!!!
Laura
2016-05-25T00:00:00Z
Judith's a great host and her apartment is really nice and in a convenient location. The option of using the garage for free is great if you're traveling with a car and the metro station is only about 10 mins walk which gives you a very quick access to the center of the city.
Ilia
2016-08-23T00:00:00Z
I recommend Judit for other guests, flat is fresh new, good located, free garage
Kris
2016-04-30T00:00:00Z
We arrived and Judit was already waiting to welcome us. She is really friendly and kind. The place is clean, cosy and exactly the same as shown in the pictures. Kitchen: Well equipped: there are plates, glasses, oven, microwave and everything you need to have a great time in Budapest! Bathroom: Clean. Hot water all the time, towels and essentials are there as well. Bed/Sleeping: I've been sleeping on coach which was comfortable, but the person who was travelling with me said that bed was perfect as well. Garage: We left our car in the garage so if you travel with car this is a perfect place for you. For sure we would recommend it to our friends!
Dariusz
2016-04-12T00:00:00Z
Was the welcome OK, clean and comfortable in good position, quiet neighborhood. Thanks for occasion.
szabo
2016-10-25T00:00:00Z
We really enjoyed staying in this place. Very nice flat with balcony and parking place in the garage. Very close to subway station and it is even possible to walk to the city centre in half an hour. Would definitely recommend.
Filip
2016-05-08T00:00:00Z
The apartment is very beautiful and well equipped. The bed is really confortable, the heating is great. The garage is a good thing If you are driving. Judit is always helpful, worried about the quality of our stay and easy to contact. There are lots of markets nearby. The metro is like a 5 minutes pleasant walk away. I couldn't recommend it more! It's perfect!
Joana
2016-12-22T00:00:00Z
Tipo di stanza
Intera casa/apt
---
Tipo di sistemazione
Condominio
---
Può ospitare
4
---
Camere da letto
Budapest, Budapest, Ungheria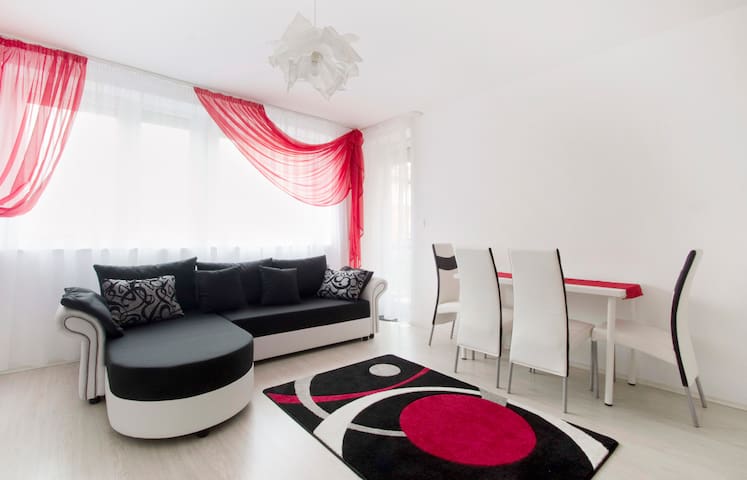 Fácil de chegar ao apartman do aeroporto ou da estação de ônibus Nepliget, estação ferroviária Keleti! Do nosso lugar fácil acesso aos pontos turísticos de Budapeste! À beira do rio há estação de navio e uma linha de eléctrico No. 2 é uma agradável visita panorâmica à Ilha Margarida, o Parlamento, Ponte Chain, Castelo, Rudas banho! Até o Metro pode chegar a Praça dos Heróis e da Cidade Jardim. Na Kalvin Square. há um autocarro turístico stop / Hop em ...
Это 44 нм2 квартира с 2-мя отдельными комнатами расположен в 9-м районе Будапешта, недалеко от моста Петефи и недалеко от реки. Солнечный, уютный Apartman находится в 100 лет старом здании на 3 этаже / с лифтом /. Окна, выходящие на улицу. Ул Mester. знаменитые платаны вдоль. Квартира недавно отремонтирована и оборудована для приятного отдыха для 4-х людей. Separeted номера с двойным. Прекрасная ванная комната оборудована sampoon, крем для душа, чистки лица для чувствительной с подушками, полотенца, фен. Большой встроенный душ и дождь душ + стул, стиральная машина, утюг. На кухне есть холодильник, микроволновая печь, печь, электрическая плита, посуда, электрический чайник, кофе, чай, сахар, соль, масло Олива. В гостиной есть удобный диван-кровать для 2-х людей. Есть 2 туристические адаптеры для электрических machines./mobile телефонов, таблетки etc./ Это Apartman удобно максимум для 4-х человек. Высокоскоростной интернет с бесплатным Wi-Fi и кабельным ТВ с несколькими английскими каналами HD.
Vicinanze negozio di alimentari / Spar /, banca, ufficio in un angolo, farmacia, ristoranti in strada Mester. Essi sono con prezzi più convenienti, prodotti da forno, sul lato del fiume è un parco con un parco giochi.
krisztina is friendly and helpful. she gave me her personal handphone to contact her. upon arrival, she briefed us on the house appliances and how to use it. she has coffee and different kinds of tea for us to drink. nearby were supermarkets and restaurants. walking distance to take tram or bus. she also informed us how and where to leave the keys as we can't meet her.
Nicky
2016-05-30T00:00:00Z
Krisztina is the most thoughtful host. We felt very welcomed and taken care of. She maintained good communication before our arrival and throughout our stay. Her place is immaculate, beautiful and extremely practical for travelling with small children. We are a couple of minutes walk to Tram 2 (takes you to Chain Bridge) while Tram 4 and 6 (popular tourist route) were just right in front. Underground M3 (takes you to Kobayan to connect to airport bus 200E) is nearby too. There are a few supermarkets, bakeries and eateries nearby. I would highly recommend this place for a very pleasant stay! Thank you, Krisztina!
Kevin and Agnes
2016-03-20T00:00:00Z
Krisztina was an amazing host, everything was exactly as described and the pictures are very accurate. She picked us up from the airport and dropped us off with minimal hassle, and was easy to contact during our stay. She also gave us maps of the local areas, told us how to use the public transport and sold us some tickets for the metro/trams/buses so we wouldn't have to figure it out on our first trip. The flat also came equipped with tea, coffee, sugar, cooking oil, utensils, shampoo and shower gel, and the kitchen came with crockery and utensils if you wanted to cook. The wifi was also great, better than I have at home actually! Over 60Mb/s. There is a Spar on the other side of the road, a bank on the corner, and many smaller shops close by. The flat is within easy walking distance of many beautiful sights of Budapest, and on several important tram lines. If you go in summer prepare for the flat to be very warm - Krisztina kindly left two fans in the bedroom and living room for us. The apartment was large enough for the 4 of us, we also brought an airbed for our own ease but it would be perfect for a family or group of close friends. Thank you Krisztina for a lovely stay and a beautiful apartment!
Nicole
2016-07-30T00:00:00Z
Muy bonito ,limpio, amplio y la ubicación súper! Kriztina es muy amable y fue a recogernos a la estación de metro cercana y nos dio sugerencias de comida y de transporte. Muy muy recomendado!!
Raquel Alejandra
2016-07-02T00:00:00Z
The apartment is perfectly located, just in front of a supermarket, a bank and a tram stop. Krisztina was really helpful and welcoming and she gave us a lot of tips about Budapest. Besides, we had everything we needed during our stay and the apartment was clean and comfortable. We highly recommend it and we would definitely come back!
Bárbara
2016-08-20T00:00:00Z
Absolutely amazing. The host was the most pleasant women in Budapest. The space was very clean and organized. All amenities where there for use of guest and every would need. Krisztina was truly a sweetheart and I would recommend this apartment to anyone.
Sammy
2016-11-08T00:00:00Z
We really, really enjoyed staying at Krisztina's apartment. From being collected from the airport with Paul (which was seamless) to arriving at the cute apartment, we felt really welcomed and at home. The apartment is perfectly set up with everything you need to really comfortable and Krisztina was always available to quickly and efficiently help out. We thought that for the two of us, the apartment was perfect. Not sure I would have felt the same if there were 4 of us, but that's just my personal preference of liking more space ;-) The location really could not have been more perfect. We spent 7 days here and got to see and do so much - and the apartment was the perfect base. I cannot recommend this place enough - everything is perfectly well thought through and just works. Love, love love it! Thank you for everything xxx
Mariam
2016-05-16T00:00:00Z
Krisztina's place is in a very good place, next to the Danube river, and the public transportations are just near. The appartment is suitable and confortable for 4 people, clean and nicely furnished. Krisztina was helpful, understanding and very nice.
Abderrahim
2017-02-07T00:00:00Z
Tipo di stanza
Intera casa/apt
---
Tipo di sistemazione
Condominio
---
Può ospitare
4
---
Camere da letto
Budapest, Budapest, Ungheria
Un perfectamente ubicado apartamento, acogedor y confortable a poca distancia de la zona del castillo, a pocos minutos del centro ocupado, así como de los mejores lugares para hacer picnic de las colinas de Buda. Para niños con el transporte público cercano.
Este primer piso está recién renovado con nueva cocina y baño, sala de estar y un dormitorio cómodo; encajaría familias con niños o profesionales que buscan un alojamiento temporal en el corazón de Buda.
La ubicación es realmente en el corazón de la parte de Buda de Budapest. Metro, tranvías, autobuses tienen su estación final aquí, un centro de transporte eficiente y extensa; se puede llegar a cualquier parte de la ciudad en cuestión de minutos. Los principales atractivos de Buda - la zona del castillo y la iglesia Matthias - están a pocos minutos a pie o en autobús, al igual que el área del centro de Pest, el sendero junto al río Danubio, está a pocas paradas de distancia. Uno de los centros comerciales más grandes (Mammut 1 y 2) es sólo por la esquina, con todo su conveniencia. Detrás de Mammut 1, hay un mercado tradicional con encanto con productos frescos todos los días. En las cercanías también se pueden encontrar muchos restaurantes, pubs, bares, panaderías y uno de los mejores y más antiguos pasteles (agosto cukraszda) de Budapest. El famoso Parque Millenaris con su estanque y fuente, está a sólo unos pasos de distancia. Y pensando en los niños hay parques infantiles agradables y entretenidos a poca distancia. Es un lugar lleno de vida, donde se puede sentir el latido del corazón de la ciudad y la experiencia de la vida cotidiana de la gente local.
Gyongyi was really helpful throughout the whole period. She was flexible with both checkin and checkout and recommended places to visit and services to use.
Gabor
2016-06-01T00:00:00Z
The loft was very nice and new, good place and quiet street (even it's not the center as indicated in the information Airbnb, and must take metro every day). Reception was ok, we enjoy the loft, but indication in Airbnb wasn't correst again regarding the 2 beds for 2 people, because the sofa-bed wasn't very comfortable to sleep and strange to put in place for sleeping. the owner said us she will change it for the next people, as we recommanded. Thanks very much to Gyöngyi to help us to find taxi to come back to the airport, and facilities to stay one night more due to our flight change. Pierre and Cecilia
Pierre
2016-05-17T00:00:00Z
La description de l'appartement est vraiment fidèle à la réalité. le quartier est tres pratique: le métro, trams et bus sont juste à coté. En plus il y a un grand centre commercial, avec tout ce qu'il faut dedans. Giorgia a été super, elle nous a accueilli même si c'était tard dans la soirée (à cause de notre avion).
Lamiaa
2017-01-01T00:00:00Z
Logement conforme à la description : état impeccable et décoré avec goût. Situation proche de tous commerces et des transports
AUBIN
2016-04-23T00:00:00Z
Una casa estupenda con todo tipo de detalles para una estancia inolvidable. Y muy bien localizada , cerca del Castillo y de rio, metro , tranvia , autobuses y todo tipo de comercios. Pero sin lugar a dudas , lo mejor de todo , la anfitriona. Giorgi nos estuvo esperando hasta muy tarde y a pesar de ello nos dedicó una hora para explicarnos todo sobre la casa y los sitios que podiamos visitar. Una persona excepcional !! Cuando visitemos de nuevo Budapest , sin duda nos alojaremos en este apartamento.
fernando
2016-10-23T00:00:00Z
The place was amazing and Giorgia did everything to make our stay great. We were always able to contact her for any questions.
Marcel
2016-08-09T00:00:00Z
Wine and fruite and lovely big and small candles were waiting the arriving guest. The house was hundred years ago home for tipical petty bourgeois people, it is in a very central location in BUDA, excellent connection to the whole city. The refurbished flat is on the first flor, the entrance door is facing an inner court with big trees. It is a bedsitter, with a lovely, clean and modern entrence area, which is including the small but well ewquiped kitchen. Bath with shower also very clean. Towels are given.The corner sofa in the small entrance area (can be used as a bed too) is comortable and cosy. The livingroom, facing the street, is a equiped with a similar modern sofa, which can be pulled out to a comfortable doublebed. The TV can be switched on only by "technical people with PhD" :-) Gyöngyi is a kind host and helpful, speaks english.
Agnes
2016-05-01T00:00:00Z
We had a great stay in this apartment. The location is excellent, only a block away from a number of public transportation lines( subway, tramway, bus lines). A shopping mall is right across the street. There are lots of restaurants, bars, pastry shops, stores, bakeries and a market place nearby. Gyongyi, our host was a very nice lady, pleasant to deal with. She was there upon our arrival, and has shown us everything in the apartment. The apartment was clean and well equipped. Anytime we needed to get in touch with her, she always responded within an hour. Communication was not a problem. We are very satisfied with our stay and recommend this place.
Tunde
2016-10-16T00:00:00Z
Tipo di stanza
Intera casa/apt
---
Tipo di sistemazione
Condominio
---
Può ospitare
4
---
Camere da letto
Budapest, Budapest, Ungheria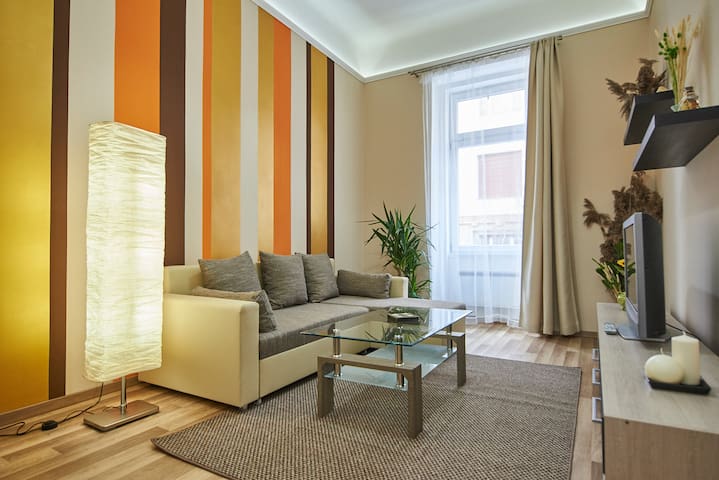 Il nostro appartamento appena ristrutturato del 19 ° secolo, si trovano i centro di Budapest quartiere più alla moda. Le cinque camere da letto e due bagni rende idealistico sia per una piccola o una grande gruppo fino a dieci persone di avere un soggiorno confortevole.
Recentemente rinnovato in un / design rustico industriell. Cinque camere da letto ideale per 2-3 coppie, 2 famiglie, 5 individui. Situato nel centro di Budapest quartiere più trendy pantaloni a vita bassa.
quartiere vivace, accogliente e senza pretese, con un sacco di bar, ristoranti e negozi
The apartment is spacious, warm, well furnished and really confortable. It's in the hearth of the Jewish Quarter, a really lively part of Budapest. Our hosts, Lisen and Tomas, were very nice and accomodating. Highly recommended.
Simone
2016-05-01T00:00:00Z
Thanks Lisen for being such a great host. A very spacious apartment, great location definitely worth the money. The famous szimplakert ruin bar is just next to the apartment!
Evlyne
2016-12-29T00:00:00Z
A great a stay at casa Kocsis. Modern, clean and cosy way to live and the beds are really comfortable. Nice welcome by Réka with explanations about flat and city. The location is great with plenty of bars and restaurants nearby. -  Thanks Tomas, Réka and Lisen
Ulrik
2016-01-20T00:00:00Z
Fantastic location and terrific value! We were a group of 10 friends, and everyone were extremely comfortable during the whole trip. Great help in advance and during from Lisen, providing us with both a unique local guide per e-mail and assistance with the transfer from/to the airport. Lovely apartment with great standard worked very vell as our base while in Budapest. Highly recommended!
Lars
2016-11-29T00:00:00Z
Een prachtige locatie. In het appartement was alles aanwezig. Alles werd zeer goed opgevolgd door de verhuurders. Op al onze vragen was er altijd een zeer vlotte reactie. Een echte aanrader !!!!
Pascale
2017-02-27T00:00:00Z
Can't recommend this apartment highly enough. The apartment is exactly like the photos, if not better, we couldn't believe our luck. Everything was gorgeous, and we had everything we needed for a weekend stay. Really beautiful bedrooms with heaps of character (and comfy beds), enormous open plan communal area which easily accommodated our group of 8 people, modern kitchen and (2!) bathrooms, stunning furnishings throughout. The apartment is in a really lovely bulding block with terraced balcony. We were even given a bottle of wine upon arrival. Such a nice touch. We only needed a code to access the apartment which is great if in large groups as we could come and go as we pleased without needing to share keys. The apartment is right in the heart of the city with easy access to everything - bars, shops, sights. I don't think we could have asked for a better spot. As others have mentioned, the street-facing bedrooms are a little noisy, but we were warned about this before we arrived and heavy sleepers took the two rooms. I personally love the sounds of the street. Thanks to Lisen and Tomas who were incredibly helpful in the lead up to the trip and throughout. They gave us a tonne of info on the area and organised taxis to and from the airport for us. I will be recommending this place to everyone and will certainly be back very soon. Thank you!
Stacey
2016-06-28T00:00:00Z
Lisen & Tomas place is the best for a group visiting the center of budapest. The location is perfect, right in the heart of nightlife. House is big and very well-furnished, with all the commodities you may need. They even welcomed us with a bottle of wine and found us a cheap ride to the airport. Highly recommended.
Gianfilippo
2016-09-20T00:00:00Z
10 of us stayed here for 4 nights and the apartment is simply wonderful. Before we arrived Lisen emailed us plenty of useful information and organised a minibus transfer from the airport which is good value if there's 10 of you. Réka greeted us at the apartment who was very nice and told us everything we needed to know, particularly regarding the codes to enter which we had no problems with. The rooms are all very comfy and the apartment was tidy, clean and well presented. We were also able to store our bags in the apartment after check out time as we had an evening return flight which was very considerate of the hosts. We did have a small issue with the air con not having been installed by the time we arrived which made the apartment rather hot at night. But Lisen and Tomas were very communicative, apologetic and did their best to get us some air con machines and fans during our trip which greatly helped with the heat. The apartment is in a perfect location, within walking distance to all tourist attractions and lots of restaurants and bars. We would particularly recommend the Caribbean place "Soul Food" just a couple of minutes from the apartment. Overall we had a fantastic stay and could not recommend this apartment enough. Thank you very much Lisen and Tomas for having us.
Kate
2016-07-03T00:00:00Z
Tipo di stanza
Intera casa/apt
---
Tipo di sistemazione
Condominio
---
Può ospitare
10
---
Camere da letto
Budapest, Budapest, Ungheria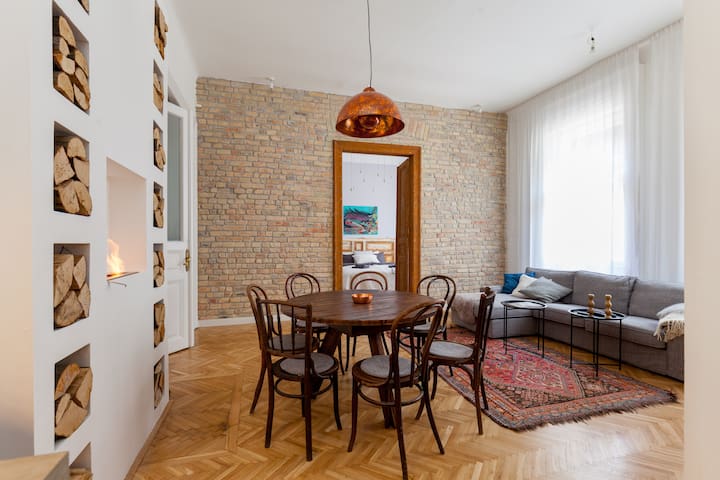 Studio di lusso con strutture per il benessere. (Piscina, jacuzzi, palestra)
Blazas gave clear instructions on checking into the apartment but wasn't there to meet us. Unfortunately, the AC unit in the apartment we were in wasn't working. Blazas came in a timely manner to check out the unit himself and had to call someone to try to fix it. It was finally determined that the unit would need a new part and Blazas accommodated us by putting us in a different room for the remainder of our stay but we couldn't check in until the following morning. We weren't aware that the building is more like a hotel/apartment building and it was nice to have the gym to use at no additional cost. The neighborhood was wonderful and we enjoyed being close to the Jewish corridor as well as amongst a ton of great restaurants and bars.
Jennifer
2016-08-29T00:00:00Z
The hotel is very nice and the location is perfect! Very close to basically everything, but quite calm. The room is comfortable, and the reception takes care of you if you need something. The gym and spa are quite modern and free to use. I would definitly recommend staying here.
David
2016-08-18T00:00:00Z
Nice place, great location to base yourself for a budapest adventure. Close to lots of bars and good restaurant and very easy access to trams and underground. Reception always helpful and the free spa access is a real bonus (nice pool and gym). Good value for money.
Jonathan
2017-04-03T00:00:00Z
A great apartment in a great location. Close to Metros as well as restaurants & bars Clean apartment and the bonus of a pool, sauna, steam room.
Kevin
2016-04-12T00:00:00Z
The apartment was lovely and just as described and in a good location, however unfortunately communication was poor. I had arranged to meet Balazs in reception at 11am and he did not turn up. I tried to call and email but we were still waiting two hours later. When we had nearly given up, a lady from 'Budapest Holidays' turned up and told us that she worked for Balazs. This is not what we were expecting. Suzie from 'Budapest Holidays' was lovely and gave us lots of information about the city. It was disappointing that Balazs had not given me the correct time for check in and explained to me that we would be met by 'Budapest Holidays'.
Victoria
2015-08-26T00:00:00Z
Great apartment. Tidy, warm, with all amenities you could need. Good transport links. The host who met me was very friendly. However communication could be improved before arrival. I would still recommended this apartment though.
Adam
2016-10-20T00:00:00Z
Amazing air bnb! Room was perfect for a couple. It was clean and spacious, plus it was great to have the pool and jacuzzi etc downstairs. It was also in a fantastic area- very close to restaurants and bars (including some of the ruin bars which were very cool!). Susy came to meet us at the room- she was lovely and showed us some places to go on the map which was useful. Would definitely recommend!
Sarah
2016-05-05T00:00:00Z
We booked this place for our guest who told us afterwards that he was satisfied with his experience. We talked to Balázs on the phone and he was very receptive.
Serafina
2016-10-04T00:00:00Z
Tipo di stanza
Intera casa/apt
---
Tipo di sistemazione
Condominio
---
Può ospitare
3
---
Camere da letto
Budapest, Budapest, Ungheria
Benvenuto in casa mia! Credo davvero che vi piacerà stare qui e vi sentirete accogliente e confortevole. La casa sarà sempre professionalmente pulito e sarà disponibile con lenzuola fresche per ogni ospite. Sono molto orgoglioso di far parte della comunità di Airbnb!
Il mio appartamento è situato nel quartiere Palazzo e si è fatto con amore e cura per i miei ospiti. Dispone di due camere separate sui lati opposti della piana, una con un grande letto matrimoniale e l'altra con due letti singoli. C'è una zona cucina con tavolo da pranzo e sedie. Vieni qui e improvvisare alcune specialità locali con ingredienti provenienti dalla vicina Grande Mercato Coperto. E 'dotato di zucchero, caffè e tè per tutti i miei ospiti. L'appartamento è dotato di riscaldamento a pavimento così vi sentirete bello e caldo anche nelle giornate più fredde. Infine, il bagno ha una vasca che può essere utilizzato sia per la doccia e il bagno. Fornisco tutti i miei ospiti con freschi asciugamani bianchi, shampoo e sapone.
L'appartamento si trova nel quartiere Palazzo, uno degli ambienti più vivaci e colorate a Budapest. Una posizione perfetta per turisti ed esploratori. Il distretto ha la sua collezione di ristoranti dove si può sperimentare la cucina locale. Essa ha anche una grande varietà di bar e pub dove si può prendere una parte del vivido Budapest vita notturna.
Modernized apartment near the heart of the city, great location to feel an authentic experience in Budapest. Walking distance to major sites and public transportation. Very enjoyable stay and well worth the fare. Host was very accommodating and helpful. Excellent at communicating with quick responses.
J. Ryan
2017-04-08T00:00:00Z
We had a great time in Budapest, a lot has to do with Monika, she was a great and polite host, i would recommend her flat to anyone who wants to stay in this beautiful city :) Thanks again Monika for everything !
Vladimir
2017-01-01T00:00:00Z
Monika was very good at communicating throughout the trip. We had some minor inconveniences such as no shampoo in the apartment, but all these things were very quickly fixed. Good location, simple layout for people who want to explore the city. The area is fantastic.
Philip
2017-03-27T00:00:00Z
It was really great to stay at Monika's property. The apartment was great and warm. I would definitely stay there in my next visit to Budapest.
Qassam
2017-03-23T00:00:00Z
Tipo di stanza
Intera casa/apt
---
Tipo di sistemazione
Condominio
---
Può ospitare
4
---
Camere da letto
Budapest, Ungheria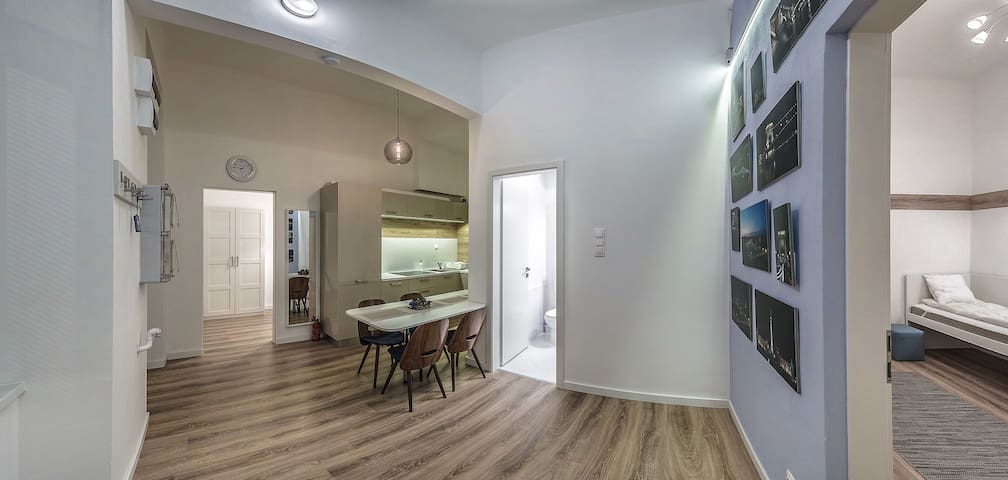 Krásný, pohodlný a útulný byt v těsné blízkosti nákupního centra Corvin s výbornou dostupností veřejné dopravy. M3 a M4 metro, tramvaj 4-6 a 9 autobusu jsou vzdáleny 5 minut chůze. Snadno se dostanete na slavnou ulici Váci, trh na Fovam náměstí nebo na území strany (Király-Kazinczy ulic). Byt se nachází v blízkosti dvou vynikajících chodníků (Raday a Krúdy) s mnoha hospůdek a restaurací. Byt je slunný, Kuřáky na balkoně. Jeden pár může pohodlně vejde na pohovce.
Imola was incredibly friendly and went beyond the call to give me directions to wherever I wanted to go.
Robert
2016-09-08T00:00:00Z
Imola herself was a lovely, friendly lady who gave us lots of advice on places to go and eat as it was our first time in Budapest. The apartment was exactly what we needed whilst exploring the city and just needed somewhere to touch base. It was located in an area which felt safe, especially for 2 girls in their mid 20s. Communication between Imola and myself was fantastic, she was a perfect host. Would definitely recommend.
olivia
2016-09-12T00:00:00Z
The flat is really well located; public transportation, shops and restaurants are really close. Imola was friendly and helpful. We enjoyed our stay, and would recommend.
Zoltan
2017-01-09T00:00:00Z
Imola's flat is a very good deal, located in a very convenient area, close to the city center and close to the metro station, but in a quiet street. The place was clean and bright, with all the conveniences you might need for a few days, definitely recomended !
David
2017-04-10T00:00:00Z
Imola was a great host! She was very helpful - she showed us important and worth seeing places as well as how to easy move around the city. Apartment was great and well equiped - there is everything you need for stay. I really recommend Imola's place!
Marcin
2017-04-04T00:00:00Z
Imola is a pleasant friendly host and her bedsit was clean and very comfortable and amazingly quiet considering it's not too fat away from the city centre. Great access for public transport which Budapest does exceptionally well.
Ken
2017-03-17T00:00:00Z
Imola is a very helpful host. She came to pick us as we went a bit ahead from the apartment. She took us around to show nearby stores and bus station. Apartment is very beautiful, clean and very near to tram and bus station. We had a memorable stay. A must recommended place to stay.
Priyanka
2016-10-28T00:00:00Z
Imola was an excellent host, she was very friendly and welcoming. She always answered our emails and questions quickly, and even took us out for a few drinks one night. The flat was very clean and in a great area, and it was quite close to the Jewish district which has amazing night life. Me and Micheal had a great time and would definitely stay with Imola again.
Emma
2016-08-16T00:00:00Z
Tipo di stanza
Intera casa/apt
---
Tipo di sistemazione
Condominio
---
Può ospitare
2
---
Camere da letto
Budapest, Budapest, Ungheria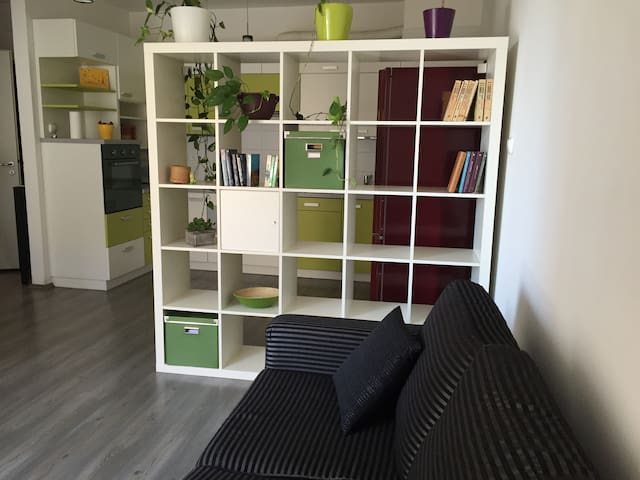 Questo moderno ed elegante appartamento sarà la vostra casa ideale lontano da casa durante il vostro soggiorno a Budapest. Si trova nel quartiere 5 sul lato Pest, a pochi passi di distanza dal bellissimo palazzo del parlamento. La parte migliore, tuttavia, è che si può raggiungere a piedi la maggior parte dei luoghi che si consiglia di visitare a Budapest: Basilica di Santo Stefano, il Ponte delle Catene, Viale Andrassy con l'Opera House e anche Piazza degli Eroi (se vi piace una passeggiata più lunga) . Venite a godere di Budapest!
L'appartamento è dotato di incredibili mezzi di trasporto, un sacco di autobus e tram si trovano nelle vicinanze, ed è solo a pochi passi dalla Deak Ferenc tér, dove tutte le linee della metropolitana si incontrano. La parte migliore, tuttavia, è che si può raggiungere a piedi la maggior parte dei luoghi che si consiglia di visitare a Budapest: Basilica di Santo Stefano, il Ponte delle Catene, Viale Andrassy con l'Opera House e anche Piazza degli Eroi (se vi piace una passeggiata più lunga) . La zona in sé è molto sicuro, ma anche molto alla moda con un sacco di ristoranti, caffè e bar - quelli più affermati e anche quelli nuovi che si aprono ogni due mesi. Possiamo certamente dare alcune raccomandazioni! :) L'appartamento è letteralmente 1 minuto dalla Hungarikum Bistro, Budapest # 9 ristorante su Tripadvisor e quello che si dovrebbe non perdere!
Fantastic neighborhood, apartment was very stylish and comfortable. Norbert and Lilla are great hosts - very helpful and friendly. Everything you need for an amazing stay in Budapest!
Aron
2016-12-29T00:00:00Z
Staying at Norbert's place is worth every dollar spent! Clean apartment in the heart of Budapest, what more could you ask for? He was great with providing information on things to do and places to see. Ultimately, if I had it to do again, I would stay at Norbert's again. A true 10/10.
Christopher
2017-04-01T00:00:00Z
I lived in Budapest before and chose this apartment based on it's amazing location. This apartment really has the best location and it was very easy to get to/from it. The fact that the place is beautiful, warm (had floor heating in Nov) and very nicely kept was a bonus. It has everything you need in it (and around it!) and it's quiet. A good night's sleep is guaranteed as it's on the third floor of a residential block. The host Norbert was wonderful, very easy to communicate with, responded promptly and were accommodating with my arrival/check-out time.
Eszter
2016-11-22T00:00:00Z
Perfect host. Clean and cosy appartement. :)
Oh
2017-04-08T00:00:00Z
Modern apartment in a historic environment. Fantastic location, great amenities, friendly hosts! The perfect place from which to discover Budapest.
Aron
2017-01-08T00:00:00Z
The host canceled this reservation 48 days before arrival. This is an automated posting.
Christian
2016-11-12T00:00:00Z
Very good apartment. Located very centraly, 5 minutes from a metro station (though this station will be out of order for the coming time) and a tram station. Meters away from a very good and known restaurant. It's small, but it's all a tourist needs. It is pleseant and comfortable. Too bad it's on a high floor without an elevator, but that's possible to handle. The bed is actually a sofa that is opened to a bed - but it's as comfortsble as a real bed. Norbert is a very nice guy and a good host, making sure you have what you need and taking care of it in case you don't. I enjoyed my stay there and I would be happy to stay apthere again next time in Budapest.
Assaf
2016-12-02T00:00:00Z
Perfect host and flat! The flat has everything what one needs for a holiday (well equipped kitchen amd bathroom, the area is beautiful, shops, Parliament, public transports are 2-3 min walking distance far) Norbert, the host is very kind and helpful we felt lucky to choose his flat.
Gergö
2017-03-12T00:00:00Z
Tipo di stanza
Intera casa/apt
---
Tipo di sistemazione
Condominio
---
Può ospitare
2
---
Camere da letto
Budapest, Budapest, Ungheria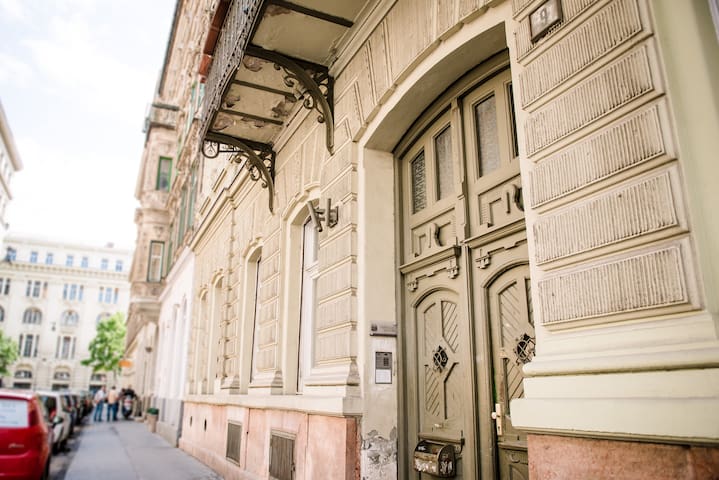 Condo sul Danubio. A soli 8 minuti a piedi dalla metropolitana (5 fermate per il centro), a 8 minuti a piedi dal centro commerciale, a pochi passi da FINA Budapest 2017.
Tipo di stanza
Intera casa/apt
---
Tipo di sistemazione
Condominio
---
Può ospitare
4
---
Camere da letto
Budapest, Ungheria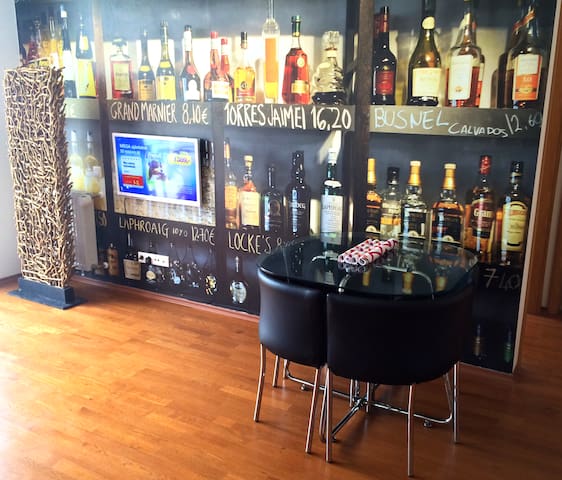 Il parco residenziale è bloccato e tenuto orologio è nel più grande parco di Budapest, non lontano dal centro. La camera è 14 metri quadrati. grande. Il garage può essere utilizzato gratuitamente. La vostra auto è anche sicuro. E 'vera e propria oasi di tranquillità.
Il vantaggio di questo appartamento è che è tranquilla e calma. Si può dormire sonni tranquilli. Essi non sono disturbati dal rumore della città. Si trova nel centro della città, ma non in città assoluto che può essere raggiunto da un autobus n. 9 e non riesce a trovare nulla. Essa gestisce anche un la notte, la fermata è di fronte al parco residenziale. A causa del garage, è possibile trovare l'auto in sicurezza.
Il vantaggio di questo appartamento è che è tranquilla e calma. Si può stare tranquilli, non si è disturbati dal rumore della città. Si trova nel centro della città, ma non in città assoluto ma è possibile utilizzare un bus (n. 9) entra nella città e raggiungere tutto. Si spinge anche nella notte, la fermata è di fronte al parco residenziale.
Квартира Анны находится в ухоженном и охраняемом жилом комплексе. Если путешествуете на машине, то остановиться тут самый лучший вариант, так как Анна предоставляет подземную парковку, машина целый день не солнце и в безопасности. Сама квартира современная и чистая, есть всё необходимое. Анна написала все инструкции на стикерах, понятно где что лежит, да и вообще выглядело очень мило. Также хозяйка дала нам разные путеводители. Нашей собаке очень нравилось лежать на большом балконе с видом на ухоженный сад. До центра мы шли минут 40-45 не спеша, но можно пользоваться было и общественным транспортом, остановка в двух шагах от дома. Анна очень милая и приятная женщина , мы обязательно к ней вернемся. Спасибо!
Taisiya
2016-06-08T00:00:00Z
Anna is really nice host. She is open person and was very helpful during the stay. Contact before arrival and while visiting her place was also very good. The place is nice, located at quite new apartments building. The neighborhood is calm and safe. I highly reccomend Anna as a host. It was even better to have her on place than book only an empty flat.
Kamil
2016-05-30T00:00:00Z
Immaculate, clean and well equipped apartment with underground garage. Anna is the most kindly person you could hope to meet. Easy access to the city by bus or tram with both stops right outside the apartment complex.
Trevor
2016-05-26T00:00:00Z
Anna is a SUPER host , very friendly and a very nice person . She waited for us until 11:30 PM , we had bad traffic :). The location is very nice , quite ,cozy and very very clean. I would definitely recommend her to other tourists/friends.
Gabriel
2016-08-29T00:00:00Z
Anna nagyon kedves, rugalmas, segítőkész házigazda. Sokkal többet kaptunk tőle, mint amit a szállásfoglaláskor remélni véltem. A lakás nyugodt helyen van, s nagyon szép, tiszta, minden szükséges dologgal felszerelt. Teljesen otthon éreztem magam. Amikor a gyerekeimet megkérdeztem, mi volt nekik a legjobb a közös hétvégénkben, azt mondták: "Az, hogy Anna néninél aludtunk!" Ez mindent elárul :) Szeretettel ajánlom. Én magam is szívesen szállok meg legközelebb is Annánál. Jót pihentem, s feltöltődtem. Köszönöm!
Krisztina
2016-04-18T00:00:00Z
Anna's house is pretty nice and clean. Anna is a very kind friend, we love her very much. Anna is also sweet, she take us to bus station this morning. She give us a great experience in Budapest.
Yu Chun
2016-09-13T00:00:00Z
Anna是一位非常热心的主人。 房间干净,温馨,一应俱全。社区环境很好而且离车站非常近。推荐给大家。
Zoe
2016-07-28T00:00:00Z
Anna's apartment is very neat and cosy. It is seated in a safe and peaceful neighbourhood (you need key/ passcode access for both her residence and block). Although some distance from the city centre, you can reach there easily via public transport (about 20 mins; including waiting time). Furthermore, there is a grocery shop (3 mins) and a McDonalds (8 mins) nearby, which makes the place very convenient. Above all, Anna was a very kind and patient host. She provided us with detailed directions and drawings, and even helped us check public transport information online. Cosy apartment, peaceful neighbourhood, and nice host—highly recommended!
Elvis
2017-03-16T00:00:00Z
Tipo di stanza
Stanza privata
---
Tipo di sistemazione
Condominio
---
Può ospitare
3
---
Camere da letto
Budapest, Budapest, Ungheria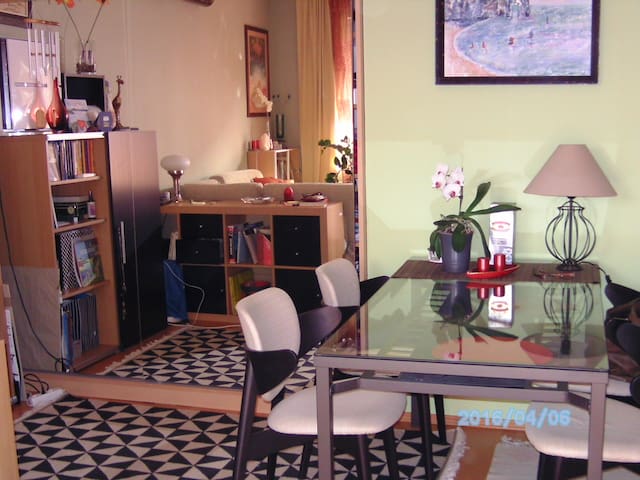 Tipo di stanza
Stanza privata
---
Tipo di sistemazione
Condominio
---
Può ospitare
2
---
Camere da letto
Budapest, Ungheria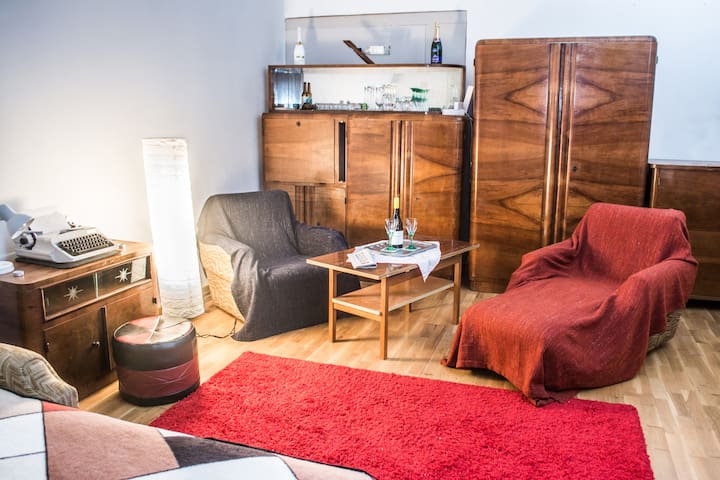 Accanto alla Basilica e Opera, tutto a pochi passi, posto veramente centrale per soggiornare. Livello 3 con ascensore, recentemente ristrutturato e completamente attrezzata. Godetevi posizione centrale e un facile accesso a tutto. Fronte aggiornamento ingresso è acceso, in modo che possa essere fastidiosa, ma non caricare affatto. L'appartamento è in una strada tranquilla, caffetterie e supermercati a pochi minuti di distanza.
Strada tranquilla, bel quartiere con un sacco di caffè e un piccolo negozio in giro per la prima colazione, il pranzo o la cena.
Teatro dell'Opera a pochi minuti di distanza, anche la famosa Basilica soli 5 minuti dal nostro appartamento. 10-15 minuti a piedi dal Danubio al Ponte delle Catene. Anche una stazione della metropolitana pochi dalle famose terme e bagno termale nel parco cittadino.
Perfetta accoglienza da parte di Akos e Adina, puntualissimi nell'appuntamento, ci hanno fornito tutti i dettagli per visitare Budapest. Molto cordiali e gentili ci hanno suggerito le mete migliori da visitare, ci hanno fornito i riferimenti per affittare le bici. Edina molto cordiale e disponibile, ci hanno rifornito di ulteriori asciugamani da bagno. Accoglienza impeccabile padroni di casa molto ma molto gentili
Claudia
2016-02-06T00:00:00Z
Appartamento molto carino in posizione centralissima! :) Akos ed Edina sono stati molto disponibili e accoglienti...mooooolto consigliato!
Francesca
2017-02-24T00:00:00Z
La vacanza trascorsa presso l'appartamento di Akos e Edina è stata perfetta. La casa, come da fotografie, è ristrutturata con gusto e funzionalità. Lo stabile è in parte ancora in ristrutturazione per quanto riguarda alcuni appartamenti, ma questo non incide minimamente sul soggiorno. L'appartamento si affaccia su un cortiletto interno ed è silenziosissimo sia di giorno, che di notte. Dotato di tutto il necessario; perfetto per due persone, forse un po' sacrificati gli spazi notte se si è più di due. Il soggiorno è spazioso e confortevole, la cucina ben organizzata, la camera da letto un po' piccolina ma letto comodo. Una stanza da bagno con doccia e lavabo, un piccolo locale con wc e secondo lavabo. Il tutto arredato con colori armonici e corredato del necessario (forno elettrico, piastre ad induzione, forno a microonde, bollitore elettrico, tostapane, moka italiana per il caffè, asciugacapelli). Tapparelle elettriche con radiocomando, infissi con doppi vetri e regolazione individuale del riscaldamento. Comodo anche il sistema di key-box che permette di concordare partenza e consegna delle chiavi senza vincolare nessuno. Ingresso dello stabile con codice di accesso numerico digitale. L'appartamento è in zona è centrale, a 300 mt dalla fermata della metro, molto ben servita anche se Budapest si visita benissimo a piedi. Nei dintorni: farmacia, supermercati aperti ad orario continuato anche fino alle 22, ristoranti/bar/bistrot/pub. A Budapest di sicuro non manca l'offerta gastronomica e non si soffre la fame! Akos e Edina sono due persone adorabili: lo scambio di comunicazioni prima del nostro arrivo e durante il viaggio, l'accoglienza e il tempo che ci hanno dedicato a spiegarci la città sono stati da 10 e lode. Edina parla anche un discreto italiano. Sicuramente da consigliare!
Alice
2016-10-19T00:00:00Z
Akos and Edina are lovely! They were extremely helpful and gave us some great tips about the city. They even woke up extra early to pick up the keys the last day of our stay so we could catch the 6:30am bus to Prague! It was our first ever airbnb experience, and I'm glad it was with them! They certainly give airbnb a good name! Good on ya guys
emily
2016-03-12T00:00:00Z
Akos and Adina were such great hosts. They met us at the apartment at a time convenient for us, they then went through everything we should try/do/eat in Budapest. They couldn't have been more helpful. We were so happy with all of the recommendations and did/ate everything! The apartment was the perfect size for three people and very modern and beautifully finished. There was everything we needed in there. I highly recommend this apartment to anyone looking to explore this beautiful city.
hannah
2016-03-15T00:00:00Z
Accueil génial ! Akos et Edina nous ont conseillé plusieurs visites et ont gentiment répondu à toutes nos questions. L'appartement est exactement comme les photos : neuf, bien agencé et joliment décoré. Sa situation géographique permet de visiter Budapest à pied, en tram ou bien en métro très facilement. On peut également manger ou boire un verre à deux pas de l'appartement. Pour le retour, ils se sont déplacés à 4 heures du matin car nous partions très tôt !! Encore merci pour cette semaine fantastique !
Clémentine
2016-01-29T00:00:00Z
Superb appartment ! We spent 5 days in Budapest and the appartment was perfect for our stay. It is really well located and easy to reach from the airport (bus 200E + metro). To arrive, we followed the Akos and Edina' instructions and it is was a pleasure to find the flat clean, tidy and heated. It corresponds exactly to the description. Thank you to Akos and Edina even if we did not met (due to flights arrival and departure time) they were available by message. Sebastien and Hélène
Sébastien
2016-12-18T00:00:00Z
This flat was excellent. The location could not be beat for grocery, restaurants, transit, and touring. The apartment was very clean and plenty of space for the three of us. The combination box and door codes made coming and going simple and easy.
Katie
2016-08-26T00:00:00Z
Tipo di stanza
Intera casa/apt
---
Tipo di sistemazione
Condominio
---
Può ospitare
4
---
Camere da letto
Budapest, Budapest, Ungheria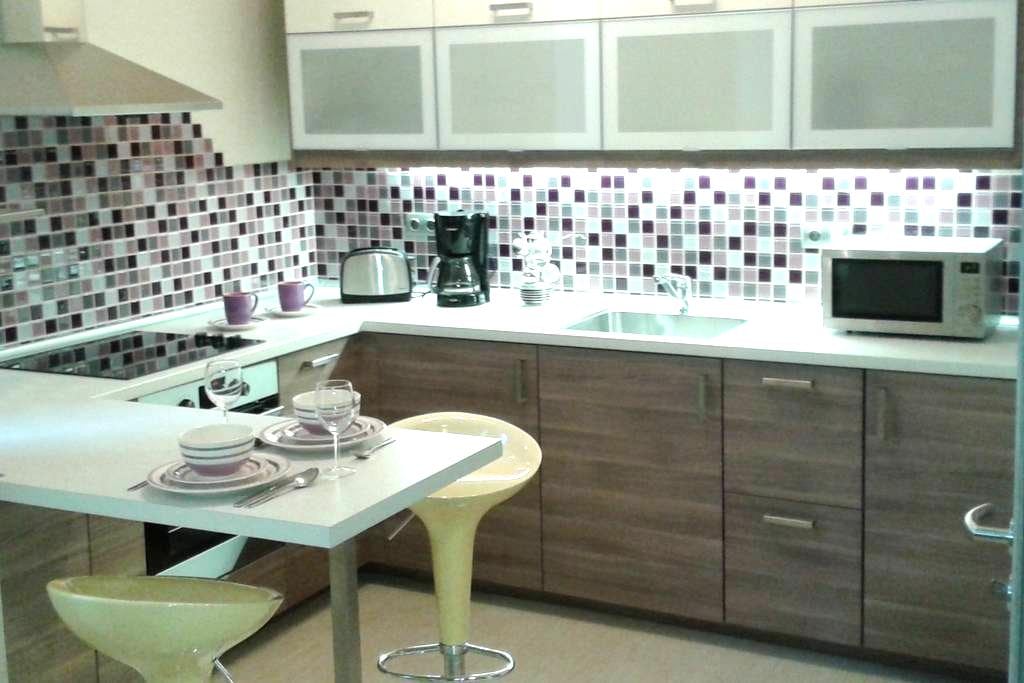 Můj útulný byt se nachází v blízkosti centra Budapešti, v blízkosti náměstí Hrdinů. Tam je vlak a metro v docházkové vzdálenosti. Je snadné se dostat do turistických center, nákupních pasáží a restaurací. Můj byt je v prvním patře, bez pouličním hlukem. K dispozici jsou 1,5 místnosti a spí galerie v bytě. K dispozici je otevíratelné dvoulůžko v obývacím pokoji stejně. Kuchyň je vybavena pro vaření.
L'accoglienza è stata veramente ottima , è stata molto gentile la nostra host. La zona in cui si trova la casa è un punto abbastanza ottimale perché si trova molto vicino alla metro e in 15 minuti a piedi si arriva anche ad alcune discoteche carine della città. È stata un'ottima scelta.
Alessia
2016-10-01T00:00:00Z
In October 2016 we stayed in the apartment at Jadwiga in Budapest! First of all, we note that Jadwiga welcoming and wonderful hostess, responsive and fun! Communication with it came easy. The apartment is situated in a convenient location - not far from the metro (5-7 minutes walk) and from the train station, from which trains go across Europe. The apartment is cozy, home, has everything you need for your stay.The windows overlook the courtyard - and therefore there is always quiet and calm. There is a kitchen with everything you need - you can cook! At 10 minutes from the house, where the apartment - there is a large grocery store. Also within walking distance of cafes and restaurants. The only negative for us - lack of hot water in the kitchen. Thank Jadwiga for our comfortable stay in Budapest! We advise you to friends.
Александр
2016-10-13T00:00:00Z
It was a nice stay in Budapest, the house was perfect for a citytrip. The location could be better, but the presence of busses and metro made it fine.
Ilke
2016-06-28T00:00:00Z
Ядвига была очень милой, квартира нам понравилась. До центра далековато, но зато близко к вокзалу Келети.
Валерия
2016-09-04T00:00:00Z
Jadwiga was extremely friendly and welcoming. The apartment was in a good location as it was about a 10 minute walk from both the main train station and metro, as well as buses and trams running near by. The place itself was very cosy and spacious, with a well stocked kitchen. It also felt quite safe as the entry to the apartment building required codes.The only issue we really had was that the wifi wasn't working great, although there was a desktop that would allow us to access some sites which helped. Would definitely recommend to a couple or 2 friends who are willing to share a bed.
Gabrielle
2016-12-13T00:00:00Z
Jadwiga was amazing with us! Our bus was delayed and she was waiting for us at her house with biscuits and juice. She left us some cheese, chicken, bread, vegetables, coffee, sugar, butter and tea in order to make our stay more comfortable. The house was perfectly cleaned and really nice, it felt like home. Plus our bus to come back to Krakow was at 23:00 and she didn't have any problem our the check out hour. Thank you very much Jadwiga! We wil never forget how friendly and welcoming you were with us
andrea
2016-05-29T00:00:00Z
Jadwiga is a great host, a warm and friendly apartment, nicer than described. Close proximity to amenities and attractions. I highly recommend it!
Berne
2016-11-01T00:00:00Z
Jadwiga's airbnb was comfortable and clean. There are tv, refrigerator, microwave range, big towel and so on. It's near Keleti station(10 minutes by walk, there are some markets and restaurants around staion). Budapest is not big city so we can go any tourist attraction easily. Jadwiga was kind and warm person. She waited up for us and welcomed. Thank you!!
Miran
2016-08-28T00:00:00Z
Tipo di stanza
Intera casa/apt
---
Tipo di sistemazione
Condominio
---
Può ospitare
2
---
Camere da letto
Budapest, Budapest, Ungheria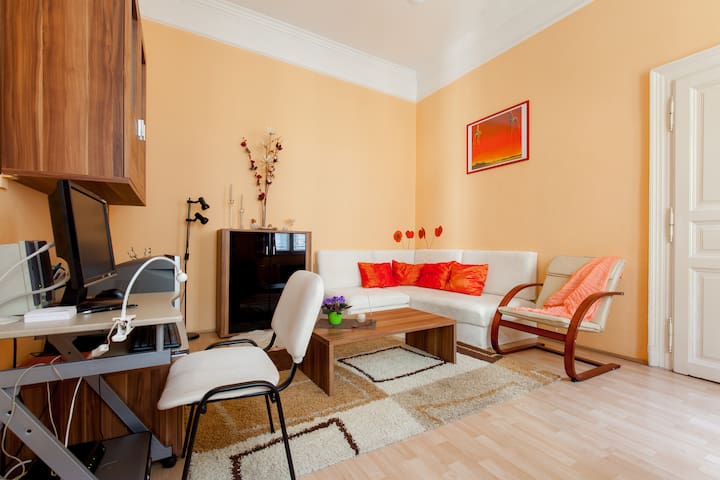 via Király si trova nel centro della città vecchia e il quartiere ebraico di Budapest. Centinaia di ristoranti, bar, antiche sinagoghe e accoglienti stradine attendono i turisti. Szimpla Garden, per esempio, è stato scelto come il miglior pub rovina del mondo dal sito americano Lonely Planet. La bella National Opera House ei negozi luxurios della famosa strada Andrássy con un ambiente che evocano secoli passati non sono altro che un paio di minuti di distanza a piedi. La piazza Erzsébet con la ruota panoramica, la riva del fiume, la più famosa pasticceria di Ungheria, della pasticceria Gerbeaud sono tutti ad una distanza di una passeggiata di 5 minuti. L'appartamento è raggiungibile con i tram 4, 6 o linee Undeground 2, 3.
We were welcomed warmly by Simon (the friend of Balazs). He showed us the apartment and told about the city and some place to go out. That was really good start in Budapest. This apartment is wonderful. It is exactly as you can see at the picture. 5 min to underground (Opera, line 1). 3 min to the market and bakery behind the corner. 1 min to restaurants and bars. On Saturday night some people can say "it is a little bit noisy (really a little)" but the rest of the week it is quiet and perfect. The building is also ok. Communication great. I higly recommend this place and I hope to come back there with my friends again.
Tom
2016-04-27T00:00:00Z
We had a nice stay at Balazs's. The place is as it's described, good location. I recommend staying there!
Zsolt
2016-11-01T00:00:00Z
Such a nice apartment! Everything is so easy to find from the place as there are metro stops at either end of the street, really easy to find, they were great help with letting us into the apartment and showing us how to do everything. One of the nicest places I've stayed, would definitely recommend.
Alex
2016-08-04T00:00:00Z
A perfect AirBNB Experience! Balazs apartment was spacious, clean, well stocked and located very conveniently to public transport, cafes, bars and markets. I would absolutely recommend a stay here! We did not get to meet Balazs, but check in and out was seamless. He arranged a car pickup at the airport and his friend, Emilia, met us at the apartment.
Katherine
2016-05-21T00:00:00Z
I stayed at Balazs's apartment for two days and it was a wonderful stay! The apartment is in an amazing location with easy access to public transportation. The apartment itself was very clean and updated. I will definitely be staying at his place again when I visit Budapest!
Kaitlyn
2016-09-22T00:00:00Z
What a wonderful apartment! The place was stunning and in a fantastic location to get to various places to visit and eat. Me and my friend chose to get a taxi transfer to the apartment (at 25 Euros each way) via Balázs which made our way from the airport alot easier! The apartment itself looks just like the pictures! Never used the gym or sauna but both looked really good! If (and when) I return to Budapest I would definitely return to Balázs apartment again and would highly recommended anyone to go here.
Joshua
2016-10-16T00:00:00Z
Great location and a great host. Sweet balcony. Everything clean and well organised. Would go back!
Jörgen
2016-07-11T00:00:00Z
Balázs was a great host and very fleixible with the arrival time and super respnsive in the communication. The appartment is very clean and perfectly located with many bars and restaurants arround. Naturally, you can hear some noise from the street, but we didn't feel disturbed by it.
Michael
2016-05-09T00:00:00Z
Tipo di stanza
Intera casa/apt
---
Tipo di sistemazione
Condominio
---
Può ospitare
4
---
Camere da letto
Budapest, Ungheria
92 mq apt in un quartiere vivace, proprio dietro Liszt Ferenc quadrati offrendo concerti piacevoli presso l'Accademia di Musica o avere una deliziosa colazione in uno dei caffè e ristoranti terrazzati. L'apt ospitare 6 persone in 2 camere da letto separate. Soggiorno ha un divano-letto matrimoniale. Cucina completamente attrezzata, se si preferisce cucinare a casa, ma nudo in mente il cibo ungherese è veramente buono e conveniente. Culla e seggiolone sono previste per soggiorno in famiglia.
- Lenzuola e asciugamani sono forniti - Wifi gratis - Tv a schermo piatto con lettore DVD - Culla e seggiolone - 2 bagni - ventilatori per l'estate - Lavastoviglie con Tablettes -lavatrice con detersivo - L'asciugacapelli, ferro da stiro, forno a microonde, frigo, macchina per il caffè, tostapane, tutte le attrezzature per cucinare - Molti ristoranti, bar, caffè, banche, ufficio di cambio intorno - Caffè e tè -Piscina posto auto nelle vicinanze (coperta Akácfa st per 10 € / giorno. o West-End esterno 4 € / giorno), ma i fine settimana sono liberi per la strada - 1 della metropolitana linea (Oktogon) è 2 minuti di distanza - Trasferimento in aeroporto può essere organizzato a prendere gli ospiti per 25 eur - La prima colazione può essere fornita per giorno di arrivo per 8 € / persona
Situato in una zona culturale ricco di teatri, caffè, ristoranti, bar e club rovina. Liszt Ferenc piazza dietro con molti caffè è a schiera offre la prima colazione golosa. Cattedrale di Santo Stefano e l'Opera House sono solo alcuni minuti a piedi. City Park si trova sulla linea metropolitana con il famoso bagno di Szechenyi termali, musei, zoo, circo, parco di divertimenti. West-End centro commerciale si trova nelle vicinanze. Il trasporto è eccellente. O si può salire su un tour bus o prendere le barche sul romantico Danubio o semplicemente chiedersi in città.
Very nice apartment in the middle of Budapest
Daniel
2015-05-26T00:00:00Z
Appartment was same as on photos. Big enough for 6 people and very clean. Great location in center with shops, restaurants and pubs all around. We had great time :)
Marek
2016-01-02T00:00:00Z
We had agreed with Bea that we would advise our time of arrival to ensure that we would be let in. We failed to do so and nevertheless within less than ten minutes a caretaker appeared to let us in and show us around.
Michael and Robyn
2015-05-04T00:00:00Z
Bea has been great throughout the process - she is an exceptional host that answers any questions in no time and finds solutions if needed. Also Bea's sister, who showed us into the apartment, was very friendly and welcoming. The apartment is very clean, light and centrally located - as per description. The beds are comfortable, the bed linens + towels provided were good quality and clean, the kitchen has all utensils one may need and tea/coffee provided as well. The only drawback - the windows open directly onto a very busy street so in the summer it may be very noisy. We kept the windows closed but even then once could hear every passing tram and the traffic noise. Since we were mostly out it was not such an issue for us but it may be for some. Once again thank you Bea for hosting us - we had a great weekend in Budapest!! :)
Kasia
2016-04-25T00:00:00Z
I believe that the flat is located at the very center of Budapest. It is in proximity to a lot of restaurants / bars, and also so close to the main touristic locations of the city. The flat was very clean and exactly the same as it was on the photos. Bea is a great host as well. She has returned all the messages and the problems solved in no time.
Sarper
2016-07-31T00:00:00Z
Tipo di stanza
Intera casa/apt
---
Tipo di sistemazione
Condominio
---
Può ospitare
6
---
Camere da letto
Budapest, Budapest, Ungheria
Új építésű wellness apartman Balatonfüred szívében, 5 percnyi sétára a Tagore sétánytól és 500 méterre a Balaton közvetlen partjától..
Új építésű wellness apartman Balatonfüred szívében, idegenforgalmilag a legfrekventáltabb negyedében helyezkedik el 5 percnyi sétára a Tagore sétánytól és 500 méterre a Balaton közvetlen partjától.. Klimatizált/fűthető apartman 2+(1 fő pótágyon térítés ellenében) nyújt felejthetetlen nyaralást ahol az egész évben nyitva tartó beltéri wellness részeg (pezsgőfürdő, gőzfürdő, finn szauna, aroma szauna, pihenő szoba) illetve májustól szeptemberig fűthető kültéri medence áll a vendégek rendelkezésére. Szauna részleg nyitva tartása: 14-19h-ig. Medence 8-20 óráig. Igényesen berendezett lakás jól felszerelt amerikai konyhás nappali étkezővel (elektromos tűzhely, hűtőszekrény, mikró, Dolce Gusto kávéfőző, kenyérpirító, edények és konyhai kiegészítők stb.) KábelTV, szobaszéf, ingyenes WIFI valamint szobánként egy terasz kerti bútorokkal, recepció valamint ingyenes parkoló tartozik a szolgáltatásaikhoz.. Szobában törölközők, hajszárító bekészítve.. Recepció szolgálat: 8-19h-ig Érkezéskor bankkártya garanciát kérünk. A szoba elfoglalása előtt 20 000 Ft kaució fizetendő. Távozáskor a kaució hiánytalan átadás esetén visszajár. Szauna részleg nyitva tartása: 14-19 óráig. Medence 8-20 -ig. Vasút állomás a szállástól 600 méterre található. Buszmegálló 250 méterre. A parkolás ingyenes az apartmanhoz tartozó fedett parkolóban. Reptéri transzfer megoldható. Ellátás: Az étkezés önellátással történik! A közelben számos étterem, élelmiszerbolt található. Térítés ellenében igénybe vehető szolgáltatások: Masszázsok Kerékpár kölcsönzés Baba csomag (gyerekágy, fürdető kád, etetőszék) Pótágy
Az apartman Balatonfüred szívében, idegenforgalmilag a legfrekventáltabb negyedében helyezkedik el 5 percnyi sétára a Tagore sétánytól és 500 méterre a Balaton közvetlen partjától..
Great apartment. Modern, new, clean and well appointed. Reception staff were very helpful. Pool was nice and decent size. Close to lakeside. Would go back and recommend to others without hesitation.
Tristram
2015-07-29T00:00:00Z
Very nice apartment building. Quiet area. Safe parking. Very clean and absolutely friendly staff.
Alexander
2015-08-11T00:00:00Z
We had a great coupe of days in Máté´s nice apartment in lovely Balatonfüred. The apartment was in top condition and had a nice balcony. Unfortunately we didn´t have time to try the pool since there was so much else to do. Balaton, restaurants and a nice forest in short walking distance.
Johan
2015-09-20T00:00:00Z
Tipo di stanza
Intera casa/apt
---
Tipo di sistemazione
Condominio
---
Può ospitare
2
---
Camere da letto
Balatonfüred, Veszprém, Ungheria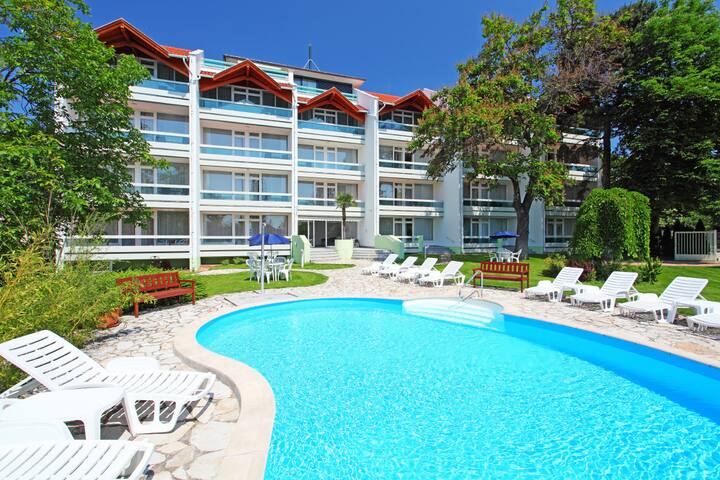 θέση μου είναι κοντά στο Westend City Center (το μεγαλύτερο εμπορικό κέντρο στην πόλη), Πλατεία Ηρώων, ζωολογικός κήπος, το Μουσείο Καλών Τεχνών, ακριβώς στο φανταχτερό περιοχή με τεράστιο ποσό από μπαρ και εστιατόρια. Θα λατρέψετε τον τόπο μου, λόγω της η τοποθεσία είναι ιδανική για τυχοδιώκτες της πόλης, οι άνθρωποι και η ατμόσφαιρα είναι πολύ φιλική. θέση μου είναι καλό για ζευγάρια, σόλο τυχοδιώκτες και ταξιδεύουν για επαγγελματικούς λόγους. Διαφορετικοί τύποι πρωινό είναι διαθέσιμα κατόπιν αιτήματος. Ευέλικτη check-in και check-out.
The room was clean and cozy. Attila and Gergo are good person, I had great time here.
Chin-Hsiung
2017-03-23T00:00:00Z
Attila was very helpful, the room was -as described- very clean and the appartement very practicable, everything we needed was furnished. Nice stay in a clean and functional appartment.
Hugo
2016-08-17T00:00:00Z
I had a great (EMAIL HIDDEN)munications were great and easy with Attila, his work on tiny details to make the guest feel welcoming (small toiletries bottles, maps, chocolate) is incredible. The place is super clean and have everything in the neighborhood. If I ever go to Budapest again, I'll definitely stay at Attila's place again.
Fahad
2017-01-07T00:00:00Z
Attila was very friendly, we did not get to meet him personally, but we met his friend Gergo, who showed us the apartment, the bedroom, it was very friendly. The apartment was clean, the bedroom tidy and we had everything we needed for a pleasant stay in Budapest. The apartment is 5 minutes from a metro station.
Patricio
2016-12-31T00:00:00Z
I felt realy uncomfortable in this appartment because a man lives there permanently who doesn't care about the Airbnb guests . He smoked in the kitchen and when i said i booked the room because it was described as nonsmoking he said so what and that i can go to my room which is non - smoking . When i arrived a man lay on the floor in the kitchen and was described as being a friend of this longterm renter . Another of his friends came looking into my room at 7 am in the morning . More friends where in the kitchen smoking and seemed to be on drugs . They left soon . The fridgerator is so full of alcoholbottles that i wished to know where to put food i bought . The stove is covered with a plasticsheet and bowls on top so that it discourages wanting to cook . The flat is dark and smells strongly like parfume from a parfumedistributor . There is a blanket hanging in front of the kitchenwindow so that it is dark .The room is also so dark during the day that one has to put on the light . There is noise from the neighbours and noise from the street , from the traffic, people walking by and constructionwork nearby . Not at all a good place to relax .
Matthias
2017-04-10T00:00:00Z
Attila and Gergö are very friendly people that are always available if you need them and who go out of their way to make your stay as comfortable as possible
Dominik
2016-09-15T00:00:00Z
The host was very friendly and helpful, everything was nice and clean, and the place was in a good location.
Errans
2016-07-24T00:00:00Z
Tipo di stanza
Stanza privata
---
Tipo di sistemazione
Condominio
---
Può ospitare
2
---
Camere da letto
Budapest, Budapest, Ungheria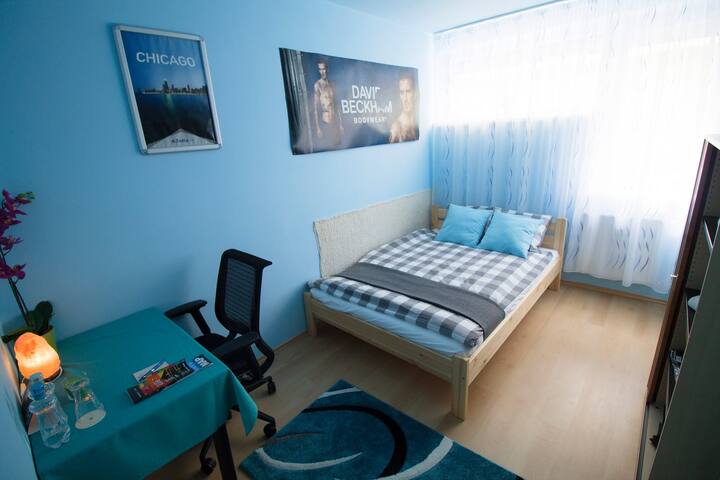 1

–

18

di

116 affitti condominiali
Inserisci le date per visualizzare il prezzo totale. Ci sono dei costi aggiuntivi e potrebbero venire applicate alcune tasse.