Inserisci la data del check-in nel seguente formato dd-mm-aaaa
Inserisci la data del check-out nel seguente formato dd-mm-aaaa
Annunci che puoi prenotare senza aspettare l'approvazione dell'host.
Inserisci le date per visualizzare il prezzo totale. Ci sono dei costi aggiuntivi e potrebbero venire applicate alcune tasse.
Nei mesi di luglio e agosto puoi provare uno di questi 100 alloggi ad alto rendimento, per ogni fascia di prezzo, e vivere una visione locale di Sonoma. Prova il check-in continuato, la Prenotazione Immediata e vino e spuntini locali per rilassarti e godere al massimo del tuo viaggio.
Very quiet and recently renovated, few minutes away from the beautiful Cagnes sur mer beaches and the famous old Medieval town. 5mn Drive from Nice-Airport, 15mn Nice-Center, Antibes and Cannes (20mins), Monaco (30mins) St Tropez (1hr).
Nearby there are charming restaurants, outdoor cafes & local produce markets for croissants, fresh fruit, vegetables, meats, fish, wine etc., beautiful bathroom with a large 2 persons rain shower and 2 WC/1 Bedroom with King size Bed / 2 very comfortable Sofa / Bed / Up to 4 pers easily. Full Kitchen And finally a lovely terrace with table & chairs where you can look at the sea where you can enjoy the sun throughout the day and the early evening. I would also be glad to give you , the best address Around :-) Please Note : No Smoking inside / No pets/ No cats/ No Parties .. Just Respect my SweetHome Unlimited Free Wifi / Big LCD TV / Cable / Iron / Hairdryer/Washing machine/Dressing/Closets … Everything you can imagine in a place to live Comfortable, Towels & Linens are provided. Happy to share my home but I also like to know a bit about who will be in it. Please fill out your profile and know that we'll exchange an email or two/communicate before a final booking.
Phillipe was a great host and very helpful with getting us checked in and making sure everything was ok. The place was amazing and very spacious. It was just like the picture and also had great appliances and everything at your need. Overall a great place I would definitely come back and recommend to others!!
Gary
June 2016
Philippe was an excellent host. He came personally to show us his wonderful apartment. We loved every bit of our stay there. It's convenient to drive to all the places of interest that we want to cover in Nice and it's also just 30mins away from Monaco (without traffic) The apartment was like what was shown in the pictures and even better. It was tastefully furnished and we love everything about it. Philippe was a responsive host and also gave us his recommendations on questions we had about Nice whenever we need it. He was very generous too and specially prepared some bottles of water and drinks in the fridge and lots of nice coffee pods for us. Even bath and hand towels were from Polo Ralph :) We are very happy and satisfied with our stay at Philippe's and would recommend everybody to stay at his apartment if you have rented a car and would be driving around to explore Nice and Monaco as it is really value for money compared to other selections we saw on Airbnb for Nice!
Maggie
August 2015
We are new to the French Riviera and we stayed at Philippe's apartment for 5 weeks. Philippe was responsive and accommodating throughout our stay. We did not have the chance to meet him but his kindness and courtesy shone through, even from afar. Early into our stay he quickly put us in touch with his mother who stopped by when we needed extra bedding. The rest of our stay was a breeze. The apartment is really pleasant, nicely renovated, and functional. The living room is cosy and the bed super comfortable. There are plenty of TV channels and the kitchen allowed us to cook as if we were home. We appreciated the selection of tea and coffee pods. As for the neighborhood, it is residential and quiet with birds chirping in the morning. Parking on the street in front of the apartment building is easy (daytime and evening). If you are active, it is a 7-minute run down to the beachfront where you have access to a very lengthy path (run, walk, bike, roller-blade) along the Mediterranean with beautiful views. This is also where you will find cafes, restaurants, dry cleaners, supermarket, etc. We had an enjoyable stay and we highly recommend this space. Thanks Philippe!
Sonia
March 2016
Philippe m'a très bien accueilli et a été très à l'écoute de mes attentes. Le contact a été parfait. L'appartement est vraiment joli et agréable. Près de tout en voiture.
Anthony
August 2015
The apartment is really great, exactly as visible on the pictures. It is in a quiet area, spacious and modern, nicely equipped. I spent a week in Philippe's apartment for a business trip, and it really went all fine.
Thomas
September 2015
Philippe was truly a good host, very responsive and he gave us a lot of useful informations when we arrived at the house. The apt looks like the descriptions, very clean and comfortable, very well located to visit the area. When we were there I had an health problem, Philippe was truly concerned and he helped us a lot in every possibly way. I truly recommend the house but even more the host!
Stefania
August 2015
Tipo di stanza
Intera casa/apt
---
Tipo di alloggio
---
Può ospitare
4
---
Camere da letto
1
Cagnes-sur-Mer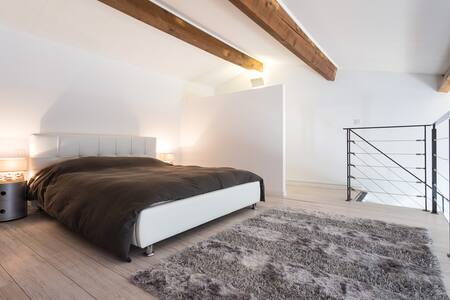 The host canceled this reservation the day before arrival. This is an automated posting.
Frédéric
Après quelques opérations de rénovation sur les finitions (plinthes à ajouter, poignée de fenêtre à fixer, poignée à mettre, porte de salle de bain à réparer car elle ne ferme pas, ampoules à mettre dans les lampes de chevet... ) et de nettoyage plus approfondi (four, four à micro-onde, porte de la douche, prise électrique...), le logement pourrait être correct malgré le fait que la mezzanine soit très basse. On y circule à quatre pattes sur un sol rugueux (elle n'est donc faite que pour y dormir). Autrement, le logement est situé dans un quartier agréable et calme, proche des transports. Le parking est facile en voiture.
Corinne
August 2016
Great place in a quiet residential area in Nice, absolutely perfect for a week's stay! Bigger than expected and fully equipped with everything we needed. You need to crawl around the mezzanine to avoid banging your head but the beds were super comfortable and more than made up it. Parking, bus stop to the Promenade and little supermarket with really friendly owners were all just outside the door, really convenient. We didn't meet Stanislas but everything went really smoothly and I would definitely come back! Merci beaucoup!
Emma
June 2016
Hôte très disponible en amont pour répondre à nos questions sur le quartier. Appartement tout à fait conforme à la description, propre et bien aménagé. Emplacement idéal pour arriver en voiture et se déplacer sur le palais nikaïa et le stade. Parking facile. Je recommande.
Diane
May 2016
The apartment is in very bad state and it is disappointing. Problems of the appartment, for example: 1.The sliding door of the bathroom had already been unusable as it was stucking and we could not close it during our whole stay. The toilet was fully visible from the kitchen. It was really unpleasant... 2. The window of the bathroom had not got a handle. A screwdriver was prepared next to the window as an "opener" which is almost unacceptable. 3. Over the lavatory there was a hanging electrical patch which was life threatening and unacceptable in a 21st century's appartment. 4. One of the door of the kitchen furniture was missing that was also unexplainable. 5.The flooring of the loft was too rough to scramble, it hurt our knees and caused allergic reactions. 6.The smell of the appartment was really stuffy! 7.The photos DO NOT show the reality. We were glad that we stayed there only 3 days.... After these problems, Stanislas was very incorrect, as he claimed 500 EUR from us. His claim was based on the already broken sliding door and on a weak and cheap plastic frame which broke under the weight of the glass in the middle of the night without any phisical contact during our stay. The claim was groundless and it was a bluff to compensate the low cost of the appartment but the appartment is far overpriced after the aforementioned problems! Airbnb has investigated the situation and finally has refused his roundless claim. After all his apartment was our worst Airbnb's experience so we DO NOT recommend Stanslas's appartment at all!
Nora
July 2016
bien situé à côté d'une petite épicerie, grand logement tout équipé et agréable, Stanislas nous a contacte avant et après notre arrivée pour s'assurer que tout était bien super contact... merci!
David
May 2016
Great choice for a short stay in Nice. The apartment was fully consistent with the description. It is located in a very convenient location (bus stop - C.A. 10 minutes to the Promenade, shop with a very nice service). Moreover, the apartment is very well equipped. Before and during our stay in Nice communication with Stanislas was perfect. I warmly encourage to choose this place in Nice.
Paweł
June 2016
The host canceled this reservation 3 days before arrival. This is an automated posting.
Bertrand
Tipo di stanza
Intera casa/apt
---
Tipo di alloggio
---
Può ospitare
5
---
Camere da letto
0
Saint-Augustin, Nizza