Amy and Sean's airbnb place was beyond our expectations in every aspects. My husband and I travel a lot using airbnb and it was by far the most amazing place with good price. The house has everything that you can ask for... Amazing kitchen and its items. Amazing outdoor space with pool and hot tub. After hiking and exploring upstate NY we enjoy hot tub relaxing time. They have both outdoor and indoor fire place which we loved it. Cold weather hot tub and fire place with beautiful nature we could not ask any more. Every morning we walk around house and it was so beautiful and quiet. We feel like we found hidden treasure place that we could easily get away from the city and relax. Amy and Sean was very helpful and professional running airbnb. Their guild book made our staying really easy and it felt like we have been their place before. One of my favorite part of this house was its cleanness!!! We are very looking forward to going back to their places often! Winter, summer any seasons!!
Jeen
2016-10-30T00:00:00Z
Amy and Sean's home was beautiful, clean and perfectly located for a weekend of hiking and exploring nearby Hudson Valley towns. The hot tub was such a great perk. Would definitely stay here again.
Polina
2017-01-16T00:00:00Z
What a great find! This home is exactly as pictured - cozy, modern, and lovingly maintained, with a secluded feel. Amy and Sean are incredibly generous and responsive hosts and the house is super-clean but with plenty of personal touches (a hard balance to strike in an Airbnb from our experience). Everything here is tastefully done and very comfortable. Love that there is a big dining room table as well as a breakfast island and an outdoor eating spot. As we were here during a chilly/rainy week, we really enjoyed the hot tub and fireplace and would love to return when we can use the pool as well. Amy went above and beyond to provide us with a personalized list of things to do in the area (based on our interests), and when we had questions they responded within a few minutes every time. Great retreat for a family or two couples.
Shoshana
2017-03-27T00:00:00Z
Gorgeous house! We had the best mini-vacation. The kitchen was so well stocked it was nice to be able to cook easily without having to buy any extra spices or condiments
Tessa
2016-11-20T00:00:00Z
We loved the house and the location. It was totally secluded and yet so close to Kingston, Stone Ridge, High Falls, etc. It was a great and relaxing getaway from the city. We hope to go back in the summer to use the pool!
Michael
2017-02-20T00:00:00Z
Fantastic location, fantastic amenities. Wonderful hosts. Really, an all-around great experience. Highly recommended!
Daniel
2016-12-31T00:00:00Z
Amy & Sean have a very beautiful home! My brothers and I just got back to NYC after an awesome weekend there. They communicated with us throughout the trip. They made us feel very welcome. They are great hosts. I'd highly recommend.
Andrew
2017-03-19T00:00:00Z
We booked this place for a weekend getaway from the city. It was everything we were looking for. Amy was so easy to communicate with and made us feel right at home. The hot tub, fireplace, well equipped kitchen, and the ultra comfy beds left us feeling completely stress free when the time came to leave. Thank you so much, Amy!
Jordan & Joshua
2017-02-05T00:00:00Z
Tipo di stanza
Intera casa/apt
---
Tipo di sistemazione
Casa
---
Può ospitare
4
---
Camere da letto
Cottekill, New York, Stati Uniti
We had the most fabulous time! Maggie was so gracious and communicative leading up to our arrival and the house was so much lovelier than even the lovely photos conveyed. We had zero problems throughout the weekend and found the place cozy, quiet, and EXTREMELY well appointed. I was also pleasantly surprised by how much closer the house was to major roads than I had originally thought looking at the (SENSITIVE CONTENTS HIDDEN) map - it took no time at all to get to Kingston and a surprisingly short time to get to the bridge. We are already planning on returning!
Yelena
2014-10-20T00:00:00Z
We had a wonderful stay in Maggie and Jesse's farmhouse for a girls' weekend in the Hudson Valley! The house was lovely and homey, perfect for a winter getaway when you spend more time on the couch, in the kitchen, and in front of the wood stove than you spend outdoors. Maggie was very helpful leading up to the trip, offering tips and being flexible with arrival times. They even left snacks for us! We were comfortable and cozy all weekend. Maggie and Jesse left very detailed instructions and an entire binder of suggested activities in the area- very helpful! We followed Maggie's advice and checked out the rail trail behind the house, and went into Historic High Falls for a little visit. We also went up to Phoenicia for a day, ate brunch at the recommended Sweet Sues (yum!) and hiked up the Giant Ledge. I would definitely return to Maggie and Jesse's farmhouse if I had the chance.
Catharine
2015-01-20T00:00:00Z
My family and I could not have been made to feel any more welcome anywhere else. Maggie opened her arms wide and gave us a big (figurative) hug. From the moment we asked our first question about the property to the moment we told her we were leaving, Maggie was responsive to all queries within 5 minutes, always with a positive response and with good humor, where appropriate. So many hidden gems at this property: The record collection, the library, particularly the collection of pop-up books (wow!), comic books, artwork, gadgets, local faire... We were there for two nights, which wasn't enough to experience it all. Dinner on the front porch was fabulous - we thought we would have a problem with bugs but there were none at dinner time. The fire pit in the back yard was a nice place to gather forces. Location was perfect for our purposes - centralized between New Paltz and Saugerties. Great place, to which we will return if they'll have us.
Dave
2016-08-08T00:00:00Z
Maggie was wonderful - very quick to respond, helpful with suggestions of activities and answers about the house, took care of everything. The house was so great, clean and well-maintained, had all the basic supplies and then some, plus we loved the aesthetics. Nearby Rosendale is a sweet, small hippie town with everything we needed and wanted. Highly recommend this rental!
Amy
2014-08-04T00:00:00Z
Maggie's farmhouse is a lovely place to stay in a primo Ulster County location. Maggie herself is a friendly and welcoming host. Bring your record collection!
Ben
2014-11-18T00:00:00Z
Maggie's house was the perfect place to stay to get away from it all and yet still be ideally located, being so easy to get to the main attractions in the area, as well as so conveniently located to nearby grocery shops and cafes/ restaurants (by car). Maggie and Jesse were just wonderful with getting back to us if we needed anything and so very helpful in giving us local tips. And if you are a runner/ walker, the house is just a couple of minutes away from the most fabulous trail! We loved it!
sonia
2015-07-12T00:00:00Z
Maggie's place was so perfect as a home base for our wedding weekend in Rosendale! Would definitely stay here again :)
Molly
2015-09-28T00:00:00Z
Spent a lovely weekend in Maggie's Farmhouse together with some friends. It's the perfect and cozy getaway. Highly recommended!
Alberto
2014-02-24T00:00:00Z
Tipo di stanza
Intera casa/apt
---
Tipo di sistemazione
Casa
---
Può ospitare
4
---
Camere da letto
Cottekill, New York, Stati Uniti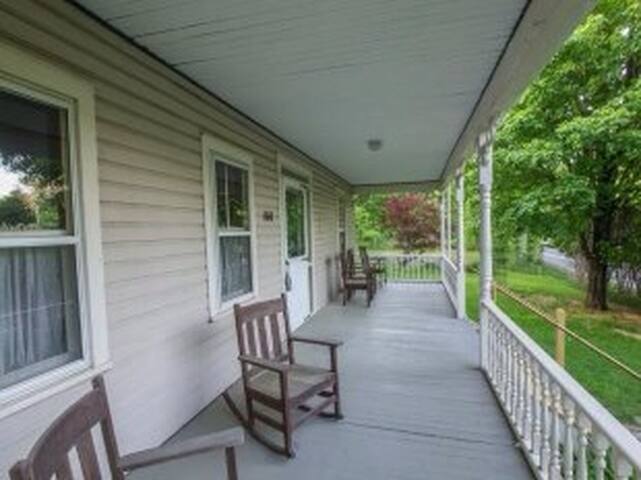 Execptional Hudson Valley getaway for a couple, family or group. Set on 4.5 wooded acres, you'll find everything you need to recharge your batteries - pool, sauna, double fireplace, media room, game room, large dining room for entertaining, and plenty of comfortable nooks for reading. Hike to the nearby stream year-round, or take a bike ride at the stunning Ashokan Reservoir. In the fall, go apple picking or get lost in a corn maze. Great stores and restaurants just a 10-minute drive away.
Tipo di stanza
Intera casa/apt
---
Tipo di sistemazione
Casa
---
Può ospitare
12
---
Camere da letto
Stone Ridge, New York, Stati Uniti
Sun Creek is an open concept home with spectacular views of the Catskill Mountains. The house offers a full kitchen, dining and living room. Bedrooms are roomy and cozy. It is located in quaint Stone Ridge.
This is a beautiful contemporary home. Even though the house is located in the town of Stone Ridge it is amazingly quiet and peaceful. Also check out our Social media page "Sun Creek". The entire house and grounds are open to guests. Please know the garage is unavailable. A beautiful contemporary home on 2+ acres. Situated on the lovely lot of trees and grass. Walking distance to Davenport's Farm Stand for coffee and excellent cider donuts! There are hiking and biking trails near by. Lots of parking space in the driveway. Grounds keeper lives over the Garage.
Stone Ridge is a quaint town filled with small shops, a library, a grocery store, drug store, banks and several restaurants. It has a great biking\hiking trail a short drive from the house. Sun Creek, the house itself, is located on a quiet, dead-end road. The influence of the Culinary Institute of America in Hyde Park, keeps the local restaurants fresh and innovative, creating some of the best food choices around.
What a great break we had at Mandy's house. We were welcomed at the house by Mandy where she explained all the features and supplies. The house is well stocked and appointed.
Corey
2016-12-29T00:00:00Z
Mandy was a fantastic host who went out of her way to welcome us on New Year's Eve. The house is beautiful and a perfect setup for two couples. We loved the fireplace and the view of the mountains from the living room and bedrooms. The kitchen and pantry were also well stocked for cooking. We would love to return.
Katherine
2017-01-02T00:00:00Z
Let me start by saying that we are pretty regular airbnb customers and have booked a number of places over the last few years. I was completely taken by Mandy and her responsiveness and attention to detail. The house is BEAUTIFUL and has great views. We were looking for low key rest and relaxation type of weekend with snow, good food and Hot chocolate. That is exactly what we got at Mandy's place. The kitchen is well stocked, the house warm clean and comfortable. Thanks Mandy for a great weekend!
Alefiya
2017-02-12T00:00:00Z
A beautiful, spacious home. Well-lit and comfortable. The deck, view from it, and the audio system were all a major plus for us.
David
2017-02-20T00:00:00Z
The site is spectacular, the beautiful home is immaculate, and Mandy is incredibly helpful and gracious!
Ann
2015-05-25T00:00:00Z
The house has great natural light and is perfect for a cozy winter holiday! Mandy is very attentive and caring, she was nice enough to wait for us until we arrived at 10 pm and gave us the house tour! The location in great, it has nearby grocery stores and easy access to main roads! Thank you Mandy!
Mia
2015-10-04T00:00:00Z
My family and I stayed at Mandy's Sun Creek house over the Fourth of July weekend and we couldn't have asked for a better experience. The house is spacious and clean and there is a fully equipped kitchen for any cooking needs. Mandy was very communicative before our arrival and was extremely helpful getting us oriented and settled in. The location is gorgeous and a short drive to other interesting towns like Rosendale and High Falls. I would give Mandy's space the highest recommendation.
Alex
2015-07-05T00:00:00Z
One of the best Airbnb experiences I have ever had. Came here with my girlfriend and another couple for Thanksgiving. Upon our arrival we found a table completely decorated with nice dinnerware, candles and Thanksgiving themed decorations. Not to mention cookies and a wood stove already crackling with logs on it :) Mandy was so hospitable and nice. She really goes the extra mile. The house was incredibly spacious and clean with amazing views. Everything we'd hope it would be. I'll be recommending this house to anyone and everyone.
Jeremy
2016-11-27T00:00:00Z
Tipo di stanza
Intera casa/apt
---
Tipo di sistemazione
Casa
---
Può ospitare
4
---
Camere da letto
Stone Ridge, New York, Stati Uniti
This spacious light filled converted farm building boasts cavernous living space filled with paintings and sculptures, open kitchen, 3 Bedrooms and study. Surrounded by 4 acres of private gardens with easy access to the best of the Hudson Valley. We are also amateur winemakers working with grapes sourced from NY, California and Chile! Come see how we make the wine. Samples are sometimes available too!
This is like a giant New York loft apartment in he middle of bucolic countryside. There is nothing else like it! My art dots the landscape and adorns the walls. It is a feast for the senses.
I love where I live because of its serene country location. Just minutes to the hiking, biking and x-country ski trails of the Mohonk Preserve, Minnewaska State Park and Sam's Point Preserve! Under an hour to the hiking trails and ski slopes of the Catskill Mountains including Hunter Mtn., Belleayre, Windham and Plattekill. Make this your base camp for all of your year round outdoor adventures. The villages of Stone Ridge, High Falls, Rosendale, New Paltz and Rhinebeck are all close by. Popular nearby festivals include the Rosendale Street Fair, The Woodstock Film Festival, Ulster County Fair, Dutchess County Fair and HITS horse shows in Saugerties to name a few. And of course don't forget to check out HudsonSailing!
Dan's house is exactly as described; magnificent. A wonderful combination of the lush and tranquil environment mixed with the vibrant and thought-provoking art and space. The kitchen is a wonderful place to prepare a meal and the house great places to relax both inside and out. Dan was an excellent host and was very accessible yet offered complete privacy. Bring plenty of food an wine and you will never want to leave.
Tom
2015-08-03T00:00:00Z
I don't want to leave a good review because I don't want this gem to be found out! :) This house was beautiful. Spacious, bright, and tons of beautiful art throughout. The fireplace made it extra special - and Captain Dan was an excellent host. I'd definitely come back here again.
jessica
2016-10-09T00:00:00Z
A fabulous place. Artistic and unique. Host is very nice. Response quick.
Johnny
2017-01-22T00:00:00Z
Quick response. Clear instruction. Overall very clean and beautiful house.
Ling
2016-10-23T00:00:00Z
This was one of the most magical airbnb experiences I've had. Dan's home is breathtakingly beautiful, with every detail accounted for to create the most comfortable and most spectacular surroundings. The interior actually feels much larger than the pictures--it almost feels like you are inside a museum, yet the comfy couches, fireplace, heat, and other details make it still feel cozy. The grounds outside are unreal--an expansive landscape with beautiful sculptures dotting the land. We didn't take advantage of the fire pit outside, but the indoor fireplace, enormous kitchen, and excellent sound system in the house made for the perfect lazy Saturday night, and luckily it was still warm enough to enjoy the stars under clear skies from the upper balcony. We also really loved meeting Dan, who was there to greet us when we arrived and to say goodbye as we were heading out--a very warm, generous guy who we're lucky to have met! Extremely comfortable and memorable stay for us as 3 couples, though the home is large enough for many more. Will definitely be back if Dan will have us!!
Elaine
2015-11-09T00:00:00Z
Best Airbnb experience ever! Interesting large sculptures throughout apartment and yard. Plenty of beds to accommodate large groups. Open kitchen, dining, living room with fireplace and large windows to let in the day and moon light. Extremely good value. Dan very helpful answering questions prior to booking, check in and out. We'll be back!
Tracey
2017-03-12T00:00:00Z
Dan was a lovely host and made sure we had everything that we needed. The house itself is bright, spacious and beautiful. You feel like you've truly escaped the city (yet there's a grocery store and some cute restaurants just 5 mins drive away). Highly recommend.
Hana
2015-08-10T00:00:00Z
This estate is perfect for a weekend getaway. The artistic atmosphere permeates every room and the view from the magnificent living room is priceless. Couldn't have found a better place to chill with a friends with food and wine. Will visit again for sure :)
Chris Seungwook
2017-02-26T00:00:00Z
Tipo di stanza
Intera casa/apt
---
Tipo di sistemazione
Casa
---
Può ospitare
6
---
Camere da letto
Stone Ridge, New York, Stati Uniti
Set half a mile from the road on 19 acres of meadows and woodland, this very private 3-bedroom property is perfect for your Catskills getaway. With large pool, fire-pit, BBQ, trampoline and your own pond and creek. Great for families with young kids.
Our home is perfect for entertaining a group both indoor and out and has ample space for kids to play, including a playroom on the first floor and a huge basement with a ping-pong table and home gym. The kitchen is open plan and looks out to both a formal dining room and a breakfast nook that overlooks the grounds. During the colder months we have a wonderful wood burning stove in the open lounge area which becomes the heart of the house in winter. Perfect for relaxing in front of after a long day of skiing or hiking! There is a great sound system for use in this room too. There is also a separate TV room with comfy couch, blu-ray player and movie collection. A home office is also available should you need to work during your stay. The master bedroom has a queen sized bed and balcony that overlooks the pond. The guest room also has a queen sized bed and a wooden crib for small children. Then third room is our "kids room" and has two twin bunk beds that sleep 4 - these are better suited to children or teenagers. There are 3 bathrooms, each with a shower and the main bathroom on the first floor with a spa bath that also overlooks the pond. Wander the grounds down to the creek that runs through the woods, or take the boat out on the pond and check out the fish! The fire-pit is by the pond and has two big benches -perfect for smores and a glass of something. The property has a hill that is perfect for sledding on in the winter.
The house is very secluded with only one neighbor 3 minutes drive away. We are 5 minutes from the lovely towns of Stone Ridge and High Falls. 45 minutes from Catskills ski areas.
We recently stayed at this wonderful Stone Ridge home for a long weekend to celebrate the 4th of July. Our entire family had the best time and couldn't have been more comfortable throughout our stay. The yard is beautiful. The swimming pool was definitely a high light! My two boys jumped all their energy out on the trampoline and basically collapsed every evening from a full day of outdoor playtime. It did not rain during our stay but if it had then I was thrilled to see all the fun toys that the boys had to entertain them in both the basement playroom and the main floor playroom- it was a lego wonderland. The beds are super comfy and the overall feel of the house could not have been more welcoming. I am honestly afraid to write too many more good things here because I secretly want this home to be available for all of our upstate vacations. But the right thing to do is tell everyone about this incredible home!
kate
2016-07-06T00:00:00Z
We rented this house for one week in July with our in-laws and two kids under 6. It's extremely well laid out and comfortable. The kitchen and eating areas are wonderful and flow seemlessly into the living space and on into a large and bright kids playroom stuffed with Legos and trucks. My 2.5 year old son would have happily spent the whole week in there. The house is utterly private with huge starry skies at night,a wraparound porch to sit and watch thunderstorms from. The pool is another great plus. The trampoline too. My kids were in heaven. The adults enjoyed exploring the local area, waterfall hikes, eateries and back roads. Murray was faultless in responding by text or email and all of his instructions were clear and straightforward. I'd love to see it in the Fall!
Chloe
2016-07-14T00:00:00Z
Tipo di stanza
Intera casa/apt
---
Tipo di sistemazione
Casa
---
Può ospitare
8
---
Camere da letto
Stone Ridge, New York, Stati Uniti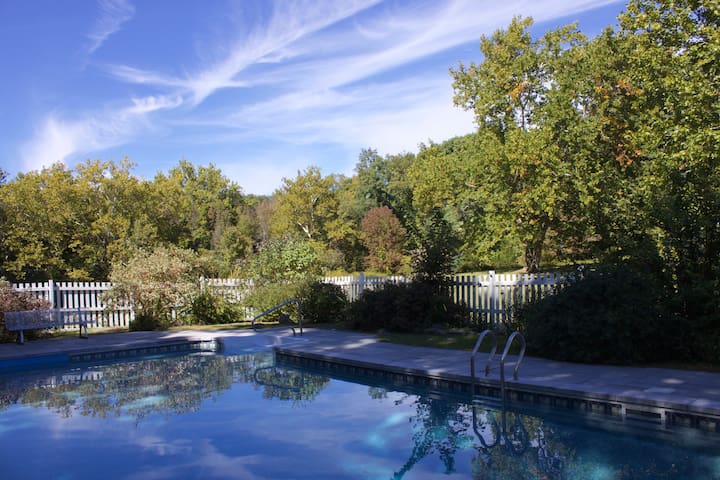 Adorable former carriage barn turned guest house, featuring barn wood paneling, rustic beams and original wide plank floors. This rustic farm house is nestled in the Hudson Valley between the Catskill and Shawangunk Mountains. Close to Minnewaska State Park and Mohonk Preserve with hiking, biking, and skiing, just minutes away.
The 200+ year old carriage barn has been converted into a warm and inviting guest house. With hand hewn beams and original wide plank floors, it retains its original charm but has been updated with modern amenities and includes a king bed, queen bed and sleeper sofa. An entertainment center includes 40" TV with dvd player with an assortment of dvd's are available. The private bathroom is complete with bath products, hair dryer, plush towels and bathrobes for your convenience. There is a kitchen table, microwave, Keurig coffee station with a variety of coffee and tea, as well as a mini refrigerator stocked with bottled water for your enjoyment. We know how wonderful it is to share a vacation with your pet. That's why we have made the Carriage House a dog friendly accommodation. As a pet guest your dog will be pampered with: Plush dog beds Bowls for food and water Pet towels Canine Crunchies - Our very own homemade dog treats - recipe included! *Pet policy applies - $35 pet fee + $150 refundable security deposit
Located in the Rondout Valley and nestled between the panoramic Shawangunks and the majestic Catskills, you are situated perfectly to enjoy a variety of activities including hiking, biking, rock climbing or simply relaxing in the beauty of the countryside. Minnewaska State Park and Mohonk Preserve offer miles of hiking and biking trails and the famous Mohonk Mountain House with it's world renowned spa offers those wishing for a little rest and relaxation a lovely respite. With natural swimming holes, nature and bike paths, and world famous rock climbing, it is the perfect getaway for anyone looking to enjoy the outdoors or just simply relax!
We enjoyed our stay at Elm Rock while attending the Winter Hoot in Asokan Center. In addition to leaving delicious cookies and pastries, homemade treats were left for my dog. Mark provided a wonderful breakfast each morning in the dining room while a fire kept us warm and cozy. I would recommend Elm Rock bnb.
kathleen
2017-02-04T00:00:00Z
In a nutshell: you are getting the quality and style of an established, professional bed and breakfast, with Airbnb flexibility and value. The space is remodeled, clean, and private, with a vaulted ceiling and original wood beams. As other reviewers have said, the pictures do not do it justice. It is nestled in a private location on beautiful large garden-like area outside of town. Only 10 minutes away there is so much to do and explore, including the Mohonk Preserve and the village of New Paltz. We cannot rave enough about the owner, Mark. Mark met us when we arrived, and every morning in the main house we were served the most amazing breakfast made by this Master Chef (vegetarians, carnivores and children in our party of six all raved about the food). Daily, Mark laughed with us, drew maps, offered tickets and helped us plan our day. If that weren't enough, each day when we returned, we were greeted to fresh baked goods catered to our room. Do not hesitate to book this property -- it is hosted by kind and generous folk, who are professionals -- in a convenient and beautiful location. You are getting an amazing value here!
Marc
2016-08-12T00:00:00Z
Kimberly and Rick were wonderful hosts! We found this air bnb last minute just before going to pick up our daughter at camp. When I requested information they responded right away and answered all the questions I had. The picture of the carriage house just doesn't do it justice, the place is way cuter in person and on the same beautiful property as their bed and breakfast. The property is absolutely beautiful. A shaded, lawn is dotted with tall, mature locust trees and garden beds overflowing with ferns and flowers. The hammock next to the carriage house was exactly what I needed after a 5 hour drive, and although the house is near the road, the property extends back and offers privacy and peace. The carriage house itself was charming and the beds were VERY comfortable and pretty. The floor plan is open but easily made private by the curtains you can pull across to make "rooms". Our dog was welcomed with dog treats, dog bowls for food and water and her choice of two, plush, dog beds. We were welcomed with delicious morsels of cheese cake and chocolate chip cookies and other snacks, including bottled water. I've never stayed in an air bnb that treated you like guests of a really nice bed and breakfast. Speaking of breakfast, it was included and out of this world! Breakfast was at the long table in the bed and breakfast dining room, which was sunny with a pretty view. They made a smoothie for our 1 year old and really kindly made hot chocolate for our 10 year old when he asked. The two course breakfast was delicious. We were welcomed with hot coffee, orange juice and berry smoothies, and a first course of yogurt, granola and fresh berries. I wish I had taken pictures to share. The presentation was really lovely and consistent with a kitchen run by a CIA grad and a current student from CIA. The second course of seasonal veggie quiche, and family style bacon and sausage was really tasty. I was so surprised that this spontaneous air bnb find yielded such a gem of a place! I recommend it highly, and will be booking to stay there next summer when we pick our daughter up from camp again.
Emlyn
2016-07-24T00:00:00Z
Loved the red barn and delicious breakfast that was included.
Gigi
2017-02-21T00:00:00Z
We really enjoyed our stay here. The grounds are absolutely beautiful. Our favorite part was that the hosts were able to accommodate our vegan diet for the breakfast. They clearly put a lot of love and care into their food.
Marie
2016-09-02T00:00:00Z
The ElmRock Inn was beautiful. The main room had a real fire going at all times and was elegantly decorated for Christmas. Our breakfast exceeded expectations and was a highlight of our trip to Stone Ridge. Mark and Kimberly were also very lovely to talk to and gave wonderful recommendations of things to do in the area. I would definitely come back to stay!
Megan
2016-12-11T00:00:00Z
Secluded, 20 minutes from Mohonk Mountain House, old barn feel, super comfortable beds, amazing breakfast. Mark and Kim were great hosts and very accommodating to special requests.
Tyler
2016-12-18T00:00:00Z
We really enjoyed the carriage house! We did a girls weekend getaway there. It was cozy and clean and perfect for us. The grounds are really beautiful, the host made a fire in the fire pit for us. We drink some wine there before we went out to dinner which was lovely. The breakfast each morning was really great and well done. Mark certainly knows what he's doing!! We recommend going to Elm Rock!
Meghan
2016-11-06T00:00:00Z
Tipo di stanza
Intera casa/apt
---
Tipo di sistemazione
Casa
---
Può ospitare
6
---
Camere da letto
Stone Ridge, New York, Stati Uniti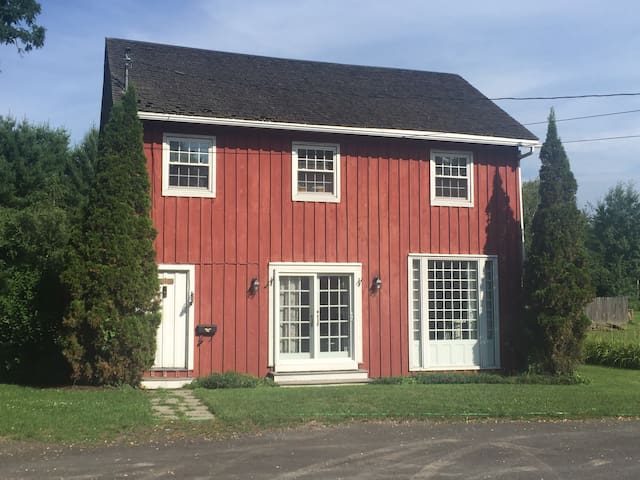 Our newly renovated home is situated on 4 acres of private property, just two hours north of NYC. The house is a short drive from Woodstock, the Catskills and Shawangunk mountains. It's perfect for any weekend get away or vacation with family and friends. **Check out our Instagram @thebeaverinn
We recently renovated our beautiful home the summer of 2016 with brand new hard wood floors, furniture and amenities. Its open floor plan and design allows for multiple guest to enjoy large dinners and entertaining. With multiple bedrooms and large beds, everyone will enjoy a comfortable nights' sleep. Our space is kid friendly with a fenced in backyard/pool area, tree house and finished basement with a pool table. There are numerous places to sit and relax such as the sunken living room with large TV, Apple TV, HBO go/Netflix/FX subscriptions, formal living room with a large sofa, cozy fireplace and 2 large reading chairs and ottomans. Our kitchen island seats 3 comfortably with a large round kitchen table that seats 8 conveniently beside it. The formal living room has yet to been used but seats 8, in addition to the dining room table in the screened in porch. Our pool is closed for the season however the outdoor jacuzzi is up and running, perfect for cool nights. Plus, 3.5 baths makes getting ready for multiple family members super easy! The house also has two fireplaces, one per living room. Check out our Instagram @thebeaverinn for more Photos! Tag your personal pics at our home and receive 10% off your second stay
Our town is quaint and quiet. We are a short ride away from local amenities like wineries, hiking in the Shawangunks, skiing in the Catskills and relaxing in Woodstock.
The house is really wonderful especially the living areas with the outdoor jacuzzi and the fireplaces. The hosts were very helpful and accommodating. A must for a retreat in family or with friends.
Ines
2017-01-16T00:00:00Z
The house was very nice and beautifully decorated, we had a great weekend getaway. It was the perfect size for 10 people.
Jess
2017-03-12T00:00:00Z
Joseph and Michelle's house was great for a weekend with friends. Spacious with plenty of bedrooms, the house was clean, full of amenities and conveniently located close to the more scenic parts of the Catskills. Joseph was very responsive throughout the weekend whenever we had questions. He even pre-heated the jacuzzi and left us a gift basket with cookies. Along with the fire place and a fully-stocked kitchen, the house has everything you need for a great weekend with a group of friends or family.
Christopher
2017-01-22T00:00:00Z
Joe and Michelle are amazing hosts. Their house is gorgeous and has everything you could want - for us it was the fully stacked kitchen, wood burning fireplace, hot tub and pool table. There were ten of us total and we never felt cramped hanging out in all of the cozy rooms. It was really a trip straight out of the movies complete with snow, sledding and a snowman. As for the hosts, Joe and Michelle were very responsive and had a great manual for us to look through beforehand. They made great restaurant recommendations and even welcomed us with a lovely gift basket and a special champagne delivery for NYE. We can't wait to come back in the summer and spend some time in the pool and hopefully make this the place to go with our friends every year.
Jessica
2017-01-01T00:00:00Z
This house was beautiful and exactly as it is depicted. My friends and I enjoyed the open floorplan downstairs and the great fireplaces. Joseph was very helpful and quick to respond. The house is out in the country and was a perfect escape from the city. I will definitely be back again in the summer to enjoy the pool and hot tub!
Amanda
2016-12-04T00:00:00Z
If you're looking for a quiet, peaceful getaway, this is the perfect place. The home is beautiful, set on a large property offering a number of different activities to do: hot tub/pool, game room with darts and pool table, sledding, hiking, etc. The hosts were incredible: very quick to respond to email during our stay and made the home very welcoming for us.
Trey
2017-03-19T00:00:00Z
My family and I had a wonderful stay. It's a beautiful home with all practical amenities of your own home. Michelle and Joseph were wonderful and very welcoming.
aria
2016-12-28T00:00:00Z
This house was so beautiful. The intimate living rooms with fireplaces made a cozy spot to enjoy a glass of wine and talk while the kids were asleep. The downstairs finished basement is like a little apartment. Great for the kids to crawl around and play. The hot tub was wonderful. I don't have enough nice things to say about this rental. We enjoyed everything. They are generous hosts, with a cozy home that was so wonderful.
Lindsy
2017-02-19T00:00:00Z
Tipo di stanza
Intera casa/apt
---
Tipo di sistemazione
Casa
---
Può ospitare
10
---
Camere da letto
Stone Ridge, New York, Stati Uniti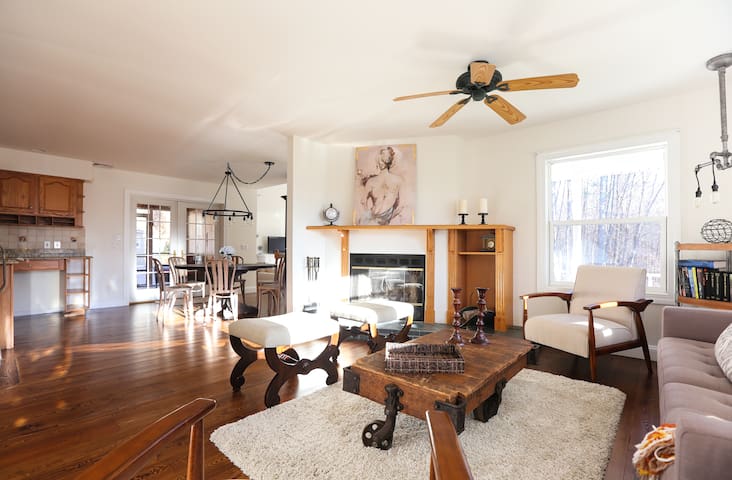 Welcome to your winter wonderland. Serenity lives here, a stunning 1877 Dutch Colonial home in Ulster County's finest road. Recently renovated Frangipani House sits on over 6 acres of glorious gardens, a large porch with swing, many places to relax and unwind. Close to Belleayre, Hunter and Thunder ridge skiing, or sled in the back, build a snowman or throw a few snowballs.
Frangipani House, an 1877 dutch colonial home set amongst 6 acres of gardens. Recently renovated the house offers numerous bedrooms, 3 bathrooms and multiple areas to relax and enjoy the serenity, platy of space for the whole family.
The house is perfectly situated within a 8 minute stroll to the main street with coffee, fresh produce and a few lovely restaurants. There are also a few orchards for apple and pumpkin picking nearby.
The Frangipani House is beautiful with all the amenities you need but in an idyllic country setting. It is a great getaway and perfect to relax and unwind. Roger is a great communicator and gave us all of the information that we needed. Stone Ridge is also a great little town and there is New Paltz and Woodstock just a few minutes drive. If you do need to stay connected, the internet was great. Overall, a beautiful house and grounds at the Frangipani house. I'd recommend to all.
Leander
2015-06-16T00:00:00Z
Roger's home was beautiful, clean and spacious. We spent a lot of time hanging out in the adorable kitchen nook and the comfortable living room. And all the bedrooms were cozy and comfortable. The kitchen was also well equipped for all our Thanksgiving cooking needs. Our party included two small children and four adults, and there was plenty of room to spare! We would highly recommend the home to anybody looking for a roomy but cozy country getaway.
Michelle
2016-11-30T00:00:00Z
We had a wonderful time at Frangipani House!! Roger has been very helpful before our stay by helping us find a very good catering service and putting up a xmas tree, which was perfect for the children! The house is as described in the pictures : big (we were 8 adults and 2 children), charming, peaceful and very comfortable with everything you need. The garden is big too and we even saw deers in the back yard.
Diane-Charlotte
2015-12-31T00:00:00Z
A nice house on the most elegant street in the area.
Sebastian
2016-10-30T00:00:00Z
This was a wonderful home in which to hold our reunion and Roger was most attentive and available without being overly so. It is a perfect house for large groups. The pictures on line showed only 4 bedrooms, but actually we found there were 6 bedrooms to sleep 10 easily without using the futon in the office or the great sofa in the living room. We also discovered a new full bathroom with a shower in a lovely finished basement, which gave us 3 bathrooms. I was concerned there was no air-conditioning but the house was very pleasant due to high ceilings, great shaded porches and a ceiling fan on the 3rd floor. We were very comfortable during our entire stay. The large living room/ dining room and very modern kitchen were perfect for our group. Stone Ridge is a lovely town, quiet and historic. I hope to come back one day for another visit.
Caroline
2016-09-07T00:00:00Z
We had a wonderful stay at the Frangipani house. The hosts were very welcoming and accessible. The house itself was beautiful and could easily accommodate many more than our family of 4. It was also centrally located, being in easy reach of many towns and activities. We made good use of the prime location, easily visiting Woodstock and New Paltz and several hiking destinations. I should note that at the time we visited there was no a/c, so you might consider that if you are visiting during the warmest months.
Melissa
2015-09-09T00:00:00Z
What an experience! Roger was a great host, the house is fantastic, the property is large, quiet, secluded and close to Stone Ridge (what a great combo!). We couldn't have had a better place to spend a weekend.
David
2016-09-26T00:00:00Z
It was lovely renting Frangipani! The house is a convenient set up for a large family and guests, with comfortable rooms and a lovely (child friendly) property for all to enjoy. I didn't have nearly enough time to relax in their hammock and porch swing and would love to return some time to do so! I highly recommend this property, it's close by so many beautiful walks in and around the New Paltz part of the Catskills. After a nice long hike, one couldn't ask for a nicer place to rest and enjoy good company!
Samantha
2014-10-21T00:00:00Z
Tipo di stanza
Intera casa/apt
---
Tipo di sistemazione
Casa
---
Può ospitare
8
---
Camere da letto
Stone Ridge, New York, Stati Uniti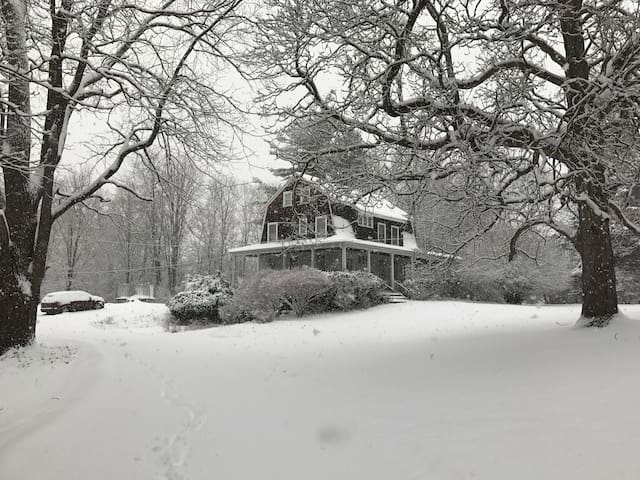 Classic country Catskill getaway near NYC. Great for hiking, skiing, fishing, or just hanging out with friends. Back and front yards delightful for kids. Good restaurants and shops in quaint towns nearby.
Classic country getaway, great for hiking or just hanging out with friends on the front deck. Back yard great for kids, outdoor dinners. Good restaurants and shops in quaint towns nearby. Perfect escape from the city, with big back yard, two bedrooms, full kitchen, wood floors, tasteful modern country decor. Nearby rail trail and hiking at Mohonk Preserve with spectacular views of Catskills. Minutes from great restaurants and charming towns of Stone Ridge, Rosendale, High Falls, and New Paltz. Home is on a quiet dead end road but a short ride to Davenport's Farm stand where you can pick up local produce in season, a copy of the NY Times, fresh made coffee and donuts and other essentials. Help yourself to fresh herbs growing in the front yard garden during warm season. Use them to cook delicious meals in the full kitchen, or treat yourself to dinner in one of the good local restaurants. House has wireless internet and cable television. A short walk from the house takes you past a flower farm, angus cattle grazing on the hillside, antique farm equipment, and corn fields. Amazing views during fall foliage season. The house is about 1 hour, 45 minutes from the George Washington Bridge, and 25 minutes from the NYS Thruway. The house is in a rural area, so you'll need a car. There is a bus (Adirondack Trailways) from NYC to Rosendale, NY, which is a ten minute drive from Stone Ridge, for friends who want to join you. Host will check in with guests prior to their arrival and be available by phone, text and email, but we will not likely meet in person. This house is on a quiet country road and it's likely you won't see anyone during the day except possibly the immediate neighbors briefly. You will need a car.
This house is on a quiet country road and it's likely you won't see anyone during the day except possibly the immediate neighbors briefly.
If you are in need of peace and quiet and want a cozy, relaxing space, then this is the place for you. It was an ideal base for us to explore the area - went to Kingston for a long lunch on the waterfront Dur By a rainy day, hiked in Minnewaska, checked out a farm in Accord, shopped in New Paltz. Stone Ridge is lovely place too! Alice was easy peasy to deal with and it was clear from the notes scattered around her home that she wanted you to feel at home.
alana
2016-08-18T00:00:00Z
We had a wonderful time at Alice's place. The rooms were clean, simple, and elegant, and the amenities were exactly as described. We did not see Alice during our stay, but she left very nice helpful sticky notes in the right places that effectively answered the questions that came up about those places. We had a little trouble finding her place when we arrived in the dark because there is no number on the house itself, just on the mailbox by the road. The area is very quiet with few cars coming by. A short drive of about 1.5 miles to get to the start of markets and things in town. Alice made excellent food recommendations, including A Tavola in New Paltz which was the highlight of our cuisine from the trip. In general, a very nice place to stay!
Miranda
2014-05-27T00:00:00Z
Alice's house offered a refreshing break from our Brooklyn life- a haven, indeed! The house is lovely, with all sorts of thoughtful details that made our stay very pleasant. We appreciated the modern touches, while being immersed in the quiet of nature. The house is in a quiet area, near lovely farmland and winding country roads, but not far from trails, old sites, and country markets. Our toddler loved sleeping in the little child's bed. Alice was very responsive and left helpful notes around the house. We would definitely like to come back!
Lucia
2014-08-05T00:00:00Z
This was the perfect AirBnb experience. Not one glitch in the entire process. Beautiful house with a lovely yard and total privacy. I could not have asked for a better experience. AAAAAAAAA+ host. I highly recommend Alice's place!
Pat
2016-07-17T00:00:00Z
The house was located in a quiet area near open fields but still close to shops and restaurants. The house was very cute, comfortable and cooking was a pleasure. Everything you needed was there so meal preparation was a breeze. I very much enjoyed the literature that our host had which gave a lot of information of the area including shops, farms and restaurants. Looking forward to staying here again in the future!
Susan
2016-10-30T00:00:00Z
Alice's Hudson Valley Haven was exactly as advertised. It was quiet and very clean, and the perfect place for our family to escape from the city. My son loved picking raspberries in the backyard. It's a great place for couples or families with children. It's on a very quiet road, but only a few minute's drive to town.
Amber
2016-09-06T00:00:00Z
Alice was easy to communicate with during the booking. There was no need to communicate while we were there because she made everything so clear. The house is very clean, comfortable, and homey. We settled right in easily. And we loved exploring the woods in the back of the house with our kids!
Kristen
2016-12-04T00:00:00Z
Very quite and safe area. Would stay again. Alice was very easy to get a hold of via text message and made check-in simple. All the rooms are spacious and comfortable and beats a hotel any day. Grocery store is only about 5 minutes away along with a dunkin donuts and a solid pizza shop called Benny's. If you want more restaurants and shopping its about a 20min drive into Kingston. Notes worth mentioning: The kitchen stove, microwave, and TV are in definite need of updating.
Nate
2016-05-30T00:00:00Z
Tipo di stanza
Intera casa/apt
---
Tipo di sistemazione
Casa
---
Può ospitare
4
---
Camere da letto
Stone Ridge, New York, Stati Uniti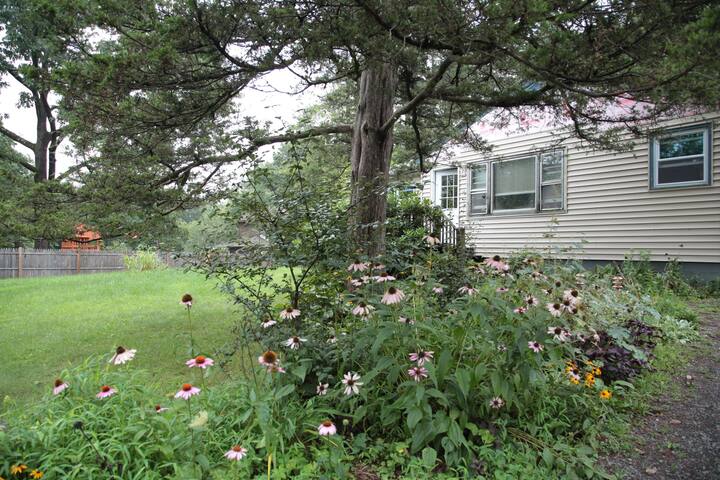 Converge for a reunion, or gather kids &dogs for a month in the country at our 4500+-square foot, 6-BR, 5-bath 1840 farmhouse on the banks of the Kripplebush Creek. The spacious, rambling old house features a rocking-chair front porch, screen porch, music room (keyboard, piano, harpsichord), giant eat-in kitchen (with couch!), DR seating 10, LR with 1860 hearth. It's set on 3 grassy acres with tire swing, trampoline, glider, fire pit & grill. 2 hrs N of NYC, between Catskill & Shawungunk mtns.
Converge for a family or college-roommate reunion, or gather the kids, grandkids and dogs for a month in the country in our 4500+-square foot, 6/7-bedroom, 5-bath 1840 farmhouse on the banks of the Kripplebush Creek. The spacious, rambling old house features a rocking-chair front porch, screen porch, music room (keyboard, piano, harpsichord), giant eat-in kitchen (with couch!), dining room seating 10, and living room with 1860 hearth. There is even an adorable extra kitchen! It's set on 3 grassy acres punctuated by the Kripplebush Creek, two patios and a tire swing. We adore our rambling, eccentric, heimische home next to the creek, where the wild turkeys gather in the grey dawn, and where we once found a crayfish in the clear, cold water. So many touches charmed us during that first walk-through with our realtor: the tire-swing in a backyard tree, the wooden slat bridge leading across the creek into the woods, the couch that made the spacious kitchen seem so cozy, the bedroom with an artisanal (and working!) pottery sink, the attic proportioned like a yoga studio, the virgin-forest 18-inch pine floorboards in the master suite, and the wood-clad 'Cabin in the Sky' that eventually became our music room, concert hall, and songwriting studio. The house contains beds for 9, but comfortably sleeps up to 16 guests, including a Baby Bjorn travel crib for a child 0-3. And if you don't think you're looking for such a large place for your small family's vacation, know that our family of three regularly enjoy ourselves here without feeling as if we are knocking around in a deserted castle; this is a homey, warm house, which easily accommodates groups of any size without anyone feeling either isolated or crowded. We are located two hours north of NYC, and accessible by car, Trailways bus (to nearby Rosendale), and both Amtrak and Metro-North rail lines to Poughkeepsie. We are 15 minutes from Kingston, 20 minutes from New Paltz, and 30 minutes from Woodstock. The Hudson Valley is an all-seasons destination, with downhill and cross-country skiing, hiking, river tubing, sledding, fruit-picking, leaf-peeping, shopping, farm-to-table and fine dining, a vibrant folk, rock, and classical music tradition, art galleries and open studios, antiquing, scenic walks, historic sites, unique small museums, farmers' markets, and beautifully-preserved Colonial-era architecture. The area is defined as much by the Hudson River as it is by its twin mountain ranges (Shawungunks to the east, Catskills to the west). Or just hang out near home: hike into the woods to find ruined stone walls, pack a picnic and walk the creek to the local Schoolhouse Museum or beyond, play the piano, cook a fabulous meal in our welcoming kitchen and enjoy it with 10 of your closest friends around our dining table made from a reclaimed bowling alley, or sip a glass of wine on the screen porch while night falls and the crickets sing a duet with the creek.
The Hudson Valley is an all-seasons destination, with downhill and cross-country skiing, hiking, river tubing, sledding, fruit-picking, leaf-peeping, shopping, farm-to-table and fine dining, a vibrant folk, rock, and classical music tradition, art galleries and open studios, antiquing, scenic walks, historic sites, unique small museums, farmers' markets, and beautifully-preserved Colonial-era architecture. The area is defined as much by the Hudson River as it is by its twin mountain ranges (Shawungunks to the east, Catskills to the west). Or just hang out near home: hike into the woods to find ruined stone walls, pack a picnic and walk the creek to the local Schoolhouse Museum or beyond, play the piano, cook a fabulous meal in our welcoming kitchen and enjoy it with 10 of your closest friends around our dining table made from a reclaimed bowling alley, or sip a glass of wine on the screen porch while night falls and the crickets sing a duet with the creek.
It's not easy to find a home with 5+ bedrooms and bathrooms. But only was this house accommodating, but it has so much character that it's impossible not to have an enjoyable time.
Jason
2016-11-06T00:00:00Z
This rustic, charming and rambling house and grounds were lovely and what we were expecting. This was the perfect base camp to explore the surrounding area, including New Paltz and Woodstock. Tons of rooms in the house and places to unwind alone or with your family.
jody
2016-07-06T00:00:00Z
Everything went very smoothly! The house was great - plenty of space for all of us, great location to get to the state parks for hiking and seeing fall colors!
David
2016-10-30T00:00:00Z
We brought a group of 10 to stay at Jennie's place, and we absolutely loved it. There are so many different rooms and nooks; we could spend time all together or find some privacy. The backyard was great with a tire swing and fire pit and woods to explore. We say deer wander by in the backyard each morning. We also loved the couch in the kitchen - so cozy to hang out while people were cooking. We definitely recommend Jennie's place and would love to go back someday.
Sara
2016-11-13T00:00:00Z
Jennie did everything to make our stay a pleasant one. She was very accessible and gave us a list of people to call with any problems. My family truly enjoyed our time together. There was space for each of us to have any alone time we needed. The children went to the creek and found a turtle and crayfish. We enjoyed a barbecue and even the dog had a good time!
Bernadette
2016-08-22T00:00:00Z
Jennie's place was perfect for our family Christmas celebration - lots of room for everyone, a nice spacious dining room, lots of cozy little nooks to curl up and relax in. She was very responsive when we had questions. This is a great place for big groups--we were 7 adults and could have slept 4 more--and a great place if you like to cook.
Sarah
2016-12-28T00:00:00Z
The Stagecoach Inn is a lovely house with a gorgeous backyard and plenty of spacious rooms. We were 6 people and had ample room to spare. Jennie was quick to reply and made sure we had everything we needed. Would certainly recommend to anyone needing a weekend escape from New York City.
Lena
2016-07-25T00:00:00Z
It was a unique, spacious home -- perfect for larger gatherings of friends/family. My friend and I were jointly celebrating our birthdays with some of our friends. Everyone enjoyed their stay and even suggested we do it again next year! We went while it was snowing so we were not able to utilize the backyard, but it was still beautiful. Close to cool shops and a plethora of hiking trails. The kitchen could have been cleaner. That aside, we made great memories in Jennie's place.
Jessica
2016-12-18T00:00:00Z
Tipo di stanza
Intera casa/apt
---
Tipo di sistemazione
Casa
---
Può ospitare
11
---
Camere da letto
Stone Ridge, New York, Stati Uniti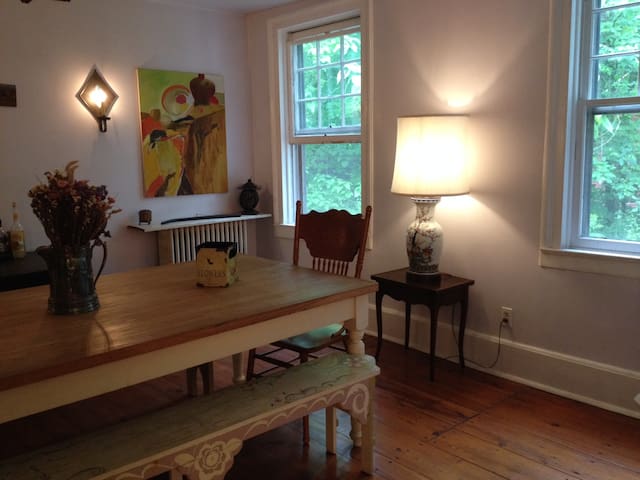 Come enjoy the quiet comfort of a country retreat in a private bedroom in a 1920's Craftsman bungalow. Located in the quaint historic village of Stone Ridge, it is the perfect home base for exploring all that the wonderful Hudson Valley has to offer.
A private bedroom on the main floor with a queen sized bed that can comfortably sleep two, in a house with a friendly, open atmosphere. Just outside the town center of Stone Ridge, across the street from the Enneagram Institute, and near the Rail Trail, historic and trendy Kingston is only eight miles away. World class hiking and climbing can be found in the Mohonk Preserve, a 15 minute drive from town. Hip college town New Paltz is 15 miles away, and artsy Rosendale is only 5 minutes down the road.
This was a great airbnb. The location was perfect and the room was very comfortable. There were delicious pastries each morning along with coffee. The property was beautifully situated with lots of open space. Would definitely recommend.
Sarah
2016-07-05T00:00:00Z
It was a real pleasure meeting Jane. I was there for work and after seeing her place, wish I'd stayed longer to really explore the area. She was very welcoming, and accommodating. The room felt thoughtful and the fact that she took the time to provide pastries in the morning as well as coffee was very kind of her. Would stay here again ANYTIME! Thank you Jane!
Caroline
2015-09-27T00:00:00Z
Jane and Jan made my friend and I feel very welcome. The house was clean and comfortable and the cats added an extra homey feel. We had an excellent breakfast selection of bagels, danishes, cookies, and other gourmet pastries.
Jen
2015-05-25T00:00:00Z
Jane's beautiful home is the best place you can stay for your trip to the gorgeous Hudson Valley no matter what time of year! Staying here in the winter put us in the most beautiful place for snow shoeing, exploring local businesses and unwinding from everyday life. You're a short drive from so many wonderful places including Mohonk, Lake Minnewaska, New Paltz, Main street Stone Ridge, and many others. The room and bed were comfortable and bathroom and kitchen very clean! I would highly recommend staying here!
Chelsea
2017-02-20T00:00:00Z
Jane was a wonderful host who went above and beyond to make sure my son and I had a relaxing yet adventurous break. The house is lovely and cozy. Bonus: there are a swing set and tree house in the backyard!
Jen
2016-04-28T00:00:00Z
Our stay was fantastic! The house is charming and clean, and the rooms were more spread out than I expected. Jane is a wealth of knowledge about the area, and both she and Jan are interesting, accommodating, and generous. We ended up chatting around the kitchen table into the wee hours -- it was like visiting with old friends. Highly recommended!
Clare
2014-03-10T00:00:00Z
Jane was very nice, very responsive and easy going. The house and room were clean and as described. The location was perfect for the activities I had planned for the weekend.
Paula
2016-01-24T00:00:00Z
My friends said you were an amazing host and they had a great stay. Thank you so much!
Elisa
2016-06-13T00:00:00Z
Tipo di stanza
Stanza privata
---
Tipo di sistemazione
Casa
---
Può ospitare
2
---
Camere da letto
Stone Ridge, New York, Stati Uniti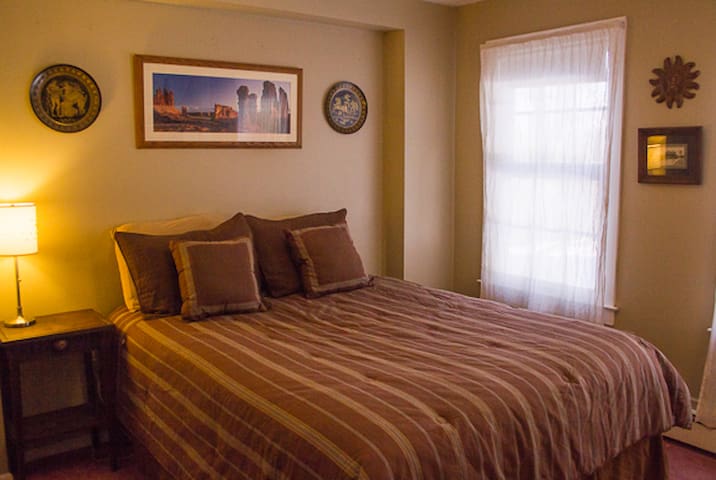 Enjoy a relaxing vacation or extended stay in this 1st floor apartment located in the heart of the village of Stone Ridge. The apartment includes 1 bedroom, full bath, full kitchen, and sitting room. There's tons to do in the area, and this location is super convenient for exploring the wide array of outdoor and cultural activities that make this area so special. Mohonk and Minnewaska, Woodstock, Rosendale, Rhinebeck, New Paltz and Kingston are all really close by!
This is the perfect retreat for one person or a couple seeking to be close to nature while staying right in town. Enjoy a walk around the corner for breakfast and yoga; drive a short distance for hiking, biking and other outdoor activities. Several guests have booked for longer term stays, and have found it a wonderfully convenient and comfortable space to rent. Your charming Hudson Valley home away from home is a 1-bedroom apartment in 2-family owner occupied historic home. Park in your private driveway with your choice of entering from the front porch or the back patio. Apartment amenities include a double bed, full Kitchen stocked with pots, pans, etc for cooking (including complementary coffee and tea. Feel free to hang out on the backyard patio, a perfect spot for summer dining, complete with a grill and patio table and view into the woods. You will find that the rear of the home is private and secluded. Perennial flowers bloom in the gardens spring through fall. Free internet access is included, and there is no television.
I'm in an ideal location, right in the center of Stone Ridge, where there's a grocery store, wine store, pharmacy, restaurants, a gym and yoga classes. If you prefer not to eat in, there are an abundance of restaurants in the area. Just walk up the road for Japanese or Chinese food at Asia or Momiji, enjoy bagels from Bodacious or dine at the cozy Roost diner. (They even serve Stumptown Coffee!) Regionally there are many awesome restaurants to choose from. All of the local towns are delightfully distinct, each with its own flavor and history. High quality art, music, and literary events abound, as well as the many recreational opportunities of the Catskills: fishing, hunting, biking, skiing, swimming, hiking. Several spiritual retreat centers are quite close, such as the Omega Institute, Zen Mountain Monastery, KTD Tibetan Monastery, Matagiri, and Menla Mountain Retreat. I am located within 25 minutes from Woodstock, New Paltz and Rhinebeck. High Falls is 5 minutes down the road, and Rosendale is only 10 minutes away.
Amy was a gracious host, ready to accomodate my needs. The house description was accurate.
Jacqueline
2015-10-15T00:00:00Z
My boyfriend and I stayed here for a weekend getaway from the City. Amy's house was spacious, clean and nicely furnished. We appreciated her flexibility with our arrival late on Friday. The apartment is a short drive from wonderful hiking and biking options, particularly Minnewaska and Mohonk parks. Thank you, Amy, for the lovely stay!
Kristen
2015-06-21T00:00:00Z
I enjoyed staying in this comfortable apartment, which consisted of most of the first floor of this 2-story house. The apartment is furnished nicely, and the full-sized kitchen is a plus. I also found the close-to-town location to be convenient, having walked to a nearby restaurant for dinner on my first night. The host was pleasant, attentive and very accomodating. Given the opportunity, I would stay here again.
Adam
2015-06-03T00:00:00Z
Amy did an amazing job making arrangements for me following a last-minute plumbing issue with the original rental. Rather than cancel the reservation, she allowed me to stay in her immaculate, well-equipped, and cozy upstairs space. There was never any inconvenience to me, and I'm truly appreciative. The house is in a perfect, easily-accessible location. Perfect for a city getaway!
Daniel
2016-10-10T00:00:00Z
Amy was amazing. Answered emails very quickly, making everything easy. The apartment was wonderful. Very clean and nicely sized. From the moment we arrived we felt relaxed. Wished we were able to spend more time there. Only there for 1 night.
brigitte
2015-05-31T00:00:00Z
My bf and I had a lovely time at Amy's place. The house is cozy and clean and conveniently located near town but off the main road. We were there for a week during winter break and very much enjoyed cooking, reading and lounging indoors. We also went hiking and antiquing, and loved all the wonderful finds in nearby towns. This is a special place, especially for those who enjoy nature, quiet, solitude and exploring away from the big city.
Sherisse
2016-01-01T00:00:00Z
My boyfriend and I had a wonderful stay here. The apartment was very clean and comfortable, and felt very secluded. The decor was charming! The area is very convenient to the Catskills and Shawangunks.
Katherine
2016-08-21T00:00:00Z
Amy was a great host and the space was cozy and bright. A great way to spend a night outside of the city. I would definitely book again!
Zach
2015-05-17T00:00:00Z
Tipo di stanza
Intera casa/apt
---
Tipo di sistemazione
Casa
---
Può ospitare
2
---
Camere da letto
Stone Ridge, New York, Stati Uniti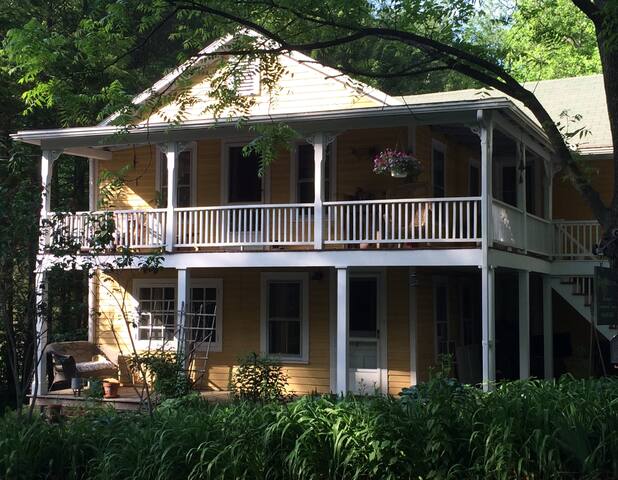 Country Bed & Breakfast Breakfast Included Wifi, Television Close to Minnewaska State Park, Mohonk Preserve and Mohonk Mountain House with many attractions including hiking, biking, skiing, ice skating, shopping, dining and farms.
Our registered 1770 brick colonial farmhouse is nestled in the peaceful countryside of the Rondout valley, between the beautiful Shawangunk Ridge and the panoramic Catskill Mountains. ElmRock Inn is the perfect weekend getaway or mid-week escape featuring 5 unique guest rooms, with private baths and fireplaces throughout. We have preserved the historic features, including the original wide plank floors, while providing you with the best in modern hospitality. Comfortable plush modern furniture, mixed with antiques and original woodwork give ElmRock Inn its unique modern boutique farmhouse style. ElmRock Inn is centrally located in the mid-hudson valley and close to all the area attractions, including the historic village of Stone Ridge and the world renowned Mohonk Mountain House. Enjoy many area attractions and activities including, hiking, mountain biking, rock climbing, down hill and cross country skiing, swimming, kayaking, and antiquing. In addition to our main house, we offer families and guests with pets, the option of staying in our cozy private carriage house featuring a lofted space with king bed, queen bed and queen sleeper sofa. You will be served a full gourmet breakfast each morning prepared by Chef Mark, a graduate of the Culinary Institute of America, served either in our beautiful Great Room or on the bluestone patio nestled amidst the organic vegetable and perennial gardens. Located in the heart of the Hudson Valley and Catskill Region of New York, ElmRock Inn is located 1 1/2 hours from NYC, 1hr south of Albany, 15 minutes from New Paltz and Kingston, and only 25 minutes from Woodstock and Rhinebeck.
ElmRock was a beautiful bed and breakfast. The owner and his wife and children were charming and very hospitable. The room we stayed in was beautiful and breakfast was absolutely delicious!
Rebecca
2017-02-19T00:00:00Z
Had an absolutely amazing time. The Bed and Breakfast was so cute and we loved the charm of the grounds, house, room, and people. Chef Mark was super welcoming along with the entire staff. Mark gave us a full break down of what to do in the area and amazing suggestions. I'll be back for sure. Oh and how could I forget the breakfast?! It was AMAZING. Super super good. There were also fresh baked cookies too :)
Taneisha
2016-09-06T00:00:00Z
Everything about my stay was perfect. Breakfast was fantastic. I will be coming back!
Rebecca
2016-10-30T00:00:00Z
Lovely Bed & Breakfast in Stone Ridge!
Andrea
2015-06-08T00:00:00Z
The breakfast was fabulous as was the room where the breakfast was served. I have celiac and Mark took excellent care of me!! Breakfast is only served at 9. If you need to be up and out early as I did a few days breakfast is continental. It served the purpose but was disappointing. Although Mark got me gluten free cereal which was very nice. Mark was great at talking w guests in the morning to help w the guests plans and making suggestions. I was grateful he suggested Huguenot street when I said I was going to New Paltz, I would have missed it otherwise. The inn is right on the highway and at least in the carriage house, which is separate from the main house, the road noise is quite loud 6 am to 8 pm, and the occasional car/truck at night can wake one up--bring ear plugs! It's a beautiful piece of property. As I say right on route 209 though. If one lives in NYC it probably seems quiet tho. There is no manager on site 24/7 and this caused some problems for myself and other guests. It got worked out. Just be aware there's no on site manager and thus if any problems occur it can be a hassle. There is no land line for guests to use and cell service is iffy and some guests didn't have cell phones. I stayed in the carriage house which was great and charming. Great bed. Spacious. Wifi didn't work in the carriage house. The stairway up to the carriage house room is steep and the treads are narrow and the railing could be beefed up. And it takes a long time to heat up the big room with the high ceilings and the thermostat is not in a convenient location. I was quite cold a few nights before we worked it out. I helped some guests get into their room in the house and saw the rooms in the house are quite small and dark. Good for sleeping! But probably not where one wants to hang out. The location is good for hiking, visiting historic sites, leaf peeping. Restaurants near by are ok not a foodies delight. That's further afield in Rhinebeck about 30 min away. While Kim and Corina were helpful and responsive to my requests, they always seemed stressed and I felt like I was imposing. Mark is responsive on his cell phone. And returns texts promptly. Everything was very clean. It seemed the inn was sort of second act that their main focus was catering. If one is looking for a place for a destination event it would be good. I'm sure the food would be great! All in all I recommend it.
Whitney
2016-10-14T00:00:00Z
Gorgeous home, all amenities have been well thought out and catered to guest's experience. Had a great time hiking, eating, and relaxing in this sweet town. Great way to unwind from the NYC city grind. Would love to return someday with friends. Thank you!
Kara
2016-08-21T00:00:00Z
Tipo di stanza
Stanza privata
---
Tipo di sistemazione
Casa
---
Può ospitare
2
---
Camere da letto
Stone Ridge, New York, Stati Uniti
This unique colonial period estate includes 5 bedrooms with 2 1/2 baths on 22 acres of strolling paths with pond. Centered in a country hamlet, dine on screened/ or glassed porches or garden terrace. Experience a rustic 1930s kitchen or local dining.
This rustic colonial dwelling is rich with history as visited by George Washington, Gertrude Stein and Jackie Kennedy.
The house is located in a charming National Historic District surrounded by farmland offering the fresh produce and plenty of outdoor activities in scenic Hudson Valley.
A very interesting house full of historical memorabilia-perfect for history buffs. In addition the area is simply beautiful with lovely walks and views of the mountains. Although we didn't meet Timothy he was always available by email and was very helpful. Peter, the person who met us, was extremely nice. He showed us around and indicated places to visit and things to do.
priscilla
2016-05-25T00:00:00Z
What is truly great about the house: it's authentic. It's not a decorated place - and I mean that as a high compliment. The rooms are filled with fascinating art, objects, books, and furniture all with meaningful stories collected over time. Dinner in the stone dining room with candle light and a big fire in the fireplace is just magical.
Sam
2015-05-25T00:00:00Z
Tipo di stanza
Intera casa/apt
---
Tipo di sistemazione
Casa
---
Può ospitare
6
---
Camere da letto
Stone Ridge, New York, Stati Uniti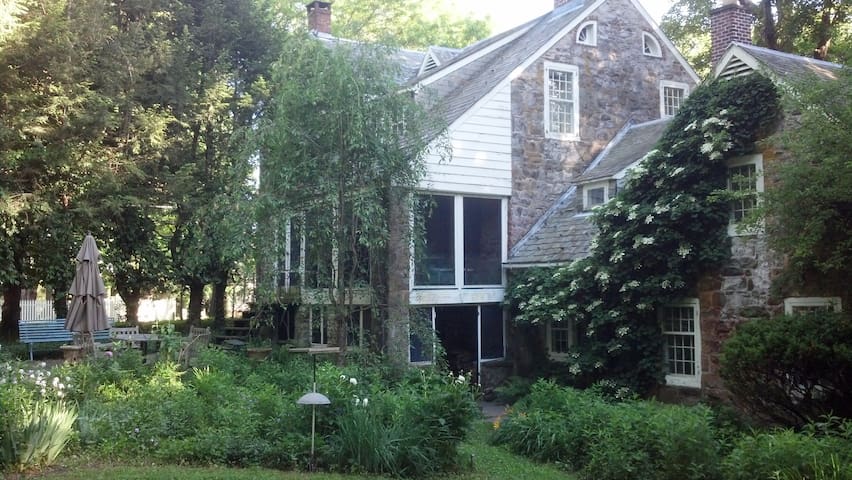 Unique historic property, furnished in 18th & 19th c. antiques, with luxurious modern conveniences. Beautiful gardens and grounds, walking distance to restaurants, shops and a rural mall, 20 mins. to Woodstock, Rhinebeck, Kingston or New Paltz
Welcome to Wynkoop House in beautiful Stone Ridge, NY. Built in 1767, Wynkoop House is the finest gambrel-roofed stone house of the Colonial period in NY State. Located 1 & 1/2 hours north of the GW Bridge. The remarkable feature about Wynkoop House is how little change it has endured. Until 1992, there was no heat, electricity or plumbing in most of the house. Much of the paint on the woodwork dates to the early 19th, if not the 18th Century. The pine floors have never been sealed, varnished, painted or refinished; just as in the 18th Century, they retain their natural, pale-gray color. Guests have access to the entire house: with a few exceptions for fine china, etc. Stone Ridge, NY in Ulster County, is a peaceful and vibrant community. A full service market, restaurant, café, and several farmers markets are a 2-5 minute drive away. Mohonk Mountain house is 15 mins away. Woodstock, NY is 40 mins away. Rhinebeck, NY is 40 mins. Direct bus service is available to Rosendale. Train service to Rhinecliff. Wynkoop House has been featured in "World of Interiors" "Architectural Digest" and several architectural history books and advertising campaigns. (Martha Stewart, Ralph Lauren paints, Neiman-Marcus, etc.) (Please do NOT use AirBnB for Advertising/Commercial PRINT Bookings. See LocationDepartment )
Gorgeous Hudson Valley/Catskills Mt area. 5 mins to Mohonk Mountain House
We really had such a lovely weekend at the Wynkoop house. It was an enchanting and inspiring space. There was always someone available if we needed help figuring out how to use the stove etc. We felt welcomed and comfortable. Thank you so much for making our destination wedding trip such a cool experience!!
Alexandria
2015-06-22T00:00:00Z
The house was truly incredible, like staying in a colonial museum. Conveniently located to town, and the grounds were so relaxing.
William
2015-09-21T00:00:00Z
The house was absolutely beautiful. Keeping true to the history of the home with the interior designing made for a fun wonderful stay that made us feel like we were living in the 1800's. Christopher was very quick with responses and checking into the house was simple.
Brianna
2014-04-18T00:00:00Z
This was my first experience using this site so we, of course, were a bit hesitant and nervous. We were looking for a place with history and charm for our private elopement and this place provided an awesome experience. Christopher communicated with us via this site and told us we would be taken care of by a neighbor. I gave her a call to confirm our arrival and she was super nice and sweet. My fiance (now wife) and her friend arrived before I did and they were taken great care of. The place was beautiful and made us feel like we were back in the 18th century with a few modern additions, of course. We definitely don't regret staying at this place and will always remember it! Thank you, Christopher!
Joe
2015-10-12T00:00:00Z
Tipo di stanza
Intera casa/apt
---
Tipo di sistemazione
Casa
---
Può ospitare
8
---
Camere da letto
Stone Ridge, New York, Stati Uniti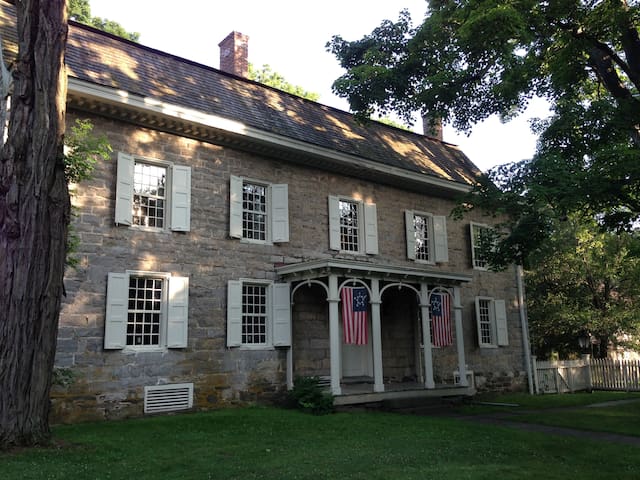 This is a real home, not a rental property. Great, natural light, very simple, as minimalist as we can be, concrete countertops, big island, great deck and stone patio, flawless wifi, endless hot water, outdoor shower, solar powered, carport,....
Stone Ridge is one of the 3 cute little towns that make up Marbletown, along with High Falls and Rosendale, which are both 5-10 minutes away. Please note: this is NOT a sprawling country estate. It has a GREAT, totally private backyard space but the house is situated in a neighborhood on 1/2 acre, and just 1.5 miles outside of the town center.
Tipo di stanza
Intera casa/apt
---
Tipo di sistemazione
Casa
---
Può ospitare
6
---
Camere da letto
Stone Ridge, New York, Stati Uniti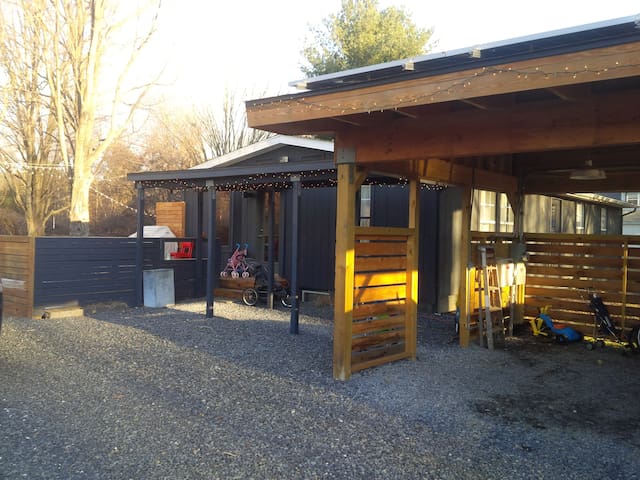 This brand new farmhouse has never been lived in and is for rent for long term or short term rentals. Tons of space for family gatherings and is furnished with stylish pieces throughout. There are 25 acres of property to explore and a swimming pool.
This brand new farmhouse has 3,200 sq. ft of stylish living space plus a 1000 sq. ft pool house. Featuring a large open kitchen with a breakfast bar, professional stainless steel appliances and chef's stove. The main floor is furnished with an eclectic mix of local antiques and high end custom pieces. This 5 bedroom, 3.5 bathroom home has hardwood floors throughout and tons of natural light. The living room has a concrete fireplace that is 23' tall. The wrap around deck has an outdoor fireplace. The house features stunning views over a large private meadow and is surrounded by forrest. A 20' x 40' in-ground, stone pool framed by spectacular gardens and grass patio. A pool house with a family room overlooks the deck to the pool. This space has an additional bedroom and full bath. The second floor is not heated in the winter. The property also has an outdoor games room with ping pong table and sitting lounge surrounded by forest. An additional 25 acres of wooded property is the backdrop to the meadow. A bocce court sits out side the game room in the meadow. The dining room has seating for 8-10 guests, perfect for a dinner party. The large porch is great for entertaining in the warmer months. The expansive back deck has a BBQ, outdoor dining table for 8 and a fire place. We will provide activities and places of interest upon booking so you can be sure to make the most of planning your trip to Stone Ridge. Our home is an ideal getaway for family, friends, or romantic occasions. We provide a kitchen inventory and supply list to assist with any planning. We also have a highchair, pack'n play, changing mat and children's toys. **Rates based on 12 guests only** Contact us for Holiday Rates.
The host canceled this reservation 51 days before arrival. This is an automated posting.
Boaz
2016-05-27T00:00:00Z
We had such a great time at the house. It was in excellent condition, incredibly comfortable, very tastefully decorated and had beautiful gardens. Everything was left really clean and tidy for us and Amanda was nothing but helpful and thoughtful in the lead up to our trip. We felt very happy in the house and hope to come back again next summer for another family holiday. It was perfect!
Nathalie
2014-08-26T00:00:00Z
Amanda was incredibly accommodating of our stay - and many questions - to make our Christmas vacation one we will never forget. From putting up a real tree to providing many recommendations, she was a perfect host. As for the home and property - it's all I want for Christmas every year from now on. With my parents visiting from Australia we had a white Christmas spent around the fire, with so much space to enjoy the home together and even have our own privacy. We simply cannot wait to return. Absolute perfection and bliss.
Shane
2016-12-26T00:00:00Z
Everything was perfect! My wife and I hosted three other couples at the farmhouse for Christmas and everyone was so happy. We relaxed by the fire place, barbecued, played ping-pong, watched movies and relaxed. The open kitchen, large living and dining area, and high ceilings provided so much comfort and enjoyment for all. Even everything leading up to the event was great as Amanda was very responsive and helpful. Highly recommend to all as this home would be great all year long.
Jason
2015-12-27T00:00:00Z
My friends and I had the loveliest weekend at this beautiful home. It was impeccably clean, warm, spacious, with comfortable bedrooms and beds, a good size and we'll-appointed kitchen, and the perfect living room/dining area for our group (which included three little ones) to relax and catch up. The instructions were very thorough and we didn't have any problems with the house during our stay. We spent our time cooking, playing ping pong and bocce, playing games, reading, or simply relaxing by the fire. I love the decor, Amanda has beautiful taste. No detail was overlooked in the design and decor, and it was personal but also incredibly comfortable. This is a spectacular house for all seasons, I'm hoping to come back someday.
Katherine
2016-01-10T00:00:00Z
Tipo di stanza
Intera casa/apt
---
Tipo di sistemazione
Casa
---
Può ospitare
12
---
Camere da letto
Stone Ridge, New York, Stati Uniti
1

–

18

di

86 Case in Affitto
Inserisci le date per visualizzare il prezzo totale. Ci sono dei costi aggiuntivi e potrebbero venire applicate alcune tasse.