Inserisci le date per visualizzare il prezzo totale. Ci sono dei costi aggiuntivi e potrebbero venire applicate alcune tasse.
Charming studio, located in the heart of downtown Murphys.
The Night Owl is an attractive studio perched on the second story of a shoppe in the heart of downtown Murphys. The large, covered patio is the first thing to greet you when you come up the stairs. Plan to lounge out here at night enjoying a cocktail or two. It also would be ideal for barbecuing and outdoor dining in the fresh air. When you enter the Night Owl, you may be reminded of the apartment you once dreamed of having in downtown Paris. The sitting room welcomes you but your eye is lead past the kitchen to the dining area with its peaked ceiling. The alluring bedroom area is separated from the kitchen with a curtain. The queen size bed is centered under a large skylight which lets in plenty of natural light. There is also a queen air mattress, should you need additional sleeping accomodations. The bathroom in the Night Owl is just off of the sitting room. The bathroom is petite and the shower EVEN SMALLER... with not a lot of elbow room. Parking immediately downstairs is reserved for the store below and parking at the hotel is reserved for guests. Please plan to drop your stuff off and park you car down the street near the Murphys Park. This house accepts pets. The fee is $20 per pet per night. Great access to immediate downtown Murphys. Desirable location, steps from all the downtown shops, wine tasting, and restaurants. We provide little interaction between the ourselves and the guests. Our system set up to do the booking online, with information on check-in procedures emailed directly to our guests. The cottages have a keyless entry system, which allows guests to arrive anytime after check-in hours. They do not need to make an extra stop to pick up or turn in a key.
Centrally located to everything in town... the park, the shops, restaurants, and the ever popular Murphys' Winery Tasting rooms. Central to easy walking throughout town. There is one taxi service in the area. There are no parking spaces directly near the Night Owl. Guests are encouraged to unload their luggage and then find a nearby public parking spot. Queen air mattress is available should you need to sleep additional guests. The Night Owl has a two night minimum on Friday and Saturday nights and a three night minimum on all major holidays.
We wanted to stay on Murphys while visiting family in the area, which wine tastings were on the itinerary then. The night owl was the best location for us, right downtown and easily walkable to all the shops and the park. We brought our two children with and a teenager and they loved the place too. It was clean, cozy, and up to date. My husband is a Chef so he loved the kitchen. We were even able to have all of my family over so we could cook for them and the outside deck was so spacious, we all hung outside most of the time! The back bedroom did get hot, but the place was filled with everything you could think, the plug in fans came in handy. There was also a washer and dryer, that was nice to have clean cloths packed for the flight back. I would definitely recommend this place and the other ones too, I saw quite a few while walking through the town and neighborhoods.
Danielle
July 2016
this place is fantastic! I expected a very small place from the description, but it's really quite spacious. Yes, the bathroom and shower were pretty teeny, but the kitchen is quite bit, proper dining room, really everything is MUCH bigger than we expected. And the deck is divine! It's right downtown so a million restaurants and bars to hit. We definitely would stay there again, and we thought the value was very good, considering including cleaning fee it's around $210 a night. MUCH BETTER than some tiny hotel room, you basically get a small apartment!
Jeff
August 2016
The night owl was a great little loft apartment. It had all the amenities we needed in a funky little space. Since my girlfriend and I were only there for one night, we didn't really need much, but the loft had great space and all the creature comforts one would need. There was enough space for the two of us - with our dog - to move around and be comfortable. The only downside is the SMALL shower. At 6' and 200lbs I was just barely able to navigate in the space. The location was great - right off of the main street of Murphys - with restaurants, bars and tasting rooms all within just a couple minutes' walk. We were able to leave the car parked for and not need it until we were ready to head home. There was some mention of the apartment being loud, but it wasn't that bad. There was some noise coming from the Murphys Hotel bar, but we were able to sleep right through it. All in all, a great little hideaway for a weekend trip!
New
January 2015
The place is very cute and convenient in the heart of downtown Murphys. Well appointed with an easy to inflate mattress for the kids. Only problem was that we didn't get the arrival directions and access code (I think host was still figuring out the details of the system) and we had to find it on our own and call upon arrival. Not a big deal for us but some people would find that stressful. I think they'll figure it out easily for next time!
JC
June 2016
Cute place, nice outside area. Great location - short walk to restaurant, shops, and wine tasting.
Shea
January 2017
This is the best place to stay in Murphys! Very clean and charming and much bigger than I expected. It is very centrally located to all that Main St has to offer. On a crowded weekend, you may have to walk a bit for parking but it is not too bad. It has a huge deck and I wish there were more people to share it. Hope to be back soon!
Jason
March 2016
My wife and I stayed in The Night Owl for two nights during Murphys' Christmas Open House and we could not have had a better time. The apartment is centrally located right off Main street, so it is very convenient to come and go while exploring the many winery store fronts and shops nearby. At the end of the day it was nice to come back to a comfortable and cozy place where we could relax. I'm 6'2" and had no problem with the small shower. We enjoyed the local coffee left for us in the kitchen both mornings, but you will definitely want to cross the street and pick up some pastries to go with it from the amazing bakery. Murphys is a great little town with friendly people and a surprisingly interesting history and this comfy place is perfectly situated place to make the most of your visit.
Joshua
December 2015
The experience was wonderful. The house was clean and wonderfully charming. Murphys is a great little town with so much fun stuff to do. Anna was easy to contact and very welcoming!
Jenny
September 2015
Tipo di stanza
Intera casa/apt
---
Tipo di sistemazione
Loft
---
Può ospitare
4
---
Camere da letto
0
Murphys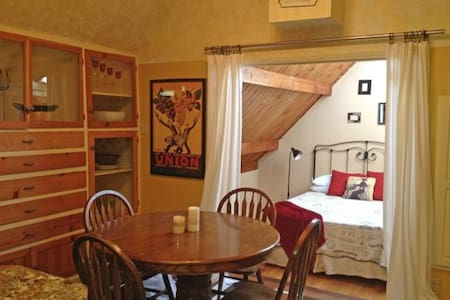 Stay at our 1400 square foot second story loft on a small animal ranch in the beautiful Gold County of California near Murphys and Angels Camp. There are pristine views of our pasture of goats, mini horses and dogs and the neighboring vineyards. Near Ironstone Vineyards Amphitheater. We are below the snow line approximately 45 minutes from where the best snow activity areas are located.
2 bedroom, 2 bath, large kitchen, laundry room, covered balcony. Hardwood floors in the living area. Carpeted bedrooms. Satellite TV, DVD player and electric fireplace in the living room. We have a BBQ which can be utilized per agreement with owners. Central heat and air. Guests have a private entrance to the loft. Other property access accompanied by owner(s) only. Owners on on-site at the adjacent main house. If any needs arise, we are available to assist. Our Lab, Count Chocula, will greet you!
Acreage neighborhood with vineyards and animals. Oak tree pastures. Murphys taxi can provide service. Only 5 miles from Murphys, California, a popular wine tasting and dining location with 22 wine tasting rooms along the main street. Owners will provide taxi service information as we wish all our guests to stay safe. In the area: Moaning caverns with zip lines; Columbia State Park; Big Trees State Park; Lake Alpine; Bear Valley Ski Resort.
We had a fantastic weekend getaway at The Loft. It was everything we were looking for. Great location for hiking and wine tasting, and nothing beats opening up the windows and watching the mini horses and goats at play. If we go back to Murphys, we know where we'll be staying.
Ethan
April 2016
Liz & Matt were gracious hosts, showing our kids the goats, dogs, chickens, and ponies. The property was easy to find and very convenient for the Ironstone amphitheater. The loft is quite nice, comfortable and very big. I agree with another reviewer saying it is even nicer than depicted in the photos. The decor is perfect - a "rustic elegance." The loft is fully furnished with all the little things that make a stay comfortable! Good quality linens and towels as well. This was our first trip to Murphys and we certainly hope to go back to stay at the property, hopefully for even a bit longer!
Tom
August 2016
Liz and Matt were warm and welcoming hosts! They greeted us as we arrived, and then after we'd settled in offered us a tour of the property, complete with goats, dogs, miniature horses, and chickens. The loft is tranquil, comfortable, and has a well stocked and spacious kitchen. It is an easy drive to Murphy's and is a great jumping off point for both Columbia and Calaveras Big Trees State Park. I appreciated how easy it was to communicate with Liz - the directions to the house were clear, and there was a notebook with information about the area and about the loft. On the day we left, they asked us if we wanted to join them to pick cherries at a nearby spot in Vallecito. We came home with a bucketful of cherries - thanks Liz and Matt for helping us have such a fun vacation!
Lauren
June 2016
Great place to stay for snowboard or ski trips below the snow level.
Ricardo
January 2017
The loft is really great and Liz and Matt excellent hosts! The loft is bigger and more beautiful than the pictures, plenty of room for 4 people without feeling crowded at all. The neighborhood is quiet, and waking up to the views of foothill oaks was wonderful. Communication was easy, and everything went very smoothly. Thanks for a terrific stay, we'll likely be back. :) This is a great value, as it is private, yet close to Angel's Camp, Murphys and plenty of good wineries.
Karen
June 2016
Liz has a very well supplied guest home with good access to Angels camp, caleveras forest, and lake new Melones. Comfortable beds, a great kitchen, and friendly pets on site. Everything was very smooth and we had a great time.
andy
August 2016
The Loft is truly a loft, big roomy, very nicely kept, clean, rustic charm with modern amenities and with all the little extras you need. Liz was very attentive from the start of our communications and Matt was incredibly helpful and nice when he met us to check in. Thank you so much for a wonderful stay and we hope we can stay again in the future!
Sacha
October 2016
Liz was a fantastic host from first communication all the way through our stay. Her loft proved to be the perfect weekend getaway for my girlfriend and I. The property is beautiful and the location is fantastic. We hope to come back soon.
Nathan
September 2016
Tipo di stanza
Intera casa/apt
---
Tipo di sistemazione
Loft
---
Può ospitare
6
---
Camere da letto
2
Angels Camp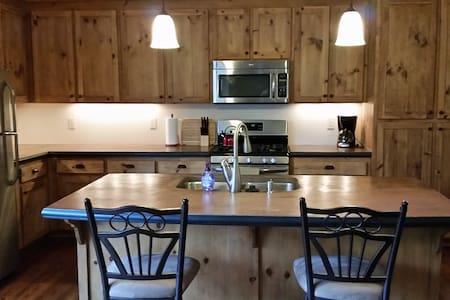 This a gorgeous loft in the woods in the Gold Country of Sierra Foothills in Northern California. Close to wineries, ski resorts, mountain hiking, fishing and lots of fresh air. This lovely property is located on 5 private acres with parking and lovely sunsets every night. Watch the wild life around you through the floor to ceiling windows. Cook all your meals in the fully equipped kitchen and enjoy the serenity in this modern mountain getaway.
A modern loft in the woods situated on 5 private acres in the Sierra Foothills. Located in the Gold Country / wine country of Amador County's Shenandoah Valley. Several wineries we love are Renwood, Helwig, Sobon. Drive to Silver Lake or Bear River and take swim or hike amoung California's most beautiful Sierra Mountains. Then return after an exhilerating day to an incredible sunset! This modern loft is an ideal vacation weekend getaway far from the hustle bustle of city. Come sleep among cedars, pines and take a deep fresh breath of mountatin air. A romantic getaway for couples. This vacation rental is a modern loft which was custom built amoung the tall cedar and pine trees. West facing with amazing sunsets this gem borders the Shenandoah Valley, El Dorado National Park, Kirkwood. Bear River, and Silver Lake. Cook your meals at home (everything is here for you to use) or vist the fine local restaurants we have listed for you in our guest book. $150 - $175 a night (weekday, weekend and holiday rates) $1000 weekly rate (except on all major US holidays) LIKE us on FACEBOOK: http://www.facebook.com/GoldCountryLoftyRetreat The loft is waiting for your arrival! Online communication. This is your private sanctuary. Enjoy your privacy!
The Loft is on 5 private acres of forest. This 'treehouse' loft allows you to see the stars as you rest in front of a warm fire on a cold night or sit on the balcony watching the squirrels and deer while you bbq. Close to Hwy 88, the gold country wineries, Kirkwood Mountain Resort, Bear Lake, Silver Lake, all in beautiful Amador County. Welcome! You'll need a car, there is wonderful places to hike and sunbathe if you just want to relax at home. Beautiful modern unique vacation escape for a couple. It is more of a loft feel and has a HUGE open studio feel with kitchen, laundry room and bath with shower and Japanese soaking tub.
Gorgeous views and very well thought-out interior and finishings. Absolutely charming!
Duncan
January 2017
A Perfect retreat. Susan was very responsive and a great host. Check in was easy and as we opened the door, we were welcomed by a sense of calm (plus a lovely bottle of wine - thank you). The space is open and well designed with a lot of light. Everything that you could need is already there and nicely done. It's delivers on quiet, with only the occasion bird breaking the silence. We were lucky to see a deer with her doe run through the property and squirrels foraging in the trees. As promised, it did get hot in the afternoon with the sun hitting the windows but it was only a few hours and with the overhead fan and curtains drawn, it was fine. We enjoyed the warm nights out on the desk with a bbq and watching the stars. We didn't end up exploring the neighborhood because we didn't want to leave the loft. We hope to return there again.
Anna
July 2016
Amazing tree house loft
Dusty
February 2014
Susan's place was amazing! A perfect getaway. Modern, clean, quiet. Beautiful views of the woods. Highly recommended!
Irina
July 2014
Absolutely beautiful place on an absolutely beautiful property. Immaculately kept, well furnished, and the little fireplace was such a nice addition. We loved having 5 acres to ourselves; you won't get that in many places. Susan herself was an extremely responsive and generous host. Extremely prompt in her communications, and very kind. We even accidentally packed her flashlight and she just shrugged it off and said not to worry about sending it. I would recommend to anyone.
Heath
March 2014
A modern cabin in the woods! The area is beautiful and quiet and the loft was very spacious. The patio has a great view and was our favorite spot to eat our lunch. Susan was very polite and responsive from the moment we requested to book till we checked out. Everything was clean and a small basket of goodies awaited us when we arrived. I couldn't have wished for a better place to stay. I know you will fall in love with this cabin.
Gerardo
May 2016
Absolutely loved this house! We spent the weekend here for my fiancee's birthday. It is stunning - nearly floor to ceiling glass windows looking out onto the trees, you feel like you're in a treehouse. It was very romantic and relaxing. We loved everything about the house - well designed and modern, all of the amenities (full kitchen, Wifi, DVD, satellite TV), comfortable bed, and just amazing views. Keep the curtains open at night so you can see the stars from the bed! The wood burning fireplace is lovely. One thing to note - this is a studio apartment rather than a 1 bedroom which I had thought from the listing. This worked perfectly for us since we are a couple and wanted to spend the weekend together, but might not work as well for a family or group of friends looking for separate spaces. For us it was perfect - we will definitely be back!
Kristin
February 2015
We had a wonderful time at Susan's 'Modern Loft Cabin'. The space was amazing, perfectly ready for us when we arrived, and proved to be a lovely spot to spend a weekend. Appointed with everything you could need - well equipped kitchen, comfortable furnishings, great bath, and the deck is just right for hanging out, dining and watching the sunsets. Convenient location - head north and you can easily hit Silver Lake and 'Alpine Terrain', south and you have the rough and dry terrain of the the Gold Rush Country. We had a great time in Volcano (Kneading Dough Bakery - yumm), Pine Grove (Munnerlyn's Ice Cream - delicious), and spending a day at the Mokelumne river (splendid). We can happily and highly recommend Susan's 'Modern Loft' and hope to return ourselves soon.
Paul
July 2014
Tipo di stanza
Intera casa/apt
---
Tipo di sistemazione
Loft
---
Può ospitare
4
---
Camere da letto
1
Pioneer