Our boat is in the Cobourg Harbour, just 20 minutes from Ste. Anne's Spa. Walk downtown to enjoy a night out at one of Cobourg 's restaurants or prepare your own meals on the boat. Add on a trip to Ste. Anne's to truly relax.
Roughing it in comfort, sleeping on a boat is unique and fun. Boat does not leave the dock.
Cobourg has an historic and charming downtown with lots of little shops and restaurants. With one of the nicest beaches and waterfront in southeastern Ontario there are plenty of ways to relax. Couple this with a day at Ste. Anne's Spa for a short stay getaway to remember.
Our stay on the St. Annes boat was a great first time experience. It was well maintained, clean, comfortable and had all the basic necessities. James was a wonderful host throughout our stay. He was very attentive and informative. James took the time to explain the features of the boat and ensured he was available to answer any questions and assist us when needed. He told us about the town of Cobourg, places to eat and things to do and see. We enjoyed the beautiful views of the marina and lake. It was also enjoyable talking to the neighbouring boaters who were all very kind.
Angela
2016-07-10T00:00:00Z
If you are looking at this listing right now, just book it. It is an incredible experience. The boat is stunning. The hosts are charming. The marina and boat neighbours are so friendly. Of all my Airbnb experiences this has been my favourite of all! James was a fantastic host, making sure we were comfortable and had everything we need and then gave us great recommendations about what to see and do in town. Cobourg is lovely and one of the highlights of this listing is how close you are to everything. We walked everywhere. You will not be disappointed!
Nicole
2016-09-06T00:00:00Z
I had an amazing experience staying on this boat. Everything was as described, very comfortable, peaceful and strongly recommended for a getaway. James was a gracious host, made sure that he was available if we needed anything and stayed in contact via text throughout our stay. It was a nice compliment to our visit to the Ste. Annes Spa.
Nalinie Nelly
2016-08-31T00:00:00Z
This was a great experience, great location, and the host went above and beyond to make our two night stay as hassle free as possible. Sitting on top deck , having a drink, watching the sun go down was fabulous. I would definitely recommend it to anyone, who wants a special treat. Restaurants, shops, etc are all within walking distance. very quiet marina, with walking distance to a beautiful beach. I would definitely do it again thank you James Donna
Donna
2016-07-24T00:00:00Z
James has been an amazing and incredibly welcoming hosts. I would highly recommend spending a few nights in James's boat!
Ferdinando
2016-08-01T00:00:00Z
Quite the experience! James was a great host! Responded timely to booking questions and inquiries after being booked as well. He met us at the marina and gave us the tour of the boat and instructions. Boat was well equipped with kitchenette (c/w dishes, fridge, stove, BBQ, coffee pot, toaster etc.) 3 bedrooms and 2 bathrooms (c/w bedding and towels). The boat does not have a mirror and the showers are small. Therefore, we used the marina bathroom/shower access which was clean and accessible. The boat is close to the pier and beach which is a clean, well looked after area. In addition all within walking distance to restaurants and shops. Highly recommend the Buttermilk Cafe for breakfast. Great time was had by all!
Shelly
2016-08-21T00:00:00Z
We had a great time on the boat. James communicated very well from beginning to end. He met me on site and showed me how to operate the electricity, gas and heating/cooling system. James also texted later to ensure that we were settled. The boat was very comfortable and the little kitchen had all the basics. Cobourg is a great little town with a beautiful beach, harbour and restaurants within walking distance.
New
2016-07-18T00:00:00Z
He gave us a full description of the area and wanted to know if we had made any dinner reservations?He had concerns about the weather and offered us to come to St.Annes to use the pool and or hot tub. Unfortunately this was not mentioned to me when I talked with someone at St.Annes and was looking to make an appointment for a spa service?!!!The neighbourhood (the marina) was beautiful and we felt very privileged to be a part of it!!! Thank you Jim!!!
Lisa
2016-09-28T00:00:00Z
Tipo di stanza
Intera casa/apt
---
Tipo di sistemazione
Barca
---
Può ospitare
5
---
Camere da letto
Cobourg, Ontario, Canada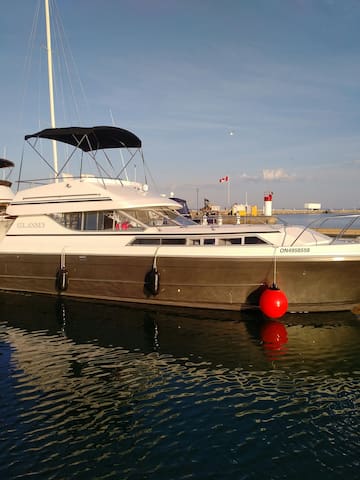 This is a 28 foot sailboat that is docked at Cobourg Beach. You have access to laundry, showers and internet. The boat has a BBQ and Stereo and room to prepare meals. The boat is located in downtown Coboug at Cobourg Beach.
The boat had charm. We liked this feeling of tranquility. The sheets were warm and cuddly. We slept great. The towels that Rob provided us were long and comfy. His service was top notch, he treated us like his friends even though we had only just met. He even texted us in the morning to know if we had slept well or needed anything in particular. He helped us put our bicycles on the boat's deck. They were pretty heavy. It really helped. As for the location, it is great, both in terms of beauty and proximity. It's close to some of the best restaurants in town, all the major banks, etc. You just walk a few streets and you're there. Thanks again for everything, we'll definitely come back if we get a chance. You can do your laundry (at a reasonable cost) and take a shower anytime (for free!) in the Marina's building. The only thing we found hard to get used to was the fact we can't really talk loud otherwise the other boaters would hear everything. It's like living in a very tightly crowded neighborhood...!! We simply aren't used to boating I guess. Overall, we loved the experience. We're definitely buying our own boat someday, thanks to Rob giving us a glimpse of it).
Hien
2016-07-01T00:00:00Z
Robert wa a great host. The place was clean and just as described on the site. The location of the boat was also extremely convenient. Overall, a great place with a host who is extremely understanding and helpful, as well as a stay at a unique get away.
Shawn
2016-07-18T00:00:00Z
That was the sweetest airnbn experience stay I had. I spent the evening on the boat deck drawing and (SENSITIVE CONTENTS HIDDEN)ing my family watching the sunset on the harbour. The bed was super cozy, I loved being rocked gently feeling like I am on water while I slept. The showers at the Marina are awesome and the wifi perfect!
Gaia and Dolphin
2016-07-01T00:00:00Z
The Cobourg Marina was a beautiful place to stay at. Robert was great at getting back to me if I had any questions. The washroom, shower, and WIFI access was great. I visited his restaurant recommendation, El Camino - a delicious Mexican restaurant only a 5 minute walk away. Thanks, Robert.
Gail
2016-06-14T00:00:00Z
Great guy, great boat, five stars all around. I wanted to get some work done , and this was the perfect place to do it without distraction. There's a BBQ onboard for grilling, and it's close to town. The stars at night are amazing. Thanks Robert!
Justin
2016-06-23T00:00:00Z
Robert was very accommodating with timely responses throughout the entire process. He was easily accessible and more than willing to make our stay as comfortable as possible, even providing some snacks and treats for us. The marina was gorgeous and there were clean shower and bathroom facilities for our use nearby. The marina is in a great location and is very close to the beach and shops in town!
Paige
2016-06-06T00:00:00Z
Robert is a great host, he messaged me to make sure I found the boat okay and I did since he already provided good instructions. The boat was nice and clean and it was a fun experience to sleep on the water. Would recommend this to anyone looking for something a little different. Great food in the area within a 5 minute walk.
Alex
2016-07-20T00:00:00Z
Great experience! Very convenient to the beach- will definitely recommend it to friends. The host provides help as much as he can. We appreciate his hospitality!
Joy
2016-07-11T00:00:00Z
Tipo di stanza
Intera casa/apt
---
Tipo di sistemazione
Barca
---
Può ospitare
4
---
Camere da letto
Cobourg, Ontario, Canada