A quiet, cozy bedroom & bathroom on the ground floor of a beautiful, modern new home in a verdant, friendly Southeast Portland neighborhood. Enthusiastic greeting by very friendly dog & cat comes standard!
PLEASE READ THE ENTIRE LISTING BEFORE REQUESTING ACCOMMODATION. As a courtesy to our guests, our check-in time is 3:00 pm; however, as we both work weekdays, we cannot have the rooms ready until 5:00 or so. What this means is that our guests are welcome to make themselves at home in their living room or just drop their bags off and head out exploring, but they won't be able to rest their weary heads or hit the showers until we've had a chance to get home and tidy up. (PLEASE NOTE: This listing highlights the primary guest bedroom available, but for parties of 3 or 4 people, we do have a secondary bedroom that also features a queen-sized bed. All guests share the same bathroom, but the second bed shown on the listing is NOT in a common space, it is in its own private bedroom.) There is almost an entire floor available in our brand-new home smack-dab in the heart of fun, accessible Southeast Portland! This means that our guest(s) get not only their own quiet bedroom, but also a private full bathroom AND their own nicely-appointed living room (please note: the first-floor living room is NOT private, as it does not have a ceiling and is the way between the front door of the house and the stairs to the second floor). We are steps away from a frequent-service bus line, a terrific sandwich shop that's open for breakfast, lunch AND dinner, a pizza joint, a Starbucks, and, best of all, a Trader Joe's! The house is about two miles south of the trendy Hawthorne district, one mile south of nationally-recognized Division Street, and about four miles east of downtown Portland. The house itself is a beautiful, soaring Doug Fir- and hemlock-constructed dream home decorated with one-of-kind glass art pieces and potted succulents. Our guests have access to our fabulous kitchen in addition to their own first-floor amenities. We have a very friendly housecat you will likely meet during your stay, but the guest bedroom and guest bathroom doors are kept closed for the comfort of allergen-sensitive guests. We also have two friendly dogs who will greet you eagerly upon your arrival, but who otherwise spend their time hanging out with us and don't wander much to the guest floor. Lastly, to our guests during the colder months: the guest floor tends to be the coolest in the house, and we provide space heaters and afghans for your comfort, but we figure we should let you know ahead of time that if you run cold, ours may not be the ideal place for your stay.
Our neighborhood is so great! We are really close to several cool Portland hubs, but we're on a relatively quiet residential street so we truly have the best of all worlds.
Great space close to lots of good eats. Becca was super helpful and courteous. Overall the experience was great and I absolutely loved portland, so there is a good chance I'll be back.
Stephen
2015-06-22T00:00:00Z
Brad and Becca were really friendly and made a few suggestions on where to go and what to eat. They also have a super friendly dog and sweet kitty who were just as welcoming. The room was as described. Ther weather was perfect. It was bright in the day with natural sunlight. You have your own private bathroom and it was clean. I had rented a car and had no problems finding street parking in front of the house. They live really close to a sandwich shop called Shut Up And Eat. They had tasty sandwiches and pickled veggies. It's within a quick walking distance across the street. Also, the house is situated really close to all the districts, except downtown which is 15 min away. Oh, I used the fridge to store drinks I had gotten at the nearby Trader Joe's and used the coffee maker daily, which was nice because I need coffee in the morning to function. The bed was pretty comfortable too.
Nancy
2014-09-04T00:00:00Z
Comfortable, clean, and great location! My husband and I stayed for one night and would stay again if we're ever back in Portland.
Gretchen
2014-10-11T00:00:00Z
We had a fabulous time in Portland because of our experience with Brad and Becca, their top-notch recommendations of what to do on our visit (read where to eat) and the delightful accommodations of the Urban Treehouse! And of course the city being quite a wonderful place! What you see is what you get: the pictures of the place show you exactly the accommodations. And on top of that the hosts are very straightforward and clear with their expectations and interactions. Staying with Brad and Becca is my top recommendation when visiting Portland!
Helena
2016-01-10T00:00:00Z
What a beautiful spot!! This is an awesome location with a unique vibe. We felt truly at home. The teepee is romantic and we managed to stay dry and warm in spite of a night of heavy rain. Chris was great; sadly we only met Karen briefly but all in all it was a great experience!
Jacob
2014-09-26T00:00:00Z
Brad & Becca were very welcoming and friendly. Their house is beautiful and our room was perfect. Close proximity to nice restaurants and bars was a nice add on.
Miguel
2014-08-08T00:00:00Z
Loved the hosts, the house, the pets, the neighborhood, thank you guys!
Petra
2014-10-30T00:00:00Z
Brad and Becca's home is a lovely one and the listing is just as described. Brad was home during our stay and welcomed us in person. He gave us some great suggestions on places to see and eat at (more suggestions can be found in a cute hand-made book in the living room). Super cool guy! For those looking to ditch the car, they do offer bike rentals which is pretty convenient and cheaper than renting from city shops. Overall, this is a great place to stay if you're visiting the city for the first time or here for business. Would come back again. Oh! And they have the cutest and friendliest dog/cat duo ever.
Catherine
2015-06-20T00:00:00Z
Tipo di stanza
Stanza privata
---
Tipo di sistemazione
Casa
---
Può ospitare
4
---
Camere da letto
Portland, Oregon, Stati Uniti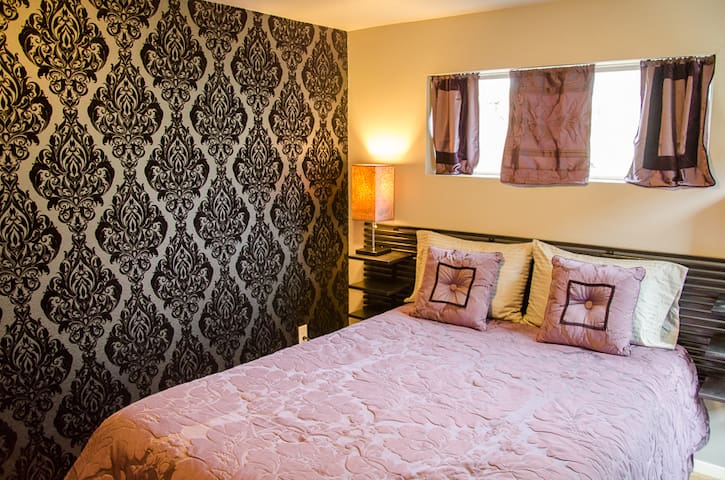 Newly constructed in 2016, this modern and private detached garden studio sits in the heart of a quiet residential neighborhood and is a short walk to top restaurants, food carts, and shops in hip SE Portland. The space is compact -- about 240sf-- but cozy, bright and a great place to unwind after a day of exploring Portland!
Our light-filled, cozy studio includes a comfy queen bed, vaulted ceilings, skylights, air conditioning, full bathroom, kitchenette, and small sitting area. It's fully detached from the main house, so offers complete privacy. Floor-to-ceiling glass windows provide views of the west hills and french doors lead to a private outdoor sitting area. It's small --about 240sf-- but the space is well utilized with many amenities such as wireless bluetooth speaker, Portland maps and guides, and comfy pillows and blankets to make it feel like home. The studio has a full bathroom with shower (no tub). The kitchenette includes a small fridge, sink, instant hot water, coffee maker, coffee press, microwave and everything you need for reheating leftovers from the fantastic restaurants and food carts nearby. Complementary tea and coffee are provided along with a long list of restaurant recommendations. There's a growler available for filling, which you can do at The Imperial Bottle Shop on Division Street and at many local breweries and grocery stores nearby.
We love living in the heart of the Richmond neighborhood! Nestled on a quiet, residential street, we're within walking distance to hip and eclectic restaurant and retail districts of SE Portland. A 4-block walk brings you to a bus stop that can get you most anywhere else in town. A short walk from the studio brings you to food, shopping and entertainment (to name a few of our favorites): Restaurants: PokPok, Ava Gene's, Bollywood Theater BEST Food Carts in Portland: Tid-bit and Cartopia Cart Pods Bars: Whiskey Soda Lounge, Imperial bottle shop, Hopworks Brewery Bakeries/Coffee Shops: Little T, St Honore, Grand Central Ice cream: Salt & Straw, 50 Licks, Ben & Jerry's Grocery stores: New Season's, People's Co-op, Safeway Boutiques and vintage shops on Belmont, Hawthorne and Division streets. Powell's Bookstore on Hawthorne. Independent movie theaters: Clinton St. Theater, Cinemagic, McMenamins Bagdad theater and pub City parks: Sewallcrest, Mt. Tabor, Laurelhurst
This place is perfect! Melissa is really sweet and helpful. Communication couldn't have been better. It is clear that they really put time and thought into creating this space. It's extremely relaxing and beautiful. The location couldn't be any better, you're close to buses, great food, and cute shops, but it still feels quiet and private. We spent our mornings sipping coffee and listening to music on the bluetooth speaker. An amazing find on Airbnb: Book it now! Thank you for having us!
Maggie
2016-08-07T00:00:00Z
Everything was great from accurate description to good communication and hospitality. I had my phone taken and they helped with the insurance claim Which really was a great relief since I didn't have a printer.
William
2016-10-15T00:00:00Z
I cannot give sufficient kudos to Melissa and Brian. Many wonderful small touches to make our stay so comfortable and homey. Big fluffy towels, cozy comfy bed, cute decor, spotlessly clean and a well equipped galley. Despite some horrid icy weather we were cozy and warm. All restaurants within walking dustace are A+++. We Hope too stay again in warmer weather
Isabella
2016-12-13T00:00:00Z
Lives up to all the 5 star reviews. Great location, easily accessible, quiet and private but also close to restaurants, shops, bars and nightlife. Would definitely return for another stay!
Matt
2017-03-31T00:00:00Z
The guesthouse is just perfect for any couple. It's very clean and has everything you need. The bed is comfy too!
Jessie
2017-03-16T00:00:00Z
Melissa and Brian were incredible hosts! My wife and I stayed with them on our first trip to Portland and it could not have been more perfect. The studio has all your needs covered, is super cute, and its location within the city couldn't be more perfect for exploring Portland. We hope to go back to PDX soon and would love to stay here again. Thanks for everything!!
ROBERT
2017-01-27T00:00:00Z
We loved our stay at Melissa and Brian's studio. The photos were accurate but it's so much better in person. The view outside the back windows overlooks so much greenery (even in winter) with the hills of Portland beyond that. Bed was super comfy and everything was spotless. Plenty of linens and toiletries provided, as well as coffee, a nice tea selection (sorry we wiped out your earl grey!) and other treats. The studio is also a very short walk from Division where you'll find some of the best restaurants like Pok Pok, Salt & Straw, and Ave Gene's (some of the best pasta I've ever had). The is also a large area of food trucks to check out. Check-in is very easy and Melissa and Brian were always a text away if needed. The is hands-down the very best Airbnb we've had the pleasure at staying in!
Michael
2016-12-08T00:00:00Z
This place was amazing! Better than the photos, if you can imagine. So many cute little details! Guest book to write in that has previous travelers experiences and recommendations for places to eat as well as a long list of all of the places nearby. Pretty much anything you could want is within walking distance. Loved it here! Very cozy and comfortable!
Allyson
2017-03-06T00:00:00Z
Tipo di stanza
Intera casa/apt
---
Tipo di sistemazione
Pensione
---
Può ospitare
2
---
Camere da letto
Portland, Oregon, Stati Uniti
Cute little Tiny House! It used to be our boys' fort when they were young, now it is a comfortable little retreat for adventurers exploring Portland!
Cute little back yard "granny flat" cottage located near Mt Tabor park in very desirable neighborhood! The cottage is "Portland Style" construction with excellent insulation (R30), new windows, etc.. Great host, free internet, parking, furnished living space that is quite private.. I absolutely love to cook (growing up my parents owned a restaurant), and a made to order hot breakfast is included! Menu items range from homemade granola, homemade biscuits, Lisa's secret-recipe-fried potatoes, and much more! The cottage contains an upstairs bedroom & sitting area. Note: There are steep stairs, so please take that into account if you have joint pain, etc... The QUEEN size mattress is new and comfortable. Downstairs there is a small kitchen with stove, microwave and under the counter fridge. Also downstairs is a full bath with ceramic tile shower. Coffee maker and freshly ground coffee provided in the cottage. Guests are welcome to use washer/dryer in main house. Guests have use of the back yard with fruit trees and some berries when in season. Also the cottage is within walking distance of Division street shops, Pizzicato pizza, the 52nd & Foster street Food Carts and much more. The # 4 bus is just a block and a half away, which can take passengers west directly downtown. The "(URL HIDDEN) app or website is easy to use & can help you get you anywhere from the airport, to downtown, to Powells Books, The Chinese Garden, and so on.
South Tabor Neighborhood is a quiet eclectic little neighborhood with many avid gardners, friendly neighbors, and gobs of dog lovers. We have community get-togethers, work parties, and holiday celebrations! If you are used to neighborhoods where no one knows each other or even speaks to each other this is definitely NOT the neighborhood for you :-D
Lisa made us feel very welcome at the cottage and everything that we needed to complete our stay was available. Lisa provided a breakfast each morning and left it in front of our door if she had to run out early. The breakfast was delicious and a nice addition to the package. The house was easy to find (we used GPS) and was ready for us when we arrived in the evening.
Alma
2015-08-18T00:00:00Z
Lisa was a great host and the cottage met all of our needs. We had just arrived after a long trip and Lisa had us all all loosening up and laughing before we even got inside the cottage. We were very happy to make it our home while we waited to move in to our place the next morning. Great location and fantastic host!
Thomas
2015-02-06T00:00:00Z
This is the coolest place I have ever stayed. I really can't express how amazing it is. From how adorable it is to the breakfast provided in the morning, this place is absolutely wonderful.
Joseph
2015-10-10T00:00:00Z
The cottage was comfortable after traveling for long days around Oregon. Lisa offers an incredible breakfast and comfy bed (as others have noted). She is also very attentive and kind to her guests. The cottage was bigger than I imagined from the photos so that was a nice surprise. It has been crafted into a nice little home and Lisa has provided everything you need to enjoy your stay, especially if you want to make your own food there. The air conditioning was perfect and the water pressure was good.
Amanda
2015-08-03T00:00:00Z
The little home is very cozy. The upstairs gets nice and warm. Parking was very easy... 5 minutes walk away is a nice coffee shop. 15 minutes walk away is a food truck area with 10+ food trucks. Also a few bars close by... Lisa was also great. I had a special request, and Lisa was very accommodating to it...
Brian
2015-12-02T00:00:00Z
The cottage was cozy and just perfect for our stay in Portland! Lisa and her husband were warm and welcoming, and the neighborhood was quiet and fun to walk around. Lisa makes a delicious breakfast, and I highly recommend the granola and potatoes! We really enjoyed our stay here.
Allison
2015-05-30T00:00:00Z
This was my second stay in the South Tabor Cottage and every bit as nice as the first. This time I shared the space with my daughter and it worked just fine for us. The space is light and airy, the bed super comfortable and everything clean and bright. Lisa is a friendly and cheerful host and the delivery of a most delicious home cooked breakfast each day was an amazing and welcoming addition to this stay!
Deborah
2015-04-29T00:00:00Z
Lisa is a warm, gracious host and an amazing cook. We had breakfast with her twice during our recent stay and loved the food and the conversation. Her rosemary potatoes are amazing. The cottage was very comfortable for two.
Louis
2014-04-17T00:00:00Z
Tipo di stanza
Intera casa/apt
---
Tipo di sistemazione
Bed & Breakfast
---
Può ospitare
2
---
Camere da letto
Portland, Oregon, Stati Uniti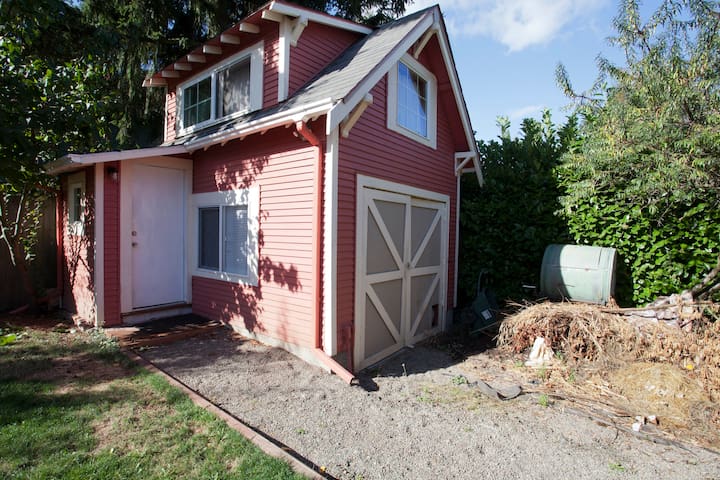 Unique hand built cob cottage next to lg. pond w water feature. Lg. fenced and gated yard. Gentle, curving space-made from sand, straw, water and earth . Featured in multiple international publications. The floor is also earthen clay with added radiant heat. Beautiful natural light. It's truly a magical place.
It's a curvilinear earthen structure hand sculpted from water, sand, straw, and clay earth. It features a radial roof with a central pagoda-like skylight. When building the Cob, we used reclaimed and natural materials when ever possible. The insulation in the ceiling is made from pulverized reclaimed blue jeans and the floor is made from the same earthen clay. It has a Dutch door, so you can open the top part for additional ventilation. There are 33 blue bottles sculpted into different parts of the walls to create "blue windows". But if you try to count them you won't find that many. Some ended up getting covered up because, well, there was just a little TOO much blue. It also has air conditioning and a radiant heat floor. The bed is a double and the bathroom and additional kitchenette access are located in the main house outside of the cob cottage. The main house is about 40 steps away.
We are located in a very lovely part of Portland close in the S.E.. The homes are mostly around a century old and many of the trees lining the street, tend to match that distinction too. The neighborhood is extremely walkable/bike-able , and two blocks away from a major street filled with lots of great restaurants, coffee shops, bars, food carts, ice cream parlors, pizza take out spots, retail, yoga studios and yes it even still has a hardware store near by.
Wonderful cottage in quiet location close to restaurants in Clinton- Division neighborhood.
Margo
2017-02-15T00:00:00Z
This place is a gem. Cozy and quiet. We will definitely bee returning.
Mitchell
2017-01-24T00:00:00Z
Unique and lovely stay in Portland Oregon near lots of local restaurants and stores. Very quiet and safe area. The bedroom is very private and unique. The space heater came in handy this winter! There is a short walk to the bathroom which can become a fast run after the shower. Really clean and the bed was very comfortable. I got to meet Jack who was very kind to recommend a stellar breakfast spot called Roman Candle.
Peggy
2016-12-27T00:00:00Z
I loved the location. Local restaurants, coffee shops, yoga studios, etc. were in all walking distance. Easy commute into the city too. The cottage was beautiful and warm. Good size for a couple. I'd definitely come back!
Amy
2016-12-20T00:00:00Z
This cottage is super cute! We were scared that it would be too cold at night, but it wasn't. The bathroom was very pretty and very clean, located inside the main house (only a few meters away). Would definitely stay here again!
Ingeborg
2017-03-07T00:00:00Z
Pros Heated floor Comfy bed Bathroom clean Host super nice Amazing food close by Plenty of parking Cons No t.v. (minor, bring a laptop)
Ray
2017-01-03T00:00:00Z
Very cute, unique little cottage built in their own backyard! Located in a nice, quiet residential neighborhood, close to shops, restaurants, and a quick drive to downtown Portland! Highly recommended for a weekend getaway for yourself or 2!
Joyce
2017-01-22T00:00:00Z
Jack and Cris were great hosts! The communication was awesome and their place was beautiful!
Ashley
2017-01-30T00:00:00Z
Tipo di stanza
Intera casa/apt
---
Tipo di sistemazione
Casa nella roccia
---
Può ospitare
2
---
Camere da letto
Portland, Oregon, Stati Uniti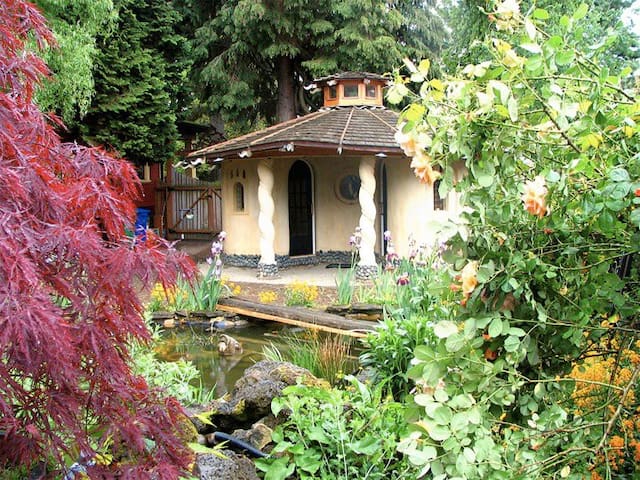 Magic Barn, circa 1936, former sculpture studio restored by community artists with old growth barn wood, up-cycled furnishings, kitchen, claw foot bath with a sculpture garden. Centrally located in the heart of a charming restaurant and boutique district; three blocks walking to both SE Hawthorne and Division St. Fifteen minutes to both the airport and downtown, there are four bus stops within three blocks, and ample street parking on our block. Built with Love! Todji and Gisele
Before it became the Magic Barn, this was Todji's sculpture studio for fifteen years. The sculptures in the garden were designed right here and are exhibited for all to enjoy. There is not a single right angle in the Magic Barn, and the structure has a significant twist from when two maple trees were pushing into it for many years. It took a tremendous amount of custom carpentry to get everything to fit together! If you observe the outside of the structure you can still see the twist!
The Magic House is centrally located in one of the most beautiful and charming neighborhoods in Portland, and planet Earth! With both Southeast Hawthorne and Division within 3 blocks, and 22 blocks to Mt Tabor Park (dormant volcano), there is an abundance of restaurants, grocery stores, neighborhood strolling, boutique browsing and hiking options within walking distance. See a movie, or just step in to witness the beautiful and iconic McMenamin's Bagdad theater, and an incredible bar restaurant/pool hall at the back of the theatre called the "Back Stage Bar", at SE 37th and Hawthorne. It will give you a feel for classic Portland! Division is the new up and coming Southeast neighborhood. With lots of modern architecture, new restaurants and shops you will get a feel for the freshest vibe Portland has to offer. Here is a list to get you oriented: Hiking: The closest entrance to Mt. Tabor Park is located at SE Lincoln and SE 61st St. SE Lincoln is one block south, and 61st St is 22 blocks east from the Magic Barn. The website of "Friends of the Columbia Gorge" has detailed information about many hikes in the scenic and nearby Columbia River Gorge. It is a 45 minute drive from here to enter the gorge. Below are the names of hikes that we love and recommend. Check the website to find a hike with a distance and fitness level that suits you. For those who are visiting the gorge for the first time, I recommend visiting the most spectacular, and also the most touristicated, 600 foot Multnomah Falls. For those who want a challenging half day hike you can begin at Multnomah Falls and hike a loop called the Franklin Ridge Loop. Multnomah Falls /Franklin Ridge Loop Eagle Creek Angel's Rest Bridal Veil Falls Triple Falls Wahkeena Falls Shopping: New Seasons- Local Health Food Store (40th and Hawthorne) Fred Meyers- Local Department/Grocery store (39th and Hawthorne) Rite Aid Pharmacy- Drugstore/pharmacy (39th and Division) Powell's Books- A smaller version of Portland's famous Bookstor(URL HIDDEN)(37th and Hawthorne) Gold Door- Wonderful Imports from around the worl(URL HIDDEN)(37th and Hawthorne) Dining: (The options are endless but I am going to list just a few popular favorites!) Sapphire Hotel- 50th and Hawthorne, Romantic and sexy atmosphere- great for late night drinks and gourmet bar food. Stumptown Coffee Roasters- 45th and Division, Classic Great Portland Coffee Trinket- One block away on Lincoln and 39th, great for Brunch with their locally sourced eggs!) Harlow- 36th and Hawthorne, Hip and Healthy, great for lunch, or fresh veggie juice. Por Que No- 46th and Hawthorne, Wildly popular Mexican with a great playful decor. (Don't be intimidated by the line, you order at the counter, and then get a seat and your order will be out in no time) Pok Pok- 32nd and Division, There are literally 11 Thai restaurants in walking distance, but Pok Pok is the best. Began as a food cart, but grew into a Restaurant Empire. Worth the wait. Bollywood Theater- 30th and Division, Indian food small plates. Also along line but worth it! Salt and Straw- 33rd and Division, Food Networks top five ice creams! Super Popular! Lauretta Jeans- 34th and Division, Breathtaking Pies! Tidbit Food Cart Pod, 28th and Division, Fabulous food cart selection, lots of seating, including a beer garden and vintage clothing bus. A truly Portland experience.
Best airbnb experience I ever had!
Emory
2015-12-20T00:00:00Z
This was our first time using Airbnb and what an amazing experience! The Magic Barn was adorable and super clean - we miss it already. Todji and Gisele were excellent hosts, I liked the recommendations for local places to explore and the privacy of this place. After this experience, I am definitely using Airbnb again and I definitely recommend the Magic Barn.
Sandra
2016-08-17T00:00:00Z
Gisele came by a little after we finally stumbled on around 9:30, and made us feel very welcome. I ordered a pizza delivered, and she said to just have it sent to her address (the front house), and when it came she brought it back to us - so kind of her! The space is lovely, spotlessly clean, cosy. It's in a central part of the east section of the city, and was quiet and convenient.
Angela
2016-11-12T00:00:00Z
This place is so lovely, it was the perfect spot for a little retreat. All the details are so beautifully thought through. I would stay here again in a heart beat and I strongly recommend it. And for anyone concerned about car noise which is something I am usually sensitive to , I promise you it won't be bothersome. Such a wonderful spot. Thank you Todji, Gisele and Tessa for hosting me, and I hope we can meet on a future visit.
Claire
2016-01-26T00:00:00Z
Great stay! Neighborhood was wonderful and the barn was exactly as pictured. We had a great week and would definitely stay again.
Ashley & Jamie
2016-05-13T00:00:00Z
We absolutely loved our stay in this incredible "magic barn". So cozy with such high end finishes. Truly a work of art inside and out. The hosts were even better! Friendly and courteous and always immediate to respond.
Casey
2015-09-21T00:00:00Z
What a special gem in Portland. The Magic Barn has all of the details covered. It is well constructed/ temperature controlled, the bed & linens are comfortable, it smells nice & clean, and it had everything we needed for a cozy few days (tea, dishes, high quality shampoo and conditioner). It felt like a peaceful/ private retreat surrounded by amazing art and greenery. Todji was available to answer any questions & it was easy to check in and out!
Kathleen
2016-03-24T00:00:00Z
This was the perfect place to unwind after a long day exploring Portland. The magic barn was beautiful, I loved all the artistic touches they put on the place. The bed was a little bit too soft for my preference, but it was quiet enough after the street traffic died down and I slept great. The gas fireplace was nice and gave the place a very romantic feel. There were a bunch of city maps and guidebooks to help us navigate and choose our daily activities. We met both Todji and Gisele when we arrived and they were very welcoming. Parking around the corner was abundant and we had no problem finding a spot.
Karen
2015-09-23T00:00:00Z
Tipo di stanza
Intera casa/apt
---
Tipo di sistemazione
Chalet
---
Può ospitare
4
---
Camere da letto
Portland, Oregon, Stati Uniti
Charming and bright private studio apartment in inner SE Portland, 4 blocks from "7-Corners". Walking distance to cafes, bakeries, shops, food carts, natural food market, theater, restaurants and pubs. Pet & bike friendly Washer/dryer Secure storage Private entrance Kitchen with pantry basics. WiFi Sleeps 2 Hydronic radiant floor heat
Bright and cozy in perfect inner SE location for work or vacation. Just 5 minutes from downtown. Kitchen (gas range, refrigerator, toaster oven) and bathroom/shower. Bath towels and bed linens. Accent chairs for lounging. Shop space available for storage and gear. Large capacity front-loading washer/dryer.
Inner SE Portland is an established older mixed use residential urban neighborhood with narrow streets, sidewalks, single family houses, apartments and schools. The main corridor -Division Street- has been experiencing moderate retail and service re-development which has energized the neighborhood with a wide range of restaurants and food-cart vendors as well as natural food markets and coops, and boutiques. Overall livability is excellent as public transport and bike lanes are accessible and convenient. In summary, there is: public transportation, retail, restaurants, markets, bakeries, parks, rose gardens, nightlife, theaters, and live entertainment within walking distance and/or a few minutes ride.
Fantastic hosts! Kurt and Nathalie have a beautiful well cared for apartment. It truly feels like a home away from home and is somewhere you can definitely relax after a day exploring in and around Portland. Everything you need is in the neighborhood and the recommendations by Kurt and Nathalie for food were fantastic! We can not say thank you enough! If we are ever back in Portland, we would definitely like to stay here again.
Jessica
2016-04-10T00:00:00Z
This studio was actually the first AirBnb I saved for our 10 day trip. We loved the photos so much that we felt staying here on the day of our 13th wedding anniversary was a must even just for one day. In reality, it was much more than we could have hoped for...we would live in the studio permanently if we could. Even though we did not get a chance to meet Kurt and Nathalie, all of our questions were answered with the information that was left for us and the privacy of having your own stand alone space was unique especially for the area. The PDX area has several restaurants within walking distance and is a fun neighborhood to explore. We will definitely be looking to book this place when we visit Portland again.
Jesse
2016-09-15T00:00:00Z
We stayed for a very short time at Kurt and Nathalie's listing and our biggest regret was that we could not stay longer! We are still talking about how clean, up-to-date, and inviting this studio is! The owners sure thought about everything - pots and pans, food items, and even a menu of a neighboring restaurant. The location is wonderful and close to many places to eat. We will, without a doubt, definitely stay here again when we return to Portland.
Mandie
2015-12-08T00:00:00Z
This was a super self contained studio with a much better than average, really well stocked kitchen. We loved it and really appreciated the breakfast supplies. It was hard to leave!
Rose
2016-09-28T00:00:00Z
Stay at Kurt & Nathalie's lovely, little spot if you want to be walking distance to many awesome restaurants, bars, store fronts - the works! The sweet place is perfect for 2 people wanting a spot to hang their hat & rest their feet after walking around the great city of Portland. Fridge & pantry are stocked, kitchen is absolutely usable, bed is comfy & it's basically perfect. HIGHLY RECOMMENDED!
lacey
2017-03-10T00:00:00Z
The listing description was very accurate and on spot. Kurt and Nathalie should be rated "Super Host". They welcome me and made sure I had anything I needed. They provided high end shampoo's, soaps, and other toiletries. The place was immaculate and very private. It was near restaurants, shopping and public transportation. It was in a very nice neighborhood. They even give you use of the driveway for your car and there is room for guest to park as well. This place outshines any hotel. This comes from a guy who spent 30 years in the Air Force and moved 15 time in his career. If I am ever in Portland again I hope I can get this place again.
David
2016-03-08T00:00:00Z
This place is amazing. Kurt & Nathalie and so nice and have thought of literally everything. The place is packed with everything you need - and everything is new and spotless. It's very quiet at night, yet only half a block from Division where there are plenty of bars / cafes / restaurant & shops. We're already planning a trip back to Portland, mainly so that we can stay here again(!)
Lee
2016-05-14T00:00:00Z
Wow! You will be hard-pressed to find a more charming and comfortable place to stay in Portland than Kurt & Nathalie's studio. The studio is absolutely beautiful, the location in SE Portland is perfect and within walking distance of some of the best eateries and coffee shops and close to downtown. The bed was the most comfortable bed we've ever slept on! Kurt & Nathalie went above and beyond as hosts and left no stone unturned to make us feel comfortable. They had things like eggs, milk, bagels, jam and drinks in the fridge, along with a variety of teas, local coffee to grind and brew, spices, condiments, oatmeal, a bowl of fruit, etc. Simply put, we felt right at home. We will definitely being staying there again on our next trip.
Robert
2015-11-29T00:00:00Z
Tipo di stanza
Intera casa/apt
---
Tipo di sistemazione
Appartamento
---
Può ospitare
2
---
Camere da letto
Portland, Oregon, Stati Uniti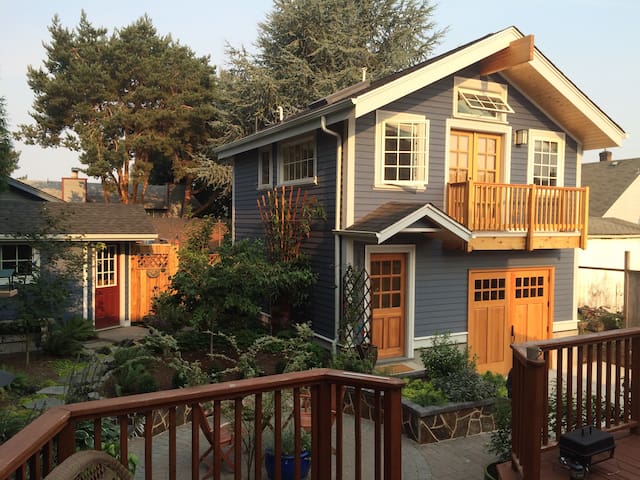 This clean and comfortable home is in a great location, close to shopping, restaurants,public transit, and just minutes from downtown. With a lovely yard feels just like home.
This house has a fenced yard and a very accessable lcation, it can accomadate an entire family, with a kitchen for cooking. There is wifi, stereo and TV with movie players. There are 2 bedrooms and a futon in the living room.
close to freeways and bike trails also walking distance to grocery.
Misty was fantastic host. It was perfect for my family including our toddler who is almost 4yr old. The backyard was beautiful. Beds were very comfortable. Home was clean. She even has games for all ages. Just lovely! Thank you Misty!
Theresa
2015-06-07T00:00:00Z
Mistys place was a perfect location and cozy home! A real home near the city, felt good to stretch the legs. Thanks for having us!
Alex
2016-07-14T00:00:00Z
The house was very cute and quaint. Worked great for myself and the other 3 individuals I was with. Was in a great neighborhood, that didn't take long to get anywhere, and right off the highway. There was a lot of parking, which is always a perk. Host was very responsive prior to my arrival and when I needed things during our stay. I will for sure be staying here again in future visits to Portland.
Crystal
2015-10-12T00:00:00Z
We had a wonderful time staying here while visiting Portland in August! It was very clean, well stocked, and the hosts are very accommodating and quick to respond to any questions or concerns. It is right off a major freeway, which made it super convenient to get to and from. The only issue we had was that the washer and dryer are shared with her salon, and were behind a locked door. So we had limited access to them after requesting it be unlocked for us. However, an overall wonderful experience and we would stay here again.
Cristy
2015-08-24T00:00:00Z
Very clean and super convenient access to the freeway. I was so thankful to be able to bring my 2 dogs who enjoyed the gorgeous yard. The kitchen was stocked with all the necessities. We felt right at home and would definitely recommend it!
Alicia
2015-04-12T00:00:00Z
Very smooth-we checked in pretty late at night and was no problem. One of the smoothest airbnb stays I've experienced
Carolyn
2016-09-07T00:00:00Z
We had a fantastic stay. This place was perfect. Just outside of Portland, but still had a peaceful feel to it.
CJ
2016-08-25T00:00:00Z
Misty's home was lovely! We had the whole place to ourselves and the fenced back yard was perfect for our little dachshund. The house was cute and clean, and the bed was very soft and nice. The house is right off the highway, which was great because it was super easy to get to Portland and the shopping centers nearby. Misty was very kind when we spoke in person and on the phone. I would recommend this house to anyone who wants to go on a Portland adventure with their pooch.
Carllee
2014-09-08T00:00:00Z
Tipo di stanza
Intera casa/apt
---
Tipo di sistemazione
Casa
---
Può ospitare
4
---
Camere da letto
Clackamas, Oregon, Stati Uniti
Safe, kid friendly neighborhood. Walking distance to Clackamas High School, coffee, grocery store, and much more. Located 2 miles off the 205 freeway for easy access into Portland and surrounding cities. Just 15 minutes from PDX airport.
the enviroment is very clean and silent. Is a good place to travel
静
2016-12-31T00:00:00Z
The home is warm and welcoming. Erinne made us feel welcome as well. The home was a great location and easy to find. The home was exactly as listed. Plus, the communication was great.
Keith
2016-07-21T00:00:00Z
Our cat loving family of 5 enjoyed our weekend/4th of July stay very much. Home is just as described - a very homey family residence. Erinne was very accomodating of our last minute plan changes for check-in and check-out times. Great location with easy access to freeway. Just minutes minutes away (in weekend traffic) from the airport and all points of interest in Portland. Great park with wonderful hiking trails near by. Would love to return to beautiful Portland, Oregon soon. Thank you for your hospitality!
Andrei
2016-07-05T00:00:00Z
This home was as perfect as we were hoping for! Walking in the door we were greeted by fresh flowers and wonderful smells! Our hosts provided a comfortable, clean, homey place for our family of 7 to stay while visiting family and friends in the Portland area. They even went the extra mile and left baby items for our use with our 11 month old twins! The backyard was a joy for our 2 year old with all the toys, playhouse and slide, and we all enjoyed relaxing in the shade on the comfy deck chairs. We made fast friends with their two kitties and felt very safe in the quiet neighborhood. The kitchen was well supplied with everything we needed and the beds were all very comfortable as was the furniture in the living areas. We never ran out of hot water which is a huge plus with two adults and two teens showering each day! It was a very hot week in July, but we were able to keep cool enough with fans and the upstairs a/c unit. We did stay at our air conditioned family's house a couple of the hottest afternoons, but the mornings and evenings were comfortable. We were 100% pleased with our stay and could feel the kind hospitality of the hosts in the atmosphere of their home. We hope to make this same trip next summer and stay again!
Dan and Julie
2016-08-01T00:00:00Z
We had a fantastic stay at Erinne's house! We had a group of 5 bike racers who needed a place to recover, eat, have a few beers, and sleep. The amenities were top notch. I would equate the experience to a 5 star hotel stay. There were comfy blankets and pillows, fresh towels on everyone's beds, new soap in the shower, coffee for us to drink, the list goes on. We hope to be back next year!
Jeff
2016-10-09T00:00:00Z
Clean, Nice Area. Lots of restaurant near by. House was clean and come with 2 cute cats.. Enjoyed Stay
Patrick
2016-07-25T00:00:00Z
Stayed here for a 3 day weekend and the house was just as described. Erinne stayed on top of the communication and could always be reached for questions. The house is a nice family home with 2 cats that were super friendly for our stay. The house has plenty of space and is very comfortable. Would stay here again if I come back to Portland. Thanks Erinne!!
Amir
2017-02-20T00:00:00Z
Hosts thoughtfully prepared for guests. This is their residence and had great family pictures and touches. Caring for the two cats was a plus for us cat people. No air conditioning, but fans were fine. Large fenced yard if you have kids. Everything was clean and comfortable.
Sherry
2016-06-27T00:00:00Z
Tipo di stanza
Intera casa/apt
---
Tipo di sistemazione
Casa
---
Può ospitare
7
---
Camere da letto
Clackamas, Oregon, Stati Uniti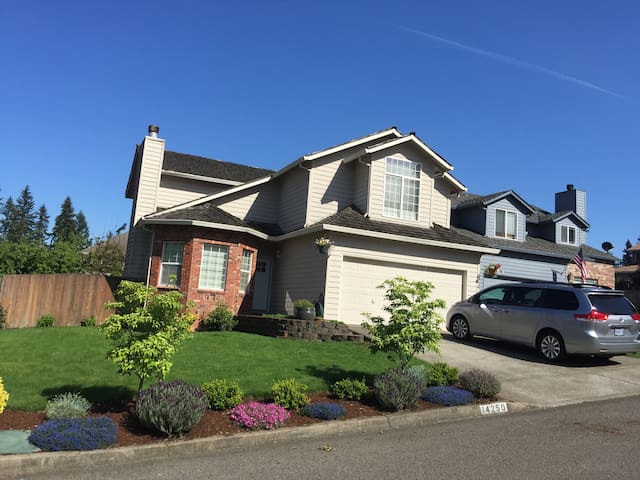 Experience the "Daisy". Visit the 70's in our lovingly refurbished vintage 17ft. Aljo trailer just 20 minutes from PDX and downtown, a great choice for budget travel if your feeling groovy! ?
Very unique!
The location is incredibly accessible to the freeways but doesn't really feel like it. With lots of foliage and large trees. It is handy to Mt Hood, Columbia Gorge, and downtown portland.
Misty definitely went above and beyond designing 'The Daisy' as a fun, 70s-style retreat! I was endlessly entertained with all the little retro touches both inside and outside the camper. It's truly a camper, so if you need a spacious environment, this might not be the best fit for you (no pun intended) - however, if you just want a fun place to bunk for a night, this is a great spot. The yard where the camper is parked is actually very spacious, and had I come at a warmer time of year, I definitely would have enjoyed some of the outdoor living on offer (bbq, lounge chairs, hammock, etc.). I got a little lost trying to find the house at first, but I was able to get in touch with Misty right away on the phone and she was very patient in talking me through the directions. And yes, the camper is clean, warm, comfortable, and appropriately-stocked...I think the only thing I wasn't able to find inside was kleenex, but it was still totally worth it. This place is groovy. :)
Sara
2017-03-19T00:00:00Z
The spot was a little tricky to find because of glitches in map systems-- not Misty's fault-- but she answered right away when I called, it was kind of late and she helped us find it! It was so cute, had a closed private yard and Misty even turned on the heat for us to prepare for our arrival hours later! It has basic coffee making amenities and cookware--ideal! Thanks Misty!
Jess
2017-02-26T00:00:00Z
super adorable 80's style camper! Was fun/different to stay in. About a 15-20ish minute drive to downtown
Rachel
2017-03-12T00:00:00Z
Such an amazing place to stay! We felt like we had been transported back to the 70s! Wished we could have stayed longer, thanks misty!
Madeleine
2017-02-19T00:00:00Z
This place deserves as more stars than are available on the rating system. The Lazy Daisy is adorable and perfect for someone looking for an experience outside of the normal and mundane with all the little touches to colored back lighting in the cabinetry to the daisy coffee cups. It seems there isn't a detail Misty missed in restoring this travel trailer to it's original 70's glory. I will admit despite this awesomeness I didn't end up sleeping in the trailer. This is another amazing part of staying here--it was unseasonable cold and windy so Misty put me up in a bedroom in the house for the night instead. The house is amazing. I loved the richness of the colors on the walls, the relaxing furnishings, comfortable bed and kitchen will all the right stuff. I was traveling to do an externship for school and I was able to get breakfast and coffee together in the morning without a hitch. Another note--if you are doing an externship at the Northwest Veterinary Specialist VCA hospital it is a 5 minute simple drive from here and in better weather completely walkable. You won't regret your stay!!
Lauri
2017-01-04T00:00:00Z
Great little trailer. No detail was left out. We had a great stay. Even though it was short I would definitely stay again!
Alison
2017-02-04T00:00:00Z
Fantastic spot for a night of relaxing. We enjoyed the fire pit and ability to grill out and relax for the night. Would stay here again in the future.
Desiree
2017-04-02T00:00:00Z
Tipo di stanza
Intera casa/apt
---
Tipo di sistemazione
Camper/Roulotte
---
Può ospitare
2
---
Camere da letto
Clackamas, Oregon, Stati Uniti
Our newly remodeled space is perfect for your business trip or family get away! We are conveniently located 2 minutes from I-205, 5 mins from Clackamas Town Center, 20 mins to Portland International Airport, and 23 mins to downtown Portland. Enjoy is peaceful walk through Mt. Talbert nature park across the road or relax in our back yard. With a king Tempur-Pedic mattress and a comfortable queen size pull-out couch, this is an ideal location for all your Portland adventures! Add 7% local tax.
Our space is 800 square feet of home-away-from-home! Our full sized, fully stocked galley kitchen has everything you need to make those homemade meals you miss when traveling. Enjoy a peaceful view of our back yard while you prepare your food.
Tipo di stanza
Intera casa/apt
---
Tipo di sistemazione
Appartamento
---
Può ospitare
4
---
Camere da letto
Clackamas, Oregon, Stati Uniti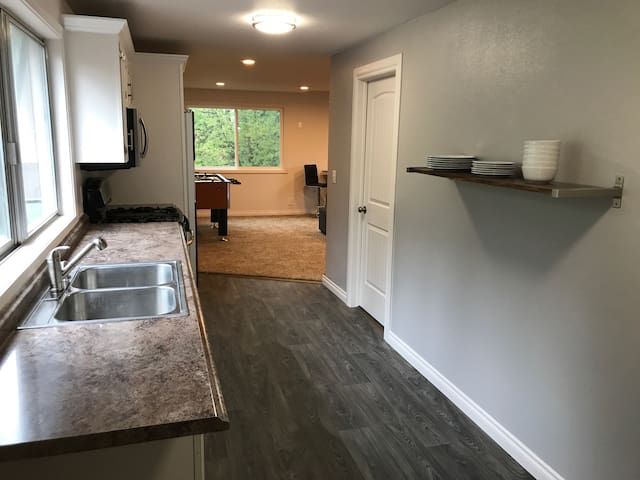 Cozy quiet cottage: private entry & shower, comfy queen bed, small fridge, microwave, hotplate, coffee maker, wifi, DVD/online player. Short walk to river, 2 parks. 5 mins to Lake Oswego, 25 to Portland. Close to Marylhurst & Lewis & Clark College.
Your private cottage really is the best of both worlds: though you're off the beaten path in a quiet setting under trees, you're also close to everything. The cottage is separate from the house, with its own entrance, so come and go as you please. You have everything you need for a comfortable stay – private bathroom, cooking facilities (fridge, hotplate, microwave, coffee-tea maker, plus pots, pans and dishes, a DVD/online player that lets you access Netflix, Amazon, etc, wi-fi – plus coffee, tea, granola, oatmeal, juice. The space is very nice for two (or 2 + small child), and the Murphy bed folds up to create an open space for meetings if need be. If you find you need something more, just ask us! We have books and DVDs to lend if you like. There is free off-street parking. Your Surroundings We're about a quarter mile off Highway 43, but that makes all the difference. It's very quiet here, and you can take a short stroll down to the river, a lovely walk, run or cycle on Old River road along the river, or quickly get to two parks. Nearby Mary S. Young State Park is a beautiful 128 acre forested park on the Willamette River with tons of hiking/running trails. Food shopping plus a few restaurants in West Linn – including the lovely, old town Willamette area - are 15 minutes south. Lake Oswego, with more shopping and restaurants, is 10 minutes north. And downtown Portland with its many eclectic restaurants, brewpubs, shopping and entertainment is about 25 minutes away. As Private as You Like We respect your right to complete privacy and we're very friendly – so you choose your comfortable level of interaction. We're happy to sit with you over a glass of something and discuss the many things there are to do in the area – from hiking in the Columbia Gorge to exploring restaurants and pubs in Portland's eclectic neighborhoods, to getting to wine countries (there are several distinct regions in Oregon). (We have an evolving guide of things to do, plus books on Portland walks, available to you.)
The neighborhood is a lovely, woodsy setting, quiet, a short stroll to the river and nearby Mary S. Young Park, a walk or cycle to Marylhurst College or George Rogers park on Old River Road - but we're also close to Lake Oswego and Portland.
My husband and I needed a place to crash to break our journey to the coast for our anniversary! We had a great time at the cottage! The listing description was accurate--exactly what we were hoping for.The cabin was spacious, and the shower had great water pressure. The little extras were the best part: having breakfast provided with local organic coffee and organic oatmeal and fruit, a TV, a refrigerator, a private bath, etc! It was nice not having to worry about parking as well. Kassie let us use their washer/dryer also (thank you!) and we felt totally at home. The price was incredibly reasonable and we are so thankful.
Ashley Marivittori
2014-09-05T00:00:00Z
We had a very relaxing time, the room was beautiful and cozy. We thank our hosts for the lovely stay and all the friendliness you gave us.!! Such a nice place!! Thanks again!! Tracy
Tomboy
2016-11-13T00:00:00Z
I spent a quiet,peaceful night at Kassie's lovely bnb. The "cottage" is very private and well appointed with everything one might need. I will definitely stay again in the future if I am in the Portland area. Dawn
Dawn
2015-08-12T00:00:00Z
We didn't see anyone during our stay, but we did receive an email prior to arriving letting us know how to get into the cottage (after we actually realized where it was). But once we got inside, we were very pleased with everything we found. Very, very clean (my highest requirement when staying anywhere), very well appointed and thoughtless stocked beyond expectations. Quiet with "green" views outside every window. Highly recommend it to anyone. Hoping to stay there again someday.
Shirley
2016-08-28T00:00:00Z
Very nice, clean, fully equipped, well decorated and lovely cottage. Kassie and Peter are wonderful host. We will definitely come back and stay with them again.
Tien
2014-09-07T00:00:00Z
Thanks for the great stay in your cozy space! Everything was as it looks in the pictures and clean and fresh. We enjoyed the stay although wish we had more time to get to know you. Hopefully we will stay with you again in the future. Thanks Scott
Scott
2014-06-30T00:00:00Z
Wow, what a find! This clean, airy, and comfortable studio was perfect for our needs while traveling through the Portland area. We only stayed one night, but would have been happy to be there longer. Peter and Kassie were great hosts.
Russ
2014-06-15T00:00:00Z
Wonderful stay! The place was lovely and Kassie and Peter could not have been more welcoming. Very peaceful. I really enjoyed my getaway!
Anne Weiss
2015-01-26T00:00:00Z
Tipo di stanza
Intera casa/apt
---
Tipo di sistemazione
Casa
---
Può ospitare
2
---
Camere da letto
West Linn, Oregon, Stati Uniti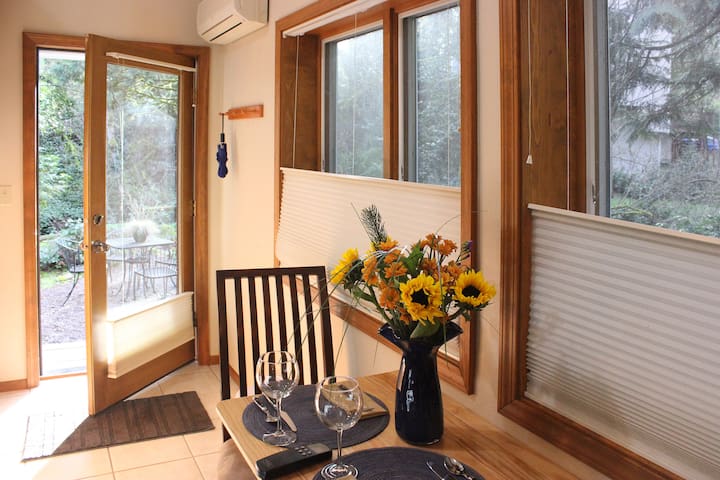 This is the front room to the home, located on the opposite side of the house. It is not a traditional bedroom & has a curtain door for guest privacy. Sleeping options: Queen sized Tempurpedic (8 inches off the ground) foam mattres. Public transport is close & a state park behind the house. Note: red couch in picture has been removed. REVIEW HOUSE RULES!
This is the front living room to the house. It has a curtain door for privacy and is separate from the other living quarters which are located on the opposite side of the home. There is a couch, oversized arm chair, 3D TV, portable clothing rack to hang garments and direct access to the kitchen. Note: we are native Oregonians, so please ask us questions about the area :)
The back of the house looks out into Mary S. Young State park which has a wide variety of walking trails and is a 10 minute walk to the waterfront of the Willamette river/ beach area. The home is located in a quiet and safe upscale community.
Elizabeth was an awesome host. She was very accommodating. She let us have your space when you wanted it. The house and the room are very clean and well kept. She said it was recently renovated. The room is away from other rooms that are rented out which makes it more private. There is plenty of street parking if the driveway is full. Elizabeth does a great job labeling everything making it easier to navigate through her home. Additionally, she lives less than 5 min away from a Walmart which is really convenient. Bottom line, I would definitely recommend her place for a stay.
Javzan
2016-08-31T00:00:00Z
Very very nice person looking forward to coming back :)
Christopher
2016-06-19T00:00:00Z
Elizabeth's home was very beautiful and set up in such a way that was easy to navigate and have a restful night. Would love to stay again!
Mohammed and Noël
2016-07-29T00:00:00Z
Our stay at their home was fantastic. I really can't say enough good things about Elizabeth's home. They were gracious, helpful, and charming. The room was in a quaint neighborhood and the experience was idyllic.
Julian
2016-08-21T00:00:00Z
Awesome stay. I would definitely consider staying here again if/when I come back to the Portland area. Great room and super clean house. A big thank you from me.
heidi
2016-09-05T00:00:00Z
Elizabeth was so nice and always near to help! Her house is clean and stylish. Also she made stickers which help you to find all staff you may need, very clever idea:) Despite our room was without door, it was not a problem at all for us. Value for this money perfect!
Zulia
2016-11-14T00:00:00Z
I had a great experience! I was here for 2 nights for a preceptorship. Everything was easy to find within the house, the bathroom was very clean and always smelled nice, and the neighborhood is quiet. It being winter, i was concerned I would get cold, but I was very cozy. Elizabeth was very nice and answered all my questions. I forgot my toothpaste and she gave me one of hers. I would definitely recommend this room to someone else.
Joanne
2016-10-06T00:00:00Z
Absolutely everything me and my fiance could have asked for and more. Elizabeth was wonderful and sweet and accommodating and then some. Her home is lovely and tasteful. Thanks you again for your home with us. Take Care
Jamie
2017-01-05T00:00:00Z
Tipo di stanza
Stanza privata
---
Tipo di sistemazione
Casa
---
Può ospitare
2
---
Camere da letto
West Linn, Oregon, Stati Uniti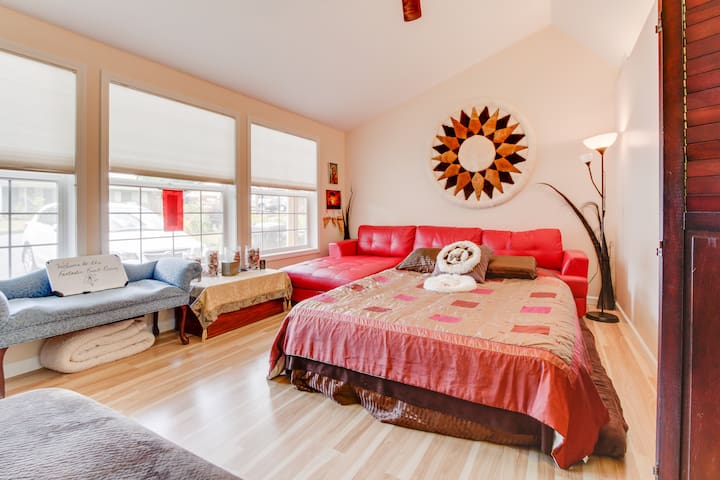 This brand new private room has everything you'll need for a comfortable stay in the Portland area! The room features private entrance, a well equipped kitchenette, an office area, and a private ensuite bathroom. Our home is located in a very safe and quiet neighborhood surrounded by hiking trails and a gorgeous Mount Hood view on clear days. Come relax on our back deck, take in the view, and enjoy some of our local wine and homemade vegan cheese!
Our home was recently renovated down to the studs, with this suite added specifically to host guests! The room has its own private entrance as well, so you may come and go at your convenience. We are located in the Portland suburb city of West Linn, just south of Lake Oswego and West of Oregon City. Our neighborhood is surrounded by Wilderness Park, a small forest with beautiful walking and hiking trails. We are 4 miles from Marylhurst University, 10 miles to SE Portland (20 minutes), and 15 miles to downtown Portland (25-30 minutes). We are also just North of many wineries and West of many hiking trails and ski slopes on Mt. Hood!
We live in a safe, quiet neighborhood that backs up to a large nature park (Wilderness Park) with several hiking trails. Our neighborhood is just off Hwy 205 and Hwy 43, so access to Portland and the surrounding towns/cities is very easy!
What an incredible place! From the location to the amenities we couldn't have enjoyed our time here any more. Location is in a great quiet neighborhood that is a quick drive away from the city. Our host prepared us a cheese platter for our arrival and we enjoyed breakfast cookies and coffee the next morning before we left. The bad was incredible. After a long day of driving that's exactly what we needed. Highly recommend!
Justin
2017-03-25T00:00:00Z
Shea's place definitely stands out from all the other places I've found through Airbnb. The neighborhood was absolutely breathtaking--scenic, secluded, peaceful. The place itself is clean, comfortable, and incredibly charming! It stole our hearts the moment we walked in. The pathway leading to the private entrance is automatic, making extra easy to find the right path to follow. Shea makes sure that her guests are equipped with all possible amenities they may possibly need: travel books and recommendations, lotion, soaps, cotton swabs, cotton balls, towels, a hair dryer, tea, coffee, etc. The place also has a private bathroom (the shower was incredibly pleasant), a mini fridge, a microwave, an additional air mattress upon request, and many available outlets throughout the room. Something that my friends and I also found added a special flair to the place was that everything in it is vegan and sustainability sourced. Shea was just as charming as the place itself. She is incredibly hospitable, responsive, and accommodating of travel challenges which made the entire visit an easy one. Shea is a traveler who knows how to accommodate fellow travelers. That's probably why the place was so perfect! I will be keeping this place on tab for future visits. I would definitely recommend you to, too.
Victoria
2017-03-26T00:00:00Z
Very communicative and accommodating. Allowed us to come much later than anticipated and we came and went as we pleased. Would love to stay again, highly recommended.
Chuck
2017-04-01T00:00:00Z
Tipo di stanza
Stanza privata
---
Tipo di sistemazione
Casa
---
Può ospitare
3
---
Camere da letto
West Linn, Oregon, Stati Uniti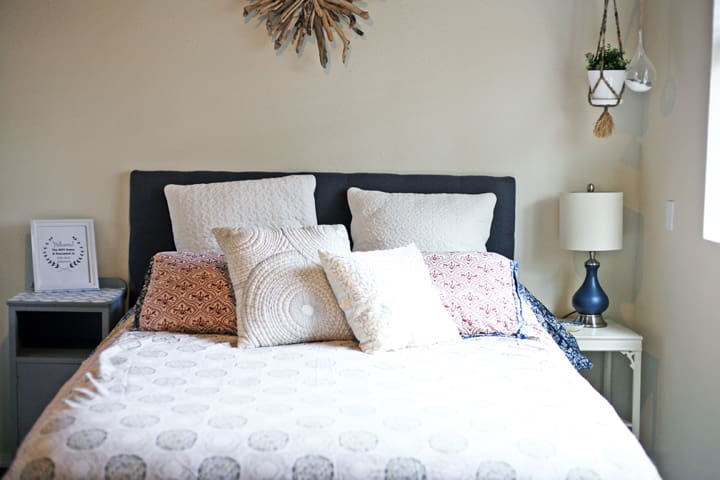 This private 1,100 sq.ft. unit on stilts is tucked onto a wooded hillside in a quiet neighborhood surrounded by green space, a creek below and forest views. Your 1st Floor apartment suite features a separate private entrance, luxurious bathroom w/ oversize shower & dual shower heads, a great room with gas fireplace, pool & ping pong table, dart board and high end Home Theater Room w/ a Tiki Bar kitchenette! The Guest Room opens to a spacious deck, patio furniture, LA Spas Oasis hot tub & BBQ
Centrally located in the Portland metro area, The TreeHouse is located in West Linn, a lovely, prosperous community bordering the Willamette River and features Willamette Falls* (see below) and a quaint "Old Town" to walk and explore with many dining opportunities. Portland is just 15 minutes away and Mt. Hood skiing and the Columbia River Gorge is less than an hour, the scenic Clackamas and Willamette Rivers (with wide sandy beaches for swimming and sunbathing) are just minutes away and the Willamette Valley wine country a mere stone's throw. This spacious, rustic tri-level stilt dwelling climbs into the surrounding forest and features a lovely view of the wooded hillside and creek below and features loads of amenities all for your exclusive use. The Tiki Dry-Bar Kitchenette (NOT a full kitchen and no sink, but no worries - we do the dishes for you :-) is equipped with a small fridge, ice cooler, coffee maker, toaster, microwave, dishes/glasses, silverware and food prep items (cutlery, cutting boards/mixing/serving bowls, spatulas, etc) and a couple of growlers to fill up at the local pub. There is NO COOK TOP OR OVEN, but on the deck you'll find a Jenn Air Gas Grill BBQ/Oven w/ Sideburner & Rotisserie and built in temperature gauge if you wish to grill, barbecue, bake or boil. Also, for special occasions or holidays we can loan you our Hamilton Beach 22 Quart (28 Lb Turkey) Electric Roaster Oven. One of the highlights of the space is The Blue Room (aka The Kane or "Man" Cave) a combination Home Theater Room / Polynesian Lounge w/ a Tiki Bar, leather sectional sofa / recliner, 70" Sony XBR HDTV and Marantz A/V Receiver with 7.1 THX Certified Surround Sound. With 7 reference quality Triad monitor & in wall surround speakers plus a 20" enclosed sub woofer, the system mimics the local Cineplex and doubles as a high end audio system as well. The Sony Blu-ray player features a host of integrated apps to include Netflix, Amazon Prime, HBO Go, Spotify, YouTube and many others. You'll find a number of audio CD's below the TV for your listening pleasure as well as Blu-ray movies. The system as a whole, whether it's music or movies, is a dream come true for any video or audiophile. The Tiki Dry-Bar kitchenette (no sink, but we do the dishes for you :-) is equipped with a small fridge/freezer, ice cooler, coffee maker, toaster, microwave, dishes/glasses, silverware and food prep items (mixing/serving bowls, spatulas, etc) and a couple of growlers to fill up at the local pub. There is no oven or stove, but on the deck you'll find a Jenn Air Gas Grill BBQ/Oven w/ Sideburner & Rotisserie and built in temperature gauge if you wish to grill, barbecue, bake or boil. A continental breakfast is provided in the fridge to include juice, coffee/tea, butter, jam, cream cheese and two or more of the following: cereal, bagels, waffles, toast & fruit. While central heating is provided, we also offer a natural gas, log fireplace with 65,000 Btu's at your disposal (see picture of great room). There are also extra blankets, quilts or comforters in the bedroom closets as well as a space heater for use in the bedroom. In conclusion, our space is homey with character and a comfortable, lived in feel. If you are expecting a pristine, perfect, Hyatt-like experience, you would be better served finding other accommodations :-) Likewise, while events are welcome, this is NOT a party house with noise restrictions that begin as early as 10:00 PM on weeknights. So, if you want to "party all night", you would be better served finding a stand alone unit. *The Willamette Falls is a natural waterfall on the Willamette River between Oregon City and West Linn, Oregon, in the United States. It is the largest waterfall in the American Pacific Northwest by volume, and the seventeenth widest in the world. Horseshoe in shape, it is 1,500 feet (460 m) wide and 40 feet (12 m) high with a flow of 30,849 cu ft/s (874 m³/s). It was also used as the backdrop of the series Twin Peaks.
In this upscale, quiet, residential neighborhood, you'll get the feeling of being "away from it all", yet only 20 minutes from downtown Portland and 3 minutes from a Walmart Neighborhood Grocery, Safeway and Starbucks. An award winning winery is less than 3 minutes away and Mary S. Young State Park no more than 5, and the lovely Tryon Creek State Park less than 15 min. Please check out our Guidebook for more tips and suggestions for nearby food and fun.
This location was a perfect getaway for our trip to Portland. John and Jereza were extremely gracious and went above and beyond to provide a perfect stay at their house. It's gonna be hard to beat playing some pool, relaxing in a hot tub, and watching tv in their tiki lounge with a 70" screen and full surround sound!
Zack
2015-03-07T00:00:00Z
A lovely tree-lined mountain retreat just 15 minutes from downtown Portland. John was a great host and we appreciated his full tour upon arrival. Especially loved the dogs! We only stayed 2 nights, and spent most of the time out sightseeing, but the time we spent at John and Jereza ' s was relaxing and thoroughly enjoyable. We didnt have a chance to try the hot tub, but they had a great shower, it was clean, and had a gorgeous view. They gave us great restaurant recos as well. Two thumbs up.
Rebecca
2015-07-04T00:00:00Z
We had a wonderful time at the tree house! We loved having the pool table and jacuzzi! It was a beautiful location.
Amy
2016-01-30T00:00:00Z
J&J were very hospitable and friendly. Their home was very clean had a lot of options to keep us entertained during our stay. We ended up grilling on the deck, spending time in the hot tub, enjoying the quiet nature setting on the deck :)
Carmen
2015-08-09T00:00:00Z
John'a home was very well kept and had many amenities and fun things to do. Wish we were there longer so we could have stayed to enjoy the fun things there were to do (such as billiards, hot tub, putting green, etc).
Megan
2016-09-10T00:00:00Z
Amazing space in a nice neighborhood. John was very helpful and the rooms were cozy and clean. My only disappointment was I should have booked the place for longer! Definitely recommend.
Daria
2015-10-03T00:00:00Z
From the pictures it appears that you have a separate secure quarters. In reality these are NOT separate quarters. It is the basement of a residence. Although there is a private entrance. There is a door to the basement from the house and the owners do not hesitate to use come in freely as they please. Whether you are in the rental space AND when you are not! There is a private entrance. But you are NOT allowed to have the key. THAT MEANS when you leave for the day your valuables are NOT secure. We therefore had to pack up our valuables and take them with us each day. Because all doors from his house and the front door were unlocked at all times. Our request to get the key was DENIED! Upon entering it is clear that DOGS live in the space. It reaked of dogs and damp mold. The supposed "breakfast suite" was LITERALLY left over EXPIRED milk, MOLDY cheese, opened food left over from previous renters. Dirty chopping board. Coffee pot filled with old coffee and dirty grounds left in the filter. Totally unsanitary space, left us totally disgusted. We avoided the area completely! It looked so good in the pics. In person this house needs a TON of TLC! I was so looking forward to that looked like a stunning outdoor space. I was in shock to find the hot tub was DRAINED & NOT WORKING! That patio was unswept, dusty, tons of spiders webs, left uncared for! Our last nite they managed to PARTIALLY repair the hot tub, get it filled, but did NOT skim the tub of debris NOR add any Chlorine! Im sorry but there is clearly a misunderstanding of even very basic higene here. Were we SO uncomfortable. From the smell, to the unsanitized bar/kitchen area (that had no sink) to the leftover expired and moldy food. It was an extremely uncomfortable stay! Unfortunately it was high season and we were forced to stay regardless of the insecure and unsanitized conditions here in this home.
Anna
2015-07-18T00:00:00Z
P.S. they also provide you with growlers for the breweries around the town! We loved stickmen which John recommended.
Stephanie
2016-01-23T00:00:00Z
Tipo di stanza
Intera casa/apt
---
Tipo di sistemazione
Appartamento
---
Può ospitare
3
---
Camere da letto
West Linn, Oregon, Stati Uniti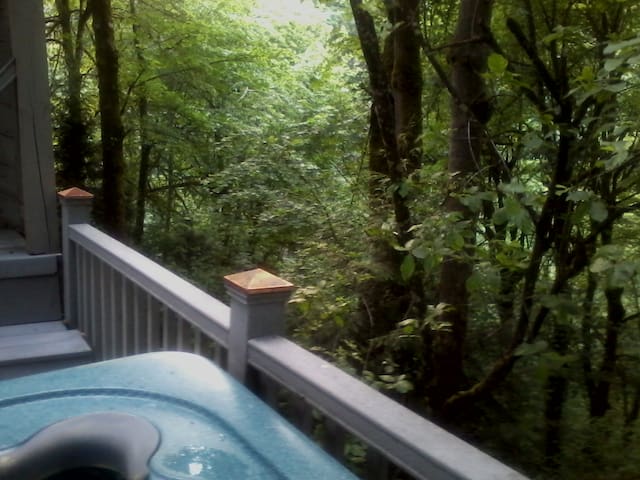 This bedroom includes a private bedroom with full size bed, full closet, and shared bathroom. Visitors have unlimited use of entire house and backyard. House has a state park with waterfront access, close to downtown Portland. REVIEW HOUSE RULES! :o)
The guestroom includes a comfy full size bed, a desk, nightstand, and full closet. The bedroom is east, facing the backyard to wildlife scenery of the state park. The mattress is a Sealy pillow top Full/Queen sized mattress. The full bathroom is shared with shower, shampoo, conditioner, body wash, and fresh bathroom towels. Hairdryer, q-tips, toilet paper, are also available for use. Note: we are native Oregonians, so please ask us questions about the area :)
Mary S. Young State park is behind house with 2 access points on the east and west sides of the home. Short walk to waterfront/Willamette River beach front. Several maintained and clean public restrooms located throughout state park.
Elizabeth's cozy retreat room was just what we were looking for and was exactly as described. She was accommodating to our schedule and very flexible. Would definitely recommend again. Thank you!
Will
2016-07-03T00:00:00Z
while i was unable to stay at elizabeth's place due to a flight delay that caused us to cancel, she was very kind and informative during our communication. i would be delighted to have the opportunity to stay with her.
asia
2016-12-17T00:00:00Z
This is the place to book if your looking for more than just a room. Elizabeth is kind and sweet and generous, not to mention incredibly friendly! Would absolutely stay again! 5 stars!
Jayde
2016-09-04T00:00:00Z
Elizabeth is an amazing hostess, she went out of her way to make our stay comfortable. She was very prompt answering our book request, though we were very last minute she took us in and we appreciate it very much! Everything was very clean and smelled nice. There's a nice little bike trail close by we had fun with too!
Kayla
2016-06-30T00:00:00Z
Everything was very organized and clean! We had a very great stay at Elizabeth's house. Definitely recommend! Thank you for being welcoming!
Genesis
2016-10-17T00:00:00Z
Host was great and made entire experience simple and luxurious. I would highly recommend! Very convenient and easily accessible location. There is a beautiful park and walking trails directly nearby. Very safe and quiet neighborhood. I am very thankful to have stayed here.
Jacob
2016-06-20T00:00:00Z
This was my first Airbnb experience. I was won over by Elizabeth's place. It's clean and comfy with plenty of accoutrements in the kitchen to create meals with. If one is comfortable in a communal environment, this is a sweet spot.
Cindy
2017-04-03T00:00:00Z
Very comfortable place in a great location! Great value!
Jenna
2017-03-13T00:00:00Z
Tipo di stanza
Stanza privata
---
Tipo di sistemazione
Casa
---
Può ospitare
2
---
Camere da letto
West Linn, Oregon, Stati Uniti
This 1930's restored farmhouse cottage is located in the quaint "Stafford Hamlet" 10 miles south of downtown Portland near the I-205 & I-5 freeways. We are centered between downtown Tualatin & Lake Oswego for summer concerts, shopping & dining. Our place is good for couples, solo adventurers, and business travelers.
Bring your kayaks, canoes & paddle boards along! We are a country block from your Tualatin River "put in". This is a very unique 1930 cottage completely restored. Everything in the cottage is brand spankin' new! Soft luxurious bamboo sheets & towels await your arrival. You will enjoy an outdoor deck with 2 chaise lounge, game table, & fireplace. Heos music speaker for your enjoyment that can be brought onto the deck with you. You will need to download the free Heos app on your phone or we can set the music for you if we are home.
We are located in the unique Stafford Hamlet 10 miles south of downtown Portland. Surrounded by farmland and yet close to I-5 & I-205 freeways for quick access to downtown Portland, beaches, mountains, high desert. For water sports fun we are a couple country blocks from our Tualatin River "put in". Kayaks, canoes, paddle boards, inner tubes all welcome to join you. For walking, running or biking, we are located on a 3 miles loop. The comfort of this cottage will transport you to a time when life was simple and charming.
Our stay with Catherine was lovely! She was a gracious host and communicated well. She was also flexible about the check-in time and kindly waited up for us to get in late in the evening. The place was very clean and homey, and the breakfast bananas were a delicious bonus. I would definitely recommend!
Adrianna
2017-03-31T00:00:00Z
Amazing and friendly host! Room and amenity's were spot on, when we come back to Portland this is a must go destination!!!!
Ryan
2017-04-01T00:00:00Z
Catherine's home was beautiful, she welcomed us in with open arms! If we ever find ourselves looking for a lovely home away from home on the outskirts of Portland again we will definitely choose Catherine's home again in an instant.
Brittney
2017-03-25T00:00:00Z
Tipo di stanza
Stanza privata
---
Tipo di sistemazione
Suite degli ospiti
---
Può ospitare
2
---
Camere da letto
West Linn, Oregon, Stati Uniti
Cozy home with close access to parks, the Willamette River and historic downtown West Linn. You'll love my place because of the location. Easy access to I5 and I205. My place is good for couples, solo adventurers, or business travelers.
Jen's place is really nice. The neighborhood is safe as well. By the way, we love her pets, especially Oscar!
David
2017-03-11T00:00:00Z
We only stayed one night, but we ha such a great stay!! So clean and such a nice bed and room, and that's not even including her amazingly sweet animals! Would happily stay again!
Emma
2017-04-07T00:00:00Z
Great folks. Location is excellent. You will like it.
garth
2017-02-26T00:00:00Z
Jen and Tim are such good hosts: accommodating, kind, and interesting.
Susan
2017-04-06T00:00:00Z
Great place to stay. Clean house, comfortable bed, and very quiet. Jen made me feel welcome and was very easy to communicate with. I'll definitely stay here again!
Kim
2017-03-08T00:00:00Z
Great room... secluded area with nice yard and big Oregon trees!
Jason 杰森
2017-02-25T00:00:00Z
The host canceled this reservation the day before arrival. This is an automated posting.
Hailey
2017-02-17T00:00:00Z
This is a beautiful home in a quiet neighborhood. Jennifer is easy to reach with questions and is very friendly.
Ashleigh
2017-03-12T00:00:00Z
Tipo di stanza
Stanza privata
---
Tipo di sistemazione
Casa
---
Può ospitare
2
---
Camere da letto
West Linn, Oregon, Stati Uniti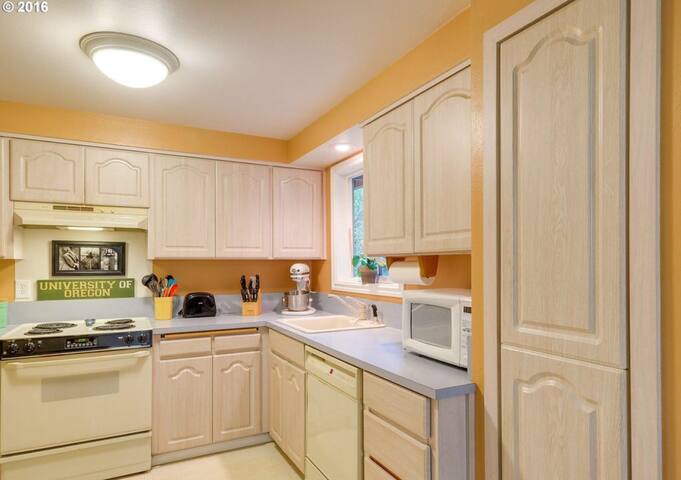 Newly remodeled charming cottage in the heart of West Linn. Grocery, restaurants, library, and park all in walking distance. Two minute walk to bus stop.
Old world feel, very cosy, but with recent updates. Good sized, newly updated kitchen with gas stove/oven, granite countertops, and dishwasher. New hardwood, tile, and carpeting throughout. Clackamas Town Center, a large shopping mall, is only 10 to 15 minutes away. Two minute drive to dog park, and can walk to Willamette river shore. Large variety of restaurants within minutes by auto.
Peaceful, friendly, and safe.
Was okay
Afsane
2017-04-08T00:00:00Z
Our stay at the cottage was very comfortable. Cozy with plenty of room for family of 4 with 2 adult children.
Misoon
2017-03-24T00:00:00Z
This private home is well equipped and very clean. We arrived late to be greeted by Sandy, our host. She welcomed us with open arms and gave us a tour of the home and made sure the details met our needs. We were welcomed to a pre-heated home, with great wifi, Netflix, plenty of street parking, three full bedrooms, proper towels, linens, and all the other necessities . Sandy recommended some sightseeing options, shopping and we loved visiting Willamette Falls, the municipal elevator, and had a great time walking down Main street in Oregon City. Our trip to the airport was about 30 minutes and we enjoyed the Sub Zero ice cream parlor right down the street. Parks were close by, and it was a great end to a longer vacation. Thanks for everything!
Devin
2016-12-13T00:00:00Z
This house is comfortable, clean, charming and excellent value. The host provides all you need for comfort and more. She was responsive and helpful. It has many kitchen gadgets from a Kitchen aid blender/food processor to a fancy toaster oven. The house had wi-fi, tv channels, the beds were very comfortable and plenty of space for our family. It was convenient to grocery, restaurants and lovely parks. An awesome place for a small family to stay!
Rebecca
2016-12-27T00:00:00Z
The house was sufficient. Good location and quiet. Enough room, basic amenities and a great value. Nicely updated bathroom and kitchen, although light on dishware.
Michelle
2017-03-19T00:00:00Z
Host was very nice, and quick to respond. the house is beautiful, clean, and in a nice area.
Scott
2017-03-28T00:00:00Z
Comfortable enough for what we needed. Fairly quick drive anywhere.
Cheri
2017-03-31T00:00:00Z
Stayed at Sandy's with family for a loved one's memorial. Good place for a group of four to six. Close to good groceries, clean, warm and comfortable. Quiet. Host honors privacy and communicates well.
Kelly
2017-02-13T00:00:00Z
Tipo di stanza
Intera casa/apt
---
Tipo di sistemazione
Casa
---
Può ospitare
6
---
Camere da letto
West Linn, Oregon, Stati Uniti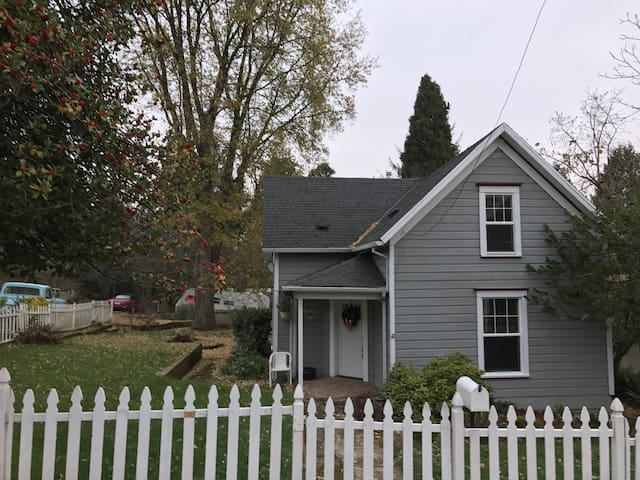 Clackamas - Airbnb
:
Media di

4.94

stelle su

5

da

1981

recensioni degli ospiti
Inserisci le date per visualizzare il prezzo totale. Ci sono dei costi aggiuntivi e potrebbero venire applicate alcune tasse.