This is a small cabin at the back of our property that has good privacy from the main house. It's a cozy space, but with a King size bed and a loft it easily accommodates 4 people, and we have packed in many more than that! Very close to the beach.
The cabin is rustic but well equipped, with a KING size bed, fold-out futon, small fridge and sink area with a coffee maker, as well as a private bathroom. The kitchen isn't really set up for cooking, but we have a teapot for hot water and one of our first guests gifted us a small grill, so outdoor cooking is totally available. The KING bed is very comfy, and the futon has a thick 8" mattress, and the space can be arranged as a sitting room or as a bedroom studio. There is an additional futon in the loft that is nice for lounging or birdwatching.
We live in a beautiful wooded neighborhood with large open spaces. Great for a morning walk or a jog with the dog. We live on the corner of two streets, both of which end at the intercoastal waterway.
David was a wonderful host. He was very friendly and welcoming. The cabin was awesome - very clean and a perfect place for a weekend at the beach. We had a restful and wonderful girls weekend and were able to spend some great time on the beach and kayaking. We definitely want to come back. Thanks David!
Hannah
2015-08-17T00:00:00Z
The cabin is absolutely stunning on the inside and out and feels very private. The location is perfect for visiting Wrightsville Beach, downtown Wilmington, Southport, and Carolina Beach (as well as my new favorite microbrewery, the Flytrap). David is and excellent host and very quick to respond to any questions we had. If I'm in Wilmington again, this is where I'll stay!
kelli
2015-08-22T00:00:00Z
Great cabin and great host ! I will definitely come back for my next weekends to the beach.
Caroline
2015-08-10T00:00:00Z
When choosing a space at Airbnb, I have a tendency to read descriptions through rose colored glasses. Sometimes, "The Chalet", actually means "The Converted Garage", but not in this instance. The space itself is so much more than I could have hoped for. The property is spacious. The neighborhood is peaceful and safe, yet close to the beach and downtown. The hostess is friendly, warm and accommodating. It won't be long before you consider her a friend. If the description of this cabin piques your interest at all, go for it. You will not be disappointed.
David
2017-02-28T00:00:00Z
Wow...all you could ask for when needing a relaxing break from it all. Great location, great folks. We'll be back again and again.
Peter
2016-11-13T00:00:00Z
We had a wonderful stay at David's cabin. The bed is super comfy and David made sure we had everything we needed. There was plenty of wood for making fire at night and we also had a BBQ just outside the cabin. It is an absolutely wonderful area and I wish we could come back soon!
Janna
2015-09-16T00:00:00Z
Don't even hesitate!! This rustic and beautifully designed guest cabin was absolutely perfect for us. Clean, bright, dog friendly, and private. We like to keep to ourselves but David was super nice and always available when I had a question. The neighborhood is residential and quiet, while also being close to everything you need, especially if you are obsessed with Flaming Amy's Burritos like us :) 10 minutes to the beach, and 15 minutes to Front Street. Can't wait to come back!
Mary Lovell
2015-08-19T00:00:00Z
The perfect get away! A cozy, clean, quiet place to get away from all the businesses of life. Katia is a wonderful person, very hospitable. We also brought our two dogs amd they loved it! This cabin has no TV so its perfect for bonding! Can't wait till our next trip back! The location is great! Close to the water, beautiful scenery, restaurants, and local businesses. I can't say enough about this Airbnb find!
Bobby
2016-11-02T00:00:00Z
Tipo di stanza
Intera casa/apt
---
Tipo di sistemazione
Chalet
---
Può ospitare
4
---
Camere da letto
Wilmington, North Carolina, Stati Uniti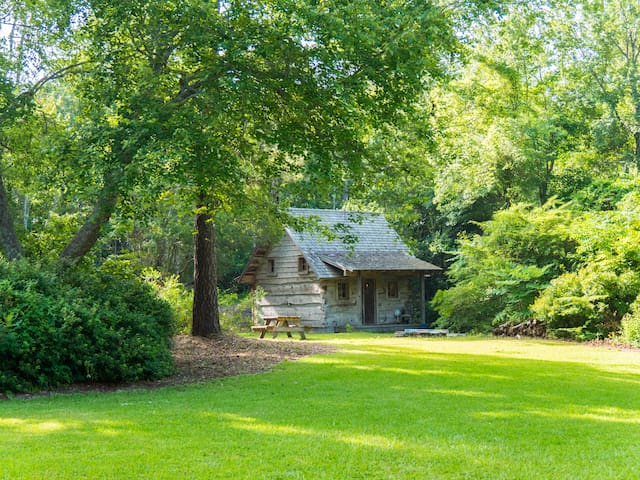 Our cozy little cabin has a nifty sleeping loft with two futon mattresses, a couple of queen size beds and a single bed to comfortably sleep five. This is a crash pad for the lo-fi traveler. With a full bathroom, a dorm fridge and a microwave.
The cabin is an efficient, one room building that is fun for a single traveler or some friends wanting to have a dorm-like getaway. The cabin has a smallish water heater so showers last for a glorious seven minutes depending on how hot! Group shower anyone??
The cabin was super cozy. The entire experience was so fun. Dan was very easy to coordinate with and we couldn't have been happier when we opened to door to find the coolest little bungalow surrounded by a magical yard. We wish we could have stayed longer. Close to downtown and easy access to the beach. We had a wonderful night and slept great!
David
2015-06-03T00:00:00Z
Great location downtown as explained in the description. I loved the cabin and the surrounding garden and homes. It is a whimsical fun place perfect for a group traveling together that doesn't mind not having separate rooms. Although Dan was out of town he had a friend meet us and get us set up, and everything went smoothly. Thanks to Dan and Matt for hosting us.
Naomi
2015-05-26T00:00:00Z
What a fantastic visit! My boyfriend and I were pleased to be staying in such a unique place with easy access to downtown Wilmington. We walked everywhere and felt like we were coming home each time we walked up to the blue door to the yard. While we didn't meet Dan, he was very helpful via text. We'd love to stay there again and take our dogs so they can enjoy the yard and the surprisingly roomy and welcoming cabin. Dan has furnished the space so it feels homey but uncluttered. I'm hoping my boyfriend, our dogs, some friends and I can spend a longer trip at the cabin and take advantage of the yard, including a vintage food truck converted into outdoor seating and a picnic table. Thank you for your hospitality, Dan!
Payton
2015-06-08T00:00:00Z
Drove out to Wilmington from Durham last minute and Dan and Matt were so easy to communicate with. We texted Matt as soon as we were 15 minutes away and he was waiting with keys when we arrived. The location was perfect- we were 15 minutes from the riverfront and walked to and from dinner. The cabin is quaint, clean, and everything we needed for a quick weekend getaway!
Christine
2015-09-14T00:00:00Z
We had no idea The Cabin would be perfect for us. The open layout was the perfect way for us to catch up. Although we did not get the opportunity to meet Dan, Matt gave us a tour of the area. This is a great space and we hope to return when it is sunny. We also will consider coming for the festivals Matt told us about.
Felicia
2015-05-10T00:00:00Z
The perfect Wilmington spot. Dan and the team at Jengo's have put together an awesome little oasis. The cabin is cozy and so cute. Plenty of DIY charm that inspires and delights. Fenced in so the pup could run. Close to downtown, close to the beach, a one of a kind stay in Wilmington.
Shelby
2016-01-02T00:00:00Z
Dan was very helpful in making sure we got settled in well. House was perfect and the property was fantastic! Will definitely stay here again on our next visit to Wilmington!
Daniel
2016-06-26T00:00:00Z
Dan was very accommodating and friendly, this was definitely a great place to stay. The cabin is exactly what you would need/as described. It was in the backyard of an artist retreat compound and very quiet/relaxing. Having morning tea on the front porch was excellent! You only need to walk 5-6 blocks to get to downtown Front Street, where there are a lot of very cool bars/restaurants. The beach is also only maybe a 15 minute drive. I would recommend staying at this cabin and would absolutely be willing to stay at it again myself.
David
2015-11-02T00:00:00Z
Tipo di stanza
Intera casa/apt
---
Tipo di sistemazione
Chalet
---
Può ospitare
5
---
Camere da letto
Wilmington, North Carolina, Stati Uniti
Our newly constructed cabin sits on a bluff overlooking the NE Cape Fear River. It's a 400-sq.ft modern cabin with all comforts. Queen size bed, detailed woodwork throughout, high ceiling, an expansive covered porch with fans. Wheelchair accessible, full kitchen, granite bar, bathroom with walk in shower Experience a relaxing weekend retreat or romantic getaway. Boat ramp is in walking distance bring your kayak or boat. Explore North Carolina's best kept secret, the NE Cape Fear River!
House custom designed by Ron Wilson. Very comfortable. Stand alone lodge has a private entrance and wooded outside area, includes a rock garden with water feature and views of the river A relaxing 28x10 porch seems to float over the water atop of the bluff. A birders paradise both day & night. While inside oversize sliding glass doors add to the spectacular views. The mini split heating & air unit is very quiet and efficient. The modern Victrola is a radio, plays albums, cd's, tapes and is bluetooth compatible.
We are in a quiet safe neighborhood. Our drive is the first one on left entering Cape Landing Road. The boat landing is around the corner, a short walk or drive. you are welcome to bring your kayak, canoe, or boat for a fun day on the water. There are 3 gas stations half mile away for boat fuel.
Diane's place is truly incredible. These reviews aren't joking when they say she thinks of everything. The cabin is gorgeous, newly updated, the view is amazing, it's totally private, and Diane is such a gracious and thoughtful host. Have never had a better experience with an Airbnb host. Their place is amazing and it was nearly impossible to leave the cabin at all. Definitely hope to return in the future.
Jordan
2017-03-19T00:00:00Z
This place is fantastic! The view is awesome! The little studio is right next to the house but you would never know. Diane and her husband have done a wonderful job at making it your own personal get away. I could have honestly spent all weekend just hanging out here and on the porch. All around perfect stay, with great host! Will definitely be back!
Sadie
2017-02-12T00:00:00Z
The river lodge is truly a special place to just relax and watch the Northeast Cape Fear River as it changes from dawn to dusk. Perfect for 2 people, very comfortable and cozy. The house was just completed with a lot of custom woodwork, nice efficient kitchen. All very clean an new. It's location is very convenient to Wilmington and Wrightsville beach but feels like you are out in a very private natural setting. We would definitely return, Diane and Doug are terrific hosts attentive to your every need.
Robert
2017-03-16T00:00:00Z
This is a fantastic little place and the pictures do not do it justice. It is very well built and appointed. Great details and wood work throughout. Very clean with a nice bathroom. Being right on the water is calm and cozy. The little heater works well and the kitchen is serviceable for the size. Diane is an incredible host - having her next door is nice. There is a nice record/CD/radio player that we used quite often. It also will take a mini jack to plug in a device. We definitely plan to be back.
Matt
2017-01-31T00:00:00Z
Beautiful space right on the river with everything you need. Checked in for a quick overnight on the way to South Carolina and had trouble pulling away from the porch in the morning.
Lisa
2017-03-04T00:00:00Z
We felt welcomed as soon as we pulled in the driveway and stepped out of the car. The rock garden and fountain area were lovely as we walked toward the deck. Once on the deck the view was breathtaking and the fresh cut flowers on the table between the 2 rockers was a delight. Stepping inside everything was so clean and fresh. Diane thought to include everything we needed. I truly did not want to leave this Heavenly Riverfront Lodge. We will be back!
Frances
2017-02-19T00:00:00Z
Tipo di stanza
Intera casa/apt
---
Tipo di sistemazione
Chalet
---
Può ospitare
3
---
Camere da letto
Castle Hayne, North Carolina, Stati Uniti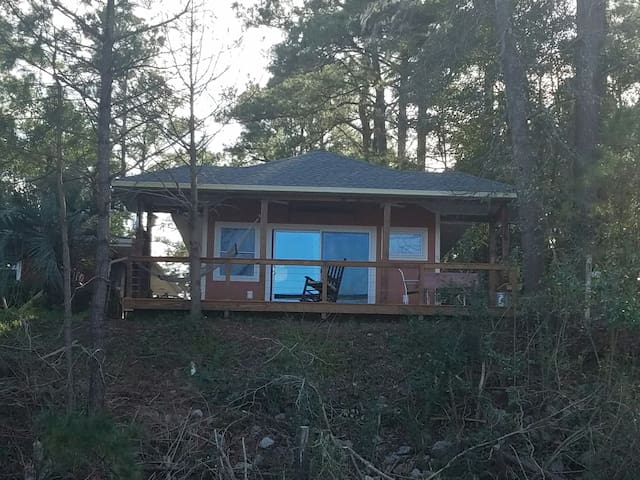 Carolina Beach - Airbnb
:
Media di

5

stelle su

5

da

104

recensioni degli ospiti
1

–

3

di

3 Chalet in Affitto
Inserisci le date per visualizzare il prezzo totale. Ci sono dei costi aggiuntivi e potrebbero venire applicate alcune tasse.