Mi barco está atracado en el Waterfront de Ciudad del Cabo, que es una atracción turística y el cubo local. Aquí se encuentra un montón de tiendas, restaurantes y actividades. Tiene una gran vista de la montaña de la tabla y la rueda del Cabo. La línea de costa es una ubicación muy céntrica, cerca de muchas de las otras atracciones turísticas y joyas locales de Ciudad del Cabo.
What a cool experience. Loved every moment of it- amazing location, comfortable beds....great experience
Giselle
2017-04-06T00:00:00Z
We had a great stay for 3 nights. The boat is moored in the heart of the waterfront, you couldn't get a better location for this value. The bathrooms at the marina office are only 2 minutes from the boat and are very clean. Although you can't cook on the boat there is a kettle and tea and coffee provided. Would definitely recommend this to others !
Hannah
2017-01-04T00:00:00Z
Perfect for anyone wanting a live aboard experience in a marina.
Jon
2017-02-13T00:00:00Z
We had s fantastic stay on the yacht New Years Eve. It was a few minutes walk to the V&A Waterfront, and it was safe and secure. The yacht was spacious and we will definitely consider this again. A totally unique and fun experience and our host went above and beyond to make the stay a memorable one. Thank you!
Monica
2017-01-01T00:00:00Z
Different. Chris and staff very helpful. Prime location at waterfront. Just remember not a lot of space. I missed that there were no towels provided.
CHRISTELLE
2017-04-09T00:00:00Z
Wonderful!
Suzanne
2017-02-06T00:00:00Z
Tipo di stanza
Intera casa/apt
---
Tipo di sistemazione
Barca
---
Può ospitare
6
---
Camere da letto
Città del Capo, Western Cape, Sudafrica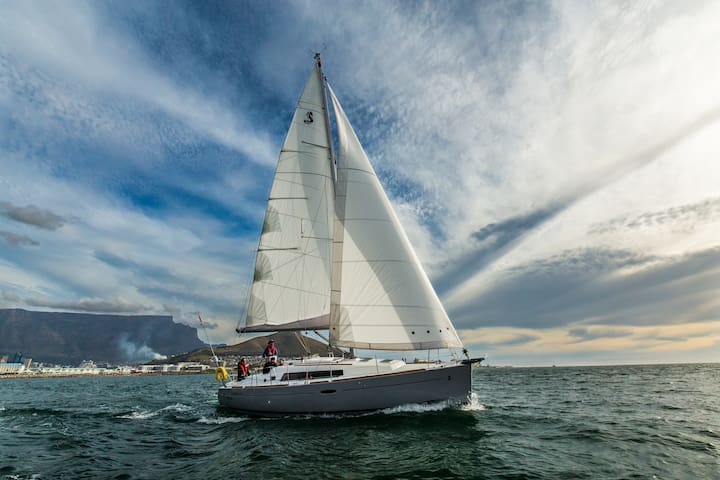 Nueva catamarán de 44 pies Matrix, 4 literas dobles, todas con baño privado, disponible para las cartas.
catamarán de lujo para el alquiler, Paquete completo, barco incluye completas instalaciones de lujo, de alta especificación 120lt por el fabricante de agua hora. grupo electrógeno 4 WC vacume ras. Sucio Perfecto para eventos corporativos que necesitan una clase alta, la función íntimo ya la vez diferente.
RCYC se encuentra en un entorno de muelles de trabajo y permite un acceso rápido a V & A, así como velas de día de Clifton y la isla de Robben o redonda. velas largas como Isla de Dassen, Hout Bay, Saldanha Bay, Mykonos etc Pickup es conveniente en el muelle en frente del hotel Table Bay en e(URL HIDDEN)RCYC Marina
What an amazing experience with graig and Brenda we had the best time ever and wil definitely do it again;)) Thankyou for hosting us so well;)
Nicolas
2016-01-02T00:00:00Z
Both Craig and Brenda showed us a fantastic day out, whilst we didnt stay overnight on the catamaran, our group of 8 would recommend our fantastic hosts all day long. Accommodating and friendly, we couldn't speak highly enough of them. The catamaran itself was clean and spacious so if you are in Cape Town and looking for a day out and/or trip you need to get in touch with this lovely couple. Best day out ever!
James
2016-12-29T00:00:00Z
It was such a wonderful experience to spend one night on this amazing Catamaran. Those whom are visiting Cape Town, this is a must do. Craig was an amazing host; ultra friendly, chatty and informative. He is the skipper of the yacht so he will be there will you throughout the whole journey. Before I booked the yacht I sent Craig a private message and he responded within 30 mins! And I would say that is fast. Since I have never book a yacht before, I asked Craig bunch of questions and he was very patient with replying my messages. Craig is also very flexible with the arrangement on board and sailing routes. He is really there to cater to your needs. Craig is very friendly and very willing to share with you his sailing experiences. Most of us had never been on a yacht so it was very interesting for us to learn. Craig brought along another two crew members, his partner Brenda, and a friend, Liev (I think that is the spelling). Brenda plays a major role as well, while Craig navigates she is the one that attended to our needs..... She is pro active and not reactive. All three are very good cooks. We have three wonderful meals on board. One of the nest thing to do on a yacht is to eat and drink. We brought along extra snacks, therefore, it was non stop eating and drinking for us. The yacht itself is very well maintained. Four ensuite rooms, for a yacht, the rooms are spacious! The rooms and bathrooms are very clean and comfy. Other then bringing extra snacks, its wise to do a playlist of songs cos having your own music just make it so much more fun and homier. Overall, this is an unforgettable experience. My friends had told me that getting a yacht and sail around will complete my visit to Cape Town and they are spot on!
Thian
2015-05-19T00:00:00Z
Tipo di stanza
Intera casa/apt
---
Tipo di sistemazione
Barca
---
Può ospitare
8
---
Camere da letto
Città del Capo, Western Cape, Sudafrica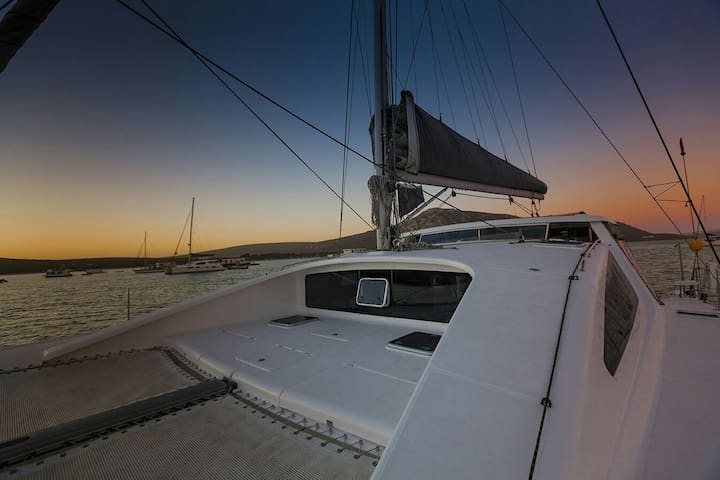 44ft Matrix premio catamarano, 4berths tutte con bagno privato, disponibile per un minimo di calabria 5 ore .. Visualizza lungomare da un'altra angolazione. Granger Bay e Clifton vista come il fai elite. Delfini, balene, foche e pesci luna regolarmente visto.
noleggio barche Premium per coloro che desiderano esperienze di fascia alta
Table Bay e circonda dare una vista più sorprendente della Table Mountain, i 12 apostoli, e l'isola di Robben. gli abitanti dell'oceano, le balene, delfini, foche sono di solito visto, e talvolta le balene.
Tipo di stanza
Intera casa/apt
---
Tipo di sistemazione
Barca
---
Può ospitare
14
---
Camere da letto
Città del Capo, Western Cape, Sudafrica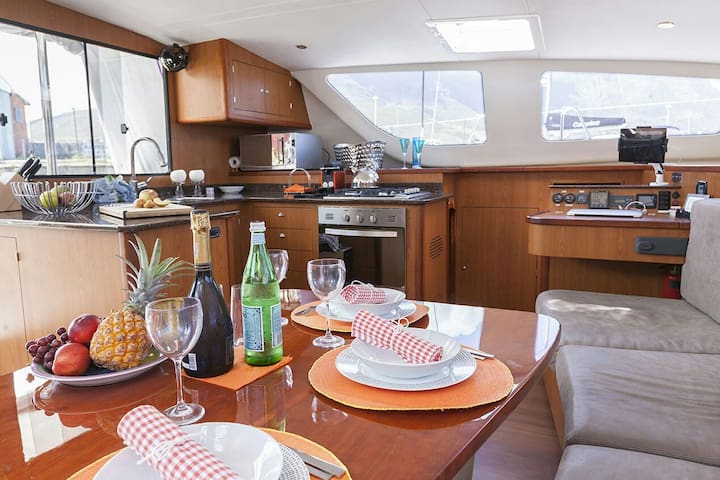 Tipo di stanza
Intera casa/apt
---
Tipo di sistemazione
Barca
---
Può ospitare
4
---
Camere da letto
Città del Capo, Western Cape, Sudafrica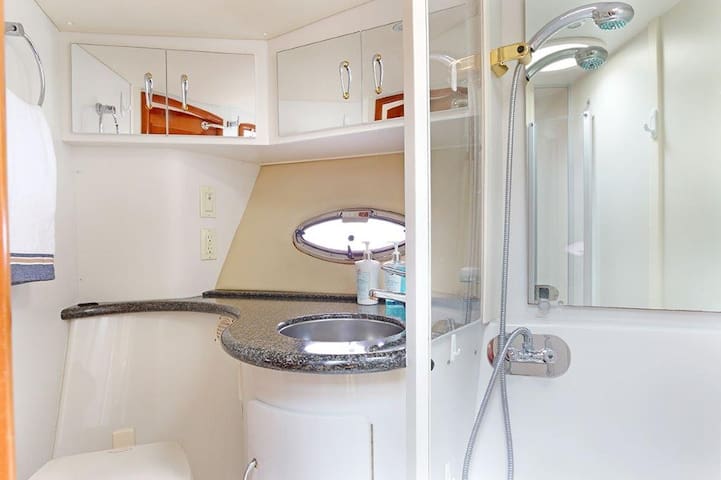 1

–

4

di

4 Barche in Affitto
Inserisci le date per visualizzare il prezzo totale. Ci sono dei costi aggiuntivi e potrebbero venire applicate alcune tasse.