Questo grande e moderno attico è in una zona centrale e si compone di 3 piani, tutti con viste incredibili. L'ultimo piano dispone di una piscina privata e magici panorami a 360 °. Situato sulle pendici della Table Mountain e vicino a tutto!
Questa luce, luminoso appartamento attico offre una vista mozzafiato sulla città, oceano, Signal Hill, Lions Head e Table Mountain. Il tetto-terrazza privata offre sensazionale vista a 360 °, un braai / barbecue e una piscina per rinfrescarsi e godere della splendida vista. La camera si trova al centro delle 3 piani e vanta un ampio bagno e cabina armadio con una splendida vista attraverso le finestre a doppio volume. Il soggiorno e la cucina compongono il piano inferiore e offrono tutto si potesse avere bisogno nella loro casa lontano da casa. Il balcone offre anche il luogo ideale per cenare all'aperto nello splendido tempo di Città del Capo. L'appartamento è dotato di tutte le ultime tecnologie tra cui la televisione via cavo, internet wireless e l'accesso controllato a distanza. L'appartamento dispone di 2 parcheggi - un garage e un posto di parcheggio all'interno del complesso sicuro.
L'appartamento si trova in un quartiere davvero meravigliosa - Vredehoek. Si trova nel centro di Città del Capo City Bowl. La zona è sicura, pulita e ben situato sulle pendici della famosa Table Mountain. La posizione comoda e centrale di questo appartamento lo rende il luogo ideale dove soggiornare per una vacanza. La zona è piena di negozi alla moda e negozi di caffè. Città del Capo centro della città si trova a 5 minuti di auto (15 minuti a piedi) lungo la strada dove si può avventurarsi per le strade della città, il quartiere degli affari e il vibey Long Street. Il V & A Waterfront è a circa 7 minuti e offre fantastici ristoranti, negozi, negozi di souvenir, mercati e attrazioni turistiche. migliori spiagge di Città del Capo - 1 ° Clifton, 2 °(URL HIDDEN)°, sono a 10 minuti di auto e offrono alcune delle migliori spiagge del mondo. Camps Bay striscia è dove troverete un sacco di bar sulla spiaggia e ristoranti alla moda e si trova a circa 12 minuti di auto.
The Penthouse was wonderful. Nice view and nice wirlpool on the top. 10 min by car to the City Center. We really enjoyed our stay. Gabriel was very helpful. When we have contact him, he answered immediately. We can really recommend this Penthouse.
Elisa
2016-01-25T00:00:00Z
We had a wonderful holiday in Cape Town in this lovely flat. Gabriel is very friendly host an he is really taking care. He was waiting for us at the flat for more than one hour because we got stuck in the traffic. He was showing us everything in a friendly and warm manner. He is reachable via email, mobile phone or (SENSITIVE CONTENTS HIDDEN) at any time and replies immediately. The flat itself is located in a safe living area at the food of Table Mountain. It´s a very unique and fancy flat with maybe one of the best views over CT, for sure better than compared to each available Hotel. You weak up with a great view on lions head and signal hill. The absolute Highlight is the roof top pool even it can be very interesting with the strong winds you will experience for sure if you stay for more than one week. We can recommend Gabriel with his flat in any case and we are sure we will come back.
Ute
2016-11-05T00:00:00Z
A fabulous and unique find - set on three levels with an amazing view out over the city and to the sea. Enjoyed sundowners from the pool on the roof and then the comfortable bed afterwards! Small but more than enough for two people. Thanks for the great hospitality Gabriel.
Virgilio
2016-03-04T00:00:00Z
We stayed 9 days in Gabriel's lovely, very secure apartment. Even before booking it and during our stay he answered our queries very promptly. The apartment has amazing 360 degree views of Table Mountain, Lions Head and the Harbour. The kitchen is modern and clean with all the necessaries to make a longer stay comfortable. Big flat screen tv in the lounge with satellite channels but we had issues getting all the channels. The bedroom was cosy, with air conditioning but very bright in the mornings. Recommend taking an eye mask with you if light rooms bother you. The bedroom leads onto the open planned bathroom with a nice huge shower. The shower room needs some TLC. There is a separate guest loo too with a washing machine that is perfect for longer stays. The top level is the best bit. Lovely sitting there every evening with a drink just watching the view. Small splash pool in the corner is perfect to cool yourself down after a busy sightseeing day. Unfortunately we could not use the pool as there was few issues with it which Gabrielle was actively trying to sort out. The apartment has its own garage and a separate parking space that was really handy. Overall, I would recommend staying here. Gabriel and the apartment is new to the rental scene and therefore I am sure he will go from strength to strength.
Adriaan
2016-02-03T00:00:00Z
Gabriel is an excellent host who made the experience all the more memorable. The panoramic views that this apartment has is unparalleled. It's very well located nestled in a suburb just off the city centre. The apartment is modern and clean. A worthwhile experience staying there!
Uzair & Zara
2016-09-01T00:00:00Z
Wir hatten tolle Tage in diesem Appartment mit einem wunderschönen Blick über Kapstadt und einer tollen Dachterasse. Wir waren mit dem eigenen Auto oder uber unterwegs und konnten so alles problemlos in Kapstadt erreichen. Ich würde das Appartment sofort wieder buchen.
Inga
2016-11-08T00:00:00Z
We were made to feel very welcome and spoilt with the stunning apartment and views of table mountain and the city. Very romantic and idyllic. Wish we had more time to make full use of the amazing pool and braai area. Gabriel and Bev were very welcoming and happy to answer all my questions before and during our holiday. We will be sure to stay again.
Jessica
2017-01-17T00:00:00Z
Place to be if you want to enjoy the sun rise!
Marius
2017-03-05T00:00:00Z
Tipo di stanza
Intera casa/apt
---
Tipo di sistemazione
Appartamento
---
Può ospitare
3
---
Camere da letto
Città del Capo, Western Cape, Sudafrica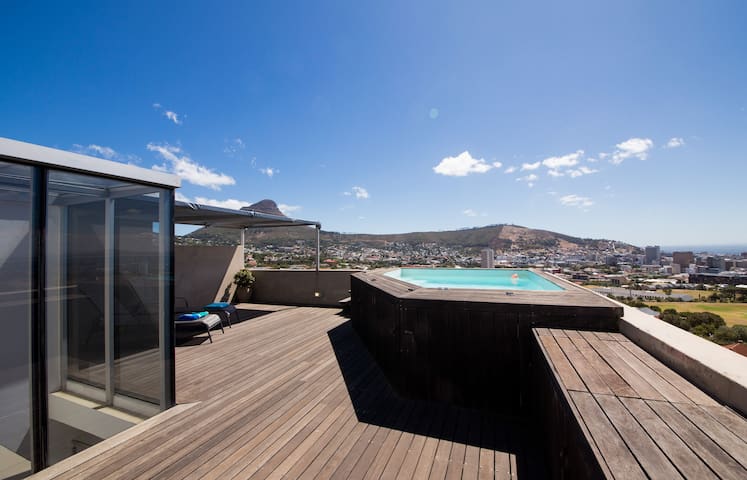 1 di 2 attici moderne nel centro storico di Città del Capo. caffè, musei, teatri raggiungibili a piedi. Migliori vista sulla Table Mountain dalla terrazza al 17 ° piano. 24 ore di sicurezza e parcheggio coperto incluso. 5 min di auto dalle spiagge. Scopri la nostra nuova inserzione adiacente a questo.
Il nostro attico si affaccia Table Mountain e Cape Town City. E 'moderno e confortevole e in posizione centrale. Il layout open space permette di avere una vista da tutto il mondo. Trasporto pubblico e taxi a portata di mano, con facile accesso alle spiagge, il lungomare, Camps Bay e l'aeroporto. Gay friendly. Questo appartamento self catering si trova nel Four Season Building, nel cuore del quartiere storico Six di Città del Capo. L'appartamento ha una vista mozzafiato sulla Table Mountain, Lions Head e l'intera città. L'appartamento è spazioso e confortevole, con tutto il necessario per i visitatori. Esso ha una cucina completamente attrezzata, bagno e lavanderia (asciugatrice e lavatrice). Il salone open space conduce ad un grande patio esterno. Non ho alcun problema se si desidera trasportare il materasso per trasportare il patio se si tratta di una chiara calma notte per dormire sotto le stelle. L'accesso a una piscina panoramica comune e una palestra. L'edificio ha guardie di sicurezza 24 ore e in prossimità della stazione di polizia. Palestra, piscina Siamo due professionisti con orari piuttosto frenetico, ma se siamo in giro siamo felici di coinvolgere e assistere con riferimenti a buoni ristoranti, ecc Questa zona, conosciuta anche come la City Bowl distretto, è il cuore pulsante di questa metropoli diversa. Si tratta di una zona ideale per esplorare questa città eccezionale, con un inebriante mix di cultura, natura e storia e un eclettico mix di persone. Dall'appartamento si avrà facile accesso ai ristoranti e divertimenti. Il V & A Waterfront e l'International Convention Centre sono solo un tiro di schioppo. Le famose spiagge di Camps Bay e Clifton sono facilmente raggiungibili ea soli dieci minuti di macchina. L'edificio ha 24,7 di sicurezza con la stazione di polizia di Città del Capo due isolati di distanza. P. Tutto l'appartamento. Balcone privato con vasca idromassaggio. piscina sul tetto comunale e palestra. Questa zona (storicamente denominata Distretto 6), conosciuta anche come la City Bowl distretto, è il cuore pulsante di Città del Capo adiacente al Castello e altri siti storici. Si tratta di una zona ideale per esplorare la città, soprattutto se si desidera sperimentare lo stile di vita locale. Con un inebriante mix di cultura, natura e storia e un eclettico mix di persone, da casa si avrà facile accesso ai ristoranti e divertimenti. Il V & A Waterfront e l'International Convention Centre sono solo un tiro di schioppo. Le famose spiagge di Camps Bay e Clifton sono facilmente raggiungibili ea soli dieci minuti di macchina. L'edificio dispone di 24,7 sicurezza della stazione di polizia di Città del Capo ayZwith due isolati di distanza. La zona è sede di creativi e pantaloni a vita bassa a pochi passi dalla vita notturna di Città del Capo in una zona che è leggermente più "artistica". PBQ
Questa zona (storicamente denominata Distretto 6), conosciuta anche come la City Bowl distretto, è il cuore pulsante di Città del Capo adiacente al Castello e altri siti storici. Si tratta di una zona ideale per esplorare la città, soprattutto se si desidera sperimentare lo stile di vita locale. Con un inebriante mix di cultura, natura e storia e un eclettico mix di persone, da casa si avrà facile accesso ai ristoranti e divertimenti. Il V & A Waterfront e l'International Convention Centre sono solo un tiro di schioppo. Le famose spiagge di Camps Bay e Clifton sono facilmente raggiungibili ea soli dieci minuti di macchina. L'edificio ha 24,7 di sicurezza con la stazione di polizia di Città del Capo due isolati di distanza. La zona è sede di creativi e pantaloni a vita bassa a pochi passi dalla vita notturna di Città del Capo in una zona che è leggermente più "artistica".
Our time in Cape Town was absolutely amazing. We kicked things off with checking in at Sol and Mike's beautiful penthouse. Mike gave us a very warm welcome and thorough overview of the area, complete with personal recommendations. Perhaps my biggest complaint is that their place is so beautiful, it was sometimes hard to leave and go explore the city. Luckily, the location is great - so much to do within walking distance or a short Uber ride. One of my favorite places I've ever stayed!
Colleen
2015-07-04T00:00:00Z
My partner and I loved our Honeymoon stay at Sol & Mikes penthouse. The apartment is fantastic - spacious, comfortable, clean and modern. The view is amazing! Not to mention the great balcony with spa and access to the rooftop pool area. The location was perfect - right near great restaurants (and across from the best coffee shop in the world) as well as close to public transport and within walking distance to the city centre. The building was also very secure and in a safe area of town. Sol & Mike were also great hosts, suggesting some amazing restaurants and cafes and tours and trips. They also organised our airport transfer and went out of their way to look for us when we were late for our tour pickup! Thanks Sol & Mike, we will be back!
Kate
2015-09-12T00:00:00Z
Sol and Mike were extremely welcoming and friendly hosts, offering to help us with questions about the apartment and the city. Their tips on places to go were spot on for us! The apartment was in excellent shape and the views absolutely stunning. We would recommend this place for singles and couples looking for a studio with feeling and good location.
Erno
2016-02-02T00:00:00Z
We had a fantastic stay here - the apartment is modern, comfortable and cosy with everything you could need. And the top floor view of Table Mountain, Lion's Head and the city is absolutely stunning. Sol was a great host - friendly, welcoming and very responsive and patient with the many questions I had. He also shared some fantastic recommendations of things to do around and outside the city. All in all - would absolutely recommend it!
Sofia
2014-07-29T00:00:00Z
What should I say...again, everything was fine. Mike and Sol made the trip of our friends just perfect. Thanks very much, and most likely you will see us or some of out friends again ;)
Florian
2016-11-04T00:00:00Z
Central location; short Uber or taxi to many main Cape Town attractions. Covered parking is a plus for those hiring a car. for Would stay there again.
Scott
2017-02-19T00:00:00Z
So great staying at this Penthouse, especially as it is conveniently located within short walking distance of the best coffee on earth. Mike was very responsive in communication upfront and during our stay. The place is exactly as described, and the provided list of local recommendations was so helpful. Very happy with this booking. Thanks Mike!
Stephanie
2016-12-17T00:00:00Z
First: the view is incredible. However, that's as far as I can go with regards to things that I really loved about this place unfortunately. Communication with Sol and Mike was okay but somewhat brief and uninspired and from superhosts I would expect a bit more effort honestly. Key pickup is easy as there is a doorman. Parking is provided. They leave a large printout with instructions and reccos but that's it as far as personal attention goes. The whole place is rather worn down and it feels like the hosts don't really put in much effort to maintain the penthouse. Definitely could use a coat of paint, all furniture is different than in the pictures and things are torn, cracked, loose ... it all felt a bit lackluster honestly, especially given the price. The biggest issue: there is no aircondition, yet the penthouse heats up significantly during the day. When you open all windows you might get lucky with a bit of a breeze but then noise from the surrounding streets is an issue. Also, you can't close the blinds with the windows open so it's super bright (which doesn't bother me but might be an issue with light sleepers.) The worst: I woke up to incredible noise as a pigeon had flown into the room and was making a ruckus. Eeeeeeww. Downtown Cape Town also isn't the safest and nicest area - which I am aware of but some international guests might not. All in all - given the price and superhost status of Mike and Sol and the definitely much nicer pictures I was seriously underwhelmed with this stay. But again, the view makes up for a little bit.
Lena
2016-12-13T00:00:00Z
Tipo di stanza
Intera casa/apt
---
Tipo di sistemazione
Appartamento
---
Può ospitare
2
---
Camere da letto
Città del Capo, Western Cape, Sudafrica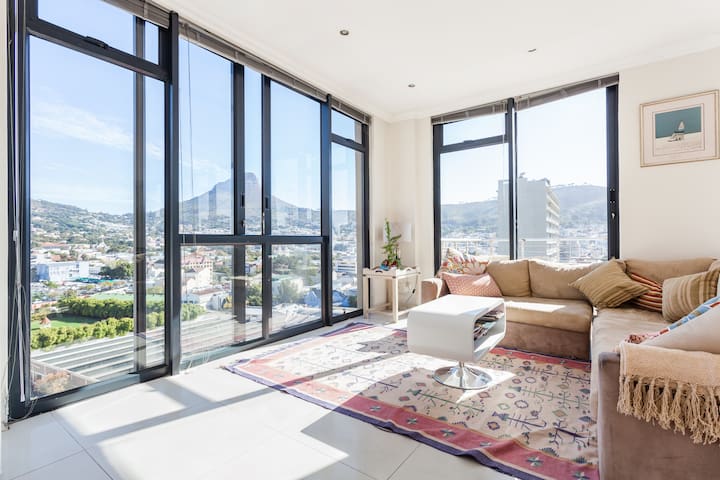 Questo moderno appartamento a piedi 30 secondi per le famose spiagge con bandiera blu Clifton. Situato vicino alla città, sulla riva, Camps Bay e Table Mountain.
Free WiFi e TV con Netflix Scendete e unisciti bella gente di Città del Capo su ciò che è noto come alcune delle migliori spiagge del mondo: Clifton o Camps Bay.
Questo quartiere ha i tramonti più belli del mondo, le migliori spiagge, ed è ancora a breve distanza da tutte le attrazioni turistiche occupato e la città.
Ernst was very meticulous in making sure that all was ok with our arrival, our stay and our departure. Sandy was also a phone call away!
shirley
2016-02-25T00:00:00Z
Fantastic, airy and bright flat with a stunning view over the ocean. Whether you are the type dining all over town or fancy cooking yourself - this is the perfect place to stay in Cape Town. Parking is available outside and Ernst is a very friendly and professional host. Very much enjoyed the stay.
Nils
2016-01-19T00:00:00Z
Me and my mum stayed there for 2 nights only, wish we could stay longer...Amazing seaview and a nicely decorated apartment! It's very well equipped with towels and cooking utensils too. Ernst is super helpful and has given us lots of suggestions where to go around the area:) Lots of people were jogging along the road outside of the apartment, hope I could come back someday and be one of them:)
Yun
2015-11-28T00:00:00Z
Wendy and I had a wonderful stay in this beautiful apartment in Clifton. Amazing how well laid out it all was that gave a very pleasant and luxurious feeling. Well located with good sea views. Thanks Ernst - hope to see you again. Bart and Wendy
Bart
2015-11-25T00:00:00Z
This place is great for a couple looking for a comfortable stay in one of the most desirable neighborhoods in SA. The apartment is modern and comfortable with a great bed, shower and kitchen. Wifi is strong and netflix and other options available if you ever get tired of looking out the window and seeing a beautiful view of the Atlantic. Ernst was incredibly easy to work with and available immediately to resolve a couple of minor issues that came up during our stay. Luckily for us, there were no renters on the bookends of our stay so we were able to check in a bit early and leave our bags in the apartment (while it was being cleaned) on our last day. Thank you Ernst for hosting us in the beautiful city of Cape Town!
Jeremy
2016-12-19T00:00:00Z
Ernst war ein sehr netter und hilfsbereiter Gastgeber! Das Apartment war wie auf den Fotos schon zu sehen traumhaft schön - der einzige Nachteil ist, dass die Wohnung direkt an einer recht viel befahrenen Straße liegt, die man zumindest tagsüber dauerhaft hört. Trotzdem würden wir auf jeden Fall wieder in das apartment gehen und können es nur weiterempfehlen!
Christian
2016-11-12T00:00:00Z
The apartment is as advertised and the mix of reviews here are largely accurate. Pluses: Ernst is a responsive and and professional host who clearly takes his hosting responsibilities seriously. When I needed an iron because the one in the apartment was not working, he arranged to have one delivered within a few hours. He helped me lug my many bags up the stairs. There is no elevator and the apartment unit is in a third floor walk-up. Minuses: the apartment building is in a part of Clifton which is off the main drag. It's easily accessible by uber and taxi but don't expect to walk across the street to grab a cup of coffee every morning. The south facing windows look directly onto the Atlantic, access to which is across the street. This makes for spectacular views but a hot interior during the day - even with the air condition unit on full blast. Finally, the unit does not have a parking spot, which would be problematic if, like me, you needed to rent a vehicle on short notice. Ernst, being the problem solver he is, was trying to come up with a work-around on the parking but given the short notice, was unable to. All in all, a great experience and would recommend.
Avril
2017-02-09T00:00:00Z
We had an unforgettable time at Ernst's apartment. He was a great host and responded to all our queries immediately. And the apartment itself - well, you have to see it for your own eyes to believe how beautiful it is with the best views over Clifton beaches. I wish we could stay longer and what can I say more - we will be back for sure! Thank you Ernst!
Agata
2017-03-18T00:00:00Z
Tipo di stanza
Intera casa/apt
---
Tipo di sistemazione
Appartamento
---
Può ospitare
2
---
Camere da letto
Città del Capo, Western Cape, Sudafrica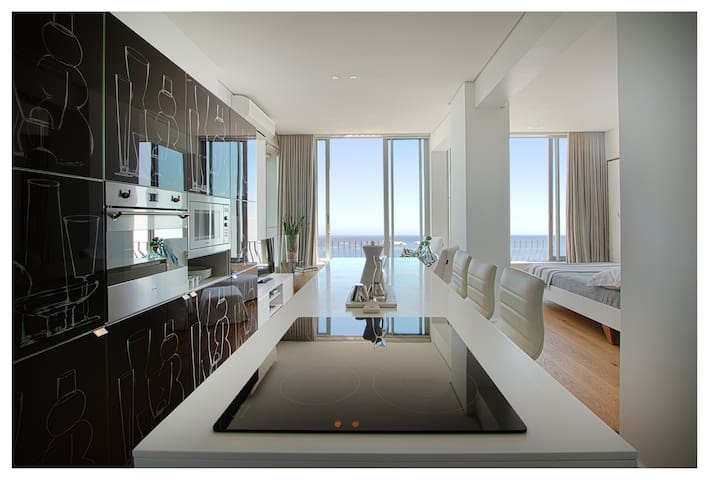 Sostenuto contro la montagna con mare vista ininterrotta l'appartamento dispone di una spaziosa, camera da letto di lusso, sala luminosa, piccola cucina e bagno con doccia en suite. Molti un tramonto è stato goduto dal patio.
servizi di pulizia giornaliera Servizio lavanderia a richiesta strada tranquilla, l'accesso diretto alla Table Mountain, incredibile vista sul mare e tramonti. L'accesso alla zona alla moda Kloof Nek così come le spiagge di Camps Bay e ristoranti. Uno ha bisogno sicuramente una macchina, ma mio Citi autobus non arrivano ad una strada che scende regolarmente. Uber anche grande servizio da utilizzare per andare in città. Abbiamo cani sulla proprietà, quindi solo per essere consapevoli di questo.
strada tranquilla, l'accesso diretto alla Table Mountain, incredibile vista sul mare e tramonti. L'accesso alla zona alla moda Kloof Nek così come le spiagge di Camps Bay e ristoranti.
Beautifully decorated, breathtaking views and an extremely safe and gorgeous part of Cape Town. We had everything we needed and Christina was very friendly and helpful. Would definitely stay here again. 10/ 10.
Jessie
2016-10-31T00:00:00Z
This apartment is exactly as you see in the pictures, bright, spacious with great views. It's very clean with a housekeeper coming in to clean everyday. We had a rented car, there was off road parking for us and we were given a key to get through the main gate with direct access to our apartment. It was very quiet, secure, peaceful and a short easy drive to Camps Bay. The apartment is in a very upmarket part of town so great value for money. Little touches like a Nespresso machine and satellite TV with all the channels just made it perfect.
Ron
2016-12-14T00:00:00Z
This place is fantastic! Can't beat the view of camps bay, plus great views of lionshead and table mountain of you turn your head. Sue provided amenities and the housekeeper Christine is very friendly and helpful. Would definitely recommend and stay again if returning to camps bay.
Connie
2017-02-11T00:00:00Z
This was our first ever airbnb booking and what a great introduction it turned out to be. The apartment is spacious and really well fitted and Sue was kind generous and really helpful.
Andrew
2017-01-18T00:00:00Z
We had a great stay at Sue's apartment. Very comfortable, good amenities, and really lovely to wake up with such great views across the bay. Would recommend doing the walk up table mountain from the path behind the house for more fantastic views.
Emma
2016-12-22T00:00:00Z
The photos of Sue's villa do not do it justice. It's a spectacular property, beautiful and incredibly spacious. Equipped with everything you could possibly need and just a short uber ride down to camps bay and the wonderful beach. A great place and we will certainly stay again should we be lucky enough to come back to Cape Town.
Hanna
2017-04-01T00:00:00Z
Very nice, great place for a couple to stay, convienent location to get into town
James
2017-02-18T00:00:00Z
What a special place! I've staying in many AirBnB's but this one tops them all. Pictures don't do the place justice.
Josephine
2016-01-29T00:00:00Z
Tipo di stanza
Intera casa/apt
---
Tipo di sistemazione
Appartamento
---
Può ospitare
2
---
Camere da letto
Città del Capo, WC, Sudafrica
Modern 170m2 penthouse in historic Cape Town. Coffee shops, museums, theatres within walking distance. Best views of Lions Head and city from the 17th floor covered terrace and braai area. 24 hour security and indoor parking included. 10 min drive to beaches and attractions.
Nonostante chiamare questa casa appartamento per anni, si sono sorpresi quotidianamente dalla bellezza di Città del Capo. Da questo 17 ° piano, vista ininterrotta della Table Mountain, Kloof Nek, Lions Head e l'oceano lontano dà ragione a Città del Capo la fama naturale, mentre le luci mutevoli della città di notte racconta la storia di una città con la diversità culturale e possibilita - motivo tutti amano Città del Capo. è in posizione centrale nella parte storica della Città del Capo a pochi passi dal Castello di Buona Speranza, il Teatro Fugard, il Grand Parade, il Municipio, la verità caffè (voti mondi miglior negozio di caffè), l'azienda Giardini e diversi musei, tra cui il Six Museum District, Diaz Taverna e Charles Bakery. Tutte le altre attrazioni come il V & A Waterfront `, spiagge, Camps Bay ecc intorno a Cape Town City sono facilmente accessibili e in 10 - 15 minuti di macchina o taxi. Un viaggio Uber alla famosa Long Street, con ristoranti affollati, bar e locali notturni si rimette meno di $ 1.4. I mezzi pubblici e taxi ware disponibile anche su strada, proprio davanti l'ingresso dell'edificio. La parte migliore di questo appartamento deve essere il balcone coperto che fornisce perfetto pesce persico al salone sorseggiando la vostra bevanda preferita mentre si guarda il tramonto sul Lions Head. C'è una piscina sul tetto comune e una palestra. sicurezza e parcheggio completa l'24 ore. tutto completamente montato (proprietari di casa) con TV satellitare, Xbox, sistema audio di qualità superiore, Internet a banda larga, riscaldamento a pavimento. Se vi piace sperimentare l'energia del cuore di una città, ma essere elevato abbastanza per lasciare alle spalle una volta a casa, questo appartamento è perfetto.
Questa zona (storicamente denominata Distretto 6), conosciuta anche come la City Bowl distretto, è il cuore pulsante di Città del Capo adiacente al Castello e altri siti storici. Si tratta di una zona ideale per esplorare la città, soprattutto se si desidera sperimentare lo stile di vita locale. Con un inebriante mix di cultura, natura e storia e un eclettico mix di persone, da casa si avrà facile accesso ai ristoranti e divertimenti. Il V & A Waterfront e l'International Convention Centre sono solo un tiro di schioppo. Le famose spiagge di Camps Bay e Clifton sono facilmente raggiungibili ea soli dieci minuti di macchina. L'edificio ha 24,7 di sicurezza con la stazione di polizia di Città del Capo due isolati di distanza. La zona è sede di creativi e pantaloni a vita bassa, come con la maggior parte delle altre aree storiche nelle città e casa ai servizi più cool e alternative raggiungibili a piedi. La maggior parte delle città del Capo altre attrazioni si trovano a 10-15 minuti di auto.
Mike and Sol's place is just as amazing as it looks in the pictures and they are great hosts who helped us with any questions we had. The terrace is a great place to relax in the afternoon and the bedroom has amazing views over the whole city. Can highly recommend this place to anyone visitng Cape Town!
Diana
2016-11-12T00:00:00Z
Mike and sol's penthouse aprtment was incredible! The view from the patio really made our time in Cape Town wonderful. We didn't even have to leave the flat to enjoy the beauty of Cape Town. Their hospitality was also great and the community within the building was great too. The building itself is also very secure (front desk workers 24 hours) would recommend this BnB to anyone looking for an awesome space in the heart of the city. Cheers!
Kelly
2016-08-08T00:00:00Z
Excellent apartment, exactly as advertised and really well situated.
Paul
2016-11-08T00:00:00Z
Phenomenal space and excellent hosts! Sol and Mike are super kind, response, and helpful!
Sarah
2016-08-02T00:00:00Z
We had a terrifc time in Cape Town - the flat is spacious, super clean, with great views and in a good central location for exploring. We received a very warm and efficient welcome from Mike, Sol and Zolita. Very happy - thanks guys...
Lee
2016-11-21T00:00:00Z
Our stay at Mike and Sols place was great. The apartment is located in a great location and Mike and Sol left some wonderful suggestions for local places. The balcony was a great place to relax. The only small problem was the shower, it did not drain very well and therefore caused a bit of trouble. Small problem and an easy fix. Overall our stay was wonderful. Thanks Mike and Sol!
Mitch
2016-10-07T00:00:00Z
The apartment is really nice. The view from the balcony and from the pool area is just incredible! Also the situation in the city is perfect for exploring cape town.
Lea
2015-12-30T00:00:00Z
What a great place to base a trip to Cape Town from! Right in the middle of everything, and easily accessible from any direction, both self-driving and public transit, the penthouse's location made it easy to explore areas of the city beyond the usual tourist spots. Plus the photos here do not do fun justice to that amazing views from the windows of that awesome porch! Comfortable and safe interior, and getting the keys was easy from the building's security desk. Communication with Mike and Sol was easy and they answered any questions I had promptly. They even provide a list of neighborhood restaurants and activities. Absolutely no complaints, and I will definitely look for this space for any return trips to Cape Town. Thanks Sol and Mike!
Julie
2016-09-24T00:00:00Z
Tipo di stanza
Intera casa/apt
---
Tipo di sistemazione
Appartamento
---
Può ospitare
4
---
Camere da letto
Città del Capo, WC, Sudafrica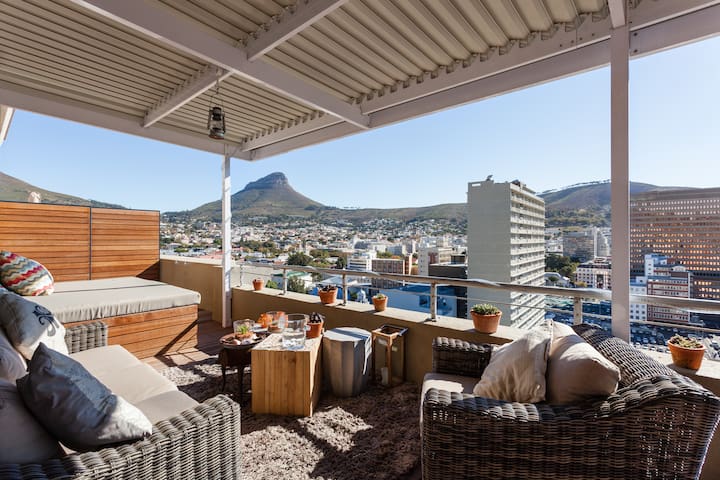 La nostra bella e accogliente residenza nella spiaggia sobborgo di Llandudno ha una stanza libera al piano di sotto e vi invitiamo a rimanere in una delle zone più esclusive di Città del Capo. Pieno accesso alla casa principale è incluso e la spiaggia è a 15 minuti di cammino lento. splendide viste sul mare da tutti gli spazi di vita. Ti senti come se fossi su una nave!
La nostra casa è affascinante e accogliente, in un cul-de-sac, che offre pace e tranquillità. Con un tocco rustico e l'arredamento, nonché una vista mozzafiato sull'Oceano Atlantico, questo è davvero un pezzo di paradiso sulla spiaggia. Una piscina e zona barbecue sul lato della casa fanno per i periodi di vacanza più rilassante. Il nostro spareroom contiene un letto matrimoniale con bagno doccia.
Llandudno è un sobborgo balneare esclusivo con un solo ingresso e un quartiere piccolo, accogliente e sicura. Non ci sono luci della strada in modo che le stelle sono brillanti ed è circondata da mare e montagna. Nessun rumore del traffico, solo canto degli uccelli e onde che si infrangono.
What a beautiful view!! My boyfriend and I felt welcome & well taken care of. They went far and beyond they're duties.
Joy
2015-02-26T00:00:00Z
Debbie and I felt at home in Gavin and Lindy's beautiful home and Airbnb, set in the most stunning place in Southern Africa!! We left feeling refreshed rejuvenated. Well worth staying with Gavin and Lindy. We will be back soon. Sean and Debs
Sean & Debs
2015-12-19T00:00:00Z
Wow. Absolutely fantastic. The room smelt of lemongrass, lavender and Jasmin. The 15 min walk to the beach was breath taking. Felt like heaven on earth. Loved every minute. If you need some peace, rest and relaxation this is the place to go.
Jeanette
2015-08-25T00:00:00Z
Linda and gavin are the best hosts anyone could wish for. Lovely place, great location and a wonderful home. Went out of their way to make me feel comfortable. Location is perfect. Views are wonderful and the beach great for surfing.
Salam
2014-10-12T00:00:00Z
Gavin and Lindy were so adorable and helpful. This couple was very welcoming and really appreciate how they paid attention to detail. Will definitely come back
Petronella
2016-09-08T00:00:00Z
Our stay at Lindy and Gavin's was so comfortable, warm and friendly. They are extremely helpful too. Every part of the house is beautifully done up and has a really nice feel to it, Also with max (pup) being around it was a lot more fun, must walk down to beach with him ;) We had the entire house to ourselves with a beautiful garden, a spacious sit out and a spectacular view. The room is extremely cosy with a really nice aroma, perfect for tw(URL HIDDEN)strongly suggest this place as we are totally in love with it.
Aditi
2015-08-17T00:00:00Z
We had a wonderfull time with Lindys and Gavin. Very quiet, very relaxed. A beautifull garden and a magnifcant sea-vieuw. Lindy and Gavin are both open , friendly and helpfull without being intrusive.
Lodewijk
2015-02-20T00:00:00Z
it was a beautiful and peaceful place to enjoy your holiday. Gavin was super nice and drove us everywhere. Lindy was nice and made us feel at home. Max we loved him so much, he's so cute and we can't forget him sleeping with us.
Pauline
2015-08-30T00:00:00Z
Tipo di stanza
Stanza privata
---
Tipo di sistemazione
Casa
---
Può ospitare
2
---
Camere da letto
Città del Capo, Western Cape, Sudafrica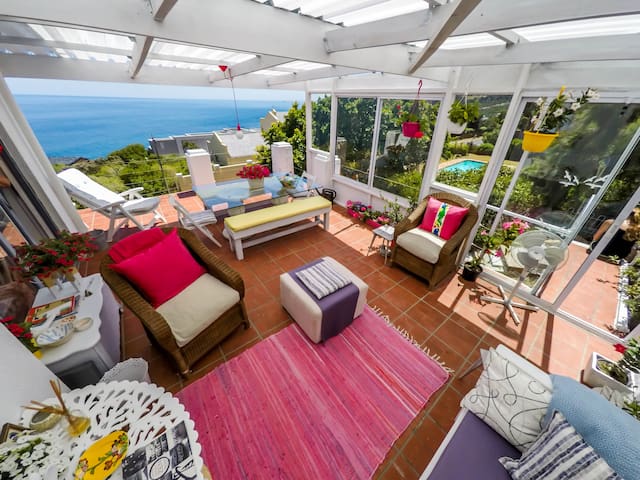 Primaview è situato nella bellissima Camps Bay, Città del Capo. Che offre alloggi confortevoli, a fianco di un invitante piscina e circondato da una vista panoramica delle montagne e del mare. Camps Bay è una tranquilla zona residenziale, vicino alla città, così come le famose spiagge di Clifton. Ci sono negozi e ristoranti lungo la Camps Bay Promenade. Il Cable Way Table Mountain è a pochi minuti di auto. L'accesso ai sentieri escursionistici nelle vicinanze sono raggiungibili in pochi minuti a piedi. L'appartamento in affitto si trova nel livello più basso della nostra casa, a cui si accede tramite una scalinata. Essa ha il proprio ingresso, è privato, con uso esclusivo della piscina. Si tratta di un open space (approssimativa di 60 metri quadrati) appartamento stile studio, con una cucina completamente attrezzata, zona pranzo, zona salotto, un letto queen size in una zona notte, camino, doccia e servizi igienici. E 'adatto per una singola persona o coppia.
Great experience! Jono and Collin thought of everything! Lovely stay!
Christine
2016-06-25T00:00:00Z
From the beginning and throughout our visit, Jono made us feel very welcome. He always made himself available when needed and was helpful and friendly. The apartment was better than we expected, clean, well stocked, comfortable and with one of the most spectacular views. Close to the main part of Cape Town but peaceful and quiet. We hated to leave such a perfect place. Amazing sunsets too. We would highly recommend this accommodation.
Diana
2015-04-20T00:00:00Z
This property is outstanding and I cannot recommend it highly enough. From the very helpful information by email pre-arrival to the genuine hospitality, not to mention the views to die for.
Lyn
2013-10-29T00:00:00Z
A huge Thank you to Jono & Rob for letting us stay in there wonderful apartment. As with all the other reviews it is even better than the pictures. All the amenities you will need are within the flat so you could just spend the whole time enjoying the pool and spectacular views if that is what you like. Or for the more adventurous why not try the paragliding off Signal Hill or Shark diving down the coast. With many restaurants in Camps Bay you can also dine out for a reasonable price. This is the second time we have been to Cape Town and we would definitely choose Camps Bay over the city any day. Jono is full of local knowledge so if you are looking for any recommendations he will always point you in the right direction.
Rohan
2014-02-14T00:00:00Z
A fantastic apartment with a fantastic view and hosts. Jono and Colin were very welcoming and offered a friendly face every time we met. They were always on hand to help should we have needed it which gave us a piece of mind. The location of the apartment was superb with glorious sunsets every evening and peace and quiet during the day, should you decide to spend a day by the pool. This is certainly very good value for money and I wouldn't hesitate to recommend it to others.
Imogen
2017-03-12T00:00:00Z
Another wonderful break in this idyllic location. The hosts provide exceptional care and attention to providing excellent quality accommodation. Highly recommended, 5 stars.
Patrick
2017-01-03T00:00:00Z
The apartment is very nice! It is clean and everything is as described. The pool and the view are great. The hosts were friendly and helpfull. We will come back.
Jörg
2016-12-05T00:00:00Z
We really had an awesome time in our apartment in Camps Bay. Relaxed, easy going, and enjoying sunsets sunsets sunsets sunsets ... Made some really sensational photos. The view is amazing. Jono was a most attentive host, easy to communicate, very responsive, and decently making sure that we are feeling fully comfortable. Will definitely come back when coming back to Camps Bay. Thank you!
Andreas
2017-02-03T00:00:00Z
Tipo di stanza
Intera casa/apt
---
Tipo di sistemazione
Appartamento
---
Può ospitare
2
---
Camere da letto
Città del Capo, Western Cape, Sudafrica
This private bedroom with (on-suite) bathroom is located on the 17th floor and has full length windows overlooking Table Mountain. The room also has a balcony. This is truly a 5 star experience. The bathroom has a large shower and bathtub. Secure parking inside the building is included.
Marcus made me feel comfortable, like I was at home. The Neighbour hood is very clean and very safe.
Neo
2016-09-30T00:00:00Z
Great stay ! We will be back
Jessica
2016-08-28T00:00:00Z
Thanks for a great stay. Clean room, easy communication. Recommendable.
Toril
2016-11-09T00:00:00Z
Markus was so helpful, and his place was incredibly beautiful and very convenient for exploring Cape Town.
Elizabeth
2016-10-23T00:00:00Z
The description was very accurate. The room was extremely clean and accessible to the downtown Cape Town area.
Adedotun
2016-07-15T00:00:00Z
The area is very convenient, but, being elderly, we did note feel safe to go out as night.
Brian
2016-08-07T00:00:00Z
Mordern apartment sit in the town, wonderful views from the bedroom.
Lu
2016-10-09T00:00:00Z
awesome place access to everything so easy will definately be back
Annemarie
2016-10-16T00:00:00Z
Tipo di stanza
Stanza privata
---
Tipo di sistemazione
Appartamento
---
Può ospitare
2
---
Camere da letto
Città del Capo, Western Cape, Sudafrica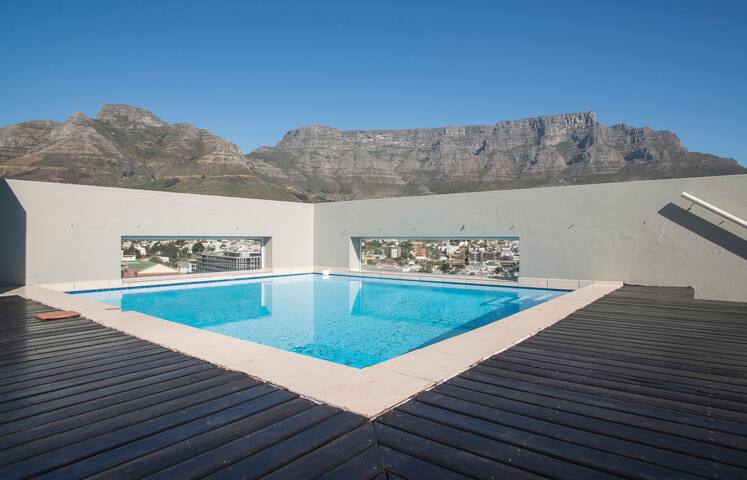 Our studio flat is minutes away from Bakoven beach, Camps Bay, Glen Beach, Barley Bay and Clifton is just around the corner - loads of fantastic restaurants along the beachfront, MyCiti bus route, Camps Bay views of Twelve Apostles and the Atlantic Ocean. Are you tempted? Our studio flat is self catering - there is a supermarket at the top of our road, as well as a fantastic restaurant Hussars at the top of our road, Myciti bus route at the top of our road.
Hi - thanks for viewing my flat. The studio flat is a great place for ideally two young travellers. It is self-catering. Please note that there is NO DAILY CLEANING but sheets and towels are replaced every week. Small babies can be accommodated in our camping cot but the flat wont be large enough for little tots. A double bed and loads of wardrobe/cupboard/desk space. International adaptors are available too and a small sewing kit for your convenience. The studio is self catering but the kitchenette will serve you well with a microwave, kettle, toaster, coffee plunger/French Press, electric wok and fridge to help along the way although most of my guests don't do much cooking. Coffee, teas, milk and sugar and a few extra treats are there as a starter kit. A bottle of local South African wine, as well as bottled water will be in the fridge for you. There are two outside chairs and table for a magnificent view of Table Mountain and the Twelve Apostles. These two chairs fit easily under the desk where one can eat or work. Also available outside is a Weber braai/barbeque for your use. Our flat is sunny and light, quiet and safe. Sea breezes and sunshine! A bathroom with toilet/basin and large rainfall shower in modern surroundings. Free Wifi is available and the passwords etc will be supplied to you upon arrival. Washing/dry cleaning facilities are available in Sea Point - or go online www.getneat or www.washr and have it collected and delivered. Details are available in the flat. There is a washing line outside in the garden and pegs for drying any handwashing. A hairdryer and iron/ironing board are available in the flat. A fan too is available in the flat to keep you cool should the weather hot up. Beach umbrella and beach bats and ball for my energetic guests. An off-street parking bay is yours should you decide to hire a car. You have your own private entrance surrounded by beautiful views of the Atlantic Ocean and Twelve Apostles and a stunning garden. Our local convenience store - Camps Bay Continental shop at the top of Rottingdean Road where you can have a coffee and a sit down - they have breads and cakes, cooldrinks, magazines, chips, cigarettes, vegetables, fruits, water, frozen produce, most groceries, and Pick 'n Pay supermarket on the beachfront - our best family supermarket - in walking distance. Alcohol can only be bought at restaurants/hotels etc here in Camps Bay as it is a "dry area" but Sea Point - past Clifton and Tamboerskloof - over the nek have many Off Sales and are the two closest suburbs. Ultra Liquors (wholesale bottle store) in Green Point is the cheapest outlet but Checkers, Spar and Pick 'n Pay have their own outlets in Sea Point.
Camps Bay truly is a beautiful place to live. This affluent suburb attracts a large number of foreign visitors as well as South Africans. At the top of our road is the Hussar's Restaurant - magnifique! Try their steaks. Take your own wine. Then just stroll down back home - it's really just minutes away. Also a very good convenience shop - Camps Bay Continental Food Market - for groceries, sweets, stationery, fabulous bakes, cooldrinks, cigarettes etc at the top of our road. Bootleggers Coffee Company is on Victoria Road, Bakoven a few minutes walk away - just down from our property if you would like a breakfast/lunch or coffee. Camps Bay beach is a Blue Flag Beach since 2008 and is the largest white sand beach in Camps Bay. There is a seasonal lifeguard station with toilets at the west end of the beach. The beach is opposite Camps Bay's main tourist hub featuring multiple hotels, restaurants and shops. Bakoven gets its name because of a large rock just offshore with what looks like an oven door in its side. The NSRI base is stationed here and a popular swimming beach is off Beta Close. In the early 1940's a row of beachfront houses (M.O.T.H. bungalows) were built to house honoured members of the South African Army who fought during World War II. Many of these still stand today and are now registered as South African National Heritage Sites. Glen Beach at the far right of Camps Bay beach hidden behind large boulders is Camps Bays best surfing beach. Short, fast rides and a small takeoff area makes it one of the hardest of Cape Towns beach breaks to surf and has resulted in a strong local atmosphere. Koeel Bay has an open-air curio market that sells hand-crafted items from all over Africa. Lui Bay (also known as Witsand) a popular dive site, in 1977 two scrap vessels (The Antipolis and Romelia) were being towed around the Cape when their towline broke in a storm. The Antipolis ran aground near Oudekraal while the Romelia floundered further south between Llandudno and Sandy Bay (a nudist beach). The hull of The Antipolis is still visible at low tide. I witnessed this event - great excitement! Oudekraal is a collection of tiny beaches sheltered amongst boulders and a well-established picnic area with lawns, braai's, covered areas with tables, benches and loo's.
Amazing place with views to die for! thank you Kathy!
Oliver
2017-03-16T00:00:00Z
lovely place to stay within walking distance of Camps Bay beach in a nice quiet neighbourhood
Conan
2017-02-04T00:00:00Z
Myself, my partner and our 6month old baby had a fabulous stay at Kathy's. Absolutely everything we needed was already in the studio. We managed to make some delicious meals with the electric wok which we ate accompanied by a lovely wine left for us by Kathy. This is a very thoughtful airbnb, a very considerate hostess. We were really very comfortable.
Fiona
2017-03-06T00:00:00Z
This is a small studio with a kitchenette. The cooking facilities are limited and there are no inside chairs so it is basic, but the bed is comfortable and the shower is good. Most people would want eat out as we did. The location feels safe.
Robert
2017-02-27T00:00:00Z
This is a great location! It is near the beach for relaxing and great food, a short trip to table mountain cableway and downtown, and great to hop onto the scenic chapmans peak cliff edge road! The room was immaculate, clean, fantastic rainfall shower and has a sea view so you can sleep with the sea breeze and gentle roar of the waves. Kathy was a fantastic and welcoming host who always responds quickly to messages. Highly recommended and will be back!
Chris
2016-12-27T00:00:00Z
Great neighborhood, great house and super cute flat ! Highly recommend it !
Amélie
2017-03-19T00:00:00Z
Kathy let us check in slightly earlier which really helped. The accommodation is clean, spacious, free wifi, a number of towels which is a huge plus, great location and topped off with a bottle of wine and snacks waiting for us! I would recommend this place to anyone looking to stay in the area, we will be back!!! Thanks Kathy!
Deon
2017-02-13T00:00:00Z
Kathy was a great host and was very accommodating and welcoming. The unit is very cozy and the location is great within Camps Bay with access to the lovely restaurants and beach. Looking forward to our next visit.
Jerard
2017-01-23T00:00:00Z
Tipo di stanza
Intera casa/apt
---
Tipo di sistemazione
Appartamento
---
Può ospitare
2
---
Camere da letto
Città del Capo, Western Cape, Sudafrica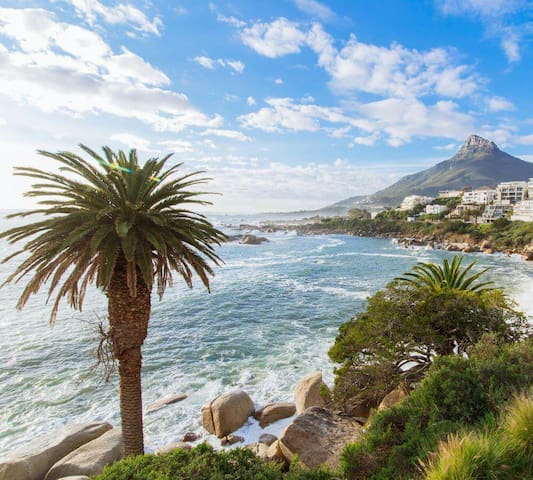 Located in quaint Harfield Village, a unique part of Cape Town, the house is situated on the sought after 2nd Avenue within walking distance to sidewalk cafes, beauty spas and parks. Close to shopping centres and 20 mins to beaches and the CBD. A beautifully renovated 1930's home with high ceilings, original wooden floors, large bedrooms, combined with modern clean lines and convenient amenities. The overall feeling is warm and stylish. Perfect for couples, business travelers, and families.
The house has high ceilings and traditional wooden floors and has been renovated to reflect a modern lifestyle. A wrap around garden can be accessed from all sides of the house as the lounge, kitchen, dining room and master bedroom open to the outside. The garden has been newly landscaped to create a space that is at once peaceful and built for entertaining. Clean design and Scandinavian influenced decor works beautifully with the natural light that streams into the house.
Harfield Village is a quaint popular area neighbouring bustling Claremont. It's known for it's beautiful homes and the cafes and restaurants that line Second Avenue.
Great location, easy walking distance to cafes, park across the road, had a great stay in Cape Town and Lisa's place was great.
Amanda
2017-03-26T00:00:00Z
Lisa's home was the perfect place to react during our holiday in Cape Town. The pool, grill, kitchen, and living room are all cozy and great for relaxation entertainment. Lisa was very communicative and easy to coordinate with. I recommend this home for people who are looking for a private place to relax just a short drive from the city center.
Hannah
2017-01-01T00:00:00Z
Tipo di stanza
Intera casa/apt
---
Tipo di sistemazione
Casa
---
Può ospitare
4
---
Camere da letto
Città del Capo, Western Cape, Sudafrica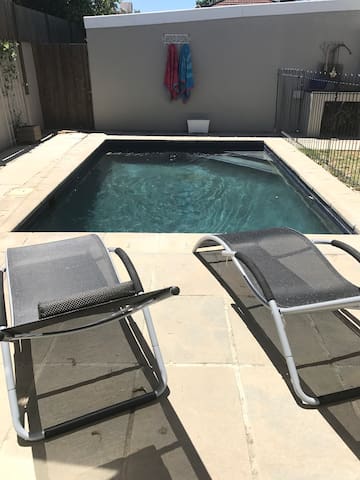 We work in Cape Town but we are often out of town during the week-ends so we make our place available for you :-) It is situated in a very secure complex in Gardens. Fully equiped, we leave everything at your disposal. The apartment has one bedroom, one bathroom with a bath (no shower) and one big room with the kitchen and the living room. The building has a rooftop with a pool, braai areas and great view of the whole city. We also have a garage. Looking forward to meet you!
Very friendly couple, responsive with all communication and helpful with local information & advice. The apartment is in a secure complex with a fantastic rooftop pool and is walking distance to the main CBD area.
Jessica
2017-03-19T00:00:00Z
The host canceled this reservation the day before arrival. This is an automated posting.
Tamlin
2017-03-05T00:00:00Z
Tipo di stanza
Intera casa/apt
---
Tipo di sistemazione
Appartamento
---
Può ospitare
2
---
Camere da letto
Città del Capo, Western Cape, Sudafrica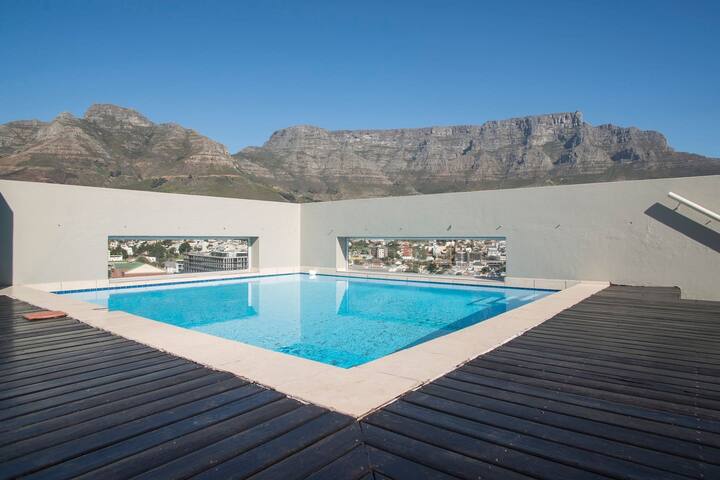 You'll love my place because of the location, the people, and the views. My place is good for couples, solo adventurers, and business travelers.
Beautiful airy studio unit. Equipped with kitchen. This unit is part of a three story guesthouse.
University Estate is a residential area a stones throw from the CBD. It is graced with views from all over Cape Town.
We had a great time! The apartment is amazing and Moenier is a very nice and helpful host! We would definitely stay here again.
Danja
2016-09-13T00:00:00Z
Everything was fine. I recommend this flat. And Cape Town is a great city.
Gregor
2016-10-18T00:00:00Z
I stayed at Moenier's for 2 nights. His home is absolutely gorgeous w/ the most incredible view. The room is perfect - clean, well equipped and even more special than what the pictures portray it to be. Moenier is a really good host. I would not mind staying there again!
Daisy
2016-11-04T00:00:00Z
The room was modern, clean and comfortable and we were greeted with welcoming little touches like fresh fruit and flowers. Moenier was a great host and - unprompted - offered me a lift into town without my asking. The property is in a good, central, location.
Lisa
2016-10-31T00:00:00Z
Moenier's place was exactly as in the pictures, location was very central to everything we wanted to do. A sleeper couch in front of the TV provided a great movie watching bed. I was also so happy about the secure parking that was provided - a very rare find in Cape Town! Moenier was very friendly and hospitable.
Chantelle
2016-09-25T00:00:00Z
Good, good, good
Seung Joon
2016-12-06T00:00:00Z
Very friendly and peacefull flat. Thank you very much for all!
Markus
2017-01-31T00:00:00Z
Throughly enjoyed our stay here! Moenier is an awesome host, and went out of his way to ensure our needs were taken care. He is super friendly and makes time to interact and talk to his guests. He knew Cape Town very well (including its history) and was able to tell us good sights and happenings in the area. He also made time to take us to try out the local cuisine. The apartment was perfect, and is in a safe neighborhood with the mountain behind it. The location is good and is in close proximity to the V&A water front, UCT and local eating spots. Will definitely stay again!
Sinton
2016-08-28T00:00:00Z
Tipo di stanza
Intera casa/apt
---
Tipo di sistemazione
Appartamento
---
Può ospitare
3
---
Camere da letto
Città del Capo, Western Cape, Sudafrica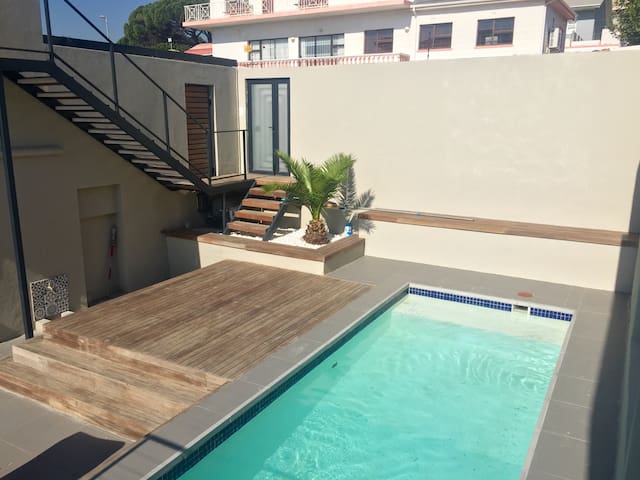 My place is close to a wide variety of restaurants, shops, bars and cafes. The Sea Point Promenade is a short walk away and if you are into big sports and music events, Cape Town Stadium is just across the main road and easy walking distance. You will really enjoy coming home to the comfort and space that this wonderful apartment provides. With super comfy beds, a well finished bathroom and a spacious and airy lounge/kitchen, this apartment offers all the comfort you could possibly need!
It's light and airy feel make it a very relaxing and comfortable place to chill.
Tipo di stanza
Intera casa/apt
---
Tipo di sistemazione
Appartamento
---
Può ospitare
4
---
Camere da letto
Città del Capo, Western Cape, Sudafrica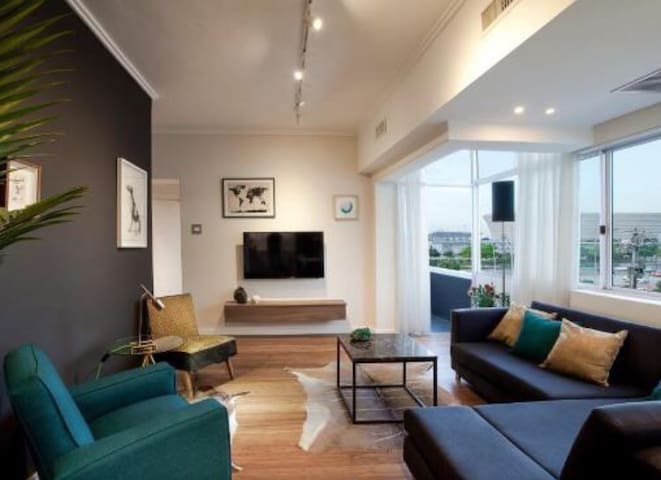 A cool and comfortable bedroom available in a cosy two bedroom apartment in the heart of Cape Town city. It comfortably fits two people. There is a pool area and it is the home of two beautiful kitties.
Situated in central Cape Town city, walking distance from great restaurants, bars, the Fugard Theatre and more
How close it is to everything - you can walk anywhere or take a quick uber ride.
Tipo di stanza
Stanza privata
---
Tipo di sistemazione
Appartamento
---
Può ospitare
2
---
Camere da letto
Città del Capo, WC, Sudafrica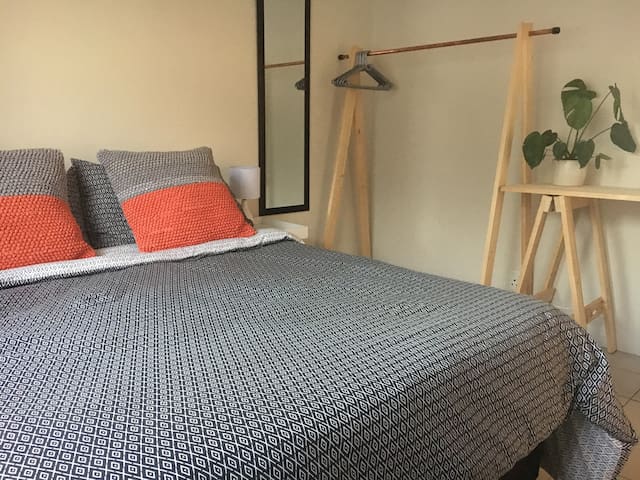 Godetevi questo luminoso e soleggiato monolocale con vista mozzafiato sul mare Point e l'Oceano Atlantico. Situato in posizione centrale in Alta Sea Point, nei pressi di Ocean View Drive, ha molte strutture di lusso che garantirà un soggiorno confortevole.
Questa chiazza di petrolio monolocale di 25 mq ha arredi e mobili di qualità e adatto per tutti i comfort. Splendida vista di Sea Point, l'Oceano Atlantico e sulle montagne di di testa di leone e Signal Hill può essere goduto sia in buono o cattivo tempo con frontale rivolto verso le porte di vetro stackaway dell'appartamento. Questo conduce su un balcone esterno con un piccolo tavolo e 2 sedie per godersi il tramonto. Resto sarà assicurato un premio di king size (che può essere convertito in due singoli su richiesta) materassi singoli-tasca di lusso con solo i migliori 200 filo di lino minimo di cotone percalle conteggio. Completa bouquet DSTV è abilitato. Scalda asciugamani, aria condizionata potente per il riscaldamento e il raffreddamento, un sacco di spazio armadio e asciugacapelli è disponibile. Una piccola ma adeguata cucina ha tutte le basi necessarie, bollitore, tostapane, microonde, frigorifero, bollitore per uova, stampa francese e, naturalmente, lavello. Caffè, tè e latte fornito.
Situato in Alta Sea Point, si trova in posizione centrale in prossimità del porto al centro commerciale V & A, spiagge, ristoranti, Sentieri per escursioni on Signal Hill, Testa di Leone & Table Mountain, la Virgin Active Point palestra, Green Point Stadium, di fronte al mare Promenade, Green Point Conservation Park e il Cape Town CBD (City)
A well kept apartment with one amazing view. We enjoyed our time there
Kyle
2015-08-03T00:00:00Z
Lance is a very thoughtful host. First of all, the room is well equipped with clean sheets, kitchen, bathroom, even torches. Second, the view is just as it is shown in the picture. I can literally see the sea when lying in bed. Lance himself is very responsive, he offered quite handy suggestions, tourist booklets, and even bus ticket cards, which became really useful to my trip. The area is also very quiet and secured. I want to say thank you very much to Lance.
Cecilia
2015-04-21T00:00:00Z
Great host. Accommodation the best especially the sunsets. A fantastic base from which to explore all Cape Town has to offer. Would definitely stay again
Simon
2015-08-11T00:00:00Z
Lance and his family are tremendous hosts who clearly take pride in helping people explore their beautiful city. The level of care and consideration I was shown during my stay was awesome. The accommodation itself is terrific, perfect for 1 or 2 people, with a god like view of the sun setting over the ocean. The neighbourhood is close to everything you could want. If I were to return to Cape Town I would easily stay here again. Highly recommended. Don't hesitate to book if you're considering staying here.
Krissen
2016-08-16T00:00:00Z
Couldn't have asked for a better place to stay in Cape Town. And certainly could not have asked for a better host. Lance was extremely helpful with local recommendations. The location of the apartment was a short walk to the ocean and a short uber ride to anywhere you wanted to go in Cape Town. Will definitely be staying here again next time I'm in town.
Billy
2016-07-03T00:00:00Z
We arrived and were welcomed by Lance. Lance took us through every aspect of the apartment, which exceeded all our expectations from the listing. The apartment has everything you could possibly need, is comfortable, and well maintained. Lance's attention to detail made this one of our favorite airbnbs yet. The neighborhood feels safe and has plenty of places within waking distance to explore.
Adam
2015-10-11T00:00:00Z
Lance was amazing. He had everything ready for our stay and I would stay there again in the future. Great personality and we felt right at home upon arrival. Everything worked and looked as stated.
Maurice
2014-11-01T00:00:00Z
I had a fantastic experience staying at this location for two days. Exactly as advertised: great location, exceptionally clean and comfortable place (perfect for one or two people), and Lance made himself totally available to help with advice on the neighborhood and the logistics of the apartment. Will for sure stay again when traveling to Cape Town.
Thomas
2016-02-18T00:00:00Z
Tipo di stanza
Intera casa/apt
---
Tipo di sistemazione
Appartamento
---
Può ospitare
2
---
Camere da letto
Città del Capo, Western Cape, Sudafrica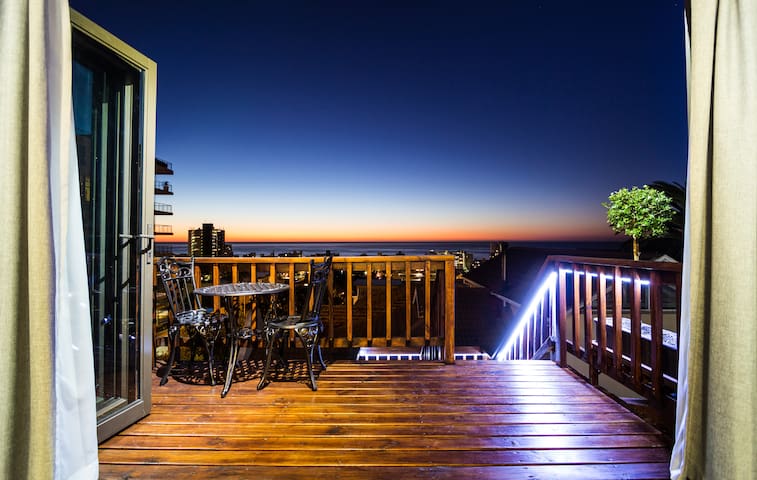 Stijlvolle cabana gelegen in de beroemde en veilige Dolphin Beach resort. Recht op een van de beste stranden ter wereld. Met een adembenemend uitzicht op de prachtige Tafelberg, de Atlantische Oceaan en Robbeneiland. Slechts 15 minuten van het bruisende hart van Kaapstad.
Het langgerekte Dolphin Beach complex kijkt uit op een glorieuze stuk wit zandstrand zich uitstrekken voor mijl in elke richting. Aan de voorzijde van het vier verdiepingen tellende hoofdgebouw, is een lange rij van één verdieping tellende cabana's gebouwd (naast een paar dubbele verdiepingen tellende cabana's). De cabana's hebben allemaal een ruime eigen terras grenst aan de mooie gemeenschappelijke tuin met prachtige gazons en een speeltuin voor de kinderen. De lange tuin grenst aan een smalle strook duinen. Vier toegangspaden leiden tot het verlaten strand, allemaal met buitendouches om je spullen en / of jezelf te spoelen na een duik of (kite) surfen sessie. Afstand van het huisje aan het strand ligt op slechts 40 meter. Op het strand een houten terras is gebouwd om te genieten van uw koffie, sundowner of prachtige zonsondergangen. Dolfijnen, zeehonden en walvissen worden vaak gezien in de baai. Het huisje zelf is goed aangelegd en smaakvol ingericht met een eigen badkamer grote slaapkamer (badkamer nog in de oorspronkelijke staat), een kleine tweede slaapkamer met twee eenpersoonsbedden, een tweede badkamer (gerenoveerd maart 2017), ontspanningsruimte, een eethoek en een zeer goed uitgeruste keuken. Veel kastruimte. Draadloos internet, DSTV, DVD-speler, wasmachine en droger aanwezig. Weber braai op het terras. Ondergrondse parking. Het gehele complex beschikt over 24-uurs beveiliging. Bezoekers kunnen gebruik maken van de faciliteiten van het Dolphin Beach hotel te maken in hetzelfde complex. Deze omvatten de Blowfish restaurant (beschikbaar voor het ontbijt, lunch en diner), een zwembad en een schoonheidssalon. Dit huisje is de meest ideale plek voor gezinnen die de directe toegang tot het strand en de veilige tuin zal waarderen. Een droom voor watersport liefdevolle vakantiegangers. Met een van de beste kitesurf plekken in de wereld vlak voor jou. Paradijs voor windsurfen en stand-up-paddle-boarding als goed.
We stayed at Paul's Cabana and it was a wonderful experience. We woke up to breathtaking view of table mountain and beautiful sea. The house is beautiful and completely safe. We were warmed by the awesome we received from Moniek, Paul's friend. She explained us everything and made us feel at home. We were arriving late so she had arranged snacks and warmed towels . We were overwhelmed. When in capetown , I suggest this is the place to be ; calm, beautiful and serene . Thanks Paul and Moniek .
Mayura
2016-09-21T00:00:00Z
Great beach front property with beautiful garden, awesome views and direct acces to a wonderful beach. Cabana exactly as defined and pictured. Great sushi and seafood restaurant on the premises. All guarded 24/7. We will come back for sure!
Guido
2016-09-27T00:00:00Z
A fantastic location. Paul and Moniek are great hosts and Paul's hints and tips on places to visit, to eat and to drink were brilliant! Dolphin Beach is perfect.
Russ
2016-12-11T00:00:00Z
Awesome views, centrally located...nice,neat place!lovely host enjoyed our stay!
aneshree
2016-08-13T00:00:00Z
Paul's cabana was very comfortable for our family and exactly what we needed to spend our holidays in Cape Town. The view of the beach every morning put us straight into a holiday mode. We also much appreciated the direct access to the beach and spent some of the most memorable times sitting there on a bench, watching the kite surfers and reading a book. The host was very forthcoming, the cabana's kitchen had a coffee machine and small snacks. Perfect! Thank you very much for letting us stay with you.
Oliver
2016-12-03T00:00:00Z
This cabana has everything you need for a perfect stay right on a beautiful beach with amazing views of lions head and table mountain! Lovely decor and well equipped. Excellent communication with hosts which added to an overall fantastic experience. I would highly recommend staying here. Blowfish resteraunt at the hotel, large supermarket and other local resteraunts nearby were nice and convenient too!
Alex
2016-09-12T00:00:00Z
We had a great time staying at Dolphin Bay. The cabana had everything we needed and the location right by the beach is fantastic. We hired a car to pop in and around Cape Town. Paul and Moniek were great hosts - giving us good tips on things to do for our stay.
Rodger
2016-08-30T00:00:00Z
Paul's home is really the perfect place to be as it's a stone's throw away from the beach and some of the nicest sundowns you'll ever see. The whole stay was perfectly managed and communicated too. Couldn't be happier. Thanx for everything.
Gerald
2017-02-24T00:00:00Z
Tipo di stanza
Intera casa/apt
---
Tipo di sistemazione
Casa
---
Può ospitare
4
---
Camere da letto
Città del Capo, Western Cape, Sudafrica
La camera da letto è nel mio appartamento di due stanze in un condominio sicuro e moderno perfettamente situato. Si tratta di un delizioso appartamento con il proprio bagno con doccia, così come una piscina panoramica e una splendida vista di Città del Capo.
L'appartamento è soleggiato e ospita una splendida vista sul centro di Città del Capo. Dalla zona piscina sul tetto, si può godere di incredibili viste panoramiche della città e la nostra bella Table Mountain. La camera ha due letti singoli, che possono essere uniti per un comodo letto più grande per le coppie, così come separati per gli amici che viaggiano insieme. Esso funziona bene sia per i viaggiatori singoli o coppie.
L'edificio è perfettamente situato nel CBD di Città del Capo. E 'perfetto perché è sia incredibilmente centrale, ma lontano dal rumore pazzesco, così sarete ben riposato per un periodo di cinque minuti a piedi da un negozio di caffè o in città. Sarai un dieci / quindici minuti di auto dal lungomare sempre popolare, o di nostri famosi, belle spiagge Camps Bay. E 'anche a pochi passi da numerose attrazioni: musei, il Castello di Buona Speranza e, per i partecipanti alla festa, famosa Long Street di Città del Capo e circonda con i migliori club e bar della città.
Das Zimmer ist sehr hell und geschmackvoll eingerichtet. Eine Bushaltestelle ist direkt um die Ecke und die Longstreet kann man gut zu Fuß erreichen. Georgia und ihr Mitbewohner Tom waren immer hilfsbereit und gaben gute Tips gegeben, was man anschauen und wo man gut essen gehen kann. Von der Dachterrasse aus hat man einen unglaublich tollen Ausblick über die Stadt und auf den Tafelberg. Ich habe mich sehr wohl gefühlt und kann diese Unterkunft nur jedem weiter empfehlen!
Daniela
2016-12-14T00:00:00Z
Georgia is a great person and host we felt at home.her friend is a true gentleman.Cheers for the great couple
Mahham
2017-03-25T00:00:00Z
Georgia is a very open-minded host. She's very interested in supporting you having an unforgettable stay in Capetown. The appartment was brilliant. We hope to meet more people like her.
Mathias
2017-03-18T00:00:00Z
Great stay! Thanks a lot Georgia! Really good recommendations for breakfast restaurants and helpful with all questions!
Stefanie
2017-03-12T00:00:00Z
The location is ideal for everybody who wants to discover Cape Town. Georgia and her friends are very nice, friendly and have a lot of insider information. The rooftop gives a stunning view on Lion's Head and Table mountain (and the pool is very welcome on hot summer days). We really had a great time!
Patrick
2017-02-09T00:00:00Z
um. best . freaking. airbnb . ever. truly dreamy. mad pretty flat, georgia is a super nice host, she will give you every assistance you need and also give you your space. clean flat, good internet. the views are breathtaking: from the flat and from the rooftop pool. building has security. spent a week there and what a week it was ! its quite so I slept well every night. also very centrally situated, you can get to a lot of places by foot.
Klara
2017-03-07T00:00:00Z
I had a very nice time staying in Georgias place. I was there for 3 nights and she was very friendly. And the rooftop is just amazing!
Isabell
2017-02-01T00:00:00Z
Everything was perfect and we were perfect located:D Huge thanks to Georgia :D
Jeremy
2017-01-04T00:00:00Z
Tipo di stanza
Stanza privata
---
Tipo di sistemazione
Appartamento
---
Può ospitare
2
---
Camere da letto
Città del Capo, Western Cape, Sudafrica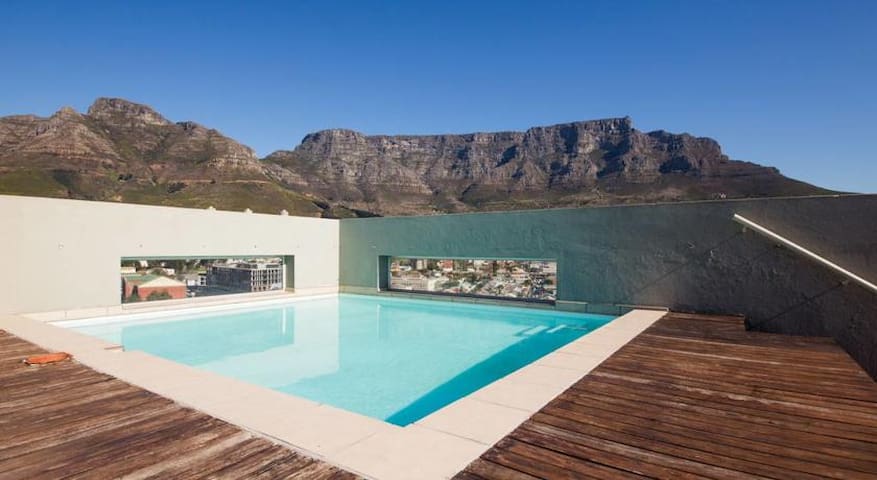 This studio apartment is on the ground floor of my house with its own separate entrance. It is high up on Molteno Road, walking distance to Table Mountain, the Molteno Reservoir, Table Mountain, De Vaal Park, Mount Nelson Hotel, Kloof Street.
Walking distance from table mountain and close to the vibe of central Cape Town
Scarlett has an extremely upmarket , well designed and excellently serviced apartment, with friendly staff on hand and a truly great location, with gorgeous views. This is a must.. and so happy this was our first choice.. Highly recommended - 5 Star
Ian
2017-02-01T00:00:00Z
We were met by Scarlett and immediately felt very welcome and at home - tastefully decorated, spacious and comfortable accommodation which is perfectly situated in the city - will definitely return and highly recommend this private little gem.
Charmaine
2016-12-16T00:00:00Z
Very nice accommodation!
Wouter
2017-02-11T00:00:00Z
Scarlett's place was as advertised. Very nice, quaint and cozy space beautifully situated near Table Mountain and in walking distance to City Centre. The apartment was clean and bug-free. Check-in was hassle free and Scarlett was very flexible and accommodating with the check-out time.
Kish
2016-11-22T00:00:00Z
Scarlett was an awesome host, super-friendly and very welcoming.
Jörg
2016-11-25T00:00:00Z
The flat is very nice with a beautiful view of table mountain. There is a bus stop just down the street. It is easy to contact Uber for a ride somewhere. There are shops and a grocery store between 10 to 20 minutes walk away. Scarlett was responsive to anything that I needed and was flexible with my check out time. It was a great experience.
Valerie
2017-01-27T00:00:00Z
We had a very nice stay with Scarlett and she was a friendly gracious host. Would definitely recommend staying with her
Andrew
2017-01-05T00:00:00Z
Firstly it's right up on the edge of table mountain. Very steep road. It's a climb from the bus stop where there is one bus that comes very seldomly. And the uber from there usually had surge pricing that just kept going higher and higher. So transport from and too there was so bad to the point I felt it pointless to go out at times. You're so close but yet so far away. And then everytime I came home there was the perpetual reek of dog and with a zest of poo aroma an d the occasional tingling of my nose and eyes with floating pet hairs. The decore was lovely but pointless with the odour. Shabby chic is one thing but hygiene should never be shabby especially for that price and the fact that it's a service industry. The dstv never worked not even once while I was there - 3 weeks. I I ly got 4gig of data for my entire stay. The curtains were very thin. And the main door with frosted glass leading directly to my bed had no curtains. As a result, the morning sun would wake me up as early as 5 am in the morning. Now, who wants nature to give you a rude awakening after a late night - especially because you were kept up by mosquitos who were at war with you, sucking the blood out of you and taking your vitality with it. Then3 there were noisy bugs that would make noise while crawling all over the carpet. My advice is never book a place that gives you any form of doubt. Don't tell yourself: Nah, it's just shabby chic, it's a design trend and I'm sure it won't actually be shabby. You will surely be disappointed if you don't heed my advice. Also the microwave and kettle were very old. She even told me she had had the microwave a long time. The kitchen cupboards smelled very mouldy. There weren't utensils such as a grater. No pan was available. Definitely no way to bake or properly dry food. I gave up on cooking at home.
Estelita
2016-11-16T00:00:00Z
Tipo di stanza
Intera casa/apt
---
Tipo di sistemazione
Appartamento
---
Può ospitare
2
---
Camere da letto
Città del Capo, Western Cape, Sudafrica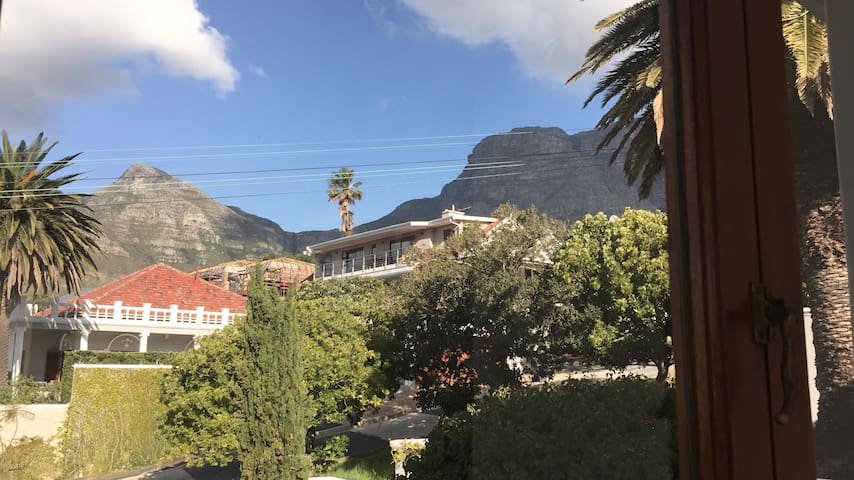 Inserisci le date per visualizzare il prezzo totale. Ci sono dei costi aggiuntivi e potrebbero venire applicate alcune tasse.