Mimosa Barn is located on beautiful Eyre Hall Creek near Cape Charles on the Eastern Shore of Virginia. Surrounded by 17 acres of protected fields and woodland the property offers views of pristine waterfront and is home to osprey, bald eagles, and herons. Built in the 1860s and completely refurbished in 2013 Mimosa offers a unique rustic experience with all modern amenities.
A luxury suite inside a remodeled barn dating from the 1860s. Space includes a living room area and connected kitchenette with toaster oven, refrigerator, sink, and coffee maker. French doors from the bedroom open onto a private patio overlooking a pristine creek off of the Chesapeake Bay.
For outdoor lovers bring your kayaks as this is a perfect spot to put in to paddle the creek and Chesapeake Bay. As we are located on a major migratory route guests can enjoy excellent birdwatching as the Eastern Shore hosts a variety of ducks, colorful perching birds, and hawks to include bald eagles and osprey. For golf lovers the nationally ranked Bay Creek Resort and Club is located about five miles away. Boasting signature golf courses designed by Jack Nicklaus and Arnold Palmer, golfers can tee off on the shores of the Chesapeake Bay. Also located nearby is the charming town of Cape Charles. Mason Avenue boasts many shops and great restaurants to include Kelly's Gingernut Pub and the Cape Charles Coffee House. The Shanty, located at the Harbor, affords beautiful views of sunsets on the Bay. From there head over to the Cape Charles Yacht Center to see majestic sailboats and mega-yachts.
Tipo di stanza
Intera casa/apt
---
Tipo di sistemazione
Chalet
---
Può ospitare
2
---
Camere da letto
Cape Charles, Virginia, Stati Uniti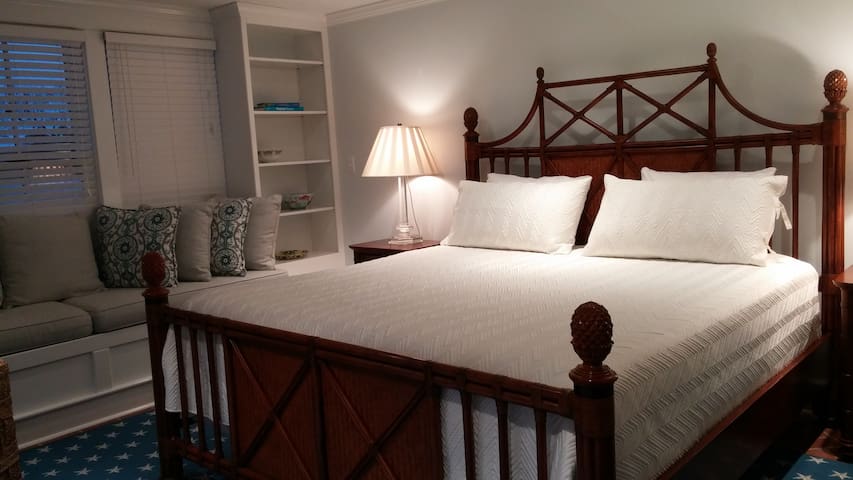 Remote Cabin on the last private island on the Eastern Shore of Virginia. My family and friends have been coming here and enjoying it for 30 years and now its time to share. Its like stepping back in time- no electricity, gas lights, stove and refrigerator. We have another house on the island we stay in and we renovated the kitchen in this one last year to offer it up to you and yours!
It is perfect for Kyakers or baoters that can launch from the public landing. We can arrange for our working boat to pick your larger party up - however it is subject to tide limitations.
The island is at the mouth of Magotha Bay protected from the Atlantic Ocean by Smith Island and Fisherman's Island. The Intercoastal waterway runs past the west side of the island and provides an easy 10 minute boat ride or 15 minute kayak paddle to our shore or back dock landing.
Tipo di stanza
Intera casa/apt
---
Tipo di sistemazione
Chalet
---
Può ospitare
12
---
Camere da letto
Cape Charles, Virginia, Stati Uniti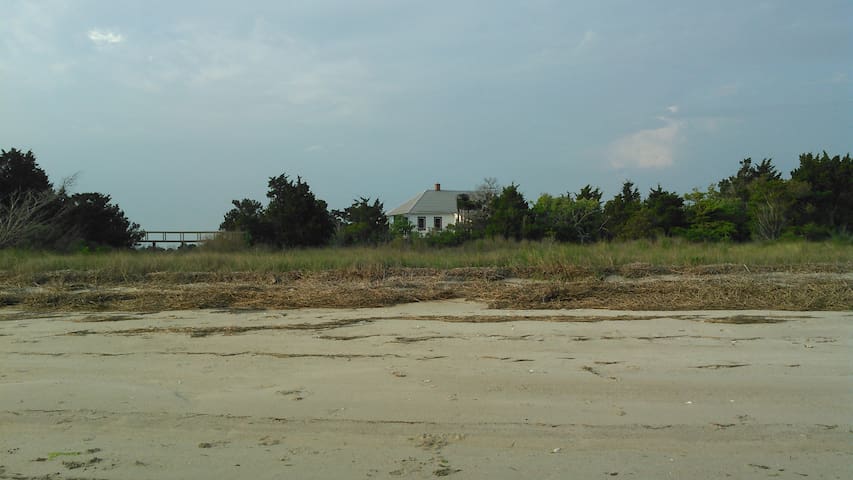 2 bdrm cottage, queen and double on 28 private acres on the York River in Gloucester, Virginia. Nearby inlets for kayak exploration. River is lightly traveled. Easy access to Yorktown, Newport News, Williamsburg, Jamestown, Richmond, Norfolk, Urbanna
NO PETS! The cottage is very private, but the Hot tub, pool, yard, and sauna are shared by friends and family of the owner. Friends and family know that if you come out to use any amenities, they are to leave to another place in the yard. We have 2 ocean type kayaks and a canoe. Very Light boats can be launched with 4wd. One bedroom is queen, the other is a double. Fantastic view of the river. Crab pots are available, but bring your own bait, best crabbing is late August/September. This is a RUSTIC COUNTRY COTTAGE. It's equipped BUT NOT FANCY. We have updated the electrical sockets to make them child proof. There is a large screen tv with basic cable if there is an event you can't miss. Also a DVD for movies and 3D glasses. If you wish to use the land for events, you must apply for special rate. Let us know.
Very country neighborhood, great for hiking, biking. Famous and need to get away from paparazzi and fans? The place is unpretentious and gated.
We had a lovely weekend at the cottage. The cottage was bigger than we expected and plenty big for the 3 of us. It had everything we needed. Bill and Yvonne wet great hosts and very responsive to our many questions about crabbing. The weather was getting cool so my daughter only got to use the pool for a little while. The river was a little rough so we didn't attempt to kayak. That was fine, because we were very happy to crab all day and steam our catch! We will definitely be back!
Christa
2015-09-13T00:00:00Z
The cottage was just as described. Even though the weather was not the best, my fiancé's daughter had a blast swimming in the pool and going on her first canoe ride. We drove to Yorktown and Williamsburg. Location is convenient. Would definitely come again!
Susana
2015-06-03T00:00:00Z
First, the property is exactly as described except pictures just don't do justice to the gorgeous views from the cottage and property. Simply a perfect setting if you're looking for a unique place to stay and relax, while still having quick access (30 to 40 minutes) to all the Williamsburg, Newport News & Yorktown sites. Bill was a great host - we got in well after dark & very late but he still made a point of personally welcoming & orienting us for our stay. Grab some snacks, coffee, tea and what have you on your way in - everything you need is there with full-size fridge and kitchen - you won't want to leave for a food run after you get there! Plenty to do or just relax and enjoy the spectacular view.
Steve and Vicki
2015-07-24T00:00:00Z
Bill and Yvonne have an amazing view ! The property was neat and clean. The dogs were friendly. The cottage house has a rustic charm yet very homely feel. Yvonne is definitely a great host taking care to provide most necessities that one might need including pots pans lotion flashlights and plenty of blankets. And even family board games!The kids enjoyed the pool until they were raisins! There was a campfire pit as well. The view of the stars was phenomenal and they even had a telescope. It is far from anything so its great for just needing a minute away from civilization. Definitely bring your OFF! The bugs were the only minor irritants. My favorite was waking up to the amazing view and feeling the breeze off the water . The cottage is full of windows for natural light . I would definitely recommend this place and hope to visit again real soon.
Ny
2015-06-15T00:00:00Z
I made this reservation over a month ago for 3 nights of R&R with my son in October Sotheby's owners could have prepared for our arrival a little better. All arrangements seemed very nice but when we arrived late Friday afternoon we found the air in the cottage cold & stale, almost moldy with a definite pet odor in both bedrooms. Beyond that the cottage was perfect, the grounds were very clean and the owners kept to themselves our entire stay. It was October so the fact that the pool was very cold was understandable but the Hottub, though 104 degrees, was very slimy and required a shower after each use. My son & I had a really peaceful stay and look forward to returning maybe next Spring.
Spencer
2015-10-26T00:00:00Z
See our prior review. Second review is because we extended our stay we were so happy. What a wonderful family experience.
Mark
2015-06-10T00:00:00Z
Everything was clean and neat. Kayaks were available to use on the river. Sunset in the hot tub was beautiful. Super quiet location. Friendly hosts. Thanks so much for a great weekend.
carney
2016-10-16T00:00:00Z
Bill & Yvonne were great hosts for my boyfriend and I. We didn't get to meet Yvonne because she was away for the weekend, but was very responsive beforehand, and once we got there, Bill was very helpful in showing us everything and offering suggestions. The cottage itself was exactly as listed- beautiful, rustic and quiet. It was just what we needed! We loved kayaking, swimming in the pool, and fishing off the dock with our dog. We highly recommend anyone needing a little break from reality to stay here for a weekend!
Emily
2015-05-31T00:00:00Z
Tipo di stanza
Intera casa/apt
---
Tipo di sistemazione
Chalet
---
Può ospitare
5
---
Camere da letto
Gloucester, Virginia, Stati Uniti
Enjoy this lovely A-frame on its own private beach (with sandbar!) nestled in the woods. Two bedrooms (Queen & Double), Jack & Jill bathroom, and loft (Double). Open floor plan with three couch living room & kitchen, and bay-facing screened porch.
This property is right on the Chesapeake Bay with a private sandy beach 20 ft away. The property is located in a secluded neighborhood on a wooded lot. While 8 people are allowed, it comfortably houses 6, with 1 queen bed, 2 double beds, 3 couches, and inflatable beds.
Very quite and secluded neighborhood, right on the water.
Justin nous a acceuilli dans son paradis avec une bonne bouteille de vin et plein de douceurs à grignoter ! La baie est magique, isolée, reposante. La vue de cette petite plage privée est exceptionnelle et paradisiaque avec des petites vagues, ses colibris et son sable blanc. Un livre de bienvenue crée par Justin nous informe sur tous les secrets de ce paradis et des alentours... Comme préconisé, n'hésitez pas à déguster les crabes ...
Christophe
2015-08-01T00:00:00Z
Great hosts! Very pleasant and welcoming. The place was nice and the area is beautiful. Lots of privacy just how the listing says. Definitely coming back!
Anna
2015-05-04T00:00:00Z
Justin was a great host --- communicated with us beforehand and checked in on us once we were settled at the beach house. The beach is absolutely glorious. Especially if you have kids, this beach is a little slice of heaven. Clear water and sandy floor as far as you can go --- and you can wade a LONG ways out, as it's really shallow for at least the length of a football field. The kids loved being able to touch so far away from shore, and Justin had a plethora of floaty toys at the ready, so that made the water even more fun. We took the kayaks out and built sand castles, lounged in the beach chairs, and walked along the shore. The beach couldn't be better! And so nice to have trash bags/toilet paper/ziplocs and a host of other "essentials" provided --- really convenient and much appreciated. Overall, the house could have been a bit cleaner, but I'd recommend this place if you plan to make the most of the gorgeous beach and spend the majority of your time outside.
Kate
2015-07-14T00:00:00Z
Fantastic place and stay. Justin was a wonderful host and everything was just as described. We did some antiquing, ate lots of seafood and enjoyed the view and sound of the waves.
Christine
2016-10-07T00:00:00Z
Host checked in with us before arrival, checked in to make sure we arrived ok, and again the day of departure. They mAde themselves available if we had any questions during our stay. Also supplied ideas for things to do and places to eat.
Susan
2015-08-11T00:00:00Z
Very quiet and literally right on the beach. Very impressed with the accommodations. Perfect getaway if you want to get away from civilization for a few. Screened in porch is a plus. Everything you need is there at the cottage. Definitely recommend and will more than likely be going back in the future.
Mitch
2016-05-14T00:00:00Z
Just spent Memorial Day Holiday here. Everything was awesome. Justin is a great host-quick to respond, very helpful, and makes sure your stay is extremely comfortable. The house was perfect for 5 of us, especially my 4-year old. The private beach front on the bay was great, the water was clear and shallow, the kayaks were lots of fun. Can't say enough how well everything went, we're already planning on coming back in the future any time we're looking for a quiet getaway.
David
2016-05-31T00:00:00Z
Great location on the beach. The sunsets and the sand were perfect and Justin was on top of everything. We really enjoyed the house.
Andrea
2016-06-20T00:00:00Z
Tipo di stanza
Intera casa/apt
---
Tipo di sistemazione
Chalet
---
Può ospitare
8
---
Camere da letto
White Stone, Virginia, Stati Uniti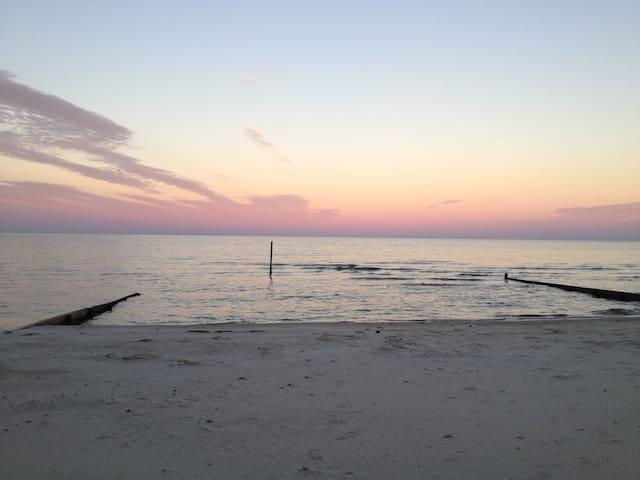 Cape Charles - Airbnb
:
Media di

4.63

stelle su

5

da

139

recensioni degli ospiti
1

–

4

di

4 Chalet in Affitto
Inserisci le date per visualizzare il prezzo totale. Ci sono dei costi aggiuntivi e potrebbero venire applicate alcune tasse.