Fully Equipped Villa Rina is part of Quiet Residential neighborhood, in two floors Villa, 85 m2 + 30 m2 large, private, sun protected terrace with furniture + 25 m2 Garden with Grill. Guests have access to beautiful garden, grill, free public parking. Villa is 200 m from the crystally clear Dalmatian Coast on the Adriatic Sea, 950 m from Diocletian palace, 300 m from park forest Marjan, it is on 1st floor, can accomodate up to 7 people, it has Adriatic Sea view and Park Forest Marjan view...
Apartment of 85 m2 is situated on 1st and last floor of private house in the most Residential part of Split - Meje. Apartment consists of 3 bedrooms, kitchen, living room, bathroom with large (200x90) shower cabine, dining room, porch, beautiful large sun protected 30 m2 terrace, patio and grill in 25 m2 garden.There are: double bed for two, 2 single beds + 2 sofa beds which can be unfolded into two double beds (each 160x200 cm). Therefore, Apartment can accomodate 7 persons (two persons in first room, two in second and three persons in third room). Only few hundred meters away is Marjan - protected park forest which is the most popular recreational zone in Split with paths for runners, bycycle riders, beautiful nature, natural shade from trees etc. Popular newly renovated West coast of Split city harbour is only 200 m away from Villa Rina. On the West coast there are restaurants, bars, sunbathing firniture etc...
Villa Rina is situated in quiet neighborhood of residential part of Split in city center. This neighborhood is completely safe for visitors. APT is located in the foot of protected Park forest Marjan with greenery all around. Apartment Rina is within seaside walk to old city center, ACI Yacht club, number of restaurants etc. One of the most beautiful beaches in Split is within few hundred meters of seaside walk and the closest seaside for swimming is 200 meters away. Distancies from APT: 150 m - supermarket, ATMs, post office, pharmacy, fast food, tobacco shop, fast food, local bar 200 m - of seaside walkway 200 m- swimming area with sand and gravel beaches 250 m - olympic outdoor swimming pool and swimming area with showers and infrastructure 300 m - ACI Yacht Marina, elite restaurants, pizzeria, pastry shop 950 m - 1700 years old UNESCO protected Diocletian palace with number of restaurants, shops, galleries, bars, 500 m - Marjan Forest Park - for running, recreation, renting bikes, making photos of birds, city etc.
Žarko es una persona fantástica, amable, sociable y muy preocupada por el bienestar de los huéspedes. La casa es muy grande, las camas son super cómodas, y tiene una terraza absolutamente increíble, alucinante. Pudimos hacer una gran barbacoa además. Mis amigos y yo fuimos al Ultra Music Festival, en el estadio de Poljud, y estaba SUPER cerca de todo!! A 2 minutos en autobús del estadio, a 5 minutos de la playa andando, a 10 minutos de la zona con más ambiente de Split... De verdad, no pensamos que fuese así nuestra experiencia, tenemos que darle las gracias a Žarko por todo lo que ha hecho por nosotros. Volveremos seguro!!
Rober
2016-07-22T00:00:00Z
When we arrived in Split, Zarko met us at the train station with his big straw hat on so we would recognized him. We were greeted with a big smile from Zarko and we instantly felt welcomed and relaxed. The next day Zarko took us out on his sailboat to an almost private beach for a swim in a crystal clear water! He also brought along beach toys and a fishing rod for our son to use as we requested! We were then given organic plums and figs for snack followed by some watermelon. We had the perfect introduction to the Dalmatian lifestyle! Thanks to our super host, Zarko! Originally we had booked Zarko's place for 5 days but extended it for 2 more days as we felt very comfortable in his family home. The home was clean and had fully equipped kitchen. The beautiful patio was great for us to enjoy our breakfast and supper outside. Our son also got into the habit of feeding Zarko's mom's three cats milk so they started hanging around us. Our son loves animals but the cats are easily shooed away if you want to. The location of the place is just a skip and a hop away to a park and children's playground, the beaches, the Olympic size pool and all the basic amenities, and grocery stores are nearby. We walk into the old town with our three year old son with no problem but we carried him on the way back! Zarko's neighbourhood is quiet. This place is great for everyone especially for family with small children! I will recommend Zarko's place to my friends and family! Thipp
Thipp
2015-09-09T00:00:00Z
Goed en prima verzorgd appartement. Vooral het terras is een plusplunt. Daarnaast is de verhuurder erg toegankelijk en bereid om al je vragen te beantwoorden. Enige minpunt aan het appartement zijn de matrassen. Voor de prijs die de verhuurder vraagt, mag je beter verwachten.
Tim
2016-08-21T00:00:00Z
We had a great time in Split and in Zarko's apartment! He was very friendly and the flat is perfect.. good location (10min to center and 5 min to a beautiful beach) spacious rooms and the terrace is the highlight! I would definitely recommend his apartment to everyone!
Nora
2015-08-02T00:00:00Z
Zarko is perfect host with a wonderful apartment that offers everything as described. Zarko picked us up from the airport for a small fee. Cheaper than a taxi and easier than a bus. He gave us a mini tour of the area, pointing out the key places to look out for on our trip. He asked us about our interested and tailored his advice to what we wanted to see. The apartment is in a fantastic neighbourhood. It was calm and quiet but still only a 10/15 minute walk to the old city centre. There are some closer restaurants too. We could walk to a lovely little beach in 5 / 10 minutes. The apartment was large, spacious, well equipped and clean. The ceilings were tall and the beds were large. There was a beautiful terrace that we sat and had breakfast on every morning. There was plenty of furniture to accommodate four of us. We were given more than enough towels and amenities which enabled us to pack lighter and save us from topping up on things during our stay. Zarko was great at offering his advice and easy to contact if we had any questions. If you book this apartment I can promise that you will not regret it.
Nicholas
2015-10-11T00:00:00Z
As agreed Žarko met us off the boat with his large straw hat. Žarko was kind and friendly from the start. Before being taken to the apartment we were shown around the area a little in his car which helped us get our bearings on the area. Žarko was very knowledgable about Croatia and seemed passionate about his country and making our stay memorable. The apartment was spacious, clean and had all the amenities so we could relax after being in transit. We were a few minutes walk from Marjan, a beautiful park with trails, nature and view points. There was a also a quiet beach nearby where we could go for a swim and have a picnic. Žarko was on hand throughout the trip and gave plentiful information around what we wanted to do and where we wanted to go. We were ushered to the airport at the end of our trip and as we were early for our flight we were able to visit a town with Žarko before catching our flight.
Jay
2015-06-11T00:00:00Z
Very welcoming host for an apartment with very good location and great sitting areas outside. The apartment itself is rather old but has everything you need for a short stay. Don't expect a 'luxury' apartement.
stijn
2016-08-09T00:00:00Z
We had a wonderful stay at zarkos apartment! Zarko made us feel very welcome and was very enthusiastic. We traveled five friends and we stayed at the apartment for three days. The area is close to the city and the nearby beach is probably the best in Split. I would recommend Zarko and his apartment.
Emily
2015-07-19T00:00:00Z
Tipo di stanza
Intera casa/apt
---
Tipo di sistemazione
Villa
---
Può ospitare
7
---
Camere da letto
Spalato, Regione spalatino-dalmata, Croazia
STUDIO APARTMENT IS A PART OF KAMENA VILLA DUBE, WICH HAS TWO APARTMENTS. KAMENA VILLA DUBE IS SITUADED IN THE OLD TOWN PART OF SPLIT (CENTER ) IN A QUIET NEIGHBORHOOD "RADUNICA". IT'S LOCATED JUST 5 MINUTES WALK FROM DIOKLETIAN PALACE.
The studio apartment for two persons and one extra bed, has one doublebed, fully equipped kitchen, chairbed and bathroom. Apartment has 26 m2. We provide free wi-fi, LCD flat screen and air conditioning/heater. The apartment is located in a pedestrian area so ther's absolutely no traffic noise.
Placed in the city center,apartment is protected from the street noise.With the green garden , stay in apartment will be peaceful and fully relaxing for the guests.
This apartment is in a great location....close to the beach, old town, and the ferry terminal. Perfect for our family of 3!! It is well maintained, very clean, and has a cute little patio/garden area to enjoy a glass of wine. Davor was an excellent host and we would be happy to stay again!
Sarah
2016-07-01T00:00:00Z
Davor met us and provided a drink whilst we went through re passport and flat very hospitable, the flat was beautiful ,clean and high spec, even a dishwasher. I can't recommend it enough.
Mel
2016-07-09T00:00:00Z
Our stay at Davor's apartment was nothing short of fantastic. Davor was amazingly flexible with both check-in and check-out, allowing us to explore his amazing city with ease. The location of the apartment is perfect!! We were able to walk to restaurants, the supermarket, the beach or the historic city centre with ease as well as back to the port to catch the ferry. The apartment itself was comfortable and was what we required for our short stay in Split. Thanks Davor!!!
Amanda
2016-06-03T00:00:00Z
Davor was very welcoming. the place was good, and perfectly located. I very much enjoyed staying there.
Gabriel
2016-07-10T00:00:00Z
Davor was very accomodating for the Check in! The apartment Is easy to find and Is in a beautiful street close to the oldTown! It was so clean! Thank you so much for this Nice trip!
Christophe
2016-06-06T00:00:00Z
Accueil chaleureux de Davor qui a pris le temps de nous présenter Split et la façon d'accéder à ses principaux centres d'intérêts. L'appartement est idéalement placé dans une rue piétonne très calme à proximité du palais Doclésien (moins de 5 minutes) et de la plage de Bacvice ( une petite dizaine de minutes). Cuisine très bien équipée. Un lit 2X90 + une chauffeuse lit d'appoint 1 place confortable. Oui, l'appartement sombre mais aucun souci, il est très bien éclairé et surtout possibilité de s'installer dans le patio très cosy pour s'y détendre et prendre ses repas. On peut garer gratuitement sa voiture dans une rue adjacente. Bref, tout est réuni pour passer un super séjour dans cette très belle ville. Un grand merci à Davor !
Pascal
2016-05-27T00:00:00Z
O Davor esteve sempre super disponível. Tivemos apenas uma noite no apartamento mas foi uma óptima experiência. É próximo do centro e facilmente se vai a pé. O apartamento é muito simpático e acolhedor. Sem dúvida que recomendo a casa
Mariana
2016-09-13T00:00:00Z
The apartment is located in a quiet area of Split but is a walking distance to Diocletean's Palace. The grapes in a garden are delicious! Would recommend.
Aleksandra
2016-09-14T00:00:00Z
Tipo di stanza
Intera casa/apt
---
Tipo di sistemazione
Villa
---
Può ospitare
2
---
Camere da letto
Spalato, Regione spalatino-dalmata, Croazia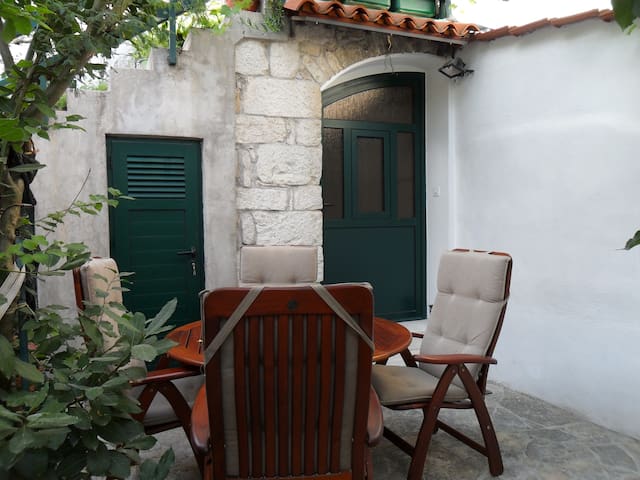 Our modern, spacious and comfortable apartment is excellent choice for your vacation. Speechless view of the Adriatic Sea and the Dalmatian Islands will relax you. Apartment is located in next to the sea, between Split and Omiš. We offer you, air conditioning, parking, sunny terrace, SAT TV, wifi etc
Seafront, spechless view, sunny terrace, parking..
Seafront, located between two ancient, historic and cultural cities, Omiš and Split. Bus station is 200m from apartment, but we offer you transport, if you need it. You have a lot of adventure, cultural and entertainment attractions in the vicinity of our apartments. Beutifull beaches are all along the coast.
Marta was wonderful. We ended up coming super late because of traffic, but she was kind and understanding. The apartment was cozy with a wonderful view. I would highly recommend staying here!
Katie
2016-10-30T00:00:00Z
Nice heat and stoning view! Poor wi-fi.
Rita
2016-10-15T00:00:00Z
The apartment looks exactly like on the photos. It's clean, has all the needed facilities and a wonderful view over the sea. It's only a short drive away from Split and a good choice to stay in a more relaxed, less crowded place.
Katja
2016-10-07T00:00:00Z
Our stay in this apartment was perfect. Marta is a very kind person and a really good host, although we couldn't meet personally, she arranged that her sister was welcoming us in the evening. Marta was very responsive, she answered all of my questions within minutes! (both before the booking and even during our trip in the evening). She was also very flexible with the checkin and the checkout, which I really appreciate. The apartment looks quite new (the pictures fully represent how it actually looks), and it was built with quality materials and interiors. It was very clean, cozy, and fully equipped with everything you need during the stay. The view to the sea is beautiful from the balcony which is quite sunny during the whole day. I can definitely recommend this apartment and Marta as a host!
János
2016-08-23T00:00:00Z
It was wonderful place. Calm and clean house full seetting. The sunset and view of terrace was sooooo good. I really want to stay more:)
수양
2016-09-25T00:00:00Z
located 10min outside the split city (car). very quite, even its located in front of the main street, the bedroom is on the other side. a small beach in front, beatiful seaside view, some restaurant near, supermarket/atm 5min away (car), was very clean, big, balcony, with a washmachine, few stuf for cooking, 1 big bed, 2 bedsofas, we could check in very late (10pm). for the price and location i would stay an other time too.
Shajanth
2016-10-20T00:00:00Z
Apartament oraz szczegóły oferty są zgodne z opisem. Nie mieliśmy żadnego problemu z komunikacją z Marta oraz jej siostrą, odpowiedzi na nasze pytania pojawiały bardzo szybko. Marta jest elastyczna i pomocna, co jest istotne jeśli przyjazd i wyjazd odbywa się w niestandardowych godzinach. Z całą pewnością polecam dla osób, które chcą odpocząć zdala od tłoku. W pobliżu znajduje się przystanek autobusowy, sklep oraz zejście na plaże, co jest istotne jeśli ktoś nie przyjeżdża własnym środkiem transportu. Plaża można dojść prawie aż do Splitu oraz do sklepu bez konieczności poruszania się ruchliwą drogą. Lokalizacja pozwala na zorganizowanie wypadu do Splitu oraz Omišu, który polecam odwiedzić ze względu na niezwykły widok. W niedalekiej odległości znajduje się wiele plaż więc każdy może znaleźć coś dla siebie. Z całą pewnością bliskość drogi może nie przypaść do gustu odobom z małymi dziećmi, ale nie jest też bardzo uciążliwa. Nasz pobyt nie był bardzo długi, ale spełnił nasze wszystkie oczekiwania i aż przykro było nam wyjeżdżać.
Patrycja
2016-10-01T00:00:00Z
Highly recommended. But the location is different, you have to ask the host about the exact address before you arrive.
Bomi
2016-10-12T00:00:00Z
Tipo di stanza
Intera casa/apt
---
Tipo di sistemazione
Villa
---
Può ospitare
5
---
Camere da letto
Spalato, Hrvatska, Croazia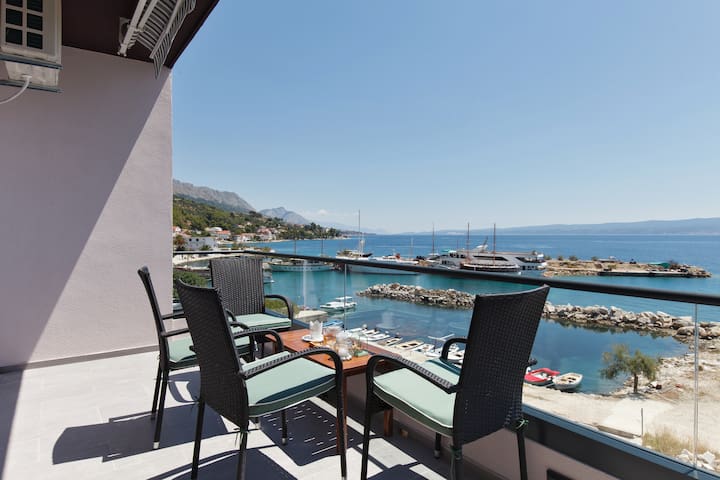 Villa Alithia is located in quiet area within walking distance to the beach and close to the city center. It offers spacious living room with fully equipped kitchen and the large balcony connected to every room. Outside there is a private garden.
Villa Alithia is three bedroom apartment. Each bedroom has a comfortable king size bed. Two bedrooms have an extra single bed. There is a large living room with flat tv and next to it is fully equipped kitchen. Each room has air conditioning. Along the south side of the apartment there is a large balcony where you can enjoy the sun.
It's nice and quiet neighborhood. It is only meters away from the gas station and pharmacy that works 24/7. The apartment is only 200 meters away from the most famous sandy beach Bacvice and only 1 km from Old Town.
No complaints. Great host, great place.
Brendon
2016-09-15T00:00:00Z
Everything was great!
Ivan
2016-09-25T00:00:00Z
Marijan was a great host, very flexible with the check in and out time. He even met us at the apartment when we first arrived. The apartment was close to the city and the beds were incredibly comfortable. I and the group of 8 would be happy to stay here again!
Harrison
2016-07-24T00:00:00Z
He helped us get transportation to the apartment, and was very welcoming at arrival! The apartment was a wonderful place to live when you want to see the city and to also be near the water.
Aske
2016-08-17T00:00:00Z
La experiencia fue única. Nos fuimos un grupo de amigos de vacaciones y desde el primer momento nos sentimos como en casa. Marijan vino a buscarnos a la estación de bus y nos enseñó todo lo que necesitábamos en un mapa. Estuvimos tomando unas cervezas con él mientras preguntábamos cosas sobre la ciudad y planes que teníamos pensados.
Alejandro
2016-09-04T00:00:00Z
Our group of 7 friends had a wonderful stay at Marijan's place. He was a super host, very attentive, easy to communicate with and helpful. He organised an airport pick up for us, gave us advice on things to do and a great restaurant recommendation for dinner close by. We had such a great time. The apartments is spacious, clean and very comfortable for all 7 of us. We would highly recommend his place for your stay in Split.
Evelyn
2016-10-11T00:00:00Z
We were able to (SENSITIVE CONTENTS HIDDEN) with Marijan well and agreed the time and place to meet easily. He was waiting us when we arrive. Great english skills and really warm welcome. Apartment was just like in pictures, fantastic! Fit well for 9 guys, even for 10 if two agrees to sleep on couch. Four AC units kept apartment nice and cool, superb balcany to have a morning coffee. Location worked well and was nice and quiet. Definately great experience! Thank you so much!
Ilari
2016-07-19T00:00:00Z
Marijan contacted me very nicely to plan our meeting. He offered to come And und get us from the bus station and already explained us some stuff And showed us places while driving to the apartement which is about 10 minutes away in walking distanziert. The apartement is really nice, bright, clean And spacious. He Even arranged uns some cake And fruit to eat! He was always very easy to contact via texts And made sure we had everything we needed! Wie would definetely come again to stay at bis nice place!
Annika
2016-04-18T00:00:00Z
Tipo di stanza
Intera casa/apt
---
Tipo di sistemazione
Villa
---
Può ospitare
10
---
Camere da letto
Spalato, Splitsko-dalmatinska županija, Croazia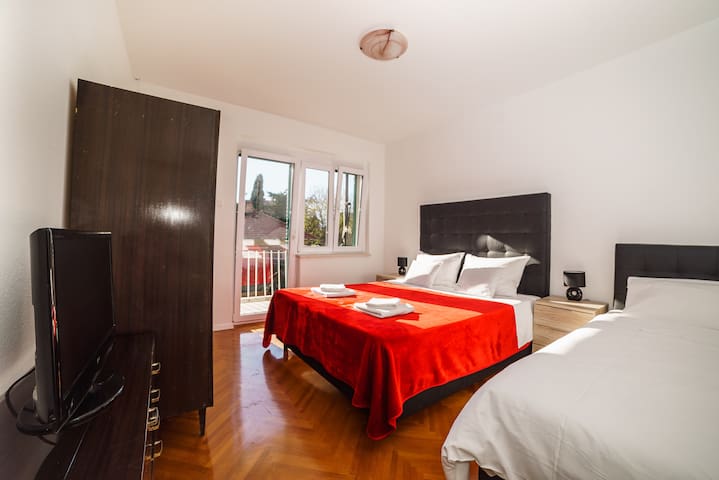 Welcome to our luxury 4star residence located on perfect location inside Diocletian's Palace. This brand new villa is fully equipped and sorrounded with all highlights,famous restaurants,museums,monuments and (URL HIDDEN) offers 2 separate apartments with 2 kitchens,2 bathrooms,3 bedrooms each one with air condition. Riva Promenade is just in front the apartment and The beach is in 5 minutes walking distance.
Tipo di stanza
Intera casa/apt
---
Tipo di sistemazione
Villa
---
Può ospitare
8
---
Camere da letto
Spalato, Splitsko-dalmatinska županija, Croazia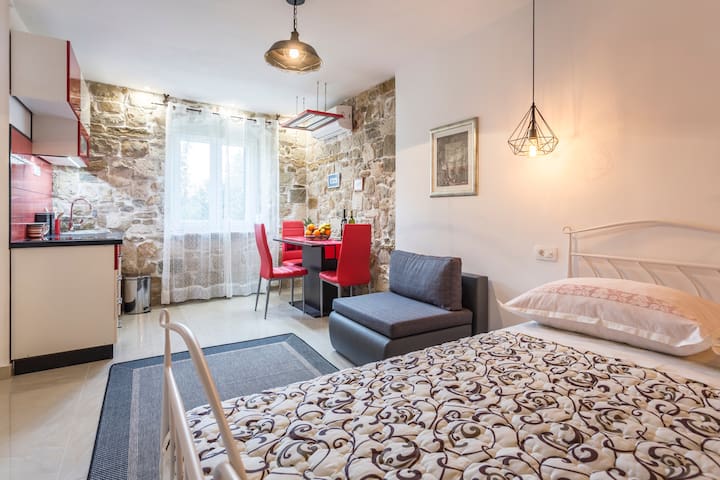 Large 260m2 villa with 180m2 of terraces, 45m2 of pool and 300m2 garden located in Split. Offers great vacation spot near the beaches, 10 min by car from the City Center.
Experienced hosts in tourism who have been successfully offering their Olive Shadow on the Dalmatian coast are now coming to the market with a spacious 260m2 villa in a private house in the City of Split which is 200 meters away from the beaches and has its own private pool. The Olive Shadow Villa has 30m2 of fully equipped terrace with an additional 72m2 of terrace on the west side for al fresco dining, and a large 400m2 of garden. The villa has four bathrooms, four bedrooms, two state of the art kitchens and two modern living rooms. The Olive Shadow Villa has been named by its eighteen olive trees surrounding the house in a well crafted, Mediterranean style garden that is beautified with lavender, roses as well as a stunning bougainvillea flower. The Olive Shadow villa is rented on weekly or daily basis. The villa is fully air conditioned, fully refurbished with a high standard furniture and appliances. Pretty much everything is brand new and internet wired. There are two plus parking spaces available for various motor and non-motor vehicles available for your use. Guests are welcomed to enjoy outdoor grilling in a stand alone grill set up which is perfectly suitable for grilled calamari, octopus, fish and sizzling lamb chops. That in a combination with home grown garden tomatoes is a perfect start for a group dinner. The Olive Shadow Villa is located in the City of the Diocletian Palace, a UNESCO protect world monument that was build in 3rd century anno domini. Local beaches offer first and foremost swimming and boating in a pristine sea, beach volleyball, endless coffee drinking in a nearby beach bar, scooter driving and boat excursions. Of course, all of this is accessible to our guests by foot. The City of Split is a lively Mediterranean City that offers numerous events during the summer time: Split Music Festivals, Split Summer Festivals, various artistic performances, plenty of bars and restaurants, and very good looking people strolling around the City. We, your hosts, are here to help you out with where to go and what to see. Enjoy your stay!
We were a group of 9 adults and 5 kids and stayed at the villa for 3 nights. The host was very communicative and responsive and ensured that he guided us on our way from Zagreb to Split. He even ensured to stay at home until 930pm to welcome us and then was kind enough to take us to the nearest grocery store since it was late and it would have been hard for us to find a store open at the hour. The home is very comfortable with 2 independent floors and is perfect for a large group. The pool and the view of the Adriatic sea adds so much more to the charm. And while it's about 10-15 min drive from the Split city centre, the location is easily accessible to some other cool beaches in the neighborhood. We were were happy that we chose to stay at Jasna's and hope to visit this beautiful country again in the future.
Mohit
2016-06-23T00:00:00Z
My friends and I had a fantastic time at the Olive Shadow and in Split! Jasna was very helpful with booking activities leading up to the stay and Lovre went above and beyond to help us when we were in Split. I couldn't recommend the villa more highly!
Matthew
2016-06-28T00:00:00Z
We really enjoyed out stay at the olive shadow. The villa is lovely and the hosts were really helpful throughout our stay and prior to our arrival. Thanks so much for having us we will definitely be returning :-)
Lauren
2015-07-08T00:00:00Z
We had a really wonderful time at the Villa! It was so peaceful and relaxing and exactly what we needed! Lovre (Jasna's father) met us on arrival and was so kind and helpful throughout our whole stay. He also took us to the supermarket, gave us a quick tour of the area and helped us when we had aircon troubles. A highlight was watching the sunset over the pool and all the swallows coming in for a dip!
Kayte
2016-07-10T00:00:00Z
Have just gotten home after spending a week here & we all truly had a great time! The villa has a beautiful view over the sea & is in a peaceful location, it is a bit of a walk into the main town of split however it's worth it to have the pool & a place to chill out from all the hustle & bustle. It's nice & spacious with everything we needed & Louvre had some drinks waiting for us when we got there! Highly recommended & would definitely book again!!! It's worth getting a car as well as making the shopping run easier it's advisable to make the trip to Plitvice Lakes on your own steam as well as a few other places so you aren't rushed around All 5 of us are so happy & now
dina
2015-09-16T00:00:00Z
We had a great time at the Olive Shadow and our host Lovre was absolutely outstanding! Respectful and caring! With three boys, the pool was a great thing to have. Very well maintained and most of all clean! This goes for the whole house. The house is situated a bit outside downtown Split and it took us about 45 min to one hour to walk to the city center. There is really no restaurants close to the house and the neighborhood is very quite. Suited us perfectly!
Mikael
2015-07-03T00:00:00Z
At the end of September we had a beautiful stay at The Olive Shadow for one week. Our host Lovre welcomed us very warmly with a big smile. There were some cold drinks just waiting for us. After showing us the house, the terrace and the garden, Lovre drove us to the supermarket so we could buy everything we need for the whole week. Everything was very clean. The pool still becomes our favourite place to be. The location is very peaceful with a great view over the sea. If not staying at home there are many things to do. Visiting Split (there is a bus which drives every 15 minutes to the center), making a boat trip or just relaxing on the beach. Thank you for being our hosts. It was a really amazing week.
Nina
2015-09-26T00:00:00Z
The villa was absolutely beautiful. It is better than in the pictures. Lovre greeted us and was very helpful with local tips and directions to everything we could need. He also gave us two sets of keys rather than one, which is extremely helpful in a group of 12. All 12 of us fitted very comfortably in the spacious villa. The pool is beautiful and in the sun all day, the beach lounge area was perfect for relaxing and the BBQ was so good we used it 2 out of the 3 night we stayed. The kitchens were extremely well stocked, considering how many of us there were. The villa is located a short walk from some really lovely beaches, which have bars and restaurants for food, so the location was perfect for our group of early 20s. I cannot recommend this place enough. Is it beautiful, well located and clean, and Jasna and Lovre were perfect hosts. Thank you both.
Cassie
2016-09-08T00:00:00Z
Tipo di stanza
Intera casa/apt
---
Tipo di sistemazione
Villa
---
Può ospitare
12
---
Camere da letto
Spalato, Regione spalatino-dalmata, Croazia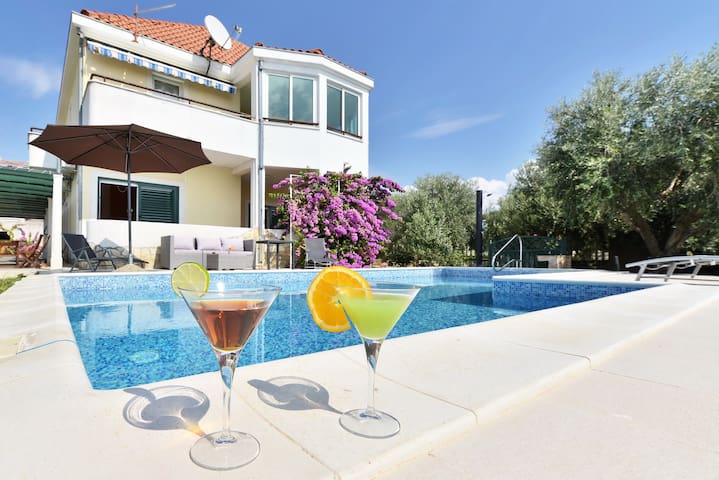 This family-friendly house is located in a calm neighborhood close to the town. The beautiful beach Znjan is 5 minutes away by car (15 min walking distance). There are several supermarkets close by and two large shopping centers within walking distance. You can go by bus or car to the centre of Split (10-15 minutes). The house is equipped with everything you might need for a comfortable stay. There is parking space for two cars and the house is surrounded by a beautiful garden.
Tipo di stanza
Intera casa/apt
---
Tipo di sistemazione
Villa
---
Può ospitare
6
---
Camere da letto
Spalato, Splitsko-dalmatinska županija, Croazia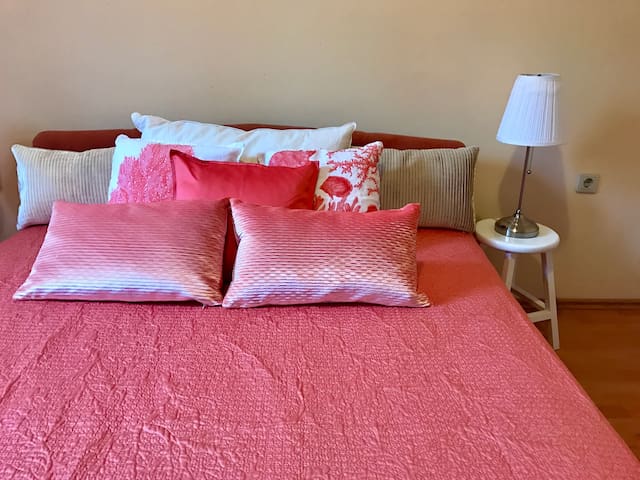 Holiday home Sime&Cvita, newly opened and decorated home. Family house located less than 15 min walking the the old part of Split city center and also close to the sea (Znjan and Bacvice). Villa can accommodate 7 persons.
Parfait ! Bien organisé et réactif. Rien à redire.
Cédric
2016-08-01T00:00:00Z
Ble møtt av berten i huset på kvelden , etter at han hadde ordnet med transpprt frsa flyplassen . Fikk rn rask gjennomgang av hus og omegn , hadde det ganske travelt . Husets umiddelbare omgivelser ikke de peneste , men kort vei , va 10 min gange til strand . Det var 5 sykler i huset , men 2 var ikke brukbare . Renr og pent ellers , et flott hus , og fin hage .
Knut Erik Moen
2016-08-15T00:00:00Z
Darko was a great host for us while we were in Split. We were arriving by car and got lost in the small streets and he came to pick us up and show us the way to his place. He and his wife waited for our arrival and showed us around the house which is equipped with everything one may need. The communication was very easy and Darko provided us with suggestions on where to park and where to go which were very helpful. Although he does not live in the area he was available for any questions we had and responded to all our inquiries. The house was perfect for us, exactly how we expected from the photos. It also boasted the only coffee machine of all the houses we stayed in during our trip in Croatia. It is a modern house with open area kitchen / dinner and living room and very spacious for our party of 5 and would comfortably fit 7 persons. The open area downstairs allows for great socialising even when preparing food. We had an amazing time in Split and a great time in this house and the very beautifully maintained garden. The weather was nice and we had a cozy BBQ and a relaxing evening in the garden. Our stay in Darko's house lent itself well also to day trips to the national park Krka and the beautiful town of Trogir, as well as the beaches of Split. We could not ask for anything more from Darko. Thank you for making our stay in Split so great and we would highly recommend this property!
Zeljka
2015-08-10T00:00:00Z
Tipo di stanza
Intera casa/apt
---
Tipo di sistemazione
Villa
---
Può ospitare
7
---
Camere da letto
Spalato, Regione spalatino-dalmata, Croazia
Our beautiful, newly renovated villa is located in old part of Split, only 100m from famous Diocletian's walls and from the first restaurants, bars and museums. For all those who wish to take a walk or to practice some sport, 100 m from the villa is a famous green zone of Split, a small hill Marjan. From there it is easily to take a walk to the beach as well.
The villa can accommodate up to 10 people in 4 bedrooms ( dbl beds) and 4 bathrooms. Inside of the garden there is a swimming pool, BBQ area and a steam sauna. The guests have at their disposal a spacious dining area on the ground flor with wine cellar where you can purchase some of the best quality Croatian wine at good price. The garden gives you a complete privacy and although you are in the city center you will not be disturb as the neighbourhood is very quiet and peaceful.
The villa is located near the old city center in Split but garden gives you a complete privacy and although you are in the center you will not be disturb as the neighbourhood is very quiet and peaceful.
Tipo di stanza
Intera casa/apt
---
Tipo di sistemazione
Villa
---
Può ospitare
10
---
Camere da letto
Spalato, Splitsko-dalmatinska županija, Croazia
Set in a renovated stone house just a 5-minute walk from the Diocletian's Palace, Villa Capo combines exposed stone walls with modern equipment like free Wi-Fi, LCD cable TV, a security door and air conditioning.
Marmontova shopping street, a fresh fish market and the lovely Prokurative Square are only 100 metres from the property. You can easily reach the vibrant Peristil Square, Split Cathedral and Riva Promenade, and there are also countless restaurants and bars in the city centre. Marmontova shopping street, a fresh fish market and the lovely Prokurative Square are only 100 metres from the property. You can easily reach the vibrant Peristil Square, Split Cathedral and Riva Promenade, and there are also countless restaurants and bars in the city centre. The central marketplace and a public transportation hub are on the opposite side of the Palace, about 600 metres from the apartment. Main Bus Station and Ferry Port are 1 km away, and Bačvice Beach is at a distance of 1.5 km. Refurbished in 2014, this apartment has a spacious living room and a kitchenette with microwave, fridge and electric kettle. The bathroom is equipped with a hairdryer. Villa Capo has a partner tourist agency that offers massage treatments and airport pick-up service on request and at a surcharge.
El departamento está excelentemente ubicado los anfitriones muy amables lo recomiendo en un 100%. Pasamos unos días maravillosos en una maravillosa ciudad.
Bernardita
2016-06-03T00:00:00Z
Villa Capo was wonderful. Great location, very clean. Branka was a great host. We enjoyed very much.
Christopher
2015-06-13T00:00:00Z
Pasko was an amazing host. He promptly answered all my questions prior to arrival and even set up an airport transfer for my group of 7. When we arrived at the location, another host was already there waiting for us to help us with our bags and give us a tour of the apartment. Villa Capo was exactly as described in the description and is in a prime location - extremely close to major shopping and dining areas. We booked the two apartments right across the hall from each other and both are clean, organized and tastefully decorated. Highly recommend!
Maggie
2016-07-17T00:00:00Z
We have been told the Villa Capo was unavailable on check-in day. We didn't meet Mr.Pasko, a lady host took us to a nearby apartments and showed us around. She was helpful and friendly. Thank you. The apartment has one bedroom with double bed and a sofa bed in living room. Anyway it was cozy and clean.
Salad
2015-10-04T00:00:00Z
Great location! We liked that we were able to walk to all the restaurants and shops. We enjoyed our time at Pasko's place.
Mona
2016-06-01T00:00:00Z
We really enjoyed staying here, even though we were only able to stay one night. Apartments were smaller than we imagined so with 8 people it was a little tight but the host was very helpful and responsive to all of our requests. The apartments are perfectly located if you are looking to enjoy the heart of the old city and very close to the marina.
Amber
2016-07-18T00:00:00Z
The place was actually 2 separate units rather than one large unit but they were right across the hall from each other so it didn't cause any trouble for us. The interior was as described and it was a very lovely place to stay for 2 nights. The location was perfect, close walking distance to everything and right in the heart of the city. The hosts were also very accommodating with their city advice and helping us with transportation to the airport. The host comes to meet you to give you the keys so it eliminated some flexibility with arrival times but overall it was great to meet her and have her show us around the apartment. I would recommend staying here!
Michelle
2015-07-12T00:00:00Z
This place could not have been better! It was beautiful and perfect for our group and the location was center to absolutely everything. Pasko was quick to respond and organized everything for us and gave us a contact of a driver who helped us with everything from airport rides to dinner reservations. We had everything we needed and could not ask for more! Thank you Pasko (and Damir!) we will be back!
Chelsea
2016-08-25T00:00:00Z
Tipo di stanza
Intera casa/apt
---
Tipo di sistemazione
Villa
---
Può ospitare
8
---
Camere da letto
Spalato, Splitsko-dalmatinska županija, Croazia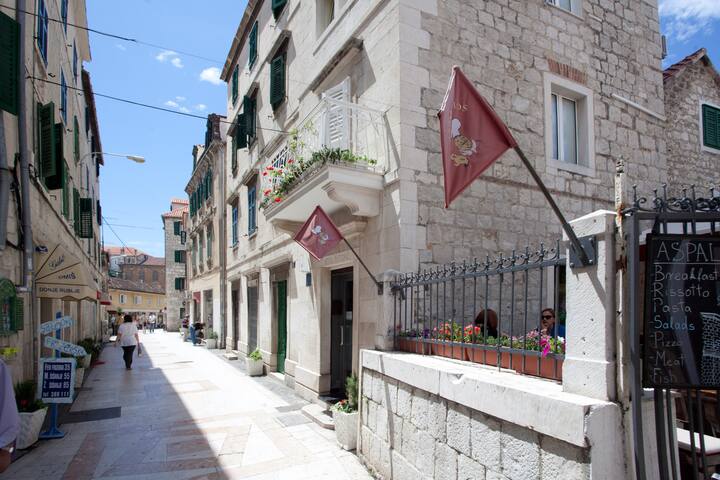 Thoughtfully designed and comfortable room, the maximum attention and unreserved commitment to every guest is our approach to make your stay with us exceptional
Tipo di stanza
Stanza privata
---
Tipo di sistemazione
Villa
---
Può ospitare
2
---
Camere da letto
Spalato, Splitsko-dalmatinska županija, Croazia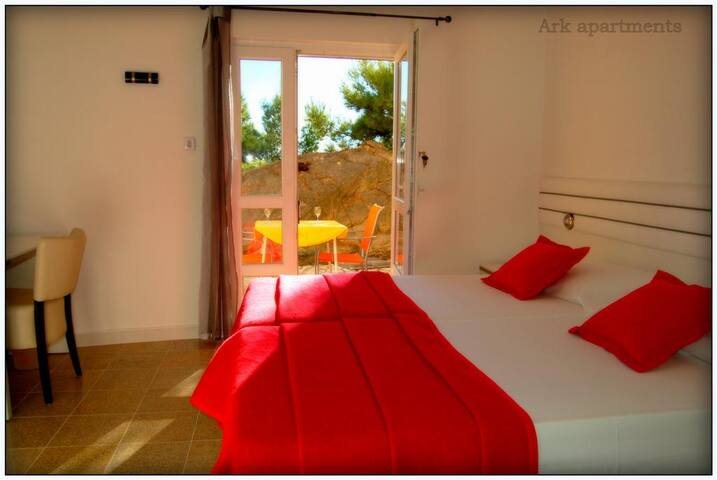 This beautiful apartment, 160 m2 large, is situated in a private villa on 2500 m2 estate, in relaxing, peaceful part of Split by the beach. It is ideal place for any family, romantic couples, or friends. 50 m2 swimming pool is in construction and will be finished in June 2017.
It is furnished with luxurious furniture with great attention to detail. The apartment and has a large living room, fully equipped kitchen, 3 large bedrooms, 2 bathrooms- one massage bathtub and one extra toilette. All bedrooms and the living room have air conditioning. The dining room is connected with living room which has fireplace and lot of sitting space in addition to spend quality time with family or friends.The apartment is equipped with large LCD television, DVD player, CD player; in the kitchen: coffee machine, microwave, washing machine, dishwasher, stove, oven, fridge, etc. On the terrace there is an outside dining table. It takes only 10 min to the city centre by car. The bus stop is on 6 min, and the beach is on only 5 min walking distance from the property. Grocery delivery is available at the property.
Peaceful neigbourhood sorrounded by nature close to the beach, with sea view, ideal for a vacation.
Antonija and her mother were probably one of the best hosts I've ever met. We received a warm welcoming with snacks and fruit and homemade pancakes on our departure. They even offered to take us to the centre. The apartment was amazing, with so many details (professional Miele coffee machine, ice machine and water on the fridge, huge TVs, fireplace) and luxurious interior. It has a huge terrace with furniture and sea view. The garden is absolutely wonderful with beautiful flowers and a fountain. Downstairs is a gym with showers and the view of the garden. Surrounding perfect for relaxing vacation. We'll be back!
Silvia
2016-05-11T00:00:00Z
This place is really amazing! Extremely kind host, great location, beautiful apartment.
Nina
2016-10-09T00:00:00Z
Excellent séjour dans ce très bel appartement situé au calme et à quelques minutes en voiture du centre animé de Split. Nos hôtes nous ont très bien reçus, un grand merci encore à Marija et Zdravko.
Marija
2016-08-03T00:00:00Z
Tipo di stanza
Intera casa/apt
---
Tipo di sistemazione
Villa
---
Può ospitare
6
---
Camere da letto
Spalato, Splitsko-dalmatinska županija, Croazia
This newli decorated apartment is located in quiet neighborhood , near the beach, set 1 km from Diocletian's Palace, a 10-minute walk from Split Port, Bus and Train Station, it features modern furnishings, free wired internet and free parking.
Holiday Home Aspalathos offer air conditioning and a fully equipped kitchen with dining area. A seating area includes a sofa with Smart TV, in each room is flat screen cable TV. The private bathroom comes with a shower and hairdryer. In the external part there is a beautiful garden which is an ideal place for relaxation and rest for the most part of the year.
Holiday Home Aspalathos is 50 metres from a cafe bar, and 200 metres from a grocery shop and a restaurant that serves local and international dishes. Beautiful sandy Bačvice Beach is 300 metres from the property, tennis courts, a yacht marina and a swimming pool can all be found within a 150-metre radius. The UNESCO-protected Diocletian's Palace is 1 km away.
Tipo di stanza
Intera casa/apt
---
Tipo di sistemazione
Villa
---
Può ospitare
4
---
Camere da letto
Spalato, Splitsko-dalmatinska županija, Croazia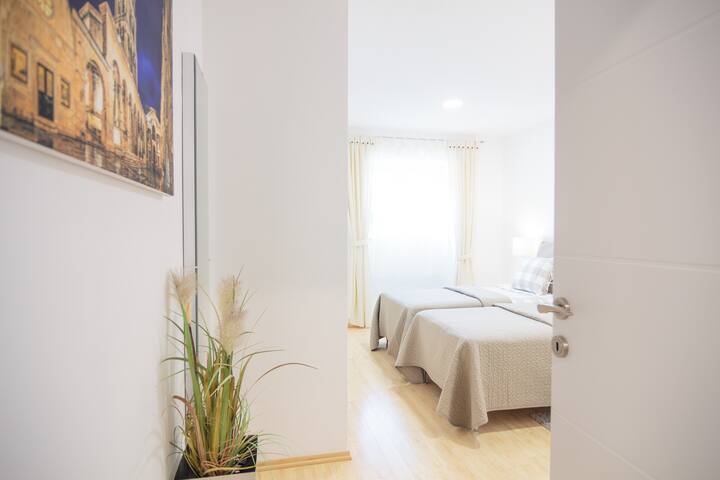 Villa Andrea is situated in one of the most beautiful parts of the Adriatic coast, in a place called Sumpetar between two pearls of Middle Dalmatia, Split on west side and Omis on the east side. The Villa is about 18km from the city of Split.
Villa Andrea is situated in one of the most beautiful parts of the Adriatic coast, in a place called Sumpetar between two pearls of Middle Dalmatia, Split on west side and Omis on the east side. A fully furnished luxury villa with swimming pool and not to mention the breathtaking sea view. Villa Andrea is only a 300m walk (via footpath) from the local beach, a perfect hideaway of clean air and comfort. Each apartment is fully equipped for your needs and the villa is available for groups of two up to ten people. Easy air, roomy and spacious the villa has parking a wonderful perfect view, a great getaway yet close to town.
Villa Andrea is in a quiet and peaceful area of Sumpetar and only 1.5km from the local shop, restaurant and cafe's.
Unser Aufenthalt bei Ante und Lucija war einfach nur klasse. Eine sehr freundliche und herzliche Familie. Die Unterkunft ist sehr schön, wie auf den Bildern. Vor allem ist die Aussicht wunderschön. Wir hatten eine fantastische Aussicht auf das Meer. Wir haben die Zeit bei Ante und Lucija sehr genossen. Wir empfehlen es zu 100% weiter. Vielen Dank Ante und Lucija :-)
Mehmet
2016-08-25T00:00:00Z
Very nice place, with room for big groups. Ante and Lucija are great hosts, and made our stay very pleasant. The apartment is clean and nicely equipped. We enjoyed the pool area a lot, and just behind it is a room for cosy BBQ dinners. We warmly recommend this place!
Staffan
2016-07-17T00:00:00Z
L appartement est très grand. Nous étions 6 et avions plus de place que nécessaire. L appartement se trouve à proximité de la plage sur les hauteurs un peu à l écart de Split, parfait pour une famille avec voiture a la recherche d un peu de calme. Nous avons eu un peu de mal avec la voiture (9 places)au début mais on s y fait rapidement. Nos hôtes ont été prévenants et charmants. Nous avons été ravis de notre séjour! À recommander !
Maryline
2016-09-24T00:00:00Z
First off let me say that this is the first place I've stayed in where the house actually looks like the pictures ☺️ such a beautiful view and a very clean house with big bedrooms, clean towels and sheets and a amazing entertainment area and pool. The hosts were the best part about the house. They were always there to help us out. They offered us wine on arrival while giving us a tour of the property. Ante and Lucija were kind enough to even help us out late at night to find taxi's when we couldn't. Such a sweet family. Had a wonderful time at this property and would recommend it to anyone of my friends and family traveling to Croatia ☺️
Denise
2016-07-19T00:00:00Z
We had a fantastic stay at Villa Andrea - incredible views, clean and spacious villa, lovely little pool. The family live underneath the property but it still feels very private - and they are very friendly and welcoming. They even gave one of our group a bottle of wine after noticing it was his birthday when photocopying passports! Fantastic value for money! Location is a tiny bit out of the way - no restaurants within walking distance really - and you definitely need a car.
Siena
2016-06-21T00:00:00Z
Tipo di stanza
Intera casa/apt
---
Tipo di sistemazione
Villa
---
Può ospitare
8
---
Camere da letto
Spalato, Regione spalatino-dalmata, Croazia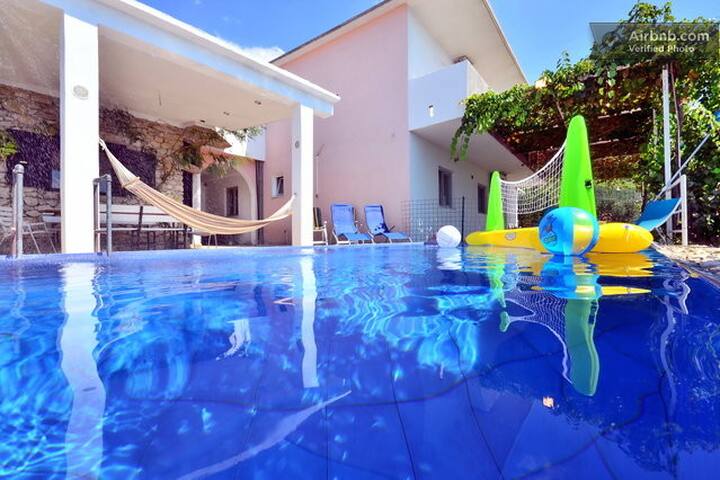 SPECIAL OFFER in June!! Villa Vultana is located at the end of quiet part of village Srinjine, only 8 km far from famous town Split and 14 km far from town Omiš, sandy beaches and Cetina river. This can be your ideal base for day trips like exploring Split or beautiful nature at Cetina river canyon, or small Mediterranean town Omiš after which you get back to your Villa Vultana where time has stopped and enjoy hearing only birds song, far from stress and fuss.
The ground floor offers private 7,5m x 4m swimming pool with sun deck area with 6 lounge chairs, traditional summer kitchen with barbecue and dining table, another dining area is in shade under big, old fig tree next to covered fun area with table tennis, table soccer, orbitrack and exercise bike, you also have a toilet and shower at this level. The first floor offers: fully equipped kitchen with dining area, living room with TV, fire place and exit to spacious terrace on south side with view on village and valley. Bedroom No.1 has double bed 180 x 200 cm, sofa bed 90 x 200 m, bathroom en-suite with shower and small terrace. Bedroom No.2 with double bed 160 x 200 cm. Bedroom No.3 with single bed and bunk bed (3 sleeping places 90 x 200) with exit to terrace (that is connected to terrace of the living room). Family bathroom with spacious bath tub, and a toilet both in hall between bedrooms.
You will have opportunity to try some local products, seasonal vegetable and fruit from organic garden that owner can provide for you, and also see from first hand how locals spend their time, play bocci balls at small local field, and there is also opportunity to explore mountain Mosor if you like hiking.
Tipo di stanza
Intera casa/apt
---
Tipo di sistemazione
Villa
---
Può ospitare
8
---
Camere da letto
Spalato, Regione spalatino-dalmata, Croazia
My place is close to parks and great views. You'll love my place because of the people, the ambiance, the outdoors space, and the neighborhood. My place is good for couples and families (with kids).
Possibility of Rafting,kayaks,mountaineering,tracking,cycling
Dalmatian inland on the banks of River Cetina. You are going to have a traditional lunch at Radman home farm in the genuine inland village on the waterfalls of the spring Ruda situated in the canyon and surrounded by mountainous landscape. Prepare your palate for extraordinary because you will try the local homemade cooking nowdays quite rare to experience and quite different from what restaurants' offer: local smoked ham (prsut) with a homemade cheese, Dalmatian Peka as well as some of the local specialties like frog legs or river crabs.
Tipo di stanza
Intera casa/apt
---
Tipo di sistemazione
Villa
---
Può ospitare
6
---
Camere da letto
Spalato, Regione spalatino-dalmata, Croazia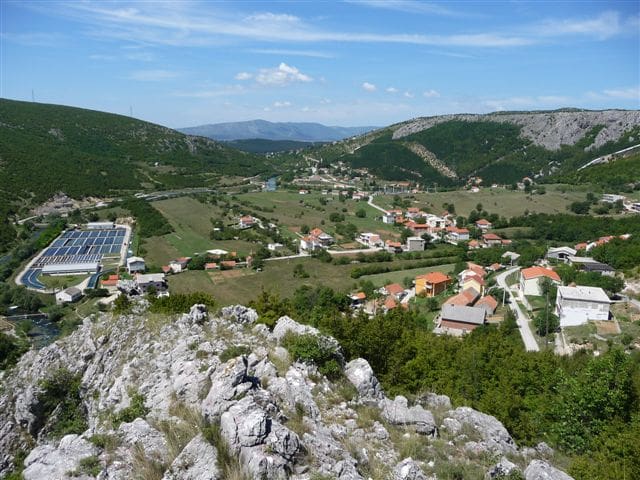 Book and enjoy your stay in a beautiful and comfortable 4-bedrooms apartment with three bathrooms, private yard with jacuzzi, located in Split's vibrant historic center! Just 1 min walking distance from Diocletian's palace.
This new, beautiful and comfortable 4-bedrooms apartment is located in the very core of Split's vibrant historic city center, on the first floor of a building which is placed on the baroque bastion Zorzi, overlooking the main street, with a number of shops and restaurants nearby. The location is perfect for your visit as it is just 1 min walking distance from Diocletian's palace and the city's main promenade Riva, as well as 5 minutes away from the harbor - with a variety of ferries to choose from if you want to visit the amazing islands of Hvar, Brac, Korcula, Solta etc. The apartment comfortably fits 13 people. There are 4 bedrooms. First with a double bed and the private bathroom. Second with two single beds and the other two with double bed and twin bed. There is a spacious living room where you could relax and hang out, there is a big LCD TV. Big sofa could be sofa bed for two people. Dining area is connected to the kitchen and the table is large enough for everyone to enjoy the meal together. There are three bathrooms. The apartment includes a big yard with jacuzzi for five to six people, outdoor table and chairs where our guests could relax and enjoy together. I want my guests to feel like they are in their own home so every guest will get its own bathrobes, to make jacuzzi experience even better.
The neighborhood is the best there is! This area is the very heart of Split and exactly what you need to experience the city. Be amazed by the ancient Diocletian's palace, have coffee with the locals on the beautiful palm tree promenade Riva, enter the variety of shops and boutiques, take a stroll or bike ride on the Marjan hill, taste what the food market and the fish market have to offer you. It is very lively in the daytime, but you will be able to get a good night sleep.
Split was a great experiance. The appartment was super in the middle of the center of Split. Clean and big appartment for our family. We felt iT as our home. The jacuzzi was great!
Theo
2016-10-20T00:00:00Z
Great location right next to the promenade, very nice apartment. We enjoyed our stay at Ante & Ivana's apartment. A few minor issues- boiler didn't allow 8 people to have a hot shower in the same day, wi-fi cut out a number of times Would recommend this apartment
Danny
2016-10-30T00:00:00Z
Ante was a fantastic host! From meeting us at the port, to storing our luggage for our late departure, he was a huge help. The apartment is beautiful and located right in the city (extremely convenient). It had everything we needed for our stay - clean, comfortable put together very nicely. I would recommend Ante as a host and his apartment to stay in!
Nicole
2016-06-26T00:00:00Z
The location of this place made our stay. It is perfectly central in the old town, yet separated from the main busy roads which ensures quiet. However, the place is significantly less luxurious than the pictures depict. Plants are dead and the place is furnished in a very modest manner. I would not call this a villa or a palace by any means. We enjoyed our stay and the convenience of the proximity to Split attractions made our stay, but for the price, we expected something more luxurious.
Mak
2016-08-26T00:00:00Z
The apparment is lovely. It is perfect sentered in the old town of split. Our hosts were so helpful and kind to us. Very satisfied!
Andrea lorentzen
2016-07-28T00:00:00Z
Location is perfect. We really enjoyed. In the evening it was very noisy out side.
Chen
2016-08-12T00:00:00Z
We had a great time at this flat. The best thing is the location - you are on the doorstep of everything and it is very close to supermarkets and restaurants. Ante was on-hand when we arrived - despite our late arrival - and was helpful with questions we asked and even let us leave our luggage in his office due to a late flight when we left. The flat was beautiful - we each had our own room and it was very clean, well-equipped and quiet. The jacuzzi was a dream - on our last night it was a beautiful temperature and I left my body momentarily it was that relaxing. If you want a chilled-out airbnb experience with a superb location, I recommend this fully.
Jai
2016-09-01T00:00:00Z
Great location and very nice home.
Marty
2016-07-12T00:00:00Z
Tipo di stanza
Intera casa/apt
---
Tipo di sistemazione
Villa
---
Può ospitare
13
---
Camere da letto
Spalato, Splitsko-dalmatinska županija, Croazia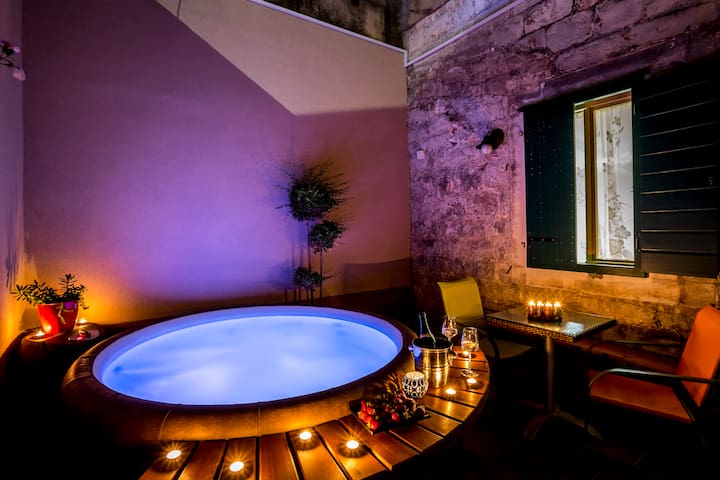 This fully air-conditioned property is furnished to a high standard, amazing sea views. Large, private, heated swimming pool is on a terrace dotted with sun loungers and to compliment this corner of paradise there is a hydro-massage Jacuzzi tub. At pool level you have outdoor lounge sitting area, inside is sauna and gym room. You are 5 minutes drive to closest beach, shop or restaurants. Please check out the video of the property named Villa Gita (URL HIDDEN)
VILLA GITA is fully air-conditioned property and furnished to a high standard. Heated, private 32m2 swimming pool is on a terrace dotted with 6 sun loungers and to compliment this corner of paradise there is a hydro-massage Jacuzzi tub, on other side very comfortable outdoor furniture - all offer privacy and great, opened view to sea and islands. There is an outdoor shower and a shaded area with comfortable table and chairs next to BBQ… Ideal for enjoying an evening drink while watching the sun set.. You have less than 10 minutes (4km) drive to closest beach, restaurant and shop - but car is necessary because villa is located up in hill that is why you have stunning sea views from almost every angle of the house and very quiet environment.
Location of Villa Gita is very unique and "far from it all", located up in mountain 4 km up from the coast road, with amazing sea and island views, in absolute quiet and unspoiled environment makes you feel relaxed at this fully and luxury equipped property.
We spent an amazing week at this beautiful villa. It was the perfect place for our group as it offers a nice pool and an outdoor dinig and bbq area. There weren't any neighbours complaining when we listened to music or chatted until after midnight. The view is truely spectacular! And most important to us, we had two great hosts with Antonio and his father Ivo. They were always available to help or offer advice about restaurants, shopping and 'must see' places. We can only recommend Villa Gita and its hosts to anyone!
Alain
2016-08-14T00:00:00Z
Tipo di stanza
Intera casa/apt
---
Tipo di sistemazione
Villa
---
Può ospitare
8
---
Camere da letto
Spalato, Regione spalatino-dalmata, Croazia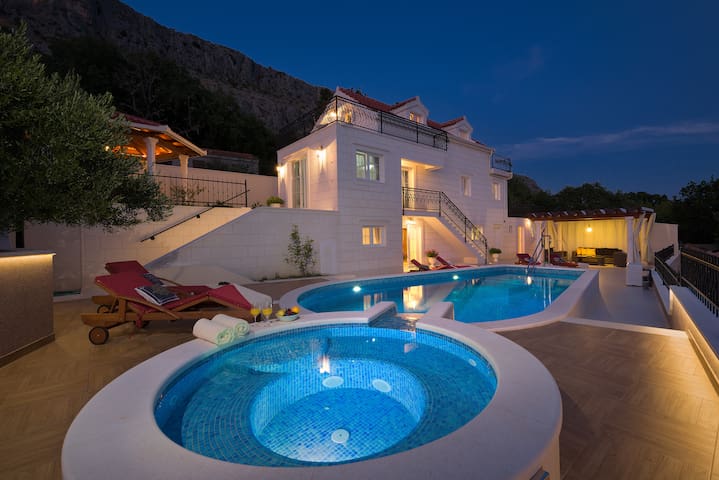 Bisko - Airbnb
:
Media di

4.8

stelle su

5

da

148

recensioni degli ospiti
1

–

18

di

242 Ville in Affitto
Inserisci le date per visualizzare il prezzo totale. Ci sono dei costi aggiuntivi e potrebbero venire applicate alcune tasse.