64 Appartamenti in Affitto
Our large-scale floor apartment of the property has a modern kitchen, a large living room with TV and sofa bed (1,20m x 2,00m), a antique furnished bedroom with TV and a very large bathroom with window. All areas are accessible and Wheelchair accessible. Bedding, shower gel, hand and bath towels, bathrobes, hair dryer, iron and ironing board available free of charge. Children are always welcome and up to 12 years free of charge (please contact us).
Loving and cozy atmosphere in our former winery, which leaves no wish unfulfilled.
Great wineries are located in the vicinity of the tastings, vineyard tours and cellar tours offer. A Greek restaurant and a tavern (open seasonally) are within walking distance. On Wednesday, 14-16 h, a small weekly market in the town square in front of the property instead. Fridays from 18 h can be played in spring and summer comfortably for free on the Martkplatz the Boule Group. Saturdays 9-13 hours shopping in small shops (Kirschseccohof) possible.
AUSGEZEICHNET. Einfach ausgezeichnet. Die Wohnung ist sehr schön, sauber, gemütlich, dass Bett ist sehr bequem. Die Dusche ist sehr modern und sauber. Bei Andrea und Hans war ich besser als zu Hause. Andrea kümmerte sich darum, dass ich hatte, alles was ich brauchte. Nicht nur in der Wohnung sondern auch draußen. Neben dem Haus von Andrea gibt es genug Platz fürs Auto. Und auch wo essen und gute Weine probieren und kaufen. Andrea hat mir mit allem geholfen. Leider gab es wenige Zeit, um sie und ihre Familie besser kennenzulernen und mit ihr Musiek zu machen. Ich empfehle diese Wohnung: ich hatte einen schönen ruhigen und bequemen Aufenthalt.  WONDERFUL experience. Great hosts, wonderful place. Very clean, spacious, extremely comfortable; smells like spring; stylish mixture between old and modern style. The kitchen and the showers are fully equipped. I felt better than home, like on holidays. I went to the area for work, and in all honesty, this apartament is cleaner, calmer and more comfortable than hotels. Andrea: how is it possible to be such a great and helpful host! Thank you for having showed me where to have food and taste wines! I also need to add that the apartment is easy to reach, and easy to park. It may be different during the summer and winefests, so you might want to check with Andrea and Hans, they will be able to provide you with better advices. To reach Udenheim, I preferred to drive through the vineyards and villages instead of the highway, and it was not complicated to find the place, as the main towns around Udenheim are well indicated. Excellent. 100% RECOMMENDABLE. Je n'ai eu besoin de rien d'autre que de me reposer et profiter du comfort et de la beauté de la région. Andrea est extrêmement aimable et gentille. Elle a fait en sorte que mon séjour soit agréable et inoubliable. Merci pour tout :)
Elias
2017-03-16T00:00:00Z
Andrea war eine nette und sympathische Gastgeberin die uns von Anfang an ein Gefühl des Willkommen-Seins vermittelt hat. Die Unterkunft war auch super und es hat uns an nichts gefehlt. Ich kann dieses Angebot nur weiter empfehlen!
Manuel
2017-03-12T00:00:00Z
Alles OK!
Janis
2017-03-09T00:00:00Z
Absolut herrlicher Aufenthalt Ich würde gerne dieses Hotel jedem empfehlen, der einen wunderschönen Aufenthalt im Weinland nur 30 Minuten vom Flughafen Frankfurt entfernt. Andrea und Hans sind sehr herzlich und einladend. Solch eine Freude, sie kennen zu lernen. Absolutely splendid stay. I would gladly recommend this location to anyone looking for a beautiful stay in wine country just 30 minutes from Frankfurt Airport. Andrea and Hans are extremely warm and welcoming individuals. Such a pleaure to get to know them.
Mark
2017-03-05T00:00:00Z
Andrea, Hans and Yannis are great hosts. Their place is just as described and more than the pictures can show. The flat is equipped with everything you might need or expect to find in a guesthouse. It is immaculately clean and beautifully decorated in a very romantic style. The family is very hospitable and helpful in any way. We enjoyed our stay to the fullness and would not hesitate to visit again.
Dilyana
2017-04-03T00:00:00Z
Tipo di stanza
Intera casa/apt
---
Tipo di sistemazione
Appartamento
---
Può ospitare
4
---
Camere da letto
Udenheim, Rheinland-Pfalz, Germania
Für Weinliebhaber: Es befinden sich 10 Winzer in unmittelbarer Umgebung. Gerne arrangieren wir für Sie Weinproben auf den umliegenden Weingütern. Für Motorradfahrer: In der Umgebung befinden sich bekannte Motorradstrecken: - Rheinhessen - Pfalz - Odenthal - Mittelrheinthal (Weltkulturerbe) - Hunsrück - Taunus Im 8 km entfernten Biebelnheim befindet sich Deutschlands gröster Motorradreifenhändler Reifenhandel Vuidar GmbH Flonheimer Straße (PHONE NUMBER HIDDEN) Biebelnheim
Die Wohnung hat einen separaten Eingang und ist mit einem elektronischen Zahlenkombinationsschloß augestattet, sodass keine persönliche Schlüsselübergabe erforderlich ist, An-und Abreise kann daher zu jedem beliebigen Zeitpunkt erfolgen. Sicherheitsausstattung: Notfallkarte, Rauchmelder (VDS-geprüft) bzw. Feuer (Hitzemelder) in jedem Raum, CO-Melder, Feuerlöscher, Erste-Hilfe Koffer, Steckdosen mit Kindersicherungen Weitere Zusatzausstatung: GSM-Repeater, Außenjalousien an allen Fenstern. Für Langzeitmieter kann die Wohnungsausstattung nach Mieterwunsch erweitert werden. Hier die komplette Ausstattung: Allgemein: Internet per WLAN bis 25MBit/s, Funk Heizkörper(wand)thermostate Außenjalousien Waschmaschine zur alleinigen Nutzung, Wäschetrockner (Abluft) zur alleinigen Nutzung, GSM-Repeater, Bügelbrett und -eisen, Staubsauger, Wischmob -und Eimer Küche: Geschirrspülmaschine Kaffeemaschine mit Dauerfilter Geschirr komplett für 6 Personen Pfanne, Töpfe, Schüsseln... Umfangreiches Küchenzubehör Mikrowelle Backofen Kühlschrank Kochfeld Toaster Wasserkocher Geschirrtücher Mehl, Salz, Zucker, Öl, Gewürze ..., Feuermelder (Hitzemelder) Wohnzimmer / Essgelegenheit: Sitzmöglichkeiten für 6 Personen im Wohnzimmer Schlafcouch 1,20 x 2m Tisch höhenverstellbar und ausziehbar Sitzerhöhung für Kinder von 6 bis 18 Monate Wohnzimmerschrank mit Vitrine Fernseher / Satelliten-TV DVD-Player mit 225 Film DVD´s Stereoanlage Brettspiele (Spielesammlung 200 Spiele) Elektronischer Heizkörperthermosta(URL HIDDEN)Rauchmelder (VDS-geprüft) Badezimmer: Handtücher komplett(URL HIDDEN)Badewanne (separat) Dusche (separat) WC Spiegelschrank Fön Feuermelder (Hitzemelder). Schlafzimmer: Schlafmöglichkeiten für 2 Personen und ein Baby. 1 Doppelbett 1,80m x 2m Lattenroste mit verstellbarem Härtegrad und verstellbarem Kopf -und Fußteil, Matratzen mit Taschenfederkern 1 Babybett Im Wohnzimmer ausziehbare Schlafcouch 1,20 x 2m Bettwäsche komplett Sessel Ventilator 2 Wecker Großer Schrank mit Spiegel Rauchmelder (VDS-Geprüft) Tür abschließbar Außenbereich: Veranda, Kugelgrill, Gartenmöbel für 4 Personen Parkplatz für PKW oder Motorräder auf dem Grundstück
Eine schöne, sehr saubere Wohnung. Die Gastgeber sind sehr zuvorkommend und sympatisch!
Lasse
2017-03-11T00:00:00Z
A fantastic house, suitable for a family with two kids. Easy check in / check out. nice and clean in a very quiet neighborhood. Highly recommended.
Mahdi
2017-04-02T00:00:00Z
Fantastic, I highly recommend. Everything was perfect, extremely clean, a lovely big space, and everything you would need. Also one of the few places that I have been able to find straight away using gps!
Kylie
2017-03-26T00:00:00Z
Best place!!!!!! Thank you for everything Jorn
Badea
2017-03-20T00:00:00Z
Tipo di stanza
Intera casa/apt
---
Tipo di sistemazione
Appartamento
---
Può ospitare
4
---
Camere da letto
Dorn-Dürkheim, Rheinland-Pfalz, Germania
Abbiamo molto graziosi appartamenti in una vecchia cantina, che sono state recentemente rinnovate. Una degustazione di vini piccolo è sempre possibile.
Ottima , pulita praticamente perfetta! Danke
Giovanni
2016-03-19T00:00:00Z
Very nice apartment - renovated but kept some rustic elements. Host was welcoming and open
Thomas
2016-07-05T00:00:00Z
Unfortunately that the internet in the area was dead on the day before I check in. So I am not able to contact the host until the last moment which freaked me out cuz I don't have a local phone to contact them. I had to ask my cousin to call Airbnb in HK to contact them. BUT this is definitely NOT the host's problem. SO just a little suggestion: to contact them earlier cuz the internet in rural area in German seems not as good as in the city. At last we got connected and they are so flexible for my check in time. I was late due to the traffic reason for about 15-30 mins but they are okay for this. The host's family leave really close so you can get access to them easily. And they are so nice that they borrow me salt and oil for cooking. For the house itself, it is soooooo amazing! It is just my dream house and as the picture. Only be aware of the step to the bedroom at night, which is a bit steep, and the shower room which leaks out a bit.
Hermion
2016-06-13T00:00:00Z
We waren op terugreis uit Italië en hebben hier 1 nacht geslapen. De ontvangst was geweldig. We waren om 12.00 uur al bij de locatie en konden, ná telefonisch overleg, meteen al het appartement in. Prima ruimte. Van alle gemakken voorzien. 1 slaapkamer met twee bedden en in de woonkamer een slaapbank. Voor 4 personen prima te gebruiken. Fijne douche ook en goed geslapen.
Monique
2016-08-05T00:00:00Z
Our stay was great! The apartment was beautiful and in a beautiful location, even though it is not in a big city. This is what we wanted. The host was very helpful and accessible. Great place and I recommend!
Kelly
2016-12-29T00:00:00Z
호스트 Britta씨가 너무 친절하고 유쾌한 분이셨습니다. 우리 가족이 머물렀던 곳은 깨끗하고 따뜻하고 편히 쉬기에 이주 좋은 곳이었습니다. 다음에 꼭 다시 가고 싶습니다.
Young Kwang
2017-02-21T00:00:00Z
Sehr gute Kommunikation, reibungsloser Ablauf und vor allem ein freundlicher und herzlicher Empfang. Gerne wieder!
Jean Patric
2016-06-09T00:00:00Z
The apartment was wonderful. It slept 5 in our party very comfortably. Everything you could want or need. We had a lovely time at their winery. Friedel and Britta are wonderful hosts. We would definitely stay here again.
Heather
2016-06-22T00:00:00Z
Tipo di stanza
Intera casa/apt
---
Tipo di sistemazione
Appartamento
---
Può ospitare
6
---
Camere da letto
Bornheim, Rheinland-Pfalz, Germania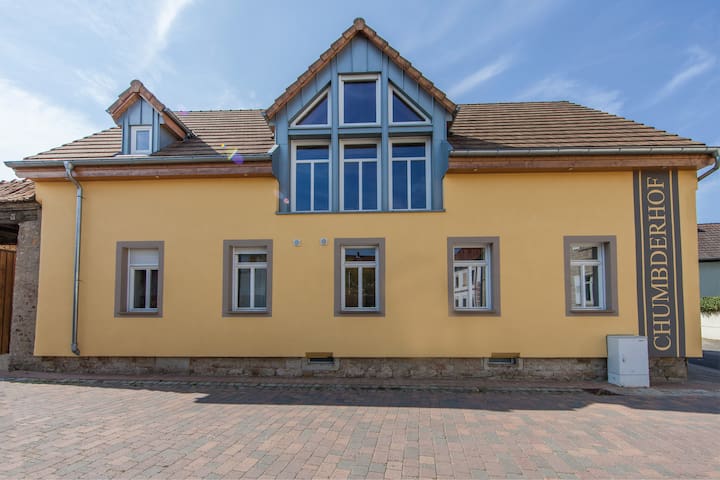 L'appartamento si trova nella zona di sviluppo a sud di Köngernheim al 1 ° piano di una casa 2-famiglia. Dal soggiorno si ha una vista diretta in una parte del giardino. Il parcheggio è disponibile all'interno della proprietà. L'appartamento è di circa 84 mq e dispone di un soggiorno, due camere da letto, un bagno e cucina con zona pranzo. Il balcone ha il suo accesso dal soggiorno e vi invita a rilassarsi.
Very good stay ad Brigit's location. The house is recently renewed, clean and spacious; Brigit a very careful host. This accommodation assures to the hosts privacy and freedom. It is in a small village, not so interesting for tourism, but quiet and silent; moreover, it is a good base to visit wineries, appreciate beautiful landscapes, and spend some time in the interesting and picturesque Oppenheim and Mainz. I rent a car, so I cannot evaluate the public facilities. With a car, the left side of Rain river is easy to visit. Unfortunately, my was a working journey and I had to move to the Darmstad area: the traffic is crazy to move in Frankfurt direction and you must consider long time and queues. Also, WiFi connection has a good speed, important for my job. I liked to stay there, and I suggest Brigit as a very good host.
Cristiano
2017-03-17T00:00:00Z
Tipo di stanza
Intera casa/apt
---
Tipo di sistemazione
Appartamento
---
Può ospitare
4
---
Camere da letto
Köngernheim, Rheinland-Pfalz, Germania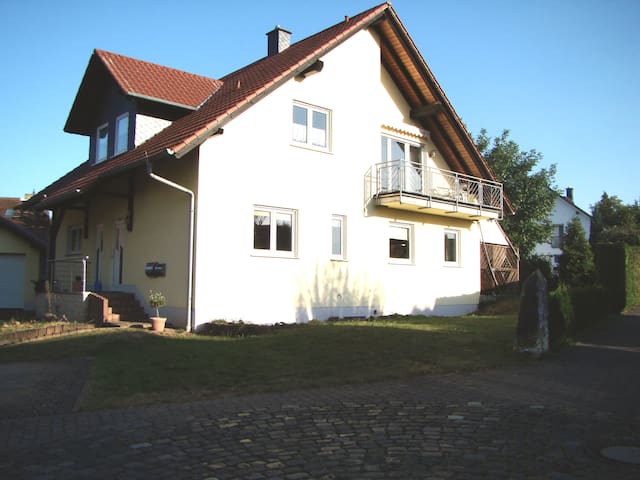 Das Zimmer liegt ebenerdig in einem ruhig gelegenen 3 Parteien-Wohnhaus in Undenheim, einem malerischen Weinort in Rheinhessen. Das Zimmer verfügt über einen separaten Eingang, einem großen Bett, einer Sitzecke, Bad mit Whirlpoolwanne.
Das Gästezimmer befindet sich in einem 3 Etagen Haus, das im Jahr 2000 gebaut worden ist und in 2015/2016 hochwertig renoviert worden ist. Die Unterkunft liegt ebenerdig (behindertengerecht) und verfügt über ein Doppelbett, eine Sitzecke, einem Flachbildschirm und einem exklusiven Badezimmer mit Whirlpoolwanne. Direkt angrenzend befindet sich eine Event-Lounge ("Hemingway Bar"), welche z.B. auch zusätzlich reserviert werden kann, um Festlichkeiten zu buchen.
Cathy and her husband were simply excellent hosts. We booked our stay at last minute plus our European phone didn't work so that we could not update them on our arrival time. They were so nice and accommodating. Once we arrived, they provided us all necessary information including local restaurant and interesting places around the area. They were just incredibly kind and warm people who make you feel comfortable and relaxed. Cathy and her daughter prepared a delicious breakfast for us, definitely more than a continental breakfast as mentioned. The apartment was very large while the bathroom was huge and modern. All amenities provided were classy. It's certain that the host spent a lot of time and carefully selected these items to comfort their guests. We also loved the location which was in the middle of the wine regions, only 14 km away from Mainz and 45km from FRA. There was a very nice local restaurant two minutes away from the apartment. We will definitely go back if we come to Frankfurt, and want to recommend this place to stay!
Denis
2016-04-06T00:00:00Z
Tipo di stanza
Stanza privata
---
Tipo di sistemazione
Appartamento
---
Può ospitare
2
---
Camere da letto
Undenheim, Rheinland-Pfalz, Germania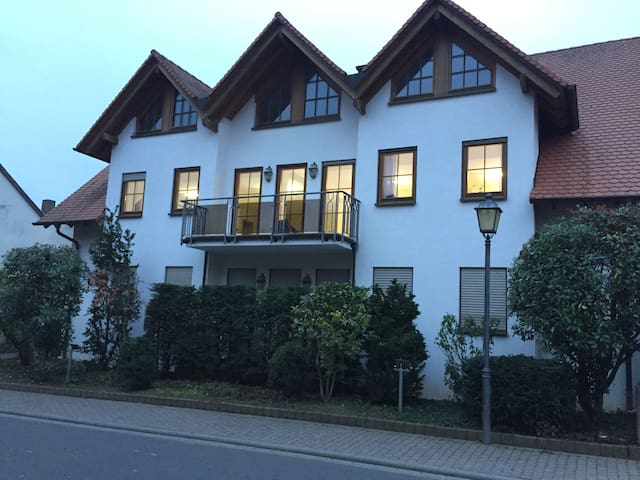 Die Wohnung liegt an unserem privaten Bauernhaus inmitten des kleinen rheinhessischen Ortes Wintersheim.
Die Gastgeber waren sehr nett und bemüht uns den Aufenthalt so schön wie möglich zu gestalten. Die Kommunikation lief reibungslos und die Eier vom Hof waren köstlich.
Franziska
2017-03-10T00:00:00Z
Alles war bestens, sehr gastfreundlich. Kann ich jederzeit weiterempfehlen. Alles mit Liebe zum Detail eingerichtet und hat zum Stil der Unterkunft gepasst. Es gab ein Schlafzimmer mit Doppelbett und mit TV und noch ein Einzelzimmer, ein Bad und eine Küche. Es war alles sehr sauber und ich bin sehr pingelig was Sauberkeit anbelangt. Da gibt es nichts zu meckern. Wer allerdings gar nicht schlafen kann, wenn es hell ist im Zimmer, der wird dort ein Problem haben. Es gibt nur Gardinen, solche Seitenstores zum Zuziehen und diese lassen viel Helligkeit durch. Morgens um 5 Uhr war es schon sehr hell im Zimmer. Wen das stört, der bucht besser nicht. Wem das nichts ausmacht, dem kann ich diese Unterkunft uneingeschränkt empfehlen.
Nicole
2016-05-29T00:00:00Z
Sehr nette Gastgeberin, die uns auch morgens mit Brötchen und frischen eiern versorgte. Die Wohnung ist sehr nett eingerichtet mit Holzmöbeln und Dielenboden. Wir haben uns bei diesem kurzen Aufenthalt sehr wohl gefühlt.
Alexander
2016-05-17T00:00:00Z
The apartment is nice and spacious. There is a beautiful courtyard, which we didn't have time to use but I imagine it to be really great to sit there in the evening and to relax. The Wifi did only work in one specific corner of the apartment.
Lena
2016-08-08T00:00:00Z
Es war eine wunderschöne Wohnung für 3 Personen sehr geräumig mit rustikaler zum Ambiente stimmiger Einrichtung. Es fand ein sehr netter, familiärer Empfang statt und An- und Abreise waren völlig unkompliziert. Es kann sehr für Kurzreisen durch Nähe zu Metropolregion Frankfurt aber auch für Langzeitreisen empfohlen werden.
Marcus
2016-09-14T00:00:00Z
Wir haben uns bei Kristina super wohl gefühlt! Die Wohnung ist wirklich genauso kuschlig wie auf den Bildern. Wir haben sogar eine liebe, persönliche Nachricht und frische Eier von glücklichen Hühnern bekommen. An einem Abend hatten wir sogar ein wunderbares Froschkonzert vor unserem Fenster. Mein Mann und ich haben wirklich noch nirgendwo so gut geschlafen! Für uns steht fest, wir waren nicht das letzte mal bei Kristina zu Gast! Danke für einen entspannten Aufenthalt!
Katharina
2016-06-20T00:00:00Z
We were glad to stay in the apartment of Kristina. The apartment is very light (at the first floor), clean, with modern bathroom and comfortable stylish bedrooms, kitchen with all necessary things. The house is located in the quiet place, that is important if you'd like to have a rest. Kristina and her husband are very friendly. We were very glad that we stayed there. When we come next time, we will certainly stay here. Thank you, Kristina!
Natalia
2016-02-14T00:00:00Z
Die Ferienwohnung ist genau wie beschrieben: Zwei Zimmer, Küche und ein Bad - alles mit ausreichend Platz und einfach ausgestattet. Leider oder zum Glück ist es sehr abgelegen, so dass man sehr ruhig und idyllisch Zeit verbringen kann, um etwas von der Gegend zu sehen aber recht viel fahren muss. Für eine Zeit abseits also zu empfehlen. Kristina war jederzeit schnell erreichbar und sehr freundlich.
Anne
2016-10-29T00:00:00Z
Tipo di stanza
Intera casa/apt
---
Tipo di sistemazione
Appartamento
---
Può ospitare
3
---
Camere da letto
Wintersheim, Rheinland-Pfalz, Germania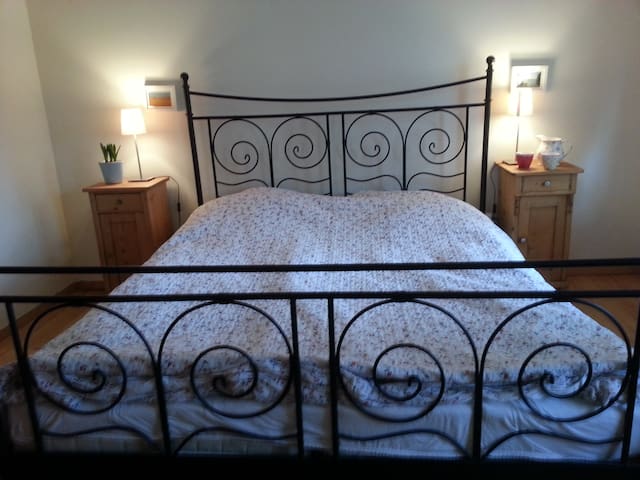 Very quiet, conveniently situated Non smoking apartment with 2 rooms, kitchen, bathroom and terrace with views of the nearby vineyards Alzeyer.
On the terrace seating is available.
Tolle Erfahrung! Gisela und Ihr Mann waren extrem nett unf freundlich. Die Wohnung ist super, sehr sauber und praktisch. Ich würde diese Wohnung sehr empfehlen!
clara
2016-09-07T00:00:00Z
Sehr gemütliches, ruhiges und praktischer Appartment, flexible Gastgeber, alles wunderbar!
Heike
2017-03-29T00:00:00Z
Die Gastgeberin Gisela war sehr nett und hilfsbereit. Die Übergabe hat super geklappt. Allerdings war die Unterkunft nicht sehr ansprechend, da alles etwas ins Alter gekommen und zusammen gewürfelt aussah. Das Bad dagegen war top modern und sehr sauber.
Kirsten
2016-08-19T00:00:00Z
Alles super
Pablo
2016-09-15T00:00:00Z
Tipo di stanza
Intera casa/apt
---
Tipo di sistemazione
Appartamento
---
Può ospitare
4
---
Camere da letto
Alzey, Rheinland-Pfalz, Germania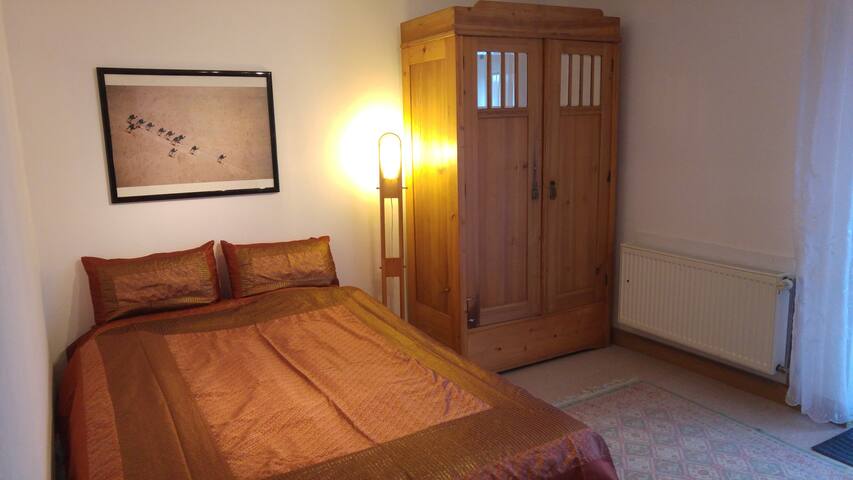 My house is near the airport, public transport and parks. You'll love for comfort, the location and the people of my accommodation. My accommodation is good for couples, solo adventurer, business traveler, families (with children) and furry friends (pets).
Die Unterkunft war wirklich tadellos. Wir waren nur für eine Nacht dort und können daher über die Gastgeber*innen nicht viel sagen, aber die Wohnung ist super.
Esther
2017-04-01T00:00:00Z
Britta was very welcoming and showed us around, explaining the history of the wine estate. The apartment was spacey, the kitchen well equipped, the bathroom clean and with a good shower. The environment is perfectly suitable for a getaway. We enjoyed ourselves and will certainly consider staying with Britta again if we visit the German wine areas again!
Ester
2017-03-05T00:00:00Z
We stayed at Britta place's at the way to the French Alpes. With our 14 months old little boy it is too long to drive to the mountains in one day (from the Netherlands). Therefore we choose to break it up in two days, and sleeping over at Britta's apartment. Great to have a break, decent sleep and good breakfast.
Thijs
2017-03-04T00:00:00Z
Tipo di stanza
Intera casa/apt
---
Tipo di sistemazione
Appartamento
---
Può ospitare
3
---
Camere da letto
Bornheim, Rheinland-Pfalz, Germania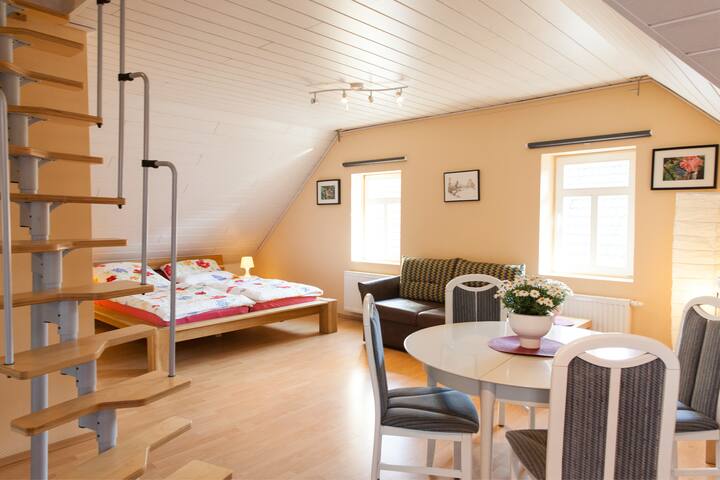 Nice and cozy 2-room-apartment at Knabs-BBQ-Ranch. Sleeping room with a double bed, Saloon (living room) with a Sofabed. Entrance to the garden and a private bath. Breakfast with fresh buns, jam, cheese, joghurt and coffee/tea is included.
Nice and cozy apartment at Knabs-BBQ-Ranch. The apartment includes a separate sleeping room with a double bed inside. You will have your own westernstyle living room with a bar in it. In that room you will find a small kitchen for light cooking. You got a sink, fridge, toaster, microwave, 2 plate stove incl. an oven and a coffee machine in that kitchen. The kitchen is full with cooking stuff like oil, vinegar, salt, pepper, sugar etc. If you are 4 persons we can fold out the couch into a 160x200 doublebed. From our Saloon you will have your own entrance to our garden area. You got your own terrace incl. a grill. A small bathroom with a shower is also a part of the apartment. Towels for our guests are available . Fresh breakfast is included. The fridge is loaded with cheese, butter, milk, joghurt, honey, jam and cereals. We will serve you every day fresh buns/bread from the local bakery.
Very silent and nice area. Perfect for relaxing! We have a Supermarket in our village. There is also a german wine restaurant, a greek restaurant and a pizza place near by.
I have spent only one night at Marcus' place, and after I've seen it I can say with hope I will be back. Immaculately clean, with the personal touch and charisma, fantastic view, breakfast... Best place i have ever stayed at in my Airbnb career. Marcus, I'll be back. :)
Milan
2016-05-04T00:00:00Z
Markus and Anja were generous hosts during our brief and pleasant stay. They offered useful guides to the places of interests and provided freshly-baked breads and buns for breakfast. The two dogs, Cinnamon and Muffin, were equally welcoming! The house is located in a very peaceful and quiet neighbourhood. Our rooms were also very private as they were located downstairs, on a separate level with where Markus and his family lives in. The bedrooms were spacious and comfortable for a family of three, one of which is well-equipped with a small kitchen for light cooking. We were provided with everything we needed, including comfortable beds, a fridge full of healthy snacks, and excellent internet access. Truly good-for-value, highly recommended!
HL
2015-09-09T00:00:00Z
We had a really good time at Markus'. Beautiful house in a calm and peaceful area, nice views, friendly people, awesome dogs(URL HIDDEN)
Paula
2015-08-30T00:00:00Z
Wir haben uns vom ersten Moment an bei Markus und seiner Familie sehr wohl gefühlt und hatten eine super tolle Woche. Markus und seine Familie hatten immer ein offenes Ohr für uns. Herzlichen Dank.
gabriele
2016-07-11T00:00:00Z
Perfect
Andy
2015-11-17T00:00:00Z
This wonderful family and their cozy house was more then we expected ! :) The place they live is very quiet, with a beautiful panoramic views and nice outside area. The room was just perfect for us. All what we needed! Markus and Anja were really kind and helpful about everything and we really felt like at home. Thanks for this great experience!
Lina
2015-08-04T00:00:00Z
What a great stay we had at Markus & Anja's house! We felt welcomed right away. Markus's family was extremely nice, discreet and available for all of our needs. TJ and the two dogs brought even more Sunshine to the stay when we got to see them. We were looking for a peaceful and quiet place to stay while we drove around different towns in the area and it was just the place. We would totally go back there on our next trip if the family hasn't moved to the US yet:) The view from the garden is astonishing, especially at sunset.
Quitterie
2015-12-31T00:00:00Z
We felt very welcome by Markus, there were even chocolates on our pillows. The neighborhood was charming and the view of the vineyards below, from where we ate breakfast, was breathtaking.
Don
2016-08-24T00:00:00Z
Tipo di stanza
Intera casa/apt
---
Tipo di sistemazione
Appartamento
---
Può ospitare
4
---
Camere da letto
Zornheim, Rheinland-Pfalz, Germania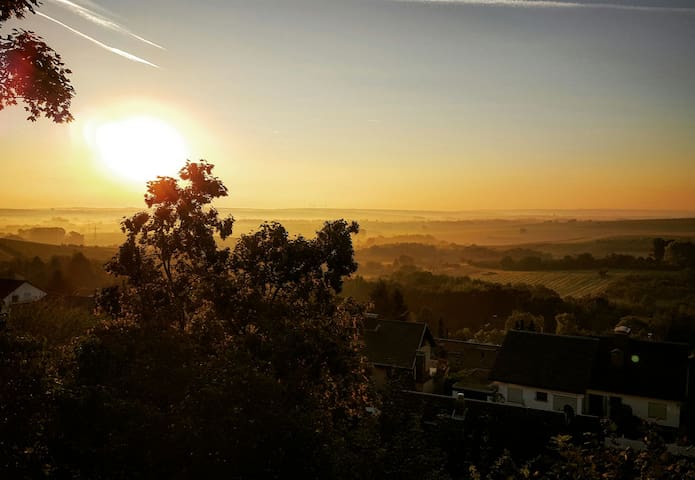 New apartment (1st floor, 50sqm fully equipped) in the south of Mainz. Nearby: Mainz (ZDF, IBM, University), Wiesbaden, Ingelheim (Boehringer), Rüsselsheim (Opel), Frankfurt (airport). Quiet, 5 min to bus, train, motorway. Private parking, e-charging-station. Kitchen: microwave, refrigerator, stove, dishwasher, extractor hood, coffee maker, kettle. LAN / WLAN, TV, DVD, stereo. Queen-size bed, 2 beds 90x100cm, desk, chairs. Bathroom: bath, WC Access with electronic key card.
This sunny apartment comprises the entire first floor of a two family house, recognizable by blue windows, photovoltaic systems on the roof, a huge balcony in front of the house (your balcony!) and an evergreen bamboo garden. Left and right from the house are spaces for cars - the left is yours. The house and the apartment is completely rebuilt in 2015 in a contemporary design. Your apartment is on the 1st floor. You get a chip for access: The chip opens the front door and apartment door. In the apartment you have LAN (1GB) and WIFI, TV, DVD, stereo with 5.1 surround Doly. A fully equipped kitchen with stove, dishwasher (!), Microwave and fume hood. Moreover, you have a large south-facing balcony, which is really very nice and spacious - comfortable with two armchairs and a table in rattan. The sunny yellow bathroom has a bathtub. Towels and linens are provided. There are 2 beds (90 x 200 cm) and another one in queen size dimensions (150 x 200 cm). You may fold it to a comfortable leather sofa (but it's just not a "sofa bed", where you sleep on the seat cushions ...). Matching is a leather armchair ready to look around TV. You may bring guests with you (10 euros for overnight) who could sleep on inflatable mattresses available on the antique dresser, in which you can give your clothes. A round solid wood table and chairs suitable as dining or desk; LAN and WLAN allow any office work. A small cabinet contains a lot of board games. In the basement I have washer and dryer - if necessary we can arrange if you can use them.
Directly in front of the door begin the Rheinhessen vineyards - with a touch of Tuscany or California. Mainz, Wiesbaden or Frankfurt-City and -airport are very close.
Michael ist ein sehr sympathischer und zuvorkommender Gastgeber, und die Wohnung war sehr schön. Wir haben uns sehr wohl gefühlt. Schade, dass wir keine Zeit für den Wein/ Whisky zusammen hatten, holen wir noch nach beim nächsten Mal und freuen uns auf das Wiedersehen!
Jody Jan
2016-09-12T00:00:00Z
My host Michael IS an extremely helpful and caring person. He gave me all the info I needed, infact took me to the places, about which I requested only an info! And the next days I was kept in touch by him; he was checking whether everything was ok! And the final evening was a great one with his family too! Everything is positive about the place, apartment and The Host! Thank you a lot Michael! Vinay.
VINAY
2016-08-06T00:00:00Z
Ein großartiges Appartment mit einem hervorragenden Gastgeber. Vielen Dank für die Gastfreundschaft!
Victor
2016-10-23T00:00:00Z
Meiner Schwester hat es dort sehr gut gefallen. Kontakt zum Vermieter war nett und zuvorkommend. Beim nächsten Besuch buchen wir wieder dort. :-)
Katrin-Vimala
2016-09-04T00:00:00Z
Es war ein wunderbarer Aufenthalt in einer tollen Wohnung. Mit viel Herz und Gastfreundschaft wird man empfangen. Vielen Dank, jederzeit gerne wieder und sehr zu empfehlen.
Joerg
2016-11-20T00:00:00Z
Sehr schöne moderne Wohnung! Alles sauber und super ruhig. Eine große Terasse direkt am Zimmer. Sehr netter Gastgeber!
Lisa
2016-07-31T00:00:00Z
Eine komfortable Unterkunft, die alles Benötigte enthält. Sehr gute ruhige Lage mit nette Atmosphäre, Mainz ist leicht erreichbar. Michael ist ein freundlicher und hilfsbereiter Gastgeber.
Roman
2017-01-21T00:00:00Z
Everything just perfect.
Matt
2016-10-02T00:00:00Z
Tipo di stanza
Intera casa/apt
---
Tipo di sistemazione
Appartamento
---
Può ospitare
4
---
Camere da letto
Nieder-Olm, Rheinland-Pfalz, Germania
Die Wohnung ist komplett möbliert, renoviert und besteht aus Schlafzimmer (ca. 12 qm), Wohn- und Esszimmer (ca. 25 qm), Flur, Küche, Bad, Wohnfläche inkl. Terrasse ca. 65 qm. Die Wohnung liegt im Souterrain und hat einen eigenen separaten Eingang.
Die Wohnung ist komplett möbliert und besteht aus Schlafzimmer (ca. 12 qm), Wohn- und Esszimmer (ca. 25 qm), Flur, Küche, Bad, Wohnfläche inkl. Terrasse ca. 65 qm. Die Wohnung liegt im Souterrain und hat einen eigenen separaten Eingang. Das Badezimmer ist mit einer separaten Dusche und Badewanne ausgestattet und besitzt zusätzlich eine Fußbodenheizung. Die Küche ist voll ausgestattet und hat einen Kühl- und Gefrierschrank, Ceran-Kochfeld, Backofen, Spülmaschine, Mikrowelle, Kaffeemaschine, Wasserkocher und Toaster. Töpfe, Pfanne, Geschirr und Besteck sind ebenso vorhanden. Im Wohnzimmer steht ein 32" Flachbildschirm mit SAT-Anschluss zur Verfügung. Die vorhandene Couch ist ein Schlafsofa mit 140 cm Breite. Bettwäsche und Handtücher werden für den Aufenthalt einmalig gestellt. Die Wohnung ist eine Nichtraucher Wohnung, allerdings kann auf der Terrasse, die mit 4 Stühlen und einem Tisch ausgestattet ist, geraucht werden. Ein separater Parkplatz stehe ebenfalls zur Verfügung.
Die Wohnung liegt in einem beschaulichen Neubaugebiet unmittelbar vor den Weinbergen in Saulheim am Ortsrand.
We love the days we spent in Saulheim. The town is 25 minutes by train from Mainz. Train passes every 30 minutes, very affordable. The town is very quiet, producing wines. The apartment is comfortable for 2 persons, well equipped and ventilated. The hosts are extremely nice and helpful people. we just have to thank stay.
Egidio
2015-10-25T00:00:00Z
Jochen war sehr Gastfreundlich und hilfsbereit. Es ist eine schöne kleine Wohnung und vorallem ist es sauber. Wir hatten einen tollen Aufenthalt dort.
Lisa
2016-07-04T00:00:00Z
Tipo di stanza
Intera casa/apt
---
Tipo di sistemazione
Appartamento
---
Può ospitare
4
---
Camere da letto
Saulheim, Rheinland-Pfalz, Germania
Our Barn Apartment with great beds of great-grandmother is equipped with a cozy sitting area, TV and Wi-Fi. Here can sleep 3 people. The single bed 1.80 m long. The single kitchen with dining area invites you to linger. The plumbing includes toilet and sink. Shower facilities are in the main house. Children are always welcome and up to 12 years free of charge (please contact us). For additional guests there is an apartment in the main house.
Bedding, shower gel, hand and bath towels, bathrobes, hair dryer, iron and ironing board available free of charge. Washer and dryer can be used at an additional cost.
Great wineries are located nearby offering wine tastings, vineyard tours and cellar tours. A Greek restaurant and a tavern (open seasonally) are within walking distance. Wednesday 14-16 h - weekly market in the town square in front of the property Fridays from 18 h - Free cozy play boules on the Martkplatz Saturdays 9-13 h - shopping in small shops (Kirschseccohof)
Tipo di stanza
Intera casa/apt
---
Tipo di sistemazione
Appartamento
---
Può ospitare
3
---
Camere da letto
Udenheim, Rheinland-Pfalz, Germania
Unsere Ferienwohnung befindet sich in der Nähe der Endhaltestelle der Linie 67, die direkt zum Hauptbahnhof nach Mainz führt. Unsere Gäste erwarten zwei komfortable Doppelbetten, eine vollausgesttate Küche mit einem Esstisch, ein Wohnzimmer und ein riesiges Bad mit einer ebenerdigen Dusche. Die Wohnung liegt im Erdgeschoß mitten im unseren Hof. Selbstverständlich bieten wir unseren Gästen ein kostenloses WiFi an.
Ab sofort können bei uns Fahrräder leihen, Mountainbikes und E-Bikes, sprechen Sie uns bitte an!
Es war ein kurzer aber angenehmer Aufenthalt. Das einzige was beängstigend wirkt (Scherz) sind die altertümlichen Ansammlungen von Omis alten Gläsern, Bildern und die Kücheneinrichtung, halt ein moderner und bunter Mix durch die letzten Jahrzehnte. Ich komme gerne wieder!
Sascha
2017-03-24T00:00:00Z
Apartment is located in very beautiful city and is very clean and much much better than in pictures. Hosts are also very nice and helpful. I really recommend to stay there.
Patryk
2017-03-17T00:00:00Z
Es war alles Perfekt. Ich bin herzlich empfangen worden und fand eine gemütliche Wohnung. Anna und Sebastian waren freundlich und sehr nett. Es ist alles da, was gebraucht wird. Eine schöne renovierte Wohnung, sehr sauber, absolut ruhig und gab mir das Gefühl ein bisschen zuhause zu sein. Ich kann die Unterkunft nur weiterempfehlen.
jerome
2017-03-10T00:00:00Z
Tipo di stanza
Intera casa/apt
---
Tipo di sistemazione
Appartamento
---
Può ospitare
6
---
Camere da letto
Zornheim, Rheinland-Pfalz, Germania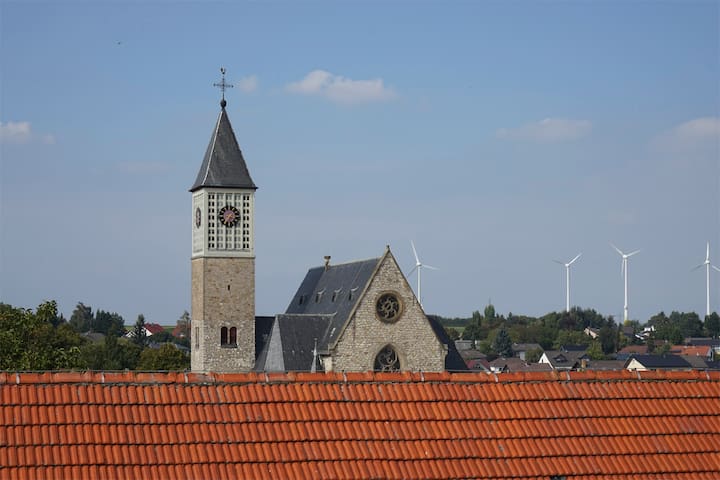 Die Wohnungen sind in eine ehemalige restaurierte Hofanlage integriert.Sie sind direkt vom Hof aus zugänglich und verfügen über einen Wohnraum mit Küchenzeile,Essecke und ein separates Schlafzimmer,Duschbad und WC. Hallenbad Sauna nach Verfügbarkeit!
Die Wohnungen sind in eine ehemalige restaurierte Hofanlage integriert. Sie sind direkt vom Hof aus zugänglich und verfügen über einen Wohnraum mit Küchenzeile, Essecke und ein separates Schlafzimmer, Duschbad und WC. Es können zwischen ZWEI und VIER Personen unterkommen! Hallenbad und Sauna nach Verfügbarkeit steht Ihnen kostenlos zur Verfügung!
Tipo di stanza
Intera casa/apt
---
Tipo di sistemazione
Appartamento
---
Può ospitare
10
---
Camere da letto
Undenheim, Rheinland-Pfalz, Germania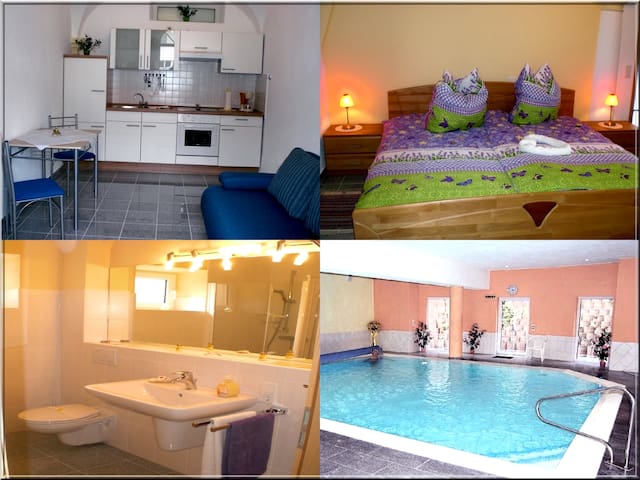 Ich biete eine frisch renovierte Wohnung über zwei Etagen. Weitere Bilder folgen.
Tipo di stanza
Intera casa/apt
---
Tipo di sistemazione
Appartamento
---
Può ospitare
3
---
Camere da letto
Flonheim, Rheinland-Pfalz, Germania
Unsere gemütliche 80qm Ferienwohnung verfügt über 2 Schlafzimmer. Es handelt sich um eine komplette Wohnung in einem EFH. Ruhig gelegen in einer Spielstraße. Weitere Informationen unter (URL HIDDEN) Maximale Buchungsdauer: 3 Monate
Very nice experience. Friendly owners and enviroment. Parking is free in front of the house. Good internet and easy access to the road.
Vladimir
2017-02-25T00:00:00Z
房东人很亲切,屋子很清洁。很美丽的小镇,不错的体验
Shen
2016-09-17T00:00:00Z
Keurige woning, van alle gemakken voorzien.
Wilfred
2016-07-31T00:00:00Z
The hosts were great, very friendly, chocolates on the pillows were a nice touch.
Mariam
2016-08-26T00:00:00Z
Michaela und ihre Familie sind sehr nett und sehr verbindlich. Die Kommunikation war klar und zeitnah. Die Realität vor Ort entsprach zu 100% der Beschreibung. Alles war sehr sauber. Mein Sohn und ich haben uns wohlgefühlt und kommen gerne wieder, wenn es passt.
Thomas
2017-04-02T00:00:00Z
Die Gastgeber sind sehr nett und die Übergabe hat sehr gut geklappt. Die Wgh befindet sich im Kellergeschoss umd ist daher etwas dunkel aber sehr schön ausgestattet mit allem was man braucht auch sehr geräumig. Der Gastgeber wohnt oben drüber. Da die wgh sehr hellhörig ist, bekommt man sehr vieles von oben mit... dadurch war es recht laut. Man wohnt in einer sehr ruhigen Wohngegend .
Kirsten
2016-09-03T00:00:00Z
Nette Familie, sehr schöne Wohnung. Grosszügig und modern eingerichtet. Danke, dass meine Mutter hier so gut untergekommen ist.
Sibille
2016-10-16T00:00:00Z
Very big and well equiped apartment especialy good for little kids, you get everything nessasery for them there, even babies towel! Nice host, and everything was ready for us although we booked the apartment 2 hours before arrival.
Victoria
2016-10-15T00:00:00Z
Tipo di stanza
Intera casa/apt
---
Tipo di sistemazione
Appartamento
---
Può ospitare
6
---
Camere da letto
Westhofen, Rheinland-Pfalz, Germania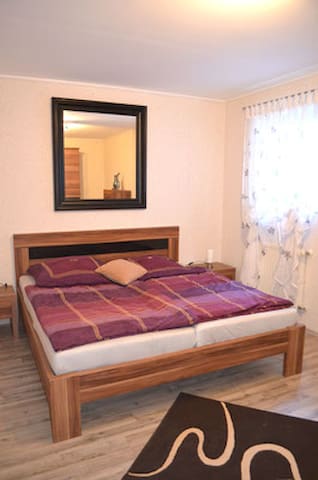 Diese traumhafte Wohnung befindet sich am Weinberg in einer ruhigen Anliegerstraße. Sie haben direkten Zugang zu den rheinhessischen Fahrrad- und Wanderwegen. Der Golfplatz Wißberg ist gleich in der Nähe. Gastronomie gibt es in den örtlichen Weingütern, oder im vier km entfernten Wörrstadt. Dort haben Sie auch gute Einkaufsmöglichkeiten, Apotheken und Ärzte, sowie einen Bahnanschluss. Vendersheim ist über die Autobahnen A61 oder A63 gut zu erreichen.
Tipo di stanza
Intera casa/apt
---
Tipo di sistemazione
Appartamento
---
Può ospitare
2
---
Camere da letto
Vendersheim, Rheinland-Pfalz, Germania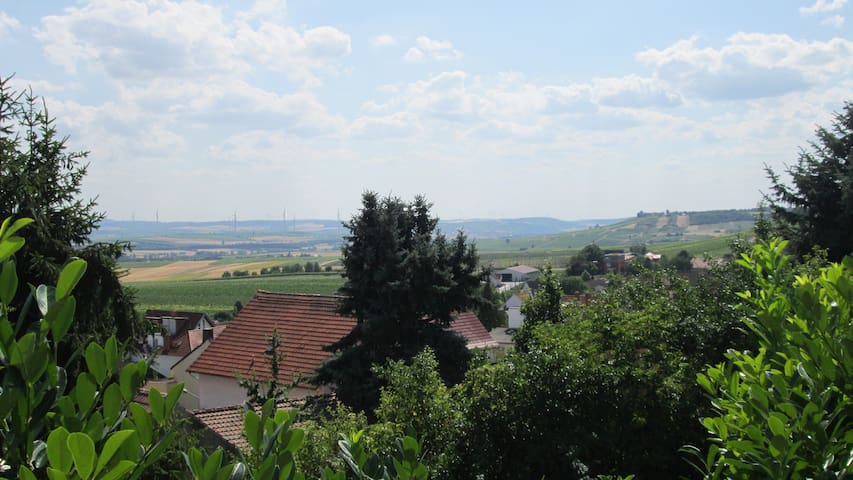 Meine Unterkunft ist in der Nähe von Stadtzentrum, Flughafen, Parks, Weinberge, Rheinhessen. Du wirst meine Unterkunft lieben wegen Gemütlichkeit, die Lage, Weinberge, Rheinhessen, Garten zur Nutzung. Meine Unterkunft ist gut für Paare, Alleinreisende Abenteurer, Geschäftsreisende und Familien (mit Kindern). Sie besteht aus Wohnzimmmer (mit ausziebahrer Couch), Gästezimmer mit ausziehbarer Gästecouch und Schlafzimmer mit Doppelbett, sowie Küche, Bad + WC, Essecke und Garten.
Schöne, ruhige lage, top ausstatung in der Wohnung. Könnte man auch mehr als ein tag bleiben. Für Familie mit grösseren Kinder gut.
Tatjana
2016-08-07T00:00:00Z
Tipo di stanza
Intera casa/apt
---
Tipo di sistemazione
Appartamento
---
Può ospitare
6
---
Camere da letto
Nieder-Olm, Rheinland-Pfalz, Germania
1

–

18

di

64 Appartamenti in Affitto
Inserisci le date per visualizzare il prezzo totale. Ci sono dei costi aggiuntivi e potrebbero venire applicate alcune tasse.