Grande maison à 100 km de PARIS idéale pour ceux qui cherchent à se ressourcer dans ce havre de paix et visiter la Normandie. Peut également convenir pour des réceptions ou des séminaires avec un nombre d'invités limité de 30 personnes en partie couverte et 50 en partie découverte superbement aménagée. Vous apprécierez cette maison pour sa vue dégagée et le surplomb sur une belle demeure la de 1676 avec un jardin a la française.
Un cadre unique. A découvrir sur les photos
Muids est situé rive droite de la Seine A 100km de paris A 20km de Rouen A 30km de Giverny A 100km de Deauville A 15km du golf du Vaudreuil A 10 KM des Andelys Entre les Andelys, et St-Pierre-du-Vauvray. 27430 Le village s'étend sur environ 6 kilomètres de long .
We had a fantastic stay the house and surroundings were beautiful. The host was very friendly and welcoming
Rachel
2016-07-25T00:00:00Z
It was my parents 50th wedding anniversary so we were children and adults this is a perfect house for an extended family the under cover outside dinning area is perfect we had all our meals except for one lunch at the house. The pool is a great size and ample setting area all very comfortable, the host is very enthusiastic to welcome and make sure you are having a good stay, we were very kindly invited for tea, they are very lovely people. I would 100% recommend this house if you want to go and relax restaurants are a distance so it is easier to eat in. Our host drove us to the supermarket on the first day to make sure we found it in time as it was late afternoon very kind. It is a house that is owned not one that was built for rental everything you need is there also items that need care which are personally owned this is not a house for a big party were anything goes this is a house where you need to be respectful of the owners belongings. We would very much love to return and lay by the pool which i would intend to do much more of next rather than dealing with a broken down car !! I very much look forward to it Thank you Sol , Family and lovely lady whom looks after you all, we also miss Lotus xx
amanda
2016-08-30T00:00:00Z
Sol was very welcoming and helpful. The house, pool, tennis court are great, as are the local facilities and activities, both cultural (which we did not really do) and sporting. We really enjoyed our stay.
Jeremy
2016-08-24T00:00:00Z
Tipo di stanza
Intera casa/apt
---
Tipo di sistemazione
Villa
---
Può ospitare
10
---
Camere da letto
Muids, Normandie, Francia
Le Thuit is very well located (medieval town of Les Andelys, Paris, Giverny, D-day beaches) and the villa part of a familly owned walled Parc of 11 hectares with tennis.
Parc of a familly owned Private walled parc of 11ha, this unique villa is perfect for 2-3 families with childdren
Neighbourhood consists of members of my familly (sisters, parents, cousins) who each have their own house used as a second house.
Tipo di stanza
Intera casa/apt
---
Tipo di sistemazione
Villa
---
Può ospitare
12
---
Camere da letto
Le Thuit, Haute-Normandie, Francia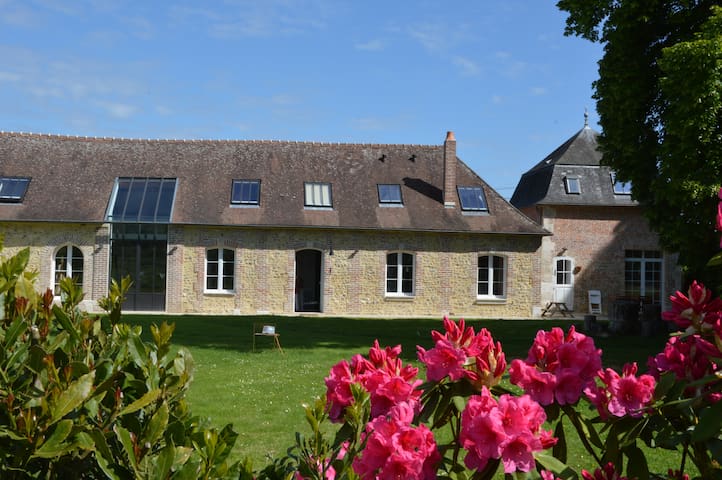 House architect to superb volumes with a breathtaking view. 3 bedrooms, a game room in the basement, 2 Bathrooms 1 Audio SONOS system throughout the house. 200cm TV in the living room, TV in bedroom with cable. Modern kitchen fully equipped. Located in Montville, charming Bourg in the heart of the Cailly valley, 15mn from Rouen, 30 minutes from the Normandy Coast (Dieppe, Veules les Roses and 45 minutes of Honfleur, Trouville-Deauville.
Modern housing Overlooking the valley Cailly
Tipo di stanza
Intera casa/apt
---
Tipo di sistemazione
Villa
---
Può ospitare
6
---
Camere da letto
Montville, Normandie, Francia
Detached house in the countryside. Heated pool from May to October. The pool is shared with my other rental. The house is small but pampering. A large double bed room. Mezzanine 1 double bed. Shower room Italianate. Wireless.
Pool outside the house. The pool is not private, it is shared with this cottage on the property if she is hired. The house is about 50 square meters. A ground floor room, a double bed and a cot upstairs mezzanine. Bed linen and towels are not included, the rate is 6.50 per person. But you can also bring your own. Jacuzzi surcharge on reservation 10 euros per person for an hour. Oven, microwave, dishwasher, washing machine.
Tranquility
J'ai été très bien reçu par Cyntia et son mari . Le logement est très près de l'habitation de nos hôtes ce qui permet un contact aisé. L'annexe mise en location avec la piscine et un immense foyer - barbecue extérieur a visiblement été aménagée récemment . Le rez-de-chaussée est très agréable et fonctionnel. La chambre est claire , le lit de 160 est de très bonne qualité . La situation géographique permet des ballades dans la forêt de Brotonne, et des excursions nombreuses à moins d'une heure de route .
Alain
2016-05-07T00:00:00Z
This was one of the best villas I've ever stayed in. The host was very welcoming. My children loved the swimming pool. We enjoyed the countryside and that there wasn't a great deal to do. It was the perfect retreat to unwind. There's lots of supermarkets and my children did enjoy Pom pizza. We will be back, maybe next year to pop to Disneyland Paris. Many thanks Rob
Rob
2016-09-03T00:00:00Z
Nous avons passé un très bon séjour. Nos hôtes étaient chaleureux et disponibles. Nous avons apprécié la fonctionnalité du logement et bien sûr la piscine chauffée! Nous recommandons ce logement. De plus, c'est un endroit reposant et idéal pour se ressourcer.
Franck
2016-09-09T00:00:00Z
Super accueil dans un endroit vraiment sympa. je recommande.
Guillaume
2016-09-20T00:00:00Z
Only a few days returned and we are already missing our holiday house and the surroundings provided by Cynthia. The house, the pool and the surroundings are great. The house is providing everything you need and the hospitality of Cynthia is great, with respect to your privacy. The pool is opened and closed for you every day and it is perfectly heated to a comfortable temperature, a joy to swim. We used the pool every morning and afternoon. We enjoyed a beautiful end of the day watching the sun going down with a little bonus but I will leave this as a surprise for you. Close to the house there is a restaurant where you can eat fish and enjoy a friendly host to serve you. The environment is beautiful and the location is centrally located so you have an acceptable travel distance to other interesting places (zoo, coast....). The Seine and the villages around it reveals beautiful historical views of old sites and buildings. You can do this by car but we preferred our bikes. You can also visit farms where you can buy goat cheese, apple juice or cider. We are already planning our return....
Pascal
2016-08-02T00:00:00Z
Nous avons passé un excellent week end. La maison est très cosy avec une vue sur la piscine ! L'accueil de Cyntia et son mari a été très chaleureux ! Leur logement est juste à côté et ils se tiennent à disposition si besoin. En bref, un endroit idéal pour une coupure nature à seulement 1h de la mer et à moins de 2h de Paris.
Michael
2016-07-15T00:00:00Z
Nous avons été très bien accueillis, Cynthia et son mari soignent leurs hôtes. Le logement est très propre et très agréable. Tous le confort y est. Nous avons passé un agréable week-end sans avoir la chance de profiter de la piscine car il faisait encore trop froid. Le logement est très bien aménagé et fonctionnel. Il est situé à 45 min de Honfleur et une heure d'Etretat. A refaire pour un week-end au calme à la campagne.
Clarisse
2016-03-31T00:00:00Z
Tipo di stanza
Intera casa/apt
---
Tipo di sistemazione
Villa
---
Può ospitare
4
---
Camere da letto
Vatteville-la-Rue, Haute-Normandie, Francia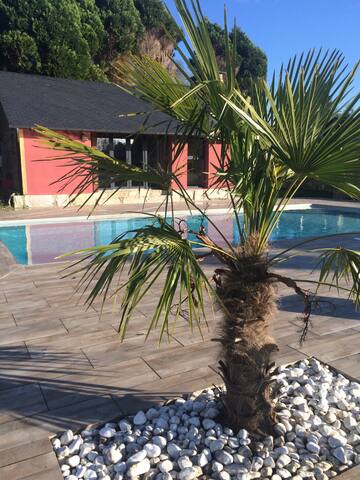 Tipo di stanza
Intera casa/apt
---
Tipo di sistemazione
Villa
---
Può ospitare
8
---
Camere da letto
Chambray, Normandie, Francia
Anglo-Norman house, tastefully renovated, on the Seine, the sunset breathtaking, in a typical Norman village cottage. As part of this house is unique, enjoy a terrace just outside your room with garden furniture, patio heater and jacuzzi. Admire the many boats and barges of winter lounge. Quiet, beautiful scenery, 1h30 from Paris, 35 minutes from Honfleur, Rouen, Le Havre, 45 minutes from Deauville. To discover love or family.
Very clear, free Wifi
Authentic village to discover
Tipo di stanza
Stanza privata
---
Tipo di sistemazione
Villa
---
Può ospitare
2
---
Camere da letto
Vieux-Port, Normandie, Francia