'Serenity' is a well appointed, 2007 36' sailing yacht with all the comforts of home, securely docked in the Fairhope Municipal Pier marina. Fresh linens and towels, AC/Heat, shower, TV&DVD, microwave, refrigerator and range. Also included in your stay: *Continental breakfast * Tandem Kayak * Two bicycles **Sailing charters available
While the area is very family friendly and children are welcome please consider this accommodation more suitable for adults and children 12 and up.
Our community was established in 1894 by a group of adventurous people who came together with a "fair hope of success." Their experimental community blossomed and grew into a city. Now, more than 110 years later, Fairhope's "success" is more than apparent in our bustling downtown, spacious parks, award winning landscape and tree-shaded neighborhoods. Fairhope, often referred to as the jewel of the Eastern Shore, is not a big city with a population of approximately 16,000. It still retains much of its original small-town ambiance, but Fairhope is unique in many ways. Fairhope is known as a pedestrian's paradise that has an active arts community, exceptional schools, outstanding public services, excellent senior services, and top-notch recreational programs for all ages. It is also home or a weekend retreat for many famous artist and authors. Fairhope has been recognized nationally and internationally for its environmental stewardship, beauty and quality of life. Fairhope continues to receive favorable notice in national magazines, including the Wall Street Journal, Southern Living, USA Today, The Smithsonian and Money Magazine. In 2010, Family Circle Magazine named Fairhope as one of the 10 best places to raise a family. It was voted as the most business friendly city in Alabama by the Alabama Policy Institute. Fairhope has also been recognized as one of the most romantic cities in America and most recently named one of the top 10 'Happiest Seaside Towns in America' by Coastal Living Magazine.
Wonderful experience. Brian's dad met us at the boat and showed us around. Brian kept us informed of things to do and places to see. Fairhope is a great place to visit. The boat has plenty of room for a couple to relax and enjoy the scenery. Highly recommended and will definitely be returning!!!
Shawn
2015-10-05T00:00:00Z
Wow!! This is truly "Accommodations Afloat"! First time staying the night on a boat and we had a wonderful time from beginning to end! Bryan stayed in contact with us days before checking in, and the entire time after that. He thoroughly gave us instructions on how to operate everything aboard Serenity. It even felt like we owned it! The Sunset Sail was breathtaking and very calming. Ahoy and Thank You to Captain Ron! No wonder the boat is named Serenity because peace was all around. I even dove off the boat into the bay during our sail. Overnight was and felt extremely SAFE!! The boat can comfortably sleep 5 maybe even 6. No real worries of claustrophobia, it is very spacious and easy to get comfortable. There's a microwave, mini fridge, an oven, and a two burner stove on board. Which was perfect because my girlfriend and I decided to cook and have a candlelit dinner on the deck! Everything is so accommodating, and aboard there is every essential you may need. Bluetooth radio allowed us to connect the phone giving us tunes inside the boat as well as on deck. We had awaken the next morning to watch the sun rise and wind up taking a nap on the bow in the midst of. Overall great experience, and we definitely plan to be back to this place of a hidden treasure!
Willie
2016-09-26T00:00:00Z
Bryan was great. He had all the maps, recommendations and instructions for the boat easily laid out. Would highly recommend and definitely would stay again. Thanks Bryan for your hospitality and letting us use your beautiful boat for the evening.
Joe
2015-06-05T00:00:00Z
This was an absolutely spectacular experience! We stayed the night on the boat which was beautiful and supplied us with more than we needed. In the morning we chartered the boat with captain Ron and Bryan who took us out for a fantastic two hour sail. We'll absolutely be back to stay here again.
Mack
2016-07-09T00:00:00Z
Brian greeted us and made sure we were comfortable on the boat before he left. The boat has a nice space to hang out outside and watch the stars. The kayak was an awesome bonus for a morning paddle- thanks!!!
Candace
2015-06-06T00:00:00Z
Lovely boat, responsive host, all around great night on the water.
Karen
2016-07-05T00:00:00Z
Bryan and his fantastic partner made me feel extremely welcome on the boat as well as into the small town of Fairhope. The boat was in bristol condition and only surpassed by their hospitality during my extended stay. I would not hesitate in recommending friends or family and returning to Fairhope again
David
2015-05-12T00:00:00Z
We really enjoyed our weekend get away on Accomodations Afloat! Bryan was so kind and made sure we were completely comfortable and aware that he was available any time if we needed him for anything. The boat is gorgeous inside and out! We had a wonderful time exploring Fairhope and hope to visit again one day soon!
Felicia
2016-07-03T00:00:00Z
Tipo di stanza
Intera casa/apt
---
Tipo di sistemazione
Barca
---
Può ospitare
6
---
Camere da letto
Fairhope, Alabama 36532, Stati Uniti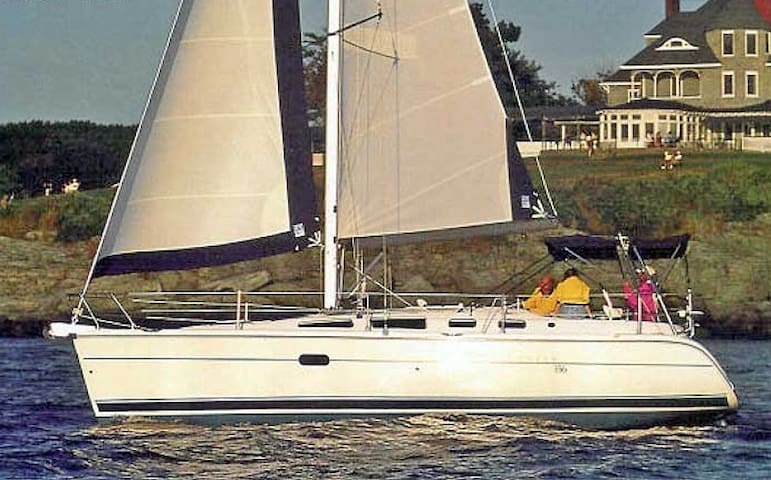 This newly renovated riverboat once cruised the mighty Mississippi and its Rivers and will return to Biloxi on June 10, 2017. The most beautiful views are just outside your door and Deer Island is a short boat ride away!
Unique because it is a boat with so much history. Originally a coast guard buoy tender built in 1940 and renovated in 1995 as a cruise ship. Recently renovated again and used in the marsh as a luxury fishing lodge, but stationed in Biloxi for a few months in the summer.
Great location. Being on the water was a soothing and natural way to fall asleep. The lounge area is great.
Chris
2016-08-08T00:00:00Z
This is a great hotel alternative. The location is great for access to Biloxi or nearby communities, and it's incredibly relaxing to be on the water. The hosts are both responsive and proactive. If anything, the photos don't do it justice. I'd stay here again and recommend this to anyone going to the area.
Lara
2016-08-07T00:00:00Z
Wonderful weekend on the riverboat. If you are looking for a fun, unique experience, this is a great opportunity. The hosts were very friendly and accommodating. Great experience overall, accurate listing, fast communication.
Daniel
2016-07-25T00:00:00Z
Best place to stay in Biloxi! Amazing view, our host was amazing, and the ship manager "Smiley" was outstanding. Would recommend this to anyone planning on staying in Biloxi!
Vincent
2016-08-01T00:00:00Z
Tipo di stanza
Stanza privata
---
Tipo di sistemazione
Barca
---
Può ospitare
2
---
Camere da letto
Biloxi, Mississippi 39530, Stati Uniti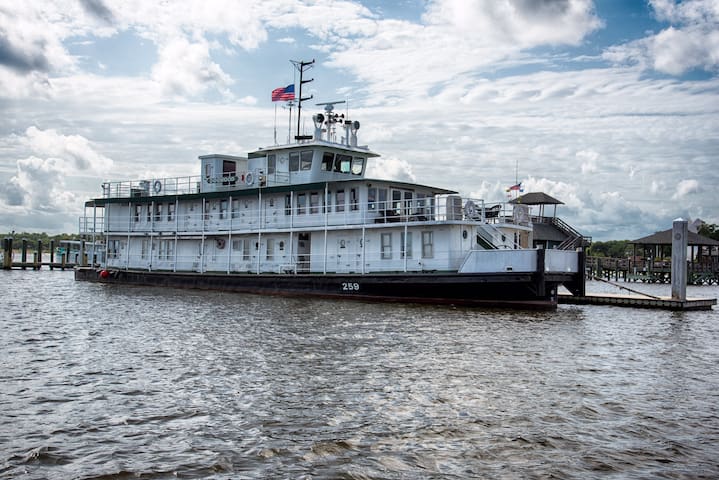 This newly renovated riverboat once cruised the mighty Mississippi and its Rivers and will return to Biloxi on June 1, 2017. We are located at the end of the Biloxi Maritime Museum Pier and within walking distance to casinos and restaurants. The most beautiful views are just outside your door and Deer Island is a short boat ride away!
It's the most fabulous spot on the Biloxi coast!
Beach activities and fishing, boat tours and cruises, restaurants, casinos are all in close proximity to the Dogwood Lodge! The Ohr O'Keefe art museum and the Maritime Museum are right across the street. A short walk (approx. 1 mile) will bring you to the Hard Rock Casino and the other way will bring you to the Golden Nugget Casino and Margaritaville. The Blind Tiger is a new restaurant located next to the Pier.
Beautiful boat and wonderful hosts we would highly recommend this experience.
Ray
2016-07-19T00:00:00Z
Host met us at the gate and walked us in. Showed us our room in detail, and then gave us a tour of the boat.
Leah
2016-08-04T00:00:00Z
We had a wonderful time on the riverboat! It was a VERY cool experience. We got a great tour of the boat and a run-down of the history when we first got there. We were then left to our own devices and thoroughly enjoyed the sunset from the boat and hanging out in the bar area. We had breakfast on the deck. Couldn't be happier with our experience!
Katie
2016-08-14T00:00:00Z
It was better than we could have imagined. It was super clean, the pier and the view are gorgeous, the boat was so much fun. There aren't enough good words to describe our experience. We absolutely loved it.
Chelsea
2016-08-01T00:00:00Z
We went to Biloxi for a concert and the casino was full. Luckily we found this place. It was sooo much better. The room was awesome and there is a lounge/bar area for the guests to hang out. Jarret the captain was very accommodating and a great cook. It was a unique experience and I would highly recommend this place! Way better than a hotel. We would definitely return.
Michelle
2016-08-01T00:00:00Z
Tipo di stanza
Stanza privata
---
Tipo di sistemazione
Barca
---
Può ospitare
2
---
Camere da letto
Biloxi, Mississippi 39530, Stati Uniti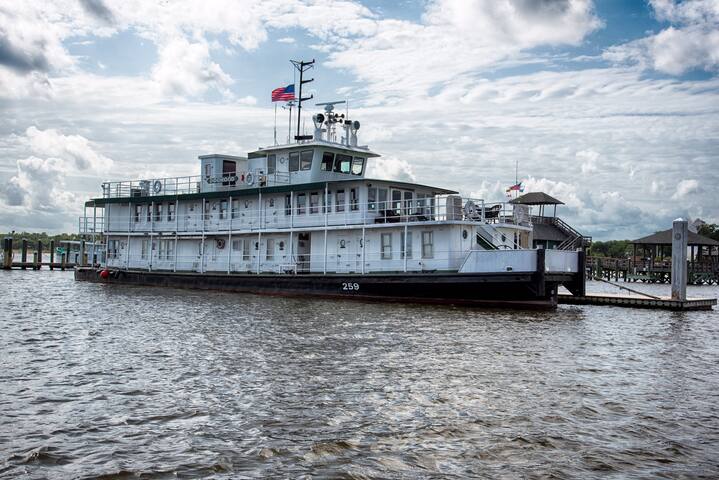 1

–

3

di

3 Barche in Affitto
Inserisci le date per visualizzare il prezzo totale. Ci sono dei costi aggiuntivi e potrebbero venire applicate alcune tasse.