Schwimmer an Bord River Princess, ein 43-Fuß-Bluewater Coastal Cruiser, über die ruhigen Gewässer des Rondout Creek. Genießen Sie die familienfreundliche Marina Lifestyle. Schwimmbad, Volleyball, Hufeisenwerfen, Tischtennis. Lassen Sie Ihre Kinder auf dem Spielplatz toben. DAS BOOT BLEIBT AM DOCK.
Ein gut ausgestattetes schwimmenden Wohnung mit geschlossenen Kopf / Dusche (Badezimmer) und volle Galeere (Küche). Bequem Platz für 4 Erwachsene. Private Master Kabine hat ein Doppelbett. Hauptsalon hat aufklappbares Sofa. Lounge in den Liegestühlen auf dem Oberdeck.
The entire crew were exceptional. Cheryl went above and beyond a host's duty to insure we had everything we needed. Very kind lady, will return to River Princess when we take our next NY trip
Fae
2016-08-01T00:00:00Z
The River Princess is a great place to stay. The boat has all the things you need to feel comfortable and the surroundings are great. Now we know how it is to sleep on a real yacht! The kids has a lovely time at the swimming pool and everyone working at the harbour was very nice. We loved staying at this shop, next time we take it for a real trip on the Hudson
Madelijn
2015-07-19T00:00:00Z
Great accommodations - very clean, comfortable and picturesque. The staff at the marina who welcomed us were very friendly.
Jenna
2015-08-22T00:00:00Z
Had a great time on the boatel. Will defiantly stay again.
Spencer
2016-06-06T00:00:00Z
Had a great weekend on the River Princess. The boat was clean, convenient, and easy to use. The location was great, there is a small general store and grill right next to the boat as well as the pool and a recreational area for games and cookouts. Everyone we met that worked at the site was very friendly. The restroom on the boat is very small (obviously) but there are other restrooms within 2 mins of you are uncomfortable using the one on the boat. I would definitely stay there again!
Josh
2016-06-13T00:00:00Z
The host was very helpful with his guidance and overall accuracy of his posting. Great boat, great marina, great time.
Alexandros
2015-08-16T00:00:00Z
Staying on the boat was lovely as we're not regular boaters so it was a wonderful experience. As soon as we got there other holidaymakers were interested and took a look around our boat - this was lovely and welcoming. It's well-appointed and has everything you need, and wonderful to sit up on deck having breakfast.
Patrick
2015-08-09T00:00:00Z
We stayed on the boat recently for a nearby wedding on the Hudson River. The experience was great from the arrival at the marina we were greeted by a friendly staff that dropped what they were doing to get us settled in. The boat is beautiful and very clean. I received a follow up phone call from the marina staff early in the evening to ensure everything was going smooth and see if there were any questions. We were very pleased with this extra attention! The whole experience was fantastic and I would eagerly return to the River Princess on another occasion. We were the envy of everyone at the wedding since most were staying in chain hotels.
Todd
2015-06-21T00:00:00Z
Tipo di stanza
Intera casa/apt
---
Tipo di sistemazione
Barca
---
Può ospitare
4
---
Camere da letto
Port Ewen, New York, Stati Uniti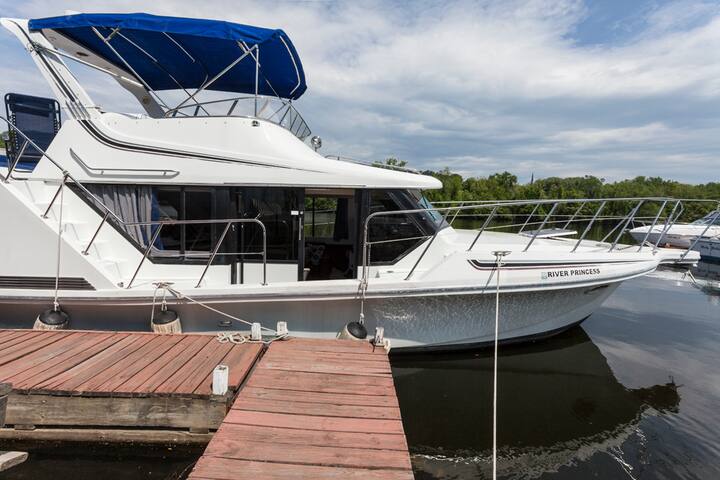 James was great to communicate with during the booking process, and very understanding and accommodating when our rental car company overbooked our rental and we had to come up with a Plan B! Highly recommended!
Katie
2015-10-11T00:00:00Z
Really enjoyed our stay on the boat! Bed was comfortable, A/C and WiFi worked great, and the boat is surprisingly spacious. So nice to sit on the upper deck in the cool summer evenings. There is a bathroom on board that even has a shower, but I preferred the marina showers, which had more elbow room and were available 24 hours. Marina staff were friendly and helpful. It helps to have a car to visit swimming holes and get groceries but we got around the immediate area biking and walking, but there are some steep hills for sure. I would happily return the next time I'm in Kingston.
Renee
2015-08-02T00:00:00Z
The description of the boat was fairly accurate as to it's size and the accommodations available. The marina staff were also very friendly and helpful when we arrived and directed us to the boat. The surrounding town though is not very nice. We also did not feel the inside of the boat was very clean. We understood it is a boat and it was not going to be a 5-star hotel, but we got the general feeling that it was not clean and had a bit of a funny smell. We only stayed for less than an hour before deciding to leave.
Kyle
2015-09-06T00:00:00Z
In the other experiences I have had, the owner is hospitable and welcoming, James didn't respond to my concern about flooding in the area... And didn't welcome us at all. He responded with the wifi info after we checked out. Jeff- who was at the marina was so great!!! However, he couldn't get the water to work so we had no water. The television was all static and unwatchable. Upon entering the boat we had to remove 2 huge spiders and spider webs. We wanted to leave our stuff somewhere safe-- we had a wedding, however no one could get the boat to lock so we had to cart everything with us. Jeff tried really hard to get everything to work- but to no avail. I have stayed on boats my whole life and this was just an awful experience. There were too many things wrong to bother complaining. They gave us the number of Justin- who might have been able to help, but he didn't answer.
Nicole
2015-06-28T00:00:00Z
Our stay on Lucky was an absolute delight. We were welcomed by the marina staff with open arms, and the description/photographs were extremely accurate. The boat was clean and comfortable, and we spent a great deal of time relaxing on the deck. Just by chance, the marina held a viewing of the movie Jaws the night that we were there, so we had the opportunity to sit outside with other people in the community and enjoy a classic! Based on our experience, I'd highly recommend this listing for a summer stay.
Joanna
2015-08-09T00:00:00Z
It was very fun staying on the Lucky during our one night stay in Kingston - a very different vacation experience! The boat was cozy and the folks at the Marina were very helpful when showing us the interior and helping us get settled. We were given several recommendations for dinner places, including one right on the waterfront in Kingston which was excellent! Unfortunately the hot water on the boat didn't work but the marina had showers so we didn't mind too much.
Marybeth
2015-10-12T00:00:00Z
Nice boat comfortable for two. Everything worked and was clean. The yacht club pool, bath showers picnic areas all available. Obviously a summer rental.
karl
2015-07-11T00:00:00Z
The only contact we had with the host was when we booked our reservation. I did have a question and he responded promptly. When we arrived all the staff at the Marena were very helpful and informative and was always available if needed. The boat was as described, not a lot of cooking utensils or pots and pans for cooking, although a very affordable quaint restaurant dockside for breakfast, lunch and dinner during the weekends. The marina's showers were clean and water pressure was great. Pool was inviting and refreshing. The only issue we had was a funny odor as we entered the boat, which may be from being closed up and not used all the time. We were only there for the weekend but by the 2nd day, the odor had subsided as we had windows opened and the air condition going to circulate the air around. All and all it was a very relaxing environment for a weekend stay.
Robin
2016-08-08T00:00:00Z
Tipo di stanza
Intera casa/apt
---
Tipo di sistemazione
Barca
---
Può ospitare
2
---
Camere da letto
Port Ewen, New York, Stati Uniti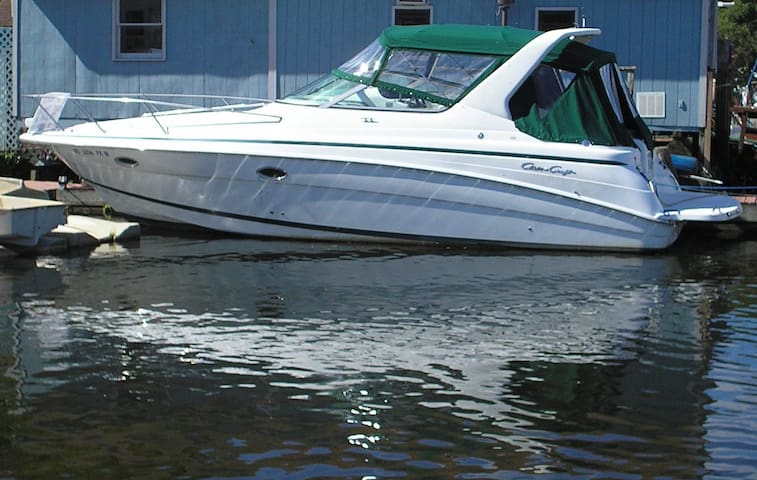 Very private, next to a creek, camping in a fully set up camp with electricity, oven, re fridge, lights can sleep 10 people in beds and cots. No running water. Pet friendly. Home to friendly horses, chickens, goat, pigs, puppies, kittens. Access to farm Jacuzzi. Creek does dry up at times.
Sailboat, Trailer and Outback Canvas Tent Outpost - this is GLAMOROUS CAMPING! You have an indoor kitchen, and a well maintained Port O San, all on a private strip of land in between a beautiful stream and a row of trees bordering the main horse coral. You have access to the farms' walking trails, hot tub and bonfire area. If you have never gone camping before, come stay at the Outpost, it is a campsite already set up. I was 30 the first time I camped and I loved it! It is an amazing experience to be so close to nature, it is hard to explain, you just have to try it more glamorous than camping, you will love it! The boat can sleep one couple in its' cabin, the heated Trailer has a bedroom with a full bed and the kitchen has a fold out full bed, the tent has four cots. If you like you can bring your own tents (or rent some from us) and sleep even more people. If you are a group of over 6 people, please tell us about yourself and your intentions as we want to make sure that fun is had in safety and peace. My husband and I are hippies at heart, okay, maybe we even look the part sometimes, but we are also the Captain of the ship and want to make sure everyone will get home safely. The sail boat is dry docked; literally, it looks like a dock by the sea. There is a set of stairs that take you from the tent platform up to the boat. The boat has a custom built roof and romantic wind, water and sun screen. It has a small cabin with a skylight, lined with a foam mattress, a super comfy, cozy place to sleep. Up on deck you can sun yourself and image that you really are sailing as the boat gently sways in the wind (it is slung between posts so it can rock). The 50's style Trailer, is right out of a film set, with black and white checkered floor and red polka dot curtains. The heated trailer is your indoor kitchen with a 4 burner cook top and oven, refrigerator and microwave. There is no water hook up to the trailer so no running water. we provide you with a 5 gallons of water which we can help you to refill. on cold rainy days you will have refuge. When you rent the Outpost all three, tent, trailer and boat are yours. The trailer opens onto a deck with the 10'x12' outback tent. just 10' from the stream. This part of the stream has a deep area where you can swim. The stream can dry up sometimes, so no guarantees. PROPERTY DESCRIPTION Located in the Hudson Valley, 2 hours North of NYC, our 27 acre Farm is home to horses, chickens, bunnies, dogs, cats and other farm animals. Enjoy our walking trails, creek, bonfires, wood fired pizza oven and luxurious hot tub. Our property is far from any large roads and is perfect for families with children and pets or for couples wishing to have a romantic weekend surrounded by nature. We have 5 other accommodations on the same 27 acre farm each one tucked away, to see them click on our profile and scroll down. Please contact us to inquire about single night bookings. When available we may be able to accommodate you. We keep our calendar up to date, if it says we have availability then it is available. We get excellent cell service. PET POLICY Well behaved dogs and cats welcome. Please watch them around the tent as they can easily break the mesh screening. The tent cost $1200 and tents are not easy to repair. $10 per pet per night additional fee PROPERTY AMENITIES Hot tub/ Jacuzzi, wood fired pizza oven, walking, skiing, riding trails and creek. Walking distance to (about a mile): The 5 mile Rail Trail between Accord and Kerhonkson (we have bikes you can borrow to ride the rail trail) The Town of Accord - wine/liquor shop, convenience grocery store, 2 antique shops, pottery studio Biking distance to (one- two miles) Kelders Farm - mini golf, petting zoo, pick your own vegies and berries depending on the the time of year, vegetables for sale Saunderskill Farm Market - Pasteries, high end groceries, vegetables, plants, cafe Driving distance to: 10 mintes away from Mohonk Preserve and Minawaska State Park 10 minutes from Super Markets - Peters Market in Kerhonkson and Emanuels Market in Stone Ridge 5-15 minutes from great restaurants and shopping- Hillside Familly and Friends in Accord, Rough Cut and Don Juan's in Kerhonkson, many more restauraunts and shopping in Rosendale (movie theater), High Falls and Stone Ridge 10 minutes from health food store - High Falls Food Co-op 2 hours North of NYC 40 minutes to Woodstock and Rhinebeck 30 minutes to Kingston (movie theater) 25 minutes to New Paltz (movie theater) Downhill Skiing 45 Minutes to Belleayre (website hidden) 75 minutes to Hunter Mountain (website hidden)
This place was a litteral dream boat for us. very friendly, very cozy, very unique. It's not every day you get to stay somewhere like this and we would stay again.
Lauren
2016-07-15T00:00:00Z
We had a great time at the Outpost! It was a unique and fun experience to say the least. The location is great - in the middle of a quiet, wooded part of a horse farm. Sunrises were beautiful and the stars at night were even better. Hosts Beth and Tim were very welcoming and are truly passionate about creating a great experience for their guests. We will definitely be coming back!
Torey
2014-09-29T00:00:00Z
We had a great time at the outpost. The farm is beautiful and Beth was incredibly gracious, helpful and really went out of her way as a host to make sure that our stay was amazing. We can't wait to return!
Steve
2013-07-30T00:00:00Z
Beth and Tim were extremely generous, flexible and thoughtful. They helped us find our way around and made sure we were comfortable. Their place is beautiful and very close to amazing countryside. Highly recommended.
Ben
2016-09-22T00:00:00Z
After being in the city for a year now, this is precisely what I needed. The constriction of the noise and crowds dissipated as soon as I stepped out of the car and looked up at the stars. No complaints whatsoever, yet I will warn you, if you are arriving after dark, you or your GPS may have trouble finding the exact location of this camping area. We found the farm easily enough and Beth appeared in the dark to help us get situated even though it was midnight when we finally arrived. I would advise having a printed map for the last 2 miles of your drive. You will need ice, a second cooler if more than 4 people and you are planning on cooking yourself, and maybe some sheets or pillows if you wish, headlamps or flashlights, even though there are lights around the camp area. As an experienced camper, I came prepared with all the things I usually take but found that I could have saved myself a big bag by not bringing silverware, dishes, knives, cutting board, french press, etc. We took a day and went hiking at Minnewaska State Park but could easily have explored the surrounding areas and seen only a fraction of the landscape. It is absolutely enthralling to sleep with the sound of a stream running through your dreams...a real stream, not a sound machine recording! The only noises you will hear are nature (horses, chickens, leaves, and wind), laughter, and perhaps a little of the daily farm work(URL HIDDEN)The auras and vibrations from Beth and Tim are of the immediately comforting sort, the kind of feeling you get that you have known someone before. We talked about sustainable living, using the earth in a respectful give-and-take way, and just escaping the grinding millstones of corporate structure.(URL HIDDEN)would implore anyone who has an urge to escape to come to one of the camping areas Beth & Tim have built into their beautiful surroundings. In doing so you can be completely assured that the money is helping support a working and loving homestead as opposed to a white-washed pricey getaway.(URL HIDDEN)group of eight people that do not know each other that well got along tremendously, and we all agreed as we were parting that this was the best escape that we could have found. Thank you and much love!!!!!!
Ness
2014-06-02T00:00:00Z
Comfortable stay!
Alex
2014-07-22T00:00:00Z
Beth and Tim's farm and the boat/tent/trailer site was awesome. We had 12 people on the site (with a few extra tents we brought) and we had a great time. Beth and Tim contacted me beforehand to provide me information about the site and they were very responsive to my questions. If you're looking to stay in the area and you want to camp, I'd highly recommend Beth and Tim's.
Michael
2014-08-11T00:00:00Z
Beth & Tim's outpost was our first airbnb experience, and it was awesome! It's like a little piece of heaven on earth to make your camping trip unforgettable and as relaxing as possible. Both Beth & Tim were very nice and very welcoming, and so were their Labrador pups. Plenty of activities and entertainment both around town and at the farm, from hiking Sam's Point, to going for a dip in the river. We can't wait to visit again!
Deian
2015-07-23T00:00:00Z
Tipo di stanza
Intera casa/apt
---
Tipo di sistemazione
Barca
---
Può ospitare
16
---
Camere da letto
Accord, New York, Stati Uniti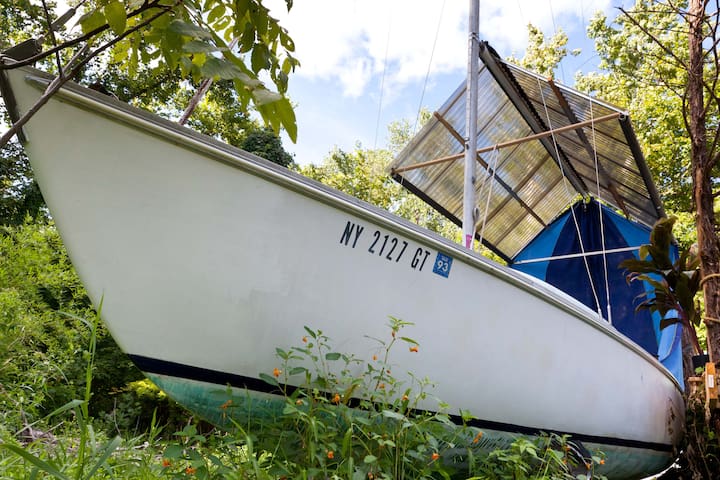 Barrytown - Airbnb
:
Media di

4.69

stelle su

5

da

76

recensioni degli ospiti
1

–

3

di

3 Barche in Affitto
Inserisci le date per visualizzare il prezzo totale. Ci sono dei costi aggiuntivi e potrebbero venire applicate alcune tasse.