Inserisci la data del check-in nel seguente formato dd-mm-aaaa
Inserisci la data del check-out nel seguente formato dd-mm-aaaa
Annunci che puoi prenotare senza aspettare l'approvazione dell'host.
Inserisci le date per visualizzare il prezzo totale. Ci sono dei costi aggiuntivi e potrebbero venire applicate alcune tasse.
Nei mesi di luglio e agosto puoi provare uno di questi 100 alloggi ad alto rendimento, per ogni fascia di prezzo, e vivere una visione locale di Sonoma. Prova il check-in continuato, la Prenotazione Immediata e vino e spuntini locali per rilassarti e godere al massimo del tuo viaggio.
Private room with two queen beds. One queen bed up in the loft. This unit is upstairs. Private bathroom. The rate is double occupancy. Each additional guest the rate is $35.
Riverside Lodge & Hostel just four blocks from the ocean. A 10 minute walk along the Necancium river or along the ocean to downtown Seaside, Convention Center, and shopping. Cook your own meals in our community kitchen. Enjoy storytelling fireside by our fire pit, and/or for a small fee rent our kayaks and canoes to explore the Necancium river and estuary. Coffee bar in the main lodge. Please come to the main house when you arrive. There is parking onsite and on the street. Guests have access to main house, backyard and boat rentals. Please come to the main house when you arrive. There is parking onsite, with overflow parking on the street. Guests have access to main house 24 hours a day. The Front Desk hours are 8AM-9PM. There is a staff member available onsite at all times. Check-in is 3PM. Check out is 11AM. Summer time 10:30AM.
Come experience and enjoy a refreshing community/shared space get away in Seaside. Or, rent one of our private rooms if you prefer to step in and out of community living during your stay. Our riverside property, just four blocks from the ocean continues to be a special favorite amongst many 'Road Less Traveled' spirited humans visiting the Oregon coast. Only 1 1/2 hours from Portland via Hwy 26 to Hwy 101 North. 15 miles south of Astoria (Hwy 30) via Hwy 101 South. Northpointe bus service to/from downtown Portland with stop right in front of hostel. Metro Link connections to PDX. Pet Friendly property, with limited designated pet-friendly rooms. Pet fee is $20 per night up to $40, depending on length of stay and pet size.
As everyone has said no frills, but clean!
Allegra
September 2016
This was perfect for our needs. Simple, comfortable, and not too loud. Ed was great!
Megan
August 2016
Nice, cozy, quiet. Everything we needed. The back of the main house against the river was awesome. Will be back!
Denis
August 2016
This place is a great value, and the staff are very friendly!! The room was clean, unique, cozy, and just what we needed. I slept up in the loft, and in a way it brought me back to my childhood. It was so cool! My friend and I both wanted to stay another night, but had to be in Portland the next day so we couldn't. If you're traveling around the coast, I highly recommend this place! I know I'll definitely be staying with them again down the line!
Jordan
May 2016
As many people have mentioned in their reviews, this place is pretty minimal and no frills. That's not to say it wasn't clean and comfortable– which it totally was. We had a sudden change of plans and needed a place near Cannon Beach to crash for the night, and this fit the bill perfectly. We literally tried to book it a few hours before our arrival and the response was fast and friendly. Our stay was brief, but we enjoyed it.
Jeff
June 2016
Carolynn was the absolute sweetest! She made sure we had everything we needed and it definitely felt like a home away from home. If you are in seaside I recommend staying at YSL! You will not regret.
Celeste
May 2015
Carolynn was very accommodating and helpful. The location is right next to the river and about a 20 minute walk from the beach. The hostel is definitely lived in and could maybe use a bit of a revamp, however for the price it was good enough. Bring your own towels.
Kylie
July 2015
Loved my stay with you. The room was clean and comfortable, and the kitchen was well-organized for multiple guests to use. Nice outdoor space, complete with herons! Thanks so much.
Janis
August 2015
Tipo di stanza
Stanza privata
---
Tipo di alloggio
---
Può ospitare
4
---
Camere da letto
1
Seaside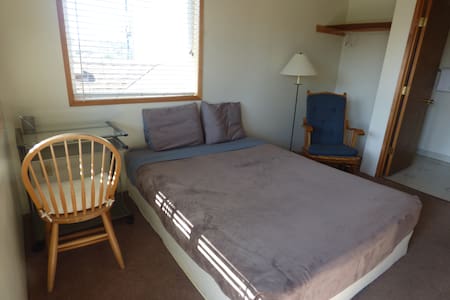 North Star is a lovely modern 2 bedroom 2 bath loft apartment with an open floor plan, large windows and 4 skylights that make this a bright airy apartment. North Star is a 2nd floor apartment in a historic building in downtown Ilwaco, Wa.
North Star is a modern 2 bedroom 2 bath loft apartment with a spacious open floor plan, large windows and 4 skylights make this bright and airy. This 2nd floor apartment is in a historic building located in the fishing village of Ilwaco, Washington on the southern end of Long Beach Peninsula at the mouth of the Columbia River. The complete Loft is a private space. We will be on hand for any guests questions, we are a phone call away.
We are in Ilwaco the little town outside Cape Disappointment State Park: This is part of the Lewis and Clark National Historic Park. Visit two historic lighthouses at Cape Disappointment State Park, kayak on several amazing waterways, hike or bike the 12 mile Discovery Trail, enjoy the longest beach on the west coast. You will need a car, parking is available in front of our building. Bikes and surfboards are available at the port SALT bar hotel and surfing shop. Must dos: Stroll along the port, Saturday Market at the port 10am to 4pm, dinner or drinks at the SALT Cape Disappointment State Park Hike the Discovery Trail from old forest to the beach Explore Cape Disappointment and North head's trails and lighthouses. Clamming on the beach for littlenecks or razors. Sunset at Waikiki Beach see Cape Dissappoinment from the beach Eat at the Historic Depot restaurant at the Seaview beach approach Hike Salamander Trail around Black Lake Fly a kite! Buy salt water taffy and visit Jake at Marsh's Free Museum Enjoy the multiple Antique Shops on the Peninsula Golf at the Peninsula Golf course with lunch at the Cove restaurant. Fresh oysters at willapa-oysters in Ocean Park Fresh Seafood purchase at Ole Bob's on the Port of Ilwaco Need a book? Go to Time Enough Books at the Port of Ilwaco
The North Star loft was perfect for our family. It was immaculate, very clean, and new!! So much natural light and the floor plan was great. The pictures she provided of the loft are spot on. Everything that you would need in a get away home was provided. Wendi even had cinnamon rolls for us which was a pleasant surprise. Her attention to detail is evident! Ilwaco is a "sleeper town" that connects Astoria and Long Beach. We spent our days exploring those towns. Lots to do and see. It was very convenient. Connecting with Wendi was great. She was responsive and helpful. I would definitely recommend this loft.
Brenda
June 2016
Wendi was so great with communicating! Everything was as described. Recommend!
Rachel
November 2016
This is a very nice 2 bedroom, 2 full bath loft apartment in Ilwaco. It's location makes for easy access to Long Beach, Astoria, and all the other small towns and attractions in the area. If you don't mind a 5 to 10 minute drive to beach access, then you can't beat the value of this property. Wendi provides all the amenities one would need to make you feel at home. Both bathrooms have showers only.
Katie
September 2016
The listing was just as described. Loved the great design and fully stocked kitchen. Will definitely be back.
Erin
June 2016
What a wonderful little place to stay. We stayed for two nights and enjoyed the wonderful quiet stay. She said it was not infant friendly but we took a playpen to keep the little one off the stairs. :) Showers were not something we thought about with infants. We live and learn. We would highly recommend Wendi as a host they were fantastic. They were even nice enough to get juices and kid bowls for us. It is within walking distance of the dock at Ilwaca and several restaurants. They also recommended several eating places that we really enjoyed. Being our first Airbnb experience we will use it in the future.
J. A.
June 2016
This is a must visit home. The house was super clean with an open floor plan that was very inviting. We love The area for its outdoor accessibility and small town feel. The options of where to spend your time are endless but having this home to return to for the down time was perfect for our family of four. Wendi was the best host. She didn't miss a detail and has a passion that shines though. Don't miss this property in your search for an amazing vacation destination. Can't wait to return.
Willis
August 2016
The place was great, super clean, very low noise, central to everything in that area. Very well equipped. I would recommend.
James
June 2016
We came to Ilwaco for a wedding and throughout the entire weekend my husband and I kept commenting on how lucky and happy we were to have found Wendi's place! It is even more beautiful than in the pictures (if you can imagine that): it's clean, open and airy, skylights everywhere, and the most beautiful artwork on the walls--I think maybe Bruce's?? I meant to ask but didn't get a chance. Wendi had thought of everything we could possibly need, including some cookies on the counter and fixings for coffee. We were able to use the washer and dryer which allowed us to pack light. Wendi couldn't have done anything more to give us a better experience. THANK YOU Wendi.
Anah
June 2016
Tipo di stanza
Intera casa/apt
---
Tipo di alloggio
---
Può ospitare
4
---
Camere da letto
2
Ilwaco