300+ Appartamenti in affitto
SOLEMARE, a 1 Km da Amalfi, SS 163 dove sono situati i migliori Alberghi. APT accogliente, spazioso con terrazzo e giardinetto privato, incantevole vista sul Golfo. Ideale per coppia o famiglia. Free WiFi. Bus Stop a 20 m - Bar/Ristorante 200 m
"SOLEMARE" Sea View Apartment - Amalfi - Italy Apartment: Entrance – Living/Dining room – Bedroom – Bathroom – Kitchen – Terrace – Small garden 'Solemare' is a bright and sunny apartment facing the sun and the sea. It sleeps up to four people. Recommended for a family of 3/4 or 3 friends (to keep adequate privacy) Is located in a prominent position on a picturesque stretch of coast about 60 meters above sea level, it overlooks the sea (really close by) and you will enjoy a breath taking view of the coast of Amalfi and the Golf of Salerno The apt is 70 square meters (750 square feet). It features a nice private terrace with sea and coastline view, air conditioning (please read description below to check in which rooms the units are installed) and winter heating. The position is very convenient for: SITA Bus stop is just below the apartment, and you can go every were - Amalfi – Ravello Positano – Sorrento - Salerno - Napoli and even Rome by bus line . Living Room You will be able to enter the living room from the entrance hall. The furnishings are modern and welcoming. The furnishings include one divan beds witch can be converted in single or double bed. It includes a cabinet with draws, a TV and stand with four small draws, lamps and the dining table can accommodate four guests. The room has a window with sea view and the coastline. It is equipped with an air conditioning/heating unit. From the living room you will be able to enter the terrace overlooking the coast of Amalfi till Conca dei Marini. Bedroom You will be able to enter the bedroom from the corridor. The room has a queen size bed with two bedside tables and lamps, a double wardrobe with mirror doors a commode with eight draws, a chair, an electric fan useful for the warm summer evenings, TV point in case you like to watch the TV in bed. From the bedroom you will be able to enter the terrace with a view of the sea and the coast of Amalfi through a French door. Bathroom The bathroom is fully tiled with two mirrors and a tilting window, it's equipped with a washbasin, a toilet a bidet a bath/shower, a portable hairdryer, electric heather, towel set for two. You will be able to enter the bathroom from the corridor. Terrace From the terrace you will enjoy a fascinating view of the sea and of the coast of Amalfi. It is equipped with a table and chairs, Sunshade, electric point, two deckchairs that you could transfer to the nearby garden when the sun turns. Kitchen The kitchen is fully equipped with cutlery, plates, pots and pans, glasses and cleaning items. There is a gas cooker with four burners, an electric oven with electric grill, a fridge/freezer, a microwave oven, a toaster, washing machine, iron, table, electric kettle, an Italian-style coffee-maker, and a Neapolitan style coffee maker. The kitchen has a window overlooking the entrance of the property and the small garden with two deckchairs.
Il mio quartiere è situato a 1 km dal centro di Amalfi, è tranquillo ma non noioso, si può ammirare il mare, le barche dei pescatori, yacht , navi da crociera e osservare i turisti che frequentano i due Alberghi adiacenti all'Appartamento.
Appartamento pulito, ben arredato e situato in una posizione fantastica. Balconcino con vista mozzafiato! Provvisto di tutto il necessario (lenzuola, asciugamani ,etc..). Host molto gentile, ci ha accolto ad un orario improponibile senza battere ciglio. Lo consiglio caldamente!
Giulio
2016-05-26T00:00:00Z
Francesco è stato gentilissimo. Ha fornito molte informazioni su luoghi da visitare. Il suo appartamento era molto pulito, spazioso e luminoso. Il balcone che affaccia sulla costiera è senza prezzo. Abbiamo mangiato colazione e cena sul balcone tutto il tempo. Per dormire meglio consiglierei di chiudere le finestre per via degli scooter che sono un po' rumorosi. Consiglio questo appartamento a tutti!
Roderico
2016-07-30T00:00:00Z
Franco was a very good host, he looked after us and gave us adequate guidance. Although the apartment is not right in the middle of Amalfi village, is well located, 15 minutes walk from the center, with regular buses reaching it in case you are too full or tired to walk the distance.The apartment is well equipped, and with views to the sea. I definitely recommend it for as a base camp to discover Costa Amalfi. The fact that Franco speaks perfect English does also make the communication process very easy.
Tomeu
2016-02-19T00:00:00Z
I can not recommend Francesco's apartment more highly. He came and picked us up from the boat and drove us there pointing out various things to see and do on the way. The apartment is a good size and has everything you could possibly need and the view from the balcony is incredible. It is a nice 10 minute walk to the centre of Amalfi with some more great views on the way and 5 minutes up the other way is a really nice beach with sunbeds and a bar. Francesco was so helpful and was always on hand to answer any of our questions. We would defiantly stay here again. Thanks Francesco
Joe
2016-08-05T00:00:00Z
Franceso ist der perfekte Gastgeber, jederzeit ansprechbar und hilfsbereit. Die Wohnung ist bestens ausgestattet mit allem, was man benötigt und man kann hier auch problemlos 2 Wochen verbringen. Die Aussicht ist ein Traum, alles ist extrem lichtdurchflutet. Man geht ca. 20 Minuten bis ins Zentrum von Amalfi, entlang der Amalfitana, die unterhalb der Wohnung verläuft. Eine kleine, verschwiegene Bucht ist unweit über einige Stufen zu erreichen. Falls man mit dem Auto anreist, kann man im Hotel nebenan einen Parkplatz mieten. Wir würden die Wohnung jederzeit wieder buchen und empfehlen Francesco als sehr netten Gastgeber!
Simone
2016-09-28T00:00:00Z
Thank you very much Francesco. Everything was perfect. I really have nothing to say what could be improved. Highest mark!
Alexander
2016-08-16T00:00:00Z
Francesco à le souci permanent du bien-être de ses hôtes. Et c'est parfaitement réussi. Du début à la fin du séjour il s'enquiert à distance du bon déroulement. Les détails de l'accueil sont appréciés ( fruits, sucreries, produits de première nécessité) L'appartement est idéalement situé et la marche de 15mns pour rallier le centre d'Amalfi est tellement belle que c'est cadeau. L'appartement est spacieux, clair, la literie de très bonne qualité. Francesco, son accueil, le lieu, font de ce séjour un moment idyllique. Jean-Pierre
Jean-Pierre
2016-12-10T00:00:00Z
Francesco's apartment was a real gem. Oftentimes pictures from the owner can be misleading, but in this case, the apartment was very spacious, the balcony and views were lovely, and the furnishings very nice. If one prefers to cook, the large kitchen is fully furnished and has just about every gadget that might be needed. As budget travelers, we are not accustomed to finding our accommodations so excellent--we would have loved staying for another week. Francesco provided everything he could think of to make the stay wonderful including fresh fruit, some wine, and a number of pastries at our arrival. He also provided brochures with local maps and other kinds of information helpful to see local sites. And, when we emailed him with further questions, he responded quickly and enthusiastically to help us. In addition to meeting us when we got off from the bus from Sorrento, he also took us to the bus stop for Salerno on our final morning making sure that we got there in time. On our initial arrival, we did have to climb about 50 steps up and Francesco helped carry the luggage. Those steps did seem a little daunting at first, but after spending time walking around the Amalfi coast, those steps seemed minimal as the week progressed. One can walk the approximate 1 kilometer into town or catch a bus at the nearby bus stop. We found the walking down hill into town feasible (sidewalks are limited) during daylight hours, but preferred to take the bus uphill on the return trips and downhill when it was dark or when we were short on time. Should we return to the Amalfi coast for another visit at some point, we will not hesitate to contact Francesco about staying at his lovely apartment again.
Thomas
2016-06-01T00:00:00Z
Tipo di stanza
Intera casa/apt
---
Tipo di sistemazione
Appartamento
---
Può ospitare
4
---
Camere da letto
Amalfi, Campania, Italia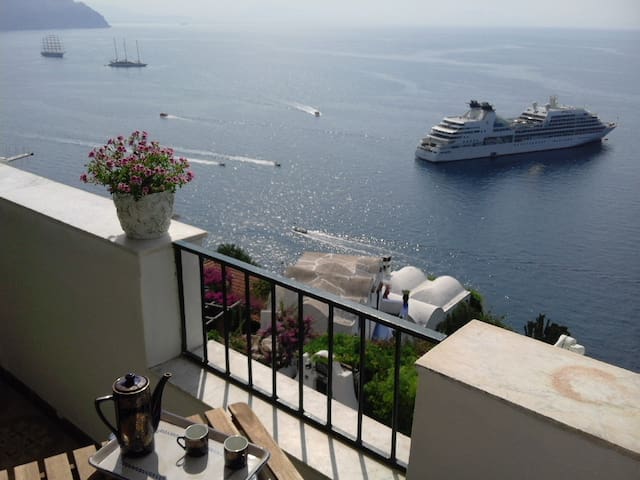 The apartment Gioia is situated in a modern condo, quiet and comfortable; is a studio with double bed, large bath, kitchen and terrace sea view. house is located about 500 meter from restaurants and shops, bus stop at 300 meters. Very quite and clean apartment, you can enjoy your stay. Parking easy on the road, easy access to the beach. 60 steps from the road. The house will be provided, upon arrival, some useful food for breakfast, such as milk, sugar, coffee, biscuits, jam. Near the house there is a swimming pool which you need to book in advance and pay an entrance fee. It is equipped with deck chairs, umbrellas and beach towels. There is a shuttle service on request from the house to the pool, to be organised in advance. THE APARTMENT IS PERFECT FOR DUE ADULTS AND TWO KIDS. IT WON'T BE RENTED TO 4 ADULTS. THE TOURIST TAX IS EURO 1,50 AT DAY FOR PERSON. THE ADDRESS FOR THE TAXI IS VIA AUGUSTARICCIO 11 THANKS
Daniela era uno spettacolo il nostro soggiorno nella vostra casa, vedere il sole e la luna sorgere dal mare un regalo indimenticabile, grazie per la gentilezza, ci torneremo l'anno prossimo in primavera per vedere come è tutto fiorito. Grazie BJs Edu Lotfi
Eduardo&Demetrio
2014-03-20T00:00:00Z
La casa è deliziosa, in un contesto piacevole e con una splendida vista! È piccina ma con tutto quello che occorre. L'accesso è agevole (una cinquantina di gradini) e non abbiamo mai avuto problemi a trovare parcheggio (considerando però che aprile non è ancora alta stagione). La passeggiata verso Amalfi è un po' lunga (circa mezz'ora) ma quasi tutta in discesa e si può fare senza fatica, mentre al ritorno non ci siamo azzardati, si può prendere comodamente l'autobus che ferma vicino alla casa. A due passi c'è una pescheria strepitosa!!!
Elena
2015-04-19T00:00:00Z
Splendida location, appartamento con vista spettacolare sul mare! Sembra quasi di essere sul ponte di una nave. Davvero consigliato!
paolo
2013-01-01T00:00:00Z
Buona accoglienza, il luogo è perfettamente come descritto, è un piccolo appartamento con uno splendido balconcino sul mare ottimo per visitare la costiera amalfitana.
Manuela
2015-12-09T00:00:00Z
This was one of our more interesting air bnb experiences. Beginning with some positives - the view was exceptional, the doors allowed a nice breeze and Daniela was helpful when we needed her (she even phoned her sister in Barcelona when having difficulty with our English and organised wifi for free when we were disappointed that it was not in the apartment). Unfortunately was also had some disappointing experiences. Firstly, Daniela's agent was unhelpful and not particularly welcoming. Sadly, he didn't respond to our emails before arriving and we had no idea where to go, resulting in on a 3-4 minute taxi ride that cost 25euro. His initial welcome also disappointing. Lost in Almafi, two kind onlookers phoned the number we were given by air bnb and finally he met us, but sadly didn't bother to introduce himself. The agent appeared to know nothing about the apartment, didn't give directions to anything close by, refused to show us where the bus stop to town was (note that town is a 45-50mim walk away, NOT 500m) and left us with an out of date bus timetable. The second bedroom appeared to be an old walk in wardrobe with a bunk bed and the electricity went out three times (although it is no problem to fix once you know how). Finally, I don't believe this apartment to be suitable for older people as you had to sit in the bath to shower, in order to avoid water going all over the floor (there was no mop). It is my opinion that the apartment is not particularly suitable for self-catering, although others may have a different opinion.
Philip
2014-09-13T00:00:00Z
We had so much fun in Casa Gioia! The location is pretty good, you can go to the center of Amalfi by bus in 10 minutes and go to anywhere you want along the coast. It is very central. There are nice restaurants and bars close to the home. The balcony has a fascinating view. Also, there is a beautiful beach that you can go on foot, super close! The only problem is that sometimes you may have some problems with ants and other insects. But it's ok because they have sprays for it at their cups. Daniela and her husband are very warm and kind people. They had left us necessary information about what to do, where to eat, where to go etc. I'd warmly recommend their houses for a perfect Amalfi holiday!
Ebru Ece
2015-08-28T00:00:00Z
Good view and location. Nice flat.
Anna
2016-05-10T00:00:00Z
The communication was great, I was picked up in the central taxi area in Amalfi town centre and driven to the apartment. The place is wonderful, all the amenities you'll need, and the view on the sea is superb.
Mo
2016-08-03T00:00:00Z
Tipo di stanza
Intera casa/apt
---
Tipo di sistemazione
Appartamento
---
Può ospitare
4
---
Camere da letto
Amalfi, Campania, Italia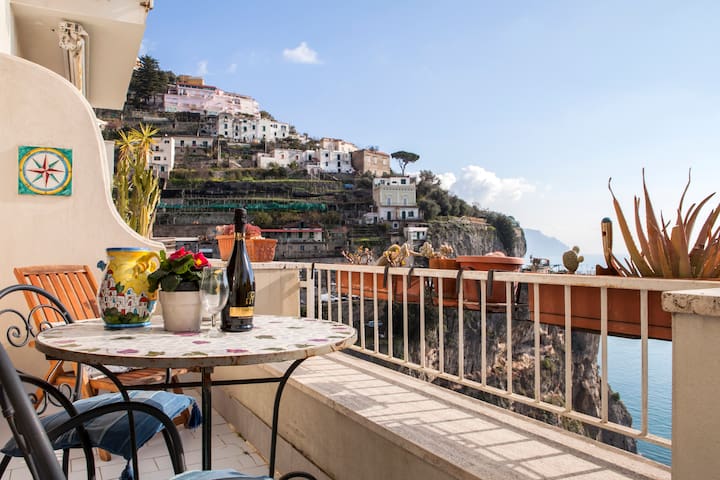 Tipico appartamento della Costiera,situato in un angolo caratteristico della vecchia Amalfi. A soli 20 scalini dal corso principale di Amalfi e a 5 minuti a piedi da Piazza Duomo e Valle delle Ferriere,l'appartamento è costituito da una camera da letto matrimoniale, cucina, bagno,tv,armadio, asciugacapelli,lavatrice e ferro da stiro. Non siamo dotati di parcheggio,ma sono presenti dei garage vicini alla nostra struttura di cui poter usufruire a pagamento.Numero di riferimento (PHONE NUMBER HIDDEN)
Tipo di stanza
Intera casa/apt
---
Tipo di sistemazione
Appartamento
---
Può ospitare
2
---
Camere da letto
Amalfi, Campania, Italia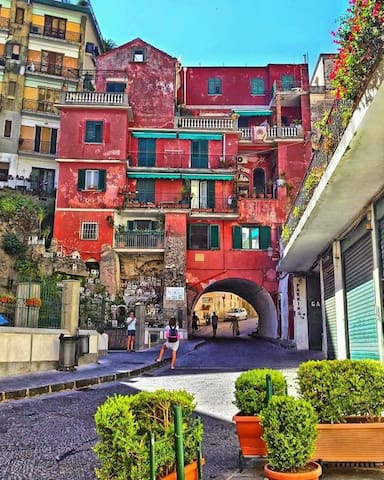 Paradisiaco Bilocale con vista mozzafiato , completamente arredato e ristrutturato. Composto da cucina living con angolo cottura e divano letto, bagno e camera da letto e terrazzino a picco sul mare.
Tipo di stanza
Intera casa/apt
---
Tipo di sistemazione
Appartamento
---
Può ospitare
4
---
Camere da letto
Amalfi, Campania, Italia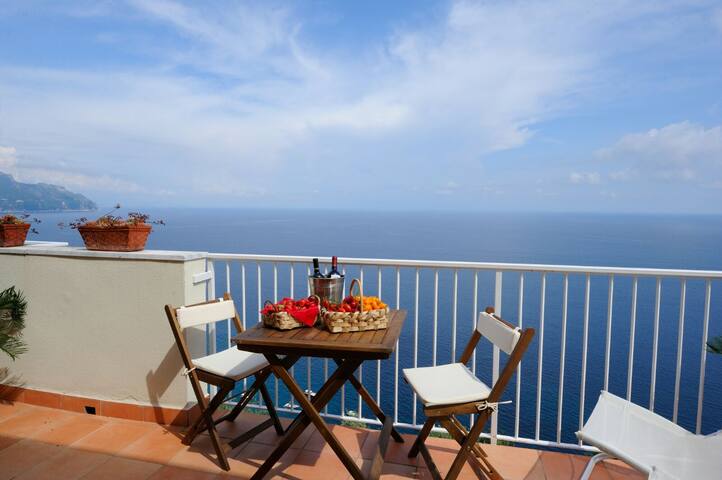 Quiet, independent and fully furnished apartment with free Wifi just 50 steps from the lovely beach of Atrani, in the centre of the Amalfi Coast
Tucked away just a few flights of stairs above the charming square of Atrani, Italy's smallest town and jewel of the Amalfi coast, you'll find this coastal hideaway. The apartment has everything you need and is spotlessly clean. It consists of a double bedroom with TV, dining room with table next to a fully furnished kitchen (perfect for preparing the essential aperitivo) and a shower bathroom. A fold out bed in the bedroom means this it is the ideal accommodation also for a couple with a child. The front door opens up to a little terrace, for al fresco dining, surrounded by the impressive cliffs. The apartment is perfectly positioned, just 60 steps from the main square and a two minute walk to the beautiful beach.
Atrani is the smallest village in the Amalfi coast (in fact, the whole of Southern Italy), and is incredibly peaceful and scenic. Perfect for those who want to experience the breathtaking beauty of the Amalfi coast, while also getting a true local experience and avoiding the tourist hordes! That being said, it is just around the corner from the historic center of Amalfi. But it is unlikely you'll want to leave this coastal paradise, with a small grocery store, bar and gelateria, you have everything you need for the perfect Amalfi coast experience.
Ruben si è dimostrato sin dal primo momento molto disponibile. Il nostro soggiorno presso il suo appartamento è stato piacevole, la casa è fornita di tutto il necessario per cucinare, di lenzuola, asciugamani, stendibiancheria, phon e sapone. L'appartamento è a un minuto a piedi dalla piazza di Atrani (50 scalini) ed è una base comodissima per visitare la costiera amalfitana (Amalfi è comodamente raggiungibile a piedi e da lì partono i vari pullman/collegamenti via mare). In cucina si soffre un po' il caldo ma abbiamo risolto il problema cenando sulla terrazza, quindi consiglio fortemente il soggiorno in questo piccolo e accogliente appartamento nella caratteristica Atrani.
Stefania
2015-09-03T00:00:00Z
La casa è piccola ma molto confortevole a 2 minuti dalla piazza centrale di Atrani. È comodissima anche per arrivare ad Amalfi (10 min a piedi) e per spostarsi lungo la costiera. La consiglio!!
Caterina
2016-07-09T00:00:00Z
Wonderful!! Ruben was an amazing host & did everything he could to ensure we had a great stay. His apartment was in a fantastic location & both he & his sister are super friendly.
Casey & Jinni
2016-05-19T00:00:00Z
Had an amazing stay at the apartment, perfect for two people. Loved the town ended up staying in Atrani more then Amalfi. At first i was worried it would be far feom Amalfi as it looked on the map but it is very close to the main strip of Amalfi. It is a 10 to 15 minute walk but doesn't feel like it at all. The apartment is close to the beach,restaurant and the bus stops. Ruben was great, very welcoming. He left alot of information at the apartment like brochures, bus times, maps, etc., and answers very quickly if you need help or have a question.
Lia
2015-08-07T00:00:00Z
Nous avons dîné deux soirs sur la terrasse qui offre une très belle vue sur les rochers d'Atrani. Ruben parle aussi bien le français et est un hôte très disponible! L'appartement est un peu étroit mais, dans l'ensemble, nous avons passé un excellent séjour à Atrani.
Tram Bach
2016-07-17T00:00:00Z
We didn't meet with Ruben personally however his communication was fantastic and his sister Sonia assisted us throughout our stay. The apartment is in a fantastic location - walking distance to the local beach and about a ten minute walk to Amalfi centre ( where you can access the ferries / buses to the rest of the Amalfi coast ) The apartment was clean, a little small but cozy all the same , we were 2 adults staying - Would imagine 3 would get quite crowded. The shared terrace was great and our apartment had a little terrace which was well protected from the sun. Only a few things to be aware - no phone reception in the apartment and cuts in and out when standing on the main terrace - made planning and communication difficult - this wasn't mentioned however Sonia advised it is always like this. Towels provides were small and not changed during an 8 day stay , and no toaster or kettle on the kitchen - these aside we were really pleased with our stay and our hosts Sonia and Ruben Thanks!
Emily
2014-08-19T00:00:00Z
We really enjoyed our time in Atrani. The apartment was perfect for our needs. Sonya met us for check-in and was very friendly and helpful! Should we return to the Amalfi coast, we would love to stay at Ruben's apartment again!
Monday
2016-06-30T00:00:00Z
I stayed with my aunt in Beatrice cottage Atrani for four nights. Rubens sister Sonia was welcoming, warm and very helpful. We loved the authentic experience of atrani- absence of souvenir shops a pleasant bonus! Amalfi is a 5min walk away from where you can explore the amalfi coast by ferry, bus or walking track. The accommodation was clean and cozy but as others have commented could be improved with the supply of some basics ie. detergent Overall very happy with our stay and would certainly recommend to others!
susan
2015-10-22T00:00:00Z
Tipo di stanza
Intera casa/apt
---
Tipo di sistemazione
Appartamento
---
Può ospitare
3
---
Camere da letto
Amalfi, Campania, Italia
The apartment is located a short distance from Amalfi. Renewed in April 2017, it consists of a large living room furnished with a double bed (very comfortable brand new mattress, 22 cm thick) and opens onto a balcony with amazing sea view. Kitchen, bathroom with bath, shower, electric boiler, terrace (20 sqm). TV. Free WiFi. Air conditioning. Located in a residence surrounded by a large private park. Common parking. For heating no gas: only electricity.
Completely RENEWED IN APRIL 2017, the apartment consists of a large living room furnished with a double bed (very comfortable, brand new mattress 22 cm thick) that opens onto a balcony with amezing sea view, kitchen, bathroom with bath, shower, electric boiler, and very small bedroom with 2 bunk beds. 40 inch led TV perfectly funtioning. Free WiFi for the guests. Air conditioning, bed and table linen, potteries, etc. Common parking. Large terrace overlooking the Gulf of Salerno (20 sqm). The terrace is equipped with table and chairs, with gracious tiles and decorated with luxuriant plants (bougainvillea, lemmon, jucca, succulents, hibiscus, etc.). The apartment is located in a residence surrounded by a large private park managed by a gardener with olive trees, carob trees, flowers and Mediterranean plants, fenced and reserved for the exclusive use of the joint owners (and obviously their guests). At the foot of the apartment is situated the beautiful beach of Santa Croce and the romantic bay called "l'architiello": there are two very good fish restaurants, especially Santa Croce restaurant. At 500 metres from the house, very close to the GAS BAR, you will find the path descending to the great beach of "Duoglio" or "Degli Artisti" from which You can easily reach by the reef the Santa Croce beach. That seashores are regularly connected to the port of Amalfi by small boats. Just at few meters from the entrance of the residence there are the bus stops to go to all the coastal resorts and the inland villages and towns. Throughout the year there are regular public services linking the residence to Amalfi: you can easily reach in 7 minutes the town of Amalfi and its beaches by bus.The beaches of Amalfi are very easy and very well managed, but the sites are very crowd and the landscape is not so nice as the Duoglio and Santa Croce beaches . From the Amalfi port regularly (first of April – end of October) departs several boats, so you can reach by sea all the most important coastal towns of the Campania region (Positano, Sorrento, Salerno, Naples, Capri, ...). By car you can easily go in one day to visit the archeological sites of Ercolano, Pestum, Pompei, and, very close, the roman villa of Minori . The nearest accessible seashore is 500 metres from the house, direction Amalfi. Its name is "Spiaggia del Duoglio". In the surroundings you will find other very nice places to take your baths and at the same time to visit wonderful sites: Conca dei Marini (very close, direction Positano), Il Saraceno ... It is also very easy to go to the beaches of Amalfi by bus (7 minutes bus , the nearest bus stop is at 100 meters from the house).
The site is at the crossroad of all the connections that link Amalfi (Vietri-Salerno) - Positano (Sorrento) - Agerola (Naples) - Pogerola. It Is not far to the center of Amalfi and in the same time is very well connected by public services and is close to several shopping centers, bars, very good restaurants. In the the same time is out the traffic jams that sometime occur in the Divine Coast.
delizioso appartamento, posizione incantevole. grazie
Fiona
2013-09-29T00:00:00Z
Rino was always pending Everything was ok. The view of the apartment is beautiful. We walked to amalfi everyday about 25 min walk with great views. Maria who received us was very kind and helpfull. I will recomend rinos apartment.
Lujan
2014-05-22T00:00:00Z
Très déçus de l'appartement, de sa propreté, de son rangement. Un peu brol alors qu'il y aurait moyen, avec peu de moyens, de faire accueillant!!
anne
2015-06-08T00:00:00Z
We had the loveliest vacation at this apartment! It was a perfect base to explore the Amalfi Coast. The views from the terrace are glorious, day and night. The apartment was very clean and had all the amenities we needed (hairdryer, washing machine, fridge/freezer, TV, etc.). There was even a new mattress delivered for the fold out sofabed. We did not meet Rino in person, but he was incredibly helpful and always contactable by phone or email. Maria (who doesn't speak English, though this didn't stop us building a wonderful rapport! She's adorable!) and Ylenia (who's English is very good and is equally adorable!), who settled us in, were wonderful and any queries we had were dealt with straight away. The apartment block is a mix of residential and holiday lets so this is perhaps more suited to families/couples rather than wild singles/party animals! Our permanent neighbours, Marco and Simone, were delightful and also very helpful in giving advice about restaurants, etc. but never intrusive. We had hired a car, but given the extensive bus service and boats to key destinations leaving from Amalfi, this isn't necessary. Also you can have groceries/pizza delivered from the local supermarket/pizzeria. Our boys (6 and 9) LOVED their holiday, from exploring the lovely gardens the apartment is set in, to splashing in the sea at the lovely beaches nearby. At first unsure, as the beaches were pebbly and so sandcastle building was not possible, but this was soon forgotten as they revelled in the waves. The locals were lovely. We got a bit lost on the way (our navigation, not the fault of the instructions!) and a local guy who spoke great English really went out of his way to help us out. We went to a great restaurant nearby Ciccielo (sp?) where Antonio (3rd generation owner) was so lovely and the extensive tasting menu was great! Our only negative experience was at another local restaurant, Il Pesce d'Oro (sp?) where, although the food was very good, the service was appalling, we were made to feel less than welcome, so we decided to cut short our evening there, only to find our bill had been inflated by some 40 Euros! Of course the boys were always happy with pizza from the local GAS bar, the people here were also great and there's free wifi. We have a policy of trying a new destination, each time we go on holiday, but I would absolutely return here! We loved it! I had preconceptions that the Amalfi region maybe full of Russian Oligarchs and rather stuffy and pretentious. This was not my experience at all! Thank you again, Rino, Maria and Ylenia, for all your help! We had a great time in this beautiful part of the world!
Angela
2013-09-02T00:00:00Z
Rino's apartment is very good space, very well located and good to stay if you have a car, as there are shared parking spots. When it's full you can park on the street 100 mt away as it is allowed. The view from the balcony (by the way, a huge one) is amazing and you can enjoy a sunrise while you have a breakfast prepared by yourself in very well equipped kitchen. The full size bed is actually a sofa bed and sometimes I had a little backache as the foam of the mattress is little thin. TV didn't work because the remote control was broken (and this is required to change TV channels) but I believe you won't pay attention to that as there a lot of good things to do in Amalfi. Buy some wine and prepare a very good pasta and everything will be fine! It was a unforgettable trip! I will come back here for sure!
Tati & Carlos
2017-01-01T00:00:00Z
This apartment has the most stunning views of the coast that you can enjoy from the beautiful large balcony that we spent most of our time on. Rino was very helpful smd easy to communicate with through the airbnb app. The Gas Bar down the street was so wonderful morning noon and night.
Jana
2017-04-08T00:00:00Z
Mrs Maria and her daughter (who spoke perfect English) met us at the bottom of the steps and welcomed us into the apartment (not too many steps up from the road). The apartment is just as in the photos. The view is stunning and we loved it. The fold out bed was a bit weird but comfortable. The kitchen suited our needs and we made a couple of lovely meals and enjoyed them on the balcony. On the bad side, our car was broken into while we were staying there. There is roadside parking at the bottom of the steps, and we found the car with a smashed back window with rock on the back seat. We learnt the hard way not to leave anything visable, and this is in no way a reflection on the apartment or Rino as a host, but just a warning if you do plan on driving to the area.
Aaron
2014-09-27T00:00:00Z
Наша семья провела прекрасную неделю на Амальфитанском побережье. Все было замечательно, но реально самый ближайший пляж находится в 15-20 минутах ходьбы от дома по проезжей части дороги. Сами апартаменты требуют более тщательной уборки и Wi-Fi тоже не помешал бы. Спасибо хозяину за гостеприимство!
Irina
2014-06-16T00:00:00Z
Tipo di stanza
Intera casa/apt
---
Tipo di sistemazione
Appartamento
---
Può ospitare
4
---
Camere da letto
Amalfi, Campania, Italia
Dipinta di Blu is a nice apartment situated in one of the most scenic areas of Amalfi. It has a magnificent view overlooking the sea, from its lovely balcony you can relax and admire the view at any time of the day.
Washing machine, TV, microwave, toaster, fridge. Dipinta di Blu is a small and pretty apartment situated in one of the most scenic areas of Amalfi named Sant' Antonio. It's reachable by about 130 steps through which you can see the typical lanes on which are perched many houses that frame the beautiful landscape of Amalfi. The beach, shops and restaurants are only at 5 minutes away on foot. If you prefer, you can also reach other beaches by boat. The harbor is at a very short walk Dipinta di Blu has a magnificent view overlooking the sea, from its lovely balcony you can relax and admire the view at any time of the day. The house is composed of: A kitchen/dining area with balcony overlooking the sea; A double bedroom (bed's size 140X195) with a TV and access to the balcony with a table, chairs and solar tent; A bathroom with a shower. Maid service available if requested. PS: please note that for the 2016 there is a new and confortable bed PARKING: It is possible to park the car at the public garage Luna Rossa As this property is located in the center of Amalfi we suggest to all our guests to vist the area by public transportation Capri, Sorrento, Positano, Maiori and Salerno can be reached by ferry/hydrofoil. All other village of the coast can be reached by bus so the car is not necessarily Stop buses and ferries are very close to the property (only 150mt) Location: Conca dei Marini 4Km; Furore 8Km; Praiano 10Km; Positano 18Km; Sorrento 33Km; Atrani 1Km; Ravello 6Km; Minori 4Km; Maiori 5Km; Salerno and train station 25Km; Napoli airport 70Km
Amalfi, and its particular coast, is considered perhaps the most beautiful part of Italy. It is a quiet and picturesque seaside resort with a temperate climate and incomparable natural beauties. Amalfi, originally Roman, was the first Sea Republic of Italy. After the fall of the Roman Empire, it was the first city to re-establish relationship between East and West by transporting and introducing into Italy exotic merchandise such as carpets, coffee and paper. Amalfi had its own coin (The Tarì), was the home of Flavio Gioia, the inventor of the compass and gave the navigators the famous maritime law known as "Tabula de Amalpha". In Amalfi you can visit: • The Duomo, built about the 6th century and dedicated to St.Andrew the Apostle whose remains are kept in the crypt; • The Cloister of Paradise, set beside the Duomo, that was built the 13th century in Arabian style; • The Paper Museum, where we can see the tools used over the centuries for making paper by hand; • The Grotta dello Smeraldo, a fantastic green temple full of figures, caryatids and bas-reliefs formed by dripping water from the vaulted ceiling, over the thousands of years. An interesting feature: the underwater pottery crib. Amalfi is reached from Salerno or from Sorrento: both routes are among the most picturesque in all over the world for the great variety and beauty of the views they offer. On June the 27th and on November the 30th all the visitors have the opportunity to assist at the celebration of the patron Saint Andrea, protector of the fishermen. Both dates are related to the Saint's history: on November the celebration concerns the death of the saint happened in the 60 a.C. and on June the 27th the anniversary of the miracle he made in the 1544, when he saved the city of Amalfi from the invasion of pirates, provoking an heavy storm in the port sea. During the procession the saint's statue is carried through the city-centre by congregations of people that reach the beach where are welcomed by fishermen. To homage the Saint, the fisherman offer fishes and bring his bust until the dome. That's the crucial point of the manifestation: the coffin is opened and a liquid drains out from the reliquary. At this point the manifestation carries on with shows and colorful fireworks. In Amalfi beginning of the road that leads to the Valle delle Ferriere, you can visit one of the most original and fascinating museums of the Amalfi Coast. Housed in one of the oldest paper mills of the area, the Paper Museum offers the chance to see all the ancient technologies for the production of paper (pile hammers, Dutch machine, paper machine level) that have been restored and made functional again . Visitors, children, students or the merely curious can take a dip in the past, with a guided tour, go through the process of ancient paper "Bambagia" of Amalfi.
Incredible stay in a magical place. Everything felt right in this quaint town. Initially the 140 stairs were daunting but they quickly became a fun part of the day (we got our exercise in too). It was great to have a kitchen that had everything you need to cook because amalfi isn't the cheapest place to eat out for every meal every day.
Tariq
2016-08-26T00:00:00Z
Rossella's place was perfect for our stay in Amalfi. It has a stunning view! The apartment was very comfortable, and check-in was easy. I would recommend Rossella's apartment to anyone looking for a beautiful stay in Amalfi.
Cassandra
2016-10-17T00:00:00Z
The apartment was better than I imagined. The view really is what's shown and the apartment is really spacious. Very easy to get around the whole of the Amalfi coast from here too. The introduction to the apartment was very thorough and having a washing machine was great. Rosella and her team were very helpful answering any questions I had and booking things on my behalf. I was grateful to have arrived by taxi so my driver could arrange where to meet for use of the lift. I was however disappointed there was no wifi in the apartment. I hope to be back!
Abby
2015-08-21T00:00:00Z
My husband and I stayed at Dipnita di Blu for 6 nights in April 2017. From the time of booking to getting there, until the checkout Rossella was great in communicating with us. The house in itself is a cute little abode furnished with all comforts. But the best part is the view! Oh, the breathtaking view to get up to every morning :) The house is situated right in the center of Amalfi with easy access to buses, ferry and taxis. If you are arriving from Rome then its best to take a train till Salerno and then a ferry from Salerno to Amalfi (buses can get very crowded). Hiring a private car can be avoided, first because of the very narrow roads and very high traffic and second because there is an additional charge/night for parking. To get to the home you might get the public parking lift, specially with the luggage. Big tip - travel light, there is a washing machine in the house which you can use. All in all, we had a memorable trip and would love to go back :-) Thanks Rossella for being the perfect host.
Aarushi
2017-04-01T00:00:00Z
Great views. Easy walking distance to Atrani and Amalfi. Go to Atrani for great cheap pizza and cocktails! Apartment is rustic and beachy, dated but has everything you need, including a washing machine which was great. Rosella had great communication.
Belinda
2016-08-14T00:00:00Z
The apartment is amazing. Very nice, clean and is has anything you will need. But the most amazing thing is the view! When you sit on the balcony, you can spend hours warching the sea! We really recomend this flat. Also the hosts rossella and her sister were lovely!!
Martina
2014-06-21T00:00:00Z
Staying at Dipinta di Blu was a real blessing to find. First of all, everything when booking holidays can usually be a right havok, but not with booking with Rossella. She is the owner of a fantastic travel office in the town centre which with her lovely staff manage many other properties. This gives her the positon to help out with any holiday needs, whether it's airport transfers to ideas on what to do during your stay. The flat itself was up several steps and the luggage was quite heavy but didn't have any problems with two large suitcases myself. I would recommend in stages if you are less able to carry things or get some help if requested. We were welcomed with smiles and were very happy to see the place after our long travels. It is such a beautiful little place. It feels well lived in, not plush with mod cons but who needs them. You are on holiday afterall. It has everything you need, from an expresso maker to a washing machine and shower. The fridge was useful for breakfast items and such too. The view was absolutely seductive, for the sunsets and the storms and the general ability to just sit there and relax. You can see the piers of amalfi, the beautiful steep hills and beyond into the ocean. It's truly wonderful. I feel the place is of good value compared to nearby hotel prices as well. It might not be what people consider cheap either, but we felt it was great value. It puts you right in the centre of the Amalfi coast. A place you can visit all the most beautiful towns, beaches and other activities in the area. We ate so very well on our weeks holiday and miss it ever so much already. Hope to be back soon!!
Ben
2016-09-19T00:00:00Z
Place it was pretty awesome and there's a lot of steps to get to the room but the view really made up for it. The room was big clean and ready at the right time what more can you ask for?
Michael
2016-09-30T00:00:00Z
Tipo di stanza
Intera casa/apt
---
Tipo di sistemazione
Appartamento
---
Può ospitare
2
---
Camere da letto
Amalfi, Campania, Italia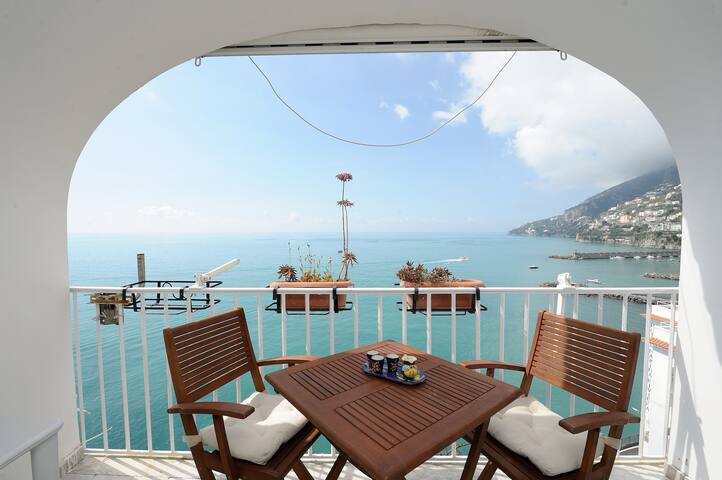 Il mio alloggio è vicino a trasporto pubblico e il centro città. L'appartamento e accogliente e tranquillo. L' ampio terrazzo vista mare permette di trascorrere splendidi momenti godendosi sia il sole che la brezza serale, cenando magari a lume di candela. La sua felice posizione consente di raggiungere facilmente le spiaggie di Amalfi, e i punti di partenza per escursioni a Capri, Positano, Ravello, Salerno, Sorrento, e gli altri paesi della Costa d'Amalfi.
Beautiful location. Very close to a shop that has pretty much all you need for an honest price with really nice people. Got help from the neighbour seu Aurelio when I got a problem with a blackout (do not turn the oven and the aircon at the same time) Was great to rest but most of places cafes and restaurants were closed in winter. Not a problem
Rick
2017-02-05T00:00:00Z
A very nice and quiet apartment in a lovely environment. We enjoyed our stay very much.
Dirk
2017-03-22T00:00:00Z
Cozy apartment near Amalfi (3 minutes by car) perfect for a family (2+2). The apartment has a large terrace overlooking the see which guarantees spectacular views of the Amalfi bay. A morning cup of coffee and/or breakfast is a true pleasure. Aurelio - the owner, runs a well equipped shop (approx. 20 m from the apartment) where we purchased fresh groceries. Free parking on the street. Well working wi-fi.
Oktawiusz
2017-02-15T00:00:00Z
Beautiful view and right next to a little food market.
David
2017-01-29T00:00:00Z
Appartement coquet et agréable. A savoir : le logement est situé à quelques kilomètres du centre d'Amalfi, accessible en voiture par une route étroite (c'est normal, on est sur la côte amalfitaine). Ou en pullman (bus) qui passe une ou deux fois par heure. Donc rester zen.
anne marie
2017-03-27T00:00:00Z
This place is amazing. Exactly what you need when visiting the Amalfi coast. waking up with a view and a good espresso from de bar just 3min walk. Definitely worth the stay!
Osman
2016-10-06T00:00:00Z
Das Apartment von Maria liegt wunderschön hoch über der Bucht und von der riesigen Terrasse aus hat man einen großartigen Blick aufs Meer. Die Wohnung selbst ist gemütlich und vollständig eingerichtet mit allem was man braucht, um sich auch selbst zu versorgen, wenn man mal nicht Essen gehen möchte. Maria hatte alles für unsere Anreise und Ankunft wunderbar vorbereitet und der Parkplatz direkt vor dem Haus ist sehr praktisch bei den engen Straßen dort. Bei Maria kann man einen wunderbaren Urlaub an der schönen Amalfiküste verbringen.
Christiane
2016-11-20T00:00:00Z
I met house owner and Andrea. They were so nice and kind. Mostly we communicated with house owner because his family lives down stairs :) he was very helpful but he can't speak English at all, so we had kind of funny conversation all the time with body language. Also he has great market 10m far from house. They has fresh local vegetables and good meat, everything you need. It was little bit different to get there without car. We went there from Salerno and had to transfer at Amalfi. it was difficult to find correct bus to get near house. It would be great if they offer bus time table :) Otherwise everything was great. During we started there it was rain alot. But we were happy with staying at home with good food material. I would love to go back when i need rest from city life :)
지은
2016-11-11T00:00:00Z
Tipo di stanza
Intera casa/apt
---
Tipo di sistemazione
Appartamento
---
Può ospitare
4
---
Camere da letto
Amalfi, Campania, Italia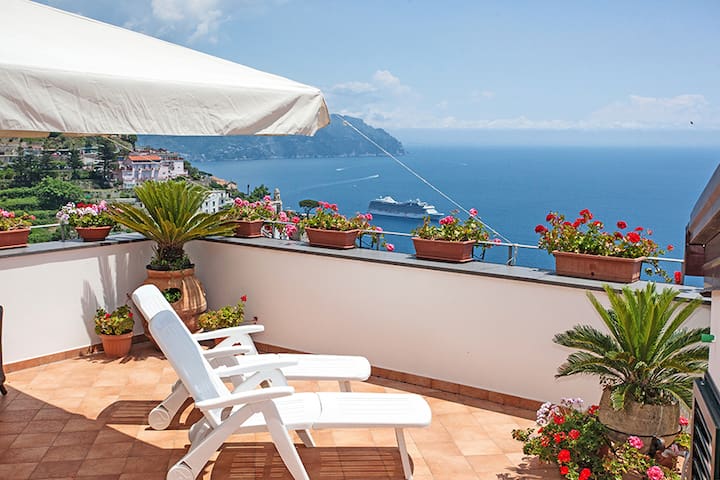 L'appartamento si trova nella centalissima Piazza Duomo di Amalfi accanto alla spettacolare Cattedrale di Sant'Andrea. La sua posizione offre un meraviglioso panorama sia del lungomare sia della Piazza Duomo. Inoltre, sarete a pochi passi da tutti i servizi necessari per il vostro soggiorno: la spiaggia, la stazione degli autobus, il molo da dove partono i traghetti. Dispone di 2 camere da letto, un soggiorno/cucina indipendente per un totale di 5 posti letto, 1 bagno.
L'appartamento è raggiungibile da Piazza Municipio percorrendo i caratteristici vicoli e salendo circa 70 gradini e da Piazza Duomo salendo le antiche scale situate ai piedi della Cattedrale (circa 110). Da poco ristrutturato, l'appartamento è composto da: Un soggiorno/cucina completamente arredato con forno, piano cottura, frigo, tavolo, sedie ed un divano letto; una camera da letto matrimoniale con finestra con vista sul mare e la spiaggia principale; una camera con due letti singoli o su richiesta matrimoniale; un bagno con doccia;
"Il giorno del giudizio per gli amalfitani che andranno in paradiso sarà un giorno come tutti gli altri"(Fucini). Amalfi è un paradiso terrestre. Panorami colorati dalle preziose tonalità cromatiche che dal mare ritornano alle rocce. Una leggenda narra che il suo nome deriva dalla ninfa Amalfi, amata da Ercole. L'eroe, dopo la sua morte, le diede sepoltura nel posto che riteneva il più bello al mondo e dal quale è nata la perla della costiera. Storicamente la città di Amalfi deve il nome ai suoi fondatori, coloni romani provenienti dal villaggio di Melphi. Durante il periodo bizantino divenne la prima Repubblica Marinara La sua storia di Repubblica Marinara è rinnovata ogni anno, da Giugno ad Agosto, con la regata Storica. La regata è una gara tra galeoni ricostruiti su modelli del XII secolo che ricordano i colori delle Repubbliche Marinare (Venezia, Pisa, Genova, Amalfi). Del suo passato di antica repubblica marinara ne serba memoria anche la Tabula Amalphitana, codice di commercio marittimo in vigore nel Mediterraneo fino al Cinquecento. Ad Amalfi si può visitare ed ammirare: Il duomo la cui costruzione risale al 987 e nel 1700 il suo aspetto di stile romanico fu trasformato in stile barocco, il chiostro del Paradiso sito proprio a fianco al Duomo risalente al 1200 con affreschi di scuola Giottesca di stile romanico-arabo, il museo della Chiesa del "Crocifisso" un grande complesso la cui costruzione risale al IX secolo in cui si può ammirare il "Tesoro della Chiesa", in fine vi è il museo della carta del 1300. Amalfi non è soltanto storia e arte. E' anche un capolavoro paesaggistico, una perla che all'imbrunire si accede del bagliore del sole che tramonta, al largo sul mare, mentre da terra rispondono le siepi di buganvillea, incediate dai caratteristici fiori rossi a calice. Perla del Mediterraneo, specchio di tradizione storica millenaria, unica nella sua bellezza naturale, Amalfi incanta di certo il cuore. Chi poi ha la fortuna di visitarla nei giorni del 27 giugno e del 30 novembre, ha anche l'occasione di partecipare allegramente, insieme alla comunità, alla festa dedicata al Santo patrono Andrea, protettore dei pescatori.
The apartment is beautiful. There are views of the cathedral and the coast line from the rooftop which is accessible from the apartment. Really a great place to stay.
Ian
2017-02-10T00:00:00Z
Appartement au centre d'Amalfi proche de toutes les commodités. Calme. Au dernier étage en sous-pente du toit. Terrasse avec vue.
Fabien
2017-02-07T00:00:00Z
An outstanding place to stay to enjoy Amalfi and the entire Amalfi Coast! The apartment and large terrace are perched above both the main piazza as well as looking out over the ocean - unbelievably beautiful views in all directions. The apartment is clean, comfortable and well-equipped. Andrea and Mamma Rosanna are the perfect hosts - helpful and welcoming. From the apartment we enjoyed easy access to local transportation, hikes, restaurants, and shops while having a quiet and comfortable base. We will certainly return for another stay!
Claudia
2017-03-30T00:00:00Z
Best possible place to stay in Amalfi. The location was perfect, the apartment was clean and spacious and had beautiful panoramic views from the bedroom, skylights, and rooftop terrace. Andrea was so kind and helpful, an amazing host. We will definitely be coming back.
Sage
2017-03-13T00:00:00Z
What a view from the terrace, sensational. Both Andrea and his mother were wonderful people who could not have been more helpful or accomodating. There is lots of room, everything you need is there for you to access. The location is absolutely perfect, close to everything you could possibly need, shops, supermarket and transport. It is not modern, but it is fabulous and meets all needs. Did I mention the view??? Did I mention great hosts??? Thoroughly recommended.
Lea
2017-04-12T00:00:00Z
Tipo di stanza
Intera casa/apt
---
Tipo di sistemazione
Appartamento
---
Può ospitare
5
---
Camere da letto
Amalfi, Campania, Italia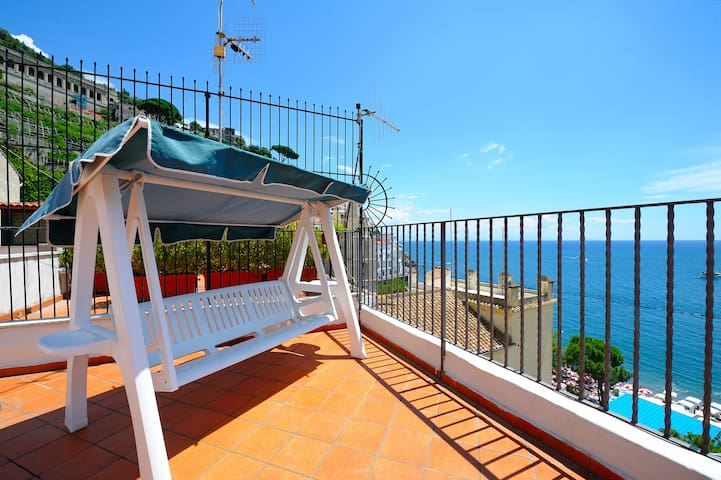 Superpanoramic beautiful apartment of 55 square meters located within the Kaleidoscope residence in Lone hamlet of Amalfi (Amalfi Coast). The apartment is only a few kilometers from the main tourist centers of the Amalfi Coast (Positano, Ravello, etc.) and the Sorrento Coast (Sorrento, Massalubrense etc.) as well as the archeological area of Pompeii. The area is well served by bus to all major destinations. The nearest beach is 1.5 km from the apartment and can be reached not only by bus thr
This is an absolutely beautiful apartment with an incredible view. Highly recommend!
Joe
2017-04-04T00:00:00Z
Highly recommend!!! There was constant communication between myself and Alessandro even before arriving to Italy. Once we arrived in Amalfi, Alessandro picked us up and drove us 10 minutes up the coast to the house. He brought his sister along with him to help translate which was a huge help! Once at the house, we were given a tour and house rules, Alessandro even gave all 3 of us a free bus pass as a welcome! He also informed us of a restaurant where he can contact the owner and have the owners son come and pick us up. The view: INCREDIBLE. We had a balcony that overlooked the Amalfi and the water. It was magical and beautiful. Overall this was a great book and well worth every penny. Alessandro was a great host and extremely helpful which made our stay a million times better and easier!
Amal
2017-03-14T00:00:00Z
Spectacular view of the Mediterranean! The house was comfortable with a local coffee bar only a 5 minute walk. And the town of Amalfi was only a short drive away as well. We were well taken care of by Assunta and Alessandro was only a phone call away with excellent communications. Thank you Alessandro for a great stay!
Sean
2017-02-19T00:00:00Z
Far away, but worth the trip! We loved our short visit!
Jennifer
2017-02-26T00:00:00Z
Alessandro's place was great and the scenery was beautiful. He was extremely accommodating and helpful. He even drove us to the train station after our stay so we could get to our next destination. We walked from the apartment to Amalfi and it wasn't a bad walk on the way down but I would highly recommend using the busses to get back up. Other than that we had a fantastic time on the Amalfi Coast and hope to be back someday.
David
2017-03-07T00:00:00Z
Tipo di stanza
Intera casa/apt
---
Tipo di sistemazione
Appartamento
---
Può ospitare
4
---
Camere da letto
Amalfi, Campania, Italia
Il nostro appartamento è in una casa tipica della Costiera con le volte a botte delle case più antiche, le mura imbiancate, con un terrazzo a livello e vista sulla costa. Può ospitare due persone e si trova sulla collina di Amalfi. Confort invernale.
Il terrazzo a livello con accesso dall'appartamento vi offre la possibilità di cenare all'aperto godendo della brezza serale circondati dal verde del giardino e guardando la costa illuminata. Due persone hanno a disposizione una camera con letto matrimoniale e un accogliente soggiorno con balcone vista mare. La cucina separata è attrezzata di tutto il necessario. Il bagno è dotato di doccia con elegante box in cristallo. Le decorazioni delle piastrelle sono fatte a mano nei colori tipici della Costiera e il pavimento in cotto artigianale fatto a mano rende unica ogni "riggiola". Scoprirete il fascino della tradizione nel confort moderno. L'appartamento è dotato di connessione Wi-Fi ed Ethernet. Nella stagione fredda funziona il riscaldamento.
Sopramare è la zona più prossima al centro di Amalfi e domina la Costa dal punto più avanzato di Pogerola. Il nucleo di case di Sopramare è la testimonianza di una presenza secolare che mantiene ancora intatte alcune caratteristiche del passato con le antiche scale che conducono ad Amalfi, ma è anche raggiunto dalla piccola strada che assicura la mobilità con l'automobile quando si vuole. Non bisogna perdere l'occasione di un tuffo nel passato raggiungendo il centro di Amalfi a piedi: serve solo un po' di abitudine a muoversi senza l'auto.
L' appartamento é ristrutturato con grande attenzione e gusto in ogni minimo particolare. Dalle mattonelle, alle volte fino agli interruttori della luce nulla é stato lasciato al caso e l'impressione complessiva é di raffinatezza e di rispetto della tradizione. La vista dal terrazzino è splendida e lo spazio esterno pergolato godibilissimo specialmente, immagino, nella bella stagione. Anna e Giuseppe sono 2 persone molto carine con cui é stato bello chiacchierare e la loro accoglienza é stata davvero molto calorosa. La costiera amalfitana è un'area in cui è difficile trovare una sistemazione con un buon rapporto qualità/prezzo per cui ci sentiamo di consigliare caldamente questo appartamento.
Raffaella y Simone
2015-12-07T00:00:00Z
Giuseppe was very welcoming and did everything he promised. The mosquito screens throughout the house prevented us from getting bitten and the bed was comfortable. The tap water was of good quality so no need to buy bottled water. There is a stunning view across the valley from the sitting room and the terrace is spacious. The stone steps up and down to the bus stop gave us excellent exercise. The neighbourhood was quiet and the local shopkeepers were friendly. We bought fresh locally-caught fish and vegetables in Amalfi which we cooked in the flat. There is an excellent wine merchant on the main street in Amalfi. The local buses were convenient and reliable. We used the bus to get to the start of the Sentiero degli Dei, a high-level coastal walk to Positano. We also took a 3-hour bus ride to Paestum. Ravello is easy to get to for the famous gardens. There are plenty of ceramics shops there too.
Henry
2016-05-26T00:00:00Z
Anna & Giuseppe's Wohnung ist sehr komfortabel und man hat alles, was man benötigt. Die Fotos entsprechen der Realität und die Aussicht aus dem Wohnzimmer und vom Balkon ist wunderschön.. man sieht das Meer und die grüne Landschaft und abends ein schönes Lichtermeer. Nach einem ca. 20 minütigen Treppenabstieg ist man im Zentrum von Amalfi. Giuseppe hat uns am Anreisetag vom Zentrum mit dem Auto abgeholt und alle Fragen beantwortet, Tipps gegeben und uns einen Transport für den Abreisetag organisiert, da es am Vormittag für uns sicherer war mit dem Auto nach Neapel zu fahren als auf die Zeitangaben der Busse zu vertrauen. Ein kleines Willkommensgeschenk gab es auch :) das wifi funktioniert super und die Wohnung ist sauber. Eine sehr empfehlenswerte Unterkunft bieten Anna und Giuseppe..wir würden wieder bei ihnen wohnen. Sie sind sehr freundlich und angenehm. Grazie per tutto Anna e Giuseppe.. it was a pleasure to be your guests!
Jennifer
2016-07-07T00:00:00Z
Incroyable accueil, gentillesse et disponibilité de Giuseppe et Anna. Nous avions l'impression d'être reçus comme de la famille. Logement très propre et très fonctionnel. Perché sur les hauteurs d'Amalfi, ce logement a beaucoup de charme, une vue sur la mer qui nous émerveille chaque jour. Calme et aéré, nous avons adoré notre séjour. Parking gratuit dans le village. Possibilité de rejoindre Amalfi à pied par les longs escaliers pour les plus aventuriers, sinon la navette en bus qui passe toutes les heures. Nous recommandons définitivement ce logement. Merci encore.
Jessica et Thomas
2015-08-25T00:00:00Z
Giuseppe picked us up at the bus station and drove us back again at the end of the week. The apartment is everything you would imagine a traditional italian apartment to look like! We spent so much time at this place, cause its so beautiful.
Karina
2016-07-21T00:00:00Z
What a find! Anna and Giuseppe have created a perfect village hideaway combining traditional style with comfortable furnishings, but the outstanding feature of this fully equipped apartment is the stunning view over the Amalfi coast from the living room balcony and the terrace. The traditional artisanal tiling in the kitchen and bathroom is authentic and delightful, and perfectly complements the ambiente of the apartment and its situation, clinging to the hillside that rises from the Amalfi shore to mountain peaks behind. The bed is comfortable, the kitchen is well enough equipped for some serious home cooking and the services (plumbing, hot water, electricity etc.) are faultless. Guests should be aware that access by car to the on-site parking space is via a single-track road suitable only for small cars and confident drivers, and that a fairly steep set of steps connects the road level to the terrace – alternatively the off-site parking in the village of Pogerola above is plentiful but entails a walk up and down a gently sloping gradient of some 160 steps. If you choose village parking or arrive by bus, Giuseppe – the kindest and most helpful of hosts – will drop off and pick up your luggage. This apartment is definitely on our list of favourites to return to – maybe when the weather is a little warmer than in November in order to take advantage of the possibilities for outdoor living, enjoying the views from the lovely shaded terrace.
Nigel
2016-11-09T00:00:00Z
It is a great place. The village is just above Amalfi which is easy to reach in 5 minutes by car, but is far more traditional and quiet. The village has got couple of great restaurants and small convenience stores. The apartment has cooking facilities, so doing own breakfast is very easy. The view from the living room was great and I really enjoyed sleeping there with open windows to enjoy the scenery from the bed. Giuseppe was very good with communication and check in and check out was fast and efficient. The only thing which need to considered by futures visitors is that getting straight to the apartment in a car bigger than Smart will be an issue as the road is extremely narrow. I drove there twice and both times it was a challenge. The village parking is much easier to navigate, but to get there you need to go 160 steps. Overall, I really hope I can visit again and stay longer.
Danila
2016-10-28T00:00:00Z
We loved our stay at Anna & Giuseppe's beautiful apartment! The view is exactly as pictured in the listing. From the moment Giuseppe picked us up in Amalfi until he brought us back upon our departure - we have a wonderful time. Communication was great! They provided helpful information on the area as well. The kitchen had everything needed to cook a small meal and enjoy breakfast/lunch. I would love to return and enjoy the garden space more (we were there in November and it was a just a bit chilly). Lovely hikes around the surrounding area. The apartment is in a tiny hamlet that was so peaceful. Thanks for a wonderful stay!
Mandy
2016-12-03T00:00:00Z
Tipo di stanza
Intera casa/apt
---
Tipo di sistemazione
Appartamento
---
Può ospitare
4
---
Camere da letto
Amalfi, Campania, Italia
BellaVista is a beautiful property located in Pogerola fraction of Amalfi. Pogerola is a charming village famous for its tranquility and the healthy air.
The Apartment Bellavista is an enchanting and panoramic property located in Pogerola, a small town part of the municipality of Amalfi. The property is can comfortably accomodate 2 people and is divided as follows: - 1 double bedroom with a panoramic balcony and a sofa that on request can be turned into a comfortable bed suitable for a child; - a fully equipped kitchen area with all comforts; - 1 refined bathroom with tiles and a cabin stall. Amenities: HOB/ COFFEE MAKER/ TOASTER/ OVEN/ MICROWAVE/ FRIDGE/ FREEZER/ DISH WASHER /BARBECUE/ TV/WI-FI/ AIR CONDITIONING/ IRON AND IRONING BOARD/WASHING MACHINE/HAIR DRYER/COURTESY KIT
Pogerola is a small community just a few miles aways from Amalfi to which it is connected through a rolling road. Distinctive features of this lovely borough are its peacefulness and its fresh, healthy air. The town is made up of small areas , spread out on the territory, which have medieval origins. Its heart is represented by the top of the hill known as "Castello" (339 mt above the sea level), which, overlooking the western side of Amalfi, used to constitute one of the cornerstones for the defense of the Amalfi Coast. From above, gazing around, starting from south-west, you can admire the foothills of the mountain that sink into the tight and deep valley called Cieco. Beyond stands the profile of the territory of Pastena. At east, the land gently bends for seventy metres and then it goes up for over one hundred metres, that completely separates it from Amalfi. The nothern side also declines rapidly down untill Valle dei Mulini (Handmade Paper Museum). Finally, a short strip of land connects Pogerola to the cliffs of Mount Molignano, where part of the population lives. Among Pogerola's main attractions we find: - The Sanctuary of the Madonna delle Grazie, that occupies a central position and that was founded by the local families of Amodio, Rispoli, Amendola, Paolillo and Gambardella in 1539 in the memory of the victims of the terrible outbreak of plague in 1528. A small atrium covered by a cross vault introduces the aisle with two lateral chapels. Valuable paintings of the 16th century adorn the surroundings, while the ancient ash urn in the vestry is also noteworthy. The steeple has a square bottom and rests on rock,it's made up of two closed levels and ends with a cusp. The Sanctuary stores a statue of the Madonna delle Grazie that has a little stone on which a drop of milk is believed to have fallen while the Virgin Mary was nursing Jesus. In a hot afternoon on the 14th of August in the forties, the church bells rung. The curious "pogerolesi" (the inhabitants of Pogerola) entered the church and found a significant quantity of milk that came from the statue of Mary. Since that day the Madonna delle Grazie is celebrated not only on the 2nd of July, as per calendar, but also on the 14th of August, remembered as the day when the miracle occurred. - The Church of Santa Marina dates back to the XII century, but it has often been renovated, so its original aspect has changed. It's constituted by a front with two arches that support a porch. The inside is composed of two cross vaults that build up the entrance of the only surrounding and, finally, there is the steeple completely adorned with majolicas. The economy is based on agriculture, in particular citrus fruits, cucurbits and a wide production of chestnuts thanks to the large presence of chestnuts groves.
la casa è bella con un panorama (URL HIDDEN) paese è pieno di umanità vissuta e amalfi sempre bellissima con i suoi dintorni...consiglio (almeno per me) un mezzo di trasporto per la salita..Caterina è stata gentilissima
Massimo
2015-07-18T00:00:00Z
This apartment was fantastic, beautiful, high on the hill, and air conditioned. We used heat as we were there for a chilly New Year's Eve getaway, and it worked beautifully. Caterina was amazing. Like, truly amazing. I asked for help with a few things, primarily help finding a car rental. She made sure the car arrived at the apartment as we settled in. It is dangerous to drive, but if you have decent defensive driving and are patient finding parking, it is a fantastic way to see the area. If you don't like twisty roads, then bring your Dramamine, because this trip is worth it anyway!! Find out about any properties managed by Caterina and do not hesitate. She is the real deal. Awesome getaway!
Robert
2016-01-03T00:00:00Z
We enjoyed staying at Caterina's apartment in Pogerola. It is small, but cozy, with a separate kitchen, which is nice if you have a child sleeping in the bedroom. Caterina was always available for questions and helpful if we had any issues. Her aunt is extremely nice and kind and even came to check on us and help us. Caterina provided us with a baby cot (pack n play) for our baby. We loved the village of Pogerola. It is a bit away from the coast, but has really friendly inhabitants and stunning views. We loved a restaurant La Carcara! It had the best local food we had tasted during our trip. We want to come back to Pogerola.. We miss it already. Thank you very much, Caterina!
Anna
2015-10-27T00:00:00Z
We loved our stay in Pogerola, the apartment is just as described and photographed. The view from the balcony is stunning. The apartment is well appointed and had everything we wanted. Pogerola is an ideal place to enjoy all the Amalfi coast. It has a number of good restaurants, mini markets, fruit and veg shop as well as a butcher. Food in all establishments was fresh and high quality. The town is only a short bus ride from Amalfi and you really get the feel of the local Italian life before you join the rest of the tourists in Amalfi. Caterina was excellent in her communication and assisted us with information and bookings. Having a car made it easier for us to see more of the Coastal area. We highly recommend Caterina's Airbnb.
Ross
2016-05-30T00:00:00Z
Greeting to everybody! The first thing I want to mention is a breathtaking view overlooking sea,mountains and nearby village!I have no words to describe a pleasure we got to have meals on the balcony. The apartment itself is comfy nest equipped with all necessary tools and appliances, perfect for a couple. There is a free parking spot near the apartment for those travelling by car. Caterina is a charming lady. She was so helpful and responded extremely quickly to all our inquires. We had a problem with Wi-Fi, however Caterina found the way to contact technician on Sunday(!) and get it resolved. Overall experience is just wonderful. Hope we will be back soon :))
Elena
2015-11-21T00:00:00Z
BellaVista is truly a gem on the Amalfi Coast! If you are looking for a quiet retreat away from the maddening vacation crowds, this is your place. Quiet neighborhood, peaceful little town with amazing views of the sea and mountains, we thought it was heaven on earth! Caterina and Vito made us feel welcome right from the start with a welcome gift of fruits, breakfast breads and a bottle of wine. The reality of the apartment was exactly as described and exactly what the pictures show - if this apartment ever came up for sale on the market, we would fight to be first in line to buy! Every night we would watch and listen to the shepherds guide the goats down from the mountain with a glass of wine in hand and marvel at how lucky we were to be on the beautiful Amalfi Coast. If you are looking to be in the heart of all the action, this is not for you. Pogerola sits way above Amalfi, with beautiful views of the sea and an expansive view of neighboring Ravello and the Villa Cimbrone. You will have to drive or take the bus to the neighboring towns...or brave the hour hike down (and of course back up) to Amalfi but you are on vacation and have nothing but time...enjoy the town, the views, the wine, the delicious limoncello, the pasta, the hikes, the gelato, the evening passeggiata. If you are ever lucky enough to visit the Amalfi Coast again, make BellaVista your homebase - it's worth it!
Elena
2016-10-27T00:00:00Z
The apartment was wonderful and our check in was easy. Our host offered us information and access to arrange any tours we wanted, even a cooking class. It is very well equipped and the view is amazing. We enjoyed breakfast and dinner over looking the Amalfi coast from the balcony. The kitchen was well stocked with dishes and pots and pans if you want to cook. The apartment is almost on the last road up the hill from the coast. It is a short bus ride to the water but you must be able to walk up the hill at the end. We enjoy hiking and the walk so it was great for us. As we sat eating breakfast one morning we watch a guy ride his donkey up the hill on the sidewalk to work. It was amazing. This apartment is in Pogerola, so be sure to do your research. Pogerola is a quaint little village up the hill from Amalfi with restaurants, grocery stores, pubs, gelato and everything you could need. You must enjoy dogs as they start barking everyday at 1700 hrs and go for a couple of hours. Do note that the doors to the apartment close out all the sounds and this will not bother your sleep. This apartment is a great little find if you are looking to enjoy the Amalfi and a great Italian experience. Highly recommended
Patti
2016-06-03T00:00:00Z
Catarina's place was as beautiful as the pictures. We had a very relaxing time and checking in and out was easy and stress free. This place is at the top of the town and gives a spectacular view but if you have any walking issues it is a few blocks uphill from the town square or bus stop but there is a parking spot provided right outside the door.
Sandy
2016-09-30T00:00:00Z
Tipo di stanza
Intera casa/apt
---
Tipo di sistemazione
Appartamento
---
Può ospitare
3
---
Camere da letto
Amalfi, Campania, Italia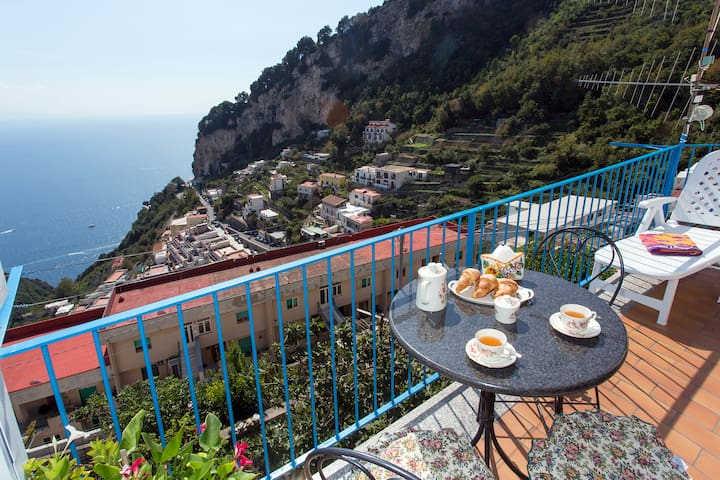 Il mio posto è vicino a ristoranti e sala da pranzo, la spiaggia, attività per famiglie, la vita notturna, e il trasporto pubblico. Amerete il mio posto per la vista, la posizione, le persone e l'ambiente. Il mio posto è buono per le coppie, avventurieri solista, viaggiatori d'affari e famiglie (con bambini).
Questo accogliente appartamento è composto da soggiorno con angolo cottura, una grande camera da letto, un bagno e un balcone con una vista mozzafiato sul mare. Può ospitare fino a 4 persone ed è dotato di: tende da sole, ventilatori, lenzuola, asciugamani, lavatrice, cucina con fornelli, frigorifero, stoviglie, pentole e tutto il necessario per cucinare deliziosi piatti tipici della Costiera, da gustare nella soggiorno o sulla terrazza panoramica.
La zona in cui si trova l'appartamento è molto tranquilla e panoramica. Intorno ci sono bar, ristoranti e negozi di alimentari. C'è anche una piscina panoramica con ristorante / pizzeria a pochi metri dalla casa (aperto da maggio a metà ottobre). L'accesso alla piscina costa 10 o 15 euro per persona al giorno (a seconda della stagione), un lettino e un asciugamano sono inclusi nel prezzo.
Perfect view & communication; average value & location. First let me say, Stella was great with communicating with me. In addition, we came in late March still before much of the town was open for tourists to come so I know that my experience could likely be very different in a matter of weeks. With that said, I'm going to provide a very thorough review. Positives: 1)sLike I said, communication was absolutely perfect. My friend and I went only for the weekend and so checking in early was important. There were no problems. Stella also helped arrange a private transfer for us to and from Naples so that we could arrive quicker. 2)sThe view from the balcony is stunning. The pictures of the pool is not from the house but rather a walk up the road at another location. 3)sShe had very kindly left some beverages in the fridge for us to enjoy when we arrived. Improvements: 1)sthink the price of the house was a little too high. It's disappointing enough when you find a place that's "listed" at a decent price but then has over $70 for cleaning fees and service fees. In addition, I was very surprised to see how many additional fees were listed. When a normal amenity (such as wifi) is shown on the listing as included, I would never expect it to be a charge. This has never happened to me with a bnb before. 2)sNeither the pool (which was communicated to me before arriving) or the restaurant were open by Stella's place. Again, I know this is because of the off season but it doesn't leave much to do close by the house. I think if you're to come when those are open, it would be perfect. However, we went into town. There's an hourly bus or you can walk (20 minutes) a pretty decently challenging trek. Overall, we had a lovely time in Amalfi but I would expect a little more for the price you pay for this listing.
Kaci
2017-04-02T00:00:00Z
Very nice!
Chen
2017-04-08T00:00:00Z
Tipo di stanza
Intera casa/apt
---
Tipo di sistemazione
Appartamento
---
Può ospitare
4
---
Camere da letto
Amalfi, Campania, Italia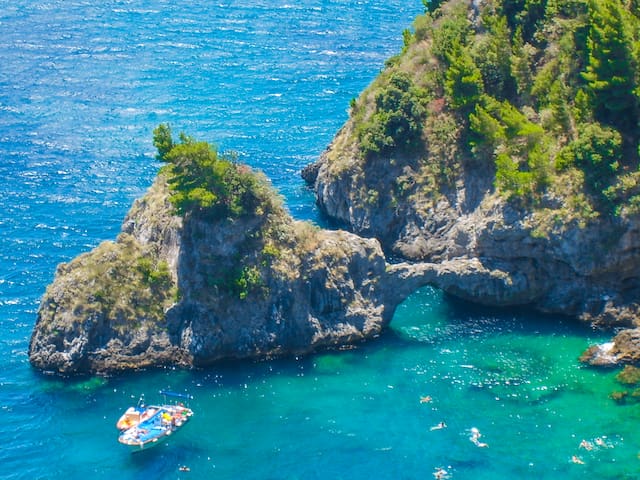 Grande appartamento con due camere da letto / bagni indipendenti, ampia cucina, soggiorno e terrazza, vista sorprendente, bei mobili, lavastoviglie e lavatrici, reception vicino ai parcheggi, spiagge e dal centro di Amalfi, televisori, Wi-Fi, inglese parlato.
L'appartamento si chiama Green House perché le piante ed i fiori sono integrati nel terrazzo. The Green House può ospitare 4 adulti molto comodamente. La vista della città Amalfi visto dalla terrazza è come mostrato in cartoline. Il sito si trova a circa 10 minuti a piedi per le spiagge, il centro di Amalfi, parcheggi, ristoranti e negozi. L'appartamento è un sacco di bei pezzi di arte, libri e molti oggetti pregiati. L'appartamento è dotato di bei mobili, lavatrici e lavatrici piatto, ampia cucina con forno e forno a microonde, ferro da stiro con tavola, asciugacapelli, due televisori, la connessione Wi-Fi illimitata.
La casa verde è calmo. I vicini non fanno rumore.
Io e le mie amiche Abbiamo soggiornato alla green House dal 23/07 al 30/07/2015 per una settimana, al nostro arrivo siamo state accolte da Maria Ann, una signora svedese che parla benissimo inglese e italiano che ci ha aiutate fin da subito a capire la funzionalità della costiera e della casa stessa, un appartamento di c.ca 100 mq con terrazzo stupendo e vista mozzafiato, pulito e confortevole, all'interno potrai trovare tutto ciò di cui hai bisogno, non manca niente. La casa e' situata a un 15 min circa a piedi dal centro e dal porto, facile spostarsi verso spiagge o paesetti limitrofi tramite barche o autobus. Nessun problema neanche x i parcheggi che si potranno trovare sia giornalieri che settimanali. Abbiamo passato una settimana da Favola, la costiera e' meravigliosa, la consiglio vivamente a tutti! Unica pecca sono i 170 gradini che collegano la casa al centro, ma questo è un problema generale se qualsiasi di noi ha voglia di gustarsi una vista unica e meravigliosa!
Romina
2015-07-31T00:00:00Z
The green house is amazing!!!! Lovely view, great terrace and very comfortable! It is very well located, I highly recommend!! Mary Ann was very helpful with everything we needed and the guidebook for the house was great!
Alice
2015-04-29T00:00:00Z
Das Green House ist ein Traum. Die Photos versprechen viel und halten alles. Noch mehr... das Appartement ist wunderschön, die Lage ist zentru(SENSITIVE CONTENTS HIDDEN)ahe, die Aussicht wundervoll. Die Nächte waren angenehm kühl und ruhig im Juli. Wir haben das italienische Lebensgefühl gespürt.
Helga
2013-07-27T00:00:00Z
A beautiful apartment with an even more beautiful view. We lived on the terrace. Giuseppe is also a fantastic host.
Natalia
2016-09-03T00:00:00Z
We had a brilliant time at the Green House. The wonderful charm of Giuseppe's private home make this a great example of what we are seeking when choosing Airbnb over other accommodation. The views are to dream of - better than on the photo, and it is situated in a quiet, safe and friendly neighbourhood. Giuseppe was extremely helpful in organising our trip to and from Amalfi, and replied always instantly. We stayed a week and would not want to stay anywhere else if visiting the Amalfi coast again.
Jonny
2016-06-27T00:00:00Z
The Green House is a beautiful place to stay! We had a wonderful stay in Amalfi at Giuseppe's place. It has everything you need for a relaxing holiday. The view from the balcony is spectacular. Lots of space and it really feels like a sanctuary away from the hustle and bustle. Great spot. 10 min walk from the town centre. Lots of stairs but felt good after the eating extravaganza of every day. We are already talking about coming back! Thank you for having us Marty and Rose
Rose
2013-09-22T00:00:00Z
Marie-Ann was very helpful with organising for a taxi to meet us at the railway station, and her daughter to meet us and take us to the apartment and settle us in with instructions on all the necessary household items. She was delightful. And on our return trip, again organising taxis and a porter .
Jeanette
2016-06-05T00:00:00Z
Vi er en familie på 4 (2 voksne og 2 tenåringer). Vi hadde 6 overnattinger og var veldig fornøyd med Giuseppes leilighet. Vi ble godt mottatt av Marie-Ann og Eduardo, begge snakker både engelsk og svensk og forstår godt norsk og de ga veldig god service. Leiligheten var ren, pent innredet og rommelig for fire personer med to fine bad. Terrassen er stor og flott og vi spiste alle måltider der. Fantastisk utsikt over Amalfi og stille og rolig nabolag. Vi hadde følelsen av å bo i en enebolig og ikke en leilighet. Vaskemaskinen var ikke i orden da vi kom, men ny vaskemaskin ble raskt ordnet av Marie-Ann. Amalfi ligger bratt til og det er følgelig mange trapper for å komme ned til stranden og byen. Det tar ca 10 min ned til stranden, som er fin og ren. Man må krysse en svært trafikkert vei og må passe godt på barna når veien krysses. Det kan være lurt å vurdere offentlig transport når man reiser til Amalfi da parkeringsmuligheter i Amalfi er begrenset. Vi valgte leiebil fra Roma og betalte 25 EUR pr dag for parkeringshus med vallet service som vi var godt fornøyde med. Vi hadde noen flotte dager i Amalfi og vil anbefale leiligheten på det varmeste. Vi kommer gjerne igjen.
Michael
2016-07-31T00:00:00Z
Tipo di stanza
Intera casa/apt
---
Tipo di sistemazione
Appartamento
---
Può ospitare
4
---
Camere da letto
Amalfi, Campania, Italia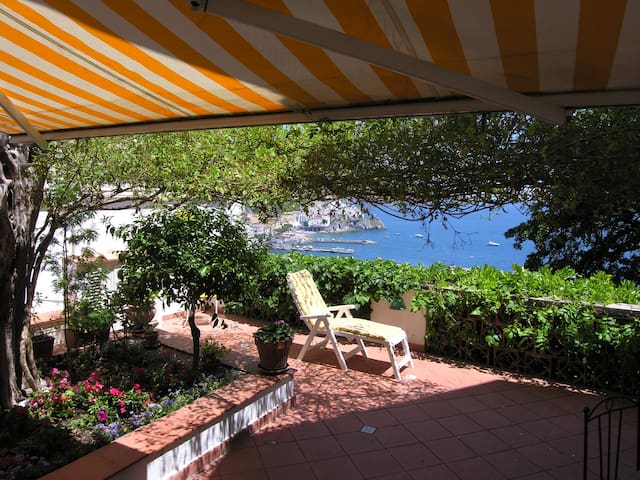 Just above the ancient arsenals of the first maritime republic, in the center, a large room with wooden intermediated floor, personal bathroom, 2 windows with sea views and bell tower, house that transmits history and art ... and floors of Master potter Giancappetti
The house is located on the third floor of an ancient building between the Cathedral square and the Doges. There is no lift so to access it you have to climb four flights of stairs. The house overlooks a public courtyard used often for pleasant entertainment. The room is large and bright with two windows from which you can see the sea. It has a large private bath with bathtub and shower. The sleeping area is located on the walnut tree intermetiated floor.
Amalfi is a small town, but full of history and culture as well as natural and architectural beauty. - Once you arrive you can admire the splendid facade of the millennial Cathedral where relics of the Apostle Andrea are laid. - The Arsenals of the Republic of Amalfi, besides being beautiful for their architecture, often host exhibitions of art, events, musicols. - The Diocesan Museum is located in the oldest nave of the Cathedral where you can admire valuable frescoes and numerous important examples of sacred art. - The Carta Museum is the heart of an old paper mill where original machines are preserved with which the famous worldwide appreciated Amalfi paper was produced . - For those who want to enjoy the sun and the sea, they can do it on various beaches within easy reach of Amalfi and its surroundings.
La signora Enza è di una gentilezza unica. Molto vicino alla piazza centrale di Amalfi. L'appartamento è molto elegante, confortevole e pulito. La stanza ha tutto il necessario per trascorrere in relax qualche giorno in costiera. Colazione con prodotti di prima qualità. Consigliatissimo :)
Giuseppe
2016-08-07T00:00:00Z
Siamo stati benissimo, come a casa. Grazie a lei abbiamo potuto conoscere e godere delle cose tipiche del posto. Grazie, grazie di tutto.
Filippo
2016-05-04T00:00:00Z
Enza è stata un'ottima oste, ci ha accolti in casa sua ed è stato un piacere dormire nel centro di Amalfi, anche se per una notte sola. Ci ha coccolato e indirizzato verso i luoghi più belli da vedere e sui dolci migliori da mangiare. La stanza è molto bella, appartata e con bagno privato. Sicuramente torneremo da Enza quando andremo di nuovo in costiera Amalfitana! Super consigliata!!
Giulia
2016-08-03T00:00:00Z
Enza è stata la migliore esperienza con airbnb che io abbia avuto!! Io e la mia amica Elisa abbiamo potuto apprezzare la sua completa disponibilità e ospitalità. La casa è molto accogliente e curata nei minimi particolari, in una posizione eccellente, appena dietro il Duomo di Amalfi! La camera è spaziosa e pulitissima e il bagno privato molto grande. Anche la colazione è eccellente e molto varia, con spremuta d'arancia fresca! Ci siamo davvero trovate benissimo, non potevamo chiedere di meglio. Grazie Enza per la tua gentilezza, per le tue limonate e per le bellissime storie che ci hai raccontato. Grazie anche a Lucia per le colazioni...e un saluto anche alla micetta!! Consiglio caldamente questo soggiorno, noi torneremo sicuramente!!
Martina
2016-08-14T00:00:00Z
After a 2 week vacation touring Europe, our stay at Enza's was by far the best experience. The room we stayed in was private, spacious, and had everything we needed and more. The location is perfect, close to the main square in which all of the shops and restaurants can be found, as well as the ferry port and bus station. Enza went out of her way to ensure that we had an exceptional experience. One day we had to wake up at 7 to go on an excursion and we told Enza this the night before. The next morning she woke up early enough to make us breakfast even though upon our arrival she specified that she would make breakfast from 8-10 am. The hospitality she showed us was incredible. She treated us like we were her children and we felt like she was family by the end of our stay. Thank you for everything Enza! Give Miccetta a kiss from us :) (Enza's adorable cat, who was shy at first but warmed up to us by the end of our stay).
Valerie
2016-09-05T00:00:00Z
We had a wonderful stay at Enza's apartment! She and Lucia were extremely hospitable and welcoming. Enza was always prompt at communicating before arrival. Her English was fantastic! She met us at the bus station and welcomed home. Just a small note - there are stairs, as one would expect anywhere on the coast. The location is unbeatable, close to bus/ferry stops, restaurants, shops and the Duomo. Enza gave us an insightful information on the coast and some great advice on places worth visiting. Thanks to her tips we took the open deck red bus to Ravello and visited the two villas, both of which had absolutely breathtaking views!!! Must see! My personal favourite place in Italy now! We also went on the Lemon Tour, which was a unique experience. Loved the Amalfi lemons! Enza is an amazing person, educated and fond of arts. You should see her talking about Ravello, her birthplace! Very passionate indeed! We loved the lovely room, which was comfortable and even had views on the sea! Oh, and it also had a piano! The bathroom was good and clean, there were bathrobes too. We shared breakfast which was accompanied with her homemade marmalade! On the last day she even proposed to share a lunch - lemon spaghetti, local specialty, by Lucia, which my mother loved the most during our month long stay in Italy! Enza was also very kind to keep our luggage before departure. She even beat (SENSITIVE CONTENTS HIDDEN) on info on ferry schedules, cause it proved to provide wrong times! Overall, this has been the best experience with Airbnb so far! I believe it was in the true spirit of Airbnb (as opposed to simple renting of rooms), as we had lovely talks to share our cultures and the interaction was very personal! Thank you very much, Enza! Highly recommend!
Assel
2016-06-12T00:00:00Z
Enza est une personne très cultivée qui a cœur de faire découvrir toutes les facettes de sa ville! La chambre avec salle de bain chez notre hôte est très spacieux, confortable et au calme. Nous avons pû utiliser les autres pièces de la maison d'Enza dont cuisine sans problème. Le logement de notre hôte est situé en plein centre ville dans un ancien palais! C'est vraiment sublime et fidèle à l'architecture Amalfitaine! Grazie Enza per tutti!
Will et Vio
2016-07-29T00:00:00Z
Enza is a great host. The hotel is a few steps from the main street. Highly recommend!
文章
2016-06-24T00:00:00Z
Tipo di stanza
Stanza privata
---
Tipo di sistemazione
Appartamento
---
Può ospitare
2
---
Camere da letto
Amalfi, Campania, Italia
La Scivitella is an ancient and charming medieval villa, nestled in an oasis of peace and tranquility in the lush greenery of the Amalfi Coast, perfect for those who want a magnificent holiday in the countryside, in absolute comfort and relaxation, not far from the best beaches in the world. The villa is the perfect place to reach all the famous places of the surroundingthe Gulf of Naples, Amalfi, Ravello, Maiori, Salerno, Paestum, Conca dei Marini, Caserta, Positano, Sorrento, Pompei, Naples,
Lauro Apartment welcomes you into its elegant apartment of 30 square meters with independent access and a wonderful private terrace, charmingly overlooking the sea, on the lush coastline, surrounded by the vegetable garden and a small courtyard shared among the guests of the villa. The apartment is equipped with air conditioning, heating and access to Wi-Fi The apartment is suitable for the stay of 3 people. It consists of a double bed (divisible into two separate beds on prior request) lit by two windows, overlooking the sea and the coast; a sofa bed for one person is in the living area. The bathroom, decorated with fine Vietri ceramics, is equipped with sink, bidet, toilet, towels, shower and hairdryer. The kitchen is equipped with a stove with two burners, a microwave, a refrigerator with freezer, a Neapolitan coffee maker, kettle and all the crockery to prepare the dishes, a table with chairs. There is also the cabinet containing the washing machine, iron and ironing board, a clothesline for the terrace, a LCD TV. The apartment is equipped with air conditioning and heating. The charming and spacious Terrace Solarium, of about 35 square meters, is equipped with a table, chairs, umbrella and two sun loungers, in which to spend the most relaxing moments of the day. In the terrace you will also find a barbecue for your tasty meals outdoors. In the garden, apartment's guests will harvest the seasonal vegetables to prepare very delicious dishes.
The area to which it belongs is called TUORO and is a rural vocation. Its residents have lived there for many generations and have a very cohesive community and hospitable. Villa Scivitella is a beautiful complex, recently renovated, which retains much of the original architecture of the thirteenth century, with replicas of the eighteenth century. His beautiful residence shows all the characteristics of ancient detectable in the vaults extrados or side by side, in the pointed arches that dominate the access doors in the vaulted ceilings lowered, in the lovely little courtyard, ideal area for reading or relaxing enveloped by sounds of nature.
Tipo di stanza
Intera casa/apt
---
Tipo di sistemazione
Appartamento
---
Può ospitare
3
---
Camere da letto
Amalfi, Campania, Italia

"The apartment is a beautiful sanctuary of peace and tranquility in the middle of the real Amalfi" (From the review left by our host Dutch Matthijs G.).
"The apartment is a nice sanctuary of peace and quiet in the middle of the " real " Amalfi"(From Review left by our Dutch guest Matthijs G.)(URL HIDDEN) Beautiful apartment with: -one living room with a sofa/queen size bed and kitchenette - one separate bedroom ( with a queen size bed) - bathroom with shower - air conditioning (heat and cool) - electric blanket for the winter heating - TV with usb - Wi-Fi - hairdryer - fridge with freezer. -towels and linen - crib for baby on request -free storage luggages in our boutique on the main street of Amalfi before the check in or after the check out too if you need. Each apartment is equipped to accommodate up to 3 adults (or 2 adults and one children). The outside terrace and sea view will be the ideal setting for your stay in the Amalfi coast. The apartment is accessible only through the ancient stairs of the center of Amalfi. The stairs that divide the apartment from the central square of the village will ensure total peace and quiet of which, we are sure, you need to relax at any time of year. All in all a peaceful and secluded place to stay all year around and an ideal workplace for artists and authors. Even in the crowded summer, the positioning of the apartment therefore ensure our guests a pleasant state of relaxation. Artists and writers who were among our guests have called it the ideal accommodation for work or to relax on vacation. To reach the beach, in any case need a few minutes walk. The beautiful Piazza del Duomo, is only a few minutes. The building enjoys an extraordinary panorama, with scents of orange blossom and lemon from our garden and so much silence to be able to rest. Easy to reach places in the surrounding area: Capri, Positano, Sorrento, Ravello, Atrani, Conca dei Marini, Salerno, Pompeii. All these centers are easily accessible by boat or by bus. To reach the Amalfi nearest airport is Capodichino (Naples). Amalfi can be reached by bus or if you prefer you can contact us in advance and we will arrange for you a private cab to pick up you at the airport or at the train station where you will arrive (the cost of which is borne by the customers of course). All of our guests arriving by car will also enjoy if they want the agreement we have with a garage not far from the center and from the apartment which offers reduced prices to our guests.With pleasur we will offer to you the contact of this garage after the apartment reservation and those who care for them will be quick and willing to satisfy your requests. We will provide helpful advice to those who want to be able to also make excursions by sea (at the "Furore") or in the mountains (like the famous "Path of the Gods" or "Valle delle Ferriere") or visit historical sites, with guide or without. We have also an agreement with the best private gym of Amalfi that is about 5 minutes walk from the apartment, in the center, and on request we will give the chance to use them comfortably at a reduced price. we are happy to announce that we organize private tours on request to the fields harvesting lemons and place of production of the famous local liquor born in Amalfi coast: "THE (URL HIDDEN) will be possible to be accompanied by the manufacturers and try the product directly. When you will stay in our apartments, you will feel like at home! Guests will be offered tastings of local products and dishes prepared with love by ourselves! (It reminds all concerned that the apartment is not recommended for those with walking difficulties). -VERY IMPORTANT :AMALFI TOURIST TAX since april first 2015 all the informations in extra details
The green that surrounds us, the scents and silence all protected by a sight that amazes me every day.
Giampiero, il figlio di Renato, ci ha accolto benissimo, persona gentilissima e precisa. Tutto ciò che è descritto nel sito corrisponde a realtà, l'appartamento è davvero accogliente, dotato di tutti i comfort. La vista sul mare dall'appartamento è spettacolare, davvero unica. Inoltre Giampiero è stato disponibilissimo nel suggerirci ristoranti tipici e cose da fare in città! Ci ritornerò sicuramente in futuro
Luigi
2016-08-16T00:00:00Z
Renato's apartment was very clean and also quiet. The welcoming pasta Mena cooked for us was amazing. His son, Gianpiero was always ready to help us. He provided us a paper has many suggestion to visit, to eat, to do...that was so helpful too. During our stay, we could enjoy cooking at the kitchen which has many tools to cook. We would definitely come back. もし宿泊費が高いという理由でアマルフィに泊まるのを諦めている方がいれば、ぜひ試してもらいたいです。とても安全できれいな場所なので、日中に訪れるだけでなく、ぜひアマルフィに泊まることをおすすめします。
Hitomi
2014-09-18T00:00:00Z
We had lovely stay in Renato's apartment. We met Gianpiero ( Renato's son ) on arrival and he was incredibly welcoming and helpful. He even paid a porter to take our luggage up to the apartment. When we got into the apartment we were greeted with homemade bruschetta made with ingredients from Renato's garden and Local wine. It's was so delicious! Gianpiero was very helpful showing us the area and offering suggestions for restaurants. The apartment is very nice with lots of character. Good location just outside the centre so it's nice and quiet around. Highly recommended!
Scott
2015-07-08T00:00:00Z
We stayed here for our honeymoon for a week and absolutely loved it! The space was very clean, the kitchen and bathroom were great, and the bed was comfy. As soon as we arrived it was easy to find our way as everyone in town knew who we were looking for and gave directions. We then had help carrying our bags up the steps to where the apartment was, got homemade lemon pasta and limoncello, and a full sheet of recommendations for day trips, restaurants and the locals beach in town. The only thing I would caution future guests to is if you have any health issues you may have issues with the few hundred stairs to get to the apartment everyday, however personally we found the steps to be great considering the amount of pasta/pizza we were eating it was a great little physical activity to balance it out. Overall, best airbnb spot we've picked to date, would go back in a heartbeat.
Ginessa
2013-10-20T00:00:00Z
My fiancé and I stayed at Gianpiero's apartment for four nights and had a wonderful experience. He was extremely responsive to our questions and made coordinating our stay super easy. He gave us many local recommendations for places to eat as well and they were all great. It takes about 200+ steps to get to his place but once you are there, it is totally worth it. The view is amazing and his apartment was clean and had everything we needed for our stay. He offered to arrange a porter to bring our bags up to the place at no charge which was very helpful. We had the chance to meet his wonderful mother at the shop. She even came to check in on us after a crazy rain storm the night before which was very sweet. And if all that wasn't enough, we came back one afternoon to find that Gianpiero had left a bowl of homemade gnocchi and tomato sauce for us at the front door. We heated it up for lunch the next day and it was delicious. Overall, we couldn't have asked for a better host and place to stay. We hope to return again soon.
Brad
2015-10-24T00:00:00Z
great location however the stairs are a challenge
Susan
2012-05-07T00:00:00Z
Nous avons été chaleureusement accueillis par Gianpiero, qui nous avait au préalable bien expliqué comment nous rendre de Salerne à Amalfi ainsi qu'à sa boutique. Son anglais est par ailleurs parfait et il maîtrise quelques mots de français ; nous n'étions donc pas perdus. Nous voyant bien chargés notre arrivée, il nous a de suite offert les services de porteurs afin de monter nos bagages jusqu'au logement. Après quelques marches bien senties (auxquelles on s'habitue très vite en se promenant le long de la côte amalfitaine), nous sommes arrivés dans ce joli petit logement où nous attendaient une belle bouteille de vin ainsi que de quoi nous préparer un plat de pâtes et de quoi nous sustenter pour le petit déjeuner ; délicates attentions auxquelles nous ne nous étions pas forcément attendues mais qui font toujours plaisir ! Concernant le logement en lui-même, il est très fonctionnel et également très calme. Un équilibre parfait entre la proximité du centre-ville et le calme des hauteurs (il ne faut que 5-10 minutes pour faire le trajet et il y a un petit supermarché Deco à quelques minutes à pieds seulement). Il est en outre très joliment décoré. La terrasse ne donne pas directement sur la mer (à part une petite portion où l'on peut tout de même facilement installer une chaise pour contempler le paysage) mais elle n'en reste pas moins très agréable : nous y avons mangé tous nos repas, à toutes heures de la journée. A savoir que l'appartement est situé sur le flanc de la ville qui reste ensoleillé le plus tard dans la soirée, ce que nous avons beaucoup apprécié. Nous n'avons passé que 3 jours à Amalfi mais avons été conquis par la côte et espérons revenir un jour, et profiter à nouveau de ce logement, qui nous a permis de passer un séjour fabuleux sur la côte amalfitaine :)
Morgane
2016-06-07T00:00:00Z
Gianpiero is a great host! He was always readily available to answer our queries. Communication with him was seamless as he and the view from the little terrace corner of the apartment was breathtaking. Not to mention that the apartment is nestled in a friendly space. We enjoyed our time in Amalfi kudos to him. A gentle warning: if you are somewhat physically unfit (that would be me) the multiple flights of stairs might be a challenge but you will be well rewarded with an awesome view and space!
Jocelyn
2016-05-05T00:00:00Z
Tipo di stanza
Intera casa/apt
---
Tipo di sistemazione
Appartamento
---
Può ospitare
3
---
Camere da letto
Amalfi, Italia/Salerno/Campania, Italia
Afrodite is located in one of the most beautiful spot of the town of Amalfi, with spectacular views from every room. WiFi and most amenities tourst can wish are present here. And cannot beat this location, the VERY BEST of the town of Amalfi
The Afrodite villa is located in one of the most beautiful spot of the town of Amalfi, with spectacular views from every room. The property is in a quiet location overlooking the bustling port and beaches of this ancient city, as well as the historic Hotel Luna and majestic Monastery of Santa Rosa. Afrodite was recently restored in a striking Arabic style, with fantastic arches and furniture that is properly suited to the design. The property has three different levels, encompassing an area of about 80 square meters. It features 2 bedrooms (both matrimonial), and a bright living room paved with hand-made tiles. The living room includes a divan that can accommodate 2 people, and a table with chairs. There are 2 bathrooms with full-size showers, and a kitchen equipped with a four-burner gas stove, electric oven, a refrigerator with freezer, dishwasher, microwave, and an Italian coffee machine. The kitchen opens onto one of the most wonderful terraces in the city, and contains a gorgeous wooden table with 6 chairs, two deck chairs, and an outside shower that can refresh guests during the warm summer days. The centre of Amalfi can be reached by walking down a 165-step stairway, and serves as the perfect hub for traveling to all of the Amalfi Coast's destinations. A short bus ride will take you to the ambrosial town of Ravello, or you can board a boat for trips to Capri, Ischia, Positano or Naples. Additionally, there are bus rides available to Pompeii and Herculaneum, a worthwhile day trip. This villa is also a 90-step walk from the 5-star, Grand Hotel Convento Cappuccini, which is certainly worth a gander. Other accessories at Villa Afrodite include: iron and ironing board, air conditioning/heating unit in every room, external shower, boiler, washer/dryer, and air-dryer (for clothing). During high season we only rent this property by week with check in and check out on Saturdays. Blocks of full weeks only
The Amazing view of the coast and the town of Amalfi. The fantastic location in town. The area is busy but very quite at night; you are well connected to the nearby villages and the beach. Amalfi is the hub of the coast for regular ferries to Positano, Salerno and the islands; restaurants and bars are at few minutes away. A well stocked minimarket is at a mere 5 minutes walk.
We had a very good overall experience. The outdoor terrace has amazing views and is very spacious. There is a large dining table, couch, sun umbrellas, and lounge chairs on the terrace. We spent most of the time outside and we even had front row seats to the fireworks one special evening. The rest of the apartment is ok but the terrace is the difference between ok and great. The kitchen had enough pots, pans, knifes, plates, to make nice meals at home. However, there was no detergent for the washing machine or soap for hand washing. The apartment was clean except one room smelled like mildew. We discovered it was the sheets which probably were not adequately dry before put on the bed. My only complaint is that on arrival, the person meeting us (this is an agency) was not very clear on the meeting details despite my repeated questions. Also, you will receive a questionnaire after booking asking for a lot of information such as the details of the other guests, if you have a rental car, etc. I took the time to complete the questions and on arrival, I had to do it again as if they never received it. So it was a waste of time and they had no idea I needed parking etc. I would stay here again.
Regang
2016-06-12T00:00:00Z
It was difficult to get in touch with the host and when you did she appeared to be confrontational.
Mark and Julie
2016-10-26T00:00:00Z
We thought this apartment would just be a base to sight see from, but it was so nice we just wanted to chill out there. Excellent position, spectacular views. great beds, very clean, very close to the local piazza which has a deli with the best sandwich in the world, a supermarket, cheese shop, baker and good restaurants. There are a few stairs to master, 186 approx, but you really don't notice them after a while. it's worth it. I strongly suggest a porter for your bags when you move in and out, only cost $25 for 3. Loved it, best part of our 4 week holiday.
David
2015-10-03T00:00:00Z
Good Flat excellant view
Osama
2016-07-31T00:00:00Z
The experience in Amalfi was fantastic and part of the reason was staying at Afrodite. The Accomodation was as pictures ,very clean and the host met us upon arrival and provided all the information we needed to start our Amalfi experience. This location is perfect for access into the town, as it is only a 5 minute walk. Keep in mind there are approximately 130 stairs to climb.
Bill
2016-06-05T00:00:00Z
Absolutely beautiful apartment with amazing views of the ocean and coast. The apartment had everything we needed.
Celine
2016-04-11T00:00:00Z
Tipo di stanza
Intera casa/apt
---
Tipo di sistemazione
Appartamento
---
Può ospitare
6
---
Camere da letto
Amalfi, Campania, Italia