Inserisci la data del check-in nel seguente formato dd-mm-aaaa
Inserisci la data del check-out nel seguente formato dd-mm-aaaa
Annunci che puoi prenotare senza aspettare l'approvazione dell'host.
14 Ville in Affitto
· Allier
14 Ville in Affitto
· Allier
Inserisci le date per visualizzare il prezzo totale. Ci sono dei costi aggiuntivi e potrebbero venire applicate alcune tasse.
Nei mesi di luglio e agosto puoi provare uno di questi 100 alloggi ad alto rendimento, per ogni fascia di prezzo, e vivere una visione locale di Sonoma. Prova il check-in continuato, la Prenotazione Immediata e vino e spuntini locali per rilassarti e godere al massimo del tuo viaggio.
Mon logement est proche de la vue exceptionnelle. Vous apprécierez mon logement pour la luminosité et le confort. Mon logement est parfait pour les couples, les voyageurs en solo et les voyageurs d'affaires.
Stéphanie e Sébastien sono degli host eccezionali, molto simpatici e disponibili. La casa è molto bella, molto di più di quello che rendono le foto, la vista che si ha dal balcone è fantastica. La casa è immersa nella natura, ma in una zona molto comoda da raggiungere. Consiglio vivamente questa casa.
Roberto
July 2016
Des hôtes chaleureux, une maison conviviale, spacieuse et très propre, un chien adorable et un panorama à couper le souffle : voilà la recette parfaite pour un séjour réussi! Merci Stephanie et Sébastien pour vos conseils avisés sur les sites à visiter. Nous recommandons fortement!
Tibo
August 2016
je remercie Stephanie pour son accueil tout simple et agréable Le gîte est beau, calme. le cadre vu de la terrasse exceptionnel On peut passer ici une excellente nuit et récupérer des fatigues du voyage
Jean-Toussaint
July 2016
Tipo di stanza
Stanza privata
---
Tipo di alloggio
---
Può ospitare
2
---
Camere da letto
1
Monétay-sur-Allier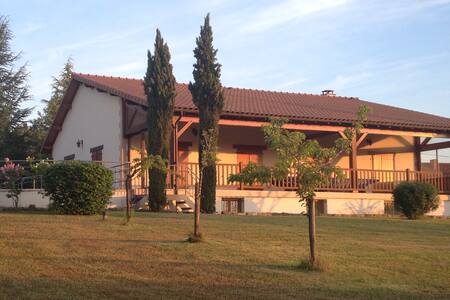 Des informations précises par téléphone m'ont permis de me rendre sur les lieux sans GPS.... Accueil chaleureux ; arrivée de nuit, je n'ai pas eu le loisir de découvrir le quartier..
Benedicte
December 2016
Tipo di stanza
Stanza privata
---
Tipo di alloggio
---
Può ospitare
2
---
Camere da letto
1
Saint-Germain-Lespinasse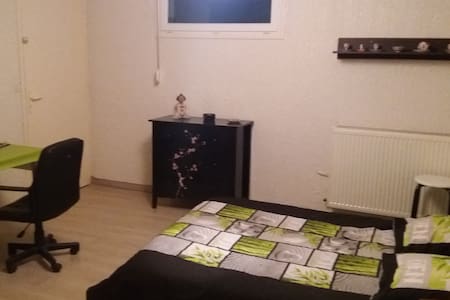 La maison est très spacieuse, très lumineuse avec de grands volumes, tout est conforme aux photos et au descriptif de l'annonce. Candice a été très accueillante et très disponible aussi bien à l'arrivée qu'à la remise des clés. Nous avons passé un très agréable week-end.
Isabelle
October 2016
Nous avons été très bien accueillis par Candice, qui avait même prévu pour nous le petit déjeuner. La maison est très vaste et correspond bien à l'annonce. Elle est joliment décorée et le quartier est très calme. Nous reviendrons volontiers.
juanito
November 2016
Immense maison, très agréable. Candice est très arrangeante, bref tout était très bien !
Clément
December 2016
Séjour impeccable une maison tres spacieuse des volumes tout simplement Enorme!!! Mansour est trés soucieux des ses hôtes et disponible. je recommande vivement ce logement encore merci Mansour.
Guillaume
August 2016
Très bon week-end passé dans la gigantesque maison de Candice :) on s'y perdait presque tellement c'est grand. Nous avons apprécié les nombreux canapés et la grande cuisine. Candide à été très agréable, toujours facile a joindre et nous la remercions de s'être adaptée à nos heures d'arrivée et de départ.
Caroline
December 2016
Candice a été une hote de qualité. Nous avons passé un agreable sejour en famille dans cette grande maison.
Grégory
December 2016
La maison de Mansour est superbe, spatieuse, lumineuse, et dans un endroit très calme, Quant à lui, il est très disponible et super serviable, il m'a même envoyé par la poste mon iPad que j'ai oublié chez (URL HIDDEN) recommande!!!
Issam
August 2016
Magnifique séjour en Auvergne dans cette magnifique maison dont l'espace est surprenant!!!!! C'est tout simplement IMMENSE... Superbe accueil, proche de toutes commodités, on vous recommande sincèrement cette maison magnifique.
Sarah
August 2016
Tipo di stanza
Intera casa/apt
---
Tipo di alloggio
---
Può ospitare
8
---
Camere da letto
4
Champs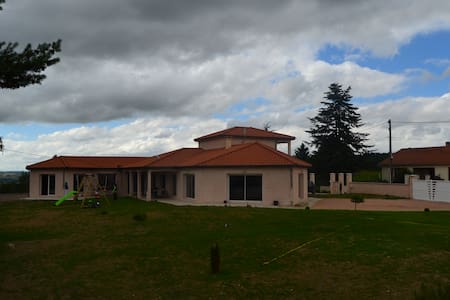 Mon logement est proche de Moulins 2km Piano Petit déjeuner . Quartier historique de Moulins. Musée du costume CNCS. Musée Anne de Beaujeu. Cathédrale, salle du triptyque du Maître de Moulins. Le grand café, place d'Allier. Souvigny site Clunisien ancienne capitale du Bourbonnais. Le PAL Saint Menoux et son débredinoire.. Lit bébé, chaise haute à disposition.
Tipo di stanza
Stanza privata
---
Tipo di alloggio
---
Può ospitare
2
---
Camere da letto
1
Bressolles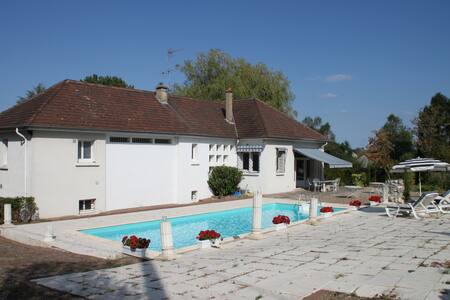 A 6 kilomètres du centre-ville et des thermes, une chambre spacieuse et moderne dans une Villa pleins de Charmes entouré d'un grand parc arboré, un jardin et une piscine. Accès à la cuisine, au salon, piscine, wifi. Très calme, centre équestre a proximité ainsi que le centre omnisports (ironman) Je vous informe que j'ai deux petits yorkshire, cela peut déranger certain d'entre vous.. Petit-Déjeuner et/ou repas sur demande avec supplément.
Week end MAGIQUE chez Victor et ses Parents. La maison et ses extérieurs sont exceptionnels, mais ce qui rend ce cadre parfait ce sont les qualités et les valeurs humaines de nos hôtes. Belle rencontre et séjour inoubliable, nous reviendrons c'est sûr!!!! MERCI POUR TOUT
urania
September 2016
Avec Victor, c'est l'esprit du Airbnb: le partage dans la simplicité. Victor est discret, sympa et hyper serviable . Le rapport qualité prix est excellent , la maison est superbe et rien ne manque. Pour ce prix, je ne pense pas qu'il soit possible d'obtenir mieux! Merci Victor pour ce moment passé toi :-)
Arnaud
August 2016
La maison de Victor est un petit coin de paradis à quelques km de Vichy. Mon expérience fut excellente: accueil bienveillant, jolie chambre, cadeaux de bienvenu, piscine et jardin très agréable. Victor vous met à l'aise de suite en clair ce fut parfait pour moi.
Emmanuel
August 2016
Tipo di stanza
Stanza privata
---
Tipo di alloggio
---
Può ospitare
2
---
Camere da letto
1
Le Vernet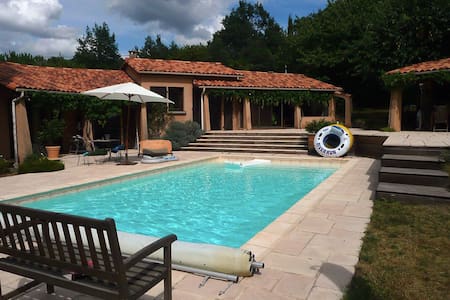 Vincent répond de suite au téléphone, charmante maison avec du caractère Seul bémol la maison ne se trouve pas à chatel montagne mais à plus de 10kms Très belle région et au calme
Jean-michel
September 2016
Logement très bien dommage que la propreté n'est pas au rdv un effort est à faire sur ce point là. Cadre très agréable. Une TV qui reçoit des "chaines " serait plus agréable.
Alice
July 2016
Nice house in small town. Location is not where Airbnb told it was. It is located in Les Brizolles. The house was difficult to find with the instructions given. For the rest really nice to stay in. Also the owner tried to give me directions but his English was not perfect.
Iwan
August 2016
La maison ne paie pas de mine de l'extérieur mais l'intérieur a beaucoup de charme. Logement isolé mais les commerces sont assez proches. Deux bémols : stationnement compliqué et manque de nettoyage ( cheveux, poils, poussière )
Sandrine
August 2016
Tipo di stanza
Intera casa/apt
---
Tipo di alloggio
---
Può ospitare
8
---
Camere da letto
3
Châtel-Montagne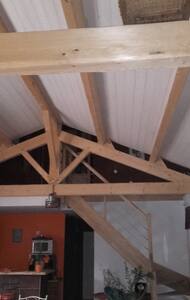 Mon ami, nos amis et moi même avons passé 3 jours exceptionnels dans cette superbe maison ! C'est chaleureux, convivial, équipé ! Entre le billard, le baby foot, la wii, pas le temps de s'ennuyer ! La cuisine est superbe, c'est un lieux qui rassemble ! Laurette fait tout ce qu'il faut pour que l'on soit tous bien et est très disponible ! Nous reviendrons c'est certain !!
Leane
November 2016
Nous avons passé un agréable séjour entre amis à "la maison d à côté ". Laurette et sa famille sont très accueillants et plein d attention (nous étions avec des enfants en bas âge et Laurette a tout fait pour sécuriser la maison sans parler des talents culinaires de "mamie" et de la gentillesse de Johanna). La maison est vraiment aménagée avec goût et les équipements sont de très bonne qualité. Tout est fait pour passer un séjour parfait en famille ou entre amis. Les photos sont trompeuses..c'est encore mieux en vrai alors allez y!!!
Cécile
October 2016
The host canceled this reservation 67 days before arrival. This is an automated posting.
Gaëlle
Tipo di stanza
Intera casa/apt
---
Tipo di alloggio
---
Può ospitare
14
---
Camere da letto
4
Haut-Bocage
Our charming comfortable country villa (1633) is well equipped for 10 people. The nice private garden (fruit trees/flowers) has lovely outdoor spaces dotted around to enjoy eating or just relaxing with amazing superb views. The forest is nextdoor.
Our charming comfortable country villa (1633) is well equipped for 10 people and it lends itself to just read, cook and lounge around. Downstairs there is a big bedroom for 2 persons and a bathroom and separate toilet. Upstairs there are 3 bedrooms and an spacious bathroom with also a separate toilet. On the large landing there is a full additional bed. The living (6x7 m) has a big fire place and kitchen is well equipped. The heating consists of electric radiators and a large fireplace with also a hot air ventilation system in order to heat the upper floor Our guests can make use of the whole house and private garden. They have access to everywhere, also to the solid brick barbeque outside and patio furniture. All baby related furniture such as cots and chairs are also provided. And there are 2 racing bikes that you can use. We interact with our guests as much as necessary or desired by our guests
Our house is a relaxing place and you can hear the birds singing en the frogs croaking. In the beautiful garden with splendid view, there are 2 tree houses for the children and swings in the old willow tree. And in the summer a above ground swimmingpool. The house is located in a wooded area and our guests can make walks in the forest directly nearby. Shopping can be done at the bakery, butcher and large well equipped supermarket in Cosne d'Allier. On a half hour driving you can visit the bigger cities Montlucon or Moulins with their beautiful historic centers and lot of shops, Bourbon-l'Archambault with its thermal baths, and Saint-Bonnet-Troncais in the middle of the largest oak forest in Europe: Forêt de Troncais. There you can rent (electric) bikes for beautiful rides through the forest; you can also swim in the lake and sunbathing on the beach. And on the river Sioule (Ebreuil) you can kayaking en fly fishing. On 15 minutes driving there is "Plan d'Eau" de Vieure where you find a lake with beach for swimming and surfing. Visit in the neighborhood also Souvigny, a little historical treasure. And do not miss: Vichy (electric boats) and for adults and kids Attraction park La Pal, Puy-de-Dôme (one of the most visited sites in the Auvergne region, the volcanoes in the Auvergne. Sorry, but there is no public transport. We send our guests directions how to come to our house. It is located 16 km from the highway A71. We provide our guests with bedding (pre-made beds) and towels for the kitchen and for bathing
A rustic and wonderfully peaceful place to stay and enjoy the french countryside. Some lovely outdoor spaces dotted around the property to enjoy outside eating or just generally relaxing. We took our baby. Ko and Martha made sure that all the baby related furniture such as cots and chairs were provided. The hosts were very quick and professional in handling our booking and correspondence. They were even kind enough to welcome us with a bottle of wine and beer to celebrate our first night.
Kasia and Stuart
September 2013
This villa is great and perfect for a w-end or holidays in the countryside with family and kids! It is very cosy with it's fireplace and rustic furniture. It has a beautiful garden and a superb view over the surrounding hills. All you hear is the birds singing and the frogs croaking. It is a very relaxing place. We went for some nice walks in the nearby woods and visited the little village of Souvigny, a little historical treasure.
Sandra
May 2014
Tout a été simple et agréable, du début à la fin. La maison est belle et confortable, l'ambiance est à l'image du décors et du paysage, tranquille et reposée. Parfaite pour des retrouvailles entre amis ou en famille.. Contents de notre séjour .. merci à Martha and Ko Sophie et Dominique
Dominique
June 2014
Jolie petite maison avec agréable jardin dans un endroit très calme. La maison est bien équipée.
Alexandre et Emilie
November 2014
Maison très agréable,au calme et décorée avec goût . Très belle vue sur la campagne environnante, cheminée si temps maussade, possibilité de déjeuner dehors à 3 endroits différents. Hôtes sympathiques et prévenants à qq. km de Montluçon et de son incontournable musée de la musique très bon rapport qualité prix
Nathalie
April 2016
The house was wonderful and relaxing. It is in a nice, quiet, remote location. Our daughter loved the small pool and the large backyard. I'd recommend to people looking to just read, cook, and lounge around.
Ben
August 2014
All arrangements for accessing and settling into the house were via text exchanges with Ko who always responded very quickly, it must be said. Extensive instruction manuals in the house enable one to fathom out how things work. The house is huge and very well equipped, this being it seems the family holiday home. It therefore has a very "lived in" feel. The garden is lovely and the surroundings are idyllic: fields and trees as far as the eye can see - wonderful. The sleeping arrangements are adequate. The smaller upstairs bedroom however is quite cramped (because of the very big, but comfortable, double bed) and rather sombre, the only window being really very small. We were disappointed - in view of the hot weather while there - not to see the little swimming pool that figures prominently on the house description page. A pity… And although it's a minor point, it's unfortunate the TV channels are exclusively in Dutch. We did by and large enjoy spending our five days in the house, but we would disagree as to its being qualified as "wheelchair accessible". One can access the ground floor from outside with no problem. However, the major inconvenience for one member of our family who is in a wheelchair, was that once inside the house the two different levels in the living room make it impossible in a wheelchair to access the bedroom, the kitchen, the toilet, the bathroom and the east terrace. This inconvenience caused some considerable distress during our stay, I'm afraid.
Peter
July 2016
Awesome, fantastic.
Daryl
September 2014
Tipo di stanza
Intera casa/apt
---
Tipo di alloggio
---
Può ospitare
10
---
Camere da letto
4
Buxières-les-Mines
A great Maison in the Loire, close to Lyon en Vichy. The heated pool, the garden and the old details of Maison Les Bardons together with WIFI and Internet this is a great venue for a relaxing holiday.
Maison is available and the pool is sharred with the guests from Maison Les Bardons, there is also a possibillity to rent both parts together. Great peacefull areay with bigger cities in the area, like Lyon en Vichy. Airport Lyon and the trainstation is close by. Complete house is available
Max and Ton have a wonderful house which is really well looked after, it is cosy despite the sheer size of it. Great little towns to visit, good beds, lots of nature, swimming pool, ideal for a family with kids!
bernadette
August 2016
We were very well accommodated in Maison Les Bardons for week 1 of our holiday, it suited our needs perfectly, our family was made up of three generations. La Pacaudiere is a peaceful village with a local supermarket and shops, we didn't need to venture very far at all!
Ellie
August 2016
Tipo di stanza
Intera casa/apt
---
Tipo di alloggio
---
Può ospitare
8
---
Camere da letto
4
La Pacaudière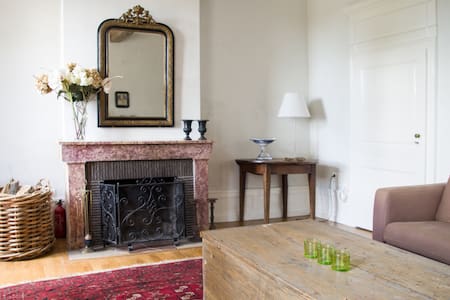 Holiday rental, house with private pool and fireplace close to Decize. Very pleasant and quiet country house for seasonal rental "Villa des Pins" with surrounding woods listed "Gîte de France 3 épis" in the middle of the countryside in Nivernais available during school holidays. It is equipped with garden furniture and deckchairs to relax by the heated pool under a beautiful fir tree shaded from the sun in the heart of a wooded landscaped garden, ideal for fishing. Available in Burgundy close to Auvergne in April, long holiday weekends in May, school holidays in June, holidays in family in July, August and September in Saône-et-Loire for therapies but also for employees and technicians on a trip in Nièvre. It is located in the small village with character of Montambert with its listed church
Holiday villa with private pool and fireplace in the pretty village character Montambert (website Clunisien ) with numerous ponds for fishing near the Parc du Morvan, at a place called " Les Bruyeres de Monts " and Oak Thiers ( planted in the revolution ), surrounded by forest , quiet, with friendly hostel and small shops 4 km Cronat and Ovens (bakery, grocery, butcher , hairdresser, post office ) . The property lies between Decize and Bourbon Lancy, pool ( May, June, July, August and September) ( 5m40 wide x 9m long and 1.30 deep). Inside the house you can find on the floor, two bedrooms with two beds two people ( 140 ) a sofa bed and a toilet at the entrance to the first floor with cupboard at ground floor, fully equipped kitchen ( oven, electric cooking hob , a dishwasher , a microwave oven, crockery , pots, pans , etc. . , for dinner table for 4 /6 people in the kitchen , a chair and a cot is also available in the lounge 3 seater sofa and a single chair, a coffee table , a TV, a DVD player , an assortment of movies (dvd) , fireplace with insert for heat the cooler evenings. a bathroom , shower, washbasin, WC . outside and summer , two patio tables with chairs in courtyard ( in the sunlight ) , parasols, barbecue hard and garden around the pool under a big tree and two sunbathing. The property is located in Burgundy Nivernais Morvan between the Loire and the GPS is pretty much coming from the North take the direction of Nevers and Decize or Chateau Chinon for the regions is taken Dijon, Chalon or Autun, To the south take Bourbon Lancy and Moulins and Nevers take the western region, Bourges, Chateauroux or Montlucon
In the area of Burgundy is one of the largest regions of France, its bewitching forests and green countryside. Famous for its historical, religious and archaeological heritage, but also its great wines of Burgundy Chablis, Coteaux de Pouilly-Sancerre, Côte de Nuits, Côte de Beaune, Côte Chalonnaise, Maconnais. There are many activities including: The triptychs of Ternant 13 km, Bourbon Lancy 15 km (supermarket and numerous shops and restaurants), spa with thermal baths and are thalassotherapy center, fitness center "the Celto" (SPA, jacuzzi, sauna, swimming pool, massage), the greenway for biking, rollerblading or just walking on a secure path away from traffic, Decize nautical stadium, visit the ramparts, ruins the old castle, boating on the Canal du Nivernais, the side channel and the Loire, mining Museum at La Machine 30 km former coal mine, tourist Park Combes in Creusot, Diverti 'park Toulon sur Arroux 71 the Golf Givallois, Bourbon-Lancy, visiting castles (castle Châtillon en Bazois 35 km, Museum of the seven François Mitterrand Chateau Chinon 45 km, Château de Saint Fargeau 100 km, Castle Guedelon 140 km (under construction by period method), Magny Cours with tests race car, visit Nevers (St. Bernadette Hunt, Cathedral, shops, summer beach with lake, etc..) 60 km, site Vézelay 90 km, various wine cellars in prestigious vineyards, in the heart of the Morvan Lake Pannecière (45 km) and Lake Settons with beach and camping, etc.. ... This house is located in a wonderful place for a quiet holiday, relaxing and family. When you leave this enchanting place you nostalgia in the heart!
The reservation was canceled 66 days before arrival. This is an automated posting.
nancy
Tipo di stanza
Intera casa/apt
---
Tipo di alloggio
---
Può ospitare
7
---
Camere da letto
3
Montambert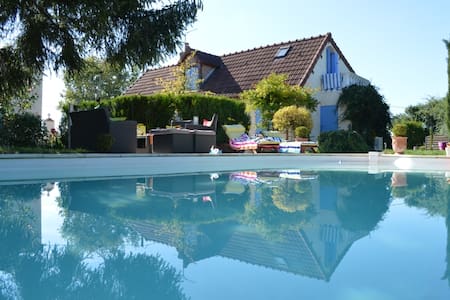 Located 375 km south of Paris & 20 km from the town of Montlucon in Central South of France (Auvergne) Fully renovated detached country house with private pool, Wi-Fi +TV with Netflix. This charming home invites you to relax & discover the Auvergne.
The house is very comfortable, with a large fireplace, nice and warm for autumnal weather, and in the summer you can use of the pool. In addition to a large living room with direct access to the covered terrace and pool. The house has a large open kitchen and is fully equipped and include a dishwasher, stove, American fridge, microwave and convection oven. On the ground floor you will find a luxurious bathroom with shower, bubble bath, separate toilet and washing machine. On the first floor are 2 spacious double bedrooms, one with a sink, a large mezzanine with a sofa bed, 2nd toilet, and the house is equipped with Wi-Fi and smart TV with Netflix. The house is completely for rent with private entrance and private pool and you have enough parking space in front of the house. The house is fully equipped and you have a beautiful view to the country side in en outside the house. We live around the corner and are always available and will be happy to give you information about trips to the surroundings.
The surrounding area invites you to beautiful long walks in the immediately forest next door. Furthermore, there are pretty villages and towns like Neris les Bains. Here you can visit the casino, dine in one of the restaurants and enjoy the Spa Nériades. And you find a beautiful 18-hole golf course, named Sainte Agathe. The Auvergne is well known for its scenic beauty, the extinct volcanoes and the Puy de Dôme (1465 m) is the most famous one, you can visit it by train or on foot and gives you a breathtaking view of the volcanic chains. The house is only accessible by car, motorbike or bicycle and is located 23 km away from the nearest train station in Montluçon and the nearest airport is Clermont-Ferrand (55 km).
I stayed at Sylvia's villa for three days with my boyfriend. We had such a nice stay, Sylvia was very helpful and friendly, we had no trouble finding the place either . The house was wonderful, very clean, luxurious, we really liked the view of the field through the huge windows. Especially since we weren't very lucky with the weather - We had a great time even just hanging out inside playing boardgames, drinking wine and eating loads of cheese :) When in France... Also a bonus: The bubble bath! Very nice, definitely recommend giving it a try. The pool was a little too cold to swim, but we were just unlucky with the weather - a week later it was 30 degrees again. Were sad to leave, but hopefully will be back at some point. Next time maybe with another couple, as there are two bedrooms and there's more than enough room. We felt very spoiled having the place to ourselves, it's very spacious.
Susie
August 2015
Superbe séjour dans cette villa magnifiquement rénovée. L'endroit est très calme et reposant, on s'y sent bien au bord de la piscine. Merci à Sylvia et sa famille pour son accueil chaleureux. Je recommande
Jimmy
September 2015
Tipo di stanza
Intera casa/apt
---
Tipo di alloggio
---
Può ospitare
5
---
Camere da letto
2
Montaigut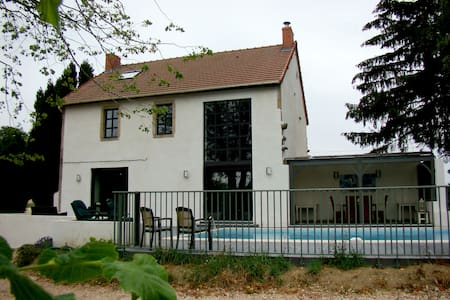 Maison superbement decoree avec le tout confort. Accueil sympathique En bref les conditions ideales pour passer un concours avec "zenitude"!
GREGORY
April 2016
Tipo di stanza
Intera casa/apt
---
Tipo di alloggio
---
Può ospitare
6
---
Camere da letto
3
Lavault-Sainte-Anne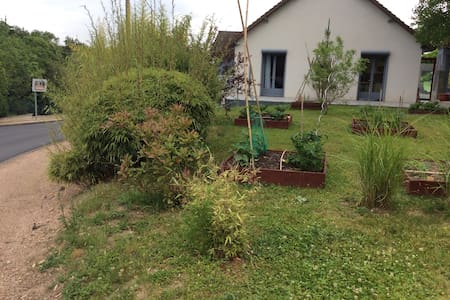 1

–

14

di

14 Ville in Affitto