Welcome to our Sonoma County wine country retreat outside of Healdsburg, California. Casa de Campo has 4 bedrooms, 3 baths on 2.5 acres surrounded by vineyards in the heart of Alexander Valley. Enjoy the pool in the warmer months and the fireplace in the winter. Great wineries nearby.
Casa de Campo is a beautiful new open concept modern home filled with light and vineyard views. Folding glass doors open out from the great room to the deck, creating a large indoor/outdoor living area with a double sided fireplace for the cooler evenings and winter months. An open kitchen with professional appliances is fully equipped for the most demanding cooks, and the large dining table sits 10. The house is equipped with wireless internet and both large flatscreen TVs have DirecTV and DVD players. The house has four bedrooms and three baths (including two ensuite) plus a den with a comfortable pullout sofa that can sleep another two guests. All bedrooms have sliding glass doors that open out to the deck and pool area. The house is set on 2.5 private acres with a 50 foot covered and solar heated pool. Large front and rear decks provide plenty of space to relax and enjoy the outdoors and there is a large four burner gas BBQ with rotisserie. Please note that this home is not available for weddings or events of any kind. No more than 10 people (not including small children) can be at the house at any time. If you have any doubts, please contact me.
Casa de Campo is located in a very quiet rural area, surrounded by vineyards. In order to respect our neighbors and maintain the peace and quiet of the country, please note that outdoor amplified sound is not allowed at any time. Additionally, outdoor quiet hours are from 10pm to 7am everyday. There are many wineries within minutes' drive and the towns of Healdsburg and Calistoga are both 15 minutes away. Please note that this home is not available for weddings or events of any kind. No more than 10 people (not including small children) can be at the house at any time. If you have any doubts, please contact me.
Our stay was absolutely amazing! The house was glorious and Julian was very responsive prior and during out trip.
Laurén
2016-05-23T00:00:00Z
Julien was a very communicative host, answering all of my questions about the house and the area before we arrived. The house was beautiful and situated perfectly for our family gathering in Sonoma. It was very open and modern and with a great cook's kitchen. It has lots of deck options if you want some privacy and the bedrooms were very airy and comfortable. The yard was large and great for playing bocce and hanging out. A quick (and gorgeous) drive to both Healdsburg and Calistoga, the area is covered in vineyards, hills, farms, and tasting rooms. And the stars at night were magnificent! Coming from New England, It was wonderful to get to know the area and really understand what living in Sonoma and Napa would be like.
lloyd
2016-02-13T00:00:00Z
Julian's home is just amazing! It's fully equipped and is perfect for children of all ages. We have three children 8, 3 and 1 and we felt like they were safe the entire time. There was a pack n play for us to use as well as a booster chair for eating. The kitchen has everything you could need as well. Unfortunately we weren't able to enjoy the pool or bocce court because it rained the entire time we were there but the comfort of the home made up for it. It's about a 20 minute drive into the town, but the drive is beautiful and scenic and if you want to get a feel for the heart of Sonoma wine country.. The beds were very comfortable and the bedding was high quality. I need to know where to find those comfy pillows, I'm still thinking about them. Thank you for a wonderful stay Julian!
Arianne
2016-10-17T00:00:00Z
Absolutely beautiful! Everyone had an amazing time!
Christy
2014-10-19T00:00:00Z
We rented this beautiful modern home for a long weekend and absolutely loved it. The home is perfectly laid out for a large group. We had 9 guests that had comfortable beds and ample bathroom facilities. The kitchen is designed for a professional cook with Thermador appliances and lots of pots & pans. The owner, Julian, was a pleasure to make plans with. He was very quick to respond to emails and text messages. We used a local private chef (Coby Liebman) for dinners which enabled us to have wonderful relaxing meals on the outdoor deck by the fireplace. The home is physically surrounded by vineyards and is a close 15 minutes to downtown Healdsburg and within seconds of a number of wineries. The pool and hot tub were great amenities. Our only regret was that we could not stay longer.
Charles
2014-06-09T00:00:00Z
What a beautiful place! Gorgeous views of vineyards out of every window in the house. Open, spacious, and well stocked. We loved our stay at Julian's. This house has it all! Views, hot tub, pool, bocce. It also has wonderful wineries around just a short drive away.
Lauren
2016-09-13T00:00:00Z
We had a great time celebrating my wife's birthday at the house with friends. Great remote location with everything we needed. Once we got there we never left except to go out for some bike rides.
Dan
2016-08-22T00:00:00Z
We really enjoyed the house, especially outdoor area and pool. We found all the amenities to be adequate along with a well stocked kitchen for cooking at home. We had an issue with the water one morning, but Julian was very responsive and had plumber over in a very short period of time.
Monique
2016-06-27T00:00:00Z
Tipo di stanza
Intera casa/apt
---
Tipo di sistemazione
Casa
---
Può ospitare
10
---
Camere da letto
Healdsburg, California, Stati Uniti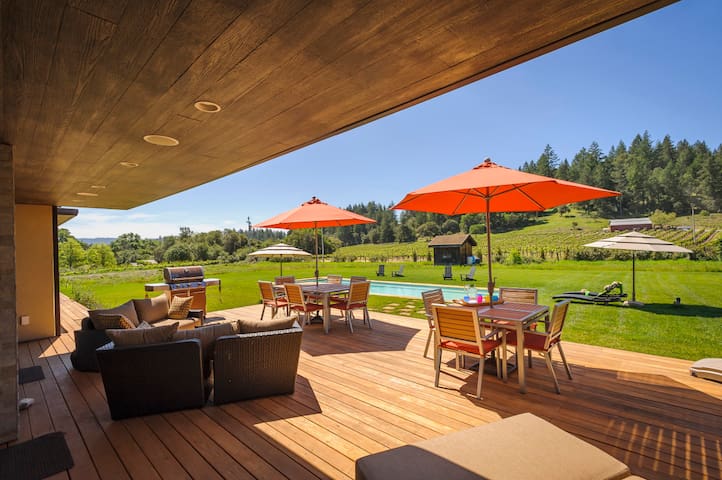 A beautiful 2 bedroom/2 bathroom guest house in the middle of Sonoma County wine country. Stunning view of the Russian River Valley. Gorgeous sunsets after a day of wine tastings in the area. Easily accessible to Healdsburg, Windsor, and Santa Rosa
This charming 2-bedroom, 2-bathroom house is nested in the vineyard blocks of wine producer Calluna Vineyards, rated as a Top 100 Winery in 2015 by Wine and Spirits Magazine. Guests are welcome to utilize the full kitchen or gas grill to prepare meals as they enjoy the jaw-dropping views of the Russian River Valley. The private hot tub allows users to gaze at the breath-taking sunsets as they enjoy some of Sonoma's best wines. During spring and summer, guests are able to play bocce ball on a well groomed bocce ball court steps from the house's deck.
Right on the Windsor side of the Windsor-Healdsburg border. Guests are 15 minutes away from downtown Windsor and downtown Healdsburg.
What a beautiful hidden (for now) gem!! We were two couples visiting Sonoma for the weekend, and this was the perfect place to stay: a 2 bedroom 2 bath cottage with AMAZING views on a private vineyard. The hosts were very friendly and the vineyard's wine was delicious, so we even joined the wine club. We especially enjoyed sitting on the back deck each afternoon to watch the colorful sunsets. We highly recommend staying here and hope to return soon!
Stefanie
2016-03-28T00:00:00Z
Everything was as stated except the beautiful view off the deck could not be described! Sarah and David were excellent hosts. Their wine made on the estate was wonderful. The villa was spacious but had a very comfortable "home" feel. Bedrooms and bathrooms were fine. Only small issue was no WiFi, but service is good and we just used our hotspots.
Laurence
2016-04-25T00:00:00Z
This was the perfect spot for our ladies' weekend!! Your own private cottage on a vineyard with a killer view of the valley from every room in the house - and the hot tub! The cottage was charming, comfortable, clean and modern. Communication with Sarah could not have been smoother. Sarah and David went out of their way to accommodate our group, and offered us a wonderful wine tasting. There's a great grocery store in nearby Windsor with delicious local products, and all of the delicious restaurants of Healdsburg are about 10-15 minute drive away. You are surrounded by wineries any way you drive. Finally - the Foothills Park offered perfect little day hikes for our groups. We will definitely be back!
Silvana
2017-03-19T00:00:00Z
Our host(s) made themselves available at any time to fill any need that came up during our stay. The setting was beautiful, the scenery and view was top notch, and the house was the perfect size for our group with all the amenities we needed for our stay. We could not have asked for a better scenario for our time spent in the area.
Troy
2016-11-27T00:00:00Z
Beyond 5 stars! This place was magical. Sarah was a perfect host. Keeping in contact before we got there about all the necessary details for our arrival. The house was beautiful and the porch is a pretty as the picture. Sarah offered many thoughtful and wonderful recommendations for our stay. Healdsburg is just a quick jaunt away but you felt completely private and relaxed here. We even had the pleasure of experiencing a private wine tasting at Calluna Vineyards with Sarah & her brother David. It was a remarkable experience and loved every minute of it - Especially Molly's friendly greeting :) This is a wonderful place - we'll be back!
Amy
2016-04-04T00:00:00Z
Nice place, a bit out in the countryside. Overall great stay
Brandon
2017-02-20T00:00:00Z
Great hosts! Stunning views! Clean, cozy, and full of all the amenities we needed. Everything promised was delivered! Far enough out that you feel the serenity, yet super close to Windsor, Healdsburg, and local wineries. If you like sitting in a hot tub, sipping mimosa's in the mornings and watching hot air balloons rise over the Sonoma Valley, then this is the place. We also recommend taking advantage of grilling by sunset and bocce ball. Molly, the Calluna Winery Mascot, loves to come visit too. Sarah gave us great restaurant and winery recommendations too.
Blain
2016-02-14T00:00:00Z
Our weekend getaway in wine country staying at Calluna was simply incredible! The pictures of this property including both the view, the villa, the gardens and property in general are not done justice by the photos!!! We enjoyed the hot tub daily and took advantage of the view by grilling out one of our evenings! The villa is wonderfully equipped from a kitchen perspective and there were the softest robes we've ever felt- in the closets for our use!! The villa is very nicely appointed and the split floor plan of bedroom flanking the main living space accommodates two couples very nicely with plenty of privacy! This villa is in a perfect central location for quick access to the Alexander Valley, Chalk Hill, Russian River Valley, Dry Creek Valley and Healdsburg! Sarah was very accommodating and quick to respond! She was gracious enough to give us a private tasting of the award winning estate wines made by Calluna! The Malbec and Cuvée were amazing!! Aside from that wonderful experiences we took up Sarah's offer of enjoying the property by walking the vineyard paths! Such beauty and peacefulness! It really is a quite and beautiful slice of paradise! We hope to return!!
Jenna
2016-04-17T00:00:00Z
Tipo di stanza
Intera casa/apt
---
Tipo di sistemazione
Casa
---
Può ospitare
4
---
Camere da letto
Windsor, California, Stati Uniti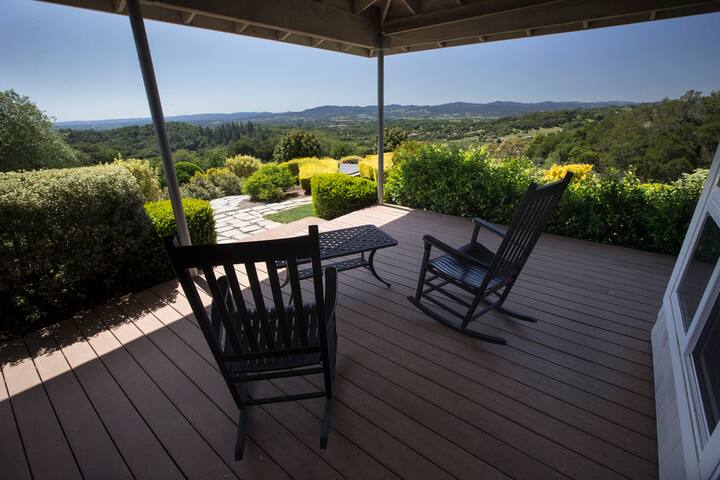 Stay in your own private mountainside retreat with panoramic views. 3br/2ba with 2 King beds and 2 Twin beds. Close to wineries, restaurants and horseback riding.
The Place Whether your stay is for business or pleasure, feel at home in this spacious 3br/2ba home near downtown Healdsburg. If the chill gets you, enjoy the breathtaking views from the living room's large windows! No matter how you spend your day, come home to your own mountain-side house on the hills! The Location Located in Sonoma County just a short drive from downtown Healdsburg, your stay is sure to be relaxing. Start the day off with a horseback ride at Phoenix Farm and see the landscape from a new vantage point. Drive into town and sip on an Aztec Mocha at Flying Goat Coffee while you take advantage of the free WiFi! Spend the day touring the nearby wineries or checking out the shops just a drive away. When it comes time for dinner, you can't go wrong with tasty American cuisine at KIN, Indian at Himalayan Restaurant or burgers and beers at KC's Downtown Grill. Cap off the night with a pint at St. Florian's Brewery or a glass of red at any of the area's wineries, and then come home to us to catch the sunset on the wrap-around patio! Please remember that you will be staying in a home, not a hotel. Therefore, we ask that you treat our space with the same respect you would show your own. We travel often and have help managing guest services for our home while we are away. The Pillow team will be available for assistance via email. Our home has an electronic lock or lockbox located on or near the entrance. Before and during your stay, you will have access to our mobile-friendly House Manual that contains check-in instructions, access instructions, amenity details, FAQs, and a reporting tool for maintenance requests. The codes needed to enter the property are available 48 hours prior to check-in in our online house manual.
We had a great time at the house on Chalk Hill! We loved that it was secluded and had no neighbors so we didn't have to worry about being too loud on the patio at night. When we arrived all of the outlets in the bathroom didn't work which was a huge problem since we were a group of girls getting ready for a wedding. When we called Pillow, they delivered some extension chords since they couldn't get an electrician out in time and were very nice and responsive on the phone. Thankfully one of our guy friends came over and fixed the issue. Also, the twin beds were so uncomfortably hard. Other than that, the place was spotless when we arrived and everything else was great!! Also, we thought getting a taxi would be a problem since it was so secluded, but they also knew where to go and we never had a problem!
Sarah
2015-08-23T00:00:00Z
Everything was exactly as pictured. Clean, well outfitted kitchen, relaxing, very comfortable king size bed, plenty of solitude, and AMAZING views. My husband and I loved that the home was nestled in the hills and close to wineries and only a 20 minute drive to Healdsburg Plaza. We would come back in a heart beat when we plan our next trip to Healdsburg!
Tracey
2015-02-16T00:00:00Z
The property was exactly what was advertised. We had a great time staying at the property. Easy to check in. The host always responded in a timely manner. The only minor issue during our stay was that the coffee maker was broken. We ended up having to drive 10 minutes to get coffee. (Coffee addicts in the family) This was our first time using Airbnb. Thank you for making our experience positive. Will use Airbnb again for sure.
Fay
2015-08-30T00:00:00Z
Gorgeous location!! We couldn't get enough of the view. House was fully stocked with everything we could possibly need. We highly recommend it to anyone looking for a quiet, peaceful, time away from hustle bustle of city life.
Samreen
2015-08-07T00:00:00Z
I enjoyed a lovely weekend here with a group of friends. The home was spacious and comfortable - and the views were as amazing as described. Our favorite feature was the deck with panoramic views; sitting outside with a cup of coffee and looking over the hills and doing some outdoor yoga were great ways to start the day. Know that the house is a 15-20" drive from most shops and vineyards (a ~$30 Lyft/Uber from downtown Healdsburg), so for those looking to be close to the action, this property might not be the best fit.
Monica
2015-06-28T00:00:00Z
The house was perfect for our stay. We had 3 couples and two infants. The home was clean with a nice set-up and the views were amazing. We really enjoyed watching the deer while drinking our morning coffee.
Rebecca
2015-05-31T00:00:00Z
We had a lovely weekend away at this beautiful country home! The outside deck and the views all around were stunning, as was the light, bright and beautifully decorated living area to the house, which allowed all of the morning and afternoon sunshine in. The heating worked well in the (rather chilly) evenings, and the beds were very comfortable. We were a 10-15 min drive from Healdsburg restaurants and cafes. We had a designated driver, but noticed the number for the Taxi service on the fridge. We also enjoyed jogging up and down the hill to the house each of the mornings of our visit. Thank you Ioana for the great stay! :)
Jacqueline
2015-04-12T00:00:00Z
Even better than the pictures. This home is beautiful and the views are breathtaking! Clean, nice and the check-in/check-out process was a breeze. Can't wait to stay here again.
Jordan
2015-09-21T00:00:00Z
Tipo di stanza
Intera casa/apt
---
Tipo di sistemazione
Casa
---
Può ospitare
6
---
Camere da letto
Healdsburg, California, Stati Uniti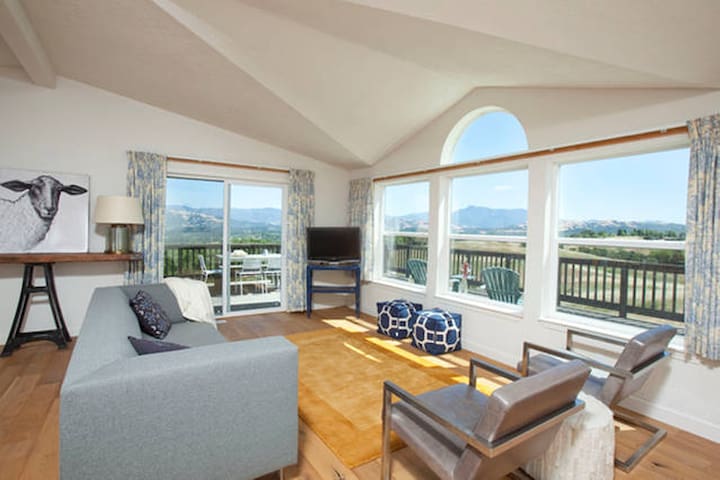 Breathtaking Wine Country Vineyard Estate With Luxury Pool
Located in world renowned Healdsburg, in the heart of Wine Country, this sprawling villa sits overlooking lush cabernet vineyards. Take advantage of the chef's inspired kitchen, spacious floor plan, wood burning in-set fireplaces, exquisite master suite featuring an oversized jacuzzi bathtub, and breathtaking views from every room in the house. A separate entry leads to a private upstairs studio suite. Resort style grounds with sparkling pool & spa, outdoor poolside shower, outdoor dining, lush rose gardens, fruit trees, charming barn & Maacama Creek access. Enjoy the convenience of location, with nearby shopping, sight seeing, Michelin-rated cuisine, and wineries featuring the best wines in the world all but a short drive away. Or should you choose to stay in during your stay, we offer a full spectrum of services straight to your door..everything from masseuses & poolside massage, to your own personal chef to create world class meals while you relax and take in picturesque panoramic views, and everything in between. Your stay includes a complimentary full VIP barrel tasting experience for all of your guests at our sister winery, Christopher Creek, in Healdsburg.
Located in world renowned Healdsburg, in the heart of California's Wine Country. The estate home on this property overlooks acres of lush Cabernet vineyards. Your stay includes a complimentary full VIP barrel tasting experience for all of your guests at our sister winery, Christopher Creek, in Healdsburg.
The house and property is stunning! The pool area is really great! Would definitely stay here again!!!! Might want to note that 2 of the beds in the studio room are twins, not doubles.
Elizabeth
2017-03-12T00:00:00Z
Marisa's place was absolutely beautiful. The pictures don't do justice. She left us with clear instructions and great accommodations. Would definitely recommend for a group getaway.
Paleny
2017-02-20T00:00:00Z
Tipo di stanza
Intera casa/apt
---
Tipo di sistemazione
Casa
---
Può ospitare
10
---
Camere da letto
Healdsburg, California, Stati Uniti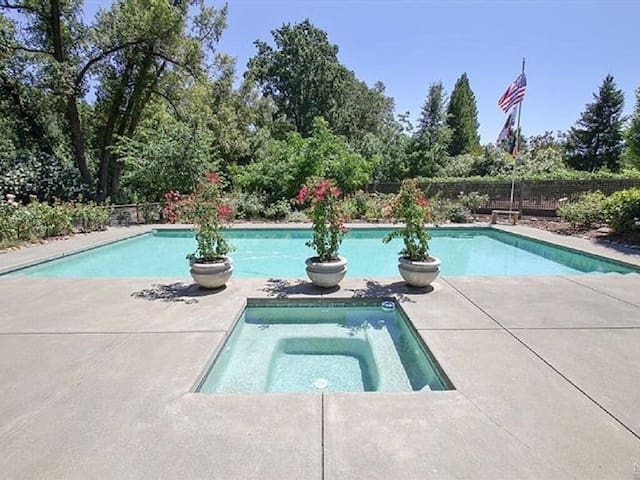 This remarkable 3-bedroom, 2.5-bathroom house is well-equipped to give you the getaway of a lifetime in the Alexander Valley area. With room for 6, an exquisite backyard oasis, and easy access to attractions, this home leaves nothing to be desired.
As soon as you arrive at this abode, you'll know you made the right choice for your California retreat. This traditional farmhouse sits in the shade of magnificent palm trees and provides all the privacy you'll require within the gated perimeter. Maacama Creek runs along the property and adds to the serene ambiance presented in the private backyard. The interior is equally appealing, adorned with upscale furnishings, top-of-the-line appliances, and charming decor throughout all 2,800 square feet of living space. Practical amenities such as laundry machines, air conditioning, and wireless internet access add to the immense comfort of your stay. Relaxing at the home will provide a restful experience for your entire family or group. On cool mornings, sip a warm cup of coffee on the screened-in porch and admire the lush foliage and gentle trickle of the creek. Soak in the radiant California sunshine in the backyard, highlighted by a pristine in-ground pool that makes cooling off easy as can be. You'll also enjoy the outdoor hot tub to help melt away all the stress of everyday life. When lunch rolls around, take advantage of the outstanding outdoor kitchen and dining area, which features a gas grill, Argentinian wood-burning grill and pizza oven, and an inviting dining table in the perfect spot to keep an eye on the kids while they swim. Later, make the most of your leisurely afternoon by enjoying the shade of the wraparound deck with a good book, or cuddle up on the plush living room couch and watch your favorite shows on the flat screen TV. Make a culinary masterpiece in the full kitchen, furnished with stainless steel appliances and marvelous granite countertops, then gather around the outdoor fire pit to enjoy s'mores for dessert.
If you'd like to experience the phenomenal nature nearby without traveling far from the home, take advantage of the home's private access to Maacama Creek. You'll love splashing around in the swimming holes or watching the kids catch pollywogs and gather tasty blackberries from the creek banks. A trip to this unique area isn't complete without your fair share of winetasting. Ideally situated between the famed Lancaster Estates and Verite with the Chalk Hill Winery just up the street, the fun starts just minutes away. If you'd like to spoil your tastebuds further, hop on Highway 128 toward Healdsburg and you'll pass Soda Rock, Hanna, Sausal, Simi, Stonestreet, Medlock and Ames, and Jordan - all exceptional wineries. You'll also find popular destinations on your way to Geyserville, you'll pass household names such as Silver Oak, Clos du Bois, and Francis Ford Coppola. You certainly won't find a shortage of other activities to keep you entertained, including biking along Chalk Hill road, paddling down the Russian River, running through the hills, and shopping in the nearby towns. By the time your trip is over, you'll already want to book your next escape at this excellent Healdsburg vacation rental house!
Tipo di stanza
Intera casa/apt
---
Tipo di sistemazione
Casa
---
Può ospitare
6
---
Camere da letto
Healdsburg, California, Stati Uniti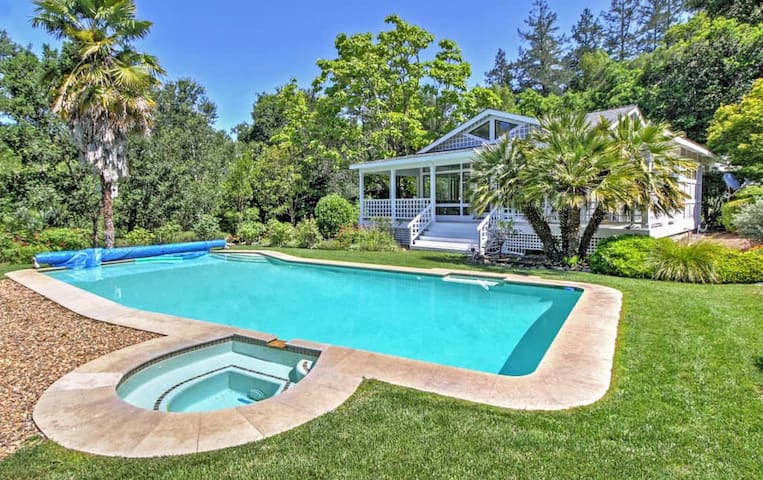 Single level house, 3 separate bedroom suites (one with attached sitting room). Large living room with wood burning fireplace. Kitchen with concrete counters.Large covered terrace with outdoor dining area. Terraces off two bedrooms. Peaceful/quiet
Tipo di stanza
Intera casa/apt
---
Tipo di sistemazione
Casa
---
Può ospitare
6
---
Camere da letto
Healdsburg, California, Stati Uniti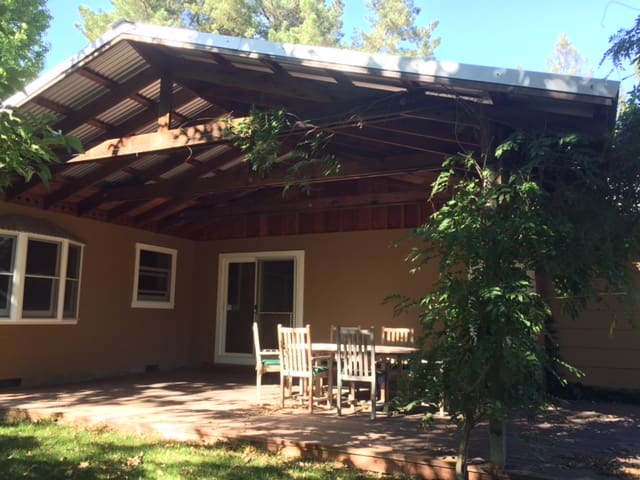 Alexander Valley - Airbnb
:
Media di

4.83

stelle su

5

da

60

recensioni degli ospiti
1

–

6

di

6 Case in Affitto
Inserisci le date per visualizzare il prezzo totale. Ci sono dei costi aggiuntivi e potrebbero venire applicate alcune tasse.