Inserisci la data del check-in nel seguente formato dd-mm-aaaa
Inserisci la data del check-out nel seguente formato dd-mm-aaaa
Annunci che puoi prenotare senza aspettare l'approvazione dell'host.
3 Loft
· Östergötland County
3 Loft
· Östergötland County
Inserisci le date per visualizzare il prezzo totale. Ci sono dei costi aggiuntivi e potrebbero venire applicate alcune tasse.
Nei mesi di luglio e agosto puoi provare uno di questi 100 alloggi ad alto rendimento, per ogni fascia di prezzo, e vivere una visione locale di Sonoma. Prova il check-in continuato, la Prenotazione Immediata e vino e spuntini locali per rilassarti e godere al massimo del tuo viaggio.
This old pilot housing is divided into two households with private entrance. "Storstugan" is located on the ground floor, and "The pilot´s loft" upstairs, with expansive views of Bråviken. The apartment is fully equipped with all amenities.
Lotsloftet, Kolmården var ett perfekt boende för vår familj på 4 personer. Läget perfekt för vårt besök på Kolmården under 2 dagar. Mysigt boende med allt som behövs för ett självhushåll. Allt var fräsch i boendet. Lugnt ställe med en fantastisk utsikt! Martin & Ida var bra värdar där kommunikationen var enkel och allt funkade perfekt!!
Mikael
July 2016
Bra boende med fantastisk utsikt!
Camilla
July 2016
Everything was nice and clean. Ida was very helpful on the phone and her mom also very nice!!
Kimberley & Kristian
July 2015
Le site est fantastique et tellement agréable. Martin a été très réactif pour nous donner toutes les indications nécessaires.
Alexis
August 2015
En lugn oas efter hektiska dagar på djurparken. Tyvärr var vattnet för kallt för bad när vi var där, men bara utsikten är värd ett besök.
Anna
August 2016
Ett mycket trevligt och lugnt boende. Passade oss perfekt. När till Kolmården. Sonen tyckte att det var toppen att man kunde fiska och att man faktiskt fick napp :). Utsikten var helt underbar. Kan absolut rekommendera detta till andra.
Sandra
August 2016
What a perfect spot to spend some time. The loft had everything you need and was clean. We had a beautiful view from the dining table. We recommend it to everybody.
erwin
August 2015
Ett fantastiskt ställe, men en underbar utsikt över Bråviken. Allt fungerade som det skulle för oss. Inga problem att hitta och ett lagom avstånd till Kolmården som vi besökte i dagarna två. För vår familj (tre personer) så var boendet perfekt. Stort tack, vi kommer gärna åter.
Johan
August 2015
Tipo di stanza
Intera casa/apt
---
Tipo di alloggio
---
Può ospitare
4
---
Camere da letto
2
Kolmården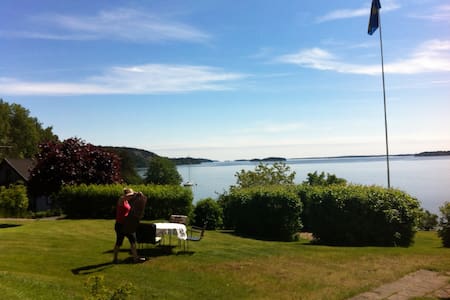 Close to the canal "Göta kanal" and the lake Roxen. You can swim, nice walks. Possible to rent bikes and canoe at near restaurant. Newly built with shower and toilett. Perfect for a couple with or without a child. Sofa bed for 2 and a separate foldable bed.
Separate house, one floor up with a room incl toilett and shower, newly built very nice, own balconny or use the lawn for breakfast or relaxing. Fridge and microwave. Lawn, beach 300 meter from house, free parking. Nice walks/cycle rides along the canal. Usually I'm at home ( another house next door) so I can answer questions etc.
Lovely situated next to Göta kanal and Roxen. You have grocery store, café, resturants and pizzeria 300 meter from house. Smal beach and nice surroundings. 3 min walk to bus to linköping/norrköping 3 min to grocery store(ICA) cafe, resturants and Göta Kanal (channel), walks, bath
Norsholm ist ein sehr ruhiges und kleines Dörfchen. Trotzdem hat es ein Schleussencafé und ein Restaurant, in welchem der Chef mit der Kapitänsmütze höchst persönlich kocht. Überall habe ich sehr höfliche und hilfbereite Bewohner und Bewohnerinnen von Norsholm angetroffen. Sogar im kleinen Lebensmittelgeschäft wurde mir mit viel Elan die Umgebung erklärt. Björn's Dachwohnung ist sehr neu und geräumig. Es hat alles was man braucht: Bett, kleines Badezimmer, Kühlschrank und eine gute Internetverbindung. Das aller Beste ist aber die atemberaubende Aussicht auf den See von der Terasse aus. Vom Haus bis zum Sandstrand braucht man nur 300m durch den Wald zu spazieren. Björn und sein Sohn haben mich sehr herzlich empfangen und mir mit vielen Tipps und Empfehlungen weiter geholfen. Ich habe mich als Gast bei Björn sehr wohl gefühlt und kann ihn daher als Host nur empfehlen.
Hanni
August 2016
We had a great stay in Björns attic. The place was clean and cosy with everything you needed. The view from the balcony was amazing especially in combination with the cold beers that waited for us in the fridge :)
Julie & Martin
July 2016
The place was a really nice surprise on our way back home with a nice view, close to the beach and to a good restaurant. Maybe a bit expensive (85€/night) considered that there is no kitchen but probably because it was high season .
valeria
August 2016
We had a very pleasant stay at Björn's attic. The host was friendly and supportive. The apartment itself was clean and nicely furnished. We were 3 people staying in the apartment and had enough space. There is a lovely restaurant nearby (approx. 10min walk) which offers basic but good and fairly-priced food. There's a path from the house that leads to a beautiful beach.
Renzo
August 2016
Was a nice stay, thanks
Loic
August 2016
Björn was a great host. Thanks again for everything. :) He was very nice and supportive with everything we needed or could have asked for. Before, during and after our stay. Really enjoyed the days. Nice attic, perfectly located next to a lake. Canoe rental station to paddle at Göta Canal only few minutes away. (Thanks for the suggestion)
Julian
August 2016
Vi hade par fina dagar i trakten av Norsholm. Hustrun uppskattade närheten till bad och att sitta i solnedgången på balkongen. Vi fick ett trevligt bemötande av Björn som svarade snabbt på våra frågor dels före vår vistelse och när vi var på plats. Vi rekommenderar detta boende.
Ulf
August 2016
We had a great stay at Björns little House. It is close to the lake with a very nice view. The surrounding is very quiet but beautiful. Björn is a really good Host. You can ask any question. He gave us some nice clues. We would come back for sure.
Laura
July 2016
Tipo di stanza
Intera casa/apt
---
Tipo di alloggio
---
Può ospitare
3
---
Camere da letto
1
Norsholm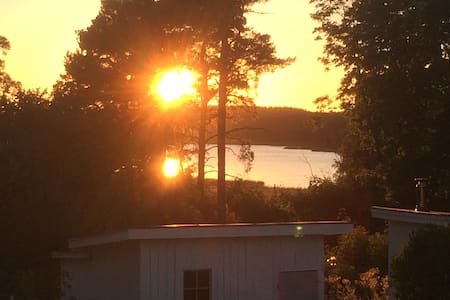 En helt fantastisk plats att komma till. Vi var nio personer och 8 Golden som alla kände oss välkomna
Mija
February 2016
We had a group of 5 people and Ingela's family made us feel very welcome. It was truly a super nice weekend :) A lot of space, delicious breakfast, friendly people, flexible check-out. Just great hosts!
Olle
April 2015
It's a pity that we didn't attend Ingela's house. Below are our conversation records: [(PHONE NUMBER HIDDEN)] Ingela: I'm going to go to sleep now! Its working day tomorrow and I think its very rude Of you to let me wait for you! You didnt write that you wanted a night checkin [12/22 22:18] Me: Sorry for this, but we had an accident on the way to Stockholm from Storuman, we needed to wait few hours before the tow truck and we can't find an Internet connection to inform you. We just found a place with Internet and we are really sorry about this. We will be reaching you place at around 12:15 lat(PHONE NUMBER HIDDEN):25] Ingela: We have gone to bed! And My husband and daughters are working early tomorrow so im not happy about this. I will open the door 12:15 but NO shower and talking when you arrive. (After reading this message I feel that we are very unwelcome so we decide to book another place, somewhere we can have shower and talk at least.) [(PHONE NUMBER HIDDEN)] Me: Sorry for everything. I don't think we will stay at your place for tonight. We don't want to produce any more trouble for you and your family. Apologize for any inconvenience. [12/22 23:02] Ingela: Ok Thank you for keeping me awake, im going to be very tired at work tomorrow That's it. So don't forget to inform the host you want a night check-in even though it marks with "flexible check-in". And highly recommend the host add "No talk and shower after 23:00 or 00:00" to the house description.
Manqiu
January 2016
Die Unterkunft war perfekt fuer unseren Aufenthalt, die Naehe zum Flughafen Skavsta ist ideal. Die Familie ist sehr herzlich und so kann man sich bei Ingela sehr wohl fuehlen.
nicoline
July 2015
Ingela and her husband received us enthousiatically with welcome coffee, cake and helped us het our luggage up the stairs to the top floor where we had our three bedrooms and a sitting corner where we could sit, talk and relax Ingela's breakfast is unrivalled and generally her hospitality is great. We could use her kitchen and dining room for making dinner in a manner that made us feel comfortable and at home. On the sunny afternoon we had, she put her garden furniture in a sunny spot and perpared us coffew, tea and self-made cake. Ingela is a great baker and host, much beyond our expectations! Great value for money too.
Sytze
June 2015
There were six of us that stayed with Ingela and her family in Bettna. An easy trip 20 minute drive from Nykoping. The whole family was there when we arrived and immediately made us feel welcome and helped with our luggage to the attic. Coffee, tea and cake were ready for us to relax in their back yard and enjoy the warm summer evening. Breakfast was incredible! 5 Star! We enjoyed conversation with Ingela and Thomas before continuing our journey. Highly recommend. It's the social aspect that make these stays extra special.
Kent
August 2015
Kaunis koti, jota isännöi ystävällinen rouva ja hänen perheensä. Talon kuvaus vastasi hyvin todellisuutta. Talo oli kuin maalaisromanttisesta sisustuslehdestä.
Mikko
June 2016
A very nice house and basically it´s already an attraction itself. If you get the chance, visit! Lovely, delicious breakfast and nice people! Highly recommend.
Rene
January 2016
Tipo di stanza
Stanza privata
---
Tipo di alloggio
---
Può ospitare
10
---
Camere da letto
1
Bettna