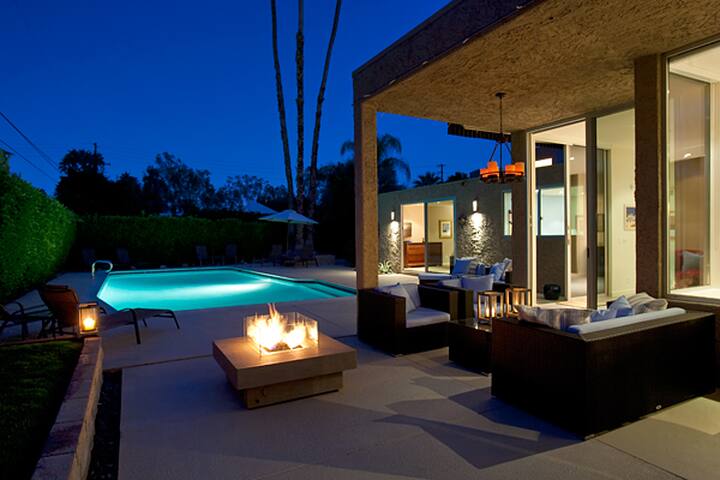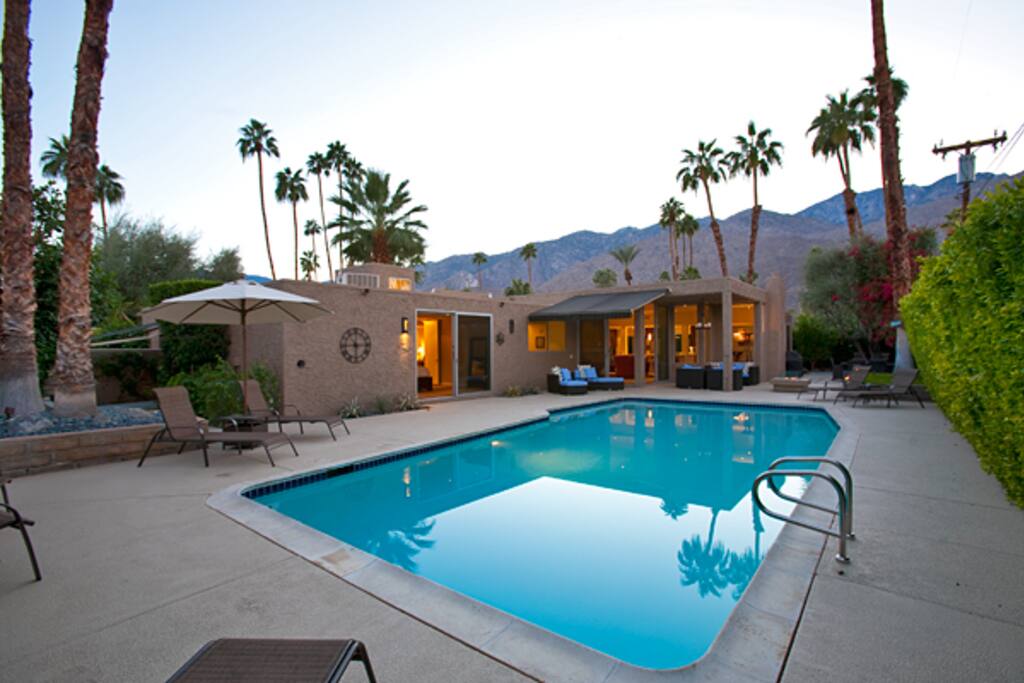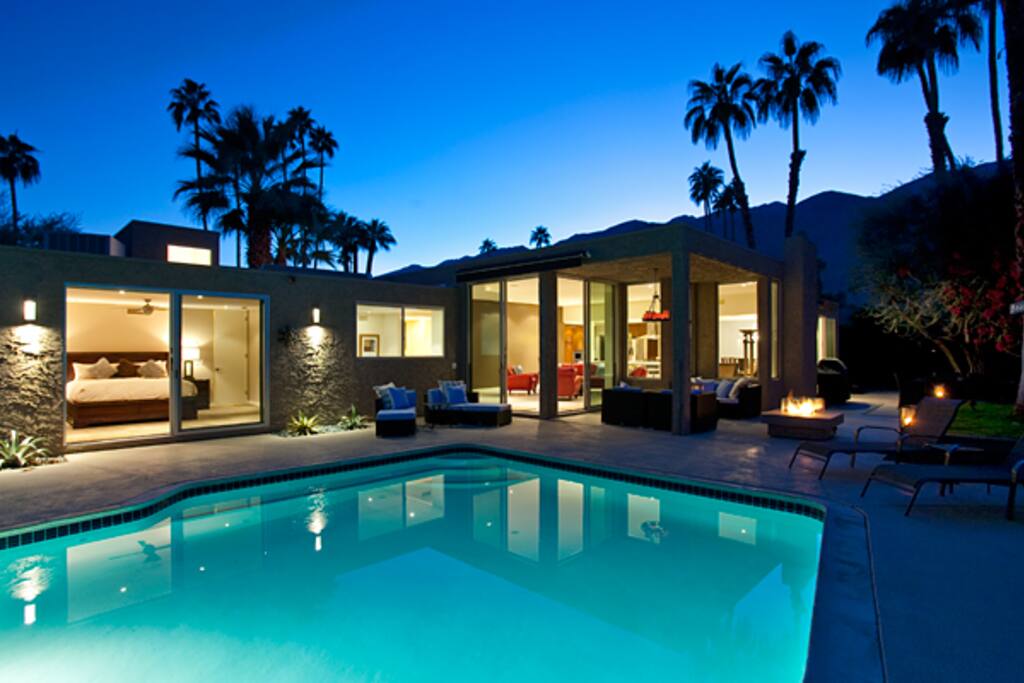 Su questo annuncio
Location. Location. Location. This Palm Springs luxury vacation home is on a quiet cul-de-sac, a short walk from casual dining, nearby grocery shopping, even dining and people-watching at the popular Ace Hotel, and local favorite coffee shop called Koffi.
This 3 bedroom home is a great choice of accommodations for Palm Springs attractions and events: The Palm Springs International Film Festival, Coachella Music Festival, BNP Paribas Tennis Tournament, Tour de Palm Springs, and more!
---
Check-In: In qualsiasi momento dopo le ore 15:00
Tipologia alloggio: Intera casa/apt
---
---
Ospiti extra: nessun costo aggiuntivo
---
Location. Location. Location. This Palm Springs luxury vacation home is on a quiet cul-de-sac, a short walk from casual dining, nearby grocery shopping, even dining and people-watching at the popular Ace Hotel, and local favorite coffee shop called Koffi.
This 3 bedroom home is a great choice of accommodations for Palm Springs attractions and events: The Palm Springs International Film Festival, Coachella Music Festival, BNP Paribas Tennis Tournament, Tour de Palm Springs, and more!
Location. Location. Location. This Palm Springs luxury vacation home is nestled on a quiet, well manicured cul-de-sac, a short walk from casual dining, nearby grocery shopping, even dining and people-watching at the popular Ace Hotel, and local favorite coffee shop called Koffi.
This home was freshly updated in 2012 with a pleasing contemporary style and close attention to detail. In the great room you'll find a stylish living area with big open spaces, comfortable seating, soaring ceilings, floor to ceiling sliding glass doors, and a gas fireplace.
The living area of this vacation home is open to the kitchen and dining room so you can keep the conversation going with friends and family while preparing meals together. The formal dining table offers seating for 6 under a gorgeous crystal chandelier. Four more people can sit nearby at the breakfast bar in the kitchen.
The kitchen of this remarkable Palm Springs home is fully equipped with everything you need to prepare meals or enjoy cocktail hour with your guests. You'll find high end stainless steel appliances, a gas range, wine fridge, expansive counter top prep space, and complete sets of service ware and utensils.
This luxury vacation home in Palm Springs was designed with indoor-outdoor living in mind. The backyard features a newly finished heated pool, with a salt water system (designed to be gentler on the skin than chlorine), outdoor seating areas with comfortable furniture, 6 lounge chairs, retractable awnings and umbrellas, outdoor shower, and a poolside cool misting system to cool the air on hot desert days.
In season, you can enjoy picking fresh fruit from your backyard off of one of the many citrus trees (lime, lemon, grapefruit, and orange). A stainless steel gas BBQ grill and outdoor dining table with seating for 6 makes eating outside in the fresh Palm Springs air a delight.
The master bedroom opens up to the lush backyard patio and pool through large sliding glass doors. This room features a king size bed, 32" TV, an updated ensuite bathroom with walk-in shower, soaking tub, dual sinks, and walk-in closet.
In addition, two guest bedrooms feature queen size beds, high thread count linens, and 24" flat screen TV's, and they share a guest bathroom with a walk-in shower. One of the guest rooms offers a private patio with outdoor seating area and retractable awning.
This beautifully updated Palm Springs luxury vacation home is conveniently located in the Deepwell neighborhood of South Palm Springs California. You're a short drive (less than 5 minutes) from world famous downtown Palm Springs' Palm Canyon Drive shopping, dining, art galleries, and nightlife.
When you rent this luxury Palm Springs vacation home, you'll understand why so many people fall in love with Palm Springs and this beautiful neighborhood. You too will say "PS (Palm Springs) I love you."
This 3 bedroom home is a great choice of accommodations for Palm Springs attractions and events: The Palm Springs International Film Festival, Coachella Music Festival, BNP Paribas Tennis Tournament, Tour de Palm Springs, and more!
Property Features
3 Bedrooms + 2.5 Bathrooms
Beds by Bedroom:
BR 1: King, 32" TV
BR 2: Queen, 24" TV
BR 3: Queen, 24" TV
Media Room: 55" TV/DVD, Apple TV
Approximately 2,400 sq ft of Living Space
Lot Size: Approx. 10,000 sq ft
Private Salt Water Pool
Pool Size: Approx. 33' x 17'
Pool Approx. 10' Deep
North Facing Backyard
Outdoor Dining for 6
Outdoor Living Room
Automatic Awnings
Lounge Chairs for 6
Outdoor Umbrella
Cool Misting System
Outdoor Shower
Citrus Trees: Lemon, Lime, Grapefruit, and Orange
Gas BBQ Grill
Glass Rock Fire Pit
Gas Fireplace
Indoor Dining for 6
Bar Seating for 4
Fully Equipped Kitchen
Stainless Steel Appliances
Wine Fridge
Whole House Sound System
iPod Docking
Unlimited Calling to US and Canada
Garage Parking for 2 Cars
Well Behaved Pets Welcome with $750 Deposit
Absolutely No Smoking in this Home
Includes Garage Access
Accomodates
Overnight Guests Limit: 6
Daytime Guests Limit: 12
TOT Permit Number: 4040
---
Vietato organizzare feste/eventi
Check-in a qualsiasi ora dopo le 15:00
Guest-Renter Responsibilities & Terms & Conditions:
You as lessee are responsible for payment, deposits and all facets and terms of the Lease as detailed in this rental agreement, including good neighbor guidelines. This agreement is a binding legal contract and it is agreed that it must be construed as if both parties jointly wrote it, governed by California law. Your signature on this Agreement, or payment of money or taking possession of the property after receipt of the Agreement, is evidence of your acceptance of the Agreement and your intent to use this property for a vacation rental. The Agreement constitutes the entire agreement between the parties with respect to the subject matter hereof.
The rented Property is a privately owned home. You agree to indemnify Vacation Palm Springs Real Estate Inc., staff, shareholders, and the Lessor/owner of said property for all liability, damage, personal injury, or loss to the Property or its contents that occur during your stay resulting from any cause, including but not limited to negligence, violation of any law, carelessness, neglect, theft or improper conduct of any persons entering, occupying or visiting the leased premises. We are not responsible for personal items lost, stolen or left behind. Occupant's or guests' personal property, including vehicles, are not insured by Owner, HOA or Owner's agent against loss or damage due to theft, fire, vandalism, rain, water, criminal or negligent acts of others or any other cause.
GOOD NEIGHBOR POLICY - APPLY TO YOU AND THIS PROPERTY
This home is located in a quiet residential neighborhood and the City and Agent strictly enforces all applicable city ordinances that relate to occupancy, unnesessary or loud outdoor noise, minimum age requirements, and parking (street parking is NOTallowed in the City of Palm Desert and some gated communities).
GOOD NEIGHBOR POLICIES - CITY NOISE ORDINANCES - IMPORTANT HOUSE RULES: You certify that each responsible party/guest is 25 years of age or older (The City of Rancho Mirage requires signer must be over 30 yrs) and agree to honor the specified occupancy limits for this home (see page 1) and conduct yourselves in a manner respectful of neighbors by refraining from loud or unnecessary outdoor noises, disruptive parties, over-occupancy or any activity that interferes with the quiet enjoyment of neighbors, traffic flow, the community, and residents. Renter/ tenants and guests will maintain the home in good order and appearance at all times and will not disturb, annoy, endanger or inconvenience neighbors or prompt written or verbal complaints to Vacation Palm Springs from police, neighbors, neighborhood associations or homeowner associations (HOA). If rented property is located within City of Palm Springs, outdoor amplified music of any kind is prohibited and no music can be audible from the property line. If rented property is governed by an HOA, Lessee agrees to abide by all HOA Association rules and regulations.
ACCELERATED EVICTION - OUTDOOR NOISE - OVER-OCCUPANCY - VIOLATION OF LEASE: Amplified outdoor music of any kind is not allowed by City ordinance in the City of Palm Springs. Laws that are designed to maintain the relaxing and restful qualities that make the Desert area a special place are strictly enforced. It is understood and agreed that ANY loud or large party, violations due to over-occupancy, unnecessary outdoor noise, indoor noise that causes neighbors to complain, or for violations of minimum age requirements of homes can result in immediate eviction and forfeiture of all funds plus up to $1500.00 charge to the credit card or entire security deposit. In addition, renters may also be responsible for fines issued directly by city officials or police for good neighbor policy violations. A minimum $250.00 City citation will be issued directly by the City without further notice if a neighbor is disturbed, a complaint is outdoor music is played or if indoor music is audible from the property line.
Lessee may not let, sublet or assign this lease for all or any part of the premises. Lessee may not plug electric vehicles or RV's into home without prior written consent of homeowner. Vacation Palm Springs (agent) does not warranty or guarantee and is not liable for failures of, including, but not limited to any of the property's equipment, systems, appliances, pool-spa equipment, as malfunctions or repair items cannot always be foreseen.
Changes of ownership or availability: This is a privately owned property and Vacation Palm Springs is not liable for nor financially responsible for cancellation of this rental agreement prior to occupancy as a result of, but not limited to, the unexpected sale of the property by owner/lessor or a contract for a property rental that has been discontinued between owner/agent, or unexpected and unlikely mechanical problems or repairs that could make the property unavailable.
PRIOR APPROVAL & PERMISSION REQUIRED - PETS, COMMERCIAL PHOTOGRAPHY, EVENTS: Selected homes allow one well-trained dog; advance notice required. $75 pet fee applies per small dog. Cats and other pets are not allowed in any of our rental properties. Lessee assumes full responsibility for dog, dog safety, the safety of others, vendors, invitees and dog itself. If a pet is brought without permission, or to a non-pet-friendly home, a charge of up to $1500.00 may be charged to the credit card or security deposit is forfeited. Commercial photography and Events are NOT permitted without prior expressed written consent of owner or agency. Special insurance is required to be purchased by Lessee for events, photography and film shoots including Vacation Palm Springs Real Estate, Inc and homeowner as additional insured and additional event and photography fees apply.
NOTICE - POOL SAFETY RULES - ASSUMPTION OF RISK - RELEASE OF LIABILITY & INDEMNIFICATION
You are responsible for pool safety for you and your children and your guests/invitees. Renter/tenant acknowledges that the safety of yourself, your guests, children or pets depends on you. The pool is not fenced or gated and there is no alarm on any door to pool area. Your attentive personal supervision is absolutely required to avoid risk of serious injury and/or death. Pools and spas are serious safety risks & hazards - including injury or death - if not used with attentive care & caution. By signing this contract, you are aware of and assume the risk for yourself, your party and for any guests or invitees during your lease. We are not responsible for accidents. You agree to indemnify and hold harmless from any and all liability (active or passive) Vacation Palm Springs Real Estate Inc, its owners, management or employees, the lessor and/or property owners, from any harm or injury caused by using the pool and/or spa and equipment - or the Property leased by this contract. You hereby agree/accept that pools and spas contain necessary chemicals that can cause skin rashes, harm or discoloration of swimwear. You and your guests and invitees agree that you use pools and spas completely at your own risk.
No lifeguard is on duty. No diving. No running. By signing this lease and liability release, you agree to honor all important pool safety guidelines:
Child Safety. Never leave a child unsupervised near a pool, not even for a minute. During social gatherings at or near the pool, appoint a designated adult to protect young children from pool accidents. Children must be watched closely while swimming. Do not use flotation devices as a substitute for supervision. Toys and floats can entice young children into the pool area. When not in use, clear the pool area of toys.
*Pet Safety. Do not leave pets unattended near a pool. Pets can fall into the water and may experience difficulty getting out of the pool and drown.
*No Glassware. Do not use glassware in or near the pool or spa. Broken glass in pool area may result in additional charges.
*Pool/Spa Safety. Note that consuming alcoholic beverages and/or drugs and use of the spa can be dangerous and cause serious health risks. Avoid immersion in the spa for prolonged periods of time.
*No Diving: Diving into shallow water can cause serious injury, paralysis or death.
RELEASE OF LIABILITY - HOLD HARMLESS AGREEMENT Lessee(s) shall indemnify and hold harmless Vacation Palm Springs Real Estate Inc, its employees, shareholders, and the Lessor / Property Owner, free and harmless from any and all liability, claims, loss, damages, demands or expenses, including counsel fees and costs, arising (a) by reason of the death or injury of any person, including Lessee or any person who is a guest or invitee of Lessee, or (b) by reason of damage to or destruction of any property, including property owned by Lessee or any person who is a guest or invitee of Lessee, caused or allegedly caused by (1) any cause whatsoever while that person or property is in or about the Property or in any way connected with the Property during Lessee's occupancy; or (2) any matter connected with Lessee's occupation and use of the Property.
POOL/SPA - POOL SERVICE - POOL HEATING California energy costs are among the highest in the US. A surcharge of pool/spa heating usage applies for daily or weekly use; monthly rentals pay actual electric + gas usage. Pool/spa heating must be ordered in advance as the average pool takes up to 48 hours to heat up to 80+ degrees. Pools/spas are cleaned on a twice weekly schedule (by homeowner vendor) during your visit. You agree that if pool heating is adjusted upward by you or your guests, an excessive pool heat additional fee of up to $99 per night will be charged to your account.
CLEANING: A non-refundable departure cleaning fee is required on all rentals. We ask that guests treat the home with care, leaving the Property in the same general condition as found upon arrival. Within the 1st hour of arrival, if you are not satisfied with cleaning, please contact our office so that we can attend to your specific requests. No cleaning fees are refunded. Each Property is inspected after guest departure. Additional charges will apply for stains on carpets, furnishings, linens, or towels, excessively dirty ovens, stove-tops, or BBQ grills, dirty dishes, excessive trash & moved furniture or appliances. These are not normal wear and are not covered as part of the cleaning fee. Items requiring extra cleaning at departure will be charged to guest.
UTILITIES-MONTHLY RENTALS: Utilities other than pool heat fee are included at no extra charge for nightly/weekly rentals. For monthly or more, renter pays actual utility fee for electric & gas. If there are damages, fines, or additional charges, and the amount of the security deposit is insufficient to cover those charges, then any remaining balance of the utility deposit may be used prior to charging the Guest's credit card. Un-used portion of utility deposit (monthly rentals) is refunded within 45 days of departure as owner must receive and send gas/electric bills to our agency for confirmation of actual utility use/charges.
"PEACE OF MIND" DAMAGE WAIVER FEE - COVERS ACCIDENTAL DAMAGE: A damage waiver fee of (phone number hidden) is available for each reservation. The Damage Waiver Fee is an optional but nonrefundable fee, which is available to Guests in lieu of a security deposit. This fee relieves Guests of the cost for unintentional and incidental damage to the Rental Property and its contents, not to exceed the amount of coverage (up to $750.00 of unintentional damage) that is reported to vacation Palm Springs by Guest prior to departure. The Damage Waiver Fee is optional and if Guests opt out, a security deposit for the stay is required.
- The Damage Waiver Fee does not cover Excess Damage Costs (more than $750), intentional damage, theft, unauthorized entry into the owner's supply closet, unauthorized pets, extensive cleaning required at check-out, smoking inside the home, exceeding occupancy limits, noise violations and any other violations of the Vacation Palm Springs rental policies as specified in your rental agreement, nor any fines imposed by the City, Police Department or Home Owner Association as the result of violation of any law, ordinance, rule or regulation or any fines or cost levied against Guest or visitors of Guest). The fee does not cover late Check- out fees (departing after 10:00 a.m. on Departure Day) nor early Check-in fees (arriving before 3:00 p.m. on Arrival Day).
- Vacation Palm Springs requires a valid Visa or Master Card number on file in addition to the (phone number hidden) Damage Waiver Fee, and any incidental charges that result from Excess Damage or any missing item, costs will be charged to the Guest's credit card. Guest will be notified of any Excess Damage Costs in writing.
- Guest, by signing below, assumes full responsibility for any items found to be missing and any damage due to misuse, negligence or action on Guest's or Guest's visitors part, except in the case of normal wear and tear reported to the Property Manag(phone number hidden)) within 24 hours of Check-In and reported on the Damage Waiver form provided in the home.
-Security deposits will be refunded by method paid for 3 weeks from the date of departure. Paying a security deposit does not relieve the Guest(s) in any way from requirements stated in the rental agreement. Any damages, fines, or additional charges will be charged against the security deposit, and charges exceeding the security deposit will be charged to the Guest's credit card on file. Additionally, if the amount of the security deposit is insufficient to cover the cost of guest damages, those charges may deducted from any Utility Deposit prior to charging the Guest's credit card. Guest will be notified of any charges that apply.
VACATION RENTAL INSURANCE-CSA: Vacation Rental Insurance has been made available with your reservation. Vacation Rental Insurance reimburses for pre-paid, non-refundable expenses due to certain unforeseeable circumstances that may jeopardize your vacation investment and force you to incur unplanned expenses. We strongly recommend you purchase this valuable protection. If declined, you acknowledge you have read and understand our cancellation policy and choose not to purchase Vacation Rental Insurance on behalf of all occupants.
This plan, if accepted as part of this reservation, provides insurance coverage that only applies during the covered trip. You may have coverage from other sources that provides you with similar benefits but may be subject to different restrictions depending upon your other coverages. You may wish to compare the terms of this policy with your existing life, health, home, and automobile insurance policies. If you have any questions about your current coverage, call your insurer or insurance agent or broker. Purchasing travel insurance is not required in order to purchase any other products or services offered by Vacation Palm Springs Real Estate, Inc.
If not individually licensed, Vacation Palm Springs Real Estate, Inc. employees are not qualified or authorized to answer technical questions about the benefits, exclusions or conditions of any of the insurance offered by the travel retailer or evaluate the adequacy of the prospective insured's existing insurance coverage.
CANCELLATIONS: All guest reservations are subject to a cancellation fee and any applicable city tax. Cancellation fee: 10% of gross rental amount plus applicable City Taxes and Booking Fee; for reservations with gross rent less than $2500, cancellation fee is $250 plus applicable City Taxes and Booking Fee. For reservations cancelled less than 30 days (60 days for special events and holidays) prior to scheduled arrival, no refunds if the home is not re-rented for reserved period. If home is re-rented for cancelled dates, all monies will be refunded less the above fees. Any changes must be made at least 14 days prior to arrival. Change fee: $50.
NO SMOKING: Smoking is not allowed in any home/condo. It is agreed smoking in this home will result in a charge of $750 to $1500 to the credit card or forfeiture of security deposit.
INTERNET USE: Downloading copyrighted material using the home or condo's internet service provider is illegal and may result in loss of internet access and fines.
NO REFUNDS NO CREDITS: We want your visit to be enjoyable, comfortable and pleasant. It is understood that in renting a private vacation home or condo, there are many situations that are by nature beyond the control of the Agent, company or ownership and credits or discounts will not be granted for such. Examples that are not guaranteed nor waranteed and will not warrant any refund or credit of rental monies, include, but are not limited to: failure of systems, AC or heat, pool-spa equipment/heater, appliances, electronics, or cable tv not working, the home's systems or mechanical malfunctions, plumbing, Internet, construction taking place in the area, a home not decorated or accommodated to your tastes/expectations, bad weather, condition of landscaping, a neighborhood disturbance/noise. In the rare event of a mechanical malfunction or inconvenience, we will do our best to resolve quickly. Repairs, if any, will be accomplished as soon as possible, taking into consideration service personnel workload, parts availability, and nature of repair. However, it is understood that no refund or credits will be granted for any early departures or system malfunctions. Expenses for unnecessary service calls are the responsibility of the Guest.
CANCELLATION/SUBSTITUTIONS: Agent(s) strives to comply with all reservation requests for specific vacation properties. However, due to ownership changes, properties being removed from rental use, mechanical problems, or other unforeseen circumstances or maintenance items, Agent(s) cannot absolutely guarantee a specific rental property. Agent(s) reserve the right to change assignments without notice or liability if the property becomes unavailable. When comparable accommodations are not available, Guest(s) will have the option of selecting from available properties at the published rate or receiving a complete refund of their reservation deposit.
RESERVATIONS: Cancellation policy goes into effect when payment or a signed and completed rental agreement has been accepted to reserve the calendar for your stay. Final confirmation will be sent once full payment and a signed completed rental agreement have been received at our office.
HOME DIRECT CHECK-IN & KEYS: Check-in for guests is 3:00 p.m. In the event that extensive cleaning and/or repairs are required, check-in may be delayed until after 3:00 p.m. There will be no refund for delayed check-in due to extensive cleaning and/or repairs. Guest is not permitted on the property prior to check-in. Each property has a secure lock-box near the entrance of the home with a key inside. You will receive your lock-box combo upon final payment and confirmation notice. Important: Please return the keys to lock-box upon departure. For non-return or loss of keys, gate cards, and remotes a $50.00 to $150.00 service fee applies.
The sand, heat, and wind of our desert climate create a tough environment for home mechanical systems. This can sometimes result in equipment failure. Every reasonable effort will be made to remedy unforeseen situations, and correct any problems in as timely manner as possible. No refunds or credits due to malfunctions in systems or equipment or other guest dissatisfaction. We reserve the right to inspect and service the home during your visit, including, but not limited to required weekly gardener service & pool service, arranged by homeowner.
CHECK-OUT is promptly at 10:00 a.m. on the day of departure unless specific arrangements are made in advance. Late departures will be charged an additional night. Please close and lock all doors, sliders, windows, a fee will be charged for leaving the home unsecured. Please turn off lights, heat or AC. Before departing, please bag trash and place it in containers provided. All dishes & cookware should be cleaned and put away, or placed in dishwasher. Carpets-floors should be in same clean condition as you found them to prevent additional charges.
GOVERNING LAW, VENUE & TIME OF ESSENCE. This Agreement shall be governed by and construed in accordance with the laws of the State of California. Time is of the essence. Any legal action arising out of or relating to this Agreement shall be filed in a court of competent jurisdiction in Riverside County, Indio, California.
WAIVER OF JURY. The parties agree to waive any and all right to a jury in any legal action between them arising out of or relating to this rental agreement.
ATTORNEYS FEES AND COSTS The prevailing party in any action between the parties, including arbitration proceedings, arising out of or relating to this Agreement shall be entitled to recover his reasonable attorneys fees and costs, up to an amount not to exceed $ Dollars).
ENTIRE AGREEMENT. This agreement constitutes the complete agreement between Lessor and Lessee and sets forth the obligations of the parties to each other. Any oral agreements or representations respecting the Property not expressly set forth in this instrument are null and void. All prior negotiations between the parties are included in this agreement. This agreement may not be amended, modified, or changed, except in a writing signed by Lessor and Lessee.
All adult guests must be over age 25 (City of Rancho Mirage requires signer must be over 30). Absolutely No Smoking inside the home. If smoking occurs inside, a charge of up to $1500.00 for additional cleaning will be charged to the credit card or the security deposit forfeited.
Thank you. We appreciate your business.
---
Rigidi
Cancella fino a 7 giorni prima del viaggio e ricevi un rimborso del 50%, più i costi del servizio.
---
Rilevatore di monossido di carbonio
---
soggiorno minimo 3 notti.
Dal 12 Aprile 2017 - 30 Aprile 2017 il soggiorno minimo è di 4 notti.
Questo alloggio non aspetta altro che una tua recensione
Palm Springs, California, Stati Uniti

·

Membro dal Giugno 2015
We're a local Palm Springs company engaged in the vacation home business for more than 14 years. Our team is friendly, energetic, diverse and helpful. We strive to make you and yours comfortable and happy. And we'll do everything we can to meet and exceed your expectations.

Our focus at Vacation Palm Springs is clear: It's about people, quality and outstanding service to ensure all guests have a terrific experience in the Palm Springs area. Client satisfaction is Extremely important to each and every member on our team. We have a family of associates who work every day of the year to create an enjoyable vacation experience for visitors renting homes in the greater Palm Springs area.
Please take a look at our listings and allow me to assist you on getting your vacation started!

Tasso di risposta:
92%
Tempo di risposta:
entro un giorno
I dati sulla posizione esatta sono forniti dopo la conferma della prenotazione.
Esplora altre opzioni a Palm Springs e nei dintorni
Altri alloggi disponibili a Palm Springs: