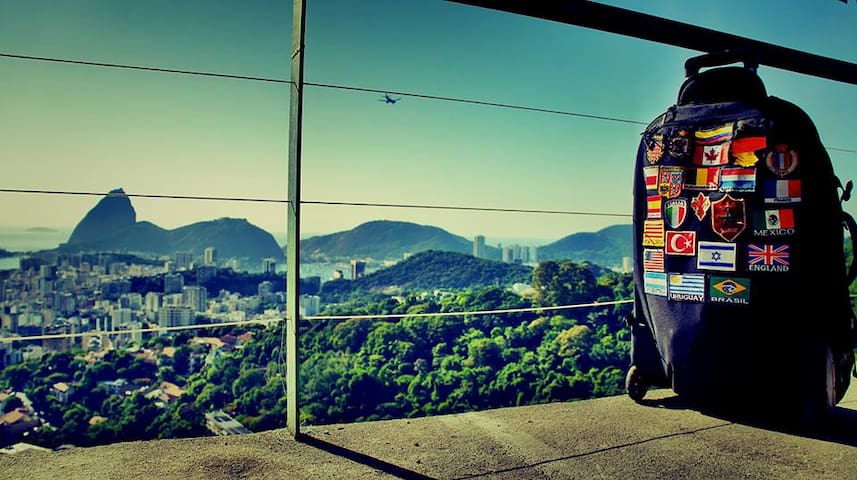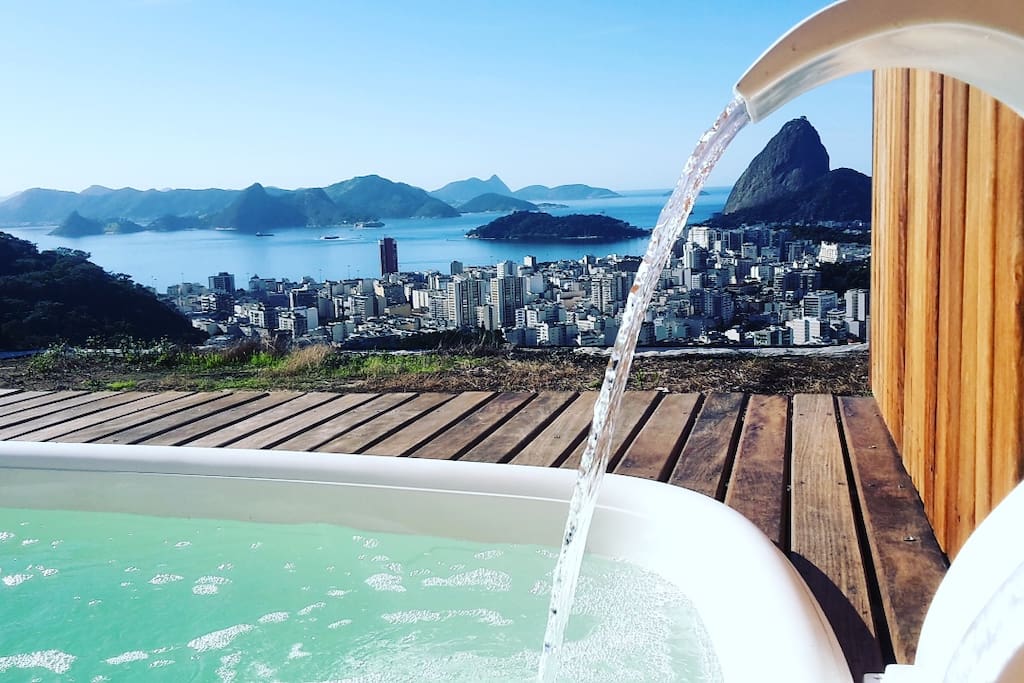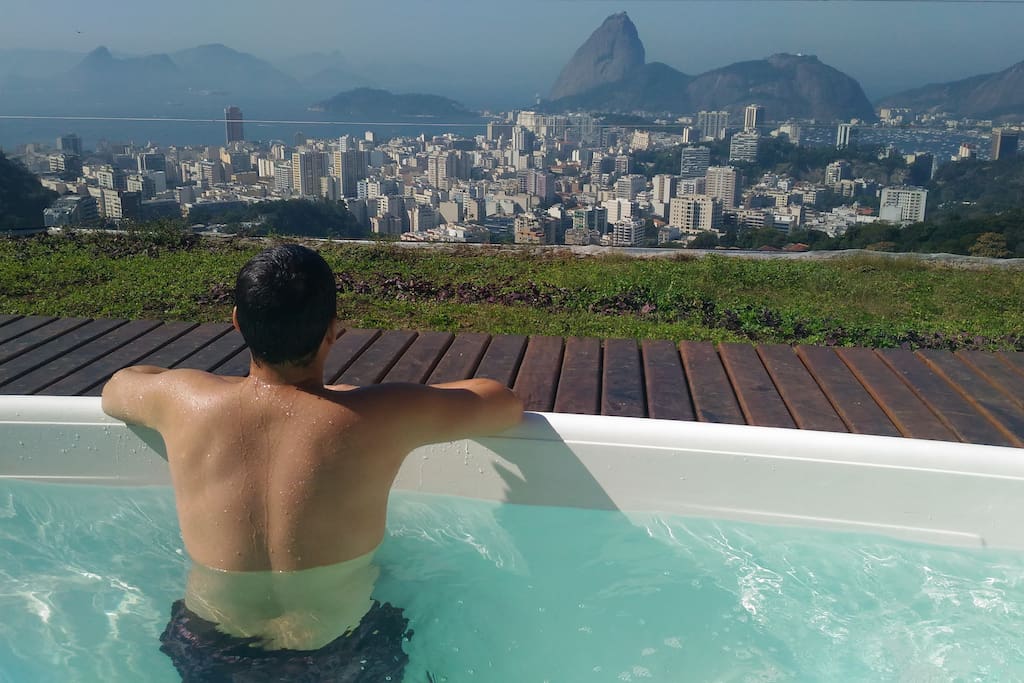 Se vuoi sperimentare qualcosa di diverso e più autentico degli hotel classici durante il tuo soggiorno a Rio: benvenuto nel nostro Guest House "Casa 48" a Santa Teresa. Siate pronti per un rapporto unico con il Sugar Loaf!
If you want to experience something different and more authentic than classical hotels during your stay in Rio : welcome in our GuestHouse "Casa 48" in Santa Teresa. Be ready for a unique relationship with the Sugar Loaf!
L'alloggio
-------------------------------------------------- --- BREAKFAST / WiFi / TOWELS INCLUSI - NESSUNA TARIFFA DI PULIZIA EXTRA INCLUSI INCLUSI: I NOSTRI GIORNALI GIORNALIERE PER RIO DA GIORNO E DA NOTTE -------------------------------------------------- - NUOVO! Piccola piscina sul tetto! -------------------------------------------------- ---- CAUTIO: questo annuncio è quello di affittare una stanza, e non l'intero piano / casa. Se vuoi l'intero piano o la casa, contattaci. Un piano può ospitare fino a 10 persone. Se il sito web indica che la camera è prenotata si prega di contattare noi possiamo avere altre camere disponibili su un altro elenco. Casa 48 è una 7 camere private GUESTHOUSE, non c'è un dormitorio. -------------------------------------------------- - ** SITUAZIONE DELLA CASA ** Si trova nel bel quartiere bohémieno di Santa Teresa, accanto a Lapa e al centro della città. La casa si trova all'inizio di una piccola e sicura Favela. ** SULLE CAMERE ** Casa 48 offre 7 camere su 2 piani indipendenti. 3 camere sono al secondo piano, 4 camere sono al primo piano, 2 sono monolocali con bagno e terrazza. Questo elenco riguarda una delle nostre camere REGOLAR (senza bagno privato e terrazza) per 2 o 3 persone. Sono chiamati "Acerola, Graviola, Açai, Pitanga, Amora". Queste camere offrono diversa disposizione per un comfort e una flessibilità migliori per soddisfare le vostre aspettative (se siete amici, coppie, familiari), abbiamo camere triple. - tutte le camere sono dotate di ventilatori - asciugamani e lenzuola sono forniti - puoi bloccare la porta ** LA SPAZIO / LA CASA ** Potrete godervi un ampio soggiorno, 3 bagni e servizi igienici, 2 cucine completamente attrezzate, una terrazza di 12 metri, un tetto con piscina. Viviamo nel pavimento fisrt della casa nel nostro appartamento. ** CHECK IN => 14h & CHECK OUT => 12h ** Se le camere sono libere sarete in grado di effettuare il check-in come soons come si arriva. Teniamo i vostri bagagli in un luogo sicuro se dovete uscire più tardi. Vi diamo il benvenuto dalle 7h30 alle 23h. ** COLAZIONE ** Una colazione regolare viene servita con pane, frutta, burro, marmellata, caffè / tè, cereali dalle 8h alle 10h30. ** LA VISTA GRANDE! ** Il punto culminante della casa è definitivamente la vista meravigliosa che potrete godere dal soggiorno, la terrazza, la cucina e 5 delle camere. C'è sempre qualcosa che accade con questa visione e ha sempre un volto diverso, grazie al gioco del sole, alle nuvole, alle navi e alle barche a vela sulla baia, agli uccelli, ai toucani che passano (a volte ...) L'alba o la luna, gli aquiloni dei figli della favela, i fuochi d'artificio durante i giochi di calcio ... puoi stare ore e ore davanti a esso, semplicemente godere. Come abbiamo già fatto per 7 anni! L'ALTRA "+" di Casa 48: Casa 48 è una casa calda e accogliente e speriamo che condivideremo più della vista. Durante il soggiorno a Casa 48 avrai l'opportunità di entrare in contatto con il vero modo di vita di Carioca e di scoprire la città in modo alternativo: siamo lieti di darti suggerimenti per godere di piacevoli passeggiate per la città, ristoranti di ottima qualità , I party di Roda de Samba, i balli di Forro, i musei nascosti ecc. E Santa Teresa è il luogo ideale se vuoi sentire il cuore della città perché è vicino all'autentico Rio: il centro città, Lapa ... Axel È una guida turistica ufficiale e vi propone escursioni escursionistiche uniche nella foresta di Tijuca, alle spiagge di Grumari e Prainha, in altre favelas ... Possiamo combinare escursioni facilmente una volta che siete qui. Organizziamo anche il tuo salto Hanggliding se vuoi. ** TETTO UNICO con JACUZZI & TETTO VERDE ** Abbiamo appena aperto un nuovo tetto con jacuzzi davanti al tetto verde. Abbiamo cambiato il tetto nel 2013, fornisce una sensazione molto più fresca grazie alle 15 centimetri di terra e di erba. ** LAVANDERIA ** Ci occupiamo della vostra biancheria per 25 reali per macchina. ** hai detto FAVELA ?! ** La Casa 48 è situata nella parte superiore di Santa Teresa, in una piccola favela tranquilla e tranquilla. Per favore, non pensate che una favela sia una pericolosa baraccopoli. Tutti in questa favela hanno accesso a acqua potabile, elettricità, impianto di depurazione, le case sono costruite con mattoni e cemento ... Non abbiamo mai avuto problemi di sicurezza con i turisti che abbiamo ricevuto per 5 anni. Sei più che benvenuto in casa nostra per poter cambiare idea se hai qualche cattivo stereotipo sulle favelas. Non è affatto ciò che si può leggere in alcuni libri guida (ignoranti?). Inoltre, le persone sono molto belle e calde, c'è un'atmosfera molto amichevole, ti senti come se fossi in un villaggio. C'è molta vita, bambini che giocano, vicini Parlando sulle porte d'ingresso ... Il 25% della popolazione di Rio vive in una Favela, e li puoi trovare ovunque in città come ci sono sulle colline. ** TAXIS / BUSES / METRO ACCESSO ** I taxi, Uber e gli autobus vi hanno lasciato 100 metri dalla porta della casa. Gli autobus numero 006 o 007 vi porteranno a LAPA e al centro città in 10 / 15min. I taxi possono lasciarti a questo punto. Stiamo parlando della strada principale del distretto, "rua almirante alexandrino". Stazioni della metropolitana più vicine: - Largo do Machado: si raggiunge a piedi, 20 minuti a piedi, o 5 minuti a piedi lungo la favela e 5 minuti di van. - Carioca: si raggiunge in autobus, 15 minuti in auto dalla casa ** SPIAGGE COPACABANA & IPANEMA ** 30/40 minuti, in autobus o in metropolitana ** MARACANA FOOTBALL STADIUM ** 40 minuti, autobus e metropolitana ** SUPERMARKETS ** - piccolo supermercato all'interno della favela, a 60 metri dalla casa per i bisogni fondamentali aperti fino alle 22h. - supermercato medio 5 minuti a piedi - una grande passeggiata di 10 minuti ** SULLA DISTRETTA SANTA TERESA ** Santa Teresa era il più ricco quartiere di Rio, ecco perché ci sono case meravigliose del secolo scorso, con architettura portoghese e francese. È noto per essere il quartiere artistico di Rio; Infatti ci sono molti eventi culturali organizzati dalla gente del luogo e da molti piccoli atelier. Come è su una collina nel centro della città, potrete godere di una vista incredibile su tutta la città, sia che sia la parte del Nord (Maracana, Sambodromo ...) o la parte sud (Sugar Loaf, Guanabara Bay ... ). E Santa Teresa è l'inizio della foresta di Tijuca, è piena di natura e vegetazione brasiliana. È una sorta di villaggio all'interno della città enorme, tutti si conoscono, è tranquillo e silenzioso, ci sono bar e ristoranti famosi, qui troverete uno spirito molto unico. Cauto: Santa Teresa, anche se è un quartiere centrale, non offre la "comodità" di un quartiere più classico. Non ci sono bancomat 24h, solo una farmacia, supermercati chiusi alle 21h, nessuna stazione della metropolitana ... Ancora vale la pena se volete conoscere Rio da un'altra visione. - LARGO FA GUIMARIA: 15 minuti a piedi. È il cuore del quartiere dove troverete buoni ristoranti e bar, cinema ... aperto fino a tardi. È sicuro andare lì a notte dalla casa. - Quartiere LAPA Night Life: molto vicino, a soli 10 minuti di autobus ** IL TRAMO GIALLO ** Il "Bonde", il tram giallo antico e famoso, è ora in esecuzione dal Centro Città fino al Largo dos Guimaraes (15 minuti a piedi da Casa 48). A causa del tragico incidente del 2011, stanno cambiando tutte le rotaie, si prevede che funzionino fino a Casa 48 nel 2017. ** CARNEVALE A SANTA TERESA = LA TUA MIGLIORE OPZIONE ANCHE! ** Se scegliete Santa Teresa per godervi il Carnevale, fidi di noi, fai la giusta scelta! I migliori "blocchi" sono definitivamente in giro, come "Carmelitas", "Ceu na Terra", "Me Enterra na Quarta" ... Il bloco è questa band brasiliana che suona canzoni popolari in strada durante il giorno. Quelle feste di strada sono libere e ci sono circa 50 blocchi al giorno durante il carnevale ...) A Santa Teresa, ognuno fa parte di esso con costumi pazzeschi e creativi, dovrai anche vestirti: essere pronto! Le persone che salgono sulla collina di Santa sono quelle più motivate e le persone più divertenti mai. Inoltre devi sapere che i migliori Blocos partiranno EARLY la mattina, dalle 7 del mattino! E diventa davvero difficile raggiungerli quando arrivi da un altro distretto, poiché le strade sono chiuse al traffico, quindi è meglio andare a piedi. Altri blocchi piacevoli sono a Lapa e al Centro, come Cordao da Boitata o o Boi Telo. ** SCUOLE DI SAMBA A SAMBODROMO ** I migliori giorni sono domeniche e lunedì sera, inizia alle 21, termina alle 6 del mattino, vedrete 6 scuole di samba che hanno una durata di circa 4000 partecipanti e hanno 1h22minutes per presentare il suo spettacolo! È enorme, meraviglioso, unico, stupendo: non puoi perdermi !!! Possiamo fornire i biglietti ad un prezzo ragionevole, contattarci. Si può andare a piedi da Casa 48 al Sambodromo, è una passeggiata di 40 minuti attraverso Santa Teresa. -------------------------------------------------- ---- ** CASA 48 BAGNI REGOLARI - BREAKFAST incluso ** 5 CAMERE CLASSICHE (questo annoncio corrisponde a uno di essi). I loro nomi sono: Acerola, Graviola, Açai, Pitanga, Amora. ** PREZZO a notte per 2 persone ** - 40EUR / 45USD / 150BRL - persona extra: 10EUR / 12USD / 35BRL (Camere Açai e Graviola) - Carnevale e Capodanno: 80EUR / 90USD / 300BRL RICORDATE: Devi quindi aggiungere l'AIRBNB FEE (+ 12%) -------------------------------------------------- ----------------- Capodanno: 3 notti mininum CARNEVALE: minimo 5 notti (2017 date del Carnevale:
-----------------------------------------------------
BREAKFAST / WiFi / TOWELS INCLUDED -
NO EXTRA CLEANING FEE
ALSO INCLUDED : OUR DAILY GOOD PLANS TO ENJOY RIO BY DAY & BY NIGHT
----------------------------------------------------
NEW ! little Swimming pool on the roof top!
------------------------------------------------------
CAUTIOUS: this listing is to rent ONE room, and not the entire floor/house. If you want the entire floor or house, please contact us. One floor can welcome up to 10 people.
If the website indicates that the room is booked please contact us we may have other rooms available on another listing.
Casa 48 is a 7 private rooms GUESTHOUSE, there is no dormitory.
----------------------------------------------------
** SITUATION OF THE HOUSE **
It is located in the lovely and bohemian district of Santa Teresa, next to Lapa and the city center. The house is situated at the beginning of a small and safe Favela.
** ABOUT THE ROOMS **
Casa 48 offers 7 rooms on 2 independent floors. 3 rooms are on the second floor, 4 rooms are in the first floor, 2 of them are studios with their own bathroom and terace. This listing concerns ONE of our REGULAR rooms (without private bathroom and terace) for 2 or 3 people. They are called "Acerola, Graviola, Açai, Pitanga, Amora". Those rooms offer different disposition for a better comfort and flexibility to meet your expectations (if you are friends, couples, family), we have triple rooms.
- all the rooms are equipped with ventilators
- towels and bed sheets are provided
- you can lock the door
** THE SPACE / THE HOUSE **
You will enjoy a large living room, 3 bathrooms and toilets, 2 kitchens full equipped, a 12 meters terrace, a rooftop with a swimming pool.
We do live in the fisrt floor of the house in our own flat.
** CHECK IN => 14h & CHECK OUT => 12h **
If the rooms are free you will be able to do your check in as soons as you arrive. We keep your luggages in a safe place if you have to leave later.
We welcome you from 7h30 to 23h.
** BREAKFAST **
a regular breakfast is served with bread, fruits, butter, jam, coffee/tea, cereals from 8h to 10h30.
** THE GREAT VIEW ! **
The highlight of the house is definitively the WONDERFUL view that you will enjoy from the living room, the terrace, the kitchen and 5 of the rooms. There is always something happening with this view and it has always a different face, thanks to the game of the sun, the clouds, the ships and sailing boats on the Bay, the birds, the Toucans passing by (sometimes...), the sunrise or moon rise, the kites of the kids of the favela, the fireworks during the football games... you can stay hours and hours in front of it, just enjoying. Like we have been doing for 7 years now!
THE OTHER "+" of Casa 48 :
Casa 48 is a warm and friendly house and we hope we will share more than the view.
In staying at Casa 48, you will have the opportunity to get in touch with the real Carioca way of life and to discover the city in an alternative way : we are happy to give you tips to enjoy nice walks through the city, good popular restaurants, Roda de Samba parties, Forro dancing, hidden museums etc. And Santa Teresa is the perfect place if you want to feel the heart of the city because it is close to the authentic Rio : the City Centre, Lapa... Also, Axel is an official tour guide and propose you unique walking tours in the Tijuca Forest, to the beaches of Grumari and Prainha, in some others favelas ... We can combine tours easily once you are here. We also organise your Hanggliding jump if you want.
** UNIQUE ROOFTOP with JACUZZI & GREEN ROOF **
We just opened a new rooftop with jacuzzi in front of the green roof. We changed the roof in 2013, it provides a far better cooler sensation thanks to the 15cm of earth and grass.
** LAUNDRY **
We take care of your laundry for 25reais per machine.
** YOU SAID FAVELA?! **
The Casa 48 is located in the upper part of Santa Teresa, in a small, quiet and safe favela. Please do not think that a favela is a dangerous slum. Everybody in this favela has access to drinkable water, electricity, sewage system, houses are built with bricks and concrete... We never ever had any problems of security with the tourists we have been receiving for 5 years. You are more than welcome in our house so you can change your mind if you have some bad stereotypes about the favelas. It is not at all what you can read in some (ignorant?) guide books. Moreover, people are very nice and warm, there is a very friendly atmosphere, you feel like if you were in a village. There are a lot of life, kids playing, neighbors speaking on their entrance doors... 25% of the population of Rio lives in a Favela, and you can find them everywhere in the city as there are on the hills.
** TAXIS / BUSES / METRO ACCESS**
Taxis, Uber and buses let you 100meters from the door of the house. Buses number 006 or 007 take you to LAPA and the City Centre in 10/15min. Taxis can leave you at this point. We are speaking of the main road of the district, "rua almirante alexandrino".
Closest Metro stations :
- Largo do Machado : you reach it by foot, 20min walking, or 5min walking down the favela and 5min van ride.
- Carioca : you reach it by bus, 15min ride from the house
** COPACABANA & IPANEMA BEACHES **
30/40min, by bus or by metro
** MARACANA FOOTBALL STADIUM **
40min, bus & metro
** SUPERMARKETS **
- little supermarket inside the favela, 60meters from the house for your basic needs open until 22h.
- medium supermarket 5min walking
- large one 10min walking
** ABOUT SANTA TERESA DISTRICT **
Santa Teresa used to be the richest district of Rio, that's why there are wonderful houses from last century, with Portuguese and French architecture. It is known to be the Artistic neighborhood of Rio ; indeed there are a lot of cultural events organized by the local people and a lot of small ateliers.
As it is on a hill in the center of the city, you will enjoy amazing views on the whole city, whether it is the North Part (Maracana, Sambodromo...) or the South Part (Sugar Loaf, Guanabara Bay...). And Santa Teresa is the beginning of the Tijuca forest, it is full of nature and Brazilian vegetation.
It is a kind of a village inside the huge city, everybody know each other, it is peaceful and quiet, there are popular bars and restaurants, you will find here a very unique spirit.
Cautious : Santa Teresa, though it is a central district, does not offer the "convenience" of a more classical district. There are no 24h ATM, just one farmacy, supermarkets close at 21h, no metro station... Still it really worth it if you want to know Rio from an other insight.
- LARGO DO GUIMARAES : 15min walking. It is the heart of the district where you find good restaurants and bars, cinema... open until late.
It is safe to go there at night from the house.
- LAPA Night Life district : very close, just 10 min by bus
** THE YELLOW TRAM **
The "Bonde", the yellow old-fashioned and famous tram, is now running again from the City Centre until the Largo dos Guimaraes (15 minutes walking from Casa 48). Due to the tragic accident of 2011, they have been changing all the rails, it is expected tu run until Casa 48 in 2017.
** CARNIVAL IN SANTA TERESA = YOUR BEST OPTION EVER! **
If you choose Santa Teresa to enjoy Carnival, trust us, you do the right choice! The best "blocos" are definitively around, like "Carmelitas", "Ceu na Terra", "Me Enterra na Quarta"... The "bloco" is this brazilian band playing popular songs in the street during day time. Those street parties are free and there are about 50 blocos per day during carnival...) In Santa Teresa, EVERYBODY is taking part of it with crazy and creative costumes, you will have to dress up as well : be ready! People going up the hill of Santa are the most motivated ones, and the funniest people ever. Also you must know that the best Blocos start EARLY in the morning, from 7am! And it turns really difficult to reach them when you come from another district as streets are closed to traffic, so the best is to go by foot. Others nice blocos are in Lapa and the Center, like Cordao da Boitata or o Boi Telo.
** SAMBA SCHOOLS PARADE AT SAMBODROMO **
Best days are Sunday and Monday nights, it starts at 9pm, it ends at 6am, you will see 6 samba schools parading, each one has about 4000 participants and has 1h22minutes to present its show! It is massive, wonderful, unique, gorgeous : you can't miss it!!!
We can provide you tickets at a reasonable price, contact us. You can go by foot from Casa 48 to the Sambodromo, it is a 40min walk through Santa Teresa.
------------------------------------------------------
**CASA 48 REGULAR FARES - BREAKFAST included **
5 CLASSICAL ROOMS (this annonce corresponds to one of them).
Their names are : Acerola, Graviola, Açai, Pitanga, Amora.
** PRICE per night for 2 persons **
- 40EUR / 45USD / 150BRL
- extra person : 10EUR / 12USD / 35BRL (Rooms Açai and Graviola)
- Carnival & New Year's Eve : 80EUR / 90USD / 300BRL
REMEMBER : You then have to add the AIRBNB FEE (+ 12%)
-------------------------------------------------------------------
New Year's Eve: 3 nights mininum
CARNIVAL : 5 nights minimum
(2017 Carnival dates : 24th of february ==> 1st of march)
-------------------------------------------------------------------
For your interest, we offer 2 other rooms which have their own bathroom and private terace, both have the view on the Sugar Loaf !
Suite "Abacate"
- 50EUR / 55USD/ 180BRL
small flat "Manga" , up to 3 people
- 60EUR / 70USD / 210BRL
This space has also a small kitchen and a living room with a bed/sofa.
------------------------------------------------------
any question ? feel free to ask!
Um grande abraço ! até logo !
Axel , Valentin & Casa 48 Team
WE SPEAK ENGLISH
FALAMOS PORTUGUÊS
HABLAMOS ESPANOL
NOUS PARLONS et SOMMES FRANCAIS
---
---
Ospiti extra 10 € / notte dopo 2 ospiti
Comunica sempre attraverso Airbnb
Per proteggere i tuoi pagamenti, non trasferire mai del denaro e non comunicare all'esterno del sito Web o dell'app di Airbnb.
---
Sistemazione per la notte
Camera da letto 1
1 letto matrimoniale, 1 letto singolo
Camera da letto 2
1 letto matrimoniale, 1 letto singolo
Camera da letto 3
1 letto matrimoniale, 1 letto singolo
Camera da letto 4
1 letto matrimoniale, 1 letto singolo
Camera da letto 5
1 letto matrimoniale, 1 letto singolo
Camera da letto 6
1 letto matrimoniale, 1 letto singolo
Camera da letto 7
1 letto matrimoniale, 1 letto singolo
---
- Main rule at Casa 48 : NO DRUGS!
- Please put the toilet papers in the trash, not in the WC (sorry this is the way in Brazil...!)
- Casa 48 is not a Motel, not a Bar, not a Disco : it is important to respect the tranquility of its inhabitants and its neighbors after 23h. The favela is like a small village, our good relationships with everybody also depend on you.
- It is forbidden to invite strangers without our previous authorization.
- It is not allowed to walk on the green roof.
Dichiari inoltre di essere a conoscenza di
In questa casa vive almeno un gatto
---
---
---
Très bon séjour à la CASA 48. C'est plus une auberge qu'un airbnb, on vous donne toutes les informations nécessaires pour passer un bon voyage ! On a également pu goûter à des repas typiquement Brésilien ! 30reals pour entrée, plat, dessert. (Merci Ariane !!) Endroit que l'on conseille vivement, la vue est magnifique et le service est très bien ! Petit bémol assez bruyant le matin.
---
La vista es tan pero tan hermosa! Las atenciones de los anfitriones son geniales, aunque no hablamos su mismo idioma Valentín hacia lo posible por explicar y ayudarnos. Nos orientaban a decidir que hacer y nos ayudaban a pasar días como lo viven los brasileños, Un lugar muy cálido, agradable y limpio. Sin duda alguna volvería.
---
This Air Bnb is incredibly unique and provides a view not many get to see in rio unless you stay at this location. It is very cultural and the staff are very accommodating. The owner is present and always popping in saying hi and offering suggestions. Would stay again and highly recommend it to any fellow travelers !
---
Casa 48 is situated in the bohemian and colonial district of Santa Teresa, in the centre of Rio de Janeiro. The story began in 2009 when Raphaël and Axel arrived from France to do an exchange program, later Valentin and Clément joined them to take part to the adventure. Step by step, the 4 of us have been improving the house to turn it in a nice 7 bedrooms guesthouse in front of the Sugar Loaf.

Axel and Valentin are living in the house, Valentin is in charge of receiving you, he will give you the keys of your room and of Rio! Axel is always around and he is an oficial tour guide, you can rely on him to discover Rio from all angles.

Raphael and Clément live in France, they come often to take part of our new projects and to enjoy Rio.

We speak english, french, spanish and portuguese, we are in our thirties and we have been experiencing Rio for many years. We are very pleased to make you sharing our passion for this amazing city, we will give you our best tips by day and night so you can really feel the Carioca way of life.

Axel, Valentin, Raphael, Clément
Lingue:
English, Español, Français, Português
Tasso di risposta:
100%
Tempo di risposta:
entro poche ore
Esplora altre opzioni a Rio de Janeiro e nei dintorni
Altri alloggi disponibili a Rio de Janeiro: