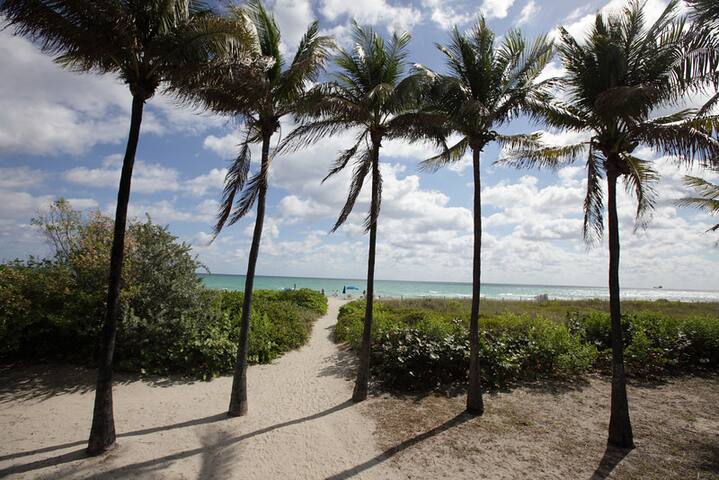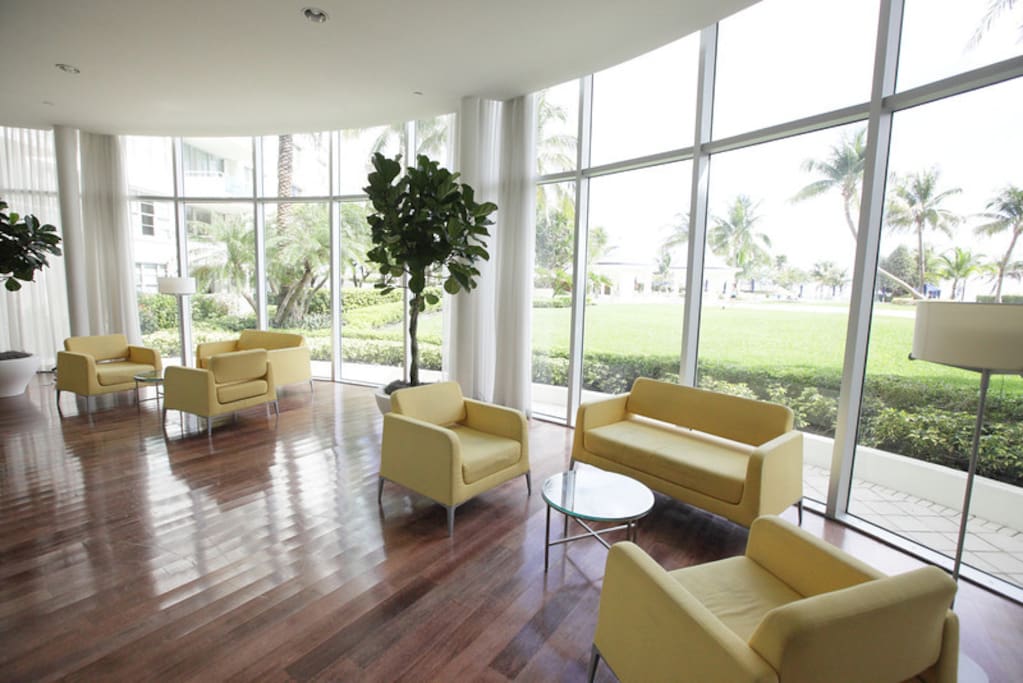 1024 Miami Beach 2bed2bath full apt
A magnificent 2 bedroom and 2 bath, full balcony and views. Millionaire's Row section of Miami Beach, the Seacoast Towers at 5151 Collins Ave is directly on the beach, 2 miles to the center of South Beach and 3 miles to the famous Bal Harbor Shops.
L'alloggio
Spacious and luxurious 2 bedroom 2 bathroom apartment with all the comforts of home, but on the beach!
This is a premier 1400 square foot apartment with wrap around 180 degrees breathtaking views. Master bedroom having king size bed with dressing area, makeup table, walk in closet and full bathroom. Second bedroom includes 2 twin beds and one crib. Apartment has all amenities including a full kitchen with all appliances, cookware and serving utensils, a large living room and dining area, well maintained and decorated with magnificent views. A huge living room/family room can also sleep extras on sofa sleeper.
Disclaimer: The swimming pool at the Seacoast will be under renovation from September 1 to Decemb(PHONE NUMBER HIDDEN). The beach on the magnificent Atlantic Ocean, which is connected to the pool area, is open. lounge chairs and umbrellas are provided free of charge on the beach. We are offering a 20% discount during the months of September, October and November which will be applied at time of your reservation.
The Seacost in Miami Beach directly on the ocean front condo rental located at 5151 Collins Avenue Miami Beach Florida 33140. This apartment can sleep 5-6 guests very comfortably. This magnificent apartment has east and southern exposure. Rental includes use of all resort facilities, health club, beauty salon, gift shop, concierge, hot tub, heated pool with chaise lounges and umbrellas at pool or beach with direct access to sandy private beach. Optional valet parking. Wi-Fi available
Millionaire's Row is centrally located between North Beach and South Beach, offer residents plenty of opportunity for shopping, dining and entertainment as well as convenient access to and from the city. Its immediacy to these areas provides residents with a multitude of cafes and restaurants serving fare from the world over and plush boutiques and shops for even the most demanding of shoppers. There are abundant beaches for sunbathing and splashing in the surf as well as ample dockage for yachts. Unlike some of Miami's other grand neighborhoods, Millionaire's Row is not a secluded island or exclave offering residents the perfect location in Miami Beach for vibrant luxury living.
When you think of the pinnacle of luxury living in Miami Beach, one place comes to mind, Millionaire's Row. This exclusive stretch of sun, sand and surf on Collins Avenue from 41st Street to 62nd Street is home to some of the most luxurious real estate anywhere in Miami-Dade County. Millionaire's Row is renowned for its opulent, spacious homes lining the crystalline bay, its high-end boutiques and fine restaurants as well as its wonderful soft sand beaches.
Conveniently located 15 minutes from the Miami International airport, the Port of Miami, and Downtown, Parrot Jungle, sea aquarium and Miami Children's Museum. Close to all the sites that make Miami famous. Just a few minutes outside of South Beach and the historic Art Deco District. Located directly on the elegant Millionaire's Row close to tennis, golf, entertainment, and the famous Bal Harbour Shoppe's, Coconut Grove, and Bayside Marketplace.

Altre cose da evidenziare
We will add 13% Miami Beach Hotel sales tax after reservation is made
---
---
Check-in a qualsiasi ora dopo le 16:00
Airbnb - Terms & Conditions
(September 2016)

Rates: Our rates include daily resort fees, Wi-Fi and Telephone Service for U.S., Canada and Puerto Rico in rooms where available. Total rates are also in part based on number of occupants (see unit descriptions) and additional charges may apply for extra guests.

Sales Taxes: The state of Florida requires a combined 14% sales tax for vacation rentals. Airbnb collects hotel occupancy tax (totaling 7%) from you directly (only half of the required tax) and sends it to the tax authority on our behalf. You will see this 7% tax appear as a line item on your price quote on Airbnb. The additional 7% required sales tax is not included in the initial Airbnb quote and must be billed subsequent to your reservation being accepted. After you/we accept the reservation, we will then send you through Airbnb an "Altered Reservation" with new rate including the additional 7% State sales tax. To finalize the reservation, you will be required to log into your Airbnb account and "Accept" the "Altered Reservation" that now includes the additional 7% State taxes.

Cancellation Policy: Strict: 50% refund up until 1 week prior to arrival, except fees. See details of our cancellation policy on Airbnb listing. To protect your rental payment, we recommend that you review and purchase Travel Insurance to protect your vacation expenditures (flights, vacation rental, etc.) by reimbursing you for out-of-pocket nonrefundable expenses when covered as an insurable expense. Travel insurance also covers certain medical emergency services. Please see more details below.

• If guest arrives and decides to leave early, the nights not spent are non-refundable.
• HORA, in its sole discretion, has the final say in all disputes regarding refunds outside of the cancellation policy.

Checkout Cleaning Fee: All reservations incur a Checkout Cleaning Fee. This special cleaning occurs after checkout in preparation for next guests stay. Interim cleanings, replacement towels, and other extra services are additional and charged against your credit card on file as a separate charge. Services provided by the Hotel or Condominium such as spa, hair salon, valet parking, restaurant, gift shop, bar, beach rentals and water sports, etc. are payable directly to those service providers at time of service.

Parking: The Seacoast Tower has valet parking as option currently $12 per day or $60 monthly which allows unlimitted in and out. Commercial or larger vehicles may not be able to park, but you may be able to arrange with building valet parking attendants – no guarantees. You park at your own risk and HORA is not responsible for any theft or damage. There is also a municipal parking lot two blocks north for $1 per hour, or $10 per day (paid remotely using mobile app).

Check-In/Out: Regular check-in time is 4 pm, Regular check-out time is 11 am. Early check-in or late check-out must be requested at time of reservation and arranged in advance in writing (via email). For guaranteed early check-in or late check-out, additional fees will apply as we lose the ability to rent the apartment the night before early check-in or the night after late checkout. $50 for 1 bedroom, $75 for 2 bedrooms, $100 for 3 bedrooms and $125 for 4 or more bedroom apartments, per hour, is the current rate for early check-in or late check-out. You may also pay half day rate (whatever is less) to check-in as early as 12 pm noon or check-out as late as 3 pm.
Courtesy early check-in or late check-out (courtesy of one hour) is available based solely on whether we have guests checking out same day you arrive or whether new guest is checking in same day you depart. We will only know 24 hours in advance due to last minute reservations.

Security Deposit (property damage): Depending on the number of guests, ages of guests, and the unit being rented, you authorize Airbnb to put a hold on your credit or debit card, a required $300, $500, or a $1,000 as a Refundable Damage Security Deposit. An authorization hold on your debit or credit card is the general practice within the vacation rental industry to hold a certain dollar amount in your account until transaction is cleared - subject to no damage or violations. Therefore, this is a "hold" and not a charge to your card. Funds are released back to your account by Airbnb usually within 2 to 5 business days after checkout. You also authorize us to charge any amount to replace or fix damages that may have occurred during your stay due to violation of House Rules. We would hold your authorized payment (Security Deposit) and object to issuing a partial or full refund due to violation of House Rules (i.e. smoking in apartment, pets, excess debris or trash, leaving apartment in very cluttered or unsanitary condition, unauthorized late checkout, missing items, damage to property, or additional unauthorized guests were found sleeping in unit - see House Rules below for more details). These are some examples of causes to withhold the Security Deposit or to charge your card for damages or violations.

Travel Insurance (Trip Cancellation Insurance): As a licensed travel insurance agent in the State of Florida, we offer travel insurance by Rental Guardian and CSA Travel Protection. You must request this from us after reservation is confirmed. Travel Insurance covers reimbursement of non-refundable trip expenses in event of a delay or cancellation of trip. Travel Protection reimburses 100% of traveler's non-refundable trip costs for losses due to unforeseen covered reasons. In addition, we offer a "CANCEL TRIP FOR ANY REASON PLAN" which reimburses 75% of non-refundable trip costs if trip is cancelled for any reason not listed in the policy.

We want to do everything possible to help make sure you are traveling safely with peace of mind throughout your trip. Because the unexpected can occur while away from home, Travel Insurance provides added protection and security. As a licensed agent we can offer this protection to you. Travel Insurance covers reimbursement of non-refundable expenses in the event of trip cancellation. Coverage also provides emergency assistance and certain medical coverage during your trip, rental car damage, delayed or canceled flight, lost luggage, and other additional benefits such as concierge services. You may insure any amount you want up to $50,000 of expenses and may include any nonrefundable insurable expense such as, i.e. tickets to events, airline tickets, nonrefundable payments for vacation rental apartment, deposits, etc.
For example, if you were to cover $1000 of travel expenses, your cost for this coverage would be $70 (or 7% of the amount you decide to insure). Other benefits include up to $(PHONE NUMBER HIDDEN) in emergency medical assistance, $25,000 in rental car damage, and trip interruption coverage. Terms and conditions apply and are subject to the Insurance Carriers Rules and Regulations.

Occupancy: When making your reservation the rate is calculated in part based on the number of guests. If it is determined that additional unauthorized guests slept in the apartment an additional $35 charge plus tax, per person per night will be charged to your credit card on file. If the number of guests exceeds the room limit listed on our Airbnb, a $200 per night penalty will be charged to your card. The maximum occupancy allowed in a specific apartment is listed on each individual unit property page. Once reserved for a certain guest count we do not refund if fewer guest actually end up staying in unit.

Wi-Fi Internet, Cable TV and Telephone Service: Most all units have Wi-Fi (VOIP Phone Service available in most units) and are included free of charge. We are not responsible if any of these services are interrupted or for the upload or download speed but will try our best to have any technical issues repaired as soon as possible. If you don't see a Wi-Fi Network ID for your apartment check that cable modem and wireless router are plugged in to electric outlet. If you don't see your network. and you have checked the modem and router connection, contact us with what other network ID's are visible with a strong signals and we may be able to provide the password for that network.

Personal Valuables: As in any resort, proper precaution should be taken to protect your personal property. Building, cleaning and management personnel have access to each unit for cleaning and maintenance and or emergency purposes. Owner, Rental Agent, Condominium Association, Hotel, and Property Manager are not responsible for any items lost or stolen. It is your responsibility to secure any personal valuables. Most apartments have a small safe (usually in master bedroom closet) available for safekeeping your valuables; however, we take no responsibility for any of your or your guest's valuables as these safes may be penetrable. Building security and local police should be notified immediately in the event of any loss or security issue.

Entry and Inspection: Rental Agent or its representatives reserve the right to enter the Property at reasonable times and with reasonable advance notice for the purposes of cleaning, inspecting, or showing the Property to prospective purchasers, renters, or other authorized persons, or for the retrieval of supplies from storage areas. If Rental Agent has a reasonable belief that there is imminent danger to any person or property, Rental Agent or its employees or representatives, may enter the Property without advance notice. If you don't want to be disturbed, please hang the "Do Not Disturb" sign outside of your door.


House Rules:

• Missing or Damaged Items: You will be charged for any missing or damaged items from or in the apartment. Be sure to leave all remote controls and other electronic items such as TV remotes, portable telephones and fan/light remotes all in their respective places.

• Towels: Pool towels must be returned to the pool attendant before sundown each day or your card will be charged $15 per towel for replacement costs. Do not use wash cloths, hand towels or bath towels for cleaning purposes, makeup or cosmetic removal or for other uses which will stain or damage the towels or blankets. You will be charged replacement costs for any ruined towels. Replacement bath towels are available upon emailing us, in advance, or calling our caretaker, at a cost of $25 plus tax for a set of 6 towels, each set contains a bath towel, hand towel and wash cloth.

• Noise Ordinance: Miami Beach and our properties maintain an ordinance for disturbances in multi dwelling buildings. No excess noise, on weekdays before 9am and after 10pm, and Weekends (Saturday, Sunday, and Holidays) before 10am and after 11pm. Police have the authority to escort you from the premises if you violate this rule. Construction is only permitted weekdays between the hours of 9 am and 5 pm.

• Occupancy: Guest agrees that no more than the authorized number of guests shall sleep in the unit at any time during the Rental Term. If it is determined that additional unauthorized guests slept in the apartment an additional charge per guest per night will be applied. All sleeping guests and visiting guests shall comply with the conditions and restrictions imposed under this Agreement and House Rules.

• Non-Smoking: All of our units and properties in all locations are non-smoking including the entire Alexander, Seacoast, and Fontainebleau buildings. Smoking is only permitted in designated areas outside the building. Smoking in an apartment or balcony can result in a fine of $250-$500 against your credit or debit card, or withheld from Security Deposit to be used to deodorize and clean the apartment.

• No Pets: Only Service pets (certified) are permitted with prior approval. Service pets must be carried or leashed at all times on the property. A $250 charge is required for "deep cleaning" for any pets. Please disclose this requirement at time of your reservation. Failure to do so will result in $250 penalty charge as well as the $250 "deep cleaning" charge.

• Excess Debris: Additional fees determined solely by HORA will be applied to credit card on file for excess cleaning charge if apartment is left littered with debris and/or trash. Please leave apartment in a reasonably clean condition and treat our property as you would your own. Reservations longer than 7 nights require interim cleanings once weekly at a minimum. Interim cleanings can be arranged through HORA via email and additional charges will apply based on cleaning type. Our caretaker can provide personal laundry service as well as grocery shopping and other concierge services.

• Trash Removal: Trash must be removed and disposed of daily in the garbage chute located in the service area in room next to elevator on each floor. Please do not dispose of paper towels, facial tissues, or sanitary napkins in toilets.

• NEVER LEAVE A CHILD UNATTENDED ON BALCONY, AT THE BEACH, OR NEAR POOL AREA.

• Follow "Pool Rules and Regulations" posted at all times.
• Shirts and shoes must be worn in the building common areas at all times.
• Never bring items covered with sand into building or apartment.
• You are required to check out of apartment at agreed upon check-out time. If you are found to have overstayed checkout, a full-day rate will be applied to your credit card on file.
• Always leave air conditioner running leaving thermostats between 71 and 73 degrees when leaving apartment or upon checkout. Thermostats should be set on COOL and AUTO.
• Please close lights and window shades to save energy.
• Be sure to return any manual keys before checkout.
• Do not leave windows or doors open.
• Be sure to leave room safe open before checkout.
• Check all outlets for phone and tablet chargers.
---
We have reserved this appartment for the Easter weekend in March. We have been 5 adults and overall we have been very satisfied. The appartment is exactly as on the pictures: very spacious, clean, well fournished with great view and fully equiped kitchen. Mark (or his renting agency) as host is very available. The location of the appartement is as described so don't expect a lot of shops, restaurants or bars in the near surrounding.
---
We stayed in this apartment 4 adults and one child and enjoyed our stay. It is suitable for family with children, has useful crib in one room and lot of toys available. It is very spacious with big balcony which extends along the side and rear of the building. Even though the apartment has quite old fashioned and older equipment and design as we are used, we felt comfortable in it. There was a lot of towels available, comfortable blankets on the bed, really large storage space (wardrobe in both rooms), laundry on the floor by the elevators..We like cooking and we didn't like the kitchen equipment, it was quite weak and worn, but that's not such an important think when you are in Miami probably. Regarding the building, it has really nice surrounding with pool and private beach right before it. Big advantage is that the beach chairs were free. Mark was very helpful with all our requirements. We recommend this apartment to everybody.
---
Responsible caring owner of multiple units at this fine resort in Miami Beach. I am interested in your enjoyment and have a stellar reputation of providing excellent accommodations and service to my guests. HORA Vacation Rentals looks forward to greeting you.
Lingue:
English, עברית
Tasso di risposta:
97%
Tempo di risposta:
entro poche ore
Esplora altre opzioni a Miami Beach e nei dintorni
Altri alloggi disponibili a Miami Beach: