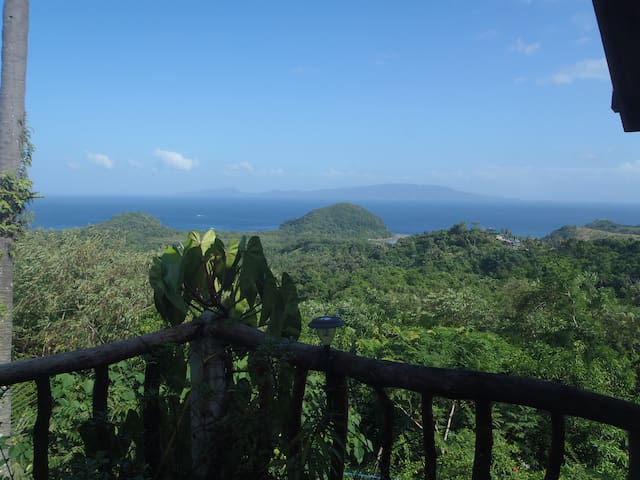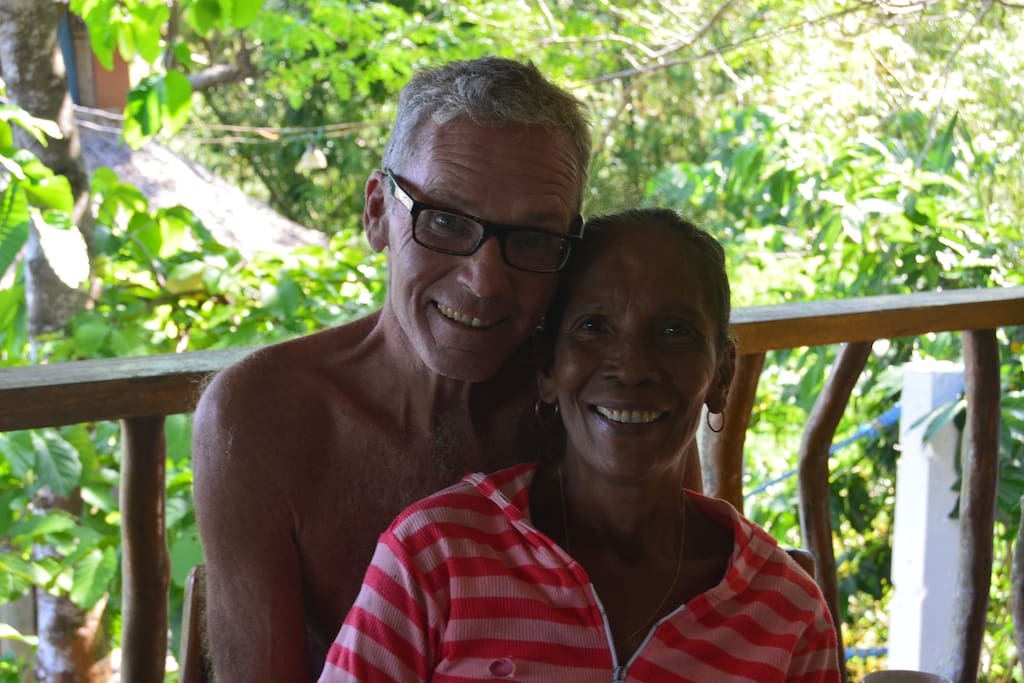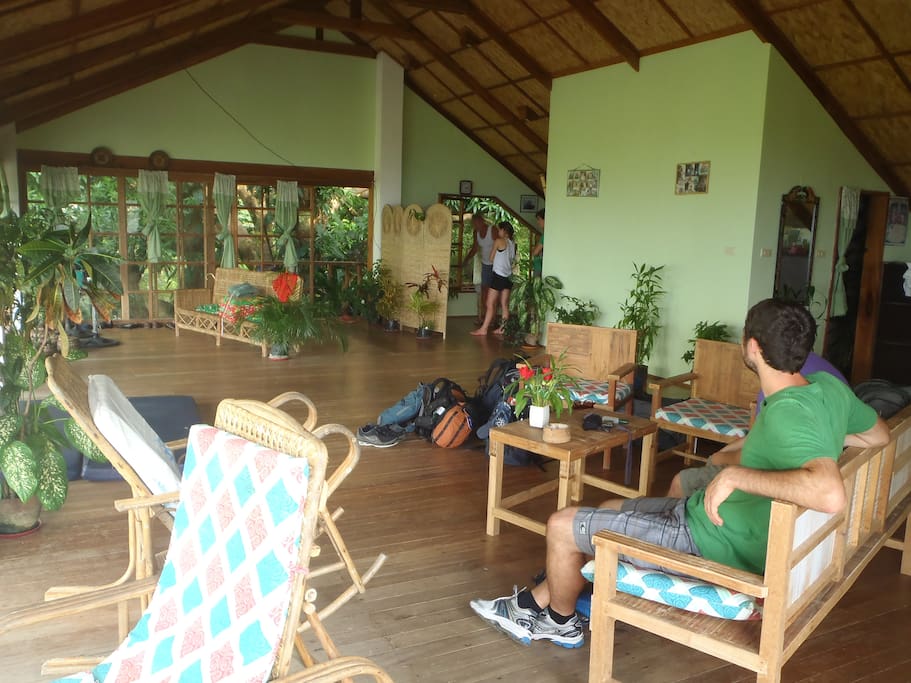 Su questo annuncio
This is a self-contained apartment on the top floor of a unique charming three-story house built in 2005. There is also an adjoining tree house located in a mango tree and a middle bedroom is on the main floor. The property is 15 minutes from Puerto Galera and approx. 5 minutes by road to White beach. The 5000 sq meter property is a secluded jungle hideaway among the 2.2 hectare family property. The apartment enjoys marvelous panoramic views of the jungle below and the South China Sea beyond.
---
Animali: Cane(i) e gatto(i)
Tipologia alloggio: Intera casa/apt
---
---
Ospiti extra: 10€ / notte dopo 2 ospiti
Comunica sempre attraverso Airbnb
Per proteggere i tuoi pagamenti, non trasferire mai del denaro e non comunicare all'esterno del sito Web o dell'app di Airbnb.
Per saperne di più
---
L'alloggio
.....Firstly, to save any confusion, we wish to let you know that once you have made your booking, regardless if you are one guest or nine, the site is then closed for any other persons wishing to make another booking during that same time period that you have chosen to stay.....Also, check out time is stated as 12 ( noon ). However, if there are no guests arriving on the day that you are checking out, then you can check out at a later time that is suitable to you. More often than not, new guests will not arrive until the afternoon, however if you need to check out at 12 ( noon ) due to the arrival of new guests, you are welcome to come and stay downstairs and relax and/or explore the property until you need to leave to take the afternoon banca =
ferry back to Batangas....Likewise if you arrive before 12 ( noon )
and the guests have yet to ckeck out then that is not a problem. You can relax downstairs and enjoy a beverage or explore the property until the guests do check out. We then will do a do a quick and proper preperation and clean of the accommodation for you...Now.....The SPACE....the huge suite takes up the entire top floor of the house and has high ceilings made of sawali and hardwood floors. In the secluded bedroom near the upstairs enterance there is a double sized bed. The suite can also accommodate two more people on another double bed located on the far side of the living room. There is a moveable privacy partition located there also. An additional made up double and single mattress are also available if needed. There are plenty of cupboards and storage spaces for you to use for your belongings and there are closests with hangars and we have extra comforters for you to use if you so wish. The large bathroom contains a shower with hot and cold running water. Soap and towels are provided. It has two enterances= one to each sleeping area. The living room area is open and spacious with over 100 glass paned windows all around. There is a big terraced balcony with magnificent views overlooking the jungle below and the South China Sea beyond. The kitchen is fully equipped with a two burner gas stove and fridge/freezer and a coffee maker and a toaster oven and all cooking and eating utensils. The kitchen sink and washing up and prep area are situated on the terrace. There are 2 dining tables available=one inside and another on the terrace. There is also an outdoor cooking area=bbq, that the family use for cooking and that you are welcome to enjoy and make use of. Free breakfasts (eggs, toast, butter and jam, fruit/juice,coffee, tea with milk and sugar plus condiments) are also included during your stay. We also supply free bottled water. We are also connected to Wifi and you have free usage.
There is a separate house built within a 100 year old mango tree with a double bed that can accommodate two additional people. It is connected to the main house by a safe and secure swinging rope bridge. We call it the Tree house and it is equipped with indoor and outdoor lighting.There is a very large additional bathroom with toilet and shower (cold water only) on the main floor that is made available for your own use. We have also created another secluded bedroom with a double bed on the main floor. There are fans and an automated cooling system is avaiable for upstairs and there is a fan for the tree house and a fan for the bedroom on the main floor. The upstairs suite is very airy with sliding and folding doorand folding windows. Being situated at a higher elevation we enjoy a steady flow of the cooler winds and breezes. All beds can be and are equipped with mosquito nets. On the main floor there is a television hooked up to a satellite dish that you are welcome to watch and enjoy. We have moveable music speakers that you can connect to if you wish to. In case of power outage we have a new backup generator that can be put into use..... IMPORTANT to note that this rental would not be suitable for people who have difficulty with walking. The path from the road to the house is 100 meters, and it is steep in some parts and can be slippery in the rain. Hand railings and steps have been constructed for your safety and use along the walkway. At night flash lights are needed and we do supply them...... It is important to note that children 5yrs of age and younger stay for free. Children 6 yrs to 12 years of age stay for 1 / 2 price. Therefore when making your booking, for example, if there is 1 child only between 6 yr and 12 years of age do not include them in the booking and you can just pay us the 1 / 2 price in cash when you arrive. For example, if there are 2 children between the ages of 6 yrs to 12 years then when making your booking do so for only 1 extra person. Just do the maths thanks.,
Accesso ospiti
.....We the owners, live on the lower two floors. The main (middle) floor is an open living space that guests are welcome to enjoy. A private middle bedroom has been created on the main floor for our guests. There are three rooms on the lower floor that the family use for sleeping. The property is over 5000 square meters in size with paths and walkways present throughout the beautifully landscaped botanic gardens. These gardens are home to many varied kinds of flora, for eg....birds of paradise flowers, orchids, frangepannis, roses, bouganvillias, hibiscus, goomamellas along with many other local Filipino plants and flowers. There are 100 year-old mango trees and huge buri trees along with coco and other assorted palms scattered throughout the property. There are also many banana trees,papayas, casaba, kalamansi, guavas, jack fruit trees, large gabi plants and pineapples along with huge stands of bamboo growing on the property too....Necerita has also spent a lot of time and hard work creating her own large native vegetable garden of which she is very proud of...Also there are 3 ponds on our property. One small tropical fish pond and two large lily ponds that house tilapia fish, frogs, lizards,turtles and one large crocodile fish. Guests are encouraged to wander and enjoy the surroundings.
Interazione con gli ospiti
....While we are happy to respect the privacy of our guests, we are also available to help out whenever guests have concerns or questions. Rod is more than happy to join and help guide you in activities and on excursions if you wish. Necerita was born and raised on the Ponderosa and has lived in the Puerto Galera area all of her life. We like to think that Necerita's Bed and Breakfast Tropical Retreat has much to offer for our guests. We can gladly organize outings such as a jungle walk from our property to a local waterfall=Aninuan falls and continuing river walk down to Anninuan beach or road trips to view other waterfalls= Tamaraw and Tokaran falls and also we can organize a jungle trek up the mountain to the Mangyan village at Baclayan and subsequent swim at a tropical swimming pool. The views on this walk are amazing. You can also take an easy 25 minute jungle path walk from our property through a Mangyan down to White Beach. Either Rod or one of the grandkids will be able to help guide you on your first trek.... Other activities that we can help organize for you include snorkeling trips, diving , picnics, tennis (we have extra rackets and balls and Rod is a member of the Moorings tennis club located behind the yacht club), also sailing (the Puerto Galera yacht club offers sailing), and zip lining and golfing up on the Ponderosa course. The Ponderosa golf course is a cute and memorable jungle course which sits at the top of the Ponderosa road and where one can marvel over panoramic vistas of Puerto Galera Bay and the surrounding landscape and of Verde Island and beyond to Batangas and the big island of Luzon. One can sit and enjoy a beverage and a light snack at the clubhouse. We are not far away=1 km and a visit to view is highly recommended.....There is also a local clay/dirt basketball court with night lights located just down the road from the entrance to the family property which you can enjoy by using or by simply watching the local men and boys play. Filipinos love their basketball. We do have a basketball and you are welcome to join in with the local Filipinos for a game if you wish..... We can also arrange for you an in house massage service. Necerita's long time friend, Tasing, is a well qualified masseuse and she will happily come visit on your request. For a 1 hour massage she will ask 400 pesos..... We also have art supplies which include watercolur paints/watercolour pencils and oil pastels and art paper that are availabke for you to use and enjoy.....Also we have binoculars available for your use.....We have games and cards available including Yhatzee, crib and chess......We also have a small library of paperbacks including Lonley Planet guide books on S.E. Asia and the Philippines and a Tagalog/English dictionary for your enjoyment and learning interest.....We have our own private banca-outrigger moored in Minolo Bay (it seats 6). Unfortunately as of 2017 the new rules by the mayor make it impossible for us to use our private banca to snorkel the Manila channel reef and to use it for other subsequent activities. However we can arrange another banca or two if needed, at a good price, for snorkelling the reef and other activities. We can supply our own masks and snorkels and fins. We can also arrange at the same time, if desired, a beach picnic on a secluded beach. Rod is happy to join in and guide also....We can arrange other services for our guests including meals. Dinners and BBQs can be arranged [ Necerita has a varied western and filipino menu set up for you which includes main meals and light snacks} and she is a wonderful cook. Guests are more than welcome to use our outdoor BBQ area for their cooking. Fallen coconuts are freely available for your drinking and eating..... Bedding,linens and towels are changed regularly and if you wish we can arrange for your personal laundering to be taken care of for a very reasonable price = we have an in house laundry service.... Transportation to and from Sabang for diving is readily available. We are patrons of a highly reputable and regarded dive outfit in Sabang, titled South Sea Divers, and they have offered to us special rates for our guests.... There are also dives oufits closer to us in White Beach that we can refer.....We have a new 125cc automatic Suzuki Sky Drive motorbike for hire at 400 pesos a day and we can arrange for others to be hired. Note: You are not required to have a motorbike license here in Puerto Galera, your personal drivers license from your home country is sufficient.... Dags, Necerita's son, is a tour guide and can also organize the hiring of a multicab for transport to the different waterfalls and other popular sites. Picnics can always be included, and packaged deals are available at a very reasonable price. ( our low prices are comparably lower than the locally asked prices for similar services)....Junior, Necerita's brother, also has his own tricycle service located on the Ponderosa road right near our driveway. He is available for local transport and package deal guided tours for our guests.His prices are lower than the other tricycle services and he is very dependable.....Also for guests with children we can organize a nanny/babysitter service when required..... We wish for your stay to be both enjoyable and memorable and we strive to help ensure this by giving you the best in services that we can offer. You are our valued guests.
Il quartiere
.....Puerto Galera is the perfect destination for travelers looking for relaxation and comfort, or, travelers looking for adventure. Diving, snorkeling, sailing, island hopping, jungle trekking, jet skiing, golfing, tennis and kayaking are among some of the many activities you can do and enjoy in Puerto Galera. The Ponderosa road is dotted with local Filipino settlements and foreign properties culminating after 3 km at the Ponderosa golf club. We are located half way up the Ponderosa road opposite villa Malisimbo. Our residence is approximately 100 meters by pathway from the main road. White Beach is approximately 5 minutes away by local transport. Puerto Galera is approximately 15 minutes away by local transport and Sabang is approximately 25 minutes away by local transport. For grocery shopping, there is the Parkway supermarket in White Beach and two supermarkets in Puerto Galera, the Parkway supermarket and the bigger supermarket, Candava. There is a deli in White Beach and another in Puerto Galera that sell assorted European cheeses and meats. Our bread is baked fresh daily by a local New Zealand friend,Gary, and it is delicious. Local fresh fruit and vegetables shops are dotted about besides there being the larger market in Puerto Galera. There is fresh seafood for sale in White Beach and Puerto Galera and at Balatero pier. There are medical clinics and pharmacies located in White Beach and Puerto Galera and Sabang. There is a General Hospital in Puerto Galera and a smaller clinic. The PNB Bank and its ATM are situated in Puerto Galera. There is also an ATM machine located in White Beach. For changing money, the Candava supermarket offers very good rates. A very small community church has just been built on the Ponderosa road across from the entrance to the family property. It holds a service every Sunday at 6:30 am. We do have the local knowledge and experience and are more than happy to advise you on and answer any questions and queries that you may have regarding just about anything and everything concerning Puerto Galera and the surrounds during your stay. We have also compiled and put together a comprehensive information brochure for you that will be of assistance. Please make yourselves at home and enjoy your stay.
Un giro nei dintorni
....We are more than happy to pick up our guests,at no charge ,from Muelle pier [ pronounced mole yay ]=Puerto Galera on arrival or from Balatero pier. Be it from Manila or some other location we can easily give you directions on how to arrive at Muelle pier in Puerto Galera where we will gladly meet and greet you when you disembark. Please note that the last banca = outrigger = ferry departs from the port of Batangas going to Muelle pier in Puerto Galera at 5p.m. These ferries leave regularly throughout the day beginning at 7:00 am. The banca trip can be between 1 and 1/2 to 2 hours in duration. It is approx. a 1 and one 1/2 to 2 hour road trip from Manila to the Port of Batangas. Local Buses to the Port of Batangas leave from Beundia Bus terminal in Manila (located near Ermita/Makati suburbs) regularly. The fare is 180peso. Other bus stations in Manila will also have services to the Port of Batangas. The banca trip will cost you 230 peso. If you take the MSL= Minolo Shipping Line banca you will go directly to Muelle. If you take the FSL= Father and Son Line banca you will first stop at Sabang and then proceed on to Muelle. Alas remain on the banca and do not disembark at Sabang. These two banca trips will cost you the same amount = approximately 230 pesos. There is a 30 peso terminal fee which you pay at Batangas pier and a 50 peso environmental tax paid by you on arrival at Muelle pier. Another new banca service has begun operating also. The name of this service is Del Mundo Shipping Lines. It has 4 services during the day leaving from the Port of Batangas going directly to Muelle and then onto White Beach. The cost is the same as both the MSL and the FSL services.....There is also a big private air/con Sikat Bus that departs daily at 8a.m from the City State Hotel in Ermita, Manila, which on the purchase of an 800 peso one way ticket from the Hotel, will transport you to Batangas pier and then put you on the FSL banca that goes first to Sabang, then will continue onto and drop you off at Muelle pier. Again do not disembark at Sabang. The 30 peso terminal fee in Batangas and the 50 peso environmental tax at Muelle must also be paid. You can book your SIKAT ticket from the City State Hotel on the morning of the journey. Best to be there at or before 7:30am. If you wish, and let us know, we will make for you a reservation beforehand. The SIkat bus returning from Batangas to the City State Hotel in Ermita leaves once a day only at 10:30am. You must take the 8:45am FSL banca departing from Muelle. You can purchase your ticket the morning of your departure at the Father and Son Line office at Muelle pier....If you are bringing your own vehicle over then you can take the car ferry = Roro which departs twice daily from the Port of Batangas and arrives at Balatero pier = Puerto Galera. The first sailing is at 10am and the second is at 6pm. The crossing takes approximately 2 hours. You can also board this ferry as a foot passenger too. The cost is approximately 180 pesos. We will gladly meet and greet you at Balatero pier and escort you up to our property. We have a secure parking area located next to the top of our driveway for you to safely park your vehicle. The returning ferries from Balatero pier to the Port of Batangas leave twice daily also. The first at 10am and the last at 3pm.....Alas there is another option of getting from Manila to Puerto Galera, and that is to take a taxi from the Nino Aquino International airport or terminals 2 or 3,to Batangas pier and then take the appropriate ferry. This taxi fare will run you approx. 3000 to 3500 pesos = bargain with the driver........The first banca to leave from Muelle to Batangas departs at 6:55am. The last banca from Muelle to Batangas departs at 3:15pm. There is also a banca departing from Sabang going to Batangas at 5:45am and you must purchase your ticket the day before.... there are local bus services waiting at the port to take you on to Manila or elsewhere on Luzon........We can also arrange for you seaplane transportation from Puerto Galera to Manila = Airjuan. The cost is 5500 pesos per person and the flight leaves at 8am on weekdays and takes approximately 45 minutes. On weekends they depart 3 times daily. They depart from near the Manila Yacht Club in Manila Bay to Boquete in Puerto Galera. There is not a problem for us to pick you up at Boquete free of charge. You can contact Airjuan for info.... Concerning available local transportation, in addition to what we have offered above=our motorbike hire, there are also local transport services that are readily available to you from the entrance of the family property on the Ponderosa road. These include being a passenger in a tricycle or either as a passenger on the back of a motorbike. Necerita's brother Junior has his own tricycle service for our guests and we can also organize with other extended family members on the road, further passenger motorbike services. These services operate to and from White Beach, Puerto Galera, and Sabang as well as to Tamaraw and Tokaran falls. We also can organize multicab services for local transportation or package deal activities to the falls. These services we offer are less expensive than what other operators would ask you to pay. If you wish to use local transport on the main road via tricycle or jeepney you can do so by leisurely walking the 15minutes down the Ponderosa road to the main highway. From there you can hail a tricycle to take you to White Beach or Puerto Galera. From Puerto Galera you can continue on to Sabang with a local Jeepney or on the back of a motorcycle. It is even possible for you to do an easy jungle path walk from our property to White Beach. It is approx. a 30 minute trek. You will pass through a local indigenous Mangyan village,which is a highlight and Rod or one of the grand kids would help guide you..... Finally, please just let us know of your plans so that we can help advise you on your journey and then be there to meet and greet you at either Muelle pier or Balatero pier in Puerto Galera. Salamat
Altre cose da evidenziare
.... The entire family property is over 2.2 hectares in size,of which Necerita owns over 5000 sq meters. The property has been in the family name for over 4 generations. In 2005 the family made the decision to lease the entire jungle property out to a conglomerate = Herpa World Corp. for 25 years. This group had grand plans of creating a reptile zoo. They proceeded to spend a vast sum of money building a house/restaurant which we now call home and Necerita's bnb Tropical Retreat. They constructed an enormous breeding house along with many reptile enclosures. They also built many ponds . All of which are connected by pathways flanked by manicured tropical gardens and jungle. They built the treehouse also with plans of adding more treehouses. After the 4th year they stopped payment of the agreed upon yearly rent to the family. They continued to operate for a further year without paying this rent. As stipulated in the lease agreement if rental payment was not paid to the family for more than 12 months the family had the right to terminate the lease. Therefore we did so and they were obliged to leave. Which they then did. They removed ALL the reptiles to other Zoos and establishments in the Philippines. They left all of the structures standing. Sadly for them their enterprise had gone bankrupt. We then proceeded to move back onto the propery and created our own paradise. In July 2015 we created and incorporated Necerita's bnb Tropical Retreat. The rest is now history.....There are two neighbors to us, Gulal a Dutchman, who has created his own 500 sq. meter piece of paradise, and Renalte, Necerita's nephew who resides with his family on 2200 sq. meters of land located above our property. The remainder of the family property lies vacant. The adjoining jungle properties are vast and inhabited by small groups of local indigenous Mangyans..... We also have 2 cats=Betty and Boop and our well behaved smallish watchdog, Spot. We also have two white rabbits, Floppsy and Moppsy, living in an old reptile enclosure that you are welcome to socialize with and feed ( as of March 23rd we now have 6 baby bunnies) Floppsy and the bunnies are all doing well...Other points worth mentioning are, the spectacular sunsets and distant cloud to cloud lightning storms that can often be viewed from the balcony terrace and the tree house. There are also various types of butterflies and birds that can be viewed on the property and many gekkos and the occasional monitor lizard and monkey to be seen. In the evening one can enjoy the sights of bats swooping about in the distance and of fire flies that dance and flicker about in the night air.
---
L'orario di check-in è flessibile
We kindly expect our guest to be considerate of others staying here = ourselves and the grandchildren and our staff = helpers. If guests must smoke, we prefer if they do so out of doors or outside on the balcony. Salamat.
---
Flessibili
Cancella entro 24 ore prima della partenza e ottieni un rimborso completo, inclusi i costi del servizio.
---
---
Rod and Necerita are accommodating hosts with a wealth of local knowledge and a justified passion for their jungle paradise. It's a world away from the nearby tourist areas and a great find for those looking for a more natural experience of Puerto Galera. The guest space is thoughtfully furnished with rustic charm and spectacular views.
Thanks Jamie and Graeme for your kind words. It was a pleasure to have had you stay with us here on the ponderosa for the two days. We look forward to seeing you back visiting us again someday soon. Until such time, all of the family would like to say again, thank you for your memorable stay and we wish you continued happy and adventurous trails. Ingat!
---
what can i say. The short stay we had with Rod and Nece was truelly an amazing experience. For anyone who wants the peace and quiet of living in a jungle paradise with million dollar views,this is it. Rod and Nece's house is absolutely beautiful and the views you get from both levels ,looking over the south china sea are simply stunning. Another thing i loved about their house was it was large enough to cater for our large group of 11. Having such a large group i found that the price was very affordable considering we had "million dollar views". The proximity of their house is not far from the main ''white beach" in Puerta Gallera and Rod organised a driver for us to get around which was perfect for our large group. Rod and Nece would have to be the most loveliest couple one could ever meet. From day 1,they were very accomodating and went out of their way to make us feel at home. Rod was very informative of things to see and do in Puerta Gallera which made the experience even better. We just wished our budget allowed us more time,as once we were there,we didnt want to leave. Puerta Gallera itself is a truelly beautiful part of the world and to stay in Rod and Nece's house was the "icing on the cake". We have used AIR BnB in various locations but this stay would easily be our most memorable. I cant speak highly enough of this amazing few days we had with Rod and Nece. For anyone wanting to stay in Puerta Gallera ,i would highly recommend this amazing house not only for value for money but also for the "million dollar views". The experience far exceded our expectations.
---
What everyone else has been saying: this is truly a one of a kind place. Beautiful scenery, clean and quiet, hospitable hosts and friendly neighborhood. We made sure to wake up early to watch the sunrise and be in awe at the view. Rod and Necerita always made sure we had whatever we need. Very hospitable and helpful. They'll give you the best suggestions for activities for the best and reasonable prices. Overall, it was a great place to stay at for a quick getaway. Shout out to Ms. Tasing for an excellent massage service that is rare to find in spas. Definitely worth the price. Also to Joel, one of the grandsons, for being our tourguide and habal driver throughout our stay for a very reasonable price.
Thanks Kay for your kind review. It was a great pleasure to have hosted you and your friends. We look forward to seeing you back visiting us again someday. Until such time we wish you continued happy trails always. Salamat once again from all of the family here on the ponderosa.
---
As a first time airbnb user, I found that Rod and Necerita and their family set the standard for service. Rod was very informative about everything we could possibly think to ask regarding Puerto Galera, Necerita provided us with very good meals and all of the family was so accommodating. They were even able to help us out when we had relatives stay overnight after a late trip from Calapan. We wish we had more time as we were there for only 3 nights and 2 days but we will definitely make our way back to the Ponderosa the next time that we visit the Philippines.
Thanks for your kind review Pam. It was a pleasure to have you and Kev stay with us here on the ponderosa. We will be looking forward to your next visit. Until then we wish you continued happy and adventurous trails always. Salamat once again from all the family for your memorable stay.
---
Wir verbrachten wundervolle drei Nächte bei Rod und Necerita! Schon bevor wir auf den Philippinen ankamen, bekamen wir von Rod sehr viele Informationen wie wir am besten von Manila nach Puerto Galera gelangen. Das hat alles super geklappt! Am Hafen angekommen wurden wir von Rod abgeholt und zur der Unterkunft gebracht. Auch als wir wieder weiter reisten, wurden wir an den richtigen Hafen gebracht. Die Wohnung oben ist der Wahnsinn! Sehr große Wohnung mit allem was man so braucht, Kaffee, Kaffeemaschine, Tee, Gasherd zum kochen und sogar ein kleines Frühstück im Kühlschrank. Aber das Beste ist die Aussicht auf den Dschungel und auf das Meer. In der Realität natürlich noch schöner als auf den Bildern! Wir mieteten direkt dort einen Roller, erkundeten, mit Rods hilfreichen und sehr vielen Tipps, Puerto galera und umgebung und fuhren jeden Tag zum Strand. Wenn wir mal wieder in der nähe sind, werden wir wieder vorbei schauen :)
Thanks for your kind review Katrin and Jan. It was a real pleasure to have hosted you both here for 3 days. We hope to see you back visiting us again someday. Until.....we wish you continued happy trails always. From all the family, ingat and salamat once again for your most memorable stay.
---
This is a uniqe jem, hidden in the hights of Ponderosa Rd, watching the breathtaking view of the bay underneath the jungle. Rod, Nelly, and all the family members are worm and kind people that will do their best to make you feel at home. Rod's knoledge about the things you can do around Mindoro island is a precious and useful gift for the active and exploring guests. I Highly recommend to rent a motorcycle from Rod while staying here - the transportation will be very easy and fun that way, and the price is the best you could get. We also orderd a few meals that Nelly made for us, which were amazing! Ask for a grilld fish... YUM. The garden and all the property around this speacial house are just incredible. We highly recommend this place and hope to come back some day. Thank you for a dreamy stay!
Thanks Yonatan and Yam for your very kind review. It was our pleasure to have had you come and stay with us here on the ponderosa for the 5 days. We hope to see you back visiting us again someday soon. Until then thanks again for your most memorable stay and we wish you continued happy and adventurous trails always. Salamat once again from all of the family.
---
What a beautiful place to stay! We were there 5nights but could of stayed 5months. Rod, Necerita and all the family were such lovely people, they really make you feel part of the family, and are always checking if your ok or if you need anything and go out of their way to be helpful. The house is beautiful with lush forest and flower all around, the sound of the birds in the morning was lovely after the noise of Manila!!! I can't recomend this place highly enough. If like to meet locals and get great advice on where to see and what to do then this is the place! Thank you so much for having us it was a wonderful experience. Love to all the family and many thanks. Nathan + Gill
Thanks so much for your very kind review Natnan and Gill. It was a joy for us too having you stay with us and getting to know you both. We wish you continued happy and adventurous trails always and we will cherish the memories of your time spent with us all here on the ponderosa. Ingat and salamat from all of the family!
---
Puerto Galera, Filippine

·

Membro dal Maggio 2015
Necerita and I live in a beautiful part of the Philippines. I am originally from Victoria, BC, Canada, and have spent a lot of time travelling and working in Perth, Australia. Necerita has lived all her life in this region. We spend our time enjoying our grandchildren, looking after the property and having fun.
Tasso di risposta:
100%
Tempo di risposta:
entro un'ora
I dati sulla posizione esatta sono forniti dopo la conferma della prenotazione.
Esplora altre opzioni a Puerto Galera e nei dintorni
Altri alloggi disponibili a Puerto Galera: