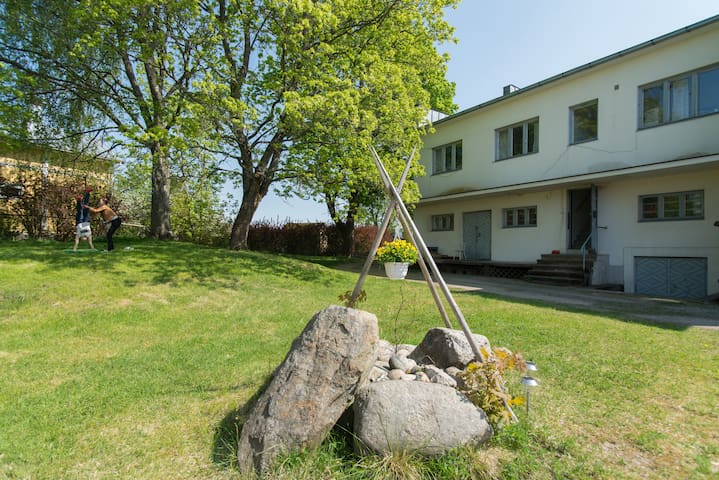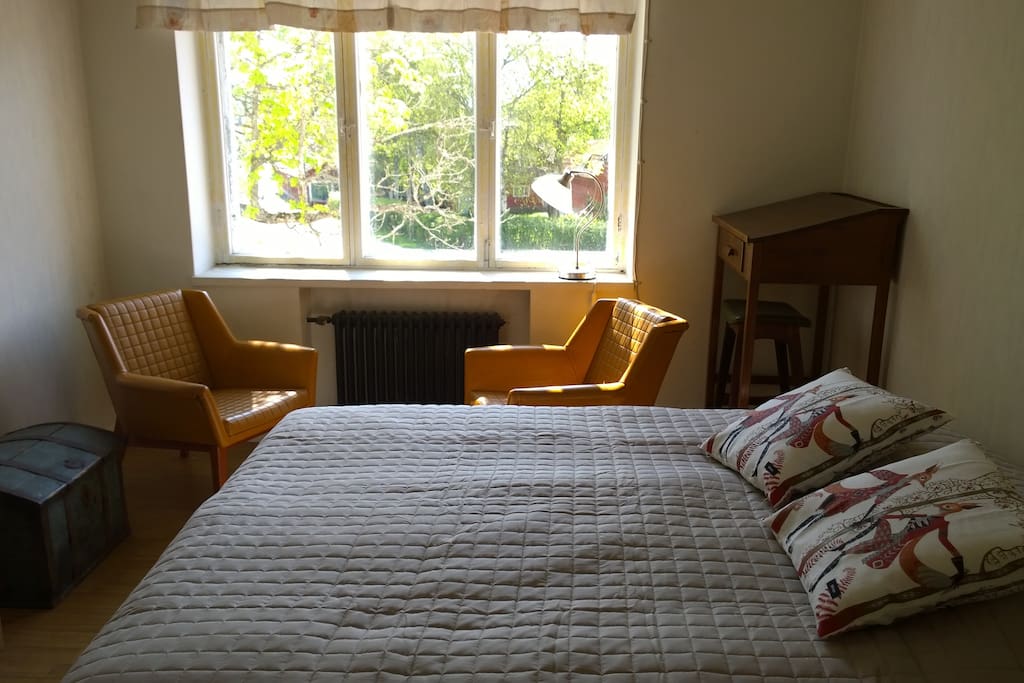 Su questo annuncio
Stay comfortably in an authentic 1930s house. Easy access by bus from Turku. A great place to stay for families and small groups! Experience Finnish countryside, archipelago and nature all in one go! - Majoitu mukavasti maaseudun funkkistalossa.
---
Tipologia alloggio: Intera casa/apt
---
---
---
Stay comfortably in an authentic 1930s house. Easy access by bus from Turku. A great place to stay for families and small groups! Experience Finnish countryside, archipelago and nature all in one go! - Majoitu mukavasti maaseudun funkkistalossa.
The Aitta building in Sauvo is one of the first modernist buildings in the Finnish countryside. You can imagine what kind of reactions and irritation it has raised among the village people at the time it was built! If you stay in Aitta, it's nearly a "must" that you also visit Paimio Sanatorium that was designed in the early 1930s by the world-famous Finnish architect Alvar Aalto. The Paimio Sanatorium building represents a stylistically pure kind of Finnish functionalism, exactly as the Aitta does. Our house may not be in a perfect shape. A little renovation here and there would do no harm. It's a bit old and shabby, we know - and you can for sure see it. But it definitely is a building representative of its own era and therefore a true pearl.
Sauvon Aitta on ensimmäisiä modernin tyylisuunnan rakennuksia Suomen maaseudulla. Se onkin varmasti aikanaan herättänyt paljon kummastusta ja ehkä suoranaista inhoakin kyläläisten keskuudessa. Rakennus on kuitenkin oman aikakautensa tyylikäs ja tyylipuhdas edustaja, ja siten varsinainen "valkoinen helmi". Olkoonkin että rakennus ei ole aivan täydellisessä kunnossa ja pientä remonttitarvetta on havaittavissa. Suosittelemme lämpimästi myös vierailua Alvar Aallon suunnittelemassa Paimion parantolassa, joka on saman aikakauden ja tyylisuunnan upea edustaja!
You can either book the whole apartment (max. 9 people) or just part of it (one room or more). If you have not booked the whole apartment for your personal use, you have of course your own room, and in addition you have access to a shared kitchen, toilet and shower facilities. Your room door can be locked with a key. Every guest has equal access to the shared use facilities.
Voit varata joko koko huoneiston (9 vuodepaikkaa) tai vain osan siitä (1 huone tai enemmän). Jos et ole varannut koko huoneistoa omaan käyttöösi, on sinulla oman huoneesi lisäksi pääsy yhteiskäytössä olevaan keittiöön, wc- ja suihkutiloihin. Oman huoneen oven voi lukita avaimella. Yhteiskäytössä oleviin tiloihin on kaikilla majoittujilla yhtäläinen käyttöoikeus.
When you arrive at the pre-agreed welcome meeting, you will receive the keys and general guidance about the housing facilities. On that occasion you can also ask for more information about the village and its surroundings as well as the opportunities it offers.
Kun saavut ennaltasovittuun tervetulotapaamiseen, saat avaimenluovutuksen yhteydessä yleisopastuksen majoitustiloihin ja halutessasi myös lisätietoja paikkakunnasta sekä sen tarjoamista mahdollisuuksista.
Sauvo village center is well worth a visit even just for the sake of its architecture. There are old wooden houses with beautiful details, a medieval stone church and its well-kept cemetery, a former dairy building that has been beautifully restored into a public library and the former pharmacist's house which now serves as a beauty and wellness salon (by the way, it represents also the 1930s functionalist style, just as Aitta does). There are also plenty of possibilities for excursions in the surroundings of Sauvo, not to mention the many events and activities that take place in the summer months. Come for a visit and be inspired!
Sauvon kirkonkylä on näkemisen arvoinen käyntikohde jo vaikkapa pelkästään arkkitehtuurinsa vuoksi. Kylällä on nähtävissä monenlaista rakennuskantaa: vanhoja puutaloja kauniine yksityiskohtineen, keskiaikainen kivikirkko ja sen hoidettu hautausmaa, entinen meijerirakennus joka on upeasti restauroitu kirjastoksi, Erik Bryggmanin suunnittelema entinen apteekkarin talo jossa toimii nykyään iho- ja jalkahoitola. Kokonaan oman lukunsa vaatisi kertoa kaikista muista käynti- ja retkikohteista, kesätapahtumista jne. Tule itse tutustumaan ja ihastu!
There are 2-3 parking spaces next to the house. Also the nearby market square offers free parking. - We are easy to reach by public transport! Take Vainio bus nr 702 from Turku bus station; it departs from platform 2 or 3, stops at the Sauvo market square - just opposite our house - and continues then to Kemiö and Dalsbruk/Taalintehdas. The journey takes about 40-45 minutes. See schedule on bus operator's website ("Vainion Liikenne").
Talon päädyssä on pari autopaikkaa; myös viereisellä torilla on maksuton pysäköintimahdollisuus. Meille on helppo tulla myös julkisilla! Vainion Liikenteen bussi nro 702 lähtee Turun linja-autoasemalta laiturista 2 tai 3, pysähtyy Sauvon torilla ja jatkaa Kemiöön Taalintehtaalle. Matka kestää n. 40-45 minuuttia. Katso aikataulutiedot liikennöitsijän kotisivuilta.
We have a special price for families (1-2 adults, 1-3 children), whereby accommodation in the combi rooms 3 and 4; max. 12 years old kids pay only 15€ per child/night.
Perhe (1-2 aikuista ja 1-3 lasta) majoittuu normaalihintaa edullisemmin kombihuoneissa 3+4. Tällöin lapset 12v. saakka 15€ yö/lapsi.
---
Vietato organizzare feste/eventi
Ora del check-in: 15:00 - 18:00.
We kindly ask that guests take off their shoes when they enter the apartment - that's a good and old Nordic habit. Shoes can be left either in the hall or be taken with to the bed room. - Smoking indoors is strictly prohibited.
Pyydämme että vieraat kulkevat majoitustiloissa ilman kenkiä; kengät voi jättää eteiseen tai ottaa mukaan omaan huoneeseensa. - Tupakointi sisätiloissa on ehdottomasti kiellettyä.
---
---
Sauvo, Finlandia

·

Membro dal Aprile 2015
Hi there!

I love the Finnish countryside. The most unforgettable summer memories of my childhood include coffee breaks in the barn when working on the field ("making hay"), helping granny to milk and to take care of the cows and also swimming and splashing in the usually ice-cold Bothnian Bay. Now, as an adult and after 20 years spent abroad, this South-West Finnish rural landscape often reminds me of those childhood moments which were full of joy and happiness. The Baltic sea, the world's most beautiful archipelago and the fresh, unpolluted air are the guarantees for well-being, peace of mind and recreation.

I greatly admire and appreciate the entrepreneurial and community spirit that I witness in Sauvo. There are plenty of energetic entrepreneurs and other active players in the small municipality of 3,000 inhabitants. Here are some of them that might also hit the "random tourist's" route:
- cattle breeders and farmers (Salmensuu Hereford -farm; Wanha Liesniemi - both of which also sell their products directly from the farm)
- handcrafters and artists (Puuhaus, Sauvon Kädet)
- restaurateurs and café-bar keepers (Kalle's Backa, Niskun Nurkka, Hakkisherkku, Tappers' Inn)
- transport providers (Grandell bus company)
Sports can be done in a very fine setting: a brand-new football pitch and a sports center Peimari-Areena which also has a great gym. The village even has its own micro brewery - Sauvon Panimotupa!

Sauvo offers in the summer time quite a huge amount to see and to do: concerts, open-air dances, flea markets, market events, riding camps, etc.

Karuna is the charming, maritime part of the Sauvo municipality. The distance between Sauvo village center (Aitta's location!) and the Rantola village of Karuna is approximately 12 km. For instance, you could make an excursion either by car or by bike to the Maalu bird-watching tower. On the way back you could then drop by on Rantola's idyllic public beach for a swim. What about ice creams, pizzas and refreshments? Don't worry, they can be bought at the local pub "Rantolan Kievari". Coffee, cake and delicious pastries are available on weekends also at the café "Rantolan Puoti". "Kamparsin luomutila"-named farm shop sells organic vegetables and berries. On the return journey you should take a look at the impressive grey-granite stone Karuna church that was built in the national-romantic style in the early 20th century. The church stands upon a hill or cliff from where you have a scenic view over the sea.

These kind of activities and places to visit will for sure enrich your trip and make it a memorable experience. The enterprises and all the others who were mentioned above have their own home pages or social media pages, where you can find contact details and information on opening hours.

My motto in life is: Be happy with what you have, while working for what you want.

***************************************************************
Hei!

Rakastan suomalaista maaseutua. Lapsuuteni unohtumattomiin kesämuistoihin kuuluvat kahvitauot ladossa heinänteon lomassa, navettatyöt mummon apuna ja polskiminen useimmiten jääkylmässä Perämeressä. Nyt aikuisiällä ja 20 ulkomailla vietetyn vuoden jälkeen tämä varsinaissuomalainen kumpuileva peltomaisema palauttaa usein mieleeni nämä lapsuuden onnenhetket. Meri, saaristoluonto ja puhdas ilma ovat takuuvarma resepti hyvään oloon, mielenrauhaan ja virkistymiseen.

Ihailen ja arvostan suuresti kaikkea sitä yritteliäisyyttä ja yhteisöllisyyttä mitä Sauvossa ympärilläni näen. Tarmokkaita yrittäjiä ja muita aktiivisia toimijoita on pienessä 3000 asukkaan kunnassa joka lähtöön. Tässä heistä muutamia jotka saattavat osua myös "satunnaisen matkailijan" reitille:
- karjankasvattajia ja maanviljelijöitä (Salmensuun Hereford-tila; Wanha Liesniemi - kummallakin tilalla on suoramyyntiä)
- kädentaitajia ja taiteilijoita (Puuhaus, Sauvon Kädet)
- kahvila-ravintoloitsijoita (Kalle's Backa, Niskun Nurkka, Hakkisherkku, Tappers' Inn)
- liikennöitsijöitä (Grandellin Liikenne, jolta voi varata mm. tilausajobussit)
Liikuntaankin löytyy hienot puitteet: upouusi jalkapallo- ja urheilukeskus Peimari-Areena ja sen mainio kuntosali. Löytyypä kylältä jopa oma pienpanimo - Sauvon Panimotupa!

Sauvossa on kesäaikaan aivan valtavasti nähtävää ja koettavaa: konsertteja, lavatansseja, kirppiksiä, toritapahtumia, ratsastusleirejä jne. Tarkempia tapahtumatietoja voi katsoa sauvopistefi-portaalin "Sauvo harrastaa" -osiosta (Huom. piste pisteenä, ei auki kirjoitettuna kuten tässä).

Karuna on viehättävä, merellinen osa Sauvoa. Sauvon kirkonkylältä tulee matkaa Karunan Rantolan kylään n. 12 km. Reipasta, omaehtoista tekemistä voi keksiä vaikkapa lähtemällä retkelle Maalun lintutorniin Karunaan. Paluumatkalla voi sitten pistäytyä Rantolan yleisellä uimarannalla uimassa. Entäpä jätskit, pizzat ja virvokkeet? Ei hätää, niitä löytyy Rantolan Kievarista. Herkullisia kahvilatuotteita on saatavilla viikonloppuisin myös Rantolan Puodista. Kotiin viemisiksi tai kyläpaikkaan tuliaisiksi voi ostaa Kamparsin tilapuodista luomuvihanneksia ja marjoja. Jos voimia vielä riittää, niin paluumatkalla kannattaa ajella katsomaan Karunan muhkeaa harmaagraniittista, kansallisromanttista kirkkoa joka on luonnonkauniilla merinäköalapaikalla korkealla kalliolla.

Kaikki nämä aktiviteetit ja käyntikohteet antavat matkaasi rikastuttavia elämyksiä ja ikimuistoisia kokemuksia. Kaikilla tässä kirjoituksessa mainituilla toimijoilla on omat koti- tai naamakirjasivut, mistä löydät yhteystiedot ja aukioloajat.

Elämänohjeeni kuuluu näin: Iloitse siitä mitä sinulla on ja tee työtä sen eteen mitä sinulta puuttuu.
I dati sulla posizione esatta sono forniti dopo la conferma della prenotazione.