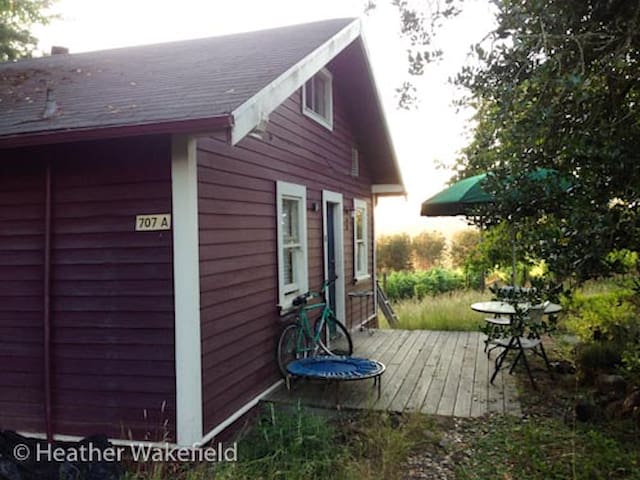 Stanza privata
2 Ospiti
1 Letto
Su questo annuncio
Con Airbnb puoi trovare sistemazioni uniche nelle case degli host—da case e appartamenti a case sull'albero e igloo. I dettagli dell'annuncio qui sotto ti spiegano ciò che troverai nell'alloggio. Nel caso avessi delle domande, contatta direttamente l'host.
---
Tipo di letto: Divano Letto
Posti letto: 2
Camere da letto: 1
Bagni: 1
Letti: 1
Check-In: 19:00
Animali: Gatto(i)
---
Servizi
Cucina
Uno spazio in cui gli ospiti possono cucinare
Essenziali
Asciugamani, lenzuola, sapone e carta igienica
Riscaldamento
Riscaldamento centralizzato o stufa elettrica nell'alloggio
Parcheggio Gratuito Incluso
Altro
Cucina
Cucina
Uno spazio in cui gli ospiti possono cucinare
Internet
TV
Essenziali
Essenziali
Asciugamani, lenzuola, sapone e carta igienica
Riscaldamento
Riscaldamento
Riscaldamento centralizzato o stufa elettrica nell'alloggio
Aria condizionata
Lavatrice
Lavatrice
Pagato o Gratuito nell'edificio
Asciugatrice
Asciugatrice
Pagato o Gratuito nell'edificio
Parcheggio Gratuito Incluso
Internet wireless
Internet wireless
Accesso continuo all'alloggio
TV via cavo
Colazione
Colazione
Prima colazione inclusa.
Animali domestici ammessi
Per Famiglie e Bambini
Disponibile per eventi
Disponibile per eventi
La proprietà può ospitare 25 o più persone.
È permesso fumare
Accessibile ai Disabili
Accessibile ai Disabili
La struttura è facilmente accessibile alle persone in sedia a rotelle
Edificio con Ascensore
Camino
Interfono
Portiere
Piscina
Piscina
privata o condivisa
Idromassaggio
Palestra
Palestra
Gratuito nell'edificio o nelle vicinanze
Rilevatore di Fumo
Rilevatore di Monossido di Carbonio
Kit Pronto Soccorso
Carta di Sicurezza
Carta di Sicurezza
Numeri di emergenza e altre risorse
Estintore
---
Persone extra:
9€ / notte dopo il primo ospite
Prezzo settimanale:
394€

/settimana
---
Descrizione
Our cozy 1910 farmhouse is the perfect getaway. People love to sleep in, it is so quiet. Located on a scenic vineyard overlooking a valley, on an older estate with ancient redwoods up a private lane. Private room, share kitchen & bathroom.

Welcome travelers to OM Bear Ranch. Winter Redecorating has commenced! We saved our air bnb pennies all year pennies for this. It is so much better already (week 5) and the dust is settling. Thank you your ideas & support. We are so excited.
For first timers....Our rustic 1910 farm house has an old world charm that makes it a rural alternative to being in town.
This is a 3 bedroom, 1 bath turn of the century farmhouse on a vineyard and is the house that was the original house on the property. We have rented here a long, long time (over 20 years). We love it.
Your private room is down a narrow, steep stairway from the main part of the house. Please be of nimble foot and good spirit. It does not have a hand rail and is to code as per the time period the house was built in. Your room features: a super comfy double Ikea bed, nice carpet (and we will see how the redecorating goes for other amenties), Tourism info., local maps to review and so place for our favorite eating places. peaceful outdoor sitting area, 2 entrances, private parking spot (in good weather), locking door. Many a writer, healer, sage has found peaceful reflection here. Utilities are included; wood, propane, stove, electricity, etc.
Comcast high speed wireless internet is ample, phone (if needed) for quick calls. note: limited cell phone service on rural route.
For the morning, we always have coffee, tea and creamer and eggs or oatmeal at no charge.
The electric tea kettle is always available.
It's very simple and rustic here. We chose to live close to the earth. House Features; NO TV! No dishwasher, No washer and dryer! Exclusive wood heat (with plug in heaters), solid 7/10th size construction and an interesting history. It is Basic and good. We share the kitchen and one bathroom which has access through my 'healing' room where I do coaching, massage and yoga during the day. Upstairs is a cozy breakfast nook, small but comfy, living room, an antique propane stove for cooking, and spot heating, electric hot water kettle, vita mixer and a shared fridge. Yes, it is romantic.
The bathroom is was remodeled in 2014, and guests have their own place for stuff, towels, etc.... Make yourself at home!
Other features of 'Om Bear Ranch' include; 26 acres of natural California coastal beauty with a large yard, vineyards, old redwood trees and a winter creek (there is a nice walk through the trees). Often there are deer in the yard. Country roads nearby to walk on too. The tall redwood trees keep it cool, green and beautiful (and sometimes a little damp). There are just a few neighbors in this primarily residential farming community. (Note: Om Bear is a working vineyard and as such it can get dusty! The foreman for the vineyard and his family live on the same property, in the house toward the rear.)
A peaceful serenity awaits you up and up a long dirt driveway, 4 miles from town. It's nice to stay for a few days and relax. You need a car to visit. No public transportation.
Please make yourself at home for your stay even if we are quiet. Don''t feel like you are interrupting if you need something, we are glad you are here. For breakfast please help yourself to oatmeal /eggs if we are busy. At check out time we can hopefully go outside and snap a photo and be sure to sign our guest book. Thanks.
What were looking for in a guest from Airbnb: Most of our guests are simply wonderful, smart and kind. We like 'foodies' and all things organic, yummy, and shared.
Plan a meal with us if at all possible. If I have time I home cook meals and invite you to join in, potluck style. Bring a contribution and help out with cleaning and a feast will emerge. I am always amazed at what our guests bring and contribute. Some great chefs has stayed here and I am always happy to relinquish the kitchen to superior cooking! I also love to cook, seasonal, regional, organic and local preferred. We want quiet, peaceful, easy going, respectful, people. Life is hard enough out there, we prefer home to be well, relaxed, friendly, with good conversation. Often guests will share a meal with us as we prefer that. Eating out locally is a culinary delight the rest of the time with out our outstanding organic, local and yummy gourmet food choices! Ask for inspirations.
About us: We are housmates who share the house. Heather is a native of Amherst MA and an Artist/ Photographer/ Real Estate Agent. She may show you recent photos from her fine art series and talk about her recent successes or defeats in the art world. It is her passionate hobby and she is very verbal and love to share it if she has time. While dinner is a social time. Heather is self employed and requests quiet mornings. She just needs to focus and does not like to talk in the AM. You will find her on her computer working often.
Cosmic Dust is a a semi-wild beloved cat (but getting used to domestic life). She runs the house and is the reigning queen as far as we can tell. We treat her like a family member.
Larry hails from Chicago originally and is older male who is quiet, respectful and spiritual. He likes to talk about Cosmic Dust and is into self improvement. Larry does spiritual practices in the morning and is often occupied with them either outside or in his room. Thanks for your interest, we look forward to meeting you.
We have a 'house share' policy and you have access to the house.
We like personable guests who are mellow, sweet people. We like to share food, and cook.
California Wine Country is world famous and a great place to visit. add Coastal range to the usual mix... I have a real estate pinterest page called 'Coastal Wine Country' you can check out for resources and recommendations.
You need a car, we live 4 miles from town on a country lane.
The property is beautiful and rustic with big redwood trees. The driveway can get ruddy in the winter so go slow.
Altro
---
Weather: It is always sweater weather here. Bring warm clothes- Evenings can be chilly in the nor cal coastal climate. If your chilly just let me know and I will light a fire, it takes a minute to get the place warm with wood heat. Do not hold it in and be cold.
Kitchen: Bring your own food, we're far enough from town that you won't want to drive back for food.
Cautions: Please arrive while it is still light. This is important because it is a country address and its easy to get lost. GPS is pretty good but can be unreliable and we're listed in the wrong place on a few of them.
The stairs going down are steep and a bit narrow as was customary in 1910. Please be careful.
Cat Rules: We have a semi- wild indoor/outdoor cat named Cosmic Dust. We have to strict no petting rule. She can attack. Sorry. In spite of this, hopefully she will win your heart. She is very curious and will rub up against you and head butt into you (A Turkish Van Trait). She stays in after dark. Close your bedroom door to keep her out of your space (She likes to run under the bed and attack feet). Do ask for help if she won't leave. Do NOT try and pick her up. She is very cute but for your safety please refrain. We feel good that she has a nice home with good care and was saved from the side of a mountain where she was abandoned. Otherwise she is very smart and nice. If you want to play with her we have kitty toys, just do NOT pet her. We really do sympathize, but it is better that way.
House: Quiet time is 10 PM on weekdays, 11 on Weekends.
This is a shoes off inside house. Bring socks or slippers. We don't care if they match your outfit or not.
Meals: We like people who cook and like to help make meals happen. This is not a rule and there are many fabulous eating places in the area, we are frugal and eat at home often. We like good company and conversation.
We appreciate people who help out with cleaning in the kitchen.
The septic is fragile so please be respectful by not putting more in than necessary and holding down the handle for complete flush. California is in a sever drought- please conserve on water in showers and share towels. Our septic cannot handle a washer and dryer- so we go to town, so you cannot do laundry.
"The coldest winter I ever saw was the summer I spent in San Francisco."
- This quote has been attributed to Mark Twain, but until the attribution can be verified, the quote should not be regarded as authentic.
Altro
---
Nessuno
Rilevatore di Monossido di Carbonio
---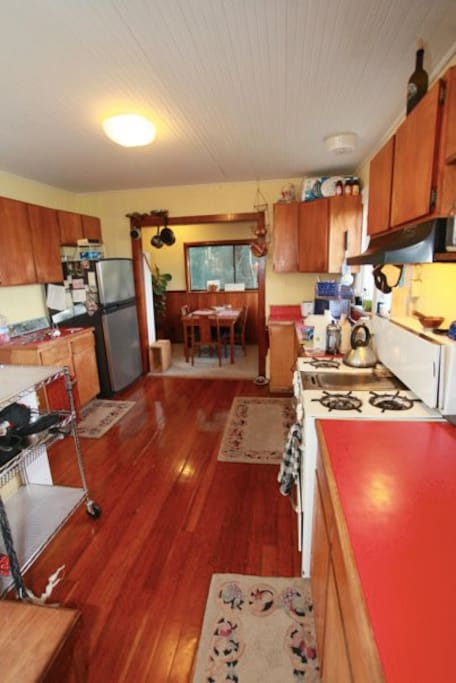 Kitchen and dining room. No TV here, conversation preferred. Sketchy Cell phone service. Plenty of wifi throughout. Retreat and enjoy!
I highly recommend making a point to stay with her, we had a wonderful time!

Cant wait to come back and explore the area even more - less than ten miles to the beach and parks/trails, great food and art in town.

The bed was comfortable and I had a nice breakfast and coffee.

I wish I had stayed at Heathers place, but we changed our weekend plan at the last minute and was not able to make it.

Heather and Larry were perfect hosts , making us feel like old friends.
When we woke up and found Heather home with freshly brewed coffee we were elated! What a wonderful soul!
Our room was sort of being redecorated but cozy just the same. We even gotta see the deer one evening and the morning we left. Lovely location!
Altro
I had rented a room for only a night, but was very impressed with the accommodations, the scenery, and how welcoming Larry was to me. The peace and quiet combined with the forest and vineyard setting made me wish I had planned to stay a few days longer. I definitely plan on coming back here and spending at least a week to relax in the house as well as exploring the region. I highly recommend this place to anyone that would like a little time to themselves in an atmosphere of warmth and easygoingness.
Altro
I feel as though my words can not adequately describe our experience. It was perfect, AWESOME.. We arrived as "strangers" and certainly left with new friends. Heather & Larry are amazing hosts and great people. We are fortunate to have met them, and you will be too. This is not just a place to stay. It's an experience you will never forget.
Altro
Larry & Heather were warm and welcoming, a great country place just west of Sebastapol. We enjoyed a quiet night in a beautiful bucolic setting, we'll definitely return.
Altro
My girlfriend and I had a nice stay at Heather's place. We arrived just before dark (highly recommended) and shared a glass of wine over conversation and YouTube videos. We found her house to be as described and very hospitable. The bed was comfy, there were clean linens and we had plenty of privacy. I recommend staying with Heather if you enjoy interacting with your hosts and getting to know them, as she is intelligent and very spirited.
Altro
Tony & I stayed at the lovely farmhouse for 1 night, after a wedding we attended nearby. Heather and Larry were friendly, mellow, and generous hosts. When we arrived the first thing we saw were deer munching near the grape vines. Very idyllic! Cosmic Dust the kitty ran to welcome us, though we had to remind ourselves not to pet her, very difficult for cat people such as ourselves. Heather showed us around and gave us all the info we needed, with an excellent recommendation for dinner in Sebastopol (Peter Lowell's). The room was nicer than pictured (it's being remodelled), clean and the bed was comfy. Wine, coffee and oatmeal were delicious, shared with great conversation.
Thanks for the hospitality! Loved the area, hope to be back!
Altro
A proposito dell'host, Heather
Hi. I am Real Estate Agent and artist/photographer who likes to travel. I used air bnb in Europe and I loved the personal experience of staying in peoples homes. I am often busy with clients. It can be a very creative environment around here! My studio is on the property which is nice. I prefer to have time to get to know my guests but if you want a retreat, that's cool too. Shared meals are always nice. I like to cook when I have time. My housemate is a wonderful man who enjoys the same. He will show you around and is very friendly. He has been having some health issues and so if he is quiet and to himself he is resting and healing up. Thank you.
Altro
Sebastopol, California, Stati Uniti
Membro da Giugno 2012
Tasso di Risposta:
82%
(ultimi 30 giorni)
Tempo di risposta: entro un'ora
---
Esplora altre opzioni a Sebastopol e nei dintorni