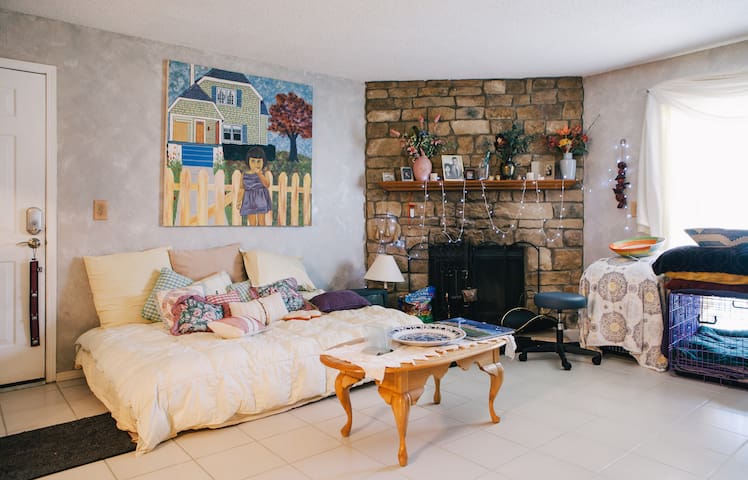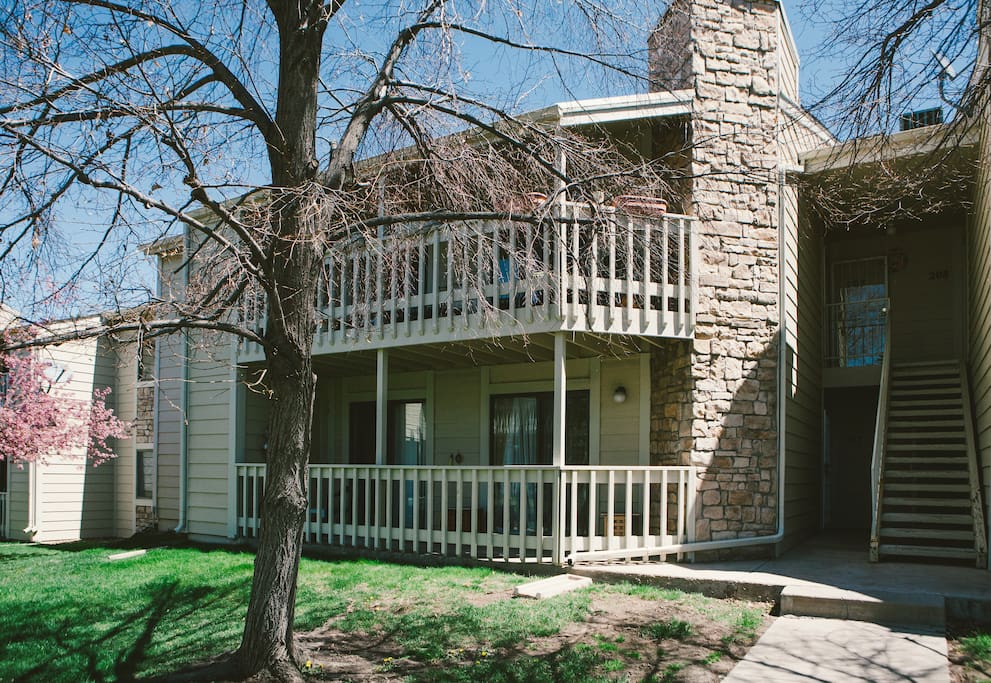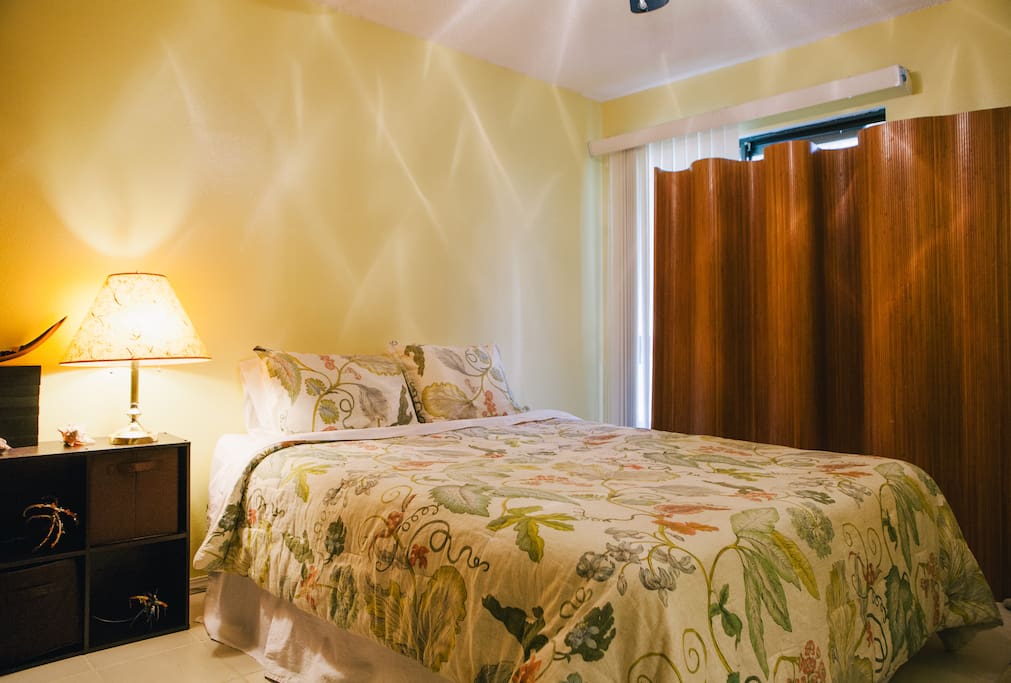 own b/ba for respectful 2 share inside 2 b/2ba
share kitchen, laundry, patio, & living rm areas
no shoes in home, dog friendly, no smoking/drugs in home/no late night guests. wifi, furnished, full bed. I ask u to be respectful. I am an independent woman but like to interact. I leave it up to you. I am fairly open and quite honest, with a quirky sense of humor. I may or may not be in town, but can have some one help you if I am out of town.
L'alloggio
low key, quiet area
over 1000 sf total area plus porch area outdoors when weather is nice
wifi, w/d, microwave, dishwasher, coffee maker, toaster, linens, bedding, cleaning supplies included
Accesso ospiti
private room and private bathroom, (yours is across the hall, adjacent to the washer/dryer room which we share, of course).
Interazione con gli ospiti
It is up to you, but shared common areas, when I am home. I do travel a fair bit. Whether I am there or not, just be respectful to me and my space, please.
Altre cose da evidenziare
outdoor pool in summer
walking biking trails in area HIGHLINE quarter mile walk away
many parks in area, within a few miles in every direction
restaurants and bars within a mile at Lowry Town Center
Downtown center is 6.5 miles, Cherry Creek Mall 2,5 miles, High line Canal trail less than 0,3 miles away, City Park and Denver Zoo 5 miles. Denver Tech Center 5 miles or so also
This is a fairly central area of Denver; SE Denver proper with neighborhoods to the west: Hilltop, Cherry Creek, Glendale. Lowry is across the street at Alameda. It is easy to navigate to many places in the metro area from this locale and we are a very watchful neighborhood, with low crime, and is quiet/peaceful on a major thorough avenue, being Alameda going East and West through the city.
---
---
Vietato organizzare feste/eventi
Non sicuro o inadatto per i bambini (0-12 anni)
L'orario di check-in è flessibile
non drugs/smoking indoors, respectful
no shoes indoors please mostly
dog friendly
pleases turn off lights and appliances when not using them (did not think I needed I to state this, but for the record)
cleanup after yourself and please be mindful of utilities-conserve where we can and recycle bins are provided
Dichiari inoltre di essere a conoscenza di
In questa casa vive almeno un cane
---
Had a great experience staying here. Mik was always very responsive and friendly, and it's a very cool space. Our schedules worked in a way that allowed for a lot of privacy, which is very nice if that's a priority of yours. A great place and a great host!
---
Miks apartment is very nice and clean and is separated in two areas so I had me own bathroom. In the first time Mik was on the move so I had the flat just for me. For me that was perfect, cause I'm a bit shy and it was my first time in amerca, so I had a place of retreat where I was on my own. Most of the time I was on the move, too so it was great like that. If I needed something or had a question I could text her and she answered very fast. When we met the first time it was very very nice, I really like her and her dogs! She gave me some tips for my plans for the weekends what I could do and she was very helpful. Afterwards I'm a bit sad that we both had not enough time to do something together.. If I will come again to Denver I will ask Mik for a place to stay. :) Thanks a lot for the nice time and a place which I could call "home" while I was in Denver! :)
It was a pleasure to host you and I was sad to hear that you were returning home sooner than first planned --was hoping we could go do some fun things together, too. You are welcome back any time. Meanwhile, be well and take good care! Thank you for being such a great guest.
---
I did not feel welcomed by this host. When I asked her about her experience as a host, upon meeting her, she went into detail about how terrible the prior renter was, and how she has had "bad luck with female renters" in her other rental. The host also discussed personal social problems, and shared having called the police to report someone on (SENSITIVE CONTENTS HIDDEN) for something that the host was not involved in, all within the first 24 hours. It left me feeling very uncomfortable, unwelcome, and unsure of how to interact with her. The host disliked that I left a small nightlight on in the main area so that I could see, as the house is very dark, and asked me to never leave lights on, even if I'm leaving the room for just a few minutes. I do not have a problem conserving energy, but this went above and beyond wise conservation into bizarre nitpicking, and even when I agreed to conserve, the host continued to go on about how I "use lights more than any other renter" that she has had. I had been there for not even 70 hours at this point. It turned into an argument, which escalated and became very uncomfortable. At this point, I left the rental, and the host continued to send me messages threatening me with the sheriff, among other things.
ok, first let me address Roya said everything was great just hours before our "conflict" then rates me at a "1" for all. So, one by one, I will painstakingly address this petty, childish, vindictive, and inaccurate account from her. All basic lies, from my point of view. 1. accuracy: She states the main living area is extremely dark. airbnb photographer took the photos; they were not altered in any way and are accurate. 2. arrival: I was there to meet and greet this guest, with her texting me for hours prior to arrival. I went out of my way to be home and be there to direct her, in case she could not find it. She complains the apartment number was not included at first, but never did she spend any time looking for it. Just being ridiculously petty, as you can see. 3. communication: she says I should have made clear expectations about leaving lights off when leaving the room, for "small amounts of time". Again, any reasonable person would have just said, "okay" and not gotten defensive, created a lot of drama, and furthermore, attacking the host and making verbal threats. All bullying behaviors, by the way. 4. value: states the price is overpriced for having a "dark environment, not being able to use utilities freely, and lack of kitchen storage space". All nonsense and she is the unreasonable one here. I cleared an entire deep, wide, and tall cupboard for her nonperishables. She had 1/2 of the freezer and 1/2 of the refrigerator for her own use. The rest was to share pots/pans, dishes, etc. that were complimentary from me. It is NOT unreasonable for some one to politely ask a guest who continues to leave lights on when they are not using it for four days in a row, if they could try to remember to turn off the lights when not using it. This woman is extremely unbalanced, in my opinion to even make such accusations. None of those "complaints" of hers are valid, and I wish they could be wiped out, because it is so obviously tainted with revenge and spite. Really is quite sad that some one uses Airbnb in this manner. okay, to get to her assessment, which is basically a big fabrication, too. I met Roya at her vehicle, after texting and talking by phone for hours prior to her arrival. I walked her inside and offered her tea, showed her around, tried to build rapport. We talked and I thought we were getting along fine. Yes, she did ask me my experiences and I did tell her I had some good and some bad. I did mention that for some odd reason the only bad experiences seemed to come from the women that rented, and I did not know exactly why. We were just having conversation, and she seemed to want to know, and I joked and she laughed, and all seemed fine. She shared her opinion, "You guys are so brave to rent out to complete strangers like you do. I don't know how you do it." Never thought for a minute she was feeling so "uncomfortable" and "unwelcome" as she now claims. I checked in with her multiple times and she said everything was great. No complaints. My how her story changed when I simply asked her to turn the lights off when not using them. She turned into a raving mad woman. She became defensive, angry, raising her voice, attacking me. I was stunned. I tried to reason with her and to try to figure out why she was so upset. I feel it was an open door for her anger issues and hostility to come out, and she was just waiting to pounce on me. She called me a nag. I had never once asked her for anything prior to this. Seriously, I was in disbelief. At first I was trying to understand and work with her, but she became so hostile and belligerent, so fast, it was way out of line. She came at me quickly, with "I am a paying guest. I should be able to do what I want here, and you don't need to tell me what to do, nag at me, and scold me. I have great references from airbnb and I can just get another place. Just give me all my money back and I will go find another place." I quickly learned that she was drama and trouble, and did not want to deal with her nonsense, as it was not only bizarre, way out of bounds, but bordering on domestic violence. She was raising her voice at me, in my house. I told her to please leave asap. I think that upset her even more, because I think she wanted me to actually beg her to stay or something. She seemed stunned when I said OK, please do. It was bizarre. Then she refused to pack up right away, knowing that she was making me late for my plans, and "I have a job interview, so I am going to my job interview, then when you have my money I will pack up and leave but not before. If you don't refund my money, there is going to be trouble." I could not believe my ears. This woman is nuts, threatening me in my own home. I do not ask a lot of my guests in general. I try to communicate and be responsive to their needs. But I am not going to tolerate some one yelling at me, belittling me, and threatening me in my own house. I was nothing but nice to Roya. Yes, she asked me about my experiences and I told her. She complained about that. I asked her if she wanted me to lie? I am always going to be honest. Why should she hold that against me? Again, bizarre. Regarding the other event, that was on day 3, not within the first 24 hours and completely unrelated. By then we had sharing all sorts of info, and for her to state it was shocking or whatever is odd. I did share that I called the sheriffs department to find out the laws concerning when domesticated animals get hit by a vehicle because some one had stated he hit a dog but left the scene and we were curious. She is minimizing about a night light. Completely false--I would not even bother mentioning if it was only a small nightlight, and I never told her to NEVER leave lights on. It makes me laugh that she is making such outlandish claims. It only turned into an argument because this "guest" went "off the hook" emotionally, verbally, and was completely out of line. Bottom line. She acted friendly toward me, but knew I was going on a trip, and kept asking me, "when are you going?" That was not so welcoming to me, as a host. She was very ungracious. For $31 a night, she had her own FULL bathroom, washer dryer, dishwasher, kitchen (mentioned before), ample parking, wifi, furnished comfortable full bed in a nice complex and neighborhood. I even made her a mail box key so that she could get amazon boxes delivered. She has the nerve to say I was not welcoming. So insulting, when she was aggressive to me and attacking me, for no apparent reason, other than she "did not get me". Any rational, normal persons' response to my asking if they could turn the lights off when not using them, would be "sure". End of story. It is just beyond me that this simple request turned into such an ugly, personal attack on me. Another lie is in her closing when she said that I continued to send her messages, threatening her? among other things.. I have the proof. I never sent a message after she left. Prior to her leaving I sent a text to her phone to be polite to let her know dogs were recovering in the living area, so that she would not be surprised. The texts I sent to her prior to her leaving were when we initially had an issue and I immediately contacted airbnb and let them know what her behaviors were. Due to her threats of "there were going to be problems", I did let her and them know that I could get the sheriff on stand by assist to escort her out of my property, since she was unwilling to leave on her own, and being very oppositional. I let them know that she had become a hostile and agrressive guest and that money was not an issue--she had only stayed for 3 days, and she would be gladly refunded any money to get out my household. She only came back to pack, taking her time, pushing my appointment time back as a result, after waiting for hours talking to others, stalling to come back. This is a woman who just graduated from counseling school and she acts like this. I will just say, I saw enough and it was a bit frightening to see such aggression for no apparent reason. Scary. I noticed you study witchcraft, too? Whatever suits your fancy. All I know is, I was nice to you, Roya. I was a nice host to you. The issue you had was with my telling you the truth and that unsettled you, because I think you had a hard time "reading" me. Tough. I was being honest, and you asked. I am not going to lie. By the way, the one girl who wrote a bad review from my other property, came back to me, apologized, gave me a money order, sent me a long letter explaining where she was wrong, and also a starbucks card as a "peace offering". Yes, there are two sides to every story. Sadly, you have twisted this one into a negative tale for your own manipulation. I think and know I am not as easily manipulated. Maybe that is what upset you. I don't know, Roya. I really had hoped and thought we could get along. You really showed a dark side to you yesterday and I never want to go through this again. I do not deserve it. I was being nice to you and maybe some day you will see it. I hope you can be honest with yourself and not abuse people like me--it is not right. I will always be truthful, and will not be bullied by this type of behavior. I really am afraid of what I saw, to be honest. That is not a normal reaction, no matter how you call it.
---
Mik's place was perfect for my needs. I chose her place because I could access any part of the city easily from here, and that was so convenient for me. We did not interact a lot as our schedules were both pretty busy. I found the bed comfortable and slept great every night i was there. With touch pad access coming and going was easy.
---
Mik is very responsive to texts and tries to help where she can. However, to be honest, we had some issues with communication because she was out of state the month I was there. The apt was cozy, the surrounding neighborhood is beautiful. The neighbors are friendly. It's a good and safe area.
Thank you for trying my space for your needs, Poonam. I sincerely wished it had fit better for you, personally. I am planning to be be home now because I see how difficult it is to be away and to manage from afar, so this has all been a learning opportunity, despite a stressful one. Good luck to you in your educational and career aspirations.
---
This is a very comfortable room in an apartment in a quiet complex. Some nice pluses are a patio right outside the room (I spent many pleasant mornings there) and some of the best ethnic food in the Denver metro area a 10-minute drive away. Mik was an excellent host, always responding quickly to any questions.
---
I am fairly low-key. I have shiba I i dogs . I like the outdoors. I have a no shoes in the house (in general) policy as much as possible. I am also non smoking, do no drugs, and lead a fairly healthy life-style. My interests include travel, learning, arts, health, helping oth…
Tasso di risposta:
100%
Tempo di risposta:
entro un'ora
Esplora altre opzioni a Denver e nei dintorni
Altri alloggi disponibili a Denver: