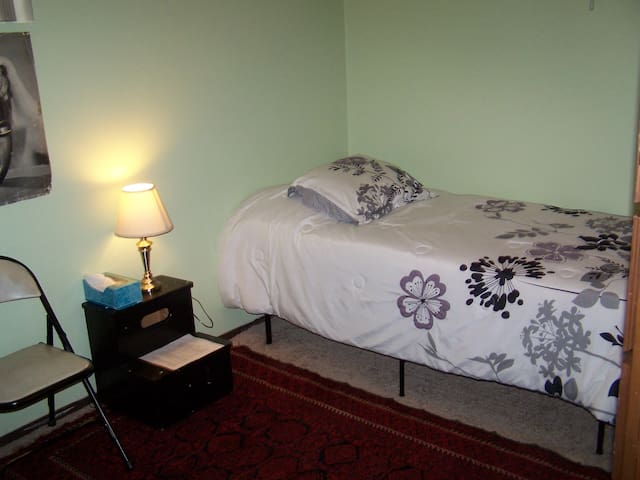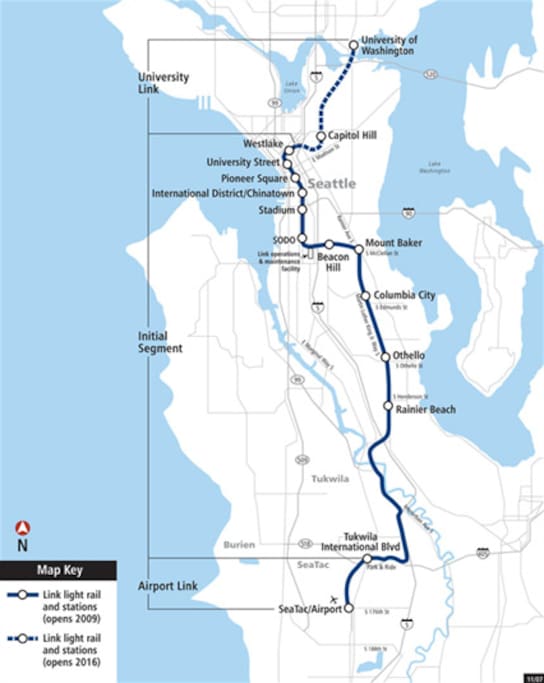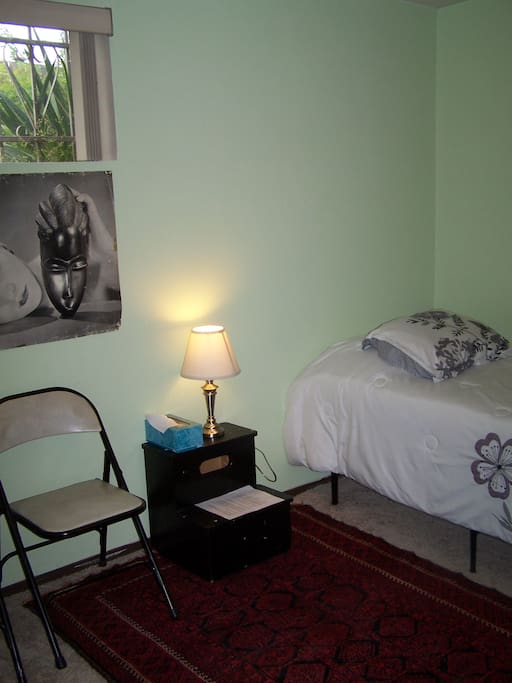 Su questo annuncio
Private downstairs basement corner bedroom with lockable door and key in my updated mid-century home. Convenient central location by car, do-able on foot if you are physically fit and don't mind commuting. Free outdoor parking for 1 car included in driveway or in front of my house. Near light rail and bus stops. Free Wi-Fi. NOT for drug users, heavy drinkers or people who want to book for anyone but themselves or have people over.
---
Bagni: 1 (Bagno condiviso)
Tipologia alloggio: Stanza privata
---
Parcheggio Gratuito Incluso
---
---
Private downstairs basement corner bedroom with lockable door and key in my updated mid-century home. Convenient central location by car, do-able on foot if you are physically fit and don't mind commuting. Free outdoor parking for 1 car included in driveway or in front of my house. Near light rail and bus stops. Free Wi-Fi. NOT for drug users, heavy drinkers or people who want to book for anyone but themselves or have people over.
My place is good for active, low-maintenance, self-sufficient solo travelers who just need a simple place to park, sleep, shower and save money on lodging. Please note my location, cancellation policy, check-in/check-out times, house rules, see all photos and captions, what amenities are included and those which are not and limitations on kitchen use before booking to decide if my listing will suit your needs as penalties apply if you try to cancel. I limit guests to up to 3 solo travelers in my house at a time and I require ID verification and previous positive reviews from other hosts for Instant Book, although you can still request to book here if you haven't had other reviews yet. I just like to make sure guests understand what they are doing in advance. If you're looking for more luxury at this price, be willing to pay more or share a place with more people, or book further out from the city center where the cost of living is cheaper and figure the time and cost of your commute for it. There are also illegal sublets where you have to sneak around pretending you're NOT an Airbnb guest that may appear to be a good deal, but the risk you take (of being evicted) is very high.
My house is just under 4 miles away from downtown, 12.5 miles from the airport. You'll have more space and privacy than a hostel, but you won't have easy access to nightlife unless you use a car or can afford to Uber. My house is at the bottom of a wooded dead-end street in a residential neighborhood.
This room has a lockable bedroom door with key and contains a single bed with 1" memory foam topper, a large built-in closet, wall-to-wall carpeting topped with Turkish area rug, a stepstool for a nightstand, a table lamp, a folding chair, overhead room light, windows with security bars and vinyl blinds, old posters, 3 prong adapter, and a gamer chair.
I provide 2 comforters and a blanket along with sheets for the bed which is made for your arrival. Sheets, pillowcases and towels washed for every new guest.
Guest may be in their room with the door closed, this is their private space. Feel free to read books on shelves downstairs just don't take them with you.
The 3/4 bathroom next to this room and the semi-private entrance to this floor may be shared with up to 1 other Airbnb guest. Upstairs living room and the kitchen table area available for lounging quietly in until 11pm. Large fenced backyard with patio chairs okay to sit and smoke cigarettes or have coffee in anytime (if the weather is good), just ask for an ashtray if you smoke.
There is no need to drink bottled water in Seattle. Help yourself to glasses of tapwater from any faucet in the house, Seattle's water is better than most bottled water as it comes from the Cedar River Watershed. I have a filtered water pitcher, too and sometimes have bottled water which you can refill from the tap.
Breakfast: I provide free drip coffee, teabags, and breakfast snacks like toast, fruit, granola bars, etc. but guests are expected to go out or provide their own meals for lunch and dinner.
You can have limited use of fridge/freezer space to store prepared food like sandwiches or frozen dinners but no cooking allowed with stove or oven, only with microwave oven, electric tea kettle and toaster. Rinse dishes, put in dishrack (I'll load dishwasher) and clean up after yourself. Do not scrape food down the sink drain, use the compost bin. Rinse out containers and put in recycling per the recycling guide.
Enjoy Xfinity Pro Wi-Fi speeds of 2.4Ghz or 5Ghz (depending on what your device is capable of connecting to) while here.
Guests can use shared bottles of toothpaste, shampoo and bath gel here if they don't bring their own. Just ask if you need to borrow my iron, ironing board or hair dryer.
I greet you at the front door, show you to your room, familiarize you with the house and give you the wi-fi password. I enjoy learning about guests who stay here - especially over coffee and cigarettes in the backyard - if they have the time and inclination, but if not that's fine too. If you are uncertain about anything or would like recommendations for things to do in the area, please feel free to ask, but my place is best for people busy with their own plans while here. I live/work from home.
See map. I live CLOSE TO but not IN downtown. Its main advantage as an airbnb is its relative affordability. I am about a 10-minute walk away from 2 link light rail stations on Beacon Avenue South and Rainier Avenue South (one is up the hill and one is down the hill from my house). It takes an hour and 15 minutes walking to get from my house to Pike Place Market (under 4 miles away). I recommend walking down Beacon Avenue South, 12th Avenue South and going over the Jose P. Rizal Bridge with its panoramic view of the city to get there and avoiding Rainier Avenue South where it goes under the I-90 freeway overpass if you're not in a vehicle as that area is currently populated by a large homeless encampment.
Jefferson Park is a large park nearby featuring a view of the city, skateboard park, playground with zip line, tennis courts, and golf. There are grocery stores, gas stations, coffee shops and restaurants on Beacon Ave S and Rainier Ave S less than mile from my house, such as Fresh Flours Bakery, Bar del Corso, Cafe Bengodi, The Oak Pub, Tip & Drague Alehouse, Thai Recipe Cafe, and Traveler's Thali India House. Many fast food drive-thrus on Rainier Ave S, too. See reviews of places to eat by looking on Yelp under the 98144 zip code.
Thanks to the link light rail which was built in 2009, South Seattle has rapidly gentrified into a diverse, multi-income, multi-ethnic area peopled largely by newcomers in search of more affordable property that remains within close commuting distance to downtown. You can now visit all the major tourist spots in the city by hopping on one of the link light rail stations near my home instead of by driving and experiencing the frustrations of traffic and parking, or riding the bus. I'm in one of the closest neighborhoods to downtown where you can park at my house AND be by light rail at the same time.
Guests often use Lyft, UberX or UberPool while here if they don't want to use the Sound Transit light rail, King County Metro buses, bicycle or walk. Check commute times and costs in advance to see if it is worth it for you to stay here to get to where you want to go. Easy commute to Chinatown/International District, Pioneer Square, Downtown, Capitol Hill and the Sea-Tac Airport on light rail.
BY LINK LIGHT RAIL:
My house is located between the Mount Baker Station and Beacon Hill Station (see photo of map). Beacon Hill Station is a 10-minute walk uphill to the west. Mount Baker Station a 10-minute walk downhill east. Use the online Sound Transit Trip Planner and plan your travel routes from the Mount Baker Station or Beacon Hill Station. Mount Baker Station is 3 blocks closer to my house but if you arrive there you are forced to climb a long, steep hill to my home, so I try to warn guests it is easier to arrive at Beacon Hill and walk down the hill to my house. It is easier to get on the train by walking downhill to Mount Baker Station from my house, and to come back by arriving at the Beacon Hill station and walking downhill to my house. Beacon Hill station is 25 cents closer to downtown and Mount Baker station is one stop closer to the airport. The Sea-Tac Airport is 12.5 miles away and it takes about 33 minutes to get from there to my house on link light rail (this includes the 10 min walk from the station to my home). Trains stop running around midnight, which is why you should not book here without a car if you can't make check-in time by 11pm.
Link light rail extends from the Sea-Tac International Airport all the way to the University of Washington area, making 14 stops along the way. Link trains run every 6, 10 or 15 minutes depending on the time of day. Service is available from 5 a.m. to 1 a.m. Monday through Saturday and from 6 a.m. to midnight on Sunday and holidays.
BY BUS:
King County Metro buses leave from Beacon Avenue South and Rainier Avenue South. They tend to be slower than the link light rail due to traffic and frequent stops, but they are always above-ground. For more information on how to ride the bus look up King County Metro.
BY CAR:
I am conveniently located near major freeway on-ramps and off-ramps to I-5 and I-90 and arterial roads through downtown. If you are driving on I-5 it takes about 15-20 minutes to drive here from the airport, but traffic congestion may delay you. My place is convenient if you want to park here and ride light rail into town to avoid having to look for parking. If you do need to look for parking there is an app you can get from Seattle's Department of Transportation website.
This is a quiet pet and child-free environment, but on occasion your tranquility may be shattered by the sound of garbage trucks, low-flying jets or noisy neighbors. You might want to bring headphones or ear plugs for this. During the day I may need to perform noisy activities such as running appliances and vacuuming, so my place is best for people who go out during the day and just need a room to sleep in at night.
RECOMMENDED: Have a charged smartphone with sim card and Lyft and UberX apps loaded. Bring items to ensure your own comfort such as phone charger, toothbrush, house slippers, shower sandals, robe, make-up remover (don't use my towels for that), feminine hygiene products, etc. Dress warmly in layers as my house is old and drafty in spite of having the temperature set at 70. Bring sturdy walking shoes and an umbrella in case it rains. Traveler's insurance highly recommended.
---
Vietato organizzare feste/eventi
Potrebbe non essere sicuro o adatto a bambini da 0 a 12 anni
Ora del check-in: 15:00 - 23:00.
See my profile for more info. Clean, responsible, allergy-free, low-maintenance solo travelers with light luggage only. No booking for anyone but yourself on your own account. Have an identifiable photo of your face on your profile. Proof of ID may be requested at check-in if you do not look like your profile photo to prevent use of stolen credit cards and hacked accounts. Include your check-in/check-out times and the purpose of your visit when you book, or use Contact Host button to see if it'll be a good fit for you in advance of booking.
No visitors allowed on premises.
If you can't check-in between 3pm and 11pm on day of arrival and check-out before or by 11am on day of departure (stated on listing), you should use the Contact Host button to ask me if I can accommodate you in advance, otherwise book elsewhere, or a fee of $10 may be charged as you will inconvenience me if it is unexpected. Extra fees may be charged for rides or luggage storage subject to availability.
NO drug users (includes marijuana) or heavy drinkers. Smoking/vaping tobacco allowed only in the backyard patio area. Please request an ashtray.
Please do not book here if you have stayed in a place with bedbugs before mine or are sick with any contagious disease.
No pets - I'm allergic.
No laundry machine use.
No cooking with stove or oven. See Guest Access section.
Please do not eat in your room that in any way leaves stains, crumbs, odors - just use the kitchen table or go out to eat. If you break or spill anything let me know right away so it can be cleaned up.
Quiet expected midnight to 5am.
Please wipe your feet on the doormat before entering the house and remove your shoes before entering your room.
Please be tidy in the shared bathroom - clear the sink and shower of your hair after use and put the toilet seat down. I.e. - don't leave anything that would make a person sharing it with you gag.
Do not flush anything but toilet paper down toilets - no "flushable" wipes, feminine hygiene products, dental floss, etc.
Please conserve energy -- turn off lights in your room and lock the door when you leave the house. No showers over 15 mins long more than once a day or bizarrely excessive utility usage.
Mandatory recycling - use the separate containers for garbage, compost and recyclables provided. No dumping.
No weapons, pornography, loud noise or behavior, open flame, illegal drugs, criminal, illicit or illegal activity.
No more than 1 vehicle per guest for parking (no over-sized vehicles like buses, RVs, vans, campers or trucks) and parking spot must be vacated at check-out time.
No use of my address for mail or deliveries.
Your security deposit is fully refundable so long as nothing is lost, stolen, permanently stained, broken or damaged and no house rules are broken. If you lose a house key your entire deposit is forfeit. You are responsible for any damage past the stated deposit amount. By booking here you understand you stay at your own risk and agree not to sue me for any personal injury, property damage or loss that may occur during your stay.
---
Rilevatore di monossido di carbonio
Serratura nella porta della camera da letto
---
Seattle, Washington, Stati Uniti

·

Membro dal Luglio 2014
I was born and raised in Seattle and am happy to provide low-cost alternatives to traditional lodging to safe, honest, trustworthy, pleasant and responsible travelers since I have extra space in my 4br 1.75 ba house which I rent out on Airbnb as part of the "sharing" economy. I enjoy coffee, conversation and cigarettes and learning about the lives of the guests who stay here. I studied Mandarin and French in college but am only fluent in English. I am usually in a room I use as my office in my home when not doing household chores.

There are 3 listings in my house, which was built in 1958 and updated in 2002 (which is when I bought it. Airbnb began in 2008 and I started listing on Airbnb in 2014):
1) N Beacon Hill Rec Room - A large basement rec room furnished with a deluxe elevated airbed and a curtain for privacy, a TV and a desk right next to a downstairs side entrance. 3/4 bathroom possibly shared with another Airbnb guest.
2) N Beacon Hill Zen Room - A small downstairs basement bedroom with built-in closet and lockable bedroom door with key for more security that is separated from the rec room by a hallway. 3/4 bathroom possibly shared with another Airbnb guest.
3) N Beacon Hll Guest Room - A more conventional bedroom upstairs that shares a wall and hallway with my room, a lockabled bedroom door with key, and a bathroom with me.
I limit guests to up to 3 solo travelers in my house at a time and I require ID verification. This is clearly not a hotel but I always wash the sheets for every new guest, provide clean towels, and a few toiletries. My listings are good for resilient people who can appreciate the value of what I offer and who don't want to stay in an even more crowded hostel or place without oversight.

Interested in literature (I have an English B.A.), history, philosophy, movies, art, photography, nature, economics. I have visited just under 30 countries and almost every state in the USA (back when smartphones didn't exist).

Favorite Motto: Everything is relative.
Tasso di risposta:
100%
Tempo di risposta:
entro un'ora
I dati sulla posizione esatta sono forniti dopo la conferma della prenotazione.
Esplora altre opzioni a Seattle e nei dintorni
Altri alloggi disponibili a Seattle: