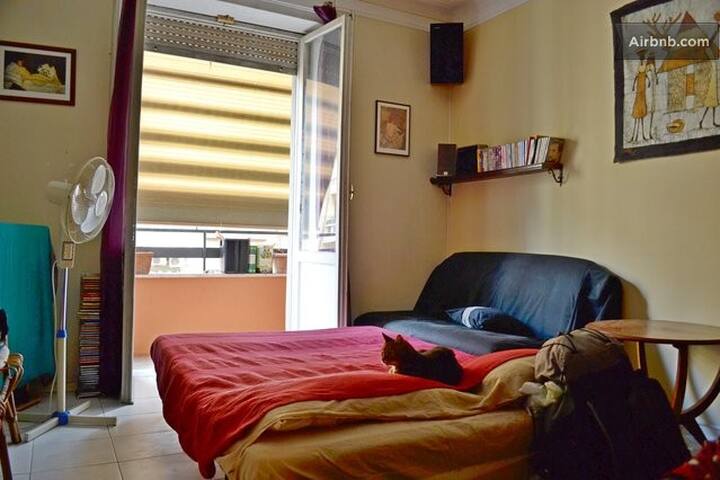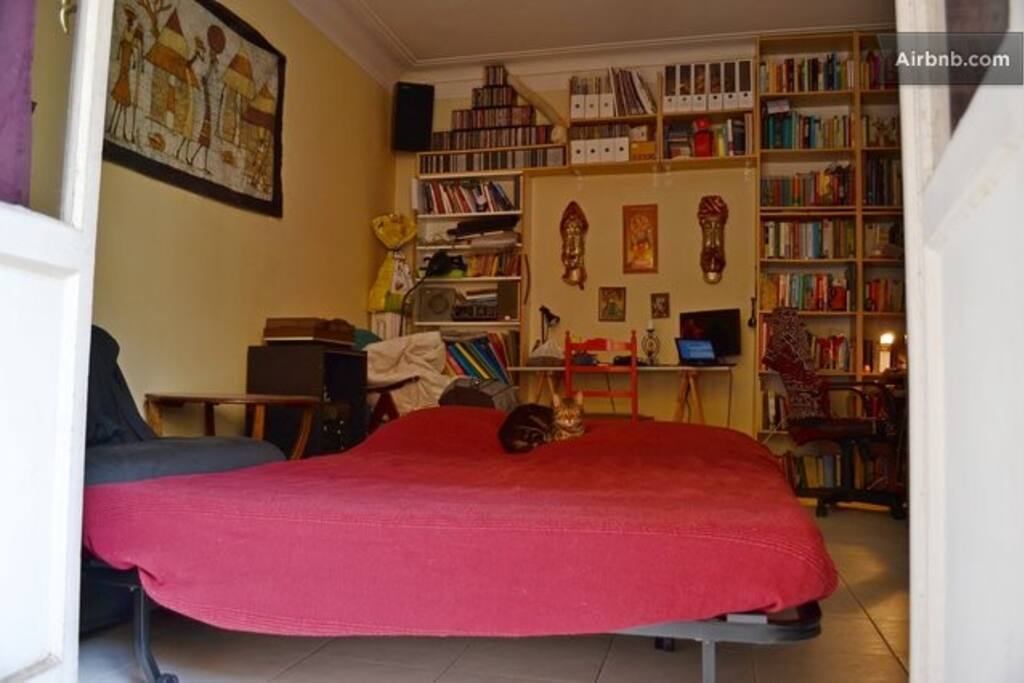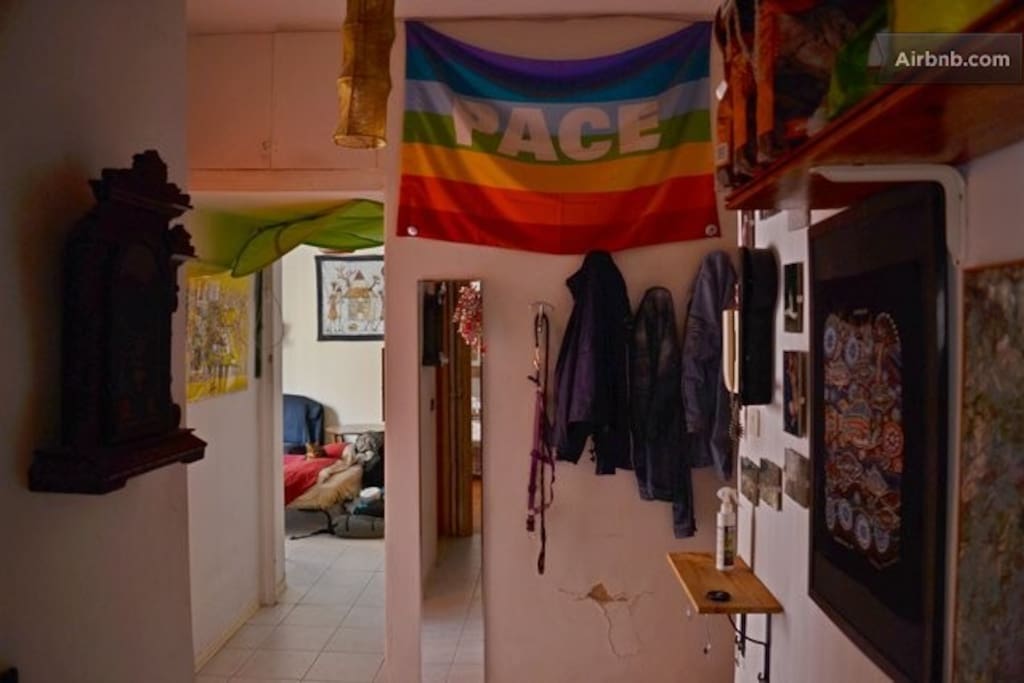 This is the same room than this https://www.airbnb.it/rooms/2315361 but for singles. Low prices but less availability.
L'alloggio
It's my living room! So don't expect a wardrobe or a b&b: it's a room of my house, and you will be my loved guest! The bed sofa is very confortable and the room pretty quiet. Sheets and blankets are provided. I will clean your room during your stay if you don't leave anything on the floor.
IMPORTANT: I don't host children, because I have a playfull dog that get very excited with them and they normally don't know how to protect themself, and if they show fear it's also worst: sorry but I can't take the responsabilty for them.
Accesso ospiti
Your room will be completely yours, and you have to remember to lock it or my dog will enter and she will eat your stuff or lick you on the face in the morning :-) But during the day I could need to access the room.
The bathroom is shared with me, bring your own soap if you don't want to use mine. :-) I will give you towels. Don't take too long showers and don't spend too much time in the bathroom, it's shared!
For 5 euros extra you will be able to wash your clothes with a biodegrable soap ;-)
You could leave small stuff in the fridge but please only things that have a vegetable origin, my fridge is vegan! :-)
You cannot use the kitchen for cooking for insurance reason.
Breakfast is not included.
There is unlimited wi-fi access to the internet in the house!
There is a TV but it's only to watch DVD, I don't like on-air tv!
Check-in is after 4 p.m., check out is before 12 a.m., please respect these times. Normally I cannot change these times because I have guests before you and after you.
Of course we will have to agree for the time for the check-in before that you arrive.
At the main railway station Termini there is a service to leave your luggage if you came in the city before the check-in time or if you would like to stay in the city after the check-out time. Only if you have big troubles (which ones?) in using this service you could ask me to leave the luggage in the house, but this is not normally possible because of space and timing problems.
Interazione con gli ospiti
I would like to interact a lot with you if I have time, I will be glad! I will be happy to hear your stories, to give you turistic suggestions, to do something togheter if you'll like, to share a bit of live ;-) I am very open minded and I always lived in Rome so I'm quite experienced! I am a warm and nice guy. But sometimes I can be busy so don't get offended if happens that I could not interact a lot with you.
Altre cose da evidenziare
My dog Misticanza is very young, friendly and excited so she will try to play with you and she's quite big phisically so you have to establish a relation of respect. My cats Tabitha and Gigia are pretty calm, but they're used to jump on the table and to drink from the sink. Lot of fur around :-) but I try to clean as much as possibile. So come only if you love animals and if you are used to them, or you will be unconfortable, and the animals and me too.
I don't accept children: read before why.
Animali domestici ammessi
Check-in a qualsiasi ora dopo le 16:00
Don't break anything if you can! Don't bring animal food. Always close the door of your room. Be patient with the animals. Check-in is after 4 p.m., check out is before 12 a.m. Don't be too noisy for the neighbours. Don't spend hours in the shared bathroom. Try to have fun! :-D
Dichiari inoltre di essere a conoscenza di
In questa casa vivono almeno un cane e un gatto
Rilevatore di monossido di carbonio
My name is Alfredo, I was born in Rome and I always lived here.
I'm a normal guy that doesn't accept to be normal, so very soon I make a mess in my life.
I am open minded and very curios, I can be very shy and people say that I look very gentle and peaceful.
I try to always see things from another point of view, but I can be also very lazy in doing real stuff.
I have a lot of interests but I am also dispersive.
I can be very simple and very complicated: I have lot of contradictions and doubts! :-)
I am antifascist, antiraxist, antisexist and antispecist.
I think everyone must be free and alive so I don't eat animal and I don't eat or use anything that comes from animals: someone would say I am vegan. :-)
I like to read, photography, to spend time on computers, to cook, to eat, to drink, to meet strange people, to love, to relax on the beach, to trekking on mountains, animals, to walk.

******************
Mi chiamo Alfredo, sono nato a Roma e sempre vissuto qui.
Sono un ragazzo normale a cui non piace la normalità, quindi spesso faccio un casino nella vita.
Sono di mentalità aperta e molto curioso, posso essere molto timido e dicono che sembro molto gentile e pacioso.
Cerco sempre di vedere le cose da un altro punto di vista, ma posso anche essere molto pigro nell'attivarmi.
Ho molti interessi ma sono anche dispersivo.
Posso essere molto semplice e molto complicato: ho un sacco di contraddizioni e dubbi! :-)
Sono antifascista, antirazzista, antisessista e antispecista.
Penso che tutti debbano essere liberi e vivi quindi non mangio animali e non mangio o uso niente che viene dagli animali: qualcuno potrebbe dire che sono vegano. :-)
Mi piace leggere, la fotografia, perdere tempo al pc, cucinare, mangiare, bere, incontrare persone strane, amare, rilassarmi sulla spiaggia, fare trekking in montagna, gli animali, viaggiare.

I HOSTED 1183 PEOPLE FROM 73 COUNTRIES!
HO OSPITATO 1183 PERSONE DA 73 PAESI!
Mostafa & Sakina & Soraya from AFGHANISTAN (3)
Lucio, Maura & friend, Florencia & Juan Pedro, Sol & Alejo, Rodrigo & Eliana, Silvia & Fernando, Lucia & Juan, Damian & Natalia, Federico & Laura from ARGENTINA (17)
Alice, Brett, Carmel, Kai & friend, Sarah & friend, Nadia & Mitch, Jack & Natasha, Jasmine & Arabella, Ryan, James & Sally, Emily & Takahn, Ash & Riley from AUSTRALIA (20)
Leon, Sophie from AUSTRIA (2)
Maxsim & friend from BELARUS (2)
Theo, Philippe & friend, Tom, Leà & Valentin, Anne-Charlotte from BELGIUM (7)
Amanda, Fernanda & friend, Mayra & grandmother, Debora & friend, Rosa & friend, Mariana & friend, Pedro & Leonardo, Douglas & Raiza, Rodolfo & Maria Fernanda & Paulo Roberto, Joao & Stephanie, Paula, Bruno & Deborah, Elaine & Carlos, Bianca & Rodgiro & Josè, Eric & Munique & Erica, Gustavo & Luis, Pedro & Pedro, Caio & Josè from BRAZIL (37)
Munjiya & friend from BRUNEI (2)
Vasil e Tiho Mira, Yana from BULGARIA (3)
Yawen, Caitlin & Odessa, Steffan, Antoine & friend, Matthew & friend, Dominic & Annachie, Alexandra & Béatrice, Barry & Linda, Therese & Antonia, Jackson, Jean & Francine, Greg, Corina & Mihnea, Rebeka & Braydun, Anne & Claude, Shawn & Jizhen, Jinliang & Asmar from CANADA (30)
Florencia, Josè & Sandra & Berta, Danilo & Stefanie, Sebastian, Gabriel & Paz, Camilo, Martin, Bernardita & Daniela, Rodrigo & Teresa, Alain & Marcela from CHILE (17)
Chelsea, Esther & 2 relatives, Jongyi & friend, Feiyan & 2 friends, Youhan & friend, Jichao & friend, Jason & friend, Celin & mother, Gracie & friend , Claudia-Su, Qifei & Mengjie, Yanhan, Jiasheng, Weixiao & Weimiao, Xiaojia & Weining & Xinping & Zhigin & He Yu, Tengyu & Siu Wai & Chenk Tinkg, Ling Yu & Bing Ging, Ziyue & Zimu, Ran & Haoqi, Dandan, Qiu & Zhirong & Long from CHINA (44)
Estefania & friend, Ana, Elsa & Sebastian & Jinu, Andres & Jaun Manuel, Pedro & Gloria & Luis, Juan Josè & Juliana from COLOMBIA (13)
Sofia & Carlos from COSTA RICA (2)
Martina & friend from CROATIA (2)
Nikola & friend from CZECH REPUBLIC (2)
Ida & Sofie & Anne, Mia, Malene & Liv, Niels & Tanja from DENMARK (8)
Carolina & Asso, Evely & Eino from ESTONIA (4)
Sanna-Maria & friend, Jasmin & Heini, Seija & Mikko, Tomi, Mikael & Matias & Eerika from FINLAND (10)
Olivier, Jean Michel & friend, Yannick, Charlotte & 2 relatives, Celia & friend, Fouad & friend, Simon & friend, Kevin & friend, Cloe & friend, Tanguy & 4 relatives, Liza & friend, Jean Luc & 2 relatives, Leonard & friend, Maite & friend, Hanan & friend, Patrick & friend, Chaya & friend, Juliette & friend, Joshua & friend, Laurence, Christine & Christophe, Angelique & Chloe, Gilley & Floriance, Amandine & Yamina, Nathalie & Matthieu, Robert & Guillaume, Ingrid & Clement, Martine & Laurence, Charlotte & Florent, Cedric & Fabien, Romain & Charlene, Francois & Carole, Hatem, Damien, Benoit & Baeza, Lois, Alexandre & Helene, Jean Francois & Daniel & Robert, Theau & Esther, Gaetan & Emilie, Xavier & Mathis & Albane, Christophe & Mathieu, Océane, Anael & Hugo, Barbara & Alexandre, Julie, Tony & Philippe, Chloé, Lucie, Melissa & Simon & Danielle, Jean-Marc & Esther, Saad & Cynthia, Anne Marie & Jules, Soline & Nicolas, Emilia & Arnaud from FRANCE (110)
Ulrike, Isabel & son, Tala and friend, Ana & friend, Felicitas & friend, Vincent & friend, Marine & friend, Jenny & friend, Elisa & friend, Paulin & friend, Gunter & wife, Anna & friend, Jan & friend, Caroline & Juliane, Johannes & Johanna, Ruben & Moritz & Felix & Konstantin, Beatrice & Reena, Tim, Sophie & Robin, Anna & Valerie, Franziska & Dominik, Marion & Sebastian, Katharina & Judith, Maria & Maria, Katharina & Manuel, Martin & Sylvia, Cosima, Tobias & Jonas, Elisabeth, Sandra & Tonio, Petra & Juan Carlos, Michel, Barbara & Lea & Isabel & Volkes, Friederike, Lisa-Maria & Susanne, Marcel & Anne, Markus & Alexander & Carmela from GERMANY (73)
Nick, Eleni & Styliani & Fotios & Panagiota, Venetia from GREECE (6)
Daniela from GUATEMALA (1)
Thomas & friend, Daniel & Wing, Ka Yee & Tim Tim & Jess from HONG KONG (7)
Judit & Szabolcs, Attila & Timea from HUNGARY (4)
Lokesh & friend, Narahari & friend, Kannan & Preethy, Vivek & Sandeep & Rajkumar, Saumark, Naga & Sresta & Bharghay & Mounika, Amarnathm & Gangi & Sakshmy &Prabnavagmi & Muralz & Padmavathz & Ratnam, Vishnu & Ksheereja, Prajat & Anuj, Tina & Guneet, Christina from INDIA (28)
Wendy & Raisa from INDONESIA (2)
Fadi & Lana from IRAQ
Sonia & Poline, Shay & Naya from ISRAEL (4)
Alessandro, Mimmo, Antonio, Luigi, Fabio & Sara, Elisa & friend, Veronica & friend, Roberto, Giuseppe & friend, Cecilia, Michele, Maria Grazia & 2 relatives, Bruno & friend, Francesca & 4 friends, Lorenzo, Rinaldo & Stefano & Guido, Elena & Antonio & Caterina & Danilo & Giorgia & Chiara, Emanuela & Marika & Rosy & Pietro & Francesca & Daniela & Sabrina & Erica & Marinella, Michela & Fabio & Nevia, Elisa & Rossella, Valentina & Alfio, Sabino & Stefania, Paolo e Marta, Silvia & David, Patrizia & Gianni, Roberto, Francesco, Esmeralda & Francesco, Alessandro & Francesco, Alberto, Donato & Maria Lucia, Greta & Loris, Elisabetta & Ginger, Matteo & Gabriele, Claudio, Simone & Alessandra, Vincenzo & Francesca, Angelo, Renzo from ITALY (81)
Tanifuji, Masashi, Matt & friend, Shunsuke & friend, Akane from JAPAN (7)
Christina from KENYA (1)
Aleksandrs from LATVIA (1)
Mindaugas & Vaida, Vytautus & friend, Auguste & friend, Aiste & Kestutis, Darius from LITHUANIA (9)
Nathalie & Nonihanitra & Nicolas & Karen from MADAGASCAR (4)
Siew & friend, Ah Moi, Siaw Chin & Siaw Gyn, Phoebe & Aaron & Lee & Ooi from MALAYSIA (9)
Elizabeth & son from MALTA (2)
Inaki & friend, Raul, Fabby and friend, Teresa & friend, Mercedes & brother, Adolfo & Josè, Fabian & Adriana, Mariana & Juan Pablo, Ivan & Viviana & Ana Luisa, Gustavo & Diego & Antonia, Abraham & Francisco, Alfredo & Mariana, Raul & Heriberto, Nestor & Ricardo & Maribel, Ana Maria & Eduardo from MEXICO (32)
Dimitri & Darie from MOLDOVA (2)
Natasa & 2 relatives from MONTENEGRO (3)
Andre, Elena, Natasha, Raquel & Caroline, Liam & Grace, Alivia from NEW ZEALAND (7)
Nathalie from NICARAGUA (1)
Valentina from NORWAY (1)
Nawaz & Hafeez from PAKISTAN (2)
Ronald & Velkys & Aleinys from PANAMA (3)
Lily from PERU (1)
Richard from PHILIPPINES (1)
Lidia, Michal & Ada, Dorota & friend, Marcin & friend, Piotr & Eliza, Kinga & Maciej, Kapcer & Karolina, Leandro, Malwina & Dawid, Wojtek & Karolina from POLAND (18)
Joao & 2 friends, Jose Luis & Mariana & Costanca, Miguel, Diana & Caroline & Ines from PORTUGAL (10)
Mina & Ana Maria, Maria-Mihaela & Ilie, Elena e Iounut Mihai, Andreea & Daniel from ROMANIA (8)
Natascia, Diana & friend, Margarita & mother, Tatiana & friend, Anastaciia & Kseniia & Mariia, Inna, Ekaterina, Ioanna & Gleb, Elena & Kirill & Liev, Elena & Nina, Nikita & Marina, Olga & Eugenii, Tatiana, Victoria & Alexander, Georgy & Svetlana, Anton & Anastasiia, Anna e Olesya, Yana & Ilona, Ekaterina & Elena, Elena, Dmitrii & Dmitry & Aleksandra & Maryana, Damir & Leisan, Timur, Karine, Sophia & Gennady, Alekei & Juliia & Andrei & Victoriia & Marziia, Yulia & Danila, Maksim & Anastasiia, Vladimir & Daria, Olga & Nadezhda. Vera & Ruslan from RUSSIA (62)
Ousseynou from SENEGAL (1)
Tamara & Jakov from SERBIA (2)
Jasmine & friend, Yingna & Han Neng from SINGAPORE (4)
Lucie, Jana & Sona from SLOVAKIA (3)
Jure & Petra & Milena & Klemen from SLOVENIA (4)
Jake & friend, Wilko, Farryn from SOUTH AFRICA (4)
Yuhwa & friend, Ahn & friend, Yuwon & friend, Eun & mother, Intae & friend, Miga & brother, Noh & 2 friends, Myeong & 2 friends, Kwan & 2 relatives, Gijeong & Ara, Judith & Juyang, Hyung & Hong, Bitnarae & Young Shuk & Jaehwan & Heesun, Sae Ha, Eunjung & Inhan, Dawoon & Weonseop, Myung, Hyeran, Sehun & Jieun, Na Hyun & Na Young, Huiju & Jihye, Yong Hoe & Jinjoo & Hyun Ju, Seojin & Heejin & Seung Eon, Kyungho & Eunseon from SOUTH KOREA (52)
Erika & 5 friends, Leticia & Pablo, Naroa & Gloria & Cata, Marina & Ana Dolores, Pablo & Juan & Max & Irigo & Jorge, Maria Paz, Alvaro & Sara, Estela, Irene, Sarah & Valeria, Juan & Ester, Mercedes & German from SPAIN (29)
Agnes, Elin from SWEDEN (2)
Francesco, Abraham & Carole & Perrine & Vanathy, Martha, Anais & Rolando, Tristan, Lukas &Moritz & Yannick & Catharina & Liv from SWITZERLAND (14)
Souad & Abdul from SYRIA (2)
Nalin & friend , Ai Chi & Weihao from TAIWAN (4)
Piyush & friend, Marteen & Mieke, Camila & friend, Huub & friend, Mara & Nine, Shlomi & Cornelia, Evelien & Thijs, Froukje, Miryam, Remco & Linda, Ivan & Laween from THE NETHERLANDS (20)
Eya from TUNISIA (1)
Yakup, Kerem, Melis & Hanife & Ozgun from TURKEY (5)
Lynh & friend, Philip & father, Mano & 2 friends, Capucine & friend, Elizabeth & friend, Sabrina & friend, Annette & sister, Rachael & friend, Jon & Olivia & Louise & Lucy, Pippa & Kate, Amber & Dan, Callum, Gary & Lia, Kirsten, Michael, Michelle & Jerry, Jamie, Elliot, Cerys, Matthew, Joanna, Adam, Dale & Paige, Ben, Connor & Sarah, Lydia & Jenny, James, Gail & Murray, Adesewa & Elouiza & Maria & Isabelle, Caitlin & Joshua, Reece & Abbie, Ali, Jonathan from UK (58)
Vadim & friend, Katerina, Olga & Klaudija, Mariia & Ihor & Rostyslav, Anna, Liliia, Taras & Nadiia from UKRAINE (12)
German & Stephany & Shalako from URUGUAY (3)
Isaiah, Karen & friend, Cassie, Diego, Irving & friend, Rhea & friend, Kimmy & friend, Tara & father, Melissa & friend, Chelsea & friend, Julie & friend, Yucheng & 5 friends, Nathan & friend, Tara & friend, Danielle & friend, Lauren & friend, Andrew & friend, Nora & friend, Mollie & friend, Cara, Connie & friend, Karla & 2 friends, Tori & friend, Ryan & friend, Samantha & 3 friends, Vanessa & Keep, Akshay & Rachel, Michelle & Morgan, Sara, Lilian & David & Leticia & Noah & Niklas, Angela & Maxime & Jayleen & Marcey & Petronila & Alexa, Colleen & Erin, Annie & Claudia, Ellen, Roni, Rui & Adria, Michael & Claire, Chandler & Evan, Mary & Anna, Max & Rachel, Cameron & Daisy, Eugene & Daniel Hy, Charles & Vivianna & James & Matthew, Lindsey, Meliza & Aven & Aila, Sabrina & Alexandra, Linsey & Kelsey from, Abel & Michael & Chelsea & Matthew, Dan, Sheryl & Jocelyn, Julia & Marissa, Jesus & Horacio, Tinsley & Noah, Sofia & Victor, Jun, Vargas, Andrew, Ayanna & Ornella, Grace & Eric, James & Kyle & Brian, Colin & Megan, Rachel & Rubye & Catherine, Derek & Amanda & Daniel, Rachel Michelle & Michelle & Taylor, Khani & Ashley, Wesley & Ashley, Hanai & Sergio & Souad, Elaine & Jayhyun, Erica & Sinead, Orr & Katie, Jason & Elizabeth, Nathaniel & Kenneth, Tram & Trinh & Tuan & Alexandria, Daniel & Brenda, Lidia & Martin, Jason & Yongseon, Jennifer & Kelly, Joseph & Carey & Martin & Earl & Joshua & Quentin, Anna & Brett, Melissa & Jason, Martin & Lance & Henry, Harrison & Dan & Steve, Rachel & Lisa & James, Lisa & Julie & Daniel, Russel & Kendall, Amy & Carol, Angel & Caleb, Ellen & Carter, Allegra & Daniel, Addison & Ryan, Riniah & Sierra, Phanavanh e Kassandra, Ethan & Tara, Vicky, Maria, Drea e Ryan from USA (212)
Javlon & Jasurkhuja from UZBEKISTAN (2)
Hector & Gabriela, Alexandra, Joswrany from VENEZUELA (4)
Ahn & My Linh & Ngoc Ha, Tram & Quynh, An & Hung, Loc & Thanh, Thao, Minh & Linh & Phuong & Ninh & Dung, Tran Kim & Ha Sy from VIETNAM (17)
Lingue:
English, Français, Italiano
Tasso di risposta:
100%
Tempo di risposta:
entro un'ora
Esplora altre opzioni a Roma e nei dintorni
Altri alloggi disponibili a Roma: