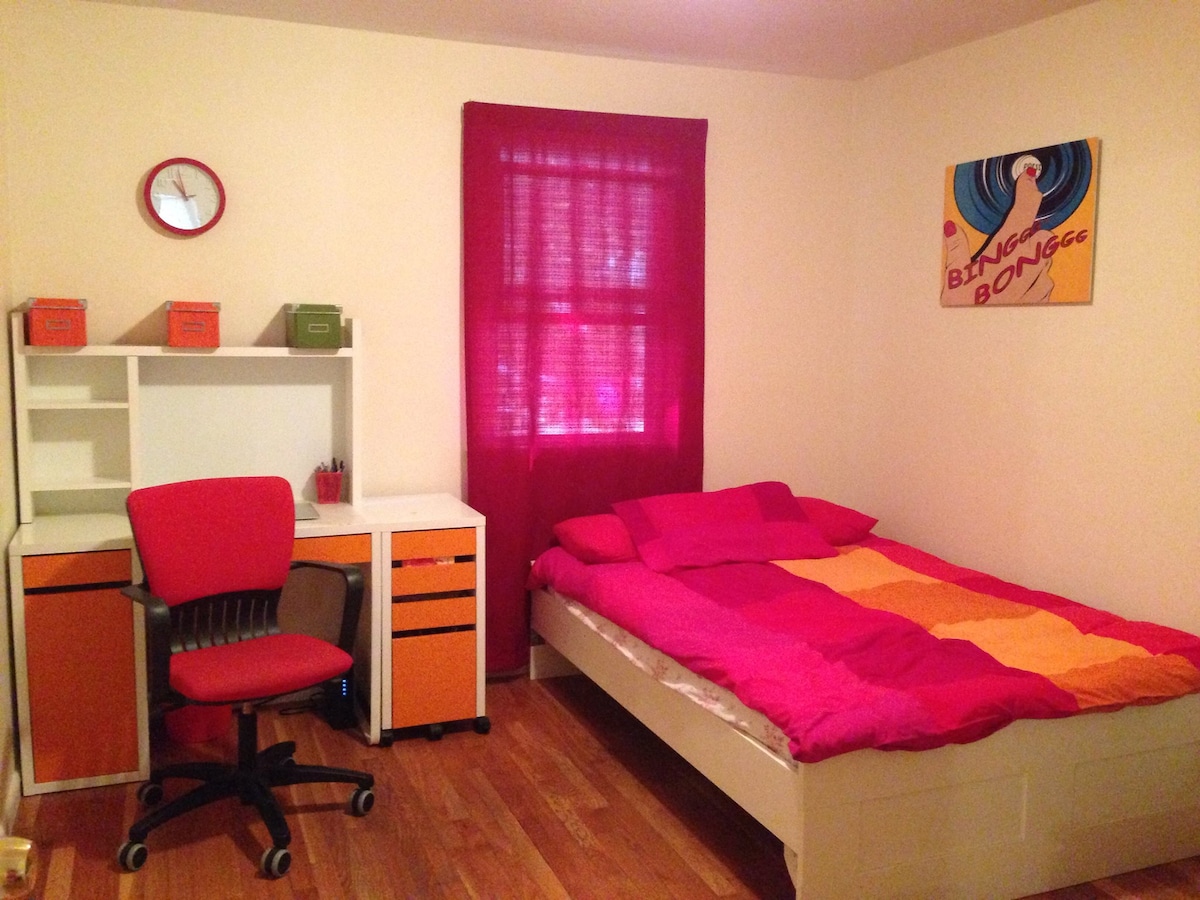 Stanza privata
1 Ospite
1 Letto
Su questo annuncio
Con Airbnb puoi trovare sistemazioni uniche nelle case degli host—da case e appartamenti a case sull'albero e igloo. I dettagli dell'annuncio qui sotto ti spiegano ciò che troverai nell'alloggio. Nel caso avessi delle domande, contatta direttamente l'host.
---
Tipo di letto: Letto Normale
Posti letto: 1
Camere da letto: 1
Bagni: 1.5
Letti: 1
Check-In: 17:00
Check-Out: 11:00
Animali: Cane(i)
---
Servizi
Cucina
Uno spazio in cui gli ospiti possono cucinare
Riscaldamento
Riscaldamento centralizzato o stufa elettrica nell'alloggio
Lavatrice
Pagato o Gratuito nell'edificio
Asciugatrice
Pagato o Gratuito nell'edificio
Altro
Cucina
Cucina
Uno spazio in cui gli ospiti possono cucinare
Internet
TV
Essenziali
Essenziali
Asciugamani, lenzuola, sapone e carta igienica
Riscaldamento
Riscaldamento
Riscaldamento centralizzato o stufa elettrica nell'alloggio
Aria condizionata
Lavatrice
Lavatrice
Pagato o Gratuito nell'edificio
Asciugatrice
Asciugatrice
Pagato o Gratuito nell'edificio
Parcheggio Gratuito Incluso
Internet wireless
Internet wireless
Accesso continuo all'alloggio
TV via cavo
Colazione
Colazione
Prima colazione inclusa.
Animali domestici ammessi
Per Famiglie e Bambini
Disponibile per eventi
Disponibile per eventi
La proprietà può ospitare 25 o più persone.
È permesso fumare
Accessibile ai Disabili
Accessibile ai Disabili
La struttura è facilmente accessibile alle persone in sedia a rotelle
Edificio con Ascensore
Camino
Interfono
Portiere
Piscina
Piscina
privata o condivisa
Idromassaggio
Palestra
Palestra
Gratuito nell'edificio o nelle vicinanze
Rilevatore di Fumo
Rilevatore di Monossido di Carbonio
Kit Pronto Soccorso
Carta di Sicurezza
Carta di Sicurezza
Numeri di emergenza e altre risorse
Estintore
---
Termini di Cancellazione:
Rigidi
---
Descrizione
If you are looking for a quiet, comfortable, and affordable room with easy access to public transport, near Harvard, BU and BC, this is a perfect room for you. LONG-TERM GUESTS ARE WELCOME (few months or more).
This room is perfect for long-term guests (a semester). The room is good for someone who is gone during the day to work/school (for long-term guests) or out to sightseeing (short-term guests) and wants a comfortable, quiet place to come home to at night.
The room is located on the 2nd floor of a house and just a few minutes away from public transportation (metro and buses) with easy access to the city and major universities, a 24-hour supermarket, and one street away from many affordable and good places to eat.
The room has everything you need, clean bed sheets and clean towel, always upon arrival. The room is always disinfected and cleaned completely prior to your arrival. You have a full size bed, a desk, a chair, a night table, a dresser, and full-size built-in closet. In the summer, I also provide you a fan. On this floor, there is a shared full bathroom, which is always clean.
Who else lives here: On the same floor, there is another airbnb guest (the room next to this one), and the hosts. I choose my guests very carefully, so whoever the other airbnb guest is at the time, he/she will be also quiet, clean, and mind his/her own business.
Small lovely chihuahua dog lives here - he is the master of the house, so you need to be a dog lover. :D
You will have access to the shared full bathroom on this floor, the half bathroom on the 1st floor, the kitchen to make light meals, and high-speed WIFI internet. Sorry, but the living room is off limits to guests for personal reasons.
For short-term, guests: I will be available to answer your questions anytime you call me or text me, and I will provide you with useful information prior to your arrival. We probably won't see each other much, so you should be an independent traveler who does not need much interaction with the host (as during the summer, I also travel a lot).
For long-term guests (1 month or more): I will help you with whatever you need. There is another airbnb guest, I choose my guests very carefully. I need people who are: Quiet, clean, busy with work/study, minds their own business, goes home and spends time in their room, don't hang around the dining room besides when eating. You should be the same, mind your own business type of person. We can say "hi" and have a short conversation when we run into each other, and if you need anything, just ask me - I will help you with anything you need ;) but otherwise, you should be a self-sufficient person who is busy in their own world.
And if we are both not busy, we could go out for a cup of tea sometimes.
Allston is a neighborhood of younger population (ages 18 through 32). Most people who live here go to BU, Harvard, MIT, BC, or are young professionals, interns. There are also some young families living in this area. As a result, there are many things to do in Allston - you can find restaurants with cuisines from all over the world, bars, shops, convenient stores, pizza shops open until 2AM, and more. You can go to see a music concert, or go to the gym, because everything is nearby.
The room is located in a house on a quiet green street. The street is an off street from the main "Brighton Avenue", which features restaurants with all world cuisines, convenient stores, shops, and more.
Next to the house, there is a big green park - you can run, jog, walk, get some fresh air, or play sports as there is a tennis and basketball courts as well.
The house is 100meters away from bus 66 (takes you directly to Harvard in 15 minutes) and steps away from bus 57 (takes you directly to BU campus in 10 minutes). Metro station is only 5 minutes away.
The metro station is 5 minutes by walk, the station is called "Allston Street" on the B Line of Green Metro - you can get to downtown Boston in 25 minutes directly.
The rent includes all utilities. YES THERE IS WI-FI included. There is no parking.
The room is disinfected, cleaned completely, and comes with clean bedsheets and a clean towel upon check-in, always.
Altro
---
1. No guests/no overnight guests. (However, if you stay long-term and have a girlfriend/boyfriend come visit for short-term, we can arrange).
2. Please do not abuse the utilities - turn off the lights, take quick showers.
3. Clean up after yourself (dishes, trash, etc.) Disinfect all surfaces, stovetop, dining table, and around the sink after each use.
4. Please, no smoking in the house and no walking with shoes on in the house (take off your shoes in the hallway). - Bring some slippers.
5. Laundromat is 2 minutes walk down the street and I believe it is $5 per load wash and dry. I have my own washer and dryer, for your convenience you can use mine every 2 weeks.
6. Living room is off limits to guests.
7. Please no drinking in common areas. You can go out to nearby bars and pubs (quite cheap and good!) if you feel like drinking, or you can have a beer in your own room.
Finally, if you stay longer than 1 month, you are expected to contribute to house cleaning (we will rotate) but don't worry, we are always clean, so it is a breeze to do a cleaning! :)
Thanks! :D
Altro
---
Great room (with a large closet)!
The hosts were very nice. The neighborood is cool if you're a student. I had a pleasant stay.
Altro
Tia was a perfect host, very warm, responsive and helpful. I stayed for a week both in the large room and in the small room. Both rooms are clean and cozy. The place is quiet, with a lively puppet, and it is conveniently located. I could not have expected more from it, and the price is very reasonable. If you want to explore Boston, make friends, and especially if you are on budget, this would be a perfect choice.
Altro
Tia's place is just a stone throw from BU, a very lively place with lots of young people. Lots of good, amenities, public transport to downtown Boston and Cambridge all within 5-10 mins walk. Tia is really a very hospitable host... She made sure I felt at home and safely reach my next destination. We even went for dinner on my last night. Highly recommend for anyone looking for a stay in Boston!
Altro
Da Singapore ·
Luglio 2014
My girlfriend and I visited Boston this past weekend and decided to give AirBnB a shot for the first time. We couldn't of asked for more than what our host Tia provided. She was always checking up on us making sure we had everything we needed. She made our first experience extremely comfortable and smooth. Tia went above and beyond in every way possible and I would highly recommend her to anyone wanting to stay in the Brighton/Allston area. Apartment is conveniently located next to the T only a few blocks away, getting in and out of the city was a breeze. I visit the Boston area on a yearly basis and will definitely be inquiring on staying with Tia again. Thanks again for everything T!!
Altro
Da Orlando, Florida ·
Luglio 2014
I stayed for 5days. Very close to the central, near from the bus stop (64, 66, 86) and Green B line station (Packard corner). Also the room was very large, well-furnished and maintained so well. But I found it comfortable because Tia, the host, was very kind and with full of hospitality. I highly recommend for those who are visiting Boston both for business and for sightseeing.
Altro
Da Koto, Giappone ·
Luglio 2014
My son´s experience wasn´t what we were expecting. When we were searching for accommodation, what we liked about this place was that they said things like: "it feels like home" and that everyone was respectful and friendly but the truth is that during six months that he lived there, the only moment that they shared was on his birthday, the rest of the time he was very lonely because they nearly spoke to him to say hello. Sometimes, during the nights it was hard to rest because the family members had fights and the screams were heard all over the house.
The room was nice and neat like in the photos but the kitchen, the bathroom and the laundry area were dirty.
Overall if you are searching for a place the feels like home this isn´t the right place to go.
Altro
Da Manizales, Colombia ·
Giugno 2014

Risposta di Tia:
Hello Vicky, as I have written to you privately via SMS (and as you have agreed), you have made a mistake by letting the study abroad agent in your home country book AIRBNB instead of a HOME-STAY for your 18-year old son Martin, who was leaving home for the 1st time in his life. Your agent requested if my place is near Harvard Square and if there is a fridge for Martin to store his food, which were the only requirements, which I have met.
1) My place does feel like home (as you can see from other reviews!) and everyone who has stayed here felt very welcome and "home" with me. Your son does not speak much English and we (me and the other roommates) always spoke with him as much as we could, we invited him to watch movies with us in our room, to play cards and/or to go to dinner on many occasions but the fact that Martin does not speak much English and is shy by nature, he always refused and stayed in his room. But he did talk to us a few times a week whenever we met in common areas to practice his English - just not for long because he is very shy and usually had some other things to do such as "skyping" with his friends from home or playing piano. On Martin's birthday, I took everyone from this apartment to Cheesecake Factory and paid for his birthday dinner as well as arranged a birthday singing with a surprise birthday cake for him. You should be very happy that I am such a nice host, not complain that "this was the only time she took him out".
2) On the airbnb contract with me as well as the description of the room, it does say that guests who stay longer than 1month are expected to help clean the common areas (kitchen, bathroom, hallway, living room). Martin never helped with any of the cleaning and I never held it against him because I understand that it is his 1st time away from home and that he is still a child. But since you are complaining, I have to mention this. In fact, he left coffee fallouts or cereal fallouts on the kitchen floor, the counters, and kitchen table almost every morning without cleaning it up, and he frequently left dirty dishes in the sink, which I had to clean. Nonetheless, I cleaned common areas without his help very frequently. During the dates you came to visit him to fly home with him (june 21-29), nobody was staying in this apartment. As I left for a vacation on June 11, I had a super cleaning done (I hired 2 male helpers) for the ENTIRE apartment, leaving the place absolutely clean before I left. The other roommate left on June 15. That means Martin was the only one in this apartment from June 15 until you both left on June 29. Whatever "dirt" you saw was caused by none else but Martin. In fact, when I came back from my vacation, the toilet was clogged and there was A LOT of EXPIRED food you both left behind in the fridge (your milk, dairy products, hams, fruits), which again, I had to clean up. You should not complain about the laundry area since that is located in the unfinished basement shared with the neighbors - and it is not even considered a part of my listing (it is just a convenience for guests to be able to do laundry in this building instead of going to a laundromats down the street, though the basement is not dirty - it is just an unfinished basement, that's all).
3) There was never "loud screams" all over the house. If Martin ever heard any "fights", he might have mistaken loud voices for "fights" since not everyone has a calm voice to speak. And since Martin is quiet as a mouse and always in his room - he can hear every sound in the entire apartment. But everyone in the apartment was always totally quiet by 11PM and Martin's bedtime was 12:30AM. I am not sure how this comment of yours is relevant.
As you can see, when you booked a stay for your 18 year old son who was leaving your home country for the very first time, you should have made it clear to the study abroad agent that you need a HOME-STAY (usually located in suburbs by the way, where there is an actual family - parents with children, who would have the legal responsibility of taking care of your son as their own child, to do laundry for him, cook for him, clean after him, take him out on weekends, and make sure what he is doing everyday). This is AIRBNB, maybe you should read the description of the purpose of AIRBNB. And even though I am just a host, I always go above and beyond to make sure my guests feel home - you can ask any other guest and they will agree with you since I end up being friends and keep in touch with many of (website hidden)/ You asked me if you could stay with Martin in his room during your time in Boston and how much money you would need to pay me extra, and I offered you to stay for free. I was also in touch with you frequently via SMS the entire 6 months that Martin was here because I know mothers are worried about their children away from home. You gave me no credit for anything, except that "the room was nice and neat". I really did not expect this negative review from you.
HAVING PEOPLE LIKE YOU POST A REVIEW FOR HOSTS LIKE ME IS VERY BAD BECAUSE YOU HAVE MISTAKEN AN AIRBNB EXPERIENCE FOR A HOME-STAY EXPERIENCE AND BASED YOUR REVIEW ON THAT. IN YOUR MIND YOU WANTED A HOME-STAY FOR YOUR SON BUT YOUR AGENT BOOKED AIRBNB, WHICH IS SOMETHING TOTALLY DIFFERENT. Therefore, your review is totally irrelevant (and you have agreed that you mistaken airbnb for a home-stay via private SMS with me) but since other guests might be confused, I had to post my very long reply.
Very nice, confortable room in a convenient location with a great host !
Altro
A proposito dell'host, Tia
Hi! I am fun and outgoing, take things easy and very helpful. If you need anything, just ask. :)
5 things I cannot live without:
+ My perfume (Everything I own must smell nice)
+ Candles!!!
+ My cell phone (I communicate a lot!)
+ A cup of tea with honey (I drink at least 3 cups of tea per day)
+ A good movie (love Steven Spielberg movies)
I am a clean and responsible person. My style of hosting is giving you lots of privacy and also embracing you as a friend, so please feel free to talk about life and whatever you want with me. I also like to go out with my guests (I have gone out to eat and shop with many of the guests, and we have formed friendships). Of course you don't have to go out with me, I respect your privacy. :)
As a traveler, I will treat your home like it is my own.
My life motto: Be young & have fun!
Altro
Boston, Massachusetts, Stati Uniti
Membro da Febbraio 2012
Tasso di Risposta:
57%
(ultimi 30 giorni)
Tempo di risposta: entro un giorno
---
BU is very nearby.

Silber Way

Boston

MA

02215